Vietnam, Malaysia and Sumatra, 2002-2003
I'd been working in Canada for a few years since my Laos trip in 1999. But the job I was in dried up near the end of 2002. Might as well take the opportunity to get some more travel under my belt before finding more work. My German friend Herbert (Pakistan 1990 and Germany/Africa 1997-98) was interested in meeting for another trip together. Neither of us had been to Vietnam, so let's give it a go. I'd make my annual trip back to Australia for a few weeks, fly from Sydney to Ho Chi Minh City (Saigon), Meet Herbert and Annie and travel around VN for 3 or 4 weeks. They would be returning home and I, having no hurry to get back to a cold Canadian winter, would spend another month or so in Malaysia and Sumatra (Indonesia) before finishing my trip.
On Nov 20, 2002 I got away from Australia no problems, and into Kuala Lumpur airport, Malaysia on time about 21.00.
I would overnight in KL before moving onward to Saigon, so had to put up with the Empress Sipang Hotel near the airport. It's an order of magnitude above the backpacker hovels that I'm used to staying in, but I managed to tolerate it. One of the items I discovered at the lavish breakfast buffet, that I hadn't had for years, was chicken porridge. It's a rice porridge made with chicken broth and shredded chicken on top, quite unique to the Malay peninsula.
I had the night and half of next day here before my onward flight at 14.30. After breakfast I went for a walk around the countryside (the hotel is in a small town near the airport), through kampongs, back roads and jungle tracks. It was easy to get lost but I found my way back. There is still some forest around but a lot of it has been ripped up in the mad rush for Malaysian development. The waterways are muddy and apparently polluted.
I saw much more of the denuded landscape and muddy rivers from the air as I flew over Malaysia on the way to VN. Not very pretty.
Vietnam
(Click for map)
From the plane over Vietnam I got good view of the Mekong Delta, where I hope to be in a few days. The houses down there look distinctive. The newer ones all seem to be of the same design, looking like oversize, irregularly shaped shipping containers plunked down all over the place. I understand that they have to be a set width to fit into standard-size lots.
I landed at Saigon airport, a spartan shack compared to KL, about 15.30. The airport immigration people are of course in their crisp state uniforms but are friendly enough.
There were no buses in to Saigon, so a taxi tout nabbed me as I got out and I negotiated a fare to Bui Vien (the ferang ghetto) for 7000 VND, about USD 4.5.
The ride in was amazing, how do they drive here without accidents? (The short answer is they don't, but more about that later). Zillions of bicycles, motorbikes, taxis, trucks, hawker carts etc. madly cram the streets, all weaving within inches of each other. Saigon is the quintessential Asian city, noisy, busy, crowded, exciting. LOVE IT.
Hotel 64, where I was to meet Herbert and Annie, was full so I walked down to Co Giang in a quieter part of town about 15 minutes away for another place I know about. On the way I had to shelter from one of many sudden rainstorms. Found a quiet alley off Co Giang, and a small guest house run by a very pleasant family who speak no English (although the grandmother did know some French). A nice room was about USD 5 with attached bath and breakfast.
In the Evening I went back to Bui Vien and surrounding areas to check out the atmosphere, book a room for friends H&A for tomorrow, and to check prices of Delta tours and buses to other destinations. These things are all in USD, but still quite cheap.
It's true what they say that the beauty of Saigon is it's life and it's people. The activity and bustle and sights are fantastic. The streets are crowded and busy and a bit run-down in places, but not squalid or overly dirty. Many of the cycle riders wear cloth over their faces to breathe through, but I found the pollution less than in Bangkok or Calcutta. Weather was hot but not unbearably so; the fan in my room was adequate.
In the morning I was up fairly early to organized my belongings and paperwork, have breakfast was bananas and cafe au lait, and set out to walk around some of the more interesting parts of town.
One of the first stops was the War Remnants Museum. It has exhibits of French and US military equipment and ordnance, and lots of photos, stories & propaganda of the wars. Interesting, and, as expected, it certainly gives the Vietnamese perspective of the conflicts.
Also had looks around the Reunification Palace, US Consulate (derelict and rebuilt) and zoo/botanical gardens.
The Saigon River wasn't terribly exciting, not a lot of traffic on it. But interesting were the mini-Sargasso-seas of water plants and detritus flowing down the river. Large quantities of plastic food containers and every cast-off sandal or shoe in the country seems to find its way into the river. Marring the view were all the huge and hideous billboard stands across the river, visible from the main hotels etc. What terrible taste!
Everything that can be sold seems to have a street of its own. I saw streets for whiskey, live seafood, western food delicacies, electrical goods, sunglasses, motorbikes, vegetables, you name it.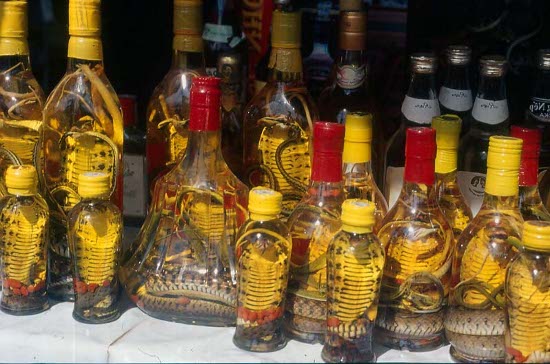 Went into the huge central market, but didn't spend a lot of time there, a market like any other. The power seemed to be off and it was quite dark. Of interest is the "snake wine", a bottle of liquor with a small cobra in it and a green snake in its mouth. Said to be good for rheumatism, lumbago and limb sweat (???).
A couple more sudden rainstorms forced me to seek shelter during the day, but at least they keep the temperature a bit cool.
Meals are good, dishes like noodle soups and fried rice dishes are available anywhere for about 0.50 USD, good tasting and hopefully safe.
Took a look at the unspeakably filthy river channel a couple of blocks from my place, black water and rubbish, and brown wooden buildings spilling into it. I hope our fish meals don't come from here. The river channel in Cholon is equally dirty.
A long walk one afternoon took me to Cholon (Saigon's Chinatown) and back. There were meant to be several interesting Chinese pagodas there, but I only found a couple. They were interesting enough, very intricate wood carving and painting detail. The incense they use comes in huge conical coils, so it is able to burn for hours.
Met Herbert and Annie, just arriving from Cambodia, as scheduled in the early evening of 22 Nov, great to see them again, as it's been about 5 or 6 years. They are reliable as usual, punctual to the minute after not being in contact for months. We had a dinner together and then out for a couple of beer and catch up with news.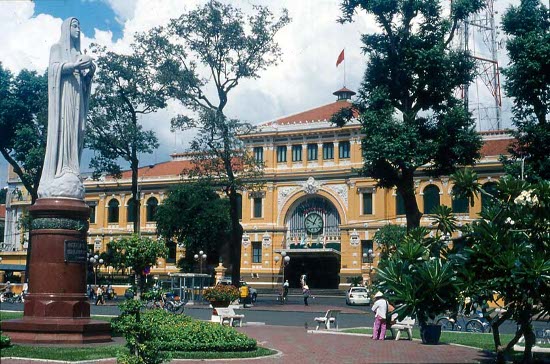 H&A and I took a day foot/taxi tour around the city; it's too far to walk everywhere. We looked at the river, Notre Dame Cathedral, the main post office (great French architecture), the Reunification Palace (where they drove the tank through the gate in 1975), Emperor Jade Pagoda (some really fearsome looking statues in there), taxi to another pagoda in the west (hard to find, but good views of Saigon from the top of it), Cholon Market (more large and interesting than Central Mkt), and back hot and tired to our homes.
We made arrangements to do a Mekong Delta bus/boat tour for the next couple of days, and arranged for a bus to Hanoi, with about 4 stops along the way. Things are so cheap; USD 15 for a 2 day delta tour, and $21 for the 1800 or so km bus trip to Hanoi. Unreal. Internet is about USD .25 per hour.
On 24 Nov we were on an air-conditioned Mercedes mini-bus for the trip to the Mekong Delta. Saigon seems to go on forever, about 2 hours or more to clear the city, slow busy traffic all the way of course. Even then, it was fairly built up all the way. It's surprising how developed the delta is, a lot more than water and rice fields.
First tour stop was My-Tho, a large city in itself. We took a small wooden boat around three islands called Unicorn, Phoenix and Turtle, in the upper channel. We were able to sample various tropical fruits (longan, rambutan, pineapple, papaya etc), listen to southern Vietnamese traditional music, see coconut candy making and tasting, bee-keeping and honey making, a narrow paddle boat along a narrow channel, a bus across the new North Channel Bridge to Vinh Long market, and on to Can Tho by about 18.00. All very touristy but easy to take.
We had a hotel, dinner and pleasant night life in Can-Tho.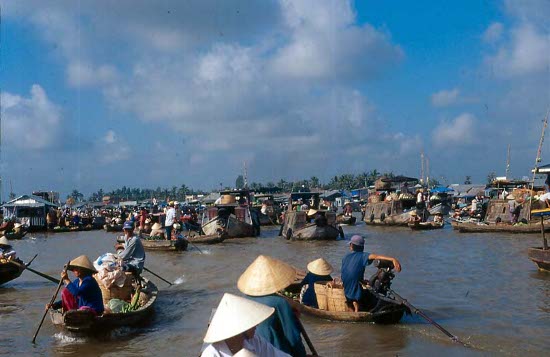 As part of the tour, we looked at the floating market on the lower river, mainly bulk produce on boats. The boats advertise what they sell by hanging a sample such as pineapple, longan, etc. on a long pole. Farther along the river we toured industries making rice noodle and rice paper.
From there we took a long and very interesting small motorboat trip along a series of small channels. Again touristy but fun.
Lunch was back in Vinh Long, followed by a look at incense manufacturers and a boring and kitsch bonsai garden (world's biggest bonsais?), and finally the long 4 hour trip back to Saigon.
We left the bustle of Saigon for the inland hill town Dalat, taking about 8 hours to get there. Nice countryside (everywhere in Vietnam is beautiful, in spite of extensive deforestation).
Dalat is a hill station, refreshingly cool compared to the coast. It seems like a big VN honeymoon place, but pretty built-up, not very exciting, and too far to walk to get to the hills in the time we had.
After a night in Dalat we started on to the big beach town Nha Trang. Interesting that as soon as we got going on the bus in Dalat, about 10-15 deg C temperature, the driver turned on the air conditioning until I protested; it seems if you pay for it you have to have it.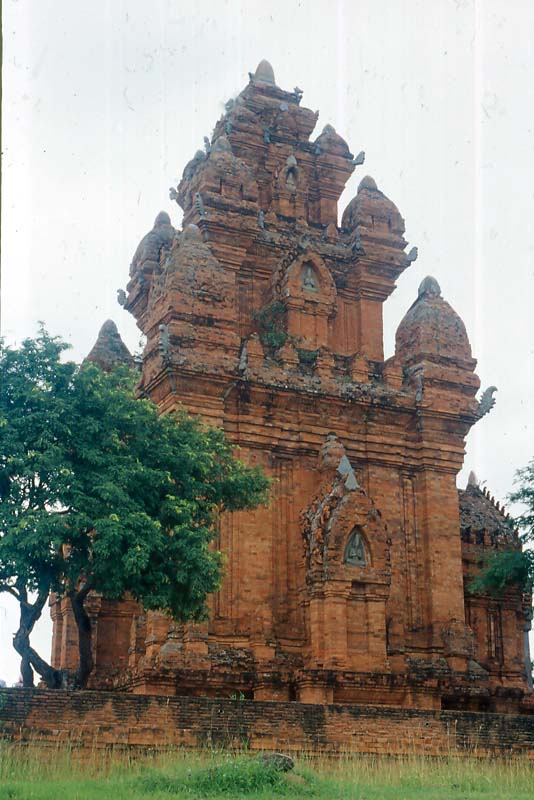 Ngoan Muc Pass offered good views of the valley and lowlands as our bus descended. Coming to the coast near Phang Rang, we visited the Po Klong Ga Rai Tower, a 1000 or so year old Cham Hindu temple.
Nha Trang was wet and not that hot, not really suitable for lazing on the beach. There's one or two Cham towers here too, full of tourists of course. It's something of a resort town with lots of bars and restaurants, night clubs and Karaoke.
We booked a day boat trip to the islands around Nha Trang, said to be the best thing to do here. It was OK, but a bit weird, run by Vietnamese who try their best to put on a "crazy" image. Their morning Karaoke was a disaster. But we did stop in a bay for a couple of hours, and I finally got to use my snorkel gear that I'd lugged all the way from Canada. The best coral place was closed, apparently for refurbishment, but more likely to not show off all the dynamiting done by the fishermen. What coral there was was not the best but better than I expected. Visibility is not great.
We had a big lunch on the boat, then swam and drank mulberry wine in a "floating bar" near the boat (part of the crazy image). Then on to a resort island where we paid admission and took shoreline walks in the rain. Another island had the most grotesquely kitsch marine aquarium I've ever seen, a hideous concrete structure meant to look like a sailing ship. I didn't bother to go in.
On 29 Nov we were up early for the bus on to Hoi An. I'd ordered a breakfast in the hotel as I was waiting for the bus. Then the bus people said we were leaving at 06.20, and I had to get on like RFN. I had to take the breakfast on the bus. But then, instead of leaving for Hoi An, the bus went to all other hotels to pick up passengers and then back to the office, near my hotel, to wait some more. I could have finished my breakfast in the hotel and met them in the office. I was pissed off at them, and said so, for their hurry-up-and-wait attitude.
It was a long bus ride to Hoi-An, raining nearly all the way and not getting there until 20.00. Still the ride was enjoyable, with lots of villages, rice fields, fish farms, ocean views, hills and some forest.
By now we'd seen a number of accidents on the roads, including motorbike accidents with blood on pavements and bodies covered in blankets. This country does not have a reputation for safe driving. I understood that nationally there were an average of 35 traffic fatalities per day.
Hoi-An is a beautiful place; it's meant to be the most picturesque city in VN, and a premier tourist destination. It did turn out to be one of my favorite places in the country.
The first thing we did there after finding accommodation was to try the local culinary specialties, such as the Co Gau noodle dish, and fried Wonton (great).
Unlike the rain on the way up here, it was sunny and hot in Hoi An. In our two days here we explored the city, shopped for souvenirs and toured sights outside the city.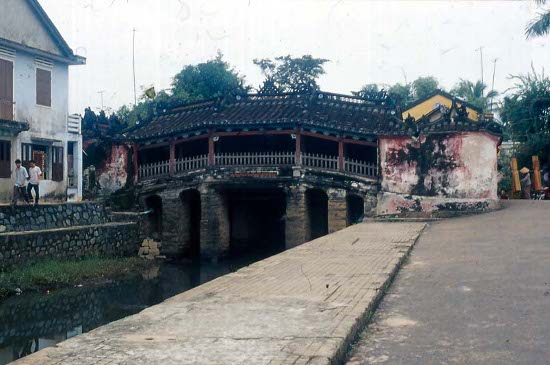 We did a walking tour of the town looking at the old family houses, assembly halls and pagodas. Most of the ornate woodwork, colours and house design were in the beautiful and distinctive Chinese & Vietnamese architecture from 17th to 19th centuries. In the town center a beautiful Japanese covered bridge spanned a creek.
The market and riverside were a blaze of life and colour. Art and craft industries including mat making, wood carving, rice paper painting, lantern making and embroidery; all to fill up the many souvenir shops I suppose.
The streets had lots of kids selling trinkets or begging for foreign coins (which I'm told they later try to change to the local currency). Apparently many children come to the city for easier money than they can make on the farms and villages.
One morning we heard about a performance of traditional Vietnamese music, song and dance to take place at 10.15. The tourist office told us it was at a certain location, someone else said another location. What followed was confusion and desperate running from place to place trying to find it, only just getting there on time. In any case it was very well performed and worth the effort.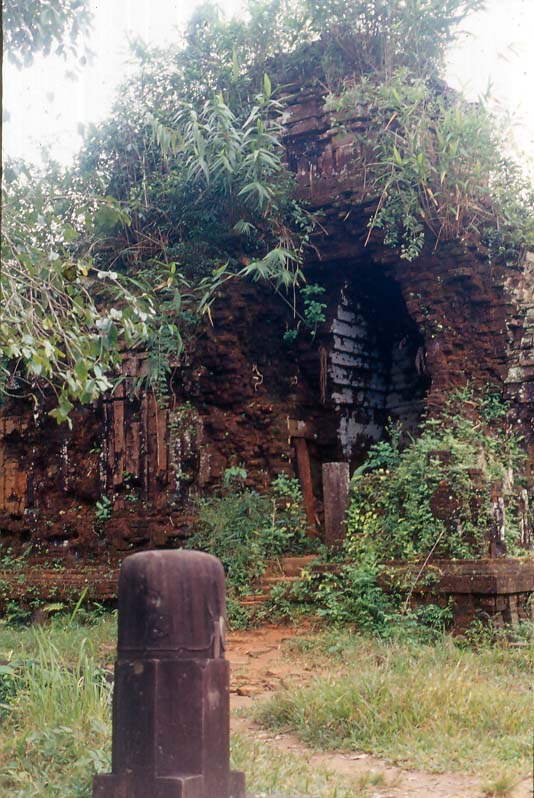 A one day bus tour took us to My Son Mountain and the Cham ruins there, said to be the center of the Cham Kingdom from about 8th to 11th Cent. It was bombed during the "American War", and is mostly rubble, but is fairly extensive with a lot to see. There are some partly intact red-brick buildings and some mainly Hindu sculptures.
As part of the tour, we took a boat back along the river to Hoi An. Lunch included a Hoi An specialty "white rose", a type of flower-shaped steamed won-tons, very delicate and good. Stops on the river included an entire village devoted to pottery making, and another to very detailed and elaborate wood carving and furniture making.
We found a good antique shop where I bought a few small vases, said to be late Ming and recovered from a shipwreck. I could use them as gifts back home.
On the way to Hue we stopped at Marble Mountain, a limestone hill and village devoted entirely to marble sculpture. Amazingly beautiful and intricate work, but what a job it must be! I could see workers patiently chipping away amongst large blocks of pure white marble. It must have been arduous work; hot, noisy, dusty, bright on the eyes, and probably earning about a dollar a day.
Danang was a big but uninspiring city, not worth stopping at. Smog makes it nearly invisible from the Hai Van Pass a few km away.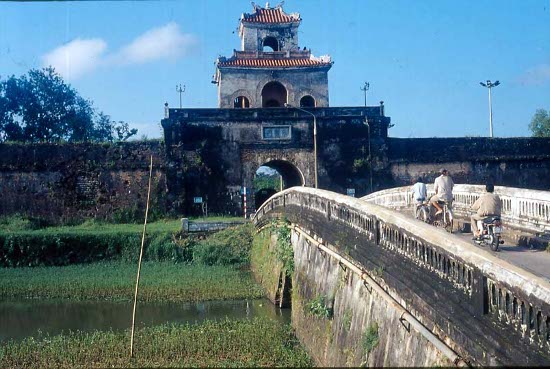 We got to Hue about 14.00 on 2 December for 1.5 days here. Lunch was a nice "nem lui": kebabs, salad and peanut sauce all rolled up in rice paper. We took a walk around the Imperial City. The I.C. of course was the site of major fighting in 1968, and, as with the My Son ruins, didn't come out of it very well. There are some intact structures but not a lot to see. The flag tower and 9 Holy Cannons are still there and in good shape. The Dong Ba markets were a slight hassle with so many touts to fend off.
I found the least decrepit bicycle in my hotel's repertoire and took a long ride out to the big, impressive and well maintained Thien Mu Pagoda, and the countryside beyond. As with most rural rides, very picturesque and idyllic looking. People are friendly and one always feels safe. People in boats were harvesting water plants in the shallow Tang Tau and Tinh Tam Lakes. Farther out along the river, others in boats were hand-dredging the river bottom for sand.
We had to catch the night bus for Hanoi at 18.00, to arrive in Hanoi maybe 10.00 tomorrow. Not looking forward to that long ride. When we got on the bus, it had mostly noisy Vietnamese on it, unlike the previous buses which were all farangs.
Sometime about 01.30 the bus stopped in the middle of the road, blocking traffic. Police were there, with lots of talking going on. They took our bus somewhere nearby, then back to somewhere else, where we sat for about 3 hours before proceeding. Nobody spoke English, and to this day we don't know what was going on. Maybe the cops stopped the bus for baksheesh or something, we don't know. The curious thing was that the bus got to Hanoi about 10.00, on time, so maybe they allow for these stops as a matter of routine.
A lot of the countryside south of Hanoi is Karst area, lots of limestone hills on the flat plain, quite pretty except where they've been quarrying it.
The bus stopped in the old quarter of Hanoi, a busy, crowded noisy area of small street and vibrant life, charming and exciting in its own way.
We'd be based in Hanoi about 10 days with activities around the city and trips out to other places. After getting a place to stay, changing money, booking a Halong Bay trip, and doing a bit of exploring, we called Dean and Annette (I'd seen them before in Pakistan 1995 and Zimbabwe 1998) in the northern suburb Tay Ho. We took a taxi to their place and spent the afternoon and part of the evening with them, Great to see them again after several years.
Next day we explored around Old Hanoi, countless shops selling everything from TV's to bamboo poles; fast traffic, noise, horns, hawkers, a crowded market, the whole bit. It's still fun but gets to one after a while. We booked a night train to Sapa (up near the Chinese border) for a few days hence. Also I confirmed my flight back to Winnipeg to arrive January 17, and
In the evening we went to the Water Puppet Theater, a curiously interesting spectacle of puppets on the surface of a metre deep pool, operated from rods below the water by people in the water behind a screen. They performed a series of short skits of Vietnamese legends, stories and dance to music. Great to see at least once.
As booked, Herbert, Annie and I took a 2-day bus/boat trip to Halong Bay. Our group of about 15 people went by minibus on the 4 hour trip from Hanoi past limestone hills to the wharf near Haiphong. Halong is a big area of limestone hills, caves and floating villages on the edge of the Gulf of Tonkin.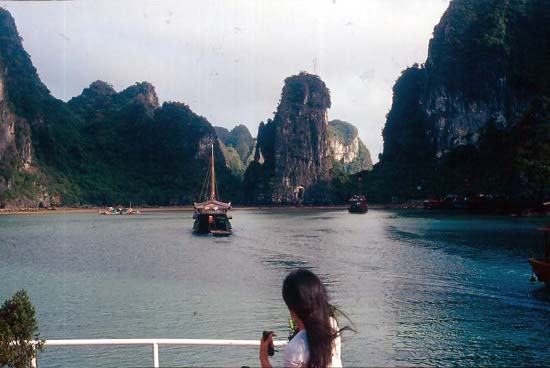 We were treated to a fabulous big lunch in a nice restaurant at the wharf. The overnight cruise was to be on an uncrowded wooden tourist boat with dining area, upper deck, galley and cabins. Halong Bay is incredibly picturesque, luckily with warm weather and no rain. We spent the next 24 hours or so cruising around the very large bay, looking at the outcrops, swimming from the boat and around islands, indulging in a big meal and sleeping on the boat (in cabins, I'm going to get spoiled). One island had a cave with three large chambers within. The floating villages were all on bamboo rafts on plastic drums, even a school in session in one village.
Back at the wharf, we indulged in classical music and an even nicer meal, disturbed only by a faint pivoting sound emanating from Uncle Ho's distant mausoleum. All that 2 days for about USD 35.
Back in Hanoi we met Dean and Annette for yet another fancy meal in a nice restaurant. It's so cheap here, the meal was about USD 6. A typical bowl-of-soup meal on the street (of which I've had many) is about 30 cents. Later at an ice-cream shop we tried "young rice" flavored ice cream; intriguing, it actually did taste like young milky rice, good.
Not feeling the best next day, maybe too much nice food. Also some rain. We walked around the western part of Hanoi, around the Ho Mausoleum, Temple of Literature and Ho Museum (closed when we were there). We missed seeing Uncle Ho, having been incorrectly advised that he was currently out of the country undergoing restoration. The One-Pillar Pagoda, a small structure sitting atop a single heavy post, had been destroyed by the French but since rebuilt. All this district (apart from the temples etc) of Hanoi is much more big, open and "Soviet style" than the old quarter.
Our train departed in the evening of 8 December for the night trip to the northern hill station Sapa. I had Hard Sleeper, and slept well despite the noisy Vietnamese all around.
The train stopped in Lao Cai, a dirty characterless axilla of a place, near the Chinese border, about 06.00. A minibus shuttled us for the 2 hour trip on a terrible dirt/rock road to Sapa.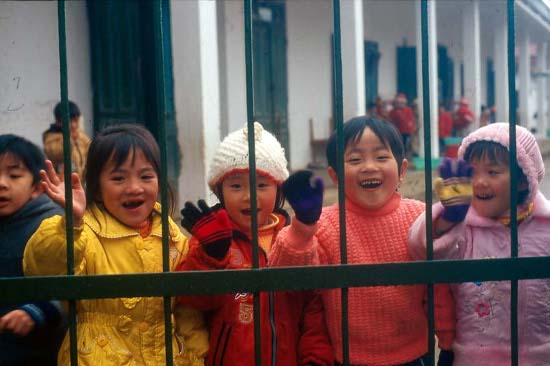 Sapa is a diametric change from Hanoi, a small hill-tribe town far from the lights and comparative glitz of Hanoi. It would be cloudy and misty, with some rain, for the whole 3 days we were there. We got rooms with great views, a waste because of no visibility. The town is full of Hmong, Zao and Zai people, many in traditional black embroidered clothing and many trying very persistently to sell their handicrafts. It was a former French Hill Station, and is not very pretty, but does have some charm and character.
The first day I went for a 2-hour walk down the road to the Hmong village of Cat-Cat about 3 km away. At least I was able to get below the cloud and see something. The village is typical rustic style, wood buildings, people in traditional dress, pigs and chickens in the yards, and generally fairly pristine looking. A pretty waterfall was a bit farther down from the village, gushing a torrent of water of course from the wet weather.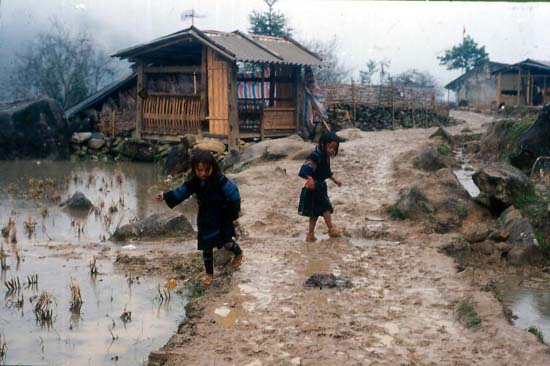 The second day we went on a 15 km guided walk down another valley to a series of villages. We passed through Hmong, Black Zao and Red Zai (from the colour of headdresses) villages. It rained off and on most of the day, but again, being lower down we could see some view. Some of the paths were frighteningly steep and muddy, and difficult to navigate; kids were there trying to sell bamboo walking sticks to the tourists. Many people fell, but I was lucky to keep on my feet.
Almost all houses had water-powered hammer mills to pound rice with, and some had small water-powered turbines with generators for house lighting.
Despite the wet and mud (I'd stupidly left my raincoat in Hanoi), I had a good time. H&A were sick of the wet, quit early and got transport back to town. I stubbornly persisted, seeing a couple more villages before catching a jeep with my guide at 15.15. The drive back to Sapa was an experience in itself, along a rough road in a jeep driven by a guy that looked like a villain out of a Kung-Fu Movie.
Walking around Sapa in the evening has a particularly ghostly feel about it, damp, fog, dim lights, people quietly walking around or sitting, almost surreal.
The third day was not raining but still cloudy, and mostly spent exploring around Sapa and relaxing for the later bus trip back to Lao Cai and the night train to Hanoi. In the afternoon I walked out along paths into the grassy hills north of town; damp, quiet, deserted and beautifully relaxing.
The train had us back in Hanoi before dawn. It was cool here too in the morning, but not cloudy. Walking in the dark back to our hotel, I was struck with a memorable impression, the eerie sight of a man squatting in the dark in the middle of a deserted street, silhouetted against the smoke of the cooking fire that he was trying to start.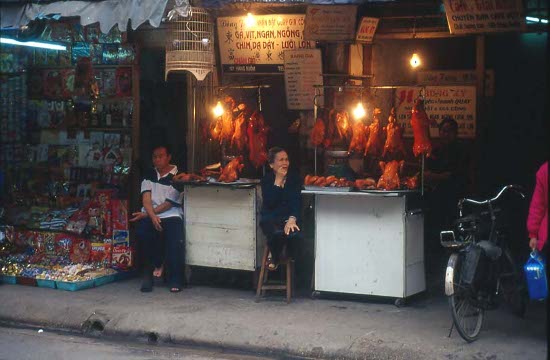 The edge of Hoa Kiem Lake at dawn is alive with music and people doing Tai Chi, exercises and dance.
Visited the History Museum in the afternoon, a huge collection of artifacts from the last few thousand years of Vietnam history and pre-history.
In the evening we met Dean again and had a farewell dinner (my first western meal, a pizza) for Herbert and Annie who leave tomorrow for Singapore, Bali and Lombok.
On 13 December I said my goodbyes and good trip to Herbert and Annie. Tomorrow I'm on the plane as well, to Kuala Lumpur. Today I had a final look around Hanoi, did my emails and housekeeping things, and took it easy.
In the evening, I met Dean and Annette for a couple of drinks at the Hanoi Press Club, very elegant. The way up to the bar was lit by oil lamps on the stairway, and we were greeted by hostesses in Geisha dress and make-up.
So that was Vietnam. I found it a beautiful country, lots more to see than we could manage in our time there, cheap, a few hassles, very worthwhile.
Malaysia For a Couple of Days
My plane from Hanoi dropped me in KL Airport around 19.00 on 14 December. The express train had me at KL Sentral after 20.00.
Where to go for accommodation? I thought I'd try the Pondok Lodge in the Golden Triangle. It turned out to be a good choice, a pleasant place away from the bus station/Chinatown bustle, air conditioning, spacious lounges and roof terrace. This would become my home every time I'd come to KL.
I spent a couple of days in KL looking around and getting organised before heading to Pinang and Sumatra. The lodge could conveniently store some of my things, as I'd be returning here in about a month.
A bus was about 5 hours to Georgetown on Pinang Island, my gateway to Sumatra, Indonesia. Here I stayed one night and booked a return ferry ticket for next morning to Medan across the Strait of Melaka.
The trip to should take 4 or 5 hours. I probably will have to stay overnight in Medan, a real hellhole if I remember right. Then maybe an 11 hour bus ride to Sibolga on the west coast of Sumatra (an even worse town I'm told), and a night ferry to Nias. It'll be a bitch of a trip but Nias should be nice; I hadn't been there before.
It took most of the day to get my ferry ticket and do other shopping and necessary activities. Not a lot of time to see Georgetown.
Sumatra, Indonesia
(Click for map)
On the morning of 18 December I was at the Georgetown ferry terminal for the Medan ferry. Curiously, as I was in line to get my passport stamped out of Malaysia, a guy signaled me to come, and waved me past the immigration desk. I went onto the boat without an exit stamp, wondering why that was, and whether or not I'd have problems on return.
The ferry was fast, getting to the Belawan terminal, near Medan, by about 14.00.
Indonesia is certainly a step or two down on the level of development and wealth of Malaysia; it seem it always has been. As soon as one arrives at Belawan the rubbish, squalour, road conditions etc. are all worse. Rip-off touts hit you as soon as you're off the boat, one following me on the bus into Medan and tailing me as I changed money and found the bus place. I spent only a few hours in Medan, getting a night bus ticket to the west coast town Sibolga for about triple the book price (maybe because of the tout). All transport costs seem to have skyrocketed in the last year or two, who knows why.
While waiting for the bus, I was subjected to intense pressure to buy a mosquito net, "malaria around and no nets in Nias". Thinking, correctly as it turned out, that it was just a gravy train for them I declined, instead buying a few anti-malaria tabs in a pharmacy.
The bus to Sibolga took about 9 hours, and I had about 15 hours to kill there before getting the night ferry to Tuluk Dalam on Nias. As expected, one spends most of the time fighting off touts, "Hello, Where you going? Let me take you there." etc. Sibolga certainly lives up to its reputation as a travellers' nightmare.
The only respite I had was when I was wandering around town I got talking to a local teenage girl who wasn't trying to sell anything. I was invited to her home for a cup of tea and a couple of hours good conversation. What a relief from the pressure! Her father entertained us with Karaoke singing from his TV set.
The ferry to Nias certainly wasn't Cunard. It was one of those near-derelict hulks that you hear about in the news as having sunk somewhere between islands with loss of life. I got a sleeping space about 3 x 5 feet, and the temperature in there must have been 36 deg C., at least until it rained and cooled down a bit. I did somehow manage to get a bit of sleep. In the morning I met a couple of Aussies who spent the night up on top, and had a good sleep up there except for the rain.
We made it without sinking to the town Tuluk Dalam, Nias at about 10.00, Dec 20. A quick motorbike ride took me and the Aussies to Lagundri Beach on the southwest of the Island. I found a nice laid back losmen (guest house), with attached bath and a hammock, right on the beach. It had a mosquito net, putting the lie to the touts in Medan. The cost of the room wasn't much more than a dollar or so, but I think the understanding is that you'll buy your meals in the losmen.
That was the hard part of the trip over with. I could finally relax and enjoy myself.
Because of a number of factors, including Sept 11, then the Bali bombing, then recent civil disturbances in Indonesia, there are hardly any travelers in much of Indonesia. I believe Australia even had a travel advisory out for the country. The Lagundri/Sorake area couldn't have had more than a dozen or so farangs. I later looked along the beach to the large Sakore Beach Resort; dozens of upmarket bungalows and communal buildings, and one guest. So it's easy to get accommodation anywhere and never any crowds.
Nias was nice and pleasant, but there, as in much of Indonesia, people seem to be trying their best to get as much money out of tourists as possible. The constant sales pitches and "grabbing" atmosphere make it a bit less pleasant than it could be, and probably contribute to the small crowds in places like Nias. But still, even paying farang prices, it remains one of the cheapest places to travel in SE Asia.
I spent the next 4 days or so enjoying the beach, snorkeling on the reef, swimming, doing walks and visiting traditional villages.
The reef was very disappointing, being virtually all dead and devoid of coral. What's left of the reef is covered in seaweed. I don't know whether it's because of global warming (the sea temperature did feel very warm and that can kill coral) or, as someone said, caused by too much fishing with explosives or other damaging methods. Anyway the snorkeling was depressing.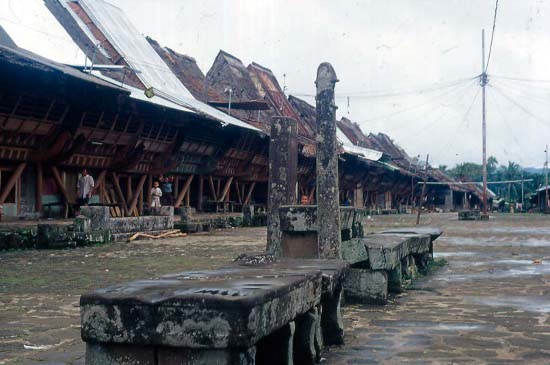 The traditional villages were more worthwhile. There were a couple within walking distance of the beach. They are characterized typically by a very broad cobblestone avenue, with traditional ornate carved wooden houses along each side. In front of the houses are stone seats that nobody uses, they are apparently for the spirits of the ancestors. Also each village has a "jumping stone", a stone pedestal about 6 feet high with a step about a foot high beside it. People supposedly jump from the step to the stone, but I didn't see them do it.
The villages have lots of churches. The area is mainly Christian and you can hear the singing on Sunday mornings everywhere and the locals dress in their finest.
The kids had an interesting home-made toy. They would catch a live cicada insect, tie it to a string, tie the string to a stick, and walk around with their "on-leash" flying cicada.
Because the ferries were apparently not running around Christmas, I had to bail out of Nias early, and take the ferry back to Sibolga on Dec. 23. It was a bit cooler this time, so almost comfortable.
On Dec 24, we (the Aussies and me) got straight off the ferry and onto a bus to my next destination Lake Toba. There was only one change of bus part way there, the scenery was pretty (forest and farm country), and there was only one breakdown stop to replace a brake cylinder. So the trip, even though the buses were crowded, was rather pleasant.
We got into the Lake Toba town Parapat and on the ferry to Samosir Island by 18.00. One more hour got us to the village Tuk-Tuk on Samosir. I found a guest house in the dark and settled in quite nicely. Merry Christmas! I'd be here 8 days.
I was last in Samosir Island in 1976. Boy has it changed! Before there were only a few very simple places to stay, and most of the area was countryside. Now it's built up with guest houses all around Tuk-Tuk, some quite fancy and upmarket. As I said before about Nias, they're nearly all empty for lack of tourists. The restaurants and entertainment spots have more Indonesians than farangs.
But despite the proliferation of developments, the place still has a charming tranquil aspect, and I had no trouble staying there over a week. That says something considering there isn't a lot to do there.
For Christmas I went to a dinner at a nearby restaurant, where they put on a special barbecue of chicken, pork, roast potato, carrot, cauliflower stuffing and gravy. Not that special or huge by western standards, but with a couple of beer it was good, and a pleasant change from mee goreng, rice and chicken curry. Later in the evening there was a performance of traditional Batak music, song and dance by a local group, not one's usual Christmas but interesting nonetheless.
A day or two later, walking to a nearby village, I stumbled on a wedding reception in an open area. Great to experience the way they dressed, the dance (similar to what I saw at Christmas) and presentation ceremonies. When it came time for the meal it was obvious that they had killed a water buffalo and a cow for the wedding, because they brought the cooked heads, tails, rib cages, large bones and other body parts for display, not to eat but maybe to show what they sacrificed. The meal was fish and rice for the wedding party, and everybody got stew made from the meat, and rice. Not wanting to intrude on their hospitality, I discreetly left at mealtime.
It rained a fair bit on Samosir, so it restricted my movements somewhat to shorter walks and rides on rented bikes. But it finally cleared up enough that I could do the walk up the hill toward the center of the island.
I started about 08.30. It was quite a steep slippery (muddy) walk, about 2.5 hours slowly, and hot and sweaty even though Samosir is relatively high and cool. But the views are fantastic, and when I got up to the top about noon the high dense rainforest was a pleasure to walk through. One more hour and I was in a small village (about 4 or 5 farms) and at Jenny's Guest House to stay overnight. Got a room there for (would you believe?) about 60 cents US. Just a farmhouse with a few water buffalo and chickens and no electrical power. Absolutely beautiful. Had a relaxing afternoon, a wonderful sweet-potato curry and rice dinner, conversation and guitar music, and in the evening the best view of stars I've seen in a while. They grow their own coffee here, and a cup of it, although chewy from the grounds, is of excellent taste.
The next day I walked to the village Pangururan on the west side of the island. It was an incredibly exhilarating, "good-to-be-alive" four-hour walk through forest, bracken fern, farmland, a river gorge, friendly kids and villages, with magnificent views of mountains and the lake. From Pangururan it was a bimo ride back to Tuk-Tuk.
New-Years eve dinner was at the same place I had Christmas dinner. New Year was fairly quiet there, not much more than the ringing of church bells for a while at midnight. Lots of Medan people and Malaysians were over here for New Years holiday.
On 2 Jan, 2003 I moved on by bus to the hill town Berastagi, about 70 km west of Medan. I was able to ride with young students atop the bus for part of the way, enjoying the views of coffee and tea-covered hills. At one point we hit a rain squall, having to scramble under a tarp to keep dry.
Berastagi was memorable for it's coolness, the good variety of nice cheap food (Indian, Padang and good satays as well as the usual fried noodles and rice), and mountain walks. I was there for a few days in a friendly but noisy (from traffic) guest house. Numerous vegetable gardens outside the town probably service the Medan market.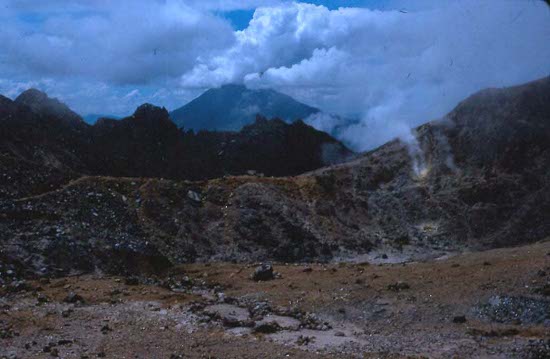 I managed to do a day walk to Mt Sibayang, an active volcano about 2 or 3 hours walk from town. It was great, The first part of the walk was on a dirt/rock road through jungle, where I could hear (but not see) quite a few monkeys (Howler monkeys I think, from the noise they made). Then up the side of the mountain mainly via a stepped path, to the crater area. It was quite striking, with the bare rock, flat crater floor with a bit of water on it, and many vents or fumaroles spewing up steam and sulphur fumes. At one of the larger vents were a couple of Indonesian guys with long bamboo poles and containers, apparently harvesting sulphur from the vent. I wonder what the fumes do to their health.
Back down at the bottom via another route, I was tired. But I was also determined to walk all the way back to town via the shortcut over a ridge. Everyone showed me where the shortcut was, but didn't tell me it was closed or difficult because of a landslide across the path. So I struggled up there, couldn't pass the landslide, and had to come all the way back down and take the bus anyway. Typical Indonesian way.
While in Berastagi I confirmed the date and got seat allocation for the ferry back to Pinang.
Then I was again down to the heat and chaos of Medan. One day there is enough, just doing necessities like finding details of the ferry, changing money, internet, buying more malaria pills etc. I got a bed in a guest house that was mercifully away from traffic noise. But it was right next to the Masjid Raya, the main Medan mosque, with thumping great speakers sticking out from the minaret. Believe me, the calls to prayer are LOUD, especially at 05.00. It's a good alarm clock.
At the ferry office, where I was to get the bus to the Belawan ferry terminal, the legendary Indonesian efficiency kicked in. They wanted to charge me for departure tax again, even though I already paid it in Berastagi (luckily I talked my way out of that). Instead of leaving at 8 am, the bus was to go at 08.30, then 09.00, then sometime after 09.00, and then spent the best part of an hour wandering around Medan picking up passengers etc. It didn't get to Belawan until after 10.00 ( the ferry is scheduled to leave at 10.00).
The ferry terminal was a study in crowds and confusion. The agents there said that because the bus was late the seats had already gone, and my seat allocation was invalid. Then, "We'll try to get you a seat". Luckily they did eventually get me on. An American guy on the same bus didn't get a ferry seat at all, even though he'd booked through an agent, and he had to return to Medan, rather the worse for mood. The ferry eventually left sometime after noon. The trip was pretty rough from seas, and gave me a headache from the chop and lack of a lunch.
A couple of interesting observations about Indonesia:
When passing a souvenir, or any type of, shop, (like probably in any tourist place) don't make eye contact with the merchandise. If you do, the proprietor goes into convulsions of hysteria to try to get you in to buy something.

Walking down a street or road, everybody, especially the kids, all say "Hellooo, Where you go?" I got sick of trying to answer them, until it occurred to me that it must be a simple greeting. They probably have no more concern for your destination than the Aussie, with his "How ya goin?", has respecting one's mode of transport.
Forget 9-11 or the Bali incident. Probably more the real reason tourism is off so much in Indonesia is (1) the simple disorganization and lack of discipline in the way they do things, and (2) the "grabbing" get-as-much-out-of-the-tourist-as-possible, mentality of the people in many places, including lying, charging ferang prices, etc. It's just not worth the hassle to a lot of travellers. Places like Nias are almost deserted, maybe for these reasons.
Back in Malaysia
(Click for map)
My ferry got me back to the Georgetown Ferry Terminal on 7 January as it was getting dark in the middle of a rainstorm. Coming down the gangway toward immigration a guy (maybe the same one who waved me through here when I was leaving) again waved me past immigration. So I had no problems with passport stamps after all.
I had to wait for a half hour or so for the rain to stop before walking up to Love Lane (no, it's a "nice" alley) to find a charismatic old white-haired Chinese guy to give me a bed. Only then, and after a big Indian chicken masala and veg and rice meal, hamburger and ice-cream, was I able to shake my headache.
Georegetown is still a charming place, not greatly changed, despite some development, since the 70's. Still lots of old Georgian (?) architecture and only one high-rise development downtown. Good food here, mainly Hainan, Nyonya, Malay, Western (Ferang) and of course Indian. I'm certainly getting enough to eat.
Here's a curious incident. One day I was in the Komtar Bus and Shopping Complex, checking onward bus details and shopping. On walking out, I saw a huge cloud of smoke near the waterfront, a building on fire or something. I thought I'd wander down there to rubberneck a bit. It took 15 or 20 minutes walk to get there, and I don't know how long the fire was going before that. But I still beat the fire trucks. Asian efficiency?
I was to be a day late leaving Georgetown for my next destination Cameron Highlands. As I was about to go to the bus, another farang that I'd hung out with in Lake Toba caught my attention. By the time I talked to him over breakfast I'd missed the bus. No worries; I'd just do more sightseeing today and move on tomorrow.
Next stop was Tanah Rata, Cameron Highlands, a return to a place I'd liked so much in 1989. The bus was somewhat slow and squeaky, but it got away on time about 08.00. He dithered around parts of Georgetown and Butterworth, and drove a slow "safe" trip up the long, steep and curvy road to TR, arriving there about 14.30. The bush was beautiful, at least the part you could see from the road.
In TR, I checked into Father's Guest House near the edge of town. It was a rather unimpressive looking collection of old Nissen huts that apparently used to be a military hospital or something, but it was surprisingly comfortable and well run. A 74 year old Scotsman from Toronto was staying next to me, and provided some interesting conversation.
I spent the 3 days relaxing and doing walks around the area. There are lots of nice bush tracks up to nearby mountains, and roads out to tea plantations and fruit/vegetable/flower farms.
It hasn't become unrecognizable in the 13 years since I was last here. But there has been a lot of resort development and agricultural activity, and some areas have suffered severe erosion and scarring of the landscape. I observed earth moving equipment digging sand out of a creek bed because it had been so badly silted up. Later when walking up the mountain outside of town, construction noise from another site followed me all the way. It's still a nice place but not pristine.
I was worried about too much rain, and it did rain every day, but not enough to be a problem. The rain did keep the frogs and insects happy, contributing to the delightful evening bush symphonies.
There's a sizable Indian population here, so the food was good; Roti Canai or Thosa pancakes with vegetable sauce every day, as well as good chicken curries, Nazi Lemak (coconut rice with trimmings), Claypot (baked rice/meat/curry dishes), and the Chinese hot-soup-based fondue called Steamboat.
One day I took a bus and walked up farther into the highlands, past the town Brinchang, to the large Boh Tea Palantation. They weren't processing today but I did get in a tour and inspected displays of tea production and company history. Walking along the lane to the central buildings, I passed the workers barracks, full of Indonesian guest workers on their day off. I guess a lot of Indonesians come to Malaysia for jobs.
The last couple of days were spent in KL, not very exciting. As I may have said, KL is very clean and sterile, getting like Singapore. Lots of fancy stores, but not as cheap as Vietnam. The food is good though, lots of Indian and Chinese food as well as the indigenous Malay and Nyonya food.
Back to Kuala Lumpur on 13 January, I have to catch the plane out in about 3 days. I filled the time with a little bit of shopping, laundry, and some sightseeing that I didn't get to do on previous trips.
One worthwhile experience was a dinner at the Old China Cafe in Chinatown. It's an original Nyonya (Straits Chinese) building with distinctive architecture and bat-wing doors, maybe a hundred years or so old. The Laksa Lemak (spicy noodle soup with coconut etc.) dinner was well done.
The Chow Kit market next day was also worth a look, crowded, busy, and typically Asian. I sampled fruits that I won't get back home, like longans, mangosteens and salak (too bad I can't take some on the plane). Nearby the Lake Titiwangsa Park and Gardens is a pleasant place to take it easy for an hour or two.
A good part of one day was taken up by the Islamic Museum near the National Mosque. There were the usual but very interesting displays of calligraphy, metalwork, ceramics, tapestries, jewelery, medieval armaments, wood carving, parquetry, inlays, books and models of famous mosques. But also there were special exhibits of mosque architecture (it's notable that most of the major mosque projects in the Middle East are contracted by the BinLaden Organisation, obviously the good side of the family), and "Islamic" tents, everything from Mongolian Yurts to Afghan and Bedouin black tents.
The night life in KL is quite vibrant, especially in the Golden Triangle near where I was staying. The place is packed with local food courts, international restaurants, coffee shops, stages for music performances and fast food outlets. I lost count of the number of Starbucks there.
16 January, goodbye again to SE Asia, and I was on the plane to Taipei, LA, Minneapolis and Winnipeg. It was a great trip and I'd miss Asia very soon after.