Asia Overland and Europe 1976-1977 (Part 2)
Pakistan
(Click for map)
We were in Lahore, in Pakistani Punjab, early to mid afternoon on March 22.
The immediate impression of Pakistan, other than being overwhelmingly Muslim, is that it is slightly more prosperous than India, with more consumer goods and neon signs. Lahore is still somewhat grubby and run down, but not to the extent of Indian cities.
We were in Lahore a couple of days, exploring Mall Road with its modern minar, Chinese restaurants, the famous brass Zamzamah cannon in the park, and the Lahore Museum.
We also looked at the exterior of the Moghul era Lahore Fort, but didn't go in as we'd become sick of forts from Agra and Delhi. The mosque outside the fort was worth a look though.
I don't remember a great deal of interest in the above sights. Maybe I was getting jaded from travel, or maybe the intestinal ailments were getting the better of me.
We had heard about the "forgotten French" in our travels, and finally had the chance to meet one. A young guy who looked like he'd been here a loooong time, met us in our hotel. We talked a while, he said he left his passport elsewhere, and wanted to borrow money. We politely declined the "loan". Apparently a lot of these people sell there passports for dope, the passports are not replaced by their consulates (they know better), and they become stuck in India or Pakistan.
From Lahore it was a train straight to Peshawar, a 12 hour trip in third class. It wasn't very comfortable (we normally go second class), with cramped hard seats, luggage piled all around and someone coughing and spitting nearby. Beggars came on the train at every stop. But the Pakistanis are friendly people and we got into good conversations. The scenery was more varied than in most of India, and we enjoyed some fairly rough, hilly, arid scenery.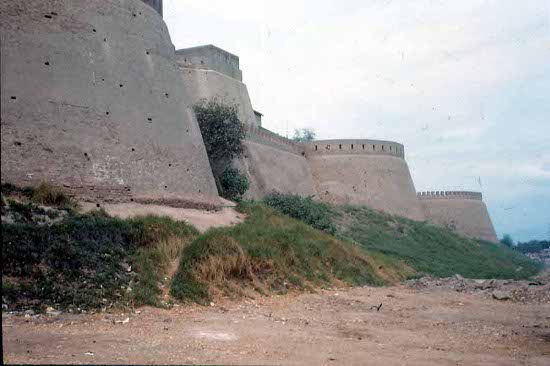 We arrived in Peshawar after dark and had a bit of dinner (not much to eat besides bread and chapati on the train). We found a room in the Rainbow Guest House, ominously situated in the middle of a truck repair enclosure, but surprisingly comfortable and quiet.
Peshawar looks a lot less "Indian" than Lahore, much more of an Afghan character. The leather shops appear to have cartridge belts and holsters as their principal turnover. The Pathan (Pashtu) people, with their shalwar-qameez outfits and Chitral hats, have this mean, no-nonsense look about them.
The most memorable landmark in Peshawar was the large slope-sided, round turreted British built fort. We couldn't go in as it was still a military installation.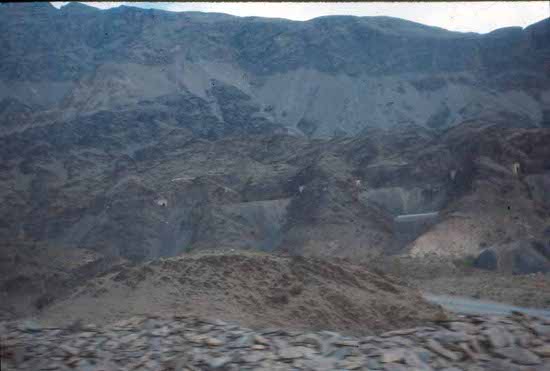 We only spent 2 days in Peshawar, and 4 days in all of Pakistan. At the time we didn't consider it to be a particularly distinctive or exciting place, and were headed to more trendy destinations farther west. I have been back to Pakistan a couple of times since then, and found more of what it has to offer. But this time it was off to the wilds of Afghanistan.
The road from Peshawar was 4 lanes, the best and fastest road I'd been on in Asia. First stop was Iamrad, real wild west, with Pathans walking around toting .303's and cartridge belts. I think it was here where each bus passenger had to pay a few rupees "baksheesh" or protection money to be allowed to keep going with the bus.
Then it was up the legendary and incredibly beautiful and rugged Khyber pass. There were old forts and villages all the way up. It wasn't hard to imagine why the pass was so strategic to the British.
It took a few hours to get through the Afghan border at Tor Khama, and on March 26 it was goodbye to Pakistan.
Afghanistan
(Click for map)
Afghanistan, compared to the Indian Subcontinent, is another planet. India is hot, crowded, and colourful. The people are all over you to sell something. Afghanistan is cool, sparse, and every shade of grey or brown. The people are aloof and no-nonsense. They won't beg off you, but you'd better not venture out on a country road alone.
Almost as soon as we entered the country, we were captivated by vast stretches of dry rugged semi-desert, swift-flowing rivers and snow-capped mountains We passed desolate looking settlements of black tents and camels, and scarcely a tree or field to be seen. The roads are right-hand drive now, unlike Pakistan and India. Also people don't use the roads for sitting, loitering, drying rice or tending herds. They use the horns less here, a rest for the ears..
Our first stop was Jalalabad, where we were treated to a meal of shish kebab and nan bread and green tea, a wonderful difference from the curries I'd gotten so sick of.
We arrived in Kabul about 17.15. A hotel tout took us to the Sherpoor Hotel, near Chicken Street in the more modern (east) side if the city. A bed was 30 afg each per night, at an exchange rate of about 47 afg to the USD. Kabul and its backpacker haunt of Chicken Street were reminiscent of Kathmandu and Freak Street; you could get any kind of food you wanted, but slightly more expensive than in Nepal.
We had a good dinner in the Istanbul Restaurant on Chicken Street, where most of the travellers facilities were.
On our first day in Kabul we explored the layout of the city, finding the tourist bureau, bank to change money, the post office to check mail, and shops to look for an Afghan coat. Kabul was a spacious, open city, with large buildings, wide streets, vacant areas, bare hills on the edge, and high mountain peaks in the distance. Being at fairly high altitude, the air is crisp and invigorating. People and stores were more modern looking than in previous countries, and many women wore western style clothes. There were many official looking buildings and embassies, all guarded by military personnel. It made me wonder why they were all here looking after buildings rather than out making the highways safe to drive on.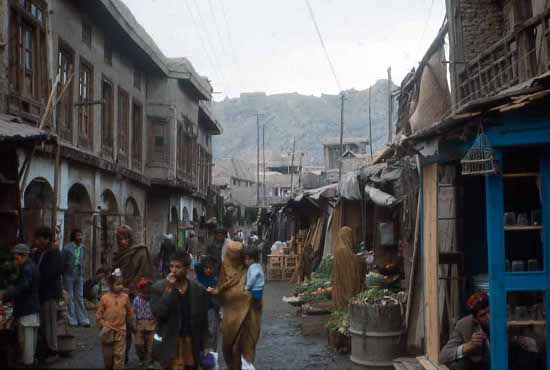 Across the river to the west is the old city, a warren of narrow streets and lanes, mud brick buildings, and tantalising smells of fresh bread and kebabs. The old bazaar stocked, besides the usual goods, fresh carrot juice and bulk (by the bushel) popcorn.
Out beyond the old town is the hills and parts of the old city walls. We climbed up to the walls and found good views of the whole of Kabul. On the way up we encountered gangs of kids yelling at us for "baksheesh". Maybe because we didn't give them anything, they started throwing pebbles at us. As I said, it's certainly a different culture to India.
As it started to rain, we sought refuge in the British Council, where we perused the newspapers and magazines to catch up on the situation from the outside world . Another day was spent in the USIS American Centre library reading magazines.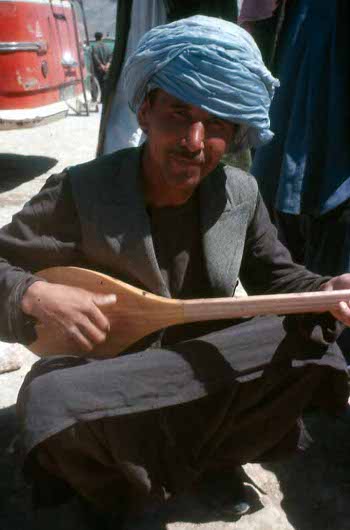 We wanted to go out to Bamiyan, where the immense Buddhist statues were carved into the rock. But there was apparently a bridge out somewhere, and we couldn't go in that direction. I guess we'll never see them now, as the statues would be destroyed by the Taliban about 25 years later.
After about 4 days in Kabul, we aimed for Mazar-i-Sharif, north near the Russian border. A taxi ride with other travellers got us to the bus station about 05.45. The modern and comfortable Mercedes 302 bus only got us out of the city when it had a flat tire, about an hour to fix.
Then the route took us out north through villages with irrigated fields and poplar trees, through barren rocky valleys and up to the spectacular Salang Pass, well into the snow line. Much of the road is covered to protect against avalanches. On through the long claustrophobic (pity the poor Russians years later) Salang Tunnel itself and down again through semi-desert to Mazar.
Mazar-I-Sharif is not hard to spot, you can see the big Blue Mosque, with its glazed tiles, before you even get there. We found the Balkh Nights Hotel and shared a room with another Canadian guy.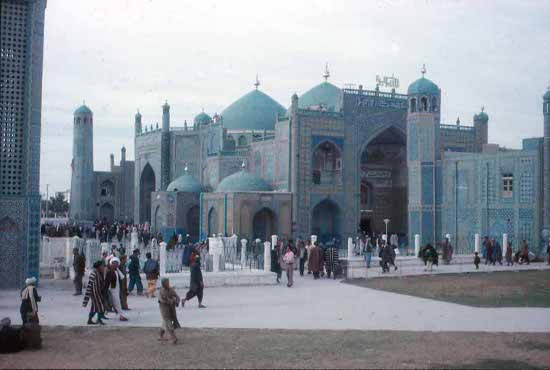 One reason to come here was to try to see that rough and tumble precursor to polo, Buskashi. But it seems it was getting too late in the season to see much of it. Lots of enquiries indicated it wasn't on here and we would have to go to Kunduz to see it. But apparently we could get to see Shotour Jangi, camel fights. A nearby stadium had the event on next day, admission 10 afg. What a farce! Most of the day was spent trying to stir up the quiet peaceable-looking Bactrian camels fight each other. After a lot of cajoling, a couple of the camels started to snap and push at each other, but the result was indecisive. The whole thing seemed a cruel pointless sport, and we left before it was over.
I was to go out to Balkh to see the ruins, but my diarrhoea was bad again (almost chronic now) so I didn't bother. Just get back to Kabul and maybe check it out with a doctor. We took the bus back to Kabul next day.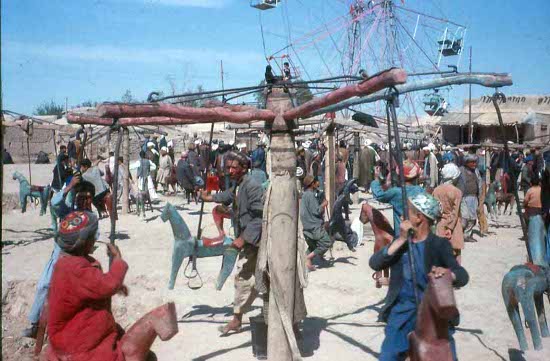 Back in Kabul I got tested at the hospital, fast and efficient service. They did a stool sample, analysis (Entamoeba Histolytica and Giardia Lamblia), diagnosis and prescription all in under an hour. I bought 275 afg worth of Flagyl and started using it right away. Hope it works.
Next day in Kabul I applied for my Iranian visa, 1 day processing and no charge.
Also I bought a goatskin afghan coat for 1500 afg. When I was buying it I realised how careful one has to be. When I went to pick it up after the alterations I saw that they'd tried to switch it with an inferior one, and I had to protest to get the correct one. Very ornate embroidery on it, but I didn't realise how persistent the smell was until later, so it never did me much good anyway.
While checking for my mail in the post office, I ended up giving an impromptu English lesson to the clerk. There are always people around who want to study English and need help with tutoring.
After a total of about 6 days in Kabul, we were ready to move on. An early 04.15 start got us to the bus station and onto the 05.15 bus for Herat. The Mercedes bus was again comfortable but seemed to have no shock absorbers and swayed a lot on the road. Unlike in the north, we travelled through mostly flat desert along straight roads, through the occasional village and Afghan camp. Most of the way was cloudy with rain, and occasionally water over the road. Our packs, which were stored in the bottom of the bus, got wet from the flooded roads.
At noon we stopped in Kandahar; there didn't seem to be much of interest to keep us here. We arrived in Herat about 21.00, a good long day, and immediately found a suitable hotel and meal.
We spent 3 days in Herat, it's more of a Persian city than the Pashtun-dominated Kabul and Jalalabad or Uzbec-peopled Mazar.
The centre of the city is dominated by the the citadel built by Alexander in 4th century BC. It was in pretty bad shape and was undergoing a UNESCO restoration project. Rubble from the walls was being channelled down on chutes to a brickworks below, to be made into new bricks.
We had a look at the main mosque, but were starting to get sick of mosques by this time.
The bazaar had an incredibly large amount of second hand clothes, including lots of suit jackets which must come from the west and are worn by the locals over their qameez shirts.
Later we walked to the Musalla Complex, basically 6 large and impressive minarets standing by themselves. Had a good conversation there with a local guy who was able to tell us a lot about the country and people.
I was annoyed by the false advertising all around, such as hot shower signs where there were none, restaurant menus with hardly anything available, free ping pong that costs 10 afs per hour, and live Afghani music that's "finished".
Another annoyance was the obnoxious kids, saying hello repeatedly, following us around, and as in Kabul asking for baksheesh and throwing things at us.
On Friday we booked our bus tickets for the Iranian border. On Saturday, April 9, we were on the mini-bus at 06.30 for the 2.5 hour ride to the border town Islam Q'Ala.
Afghanistan was a really wild, rough, spectacular country. I would have enjoyed it more if I wasn't so sick from the runs much of the time.

Iran
(Click for map)
The customs and immigration ritual at Islam Q'Ala was the usual hurry-up-and-wait routine on both sides. Our Afghan bus took us the mile or two through to the Iranian side, and left us there. The Iranian rial traded at about 70.5 to the USD.
For lunch we bought a couple of salami sandwiches at a stall for 20 rial each to keep us going. About 13.30, 4 hours after arriving at the border, we were finally able to board an Iranian bus for the 100 rial, 3 hour trip to Mashhad.
The difference in affluence between Iran and Afghanistan is immediately obvious; the officials have nicer uniforms and the construction projects are much bigger.
The landscape is also different. The desert goes from stony in Afghanistan to sand in Iran.
I might mention now, that when in Heart we were talking to another traveller going east. He had been in Mashhad and was impressed with the friendliness and candour of the people. He made friends with someone there, had gone home with him, listened to music, toured around the city a bit, and then they just happened to pass a carpet shop (Pars Carpets). There he got an impromptu talk detailing the history and technology of carpets. All neat stuff, and he ended up buying a kilim carpet.
So here we were in the Mashhad bus station and a local guy just "happened" to meet us, got us tea in a nearby restaurant, found us to a hotel, and later came around to take us home to listen to Elton John, Pink Floyd and Ravi Shankar tapes. WOW, how spontaneous. We saw what was coming, but who cares. The next day of course he took us on a tour to the mosque, and (surprise), just "happened" to pass Pars Carpets and drop in there for a minute. Of course we got the course on carpets and then the sales pitch. Unfortunately for our "friend" we weren't interested in carpets and he wasn't able to get his cut. As soon as we left the shop he was gone, probably to make other friends.
Mashhad was probably a preview of Tehran, lots of cars and construction, and considerable evidence of westernisation. Not many people spoke English and communication was a challenge. Food and accommodation were more expensive than in countries further east. Our room, without shower, was 250 rial, and the standard meal (cello kebab, a nice tasting ground-meat-on-skewer with rice and butter and vegetables) was 90 rial.
We were continually hounded by carpet hustlers, mostly kids. One adolescent offered to show me his brother's jewellery shop and cousin's carpet shop. When I declined to buy a turquoise ring for a girlfriend, he offered to be my girlfriend. Thanks anyway.
After a couple of days in Mashhad we were on a "deluxe" bus (500 rial each) at 16.30 for a 28.5 hour trip to Tehran. The bus was meant to have reclining seats but few of the seats actually did recline, I didn't sleep well.
Our journey took us through the Plateau of Iran, and morning light found us climbing through snow in the mountains near Damavand (5601 m).
At 09.00 we were in Tehran. Some exploration around the city led us to the Amir Kabir Hotel, the best known (and almost only) backpackers accommodation in the city. Other traveller options were sparse, and it showed in the surly and officious demeanour of the staff.
Tehran, or the parts we saw, seemed at first glance to be mostly stores and car repair and light industry shops. Cars clogged the streets, incessantly honking and polluting. Eating wasn't easy, there didn't seem to be many restaurants and grocery stores, and food wasn't cheap. Except for a few street sandwich shops, the restaurants that we found were only open at certain times. The usual meals included kebab, bread, beans, yoghurt and cucumber.
After only one day in Tehran, we boarded an 11.00 bus for a 7.5 hour trip through desert and hills to that showcase of Persian architecture: Isfahan.
Along the road were frequent wrecked car displays, presumably warnings against bad driving. It was curious that we saw so many building projects along the road, out in the middle of nowhere; what are they doing here?
Isfahan has it's Amir Kabir Hotel too, must be one in every city.
The streets were pleasant, with grassy boulevards and trees. Carpet and brassware shops abounded, especially around the Meydan-E-Shah Square. But again it was hard to get food anywhere.
One of the premier sights was the Masjid-I-Shah, or Shah Mosque, impressive for its size and grandeur if not for its detail.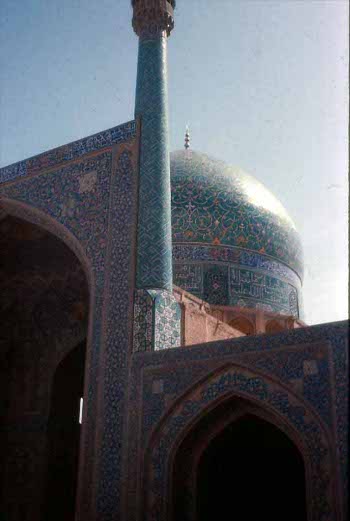 The nearby Masjid-I-Shaikh-Luftullah, or Blue Mosque, is less massive, but more than compensates by the beauty and detail of its blue tile dome.
The Chihil Sutun, or Palace of Forty Columns, was made mainly of wood, and showed considerable decay, but the paintings were impressive. There were actually only 20 wooden columns, but forty in Persian apparently means "many". Or you look in the reflection in the water to get the other 20 columns.
On one of my wanders around the city, I came a cross the little Armenian Cathedral and Museum. I am not a religious person, but after several months of Buddhist and Hindu Temples and Mosques, I was thrilled and nostalgic to see my first Christain edifice. I couldn't resist sitting there for some time listening to the music and admiring the frescoes.
Isfahan is memorable as a beautiful, pleasant city, well worth the trip down from Tehran.
I did some shopping in the markets to buy souvenirs (carpet and copperware) to send home to the family in Canada. Had lots of hassles getting the gifts and my Afghan coat posted, having to go a couple of times to the customs place at the opposite end of the city from the post office, but finally got it all away.
After 4 days in Isfahan, a night bus got us back to Tehran.
One evening we entered the Jafar Athletic Club to see a 45 minute display of Jafari Zurkaneh (House of Strength). The daily performance portrays muscular men dancing and swinging heavy clubs to rhythmic chanting and drums.
A day or two in Tehran, and we were moving on to Turkey. Hope there's more variety of food there.
We got a bus at 7 pm for the 24 hour trip to Erzurum in Turkey. Luckily the bus was only about half full, so we could lie on the seats and get a little sleep.
About 8.30 am we were at the Turkish border. We could tell it was the border before we got there, because of the kilometres of Bulgarian and Hungarian trucks lined up along the side of the road. I've never seen so many trucks in my life, why do they take so long to get across?
It was at this border crossing that I saw, and smelled, what must have been the worst toilet in my life. It was just a room in one of the buildings with a concrete floor and urine and faeces all over the floor. Unbelievably disgusting.
We were about 11 days in Iran. It was not one of my favourite countries and, apart from Isfahan, not all that interesting. It was relatively expensive, people hassled us a lot, and the food wasn't great. I found that whenever you bought anything you had to have the exact amount of money because nobody had change. Iran was OK but not a place I'd rush back to.
Turkey
(Click for map)
Julian and I were about two hours at the Iranian border before making our way into Turkey on the morning of April 20 1977.
One of the first things we noticed was that the land was again more like Afghanistan, rugged and stony, a contrast to the featureless flat desert of Iran. Off the road caves could be seen carved into the cliff sides.
Lunch in the small town of Igdi was some sort of meat on a bread roll from a stall. We continued up the wide Aras River valley near the Soviet border, and into the main eastern town of Erzurum about 16.00.
We changed money, 17.5 lira to the USD, and were met by a German-speaking local (luckily I'd learned a bit of German) who steered us to his hotel for a 50 lira room. The room had no shower, but we didn't really need it badly. Erzurum is quite high in altitude, nearly at the snow line at this time of year, and crisply cold.
One of the most impressive aspects of Turkey, and what made it one of my favourite countries on the trip, was the food. The food is becoming more European, and it's soooooo good. When we walked in to a restaurant, rather than sitting down at a table, we were invited back into the kitchen, to see "what's cooking". The stove has several large pots containing soups, stews, stuffed vegetables, rice, etc. and the savoury aromas drive us mad with desire. We could point out "a little of this, some of that", and return to our table to enjoy a delicious meal.
After only one night in Erzurum, our destination was the town of Urgup in the Cappadocia region of Turkey. The bus would leave at 16.00 for the central Turkish city of Kayseri. To kill time during the day, we walked to the edge of town and up through fields and grassland to the snow line on the nearby mountain slope. We stayed there for quite some time, totally captivated by the magnificent views of the town and mountains, birdsong and idyllic "un-Asian" peace and quiet.
Later in the day we took a minibus out to the main bus station for the Kayseri bus. A road through river valleys and a mountain pass (Pontic I think) had us in the town of Shivas about 22.45.
Typically for travel in these places, nothing is as it seems. The bus, instead of going to Kayseri, ended here in Shivas. We would have to wait until 01.00 for another bus to Kayseri. The Shivas bus station was anything but boring though. A group of local kids, some of whom spoke German, kept us entertained much of the time. One of them advised us that the 01.00 bus was another company, and proceeded to write us out free bus tickets for the onward journey. I never cease to be mystified by the workings of the system.
The trip to Kayseri took 3.5 hours. Sometime in the middle of the night we came across a vehicle accident scene. I was dead tired and it was cold and wet outside. The one thought that sticks with me to this day, as we passed the corpses stretched out on the pavement and covered with rain-soaked blankets, was "What a miserable way to die!"
In the large, crowded Kayseri bus station we tried to stretch out as much as we could on the seats and snooze until 07.00 when we could find onward bus tickets to Urgup. In the morning I tried to explore the streets of Kayseri (one of many places named after Ceaser), but it was so damp, muddy and dreary that I had no incentive to go far. I was introduced to the Turkish style of mosque with its tall, narrow minarets.
We left Kayseri at 11.30, arriving in Urgup at 12.45. A hotel guy met us and helped us get a comfortable room at the Erciyes Pensione. It was still wet outside, so we did little else but check out tourist information and rested up from our 21 hour trip.
Urgup, in the centre of Cappadocia, is somewhat of a travellers' destination, and a good base camp for exploration. Much of the area is characterised by extensively eroded soft rock, capped and partially protected by harder rock, resulting in a Tolkeinish, elfin atmosphere. One could spend days exploring the fascinating geological formations and the dwellings, even "cities", that were carved into the rock from medieval times. Some of these excavations are still in use, some are abandoned, and still others are museum pieces.
We'd hoped that the weather would improve next day but it didn't. Next morning we bought some bread and eggs and walked up one of the steep hills in town to look at the derelict cave homes and find a sheltered place to eat our breakfast. As we sat in a ruined home, we munched away and watched the drizzling rain turn to snow. In the afternoon the snow eased for a short time, and I explored more of the cave dwellings around town. The rock varies in hardness from that of hard dirt, able to be carved with a knife, to that of normal sandstone. Logically, it would not require a great effort to dig oneself a home in a reasonable time.
The following day there was some snow around and still drizzle rain, but we resolved to get out anyway and explore surrounding town and villages. We teamed up with an American girl and a French-speaking guide for a day trip in a car to all the main sights.
First stop was Kaymakli, about 40 km from Urgup. Here was the famous "underground city", an extensive complex of rooms and corridors over 7 levels, now all a museum exhibit. We spent an hour or so poking around 4 levels, including kitchens, wine rooms, a conference room, a prison, even a disco(??).
Other stops with our guide were Uchisar (many of the rock homes still in use), Avcilar, Cavusin, Avanos (tourist shops selling onyx carvings, pottery and carpets), Zelve and Goreme.
Zelve was to me the most extensive and interesting place. It had 2 or 3 long creek valleys, walled with soft rock carved out into large numbers of homes, churches and storage rooms. Nearby are the "Fairy Chimneys", fascinating rock-capped conical formations. We could have spent all day here wandering around the valleys poking into holes.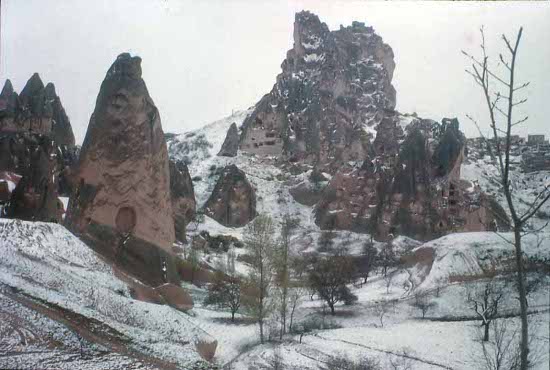 Goreme was the most famous and touristy of the sites, owing to its numerous churches, chapels, dining halls and other rooms carved into the rocks. Inside the churches were extensively decorated (and vandalised) religious paintings. Curiously, all the images of Christ and other religious figures had the eyes gouged out, apparently defacement by non-Christians to nullify their spiritual influence.
The weather was improving as we returned to Urgup about 16.30.
Next morning we were on a mini-bus back to Kayseri, on the way south to the Mediterranean. Fuel trouble and a flat tire delayed our arrival in Kayseri until 09.00, but still enough time to catch a 10.00 bus south to Mersin (50 l). The sun was finally out, allowing good views of Mt. Erciyas (3916 m) to the left. Somewhere we passed a sizeable traffic accident, two trucks on their sides and logs everywhere.
Passing through Tarsus, we arrived at the coastal city of Mersin about 16.00. With an American guy we shared a room in the Bulut Hotel.
Mersin is meant to be something of a resort place, but noisy, crowded, and not very pretty; we were not impressed. Most of the land near the water was occupied and the only beach we found was drab and garbage-strewn. We would have tried a swim but it was too early in the year. A touristy strip, lined with hotels, cafes and souvenir shops, obviously was not yet at the peak of its season. The consensus was to move on to Alanya next day.
The 10.00 to Alanya was a beautifully sunny 8 hour trip along the coast. Front seats afforded us magnificent views of the turquoise sea, pine and scrub-covered hills, banana plantations, brilliant red poppy and grain fields, and fruit and vegetable gardens shielded from the sun with plastic covers. Every town along the way seemed to have its ruined castle. There is so much history in this country that they don't even seem to bother maintaining or promoting much of it.
Alanya is another resort town, much smaller than Mersin and much nicer, one of my favourite places in Turkey. A prominent feature of the town is the extensive castle and walls from Seljuk times, good for hours of exploration and discovery.
The coast here is quintessential Mediterranean scenery: steep rocky hills, clear water, lush foliage, citrus orchards, rustic 2-storey wood/stone houses, ruins and open air cafes. I loved it.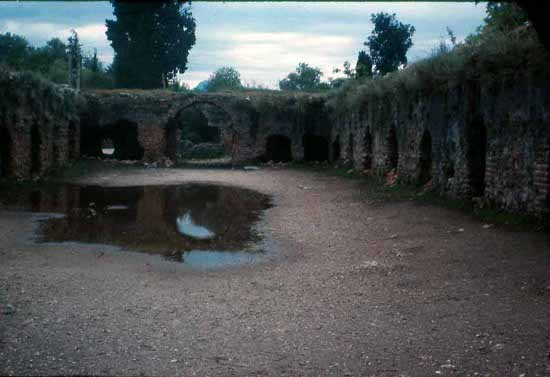 Next morning it was raining again and, after a breakfast of bread, cheese and jam, we had to wait it out before venturing out. Then we could spend the rest of the day clambering around the hill above town with its 13th century castle and fort. Following the outside of the wall upwards we came across a crumbling ruin, deserted and unadvertised. I quickly recognised it as a medieval caravan seri, a central courtyard for the camels surrounded by small alcoves for the drivers and their goods. It's totally amazing how one can come across these things without trying.
At the castle at the top, we found we could enter through a side door, and see good views nearly straight down to the Mediterranean. As we passed out the main gate, we met a guy there selling tickets to get in (oops, guess we came in the wrong way).
After a late dinner, we went for Turkish coffee, strong and pungent and served in absurdly small cups. It looked somewhat incongruous to see the rough looking Turkish men sitting in the cafes playing backgammon and drinking out of little girly dolly cups.
Next day we walked past the hill to the picturesque beach on the other side. It was still a bit cool to swim, but we spent the day relaxing on the sand, exploring along rocks, and examining the large stone boat sheds at the sea-level portion of the castle wall.
The following day we were on the bus again for the two hour trip to the historical city of Antalya. First settled in the 2nd century BC, and Romanised in 133 BC, it's most significant feature is Hadrian's Gate dating from year 130.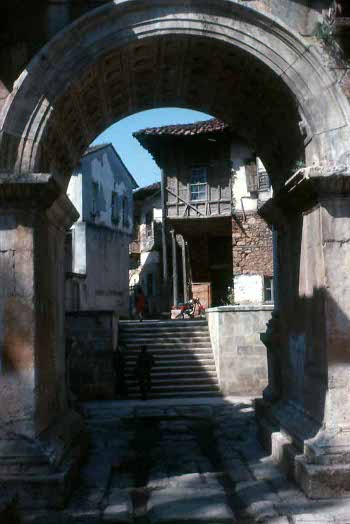 Bigger than Alanya, noisier and more commercialised, we found Antalya to be less relaxing, and only stayed one night there. We visited the gate, explored the coastline, relaxed on the rocks and swam in the sea. The guys on the waterfront were a bit of a pain with their constant exhortations to ride in their boats.
At 21.00 on April 30, we were on a bus for the 12 hour trip to Istanbul. The morning light had us passing through rain along the Sea of Marmara, then across the Bosporus Bridge into the Topkapi area of Istanbul. We were aiming for the Sultan Ahmet district, and took a small bus for a rip-off price to get there. A small hotel put us up in dorm beds. Sunday in Istanbul on a cloudy day was not greatly inspiring; everything seemed closed and the city looked drab and deserted. We looked around for a while and rested up from our overnight trip.
On Monday morning I walked across the Golden Horn and the (Galata Coprusu?) Bridge - lots of people fishing there and selling their fish - and along the edge of the Bosphorous to find the American Hospital in the newer part of the city. I needed something for ongoing intestinal ailments and was given 6 days of Fasigyn and Lomotil. On the way back, I explored the extensive and fascinating market area on the bank of the Golden Horn.
In the afternoon we went to see Istanbul's signature landmark, the Sultan Ahmet, or Blue Mosque. It was suitably grand and impressive, with a cavernous interior and designs painted in various shades of blue.
In the evening we went to a local watering hole to have a few beers and celebrate our arrival in Europe, great after 3 months on the wagon. Beer was reasonably priced too, 7 lira for a large draft. As in Rangoon, we quickly got acquainted with a drunk local who spoke no English but was eager to share our merriment.
I was overjoyed to get a couple of letters in the Poste Restante from family/friends. Good to hear from people after being on the road so long.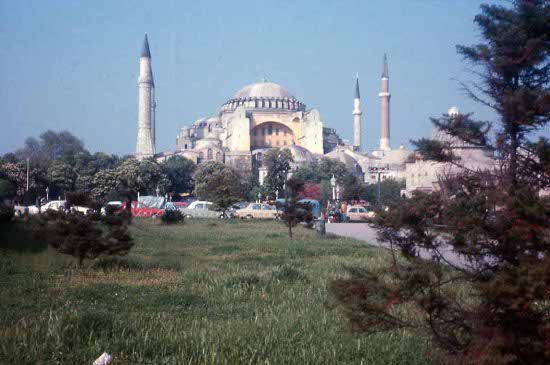 I wanted to see the Topkapi Palace but it was closed today. Maybe another time. Instead we visited the Aya Sofia. It was originally a Byzantine church, but converted to a mosque when the city was Islamified. On conversion, many of the Christian paintings were painted over, and have more recently been re-exposed and restored in all their glory. It is now a museum and an impressive tourist attraction.
Wednesday, May 4 was our last day in Turkey. We had bus tickets for a 25 hour trip to Athens, to leave about 11.30. At 400 l each, I thought it was rather expensive, but we'll just have to get used to European prices from now on.
The bus did leave about 11.20, but then just went to the main station in Topkapi where it underwent headlight and other repairs (Why do they do this when it's full of passengers?). The bus was a derelict old MAN with no hill-climbing power and tire troubles. We arrived near the border about 17.30 and stopped at a restaurant. The proprietors saw us mostly foreign travellers coming and even as we were entering the restaurant they were still busy changing the price tags on the food and doubling the prices. The bus driver must have got a good cut from them, as we didn't leave for about 2 hours. We were in foul moods and complained to the driver, but what can you do?
We were through the border to Greece sometime in the evening. The weather in Turkey was often cool and wet. Istanbul and the border weren't a lot of fun. But the ruins and the history were fascinating. The food after the rest of Asia was a godsend. Turkey was generally a pleasant and interesting country. Although not as spectacular as other lands to the east, its charm and ambiance and great food made it one of my favourite experiences.
Greece
(Click for map)
Technically, we had been in Europe since the crossing of the Bosporus Straits 3 days ago. But Istanbul still had a distinctive Asian flavour, and we were still emotionally in the east. We had been in Asia for just short of 6 months, a truly exciting and memorable experience. But now, having crossed the border into Greece, we were really in Europe. As we rode west along the coast overlooking the Aegean, our surroundings were increasingly European, more tractors in the fields and no mud houses.
We passed through Thessalonika about 05.00, then onward south, through rolling hills and past quiet bays with fishermen on their boats. Poppies covered the fields as in Turkey.
Into Athens about 12.30, we changed some money at a bank (about 36 or 37 drachma per USD), had a small meal and found the Pericles student hotel near the Acropolis, with dorm beds for 60 dr. Prices for food and other things are starting to creep up, yes we must be in Europe.
Athens is a large city, but easy to get around, as most of the places of interest are within walking distance. Streets are narrow, but without the insane traffic and noise of Asia. Everywhere modern buildings snuggle up to ancient ruins.
Next day a good walk took us up to one of the hills in the city, where we looked into the small Byzantine church there, and enjoyed views of the Acropolis and the surrounding city.
In the evening, about 22.15, we took in a 1 hour folk dancing exhibition, classical and folk dances from various areas of Greece.
The following day we spent the morning in the National Museum. It was huge, and about 3 or 4 hours of excavation relics, ancient ceramics, statues and reliefs, was about enough for one visit.
That evening at 21.00 we went up the Acropolis to find the Sound & Light show (25 dr), a narrative of the history of Athens and the Acropolis, accentuated by coloured lights projected on the walls.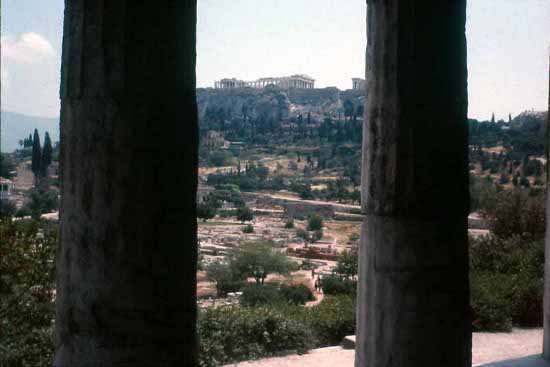 Foremost in my memory of Athens has to be the ancient hill complex called the Acropolis. Sunday was free day, a good time to go despite the crowds. The main temple, the huge and impressive Parthenon, had been partially destroyed by a munitions explosion in 1687, but what remains, with its size and massive carved marble columns, is still remarkable.
We planned to spend some time on one of the Greek islands, and heard that Paros would be a good bet, not too remote but not too commercialised either. On Monday we boarded a 06.45 train for a 20 minute ride to the port town of Piraeus. From there we were on a ferry to Paros at 08.00. Many young travellers were aboard, going to any of several islands. Conversation with a California girl made the time go fast. At 4 pm we arrived at our island, in the quaint little town of the same name, and in a nice little hotel room with sheets and a sink.
Paros town was quiet and congenial. Buildings are whitewashed stone or concrete, tavernas and cafes are frequented by locals more than tourists, and octopus hang drying from the trellises of the restaurants. Old windmills sprinkle the shoreline, now tourist attractions more then working mills. Some tourist shops and restaurants are available but without the hard-sell hassles. There aren't many roads and few cars, but I was surprised to see that the taxis were old Australian Holden cars. I wondered where they came from, maybe from Greek migrants to Australia. Donkeys were also a major form of transport for people and goods.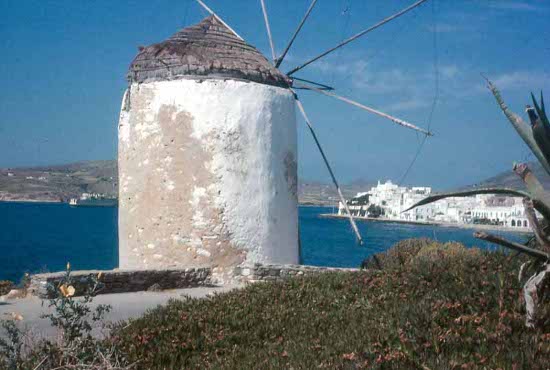 There isn't a lot to do on Paros, more just a nice place to relax and unwind after the intensity of Asian travel. The beaches, not that great by world standards, are perfectly acceptable places to lie on and work up a tan; much of our time was spent there. The countryside was great for exploring on foot; sunny and warm days, barley fields, wild flowers and friendly locals. The whole island seems to be made of marble. The water was wonderfully clear and (only just) warm enough for swimming.
A hill above the town is easily reached on foot, and affords good views over the town and countryside, southwest to the neighbouring island of Antiparos, and east across the island. A deserted monastery just below the top of the hill beckoned investigation.
Another good walk was across the island to the village of Naoussa, about 2 hours each way. Barley and grape fields flanked the road, and people on donkeys were everywhere. Nauossa had a couple of nice beaches where we could relax and dive with a mask off the rocks looking at small sea urchins and other marine life.
Delightful evenings were spent sitting outside the taverns with a beer conversing with friends we met elsewhere. I tried a dinner of octopus one evening, but it was somewhat tough and chewy. Meals, especially breakfasts and lunch, consisted mainly of our own concoctions of bread, yoghurt, raisins, tomatoes, cucumber, cheese and/or meat.
After about 6 days on Paros, we returned to Athens. The ferry ride this time was windy, rainy and miserable. Into Piraeus at 18.30, on the train to Athens, and back to our hotel.
Immediately on arriving, we found that the LA Philharmonic was giving a concert at the Herod Atticus open-air Theatre near the Acropolis. We rushed through a meal, and down to the theatre in time for the concert. It started off OK, but during the first movement of Tchaikovsky's Symphony No. 1 the rain started and the concert had to be cancelled.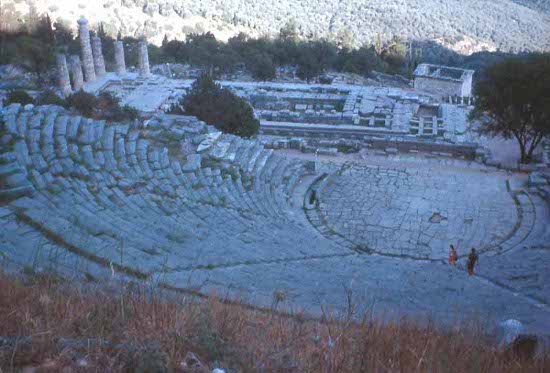 Next day we moved on to Delphi, a 3.5 hour trip leaving at 13.30. Delphi is a small, historical, touristy town, set between Parnassus Mountain and a large valley leading to the Gulf of Itea. We checked into the Youth Hostel for the night, and then explored the archaeological site, the town's main attraction. Besides the Temple of Apollo, a stadium, and numerous votive offerings and treasure houses, the site had an acoustically amazing amphitheatre in which, if you stand in the exact centre and speak, your voice returns to you much magnified. Other attractions included an ancient fountain, gymnasium and the Temple of Diana.
On toward Italy next day. A bus at 10.30 took us to Nafpaktos in about 3 hours. Then another bus took us for the short ride to Antirrion. There are many vehicles on the road, so we tried hitchhiking to Igoumenitsa. Not a good idea; only one truck stopped and he didn't take us far. We ended up getting a bus anyway, getting to Igoumenitsa about 21.30.
This is where the ferries depart for Brindizi in Italy. We found a youth hostel for the night, and booked the next one for 07.00 next day, for a whopping 1040 dr.
Up early on the morning of May 18, and down to the ferry. A bum who'd been following us yesterday, also going to Italy, "borrowed" the ferry fare off us, we were never to see him nor the money at the other end.
The ferry left at 07.15, for a boring 11 hour trip via Corfu to the Italian port city of Brindizi.
Italy
(Click for map)
Julian and I were in the Italian city of Brindizi about 18.00. There wasn't a lot here to keep us interested, so we changed money (870 lira per USD), grabbed a spaghetti and pizza meal (1550 l) in a restaurant, and were on the 9 pm train (9800 l for second class seats) for Rome that same evening.
At 07.00 next morning, we were disembarking from the train in the massive Rome train station. We latched onto a hotel tout advertising a cheap hotel nearby. It was a charming little place run by a sweet, rotund, motherly figure answering to the name (what else?) "Mama". Dorm beds were 2000 l, and the place was full of young Aussie and Canuck travellers, good to talk to and get ideas on what to see and do. Our first morning was spent relaxing, organising ourselves, and getting the good oil on activities.
Almost everything in Rome seems to be within walking distance.
In the afternoon we started to explore the forum area, the Altare della Patria and of course the big and impressive Collesseum. The traffic was notable, both for the dirtiness of the cars (as if left out in polluted rain) and the fast, haphazard way they drove, especially noticeable as they sped and weaved around in front of the Collesseum.
Next day we walked to the park area of Villa Borghese, and to the large art gallery. One would expect lots of classical sculpture and paintings, and they delivered; great works by Bernini, Raphael and others.
Later in the day I checked out the Spanish Steps, parks, and the Olympic area where I rested and watched basketball practice in an inflatable gymnasium.
One day had to be reserved for Vatican City. We took a bus to be there at St Peter's Square at 09.00. The first item was the IMMENSE Vatican museum. It takes hours to get through it, from 09.20 until about 14.00 for us. There was everything from Egyptian mummies to modern art. Entire rooms were devoted to single themes, such as statues, busts, old maps, animal statues, tapestries, or a particular style of painting. I stood in awe at the Cistine Chapel, with Michelangelo's frescoes that I had seen so often in print, now before me in living glory.
Back at St Peter's Square and the Basilica, I was again awestruck. The size and splendour of the inside of the Basilica was too much for a camera to capture. Great sculptures and other treasures were everywhere. Despite being unable to approach anywhere near Michelangelo's greatest work, La Pieta, because it had recently been vandalised, it still looked like the most beautiful piece of art in the world.
A good place for a cheap dinner was at the University student cafeteria, 300 l for a substantial dinner, best value around. It was curious though, that I was getting a bit tired of wine at this stage, and was going to have a beer instead, but it cost more than the wine.
At 21.00 the San Marcello Church had a free organ concert, we could listen to works by Handel, JS Bach and others.
Next day, Sunday, was a slow day, nothing much being open. I looked at a couple of exhibits and relaxed most of the day.
It's time to take stock of where I am and how it's going. Despite the history and impressive cultural and artistic heritage, Europe didn't have the same impact on me as Asia did. Asia was always so "different" and unexpected, often a challenge, making one feel like an explorer or pioneer. You never knew what you would come up against. Europe on the other hand was preceded by its own publicity and familiarity; there seemed to be no surprises. You know what something will be like before you see it. Julian had wanted to go slower in Europe than Asia; I was the opposite.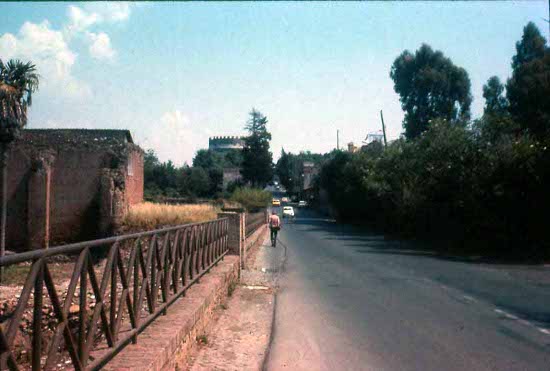 On Monday we took a bus south along the Via Appia Antica. This ancient Roman road, leading south from Rome, was picturesque with its narrow aspect, walls, foliage and historical sites along its length. Our destination was the Catacombs of San Sebastian. An English speaking (and English nationality) guide led our group through a series of tunnels in the volcanic rock. There were said to be about 7 miles of tunnels but we only walked about half an hour's worth. Niches in the sides of the passages originally contained the bodies of the deceased; arched niches were reserved for martyrs. Much of the site was reminiscent of what we saw in Cappadocia in Turkey.
After 5 days in Rome, we collected our hug and kiss from "Mama" and boarded an express train at 10.00 for Florence. This city contained much of Michelangelo's works, so we couldn't miss it. The 3.5 hour ride took us through barley fields, vineyards and many tunnels. From the train station in Florence, we caught a local bus to the youth hostel. It was a grande olde columned building, situated in a very pretty bush-and-field setting on the edge of the city. At 1500 l for a bed and the same for a meal, it was as good a value as we would get. We would need a couple of days to look around the city, as everything closes at 14.00 and we can't see much after that.
Next day we joined up with other travelers and started our sightseeing tour. First stop was the Palazzo Vecchio, with its dynamic sculptures and other artwork. Outside in the piazza are several memorable works, including a large Neptune, a life-size copy of David, and Cellini's famous bronze of Perseus holding aloft the head of Medusa.
The nearby Uffizi Gallery also had a large collection of art, but less memorable than the Vecchio. Across the river we climbed the hill to Pitti Palace for more art displays. By this time it was becoming overwhelming in its quantity, and a bit repetitious. I started getting a sore neck from all the frescoed ceilings.
After a rest on the lawn of the Biboli Garden, we explored town a bit more, had dinner at the University mensa, took a bus up to the hill over the town, and sat with a couple of other Canadians, watching the scenery at sunset and telling them about our Asia trip.
Next day it was back down-town to polish off more sights. At the Church of St Lorenzo and the Medici Chapels were more Michelangelo works, including an unfinished Pieta and Dusk, Dawn, Night, and Day. Also on display were bone fragments of saints etc., somewhat disgusting I thought.
The Academy of Fine Arts housed the original David, as well as the "Captives" and other works.
We got into the Museum of the History of Science before closing at 13.00. Coming from a science background, I appreciated the exhibits of sectors, quadrants, maps, globes, celestial maps, thermometers, microscopes, telescopes and other instruments.
After 3 days in Florence, it was time to get up early, bus to the train station and hop the 09.00 for Venice (4200 l). There were even more tunnels than on the line from Rome; must have been an expensive track. After a 4 hour trip, we had passed across the long road/rail bridge and into the smallish tourist part of Venice. From the station a launch took us across the waterway to the outer island and the youth hostel. We couldn't check in until 18.00, so we had 4 hours to kill, exploring in the post-rain coolness, the quiet, mainly non-touristy and residential island. Later we checked into the youth hostel for 3 nights.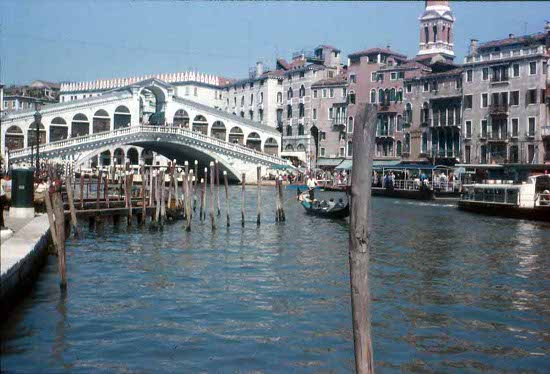 Next day the launch took us back to the tourist sector, and we spent the day exploring. The walkways are narrow and can be confusing if you're off the main routes. Canals and small bridges interspersed the city, with multitudes of gondolas, ferries and large speedboats. In spite of their fees (about USD 10 per hour, too rich for us) the gondolas seemed to do good business. Some streets were almost nothing but souvenir shops and restaurants, and the whole place had a high tourist density. Eating places were not cheap, and we ate bread etc. a lot.
On the afternoon of the third day we caught a ferry across the bay to Lido Plage, a very crowded resort beach with lots of hotels, restaurants, bars, nightclubs, arcades and fancy cars. On the beach we met a couple of nice Swiss girls, Evi & Lucia, and we talked a while, later having a few drinks back at the youth hostel.
I guess that was a mistake. All through the vast and relatively unknown Asia we had never had any problems with theft, and we expected Europe to be even safer. But someone must have seen us drinking in the evening, and during the night my cash and travellers cheques were stolen out of my money belt. It was the old slit-the-sheet trick. I was of course saddened and angry, but what added to my misery was the fact that no-one could leave the hostel before 07.00, and the thief must have been among us as we waited at the stairs to go down and report it. The hostel staff were singularly unhelpful in my situation.
We had planned to leave for Vienna today, but now I had to spend much of the day running around, reporting the theft to the police and American Express, and obtaining replacement cheques. It was interesting that in the police station there were 2 or 3 other tourists in front of me all reporting thefts. Not a good tourist promotion.
So now we couldn't leave Venice until the day after, another day to spend in a city I didn't much like. Even next morning our fortunes didn't improve much. The train to Vienna left at 07.55, but the hostel staff, as part of their impeccable service, would not give us our passports until 07.30, not enough time to get to the station. So we had to go to the station and wait until 14.30 for the next train. It stopped for about an hour at the next stop, and didn't arrive in Vienna until about midnight. The mountainous, rain-soaked scenery was good though.
After 13 days I wasn't sad to get out of Italy, especially after the events in Venice and the reception I got from people to my problems. Over all, I liked Greece better than Italy; I thought the people there were nicer and more genuine.
Austria
(Click for Austria, Germany, Switzerland and France maps)
It was pretty late to be coming into a strange city, especially not knowing where to stay and having no local currency. Our target hotel near the Sudbahnhof was closed, and others wanted $20 or more per room. We wandered around the streets a while trying to figure out what to do, and ended up in a tram station. My rudimentary German language skills came in handy, and the night watchman took pity on us. He phoned around for hotels that would take us in, and finally allowed us to spread out our sleeping bags on the (very hard) tile floor and try to get a little sleep for the night. I vaguely recall sometime during the night a couple of cops coming along, giving us a poke with their nightsticks, we pretending to be asleep, the watchman explaining the situation with "swei studentin" to them, another poke or two with the prods, and the police were gone. We'll be forever grateful to this friendly and charitable guy.
Up as soon as we heard traffic in the station, and back to the Sudbahnhof. We managed to change money at 07.30, 16.7 (schillings to the USD), and take a tram to the Westbahnhof. Found the youth hostel there and checked in. It's where backpackers come from all over, and we met up with other travellers we had known in Rome and Florence.
I would be in Vienna a week before moving on to Germany. We had the good fortune to just catch "Viener Festwochen", a festival of classical music. So it was symphony concerts, concertos, dance suites and ballet all week. The main difficulty was choosing which ones to attend. A typical performance cost about 120 sch, better value than what we would pay at the bigger and better known Salzburg Festival. Performances included Beethoven's 9th Symphony choreographed to ballet, Prokoffief's Romeo & Juliet, and Wiener Philharmonic/Maazel performances of Mozart's Haffner Symphony and works by Tchaikovsky. After several months of Gamelan and Bollywood, this kind of music really connected with us.
Some sights and activities in the week included the amusement park with the world's largest ferris wheel (carriages the size of tram cars?), the Museum of the 20th Century (mostly modern art, a bit unconventional for us), exploring the Donau Kanal, the large and impressive Rathaus, the park with Johann Strauss's statue, and the stunning Schonbrunn palace and terraced gardens. One morning took us to Grinzig with its vineyards and village atmosphere, and up through the beautiful Wienerwald, to the hilltop village of Kahlenburg with its lookout over all of Vienna.
Food was more expensive than in Italy, but we found more variety and quality. Good meals could be assembled just from purchases in markets or stores. We found we could buy meat (chops, sausage etc.) and barbecue it at the hostel, a treat we sorely missed since leaving Australia.
Vienna struck me as a city of the elderly; neat, staid and conservative. Historical old buildings are impeccably maintained. Concert halls, auditoriums and theatres were everywhere. I was struck by a dearth of noisy beer halls or discos. The economy seemed to turn on the performing arts.
After a week I was ready to move on to Munich to meet friends there. Julian was to stay in Vienna a bit longer, to absorb more concerts, ballet and opera. We would hopefully meet later.
So on June 8 at 08.20 I was on the train to Munich, sitting, conversing and sharing food with a group of older Germans. I liked the scenery, forest and pastures with hay-making in the fields and the occasional pig farm. A couple of lakes were crammed with sailboats, even mid-week, probably a testament to the high demand for the limited amount of water space in Europe.
I'd been a week in Austria, virtually all in Vienna. If nothing else, it gave us a much needed performing arts fix.
Germany
At 13.40 on June 8, I was in the Munich Hauptbahnhof. My objectives here were to find a place to stay, and then to look up Bernd, a German friend whom I'd known in Australia.
After a few minutes of orientation and money changing (about 2.27 dm per USD), it was time to tackle the intricacies of the tram ticketing system. As I stood, apparently mystified, in front of a ticket machine, a local guy came up and helped me figure it out; they must be used to foreigners. The tram whisked me quickly out to the area of the Youth Hostel, a quite acceptable place at 6.5 dm per night. Met another traveller there who happened to be from Portage la Prairie, Canada, right near my home town. So we spent some time together while I was in Munich.
On the way back down-town, I found Bernd's apartment. He was home. After several months on the road, words cannot do justice to the joy of meeting an old friend in a strange place. We were so thrilled to see each other, we couldn't talk fast enough. After catching up on news and conversation, Bernd showed me around town and introduced me to the wonderfully light and delicate Lowenbrau beer. Later we toured the big beer halls, including the massive Mathaser and the tourist-driven Hofbrahaus. Beer was served by hefty Brunhilde types who had the amazing ability to carry several litres of beer in their hands, and who probably could have doubled as bouncers in a pinch.
Next day, Bernd and I spent the day sightseeing. Depending where we went, we travelled by tram, Schnellbahn or U-Bahn. We tried the Deutches Museum, but it was closed. Then out to the north of the city to see the Olympic complex, an impressive structure with its huge cables and Perspex roof. Up the nearby hill (Munich's highest, and made entirely from WWII rubble) was an panoramic view of the city and surrounds.
I was in Munich about 10 days, and took in many other sights and activities, either alone or with Bernd or his wife Maree. Julian caught up to me in a few days and we were able to get around together again.
The Oktoberfest grounds at this time of year was simply an empty park, but we could view the huge bronze statue of Bavaria (woman and lion) and the hall of fame containing busts of the notables.
After long walks I found a large landscaped park called the Englischer Garten, an ideal place for resting and relaxing.
The Deutches Museum had to be seen over two days. My affinity for science and technology meant that a single day wasn't enough to absorb all of the fascinating exhibits and demonstrations. I was captivated by everything from life-size coal mines to plastics moulding demonstrations.
The Konigsplatz square was apparently an early attempt by Hitler to make Munich the arts centre of the world. The ancient Greek style buildings and the Glyptothek building with its marble statues may have turned me on more if I had not already seen so much of it in Greece and Italy.
The modern art of the Galerie im Lenbachhaus similarly failed to inspire me. Maybe I'm just not the type to appreciate that sort of thing. The Romantic and Impressionist works of the Pinakothek and Staatsgalerie, including Picasso, Cezanne and Gainsborough were more to my taste, but I was rapidly becoming saturated with artwork.
A good afternoon trip was out to Dacchau Concentration camp north of the city. It is now a memorial and museum to the holocaust, and I found it suitably informative and moving.
The authentically German pork hocks meal served up by Maree one evening was the most wonderful meat dish I had had in all my travels.
From Munich, I wanted to go to Stuttgart and Zurich to meet other friends, and Julian was to go straight to Paris and then London, to look up acquaintances there. So on June 18 I took the #18 tram as far as it would go, and walked out to the Autobahn to try my luck at hitch-hiking. It took about 1.5 hours to get a ride, but I then got a taste of how good and fast the highways can be. The guy in his Audi drove at 180 kph much of the way, and we were in Stuttgart in less than the time I was waiting for the ride.
I bussed to the centre of the city and walked 2 km up to the youth hostel to check in. In contrast to the un-seasonally hot temperatures in Munich, heavy rain kept me from doing much that afternoon.
Later in the day, armed with an address, I found Rainer and Marianne, friends I had known in Australia and who were now living here. I stayed with them some of the time and spent the 3 days or so in Stuttgart with them, catching up on news and general conversation, shopping and walking around the nearby countryside. They were renting an unfurnished apartment, and I was amazed to find that here when you rent, you must obtain not only your own furniture, but also carpets, curtains, kitchen facilities, shower and even wallpaper.
On June 22, the weather looked somewhat too grey and ominous for hitch-hiking, so I caught a 09.00 train for a 4 hour ride to Zurich. As I rode up into the hills, the weather did indeed get misty and rainy, good to be inside. I was able to practice my German with a couple of locals to pass the time.
I liked Germany, probably mainly because I was able to spend most of the time with people I knew that lived there. It's always good to meet friends on your travels.
Switzerland
In Zurich by early afternoon of June 22, my routine was becoming familiar: find the tourist office, get a map, change money (2.47 Swiss francs per USD), have a bite to eat, and board a tram out to the youth hostel. I wasn't greatly enthused by the hostel, 7 franks per night without breakfast, a 1 frank fine for coming home after 22.00, wake-up music at 06.30 and a general "treat us like kids" attitude. Meals were available for 5 francs but they weren't anything special. But it's just about the only place in town in my price range, so give it a go.
I managed to find the two Swiss girls I'd met in Venice, and spent much of my time with one or the other of them for the next 4 days in Switzerland. Again I found how great it is to know someone living where you're travelling. Eva and Lucia helped me enjoy Zurich much more than if I had been on my own.
The first evening, Eva and I had a great restaurant meal of crepes and later ice cream. Swiss cooking, with the exception of course of the youth hostel meals, is wonderfully delicious and wholesome.
Sights and activities included local flea-markets; the small and pretty park near the Landesmuseum with its miniature marsh; the Landesmuseum itself with religious motifs, military memorabilia, antiques, period costumes, and Roman artifacts; the Zurichhorn Park to the east, with a huge grotesque mechanical sculpture which apparently works; the park with the statue of Helvetica and attendant history lesson; and a forested hill to the west of the city with great views over the city and Zurich Zee. Particularly photogenic were the twin-spired Grossmunster, the largest Romanesque church in Europe; the elaborate stained glass of the Fraumunster, and the large clock tower of St Peters Church.
Rain dogged me off and on most of the time, and it wasn't until the last day that the sky momentarily cleared enough to view the snow-capped mountains to the south.
On my last day in Zurich I was trying to hitch to Basel, and from there take a train to Paris. But I failed miserably; I couldn't possibly get a ride and it started to rain again. So I had to book a train directly to Paris, leaving at 22.00.
France
On the train I had 3 adjacent seats to myself, and slept quite well. Arrived in Paris at 08.30, the Gare d'Est if I remember right. A couple of other Canadians there had also just arrived and we all decided to look for the youth hostel together. Nobody spoke much English, people didn't appear especially friendly or helpful, and our French wasn't that good. In consequence we got inadequate or misleading directions and it took about 5 hours to find the hostel out at Choisy le Roi. The hostel cost about 40 francs (4.88 French francs per USD) including 2 meals. At this stage of my trip I didn't have a great deal of money left, and that was the most expensive accommodation I'd had since starting. So I resolved to spend only one night in Paris, and head on to Dover next day. Paris was definitely not on my list of favourite places.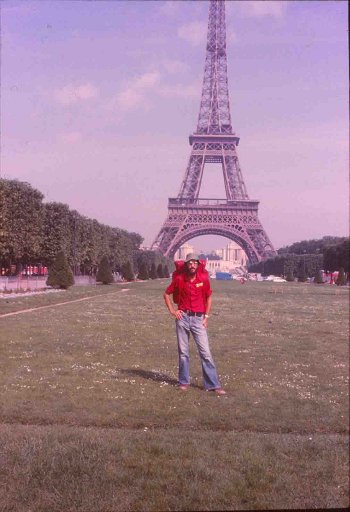 In the afternoon the 3 of us took in the Champs Elysees, stopping for a lunch of egg crepes, fries and jam crepes for about 10 francs. Later we paid 6 francs to climb to the top of the Arc de Triomphe for a good view over the city and the tangle of traffic below.
Next morning I left the hostel as early as possible so as to get a look at the Eiffel Tower before heading to the Gare du Nord to catching the train/ferry. I got my picture of the tower, but the guy who took the picture of me with the tower behind gave me 10 feet of grass below my feet and cut off the top of the tower. I didn't bother to go up to the top, not having the time or money; to date I haven't been back there since.
At the Gare du Nord, a ticket to Dover cost 129 f, and I had to change more money. I later was annoyed to find that I could have taken a night train much more cheaply. The train left at 13.30 and arrived at Calais in time for the 16.00 ferry.
As I boarded the channel ferry, I heard a voice over the speaker giving boarding instructions in English, with a British accent. Finally, no more foreign languages and sign language. It sent a thrill of joy through me. I was getting "near home". WOW.
UK
(Click for map)
The ferry made land at England at 17.30 on June 28. My first step of course was to find the tourist office and ask where the Dover youth hostel is. They said "In Dover." I said "But isn't this Dover?" They said "Nooooo, this is Folkestone." I said "What the Hell, I took the wrong ferry or what?" I never did find out what I did wrong, but it was no big deal.
So after I treated myself to a real English fish & chips meal, I easily hitched the 7 miles or so to Dover, equally easily found the small, friendly youth hostel, and checked in for 90 p per night. I remember quipping to the hostel manager, "You speeka Eenglish?" and he replied "I sure don't parley voo."
It was so nice to arrive in an English speaking western country that I decided to cool my heels for a day or so before going on to London.
Next morning I changed money (57 p to the USD), bought the fixings for a good English breakfast, and spent the day exploring the town, Dover Castle, the chalk cliffs and the Eastern docks (where I should have arrived yesterday). Later I bought pork chops, potatoes, beans etc. for a wonderfully big dinner. Unlike on the continent, the hostels in England have cooking facilities like in Australia and New Zealand, one more touch that made me feel closer to home. In the evening a group of us divested a local pub of a few pints.
A Dutch guy in the hostel was also on the way to London, so next morning the two of us walked out on the road early to hitch a ride. One ride took us to Canterbury. Shortly after a guy driving an empty bus to Scotland stopped for us and took us all the way to London. From Aldgate East we boarded the tube for Victoria Station.
As we walked out of the station, a large crowd lined the streets. We didn't know what it was all about, so I joked, "We're in London, it must be the Queen". To our great surprise, the royal motorcade came past, bearing the Queen, Prince Philip and other royalty. We'd been in London about an hour, amazing.
The predominant fast food in central London seemed to be Doner Kebab, just as I'd had in Turkey. It made a good lunch before walking to St James Park to kill time.
Later in the day I took a train from Charing Cross to St Johns in the south-east to look up friends and hopefully find a contact for accommodation. I found Sheila and her boyfriend at her brother Peter's house, great to meet friends again. I was able to camp there while in London, and we had a lot of news and stories to catch up on.
I would meet up with other friends in UK, and would spend an idyllic 40 or so days before flying back home to Canada. For the next week or so I was able to explore much of London, mostly on foot, and familiarise myself with many of the sights and locales I had heard about. It's a fascinating city, with something notable around almost every corner.
One day, after exploring from Tower Bridge through the financial district, Trafalgar Square, Picadilly Circus and Soho, I found another old friend, Sylvia, in Central London, and we went out together and planned time together for some of the next few weeks.
Later in the week I would meet up with another friend, Georgina for more catching-up and exploration of her South Kensington area.
The next few days, with various friends or on my own, I took in the Greenwich Observatory and Cutty Sark Pub, Hyde Park and Speakers Corner (don't try to get into a debate with any of them or you're history), the changing of the guard at Buckingham Palace, the Planetarium with laser show and the National Gallery.
Also in London, I was able to receive money that had been forwarded to my bank there, see a doctor about my continuing intestinal ailments from Asia, check and obtain a plane ticket to Canada (£240, no discounts available), and cook up some fabulous meals to gain some weight after losing it during my travels.
After about a week in London, Sylvia and I took a train out to West Dorset for the weekend. A short and very picturesque car ride from Crewkerne had us at her parents' farm near the village of Whitchurch Canonicorum in time for the evening meal.
It was the start of a wonderfully beautiful and idyllic weekend. Whitchurch Canonicorum and Marshwood Vale are set in a quaint, picture-postcard valley with narrow, winding lanes, centuries-old bramble hedges, a thousand-year-old church, and a pretty little beach town of Lyme Regis. Even their own farmhouse would be old enough to have heritage designation in Australia or Canada.
It was the height of haying season. Being from a farm myself, I jumped at the chance to help bring in the 600 or so hay bales from the fields. The work took up much of the weekend, a tiring and extremely rewarding experience.
At the end of the weekend, Sylvia had to return to London for a couple more weeks of college and I was to travel north for that time. So I spent Sunday night at the Bridport Youth Hostel before trying out my thumb next day.
After a late start on Monday, having forgotten something at the youth hostel and having to go back for it, I was out on the roads hitching to Bristol. The weather was beautifully sunny, even more than during the baling, and rides weren't hard to find. After 4 lifts I was in Bristol in the early afternoon. The contacts I had to look up there were not easily available, so I looked around the docks and other parts of the city, checked into the YMCA, and stayed only one night.
Next morning it was a fair walk to get away from down-town to a hitchable spot on the road north. I had no idea how far to go that day, Scotland eventually but maybe the Lakes district (where there may be some youth hostels) today. One ride got me to the motorway, where I got into a hitch-hikers queue at an approach road, and 3 more rides to a service port near Manchester about 12.30. A shop provided bread, cheese and milk for my lunch, and I was back into another hitching queue.
The next ride wasn't until 15.30, a Scottish guy driving from Wales to Dundee. As rides seemed so hard to get, I decided to bypass the Lakes District and take this one all the way to Perth in Central Scotland. He let me off at the Perth youth hostel at 21.00, a long but good day.
How about a day off next day? I'd come so far I needed a break. After grocery shopping and a good breakfast I put on my boots and explored the city and surrounding countryside. What a beautiful time of year! Flowers filled the countryside with yellows and purples and the air with fragrance. Wild raspberries covered the hillsides but were unfortunately not quite ripe yet. People fished in the river but I couldn't see what they were catching.
The following day I was back on the road heading north. Rides weren't easy, but the day was warm and sunny and the countryside was beautiful. The route took me through forest and then up into the rolling hills and heath of the Cairngorm Mountains. One of my rides, a schoolteacher from Inverness, gave me a good running commentary of the area, and persuaded me to stop for the day at Kingussie. I arrived there at 14.00 and checked into the youth hostel.
That afternoon I explored around the ruins of Ruthven Barracks, an old Jacobean garrison. Next morning I took a walk through pasture and heath, and up to the top of Creag Bheag (1593 ft). The heather was in bloom in places, and deer sprang from the path before me.
From Kingussie, some difficult hitching got me to Inverness, along the north side of the large and picturesque Loch Ness, through the apparently touristy centre of Aviemore, and on to the Loch Lochy Youth Hostel about 20.30.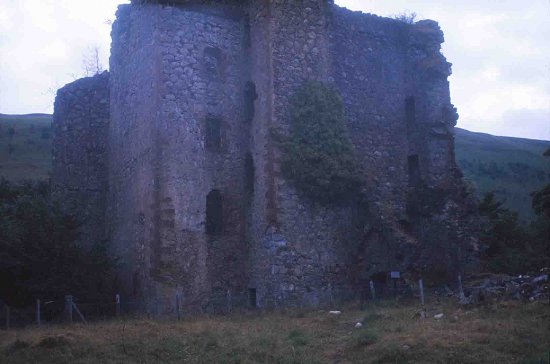 At the hostel I met another Australian traveller and we spent the next day exploring the Loch Lochy/Loch Oich area. The canal between the lochs was quiet and placid with crumbling stone banks and overhanging pines. Shaggy highland cattle grazed in the pastures. The ruins of Glengarry Castle were I thought very tall for the small ground area. I liked the beer in a local pub better than English beer. We tried the malt whiskey as well but not being a whiskey person I couldn't really judge it.
It was starting to rain off and on, but the Aussie and I decided to go north-west anyway to try to see the west coast. We walked 3 miles to Invergarry to hitchhike, but our luck wasn't good. We were ready to give up after several hours but finally got a ride about 14.00. The northwest countryside was beautifully rugged and wild looking.
It was raining at Kyle of Lochalsh and the youth hostel was full, as was apparently the one on Skye. So 4 of us had to rent a crowded caravan for £2 each for the night.
As the Skye hostel was full, our group decided not to stay there, but simply take a ferry across to Skye, a bus across the island to Armadale, and another ferry back to the mainland at Mallaig. Skye had a quaint, picturesque atmosphere, but was showing signs of tourism with an abundance of B&B's and souvenir shops.
From Mallaig it was a short easy hitch to Garramore Youth Hostel about 15.00. The rest of the afternoon I explored the hills and coastline and contemplated the highland sheep (funny looking but less so than the Afghan ones).
The hostel here was pretty full, so I hitched on next day to Ft. William where I explored around town, took refuge against the rain in the Western Highlands Museum (interesting clan artifacts, geology and wildlife) and wrote some postcards. Later in the day I got a ride out to the Glencoe Hostel, checked in, and during a lull in the rain went for a 1 hour walk through pine forest up to Signal Rock. The whole area is some of the most rugged and mountainous I'd seen in Scotland.
When in Scotland, do as the Scots. So for dinner I bought a haggis and cooked it up with potatoes and turnip. Not the sort of thing I'd have all the time, but it wasn't bad and really filled me up.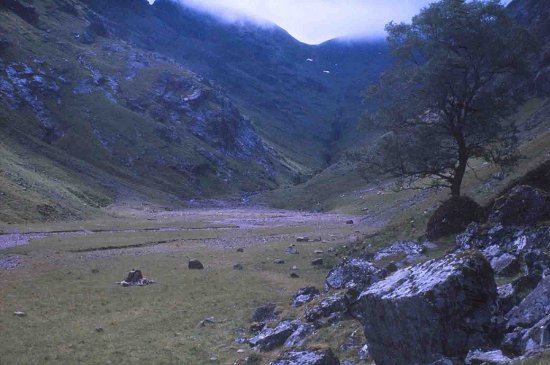 Despite the rain, the surrounding countryside was still worth exploring. Next day I donned my rain gear and shorts, and walked 6 miles down the road to Lost Valley. From the road, a walking track followed a river upstream, and into a large open valley surrounded by high, cloud-obscured mountains. At one point, the river disappears below gravel, to reappear farther downstream. The cloud made it pointless to try to scale any of the peaks.
Back along the road, I passed a lone piper playing bagpipe music for passers-by; I suspect that these people are employed by the tourist commission.
Hitching south next day was hard work. About 4 or 5 hours waiting got me 2 rides only as far as Stirling by 16.00. Rather than trying more, I decided to stay at Stirling Hostel that night. It was a good choice. The hostel was a historical old palatial residence next to the castle. With its stone construction, spiral tower staircases and central courtyard, it was the most distinctive accommodation I remember in all of UK. Stirling Castle itself was well worth the exploration, with its stone walls, gun emplacements, hallways, vaults and views.
Next day, Friday, was a big hitching day. I walked out to the Glasgow Road in the drizzling rain, getting slightly wet. A series of rides got me part way towards Glasgow, then to Hamilton and to the motorway at Carlisle. At 14.30, the rain had stopped momentarily, the hitching queue was quite long, and I was starting to wonder which tree I'd be sleeping under tonight.
By good fortune I got a ride with a truck driver at 15.00, and we went straight through to London by 22.40. At 23.30 I was at my refuge in St Johns and people were still up to let me in. It was a good day, and I'd come a long way.
On the weekend I tidied up housekeeping chores, repaired my jeans and said a prayer that they'll last until Canada, looked up Sylvia and Georgina, went to parties and dinners with people, and organised to travel with Sylvia to Devon and Cornwall for the next 9 days. I tried to get in contact with Julian, my travelling companion across Asia. But he'd already been to London and left for Scotland, so I wouldn't see him again this trip. Unfortunate, and I regret not having tried to contact him sooner.
On Monday, July 25, I booked my plane flight to Canada for August 9. Then Sylvia and I, with our gear including tent, took the tube out to Hammersmith to try hitching to Devon. After standing for 3 hours at the A4 in cloud and drizzle, without a ghost of a ride, we had to give up, rode back to Victoria Station about 15.00 and booked a bus to Exeter for 22.30. This meant we had time to kill so we had a pizza, went to a movie (Return of the Pink Panther), had a beer and looked around Soho.
The bus was crowded and the seats didn't recline so we couldn't sleep much. At 04.15 we were in Exeter. We looked for a place to nap until sun-up, but there wasn't much choice. We finally had to lie down in the woman's washroom; the men's stunk too much, and did manage to catch some shut-eye until we heard people moving outside.
From Exeter we hitched to Plymouth, but didn't arrive there until after the youth hostel had closed for the day. We looked around Plymouth the rest of the day until we could get into the youth hostel. The harbour was a major port in its day, as commemorated by the Mayflower stone and other historical exhibits. The Hoe area, Smeaton Lighthouse and an old fort called the Citadel all made for a full and interesting day. Try the cockles at a seafood stall; they're full of grit but good.
Next stop was Penzance. The hostel there was full, and we had to camp. Because it seemed that the youth hostels were full everywhere, we decided to base camp there for 3 days and do day trips.
Rented bicycles got us the 9 miles or so out to Land's End. As we approached, it was amusing to see that every place we encountered was the last hotel, last service station, last house, last whatever. Land's End was as expected, crowded and touristy. We explored derelict tin mines in the area.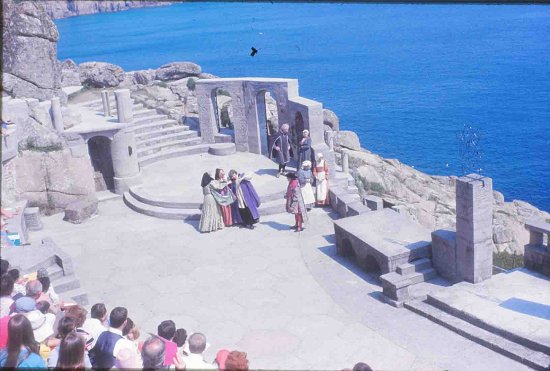 Carn Euny, on the way to Porthcurno, is an excavation site of an iron age village, probably older than 500 BC. We had trouble finding it on the bikes, but eventually got there. On the way I wiped out with the bike going down a hill, and was sore the rest of the day. Then on to Porthcurno, where we treated ourselves to a performance of "A Man for All Seasons" in the spectacular open air semicircular Minack Theatre overlooking the sea.
Near Penzance we found the area's own mini-stonehenge, the Druid stone ring called the Merry Maidens.
From Penzance we had a good easy hitch, in a van with a rock band, to Treynaron Youth Hostel. There's a good beach there and next day was beautifully sunny. The water though was too cold to swim much. I was amazed by the immense size of the tidal flat for such a small beach. The coastal footpath and headland past Constantine toward Hayle made for good walking and rock scrambling.
Further hitching over the next couple of days took us through Padstow, around the north coast of Cornwall, through Devon and Somerset, and back to Dorset. From Minehead rides became difficult, and we ended up taking the bus home. Still, it was a wonderful, fascinating trip to the far south-west.
Back at the farm there were more bales to haul, filling up much of the last day before I had to return to London.
On the morning of August 4, I was on the train for the 3 hour trip back to London. That would leave me 5 days to see people, do more activities and get organised for my flight back to Canada. Peter, the owner of the flat where I was staying, showed up from abroad, and we quickly caught up on each others activities and compared notes. Sylvia joined me a few days later, and Sylvia from Australia also fortuitously arrived at the time. With Georgina and the gang from the flat, some joyous meetings ensued.
Further must-see activities around London included a tour of the Tower of London and a visit to the Imperial War Museum (formerly the Bedlam Insane Asylum), both immensely interesting and informative.
Sylvia accompanied me out to the airport on my final day. The news was that there was an air traffic controllers strike in Canada and the plane would be several hours late. After sad goodbyes I was on the plane at 23.00. Because of the industrial dispute, the plane flew to Niagara Falls, then a bus to Toronto, into a hotel at 06.00, and onto another plane to Winnipeg at 22.40. I finally arrived in Winnipeg at 00.10 on August 11. Shortly thereafter I was back to the farm and family. Great to be home.
I had been nearly 9 months on the road since leaving Australia. The trip was the most engrossing and fascinating thing I had ever done. It changed me forever. If there was any element of "get-it-out-of-your-system" to the trip, it definitely failed. I was hooked. To this day I can't think of any more exciting thing to do than to explore far-away and exotic locations.
I would be living and working in Canada for less than two years before returning to Australia, this time via Africa. That's the next story.