New Zealand by Bike, Nov. 1996 to March 1997
Finally, I've paid off my mortgages and saved up a bit of money. I'm stressed out at my job (again) and can't wait to try out an early retirement. I consider myself just about able to survive on my property rental income and a small amount of other income, as long as I don't live too lavishly.
So where too next? I've been interested for a long time in trying out cycle touring. If I have my transport, hotel room and kitchen all on two wheels, I could possibly have a cheap enjoyable life. I'd already done a small amount of cycling in Tasmania and proven the concept. New Zealand may be a good next step.
So about mid November 1996 I'd left work, sold my car, stored my belongings, rented out my Sydney place, fitted out my bike and gear, and had a plane ticket.
My bike was a fairly ordinary 21-speed alloy frame touring style (700C wheels) with front and back panniers and a trip computer. Luggage was pannier bags and a handlebar bag, and I tied a backpack on top for hiking. Gear included small tent, sleeping bag, small mattress, sheet, fuel stove, cooking and eating equipment, camera equipment and the usual clothes and personal effects. I think the bike was about 16-17 kg and the other gear maybe the same.
So all set. My trip would extend to four months and cover much of the North and South Islands. I'd start in Hamilton, south of Auckland, and finish in Dunedin.
North Island
(Click for map)
On 18 November I was on a flight to Hamilton in New Zealand, arriving there about 17.30. My bike was packed in a corrugated bike box, which I disposed of at the airport.
I came out of the terminal into cloud and drizzle. What a way to start the trip! I'm not ready for this yet, so put the unassembled bike on a bus to go down-town to the youth hostel, putting it together there after check-in.
Here I am in NZ, ready to start my cycle adventure. The first evening was routine, finding and cooking up some food and exploring around town in the evening. Next day I decided to stay in Hamilton, testing the bike and riding around to the museum (historical exhibits and big Maori war canoe, good for a couple of hours) and to the lake on the afternoon. The wind was quite strong, just as well I wasn't trying to go anywhere. Rain however was tapering off.
From Hamilton, my first leg of the journey was an easy run, less than 4 hours, north-east to Te Aroha. A flat tire just out of Hamilton threatened to put a curse on the trip, but no problems after that. I'd been concerned about how my legs would survive, particularly one knee, but other than a slight twinge I gradually got used to it over the next few days. The flattish open dairy-country scenery invigorated me.
At 13.30 I found the small quiet Te Aroha hostel. Tanya offered me a discount to stay here three nights, and I gladly took it. My 2.5 days here were marvellously idyllic, soaking up the tranquil atmosphere and getting used to my new lifestyle. I cooked and shared food with others in the hostel, and did pleasant walks either alone or with others. Above the village is a 952 m peak, about 2 hours up, with 360 degree views as far as the Coromandel and Bay of Plenty islands. In the Domain I tried out the spa baths, my own cabin with a hot soda water bath. About 20 minutes is all one can take and the alarm rings when time's up, probably for one's own safety. Gloriously refreshing though.
Yes, maybe I could hang around Te Aroha for the next 4 months. But no, time to move on.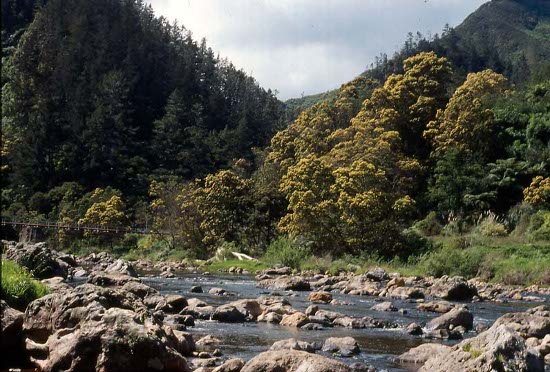 I had a flat easy trip up to Paeroa, then some interesting up-and-down through the gorge (Karangahake I think). I stopped here and there to wander about the historical gold working ruins, including the largest stamper battery in NZ. A tail wind pushed me easily down to Waihi Beach on the Bay of Plenty, where I could try out my tent in a caravan park and treat myself to a fish-and-chips lunch. A walk along the beach and up to the top of the headland gave good views of the main bay islands. Sundown gave way to a magic image of the full moon over the bay.
Next day was Waihi to Tauranga. A strong SW wind and hills made for some hard going for the first while, but it eased off later. Orchards, roadside stalls and tea-houses lined the roads, and dead echidnas and other animals covered it here and there. Lunch was at a pleasant river bank, then 10 km further into the town Tauranga about 14.00. I checked into a bed in the large youth hostel for two nights, could have tented there but was feeling lazy.
One attraction here was the Tauranga Historic Village and Museum, taking up most of my full day there. I like museums and old things and didn't hurry past the exhibits of communications equipment, aviation, blacksmith gear (every museum has this), farm machinery, tractors (always my favourite), steam engines, schools, churches, Maori buildings etc.
Mt Manganui, or Mt Mauao, on a headland overlooking the bay, is a good little bike ride around the base circuit and a pleasant half hour walk to the top for views over the bay and islands.
I'd now been in the country for a week and had ridden about 110 km since arriving in Hamilton. It doesn't seem like much, but I was trying to start slow and build up. My knees were fine and I'd be able to take on longer daily distances as time went on.
From Tauranga, the quiet, partly unsealed and slightly remote Pyes Pa Road was relatively slow going because of the gradients. Picturesque orchards and farms gave way to forest as I climbed. After about 35 km I stopped near the high point of the road for a bush camp. I found cleared areas for the tent and a water tank where I could fill up my pot. I had all afternoon and evening to look at the bush, relax, cook, eat, read and take in the peace and quiet; no rush.
Next day I was up and down through not very pretty logged forest, and quickly down to Lake Rotorua. I followed the lakeshore clockwise around to Titikere. This is a thermal area with hot pools and some tourist activity. I found a holiday campsite for one night here in my tent. In the afternoon I took in the tourist tour of Hells Gate thermal complex; boiling pools, cauldrons, thermaroles, boiling mud and sulphur crystals. It was all interesting if you hadn't seen it before, probably similar to Rotorua. The tour was good though, with narrative on how the Maoris used to cook their food in the hotter of the pools, waaaay to hot to swim in.
It was only about 15 km from Titikere to Rotorua, arriving in the morning in time to cop out on a McDonalds breakfast before checking into the hostel. Rotorua is the principle thermal area in NZ, and quite touristy. It's bigger than Hells Gate and more spread out. I understand that Rotorua, like later Queenstown, is pretty much strictly a tourist place; good to visit but not to live in unless you're in the tourist trade. I imagine the sulphur smell would get to you after a while.
I'd be here for about 3 days looking at thermal sites, the Ohemitu Ma ori Village and the town itself. One day a Swiss woman and I took in the Maori Thermal area, about 1.5 hours to look around the mud pools, Maori village with cemetery, and the spectacular Pohutu Geyser erupting every few minutes. One evening I booked for the Maori concert in the village, a very good show with traditional costume and Maori dance, history and storytelling. Recommended.
On 30 November the town had its annual Christmas parade.
First day in December there was a let-up in the intermittent rain, and I decided to move on to Taupo.
Rain came and went part of the day, but it was a good run anyway. Countryside was pleasant and hills not bad. At the Wairakei thermal area it looked too wet and miserable to camp. I continued on up the road, past the thermal power station and along past spectacularly large and shiny pipes snaking and looping over the land, steam hissing everywhere.
It stopped raining around 17.00, but I decided to go the rest of the way into Taupo anyway and stay in the hostel. I'd come 90 km today, my best run to date. To celebrate, I went out to a Mexican dinner and a couple of beer.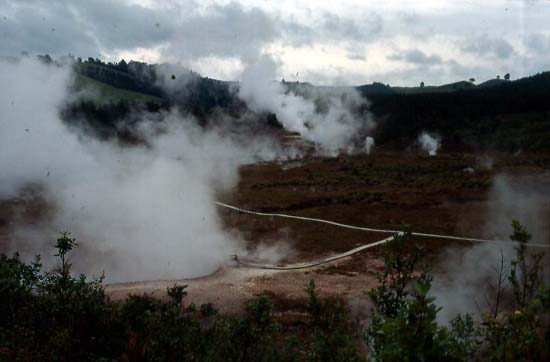 Next morning I could enjoy the beautiful view from the hostel; Lake Taupo and the mountains Ruapehu and Nguarahoe. An 8 km bike ride took me to the base of Mt Tauhara, where a 1.5 hour tramp go me up through sheep pasture and bush to the mountain top. From here you could see what seemed like half the North Island, all the way to the Bay of Plenty. I just couldn't get away from this beautiful location, so sat there for some time writing postcards and enjoying.
The following day I biked 6 km up to the Craters of the Moon. I believe this area is not entirely natural, more related to the geothermal power stations and consequent boiling of the water. It's a moonscape of vents, fumaroles and craters; steamy and noisy and interesting in its own way. Nearby were an apiary show-place and honey shop. Also nearby was Huka Falls, not high but with a large volume of very clear water and floating rocks (pumice?) in the pools.
That afternoon, despite unsettled weather, I decided to move on, riding south along the lake edge. After only about 30 km I came across a small lakeside reserve with a pleasant looking camping area. I decided to stop there, but rain continued and had to kill time by doing some tramping in the rain before it became dry enough to put up the tent. Once I was settled and dry it was a relaxing evening. The sound of the waves lulled me to sleep, even sleeping in next morning.
At Turangi, on the southern shore of Lake Taupo, I was interested in doing some walking around Tongariro NP. A very helpful tourist office fixed me up with details of the park walks and other tramps around the country. I decided on the Tongariro Circuit tramp, but found it's probably best to get my food here, ride up to Whakapapa Village in the park, and do the walk from there. It would be a climb with the bike to get up to the village at 1100 metres, but I wouldn't have to come back to Turangi later. So I stayed here for a couple of nights, doing some shorter walks, stocking up on provisions and meeting and hanging out with a Japanese guy. Isagu did the 1-day Togariro Traverse while I was here; cold and windy up there he said.
To get up to Whakapapa I had to gain 700 m altitude in 53 km, a tiring but manageable 5-hour effort. I arrived in rain and sleet about 14.00, but it cleared somewhat later. I checked in with the visitor centre, found a tent site for tonight on damp ground, organised hut fees and gear storage for my walk, and met other cyclists and walkers. One Dutch cyclist had ridden about 24000 km in Middle East and Africa, and had done over 200 km in the last 2 days. He was good to pump for info about cycling. I wondered if I'd get that good eventually. It was cool, almost uncomfortable, in the tent that night.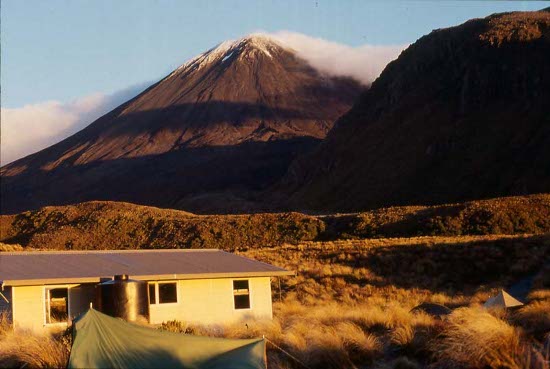 Next morning, 7 Dec (Happy Pearl Harbour Day!) I was ready for the 4-day Tongariro Northern Circuit Tramp. With tent, sleeping and cooking gear, food and other necessities in my pack, I set out in a clockwise direction to my first destination, Mangatepopo Hut. Mostly level walking through short scrub had me there in about 3 hours. That left me plenty of time to pitch camp, do short walks, talk to other hikers, eat and relax. Wind was strong though, to the extent that my tent was slightly damaged and flapped noisily at night. Cloud cleared later in the day though, displaying good views of the Nguarahoe summit and even far-off Mt Egmont.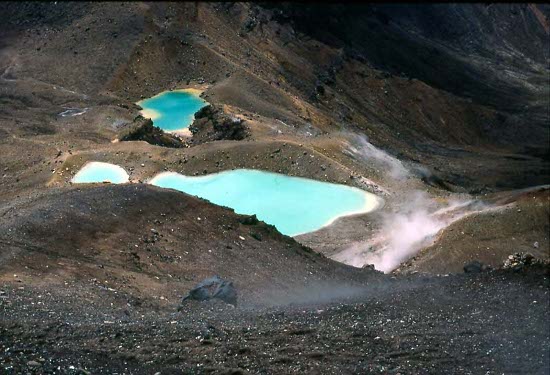 Wind eased on the second day, beautiful. I climbed 450 m past Soda Springs Waterfall and up along a rocky track to South Crater. The stunning scenery from here to Emerald Lakes includes Egmont, Tongariro Summit, South Crater, Nguarahoe, Red Crater, Otuere Valley, and as far as Lake Taupo and Tauhara. Red Crater has a deep maroon colour and an old volcanic chute protrudes from the crater side. The Blue Lake and Emerald Lakes each have a different vibrant colour, almost iridescent, from dissolved minerals.
I would have liked to summit either Nguarahoe or Tongariro, but I couldn't carry heavy boots on the bike and the ways up looked to be too hard on my light shoes. So down to Ketehahi Hut about 13.30 ended perhaps the most spectacular section of the walk. I spent the afternoon pretty much as I had done the day before. I went to look at the nearby hot springs but couldn't have a dip as it's a Maori site.
The third day was again beautiful weather as I ascended the hill again to and past the lakes and descended to Outuere Valley. The valley is distinctive for its remains of a lave flow from the Red Crater, numerous small but craggy basalt formations sticking out of the flat ground. This side of the range is much more desert-like than the west or north sides. It was so fascinating that I took my time, not getting to Outerere Hut before noon.
From there I progressed through stark-looking large gravel ridges, to Waihonuhu Hut by 15.00. Here I washed myself and some clothes in the nearby river, and socialised with an Irish Engineer (that I would encounter repeatedly throughout the rest of my trip) and a few noisy Israelis.
On the last walk day the weather still held out admirably. I climbed gradually up to Tama Saddle with good views of Ruapehu and Nguarahoe. A very worthwhile side trip was to climb a ridge up to Lama Lakes, awesome (that's a good Kiwi word) drop-offs either side of the ridge and beautiful lakes, especially Lower Lama. This was another place I couldn't leave in a hurry, sitting and rading my book for a while before coming back down and continuing back to Whakapapa. I stopped to read in other places too, so didn't finish the walk until after 15.00. That was a terrific 4 days.
Back at the village I got into conversation with the Irish guy, and was almost late getting my gear out of storage and pitching camp before 17.00. A group of us went to the tavern in the evening for pizza and beer.
On 11 Dec I slowly checked out of Whakapapa village, loaded my bike and set off toward the main road. I stopped for a few minutes to look at Mounds Walk, a rock/earth formation caused by volcanic raft flows. Then down to the village called National Park on the road, where I stopped in a backpackers hostel for the night. I took it easy the rest of the day, stocking up on food, writing postcards and general maintenance work.
It was another short run next day toward Okahune. This was apparently the carrot capital of NZ, park to the left and carrot farms to the right, and a truck accident with carrots scattered all over the road. Into Okahune before noon, I passed the obligatory "Big Carrot", checked into the hostel for 2 nights, stocked up on more food. This place is a ski town in season and a historical railway town. A self-guided bike tour allowed me to explore the town and surrounds. In the hostel was a very experienced cycle tourer, a wealth of good advice about bikes, cycling along the Wanganui River, tramping around Wellington, and cycling in Europe (a future trip for me). I spent part of one day up in the park near town, walking through the forest, MacLeans Clearing, and along the old railway line and viaduct. Time to chill out and read as well.
As per my cyclist friend's advice, next excursion was down to and along the Wanganui River, a quaint picturesque back-road through small villages and bush, sort of a mini Route 66 with wilderness. I passed through Ratehiti back on the main road, getting camera film and more food (yes I eat a lot when on the bike). From there down to Pipikiri on the river the road was unsealed and wet, slowing progress and getting my bike and bags muddy.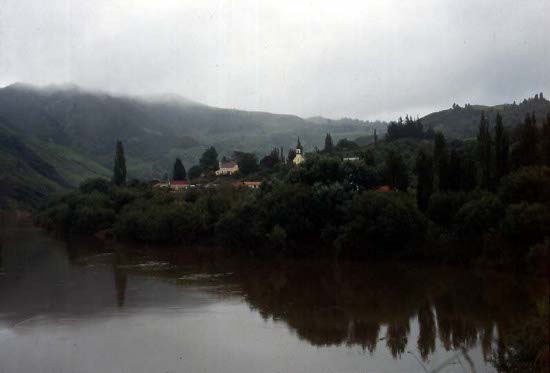 The parks office in Pipikiri was closed, as were apparently the walking tracks; maybe too wet. So I cleaned up my bike and bags in the river, and continued on unsealed road downstream in improving weather to the next village Jerusalem. Here is a historical convent. The nuns were away, but others there advised that I could set up my tent on the grounds, and showed me around the facilities. It was a charming place to spend the night.
On through intermittent rain, I passed Maori villages like Ranata and Koriniti, each with its own laid-back atmosphere. Here and there were historical huts and sites of long-ago battles. I stopped at Otumere Campsite about 14.00, deciding there was no rush to continue that day.
Beyond the campsite next day was the village Atene and the Atene Skyline Track. It's a ridge walk around an old river oxbow, starting and finishing at different locations on the road. So it's almost a loop with a road connection. I parked the bike and started the walk about 10.30, completing it after 16.00. It was mainly bush with a few views of the old river bed and hills, lots of up-and-down and wet and slippery in places. I could see a few feral goats here and there. Camped later in a small grassy creek valley, having temporarily to evict a wild goat for my tent-site.
My final day on the Wanganui involved an ascent from the valley up Gentle Annie Hill. This was the biggest climb so far on the trip, a winding sealed road that seemed to go up forever. However I took it slow and made it up without stopping. The hilltop had a good lookout over the river valley I'd come from.
Back on the main road to Wanganui town I stopped for various sights including a Maori totem, old brickworks and the ruins of Waitaha Pa (I think a Maori village?). At 12.30 I was in Wanganui and into a tent site for two nights at the youth hostel. I met a Scottish guy, Grant, there whom I would encounter several times at various locations later in the trip. It's really neat how you keep running into the same people going the same direction; it gets to be a little nomadic community.
Points to explore in Wanganui included the desolate looking black sand and driftwood-studded Castlecliff Beach, the Wanganui Museum with its moa bones and a pair of much-repaired boots once owned by a well-known local swagman, the shell-stone war memorial atop the incredibly wind-blown Telegraph Hill and a pleasant walking path around nearby Virginia Lake. I treated myself to an all-you-can-eat lunch at Pizza Hut (I get my money's worth with my cycling appetite) and later made pies from the hostel garden rhubarb.
Mostly flat country and a good tailwind sailed me into Palmerston North in good time. Two days there allowed the usual town and museum exploration. I camped at the hostel, but rain was a bit heavy at times and got the inside of the tent wet. At the hostel I met a couple of Kiwi girls, Janine and Tracey, whom I made friends with and would encounter numerous times throughout the trip.
It was a long day from Palmerston North and Atherton, up through the pretty and easily negotiated Manuatu Gorge, then back roads through small villages. The green sheep-farm countryside was pretty but afforded few suitable camping places. So I soldiered on all the way to Masterton, a total of 120 km in 8 hours, my biggest cycling day to date. I camped at the Backpackers hostel, to where I would return at Christmas.
Next day, 22 December, I rode up a long ascending road to the Mt Holdsworth area of the Tararura Forest Park, where I could ditch the bike and do a two day tramp. Just as I was starting, I met Grant from Wanganui on his way out after a two day walk there on his own. He suggested the ridge-top circuit, which I proceeded to do.
The climb was steep and steady through beech forest, then flat and on up through mud. I made Powell Hut at about 1200 m, just above the treeline, after about 3 hours. Good views of surrounding mountains and the flat plains enticed me to stay here tonight. It was too windy to put up the tent, and in the hut that night the wind was so strong that I felt it could blow the whole hut down the hillside.
Next morning the wind eased and I continued up to the 1470 m Holdsworth summit, great 360 degree views of mountains Jumbo, McGregor etc. I continued along the ridge to Jumbo and down to Jumbo Hut by about noon. Cloud was coming in though, almost a white-out, so continued down to the river and back through dense forest toward the bike. I was amazed at the amount of growth on the beech trees; moss, lichens, other plants. I camped at the bike and made my way back to the Masterton Backpackers next morning, 25 December. It's getting quite warm now, my first reasonably hot weather.
The hostel hosts were putting on Christmas food and drinks today, what a treat! As soon as I got there and pitched camp, they plied me with a bacon-egg breakfast and a small stocking-stuffer gift packet. Quite a number of backpackers, including Grant, shared in the festivities with a big lunch of chicken, pork, spuds and salad, later a barbecue dinner, beer and evening party games and conversation. The whole Christmas was unexpectedly sociable and delightful.
I was off again on Boxing Day, in the direction of Wellington. To Featherston was a flat easy run. From there it would be a narrow, steep and possibly dangerous climb over the 550 m Rimutaka Hill, or possibly an alternative route through a disused railway line. I was just weighing up the options when a painter with a truck saw me and offered a lift over the hill for me and my bike. I was glad he came along, as it was a really long winding climb, with no road shoulder, and I would have been risking an accident and holding up traffic all the way.
My painter friend dropped me off at the Kaitoke Youth Hostel, a few km above Upper Hutt. It was somewhat isolated and desolate-looking, hardly anyone there, but peaceful enough and close to park and forest walks. I checked in for 3 nights to take advantage of the multi-day price discount.
It was a good 3 days there, doing short walks and swimming in Kaitoke Regional Park, longer walks again in the Tararua Forest Park, commuting to Upper Hutt for shopping, relaxing and writing postcards. I met Grant again in the forest park, walking from Masterton, and we stayed together in the hostel for a day or two.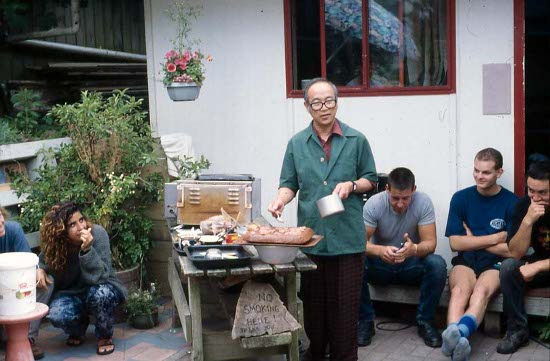 It was about 45 km to Wellington; I arrived some time after noon on 29 December. The YHA hostel seemed somewhat expensive so I found and checked in for 3 nights to that iconic Wellington landmark Beethoven House. Run by Alan, an off-beat elderly Asian cross between Yehudi Menhuin and Colonel Klink, this backpackers hostel is notoriously cramped, disorderly and eccentric, but wonderfully charming and full of character. Classical music starts daily at 07.15 to wake us up. Breakfast was porridge, fruit, and toasted cheese sandwich. A heart shape was cut out of the centre of the sandwich, instructions from Alan were to think of our Mom's when we ate them.
I ran into other people, including Grant, that I'd met earlier in my trip and spent time with them. Alone or with others I explored Wellington parks, the botanical garden and shopping areas, walked up to the top of Mount Victoria for the 360 deg view, bought needed clothes and shoes, helped prepare the New-Years Eve dinner in the hostel, and rode along the foreshore past the airport enjoying pleasant coastal scenery. I booked the ferry across to Picton on the South Island for 22.30 on 2 January, $42.
I learned that when crossing railway or tram tracks on the bike, always approach from a perpendicular direction. Down-town one day I crossed a track at a shallow angle, wiping out, tearing my shirt and badly scraping my shoulder. It took days to heal and taught me the lesson.
New Years Eve was fun, a big dinner at the hostel, followed by beer and talking and ambiance until 02.00. Wellington New Year celebrations weren't all that noisy.
On 2 January many yachts had arrived or were arriving from the BT Global Challenge yacht race. A large crowd was on hand to greet them and party on. In the afternoon a yacht crewed exclusively by handicapped people sailed in, greeted with a rousing welcome and fanfare.
That evening I was at the ferry checking in my bike and gear. I met a Swiss cyclist who had a huge bike load, glad I'm not trying to shift all that weight around on my bike. As we departed at 22.30, I had that sort of "half-way" feeling, finishing the North Island and starting the South. It was hard to believe I'd been here so long already.
South Island
(Click for map)
Three of us on bikes disembarked the ferry in Picton at 01.30 on 3 January. It was too late to find any real accommodation, so we decided to simply lay out our sleeping bags on the beach near the centre of town. A few drunks talked nearby but fortunately we got no rain. After sunrise we split up and I found the Blue Anchor camping park for a very crowded tent space. I spent the day buying and eating food, and doing a walk to Bob's Bay and up along the Snout Track on the east side of Marlborough Sound, good views of the hills, sound, ferries and skiffs. I ate a lot but was still hungry; that's what travel and biking does. I met up with Grant and went for an ice-cream with him.
It's getting hot on a regular basis now, already warm at 09.30 as I set off for Havelock on 4 January. A big hill, about a half-hour effort, greeted me as I left Picton. From there it was more undulations and flats, beautiful scenery, on into Havelock. The North Island had lots of contour, but the South Island would have more, get used to it.
This was my third time in Havelock Youth Hostel, having been there in 1975 and in 1982. It's still a small village but seems to have lost a little of its intimacy, now more touristy and impersonal. I couldn't now just wander down to the wharf and buy a fish off a fisherman like I used to.
One goal this trip was to do the Nydia Track tramp to the north of Havelock. It would involve a vehicle ride to Duncan Bay and a couple of days walk back to town via Nydia Bay; 3 shorelines and two saddles to negotiate. I arranged the ride for next day when I arrived, but it fell through, forcing me to wait for the walk until 6 January. I used the time exploring and doing short walks and bike rides around town.
Finally got the ride up to Duncan Bay with a trips organiser and a couple of kayak people. I left them and started walking before noon. The waters of the sounds struck me with their amazingly turquoise colour. As I stopped for lunch at a small beach a couple of wacker birds came right up to me to steal my food, the nerve of these little buggers!
The walk proceeded along the shore, up a pretty valley, up through equally pretty bush to Nydia Saddle, and down to Nydia Bay after 16.00. Here was a remote backpackers hostel run by a local guy, Murray Timbs and his family. It's a quiet farm-type place with a few cabins and kitchen facilities, but no electrical power. There are no shops here, so the $10 bed fee included food you can cook for yourself if you run out of your own. Any food that needs to be kept cold is stored in a freezer out in the bush, powered by a pelton wheel in a creek. The Timbs are so friendly and hospitality is legendary. It's one of those places where travellers come for the night, and end up staying days or weeks.
Therefore, when I settled into a bed in a cabin, made dinner and started to soak up the quiet ambiance, I got hooked. Next day I changed my mind about leaving, and again the following day, staying 3 nights in all. I was to meet my old friend Kemp in Nelson, but was able to call him and put it off a couple of days. An older guy Ron in the next cabin frequently practised playing on his flute, adding to the pleasant atmosphere.
So I relaxed big-time for two days. Ron and I borrowed the small boat one morning to try our hand at fishing in the bay, as it turned out, more relaxation than actual productivity. I tried to help Murray work on his Land Rover to un-stick the brakes, but with limited success. He put on a big dinner for us one evening, a feast of boiled green-lipped mussels, venison schnitzels, potatoes, bread, salad, beetroot and home-brewed beer. Short walks along the shore and through the bush, and cribbage with Ron, filled in the time.
I finally tore myself away from the Timbs, and continued my walk up through bush and another saddle, up and down through grassy hills and farms, to Shag Point Landing on the shore, and a boat ride back to Havelock mid-afternoon.
10 January had me on the bike again in cool and cloudy weather, along to Rai Valley and up a couple of big climbs to saddles. It started raining on the climbs, wet but at least I wasn't hot. I passed Hira, where I'd stayed with Kemp in 1982, and found the turn-off to The Glen, near Nelson, where he now lived with his family. Great to see him again and meet the crowd.
I'd stay with Kemp for 4 nights. They took me for tours around the town and countryside, and I did some cooking to show them some of Mom's Ukrainian dishes. I wanted to do the Heaphy and Wangapeka Tracks; it took some organising during that time. I paid hut fees in the DOC office, and bought nearly $50 work of groceries for the walks.
Kemp is no longer working in forestry, and is now full time wood turning. He showed me how to turn, and gave me a go. But, as in 1982, I'd need a lot more practise. One morning we set up his stall in the market in town, selling a good number of his wooden bowls and other turnings despite drizzle rain. A cyclone somewhere was causing bad weather here, and even Kemp's own street was suffering rare tidal flooding and other water damage.
On 14 Jan Kemp kindly had me at the bus station in time for the bus to the Heaphy Track.
At the time of the tramp, I wrote detailed notes of the Heaphy and Wangapeka walks for my bushwalking club back in Australia. These notes are below; if they are too detailed the reader can skip them.
Heaphy Track:
Day 1:
On the bus at 07.30, $40 to get to the start of the Heaphy Track. Two changes of bus and some beautiful scenery got me to the track, along with about 10 other walkers, about 11.30. The weather was looking cloudy and ominous, and it was starting to rain.
The track is very wide and well defined; It was once surveyed to put a road through to the river mouth, which never happened. As a result nearly all the track is benched and gently sloping. I climbed gradually up through Beech forest and drizzling rain, to the 915 m Flanagan's Corner viewpoint, the highest point on the track. Somewhere around here on a good day you are supposed to see Taranaki on the North Island, but certainly not today.
The weather had fortunately cleared by the time I got to Perry Saddle Hut, 16 km and nearly 5 hours walk. Pitched camp and cooked my meal in the hut, as is the practice throughout this track. The hut was rather crowded from the bus people, but good to talk to all the other travellers.
Day 2:
The plan was to go 24 km today to get to Mackay Hut. But I woke up with some kind of virus, a queasy gut and sore/weak all over. Had to content myself with 13 km to Saxon Hut, with rest and toilet stops at frequent intervals. At least the weather is good. The track led onto Gouland Downs, a broad "peneplain" with beautiful views over the red tussock.
Near the picturesque Gouland Downs Hut I met a Dutch guy and a New Zealander who were over the moon about having seen a real live Kiwi bird walking around in broad daylight. "Yes it was really a Kiwi and we could get right up to it and we've got photos to prove it." They were spreading the news to every other walker they met.
There is a Karst area in Gouland Downs with lots of limestone formations, arches etc. to explore, but unfortunately I didn't feel up to it.
On through tussock and bush and riverbeds to Saxon Hut about 2 pm. That was enough for me that day. It rained in the afternoon anyway. I took it easy the rest of the day, couldn't eat much. Sandflies are a real nuisance on the NZ west Coast; they land on any exposed skin, especially the ankles, and bite like rottweilers. You have to cover up completely. They seem to have some kind of sixth sense, knowing when you're trying to pour something or otherwise concentrate, coming after you then with a vengeance. Fortunately they sleep after dark.
Day 3: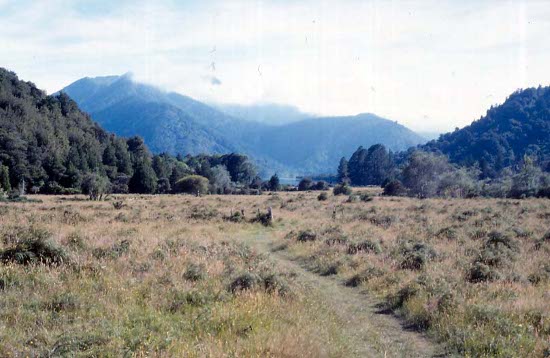 Felt a bit better today, but not much. 11 km to Mackay Hut and 12 km to Lewis. This part of the track has grassy river flats and Indiana Jones bridges to cross the rivers. Mostly level or downhill walking, with tussock and Beech vegetation. The rocks and gravel are a beautiful pink granite, some of the oldest rocks in NZ. At the Mackay Hut, which is still high up, I was treated to a magnificent view down the Heaphy Valley right to the river mouth and the sea beyond; the best view on the track.
From there the track descends gradually to the Heaphy River and Lewis Hut. Again that was enough for the day. Besides this is a really beautiful area to stop at, the junction of the Lewis and Heaphy Rivers. Lots of sandflies and mossies though. Had a luxurious swim in the Heaphy River.
Day 4:
Gradually feeling a bit better. Negotiated a couple of long swing bridges to cross the Lewis and Heaphy Rivers, then down the Heaphy for 8 km to Heaphy Hut. The Beech forest has by now given way to Podocarp (NZ Pine) forest and Nikau Palms. This part of NZ has mild weather, and some of the vegetation is almost subtropical in nature. Lots more swing bridge creek crossings. Heaphy Hut is in another pretty area at the Heaphy mouth. Swarms of sandflies but nice to stop for lunch and go for a wander on the driftwood-covered beach. I could have stayed there but felt I should get on, as I had only passes for 3 nights.
From Heaphy Hut it was 16 km along the coast to Kohaihai River and the track end. It's mostly flat, and the track runs mostly parallel to and just back of the beach/rocks, with occasional excursions along the sand. The surf roars on one side and hills rise up with wind-sculptured bush on the other. Calender-perfect scenery, with weather to match. The sandflies made stops uncomfortable.
In to the carpark about 4.30 pm, just in time to catch a lift the 20 or so km into Karamea. Found a Backpackers to stay at, and into the pub for a couple of beer and a feast of soup, garlic bread and roast beef dinner (well, I've earned it haven't I ?). Starting to rain now, but I need a lay day here to completely recover.
The Heaphy Track is not a spectacular track like some others might be. But it is pleasant, beautiful, and not overly intimidating. It's great selling point is the variety of scenery and vegetation over its length, from beech forest, tussock downs, river flats, limestone, podocarp, palms to ocean beach. Despite my temporary lack of good health, it was still eminently enjoyable.
Lay Day:
A rest day looking around Karamea, sheltering from rain, organising Wangapeka passes at the DOC, and buying food. I didn't need to buy much, as I didn't eat much on the Heaphy. Karamea is a friendly, pleasant place to stay, off the beaten track and wonderfully laid back. Good for a holiday on its own.
The Wangapeka Track
Day 1:
Rain is starting to clear, and I'm recovered enough to tackle the Wangapeka. Luckily I met a remarkable old guy in the hostel. He's in his 70's and works by driving around NZ in his truck and buying old diesel generators and selling them to farmers. He was going out with a generator to a farm near the Wangapeke track start, so I could get a lift with him. A most enjoyable and memorable ride.
Because there was a lot of rain, the rivers in the area were in flood, so I would have to take the high water tracks in places, necessitating a longer and more difficult walk. The landowner at the start of the track was no longer allowing walkers (maybe for legal reasons) to cross his land, which was the easiest option. My chauffeur and his farmer friend thought this was a bit unfair They were about to go see the landowner to use a bit of muscular persuasion to allow me on the land. Thanks anyway, but it's not worth it.
Started up the high water track about 10.30. It was no longer raining, but the track was so waterlogged that my feet were soaked within 5 minutes. The track went up and up and up, and was full of mud, tree roots and general scunge. Unlikely that my shoes will go the distance. Sure ain't like the Heaphy.
The wet weather diversion took about an hour of steep up and down. Then it was more level up the Little Wanganui River, along old logging trails and on a path parallel to the river. It was still very sloshy in most places. The environment is primarily beech forest. Lingering cloud meant that I couldn't see much of the higher country where I was going.
Arrived at Litle Wanganui Hut about 15.00 , after 12 km or so of walking. This hut, like most of the others on the track, is a smallish place set in a beautiful setting. They are not as big or modern as on "Great Walks", but to me that makes them better. On this track I was staying in the huts rather than camping. They have mattresses and we use our sleeping bags and sheets.
At this hut I caught up to a couple of Kiwi girls, Janine and Tracey, that I had met at Palmerston North, earlier in the trip. Also another couple of girls showed up later. We agreed to continue the rest of the track together because of the potentially hazardous nature of the rivers. Also we all made good company. We found a Monopoly set and got a game going in the evening.
Day 2:
Still partly cloudy but not raining; track wet. 9.5 km from Little Wanganui Hut to Taipo Hut. We got going about 08.45. Continued up the Little Wanganui River (which today should have been called Big). At one stage we decided to avoid the wet weather track and ford the river a couple of times. It was a bit nervy at times, fast flowing water up to the crotch & having to hang onto each other, but we survived.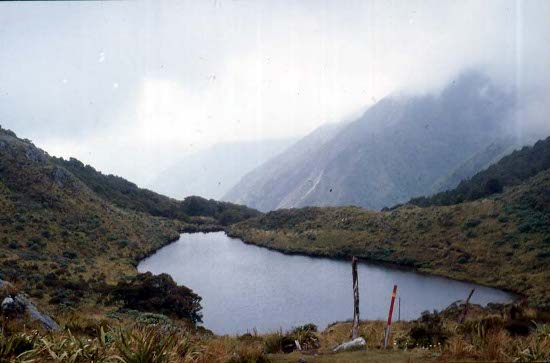 We eventually left the river and started a long steep climb up to the Little Wanganui Saddle, at 1110m the highest point on the track. Lingering cloud negated all but the most fleeting glimpses of the surrounding peaks and valleys. However near the saddle were a couple of small lakes which were extremely pretty and worth resting at. A break in the cloud exposed a beautiful view of Stag Flat below the saddle.
A quick steep descent to Stag Flat where we had a cup of tea, then a more gradual descent through bush along the Taipo River, to Taipo Hut at 3.30 pm. Good wash and clothes rinse in the creek. My trusty Volleys, which have carried me all around NZ so far, including the sharp and rocky Tongariro circuit, have gone to that bushwalk in the sky. My toes were sticking out the side and putting holes in my socks. Into the pack and out with my new joggers.
I cooked up and ate an absurdly large meal of rice and vegetables and salami, nearly filling my 2 lt billy, and raising jibes from the others. Long distance cycling and walking does that to one's appetite.
An interesting comment from the hut book, is that one can walk all day over steep passes and through rivers, and once in the hut can barely make the 4 steps up to the bedroom.
Among the hut guests there were a guy and his 2 daughters, aged about 6 & 8. They were carrying their gear and were keen as mustard. Now that's bringing your kids up right.
Day 3:
Track was getting a bit drier now and rivers dropping. Still a little cloud on the tops, but no rain. 16 km to Stone Hut today. Descent further down the Taipo River through more forest. Then across a swing bridge, up across a neck of land, and into and up the Karamea River valley. At this point we are quite high above the river, and have good views up and down the valley.
Helicopter Flat Hut is in another postcard setting, and a perfect place to stop for lunch.
Onward upstream toward the Wangapeka Saddle. There were a couple of fords here, but not as intimidating as those on previous days. Also a couple of creek crossings are provided with 3-wire bridges (only a single wire to put your feet on). I tried these just for fun.
The track up to Wangapeka Saddle had to detour over the tops of a couple of recent slips, which meant some steep climbing in places. The saddle itself was not as much of a climb as the day before, but very little view from it. From there it was an easy descent down, across a huge old slip, and to Stone Hut.
I'm eating so much I'm starting to run out of food, but will have just enough. The girls ran out of loo paper and are reading their paperback fast so they can rip out the pages as they go. I offered a spare part roll, and it was grabbed as if by a starving beggar.
We saw a Blue duck, rare outside of wilderness areas, cruising in the river outside the hut, quite a treat (visual not gastronomic).
Day 4:
The sky finally cleared for the last day on the track. Good views back to Mt Patriarch etc. and 16 km to the end of the track. The walk now is easy downstream, with small ups & downs, along the Wangapeka River. A couple of hours had us at Cecil Kings Hut, arguably the prettiest on the track, for lunch. It's an old style slab hut, with a woodshed, fireplace and antlers decorating the outside wall, reminiscent of old Pelion Hut in Tasmania.
On a bit further past King's Creek Hut, the valley opens out to mixed bush and meadows, mostly flat to the track end at Rolling Junction.
And Back to Civilisation:
Kemp had said to phone him to come and pick me up, rather than spend $50 on a taxi. There being no rides here, I found the phone in the shelter (the only free phone in NZ I think), and called him up. While waiting, Janine, Tracey and I ate the last of our La Pasta meals. Kemp showed up with the van and took us out to Nelson.
The Wangapeka is certainly different to the Heaphy. It's steeper, more rugged, more challenging, more spectacular, and less tramped. There isn't the variation of the Heaphy, but you feel that you've accomplished more, and in good weather the views would be unbeatable. Both tracks have the disadvantage of somewhat not-easily-accessible start and finish points.
I spent a couple of days relaxing and helping Kemp with odd jobs in Nelson. By now I had been off the bike for two weeks. It was time to move on. So on 25 January, after profuse thanks for hospitality and goodbyes to Kemp and family, I was on two wheels again.
My onward itinerary would take me to St Arnaud, the West Coast and south. Out through suburbs of Nelson and up the Waiti Valley and Golden Downs Forest, the road was pretty but such a long gradual climb that it took over 10 hours for the 105 km to St Arnaud. At 17.30 I was dead tired when I staggered (can you do that on a bike?) into St Arnaud and found a camp site on the edge of Lake Rotoiti. Couldn't do much else but drink about 3 litres of water, cook a meal in the camp kitchen, converse with a Danish tramper, and sit at sundown looking at the lake.
The following day was thankfully more downhill, descending the Buller River and stopping to look at sights like an old railway tunnel and New Zealand's longest swing bridge. I was again exhausted though when I stopped to camp at the small village Lyell after 95 km.
Sandflies drove me out of the camp and back onto the bike early next morning, through the pleasant little town Inagahua, onto flat land to the main west coast road, and a further 6 km into Westport. Here I was now on the West Coast. I checked into the youth hostel and stocked up on food. I was again tired, but still did a short bike ride out to the breakwater and north beach to watch fishing boats and surfing.
While in the Westport area, I rode out to Carters Beach for one night camping and an exploration of Cape Foulwind. From the beach it's an 8 km ride to the cape, followed by a 45 minute walk along the bluffs, past the lighthouse and and astrolabe, to the bluff above the seal colony. The colony itself was quite large. I sat at the top and watched the many seals in their activities, or inactivity, until the horrendous smell finally drove me away. Back at the camp site I could swim in the warm waters of the ocean and finish off some postcards and letters.
Next day, back through Westport, I continued south through scrub, gorse and low hills and thence coastal scenery, to Charleston and on to Punakaki around 15.00. Here were the Pancake Rocks that I'd seen in 1982, unchanged since then. My legs were again sore and tired; what's wrong with me, why do I feel so unfit? So I camped here overnight and didn't do any strenuous walks or anything. I found that grocery shopping is more expensive along the west, maybe because of the remoteness.
It was only about 47 km into the main west coast town Greymouth. An overnight here allowed me to stock up on cash, stove fuel and groceries for the long trip south.
South of Greymouth was Shantytown, a tourist theme park and museum. I spent a couple of hours there watching demonstration gold sluicing, pioneer-type buildings and exhibits, and a steam train ride. It was all touristy and a bit out of character for my style of travel, but an interesting diversion.
The road south into Hokitika was flat and easy, with a couple of one-lane road/rail bridges. Hokitika was a charming enough place for a lay-day. I checked into a beach-side tent site at Sea View Backpackers for two nights, took short walks or bike rides around town and the river mouth, looked at the gold-rush and shipping-hazard exhibits in the museum, and lazed around and talked to others.
A mostly flat and beautiful ride, with some bush and river crossings and a good view of Lake Ianthe, got me into a characterless but cheap camp-ground in Harihari about 15.00 on 2 Feb. I cooked a dinner for myself, but it wasn't enough, having to retire to the nearby pub later for a hamburger and a beer.
My small old distinctive tent was pitched nearto, and visible from, the road. Earlier, back on the Wangapeka Track, Janine and Tracey had told me they were to be in the next town Whataroa by a certain day and staying in a house there. That day happened to be tomorrow, and I was to meet them and stay there. Unbeknownst to me this day, their bus happened to pass through Harihari in the afternoon. They recognised my tent and said to each other "Hey, there's Sandy. He's on his way, we'll see him tomorrow".
So I was in Whataroa next day at 13.00. In these small places in this country, everyone knows everyone else. All I had to do was ask in the pub where Janine and Tracey were staying and they could tell me. I found the house, left my gear there, and returned down-town for lunch and to have a beer and talk to other cyclists about cycling in Asia and South America. The girls found me later for a joyous reunion. There were about about 5 of us to stay in Tracey's friend Karens house here. I ended up staying 5 or 6 days with them in the house, cooking up and sharing big meals together and going out to various activities as a group. Tracey's parents showed up with her car from Christchurch one day, giving us transport for excursions around the district. This was great, accommodation, transport, activities and wonderful company.
The next few days were amongst the most enjoyable of the trip. We visited with Karen and Tracey's parents and did drives and walks around creeks, waterfalls and the river, collecting lichens off trees for hobby pot-pori. Swimming was good but considerably colder than around Westport. We drove to Fox Glacier, where I would ride later, to see Tracey's friend Jane in the Ivory Tower Backpackers. Good evenings were spent in pubs taking advantage of Happy Hours, including a raucous evening in the Harihari Pub listening to The Gypsy Pickers band.
One day we drove to the Wanganui River mouth near Harihari to do a 2.5 hour walk . Past farms, river huts, logging roads, logging regrowth and ruins, Podocarp forest, ocean beach, driftwood and rocks, the walk took us up to Doughboy Promontory for great views.
Another day we visited the dairy farm where Karen works, toured the barns where about 400 cows are milked, and had a great time hooting around on ATV's mustering cows to and from the barn.
By 8 February I felt it was time to not overstay my welcome, thanked my hosts for the wonderful stay, and rode on. I knew of a simple youth hostel at Okarito, a little farther on, off the main road near the coast. I made my way along the Forks Okarito Road, stopping for a walk up to a hill view overlooking Okarito Lagoon, and into Okarito early afternoon. I checked into the hostel and did a walk over a stock track to 3-Mile Beach. I sat and read amongst the sand, stones and driftwood until the sand flies chased me away. As I returned to Okarito around the low-tide shore and up the channel, it started to drizzle rain. Rain set in and continued for the next couple of days. This would have been a pleasant laid-back place to stay if it weren't for the incessant rain.
I was hoping to hire a kayak and paddle around the lagoon but rain would have made it miserable. I hung around the hostel most of the day, as a tour group of about ten noisy people descended on the hostel and pretty much filled it up.
After the second night, the rain had no sign of letting up. I didn't feel like cycling in it, but was running out of food and there were no stores here. So I phoned through to Ivory Towers Backpackers and booked a bed, and set off through the wet to Fox Glacier. Cycling wasn't hard, just miserable, stopping in Franz Josef about 11.30 for lunch, over three somewhat strenuous hills, past roaring streams and waterfalls, and into Fox about 13.30. I was chilled and soaked. Although I was no longer tired and sore like I was farther north, one knee was a bit painful and I was hoping it was just temporary.
Just as I was pulling up to a shop my bike ran over some broken glass and flattened the front tire. Like I'm not uncomfortable enough already? Had to walk the bike the last little distance to the backpackers where I checked in for two nights, cleaned up and tried to dry out, bought and prepared food, and tried to fix my bike tire/tube. Next day it was still raining and my tire was again flat. So I fixed it again, but the tire has a gash in it; hope it lasts until Wanaka. I found Janine and Tracey staying with their friend Jane; they were to do a guided glacier tour later that day. I wouldn't bother, having done the tour in the 1970's when I was last here.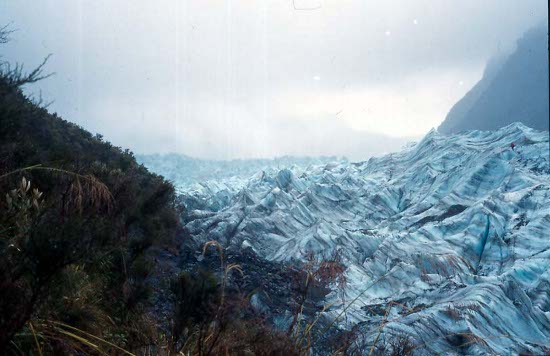 Despite continuing rain I took the bike out to look at Fox Glacier. The river was really roaring from all the rain. I walked the path along the river and rocks to an large ice cave at the glacier base, then up a path above the glacier through bush and across creeks to where I could see the tour group setting out over the glacier. The group seemed to take forever to chop steps and walk up onto the glacier ice, not worth it in my mind. Back through more rain to the hostel, I cleaned up again and put my clothes into the drying room to try to get some moisture out of them.
In the evening I splurged on a large pizza and coffee, so big that I almost couldn't finish it. Later I met Janine and Tracey again for a last jug of beer together; never know if I'd see them again.
On 12 February rain had finally eased and I was again on the way south. The sun eventually came out, but clouds hung on mountain tops. Lake Paringa had an inviting-looking campground, but I had programmed myself to make Lake Morekai that day, so pressed on. I reached Morekai mid afternoon but not finding any suitable camp there, persisted for a few more km. My reward was a beautiful bush camping spot off a small track and next to a river, quiet and secluded. I swam in the river and had a pleasant stay relaxing and reading. Insect repellent however is only of limited effectiveness against sandflies and mosquitoes.
3 more hills had to be crossed before reaching the coast south of Morekai. I stopped at one hilltop for a rest, and later did a short beach/lake walk on the coast. It was a beautiful day as I rolled into Haast and set up at the tent site at the Highway Accommodation place. I met other cyclists here including Renata from Germany and Monica from Switzerland; I'd be meeting them again slightly later in the trip. Also in the camp was a Kiwi/American with a tour group. I remember them taking over the camp kitchen after I'd made and ate my dinner, cooking up a feast of huge American-style hamburgers for his group. Full as I was, I could have downed 1 or 2 of the burgers myself given the opportunity.
The mosquitoes were so bad, my tent wasn't insect proof, and the repellent virtually ineffective, that I hardly slept at night.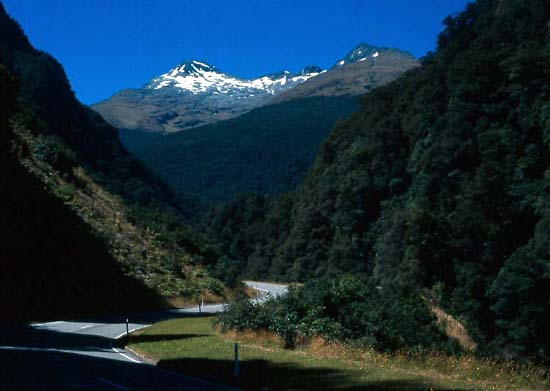 Haast is the final stop before the infamous Haast Pass, a cyclist's nemesis. I'd been up the pass in a vehicle in 1974, a looooong drive up; how would I do it on a bike? At 09.00 on Valentine's Day, I started cycling toward the pass with a Swiss guy Stefan whom I'd met at Fox. My knee was still slightly sore, but improved as we went. We rode along the flat Haast River valley to Pleasant Flat where we rested and psyched ourselves up for the big climb to come. Splitting up to each take his own pace, we started the gradually steepening road up the pass. Weather was hot and sunny, with good views of surrounding mountains and gorged waterfalls. The ascent was quite a grind, sealed road but very steep in places. Even in lowest gear I had to stop and rest a lot, the hardest hill I'd done to date. But I finally made it to the top saddle, rested and basked in my glory of achievement, and coasted a few more km down at 14.45 to a riverside camping spot at Burke Flat.
That was a great day. I'd succeeded the biggest climb of my life and my legs had survived. I felt wonderful. A quick swim in the freezing river refreshed me before I cooked, ate and hung out with an American couple in a van. In the evening the three of us took a short walk up a bush path. My crotch was badly chafed from sweaty riding, but they gave me a bit of aloe-vera cream which helped a bit. Maybe from the exertion, I slept wonderfully.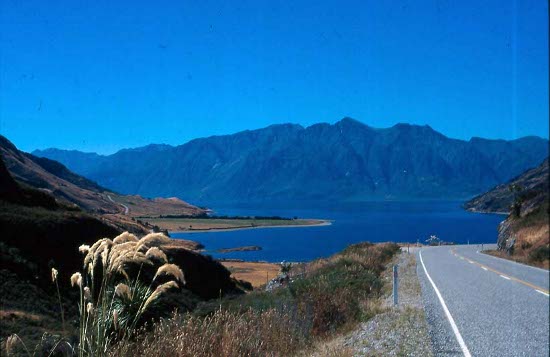 Next day's ride was a lark, sunny and beautiful with flat river and lakeshore drives and only small hills. I caught up to Renata and Monica in Makarora, continued along the Lake Wanaka shore, and over to the Lake Hawea shore.
One intriguing sight was when I met a large convoy of people and vehicles coming in the other direction. It was apparently a club of retired people, farmers or whatever, travelling around the country pulling home-built caravans behind vintage farm tractors. What an inspiring way to see the country! I stopped to talk to them and admire the equipment; Farmalls, John Deeres, Allis Chalmers, Ford/Fergusons, even a Massey Harris 30 like I used to operate as a kid.
It was really getting hot as I pulled into Wanaka mid-afternoon. I put up the tent at the youth hostel, drank over a litre of tea, went for a swim in the lake and did laundry. Stefan from Fox Glacier was there so we teamed up to buy and prepare a big dinner of steak, potatoes, vegetables, ice cream and beer. Later in the evening I met up with Renata and Monica and joined them for a beer in Paddys Pub.
I had a couple of full days in Wanaka before moving on. Renata, Monica and I went over to the Maze and Puzzle Centre, a prominent tourist attraction, to poke around the maze for an hour or so and looked at the other exhibits of holograms, sloped rooms and other illusions/puzzles. I gave the bike a good clean and maintenance go-over, and bought and installed two new tires.
A walk up Mt Iron was slightly warm but easy enough and gave good views. Vegetation around this part of the country was quite dry looking, a real contrast to the damp and lush coast.
As I cooked and enjoyed an average-sized meal of ham, rice and boiled cabbage, the girls were amusedly commenting on the vast quantity of food I was eating.
18 February had me on the way to Arrowtown via Cardrona and the Crown Range. The Cardrona Valley was pleasant, but the pavement stopped at Cardrona. The climb to Crown Saddle was washboard gravel and the steepest I'd ever encountered. My new tires were semi-slick, great for pavement but not that good on gravel. I was in such a low gear, and the road so steep, that the front of the bike lifted off the road and I had to walk it up the last km or two to the 1120 m saddle. At the top were a number of other cyclists, including Renata, resting, talking and congratulating one another for making it up here. Some were coming in the opposite direction and were now on the way down to Wanaka. Someone recommended that, when I get to Queenstown, I take the boat from there and cycle back roads from Mt Nicholas to Te Anau. It was said to be not as hard as it looked, and I resolved to do just that.
From the saddle it was a long steep descent along more gravel road, leaning on the brakes all the way down to Highway 6. Another 5 km and I was in Arrowtown setting up my tent. Being near Queenstown, this town had the usual tourist ambiance, lots of restaurants and craft shops and expensive groceries. I liked the short walk along the river with its historical Chinese gold mining community and partly restored huts and shops. The riverside exhibit and the museum with its history of Otago gold and Chinese influence fascinated me.
Early afternoon next day I made the 20 km along the Arthur's Point back road into Queenstown. At the Shotover River the powerful jetboats plied their trade taking the tourists on thrilling rides up and down the river. I found the campground and pitched my tent for two nights. I arranged to take the boat across the lake to Walter Peak at 09.00 on 21 February.
Like Rotorua, Queenstown is almost exclusively a tourist town. Rotorua has thermal things, Queenstown has adventure activities. One large souvenir shop was particularly intriguing; during the day it was a shop like any other, and in the evening its character completely changed with Japanese staff and signage, and even I think different merchandise.
I did one walk while in Queenstown, up to Coronet Peak and the Skyline just outside of town. It was a good solid walk, steep enough to bring out a sweat, and good views from the top.
I was on the boat with my bike and gear on time on 21 Feb. The TSS Earnslaw was a historical old steamship, touristy now with piano and bistro, but once used for tasks like transporting sheep across the lake. A good tour of the boat during the journey filled us in on the history and mechanics of our vessel.
From Walter Peak, a gravel road winds up and down past Mt Nicholas and all the way to Te Anau Road, some 70+ km to the main road and maybe 30 km from there to Te Anau. There are no towns or villages along this way, just the occasional farm or sheep station, and it would be the wildest and most remote segment of my trip.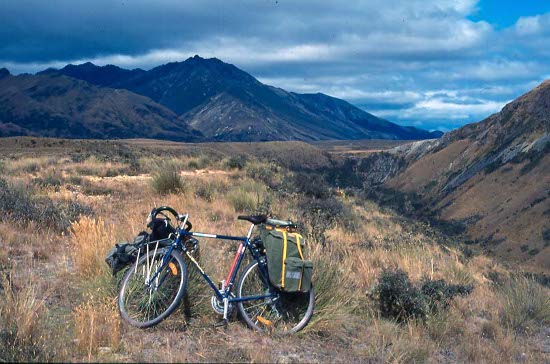 A Belgian couple and I started cycling about 10.00. The 15 km to Nt Nicholas was slow going from strong crosswinds. South up the Von Valley was easy from tailwinds, then a hard climb up a hill at the valley head. Here I came into a broad spectacular "altiplano" valley, just short of 800 m altitude. I found the brown grass and bare mountainside scenery magically invigorating. Some undulations across creek beds, and I started a gradual descent for several km to Mavora Lakes, arriving there about 15.00.
Mavora Lakes was a beautiful lake surrounded by tussock grass and beech forest. Apart from the Belgian couple there were virtually no others around. I had a swim in the lake, made a pot of tea, and talked with the Belgians about their cycling trips in Asia. I really liked this spot and was glad I'd come this way.
On the road again at 09.00, I continued to coast slightly downhill as the valley flattened and opened out. The gravel road became more pebbly and treacherous, requiring greater concentration and causing the Belgian woman to come off the bike a couple of times. Frequency of farms increased as we came out to the highway. After 30 km more, at 14.00 I was in Te Anau, putting up my tent at the youth hostel. My bike was covered with gravel dust, necessitating a good clean-up and re-oil.
I wanted to try out the newly opened Kepler Track to the west of Te Anau, and started to check out the hows and wheres at the local DOC office. Next day Kepler tops were in cloud, so I waited another day to start the tramp, looking at DOC exhibits of Fiordland and the Museum of Early Exploration, and finding information on the road to Invercargill.
On 24 Feb the weather was momentarily fine, so I packed up my backpack, left my bike at the hostel, and got camping passes at the DOC. At 09.00 I started walking along the lakeshore to the lake control gates, then down the river through beech forest. I was doing the Kepler track in a clockwise direction. Easy walking on a big track, it took about 5 hours to get to Shallow Bay on Lake Manapouri, with a small hut and campsite. I pitched tent here for the night, had a swim and rinsed clothes, and took it easy on the beach. Grant the Scot, whom I'd last seen around Picton, showed up later having done the track in the other direction. That was the last time I'd see him on my trip. He said that Janine and Tracey were around here somewhere doing the tramp also, but I never did see them again.
The second tramp day I continued past Mortuau Hut and on through beech forest upstream to Irish Burn, a pleasant meadow with a hut and camping, arriving about 14.00. From here the path wound steeply up to the Kepler Tops. Should I take advantage of good weather and try to get up there today? No, it was getting late, stay here tonight.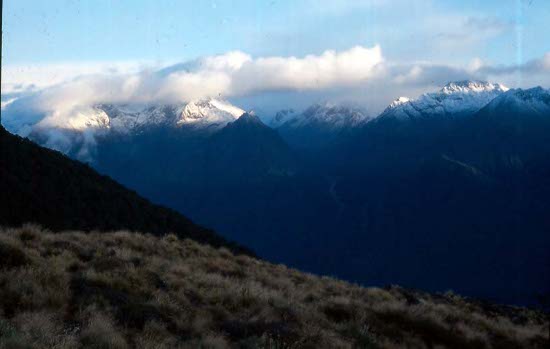 It started raining at night and into next day. Should I continue up, or go back the way I came. I consulted with the hut warden and decided to ignore the weather and go over the tops. Starting about 09.00, the wetness catalysed an adrenalin rush and I powered up the steep winding path with barely a stop. Within 1.5 hours I was above the tree line. Up here visibility was sometimes good enough to see neighbouring mountains, but more often rain and snow. It was a treacherous climb along ridges. High winds nearly blowing me sideways and forcing me to grab hand holds.
At Irish Burn Shelter along the top, I encountered another guy holed up there for two days waiting for a break in the weather. After a cup of tea and a chocolate I pushed on along more ridge tops. Cold and wet, I didn't dare stop. At Hanging Valley Shelter about 12.30 for lunch, I found I wasn't alone up here, meeting a few Germans going in the opposite direction.
Wind and rain continued as I forged on over the highest point of the track, 1400 m. I was starting to get a cramp in one leg as I finally approached Luxmore Hut, the last hut along the tops, after 14.00. That was enough for this exhilarating but taxing day. Instead of tenting in this appalling weather, I upgraded from a tent pass to a hut pass for tonight, allowing me to get a real live bed. At least the hut was big and there was room, despite already being crowded from the weather and more trampers coming up from Brod Bay.
I changed out of my wet clothes and hung them up. That stove was super crowded with walkers and garments all huddled around for warmth. I conversed with other walkers and made another of my gigantic rice-lentil meals. Boy did I sleep well that night! At least there's no sand flies or mosquitoes up here.
Next morning, the fourth and last trek day, was brilliant blue sky and scattered cloud. What a change from last night! Outside were tremendous views of nearby Mt Luxmore and surrounding snow-capped ranges. After breakfast I explored the short track to Luxmore Caves and had a peek in one of them, but not enough light to see farther.
I started down about 10.00 and was soon below the tree line. Down through beech forest, I had lunch at Brod Bay and was back at the Te Anau Youth Hostel at 14.30. I washed some of the horrible tramping smell off of me, laundered clothes, set up the tent, and of course cooked and ate. It was difficult to get enough food into myself; no matter how much I eat I'm still hungry.
There was frost on the ground next morning as I got away toward Manapouri and Clifden. Passing the airport, I saw a helicopter coming in carrying a strange-looking bundle below it. It turned out to be a load of several dead deer, meat hunters ferrying their catch out from some inaccessible track of bush. I'd seen it before; there must be a lot of deer out there.
The small lakeside settlement of Manapouri had no special attraction for me. Later I stopped to camp near the historic Clifden Suspension Bridge, talking to a Japanese cyclist going the other way and cooking up nearly all the food left in my bag.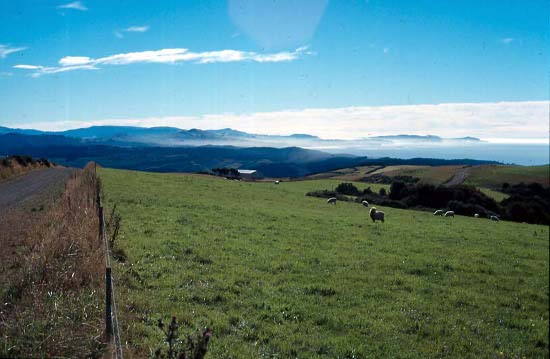 On 1 March there was again frost on the ground, as well as fog in the air. I felt somewhat tired on the bike as I rode below dull cloud and up and down hills, not a really enjoyable day. But I was in the far south now, coastal scenery with wind-sculpted trees to the right as I rode.
In Riverton I found more groceries and erected the tent in the motor camp with a view over the surf. Inclement weather was forecast for tonight and I wondered how I would go camping in this exposed spot. Sure enough high wind and rain came about 01.00, too much for the tent to handle. I had to let it down and evacuate to a small cubby-hole behind a shed, too cramped and slightly wet to sleep much there either. That was my worst camping night yet. But I wasn't alone; a Dutch couple had been forced to retreat to the camp kitchen for the night.
I was in Invercargill before noon next day, checking into the youth hostel for two nights. Invercargill is the main town in the far south of the South Island, just about as far as I would get in my trip. It's not renowned for beautiful weather, but rain held off most of the time I was there.
I rode and walked around the distinctive native bush parks like Thomson's Bush and Seaward Bush, and the more European-style Queens Park. One full day I rode south the 30 km out to the bleak industrial/port town of Bluff. Here is where ferries go to Stuart Island, not on my itinerary this trip. I did some walking around Sterling Point, up to a gun-pit ruin and along the Glory Track to the coast and back, before returning to Invercargill in the afternoon.
I started to build up food again while here, including copping out with a McDonalds hamburger. At Pizza Hut I had a $10 works lunch; 13 slices of pizza and salad and dessert; lucky they didn't throw me out.
As I started up east of Invercargill and toward Dunedin, I was really feeling like my trip was coming to an end. Almost depressing. It was flat to Fortrose, then hilly and gravel small coast roads through remote farm country to Curio Bay. This is a, er, curious sort of place; camping was in grassy spots amongst flax plants, and the kitchen and amenities were a series of round concrete bunkers. The rocks on the shore had a large flat area of several acres with a fossilised forest of petrified Jurassic trees and other plants, visible at low tide. Penguins came out from the sea around dusk, commuting back to their lairs from a day's fishing.
It was somewhat tiring throug Waikawa and later into Papatowai, hilly and mostly gravel, with one big slog up Florence Hill. I stopped at one spot and walked 2 or 3 km to the beach at Cathedral Caves, but it was high tide and the caves were inaccessible.
Leaving the predominantly bush country, I was entering sheep and cattle farm country. The gravel road had been wet, making for dirty cycling. I could tell I was near the town Balclutha by the stock sale yards and meat plants. This is a real farm town, full off farm service industries and outlets. I found a tent site here for the night.
Hills and a headwind slowed me down between Balclutha and Milton. I reached the campground at Lake Waihola about 13.30, enough for that day. There was a TV in the common room there, allowing me to watch a special of the 3 Fat Men singing in Melbourne.
In the morning it was quite crowded with a triathlon event starting here this morning and many people milling around with bikes. They were to go the same way I was, but they must not have started till later, as they never caught me. East over a range of hills, I headed toward the coast to Taieri Mouth and along the coast to Brighton for lunch.
In the early afternoon of 9 March I was in Dunedin. Except for short runs around the city, this was sadly the end of my NZ bike trip. I'd fly out of here in 3 days.
I checked into the youth hostel for 3 nights, started to dry out my tent and accessories, and did laundry. It rained later that day and soaked my clothes again; but fortunately at least the rain had held off until I was here.
I confirmed my flight back to Sydney for 12 March at 11.30. Somewhere in rubbish I found an old cardboard bike box, so I'd be able to pack up my bike in it for the flight. In Dunedin I looked at the Early Settlers Museum, exhibits on transport, cottage/home and mining activities, information on the early Chinese community (a supplement to what I saw in Arrowtown) and a section on the Dominican Order.
The art gallery had a good Guggenheim modern art exhibit, with a tour and talk of post-impressionist, cubist, expressionist, surrealist, inter-war and post-war works, including Van Gough, Monet, Dali, Picasso and Pollock. Along with the normal exhibits of Gainsborough and Constable, it was all very worthwhile.
A last bike ride took me around the foreshore and peninsular road. In the wharf and industrial area I could imagine the people working in these places, hating their jobs and bosses, while I was free.
On 12 March I was on the plane back to Sydney. I'd ridden something like 2300 km. The nearly 4 months in NZ were gone in the blink of an eye. Time is going too fast. This was not to be the end of my travels, but I was hoping the future adventures would not also be over so soon. Anyway, I was thankful I didn't have to go back to work just yet.