Travel Thailand Malaysia Singapore 27/9/18 to 20/10/18
Maggie had planned to do one of her usual trips to Australia from about October to January. As she would be doing some prior travel in Europe with her sister, flight and visa considerations dictated that she must leave Europe in September, too early to get to Australia without truncating her stay there. So how to handle this extra time? How about meeting me in SE Asia for a few weeks fill-in between Europe and Oz?
So, lets plan to meet in, say, Bangkok on 29 Sept, we both spend about 3 weeks tripping around Thailand, Malaysia and Singapore, and fly together to Sydney on 20 Oct. Flight tickets for both of us (from different directions) and initial hotel bookings etc. were all arranged.
But right from the start, unravel. Almost immediately on arrival in Europe, Maggie had an arm injury, throwing everything into disarray. She ultimately had to return to Canada, get treatment and some level of recovery, and hopefully meet me somewhere at some stage of the Asia trip. So unfortunately I would have to do at least part of the trip myself.
I would have to leave Sydney as planned on 27 Sept, land in Bangkok next day, and get around Thailand, Malaysia and Singapore over the next 3 weeks. Maggie, broken arm well on the mend, would only be able to catch up to me on the last couple of days of the trip in Singapore, and we would still be able to use our flight tickets to Sydney on 20 Oct. I would be alone for nearly the entire trip; still interesting and enjoyable, but not nearly as much as if she were with me.
Thailand
I was away from SYD as planned on the evening of 27 Sept, into BKK next morning, through immigration and baggage very quickly, and onto the easy and efficient train from Suvarnabhumi Airport to Phaya Thai station in Bangkok. At the station I got dodgy info on transport to my accommodation in the Dusit/Thewet district, and ended up on shanks-pony nearly an hour to my (our) pre-booked Sawatdee Guest House near Samsen Rd. A pleasant enough walk anyway, saw a bit of the city and not yet murderously hot. Bangkok doesn't seem to have changed greatly since last here; still a bit noisy, grubby and chaotic.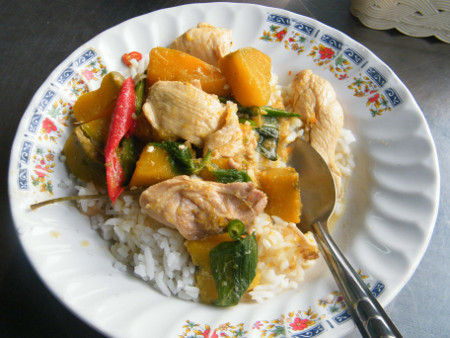 Just off the plane, I didn't bother with heavy activity the first day. I started with a chicken noodle soup lunch at a nearby restaurant, followed by an exploration of the nearby market and Thewet Pier, all familiar and "comfortable".
Later, had a walk down Samsen Rd to the tourist/backpacker haven Khao San Rd. KS is same-same, tourists and tourist infrastructure, touts, bars, restaurants, souvenirs, pad-thai stalls, and the same old Akah women in Akah dress selling the same old wooden croak-frogs. Stopped at a place for a large Chang beer, needed that. I ran out of steam by early evening (it's 3 hours later in Sydney). Slept well that night.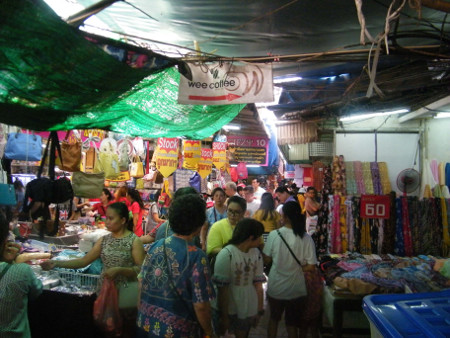 Around mid-morning next day I decided to check out Chinatown. I boarded the Thewet ferry for the slow but pleasant ride north upstream to Ratchawong Dock in the Chinatown district. In Chinatown I found the VERY long Soi Wanit 1 and explored the lane's entire length of covered market stalls. Crowded to the point of blockage, but exciting and enjoyable. At Hualamphong train station I asked for info on train to Ayutthaya for Monday. This place hasn't changed since the 1970's, big and cavernous, and full of people sitting on chairs or the floor waiting for trains.
On Yaowarat Rd, I stopped to chat with a local shop owner, who had commented on the heat and offered me a chair. It was hot, but not unusually so in my mind. That didn't stop him from suggesting I take the ferry home rather than walk. Seems local people are not used to walking long distances as I am. Th Yaowarat is a second dose of very intense Chinatown, more upscale than Wanit 1, with restaurants, jewellers, tailors and department stores. Farther along, on Charoenkrung, businesses evolved into household and hardware stores and, surprise, a whole small district of guns and firearm accessories.
By early afternoon I was tired, home to rest and have an early dinner. Just on dark, I decided to find the #16 bus and go over to look at the night-life Patpong district, not seen by me since the 1970's. The bus passed via Siam Square, where streets were hopelessly crowded. Too many vehicles tried to get into a single lane, taking a long time to get through.
Patpong Rd is now mainly a 3-aisle night market, taking up the whole street. There are still bars and entertainment venues along the sides, but much of this business has filled into neighbouring streets. The nightclubs/strip joints each had several girls (or guys) sitting outside, maybe attracting business.
I walked into a small side street as it was just starting to rain. Ordered a pint of Chang beer to sit out the rain under shelter. Turns out it's a gay street, a floor-show club across the street, and the waiters on my side talking sexy to me. It was OK for a break, but the rain continued and I thought I'd never get out of there. I eventually braved the rain, looked around the market (T-shirts, souvenirs, fake watches, knick-knacks etc), and caught a bus back home by 22:00, just as the rain was stopping. Patpong was interesting, good to see it after 40 years; seen it now, no need to go again.
Next day, Sunday, with no big plans, I decided to have a better look at the Siam Square area that I had passed through the day before. It is a VAST shopping complex of many buildings of all sizes, with every type of retail and eating establishment imaginable; everything from market-stall clothing to a Rolls Royce dealer. I couldn't think of any domestic or international retail name that wasn't there. I spent hours wandering the various buildings and floors until sick of it, and barely scratched the surface. At least it was mostly a/c and comfortable.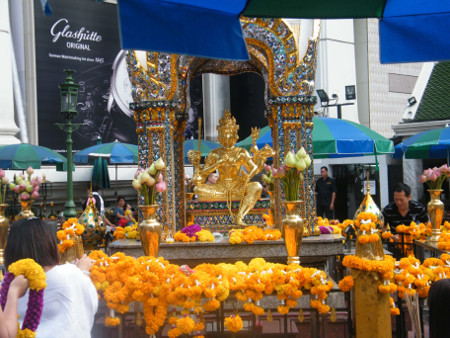 By around 14:00 or 15:00 I'd had enough retail. East a couple of blocks, the Erawan Shrine is a smallish Buddhist shrine near a major intersection, known for granting wishes for success. People gathered around presenting offerings, and musicians and dancers in traditional costumes performed nearby.
On Monday I'm off to Ayutthaya. From Hualamphong Station, I got a train at 11:20 for the 2-hour trip. Not a lot of open country around; most of the land seems low and wet with rice plots and swamps/canals.
Into Ayutthaya train station some time after 13:00, I walked to the centre of town to look for a guest house. Must be a tourist place, lots of tuk-tuk touts etc. around. One woman came out from a shop and touted me a room at the nearby PU Guesthouse. She also sold me a 2-hour boat trip around the waterways visiting wats etc, starting in a couple of hours.
Ayutthaya was an ancient capital, built up in the Khmer period nearly a thousand years ago, and again during the Ayutthaya period about 300 years ago. Most of the historical sites have structures from both periods.
At 16:00 a guy came to pick me up with a motorbike and took me to a wharf at Kua Ro Market, where he put me on a boat run by a woman. I was the only tour passenger. The main historic part of Ayutthaya is on an island, surrounded by rivers and canals. We took a circular route clockwise around the Pasak R, Chayophraya R, and Khong Ku Muang, and eventually back to the start. It rained lightly pretty much all the time, but not a big problem except for the camera lens.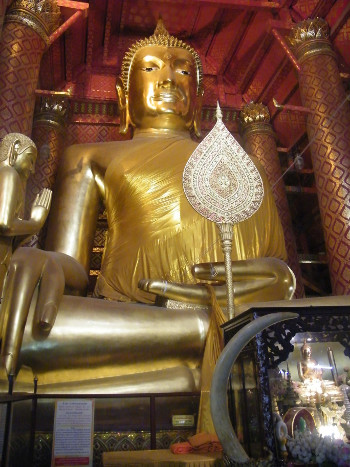 First stop was the large and fairly modern Wat Phanan Choeng, an old monastery with many buildings and Buddhas and 2 black elephant sculptures flanking the main entrance. One very large gilded Buddha (Thailand's largest ancient Buddha image, from about year 1344) took up the main room.
Next was Wat Phutai Sawan, another modern wat, with a large central building that was closed to entry, a row of statues of former great kings, many small shrine stupas, and a pretty garden lake.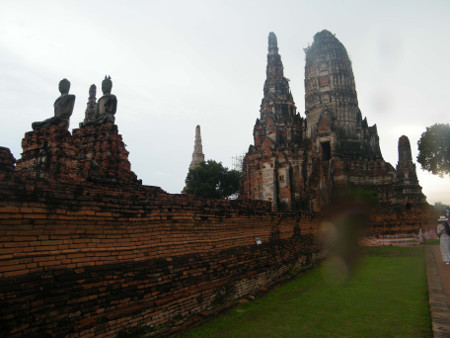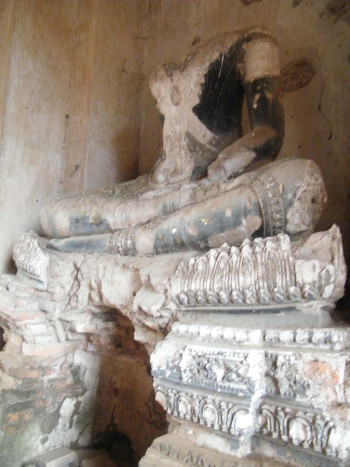 Finally was the impressive ruins of the 3-4 centuries-old Wat Chaiwatthanaram. It was a large open space with about 24 stupas, a large central Hindu-style "Prang" (Pagoda), remains of many walls, and alcoves with Buddhist statues. Plants sprouted from the characteristically thin red bricks. Some of the bricks have the year 2535 on them (There is a 543 years difference between the Buddhist calendar and the Gregorian calendar) so they must have been part of a restoration in 1992.
Back to the Kua Ro Market about 18:00. Curiously, they left me there to look around the sparse (only several food stalls) market and then find my own way home. Dark after eating at the market, I had to guess which way to walk home, got lost, and had to be rescued by a young guy who looked up directions on his phone and drove me home.
Tuesday, it's "explore wats by bike day". Talked to Maggie on Skype in the morning and got the latest on the arm; seems still uncertain whether she can meet me in Asia before Australia. After 09:00 I went down to the travel agent/bike rental down the street, and got a clunky but functional bike for the day. I immediately started out west toward the main body of wat ruins in the centre of the "island". I had 2 maps now but both maps are not very good, and it's still hard to find places.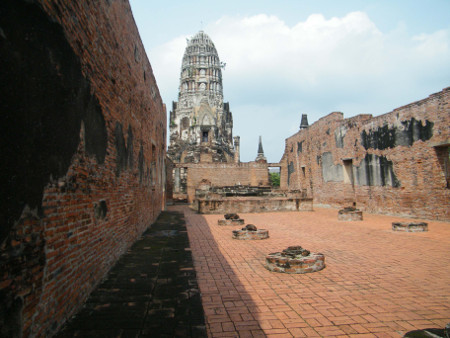 First stop directly west of my place was Wat Ratchaburama, a Royal Temple complex built in the early Ayutthaya period around 1424. It consists of a main central Prang, Sermon Hall, Ordination Hall, cloisters and surrounding Pagodas. Like most Thai ruins, it is built of the typical-style thin red bricks, originally covered in stucco or plaster but now largely bare brick. Remains are largely walls and foundations; ceilings have long since collapsed. Hundreds of Buddha statues line the surrounds and fill the alcoves, all decapitated and mostly little more than lotus-legs and lower torso. The Prang is mostly intact; I could climb up into it, and down steep steps into a sort of central crypt, a real Creature-Feature atmosphere. Apparently during an archaeological dig here not long ago, many precious metals and treasures were excavated. A guard was assigned to guard them, but he was in league with looters, and most of the treasure disappeared anyway.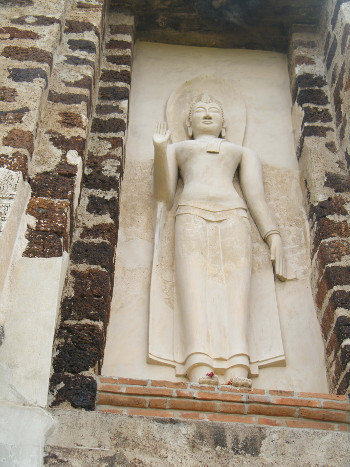 Just to the south was Wat Maha That. It's another royal temple, started in 1374. The Prang collapsed, was renovated in 1633, and collapsed again in 1911, now little more than a heap. Elsewhere are the ruins of an Ordination Hall and many stupa-stumps. One of the main, and most photographed, attractions is the stone head of a Buddha trapped in, and sticking out of, the roots of a Bodhi fig tree.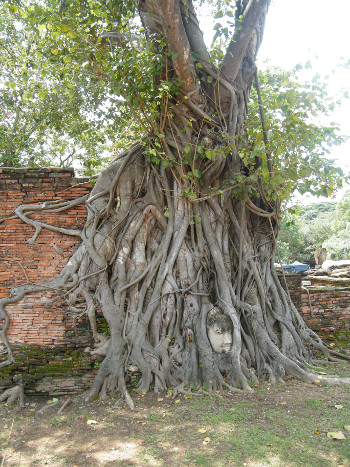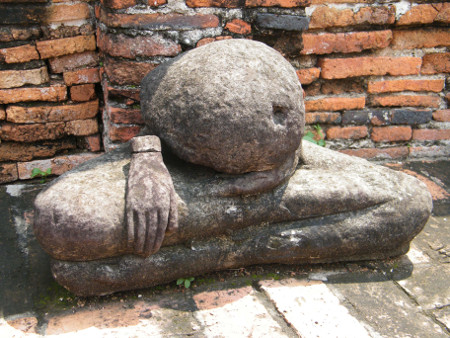 On intriguing fixture was what seemed to be a Buddha lotus-leg base with a very pregnant belly. Investigation of nearby statues indicated that it must have been the knee of a larger statue placed over the legs (??)

Wat Phra Si Sanphet was built around 1488 on the premises of the royal palace, and used for royal ceremonies and as a chapel. Its signature is three large main stupas containing the ashes of three kings. Many other stupas, topped by ringed cones, surround.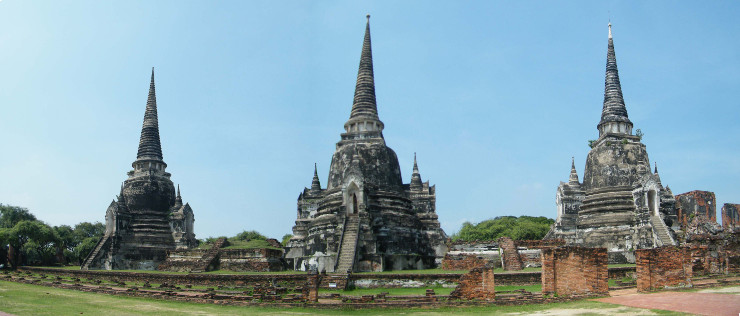 Getting slightly hot and thirsty by the time I got back home around 15:00, I rested a while before venturing out on the bike for some more touring, ending up at the Bang Ian night market before 18:00. The market was a long single-aisle two-row line of food and miscellaneous stalls on one side of the street. I had dinner of cut papaya fruit, crispy crepe sweets, a deep-fried sardine, a pad thai and some coconut ice cream with trimmings in a waffle cup. All was enjoyable despite the highly irritating loudspeaker truck repeatedly passing by and blaring out some political or advertising message.
I could have spent longer in Ayutthaya but it's time to move on to Lopburi. A mini-bus took me there in less than 2 hours, through flat farm countryside with a bit of bush and villages.
Lopburi, like Ayutthaya, had influences from both the Khmer and Ayutthaya periods, and it was a sort of "satellite" Ayutthaya city during that period. It is also known as the "monkey city" from the hordes of macaques that inhabit, and irritate, parts of the town. It is quite a small place, and everything seems only minutes apart.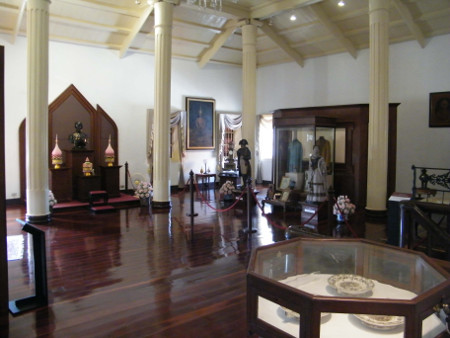 On the first afternoon I limited myself to visiting the Phrai Narai Ratchaniwet Royal Palace and Museum. The palace (mostly ruins) was built by King Nara the Great (1656-1688) here as the second capital of Ayutthaya. Enclosed in a large walled compound, the ruins are mostly the typical red brick, but with a small amount of stucco remaining. Some more modern buildings house museum exhibits from various periods. Some of the ruins include a water reservoir, 12 storage buildings, a reception hall, the Phra Chao Hao Hall, elephant stables, Thusasawen Throne Hall, Dusitsawan Thanya Mahapresada Throne Hall, as well as the more recent buildings with exhibits. Inside were the usual period artefacts, everything from ceramics to guns, and even a couple of statues of Napoleon and Josephine.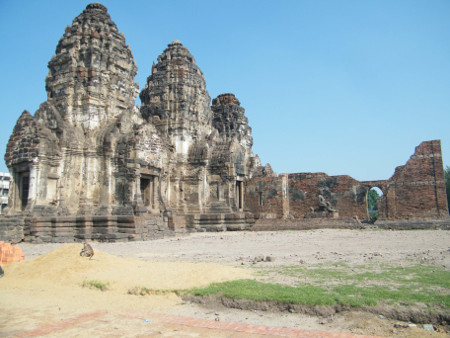 Before dark and dinner, I wandered a block or two over to the Prang Sam Yot area, near the tracks and a roundabout, to look for monkeys. Just at dusk, there were hundreds of the macaques milling around on the grass and street. No wonder I hadn't seen any before; they're all over here.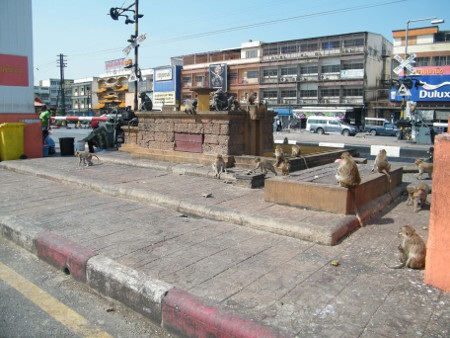 Hot in the room in the evening, and noisy outside, so had 3 pints of draft beer in the downstairs bar. Later it was cool and quiet enough to sleep.
Next day I took in the bulk of the wats, ruins and related sites. First was Wat Prang Sam Yot where I saw the monkeys last night. It's Lopburi's most famous attraction, with its 3 linked Khmer temples made of red brick and basalt rock, built as Buddhist but later converted to Shiva, around 13th-14th century. I looked around the outside, and I may have been able to go inside, but too many monkeys around. It was interesting just to watch them doing their monkey business, grooming, eating, chasing one-another, sex etc.
Nearby in the centre of a roundabout is the very holy San Pha Kan Shrine, modern and active with many worshippers making offerings and burning incense. Curiously, the main statue is a Vishnu body with a Buddha head. I watched as a devotee carefully applied squares of gold leaf to the statues. Outside next to the tracks is a monkey-feeding station; many monkeys and copious supplies of fruit and vegetables.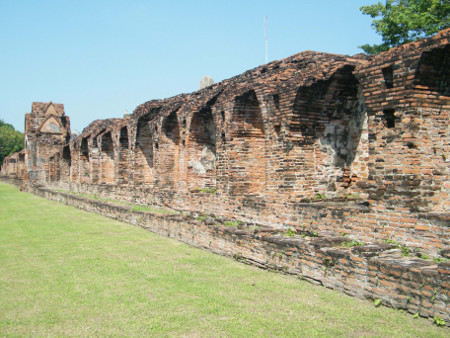 South-west of the train station is the large-ish complex of Wat Pra-sri-ratta-na-ma-ha-that. It is of 12th century Khmer origin, with Lopburi's tallest Prang, several smaller buildings, halls and storage buildings. A considerable amount of remaining stucco covers the brick.
Later, after seeing a couple more wats and sites, I stopped at the 11th century Prang Khaek Khmer-style tower trio, I think related to Brahmanism, re-built by King Narai, and nestled in a triangular street junction space.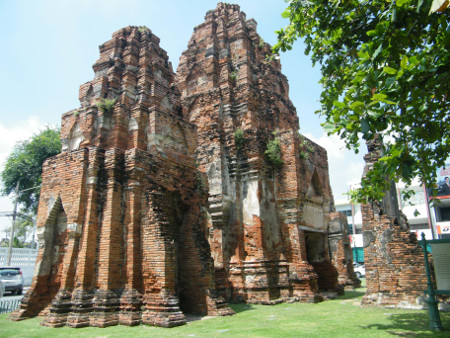 Besides the sometimes pesky monkeys, some parts of town are over-ridden with obnoxious barking dogs. All look to be related to one-another, and one cur actually tried to snap at me.
Friday, 5 Oct, and I was on to Pak Chong, south or east of Lopburi, and somewhere midway between Bangkok and Nakhon Ratchasima. This town is a base for exploring the nearby Khao Yai National Park. I was able easily to get a mini-bus to Lopburi bus station, and thence a full-size A/C bus direct to Pak Chong, about a 2-hour trip through fields, villages and wooded hills.
The bus dropped me in a small shop by the main road; where am I? I eventually got my bearings and found my way to the town centre, where I found a bed for 3 nights (breakfast included) in the oddly-named Pallet GH next to the train station.
The very nice and helpful girl gave me some info on Khao Yai NP. It seems the park is very large and difficult to get around without transport. So independent walking options are limited.
I spent the rest of the day in general exploration of the town, finding some lunch (soup and pineapple) and later dinner in and near the very vibrant and crowded night market. Pak Chong itself is not a very distinctive town, but agreeable enough.

I have a couple of days here to see Khao Yai NP and/or whatever else the district has to offer. The plan was to take a mini-bus to the park entrance, case the joint and see what walking I can do unaided, and then try to do an organised tour next day. Got on the van sometime before 09:00 and took a half hour or more to do the 20-odd km out to the park entrance.
A grubby-looking river flows past the entrance, and the road into the park runs alongside the river going upstream for some distance, thence up into the hills. I paid the 400 Bhat park entry fee and walked a couple of km up the road, aiming for the look-out at the top. A parks guy stopped and gave me a lift up to the viewpoint. Great, it would have been a slog up there, and I can easily walk back down.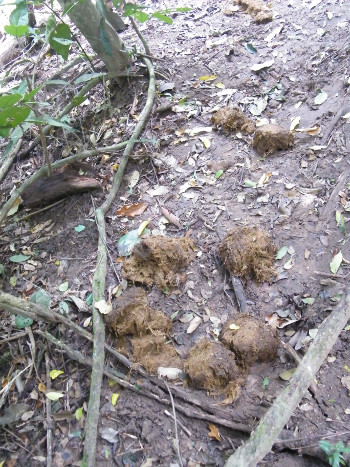 At the top, I got oriented, looked at the view, and explored to see if I could find one of the tracks shown on the map (I couldn't). What I did find were a couple of unmarked tracks heading off short distances from the road, I think they may have been animal tracks, deer and/or elephant; lots of footprints and elephant turds around. I spent an hour or two on these tracks, very jungly, overgrown, tangled, thorny, muddy and many leeches. Anything away from the tracks is totally impenetrable. Anyway it was a good intro to the forest/jungle. After a bit of lunch/snack I started back down, walking the length of the road back to the entrance. Several monkeys loitered along the road, the only wildlife I saw.
Near the entrance around 14:00 or 14:30, I found an elephant temple/shrine I think; inside were tusks, outside were hundreds of miniatures of elephants, roosters and other animals.
Got a van back to Pak Chong about 15:30, a long enough day. At over a km altitude, it had been fairly pleasant up there compared to the heat in town.
I was to go on a KYNP tour the following day, but it seemed not to be going then. In the end I settled for a 1/2 day tour to places outside the park, from about 15:00 to 19:00.
In the morning I wandered around town trying to find points of interest. Down the street from me was the small Khao Noi Hill Park consisting of steps, a plaza with surrounding greenery, and a bit of a view. I could see, and then walk to, a larger hill a few hundred metres to the south, with the modern Wat Khao Wan Chainawarat complex of buildings. This wat was a working establishment with monks and visiting group activities. As seems common in Buddhist monasteries, there was a resident population of peacocks. To the north past the hill park was another hill and wat which I walked to as well. This wat was also modern and in good shape, but apparently closed and slightly derelict and unkempt.
At 14:00 I had to be ready to be picked up for the tour. I and others were collected and taken out to the Eco-Tours place near Khao Yai. About 15 ferangs were on the tour with a couple of drivers and a sociable/knowledgeable guide.
First on the tour was a swimming hole; a couple of very crowded slippery and scungy rocky pools in a stream. We were there about 20 minutes, and I got in a swim, but it wasn't a lot of fun.
Next was a bat cave that we could enter, with several hundred bats of about 5 species, a few Buddhist statues and temples, and weird-looking spider-like insects.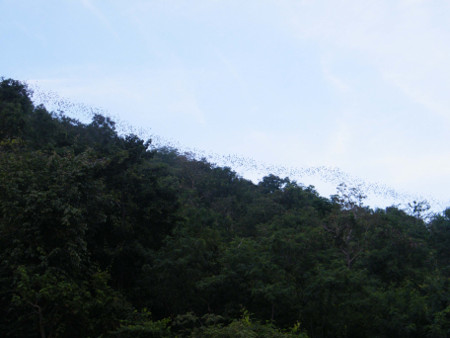 Next was a larger cave that we could not enter, but containing about 2-million bats that all would be flying out over a period of an hour or so. We watched the streams of bats flying overhead for quite some time. Quite amazing. Also our guide throughout the tour was showing us many interesting and fascinating examples of wildlife and local flora, from 30 mm hornets to seed pods that explode with moisture.
Apart from the dreadful swimming hole, the tour was short but well worthwhile. I didn't get back into Khao Yai Park, but had seen almost enough of it the day before.
Monday, 8 Oct, it was back to BKK. My next destination was the island Koh Lanta in the south of Thailand. I had previously been to Phuket, Krabi, Phra Nang Bay, Koh Phangan and Koh Tao in the south. But never yet Koh Lanta. If lucky I would be able tonight to go straight south; otherwise I would have to spend the night in Bangkok. Got a train ticket for 10:09, breakfast, packed, did computer stuff, checked out, and went the few steps to the station. Train ride was slow (stopped every station) and hot, but OK, and got into BKK at 14:30 or so. Walked straight over to a travel agent near Khao San Rd by about 15:45, and managed to get a same-day booking for a night bus to Koh Lanta, leaving here at 18:00. Victory!
I went around a block or two and found a pizza place where I got a pizza and water for dinner. Back in the travel place just before 18:00, I got on a motorbike with my pack and was driven a few blocks to the bus pick-up place. A large modern multi-coloured bus showed up and several ferangs were there to board, all going to Phuket, Kho Tao, Ao Nang etc in the south.
The bus was A/C and I had two seats to myself. It started maybe sometime before 19:00, and of course took an hour or 2 to clear BKK. There was surprisingly little dark open country on the way south; most of the way was continuous lights, gas stations, shops etc.
Next morning I was into Surat Thani Port before 06:00. Some passengers were dropped here; others including myself piled on to a mini-bus about 06:30, and rode the couple of hours or so to Krabi. More splitting up there, and three or four of us were on anther mini-bus for an hour or so to the ferry across to Koh Lanta. Crossing the channel in the vehicle, we then drove across Lanta Noi, across a bridge into Lanta Yai, and to our respective digs. I checked into the nice air-conditioned, breakfast-provided Hub of Joy Hostel for 4 nights.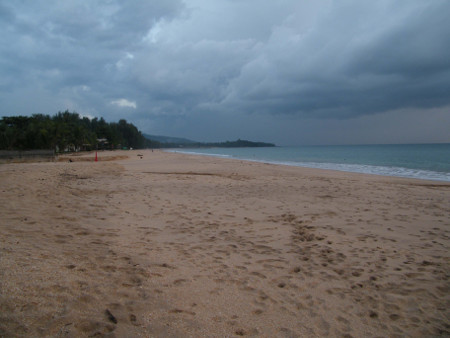 Seems still shoulder season here in Koh Lanta, not really busy, but some people around. As usual for these places, there are mainly tourist-resorts and eateries, hard to find local-style (and price) food. Later I did find a nearby place, Mr Green, that had good Thai meals.
Long (that's the name) Beach was a hundred metres away with beautiful sunset, and many idyllic-looking (but nearly empty) beach bars and restaurants.
Had a couple of cups of tea and did emails etc for a bit in the evening. But got quickly "Thaired" and went to bed. Deliciously cool in the room. Fell asleep about 21.30 and slept until 08:00 next morning; wonderful!
A good breakfast here was part of the price; scrambled eggs, toast & jam, bananas, muffin, fruit drink and coffee. Tried to go on-line to Booking.com to book a room in Singapore, but the site wasn't working well. Instead I went through Agoda, and got a double in the Hotel 81 Rochor for 2 nights Oct 17 and 18. Hope Maggie can make it there.
Also booked a snorkelling boat tour to 4 nearby islands for the following day, and booked bus transfer from here to my next destination Pinang for 13 Oct, leave 08.45 and arrive about 18.00.
I can get a bike here for the day free, so I arranged a standard mountain bike and spent much of the day touring around on the main roads. I rode south as far as I felt comfortable with considering the distance and heat, reaching nowhere near the south point of the island. The road split at one point; I rode some distance inland, returned, and some more distance farther along the coast, before returning home. Countryside was built-up in some places, forest in other; road partly paved and part dirt. Nice ride but very hot.
Back home before 15:00, I went down to the beach for a swim. Water was OK, fairly flat and warm, a bit boring actually. There is a bit of dead coral washed up here and there, but no evidence of a living reef anywhere near; sadly the way it seems to be everywhere now.
A bit later I was back on the bike for a quick spin in the now-relatively-cool late afternoon up to Saladan village and pier, the way we came on the bus yesterday. The road was uniformly commercialised all the way, an unending strip of accommodation, bars, restaurants, dive shops, convenience stores and all the usual tourist infrastructure. Some ferangs around but not great numbers.
Up just after 07:00 Thursday, had another standard breakfast, and packed up my gear for the snorkelling tour today. The mini-bus came at the stated time of 08:20 to pick up a couple of English girls and myself. Over to another hostel to get some others, and we were off to the Old Town dock on the east of the island.
About a dozen of us walked out the long pier, boarded a long-tailed boat for the islands and set off about 09:00. It was about a 45 minute to 1 hour voyage, at a good speed through mostly-flat water. The day was to be a couple of snorkelling stops, lunch on a beach, and an exploration of an island sea cave.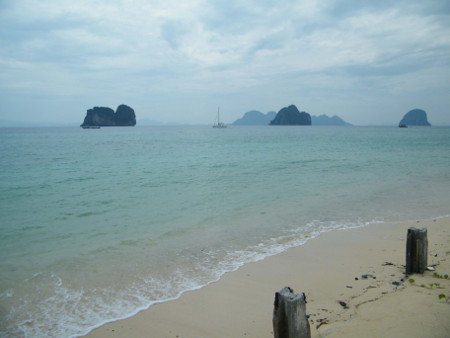 First stop was just offshore of the island Koh Ngai I think, near a steep cliff-like undercut rock face. There we donned the supplied snorkel gear and went straight into the water to snorkel for 20 minutes near and along the cliff. They did say - rightly - that there would be snorkelling, but didn't specify how good it would be. Visibility was fair at best, there were a few small fish around, coral was dead or degraded and colourless, and there wasn't much to see. My mask was OK for a few minutes, but eventually started to leak as usual; my face must just be getting old.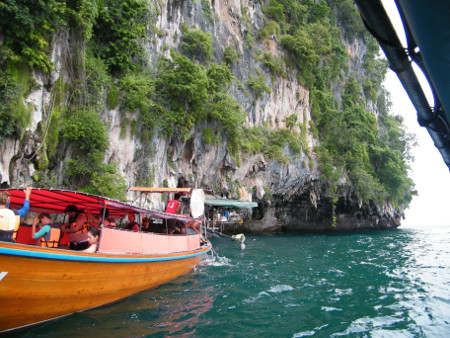 Next, down the coast a bit to a beach on the same island, lined with a few resorts. At one resort we had a nice curry/veg/rice lunch at the seaside tables. After lunch we had an hour to explore the coastline and swim, all relaxing and slightly idyllic.
Third, to another island where we had another 20 minutes or so of snorkelling in a place and quality similar to the earlier one.
Fourth, we went to Koh Mook island to visit the Emerald Cave. Hard to figure out what to expect here. We all were told to jump into the water with our life vests on, and wait for instructions on where to go next. A float-rope led from nearby into what looked like a very rough, wave-pounded shallow cave. We all meekly and nervously followed the leader's beckoning into who-knows-what, the ovines led by the Judas goat. Into the cave we went, swimming or pulling ourselves along by the rope, waves pushing us up and around, the roof only a metre or so above the water, the cave only about 3 metres wide, "Don't touch the rocks; sharp!", increasingly dark, illuminated by only a couple of headlights. Slightly uncomfortable, almost scary. After pulling ourselves as fast as we comfortably could, avoiding rocks and submersion, we completed about 80 metres of cave and came out into a large sunlit amphitheatre inside the island. It was maybe 100 m diameter, vertical cliffs all around, the base half lagoon and half sand beach and rain forest. Quite spectacular. The place has apparently been first inhabited by bird-nest harvesters, later by pirates, and now a park. Very worthwhile, but unfortunately I couldn't take my camera in here, so no pix.
Back out through the cave (this time not quite so intimidating) and to the boat, we started back across the sea, and reached Old Town some time after 15:30, and home to Hub of Joy before 17:00. Overall a not great, but good, day.
Feeling like I should splurge on one of the famous seafood dinners around here, I asked the hostess Braa where to get a decent fish meal. She suggested May's Kitchen a km or two down the road. I borrowed the bike again and set out around 18:00 for the restaurant. May's was a nice atmospheric-looking place on the main road, well patronised by ferangs. I found and ordered a barbecued whole fish with baked potato, coleslaw, and a nice spicy sauce. It was WONDERFUL! Best meal in a while, all for about the price of a cheap club meal in Sydney.
My third day on Koh Lanta was devoted to relaxation. I did short walks exploring surrounding beaches, headlands, side streets and tracks. Caught up on television news from Australia as rain pelted down outside.
On Saturday 13 Oct I was up around 06:30 to be ready for transport to Pinang. The mini-van was here on time to pick me up, and we got away shortly after. It was a somewhat slow ride though, stopping many places to pick up parcels etc, and then on to Trang. Changed vans in Trang, and on again through hills, rubber plantations, rice fields and villages, into Hat Yai before noon. Hat Yai is a big city but not much character or distinction or interest. I think it's still a dirty-weekend destination for Malays.
The van on to the border and Pinang was not at the main bus station, but several blocks away. It took some time to get help on where to go, and eventually a guy on a motorbike took me there. I got to the PK travel agent just before 13:30, and was told to wait until 15:00 for a bus. Ducked out down the street for lunch, then back to the agent to wait, and, late as usual, didn't get on a van until after 15:30. With time change, rather than the stated 18:00, we wouldn't get to Georgetown until around 21:00.
Malaysia
But we got through the Thai/Malay border quickly. The big new bridge from Butterworth dropped us onto Pinang Island somewhere to the west of the city. The bus guy kindly dropped me off at Love Lane in Georgetown around 09:00 (08:00 Thai time, making it over 12 hours trip).
It was bright, crowded and lively on a Saturday night. I walked up the lane, looking for the places I had picked out, but they were full. A yank girl in a bar smoking a hookah pointed me to her digs, the My Murtri Hostel down the side lane, and I got a basic bed there for 3 nights. Had a meal on the street, showered and went to bed and slept OK in the A/C dorm.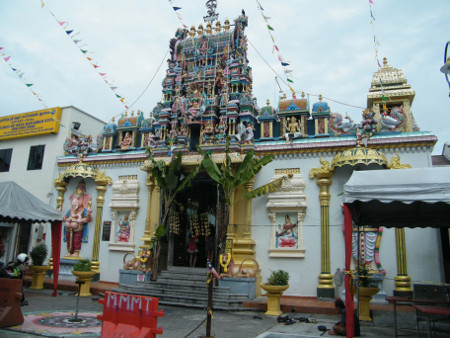 It would rain off-and-on for most of my time in Pinang, but not enough to be a problem.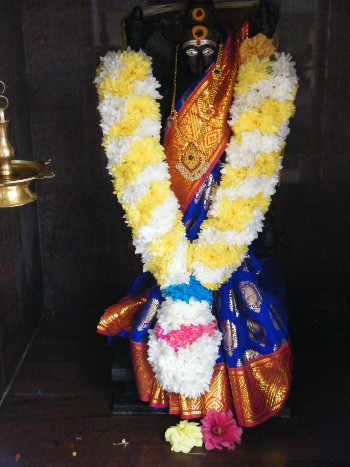 My first full day in Pinang was Sunday, so very quiet around. I explored places I'd known on previous trips, starting at the esplanade on the northern shore. The national museum was closed for renovations. Farther around, Fort Cornwalis was busy with what seemed like a set-up for a running event, sponsored by BMW (??). I found the tourist office, got a map, and found out how to get a bus to Penang Hill (maybe tomorrow). Farther around to the south shore, I found the ferry and bus terminals. Then back up into Little India, with its Indian shops, music and restaurants, I found a restaurant for a couple of roti-canai and a lassi for brunch, followed by a quick peek at the typically South-Indian Sri Mahamariamman Temple and the typically Chinese Kuan Im, Goddess of Mercy Temple.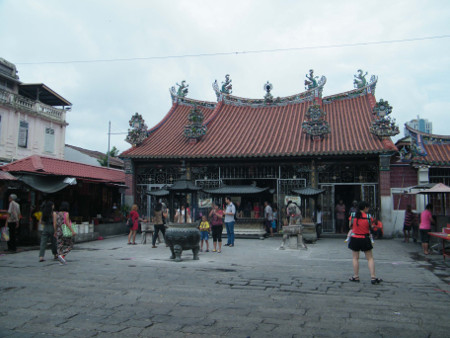 A persistent cold, gradually turning to flu, had been bugging me most of the trip, so I was tired when I got back home late morning. I relaxed a while and did notes, and later a short walk up to the Komtar shopping complex. Back to Little India nearing dinner time, I found a not-great chicken biryani for dinner. In the evening I went to the Holy Guacamole "Mex" place on Love Lane for a Tiger beer, and reasonably early to bed.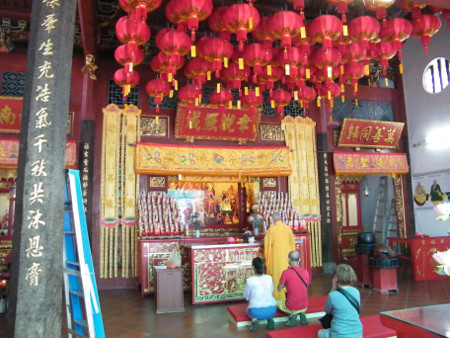 I organised transport from Georgetown to Singapore, settling for the only thing available, a night bus, 21:30 on 15 Oct to 07:30 on 16 Oct. This means I would not be able to sleep in my bed on night 15 Oct but would be able to use it all day anyway.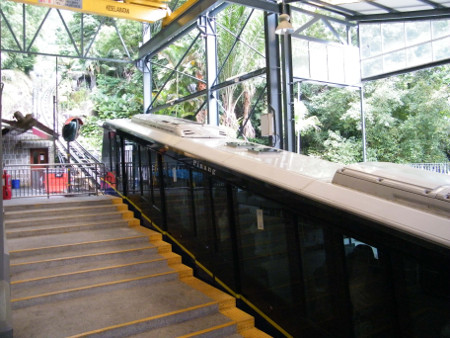 I still felt "fluey" but have to do something anyway. Haven't been up to Pinang Hill since the 1970's, so let's have a look there. Walked via Little India for roti-canai breakfast, then over to the bus terminal. There found the 204 bus that took me to the bottom of Pinang Hill.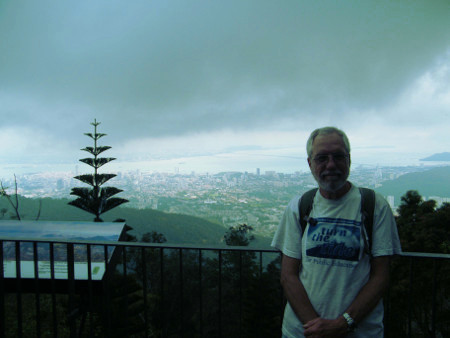 The cable railway and the hilltop have all been extensively re-vamped since 1976, and the top area is vastly more built-up and commercialised. R30 return rail ticket to go up, and a long wait in a queue to board, but still an interesting ride. At the top there are still good views over the city and surrounds - mercifully cloud-free at the moment. Cafes, restaurants, souvenir shops, sightseeing stands and the ubiquitous love-lock-fence crowd the space. I walked around the top area checking out the historical gate-house, mosque, Hindu temple and cannon.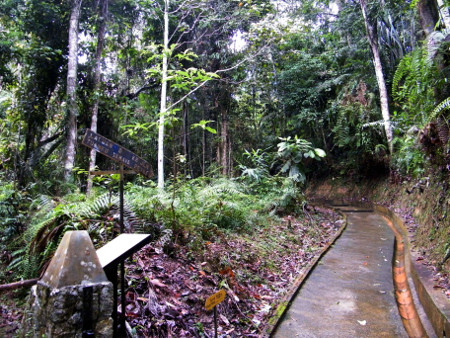 There are 3 or 4 "nature walks" of varying lengths starting from the hilltop, from a few hundred metres to about 3 km, mostly along roads. I took the longer one, walking along the top road past colonial buildings, down steep and sometimes slippery concrete steps, to a lower road, back along it past multiple landslide sites and road maintenance/repair, up another set of steps, and back to the railway. Lots of forest and tropical plants, but not really wilderness.
After another, even longer, queue, I was on the rail back down. The bus dropped me at Love Lane about 16:00, much longer than I wanted to be out in my flu-like condition. Rested in bed as much as I could for the rest of the day, only getting out to have dinner of a large hokkien-mee soup and a shwarma, and later another beer.
Packed, checked out, and out to get the transfer van about 21:00. It took me to wherever the main bus departs from, and I was on the way to Singapore sometime after 21:30.
Singapore
16 Oct, the bus had been slow to start as usual, going to multiple places all over the town and island, loitering etc. It finally got across the bridge to Butterworth, and started south, much of the way through heavy rain. The seats were nice though, flattening out a lot and allowing me to actually sleep much of the way. The bus passed through the causeway and Singapore border crossing around mid-morning.
Some time more to get into Singapore city, and finally drop me off at an unknown location. I tried to get them to tell me where we were but no-one could see or read a map or speak the language; quit frustrating.
Stated arrival time was 07.35, but it was nearly noon. Good that I hadn't taken the day bus or I wouldn't have arrived until midnight. It took some time to wander around and orient myself, but I finally worked out that the bus had dropped me near where originally stated, and I was able to walk to Jln Besar and along to Dunlop St.
Arriving at Kawan GH, I was able to get a bed there. Seems mostly Pakistanis here now, no westerners. I would have trouble sleeping later owing to guys in the next bed talking and using phones etc. into the night. Having said that though, they were nice enough people and I did get into some good conversation with them.
Had a look around Dunlop St, Serangoon, Campbell Lane and Tekka Market, changed some money, and had a chicken biryani lunch. Little India is still vibrant as ever. Later I wandered over to the Food Republic on Bencoolen for a laksa and iced tea for dinner, and back to Tekka for an evening beer.
Next morning I started exploring along Serangoon Rd and to the Sri Veeramakaliamman Temple. It was an interesting temple, very ornate and vibrant, full of people, with a noisy chanting puja in progress. Farther along Serangoon was Mustafa Mall, one of those crowded warrens of many shops with all manner of goods. Then over to Orchard Road and Singapore Plaza to check out how much this area has changed since the 1970's; a lot. Back to Tekka Market for lunch of a good masala dosa. After 14:00 I could pick up my pack from Kawan and check in at Hotel 81 Rochor. With no windows and the usual shower-over-the-toilet, the room was still OK for a 2-star hotel.
Later at Bugis MRT station, I bought a couple of 2-day tourist metro cards, for S52, one for each of us. On to SunTech City to look around another of the major shopping malls. Walking past the Raffles Hotel, I saw that it was boarded off and obviously being renovated; the only part open seemed to be stairs to the Long Bar.
On 18 Oct, Maggie was on track to make her flight to SIN this morning. I was up after 06:00 and out to Bugis, on the MRT around 06:30 and at Changi Airport at 07:15. Maggie's flight was over 1/2 hour late, and it then took a while for her to get through, finally coming out round 09:00. But there she was, all OK and arm nearly better.
More or less straight back to the hotel, rest a while, then out to a nearby food alley for a couple of chicken/rice/soup/veg meals.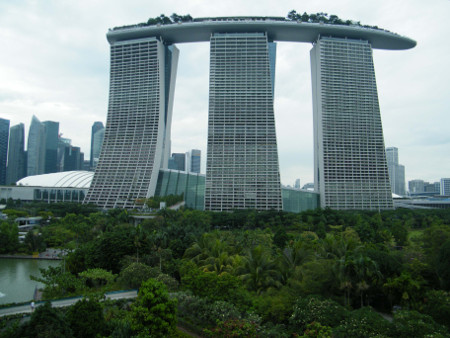 She had missed nearly all of my trip, so there was little time left. Our main activity today was to go see Marina Bay and the Supertrees Garden. Got an MRT from Jalan Besar to Bayfront, looked around the Marina Bay Sands, surrounding buildings and parks and the bay, into and around the Supertees Garden, got tickets to ascend the between-trees Skywalk (good views all around), back to the helical bridge over the bay, and around to the Merlion.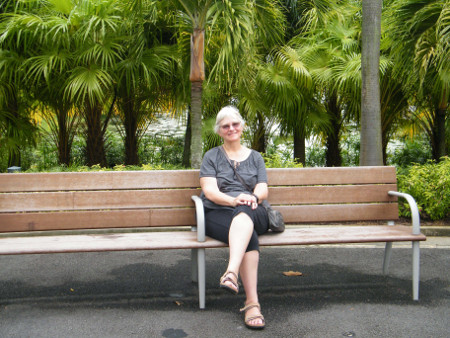 This has been a lot of walking, so we found Raffles MRT and took the MRT around to Chinatown. There we went to the Sri Mariamman Hindu Temple for brief look. It's still as colourful and arty as ever. Would have gone to the Thian Hock Keng temple but now worn out. Back to Chinatown MRT, to Little India MRT, and walk through LI back to the hotel. After a rest, to the noisy crowded Tekka Mkt for a beer, lassi, butter chicken, chicken curry nan and a chai for dinner, before returning home for good. What a long full day!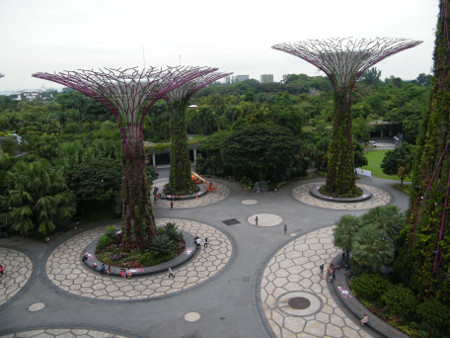 Maggie's second day, just got here, and we have to leave tonight already. We check out of the hotel at noon, and fly at 01:30 that night.
In the morning we cleaned up, packed and organised ourselves to leave. With a bit of time to spare, we went to a nearby Indian restaurant for an egg paratha (Maggie) and a masala dosa (me). After breakfast, we walked over to Serangoon Rd to the Sri Veeramakaliamman Hindu Temple, where I was a couple of days ago, to show Maggie. There was another puja going on at the time, also very noisy and crowded, enough to make Maggie slightly embarrassed about possibly "intruding".
What to do in the afternoon, without a hotel refuge? We decided to go out east (great to have 2-days unlimited metro travel) to Changi Beach Park and look around.
It was over an hour from Bugis to Simei MRT station, then on a #9 bus a circuitous route out to the beach. The beach park was less crowded and more "desolate" than expected. It was not greatly impressive, partly walled off for maintenance or whatever, and not a lot to see. I suppose the most to see was the nearby Singapore Islands, the more distant Malay mainland, some shipping and sea activity, and the continual line of aircraft landing low almost directly overhead. The water didn't look very inviting for swimming.
After walking up and down the beach, we'd seen enough, walked over the small river bridge, into Changi Village, and found a nice coffee/bar/restaurant where we ordered a couple of green teas and a good Singapore-Malay-icon eis kachang for Maggie to try (made of crushed ice, coloured flavours, beans, corn and fruits; she liked it). Nice to spend an hour or two here in the comparative tranquillity.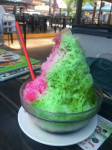 Back at the bus stand we found a #2 bus that would take us direct back downtown, letting us off near Bras Basah, a pleasant bus ride as an alternative to the metro. We walked the short distance over to the Food Republic on Bencoolen, where we had dinner. Maggie had a good laksa and iced tea, as I had on the 16th. I had a BBQ pork/rice dish, and then a roast chicken curry noodle soup dish, both very nice.
By the time we got back to the hotel to pick up our luggage, near 18:00, we had seen all we wanted to, and might as well go to the airport, even though we'd have about 6 hours there. To Bugis and on the metro for the last time, and straight out to Changi near where we were this afternoon.
We checked in early, got a bottle of duty free Bacardi, went into O'Leary's bar and used up some time and the remaining Singapore cash plus a bit on a credit card for a couple of rip-off-price drinks. We were on the plane at the nominal time, and back in Sydney around noon on 20 Oct.
It was a good 3-week trip overall, even though I was alone for nearly all of it. And great that Maggie could finally join me for the last couple of days. Because she couldn't be there until the end, we must try it all again sometime.