Taiwan and China, May and June 2013
Every year I do my milk run between Sydney and Canada. But it's a waste of jet fuel to just go there and back. So what other interesting destinations should I fit in this time? One of the few countries in East Asia that I've never been to is Taiwan, and I've heard that, although not large, it is an easy, interesting and traveller-friendly place. Also, I've kept in touch with my Chinese friend Chen, whom I'd met in Xining last year, so I may as well travel again in China and meet him. So it was to be about 3 weeks in Taiwan and 3.5 weeks in China before moving on to Canada.
Taiwan
(Click for Taiwan map)
So at 13.20 on 2 May, I left Sydney via Singapore, and was in Taipei at 05.40 on 3 May. De-planing, immigration and baggage claim were quick and efficient. I cashed up at a bank machine, and out to the buses. The bus to Taipei Main station was NTD 90 (consider abut 30 NTD to the AUD), about an hour trip. Cloudy day about 20 deg. Suburban scenery was drab but reasonably clean and tidy. I met a young Taiwanese guy, Will, on the bus, coming back from NZ, and we had a good talk about Taiwan.
Taipei Main MRT Station and Taipei Railway Station are both part of a huge labyrinth complex, and it takes a bit of exploration to orient oneself. But Will showed me around before leaving. It only took a few minutes, at about 09.00, to find ZhongXiao W Rd, #50 and the 22nd floor. There was the Holo Hostel that I'd previously booked for 3 nights. The hostel is somewhat cramped and claustral, reminiscent of the Cosmic GH in Hong Kong, and the receptionist wasn't good at English, but otherwise the place is OK. I would be in Taipei 4 days before moving onto the east coast of Taiwan.
Not being really tired yet, I set out to explore around the streets along ZhongXiao E Rd; typical Asian shops, hotels, commercial premises, traffic etc. Found some food vendors and had a good lunch of gyoza dumplings and a roti/pancake with egg.
I'd been advised that one of the main drawcards to Taiwan is the night markets. So as dusk approached, I set out north to find the NingXia Night Market. The market itself was only a couple of street blocks long, but bright, crowded and noisy, the way markets should be. This one was mostly food. At a street restaurant an old guy persuaded me to try his sliced goose meat with Ginger and mint. It was tough and didn't come with rice or noodles or vegetables, but try anything once. Not really hungry after that, I just had a couple of the bean-filled cakes.
There seems to be a lot of fried food and salt. Market smells are generally good except for some of the meat stands with an overpowering stench reminiscent of boiling pigs guts; just keep walking please. Having said that, the food is not great but quite edible. While in Taipei, I would be wandering over to this market for most of my evening meals.
Next day I took a short trip up to YangMinShan mountain park north of the city. It took a while to find my way around the main station, get tourist info, go to the MRT (the subway) and buy an "Easycard" for bus and train travel, find the #206 bus to YangMinShan and set off. The bus dropped me at the Yangmin Park bus station in the late morning.
It was again a dull day, and I had watched as cloud gradually invaded the peaks. What to do here? I left the bus station and walked up a few hundred metres to the park visitor centre. There I found a park map and information. I could go up to Qixing Park, a few hundred metres vertical altitude, but too cloudy to bother with Qixing peak.
Incidentally, this walk, as were all others both in Taiwan and China, was done with a pair of North Face sandals, indicative that hiking here is really not that hard.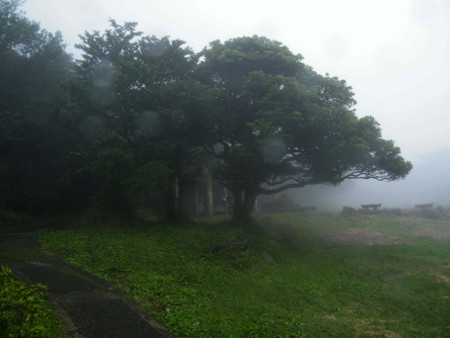 There were many trails and all well signposted, even 100m posts. Paths were mostly stone steps, reminiscent of Emei Shan in China. I loved the bush: thick, verdant, mossy sub-tropical foliage, big green leaves and tropical birds. Nature information signs frequently explained the geology, botany and zoology of the area. Most of the other walkers were middle-aged locals.
As I walked up the path and into the cloud-line, and slight misty rain started. At Qixing park, the cloud/mist gave a ghostly aura to the shelters and gazebos of the open area.
On the more exposed and windy north side of the mountain range, trees have had more difficulty recovering after farming activity, and the slopes are covered in open bladey-grass. Now in my raincoat, I came down to the road and the Lengshuikeng visitors centre. A sulphur smell pervaded this geothermal area. The centre had a good video about the geological and human history of the area, but it was too misty to explore outside much. It was a relatively easy walk back to the park entrance and buses.
Back at Jiantan MRT Station around 17.30, I had a few minutes before dark, so went across the main street and found the Zhouming Temple. As a Buddhist temple, it wasn't anything spectacular, but a very welcoming caretaker showed me around and allowed me to take some pix.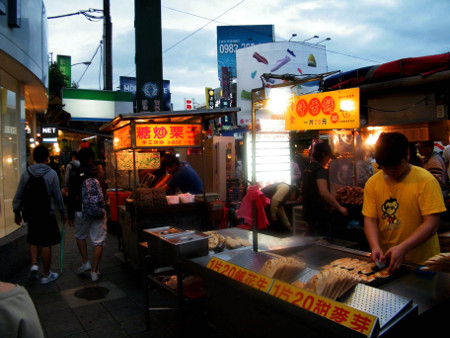 Just as it started to get dark, I found my way over to the Shilin night market, which was already well under way. The most famous of Taipei's markets, it is vastly bigger than the Ningxia market, with a full variety of goods to sell as well as food. I spent an hour or two getting lost and found in the vast complex of side streets and lanes; fascinating wares, crowds, noise, lights and activity. Food places did such a brisk business that people queued up to wait. I had a couple of good fried dim-sims, a curly fried potato with seasoning on a stick, a baked potato/cheese dish with ham and pineapple and sauce, and finally 4 candied strawberries on a stick. All were great, and even more culinary options presented for another day.
The National Taiwan Museum, in the Peace Park south of the main station, is worth a couple of hours. From 1908 (the building itself is 1915), it's the oldest museum in Taiwan. Most interesting is perhaps the building itself. It was done by a Japanese architect with a combination of various classical Western architectural styles, mainly Renaissance Doric with a magnificent 30 metre high central dome. Exhibits included a comprehensive study of amber - from insect fossils to jewellery, indigenous cultures, marine coral ecosystems, native wildlife, biodiversity and environmental science.
One day I set out for City Hall MRT Station to try Taipei 101 tower. The MRT, incidentally, is sinfully easy to use; just touch the Easycard to the gate at each end of the trip, and it debits from the card. The City Hall district is a mega-shopping-and-entertainment complex, western style and western brands of clothing, eateries, fashion and accessories; every big name represented. It's all connected by pedestrian skyways thronging with "beautiful people". A giant screen, with video of a Federation Starship crashing to Earth, advertised the latest blockbuster movie.
The imposing Taipei 101 tower was allegedly inspired by a bamboo stalk, a "joint" at every several-floor section. The first several floors of the tower are devoted to fashion boutiques, everything from Chanel to Prada.
Unfortunately as I approached and entered the tower it started to rain. I found the tower ticket office and asked about going to the top. It cost $500 (about $17), but the rain has just closed the outside level, leaving only two inside lower levels open. I didn't feel like taking pix through dirty windows, so decided to come back another day.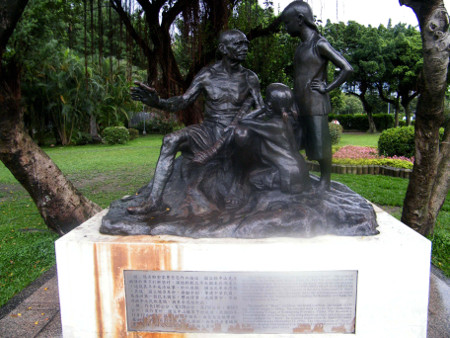 After the rain eased I wandered over to Sun Yat Sen Memorial Park, near the MRT station of the same name. It's a landscaped park with gardens and sculptures dedicated to the revolutionary "Father of modern China". Dominant in the park is the SYS Memorial Hall, with a monstrously huge statue to the Man, tin-soldier guards, and side rooms with historical photos and exhibits.
I got an email from friend Chen in China, saying he's going to Tibet while I'm in China. What a blow! After I was going there especially to see him. What followed was a flurry of emails to see if we can resolve it and somehow still meet. In any case, my itinerary in China is now all awry.
Jennifer at the hostel gave me very helpful info about destinations around Taiwan. I might go directly to Taroko Gorge on Tuesday, and maybe later to Kenting in the very south.
On 7 May it was time to move on to the town Xincheng and Taroko Gorge on the east coast. The train left at 09.25 for a comfortable 3 hour trip through suburbs and towns, green hills, river valleys, tunnels and seashore. Weather deteriorated along the coast; slight rain sometimes, and heavy cloud cover only a short way up the hills.
In Xincheng the station girls gently scolded me for losing my train ticket, and showed me where to catch the 1 pm bus to Taroko Gorge and the Liwu hostel. The bus driver spoke English and was quite sociable. In fact virtually everyone, whether fluent in English or not, is friendly and welcoming.
I arranged for two nights at Taroko. I learned the road is closed a few km up the gorge; looks like that and the weather might somewhat restrict my walking options. After it almost stopped raining, I wandered a km or so up to The Taroko National Park headquarters and visitors centre. The very helpful staff gave me a free park map and advised what walks I could do tomorrow - only a couple of walks available this side of the road closure. I was also advised that the rain tomorrow should be "less than today", only slightly encouraging. Reading the bilingual nature signs along the nearby terrace walk, I found it intriguing how many of the plants are highly poisonous; I'm afraid to touch anything green around here.
In the evening I found a restaurant with an English menu and had a good beef-noodle soup and a mushroom stir-fry on rice. Back home I found a Malaysian girl, "Call me Grace", in my dorm room, and we talked about our trips, plans etc. I would meet her again in Hualien and Taitung. That's the beauty of these trips, you meet people and then end up travelling "semi-together" for subsequent parts of the trip. It became quite common to be exchanging emails with otherwise total strangers after only a half hour or so acquaintance.
Next day was my only full day in the gorge. Rain started off very light but increased as the day progressed. I walked up the road past the park buildings and through the long tunnel that started just beyond.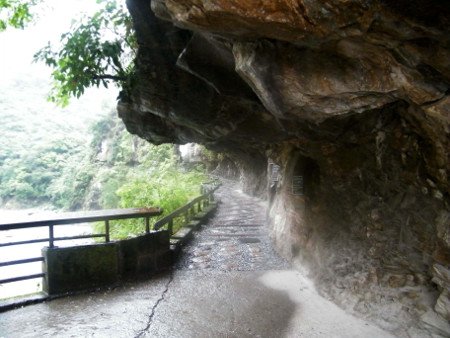 At the end of the tunnel is the start of the 4.5km (one-way) Shakadang Trail, up the river valley of the same name. It's a generally flat track up the right side of the river, mostly stone-paved and much of it under dripping overhanging rocks. Signs abound to watch for falling rocks and don't bump heads. Races and rapids flowed furiously around stratified rocks and boulders. The scenery (what I could see of it) included steep foliage-covered mountain-sides and high gushing waterfalls.
I hiked up the gorge as far as I could, past a small dam, up to Sanjianwu Cabin (a local house I think) at the 4.5 km mark, and returned the same way. The trail was only about 2.5 hours. That meant it was not yet noon, too soon to go home.
It was starting to rain more now, a persistent light misty drizzle. So much for "less rain today". I went on up the Liwu Valley through another tunnel, across a bridge over the River, and through more tunnels to the start of the Changchun (Eternal Spring) Shrine Trail.
This trail is short but steep, a less than 2 km loop, with several points of interest along the way, including temples and shrines to workers who died building the road through here. Up the side road a couple of hundred metres was the Changuang Buddhist Temple with its Buddha and Bodhisattvas and a good view back to the river. From nearby a suspension footbridge crossed high above a creek and the path then ascended a steep set of steps called "Stairway to Heaven".
Shortly after is a Bell Tower, with a bell of course, and more views over the river. Then one comes to the Taroko Tower containing a statue of Shiang Kai Shek, who apparently had some input into building the road. Farther on is a small shrine to the road workers, containing a small temple and a bronze relief of road workers.
Shortly after, is the small Guanyin Cave containing what looks like some kind of alter. I couldn't actually see the alter in the dark, and only perceived it by taking flash pictures with my camera.
Nearer the end of the trail I come across the Changchun Shrine for the dead road workers, of whom there were 225. The construction of the road had been likened to a battle in a war, so desperate and dangerous it was.
Rain was still light but steady as I walked along the road back home, getting slowly wetter all the time. It would continue in the evening and night, but no matter; I was cosy in my room.
Rain had stopped next morning, 9 May, and it looked to be a much drier day today. But I had done all the available walks and decided to take a 09.00 bus into Hualien. After a tortuous 1 hour back-street excursion to the Hualien train station, I set out the couple of blocks or so to Amigos Hostel. I checked in for 1 night, briefly met Grace there, grabbed a lunch, and set out to explore around the city.
The main shopping district was typical of that in many cities. The nearby "Creative and Cultural Park" was almost deserted, in fact apart from 3 or 4 boutique shops in one building, I couldn't really see what this complex was all about. Farther east I came to the seashore; the beach was deserted save for a few fishermen and a guy flying a remote controlled model aircraft. In the north of town was Meliunshan Park, a forested hill with roads and path access, but little panoramic view.
In the evening I found a night market some distance away. It was only a couple of rows of stalls in a small block, but good for some curry and rice noodle dishes.
On to Tiatung next day, I had the hostel people book two nights in the Cats Hostel there so I wouldn't have to chase around. Meeting Grace and a French guy for the train trip, we left Hualien at 11.05 and arrived Taitung at 13.45.
Taitung Station is quite some distance from the city centre, so had to wait for a bus into town. As we approached the centre, I saw on the map that I must be near Cats, and rushed to get off the bus. A young Taiwanese couple, Hews and Rae, said they're going to the same place, so we got off together. Hews started the GPS on his smart-phone, and tracked us the several hundred metres or so up Xinsheng Rd to the hostel. The Cats owner Susu saw us coming and welcomed us. The place is well named, cats lolling around everywhere. Nice enough place, and very friendly, as all places in Taiwan are.
Around about this time I was realising to my shock that I was over a week in Taiwan, and less than two weeks to go. I wished I had another week or so here, and equivalent less in China. Talking with Hews and Rae, I asked if there might be a China Southern office in Kaoshiung or somewhere that I could change my flight ticket to give more time here. Rae asked why don't I just phone? I don't have the number. So she looked up the number, called them up, and almost immediately had my plane ticket Taipei-Shanghai changed from 23 May to 30 May, all other details the same. So great, I now have one more week in Taiwan, and can take my time and see and enjoy the country more.
H&R said they found out about an indigenous music performance in an arts centre tonight at 20.00, and would I like to come? Certainly! About 19.30 we set out for the arts centre. We could walk the entire distance in about 20 minutes along a public path on a disused rail line parallel to Xinsheng Rd, pleasant and relatively quiet.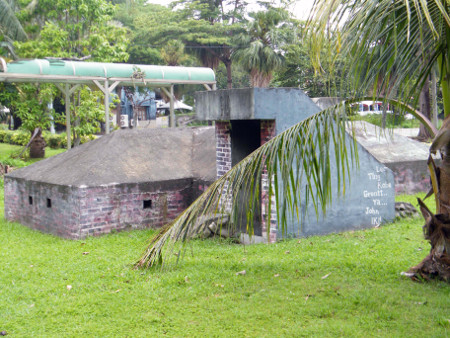 The arts centre was an open area, partly craft stalls, and partly a stage and seating for the performance. The band consisted of 5 guys, and the singer was an indigenous woman named Samingad, apparently quite a big name here. Lasting about 2 hours, it was sort of fusion Aboriginal songs with a modern youngie bent; not really my type of music but quite enjoyable.
Late morning next day I set out to explore Taitung. The disused railway line/cycleway was a good way to get down-town and to the seashore. I passed a small park with a few small WWII air raid shelters, and the remains of the old Taitung train station with its platform, locomotive workshop and a few other buildings.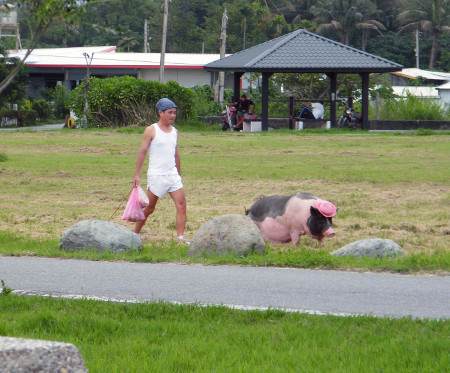 A bit farther and I reached the shore: a largely unused, almost derelict area with bush regeneration on the dunes, a gazebo or two, and a gravel beach deserted except for a few fishermen. Proceeding north along the shore, I passed along a concrete "esplanade", somewhat overgrown and also nearly deserted. Farther north, it did become a bit more built up, with walkways, sculptures and other structures (including a large and slightly bizarre tunnel/gazebo edifice made of bamboo strips). It seems that there is not much of a beach culture here, even on a Saturday.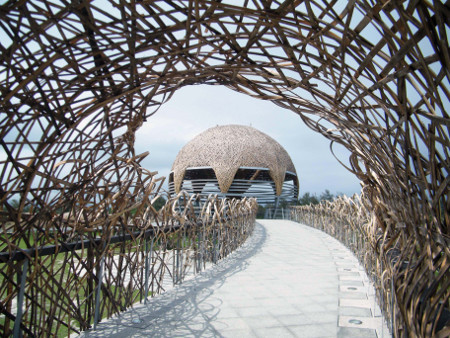 The clouds partly cleared for a brief time, the only sun I'd yet seen on this trip, and very hot when it's out. To the north and east of the city I came to the Taitung Seashore Park and Forest Park, a large expanse of bush, creeks, lakes, cycleways, gardens and meadows. I navigated through the park as far as I had time and energy for, sharing the tracks with cyclists and the occasional walker.
Back in the city I dropped in at the quite sizeable Tianhou Temple. The temple had some quite intricate and intriguing paintings, sculptures and reliefs, and a pair of stone lions (one male and one female) guarding the entrance.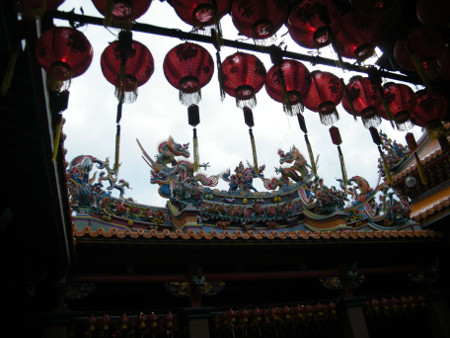 Back home about 16.00 for a rest and talked to Susu about how to get to Kenting and where to stay there.
I must get on to Kenting on 12 May. In the morning as I waited for the rain to ease, I saw it wasn't going to let up. Finally a Taiwanese guy was just leaving with a car to go to Kaoshiung, and he offered me a lift to the train station; great!
At the station I got a ticket to Fangliao (the nearest junction to Kenting) for 12.48 to 14.41, just less than 2 hours. I passed farms, market gardens, towns, grey-gravel coastline, lots of river crossings and deep valleys, lush green bush and hills, tunnels, and rain all the way. Interesting that most of the hilly country was forested, but there were no trees more than a few inches in diameter; must have all been logged out years ago.
From Fangliao Station it was over an hour by bus to Kenting, partly along the coast, in light but relentless rain. I had been told to stop at the McDonalds in Kenting town, and the Kenting Youth Hostel would be next door. But I got off the bus there in the rain, started to get wet, and could not find the YH. With a bit more difficulty and asking and drenching, I found the hostel was actually next to KFC. It was quite a nice place; rooms bright, clean, cheery and modern, friendly host as usual.
Kenting town is not large, can walk it in a quarter hour or so, but crowded and busy and vibrant. Lots of bars and upscale restaurants, it's somewhat of a holiday/resort/night-life atmosphere. The main street in the evening turns into a busy night market, hundreds of tourists promenading back and forth in front of our window. It was interesting to sit in the common room of the hostel, looking out over the passing parade on the street, crowds of mainly young people on holidays, busy stalls, a perpetual festive atmosphere.
I was never short of delicious culinary opportunities. One good eatery, worthy of a repeat visit, was a place where people lined up to select a range of bits and pieces, pay for them, and get them cooked by the chef. I had rice cake, vegetables, enoki, seafood, rice noodles etc, a lot of food; enjoyed the meal while talking with a traveller from Singapore.
I would spend 4 days here in Kenting and surrounding districts. The town is in the centre of the large and beautiful Kenting National Park. Despite the heat and some rain, the scenery and recreational opportunities would make it one of my favourite places in Taiwan.
One morning I decided to try hiking up the nearby Dajianshi bluff. Along the road inland a few hundred metres, the map said there was a hiking trail up to the bluff. Searching all over the place up and down the roads, I found only one small unmarked path leading off the road, and it petered out after a couple hundred metres. Looked like it my have been overgrown and reverted to a bush-bash. Discouraged, I abandoned the trek. It rained a later anyway.
In the afternoon I tried to snorkel at one of the beaches, but snorkelling was a waste of time. Rain had muddied the water, reducing underwater visibility to about a metre. There was plenty of coral about, but you nearly bump your head into it before seeing it. And then to get away, you touch it with your arms or feet. Also, at one point I felt stings on my arms and body, could be dangerous.
A day or two later the water was much clearer and I tried snorkelling again. But I then discovered a crack in the face mask, causing it to leak, so eventually had to give up. There's a considerable amount of coral out there, but no staghorn (the first to go if stressed) and not a lot of fish.
One of my days was a bike day. I could rent a good mountain bike for 6 hrs, enough time to get around a lot of the park. Packed my camera, water, raincoat, etc. in my bag and strapped it to the back of the bike. Brilliant day, mostly sunny and no rain; hot though. Starting off about 09.00 heading south, I found the Chuanfan village a few km down the road. Just off shore was a large rock called Sailboat Rock, or "Nixon's Head", sporting a nose and chin reminiscent of you-know-who.
Farther on I came to a beach/rock part of the coast, and was surprised to see, unlike yesterday, crystal clear water, with coral visible from afar. Unfortunately I didn't have my snorkel gear to take advantage of it.
A few km south I came to Eulanbi Park and the "Southernmost Tip of Taiwan". There's nothing really special at the very tip of the island, just tropical bush, coral coast and the sea.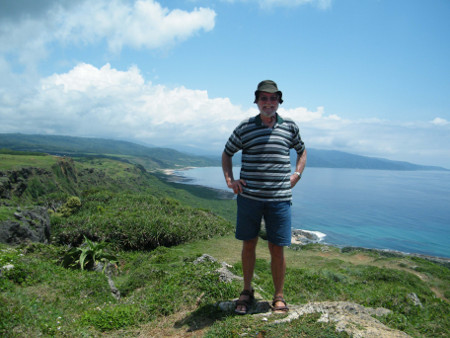 Up the east coast I came to Longpan; subsided/collapsed limestone gives this section of coast a rocky rugged appearance. Farther up the east coast, I passed Fongchueisha and Gangkou villages, through picturesque forested hills and farm meadows, and west to the main city Hengchun about 12.30. Not bad going. I'd only had 600 ml of water, but survived OK.
In Hengchun I stopped for a lunch of vegetables, chicken, pork and rice. Then it as a quick run down to Nanwan, the last town before Kenting. Arriving back at the bike place in Kenting, I tanked up with water.
Back on the bike, I filled in the remaining time with a short trip 4 km or so up the road east to Kenting Forest Recreation Area. This climb was a bit more of a slog, a steady slope up nearly all the way, but manageable. Forest was pretty, and at the top there was a view over the coast and Kenting town. I dropped my bike back at the bike place at 14.55.
Biking was easy and pleasant, despite the heat. The road was paved all the way, and traffic was light and courteous. Terrain was fairly flat with only gentle slopes. Altogether a great day.
At night, one of the Chinese guys in the room had his light on most of the night reading on his computer or whatever; slightly annoying. He's also the guy whose phone alarm goes off at 5 am; WHY!?!?!?
16 May, off for Taiwan's second city Kaohsiung. The bus left about 10.20, taking about 2 1/3 hours. Rained heavily much of the way, but luckily it stopped before our destination. Accompanied by an American backpacker, I got off just south of the train station and walked a few blocks south to the Angels Backpack Hostel. I'd stay 2 nights here and 2 nights at the Harbour View Hostel near the towering landmark Kaohsiung 85 Building.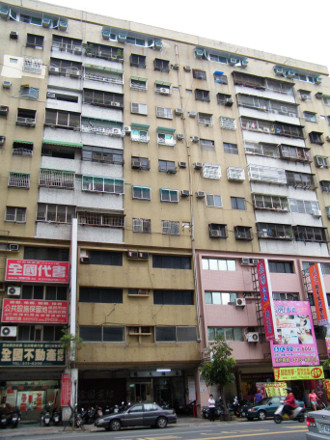 Much of the city appears to be uniformly drab and unattractive. Footpaths are partly blocked off by commercial activity or car/bike parking, and lots of steps up and down anyway. Buildings, although not slummy, are usually "Who'd enjoy living here?" Public park space is very limited. On the plus side, traffic is orderly with few horns, and lights all display remaining seconds to change.
The Liuohe Night Market looks to be the best place for dinner. It's a normal street during the day, but set up for pedestrian business and thronging with people in the evening. Food vendors dominate, with other stalls flogging trinkets, clothes and bags. Of particularly gruesome interest were the shrimp barbecue stands: below were tanks of live shrimp, and barbecues above tortured momentarily live shrimp, legs vainly flailing in the air as they cooked and expired. Fortunately for the observer, shrimp can't scream.
Sights around the city included Sinsing Rd with its street clothing market and night market, Formosa Square with its glitzy underground light sculpture, the only-slightly-park-like Central Park, the big E21Mega Department store (a sort of vertical shopping centre of 8 or 10 floors), the harbour where I could see ships berthed or navigating the channels, and the only moderately picturesque Love River.
One afternoon I spent at the National Science and Technology Museum, north of the railway. It had some interesting exhibits, including climate change, Telecommunications history, Power and machines engineering, food industry, natural hazard mitigation, and air navigation and aerospace.
I wanted to go out to Cijin Island, a popular tourist destination, but had to wait for the rain to ease. Rain finally stopped after about 3 days, mostly cloudy with a peep of sun, only a shower or two in the afternoon; let's give the island a go! It was a metro ride and a ferry across the few-hundred-metre channel to Cijin.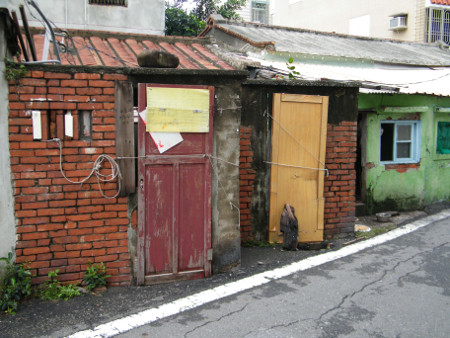 The island is quite a beautiful and enjoyable place, though heavily touristy. Being a Sunday, there were throngs of people about, this seems to be a favourite Sunday day trip, and the infrastructure was geared up to cater for them. There's a town of sorts near the ferry, full of shops, restaurants and everything for the tourist. Up the hill at the point is an historical lighthouse and a Qing/Japanese fort. Along the west side is a long black-sand beach.
I started out by checking out a small Taoist temple in the town. Then past the waterfront lined with casual fishermen, I made my way to the path going up to the lighthouse. From the top was a great view about 300 deg over the beach, 30-odd ships anchored offshore, the harbour entrance and hills beyond, and down the channel to the broad expanse of city. A short distance south was the fort, a squat squarish structure with quarters at one end, command in the centre, and emplacements for guns and ammunition at the other end. One could wander around the tops and internal open areas, but most of the rooms were locked - I could only look in through windows, nothing inside but musty smells.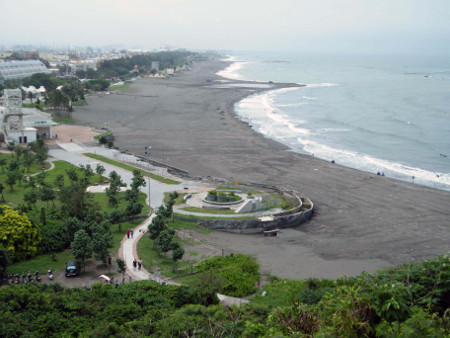 Down at the beach there were many people around, but few swimming. I changed and had a brief swim, but didn't stay in the water long as the surf was close and rough and I didn't know the currents. Back in town I stopped at a stage to watch a performance of Chinese opera. I would have stayed longer if I knew what they were talking and singing about.
Back to the ferry about mid-afternoon, I crossed again to the mainland. Not having seen anything on the metro, I decided to walk home, an hour or two walk. The walk took me along the harbour-front, along a bike/pedestrian path on a disused rail line, through old rail yards now full of metal sculptures, past old rail buildings now an arts centre, and to more park/cultural facilities at the Love River junction. All very pleasant and picturesque.
On 20 May I took a local train from Kaohsiung, leaving at 11.09 and arriving in my next stop Tainan in just over an hour.
Tainan, like Kaohsiung, seemed an easy place to navigate as long as you have a map. I picked one up on leaving the station and walked a half hour up to Lin-an Rd in the north-west of down-town and the 14 th floor Iris Hostel, checking in for 3 nights. It was a nice enough place, and quiet, with helpful staff.
In general, hostels in Taiwan are good practical comfortable and cheap places to stay. Staff are invariably friendly and accommodating, and it's almost impossible to not meet other travellers and make friends.
Tainan is known as alternately the Temple city and the food city. There seem to be hundreds of temples and thousands of restaurants. You can walk down almost any street and worship or get a good cheap feed.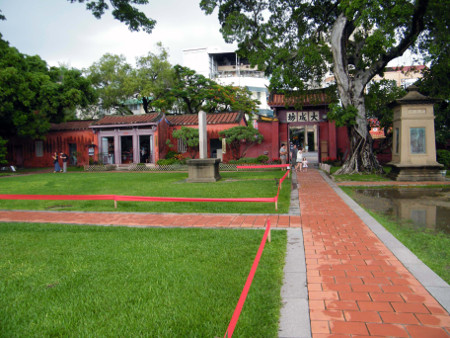 My routine walking explorations around Tainan took me to quite a number of fascinating sights.
First was the spartan but tasteful Confucius Temple. It was built primarily as an educational institution and spurned ostentation. It's quite a pretty complex and is surrounded by picturesque parks and buildings.
Further south along Nanmen was the remains of the Great South Gate, a gate tower enclosed in a semi-circular wall, with several cannon as adornments.
On Wufei St is the Temple of 5 Concubines, a small temple in a pretty park, containing small statues of 5 concubines. Apparently when their master sacrificed himself in some battle or whatever, the concubines were so loyal that they all hanged themselves as well, hence the memorial. On the same complex is a smaller shrine to the eunuchs who similarly sacrificed themselves. Oh they love their jobs don't they; real company men!
On Minsheng Rd is a section called "Wedding Dress St", shop after shop of wedding dresses of every colour, and other shops with jewellery, accessories, etc. Nearby Jhongjheng Rd is a fancy shopping district, e.g. $300000 Rolex watches.
One can come across Chinese street theatre almost anywhere, even on weekdays. Small stages on the street, elaborate costumes, dialogue and song, and all free to the passers-by.
Up Cingnian Rd I found the Taiwan Fu City God Temple, but I had been looking in on a few other temples here and there, and by this stage it didn't seem to be significantly different to other temples. I must be getting templed out.
One day was devoted to the coastal suburb Anping, about an hour walk (easier than trying to figure out buses) east of the city. I enjoyed the placid scenery of semi-countryside and open fields and the Yanshuei River edge.
Along the river embankment I came to the Anping Treehouse. It was one of several Dutch houses of the time, and has since been overgrown by fig trees "Angkor style". Farther around on the far side of town was the Old Julius Mannich Merchant House, one of the Dutch houses and now partly a restaurant with photos and historical exhibits.
Just beyond is a bit of an old sea wall, and then a small battery artillery fort, I think a supplement to the main Anping Fort.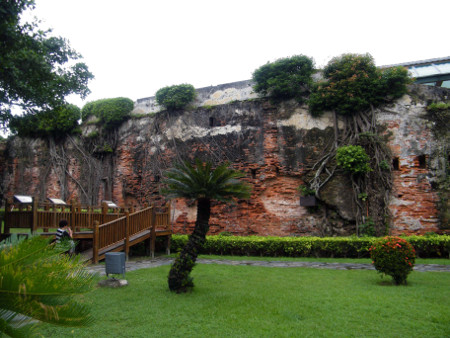 Part of my lunch was at one of those shaved-ice/fruit places. I couldn't resist a large bowl of shaved ice, mango, sweet fluid tablets (??) and ice cream, soooooo good.
The Anping Tianhou Temple (or Anping Matsu Temple) is a Large and interesting Taoist temple, but the geographical focus of the town is the Dutch-built, but much added-to, Anping Fort. It was build on a sand bar when there was little else here, to protect the harbour. The fort was built in stages, the oldest parts now almost gone, and the last structure - the tower - built by the Japanese in 1945.
On 23 May, a local train ticket from Tainan at 11.05 got me going for the over-an-hour trip to Chiaye, the gateway to the Alishan Scenic Area.
At Chiaye I was off the train and walked the 10 minutes or so to Assemble Backpackers, where I was welcomed by a very pleasant couple Vicky and Marcus.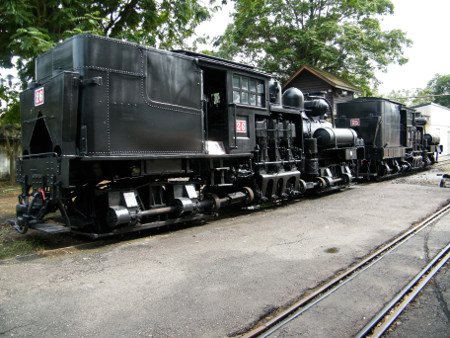 In the afternoon I explored along the forest railway line and checked out the railway workshops and museum: rolling stock, Shay locomotives and small diesels. Also the nearby municipal museum had displays of geology (heavy on earthquake stuff as usual), town planning and a bit of history, and a special exhibit of plate painting and related topics. Not very exciting stuff, but passed the time.
Back home I talked to Vicky about Alishan, and worked out that the best thing to do might be to take a bus up to the Alishan Scenic Recreation Area, stay a couple of nights at the Catholic Church, and do walks etc. from there. She reserved a place for me at the Church. I went down to the bus place and got a ticket to Alishan for tomorrow.
A Shenzen (China) girl Kristy and I went out to the night market area in the evening to eat. We had a "signature Chiaye dish" of chicken (or turkey) on rice, then I had some seafood cakes, and a tofu in liquid dessert.
Next day I was down to the bus station about 07.45, and onto a mini-bus for Alishan at 08.10. Trip up was about 2.5 hours, first through city and suburbs, then winding roads up, up and up through forest and towns. Mixed sun and cloud, but generally good visibility. Much cooler at Alishan than down below.
At the park entrance I had to pay $100 fee, seniors discount, then was let off at the bus station and village. I had some difficulty finding the Catholic Church; nobody seemed to know or describe exactly how to get to it. After some wandering and exploration I finally found it, ironically right near the park entrance. Checked in for 2 nights to start with; I seem to be the only guest at the moment. I had a TV with CNN and a grunt-thump movie channel, but no internet.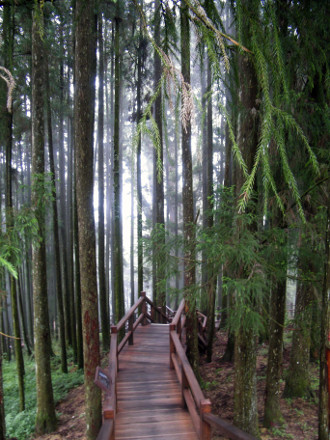 On my first afternoon I set off walking around the recreation area for about 3 or 4 hours. Most of the way was on pathways or board-walks, considerable up-and-down and twists and turns and intersections. Being at an altitude of about 2200 m, I started off with a slight headache, getting progressively worse and finally even a bit of nausea; unusual as it's not that high.
Most of the recreation area is heavy forest, mainly Taiwan Cypress, the area had been logged in the past which was why the railway had been built. Many stumps remained of trees that had been logged. Quite a few tall trees remain, typically about 25 to 40 metres high and 5 m or so diameter, 800 to 1200 years old. Maybe these were non-commercial specimens
Among the sights were Elephant Trunk Tree (stump), Three Generation Tree, Xianglin Sacred Tree, Thousand Year Cypress, two Giant Trees Boardwalks (each with several "ancient" trees), the large and impressive Shouzen Temple, the unspectacular Magnolia Garden, Sister Pond, and Zhaoping Park. I saw the start of the 6.8 km Tashan Forest Trail, something I could look at tomorrow if I'm still here and have the initiative.
This place is very cool, quiet and comfortable to sleep.
My full day at Alishan is to be my walk day. It started out a beautiful clear day, great for going on the Tashan Walk, said to be 3.8 km to the top.
It took over an hour to cross the recreation area where I'd been yesterday, up to and past Sister Pond. Then the Tashan mountain trail went up quite a number of boardwalk steps until it crossed over the rail line, the start of the official trail. As I was reading the info signs a couple of girls came down along the rail line, returning from their walk. They had been most of the way up the mountain, and advised me to walk as far as possible along the line to avoid some of the up-and-down steps of the trail.
So I walked up the rail tracks about 20 minutes, frequently observing the parallel trail to the right. Subsequently I had to go on the trail, interminable stone steps up and up and up. The bush was beautiful though, cedar and hemlock and and lush green undergrowth. At one point I came across a Mikado Pheasant, said to be common here.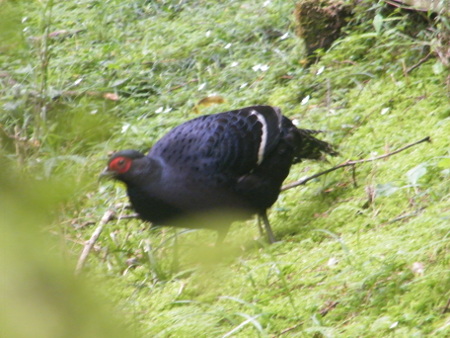 As I ascended, cloud started to roll in, and at a certain point I lost visibility. I plodded on up, but it soon became apparent I wasn't going to see anything, cloud all around and starting to rain. I reluctantly turned back some distance before the top. It was a quick descent and return mostly along the rail line, through the rec area and home. The walk took something like 4 hours, with an altitude gain of from 2200 m to about 2540 m, the summit being 2663 m.
A couple of young Chinese guys from Berkley joined me in the room and in the evening we went out for dinner together. At one of the tourist restaurants we shared a great set hotpot meal: a large hotpot of mixed meats, seafood and vegetables in broth, a plate of bamboo shoots, another of venison and vegetables, another of mushroom stir-fry, and lots of rice.
26 May, and I have to get a bus at 13.00 for Sun Moon Lake, another popular tourist destination. I queued up to wait for the Sun Moon Lake bus. A minibus soon came but it looked immediately like more people than seats. I got my bag on and just barely got on the bus, finally getting a seat when a young guy insisted on giving his up.
The bus trip was nearly 4 hours, winding road through the park skirting the edges of mountains, then a loooooong descent out of the mountains, into and along a big rocky-flats river valley, and up to the lake township.
So here I am at Sun Moon Lake at 16.30, not knowing where to stay or anything. Down below the main street, towards the water, I passed an ordinary looking hotel with no English name (the Tanhui or something). The girl inside waved me in and I bargained a room, a very nice penthouse room with big bed, attached and lake views, for $800, and I paid for two nights.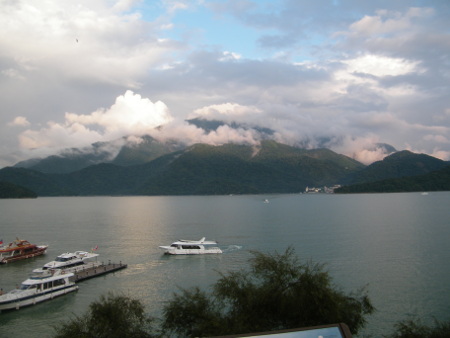 It rained heavily, so it was a while before I could go a couple of blocks down to the waterfront where I enjoyed late afternoon rainbow-accented lake views. After dinner and dark I went west on a pedestrian walkway along the edge of the lake for a mile or so, quite a placid and picturesque walk. Frogs and crickets creaked a symphony.
Next day, my full day at Sun Moon Lake, I obtained a decent mountain bike at a nearby bike rental, rent $100 for 4 hours or less. It was OK except the seat could not be adjusted quite high enough. I was off about 10.10 for a clockwise circumnavigation of the lake. Weather was good, some cloud but no rain and not too hot. It was quite a pretty and relaxing ride, partly on sealed roads and partly on bike paths, some hills but nothing really taxing. I took my time and stopped to look at all the lake views, Itashao villages, information signs, temples etc. Cicadas were deafening in places.
I was all the way around by about 13.45, less than 4 hours. Felt great.
For dinner I went to a restaurant on the main street and ordered fried rice and noodles. But within a minute or two of sitting down, a whole bus-load of people trooped in and filled the place up. Immediately large numbers of plates of food for them started coming from the back, and they tucked into it all. Apparently my order has second priority. I waited 20 minutes or so, until the rest had nearly finished eating; still nothing for me. I got up to leave, and the staff suddenly apologised, asked me to stay, and brought my food.
28 May, time is running out and I have to leave Taiwan on 30 May. A 09.20 bus would drop me at the bus station near Taipei Main Station about 12.30. Quite hot and sunny here. After checking in again at the Holo Hostel, a short rest and a quick lunch, I decided to check out Longshan Temple, a couple of MRT stops west.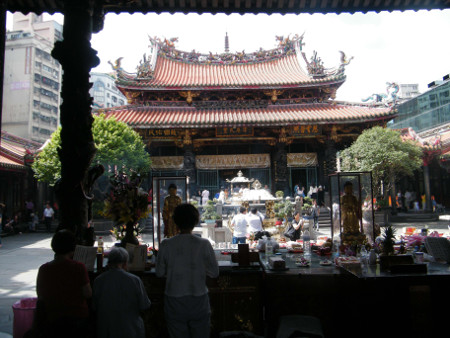 I spent an hour or so at the Longshan Temple, a big ornate busy place, Taoist I think, built in 1738. It's quite a beautiful temple, vibrant and thronging with people. After looking around the place, I sat down and chatted with people who spoke no English, couldn't understand a word.
Next day, my last full day in the country, I'll have another try at Taipei 101 and, weather permitting, the nearby hill walking tracks. At the 101 about 10.00, it seems not a lot is open yet. But I did manage to get up to the ticket place and got a ticket to the tower. It was a very fast elevator ride up to the 89th floor and the indoor viewing platform. Good views all around from the indoor floor, but some haze. In the centre of the building is a large steel damper ball to counteract wind sway. I went a couple of floors up to the outdoor floor, but it was closed off for most of the circumference, only open on one side.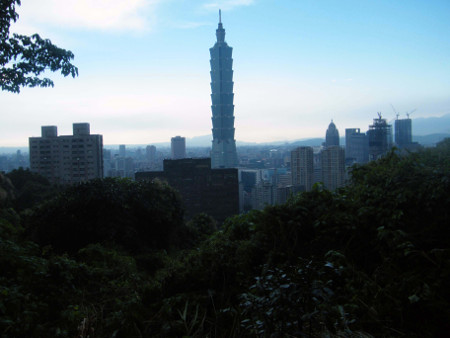 Later I made my way the km or two to the Xiang Shan Hiking Trail. As I got to the start of the trail, I started walking up past a small temple. Clouds were rolling in and rain was starting. I sheltered in the temple to see what would happen. It soon got worse, lightning and heavy rain. I sat reading my book for an hour or more until it finally stopped and I could walk.
Taiwan walking tracks are all similar, endless up-and-up stone steps to whatever peak or shrine. Up through tropical forest for several hundred metres, I came to Elephant Peak where I could get decent views of the city.
About 18.30 I took the MRT up to Jiantan Station to have one more look and a feed at the Shilin Night Market. One can easily get temporarily lost in this place, it's so big and vibrant. The food I had was typical of many of my meals in Taiwan, a boiled corncob, a street-side restaurant for a Thai chicken dish with rice, pickles and soup, and a deep-fried toast filled with pork, veg and sauce. It all sounds like a lot of food, but actually not all that much. And, yes, Taiwan does indeed have really good food.
So it's now 30 May. My plane doesn't leave for Shanghai until late afternoon, as it turned out not until 18.15.
With a bit of time to kill, I took a walk in the heat over to the Peace Park and studied the landscaping and sculptures. Then I continued farther to what seemed to be a cultural and artistic complex, a large city block with grand-scale buildings. A couple of the buildings had vast temple-style roofs and appeared to be concert or ballet halls. Another mausoleum-style building, across a large plaza, had 4 flights of stairs to ascend to reach a cavernous chamber with an equally big statue of the seated Generalissimo.
At the airport before boarding I met Owen, one of the pair I'd met in Alishan, and we flew to Shanghai more-or-less together.
I loved Taiwan, and really appreciated the extra week I managed to wrangle there. Even though not everyone speaks English, the country is ridiculously easy to get around in and find accommodation, food and things to see.
One minor issue is that it can be hard to find a place for breakfast in some towns.
Every country seems to have its signature English expression, such as "You-you!" in Ethiopia and "Same same but different" in Thai/Cambodia. Taiwan's is a rapid-fire "Okayokay".
It had rained a lot in Taiwan; maybe it wasn't the ideal time of year to go there. But there was still enough dry weather to see and do everything in the allocated time. And being maybe low season, there was never a problem getting digs.
I never met anyone I didn't like. Travel is at least as safe as back home.
Taiwan is ideal for a low-stress, laid-back holiday.
And So Into China for a Fourth Time
(Click for China map)
The plane landed at Pudong an hour late, about 20.00. The MRT goes straight from the airport to the city, only have to change trains halfway; not really fast at about an hour transit, but convenient. I alighted at People Square about 22.00, and a couple from the train kindly showed me which exit to take.
It had been raining but was mercifully stopped now. At street level I could easily see the landmark Marriot, orient myself, and walk within minutes to the small alley and the previously booked Mingtown Etour Youth Hostel. I'd be staying here 5 nights in order to settle into China and have a good look around Shanghai. It has been 26 years since I was last here.
The hostel was a rambling old structure, full of character and atmosphere; not quite like the Pujiang of 1987, but reminiscent. It was reasonably full, both Chinese and ferangs. The hostel was comfortable to sleep and much cooler than Taiwan.
In the morning it was cloudy, misty and light rain; not ideal for a first day in the country. I walked outside and down the alley where I found what seemed to be a pet market; baskets and cages of a great variety of turtles, as well as cats, dogs and rabbits. A typical street restaurant served up that ubiquitous deep-fried bread sticks, man-to or some name like that, and a bowl of tofu soup.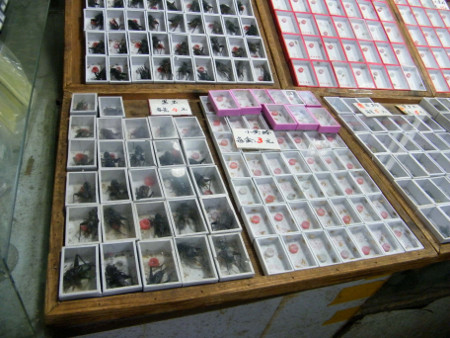 At Peoples Square park, I was met by a young couple from (they said) Harbin and we started to chat. Another girl joined them and they asked me if I wanted to go for tea. With good memories of Kunming last year, I finally agreed. We walked a few streets north and left, and eventually into a small room of a tea shop. We socialised a while there and sampled 3 different kinds of tea. It wasn't clear how much it would cost and whose shout it was. Then came the bill, something like Y1200, of which my part was to be Y300, over $50. I realised too late that it was a scam, and had to pay up. Felt pretty bad that at my age I'd been suckered and ripped off. It had been a good bet in Kunming, so how can you tell? "The cost of doing business", or so I tried to tell myself. But it sort of stuffed my day.
On the way to Yu Yuan Gardens I found what looked like a pet market. Stalls had small animals, birds and turtles, but mainly many tiny boxes each containing a cricket. Piped cricket chirps echoed through the building and customers were examining and buying the merchandise. Down a number of other streets and alleys and I came to the Yu Yuan precinct. What a change from 1987! The gardens were surrounded by acres of crowded cheek-to-jowl bustling souvenir shops and restaurants. I went in to the Yu Yuan Gardens and spent an hour or so there. It's hard to compare to 1987, but appeared a pretty, contemplative, relaxing place to be; many ponds, rocks, grottoes, water channels, pathways, gazebos, benches and carp. All nice, but crowded with people and slightly claustrophobic.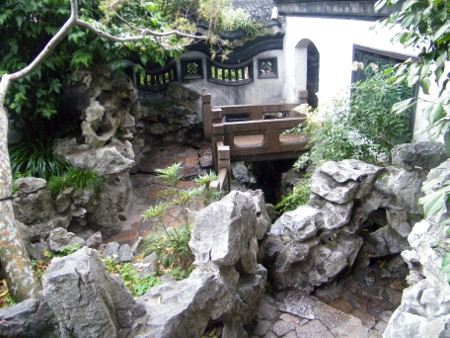 Near 18.00, I wandered to the Huang Po River and up the bank along the Bund. It also is different to 26 years ago. The original Bund buildings were still there and well maintained, but seemed to be deserted. All the people, commerce and action were along the promenade and on Nanjing Road; the heritage structures looked little more than a museum exhibit.
The view across the Huang Po to Pudong was amazing. I had never seen a bigger 26-year change, or a more extreme example of "progress". Tall buildings surpassed Shanghai itself, though the tops were in cloud.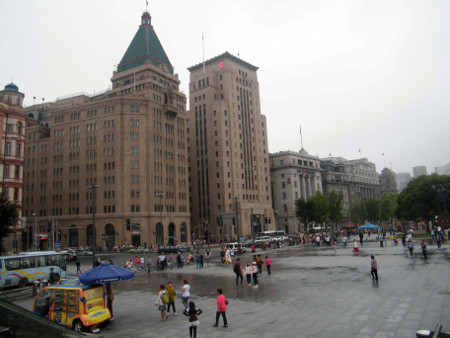 The whole of Nanjing Rd to People Square now seems to be a shopping street, part of it a pedestrian mall. Of course all the international icons and names are here.
Next day I went out through People's Park to the Shanghai Museum, spending the entire afternoon until 17.00 there. All exhibits were Chinese in origin, through the ages and dynasties. They were sectioned into Bronze, ceramic, paintings, calligraphy, currency, stamps, private exhibits and minority exhibits. It was a good activity to waste a wet afternoon.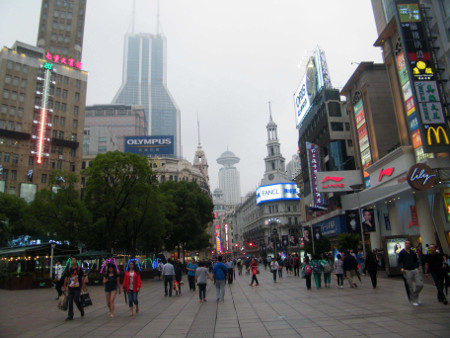 Another day I met Owen at the hostel to kick around together for the day. We looked at what to do, and decided to go out to Qibao, a touristy and "historical" part of the city in the south-west. Starting about 10.30 am, it was a metro ride from People's Square, change at XiJiaHui station and out to Qibao station. We walked south and found the gate to the Old Street. The district is a smattering of traditional or historic sites amongst a crowded and busy (well it's Sunday) collection of alleys, shops, restaurants and canals.
We bought tickets to the historic sites, enabling us to see about 8 or 9 sites for Y30 (exchange is about Y6 to the dollar). So the next few hours were spent wandering the streets and alleys and bridges, finding and touring whatever our tickets allowed. Most of the places had small exhibits on a specific subject, viewable in a few minutes each.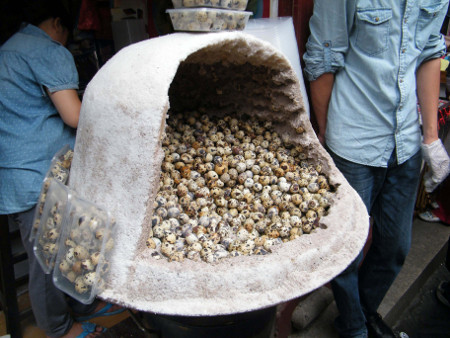 A Cotton Textile Mill had exhibits of cotton harvesting, carding, spinning and weaving; with mannequins in position doing the various tasks.
The Memorial Hall of the Artist Zhang Chongren was dedicated to a noted Chinese artist, with displays on his life and sculptures and paintings.
The small Pawn Shop had a few displays of pawned goods from a bygone era when this industry was big business.
Zhou's Miniature Museum was a fascinating exhibit on two floors containing a large number (at least not a lot of space was needed) of miniature models of rooms, vases, household utensils, animals, flowers, trees and too many other items to mention. None of the displays was more than a metre or so in size, and consisted of individual items as small as a few mm. Very fine and intricate.
The Qibao Calligraphy Gallery was OK if you hadn't seen a lot of calligraphy before, but I had seen enough the day before.
At 1.30 we went to the Shadowgraph Museum to see the live shadowgraph performance. We had to wait a while in a queue to see it, and it went for only 10 or 15 minutes. Unlike the Indonesian Wayang Kulit, the puppets were not in back-lit shadow, but were visible through a translucent screen with front-lighting. The puppets were painted as in Kulit, and we could see the colours through the screen.
The last exhibit was the Cricket House; no nothing to do with test series. It had a few models and displays of how to catch crickets and train them up for fighting or whatever they do with them, and a few bottles with preserved crickets; somewhat uninformative and pointless.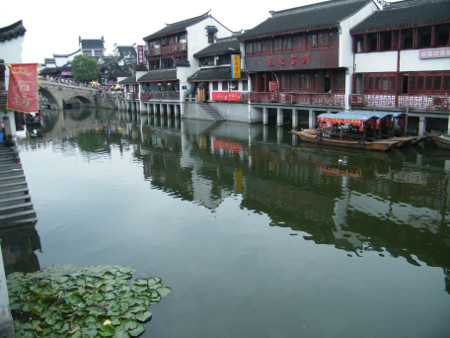 We looked around the canals a bit (faintly reminiscent of Venice), and made our way back to the station.
We were to try to see the Jade Temple in the north of the city. But we arrived too late; it had closed at 16.30. We settled for anotherstroll along Nanjing and the Bund just before sunset. It was a relatively clear day now, and we got great views across the Huang Po to Pudong. It is really incredible how much the district has changed from 1987.
The following day I explored around the former French Quarter, many busy narrow streets, local shops and motorbike repairs, etc. I even found a market street, with butchers and fruit/vegetable stalls. Starting back farther north, I found an antique and curio district, many shops of of strange and intriguing wares.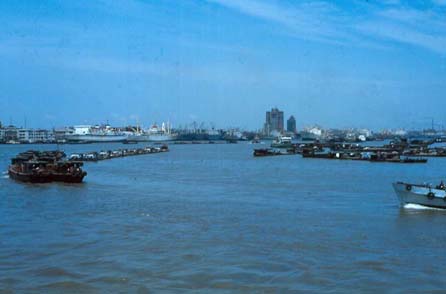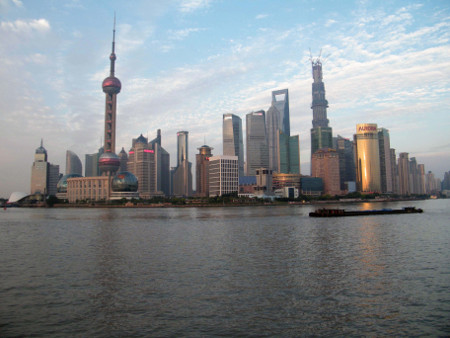 Later I spent a bit more time with Owen and friend. The three of us went to a Muslim place for a dinner, and we then spent an hour or two wandering along the lights and action of Nanjing Rd before they had to take the subway back home.
The next destination, on 4 June, was Hangzhou, less than an hour by high-speed from Shanghai. It entailed a metro ride to the West Train Station, in the far west of the city, and the 10.55 train to Hangzhou.
At Hangzhou train station, I only had maps on my pc to show where to go to the hostel, and it was difficult to orient myself on leaving the station. It took some time and consultation before I found my way to the Wushan Yi Youth Hostel near the main tourist area. I'd be here 4 nights, but for some of that time heavy rain would would leave me cabin-bound.
Hangzhou is one of China's premier tourist sites, particularly because if its legendary West Lake. From Lonely Planet: "Praised by emperors and revered by poets, the lake has figured large in the Chinese imagination for centuries. With its willow-lined banks, ancient pagodas and mist-covered hills, being here is like stepping into a classical Chinese watercolour. Despite huge numbers of tourists, West Lake is a delight to explore, either on foot or by bike."
Out in the afternoon to orient (What do they call it if you're getting your bearings in a western country?) myself and explore. The nearby pedestrian malls, with tourist shops and souvenirs, have a real resort/holiday atmosphere. The whole city was much bigger than it looked in the guide books. It was a fair walk to the park and the lake, and the lake is vast, too big to walk around. But it was really beautiful and invited further exploration on subsequent days.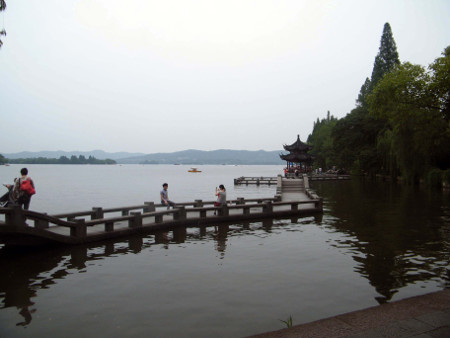 Next day was somewhat hot but fortunately not wet. I walked over to the lake and around it in an anti-clockwise (north) direction. It was interesting to progress around and see the lake from different directions. Music, song and dance groups performed here and there in the parks. Up along the busy and crowded north side of the lake, I found the start of the Bai Dai (Bai Causeway) which runs a few hundred metres along the north-west part of the lake to Gu Shan Island. A couple of stone arch bridges punctuate the flat viaduct. At Gu Shan is a hill with historic temple buildings and ruins, good for hiking, exploration and views.
Back down to the lake, it looked too far to walk completely around, so I returned to the shore. Following Beishan Rd back toward the start of the causeway, I climbed the path to the hilltop Baochu Pagoda, a tall majestic brick pagoda near the peak of Geling Hill. The peak itself was a rough rocky assemblage of conglomerate crags and passages.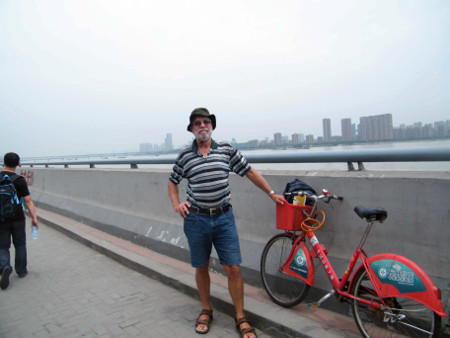 Here, as in many other cities, they have a marvellous system of public bikes. You can register and get a smart-card, pick up a basic bicycle at any of many stations around the city, ride for a certain time for free, then subsequently for a minimal charge, and return the bike when finished.
So I allocated one day as a cycling day. I paid Y300 deposit and gave my passport No., got the card to remove the bike from the stand, and was on my way. My bike was not really a cyclist's bike, but barely adequate; single speed, big fenders, basket, seat not high enough, the usual.
I rode south along Nanshan Rd near the lake. At the southern end near Leifing Pagoda, I decided to continue south (into the country?) along Yuhuangshan Rd. It continued through kilometres of suburbs and building complexes, and finally emerged on a major east-west road alongside the broad Qiantang River.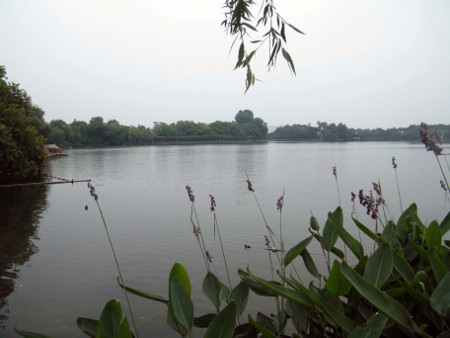 I rode west along the river to a big bridge, probably Hupao Rd. Why stop there? I continued along the river a few more km, farther along a side road, before finally turning back.
On the way back I found a small side road going up a creek valley. Following it a couple of km through rural scenery, I came to tea fields. I stopped to pick a few leaves as part of an ultimately futile attempt to make a cup of tea.
Back near the bridge, I followed the Hupao Rd north back through hills and bush and other sites, back toward West Lake. Back at the lake, I found the southern end of the Su Dai, and followed it over several bridges, dodging crowds and carts, looking at the islands along the way. It was hard to tell if it would have been too long to walk yesterday.
I returned the bike after less than 3 hours, cost 3 yuan, about 50 cents.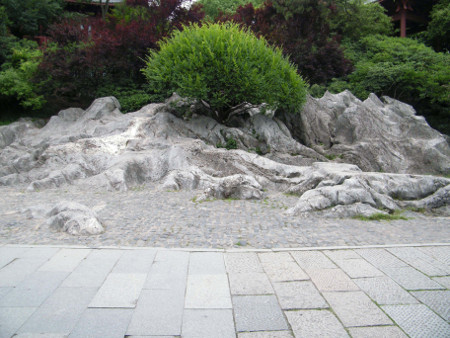 On my last day, on a short walk up a temple hill overlooking the lake, I came across a small natural rock formation called the Zodiac Stones. It was meant to have a depiction of each of the twelve zodiac animals somewhere on the rock. An adjacent sign pointed out where each animal was located. Now I know that a liberal dose of interpretive licence is employed on any rock formation anywhere. But WTF? I couldn't find any feature anywhere on the rock that had the remotest resemblance to any animal.
From scenic lake, it was on to scenic mountains. Huangshan, some distance west of Hangzhou, is said to be one of the most beautiful mountain ranges in China. Let's check it out! On 8 June I caught a taxi to the West Bus Station for a 10.20 bus to Tunxi. The taxi took the best part of an hour to get through city and suburbs, and the 230 km bus trip took about 2.5 hours. Then it was another taxi from the Tunxi station into Old Town, where I checked in to the Ancient Town International Youth Hostel.
After a brief rest I went out to have late lunch after 14.00, noodles with separate pork, fish and vegetables. Then walked around Old Town and the river (typical touristy shopping atmosphere). Cloudy but not rain, and not excessively hot.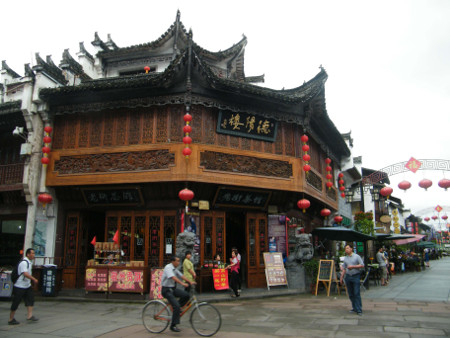 The hostel people could help me arrange my "trek" for tomorrow at Huangshan mountain. I would do 2 days walking and spend one night at the top. I'd leave by bus at 06.10 tomorrow, ride to a transfer station, then to Yungu Eastern way walk start. Walk up to various destinations about 4.5 hr to BaiYun Hotel, do some more looking around there and stay the night. Next day come back down various sites and western steps to Mercy Light Pavilion, bus to transfer station, and bus to Tunxi. I bought a little food to take on the walk, as food at the top is said to be expensive.
Next day, walk day, was cloudy but fortunately no rain. The bus was to meet at 06.10 but a few of us were waiting on time and no bus. After some time we started to complain to the guy at the desk and found someone had forgotten to organise the bus. After some phone calls or whatever a bus finally came about 50 minutes late and collected us.
After stopping at other hotels etc. around the city, it eventually set out for the Huangshan bus transfer centre somewhat over an hour away through hills and valleys and tunnels. On the bus and at the centre I met Alice and Winton, a Chinese couple, who helped me through the transfer process. We got on another bus for the hour+ ride up to the Yungu (east) walk entrance. I found my way up to the park entrance and ticket office, where I got a Y115 concession park ticket.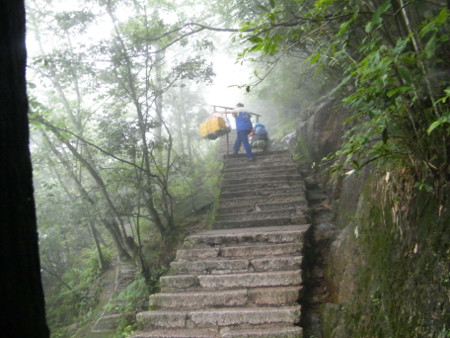 Starting about 09.30, the walk up was reminiscent of Emei Shan a year ago; endless stone steps up, lush green bush and clouds soon obliterating any visibility. The first part was up a roaring creek valley with large granite (the dominant rock type here) boulders and formations.
Most of the goods transport up the mountain is human-powered; coolies humping swinging loads of 40-50 kg slowly up the steps, stopping to rest every few minutes as we tried to pass. It looked a gruelling job, but I suppose a job nonetheless, and one they would likely fight to keep under any threat of automation. From the number of coolies it seems incredible how much food and drink is consumed up there. Everything is expensive at the top, for example meals cost maybe double, and a Y4 Snickers Bar costs Y15.
It was maybe a couple of hours of steady climb jostling coolies to get up to White Goose Ridge, a viewing platform and standard meet-up and rest location. Clouds generally obliterated any view, although it did clear for a half hour or so and I caught some very impressive sights of craggy granite peaks.
It was hard sometimes to see where to go, the map was confusing and the signs didn't always agree or have the same points as the map. Also the map was wildly not-to-scale and not indicative of actual distances. I got confused at some points and went in the wrong direction, fortunately not far.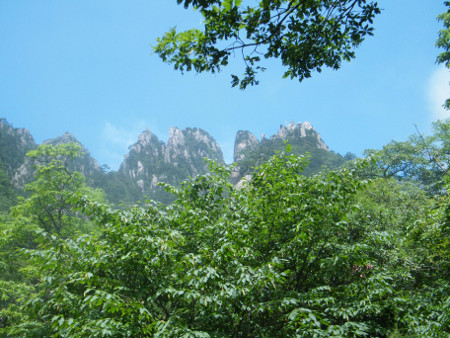 I eventually found my way across a km or so past the top of the Yungo cable-car, Black Tiger Pine, and to the "must see" Beginning to Believe Peak. But visibility there was nil, as with most of the destinations on the walk. I tried to find my way across in the direction of my destination Bai Yun Hotel. After passing by Cloud Clispeling, where there's a communications tower hidden in the clouds, and getting on the wrong track once or twice, I finally got to BaiYun I think about 14.00. It was a surprisingly extensive complex, with 3 or 4 major buildings, including a couple of expensive restaurants and a grocery store. I was in a crowded room with 7 young Chinese guys.
Later in the day I walked along one of the paths which took me out around "Turtle Eating Snails" area, which I couldn't see, and I think towards Lotus Peak. It turned out to be in the direction of the way out tomorrow. There were a lot of very impressive nearby granite formations, so at least I could see something. At one point there were steep steps coming up from below, and exhausted Chinese tourists (never too tired to shout) struggling to make it up.
About 05.00 next morning I heard a couple of the guys get up to see the sunrise, so I got up too just to see if there was anything to see. But outside it was total cloud as yesterday. It was cool but not cold out, no need for jackets or long pants.
About 09.00 I started back down, having to verify direction first and pass some of the way I had covered yesterday. It was about 3.5 hours back down, via Greeting Guests Pine and past the YuPingLou cable-car top, and an endless series of downward, and a few upward, steps. It wasn't until I got near the bottom, along a rushing rocky creek valley, that I came out of cloud.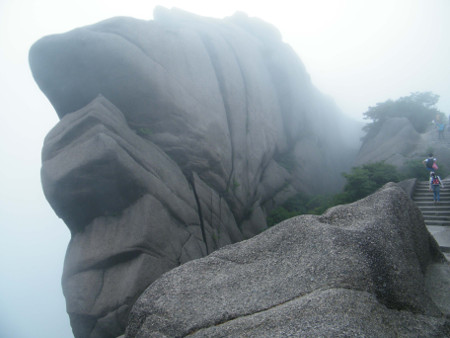 I came out at Mercy Light Pavilion and found a bus to go past thermal resort spas and TangKou township to the transfer station. At the station I got a bus ticket for 14.00 for Y17 to go back to Tunxi. The bus was a mini-bus, they said it was a "high-speed" bus, and we had to each pay Y3 more for the privilege. Then it left the station and went to another place nearby to wait until it filled up (so much for high speed). It dropped me on the river road about halfway between the Tunxi bus station and centre. I walked into the old town and checked back into the Ancient Town YH.
The rain was starting again as I settled in and sorted myself out. I went out for dinner With 3 friends that I met in the hostel, and had a couple of good rice-noodle dishes. The girl is from Wuhan, and is a teacher of a Chinese 21-string instrument the name of which escapes me. On the way back home in the rain, we passed a building which turned out to be a local cultural centre. Inside was a stringed instrument like what the girl plays. I asked to look at it and the security guy said OK. The girl came in, went to the instrument, put on the 9 finger-picks, started to tune it, and proceeded to give us a totally professional performance. The security guy was over the moon. Soon the owner and others heard the commotion and joined us. After the performance he showed us through the cultural centre and attached school and other buildings. All were impressed.
I did laundry but had a terrible time trying to dry it. I booked a hostel in, and a train ticket to, my next destination Nanjing. On 12 June I was on a 07.40 train to Nanjing, about a 6.5 hour trip. It was quite a welcome relief to experience the transition from days of intermittent rain and dampness to the dry sunny plains; maybe now I can dry my clothes. I'd be here one night and two days before boarding a night train for Beijing.
From Nanjing train station I easily found the metro to take me about 6 or 8 stops to XianMen station, near where, about 15.00, I found the Time Youth Hostel in a small quiet alley. It's in a pretty neighbourhood of pleasant Liquidamber-lined streets. Evening strolls along these streets yield an attractive portrayal of small businesses and people going about their routine affairs.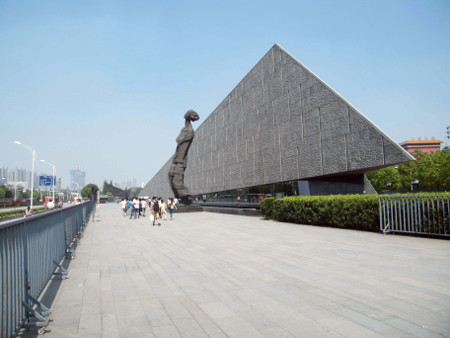 Nanjing (Nanking) was the capital city of China before that title transferred to Beijing. As such, it was the target of the Japanese in 1937. Now it is a pretty but otherwise ordinary large city.
From my hostel, the metro would take me 6 stops to Yunjing Rd station. Here is Nanjing's main attraction, the Nanking Massacre War Memorial in the west of the city. It's a memorial to the 1937-38 Japanese invasion and subsequent massacre of 300000 Chinese.
To start with, it looked like "Is that all there is?", just a long sloping wall with several sculptures. But I found that was only the entrance. Inside is a long vast area with hours of exhibits, photos, dioramas, text history, archive films, meditation areas and artwork. Reminiscent of the Hiroshima Museum, it was quite an intense and heavy 3-4 hour trip. There were the usual pleas and exhortations to remember history and have peace, which of course no-one of consequence ever listens to.
On the last day, before boarding the train to Beijing, I had time to kill. I set out for a walk east, maybe a half hour or so, to the location of the large stone gate and old city walls. The walls are high, long, reasonably well preserved and impressive. One could go up steps to the top and walk along the top of the wall for some distance.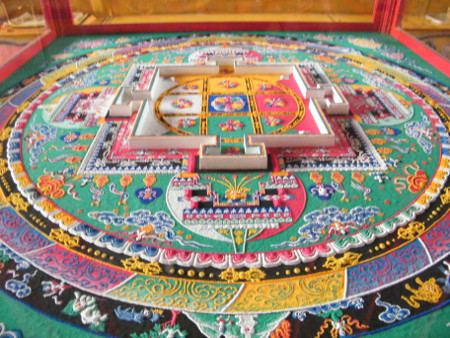 I walked through a leafy forest park on the outer side of the walls, past ponds and up a small stream, and to a lake I think called Qianhu. I circumnavigated the lake but much of the shore was off limits being a botanical research centre.
I had booked a train to Beijing for 14 June at 22.31, and boarded on time at 22.30. I had a "seat" not sleeper for the trip, but I shared a lower berth with another guy, and we could both lie down in a sense and sleep.
15 June, and two days before departure, I pulled in to Beijing South train station . I had to take 3 subway lines, a total of a dozen stops standing in packed carriages, to get to Beixinqiao station. I found the Lama Hostel down a small alley Beixinqiao Toutaio, and checked in for 2 nights. The hostel is pretty basic and rough-looking, but the Tibetan-themed artwork gives it some character.
In the afternoon I walked up a couple of blocks to the Lama Temple, said to be the most significant Tibetan Buddhist temple outside Tibet. It was quite a large temple, in that style of several progressive gateways or temples one behind the other (reminiscent of Longtan in Taipei). I must have spent at least a couple of hours looking through all the halls and side buildings, with their Buddhas, Bodhisattvas and other significant personalities. Also on the sides were a couple of exhibition rooms with statuary and relics.
Next day, I had booked a day-trip to the Wall, start at 06.20. A shuttle bus came about 06.25 and took me and others over to the main bus, where there were a couple of dozen ferangs and a young female guide and driver. Thankfully, as we weren't Chinese tourists, there were no flag-on-a-stick and megaphone. About 06.45 we were on our way out through Beijing suburbs and traffic in a north-east direction. Pollution haze made visibility about 2 km. We reached Jinshanling, the section of wall we were visiting, at 10.00.
After details and instructions from our "guide", we were to go up and along the wall independently. We had until 13.30 when we had to be back at the Jinshanling Restaurant for our lunch. The climb was said to be from 700 m to 1200 m, but it didn't seem that high.
Ignoring the Y40 cable-car, I set out a few hundred metres along a road, a few hundred metres left up another road to the base of the climb, and then a not-long climb up steps to the section of wall at Shaling Pass. From there the standard route is to walk left for as far as we have time for, following the wall in varying degrees of restoration and passing numerous towers, some restored with roofs and some not. The walking route was stone walkways, steps (some very high and steep) and unimproved rubble in patches.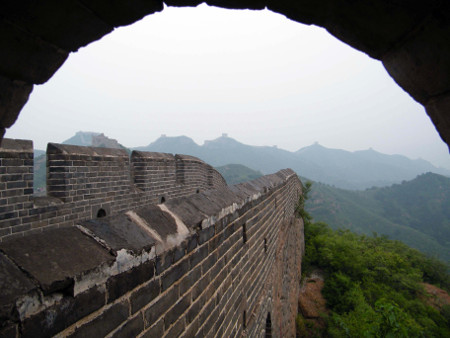 Views were good, rugged scrub-covered hills and apparently endless wall. Still hazy though. I visited inter-alia Dark Tower, the two Jinshan towers, Houchan Pass and Flowers Tower. After 1.5 hours I reached the third last visible tower; they were getting repetitive and time to turn back.
As I started back it began to rain lightly. I, and most others, didn't have our raincoats. It never really let up, and I had to alternately take shelter in towers and get wet. Having to go back the same way as up, I got back to the restaurant at 13.20. A short wait, and we all had a filling buffet lunch of egg, meat, vegetable and noodle dishes and rice.
It's 17 June, and I fly out at 16.05. Before leaving, I decided to walk around exploring the area to the north-east of Forbidden City and Tiananmen.
I went south a few blocks along the main street, the usual shops and restaurants and activity. Then west along another street or two until I came to the east side of the FC. I could tell I was there from the number of map hawkers and rickshaw touts who started to accost me. Down along the east side of FC, I came to the southern end of the ticketed part of FC, throngs of tourists and ancillary infrastructure. South through the plazas, across bridges etc. I came to the main gate of FC, pretty much as it was in 1987.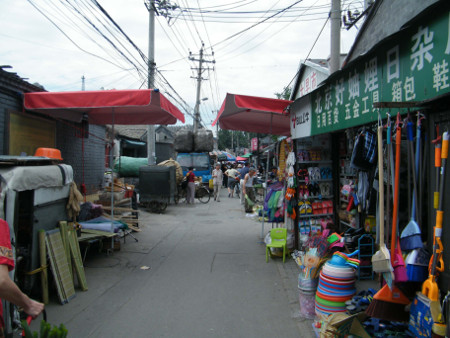 It was over an hour to get this far, and I stopped at the north side of Dongchang-an and looked across to Tiananmen Square; nothing there that I couldn't see from here. I started back east, to the main shopping north-south street (Qinan I think) and walked north along it (a bit like Nanjing Rd in Shanghai but not quite as glitzy). Up farther north and east through smaller streets and crowded hutongs, I eventually came back to home some time after noon. That was a good long walk.
To get to the airport, I could get a subway to Dongshinmen Stn, then an Airport Express train to Capital Airport Terminal 3 for my flight. I arrived shortly after 13.00, nearly 3 hours before the flight. It's a huge airport, requiring a shuttle train from the check-in to the gate. At 19.06 on the same day I was in Winnipeg, and there was my inamorata to meet me. The end of a not-spectacular but pleasant sino-trip.
Although I missed seeing friend Chen, I did manage to see new things and enjoy myself on this, my fourth, visit to China. It is much easier to travel here now than it was years ago, and there's little visible of the old Maoist culture. Internet is freely available in all hostels and other accommodation, but can be a bit slow and patchy. Skype was difficult, stop-start voice and occasionally crashing. Of course it's still hard to get away from people, but that's China. It's still an exciting but manageable place to travel.
Footnote, August 2013
Having been in Canada about 2 months, I returned to Australia, again via Shanghai. Not wanting to waste a landing, and not requiring a visa for a short stay, I allowed myself two days, 22 and 23 August, in Shanghai before resuming my flight to Sydney. I might as well look around at a couple of sights I missed in June.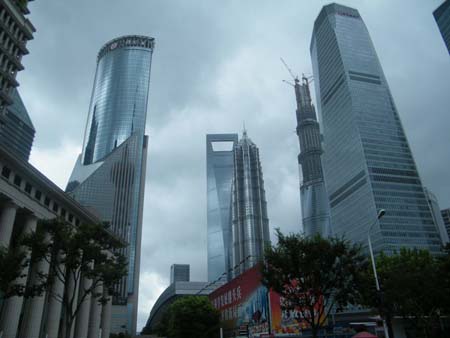 Arriving in Pudong at 04.30, I waited for the metro to open and boarded for the 1-hour ride to People's Park and thence to my usual Mingtown Etour YH. First activity was the corner stall for the usual (really good) 2 x baosi bread sticks and a bowl of the yogurt soup.
Then back on metro 2 stops to the Pudong district across from the Bund, which I'd not yet visited. This is the ultra modern financial district of Shanghai, a forest of glitzy towers. I spent about 3 hours walking around business district and waterfront, getting a sore neck looking at huge and impressive skyscrapers.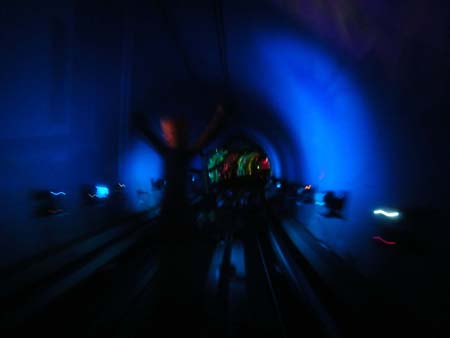 Ready to go back to the west side, I found the Bund Underground Sightseeing Tour entrance, a tacky Coney Island atmosphere. I gambled Y 50 for a 1-way small-rail-carriage under the river to the Bund. For that investment I was treated to a quarter of an hour or so of almost indescribable (not being complimentary) psychedelic light show through the tunnel. Unfortunately I was not at the time under the influence of mind-altering substances, so may not have enjoyed maximum benefit.
After exploring a bit on the north side of Suxhow Creek, and Nanjing Road, I relaxed the rest of the day and had my daily evening meals at the corner street stall and the Muslim restaurant. It's partly cloudy but really hot, above 30 deg and muggy; the A/C at home was wonderful.
Next day was again slow-paced and relaxing.
About 09.00 I set out west along Nanjing to Jiangning Rd, and north several blocks to the Jade Buddha Temple which I'd missed last time.
I wasn't super impressed. The temple was not much different to many other temples that I'd seen this year, the usual large incence-burning front courtyard, a series of halls and rooms down the centre and sides, Gold-coloured Buddhas and Bodhisattvas, the 4 shock-and-awe side-guards, and people worshipping. The number and dynamism of worshippers seemed less than say Taipei's Loyang. The whole place sadly seems to have been hijacked by commercialism. Many of the rooms were souvenir shops, hawkers posed as "staff", and one had to pay extra for the Jade Buddha. I didn't take long to look around, take a few pix and leave.
After wandering back via the creekside, through typical unspectacular districts, along Beijing Rd. and grabbing a dumpling lunch, I relaxed the rest of the day and prepared to leave early next morning.
My last uneventful leg of the journey took me via Kuala Lumpur, where I had about 6 hours airport wait, not quite enough time to zip down-town, and thence a night flight to Sydney for 25 August arrival.
Nice to have that last couple of days in Shanghai, and nice to be back home in Ryde again.