ASIA 1989/1990 Part 1
By 1989 I had been in work for about 10 years, and was roundly stressed out and sick of it. I had to get out. What I needed was another Asian trip to recharge myself, revisit some of the haunts I had seen in 1976/77 and seek out new experiences. Asia was still to my mind a fascinating and diverse destination, and at a cost that should be within my still rather tight budget.
I mulled through my finances and worked out I might just be able to afford this trip. So in went my notice at the job. After planning a rough itinerary, which would encompass South-east Asia, the Indian Subcontinent and who knows where, organising most of my possessions into storage, and contacting a real estate agent to find a tenant for my unit, I was ready.
Singapore
(Click for Singapore and Malaysia map)
My flight took most of the day from Sydney, arriving in Singapore sometime mid-evening on the last day of October 1989. This was my first visit to the compact and wealthy city-state since 1976, and I was thrilled to feel the heat and smell the tropical aromas as soon as I exited Changi Airport. A bus transferred me efficiently to the Bencoolen area where I started to wander along looking for a cheap bed. There didn't look like much activity around 11 pm, but I and another traveller did manage to locate a boarding house, where we could find a little remaining floor space and mats to sleep on. It was of course oppressively hot, but I was directly under a ceiling fan and did manage to get a few hours sleep.
A quick shower in the morning, a breakfast (at Mcdonalds, I don't know why I copped out so early in the trip), and over to the Cockpit Hotel to look up some friends I knew were staying there at the time. I found the friends and, their room being so wonderfully cool and air conditioned, I took up an invitation to sneak in and stay with them for a night.
My friends and I took the cable car over to Sentosa Island for the day. It was pretty much as it was in 1976, but, maybe because I'd seen so many much nicer beaches since then, it felt rather cramped, overdeveloped and drab.
Next day I wandered around parts of Singapore that I'd seen in 1976. The Singapore River was almost unrecognisable. In 1976 it was bank-to-bank bum boats; now it was just water, "cleaned up" in the name of progress but to the detriment of character. The warehouses were gone. Apart from one small section now that had old-style buildings (now used as fancy restaurants), the whole river-front was modern high-rise.
Peoples Park, one of the more modern shopping centres in the 1970's, was still there now, but was now one of the oldest, and I heard it was slated for demolition or renewal soon. With its rabbit-warren atmosphere and lack of air-conditioning, it was still one of the more interesting shopping haunts.
Near Peoples Park, I came across the Sri Mariamman Hindu Temple. With its calendar-art ceiling frescoes of Hindu deities and legends, it was one of the most fascinating of Singapore sights.
The Merlion was still at the entrance to the Singapore River, but instead of looking seaward, it was now definitely claustrophobic, hemmed into its little park and gazing at a couple of seaward road bridges.
Malaysia
After about 3 days in the heat and congestion of Singapore I was ready to move on. It was a simple matter to walk down to the bus station for Johore Bahru buses, get on one (they leave every quarter hour or so) and head north into Malaysia. The trip was quick and efficient. Malaysian border formalities were minimal and I got a visa at the border. I found it curious that signs at the border leaving Singapore warned that it was illegal for a Singapore car to leave Singapore with less than a quarter tank of fuel, under penalty of heavy fines. Motor fuel was so much cheaper in Malaysia that too many people had been going over just to fill up.
The bus dropped me off at the Larkin long distance bus terminal, outside of JB. From here buses leave frequently for all parts of Malaysia. Bus touts asked where I wanted to go, and pointed me to the appropriate booking booth. I was on the way to Mersing on the east coast within an hour or so.
There seemed to be considerably less forest now in Malaysia than in 1976, fewer rubber plantations and much more palm oil plantations. That's progress I guess.
Malaysian buses are reasonably comfortable, fast and efficient. No chicken buses here any more. I was in Mersing in an couple of hours. Mersing is a small city on the east coast, and the port for boats departing to Tioman and other islands.
Being about mid to late afternoon, I chose not to get onto a Tioman boat immediately, as other travellers were doing. They would have had to wait for the tide before leaving, and who knows what time of day or night they would get to Tioman (I later learned that they would get to the island sometime after midnight). What's the rush?; might as well look around Mersing for one night.
I found a basic room in a hotel for about 12 MR (maybe $5 at the time), a bit expensive I thought but OK. I explored on foot the streets, river and rocky seashore, my first close look at Malaysian life and scenery. It was steamy hot but pleasant. The fishermen standing waist-deep in the calm sea handling their fishnets gave the foreshore scene a quaint atmosphere. One billboard near the wharf impressed, a large picture of a hangman's noose with an admonition against drug trafficking.
Next morning, in search of somewhere to grab a breakfast, I was introduced to the delights of the ubiquitous "roti canai", a paratha-like Indian bread that's fried and served with a thin dhal or curry. I had the roti telor, which means with egg, and it was absolutely delicious. From then on, I'd have roti canai whenever I could.
The boat, a small fishing-type boat that the owners probably thought could make more money off tourists than fish, left for Pulau Tioman sometime in the morning, again waiting for high tide to negotiate the shallow river mouth. A pleasant 2 or 3 hours got me into the main beach at Tioman.
Pulau Tioman is a large (but can be walked across in a couple of hours) island covered with forested hills and fringed with a rocky shore and small beaches. It was said to be the setting for the movie South Pacific, and does offer a bit of an image of the tropical paradise. At the boat dock there is a sandy beach and a somewhat upscale resort. Elsewhere are any number of bamboo/thatch bungalows for the backpackers.
I had heard from friends where to go; turn left at the dock and walk along the beach and rocks for about 20 minutes to come to Ayar Bintang Campong Beach and Guesthouse. It was somewhat primitive and the beach wasn't sand, but it was a very friendly and pleasant place. I moved into a small a-frame bungalow with a window and a mattress, toilet nearby and a creek to wash in. A couple of hammocks in the coconut trees near the water looked like the perfect vantage point to watch the sunsets. Basic but all I need. Other guest houses and restaurants provided video movies as an attraction, but I wasn't really interested at that stage.
Life seems to slow down immediately as I arrive here. No rush for anything. Rather than go out exploring right away, I was tempted to hang around the restaurant for a while, drinking tea, talking to the locals and other travellers and soaking up the tranquillity.
The local men, even the younger guys, still wore the lungi-style cloth skirt rather than western trousers; an intriguing study in how to be cool in drag.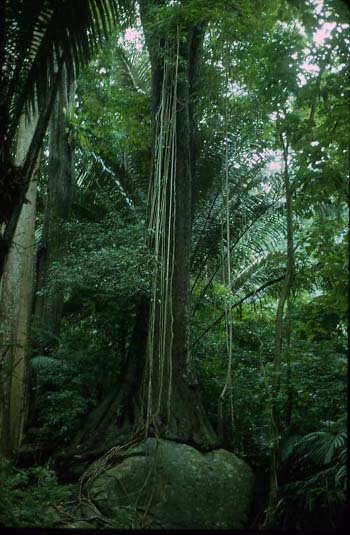 My two or three days here were stresslessly busy swimming, snorkelling among coral and other marine life, exploring along beaches and rocky paths, reading, conversing and generally relaxing. Restaurant meals were principally basic Malaysian and backpacker foods: noodle soups, fried rices and noodles, fish and that ubiquitous Bali-to-Goa farang favourite - the banana pancake. You don't get fat, but neither do you get sick from it.
Other farangs told me about having been to the other side of the island, to Juara Beach, where it's even more primitive, laid back and idyllic than here. So one day I packed up a minimal amount of luggage in a small bag, left my pack at ABC, and set off walking across the island. It wasn't hard to find the start of the path, there is only one path, and I was on my way up a fairly steep climb through hills and jungle. Vines and giant buttressed trees made the forest impenetrable off the path. In rare places where one could get a view, wispy clouds veiled the necks of nearby hills. Near the top was a cool and picturesque creek and set of small waterfalls, perfect for a swim to wash off the sweat.
About 2.5 hours after the start, I wound my way down the path into Juara Beach. It was all they said it was, a broad beautiful beach with a row of bungalows, a couple of restaurants, rocky headlands and not a lot else. It wasn't difficult to find a nice cheap bungalow with attached bath; there couldn't have been more than a half dozen or so other farangs here. I immediately regretted not having come here right away a couple of days ago.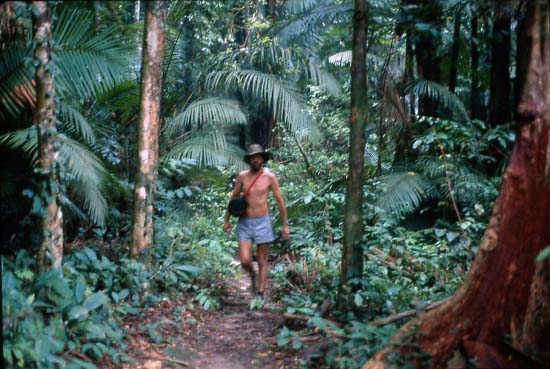 As a small group of us lounged around the small restaurant (basically just an addition to a woman's home) one of us saw french fries on the handwritten menu, and decided to try them. The woman dutifully peeled and cut a few potatoes, fried them up and served them. They were so good that we all started to order them and she quickly ran out of potatoes.
Later we heard the call to prayer from the small nearby mosque. It played as a taped message from a speaker, and was so quiet and non-intrusive, totally unlike calls from other bigger busier mosques.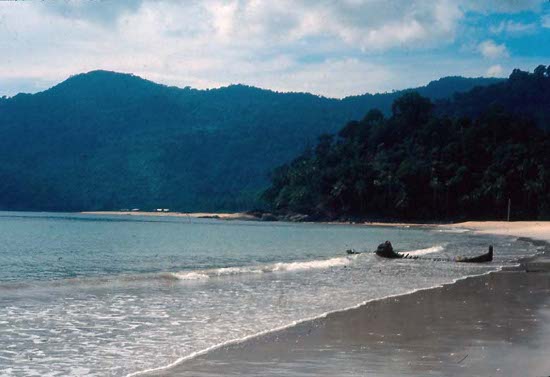 I was at Juara for two or three days, doing more beach lazing, exploratory walks, swimming, reading, talking to people and relaxing. I had the beach almost to myself. To the north off the rocky headland was an offshore cluster of barely submerged rocks, around which I could snorkel amongst the most beautiful coral and seaweed I'd yet seen on this trip.
Back on ABC beach, I stayed one more night and was on a boat next day back to Mersing. As the boat came into the river mouth, we could see that the tide wasn't up as much as we would like. It took some dexterous juggling, and running aground on sand once or twice, to get upstream into the dock.
Back in Mersing I found a cheap and comfortable backpackers hostel where I could get a dorm bed and a luggage locker. At a nearby restaurant, I was back into those addictive roti-canais.
Next day and next leg of the trip was a bus ride from Mersing to Malacca. Travelling through forest and plantations, it wasn't really memorable, except for a detour around a bridge construction site. I was struck by the safety standards on the site; thong-sandals for footwear and no hard-hats.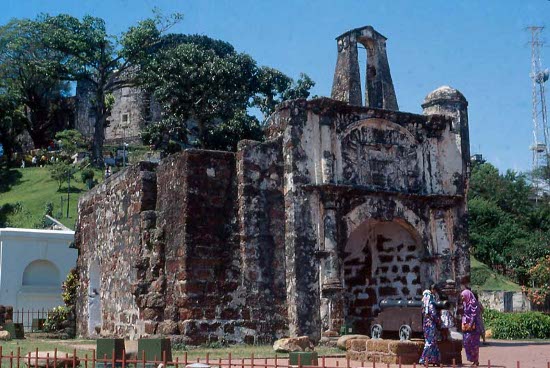 Malacca is an historical old city, situated (where else) on the Straits of Malacca. It incorporated a charming blend of old Portugese, Malay, Chinese, Nyonya and Indian influence, with a smattering of western (e.g. KFC) starting to creep in. The principal point of interest was the Portugese fort near the city centre, well preserved and fascinating. At the time, the waterfront was largely undeveloped, with large tracts of sand or scrub land from which I could watch fishermen throwing their nets over the water. I also enjoyed hiking up to the vast hilltop Chinese cemetery, where I could familiarise myself with the Chinese style of graves and sit watching the container ships slowly making their way up the strait.
Accommodation in Malacca was a dorm bed in an Indian-run guest house, comfortable and not too noisy. They also had video movies occasionally.
Malacca was where I also discovered my next gastronomic delight, the Indian banana-leaf meal, where I could gorge myself on (theoretically) as much rice, chapati and vegetarian Indian food as I could handle. I'd be looking these restaurants up as much as possible from then on.
One evening I was wandering not far from the guest house, near a big mosque where the call to prayer was considerably more robust than the one at Juara Beach.
I came across a local Buddhist temple where a service was in full session. I stood in the doorway and watched the proceedings, the mainly Chinese members praying, chanting and dancing. One of the participants explained that it was in the locally predominant Mahayana sect. As I watched I couldn't help my awe as to how "familiar" it all looked. Change the faces, clothes and songs, and we could be at a United Church service back on the farm in Manitoba.
On north from Malacca toward Kuala Lumpur and my next destination of Cameron Highlands. There were a couple of bus changes along the way, and I was dropped off for a transfer at the main bus station in Kuala Lumpur. Not knowing where I was in KL, and having been there anyway several years ago, I wasn't interested in staying or looking around. I stayed in the big hot bustling station, had a noodle soup meal, and caught a bus onward to CH. As I changed bus yet again in the town of Batu Gajah, I met another travelling couple coming down from the highlands. They were slightly depressed and disillusioned, having spent a whole week up there in near-incessant rain. Is that what I'll get too?
But on I went anyway, up the long steep road through forest into the town of Tanah Rata in the Cameron Highlands.
I needn't have worried. My week up there was cool and pleasant, with virtually no rain. One has toendure the oppressive heat of SE Asia for some days or weeks, to appreciate how blissful the cool of high country can be.
I found my way with other travellers to the sprawling Hillside guesthouse, where I found a dorm bed with good ambiance to meet people. The place was run by south Indian people, friendly demeanour and wonderful food.
Tanah Rata seemed to have a sizeable Indian population. The main street had a number of restaurants making roti-canai and curry dishes, as well as more standard Malaysian fare. It was here I first tried a laksa, that spicy malay soup made with fish, tamarind and noodles. It wasn't memorable at the time, I think it was laksa pinang; maybe the coconut-flavored laksa lemak would have been more appealing.
One evening a group of us went down-town to try a steamboat restaurant. In the centre of a big table is a large pot of simmering stock surrounded by meats, seafood and vegetables. We grab bits of food with chopsticks, immerse briefly in the stock to cook fondue style, and enjoy. Great party dining.
CH is fabulous walking country. Tanah Rata is surrounded by enticing hill treks through enchanting rainforest topped by views over the town and surrounding countryside.
A walk or bus ride up the road to the east passes Ye Olde Smokehouse, an almost-over-the-top English style hotel and restaurant. It must have been a hangover from colonial days, and now serves quite well to satisfy the roast beef and ale cravings of homesick Brits.
Farther on is the Boh Tea plantation; with tea bushes covering the hillsides and a processing plant in the valley. In fact much of the countryside in CH is devoted to tea growing. A few of us went on a tour of the plantation, a good education in how tea is produced.
Farther still up a minor road is a small rustic village inhabited by aboriginal (presumably pre-malay) people. It's a bit of a tourist attraction. Maybe because of that or maybe in spite of it, it's noticeably primitive and ethnically distinct from the mainstream. I found it difficult to tell if they were oppressed, or kept a separate lifestyle by choice.
Another walk south from Tanah Rata follows a river valley into a market garden area. Workers busily tend vegetable plots taking advantage of the temperate climate to grow produce for the cities below. Nearby on the river itself is a small hydroelectric plant, complete with dam and turbines and a friendly Indian engineer eager to show off his little technological empire.
I thoroughly enjoyed my stay in Cameron Highlands, so much so that I was to return for another visit several years later.
Next stop was Georgetown, Pinang. I'd been there in 1976, had liked it then, and was eager to see if it had changed much. It was still a charming place. With the exception of the big and unattractive Komtar Tower shopping complex, not much negative development had taken place. The colonial architecture and Chinese and Indian style and charm have prevailed.
I found the youth hostel to be a cheap and comfortable habitation. I was also pleased to see that the legendary Dawood's Indian restaurant still operated, and still served a commendable chicken capitan curry.
Having been there before, I didn't spend a lot of time looking at things. I was content simply to wander the streets and poke my nose into the odd Buddhist or Hindu temple. I explored the Georgetown museum with its fascinating exhibits on early city and straits history and culture, and the historical British fort.
What is it about Malaysia, that I always seem to be prone to ear infections here? I had one now in Georgetown, not severe but just enough to plug up an ear. I attacked it with frequent flushing with disinfectant and water, and it eventually went away. Just an annoying inconvenience.
Next leg of the journey was a bus and ferry ride to the offshore island of Lankawi, near the Thai border. I hadn't been there before, knew it was a beach and duty free resort, and was curious as to what it had to offer.
I wasn't totally impressed with Langkawi. It had beaches, but they were mediocre compared to Tioman or Thailand. Bungalow accommodation was uninspiring and slightly overpriced. It did have a lot of pretty rice paddies, but so do a lot of other places.
What I do remember was that on a trip into town I could pick up quite a selection of cheap cans of beer, maybe about 50c per can in back-home currency. I got quite a few cans. Two other travellers and I drank them on my last evening there, and I was 3 sheets to the wind for the first time in months. My mistake was not having put aside enough drinking water (I didn't trust tap water here), and I had a nearly sleepless night from thirst.
Next morning I was able to get some water to quench my thirst. However I still had a hangover to contend with as I boarded the ferry for the mainland and further transport into Thailand. At the ferry stop, waiting for a bus, I spied a woman selling pomelo (a large tropical grapefruit-like fruit) segments. That was just what I needed for a queasy stomach, and I must have devoured almost her entire stock.
Thailand
(Click for map)
There is an interesting and slightly off-beat way to get into Thailand along the west coast. A bus drops me into a village right near the Thai border. I go through Malaysian exit formalities, I'm bustled onto a Thai long-tailed boat with a 6-cylinder car engine, roar along at great speed by sea for about 3 miles onto the Thai side of the border, and go through Thai immigration. On the boat or on the bus later, I remember some of the locals were importing bundles of some lard-like material into Thailand. Thai customs women would go around with prods of straightened wire, poking them into the bundles to check for solid contraband.
By this time I'd latched onto a European guy with his petite and attractive Thai girlfriend. He'd been living in the Thai resort island of Pattaya, and his girlfriend seemed to suit that image. He had gone down to Malaysia for the day to renew his Thai visa (that's quite common for expats in Thailand) and was on his way back to Pattaya now.
We made our way into the Thai near-border town of Satun, found a hotel and got rooms. We agreed to meet at 6 pm to find a restaurant and have dinner together. I mucked it up a bit when, knocking on his door at 6 pm, I found that he was in bed with his girl. I was still on Malaysian time and it was only 5 pm Thai time. Anyway, after a good natured apology we met up again at 6 Thai time and had a good meal together.
The last time I'd been in southern Thailand, in 1977, we were in Phuket and thought that Patpong was one of the world's most beautiful beaches. It was little more than a sleepy village and coconut groves at the time. Since then, I'd heard that it had been developed and resortified beyond belief. I wanted to remember it as it was in the 1970's, therefore decided against returning.
Krabi and Phra Nang Bay were the places to go now. So, the morning after arriving in Satun, I was on a bus in that general direction. I'd only gone a few km when I remembered that my passport was still in the hotel office in Satun. Off the bus, catch another one back to pick up my passport, and a slightly later bus onward. Luckily the buses are frequent and cheap.
One change of bus somewhere in a small town, and I was in the small port city of Krabi by early afternoon. It's the boat port for the beach sites of Rai Lei and Phra Nang Bay. I was barely off the bus on the main riverside street, when the boat touts were onto me, enticing me to come straight out to the beaches. A long-tail boat took myself and other travellers on the half-hour or so crossing to Rai Lei Beach. The Phra Nang Bay peninsula is part of the mainland but there is no road access, so it has an island feel about it. The layout is a series of beaches and flatlands separated by rocky headlands and towering karst hills. It's superbly beautiful. The flat land between the hills is covered by bungalows and restaurants, with no high-rise resort-type accommodation, at least as yet. Rai Lei Beach is especially pretty.
A quick look at the bungalows on Rai Lei West, where we landed, showed me that this was the relatively pricey part of town, and a bit beyond my budget. So over the half km or so to Rai Lei East, along the rock and mangrove studded beach, to some simple and cheap bamboo/thatch bungalows for low-end but adequate accommodation. A multitude of simple restaurants and bars catered to western-oriented food and drink, heavy on the seafood and fried rice or noodles. I noted the dearth of local-style eateries where the Thais would eat at in less touristy places. So eating was a bit more expensive than in the cities.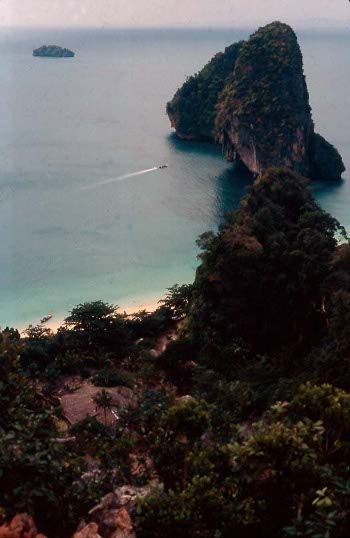 I stayed several days at Phra Nang Bay. The beaches were wonderful to swim in, everywhere were cliffs and caves to climb and explore, and it was simply one of those places where you don't have to be doing something all the time. One walk took me up a hill and down to an enclosed lagoon in the centre of the hill. It had water at high tide and mud at low, intriguing. Near the lagoon was a steep scramble up a cliff to one of the higher peaks, for unbeatable views of the beaches and promontories. There were caves everywhere, one with a drinking bar inside. Another cave, at the end of Phra Nang Beach afforded a scramble up through the centre of the hill to an opening high up on the other side, with a view over Rai Lei West.
I met a couple who had just been on a 2 or 3 day boat trip to nearby islands. They had so much fun that they were trying to get a few other travellers together as a group for another trip. I agreed to come along. There were maybe a half dozen of us in a smallish long-tail boat and two young guys, "King" and "Boy", as tour operators. We island hopped to small offshore limestone islands, some with beaches and some just rocky outcrops. I could see why the couple had enjoyed the first trip so much, all so storybook-idyllic. Food was supplied by our hosts, mainly of the fried rice/noodle and vegetable variety. For dessert: flour, condensed milk and some unidentified, er, "herbs" made up a batch or two of killer "ganja pancakes".
Accommodation was ultimate basic, a sleeping bag on a hand-smoothed patch of beach; good enough, I slept OK.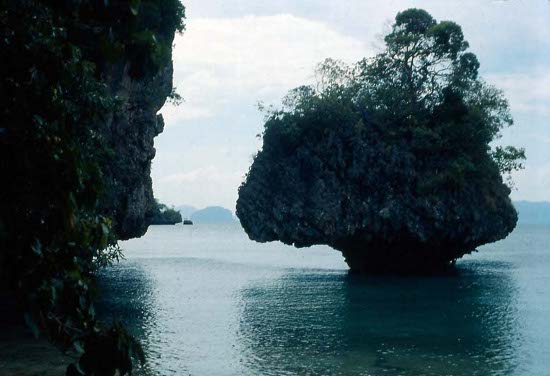 Some of the destinations included Room Island (a lagoon or "room" inside a small rocky island), close-up views of Chicken island (shape reminiscent of a chicken) and various unnamed beach stops. Swimming was fabulous: exploring sea life, rocky outcrops and approaching little islands so eroded at the base that I worried they might topple onto me.
We didn't get as far as the James Bond Island, but I heard that it was pretty much a tourist trap now anyway. Also we avoided the up-market Phi-Phi group.
Back in Phra Nang, the boat trip was a hard act to follow. So I packed up and took a boat next day back to Krabi town. It was a bit annoying waiting and waiting for a boat to be ready to leave Rai Lei, finally ordering a noodle dish at a nearby restaurant, and then the boat people saying the boat is leaving now. This was a theme that would repeat often in these countries; I wish I knew in advance when they would leave, or at least give me time to eat.
I decided to stay a day or two in Krabi before heading onward. It's a pleasant enough town to chill out before further travel. I checked into an unmemorable but adequate hotel room for a couple of nights. Noticing a street barber somewhere, I had a good cheap haircut shaded from the fierce su.n under a small awning. Then, atop a temple hill near the centre of town, I found a little gazebo with table and benches in which to write up a batch of postcards for people back home.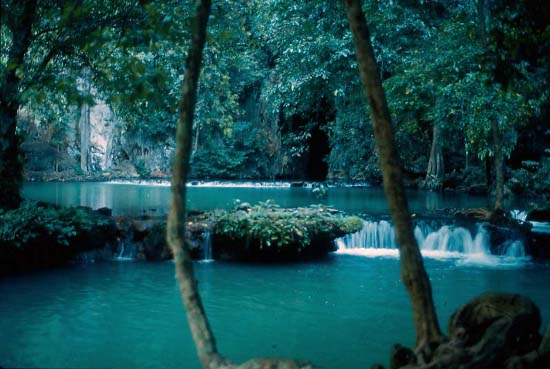 I heard that there was one of those karst creek parks not far from Krabi. So next day I took a bus out to the park for the day. In a quiet and peaceful jungle setting, a creek flowed out of a limestone cave and formed a series of rim-stone pools, with small waterfalls maybe a foot high between them. The pools afforded cool and pleasant swims in the steamy heat of the day.
Next destination was Ko Phan Gan on the Gulf of Thailand. It had been recommended by a friend as a less commercial alternative to the larger Ko Samui. A change or two of buses would be needed to get me north across the peninsula, passing through numerous villages along the way. Many of the villages put out a terrible stench as we passed. I wasn't sure what it was, rotting flesh or something. But it always seemed to coincide with piles of small black hemispheres. I worked out that these were the latex collected from the cups on rubber trees; natural rubber does have a rotten smell at this stage in the process.
Surat Thani is a small city on a river, the main ferry terminal for departure to the islands of Ko Samui and Ko Phangan. I rolled in about early afternoon. A quick check at the ferry w.harf gave me required info about departures. The night ferry, leaving about 23.00, seemed the way to go. After making arrangements, I grabbed a double serving of Thai curry and rice at a local food stall, and explored around town for the afternoon.
The ferry was a medium sized affair with a large deck class. I claimed and stretched out on a mat amongst all the Thais, hard but I've had worse. The ferry left pretty much on time and I slept well enough on the sea voyage.
The ferry docked in the village of Ban Khai on Ko Phangan. I wasn't sure where to go from there so just got on a bimo going south. A Thai woman on the bimo asked me if I needed a place to stay, and offered me a bamboo/thatch bungalow for 15 bhat at her place down the road. Why not, so I went with her. It was as good a place as any. The beach wasn't as sandy or as popular as at Hat Rin a few km away in the south, but I loved the peaceful simple surroundings. Here was swimming, beach walks, talking to other travellers and to our hostess, having meals in her little restaurant, and just chilling out.
I took the walk along to Hat Rin Beach one day. Here were several bungalow places, restaurants, a nice beach and lots of farangs. The bungalows were more expensive than at my place and it all seemed a bit too busy here. It was nice to get back to the peace and quiet of my place.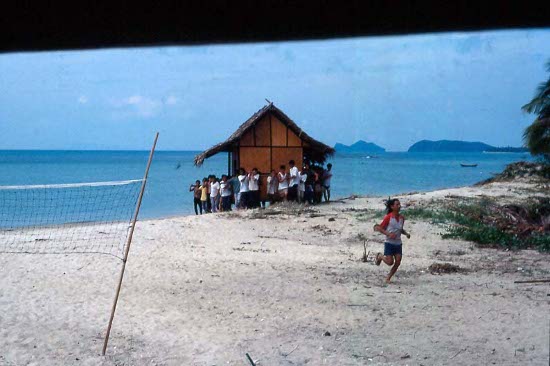 One morning as I was relaxing in my bungalow, I heard a commotion outside. Looking out, I saw a bamboo/thatch bungalow, much like the one I was in , coming up the beach carried on poles by a large number of noisy laughing young Thai guys. Our hostess had just bought a new bungalow and she now had 3 guest bungalows instead of two. After the bungalow was set up in place, she put on a bit of a meal in gratitude to all her helpers. What a gay, festive occasion, great fun!
Another couple staying near me had been to the island before. They talked about a place on the other side of the island that they had been to, and wanted to go there again. So I joined them on a walk across the island, about 12 km away, to stay one night there. The walk was hotter and harder than anticipated. So by the time we got up the hill to the top and were running short of water, we got a lift with a 4wd vehicle the rest of the way. The guest house we came to was pretty and yielded new territory to explore, but wasn't better than my place on the west. So I made my way back there next day.
One of the guys staying at my guest house was a long-term resident. He smoked regularly and was just leaving to go up to the north of the country and back, in part I think to score some more ganja. Our hostess asked him to bring some back for her too; apparently it's a bit hard to come by in the south.
My ferry back to Surat Thani took me via a brief stop at the larger and more developed Ko Samui. This island had bigger beaches, more hotels and resorts, and a town big enough to cater to locals as well as tourists. To me it was too commercial, almost tacky, and I was satisfied with having stayed on the smaller island.
A night train would get me into Bangkok early the following morning. Last time I was here we had stayed in a noisy, grotty little Chinese hotel near Hualamphong Station. I certainly could do better this time. After a full-pack walk of nearly an hour (too hard to figure out the buses at this time of day) I wound up in the Thewet area near the river. I was aiming for a place that I'd read about in my guidebook. It was a good find. I managed a hot but cheap and comfortable dorm bed in the very friendly and helpful Sawatdee Guesthouse. One of the first things I did was order from their restaurant a hamburger and chips, the first farang food I'd had for a while.
Bangkok was still hot, noisy and polluted, but not quite as bad as in the 1970's. I explored around some of the old haunts and found new places to familiarise myself with. It was only a few minutes walk to the river ferry, with which I could get down to the post office and check my mail, and walk back via the old city and wat/palace district. None of this part of the city had changed much. It was only about a quarter hour walk from my place to what has become the travellers mecca, Khao San Rd. Here was everything the farang could want - bars, restaurants, guest houses, souvenirs, bookshops, massage and clothing - but I was happy to be living in the quieter Thewet district.
The Thanon Rama 1 and Sukhumvit Rd shopping district was worth an explore, possibly the most up-scale part of Bangkok, and haunt of the better-off farangs and Thais. I treated myself to a Shakeys pizza among other things here.
Lumphini Park near Rama IV Rd wasn't quite as ugly and un-park-like as in the 1970's, but was still struggling with its image.
One Saturday I found a bus to take me up to the Cha.tuchak weekend market. What a vast complex! It had acres of stalls, mostly under shelter, with all conceivable manner of goods, from meat and animals to vegetables, clothes, knick-knacks, antiques and foods. I was intrigued by one antique stall that had what looked like a very old book with some version of Siamese Kama-sutra-like pictures. I should have bought it but couldn't really carry it with me.
An all-day bus took me north to Chaing Mai. A major city in its own right, it nevertheless feels much more laid back and less in-your-face than Bangkok. It fortunately hasn't changed a lot since the 1970's.
I first set out to find the Je T'aime Guesthouse, that place of happy memories from the 1970's. Unfortunately it was still there but had gone up-market and was no longer in my price range. So on to the centre of town where the youth hostel offered me a comfortable and reasonable bed.
There were lots more hill tribe tours on offer now than there were in 1977, at an increased price, but I wasn't interested in them now. I'd heard from a colleague in Sydney about an Australian guy who'd married a Thai and was now running a backpacker lodge in the hills to the north-west. So away I went to try to find it.
First stop was the sleepy village of Pai, in the lowlands before the hills. I hired a bicycle and spent hours cycling around the farmland and rolling countryside. People here were still tilling the land by hand or with animals; little mechanisation was evident.
I found a little restaurant in town run by a Burmese woman. The mild but savoury Burmese curry dish made a tasty contrast to the sharply hot Thai food I'd been living on.
West from Pai, the terrain roughed up by an order of magnitude or so. My bus was soon in a slow steep climb up into the mountains. With the gradient and many windings and switchbacks it took nearly an hour to get over the pass. Then down into hilly forests, eventually arriving in the village of Soppong. A ride on the back of a truck about 15 km along a dirt road got me to Cave Lodge.
John the Aussie, his wife and young daughter ran the lodge; it was apparently well known and popular with the backpack set, the place was almost full. I got into a dorm bed with other travellers without problems though.
What a magical place! The lodge was situated out in the bush next to a river and a large cave system. All around were hills, forest and paths connecting hill-tribe villages. You could just wander around anywhere exploring trails and villages. One guest asked John "What if I got lost?" to which he replied, "So what? Just keep going and you'll find your way again."
So I teamed up with other travellers and we spent hours over the next few days walking along pathways through valleys from village to village, visiting with the friendly villagers, exploring an archaeological dig in a nearby small cliff cave. Of course simple relaxation and chilling-out filled in the time as well.
But the main attraction, and the source of the lodge's name, was the vast Tum Lod Cave. Each evening large flocks of swifts would fly into the cavernous main entrance for the night, and fly out next morning. We first went through the cave with a guide to show us the main chambers and passages. There was even one sma.ll chamber used as a Buddhist temple, at which our elderly guide stopped briefly to worship and leave offerings.
A favourite activity was to float on a truck tire tube down the river, from just below the lodge toward, and then through, the cave to the other side. One section in the cave is totally dark, but no big deal if you bump a wall or two on the way through.
There were some upper cave chambers, accessible only by ladder, that had been used previously as burial chambers. A group of us dared ourselves to climb up there after dark and explore the chambers. The chambers had remains of coffins and other artefacts, and swifts flittered around trying to find perches. All that made it really a bit scary. One swift flew amongst us and got entangled in one girl's clothing; she almost but not quite freaked out as we gently extricated and freed it.
We celebrated Christmas in the lodge; our hosts erecting a tree and putting on a real "all the-trimmings" Christmas feast. They brewed there own wines from things like strawberry and dandelion, and we all went through a considerable stock of it that evening.
The family also owned another backpackers stop, called "Wilderness Lodge" farther to the west. It was smaller and more primitive than Cave Lodge, and operated by a couple of young Thais. It was totally surrounded by forest and really earned its name.
A few of us stayed there for a couple of nights, doing walks in the jungle, cave exploration (one of the biggest caves in the world) and eating simple food prepared by our hosts. When we asked what there was to eat, they said anything we wanted. But when we asked for something they didn't have it; it turned out that we were limited pretty much to fried rice or fried noodles.
I'd heard about the possibility that bandits lurked in the area, and that people had been robbed in the bush. On one walk through forest and along creek beds, our group was resting by the path when we heard a party of Thai men coming along the path toward us. It was too late to run away, and we just sat there nervously smiling and greeting them as they passed. Fortunately they weren't bandits and we emerged unscathed.
The roof of the lodge was made of thatch and we could see daylight through it in places. I found it intriguing that when it rained no rain ever came through inside. Back home in factories I'd worked in, the roofs were sealed tight as a drum but leaks were an ongoing problem? Why does the high-tech fail when the primitive works?
After about 3 days at Wilderness Lodge, I was on a bus for the 1 hour trip west along a dusty road to Mae Hon Song. It's a pleasant town in the far north-west of Thailand, good to chill out for a couple of days. The hilltop temple Wat Phrathat Doi Kong Mu offers beautiful views of the town and surrounding countryside. MHS is the area of the notorious "long-neck women", but I heard that the concept has been grossly over-commercialized and I made no attempt to see them.
One evening a group of us went out to a nearby village to see Thai boxing. The venue was something of a carnival with stalls, volleyball, rock music and a movie, as well as the boxing. The friend who we were cheering on didn't do well at his fight though, and we returned to town with a defeated gloom.
The next evening was New Years Eve, as a group of us had a few drinks in quiet pubs and watched the few fireworks that went off at midnight.
On New Years Day I took the bus back to Chiang Mai where I splurged over 100 Bhat (about $5) on a big meal of steak, cheeseburger etc.
The bus to Sukothai takes about 6 hours, getting there mid afternoon. It's a nondescript town with a large market and proximity to the ruins of Old Sukothai. Thailand's first capital in the 13th and 14th centuries, Old Sukothai has extensive ruins of wats and other buildings. Construction was of bricks, laterite and stucco. Some have been restored, others not. A couple of us hired bikes and toured several of the wats and the museum for most of the day.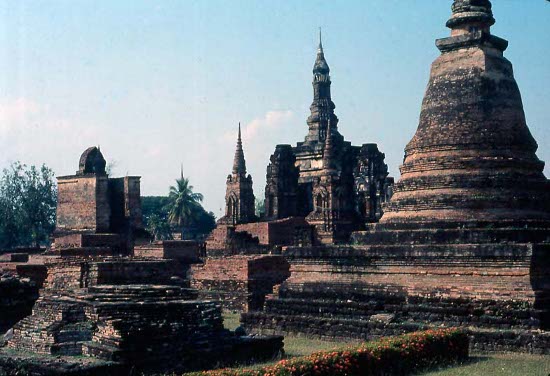 The following day we took a bus to Si Satchanalai Historical park, a compact complex of ruins contemporary to those of Old Sukothai. These ruins are less restored and touristed than Sukothai's but still well preserved and impressive.
I had heard about the opportunity to do volunteer English teaching at a nearby school, and one evening I wandered over to check it out. I met other travellers and locals there, had a little dinner, and spent 2 or 3 hours going through lessons and conversing with students. It was slightly demanding but good fun, and a chance to meet local people and help out.
Next stop was Kanchanaburi, to the west of Bangkok. I wanted to find buses straight there, without having to go through Bangkok, but there were none, at least that anybody wanted to acknowledge. So I was on a bus for Bangkok about 09.40, arriving in the north bus terminal about 19.00. From there I had to take another bus and walk to the south terminal, where I grabbed a quick dinner and another bus to Kanchanaburi, arriving at 22.00 after a long travel day.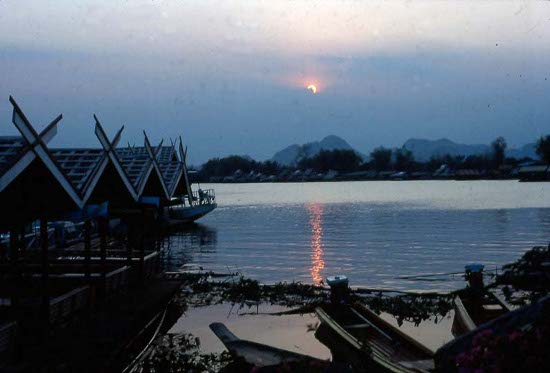 It took some searching, but I found a bungalow in a guest house right on the river, on stilts, really beautiful and tranquil setting.
Kanchanaburi, besides being one of the sites of the infamous Burma Railway, is a pleasant, relaxed town, one that you feel no hurry to leave. I spent a couple of hours in the fascinating JEATH (Japanese, English, Australian, Thai) Museum, built as a replica POW hut and full of history and memorabilia from the death railway. The Kwai Yai railway bridge is upstream a bit, a renovated steel span bridge still in use. The crush of souvenir shops and crowds tell you when you get near it. One day I took the train from the station to the end of the active part of the line. We travelled through the Qua Noi valley and gorges along restored parts of the railway where some of the most horrific conditions existed for the construction prisoners. Near the railhead is the village of Sai Yok with a waterfall and cave, neither of which were extremely memorable.
I returned to Kanchanaburi on a charter bus full of drunken Thais who entertained me all the way, and refused my offer of bus fare.
Bicycles are available for rent in town, and I did a good ride out to Tham Kao Poon Cave and Monastery and beyond. The cave itself has Buddhist temples and statues in every chamber. The countryside was dry looking, especially as the bamboo seemed to be flowering and dieing everywhere.
Another good day trip from town is Erawan Falls, a pretty 7-level cascade of waterfalls and limestone pools in a karst area. Lots of shade and cool clear water to swim in make it a pleasant walk up the 1.5 km to the top level. In the water multitudes of small fish try to nibble at your body.
Back to Bangkok on 10 January to prepare for my flight to Calcutta next day. I got back into Sawatdee GH, changed money, picked up mail, sent mail, splurged on some western-type food (after all, I'll be in India soon), and did laundry.
Next day a bus took me to the airport, where I waited for hours for a very late Indian Airlines 737. In the waiting room I made friends with an older Indian guy from Calcutta, a wealth of information about Hindu culture etc. I would meet up with him again in India for a visit. The plane left about mid afternoon, and I was on my way to India.