Nepal, India and Sri Lanka; February to April 2015.
I am home in Sydney in early 2015. Maggie has just retired from her work, and is planning to come to Australia for more than the typical 3-4 weeks. We had planned last year to go to India with friends, but it didn't fly, so Maggie and I agreed to meet in India in early March and spend a couple of months there and in Sri Lanka before proceeding on to Oz. Also, as two months in Asia is a bit short for me, I decided to go early to Nepal to try a trek before meeting Maggie.
So, backpack packed, at 18.00 on 9 Feb I was on a plane for Kathmandu via Singapore and Delhi. Kathmandu arrival was mid afternoon on 10 Feb.
Nepal
(Click for Nepal and India map)
So here I was back in Nepal after a 25 year absence. Exciting!
Kathmandu Tribhuvan Airport is the typical developing-country small rustic airport. Out of the plane, onto the tarmac, into a shuttle bus, and into the chaotic terminal. Baggage claim was bedlam, huge masses of people jostling in a confined space around the carousels waiting and searching for luggage.
My pre-booked hotel pick-up took me on the half hour or so drive into town in congested but surprisingly un-horny traffic. Temperature was a pleasant 20 deg. Thamel was the predictable tourist ghetto of narrow streets, hiking stores, travel agents, restaurants, hotels and souvenir stores. I checked in to my room at the pre-booked Karma Travellers Home. Hosts are friendly and helpful enough. Power is on only at certain times of day.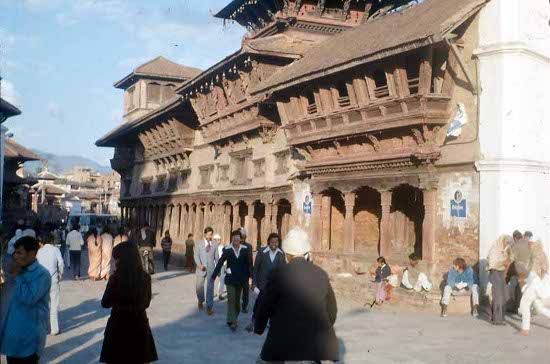 After ATM'ing some money, I decided to look around the town a while. Passing down Thamel Marg, past Kwanabal Chorten (lots of pestering rickshaw drivers here), I found a small restaurant for a plate of veg momos (Tibetan dumplings) and chai. Further south along Naravedi, past numerous small hole-in-wall-type temples I came to Durbar Square area, a hive of teeming evening crowds and noise and activity. The whole place was noticeably cleaner than last century; not so much faeces on the streets or foetors in the air. People were friendly, with a tolerable quantity of touts and rip-off artists. As it was evening, I did not take any photos; much to my regret. The entire square, with its hundreds of years old temples, was destined to be pulverized in an earthquake a couple of months later.
Back in my room I sterilised some drinking water with my UV pen. The Steripen would become one of my most valuable pieces of luggage on this trip, almost in constant use and saving countless plastic bottles, resources and significant expense.
I would be only one full day in Kathmandu before moving on to Pokhara and my trek. I booked a bus for Pokhara for the day after and fronted at the tourist office for trekking permits to the Annapurna Sanctuary Trek. Within an hour I had my TIMS card for trekking and a Conservation area card for the Annapurna region.
The rest of the day was occupied in exploration of the city and a good Nepali thali (dal baht) dinner, consisting of rice, lentils, vegetables, pickle, papad and 1 chapati. This type of meal would be my standard fare in the mountains.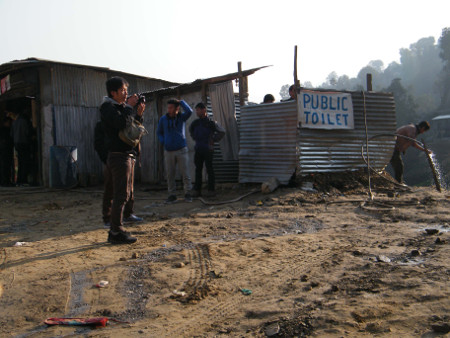 On 12 Feb I was on the 07.05 bus, a slow 7-hour ride to the Tourist Bus Park in Pokhara. Having trouble orienting myself here and finding myself at the Damside suburb, a young guy Ranjay found me and gave me a basic room in an unnamed hotel. It's about 20 minutes or so from the Lakeside tourist area, to which I walked in the late afternoon for a look around and a small meal.
I'd been getting sick all day with flu-like symptoms, cough, sore muscles, tired, moon-river etc. I felt quite weak and wasn't sure if I could start a trek tomorrow.
But next day my flu was improving and the runs had been a once-off. I decided to take a chance on the trek. Annapurna Base Camp was to be a similar altitude to my Langtang trek in 1990, but would take longer to get up to the top. I allowed 10 days for it, to start in the village Phedi and maybe finish at Nayapul. I declined a guide or porter and humped my own pack.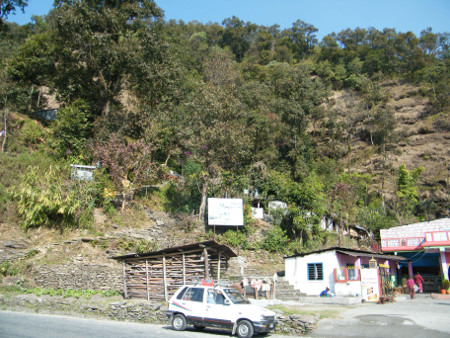 At the Phedi trailhead (about 980m?) I filled and sterilised my water bottle, and fended off a wannabe guide/porter. Started walking up the steps at 10.10, 13 Feb. My sickness has now passed, but the climb was steep, and the whole trek would be longer and more work than I anticipated.
On up the mountain to Dhampus (1580m) and Pothana, I passed a couple of police/parks check posts. Cloud and haze increased, as it would every afternoon; mountain views are morning-only.
I made the village Tolka (1620m) after 6 hours by 16.00, and took a bed in the Sunshine Guest House. Dinner was chicken curry and rice and a couple of bananas, and bedtime was 20.30.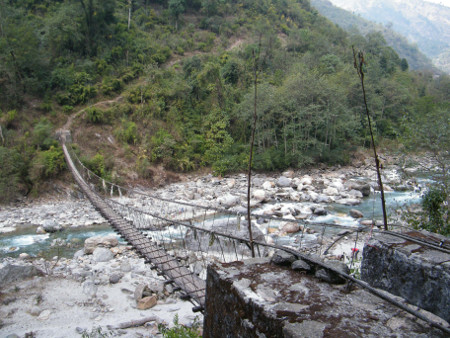 Next morning I was walking at 08.05 down along a road to Landruk, to New Bridge village about 11.00, and over a long wobbly Indiana Jones Bridge across the rushing Modi Khola River.
Now was one of the most gruelling parts of the trek, a long continuous slog up thousands of steps, maybe a km or so altitude gain, through the village Jhinu and on up to the large settlement Chhomrong (2170m) before 14.00. This was the last permanent settlement on the trek, with Pizza and German Bakery signs and dogs.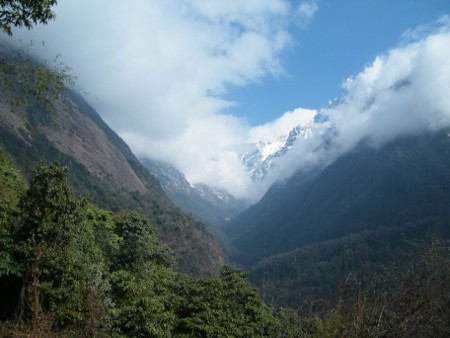 Met and talked to a group of German trekkers and their guide. I would meet them repeatedly next day, as they forged on all the way to Himalaya Hut.
On the morning of the third day we were treated to the sight of snow on nearby slopes not far above us, and a magnificent view of Machhapuchhre, the Fishtail Mountain, in the direction we were going. The way was down steps quite a long way to a river, then at least as far up again to the next village Sinuwa (2340m).
On up the Modi Khola River was Bamboo village (2400m), then Dovan village (2600m) where I stopped at 13.45 . There was snow around at that altitude, melting gradually during the day. I talked to Chinese people in the evening and tried to get warm. A thick quilt did keep me warm at night though.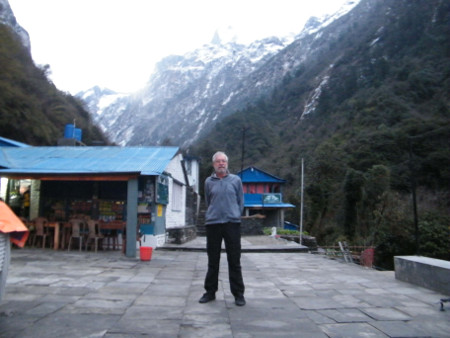 I perceived the following day with some dread. I would have to climb from Dovan to Machhapuchhre Base Camp (MBC) (3705m) in one day of at least 6-7 hours or I would lose a day. Can I do it?
I was up to first light on my 4th day walking at 07.30, again mostly gentle up. Sky was clear and good view of nearby Machhapuchhre. Quite soon I was into frost-slick log bridges and snow-covered paths. It became quite slippery and dangerous. My boots could not grip at all. I struggled to get up steps and skidded down slopes. Many others were on the path as well, some putting crampons on and continuing, others putting socks over boots for grip and turning back.
I struggled on for 1.5 hours and wondered not if but where to turn back. I just can't do this, too much risk of injury. The question of when to stop was answered when just ahead of me I encountered the 4 Germans and guide returning from Himalaya Hut. They had got up in the morning, looked at the snow above and said "Scheisse!". If they were turning back, so would I.
So MBC and ABC were not on my achievement list this time. Back at Dovan at 10.15, I rested a bit, and started the long slow trek back. After a long day I was back in Chhomrong at 15.45. The whole village seemed almost deserted, no other trekkers about, very dark, damp and quiet.
Next day I was going at 08.15. Rather than return the way I'd come via Phedi, I decided to make for Ghandruk (1939m) and come out at the town Nayapul. I turned west from Chhomrong, followed the path level and slightly down for some distance to a junction arriving there at 09.25. From there it was a 500m descent along a rough track to a river, across a swing bridge, and up 500m again along a similar track to the village Komrong (2250m) at noon. Many pack horses used this track, paving it with a generous layer of horse shit.
It was another hour or so down and across to Ghandruk at 14.30. This village had a few Gurung (a local ethnic group) restaurants and a couple of small museums. I visited one of the one-room Gurung museums (R75). It was dark, cramped and cluttered, but with a very interesting display of local agricultural, household and cultural artefacts. Beams and posts were solid black from centuries of smoke. The ceiling may soon collapse from borer holes.
My final trekking day was an hour or so amongst horses and their excrement down to the road-head at the next village Kimchi. One could continue walking on down to Birethanti and Nayapul, or catch a bus from here to Pokhara. I chose the latter, waiting about an hour for a slow local bus and boarding at 10.25.
It started to rain off and on all the way to Pokhara, arriving at 14.00 on 18 Feb. Ranjay gave me the same room as before. I washed and hung clothes out to wet in the rain.
Well, I didn't make the whole trek, and missed MBC and ABC. But it was still a worthwhile trek. I trekked 6 days and saw quite a lot.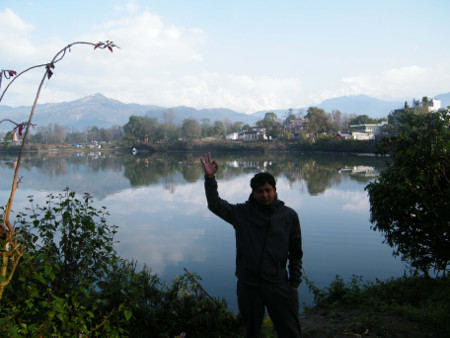 All the rain I saw in Pokhara today would be coming down as snow at altitude. I later read in the paper that it was really bad up there; apparently even places like Langtang village had to be evacuated from cold and snow.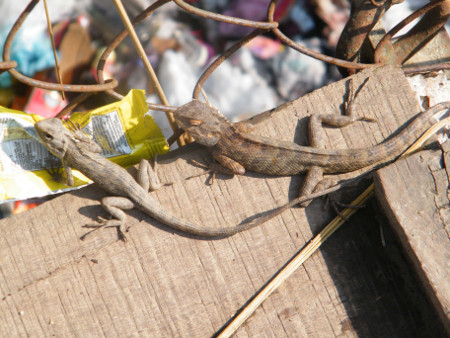 I would hang around Pokhara 3 days before proceeding on to Varanasi in India. One day I would do a walk with my amiable hotel host Ranjay to the nearby Devi Falls, the Dragyling Monastery and Tashiling Tibetan Refugee Camp. Another day was a long bike ride also with Ranjay through Lakeside, along the lake to its end and on a rough rocky road up the river valley. Bikes were not very good and my left crank pedal came off; difficult to pedal all the way back. The bike trip was tiring for me; was I out of shape or just fatigued from the trek?.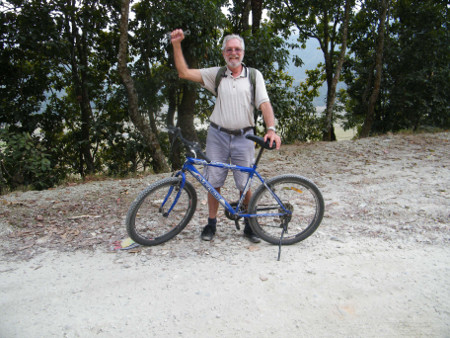 I was somewhat weary of dal baht meals for the last week or so, although Ranjay was still making them for me for lunches. Evening meals were mainly in the Lakeside tourist district, western type meals and beer. I knew I wouldn't have this luxury much in India.
One boot was developing a small hole, and one of my volleys had also holes. With Ranjay's help I got them fixed at a street shoe-repair, a surprisingly good job that saw them through the rest of my trip.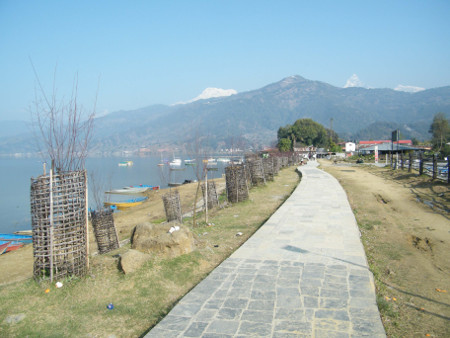 On 22 Feb I was up at 05.30 to leave Pokhara for India. The local chicken bus got away at 06.55, but very slow going along rough roads and frequent passenger stops, first over hills and along river valleys, later onto the plains, and into the border town Bhairawa at 14.00. A shuttle bus took me the 4 km to the border. I was soon out of Nepal and into India.
India
(Click for Nepal and India map)
In the Indian border town Sunauli I was told I can't change NPR in Varanasi, so had to chg all my excess Nepalese here with a shifty-looking guy and probably getting ripped off.
At 15.15 an Indian bus a took me on to Gorakhpur, arriving 18.00. There I could buy an unreserved seat train ticke to Varanasi (sometimes called Benares) leaving 22.45.
Because I had only an unreserved seat, I had to push with an equally desperate crowd of people onto the train in search of a seat. Only after stampeding through three carriages was I able to find an empty seat and a rack space for my pack. The carriage subsequently filled up with standing passengers. There were 4 people on my bench, and 5 opposite. I had to sit ramrod straight for the whole 5.5 hours trip, no way to rest head or sleep. People were packed in around me talking, moving or snoring all night. I almost wished I'd spent the night in Gorakhpur.
But I made it to Varanasi main station by 04.30 or so next morning. I found the main station plaza, fended off a taxi tout, and found a cleanish bit of floor to rest on for a couple of hours until daylight. About 07.00 I walked out to the street, found a rickshaw driver that didn't look overly dishonest and negotiated a ride for the 5 km or so to the ghats.
He let me off at the nearest entrance to the maze of crowded dirty alleyways that led to Manikarnika Ghat. I wandered the alleys, asked directions, and found the Shanti Guest House at 08.00. The room was stisfactory but the whole place had sort of a prison atmosphere, with a cavernous courtyard and heavy metal door-bolts.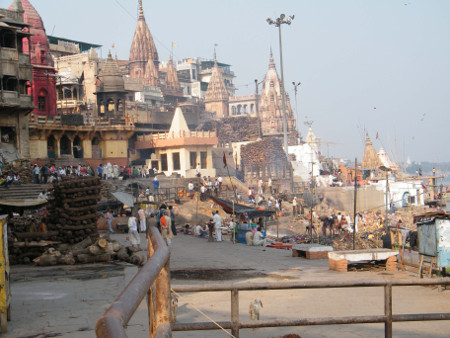 In the afternoon I walked about 100 m down to the ghat. The first thing I noticed was "What's with the large piles of wood?". Of course, this was a burning ghat, one I had seen in 1977. Funeral pyres burned 24/7. People were bringing bodies on stretchers, wrapped in brightly coloured fabrics and tinsel. They would take them to the river, immerse them briefly, and then carry them back up to the cremation areas to build and start the funeral pyre. The fire heat was intense. No photos of course.
I continued walking upstream for an hour or two, exploring ghats. Most were bathing ghats or boat launching platforms, with one or two other burning ghats. Dashaswamegh Ghat seemed to be the busiest, a centre of gathering and commercial activity.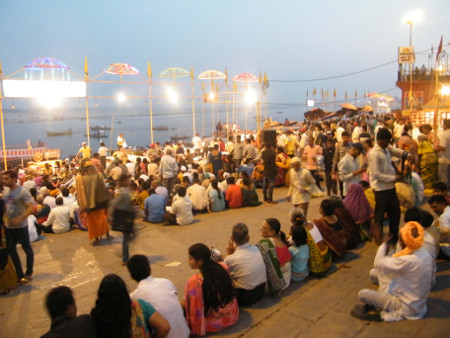 The street above were the usual Indian crowds, chaos, cows, noise and activity. Up here I could satisfy hunger with a variety of street snacks, small meals, fruit and sweets.
I spent about 3 days in Varanasi, exploring the Ganges River and its ghats, streets and shops, and the limited number of sights in this sacred and historical city. I booked a 2nd class sleeper berth train ticket to Delhi for 26 Feb at a cost of INR250, about $5.
In the evenings at 18.30 there is a 1 hour Ganga Pooja (religious ceremony) at Dashaswamegh Ghat. It turned out to be an amazing performance; mantra music, mantras and speeches, horn blowing, lights, fire, smoke, dance, offerings and candle holders floating down the river. One had to be there to fully appreciate it.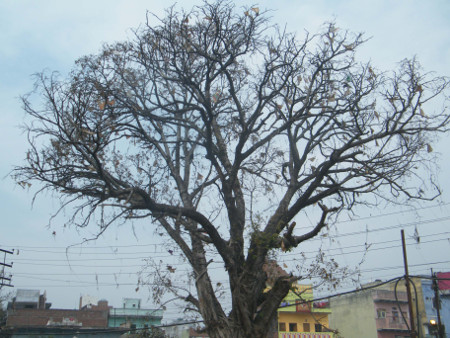 In a small, typically desolate and ugly city park I came across a nearly-dead Charlie Brown tree that, instead of leaves, was adorned with possibly hundreds of captured kites.
My guest house was offering a free 1 hour boat ride along the Ganges touring some of the ghats, which I signed up for along with about 8 others. Our gondolier guide gave a commentary of the city, river, history and some of the sites along the way. Not really exciting but it was very interesting and informative, and he didn't even take us to a silk factory or ask for baksheesh.
I had last been to Varanasi in 1977. Most of India has grown and evolved extensively since that time. But Varanasi, at least along the riverside ghats, has not changed a molecule. Loved it then and love it now.
On 26 Feb I was on the 13.55 train for Delhi. It was a good trip, pleasant typically North-Indian scenery and equally pleasant Indian fellow passengers. Dinner was a railway-catered chicken curry with dal, vegetables, rice and chapatis.
One problem with the lower bunk is that one has to fight for it. A guy was sitting on the end of the bench, I didn't have the heart to kick him off, so had to sleep with bent legs.
I arrived New Delhi Stn at 06.20, still dark. I found my old haunt, the Major's Den, on the side street in Pahar Ganj, and moved in to a smallish room with attached bath. Ready now to meet Maggie on 2 March.
I spent the next 3 days or so exploring locales I had seen in earlier years, finding new attractions, making arrangements for activities and trips with Maggie when she arrives, and of course checking out the food scene. The Chandni Chowk district of Old Delhi, Jama Mazjid and the Red Fort are all pretty much as ever. But the new Chawri Bazar metro station is a hint of modernisation; metro trains are now well established in this city. Connaught Circus, the hub of New Delhi, is in better shape than years ago, and is fitted out with many western style name-brand outlets and fast food restaurants.
One long walk took me west out to Central Ridge Forest Reserve. It shows up on a map as a large stretch of green, seemingly an inviting park. To the contrary, it was dry ugly thorny scratchy Acacia bush, difficult to traverse and certainly not a tourist attraction. No other people there, not even monkeys. Apparently the forest is restricted; trespassers prosecuted.
Temperatures in Delhi were still moderate; it was not yet summer here. Off-and-on rain dampened the atmosphere intermittently. Delhi still has its share of travel agent touts and scam artists, but people are generally friendly. Squalor has lessened, and I am not finding myself as sick as on other trips.
On the evening of 2 March I had to make my way to the airport to meet Maggie. I left home around 19.00 and walked to the Airport Express Metro on the far side of the train station. I was in the airport about 3 hours before landing time. I tried to get into the airport building, but they would not let me in; apparently people are to meet passengers outside the building. Maggie's plane landed about 22.15 and passengers all filed out of the building, except Maggie. Where was she? Pacing back and forth and starting to panic, I didn't know what to do. Then about 23.15 I could see her walking in the building looking for me. She didn't know to come out and I couldn't get her attention. The guards were adamant I could not go in to get her. After much begging and pleading, I finally managed to get one of the guards to go in and get her to come out. She must have had a shock by the approach of an armed uniformed guard telling her to come with him. But then she saw me and all was well. We didn't make it back to the hotel until 01.00 next morning. But we were together at last.
The next couple of days were a settling in period for Maggie. Never having been to India or to any comparable country, it was something of an adjustment, but one which she accomplished admirably. We wandered the back streets of Pahar Ganj soaking up the Indian atmosphere, booked train tickets to Shimla for 4 March, got sim cards for both our phones (which we ended up not using much), arranged for an all-day bus tour of Delhi sights, and taking Maggie's first rickshaw ride.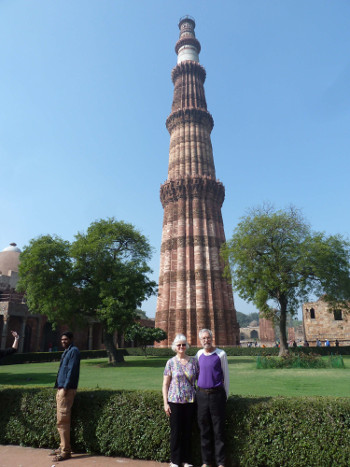 The Delhi morning tour hit the Lakshmi Narayan (Birla Mandir) Temple, Qutab Minar (an informative and worthwhile destination), the lotus-shaped Bahai House of Worship (set in green gardens and containing a large assembly hall, but not a very exciting or informative place), and Gandhi Smriti (the place where the Mahatma lived the last of his life and was assassinated). The afternoon tour went from 14.15 till nearly 18.00, and took in the Red Fort (the guides took us around and explained some of the buildings in the fort), Rajghat, the site where Ghandi was cremated, and lastly Humayun's Tomb (actually several tombs, a monument preceding the Taj Mahal, and containing some of the same architectural styles). The tour was OK but a bit disorganised, the two student guides seemed to favour rules and regulations over information, commentary was somewhat sporadic, and their hearts didn't seem to be totally in it.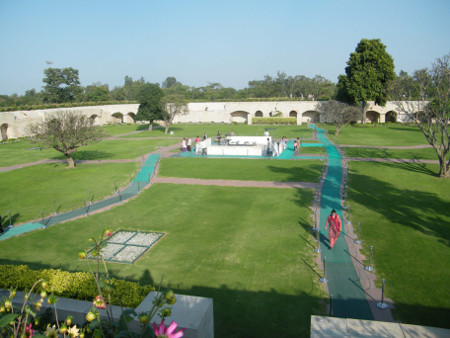 On the evening of 4 March were to catch our train to Shimla in the mountains of Himachal Pradesh. All day I had been developing Delhi Belly and by the end of the day was quite weak and sick. We checked out of the hotel with all our gear at 19.00, took the metro to Chandni Chowk station, walked to the nearby Old Delhi Railway Station, and into the usual station chaos about 18.45.
Our train was to leave at 21.30, but I could not see it on the display board. I did find out it's probably on Platform 5, so we tried to settle on the cleanest part of the floor in that crowded platform. Entertainment was in the form of watching guys pissing on the tracks in front of us. I went to check to confirm the departure, and after much confusion and enquiry, found out that the train was to be at least five hours late. The way I was feeling (and I was getting steadily worse with runs and weakness), what a blow! But some kindly locals advised us we could go to a waiting room, which we did and found seats to rest on. There we met and made friends with others who were also going to Shimla; company in misery.
Our train did eventually arrive, more like 7 hours late. We were able to leave I think around 05.00. We had lower berths, and were able to stretch out, cover up as much as possible in the chill, and get a little sleep. We reached Kalka, at the end of the plains and next to the hills, about 10.30. I was wondering what to do about transport from here; would the connecting train to Shimla have left hours ago? Then I saw our friends running along the platform; they must have found out that the toy train was still waiting for us after all this time. We rushed too, found the train, showed our ticket, and got our seats.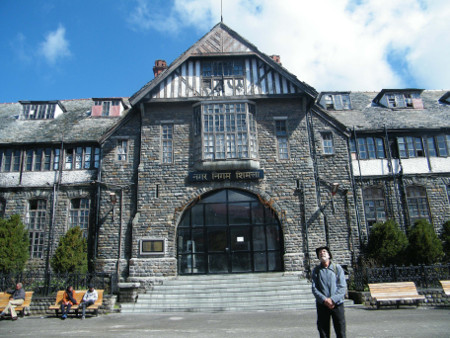 The toy train was a pleasant but long trip, steadily up a 1/25 grade, through the hills and countless curves and tunnels and many village stops, from 900+ metres at Kalka to just over 2000m at Shimla. We arrived in a cold damp Shimla approx 17.00. Walking the 15 minutes or so up the main street to and through the Victory Tunnel, we found the Hotel Ganga, obtained a "semi-deluxe" room and rented a radiant heater to combat the cold. Dinner that night was a somewhat ordinary dal baht meal in a cold dhaba restaurant near the bus station. But I was starting to feel better from my sickness as we cleaned up and went to bed with the heater on. We slept well under heavy blankets.
Shimla, one of the premiere hill stations during the Raj period, was cold and damp everywhere, and not as pretty or resorty as anticipated. I expected pleasant, scenic ambiance, as at Kodaikanal, Manali or McLeod Ganj, but on arrival it seemed a cold wet grotty jumble of traffic and overpriced mediocre hotels. Not the ideal place for our 12th anniversary.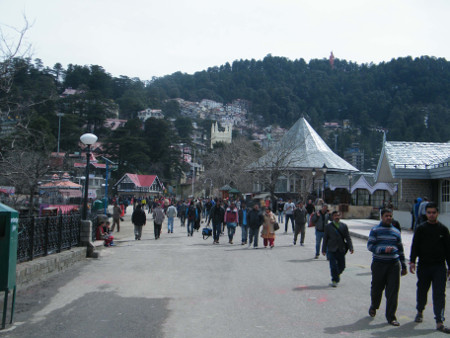 Next morning was sunny, but still wet and dripping from melting roof snow and icicles. After a breakfast of vegetable parathas and lassis, we set out to look around. We realised that the reason it was so drab and unexciting here, was that we were on the lower-level Cart Road, the level of the transport stations etc., and nowhere near the bazaar or the Mall level.
After climbing up alleys and steps through local shops and restaurants, we reached the Mall level which is the main "touristy" part of town. Here were many of the historical public buildings, restaurants, bars and sights of Shimla. Maybe it's not such a bad place after all.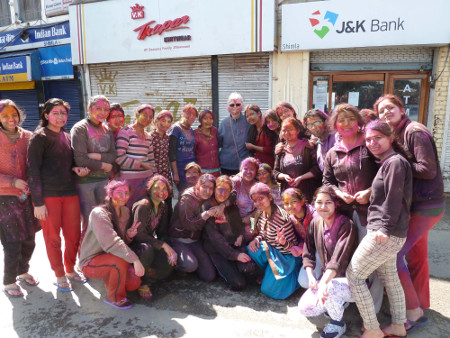 Holi Festival was on, and we were accosted numerous times by joyous Indian people shouting "Happy Holi" and attacking us with brightly coloured dye. Our faces were soon covered with the stuff, scattering onto our jackets and pants as well.
The friends that we had met in the Old Delhi Railway Station and on the train were dancers and were to give a Krishna dance performance at the Ganj Temple at noon today. Adjacent to the temple in a nearby plaza a large number of dye-covered people were loudly and gaily dancing to music. Eventually our friends, a guy and a woman, appeared in full fancy Ramayana dress to perform the Krishna dances. Although not fully polished professionals, they were nonetheless very good and entertaining.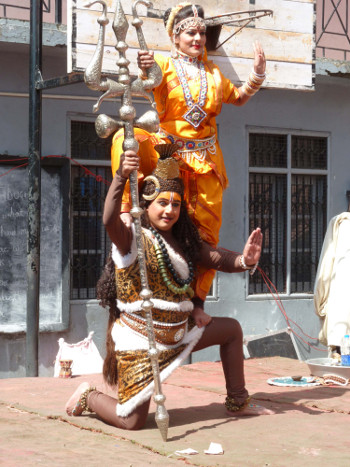 Unfortunately, just as I was feeling better from my sickness yesterday, Maggie started to feel bad from maybe the same thing. We had to leave the performance and find our way to a washroom and then back toward home. It was a long haul for Maggie in her condition to walk back down Mall road to the hotel. Straight to bed for her to try to warm up and rest.
In the early evening I walked up to and along Mall Road to Ridge Road, Scandel Point and the Ridge. Here is the main gathering plaza of the town and point of magnificent views over surrounding suburbs, hills and snow-capped Himalayas. There were hordes of people all in evening promenade mode, now much more subdued than during the noise and chaos of the colourful daytime. People walked back and forth, took pictures, ate ice-creams or took horse rides. The nearby lower street was a kaleidoscope of fashion shops and boutiques and food stalls. Interestingly, nearly all the tourists were Indian, very few ferangis in Shimla.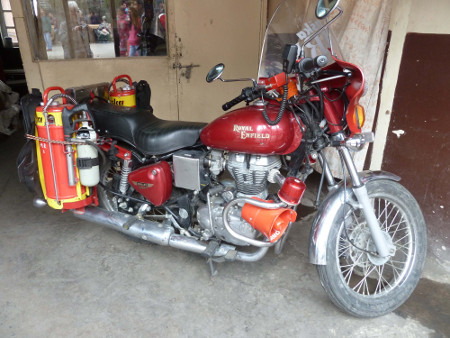 The next day our principal activity would be the steep 2.5 km climb from the Ridge up to the Jakhu Temple. It consists of steep switchback streets through built-up areas and deodar forest, to the giant orange Hanuman statue which can be plainly seen from the town centre. Rhesus macaques run around everywhere. We were encouraged to take sticks to fend them off, but we didn't have any problems with them. Some patches of snow on the path made it a bit treacherous, but again we survived. At the top of the hill was the Hanuman statue, quite impressive from close up, the temple (itself dedicated to the Ramayana Monkey God), ancillary buildings and views partially blocked by deodars. A sign at the bottom graded the walk, saying that people 55-70 age would be extremely fit to do it under 55 minutes. We did it in 35 minutes.
Lunch was at the Raj-era Indian Coffee House. The ICH is a Shimla icon; dark wooden tables and chairs, uniformed waiters in white with Indian-style uniform hats, and walls/ceilings stained with a century of smoke.
Dinner was to celebrate our 12th anniversary of meeting, we decided to splurge on a welcome change from Indian food. At Dominoes Pizza we enjoyed a large deep-dish chicken salami pizza. I also had a cream-filled pastry for dessert.
After 3 days in the hill station, we were on to Chandigarh, the purpose built grid-patterned capital city of Punjab and Harayana. At the Hotel Satdayeep on Himalaya Marg we got the nicest room we've had yet, pleasant and wonderful to be warm.
I read in the Indian papers that the weather in north India has been uncharacteristically, even record-breaking, cool and wet the past week or two. That's what we've been feeling, so it's not just us.
Chandigarh's premiere tourist attraction, and the reason I brought Maggie here, is the Nek Chand Rock Garden. More about that later.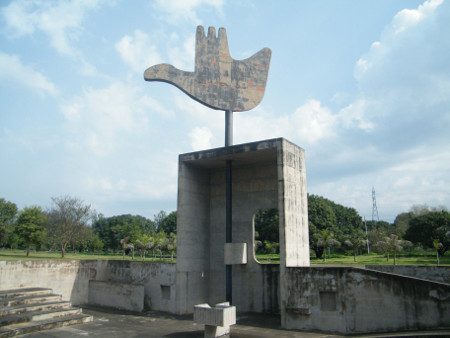 First stop in Chandigarh was the High Court and the "Open Hand" monument. The hand was deigned by the city's architect Le Corbousier as a symbol of openness and sharing. The sculpture was somewhat enigmatic, a large strangely shaped rusting metal construction set in a deserted concrete plaza, to me not evocative of genius and even slightly ugly. The court building itself is a large wave-design edifice, crowded with security personnel and scurrying barristers, and relaying the impression that things legal are big business here.
Next was the Rock Garden. I had been to the garden in 2008, but it was Maggie's first time. From Maggie: "It was started by an artist from Bengal in the 1960's, and contains sculptures and designs made up mainly of discarded rubble (broken crockery and bathroom fixtures, broken bangles, smelting clinker, electrical insulators, etc.) from the building of the city, it's a fantasyland of weird and wonderfully artistic representations. The park is essentially a linear path winding its way around and up-and-down through the various canyons, waterfalls and sculptures, taking maybe an hour or two to see everything and exits out through a 1.5 metre high hobbit-hole. I totally loved this place! The entrance fee was 50 cents each."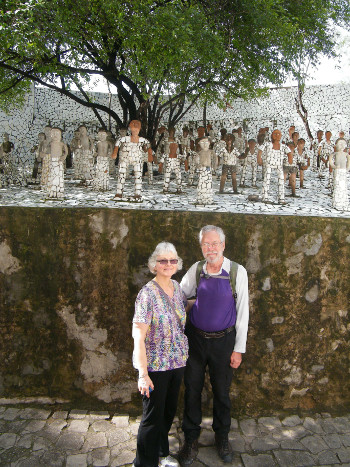 From the Garden, we proceeded down the road a km or so to Sukhna Lake, an artificial lake and park used as a recreational facility. It's a pleasant and relaxing place to sit for a while and contemplate our joy of retirement.
On 10 March we were off to Khanna, Punjab, to see our Sikh family friends. A local bus took us to Chandigarh Sector 43 ISBT, another bus onward to the town Sirhind, and a third bus to Khanna at noon, a total of 3 hours journey. I phoned my friend Tinku and his father Gurmeet meet us at the Khanna bus station to drive us home to Gill Villa.
So started a relaxing stay in a holiday atmosphere. The place had not changed much since 2009 and most of the people were still here. As I had noted on previous trips, Gill Villa is a beautiful elegant abode, and staying here is like a resort holiday. The people are casual, warm and welcoming; so pleasant to be here. Khanna is not a tourist city; there are no attractions. We whiled away the next 4 to 5 days visiting with the family, reading, contemplating our navels, exploring the Khanna markets and taking walks. Khanna has been built up a lot since I was here last, but is still a lively kaleidoscope of sights, sounds and scents. The main Grand Trunk Highway through town is in the process of being upgraded, adding to the chaos of the place.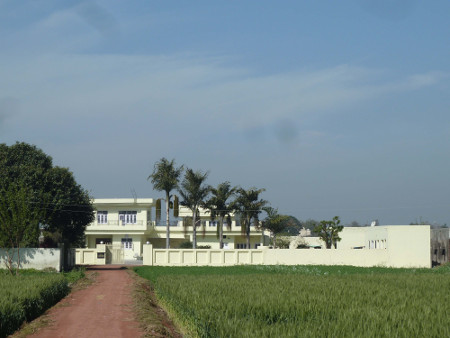 Maggie was still sick, and Tinku volunteered to take her to a doctor. It was about a 5-minute consultation, and she got 4 types of tablets, mostly antibiotics, all for a little over $3. Her health slowly improved from the medications and the diet of home grown and home cooked nutritious meals. Gurmeet grows most of what we eat so all food is fresh.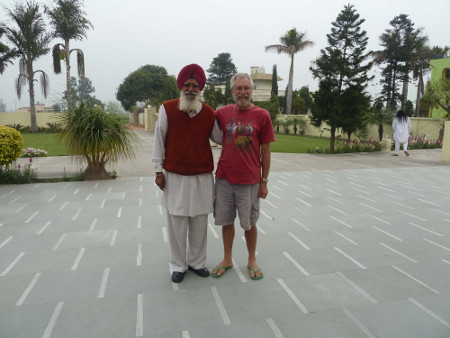 One day Gurmeet's brother Jasweed generously volunteered to take us around in his car to see some sights; the Purani Serai (now named Lashkari Khan Serai), a large Gurdwara (Sikh temple), and Jasweed's school for a visit to his large and impressive Principal's office.
Another day, Maggie and I went into town with Deepinder and Karmel to shop for Maggie. She purchased an Indian shalwar-qameez-shawl dress suit, a gold ring and a jeweled gold bracelet. Back home she tried it all on and it looked STUNNING. What an outfit! What a value! What a girl!.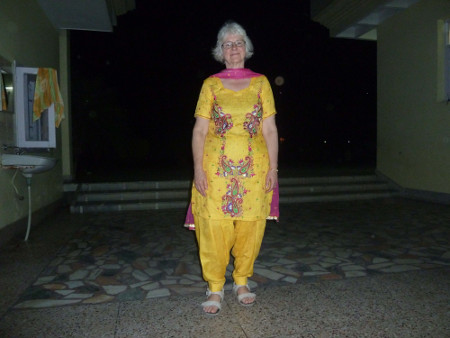 I had numerous problems with computer and booking tasks, such as applying for Sri Lankan ETA visas, booking flights from India to Sri Lanka, working out train bookings to go south, and credit card functionality. It seems extraordinarily difficult to obtain train tickets; they seem to be booked out for weeks in advance and require much jiggery-pokery to come up with something. But, with Tinku's help, we ultimately triumphed with our Sri Lanka ETA's, a train from Khanna to Jalgaon in Maharashtra on 15 March, and flights with Sri Lankan from Madras to Colombo for 6 April.
On my 66th birthday, 14 March, we had a birthday celebration, with Maggie decked out in her new outfit. Our hosts put on a western-style birthday cake. It was decorated with "Happy Birthday Sanford" and heavenly considering I haven't had cake since leaving Australia.
On 15 March, after an idyllic stay with the Gills, we headed straight to southern India. Tinku took us to the train station for an 08.40 departure.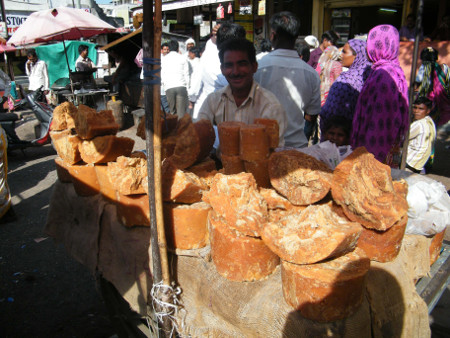 It was a pleasant enough train trip. Indian people, at least those who aren't trying to sell you something, are among the nicest people on the planet. We made immediate friends with the people around us, most of whom spoke no English, and had amiable if uncertain conversations. Our train passed through Delhi after noon, through Agra later in the day, and on to Jalgaon, arriving next morning around 09.00 after a 24-hour journey. We easily found a nice room in a hotel near the station. The south was pleasant and not as hot as expected. The attractions of this part of India were the magnificent world heritage caves of Ajanta and Ellora. I had heard about these caves on previous India trips, but had never until now had the chance to actually visit them.
We would go to Ajanta Caves tomorrow, on to Aurangabad that night, to Ellora Caves on the 18th, return to Jalgaon, and to Chennai on the 19th. Again we had to go through hoops to score our train tickets to Chennai, but ultimately prevailed with upmarket 3-tier air-conditioned class.

From Maggie: "The Buddhist Ajanta Caves are quite old, from 2nd century BC to 6th century AD. The 30 caves are set in a horseshoe shaped cliff face and typically consist of an excavated chamber with Buddhist statues in the sanctum and paintings around the periphery, walls and columns. Ajanta is noted for its paintings and for their remarkable preservation over 1.5 to 2 millennia. There are few other examples from ancient times matching their artistic excellence and these paintings are considered to be of unfathomable heritage value. We enjoyed going through the caves. Unfortunately in order to preserve the paintings the lighting in the cave made it difficult to actually see all the detail that was there and even harder to get any really decent pictures."
Also from Maggie: "The next day we took in the Ellora caves. This cave site is not a vertical cliff like Ajanta, rather it is a sloping rock face, so some of the "caves" are actually open-cut, and therefore exposed to the sky. Ellora Caves don't have the paintings of Ajanta; the attractions here are the magnificent sculptures and the sheer scale of some of the excavations. The caves date from about AD600 to AD1000, and are in 3 main groupings; a Buddhist group, a Hindu group, and a Jain group (the latter too far away for us to bother with). The main temple to see was the Kailasa Temple, a vast open-cut complex of temples, rooms and sculptures. It had been sculpted from the top down, so everything there - and there was a lot - was part of the solid rock. 200,000 tonnes of rock had to be removed to build it. It was truly impressive. Both Sanford and I agreed that the Ellora Caves are arguably even more remarkable than Ajanta. The quantity and detail of sculpture is amazing."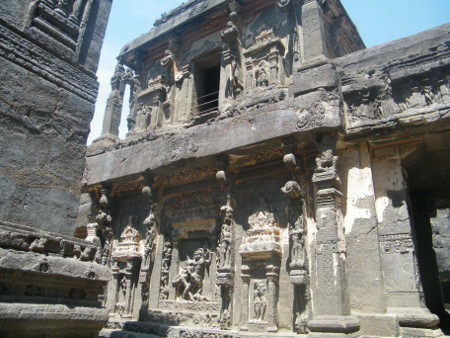 On to Chennai (Madras) on 19 March. Our train would leave at 17.00 and arrive Chennai 16.05 next day. About 16.15 we moseyed down to the Jalgaon train station to wait. As we had 1st class tickets we could use the VIP waiting room and washrooms. The subsequent trip was comfortable with a good class of people, air-conditioning, soft bunks and supplied bedding. We met a pleasant and outgoing Gujarat group in the next booth, who gave Maggie an amazing massage and hair treatment.
The train was in Chennai Central after 17.00 next day. We took a beautiful A/C room, at nearly $50 the most expensive on our trip so far, at the pre-booked YWCA Guest House.
Chennai is, as it was in 1990, big hot and chaotic, without a lot of attractions or reasons to hang around. By this time we'd already made up our minds to move on to Mahabalipuram (Mamallipuram) next day. Maggie drew up a schedule for the remainder of India; about 3 days in "Mamalls", 4 days in Pondicherry, 4 in Kodaikanal, 1 in Madurai, and back to Chennai for the 6 April flight.
After only one night in Chennai we made our way to the main Chennai bus terminal and found a bus on to Mamalls. On the road I found curiously frustrating the presence of numerous police-installed chicane-style road barriers every few hundred metres, even on the toll road. They effectively rendered a 2-lane road into a single lane, with opposing traffic having to wait. The only reason seemed to be to further slow the already-slow traffic.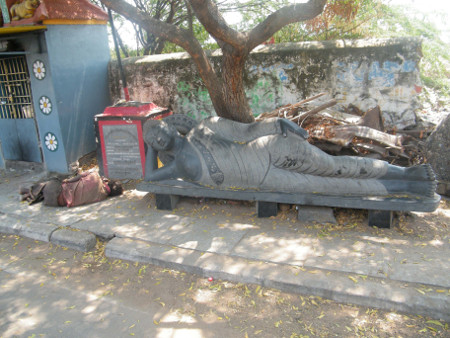 Mahabalapuram is a typical backpacker tourist destination; streets crowded with travellers, hotels, tourist restaurants, souvenir/craft/clothing/sculpture stores; everything the backpacker may or may not want. Its main attraction is an array of historical Hindu temples and sculptures dating back about 1400 years. A block or two down the street from our hotel is the beach strewn with fishing boats and seafood restaurants, faintly reminiscent of Puri in 1990.
This feels like the start of the slow relaxed laid-back part of our trip. We have 2 or 3 full days here with not a very busy schedule. Perfect to get into real holiday mode. One of the few problems though is the unrelenting heat; no room A/C and even difficult to get refrigerated food.
Mahabalapuram is famous for its heritage-listed Palova temples. Maggie will provide a feel for some of the too-numerous-to-describe sites:
"It was the major seaport of the ancient Pallova kingdom and this town is filled with great, World Heritage-listed temples and carvings. Most of temples and rock carvings were made in the 7th century during the reign of King Narasimhavarman II, whose nickname was Mamalla meaning great wrestler. It was after him that the town was named.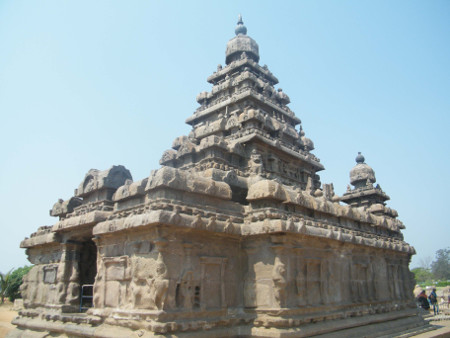 "I won't give a day-by-day synopsis of the sites we saw but rather will just highlight a few. I loved the approach to the Hindu Shore Temple dedicated to the Hindu god Shiva. It stands majestic in the sand with nothing nearby and overlooks the ocean. The two tiers indicate the heights of Pallova architecture and their maritime ambitions. Unfortunately the many statues and reliefs which were once finely carved have taken a toll from erosion.
"The Five Rathas are 5 house-size temples huddled together and each sculpted from a single large rock. The word Ratha is Sanskrit for chariot, and may refer to the temples' form or to their function as vehicles for their gods. Each Ratha was dedicated to a Hindu God; Durga, Shiva, Vishnu, Ardhanarishvara, and Indra. Each temple also has outside a sculpture of each God's respective animal vehicle. The temples were beautiful and worth-while, but not very spectacular or grand.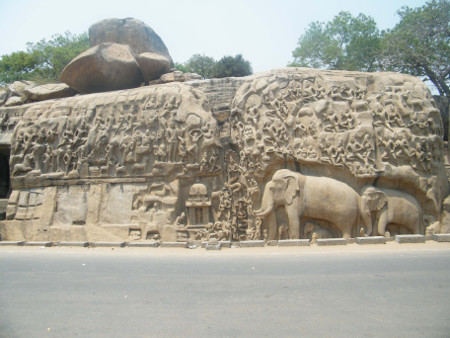 "Arjuna's Penance is a giant relief carving and one of the greatest works of ancient art in India. It is an incredibly large and intricate relief sculpture on a granite boulder, bursting with scenes depicting Hindu legends and everyday vignettes of South Indian life. There are also many wonderfully carved animals, including a herd of elephants and a cat performing penance to a crowd of appreciative mice.
"Krishna's Butterball is an enormous granite boulder that appears precariously perched on a stone escarpment. The rock is about five meters in diameter and is resting at an angle of 45 degrees. It weighs over 250 tons and miraculously stands on an extremely small, slippery area of a hill. In 1908, Arthur Lawley who was the Governor of Madras, considered the boulder to be too dangerous to have around. Fearing that it would slide off the hill at any time, he ordered it to be moved with the help of seven elephants. However, the rock did not move an inch and the Indian government gave up, leaving Krishna's Butter Ball where it is now.".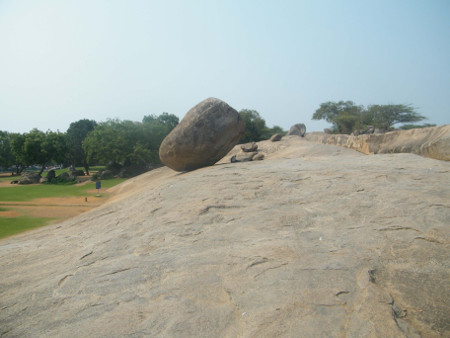 At a nearby theatre they were playing a couple of short films in "7D". It was a multimedia presentation incorporating 3D, loud sounds, vibrating and moving seats, wind, water spray and light flashes. One film of 20 min was a historical doco on the Pallava Dynasty and the creation of the stone temples. The other was a short animation of a magic/adventure show. All a bit weird, but interesting to see once, and it was wonderfully cool and damp and windy in there.
I had thought I was tough or charmed, only being sick once briefly so far. But on my last day in Mamalls I started to again get sick with moon-river and fatigue. Despite my sickness, on 25 March it was time to move on to Puducherry (Pondicherry). We caught a bus at 11.00 for a good 2-hour run. A tuk-tuk drove us to the Kailash Guest House in the north of town, where we yielded to my illness and checked in to an A/C room.
Pondi is a typical hot noisy chaotic south-Indian city, but it also has some quaint charming areas, such as the tree-lined street the guest-house is on, the nearby shopping street and the French Quarter in the south. It's not a huge city, and mostly walkable. There are not the major temples or other attractions of Mahabalipuram, rather the attraction is ambiance and a few low-key sights.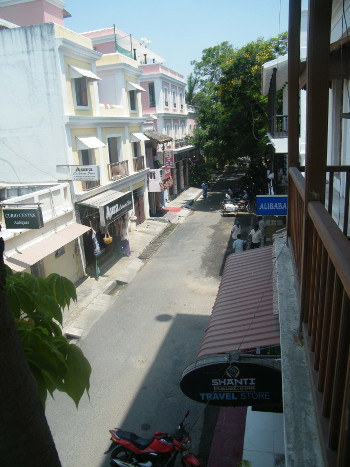 Some of the attractions in our 3 days included:
-the Goubert Ave waterfront, a broad promenade above the rocky sea-wall which extended south to the French Quarter
-the pretty (by Indian standards) Baharati Park and nearby Governor's Residence
-the Sri Manakula Vinayagar Temple, where Maggie was hoping to get the standard pat-on-the-head from the local elephant. But the temple was undergoing extensive noisy and dirty renovations, and the elephant was nowhere to be seen
-the French Quarter itself, along Roumaine Rolland St, Goulbert and back along Labourdonnais St
-Mission St with its many boutique stores
-the beautifully painted Our Lady of the Immaculate Conception Cathedral (reminiscent of some of the cathedrals we saw in South America)
-the Goubert Market on Mahatma Gandhi Marg, a large and interesting market displaying the usual array of seafood, fruits and vegetables, spices and consumer goods.
I felt my health rapidly improving in Pondi and I was able to eat now.
One of our main eateries was the Indian Coffee House, an atmospheric dark-wood traditionally-styled establishment reminiscent of it's namesake in Shimla, with a big white-on-black government-style menu on the wall. It offered masala dosas, idlis (rice cakes in sambar curry), omelettes, chapati and parathas amongst other south-Indian fare.
La Pasta was a small Italian Restaurant just down the street from our hotel. It was run by Italians, and they whipped up a very good home-style done-with-love penne dish, one of the best tasting meals I'd had yet in India.
In the French Quarter was the upmarket Satsanga continental restaurant. In a pleasant comfortable setting with fan cooling we had drinks, a pepper fillet steak (3 pcs) and fries, Greek salad, soup and garlic bread. They were excellent meals and made us both feel great; not wanting to leave.
Next stop was the hill station Kodaikanal, the "Gift of the Forest" that I had enjoyed so much on my 1990 trip. On the evening of 28 March we were down at the Parveen Travels bus office to wait for our 23.30 night bus. Our bus traversed endless suburbs, followed by open highway, approached hills around dawn, and commenced the long climb along a paved but winding road up through bush and villages to the sunny and refreshingly cool town Kodaikanal.
I had booked a room at the Greenlands Youth Hostel, where I had stayed in 1990. The bus dropped us at a hotel on the wrong side of town, and I put Maggie's loyalty to the test by walking with full packs the 2+ km to the hostel. Boy I'm lucky she likes me. Anyway we finally made the hostel and moved in.
The setting and view are beautiful as 25 years ago. We would be here 5 days basking in the 2 km high cool and tranquility. Maggie loved the place, mainly for its pleasant laid-back atmosphere, non-strenuous activities and cool climate. Weather was mostly dry and we spent the next few days on short excursions around town, longer walks outside and relaxing interludes in our room and on the balcony.
The town has of course grown a lot since I was there before and streets are now solid souvenir, clothing and craft shops and eateries. Some activities: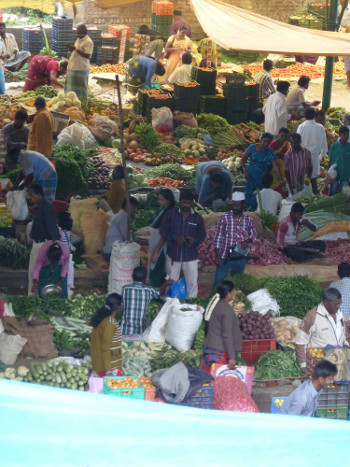 - On Sunday, the colourful Sunday fruit/veg/fish/everything market was in full swing.
- A leisurely 2-hour 5km walk clockwise around the lake. A few rental paddle boats and row-boats plied the waters. Rental horses amused us; people, mainly women and children, rode on the horses, and their handlers pedaled in front on bicycles holding the reins. At one place a guy had a little "shooting gallery" set up; several small balloons tied to a board and a few pellet rifles, with which you shot from a distance of about 3 metres. No prizes, just for fun. Maggie had a go at 5 shots for R10, her first time ever with a firearm. She had a great time, hitting 2 or 3 out of 5. Maybe I'd better have a bit more respect (fear?) for her.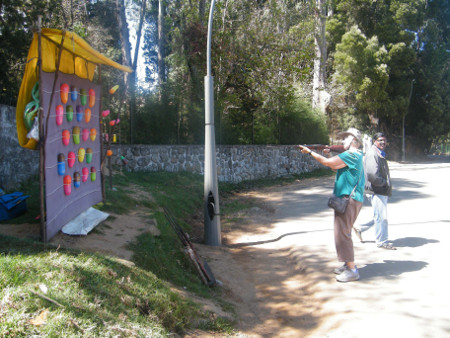 - There were also a few rental outlets for pedal boats and rowboats. Lonely Planet guide says, "If you're sappy in love like a bad Bollywood song, the thing to do in Kodai is rent a pedal boat." We did this, not because we were sappy and in love (well maybe we are) but Maggie wanted to do this because she had lost a lot of weight and wanted to see how she went now in a small boat (she did marvellously). We had fun and stopped some other peddlers to snap our picture.
- A walk to Bear Shola (shola means native forest) Falls, about 2.5 km away. I had been there years ago and wanted to check it out again. It was a pleasant and not too long or steep walk, first along streets, then a path into the bush along the creek bed. The forest was wonderfully green and pretty. The falls were dry but, despite garbage around, is still a tranquil pretty place. We meditated a while in solitude at the bottom before leaving.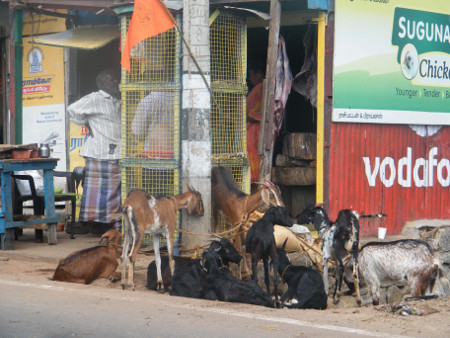 - I took a longish walk to Chettiyar Park, a neatly hedged, sculptured and manicured park in the north-east of town. On the way up I found a small butcher shop with a couple of goat carcasses hanging in the shop and about a half dozen unsuspecting goats tied up in front. On the way back about an hour later, I saw only one skinny goat left in front. Quite a turnover!
- Bryant Park with its pleasant paths, flower gardens, tall gum trees, a couple of Buddha trees, a greenhouse and sculpted hedges. It was pretty, but looked a bit shop-worn in parts, and somehow didn't quite all blend together aesthetically.
- The short 10-minute but with great views Cokers Walk, starting near our place and stretching along the edge of the escarpment. We could see over the lower town, surrounding hills and valleys, but the sun was in the wrong direction for good photos.
- In the evenings at the hostel, after our activities, we could sit on the balcony and survey the distant plains below. Lights shone from far away towns and villages, punctuated by distant lightning overhead; a magical scene from our patio chairs.
We enjoyed quite a variety of tasty meals, including parathas, apadam (small dosas), tandoori chicken, thalee meals, masalas, Tibetan thupkas (noodle soups) and momos (dumplings), veg burgers, chicken curry, idlis (rice-flour cakes) and the ubiquitous bread omelettes, with snacks of bananas, coconuts, pineapple, lime drinks, cakes and corncobs.
It was to be Maggie's birthday soon, and we may be in transit on that day. So we decided to have a birthday dinner here. Having had our fill of Indian food for the present, we settled on Cloud Street, a restaurant run by westerners doing mainly continental cuisine. We settled in to a table next to the fireplace. It turned out to be a fantastic meal and evening. Following pre-dinner drinks of lime juice, Maggie had a large chicken salad made from a variety of vegetables, fries, and a large serving of roasted vegetables. She hadn't had so much vegetables at once since Canada. I had a good potato soup and a large wood-fired chicken/onion/capsicum pizza. For the birthday dessert they were able to pre-make a low-sugar apple crumble. It was somewhat hilarious that they put 3 candles on the crumble for Maggie to blow out. But all they had were joke candles that re-light when you blow them out. So she blew and blew and blew, until the hostess finally removed the still-burning candles and beat them out with a fireplace log. It was a great dinner event.
On 3 April we were sad to be leaving KKL; it was really a relaxing place, pretty much as good as it was in 1990. But we must leave today for Madurai. Our bus departed at 09.20 for the four-hour trip. The only delay was from a minor accident when a car hit the side of the bus. Once in Madurai, a tuk-tuk took us down-town, where we got a fan room in the TM Hotel near the railway station. The fan room may have been a mistake, as Madurai was over 40 deg that day. Maggie thought it was the hottest place we've visited yet.
There is only one do-not-miss site in Madurai, the vast sprawling super-ornate Meenakshi Amman Temple. I had been there in 1990 and thought it worth returning to.
To the east of the temple, near the main entrance, is the Pudhu Mandapa, a 100m 16th century pillared hall with large ornate sculptures on the walls and pillars. The edifice is now a busy market dealing with consumer durables and busy little tailor shops.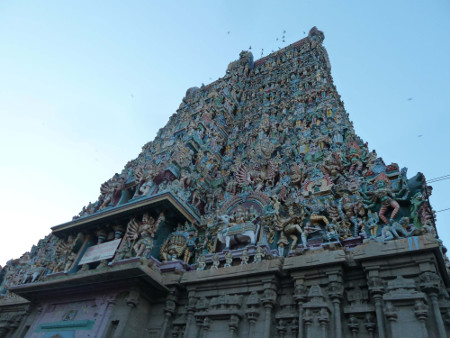 To enter the temple we had to run a gauntlet of footwear deposit and security checks; Maggie wasn't allowed to bring in her camera and even had to pay for its storage.
The temple is dedicated to Meenakshi, the 3-breasted Goddess who would shed her superfluous breast when she met her husband Shiva. It represents the nadir of South Indian temple architecture, a vast complex with 4 main gopurams or towers at the cardinal points, each a wonder in itself with its incredible array of colourful and detailed sculptures. The interior consists of pillared corridors and rooms, courtyards, a water "tank", sculptures and souvenir stalls. One of the interior temples is Shiva's resting place; another is that of his consort Meenakshi (Parvati). Near the east entrance is the "Thousand Pillar Hall", now an art museum (R50 entry) with display cases containing small bronze and stone sculptures of deities. Also in the temple was a resident elephant, providing for R10 a pat on the head with its trunk. Maggie, having missed the head-pat in Pondi, took the offer up.
The following day was Maggie's birthday, unfortunately most of which was to be spent on the move. We purchased unreserved rail seat tickets to Chennai Egmont, and were on the train at 06.40. Assuming we could sit anywhere, as other people had been doing on previous train trips, we settled into empty seats on the first seat carriage we found. But after travelling some distance the conductor told us we could not sit there, and had to go back into chaos class in the last 3 cars. Luckily the Indians are extremely friendly and accommodating, and one of our fellow passengers helped us find seats.
Alighting at Egmont Station at 15.00 after 8 hours, we walked through unrelenting heat to the YWCA Hostel and took an A/C room for 2 nights. After dinner, to celebrate Maggie's birthday, we went to the same bar we'd visited once before and had pleasant birthday drinks.
On our last full day in India, Maggie chose to stay home and work on her blog entries and emails. I took a long walk through central Chennai and to the broad Marinas Beach. The beach was crowded with people swimming, beach walking and patronising the myriad of food and souvenir and other stalls set up along the beach and the main access path. To return home I found a bus back to Egmore Station.
It's 6 April and we were to say goodbye to India and set off to, for us, a brand new country. At 06.20 we were in a taxi from our hotel. It took something close to an hour to get to Chennai Airport through sometimes heavy traffic and past multiple construction sites for the new taking-forever-to-complete Metro line. On the way, a guy on a motorbike hit the taxi, the second accident we witnessed on this trip. I think it happened because the taxi guy stopped suddenly for a red light, and other drivers are not used to this behaviour.
The 1.5 hour flight to Sri Lanka, left at 09.55.
This has been my fifth trip to India. It has overall evolved and modernized a lot since the 1970's, particularly in the infrastructure, consumerism and wealth aspects. It appears less pestilential than before, or am I just getting used to it (?). People here are among the nicest and most helpful anywhere in the world. However some aspects such as slum life and transport chaos haven't changed. I still like the country, but having been here so often, it is starting to have a done-that impression on me. I may be back, but am starting to run out of places to see.
Sri Lanka
In Colombo Airport at 11.30, we collected our bags, came through Sri Lanka immigration no hassles, and changed some money. We had been getting sick of the unrelenting heat in most of southern India, and it was also hot in Colombo. So instead of staying here, we would catch a bus into town and then a train straight up to a hopefully cooler Kandy in the hills. Our bus dropped us in the crowded and hectic Colombo Pettah Markets by about 13.15. It took us a few minutes to organize ourselves and then push our way through the crowds and stalls out onto the street and along a half km or so to the Fort Railway Station. Standing in the very orderly queue (Hey we're no longer in India!) we bought second class seat tickets to Kandy leaving at 14.35.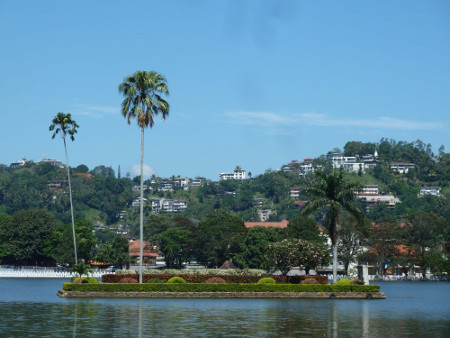 The train trip was good with comfortable seats and wind through the window. The carriages and tracks seemed very wobbly though, and the train swayed disturbingly for much of the trip. The people in the carriage, mostly men, stuck to themselves and did not have the gregarious nature of the Indians. The trip was shorter than we expected; suddenly we were in Kandy Station not much after 18.00. At an elevation of 0.5km it wasn't as high as expected, and was still quite warm.
We were pleasantly surprised to find that Sri Lanka is remarkably clean and tidy, very little garbage around and even the slums are not that grotty. A bit of background on Sri Lanka from Maggie: "This country was formerly known as Ceylon and has a population of about 21.5 million. It is known for its diverse wildlife, lush tea plantations, and miles of beaches. The country has a lot of ethnic and religious diversity and is home to several ancient Buddhist sites, Hindu temples, and impressive Colonial-era buildings. Sri Lanka has survived through Civil War (1983 - 2009) and the tragedy of the 2004 tsunami and is now steadily moving towards peace and prosperity."
Kandy is a pleasant easygoing place to spend a few days. There are several sights and activities in and around the town. In our three days we included:
- The 4 devales, or temples, host the 4 guardian deities of Kandy. They are spread around the town a bit, but mostly near the Tooth Temple.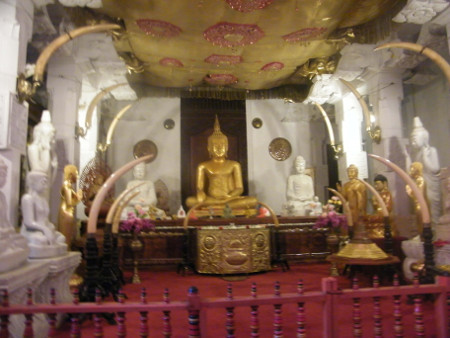 - The Temple of the Tooth is a complex of buildings that were mostly formerly the royal palace. The Buddha's Tooth is Sri Lanka's most important Buddhist relic. Legend says it was salvaged from the Buddha's cremated remains in 543 BC. It is surrounded by so much legend and mythology as to make it in my mind of dubious authenticity. The Tooth itself is not on display (hard to know even where exactly it is located), and the main attraction of the temple is simply to explore the complex and its contents.
- The Bahiravakanda Buddha is a large white lotus position Buddhist statue on a hill to the west of town. It was about a 2-3 km walk through the town to get to the hill and then up the road to the shrine. One can climb steps up the back of the pedestal to the base of the Buddha, from which there are good views of the city and lake.
- The Udawattakele Royal Forest Park stands above the Tooth Temple. We could walk a 4 km circuit past a small lake and through lush green forest along unsealed roads named after British colonists' wives. Even though there was very light rain most of the way, and herds of leeches, it was still a pleasant walk.
- One late afternoon we attended a classical dance performance at the nearby Cultural Centre, also near the Tooth Temple. It was a good, but not great, hour-long performance of various types of Sri Lankan dance and music, with drums, shell horns, elaborate costumes and fire walking.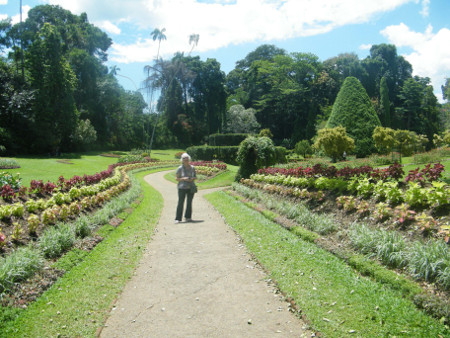 - We took a one-day tuk-tuk tour to a few of the sites within a short distance of Kandy; specifically the 3-temple triangle, a spice garden/factory, the Peradeniya Botanic Gardens and the Ceylon Tea Museum. First was the Embakka Devalaya Temple. This temple is dedicated to the guardian deity Kataragama, and is known for the intricately carved wooden pillars of the Drummers Pavilion, portraying floral, hunting and wrestling scenes. A large Buddha is in the main shrine behind the pavilion. Next the Sri Lankathilaka Temple, a big bright white edifice on a rocky hill, with Buddha images, a seated Buddha statue and two guardian elephant-lions. We accessed it from a long steep flight of steps on the east side, quite a climb in the heat. Third, the Gadaladeniya Temple situated on a rock. It consists of a cruciform subsidiary shrine with 4 Buddha images, and the main stone temple with a golden Buddha and surrounding sculptures. The "Spice Garden" was a small establishment growing several types of herbs and spices. An alleged ayurvedic medicine specialist was there to show us and describe the spices and the medicinal and cosmetic products derived therefrom, with a definite commercial/sales tone. The Peradeniya Sri Lanka Royal Botanical Gardens was my favourite place of the day, and we could easily have spent more than the couple of hours we had there. It was a large beautifully laid out and maintained garden with sections for each type of plant, connecting walkways, open areas, palm-lined avenues and all aesthetically fitting together. Of special interest were the palm trees, figs, orchids, cacti and ferns. Wonderful! The Ceylon Tea Museum was situated in a disused factory surrounded by tea fields. Exhibits included tea processing machinery and equipment, history of tea, and info and memorabilia on tea pioneers Lipton and Taylor.
A recurrent, and not particularly welcome, visitor to our room was one of the local rhesus monkeys. If the window was open, it would boldly enter the room to start looking through and handling some of Maggie's possessions below the window. One morning I was prodded awake by a panicky Maggie shouting, "Sanford, Sanford! There's a monkey in the window! He's coming in!" I had to jump up and shout at the monkey to get it out the window before it stole something. Of all the nerve!.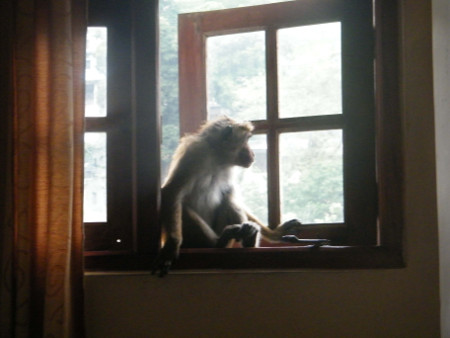 Maggie had been looking for a change from the spicy Indian food, but was overall disappointed. It seemed to be generally more of the same in Sri Lanka, though with some local variations. I lapped it up but she would have liked less seasoning. Meals in this country ranged from curries with rice, fried noodles, biryanis, omelettes, boiled vegetables (she loved these), parathas, rotis, to western-style egg-based breakfasts. Unique to Sri Lanka were things like kottu roti (cut bread strips), hoppers (dish-shaped white dosas), string hoppers (extruded dosa noodles) and shakshuka (egg/tomato etc. casserole dish). Often we bought from stalls plain brown coconuts to crack and eat, but our hostess once scolded me because it was a "cooking coconut" and they never eat them like that.
On 10 April the next destination is the "Cultural Triangle", a district in the centre of the country with a high concentration of historical sites, ruins and temples (actually Kandy is technically part of the cultural triangle but we regarded it as somehow separate). We would spend 3 days in this area exploring the attractions in Sigirya and Polonnaruwa.
At the Kandy Goods Shed bus station we found an A/C bus and got away, in heavy traffic, at 10.15. It took the best part of an hour to stop and go through the extensive breadth of Kandy, but we made better progress down through curves and hills into lower, but still lush, countryside, into Dambula about 12.50. After a short wait on the street we were standing in a very crowded chicken bus bound for Sigirya. But it just moved a few metres, and then stood on the street for about 20 minutes more filling up with ever more people and roasting us in the oppressive heat. Finally, still sardined in the bus, we slowly made our way and arrived in Sigirya at 14.13.
The bus let us off at the Nilmini Guest House and the host immediately fixed us up with a fan room. This is a real family place, with multi-generations and kids running around; nice people. The GH is in a touristy section of road with several guest houses, restaurants and shops. Farther on 1/2 km or so was a small village with houses and shops. Off to the left side a short distance away was the village's main attraction, the imposing Sigiriya Rock.
It was a bit of a hard day with 4 hours travelling and oppressive heat, but we survived well enough, we're where we want to be, and Maggie is a trooper.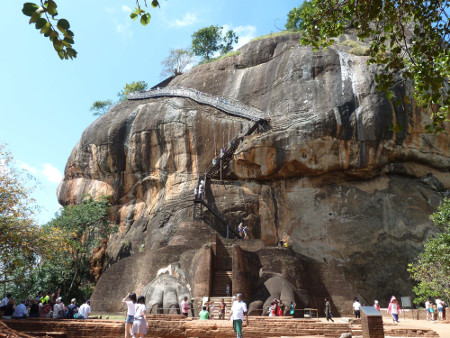 The next morning we set off as soon as possible, before it was too hot, to explore and climb the UNESCO-listed Sigiriya Rock, also known as Lion Rock. The ruins are the foundations of an ancient citadel which sits atop a giant 200 m high granite rock sticking up out of the surrounding bush. It was said to be built as a palace/fortress by King Kassapa between Ad 477 and 485. Below the rock is a large rectangular enclosure bordered by a moat and multiple embankments. Within the enclosure are landscaped gardens divided into water, boulder and terrace sections. One can enter through the gardens and climb steps (some were modern steel staircases and walkways) up the front and side of the rock. On the way up are a number of sights including a Mirror Wall with some very well preserved frescoes of celestial nymphs and graffiti from the 7th to 13th centuries. Farther up is the Lion Platform, with the remains (large feet only) of a colossal guardian lion sculpture. At the top 2 hectares of building foundations cover nearly all the summit, with 360 degree views of the gardens, surrounding forest, villages and hills. It is a long hot crowded climb, but worth it. The nearby museum exhibited history, archaeology, anthropology, sculptures and artefacts from the rock area.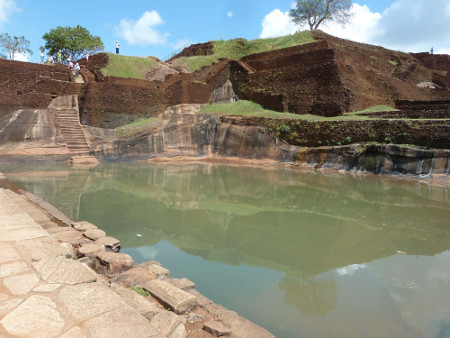 The following day it was supposed to be about +34 deg, and we were to go to the ancient city Polonnaruwa to see the mainly 12th century ruins of the Sinhalese kingdom of the time. Leaving about 07.30, we braved heat and sometimes crowded chicken buses and made it to Polonnaruwa sometime after 09.00. The ruins are quite spread out, so renting bicycles was the way to go. Even so the southern ruins, a few km away, were too far and we confined ourselves to the 3-4 sq km of ruins near the town centre and the Island Garden next to the lake.
In the main enclosure we visited most of the main sites described in our book; the Quadrangle (several monument ruins including the Vatadage that once housed the tooth relic), the Shiva Devales No 1 & 2, the large red-brick stupa Rankot Vihara (4th largest dagoba in Sri Lanka), the Lankatilala Image House, the snow-white stupa of Kiri Vihara, the 4 grand Buddha statues on the Gal Vihara (carved from a single granite rock face), and the 3-story remains of the 7-story Royal Palace. Back the lakeside we spent a short time looking around the Island Garden; what may have been palace gardens with a swimming pool and council chamber etc. still remaining. The heat and pedaling took a lot out of us, and by about 15.00 we had had enough.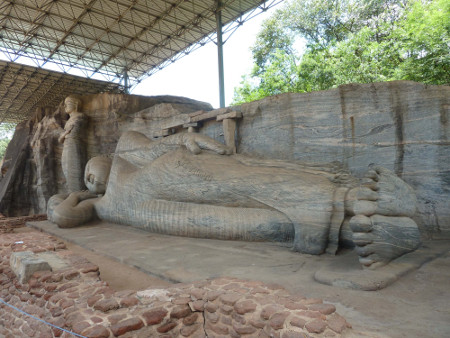 A funny sort of guy (maybe drunk) started talking to us, and eventually proposed a tuk-tuk to take us back to Sigiriya for R1000. It sounded like a not bad deal, and Maggie jumped at it. So at 15.30 we had a large Piaggio tuk-tuk to speed us home, with a couple of photo stops, before 17.00.
A short heavy rainstorm brought out many small frogs. There was one in the bathroom sink, and others on the walls of our place. It felt like a B horror movie.
On 13 April we had intended to go to the Dambulla Cave Temples. But this was the start of the Lankan New Year, and many things were closing down for the holiday. People were saying that transport would be impossible tomorrow, and we could be stranded here 2 or 3 days. So we decided to give the caves a miss and bus back to Kandy today. Two buses got us there sometime after noon where we checked back in to our Golden View Hotel.
Being the start of New Year, most restaurants were closed, only Halal places were open. A number of impromptu stalls on the streets were selling NY fireworks, so we were anticipating a fireworks display sometime later. But it never amounted to anything more than a few sporadic bangs from various directions throughout the evening. It was nice to be back up in the relative cool (although now damp) climate after those scorching days around Sigiriya.
On the following day, a sort of interim day, we explored a couple of the Devales (temple homes for deities) that we hadn't seen before, made arrangements to go on to the hill town Ella the day after, and toured the British Garrison Cemetery. This graveyard is populated by those unfortunate colonials that met mostly early demises in the 19th and early 20th centuries, rarely aged over 50 or so, and caused by anything from infant mortality to disease to accidents. Even up in Kandy, temperatures reached 30 deg.
On 15 Apr Maggie and I fronted up at the railway station and got our unreserved 2nd class tickets to the town Ella in the southern part of the hills. The train was scheduled for 08.45 but didn't show up until about 09.15. And it was FULL! Many people were trying to get on, and we just barely managed to board. The aisles and carriage ends were so cramped with standing passengers that movement was nearly impossible. And it was already hot and sweaty. I managed to get into the aisle, and Maggie was stuck near the door a while. Unfortunately she was pick-pocketed there and lost all her local currency out of her purse. Later we did manage to get together in the aisle, but we still had to stand for most of the trip. Only after standing for about 4 hours did a couple offer Maggie a seat and they disembarked shortly after. It rained most of the latter part of the trip. After a 7-hour trip the train pulled into the small quaint Ella Railway Station.
It was still raining heavily (it continued into the night) as the train mostly emptied and people crammed the station entrance wondering where/how to go. We hung around the platform a short while wondering what next and how to keep dry. Then a local guy came up to us and offered to take us in his tuk-tuk to his homestay guest house Mount Breeze Villa. Out of other options, let's give it a go. It was a family-run place, offering a beautifully nice room and large bath. The people didn't speak a lot of English but were very welcoming and accommodating.
We were called for dinner about 19.30. The meal was one of the best we'd had on the whole trip; spiced fish, mild potato/coconut curry, vegetable dishes, salad, rice, roti crackers, curd/honey dessert and a beer. Breakfast next day was a good and filling home cooked meal of fruit, coconut rotis, dahl, coconut salad and tea.
The 3 days we spent in Ella were among the most pleasant of our trip; comparatively temperate climate at the 1 km altitude, good food and several idyllic walks around the surrounding areas.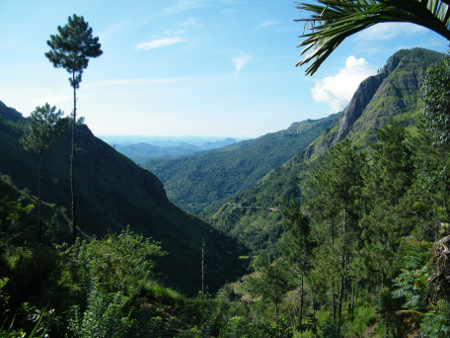 I awoke next morning to a beautiful sunny day. One of the first things I did was to walk out the door and down the road a few metres. To the left I could see the magnificent vista of Ella Gap, the broad pass/valley below the town and between Ella Rock and Little Adams Peak, looking down to the plains below. The view was quite stunning and I rushed back to get Maggie to share it.
Ella is walking country, and most of our activity in Ella consisted of walks.
Our first major activity was the walk up to Ella Rock. It is a high bluff to the right of, and overlooking, Ella Gap. We access it by a 2-hour walk through town, along the railway track for a km or 2, over a waterfall bridge, through tea fields and up a steep rocky rooty path to the top. Altitude gain is from 1048 m in town to 1300 m at the top. It was a pleasant walk, though steep and tough near the top, and crowded up there with many other walkers. The views from the Rock were spectacular, looking over nearby peaks, the railway, town, Little Adams Peak, and down the Gap to the lowlands.
Another walk was from the GH along the road and then up to Little Adams Peak, an exposed grassy hill to the left of the Gap. It was about a 3/4 hour hike, gradual uphill and then steep, but not as high as Ella Rock. Again there were many other walkers as well. The Peak (actually 2 or 3 close peaks) had virtually 360 degree views, and less cloud than yesterday. We could see down the gap to the plains, the road and traffic down there, across to Ella Rock, the town, and the Newbourg Tea Factory to the east. It was so pleasant up there that we stayed at least an hour or so before returning down.
Next item was to continue on the road east to find the 9-arches railway bridge and then return to town along the railway track. It turned out farther than expected, though the walk was pleasant and scenic enough. On the way we discovered that we were passing the Newbourg Tea Factory, so decided to go in and sign up for a tour. The tour was about 1/2 hour including tea tasting. Only making green tea here, the process was quite simple: drying, rolling, drying again, final drying, sieving, grading and packing; all processing taking 1.5 days. Quite informative! Continuing, it was another km or 2 walk along and down to the railway, and to the high and impressive 9-arches bridge over a creek valley. Continuing through a short railway tunnel, we walked back 1/2 hour or so to Ella Railway Station and back into town.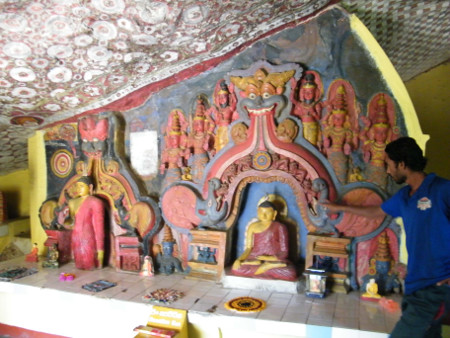 Another walk took us down the Gap Road to Ravana Temple and Caves. It was meant to be about a 40 minute walk, which it was, but much more down and up than expected and quite sweaty and tiring. We went down the Gap Road about 1.5 km, over a bridge, steeply up a minor road some distance and to the Ravana Cave Temple. A young guide took us into the temple; a small cave (rock overhang) with Buddhist statues inside and a paint-decorated roof. It was said to be 2000 years old.
Near the temple was a gateway leading to a 700-step climb up to the Ravana Cave. The steps went on and on up, finally reaching the approximate level of the town, leaving us bathed in sweat. The final way to the cave was an intimidating rock scramble followed by more steps. The cave itself was neither large nor spectacular. But it is said to be the place where, in the Ramayana scriptures, the demon Ravana took Rama's kidnapped wife Sita to hide her. We had to retrace our steps back down the scramble (a bit hard on Maggie but she made it) to the road, further to the main road, and then back up to town. I must admit that, back on the road, Maggie could no longer be stopped and steamed up the hill big-time.
Mount Breeze was a nice homestay; the hosts were sad to see us go, as we were sad to leave. But it was 19 April, and next stop was a four-day stay in Mirissa. As Maggie was reluctant to chance another slow crowded bus, our tuk-tuk guy lined us up with a Prius taxi a for a cheap(?) R5000 (maybe about $50), to leave at 08.55.
The taxi was relatively fast and air-conditioned. The guy took us down the Gap Road, past where we were yesterday at the Caves turnoff, and on down to Ravana Falls, stopping there briefly for a photo. Continuing down the road and out of the hills, we soon came to flat country, with scattered bush, rice fields and towns and villages. Hitting the coast at Tangalla, we continued along the coast to Mathara and on into Mirissa about 13.30.
The laid-back backpacker beach town Mirissa consisted of a main street parallel to a beautiful beach, and side streets. It was hot, above +30 deg, but not much more so than Ella, and the beach was slightly cooler than the streets. On one of the side streets a guy wearing only a dohti came out from the Amira GH and tempted us with a large clean fan room with attached and balcony overlooking the street. We were set.
Inevitably, much of our time in Mirissa was spent on the pleasant resort-atmosphere beach, about a km of sand between two headlands with a near continuous row of bars, restaurants, guest houses and lounge chairs. We were there every day sitting, swimming, reading, and having a drink or a meal. At the eastern end of the beach is a rocky island outcrop accessible at low tide, where we could sit and enjoy good views of beaches, headlands, passing shipping and the town.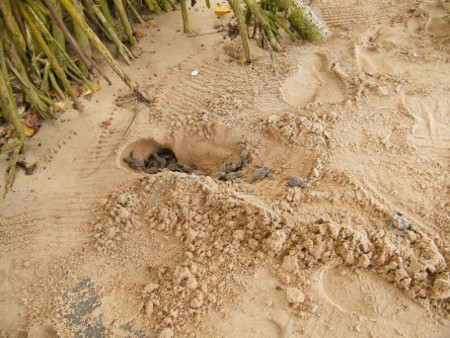 One morning we were treated to a bit of excitement. Right near where we sat on the beach, a nest of baby turtles was breaking out of the sand and struggling to make their way to the water. A large crowd gathered to cheer them on, and the whole process took maybe nearly an hour.
Another morning, the local hat/weaving seller threw a bit of a scare into us by telling us that someone had just drowned in the surf here that day.
In my "spare time" I took walks along back lanes and roads outside the town, enjoying bucolic scenes of ponds, fields, and farmers surrounded by worm-searching storks.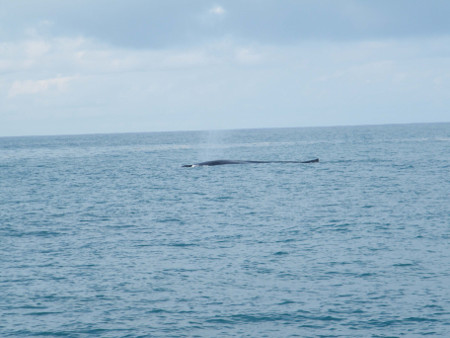 One morning we signed up with other tourists for a whale watching boat tour. It set out from the harbour at 06.55 and took best part of an hour to get out to where the whales were meant to be. We did see 3 or 4 blue whales at different times, usually quite close, usually singly and usually spouting and momentarily swimming on the surface before diving. Several other tourist boats also milled around, reminding me of Kenya where we could tell where the lions were from the circle of safari vehicles. We were there only an hour or two before returning after 10.00.The trip was not bad but not great. Crew went about their jobs but were not particularly communicative, neither with information on whales nor regulatory dos & don'ts. It was worth going once, but not something I'd bother with again in a hurry.
One evening we decided to "splurge" and go to the beach for an evening. At a table right next to the surf we had had a wonderful time with drinks and dinner in an idyllic starry-night setting. The beach was well lit up and pleasant to walk along at night.
On 23 April, we proceeded 3/4 hour along the coast to our next destination, the beach resort Unawatuna. Unawatuna is similar to Mirissa, maybe a bit larger, more built up, and slightly less intimate. It's pleasant enough for a 4-day stay.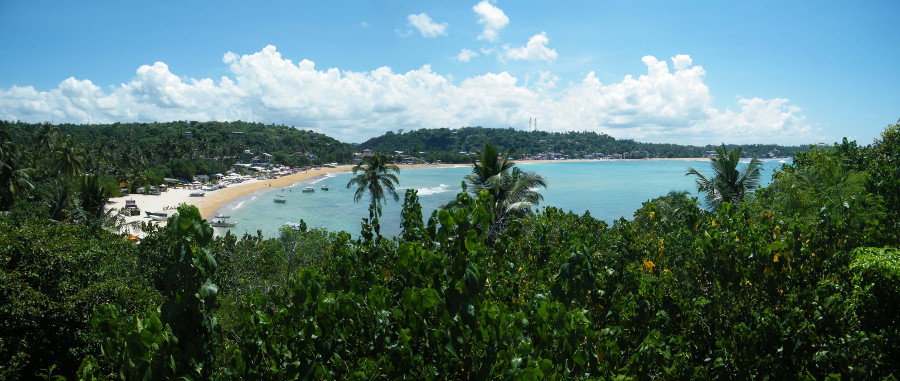 By 10.30 we were in a pleasant room in the Kumara GH. They said "3 minutes to the beach", but actually it was about a 10 minute walk along the narrow winding street to the beach. On the main beach road was the typical array of beach-side restaurants & bars, travel agents, guest houses and related businesses to cater to the tourists.
As in Mirissa, much of the time was spent on the beach, usually having a drink on beach tables or lounge chairs owing to a lack of natural shade. Other activities included exploratory walks along the beach and surrounding district.
One good walk was to the west of the village, over the crest of a hill, to a large white hilltop Japanese Dagoba, steeply down to a deserted rocky cove, farther along and then down to Jungle Beach. It is a pretty and relatively isolated beach with a number of beach-goers and a bar/restaurant.
(I have a few more pix that I had intended to attach between here and the end, but some technical glitch is preventing me from uploading them. Will try to sort it out.)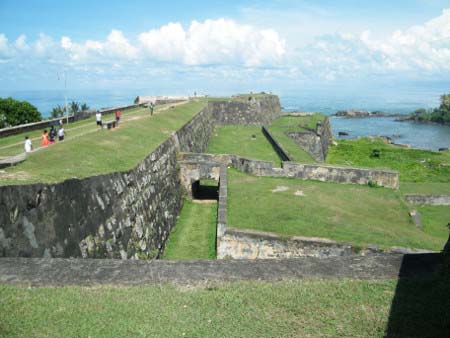 Another walk took us along a road to the Dagoba on the western point. On entering the gateway we had to take footwear off to go up the steps; very hot on the feet. The Dagoba at the top consisted of a large white stupa and a large square temple containing an equally impressive Buddha statue. The hill afforded good views over the beach and west along a rocky shore toward the nearby historical town Galle.
From Maggie: "While in Unawatuna, we took a day trip to Galle, which was only 6 km down the road. Galle is known mainly for its UNESCO-heritage fort district perched on a peninsula on the south end of the town. This fort was first built by the Portuguese in 1589, taken over and modified by the Dutch in 1640, and then by the British in 1796. It contains good examples of colonial architecture and fortifications. We spent some time exploring the sites, then enjoyed a nice lunch, a trip to the Maritime Museum and at mid-afternoon headed back on the bus to Unawatuna."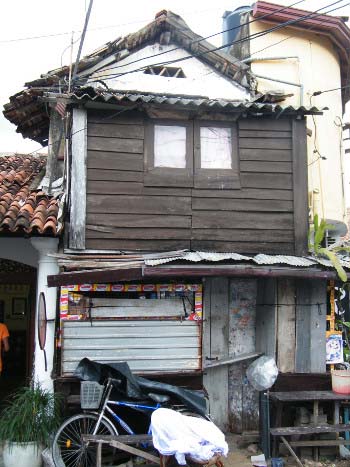 It's 27 April, and only 2 or 3 days left in Sri Lanka; time to move on to Colombo. After a local bus to Galle, we transferred at 10.15 to an A/C bus bound for Colombo. The bus made good time up the coast through pretty forest, village and riparian scenery; about 2 or 3 hours to get to the southern Colombo beach suburb Mt Lavinia.
ML is yet another beach-side resort district, but not to the standard of Mirissa or Unawatuna. In fact the whole area seemed rather desolate. Accommodation places seemed deserted, or with closed gates, or not well identified. It took some wandering around back and forth before we found a room at the Ivory Inn, a block or two away from the beach. The beach was almost deserted and not particularly attractive.
Our last full day in Sri Lanka was sightseeing in Colombo. A bus from Mt Lavinia took close to an hour to deposit us in the city between the Fort and Pettah districts.
Near our stop was the old, large and imposing Cargill Department Store building. It looked impressive on the outside and we expected an interior packed with swish high-end boutique shops, but inside was not much more than a shell of wood floors, colonial wood cabinets and a few minor stores.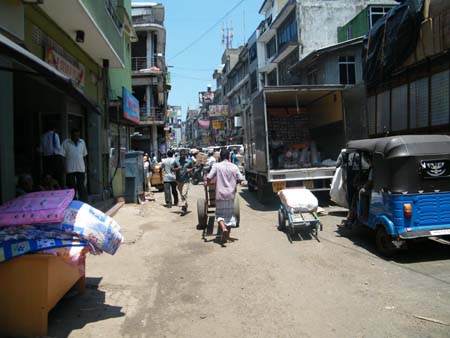 After a cursory look around the so-so Fort area, we headed east to the Pettah district. Pettah is dominated by a large network of market streets. Each street or block was more-or-less dedicated to a single type of commodity, e.g. electrical, hardware, textiles, clothing, food, etc. Despite the heat and walking fatigue we spent some time enjoying the markets and soaking up the atmosphere, before hopping on the bus back to Mt Lavinia. We had not been down-town much more than 2 hours, but had seen all we wanted to see.
Our flight would leave at 01.30 on 30 April, so our last day on 29 April was mostly packing, final preparations, and rest prior to our long flight. In the morning I took a walk along the beach through fishing villages and slums. At one beachside slum an old guy met me and took me to his place to sit and rest a few minutes. He was quite friendly and full of questions about me (as many people are here). Maggie went to a salon on Galle Rd for a manicure and pedicure, very reasonably priced, the lady did a good job, and it all looked great.
At 17.30 we checked out, caught a local bus to Pettah. At Pettah we found an A/C airport bus which departed in darkness after 19.00, arriving at the airport sometime after 20.00. The rest was routine; waiting several hours in Colombo Airport, flying out at 01.30 on 30 April, landing in Sydney at 19.30, and home in Ryde at 22.00.
I liked Sri Lanka. It was not as "heavy" as India; usually less hassles, chaos and squalor, but maybe less spectacular or exciting. It's generally easy to get around, a good place to relax, and with plenty of history, beauty and interesting sights.
So that was our Indian Subcontinent trip. It was a really good trip. Maggie and I had never traveled so much together before, and we performed beautifully together. There were a few sick days, and the food didn't always agree, but we saw a lot and I got in one brand new country. Now we have 3 months together in Australia to look forward to.