Europe 1998
Herbert and I completed our 4-month Africa trip and returned to Germany on 3 April. It took some days to rest up, do things with Herbert and get organised for my onward bicycle journey.
(Click for Germany, Switzerland, France, Belgium and Holland map)
Germany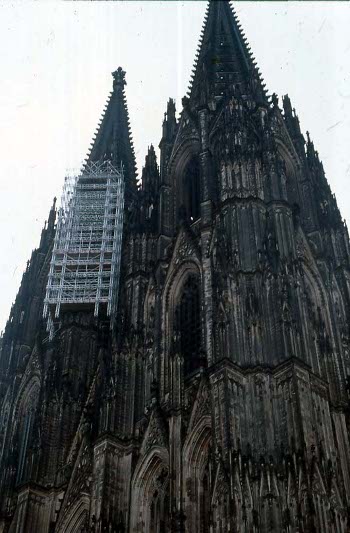 I did more exploration by foot of Dusseldorf and Mullenbach, bought essentials for the bike trip and caught up on chores at Herbert's Mullenbach home. One day we drove to Köln for business and to look at the huge and impressive Köln Cathedral. It was still cool in Germany but gradually warming up. A ride or two on my bike showed that it was good to go.
On 13 April I was ready. I had a lot of territory to cover in the next 3 months. I thought I'd go south, to warmer weather, to start.
My route took me to the Mosel River, downstream to Koblenz, and south upstream on the right side of the Rhine. Riding was flat and easy. I stopped after 16.30 and 117 km, to find a promising looking bit of flat ground by the river to camp. I had to be careful with the bike to avoid puncturing tires on the thorn sticks, but it was secluded enough to put up a tent, cook a meal and get a good nights sleep. The tent was frosty next morning.
So it went for the next few days as I progressed slowly up the Rhine, past or through Mainz, Worms, Wörth, Karlsruhe, Kehl (bought new shoes there) and to Basel. I was making usually 90 to 100 km per day. Sometimes I rode on dirt or gravel paths, sometimes on roads. I shopped for food wherever I found a grocery store, and camped where I found level ground, water and privacy. The route was not always easy to find, going off in the wrong direction more than once. At one point I couldn't find the right way at all, and ended up riding down a motorway for 20 km; honks from a couple of cars probably meant that I shouldn't have been there.
Weather got steadily worse as I rode south. First it was headwinds, then rain gradually increased. At my last camp before Basel it rained on my tent making it wet to pack up. More rain during the day got everything wet and muddy. As I stopped near Basel to clean the mud off my bike, a local guy noticed me and commented, "Scheiss Wetter!", and I had to agree with him. Shortly after, still in rain, my rear tire started to deflate and I stopped to replace the tube. Then the front tire blew, forcing me to find a service station, repair a tube and put on the spare tire. What a miserable day!
From here I turned east, still on the Rhine, continuing upstream to find a place to cross into Switzerland. I made one last wet camp in some bush in Germany before crossing. Rain turned to snow at night. Everything was soaked as I packed up in the morning. What am I doing here?
I rode for an hour or so, getting even wetter, and came into Bad Sacklingen, a crossing point into Switzerland, at 09.30. I was making for friends' place at a small village Hagglingen near Lensburg in Switzerland. I would have to go up through mountains, into what weather (?) to get there. Enough of this crap. I crossed the bridge into Switzerland, found the Bahnhof and bought a train ticket through to Hagglingen.
Switzerland
Bike on the train, and myself comfortably in a seat, I could now look out the train window and see the cars making their way in snow and sleet up the highway. I could probably have made it on the bike, but was immensely relieved I didn't have to try.
Alighting from the train at Dottiken, the weather was again fine and sunny. I didn't need the bus to take me the last 2 km to Hagglingen, so mounted up and rode the rest of the way. A bit of searching and asking, and about noon on 18 April I found my friends' place.
What followed was few enjoyable days visiting with Christain and Christine that I had known in the 1970's in Australia. We took drives around to places like the lakeside castle of Hellwiller See and visited with mutual friends. I shopped and got new bike tires and finally a good tire pump. I spent considerable time on their pc typing up travel notes to disseminate to people.
On 23 April I was again on the bike for a two day ride to Lausanne. Now blessed by good weather and a relatively (for Switzerland) flat run, I cruised through Lensburg, along river bike tracks to Aarau, and along roads through Olten, Solothurn, Liss and Aarberg.
I'd been told not to camp sauvage in Switzerland; it's illegal and the farmers etc. are a bit anal about it. But no campground in Aarberg. So on to a campground in a place called Murten on a small lake. It was slightly expensive but a good stop; and about time, 120 km that day.
It was only about 70 km to Lausanne; no hurry. I slowly packed up and looked around the shops, castle and old walls of Murten before heading off. Passing through Avenches, Payenne and Moudon, I found the roads to be not dangerous and much easier than the bike tracks. In any case I got off the main road at Moudon. I took smaller, more picturesque, roads up through Sottens and other small villages, beautiful rural and bush scenery. Into Lausanne by 17.00.
I was trying to contact Chris (Rajasthan, 1990) but he wasn't home. No matter, I found the Vidy Campground for a pleasant relaxing evening and night. Near the campground is an interesting site of Roman ruins which I just managed to explore before dark.
Next morning Chris got my messages, came to meet me at the campground, and took me to stay at his place. We spent a week or so together, a great time as always when I don't have to push along on the bike. We went on day trips etc. all over the region. One day was a drive to the town Martigny, from where we continued up to the chique village Verbier, an upmarket lunch of "viande sechées" and pizza to stunning mountain views, followed by a walk up mountain roads and paths.
Another day we met another friend for a walk in the mountains at Mauvosin Dam. The walk took us past the dam wall, and along a track over the lake. We had spectacular views over the partly frozen lake, but we could only go a certain distance before being blocked by ice and snow. On the way back we stopped at the friend's brother's cheese factory in Bruson for a tour and to buy some cheese and dried meat for a later delectable meal. The factory was a small place, not Kraft or other big name, and gave an impression of how real cheese is made.
I made arrangements for my later return flight from London to Canada. More shopping got my slides processed and other necessities purchased. I also worked out how far I'd have to ride to get to Denmark. I had to meet friends there on June 23, so a long way to go. It turned out to be nearly 3000 km, scary.
Dinners out included a good Moroccan restaurant, where I had a delicious kofta and cous-cous; and a great cheese fondue dinner.
It was still cool and partly wet. I'd had the weather up to here. I couldn't wait to get somewhere warm, hopefully the Cote d'Azure. Chris felt sorry for me on the bike. He had no idea, and I wasn't quite sure either, how I'd make it so far south and then all the way up to Scandinavia and beyond. He insisted on driving me part way south, to avoid the worst of the Alps. He drove me past Geneva and Grenoble, dropping me off at Gap in France where on 1 May I resumed my bike trip south.
France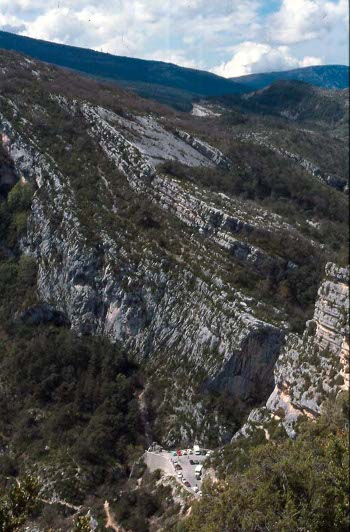 This was more than half way between Lausanne and the coast, so I had a good start. Here was good rugged scenery. I camped the first night in a truffle forest, evident from signs warning against truffle poaching. On through Sisteron, Digne and to the Castellane area.
As I was starting to look for a camping spot, I started to see signs prohibiting "camping sauvage". Not wanting to turn back I stopped right then, found a spot up the hill where I wouldn't be seen, and crashed there.
The reason for the signs was that I was entering the spectacular Gorges of Verdon, a mini-Grand-Canyon tourist attraction. I took the side trip from Castellaine to the gorge and had lunch at Sublime Lookout with spectacular views over the deep gorge. It was beyond my ambition to take the bike down there. Enough steep climbs just getting here and away.
I was getting into Mediterranean coastal pine forest now. That day I got lazy and stopped at 15.00 in some inviting bush before returning to the main road. In the evening I heard something roaring and moving along the creek. It sounded slightly scary, but may have just been a boar.
On through the perfume district of Grasse at noon on 4 May, I continued down to the coast and the village Villeneuve Loubet at 15.00. I had intended to go to Nice, but it looked good here, and there were campsites around. I chose a campground near the beach and bush, "La Viele Ferme". It turned out to be perfect; English spoken, many other campers from UK, USA, NZ, S Africa and Australia to hang out with, good beach, good grocery shopping at Geant Casino or Super Marche, and a base for excursions as far as Monaco.
Villeneuve Loubet is quite a mix; Ultra-luxury hotels and billionaire marinas on one aspect, and campgrounds on the other. Alongside me in the camp were many young people working in the marina maintaining and modifying the yachts. In back of all this is the quaint and very French village of VN with its narrow alleys, small shops and steps.
Just as I arrived at the French Riviera, the weather turned dry and warm, a prayer answered. I stayed 5 nights enjoying the sun and ambiance and pleasant lifestyle.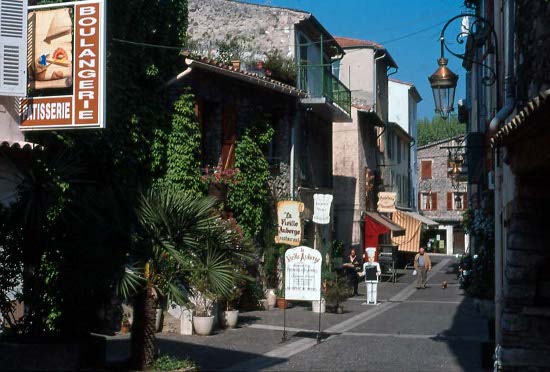 Villeneuve Loubet to Monaco was a good day trip, 36 km each way, some up-and-down via Nice. At Nice was a long beach foreshore with hundreds of hotels and apartments. Monaco itself is steep and hilly, luxurious and expensive. I left the bike at the shore, took a lift up to the casino area and walked around the swish village and shops. Dressed in my bike gear and sweaty, I didn't even try to go into the casino.
On the bike again on 9 May I had a pleasant ride along the coast through Antibes to Cannes. Here they were preparing for the upcoming film festival, a busy place at the time. Food shopping in St Raphael, and an early stop at a campground just past Frejus. Exploring around the river mouth, I found a beach which turned out to be a nudist beach. I'd forgotten my swimsuit but so what?
I continued next day got temporarily misdirectred at Cavalaire, through small villages and past St Tropez, and left the coast up a small road D12. I didn't want to go through Marseille, not knowing how safe it was there.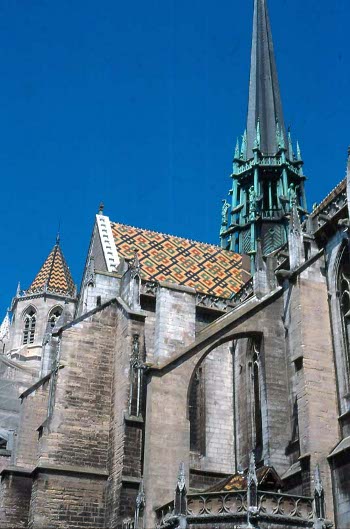 I rode for 12 days through Eastern France in a more-or-less direct line to Luxembourg. Sometimes hot, sometimes dry, sometimes head-wind, it was nevertheless generally a pleasant and relaxing ride. I bought food in supermarkets or shops as usual, and camped in campgrounds or bush depending on availability. Too many small villages to mention, my route took me through Aix-en-Provence, Avignon, up the Rhone River, Lyon, Dijon, Neufchateau, Metz, Thionville and into Luxembourg.
I had an afternoon off one day in the middle of nowhere because, after stopping for lunch, the bush and poppy fields were just too pretty and relaxing to bother going on.
Another day, after battling headwinds all day to the village Tournus, I woke to more headwinds next day. So I might as well just stay one more day there. It was worthwhile anyway because there was a good little museum in Tournos called Musee Bourgignon.
One day I found a campground overlooking vineyards at Mersault in the heart of the Burgundy wine district. It was great to wander around the town and countryside watching workers trim vines.
On my last day in France I was having trouble finding suitable camping; no campgrounds and little bush. I finally in desperation found a disused quarry next to the Mosel River. I put up the tent next to passing canal freighters on the river, making for an "different" camping experience.
As I got up toward Luxembourg it got cool and wet again, and wouldn't be hot for the rest of the trip.
Luxembourg
Luxembourg was a pleasant city, built on a steep hill above the river, and full of walls and fortifications. I found a campground about 10 km south of the city, staying for two nights and commuting into the city for sightseeing and shopping. Arriving in the Grund district of the city by bike, I would take the lift up to the Citadel level where are situated most of the old buildings, citadel walls, parks and commercial area. Slightly farther afield are the large modern buildings of the European Complex.
On 25 May it was starting to get wet off and on again, but I moved on anyway. In the north of Luxembourg I found a campground next to a pleasant lake with walking paths. It was a good stop, except that later in the day a farmer was spreading pig manure on a field near the camp, hooo-eee. I do understand that these are small countries and there isn't much space to dispose of their agricultural waste, so tolerate it.
Belgium
Next day, back in Belgium, I was still heading north and came to a bit of a milestone, crossing the road that I had headed east on last October.
In the village Coo, just past Trois Ponts, I stopped for a look at the Cascades tourist park, sheltering under a bridge from a sudden rainstorm. Slightly farther on, before I would run out of forest, I took advantage of an isolated bush camp.
In Liege I bought groceries, and had a difficult time finding my way out of town onto N20. All signs pointed to the motorway. I finally had to do the woman thing and ask directions.
North of Hasselt I didn't like the price of some of the campgrounds, and was again looking for a bush site. I found lots of suitably isolated bush, but no water. I finally found a reasonable campground after 17.00 and 108 km.
It turned out to be one of the best finds of the trip. While washing up after dinner, I met a Dutch couple, Guus and Anke, in a nearby caravan. We got talking, they gave me a couple of Dutch city maps, advised me of routes to follow, and invited me to the best cup of coffee I'd had in months. Great people and instant friends, I've never since lost contact with them.
Netherlands
In northern Belgium and Holland it became really flat and easy cycling. Holland had many canals, waterways, cycle paths beside the roads and more bikes than I'd seen since China. At St Oedenrode, where I took a day off and camped two nights, I met a couple touring on recumbent bikes. I tried out one of their bikes; I could successfully ride it but it wasn't as easy and relaxing as it looked.
Finding my way through S-Hertogenbosch and across the Waal River, and getting temporarily stuck in a vintage car rally in Culemborg, I crossed the Lek River by ferry and entered polder country.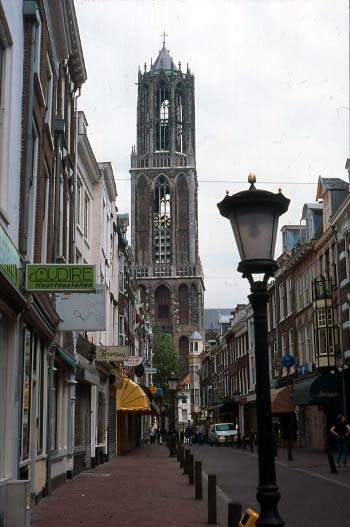 In Utrecht I stayed a couple of nights in a crowded, busy and impersonal campground. Utrecht itself though was a good place to look around. The Dom Cathedral, I think one of the tallest buildings in Holland, is a major landmark. Next to it I found what I think was a copy of the Jellinge Runestone (I believe the original of this Viking artefact is still in Jellinge in Denmark). Other sights and activities at the time were a very fascinating street organ festival (vintage organs set up and playing all around the city) and a "Stoom Fest" with vintage steam engines set up and operating.
Leaving Utrecht north, it was interesting to cycle along the river and see the houseboats with large windows and curtains, some with scantily clad women or men, and signs saying "Don't forget your rubber". I wasn't expecting a red-light district here.
I spent a week in Amsterdam, based in a campground in Amsterdam See Bos campground in the south-west of the city. I had a bike accident, hurting my back, slowing me down for some time, but not stopping me. I rested a lot, shopped for food etc. in the nearby Amstelveen suburb, looked around downtown Amsterdam a number of times, fixed up details of my flight back to Canada, bought stove fuel and worked on emails in a dope-smoke-filled coffee shop. I treated myself to a McDonalds hamburger meal, something I hadn't had for a long time, and was surprised at how boring and tasteless it was.
Leaving Amsterdam on 9 June, I started through intermittent rain into northeast Holland, aiming toward Mappen in Germany. Coming from Amsterdam into Zuidelijk-Flevoland, I deliberately side-tracked up to a small road along the Oostvaardersdijk. It was a memorable experience cycling along the dyke with the sea on one side and land on the other.
It took about 3 days to pass through Lelystad, Kampen, Zwolle, Hardenberg, Coevorden, Klazienaveen and across the German border. Riding on main roads was prohibited and the bike tracks tended to be confusing in places.
Germany
In the campground in Meppen, Germany I met a Swedish cyclist Lars on a recumbent bicycle. He was going my way and we could ride together through Germany for about 3 days. The recumbent is faster than my bike, so it was a bit tough keeping up. At one point I ran over a tree branch with my bike, it got caught in the chain, and bent my derailleur. I managed to straighten it but it wasn't very good any more and I would eventually replace it in Denmark. Somewhere in northern Germany I also had to buy a new bike seat to replace mine that was tearing apart.
We bypassed Bremen and Hamburg, crossing their respective rivers on downstream ferries. In the small town Nortorf Lars and I separated, he to continue east and myself north. With difficulty and delays finding my way through some towns, I proceeded slowly north to Flensburg and into Denmark on 16 June.
Denmark
(Click for map)
Denmark was generally a nice pleasant country, cool but not much rain, and a bit more expensive than most of Europe. I was intrigued by the large number of sex shops, some operating out of private homes, just across the border from Germany, a testament maybe to differences in sexual attitudes between the two countries.
My first camp stop in Denmark was near a pretty fishing village, Genner Strand, very windy but pleasant. I found I had to get a camping pass to camp in Denmark; it would get a stamp in every campground.
I battled heavy crosswinds all the way to Kolding, slightly difficult riding. Then I turned east and made terrific time in the tailwind, although the wind nearly blew me off the Middelfart Bridge.
I was headed to Ringsted in Zealand to meet Richard and Chris, friends from Australia. But they wouldn't be there until 23 June. I didn't want to be early so had time to kill. I could have made it all the way from Genner to Odense in one day, but found some isolated bush about 22 km before Odense and chose to camp there overnight. I don't know if it's legal but wasn't noticed anyway.
In Odense I contacted Jens whom I'd met in Lesotho a few months earlier, spending some of my four days there with him. Odense was the home of Hans Christain Andersen, with many features of the city dedicated to him. Another site I spent some time in was the Fynske Museum. In Canada we would have called it a pioneer museum, but I guess there weren't pioneers here. It had captivating exhibits of 18th and 19th century farms, buildings and artefacts, and demonstrations of agricultural practices from those periods.
Jens, Vinnie and I put together some fabulous meals, something I sorely needed and appreciated after so much cycling. I tried to straighten my bike derailleur, but it broke off and I had to get a replacement at a bike shop.
On 22 June I rode on to Nyborg. Here was a long bridge across the strait between the islands Fyn and Zealand. Bikes are prohibited on the bridge. I would have to buy an expensive train ticket to get across the bridge to Korsor. Still early, I stopped there in the campground for the night, a nice place with friendly people.
It was only about 3 hours ride to Richard's mother's place in Ringsted on June 23. Richard and Chris had only just arrived and were jet lagged. Anyway it was good to see them all and we spent a pleasant few days together.
I had arrived just in time for solstice. One of the highlights in Denmark, that very evening, was the Sunhens (summer solstice) festival. Our family group joined the crowds at Mosede Strand near Copenhagen. Much picnicing, festivities and partying took place well into the night. A huge bonfire was set up, with a fireworks-loaded effigy of a witch perched on top. About 22.30 (a bit of a problem in that it never really got dark at this time of year) the bonfire was started, the witch engulfed in flames to the bangs and screams of the exploding fireworks.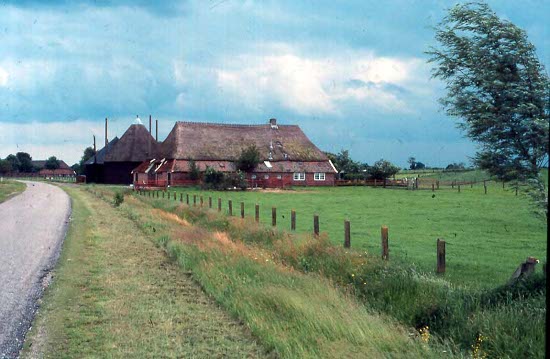 Other excursions with Richard's family were to castles, churches and shoreline near Koge along the east coast of the island, and to places associated with Richard's youth. We toured a glassworks and saw how glass bottles and artwork were made.
On 29 June I was to take a ferry from Esbjerg on the east coast of Jutland to Harwich in England. I needed to book the ferry ahead, so made the reservation from Ringsted.
Leaving Ringsted late on 26 June, I again stayed a night in the campground at Korsor. Then it was a long day back across the bridge to Nyborg, through Odense, slight tailwind through Middelfart and Kolding, to a bush camp at 19.00 and 112 km. One more difficult day from headwinds got me to the west coast and a campground at Store Darum, within striking distance of the Esbjerg ferry terminal. The coastline here was intruguing, a large dyke and level grassy sheep pasture right to the water's edge, and little evidence of tides or high seas. Windmills studded the landscape.
Next day there was no rush to get to the ferry terminal; the ferry didn't depart until 18.00. I lazed around the campground, rode the 15 km against strong headwinds (glad I'm not going farther) into Esjberg, looked around town for a while, paid for the ferry ticket, and boarded the ferry. I could lock my bike up, with most of my luggqage on it, in the vehicle deck of the vessel, and take only my night's essentials into my cabin.
England
(Click for map)
The ferry landed at Harwich in England at 12.30 on 30 June. I'd met a young Danish guy, Bjorn, also on a bike, and we agreed to ride on to London together. England would take some getting used to after northern Europe; more hilly, fewer bike lanes, and noisier campgrounds. They hadn't had a summer yet there, still cool and wet.
Two short days riding got us to the Epping Forest Youth Hostel in the north of London, where we set up our tents.
I spent a couple of nights at Epping Forest, taking a train into London for the day to explore the city and riding/walking around Epping Forest. The forest visitor centre had a good exhibit of the history of Epping Forest.
A longish and confusing bike ride followed, to get to Crystal Palace to see my friend there for a couple of days. Then I started west back to the friends near Bristol. Not in the mood to test London streets any more, I put the bike on the train to Woking. From there it was outside the city congestion, making riding relatively easy. Through Camberley and Basingstoke, I found the same campground near Newbury that I'd used last October. That would put me within one day of Chipping Sodbury near Bristol.
Continuing from Newbury, I found the canal path and tried to follow it west. Being wet, rough and grassy, it wasn't that good. At Hungerford I returned to the A4 to continue west to Marlborough and Chippenham, then smaller roads to Yate. Along the road were interesting Druid ruins including a stone circular foundation and a square-topped man-made hill. I was back with friends Ray and Sally in Chipping Sodbury by 17.00.
In the four days here we took several drives around the area; nice to be off the bike again. Chepstone in Wales is a pleasant touristy place with a castle near the Wye River. At Tintern Abbey we could take a tour with cassette tapes explaining the features. In Gloucester we toured the old cathedral and surrounding buildings, and the canal and docks. The Waterways Museum had a good history of canals and waterways and transport.
From CS, I retraced my route back to Sylvia and Malcolm's in West Dorset, stopping at an expensive and not very exciting campground for one night before continuing in rain to my destination.
Malcolm was doing a lot of work on the farm to turn parts of it into a museum. For much of the 6 days here I tried to help as well as I could. We measured up stationary engines, old farm machinery and part of the barn for eventual installation as a powered working exhibit. We worked on the foundation for a wheelwright's base and restored the base itself.
Christine, whom I'd stayed with in Hagglingen in Switzerland, was visiting at the time and we got together for dinner one evening.
Malcolm and I attended the cider club "meeting" on the Tuesday evening, about 15 people in attendance, a good pub atmosphere with cider, snacks of pickled eggs, onions and walnuts with bread, and much merriment.
On 17 July I had to do the sad goodbyes and start back toward Heathrow to get my flight. One day got me to a campground at a racetrack at Wilton. The next, through Salisbury, Andover, Newbury, Reading and Maidenhead. I reached my campground near Maidenhead, where I had two nights of rest and relaxation before that final ride to the airport.
One last short ride late on 20 July got me to Heathrow. I had my bike and other gear packed up and on the plane to Canada on July 21.
This had been a good trip, and having left Canada 11 months ago, the biggest one I'd ever undertaken. I was however getting tired of cycling (I've put nearly 15000 km on the bike since Nov 1996), and appreciated getting back for a rest.