Africa 1997-1998
It was 7 December 1997. I had just left my bicycle at my German friend Herbert's place in Germany. The two of us were on our way to Africa for four months of backpack travel, Cairo to Capetown. Our plan was to pass generally down the east side of the continent to Capetown then back to Pretoria and Johannesburg for our flight back to Germany on 2 April 1998.
Egypt
(Click for map)
At 11.05 we were on our Air France flight from Dusseldorf to Paris and hence to Egypt, landing at Cairo airport at 19.15. This was a whole new country for me, a thrill as always.
We were early enough to change money in the airport, bypass the taxi touts and find our way to the bus stands. Friendly locals showed us which bus to board. On into the noise, bustle and pollution of downtown Cairo, the bus driver frequently shouting at other motorists.
It's a huge city, the largest in Africa, and certainly not the cleanest or most pleasant. A sleazy-looking tout helped search and we found a basic hotel. Another local found us a restaurant for a chicken-rice-salad-vegetable-bread meal. Nice weather there, dry and not too hot.
Our intention was to travel south through Sudan, but a phone call to the Sudanese Embassy next day showed us that the overland borders with Sudan are closed, and the only way to get through is to fly. We would later have to get air tickets there to Eritrea, at considerable expense.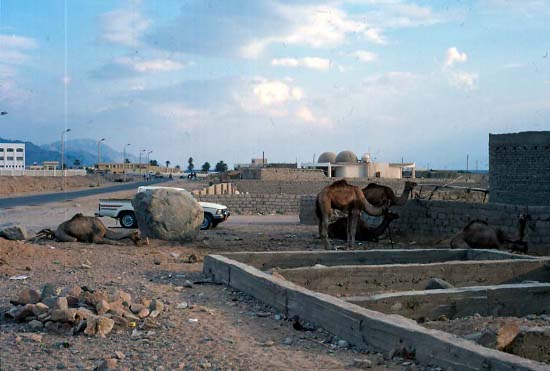 On the afternoon of our first day in Cairo we explored the fascinating old part of the city called "Islamic Cairo", with its narrow winding streets, old gateways, mosques, the Citadel, markets and hundreds of small shops selling a vast array of goods for locals and tourists. Lots of hustle and bustle and anything but boring. We'd return to this part of the city once more before leaving Cairo; there's so much to see.
Next day was Pyramid day, hopping on a bus out to Giza. A young Egyptian guy met us on the bus and advised us about how to see the pyramids, who to go with and how much to pay. I only worked out later that he was likely a very clever tout, and we probably got ripped off. We climbed on the back of a camel for two or three hours of quite uncomfortable bouncing around the hills and dunes near the pyramids. Wonderful views of the pyramids and Sphinx, but overpriced and I would have rather have walked it. To the south of the pyramids we had quick look at the ruins of barracks for a Pharaoh's army. The experience earned me a sore butt for 2 days.
From Cairo we took a bus around the Sinai Peninsula, past the resort town of Sharm-el-Sheikh, and up to the little town Dahab. Dahab is a fun place, a sort of middle-eastern traveller's destination like Goa or Khatmandu. It consists of a stretch of beach, restaurants and cheap hotels, with coral on one side and Bedouin on the other. At Blue Hole about 15 km north, the water has steep coral cliffs, and a huge variety of reef fish. We had a wonderful 3 days in the Dahabarea relaxing, snorkelling and eating delicious meals.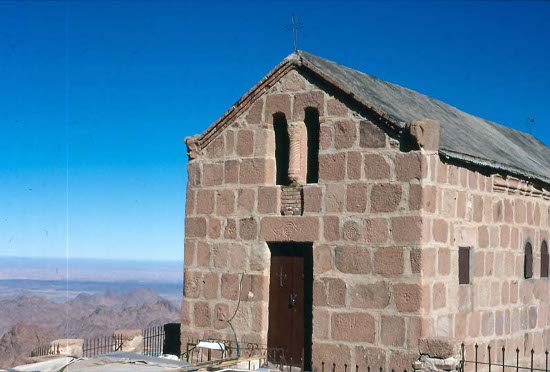 From Dahab we took a taxi inland for about 2 hours to the stark, mountainous area of St Katherine's. There is a famous monastery here (closed when we visited) and Mt. Sinai. We found a meal and beds in a guest house for the night. In the morning we walked past the monastery and up Mt. Sinai, a steady three hour walk to an altitude of 1800 m. At one of the tea houses we watched a couple of local kids playing draughts (checkers). One used pebbles as tokens, the other used camel dung pellets (well, if there are two thing Sinai has lots of......). At the top is a rustic little hermitage and spectacular views of the surrounding mountains. On the way back down, we were treated to a rare close up view of a family of Ibex on the rocks opposite, totally wonderful and unexpected. Amazing how they climb the impossibly steep rocks.
Back in Cairo, we found that the Sudan borders were still closed and we would definitely have to fly to Eritrea. We got flight tickets to Asmera for 21/Dec/97 for £1280 and obtained our Eritrean visas. We visited the National museum for a couple of hours, a lot of artefacts there but pretty dry, repetitive and not interestingly displayed.
I was starting to feel depressed and homesick, a condition that would dog me the rest of my time in Egypt. I wasn't sure what caused it, there seemed no good reason. Was it the unanticipated expense of plane flights with my limited budget? I eventually thought it was more likely the malaria pills I was starting to take, they were known to have these side effects. Just soldier on!
That night we rode south on a night bus to Luxor This was the site of the massacre of 3 weeks before (charitably referred to by Egyptians as the "accident"). Luxor had an air of despondency and desperation about it; 18000 hotel beds available, about 800 occupied. Dozens of huge tour boats lay idle at anchor in the river. The livelihood of locals had been decimated. They spoke of the perpetrators, Islamic militants, with disdain, "They are not Muslims" and wishing they could capture them to throw their bodies into the hills to be scavenged by dogs. Hawkers and taxi drivers and shop keepers would do anything to get a bit of business out of us.
We took a local ferry across the Nile to the west bank, hired bikes there, and toured around the monument sites and villages. I went into the Valley of the Kings and viewed 3 or 4 of the underground tombs. They are generally made up of a long sloping entrance with a pit trap and several rooms full of wall paintings, but of course all the artefacts have long since been removed. Later we took a walk around the hills surrounding the Hatshepsut Temple, where we sat, gazed down on the temple and analysed how the recent massacre might have occurred there (strange that the security people actually let us freely walk up here).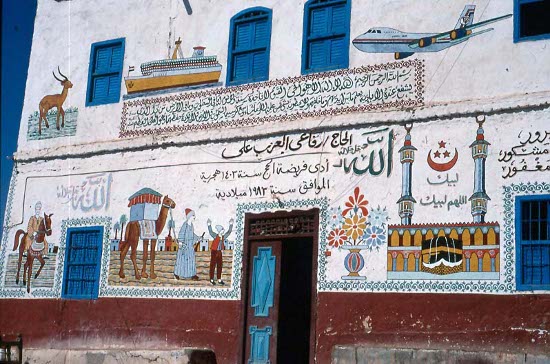 Some of the houses in the villages were brightly painted with travel scenes, an indication that the owner has made a Haj to Mecca. The owner of one house was clearly proud of his pilgrimage and of the consequent artwork, gladly allowing photographs.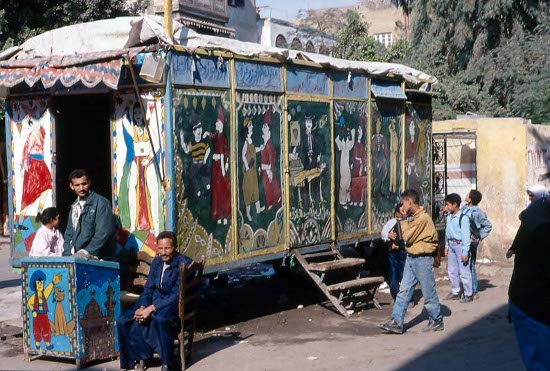 After 2 nights and 3 days in Luxor, another night bus took us back to Cairo. We had two days before the flight, part of which was taken up with a second exploration of the Old Cairo markets. On the last day we took a walk to the south of Cairo where we visited the St George Church and the Coptic area of the city. We poked around the Coptic Cemetery, Hanging Church, Catholic Cemetery and Synagogue. While retaining the bustle, chaos and squalor of Cairo, this district allowed us to see a different (i.e. Christian) aspect of it.
Out to the airport that night of to leave Egypt for the flight to Eritrea. At the airport a Dutch couple was also coming on our flight. They were obviously cycling around the continent, as they had two fully loaded bicycles to put on the plane. It was interesting to watch; they virtually wheeled their bikes as is through baggage check, no attempt to pack them up or even deflate tires, all accepted without criticism by the airline. Where else could you get away with that?
It was early morning of 21 December and we'd been in Egypt about 2 weeks. Egypt was interesting to see (I had never been there before), but not one of my favourite places. The food wasn't that good and the whole atmosphere seemed to display a sort of mercenary "grabbing" mentality. There's a lot to see, but it's mostly well known and predictable. Maybe slight homesickness, culture shock or the malaria medication added to that feeling. Anyway, on to a new country tomorrow.
Eritrea
(Click for Eritrea and Ethiopia map)
We flew via Addis Ababa into Asmera airport in the late morning of Dec 21, some delay for fog, but an easy entry into the country. Taxi to downtown in drizzling rain, and we were saying "What a dreary drab place!" It didn't look to have much character or points of interest. But after we got into a hotel and the sun came out, the beauty of the city also emerged. It's a really relaxing, laid back city, easy to get around in, clean, beautiful people, and a distinct old Italian ambiance. Lots of cappucino cafes to relax in. Weather was also pleasant, not hot. After the depression in Egypt I was starting to feel better already.
Asmera is an easy place to walk around in, with a good mix of clean modern areas in the south part of the city, and more primitive but not squalid areas to the north. Kids played on dirt streets outside mud-brick homes. Outside the city there's lots of Eucalypt plantations (as in much of Africa), prickly pear and rustic village/rural scenes. People placidly went about their activities shepherding, quarrying or collecting water from wells. At a somewhat high altitude, Masawa was not swelteringly hot.
One morning we took a clapped-out crowded Indian Tata bus out for the 3 hour trip northwest to the small town Keren. The countryside is stark and desolate, too dry for crops, with lots of thorn and Baobab trees. On the side of the road here and there were wrecked tanks and other military vehicles from the recent civil war. We were to see many more of these throughout Eritrea and northern Ethiopia.
Keren is a hot, dusty wild-west type of place; the bus building looked like a Gary Cooper movie set. It's a good town to shop for old silver artefacts at reasonable prices. We toured a Second World War cemetery with Italian and Eritrean graves; finding it interesting that all the Italian graves had names and most of the Eritrean ones were unknown. In the early evening the whole town is out on a promenade around the streets and shops. After a nice meal and a comfortable night sleep in a cheap hotel, we rode back to Asmera next morning.
We were on a bus again next day, Christmas day as it were, for the port city of Massawa. Quite a scenic drive down off the plateau, and into our first real heat.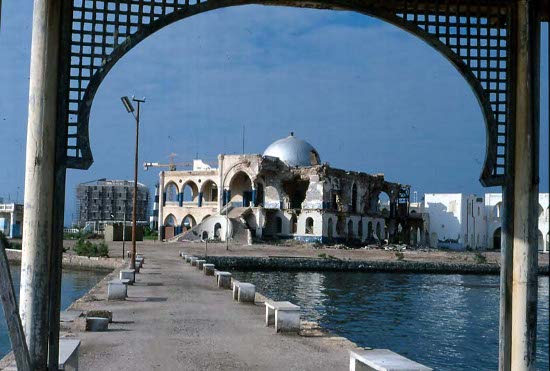 Massawa has a totally shell-shocked look about it; every second building has un-repaired bomb or shell damage from the war, reminiscent of Beirut or Grozny on a bad day. Pigeons would flutter in and out through holes in the hotel lobby wall as we check in. The summer palace of former Emperor Salassie still has half its dome missing. Derelict ships hulks sat in the harbour. What has been built was a war memorial in the main square, with three mounted tanks that had been destroyed in the war. Yet there is also an atmosphere of business as usual despite the wreckage.
The heat and humidity are unrelenting. We spent a couple of days exploring around the two islands and part of the mainland that the city is built on, then back to Asmera.
The people of Eritrea appear generally attractive in appearance, and well organised, disciplined and friendly. The traditional women's hair style is tightly braided at the front half of the head, then spreading out at the back; quite distinctive. They also wear large gold nose rings. There are few beggars. One has the impression that the people will eventually make their fledgling nation prosper; good luck to them.
The staple of the diet, which we ate quite often, is injera, a huge type of crepe made with millet flour (or was it polyurethane?), slightly bitter, and served with spicy meat or vegetable stews; not bad as a basic diet. Bigger than the large plates it was served on, it wasn't the most refined of cuisines, but certainly filled you up. We would come to prefer the vegetarian side dishes with our injera, called "fasting food", more variety and better taste than the meat dishes. One common vegetarian dish was "foul", a stew made from I think fava beans. A common alternative to the injera meals were pasta with tomato sauces, likely a nod to the Italian colonial past.
Overall, Eritrea is an unspectacular, but a quite pleasant, picturesque and amiable country to travel in.
Ethiopia
Long distance buses in this part of the world always seem to leave super early in the morning for wherever. So on 29 December we walked down in the dark for the 04.30 bus direct from Asmera to Axum in Ethiopia, a 9-hour trip. Delays with organisation and luggage meant we didn't leave until nearly 06.00 anyway. The usual bureaucracy and waiting at the border put us a little more behind schedule.
We were not allowed to take Eritrean nakfa or Ethiopian burr across the border, so had no money on arrival in Aksum. Luckily we managed to get the bank to open to change money for us. It's amazing to see in the bank large stacks of bundled-up cash right behind the glass partition; we could reach over and grab a few handfuls of bills if they weren't looking.
Northern Ethiopia, including Axum, is rich in historical sights and ruins. As such it's quite touristy. The down side of course is that there are also lots of souvenir shops and hard sell, everything costs money, and we're continually bothered by touts and beggars. Kids call out to tourists by a sharp "You You" or "Hey Meestah" in an aggressive tone of voice, very off-putting. I wondered how the "blind" beggars could see us coming from a distance. There are lots of teenagers that come up to you and latch on and just want to talk or be with you; they may mean no harm but become just so obnoxious. This whole culture is so different in that way (but similar in other ways) to nearby Eritrea.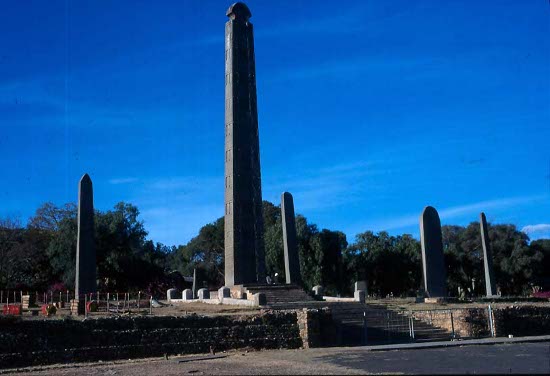 There is a lot to see in Axum. Near the centre are the old and new churches, including the one where the Arc of the Covenant is said to reside (apparently no-one, not even former Emperor Salassie, is allowed see it). We had a bit of a "discussion" with a church caretaker, not believing we should have to pay to go into a church, rather amusing. Inside the church, people were dressed up in elaborate robes and performing endless chants, possibly for New Year. Also near the town is a field of tall carved stone steles; how did they stand them up? One stele, now fallen over and broken, is said to have been the tallest stone monolith in existence. We also walked out to the uninteresting Tomb of Khalib, in the countryside amongst circular huts and livestock herds. and the ruins of the alleged palace of the Queen of Sheba.
We had to be up at 05.30 to catch a bus on south. The hotel guy wasn't around as we were leaving, forcing us to make a lot of noise and virtually break out of the hotel. The bus stand was very chaotic, as it commonly is in African countries, people elbowing and pulling at each other when the bus arrived. We fought to get on the bus; I got in through a window.
The road from here is unsealed, rough and slow. I was feeling sick for some reason, sore all over and no energy. So when the bus stopped in the nondescript village Shire, I would have liked to stay here the night. But the other 6 farangs in our group wanted to continue on. So we changed bus and passed through spectacular mountain scenery and ruins of war-destroyed tanks, trucks, guns, and a bridge. Our bus finally arrived in the small village Adi Arkai after dark. We found a very basic hotel, no electricity, and found our way in the dark to a local restaurant. I was feeling a bit less sick now and we enjoyed a New Years Eve dinner of spaghetti and beer.
Happy New Year. 1998 saw us in the town of Debarak, gateway to the Simien Mountain Park. It seemed at the start to be populated mostly with trekking guides, touts and you-you kids, some even jumping on our bus on the way into town. Herbert, two Belgians and myself negotiated with a guide to do a walk in the Simiens for 4 days for about $Can 110 each. An Australian couple who had just finished the walk gave us some good information on what to expect.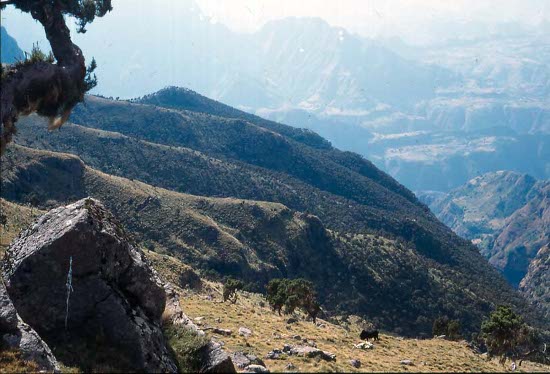 Our guide took us the following day to the Simiens in a truck. I was feeling better now, and well able to start the trek. The entourage included a guide, armed guard and a couple of porters/cooks. Meals were basic rice/bread/noodles. We spent about 2 days walking around the lobelia-studded and windswept tops. Scenery was spectacularly beautiful with steep drop-offs and panoramas of peaks and lowlands. We could approach and closely observe gaggles of lion baboons, but little other wildlife nearby. Our guard had an AK-47, but no real need for it I thought.
We took 2 more days to walk back down to Debarak through lowlands and farms. Locals were herding animals and using horses to harvest barley or peas. Herbert was getting sick, probably the same thing I had a couple of days earlier, and had to abandon the last part of the trek and get a ride back to town.
On the way down we passed the village where our guard lived. He invited us into his home for coffee, roasting and grinding the beans before brewing the coffee. He spoke no English but was a really good guy.
Our guide was a waste of time; his main focus seemed to be to tell us how hard his job is and to convince us of the large tip he should get after the trek. We ended up not giving him any tip, much to his consternation. Otherwise the trek was beautiful and well worth it.
Next stop, 3 hours by bus from Debarak, was Gonder. It's an old imperial capital town with a large palace complex and interesting market area. The complex of castles and related buildings dates from the 17th and 18th centuries, but look medieval in style and construction. Much of the complex is little more than ruins, but interesting nonetheless.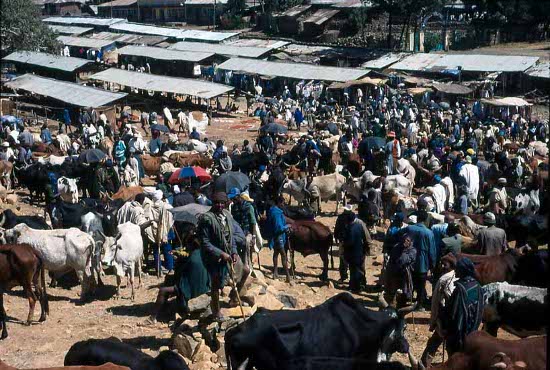 It was 7 January, Orthodox Christmas. In a nearby church large numbers of parishioners were engaged in a chanting ceremony, singing and ululating to celebrate the day.
Later we walked out to the beautiful and tranquil Baths of Fasilidas, a large man-made pool with a building in its centre. We were lucky to see it in progress of being filled for the upcoming Timpany (Epiphany) celebration. Farther on were other palace ruins, similar to those in town but less extensive.
Walking along the street on day, an old crippled woman, who could barely walk, hobbled up to us to beg. As usual we tried to ignore her, and walked faster. But she followed behind us and no matter how fast we walked she kept up, until she was actually running. We could only shake her by ducking into a restaurant and getting the manager to evict her. Well, Ethiopia IS famous for runners.
Next stop was Bahir Dar and the Blue Nile Falls. The falls were impressive even in the dry season, and surrounded by picture postcard farm scenery. On the way to the falls we could walk across a centuries old Portugese bridge over a particularly deep gorge of the Blue Nile.
A 2 day bus trip would take us into the capital Addis Ababa. We had to be at the bus station in Bahir Dar at 06.00 for the bus, still dark. There was already a crowd at the station gate before it was opened. When the gate was opened the ground was so rough, the crowd so pushy and the scene so dark, that my eyeglasses came off in the rush and I never did find them. Fortunately I had a spare.
I noticed wood sellers on the side of the road with bundles of eucalypt firewood. Our bus stopped and bought some of the wood for Addis Ababa. I think I heard somewhere that, were it not for the eucalyptus tree and the fuel and building material it supplied, the Ethiopian capital could not have been built where it is.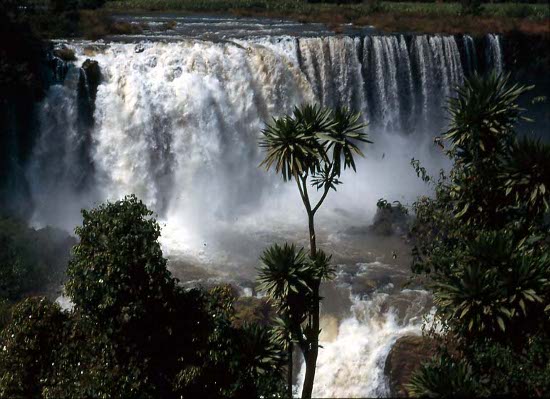 From Addis Ababa, Herbert went on for a couple of days to the Islamic city Harar, about 12 hours to the east. I didn't feel like that much more travel at this time, so stayed to rest until he returned. I spent 4 days in Addis Ababa taking it easy, obtaining a Kenya visa, checking e-mail, shopping and treating myself to pizzas, koftas, lasagna and other non-injera meals. The sprawling Merkato market had a lot to see, especially interesting were the huge metre-high mounds of dried banana that were being cut up and sold.
Also worthwhile was a trip to the University (formerly Haillie Selassie's palace) with it's ethnographic museum (a good display of Ethiopian cultural artefacts), and exhibit of the Emperor's private chambers.
Somewhere in the city I came across a large building, a housing or office block, made up entirely of blue-painted stacked shipping containers. I tried to photograph it but someone came out and chased me away.
I managed to find an internet cafe in the British Council and, for the first time in weeks, get on the internet and access emails. But the connection was poor and I couldn't seem to send messages.
Our next destination was south to the Kenya border. On 16 January we made our way to the bus station and got bus tickets to Sasheme. A conductor sold our tickets and told us where to get the bus, But the bus never showed up, and when we went to complain they said the bus wasn't there, nobody was responsible, and we'd have to wait until tomorrow or forfeit the tickets. Typical disorganisation. We finally had to buy tickets for another bus and were on our way soon after.
The bus trip to the Kenya border, taking in Awasa, took 3 days. As we left through the outskirts of Addis Ababa, I noticed the big abbatoir to the left of the road, distinctive for the vultures perched atop the mountain of discarded cattle bones outside the building.
The road south was good, with more green/lush scenery than in the north, but a long way, and a bit stressful at times. Many of the locals on the bus were chewing large quantities of Khat leaves to keep going.
I believe the lakeside community of Awasa was meant to be a tourist place, but it did not impress us. Several brightly painted rowboats sat in the water, waiting in vain to take tourists out onto the reedy lake. Many kids yelled at us and begged.
At one village we stopped for a half hour or so. I walked out along a crowded side street for a look, and was soon surrounded by curious locals. One strange looking guy among them held his right hand behind his back and extended his left hand to shake mine. Others in the group shook their heads at me to not do it. He must have been a looney with a knife in his other hand, so I hastily took my leave and retreated back to the bus.
Somewhere along this stretch of road another farang boarded the bus, a tall young New Zealander called Boyd. He had just been travelling in some remote part of the country and was now going in our direction. We got acquainted, and would keep travelling together or encountering one another for much of the rest of out trip.
At the border town Moyale we tried to check out bus or truck transport south. But flooding and road washouts, blamed on El-Nino, made ground transport unlikely. We heard unfounded stories of people stranded and starving at flooded river crossings in northern Kenya. It would be a couple of day's wait until we could get onto a plane for $US 58 for a 1.5 hour flight to Nairobi.
On 19 January we were up early for breakfast and to wait for the guy to come and tell us when the plane leaves. So started the spin. "Well, not 09.00, maybe 10.00", "The plane from Nairobi ran into cloud and diverted to Somalia", "The plane just left Nairobi and mechanical trouble; maybe noon", "Maybe next morning". And so it went. We eventually gave up waiting until next day.
We found and talked to a Dragoman expedition group also on the way south. They too were having problems. Their plan was to try to fly the group to Nairobi and drive the truck through empty.
As we waited on the Ethiopian side of the border on 18 January, crowds of people were street dancing, singing and ululating in celebration of Timpany or Epiphany.
At a restaurant we were ordering injera meals, and I observed another local with a plate of what looked like a ground meat stew with his injera. Looking good, I ordered the same. It was only when it came and I tasted it, that I found out that it was a spicy raw meat dish called kutwu. I reluctantly ate some of it and fortunately didn't get sick.
As I was waiting in the same restaurant an old crone, obviously in the game, waved her toothless smile at me and vied for my affections. I had a hassle trying to fend her off, much to the laughter and jeers of Herbert and Boyd.
Next day we waited again unsuccessfully until 10.00 for news of our flight. In a huff we stormed across the border to the agent to abuse him. He now told us 12.30. A truck took us back to pick up out gear at the hotel and we finally left Ethiopia for the last time.
Ethiopia has a lot of history, is a beautiful country, and relatively cheap to travel in. But the roughness of some of the travel, and the hassles from beggars and touts, make it less than totally enjoyable.
Kenya
(Click for map)
On 20 January we were finally in Kenya. We drove the few km out to the airport, just a shack and an airstrip here. It was another 3 hour wait for the plane. I wandered around the area studying the lush vegetation and round-hut villages, and lying in the shade of a large tree near the runway. It was really hot.
The Beech King-Air laden with cargo finally arrived, unloaded its cargo, and we hustled aboard. There were no seats; we all sat on our packs with backs to the wall. One of our group tried to take a photo of the mostly African passengers, but they loudly protested, "We're not a game park!"
Landing at 16.30, we were finally in the bustling partly modern, partly squalid city of Nairobi. Time to check mail, get money from a real bank ATM, phone overseas friends, get onward visas, check transport to Mombasa, Lamu, Lake Naivasha and Nakuru, shop, and change our diet to fish & chips, chicken, hamburgers and Indian thalee meals. Another staple of the diet, which we ate more outside of the city, was the cornmeal dish called ugali here and nsima farther south.
We found and checked into that grubby stalwart the Iqbal Hotel, where I had briefly stayed in 1979. Nairobi hasn't changed a lot in 20 years, but the streets seem worse, and the country has drifted more "third-world" in that time.
I had a number of ulcerated sores coming and going for most of the time I'd been in Africa, similar to what I'd experienced in 1979. They were particularly bothersome here in Nairobi, making me a bit sick sometimes. I picked up some antibiotics, salve and bandages to combat them. They had limited success but sores would come and go throughout the trip.
The first trip in Kenya was by bus and matatu (pick-up truck) out north-west to Lake Naivasha and Nakuru. Herbert, Boyd and I stopped at the tourist resort of Fisherman's Camp on Lake Naivasha for a couple of days, an idyllic setting on the lake with colobus monkeys and the occasional hippo nearby. In the middle of one night we were awoken by a commotion. Someone said there were hippos nearby, but I failed to see any. Next night another commotion and barking dogs was allegedly attributed to a hippo terrorising a woman on the rad, but again we didn't see it.
We hired bicycles and took a day trip out through Hells Gate, a geothermal area and game park. One could see from the bike a wonderful variety of game animals, including hartebeeste, zebra, thompsons gazelle, warthog, eland, buffalo and giraffe. It was a bit nervy riding close to herds of buffalo on a bike, never knew if they'd charge.
When we ordered a chicken dinner in our guest house, we had to wait some time for it to cook, and noticed one less rooster running around the yard.
Nakuru was a typically grubby and characterless town, only good for access to the small, fenced in and intensively managed Nakuru Game Park. You could get on a Parks bus and take a 2.5 hour tour all around the park for a $US 25 entrance fee. Each type of animal had its place, and the bus knew exactly where to go. We saw lion, lepoard, gazelle, impala, buffalo, baboon, monkey, giraffe, rhino, and a whole lake full of pink flamingoes.
In these towns the food is not that spectacular, generally greasy and tasteless cornmeal or bread based meals, samosas, or sometimes tough meat. We got sick of it soon and didn't put on any weight.
Back in Nairobi, Boyd was headed off to Uganda. Herbert and I stayed one night and boarded a bus for Malindi on the coast north of Mombasa. We were trying to get to the old Swahili town of Lamu on the East Coast, a laid-back beach area where we could relax a few days. The bus took 12 hours to get to Mombasa and then up the coast to Malindi at 21.00, a tiring trip on the narrow potholed highway. The road condition was blamed on El-Nino, but it looked to have been in bad shape long before that. Kenyan buses don't seem to bother with rest stops, you need a very flexible bladder.
There is no road connection from there to Lamu, must get there by dhow. The dhow is leaving the same night, so we have to get a quick chicken & chips meal, then wait on the beach for part of the night. I still had diarrhoea from a day or two ago, and I tried to empty myself as much as I could before boarding. At 01.00 we waded & rowed out to the dhow, and waited 3 hours on it to leave at the 04.00 high tide.
Once aboard, we luxuriated in the small, rickety, crowded boat, with a 25hp outboard and a sail, passengered by 5 foreigners and 20 or 30 locals. No place to lie down properly on deck, and no sleep; we sat on sacks of potatoes. We could see large numbers of maggots swimming around in the bilge water, so nobody went down there except to bail, or the women to take a leak. In theory we would take 8 hours to get to Lamu. There was no food or clean water aboard; I only had a litre or so of water and a little bread which I didn't eat for fear it would dehydrate me. No place to go to the toilet, except to lean over the side. We didn't get there by noon, and the trip turned into an interminable nightmare; hot, thirsty, fighting my diarrhoea, and nobody could tell us how long before arrival. Two British guys on the boat had no hats or water and really looked to be suffering. We didn't arrive until 21.00, nearly 20 hours on the boat and 36 hours from Nairobi; quite stressed out. I'd survived it without once a leak or a shit. That was the worst boat trip of my life. Still, it could have been worse; I'd heard of other dhows caught in storms and being at sea for 48 hours or more.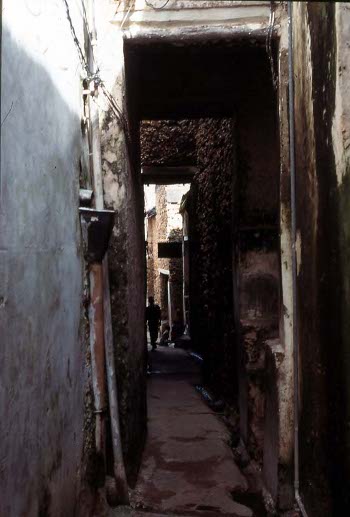 Once we were in Lamu we could really relax, one of those laid-back, travellers' meccas. It used to be a major Swahili trading port; a picturesque time warp of narrow streets and alleys, ornately carved doors and distinctive old architecture. Many souvenir shops and restaurants catered to the relatively small number of tourists. We spent over a week there from 29 January to 5 February exploring, eating and lying on the beaches.
We were in a fairly average hotel near the centre of Lamu. I walked out the back of town to find a nicer place I'd heard about. But it was wet season, the land was all flooded out here, and the guest house was difficult to get to. In fact, the whole of Lamu seemed to be cut off by flooded fields. Anyway, back at our hotel the roof terrace proved to be the best place in town to cool off, laze about and read.
A short walk along the coast is Sheila Village and Beach, interesting beach-style architecture and a clean, nearly deserted beach where we could lie and read for hours.
The Lamu Museum had a captivating display of Swahili ethnography, history, dress and customs, and Lamu architecture, dhows and tribes. Good for its size.
While we were there, the Muslim month of Ramadan ended. The day after, Eid-al-Fitr, the whole community was out on the streets, dressed to the nines, eating, playing, socialising and in a generally festive mood; wonderful to see.
We overpaid our hotel by one day, the return boat leaving one day earlier than expected. I found that getting a refund is like pulling teeth. We had to wait forever for it. When the hotel guy is finally giving it to us he slowly counts out the notes into my hand one at a time, hoping with each note that I'll say "OK, that's enough", quite annoying.
The trip back to Malindi was thankfully less long and difficult than the trip out. The dhow was bigger and sturdier than the one we came up on, motorised with no sail, more room to lie down and a tarp for shade. It took only about 9 or 10 hours to get us to land and a bus connection.
Back in Malindi I noticed several Masai people here, noticeable for their tall stature and distinctive dress. This was not their territory; they must have been hanging around for the tourist trade.
Another night bus got us back to Nairobi on the morning of 7 February. We took about 3 days there to get organised to move on south. I stayed at the youth hostel in the west of the city, expecting to meet someone there who ultimately didn't show up. I watched a huge Evangelical revival session in a park; they really seem to go for these things here. Also I like trains, so returned to the Railway Museum that I had seen in 1979 for another look at the steam locomotives etc.
In the morning of 10 February Herbert and I were on a bus for the 8 hour trip to Arusha in Tanzania.
Kenya in general seems to have deteriorated since the 1970's. Still an interesting and enjoyable place to visit, there now seems to be a deterioration in infrastructure and consequently more hassles. Still, the game parks and Lamu are fabulous places.
Tanzania
(Click for map)
I had some hassles and expense with visas at the border, and a lesson on the perils of travelling with two passports. I had used my Canadian passport in Kenya, but had the Tanzania visa in the Australian passport. The Tanzanian border guard saw a window to make a quick $50, wouldn't accept the visa in the Aussie passport, and made me get a new one in the Canadian passport. Very frustrating.
Now in Tanzania, at 16.00 we were in the grotty, waterlogged town of Arusha. Tanzania is considerably more expensive than any of the previous African countries, hard for a person on my budget. We had a mediocre Chinese meal in Arusha for more than it would cost back home.
Herbert signed up for a 4 day trip to Ngorongoro and Serengeti game parks, but it cost close to $US 300, a bit rich for me (I'd seen Masai Mara years ago anyway). We stayed the night in a new but not very good hotel in Arusha; heavy rain and water leaking down the walls onto the floor.
Herbert left on his Amboseli tour; I was to meet him again on 16 Feb in Zanzibar. For me it was on the bus again for an 11 hour trip to Dar Es Salaam, and a ferry to Zanzibar.
There was a lot of rain and flooding along the highway to Dar, but the roads are generally good here. Unfortunately it was too cloudy to see Kilimanjaro on the way past.
The hotel in Dar was the most expensive I'd used in Africa, about $Can 20 (I'd paid as low as $1 in Ethiopia). Next morning however the 2.5 hour ferry trip across to Zanzibar was luxurious and relaxing.
From the ferry dock on Zanzibar, I donned my pack, fought off the hotel touts and set out to find a place to stay. The Victoria Hotel was full and I found the Flamingo Guest House, hot but OK.
The main attraction on Zanzibar Island is that part of the main city called Stone Town, the old Arab trading and slaving port. Even more than Lamu, it is a fascinating maze of narrow alleys, 19th century buildings, carved doors, fortifications and tourist shops. Murderously hot though. There's a great little food market near the shore where I could get a good feed of local delicacies. It's also nice to sit on the terrace of the Africa House Hotel, drink beer, look at the ocean and meet other travellers.
One of the best features of Zanzibar is the beautiful beaches. I left some of my gear in the guest house and took a bus out to Jambiani Beach on the east coast. It's a quiet fishing village strung out along the beach, with a few hotels and houses, great for my 3 days of relaxation before meeting Herbert. This part of the island is flat coral based rock and dirt, covered by bushes and small trees, not enough soil to support larger trees.
A kid called Moses found me a room in a simple guest house right on the beach. He would later line me up with good home-cooked meals. I spent the time there swimming, exploring the village and countryside, going for an evening beer with other farangs and enjoying the moon on the water, and doing nothing. One of the highlights, with Moses' help, was the wonderful dinners of fish, coconut sauce, chapati and rice in private homes, the best meals in Africa.
One morning a guy called "Mosquito" took a few of us on boat trip some distance out on the ocean to snorkel dive on the coral. We couldn't go onto the reef because we didn't have shoes, but it was a good swim anyway amongst the coral, sea grass and fish.
I liked walking out on the tidal flats around the seaweed plantations. One of the main livelihoods seems to be seaweed agriculture for the Japanese market, women out knee deep in the water tending and harvesting the seaweed crop.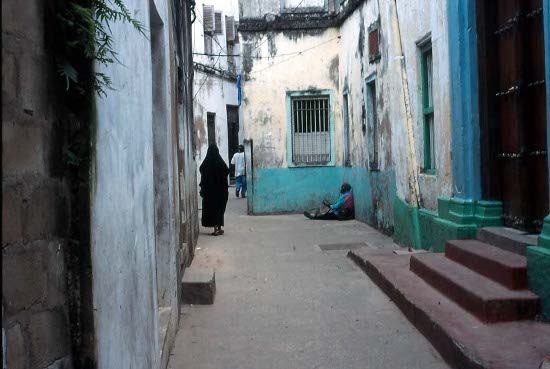 Back in Stone town I met Herbert, newly arrived after his Amboseli excursion. We explored more around the maze of alleys and old buildings of Stone town for much of one day. Also, later in the Africa House Bar, we ran into Boyd, whom we'd left in Kenya and had been through Uganda.
Zanzibar is called the Spice Island, so we went on a one-day "Spice Tour" around the interior of the island. The tour was run by a guy called Mitu, who gave a very polished and informative presentation on spices as well as the 19th century palace ruins, the Persian Baths and local history. Interesting to see how the various spices and tropical fruits actually grow. The tour was finished off with a visit to a coral beach cave and some time relaxing on the beach.
That night we ferried back to Dar. We could sleep on mats inside on the ferry floor, just as well as it rained heavily at night outside on deck. We arrived in Dar in the middle of the night, but thankfully the crew let us sleep until morning before disembarking.
After Dar es Salaam was a train to Mbeya in the south-west of Tanzania, and on to Malawi. Boyd, Herbert and I were again together. The train trip was pleasant, but several hours late starting. They had to wait for another train to arrive so they could use the locomotive. We were meant to leave at 11.00 on 19 February but was held up until 15.30. We reached Mbeya at 15.00 next day. From there it was a lot of hassle, haggling and delays before we got to the bus station and to the Malawi border after 19.00. Countless money changers and touts assaulted us as we found out the border was closed for the day, and we had to find a room for the night. In the morning we rushed as fast as we could to the border to escape the touts.
Tanzania is a nice enough country overall, just a bit expensive (relatively). Herbert enjoyed the game parks and I loved Zanzibar.
Malawi
(Click for Malawi, Zambia and Zimbabwe map)
We were told by others not to miss Malawi, because it's a very beautiful, friendly, laid back and inexpensive country. It was all of those.
We walked across the border with no hassles on 21 February, changed money, and shuttled on crowded minibuses or pickups via Karonga to our next stop Livinstonia Junction. The countryside was brilliantly green and lush, with occasional views of lake Malawi. Over the lake, miles away, we could see strange clouds, like mini-tornados, hovering over the lake. They were said to be lake flies, and there must have been billions of them.
We stopped at the junction, and started out on a 3-hour walk up a small road/track (no transport here) to the picturesque 19th century hill station of Livingstonia. Quite high up, and a hot tiring walk, but worth it at the end. Livinstonia has many historic mission-related buildings including hospital, church, town hall, stone house, school and industrial block. Large eucalyptus and pine trees surround the village. It's a cool, peaceful setting, with a panoramic view over the lake. We walked back down next day and hit the road again.
The back of a pick-up truck was our transport to the next town Mzuzu, then a bus some distance farther until it blew a tire. No spare tire so it looked like we'd be here a while. When a mini-bus came that could take us onward, the bus drivers had conveniently disappeared so we could not get a refund. Anyway the mini-bus got us the rest of the way to the lakeshore village and travellers haunt Nkhata Bay by 18.30.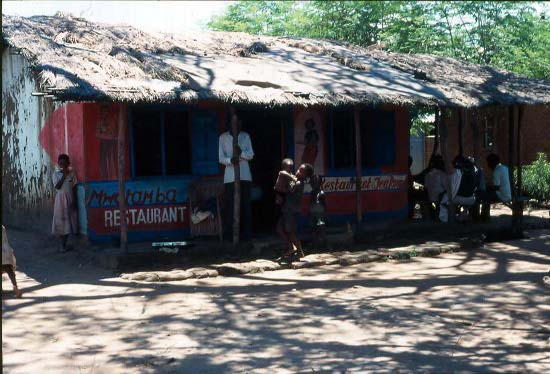 This is another good place to relax, so we stayed a couple of days. We had small bamboo bungalows in the Africa Bay Guest House, right on the shore, a real holiday resort atmosphere. Good swimming there; African lakes in general have a problem with bilharzia, but this one is apparently OK. A lot of travellers chill out here on the beaches or cheap bars and restaurants, and there is a scuba school here, only about $100 for diving lessons. One evening we went to a beach barbecue put on by local young people for the farangs. It wasn't much much, just rice and vegetables and small fish, but good ambiance and conversation.
On the evening of 24 Feb we boarded a large ferryboat for a 48 hour trip down the lake to Monkey Bay. This was a significant departure from our usual style of travelling, so gave us a new experience. We slept on deck, luckily not much rain, and ate our own stored supplies or basic food from the canteen or the shore stops. The boat stopped at a couple of islands and at stops on the west and east side of the lake, but we were only able to go ashore briefly once on the west side.
Our group, about 5 or 6 travellers now, got into Monkey Bay well after dark. There were no lights and we had to pretty much feel our way around to rest houses and hotels, all full. Finally we had to crash for the night on the concrete floor of a gazebo.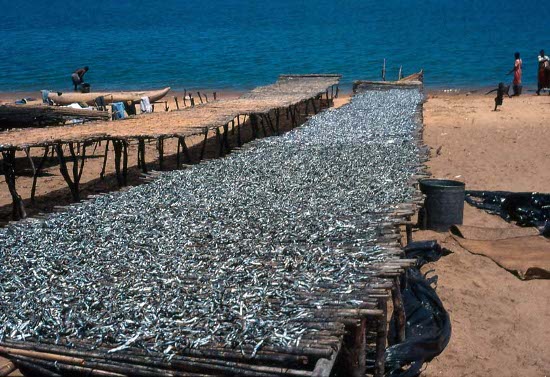 Next morning caught a pick-up to the other famous travellers' destination of Cape MacLear. This place was even prettier than Nkhata, with a great beach, many local mud/thatch houses, stick fences, fish drying racks and lots of hello kids. We found rooms and had a good swim to wash off the travel dirt. Good for a couple of days R&R with swimming, beach barbecues, beer in the bars, laying in hammocks and walks around the pathways. As we sat in a bar one evening we observed a couple of girls on the beach a few metres away get busted for dope; don't know what ultimately happened to them.
I could have stayed longer, but we have only 4 months in Africa. Boyd was staying on here a bit longer, that's the last we'd see of him, and Herbert and I were moving on. From MacLear we had to start on a more-or-less continuous journey to Victoria Falls, nothing much to stop for in between. A slow, broken down pick-up took us to Monkey Bay, a bus to Longue (where a local was trying to sell us a counterfeit US100 bill). Another couple of buses took us through pretty countryside of volcanic mountains, and tobacco, corn and cassava fields to the capital Lilongue.
Overnight in the capital, we were in a hotel room that had brand new beds, mattresses and pillows. Fine except they hadn't removed the plastic from the mattresses and pillows, a sweaty crinkly night's sleep.
We were on a bus on 2 March at 08.30 toward Zambia. On the way we got stopped by the police for a while. Apparently our bus driver was unlicensed, but apparently palms could be greased to allow us to continue; that's the way it works here.
We had been about 9 or 10 days in Malawi. It's a beautiful, laid-back country to travel in, and a good place to take it easy and recover after the stress of travelling in other countries.
Zambia
Because of alleged high prices and lack of things to see, we used this country primarily as a transit route.
We changed buses in a small market/transport town just inside Zambia, and had an hour or 2 to wait. Very much in evidence are large AIDS-prevention billboards. You see them next to hole-in-the-wall shacks with names like "Tampa Rest House and Pleasure Resort", real yin-yang. On the road again about 15.00, and into the capital Lusaka about 03.00. We tried to sleep the rest of the night on the bus in the station (there's hundreds of people sleeping in the station), then in the morning find another bus to Livingstone, near Victoria Falls.
We found another bus easily enough, and got on it about 06.30. But these buses wait till they are full before leaving. The driver revved his motor and honked his horn (as if to leave) for a full 7 hours trying to get passengers. This was the longest, and most frustrating, bus wait of my life. I killed a bit of the time by sneaking away for 20 minutes so to look around the streets of Lusaka; nothing much to see but more AIDS posters.
Finally got going about 14.00, should be in Livingstone in 5 hours. But he developed brake trouble soon after starting, and spent the rest of the day and part of the night on the road trying to fix it. We tried unsuccessfully to sleep on or beside the bus. Eventually it couldn't be fixed and the police got involved and forced the bus people to get us alternative transport. At 06.00 next morning we boarded a very crowded minibus to Livingstone, arriving by 10.00. We were quite tired, dirty and stressed out and hadn't had a bed for 2 nights. But we decided anyway to continue on to Victoria Falls and the Zimbabwe border.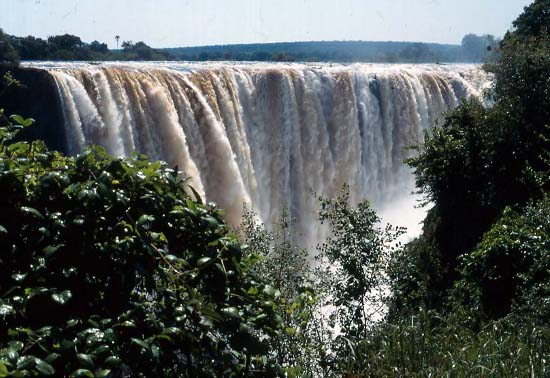 About noon another minibus took us the few kilometres to the border area. At the border we could pay a small park fee and walk to the nearby Zambian side of the falls. As predicted, the falls are spectacular, especially in the wet season. There's so much water coming over that the spray drenches the spectators, and makes the falls themselves a bit hard to see. We walked to a number of viewpoints along a peninsula of land called "The Knife-edge" before returning.
From there it's a short walk to the border post.
Zimbabwe
On 4 March we crossed the bridge over the Zambezi River and were in Zimbabwe. A km or two farther we were in the town of Victoria Falls. Dorm beds were available in the council campsite, after over 50 hours on the road: beds and showers at last. Pizza and beer for dinner tonight.
As we go south, and nearer to South Africa, we see more western influence, more western style (and better tasting) foods and generally a wealthier standard of living. Also there is a larger and more obvious discrepancy between the wealthy (historically white) areas and the "townships". This was first evident in Victoria Falls in Zimbabwe. We were thrilled by the proliferation of restaurants and fast food places, a treat and a change from eating cornmeal-based meals.
From the town we could walk to the park at the Zimbabwe side of the falls. The falls are equally impressive (and wet) from this side. A small museum near the park entrance had exhibits describing the Zambezi River and the falls, as well as anthropology, history and wildlife.
Walking back to town upstream along the river, our path was blocked by 3 huge bull elephants swimming and loitering barely 20 metres away. We were unable to proceed and had to return to the road. But there the same elephants had come up to the road ahead of us. We had to wait until they finally wandered past into the bush, quite a majestic sight.
On the way back near town we passed "The Big Tree" a venerable 1500 year old Baobab tree.
Next day at 06.00 we were on a large and comfortable bus for a 12 hour trip via Bulawayo to Harare. Lots of western-style, probably white-owned, farms and towns along the way. On the bus we were surrounded by a large group of Zambian women, down for shopping or something; very noisy, laughing, singing, shouting, just like a market. Many small agricultural towns reminded me of similar towns in Canada.
We had lunch in Bulawayo about 11.00. We were to see friends Dean and Annette, whom I'd met in Rawalpindi in 1995, in Harare where they now lived. I managed to phone him from Bulawayo, got his address, and arranged to go directly to his place on arrival.
Into Harare about 18.00. It was at the time generally a neat prosperous-looking city, with little of the squalor or bad streets of places like Nairobi. But even at this time it was going downhill owing to bad government and nepotism.
We found Dean and Annette, working in the diplomatic service there, and were able to stay with them. This was pure luxury, a large house in an exclusive neighbourhood with swimming pool, servants, etc. We stayed several days there.
One night we went out to Ramambo's Restaurant. It featured game meals and an African music/dance floor show, a side of Africa I hadn't seen before. I had a mixed plate of ostrich, kudu, gnu and zebra meats (hard to tell which was which), while I think Herbert had crocodile. The show consisted of music on a type of wood/gourd xylophone, drums and folk dancing. It added up to a wonderful evening.
The four of us went to a movie together "The Full Monty", I got some emails done, We shopped with Annette, and Herbert and I explored around downtown Harari and walked up for the views from Kopje Hill.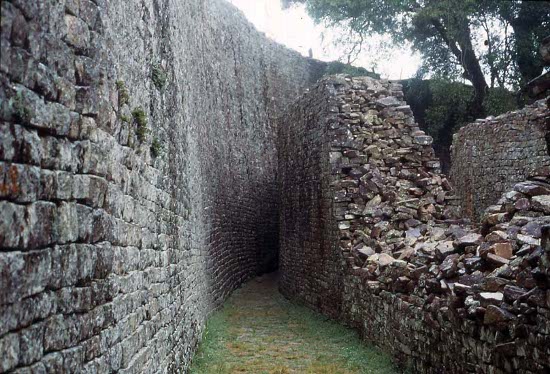 Leaving Harare on 13 March, goodbye and thanks to Dean and Annette, our next stop was Masvingo and the Great Zimbabwe National Monument, in the south of Zimbabwe. We stopped the night in the unremarkable town Masvingo. Next day we took a mini-bus to the bus station, left out packs there, and another mini-bus to the GZNM. A 2 km walk in cloud, mist and drizzle rain got us to the monument entrance at 08.30.
The monument is a large and complex area of ruins from the ancient Great Zimbabwe Empire. It was controversial when discovered because whites could not accept that Africans could have built something that elaborate. Cloud and mist added to its ghostly and mysterious atmosphere.
An ancient path led up to the hill ruins, arguably the most complex and intriguing part of the complex. Then down to the valley complex (mostly piles of rubble and low walls) and finally the mostly intact and superbly impressive Great Enclosure. Most of the ruins are dry stone walls, either standing of fallen.
We had seen it all in a couple of hours, and returned to the Masvingo bus place to retrieve our packs. A bus was leaving immediately for the South Africa border, and we had to rush to get on. The bus however had a cracked windscreen. It started OK at 11.30 but as it drove on the glass started to cave in from the wind pressure, eventually collapsing altogether. We had to stop and change buses. This was our last experience with "real African" buses. We reached Beitbridge, before the border, at 16.30. A taxi took us to the border itself.
Zimbabwe was clean, pleasant and easy travelling relative to previous places in Africa. But under the veneer it's not so nice. The wealth and infrastructure are slowly deteriorating since majority rule, and discontent is rising. Recent food price riots underscored the trend. It might not be a good place to live soon.
South Africa and Lesotho
(Click for map)
At the South African border on 14 March, it was late afternoon when we walked across, and we didn't know how far we could go that day. But we put our thumb out on the road, and immediately a white guy from Zambia stopped his car. What luck! He gave us a lift right to the Johannesburg area, arriving there about 10.30pm. The highway was real western standard, with speeds up to 120-140 kmh. We listened to Abba music all the way.
Our driver wasn't going into the city centre, but staying in a Formula 1 motel near the airport. So that's where we stayed too, a really nice hotel. To celebrate a good travel day, and my birthday, we found an Irish pub nearby for a couple of pints of beer each. It was midnight before we were in our comfortable beds.
Our driver generously drove us into downtown Jo'berg next morning. We organised a bus for Pietermaritzburg, near the Drakensberg Range, for 15.00 later in the day. Leaving our gear in the bus office, we bought some groceries for a brunch in a crowded downtown park.
There were too many tales of the dangerous, crime ridden nature of Jo'berg to hang around here much. As I was walking around the main shopping streets, I was made to leave by security staff allegedly because of the imminent danger of me being mugged. And this was around 13.00 on a Sunday.
A fast and comfortable bus took us past shanty towns and grasslands to Pietermaritzburg by 20.30, and we found a pleasant backpackers hostel for a couple of nights. Bryan the hostel manager was a somewhat tipsy part-time white hunter; photos of lion kills etc. plastered the hostel walls.
PMB is a pretty, easygoing town, with a nice museum and historic buildings. But crime is apparently on the rise here too. As in most of SA, doors are kept locked at all times. We had to ring at the hostel for someone to come and open the gate.
A bronze statue of Mahatma Gandhi dominated one town square. The Natal Museum had good exhibits of early man, cave paintings, Portugese sailing, early settler life and natural history.
Bryan advised that we could travel up to Lesotho next day for a couple of days. From PMB, we could catch a share taxis to the small town Underberg. Then Mark, a backpackers hostel guy from Lesotho would take us in his pick-up truck up to Sani Pass in the Drakensbergs, and on to the village Mokhotlong in Lesotho. OK, lets go.
We boarded a very crowded mini-bus for the ride out to Underberg, arriving about 10.30. In the town we bought boerwurst meat and other groceries for our stay in Lesotho. Mark showed up later and we mounted the back of the truck for the long winding dirt road up the Drakensberg to Sani Pass and into Lesotho. One of our group was an genial older Dane called Jens. The three of us would travel on together for some time, and I would keep in touch with him for years to come.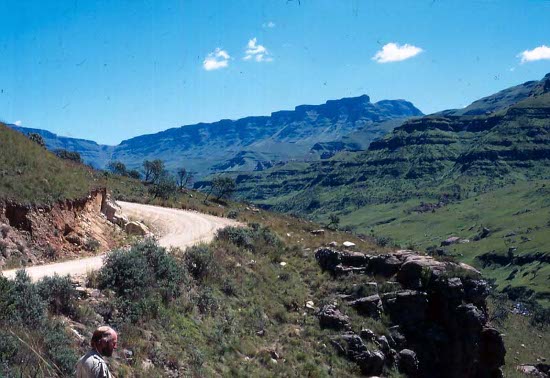 We could stop frequently for photos, and what a picture! Yes, this was the end of the earth, where the bushman threw the Coke bottle (you had to see the movie).
We stopped for a beer at the cool and windy highest pub, next to maybe the highest immigration post, in Africa. On even higher, we reached over 3000 m altitude.
We came to Mark's Molumong Lodge about 16.15, in time to cook a gigantic meal to satisfy our exuberant appetites. We stayed in Mark's lodge for a totally idyllic couple of days exploring villages and hills, and talking to locals.
Lesotho was the biggest surprise of the whole trip. I hadn't been planning to go up there, was not even fully aware it was a sovereign nation, with passport checks and immigration. But it is totally different to SA, and to all other African countries. It's high up in the mountains and cool. Scenery is of course spectacular; grassy treeless hills as far as the eye can see. Dotted round-hut villages are isolated, subsisting on pastoral agriculture. Standard dress appears to be the woollen Lesoto blankets and rubber boots. The people have a dignity and self sufficiency evidently lacking in SA, and a friendly wave in passing is obligatory.
In a nearby village the staff of a very primitive primary school took pleasure in showing us around the school and talking about the educational system. They were just making the school lunch as we were there, stirring large vats of thick lumpy nsima cornmeal over the fire. Later in the sports field, female students competed in a Coke-bottle race, balancing the bottle on their head and seeing how fast they could run without it falling off.
Lesotho turned out to be probably the most unexpectedly enjoyable country of the trip. There were no shops to buy food up here, and after a couple of days we'd eaten virtually all of what we'd carried up. It may have been starvation more than anything that forced us to retreat back down to Sani Lodge for a night.
On 20 March we caught buses and taxis through Underberg, Kokstad and Umtata. The whole Transkei countryside is dotted with the same style of round mud huts, painted blue, with thatched roofs. Transport and everything else was more expensive than expected, the costliest country of the whole trip. I was running low and could find nowhere to change money or buy groceries.
At Umtata we were picked up by Patrick and driven out to his Coffee Bay backpackers on the coast. It had been a long day, travelling from 08.00 to 18.00. I could finally change a bit of money and buy food. But the lodge was putting on a fish barbecue that evening, which we eagerly patronised. Drinking and partying continued to midnight.
Coffee Bay is on a rugged section of Indian Ocean coastline, with a few houses, a shop, and backpackers hostels. The number of young travellers passing through here make it a real party place, lots of drinking, music, socialising and whirlwind romances.
We could swim in the sea, and the coastline was reminiscent in some ways of that of Australia. We took a good 6 km, 2.5 hour, walk along the beautiful coast to Hole-in-the-Wall, an offshore rocky island with an arched cave. Back at the lodge, we were treated to an ocean ride on a large two-motored catamaran, thrilling to roar and bounce over the ocean waves.
After a couple of nights at Coffee Bay it was time to head toward Capetown. There were a few hassles though. Delays getting our ride into Umtata meant that we missed the bus we intended to take. The other options were a much more expensive Greyhound bus or a black taxi. The taxi was nowhere near full and we had no idea how long it would take to fill up (remember Lusaka?). So we finally had to take the Greyhound at about 14.45. The comfortable overnight bus took us via East London and Port Elizabeth, arriving in Capetown after 08.00 on 23 March. We took a taxi to New Church Road and got into a backpackers hostel.
This is the destination we'd heard so much about, a great place to see, and the completion of our "Cairo to Cape" trip. Capetown was a good place to spend time in; we'd be there a week. There is a lot to see, and it's all easy and well organised. There is all the food and shopping and conveniences of any western city. It feels more like Sydney than Africa.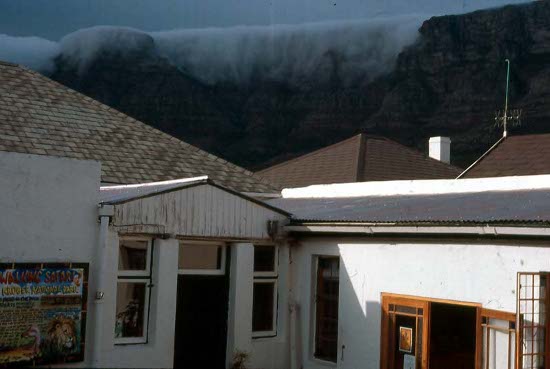 We took a 5-hour return walk up the Plattenklep Gorge to the top of Cable Mountain; it would have been a splendid view but cold and cloudy on top. On other days we got good views of the mountain in clear weather. Even better were days when the cloud dropped over the edge of the mountain to form the "tablecloth", looking like something from a Frankenstein movie or a Wagner opera.
Later we looked around the Victoria & Alfred Waterfront, a Darling Harbour/Fishermans Wharf type complex of trendy shops, restaurants, entertainment, tourists and even a small fur seal colony. The National Museum and Art Gallery are also worth visits. Signal Hill is a sweaty walk up through scrub and eucalypt, but good city and sea views from the top. I tried to swim at Camps Bay, but the water was straight from Antarctica, and my swim lasted about 60 seconds.
One full day was taken up with a Cape Tour. A bus takes us out along the Atlantic coastline, through suburbs, fishing villages like Hout Bay, steep coastlines, and down to the Cape of Good Hope. Low clouds gave the coastal moors a ghostly, desolate look. We could walk up to Cape Point and the lighthouse (there were two lighthouses here; one had to be abandoned because it was in the wrong place and was too often obscured by cloud). Another walk took us across windswept hills right to the cape itself, the most South-west part of Africa. A blanket of cloud covered the peninsula right up to Table Mountain, where the cloud formed a "pillow" over the mountain. Back along the east side of the peninsula was Simonstown, a penguin colony where you can walk right amongst the penguins. We returned via Fish Hoek and Kalk Bay to Capetown.
All that remained of the trip was to catch an overnight train to Pretoria, look around there for a day, and on a bus to Jo'berg Airport for the flight back to Europe. The 16 hour train trip passed through garden and orchard hills near Capetown, up to drier land, and through grassland with mines and tailing dumps.
The most interesting sights in Pretoria were the Kruger House Museum, and the museums in the Pretoria Prison (amazing what the prisoners can manufacture illegally) and in the Police Complex (gruesome).
The date was April 2, nearly 4 months since flying into Cairo. We caught a shuttle bus at 15.00 for the 47 km to Johannesburg Airport. Our flight took off at 19.30 and we were back in Dusseldorf by 10.00 next day.
South Africa is more westernised than other African countries, and is easy (and relatively expensive) to travel in. Like Zimbabwe, it too has a feel that it's deteriorating, unfortunate because one wants them to succeed. The gap between the wealthy parts/people and the townships is too great to be soon eliminated. Crime is a serious and growing problem.
Overall, Africa was a great trip, lots of hard going, and hassles, but lots of variety to see. People and places were always interesting. Unlike in Asia, I seldom got sick or lost significant weight. 4 months is, however, not really enough time to go Cairo to Cape; I felt rushed at times, and would have liked to spend longer in certain places.
I'd be about 10 days more with Herbert, then off on my bike to continue my European tour. That's the next chapter.