South-East Asia 1999
After my gi-normous bike and backpacking trip through Europe and Africa in 1997-1998, I spent a few months chilling out in my two home countries of Canada and Australia. In early 1999 I was returning to the former country from the latter. Rather than fly straight there, and having never been to Laos, I decided to take a couple of months for the trip. I could visit Laos via Singapore, Malaysia and Thailand. This time I'd be strictly backpacking, my bike would stay at home.
Singapore and Malaysia
(Click for map)
On 17 February I was on the plane from Sydney to Singapore. Landing at 21.10, I was on a bus and down-town at 22.00. Accommodation seemed quite full, and I only just got into my usual digs for two nights at Lee Boarding House on Bencoolen St.
Why? Probably because Lunar New Year celebrations were just getting into full swing. Crowds were everywhere. On my second evening I wandered down to Marine Promenade where festivities drew massive throngs of people. A midway had rides, games and the usual associated paraphernalia. A large stage under the bridge had continuous entertainment; singing, dancing, traditional dance and acrobatics. A troup of teenage girls performed tricks with big yo-yos and sticks.
Studying my guide book, I decided to go up to Thailand and Laos via the east coast of Malaysia. Following a route I'd taken more than once before, at 08.30 I caught one of the frequent buses running between Singapore and the Larkin Bus Terminal in Johore Bahru. Customs and immigration at the causeway are so quick and efficient that one is scarcely aware that it's a border crossing. In JB bus touts immediately steered me onto another bus to Kuantan on the Malaysia east coast.
On the way I noticed that much of the forest along the road seemed to be destroyed, with dead trees and bare areas. Why? Maybe for palm oil, I don't know. It was a bit sad to see though.
In Kuantan at 16.15 with other travellers, our immediate goal was to get to Cherating Beach about an hour north of here. But the local bus departed from a different part of town. A group of us asked directions and found our way there. We were in Cherating by 18.00, a good travel day.
Cherating Beach is another of those pleasant laid-back destinations that travellers arrive at and don't want to leave. It's so easy to meet other travellers and locals, chill out and absorb the atmosphere. Some farangs have ceased travel and are actually living here, only leaving for shopping or to renew visas.
I walked toward the beach and found Coconut Inn, a group of simple A-frame huts run by a nice local guy with a Dutch wife. He was suffering from a toothache at the time and had his jaw wrapped up. From time to time he'd shout or cry out. I thought it was the tooth but I later found out he had Tourettes syndrome. Anyway this place was good enough to stay for 4 nights before moving on.
I totally enjoyed my stay here. The ocean, a bit brown I think from wet-season run-off, was good for swimming. The beach was clean and perfect for lying on to read and write notes. Food in the small restaurant was simple and good, especially the roti-canai breakfasts. Many other travellers were available to dine, drink and hang out with. I could do exploratory walks along the beach-end rocks or up-river where I could occasionally spot scampering river otters. A nearby Islamic Outreach Centre library had a number of pamphlets giving me some insights into their religion.
During one bar session with farangs and locals, conversation turned to destruction of native forest. The Malays had the view that they did feel sad for the environment, but it had to be done for the sake of economic survival. What can you say?
From Cherating others and myself took a bus north (through more deforested landscape) to Jerteh, a taxi to the coastal town Kuala Besut and a boat to the island Perhentian Kecil. The boat landed at Coral Bay on the island, but there was no pier there. We had to pay a small fee to be taken ashore on small boats. From Coral Bay I took the 15 minute walk across the island to Long Beach, a surfing beach with multiple guest houses and restaurants. Despite being off season the place was crowded, but I found a room in the recommended Moonlight GH.
Perhentian Kecil is the smaller of the two main islands of this archipalego, logical as kecil means small and besar means big. I didn't like it as much as Cherating, more expensive and less ambiance. One had to buy drinking water (although I treated the tap water and it was OK) and there were no local food stalls to keep meal prices down. It did have some coral though, and happening to have my snorkel gear with me, I was able to take advantage of that feature.
I stayed two full days on the island, mainly diving and sitting on the beach at Coral Bay. The coral there was not spectacular, no cliffs or drop-offs, some coral desert, but a good variety of coral and fish in places. Of particular interest were the coral rocks with little orange, blue, black or multicoloured "flowers" protruding, quickly disappearing on my approach.
At a night beach bonfire I met and chatted with a couple of travellers who had recently been to Laos, pumping them for information for my trip there.
Wih another group now, I left the Perhentians back to Kuala Besut. Four of us shared a taxi to Kota Bahru in the far north of the country. About noon on that day I found the friendly Town Guest House, Internet service available, for one night stay.
I'd been to KB before and enjoyed exploring around to see what changes had been made. The floating raft-houses still lined the shore of the Kota River, something I remembered from 1977. Food was good. I tried and liked the beef murtabak, a sort of paratha wrap filled with a beef curry. I found a banana-leaf restaurant where I could get a great cheap fill of Indian fish thallee. Internet in the guest house enabled me to send email postcards to friends and relatives. In the evening the night market was the main attraction, a bright, motley array of stalls vending all manner of clothing, knick-nacks, food and whatever. On display were a variety of weird looking meat, vegetable and fish dishes and intricately shaped and coloured rice-cake sweets.
At 06.30 on 27 February, after 8 days in Malaysia, I was up and finding the 07.15 bus for the short trip to the Thai border. At 08.30 I was walking across the bridge, just as Julian and I had done 2 years previously, into Sungai Golok, Thailand.
Thailand
I decided to walk the 2 km to the rail station and take the train directly to Bangkok. Leaving at 11.00 and arriving in Bkk at 09.00 next day, I had a bit of time to wait, using it to change money, get a small feed with my remaining Malay money, and exploring the town and markets.
The scenery from the train was pleasant enough, passing through Hat Yai after noon and Surat Thani after dark. Only having a seat though, I didn't sleep a lot at night.
Bangkok didn't seem to have changed a lot since 1989. As then, I walked from Hua Lamphong Station and found a bed at my favourite Sawatdee Guest house in the Thewet district.
My main aim in this big noisy and polluted city was to get my visa for Laos. The embassy was closed today and tomorrow, so I couldn't get the visa until Tuesday. I spent most of the two spare days exploring around the city re-acquainting myself with sights and activities I'd seen on previous trips. Walking along the bright, touristy and noisy farang ghetto of Khao San Rd, I was glad I wasn't staying there. On Samsen Rd in the evening was a large night-market and entertainment set-up; it caught me up for a good couple of hours amongst the opera, fashion shows, puppets, portrait artists, buskers, food stalls and plastic glow-strips.
The Laos embassy is a long way out, so on 2 March I paid the guest house people to get the visa for me, to be available that afternoon. I also booked through them an air-conditioned night bus tonight to Chiang Mai. That means I could be in Laos tomorrow.
The bus left at 19.30 and reached Chiang Mai, in the north of Thailand, less than 12 hours later. But instead of stopping at the normal bus terminal it went to a deserted filling station miles away. I had to take a bimo (or tuk-tuk, whatever you call them here) to the bus station. I don't know why they do that, jobs for the bimos or no license to go to the bus station, I don't know. But it's annoying.
From the bus station I was able to get an 08.00 bus to Chiang Khong on the Lao border, a 6 hour trip on small hilly roads through forest and fields. CK was a typically characterless let-me-out-of-here border place. I changed a bit of Thai bhat to Lao kip with a farang who was leaving Laos, and walked the 2 km to the immigration post and Mekong ferry crossing.
At the river I encountered a very angry American couple sitting near the dock. They had been told you could get Laos visas at the border, and it was true. But the visas had to be processed on the Lao side, and Thai Immigration wouldn't let them cross the river to get them. They were meant to pay Thai agents USD 60 to go across and get the visas. It must have been a scam. They didn't know what to do. I could maybe have gone across myself to get their visas, but they may not have let me return. I grieved for them, understanding exactly how they felt and glad I already had my visa.
Laos
(Click for map)
So a 20 bhat boat across the river, through Lao immigration, and on the afternoon of 3 March I found myself in the town Ban Huay Xai, in (for me) a brand new country.
I checked into a room at the Houei San Hotel, and explored around town, and walked up the steps of the hill to Wat Joum Khao Manilat temple, from which I could photograph a pleasant sunset view over the Mekong.
Laos had not long been open to independent travellers, and promised to be less commercial and spoiled than most other locations in the region. The streets in this border town did indeed have a wonderfully relaxing and laid-back atmosphere. Looking across the river to Thailand one could instantly see how much less built-up it was here.
The roosters woke me up at 04.00. With another traveller Tod I walked the 20 minutes or so to the market and truck stop. Others were to go straight through to the town Luang Nam Tha on the main road in the north of the country, a day's trip. Feeling like moving slower and stopping in less visited places, I got a ticket for a bimo truck to the small village Viang Phou Ka, about halfway to Nam Tha. The truck rode half a day over rough and dusty dirt roads (lots more of them to come) to reach Phou Ka.
Well, it was certainly rustic. I get the feeling few farangs (or falangs as they say here) bother to stop here. I got a nice little room in a guest house for about a buck a night. I loved wandering around the town looking at children, houses and the river (people washing themselves and their clothes and vehicles there), then out on paths through tranquil fields and scrub.
This place was so unvisited that when I walk through the countryside little girls would see me and flee in terror (but the boys follow me and laugh). When walking in the street, a toddler would see me and cry and hide behind the father. Then for a laugh the father would push him toward me, making him cry even more. I could imagine the conversation in the homes that evening, like "Eat your beans or the Falang will come and get you!"
Dinner in the guest house was rather basic, stir-fried dried buffalo meat with stir-fried vegetables and rice. Not much breakfast around either, so next morning I was straight on a truck to the north Lao town of Muang Nam Tha. The roads are nearly all dirt here, with potholes and creek fords, so slow going. At one point our ex-army truck (a 4-wheel drive) had to turn back a couple of kilometres to a difficult creek crossing, to make sure another truck got across it safely. The local women (I was the only falang on board) had a great laugh trying to take the piss out of me, telling me that we were going all the way back to the previous village. "Ha-ha, no Nam Tha, no Nam Tha!"
Countryside is mainly forest (sadly with lots of evidence of slash & burn agriculture and increased logging) and rice fields. Beautiful, but visibility is not all that good in the north from smoke haze.
In Nam Tha I found a room in a guest house and had a meal in a basic restaurant of fried noodle, vegetables, egg and rice. The country has not been really open to falangs (westerners) for long, and it's evident in things like the restaurant menus. Where else can you find english menus with such intriguing delights as "pork rubbish" and "mix appen dix".
I met and talked to a girl Renata that I had previously met in Cherating, Malaysia. I'd meet her again farther on. It's a small world when you're travelling. Also I talked to a Lao woman who'd lived many years in USA and was just now returning to her small village, with more than a small degree of trepidation. An older Dutch guy in the my guest house was able to help me navigate the intricacies of the money-change black market and help me stock up on Lao kip. Lao money was virtually worthless, about 6000 kip to the USD, and unmarketable outside the country.
Next town was the far north place Muang Sing, reaching the town around 11.00 on 6 March. I found a good cheap guest house near the market with a rice paddy out back.
MS is a delightful area to spend a few days relaxing, going on bike rides to the Chinese border, and visiting hill tribes. The market is interesting, especially the barbecued bats and cicadas (I didn't bother to try them, not feeling the need to prove how squeamish I wasn't). In the same market I found the cheapest noodle soups anywhere, about 25 cents for a bowl.
ft">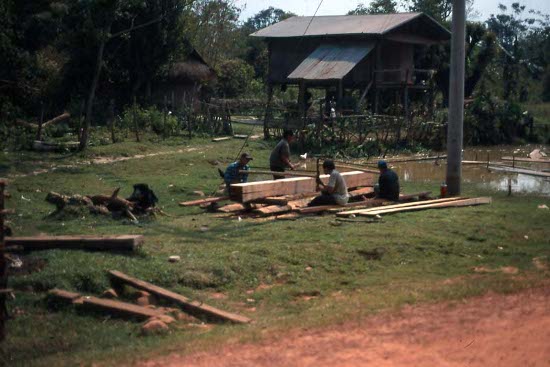 A walk outside of town took me to the sight of kids fishing in a pond. Men were rip-sawing a large log into planks with a long two-handled hand saw, much as we would have done it over a century ago.
I met Renata again in a restaurant and talked awhile. Then Tod showed up, more conversation. Then an Ottawa couple that I got to know, then Renata returned. I couldn't get out of there. That's the kind of place it is. Members of our group would meet repeatedly for meals, trips to the hill tribes or other activities.
I hired a bicycle one day for a ride up the valley and into hills to the Chinese border. There was nothing much to see there but I did get a look into Chinese territory. Later in the day I rode out on another road about 6 km toward Burma. Here it was mainly flat country with fields, villages and people on the road. The kids all had ear-to-ear smiles and yelled out "Sawatdeeeee"; I got sick of replying to them.
The hill tribes were not (yet) over-visited like they are in Thailand, still natural looking. The Ottawa couple and I saw about 3 Akha villages, as well as other tribes. Lots of women in traditional dress, dogs and kids populated these villages of rustic wood and bamboo houses. The Akhas are a bit greedy though. I was watching one woman weaving, and knowing they like to get coins for their hats, offered her one. As soon as I did, the whole village was there like seagulls, all wanting something.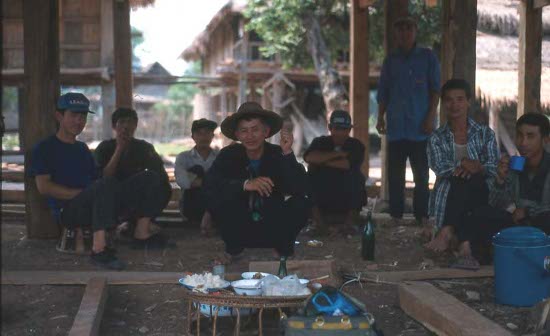 In another lowland village I came across a group of men building a wooden stilt house. On of them spoke English and I was invited to share their lunch of sticky rice, coconut sauce, vegetable, buffalo and a shot of their vicious moonshine Lao Lao whiskey (Stay tuned for my further experiences with this cheap and potent liquid). It was fun socialising with them and learning more about the local architecture and construction.
From Muang Sing, I went back to Nam Tha, and then on to Oudom Xai, a small town in a pretty hill/valley setting. Overnight there with a couple of others, and we caught another truck to the Mekong River at Pak Beng.
Pak Beng is a pleasant easy-going town with good views up and down the river (ruined a bit by the noise of speedboats). I wanted to spend some time on the river so organised to go by slow boat (9 hours) from Pak Beng to Luang Prabang. It was a very enjoyable trip on the long narrow boat with seats along the sides. The river layout at this stage was rocks, sand, hills and bush. The best views are from sitting on the top of the boat, but the driver didn't let us sit up there much, because of instability in the rapids or races.
We stopped at the Pak Ou caves near the river, a couple of grottoes full of Buddha statues and figurines, interesting for a half hour or so. Farther on we stopped at a village of souvenir stands, the boatman probably gets a commission for stopping here.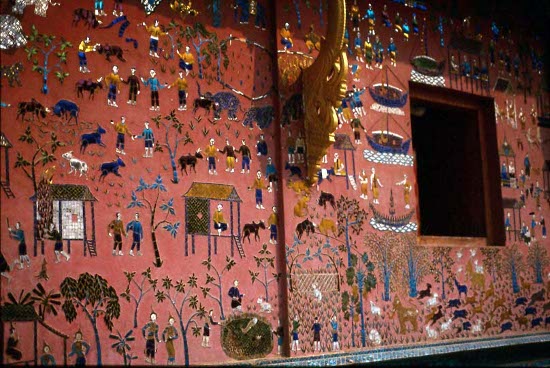 Luang Prabang is a well known tourist city in the north, with a large number of wats and stupas, and rich in cultural heritage. I had a good day or two exploring the city and looking at wats. At one wat there was a large group of Monks from Thailand on a tour, it looked a bit incongruous for them to be looking around and talking to us and taking pictures (Hey, they're doing our job).
One day a group of us hired a tuk-tuk and went out to the Kuang Si Waterfall about an hour away. It was a large and pretty series of limestone falls on several levels. We could swim there; the water was cool and great, and could walk up slippery paths to the very top, across a rimstone pool, and down the other side.
At a street shop I bought a bottle of Lao Lao whiskey for a dollar, it's that cheap.
I didn't stay long in Luang Prabang though, the pollution from smoke haze, etc was especially bad.
On 14 March I went on to Viang Veng, another town where lots of falangs end up. The truck took about 6 hours to get there on a small winding road through steep mountains. I was able to ride on top for part of the way. At one point we took some time to get past another truck that was upside down on the road.
Viang Veng is a small town next to a river, in a karst area, reminiscent of Guilin in China, with lots of limestone hills and caves. I'd spend about 4 days here.
Being 50 years old today, I had a bit of a birthday celebration with some friends in a restaurant. I had my bottle of Lao Lao rice whisky and shared it with the others, as well as drinking beer etc. Most enjoyable party, and most miserable morning after.
Boy, what a case of 26-ounce flu! I wasn't very energetic next day, so just hired an inner-tube, took a bus upstream a few km, and and spent about 4 hours floating down the river back to town.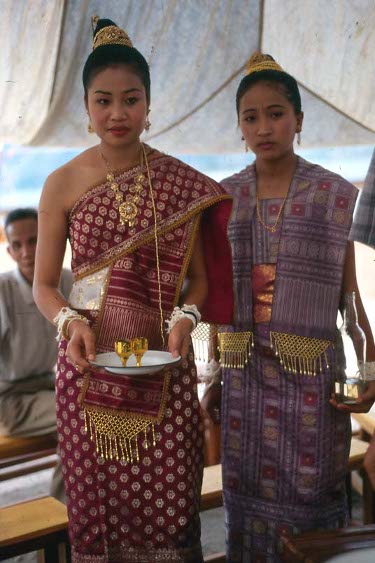 In one village I stumbled on a wedding ceremony. No-one spoke English, but they invited me in to the wedding reception anyway. The bridal party were dressed in traditional Lao costume, most delightful, and really genuine. The bride and bridesmaid were carrying around trays of gold-coloured glasses with that Lao Lao whiskey for the guests. I was still feeling the effects of the my birthday bash, but thought it may be impolite to refuse a drink or two.
I walked or hired a bike to explore caves and villages around Viang Veng. There was a lot to see. Some caves were deserted; others had a guide to show me around. Some had Buddhist temples or statues in them.
In the evenings the main attraction seemed to be the river. Adults congregated to wash cars, buses or themselves. Children swam or played mud-ball games. Falangs came to watch the sunset over the hills. It was a real community.
Next stop was Vientiane, a relatively built-up and modern city, more foreign than Lao. The revolutionary museum that I saw there was the only reminder (other than the undeveloped state of the country) of the Marxist system in Laos. At one intersection on the way out of town was a copy of the Arc de Triomphe. I only spent a day there, splurging on a pepper steak dinner which turned out to be not that great.
The next stop was Savannakhet to the south. Somewhere along the way I remember stopping in a small village for a lunch or something. As we sat at a table an ice truck stopped nearby to make a delivery. We watched as they grasped a large block of ice with a pick, dragged it off the truck, and thumped it onto the dirt road in a cloud of dust. One of the Americans in our group sardonically quipped, "Yeah, that's what they'll mix our drinks with now."
I'd bought a bus ticket to Savannaket, but the bus stopped about 16.20 at a road junction 28 km from the city. They seemed to expect us to take a tuk-tuk the rest of the way into the city. I was sick of this nonsense, kicked up a fuss that my ticket was to the city and not to here, and they finally relented and let me and 3 others back on the bus and drove us closer to the city.
We only stayed in Savannaket one night. I explored around the sometimes charming and atmospheric parts of town, and some dingy parts. Power failures dimmed visibility at times. On a back street I found a woman in a small restaurant, no English but talkative and nice, who sold me a dinner of that ubiquitous laap dish, sticky rice and lots of water for my thirst.
On the bus to Pakse, the bus driver had tire trouble. He fixed one flat, then it went flat again right away. So he took the wheel off and ran with only one wheel on the back on one side. A bit risky with the bus so full and heavy. We got part way to Pakse and the remaining wheel sheared all the bolts and broke off, bringing the bus to a grinding stop. It wasn't about to go anywhere for a long time. Luckily some of us were able to hitch a ride in a UNHCR Land Cruiser the rest of the way to Pakse. The UN is good for something after all.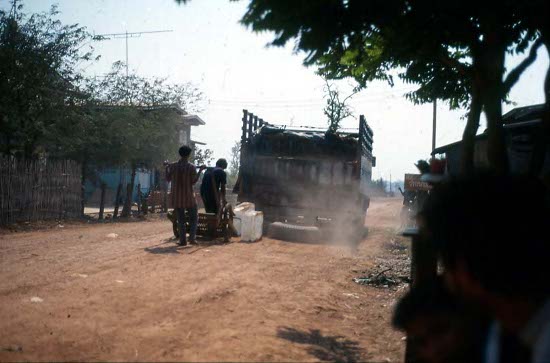 Pakse is another grubby characterless town. My little group used this place for a meal, bed and to catch a boat south to Muang Khong in the Si Phan Don Islands. At 08.30 on 21 March three of us were on a river boat. This time, unlike from Pak Beng, we could sit or stand on the roof for the whole trip, more comfortable and better view than from inside. The boat stopped at several villages along the way to let off people.
It was a 9-hour ride south to the Si Phan Don Islands on the Mekong River near Cambodia. We were let off at a small village, from where we had to take a tuk-tuk about 8 km to the bigger Muang Khong village. MK was a bit spread out and a hard to find things, but I found a room for the first night and changed next day for another more suitable guest house.
The Si Phan Don Islands are in the far south of Laos, right on the Cambodian border. Here the Mekong River widens out into a maze of islands, and drops over a series of waterfalls as it continues into Cambodia. It's another place good for relaxing, cycling around and meeting people. I met and talked to an Irish girl Alma a couple of times, and I'd be in contact with her for years afterward.
The waterfalls are worth a look. A group of us got together to organise a boat for a day trip to the falls. The boat took us on a 1.5 hour trip, lots of weaving back and forth to find navigable channels, to the village Don Khon. This would have been a good place to stay in its own right, and some of the people on our boat did stop here. From the village we walked about 1.5 km to a rocky escarpment with a series of widely spaced waterfalls along the top. The water cascaded a few metres down to the lower river level. We explored here for a half hour, then back to the boat, across to the mainland, and caught a tuk-tuk a few km to a bigger section of the falls. This was more like one wide falls rather than several smaller ones, but the same height as the others. Here we could scramble out on rocks to find better views. We were back home by 17.00.
One annoyance was that in the evening the air was thick with bugs, so many that they got into the food we were eating and caused quite an annoyance. It must have been just a bad time of year for them.
Next day I hired a bicycle to ride around the island. It was a pleasant ride along dirt roads or tracks, rice fields and bush, lots of "Sawatdee" kids, and the occasional decayed and overgrown temple ruin. I wanted to go all around the island, but I saw that my front tire was getting soft, forcing a return to the village after noon. I had lunch, rested in the hot part of the day (it's really hot here unlike the relatively cool north), pumped up the tire, and later took another ride to the hills, forest and fields in the north of the island. Some of the ride was accompanied by a group of students asking me a lot of questions in bad English. Kids were always a pleasure, smiling, polite, curious and never demanding or begging.
After 3 days on the islands, I caught a boat and bus back north to Ban Muang and across the river to Champasak. The bus was a converted truck, cramped and uncomfortable, slow along the rough dirt roads. Wherever it stopped, vendors came up selling sticks of barbecued chicken, bats, sparrows and beetles.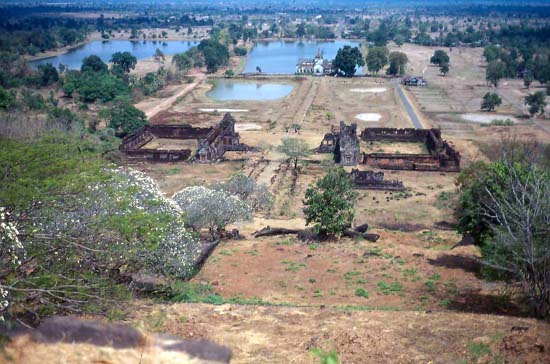 In Champansak I got a room for the night, and hired a bike for an 8 km ride out to Wat Phou (or Wat Muang Kao?). It's a large ruin of an Angkor-period Khmer temple complex. Not as big as what I expect Angkor Wat to be, but impressive enough, and I won't be getting to Cambodia this trip. The temple was built in terraces up the slope of a hill. One main building on a lower level and another higher. Much intricate and detailed carved relief stonework was done in Hindu and Buddhist motifs. Some of the temple grottoes are still in use.
That was just about all the time I had in Laos, so back to Pakse, hitched a ride on a truck to the Thai border, and on 26 March I was back in Thailand.
I was really glad I saw Laos before it got too touristed. I was impressed with how genuine and nice the people are. The country is not rich, with no real industry or infrastructure except aid projects, but the there is not evidence of malnutrition or grinding poverty, and virtually no beggars. They don't have much, but seem to have enough, and haven't yet got greedy. I never felt other than completely safe there. It was extremely cheap to live; the kip was trading on the black at 6400 to the USD, and dropping continually.
Thailand
(Click for Thailand and Malaysia map)
My first stop in Thailand was to be Ubon Ratchathani for a look around this eastern Thai city. This must have been unusual as most farangs charge right through to Bangkok without stopping. The bus driver dutifully dropped me at the train station in Warin Chamrap, a few km before UR, at 14.00.
After sorting out what happened and where I was, I got a lift into UR, wandered around the city looking for accommodation, and finally found Pajit Camping on the river. Here I got into a neat floating bungalow over the river. I wandered the city in the evening looking at a temple, park and joss house and talking to a student in the park. In my bungalow I was gently rocked to sleep by the river current.
Next day I took a train to Nakhon Ratchasima, or Korat, for a couple of nights. Looking for a place to stay, I met an old Swede in a restaurant and he directed me to a Chinese hotel. The couple spoke no English but were congenial enough, giving me a big but barren fan room with attached facilities. It looked to be used more for sex trysts than normal accommodation, but it suited me OK. The city was so hot that I had to shower often.
In the evening, exploring around the moat area of the city, I found that a couple of the streets were blocked off for a big fair or exhibition. Masses of people thronged the midway rides, food stalls, shops, and exhibits of trade, culture and careers. For a snack I found some of those beautiful little sweet meringue crepes that you see everywhere. There was so much to see that I didn't get back to my room until nearly 21.30.
Next day I found the No. 2 Bus station for a day trip 50 km out to Phimai to see the Angkor ruins there. Prosat Phimai temple ruins are considerably bigger and more restored than Wat Phou in Laos, but lots more tourists too. It was constructed from red and white sandstone and laterite, built as a number of concentric square walls or rings with gateways, portals and rooms. Many reliefs depicted Ramayana, Mahabaratha and Buddhist motifs. The nearby museum exhibited archaeology, local Isan history and Angkor ruin artefacts. Communications antennas right outside the temple walls didn't help the atmosphere of the place.
A train took me back to Bangkok for a couple of days looking around, shopping, catching up on emails and eating. A night train south got me to the town Chumphon, on the Gulf of Thailand, in the dark at 05.30. There boat touts steered the train passengers onto a speedboat for the island Ko Tao off the east coast of Thailand. The boat trip had us on the island at 10.30.
Ko Tao was meant to be "the diving island". There was some nice diving here and I used my snorkel gear as much as I could. The coral however just doesn't seem as great as it might have been in the past. All the staghorn was dead (someone said because of unusually warm water). It seems that coral everywhere is not as good as say 20 years ago.
Ko Tao, and Thailand in general, is highly touristed, not much "get away from it all" left. Consequently it's getting relatively expensive, despite the recent financial crisis. What a contrast to Laos. Still it's a pleasant place and easy to get around in.
I booked boat and bus for a 28-hour marathon from Ko Tao all the way to Kuala Lumpur, Malaysia. On the evening of 2 April I boarded a slow night boat (sleeping on mats with other travellers) to the mainland town Surat Thani. In the early morning we were transferred to a bus, leaving Surat Thani at 05.45 and reaching the southern Thai city Hat Yai at 10.00. A bus transfer had me out of Hat Yai after 14.00, through the Malay border by 16.20, and in the Pudu Raya Bus Terminal in KL at 00.30 on 3 April.
Malaysia
Fortunately it was still not too late to get a bed, finding the last bed in a backpackers sweat box not far from the station, and checking in for 3 nights. It wasn't bed time yet though. Another traveller from the bus and I went back out to find a meal, then find him some accommodation as well. It wasn't until about 02.00 before I was showered and in bed.
Spent a couple of good interesting days looking around KL. Hot as blazes there, but charming enough. There was little recognisable from 1976; it's a modern, skyscrapered, freewayed, shopping-malled city, Petronas Twin Towers and everything. But there's still a Chinatown with a lot of character. The pirate market was especially interesting: electronics, CD's, perfumes, watches, jewellery, jeans, toys; every name brand of everything you can imagine; nothing real.
On 6 April I caught a bus for 3.5 hours to Johore Bahru, and on into familiar old Singapore. Back in my old favourite Lee Boarding House for a couple of nights, I could look around Singapore some more and prepare for my April 8 flight back to Canada.
My flight took me via Seoul and Vancouver to Winnipeg, Canada. What a contrast to South-east Asia. There was still a bit of snow on the ground and the lakes were still frozen. Bit of temparature shock, but it was still great to be back.