Malaysia, Thailand and Cambodia, 2006
This trip was another backpacker to Asia for about 2.5 months. As in 2002, I was in transit between Australia and Canada and took the opportunity to see more of SE Asia. As part of the stopover I would meet my partner Maggie in Thailand for 3.5 weeks of travel together there and in Cambodia.
The itinerary was to be Malaysia, Thailand (meet Maggie), Cambodia (Maggie leaves), Thailand, and Malaysia again including Sarawak.
I left Sydney on January 11, 2006 with Malaysia Airlines. It was meant to be a Jan 10 departure, but technical problems (???) meant we had to de-plane before take-off and stay in a hotel overnight. This meant that the arrival time would be in the evening instead of the morning, a slight concern in that I hadn't booked accommodation and wasn't sure if anything would be available at that hour. In any event we got into Kuala Lumpur with no further hassles. I made it down-town and over to my old favourite Pondok Lodge by 21.15; whoopee, 1 bed left.
Nothing much has changed in KL since I was there before, still an easy and pleasant enough city. If anything it must have become even more glitzy and modern and "Singapore-like". Still it's cheap enough though; a meal in a street restaurant may be about a dollar US or so.
I spent a day in KL just organising my luggage, looking around, e-mails and arranging transport north for next day. I had my laptop PC with me, my first backpack trip with this accessory. Convenient but wow does it make my pack heavy; barely manageable! I tried out the PC with Malay power and it works fine.
At 09.45 on 13 Jan I was on the bus toward Thailand, a nice uneventful trip in a large modern A/C bus with lots of leg-room. Quite a change from some of my older Asia or Africa trips in cramped, breakdown-prone clunkers.
I was across the border and into Hat Yai about 18.00 Thai time. I had intended to stay there one night to look around, not having been in this town since the 70's. But the flight delay from Sydney meant I should really go straight on to Bangkok. There was only time to get some Thai cash, fight off the bus touts, and make my way to the train station.
I got a second class sleeper to Bkk, leaving in a few minutes. The buses would cost the same or more for a sleepless night. As it was, the train was quite clean and comfortable, and I slept really well. I woke in south-central Thailand to view a beautiful sunrise through the train window, the sun peeking out from hills to the east and shimmering off the ponds.
On into Bangkok Hualamphong Station at 13.30. A 50 minute walk (too hard to figure out the bus transport, and uncertain about taxis or tuk-tuks) got me to my old standby Sawatdee Guest-house, in the Thewet area. I checked into a large and clean fan room.
The guest house is in a relatively quiet area, next to an interesting market and close to the river ferry. The people are extremely friendly and helpful. Love it. There's lots of cheap, safe street stalls at which to grab a variety of meals, and the food is wonderful. A typical plate of something with noodles or rice costs about 20 baht, 50 cents US. Bangkok, and Thailand in general, are still noticeably grittier and less fancy than Malaysia, but still pleasant and liveable enough.
Maggie wasn't to arrive for a couple more days, so I spent the afternoon organising myself, getting necessary details for future parts of the trip, and emailing Maggie (she wouldn't have left Canada yet). In the evening I wandered down to the farang (foreigner) ghetto of Khao San Rd. It was even brighter, noisier, more crowded and glitzier than ever, almost mind-blowing. Most travellers, especially the younger ones, seem to stay around here, but it's not quite my taste.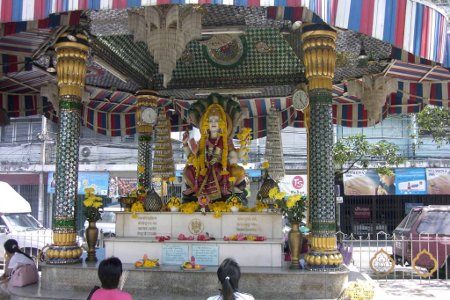 Next day I wandered around parts of the city, taking in the big and impressive Democracy Monument at a major intersection. I passed the 21 meter tall, red painted Giant Swing, once used in Bhramin festivals, and studied the nearby cute little San Chao Khaek Vishnu shrine. Further wanders took me to the castle-like Mahakan Fortress, the best preserved of several parapets that once stood along the city ramparts. Then on to the Golden Mount, an artificial hill built by King Rama V and now forming part of Wat Sakret. It has good views of the city from around the stupa at the top.
An exploration of the markets and shops in Chinatown took up part of the afternoon, before heading back through the beautiful little "Royal Garden" Park, Wat Phra Keo, the Sanam Luang parade grounds, and back along Samsen Rd to home.
16 Jan is the day to meet Maggie at the airport, to arrive at 16.20. I changed to the Taewez G.H, having rooms with A/C and attached bath, and took a taxi out to the airport. The plane landed on time but it took over an hour to get into the terminal and process the people. Then Maggie went out the other gate to what I was told, and had to find me. Anyway she arrived OK; all was well.
Next day we could start sightseeing together. We had a wonderful breakfast of juice, fruit, toast and coffee in our guest house. First activity was planned to take a ferry to Tha Tien and then across to see Wat (temple) Arun, the grand "Temple of Dawn", one of the best known sights of Bangkok. We asked, and paid, to go to Tha Tien, but the ferry didn't even stop there, continuing on to the Chinatown area. "Always an adventure". So no Wat Arun that day.
Take things as they come in these countries. Plan B was to wander through Chinatown and then to Wat Traimit near the train station. Chinatown is a bustling, crowded area of shops and activity, one of those sell-everything-conceivable parts of the city. Near there is Wat Traimit with its unique 5.5 tonne gold Buddha. It hasn't changed much since I saw it in the seventies, apart from a quantum leap in the number of tourist now in attendance.
On the way out from the temple, a tuk-tuk (3-wheeled motorcycle taxi) driver touted us with the standard ploy: "Come with me for 20 baht to some sights, and I'll also take you to some shops where I'll get a commission even if you don't buy". What the heck, nothing to lose so we went with him; can't visit Bkk without a tuk-tuk ride. He took us to the Golden Mount, where I'd been a couple of days ago, then to a clothing shop where the sales guy got pissed off that we weren't buying anything. From there it was to Wat Benchamabophit, the Marble Temple, most impressive from my point of view because of the large number of Buddha statues in various poses, all explained as to their identity and significance. A couple more shops, including one government jewellery place where I got Maggie a silver-topaz (???) pendant, and we were dropped off at Wat Po.
The 16th century Wat Po is the home of the gigantic Reclining Buddha. While the artistic proportions leave something to be desired, its 46 metre length and 15 metre height are certainly impressive. The extensive grounds and buildings contain numerous spires covered with beautiful mosaic designs.
Walking back toward home we passed Wat Phra Keo, where the Emerald Buddha is housed. But, being part of the Grand Palace, we were advised we couldn't get in with shorts on, and we didn't have long pants with us. So leave that for another time. Slowly back past Sanam Luang grounds, along Samsen Rd and back home for the proverbial well earned rest.
In the evening we wandered back down to Khao San for a western burger meal (my first since leaving Australia) and a glimpse of the night life. One point of interest was the sounds of croaking frogs all along the busy street. They were coming from the Akha women (a hill tribe from up north, wearing elaborate and distinctive costume) selling wooden frogs that make a croaking sound when rubbed with a stick.
It's certainly hot and sweaty walking around the city during the day, but it cools off to a quite comfortable temperature at night. We found we didn't even need the room air conditioning very badly. While still slightly noisy and polluted, Bangkok is nowhere near as bad in that respect as it was in previous trips in the 70's and 80's. I'm not as eager to see the back of it as I was at those times.
The following day was less hectic, a city bus ride over to the shopping areas of Indra, Amari and Siam Centre. These shopping centres ranged from low-mid end to the decidedly up-market. After a couple of purchases, another bus took us back nearer our home area, where we saw some of the sights I saw a couple of day ago, as well as a peek into the little Deva Sathan Brahman Temple. There aren't many Hindu temples dedicated to the 4-headed Brahma deity, so this one was not to be missed.
The Democracy Monument on Ratchadamnoen Klang Rd is a memorial to King Rama VII who gave Thai citizens their original constitution on the 10th of December 1932. Atop the monument is a huge gold-gilded constitution laying on a tray; this is the symbol of Thai Democracy.
Nearer to home we found the Wat Indrawihan with its giant outdoor standing Buddha statue.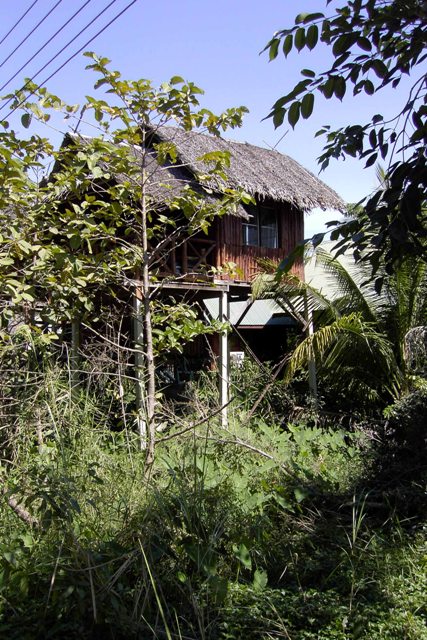 On January 19, packed up and bill paid, we were off to the west for a week in the River Kwai town Kanchanaburi. A #30 bus took us to the southern bus terminal. City buses are a bit rough but easy, comfortable, cheap and not always crowded. At the terminal we boarded a big, comfortable a/c bus leaving at 10.40. Good value at 94 baht for the 2.5 hour trip to Kanchanaburi.
Kb seems much bigger or built-up since I was there in 1990. But after checking into the Blue Star Guest House next to the river, we saw that it had the same easy-going, laid back atmosphere as ever, maybe even more so. It's just a magic place. There are newspaper clippings posted up here and there telling about police raids and prosecutions of tourists who overstay their visas; the place must be just so tempting.
Our room was a bamboo/wood bungalow on high stilts over the vegetation, with an attached bath and a bit of a view over the river. All this was 200 baht. It seemed like a jungle paradise and we felt like Tarzan & Jane. There weren't even any annoying insects (maybe the geckos kept them down).
A quick lunch of pad thai (noodle dish) and fried rice got us going for the afternoon. We did an exploratory walk across the nearby bridge and upstream on wonderfully quaint and picturesque back roads along the Quai Yai River.
As we came up to the rail bridge (the "Bridge on the River Quai") we also came across large numbers of souvenir stalls; well, it is a tourist place I guess. There was even a woman there with an elephant, asking us to buy a little cane to feed the elephant and take pictures. That was fair enough, as the elephants are mostly unemployed now since logging is done by machine.
You can walk across the bridge on the tracks, but it's quite narrow, and if a train comes you have to step off onto a side step to let it pass. Standing on one of these steps I was intrigued to notice the electrical power lines just overhead, low enough to reach up and touch.
The street back to our guest house had there are numerous stores, internet cafes, bike rental, bars and restaurants, everything you need on holiday. Back home by late afternoon, comfortably exceeding Maggie's 10,000 steps walking target for the day.
The only down side was the canine opera that went on for a bit of the night, keeping us awake for some time. It also became surprisingly cool at night, not that I minded.
We spent some time at the Jeath War Museum (not the original one) by the bridge. It depicts the time during the second world war when the Burma Railway was built, also extensive treatment of Siamese pre-history and history, displays of gems, paintings of all Miss Thailands, stamps, etc, etc. It wasn't all that coherent or well presented, but interesting nevertheless and it took up a good part of the day.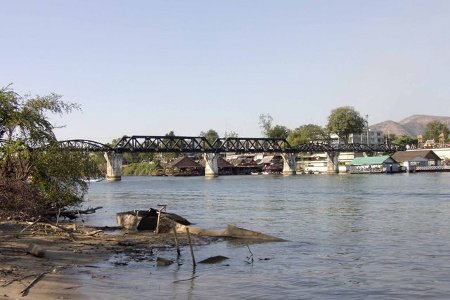 One day I stopped at a restaurant near home for a meal. The woman had some cooked foods in the top trays and I asked what they were. They were various beef and pork dishes which she didn't want to serve me because she was afraid they were too spicy. I asked for some anyway, which she reluctantly gave me. It was quite hot, but good, and she commented that I was the first farang she'd met that could handle it.
We normally had meals, such as a great red or green curry dishes, in the guest house. They really do wonderful curries, and Thai dishes in general here were some of the best I've tried in Thailand. A sort of western breakfast: eggs, banana, toast & jam, hashbrowns and coffee, was good enough that I had it pretty well every day.
On day after tidying up our emails and other internet things, getting on about 10.30, we found a bus for a 1.5 hour ride to Erawan Falls. The countryside on the way was pleasant if somewhat dry. This whole area is Karst in nature, with limestone hills everywhere. Along the road in some areas there were large numbers of limestone rocks in various shapes for sale, unclear whether they were sculpted like that or taken from caves etc as is.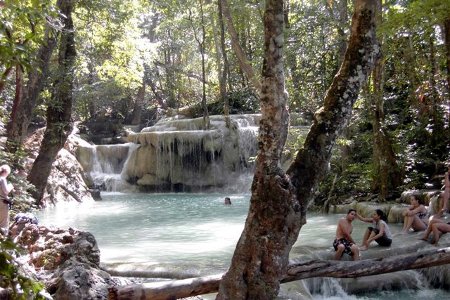 Erawan Falls was as beautiful as I remember it from 1990. It is a series of seven cascades at various levels, flowing from caves higher up. The upper levels in particular had high calcite concentrations, making for beautiful water colour and waterfall formations. The small fish were there in strength nibbling gently on ones legs and feet as we sat in the water, quite an eerie feeling.
We walked up to all 7 levels, but I'd forgotten how far it was, and we had to rush to get back to the last bus at 16.00. I regretted not coming earlier in the morning.
Back in Kanchanaburi, we explored around down-town and riverfront a little before heading home. The river has lots of night life but it's not really noisy or intimidating. The whole town has an easygoing, safe ambiance.
I had been impressed by the old original Jeath (the acronym means Japan English American Thai) Museum in 1990, so we again visited it. It dealt with the Thai-Burma Railway during World War 2. It is run by monks from the nearby Wat, and is more emotive than informative. It wasn't that big, and a bit run-down, but still worth a visit.
A bit later, we went to the Railway Museum near the train station, modern and professionally presented. It covered mainly WW2 and information on the Burma Railway, including many exhibits, descriptions and films. For any train buffs amongst my readers, in front of the station was a 2-8-2-2-8-2 Garratt locomotive. These giant articulated steam engines must have been used everywhere from Kenya, South Africa, Australia to here.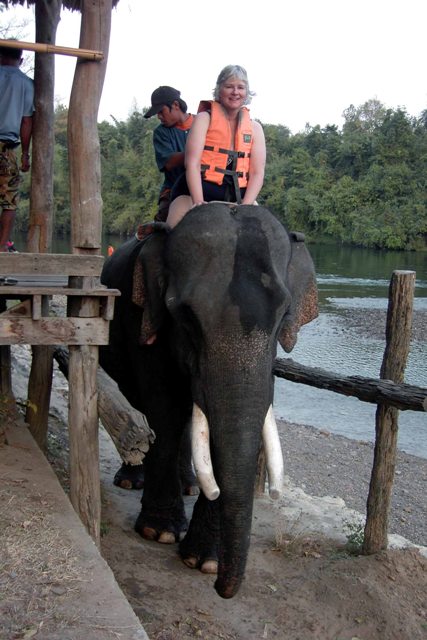 Maggie went on a tour to a tiger sanctuary where she could touch tigers (mainly orphaned ones in captivity) and have photos taken. She had a great time with the tigers. Apparently you can stand behind them and touch their backs as they are distracted by their meal.
Another day we rented bicycles from about 11.00 to 18.00. Took a ride through town and out the road along the Kwai Noi River. It was a pleasant countryside ride, mostly level, past fields and rural buildings. We passed the Chong Kai Cemetery and found the "Monkey School" just off the road. We didn't go in, but got a couple of monkey pictures anyway.
A climb up a hill got us to Wat Tham Kao Poon, the cave temple I'd visited years ago. We explored the well-worn cave with its Buddhist effigies in each chamber. It was OK, not great, though Maggie got a bit claustrophobic.
Later in the day, still in possession of the bike, I rode out to the east of town to try climbing the hills. It was a steep, hot, dusty, thorny, scrubby, brittle climb, but I got up a couple of hills and enjoyed hazy views of the town and countryside.
The night market near the train station had all the usual night market paraphernalia, food, clothing, toiletries, CD's and DVD's, cell-phones and the like. Maggie bought and tried a drinking coconut, thought it was good but nothing special.
On our final day in Kanchanaburi Maggie went for an afternoon/evening tour of a Karen (one of the hill tribes that inhabit of Thailand and Burma) village and an elephant place. She was able to ride an elephant and help bathe it in a river. By her accounts it was an absolutely fabulous experience.
On 25 Jan we were up early to get the 07.20 train back to Bangkok, a 3 hour trip. Apart from the rail noise, it was quite pleasant. From Thonburi railway station we made our way toward the river, found the ferry dock, got the ferry across to the Thewet side, and returned to our guest house.
While Bangkok is OK, Maggie certainly liked Kanchanaburi better, simply smaller, quieter, more laid back, and just generally pleasant.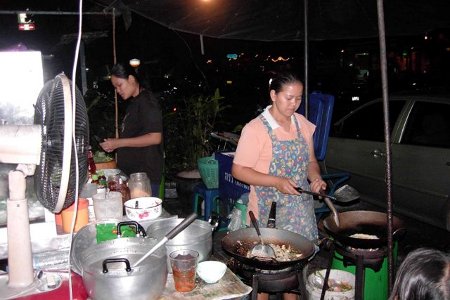 Today was our second attempt to get to Wat Arun on the far side of the river. This time we took a bus down to near the Tha Tien dock and then a ferry across to the temple. Wat Arun, originally built for the Hindu Goddess of dawn Aruna, has no big, distinctive Buddha statue like most other wats. It's impressiveness is in the detail of its external covering, ceramic inlays and statues of figures "holding it up", and in the imposing silhouette as seen from across the river. We could walk around and on it at the lower levels, but there's not much more to see there. The steepness of the steps made a noticeable first impression on Maggie. We would see even steeper ones on later temples.
Our last day in Bangkok was an easy one. We went to Chinatown and Maggie bought some jewellery for herself and others. Walking around Chakrahet Rd in Little India, we found a neat little Indian restaurant where we lunched on pakora, pilau, dhal, rice, chapati and Indian chai; a refreshing and welcome change from Thai food. The temperature has been relatively cool the last 2 or 3 days, mid to high 20's C, a pleasant respite from the heat.
We were out of the guest house at 05.45 on 27 January, and on a city bus at 06.20. That put us at the Northern and Eastern Bus Station before 07.00, just as it was getting light. Found an A/C bus (pretty well all distance buses have air now) to leave at 7.30 for the border town of Aranya Prathet.
The bus seems to take forever to clear Bangkok, going away up north past the airport and then east. Anyway we were out in the countryside by 09.00 or so, and on along fairly good roads through flat countryside with towns, fields and some bush.
Into Aranya Prathet about 11.30. A couple of German girls on the bus had given us some travel notes on how to go from Bkk to Siem Reap, so we decided that the 4 of us would team up to share transport from the border to S.R. Anyway, apart from the touts all around trying to scam us in various ways, we got through Thai exit, Cambodian visa and Cambodian immigration without any undue time or hassles. It was interesting that the Cambodia visa officially costs USD20, but they want 1000 baht (USD 25) for it, saying that if we insist on the official price it'll take a lot longer. So pay the extra and get it done.
As we cross the border into the Cambodian town Poipet, the level of wealth and socio-economic status drops a rung or two on the ladder. The streets are all broken up and dirty, the dust level rises dramatically, vehicles are more down-market and some man-powered, street stalls and people more grubby, etc. It's a whole different world.
But the guys at the transport station, whether tourism people or transport authority I'm not sure, were extremely courteous and helpful. There was no transport available at the time and we had to wait an hour or two, but they helped us arrange a lift. Eventually Sonya, Suzie, Maggie and I and our packs all squeezed into a share-taxi (an older Camry, as most of the cars seem to be in this country), paid USD 10 each, and were on our way to Siem Reap about 14.35.
The road was nearly all unsealed, potholes, dust and rocks, and VERY rough. Driving was typical 3rd-world; horns, weaving in-and-out past trucks, tractors, carts, bikes etc. It was the quintessential "exotic adventure ???"
We made it to Siem Reap about 18.00, just as getting dark. The driver dropped us down-town and we walked up to the Family Guest House to check out accommodation. It's a smallish but modern-looking establishment off a side street, reputedly friendly and pleasant and quiet. We got into a nice room with fan and attached bath, a comfortable and quite satisfactory option.
I changed a few dollars into Cambodian riel, though don't know if that's required, as the USD is pretty much standard currency. It works out that 1 USD = 40 baht = 4000 riel; easy to understand. Most prices around are quoted in USD.
We wandered around a bit in the evening to familiarise ourselves and get a feed. The place is quite dark with a few brightly lit-up areas. The touristy areas are bright, noisy and garish, all else is dim. Streets are mostly unpaved and dusty.
We found a street stall at which to eat a basic meal. Then we found an up-market restaurant where we ducked in for a Mc-Shit, but ended up staying there, sitting on a balcony with some more food and a drink. It was comparatively expensive but worth it to celebrate our arrival in the land of Khmer. Food and other things seem to be a bit more expensive than in Thailand, maybe because SR is currently a tourist boom town.
Why is this a tourist place, and why were we here? Because Siem Reap is smack in the middle of probably the biggest temple ruin complex in the world. The Khmer temples mainly from the Angkor period stretch out over many square kilometres of countryside around the city. It's a premier tourist destination, and boy don'Construction, Siem Reapt they know it.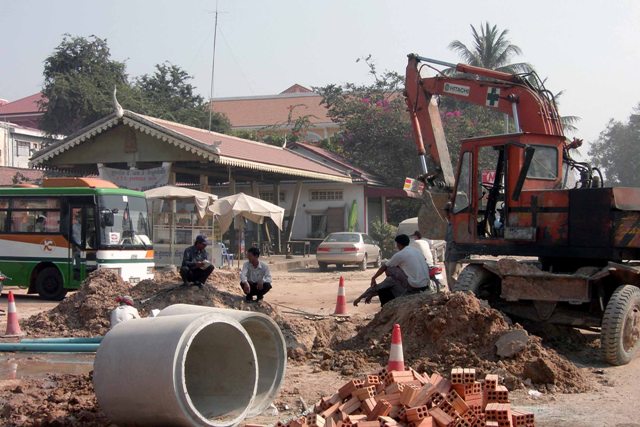 We spent four days in Siem Reap, three of them exploring a few of the hundreds of temples in the area. On our first morning in Cambodia we're not yet ready to go out to the temples, even though we get accosted every 5 minutes by tuk-tuk touts who want to take us there. Let's just spent some time walking around the town and getting the lie of the land. The town itself is relatively compact and easy to get around in. We saw a silk trade show in the park (where interestingly most of the exhibitors seemed to be expatriate silk entrepreneurs rather than locals).
I changed a travellers cheque to get some spending money. It's interesting that if you have a USD cheque, they pay in USD, the first country I've been in where they don't try to give you the local currency. It seems that bank machines are starting up, but not sure if any are actually operational yet.
We had a late lunch at a market food stall. I saw that they had an "amok fish" dish I'd like to try. I ordered it, but they came a bit later to tell me that the fish was "off" and could I try something else? That must be the first place I'd ever been to where they valued my health more than their sale. Impressive. So I had a chicken curry instead.
Chinese New Year is supposed to be on, but I couldn't see much evidence of celebrations except a few bursts of fireworks around noon.
We'd heard about performances of traditional Apsara dance in SR, so decided to try to seek some out in the evening. The Dead Fish restaurant/bar advertised it for free so we tried it out. This restaurant advertises that it does not serve dog, cat, rat or worm; well, glad to hear that. The food was Ok but uninspiring, and the dance a bit wooden and unpolished, but still good as an introduction. The Angkor beer is good, better than the Chang I was drinking in Thailand.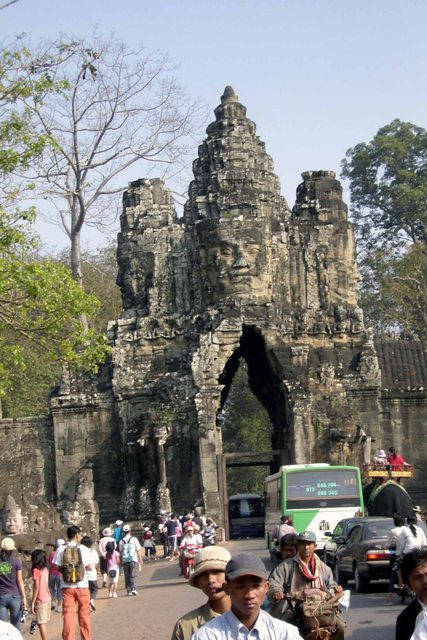 On our first temple day we allowed ourselves to hire a tuk-tuk with driver/guide (named Sat) to take us on a general introduction to most of the temples in the main area north of town. We decided to do the Grand Tour circuit while we had motorised transport; the shorter small tour could be done another day by bicycle. An 08.00 start got us going before most other traffic, and we were out at the park entrance in good time. We each got a 3 day pass, allegedly the minimum investment to do the temples justice.
It would be redundant to say the Angkor temples are impressive; everyone else has already used up all the superlatives. The whole series of complexes is VAST, maybe 50 km extent in the area (of course with lots of empty space between). The grand tour itself is 26 km. Many of the temples have been extensively restored, others are in progress, others relatively untouched.
Even early in the day the crowds were imposing, and we were never able to be alone anywhere or take pictures without other people. Maybe also it was Chinese New Year so everybody was on holiday.
Our first temple stop was the Angkor Thom complex, once a whole city on its own. Each gopura or gate is impressive by itself, large enough for buses to pass through its arch. The causeway leading up to the gate is guarded by long rows of statues - gods on the left and demons on the right- holding a Naga snake on their knees. That seemed to be a common theme with many of the temples.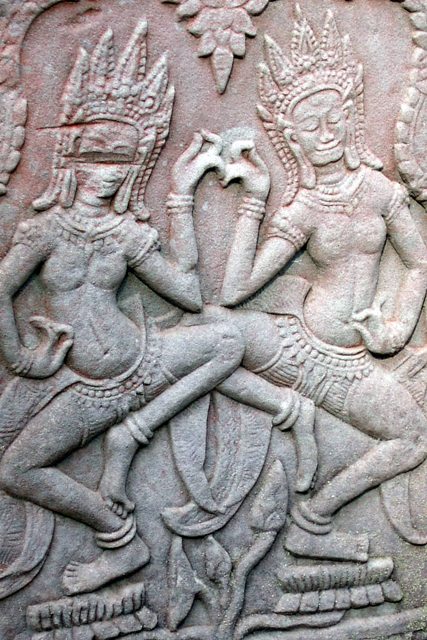 The Bayon, the central temple in Angkor Thom, is noted for its over 200 large faces carved on its many towers, the "Bayon" face having become iconic of the Ankor complex. Up we went on steep, large, narrow steps from level to level, the typical number of levels being 5 or so. There are few or no handrails and climbing up or down is a challenge for the uninitiated. By the end of 2 or 3 days, especially in the unrelenting heat and humidity (even in the dry season), we'd had enough of steps.
On northward to other temples and the long Elephant Terrace, "held up" by many carved elephant heads. Picked up or tuk-tuk again and on to the next temple, Phrea Khan. Like some other temples, this temple is built on one level and a number of axis, and when you walk through it you see ahead through a large number of doorways, almost as if there must be a mirror somewhere over there.
On to Neak Pean, a beautiful little temple set on a circular base - representing the coils of a serpent - in the middle of a now dry moat. Unlike other temples, this one has an open-air feel to it.
The next temple, the cute little Ta Som, also has some of the Bayon-type large faces, and is the first one we came to that still has fig trees intertwined with the stone, sort of a "Tomb Raider" image.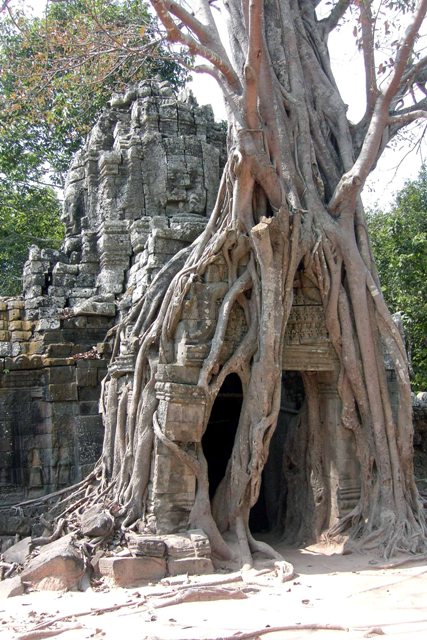 East Mebon, next on our agenda, is somewhat of a temple mountain. It is one of the temples with several terraces, so it's a bit of a scramble to get up some steep steps to the top. But once you're up there, it's high enough to get some magnificent views of the surrounding, mainly forested, countryside. Also of interest are the elephant statues, one guarding each corner of some of the levels.
On to Banteay Kdei, a relatively ruined temple in a large walled area. It was built in the Angkor Wat period and modified in the Bayon period, giving it a rather confusing impression.
Next to BK is Sras Srang Lake, good for a photo stop and a relaxing sit-down to watch the fishermen in their boats.
By then it was getting on to 16.00, and as Maggie was interested in the guy-wired balloon ride, we went out west of Angkor Wat and checked it out. She got a ticket for 4.30 pm, $10 for a maybe 10 minute ride up to about 180 m high. Reported to be worth it.
To top the day off, we finished at the Phnom Bakheng Hill Temple to watch the sunset. After a long hot day, the path and steps up the hill were enough of an ordeal to make one glad to get to the top. The temple itself was not in any way distictive; people go there mainly for the view and the sunset. The crowds were unbelievable, almost standing room only. I had to stand on a rock and hold the camera as high as possible to get a picture without heads on the bottom. We were there until about 18.30. Because the steps going up were so steep, Maggie elected that we walk down the elephant path, an easy and interesting change, as long as we don't get bowled over by lumbering elephants coming from behind.
Dark when we met up again with Sat and our tuk-tuk. The ride back to town was a mad-house because of the New Year holiday traffic, taking us maybe an hour or so.
Back home, we asked the German girls where to get good cheap meals, and they recommended a street restaurant right nearby. We went there and had a great meal of amok fish (a wonderful Khmer curry), a chicken dish, rice and green tea. Just the recipe to top off a memorable day of temple watching.
A couple more points about the temples. Every entrance to every temple is thronged by hawkers, mainly women and kids, selling everything from meals to fruit, water, drinks, t-shirts, carvings, silk(?), bracelets, postcards, whatever. They are incredibly persuasive, the kids especially, pleading for you to buy, saying that their schooling depends on it, and starting to sob if you don't buy.
We stopped at one temple to go in and the woman was pleading with us to buy food there. We said we might when we come back from the temple, and she made us promise. So we came to her after the temple. Asking to see the menu, she gave us one. I remarked that the prices seemed pretty expensive (all the food here is costlier than in Thailand). So, in exemplary entrepreneurial fashion, she said OK, reached into her stack of menus, and pulled out an identical menu with everything on it 50 cents cheaper. Needless to say, we applauded her and ate there.
On our second temple day we didn't intend to go as far as yesterday. We rented bicycles to head out on our own and see some temples on the smaller circuit. Bike riding is flat and easy around here; the main enemy is the heat. Most roads in the temple areas are sealed, so not so bumpy or dusty.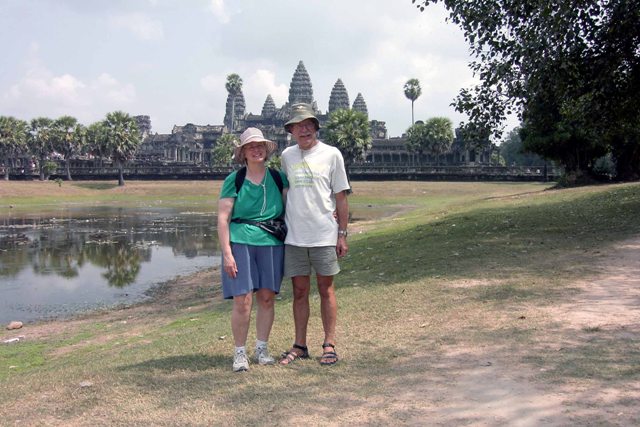 A start about the usual time in the morning got us out to Angkor Wat before 09.00. AW is of course the biggest and most famous and impressive of the temple complexes, maybe in the world as well as in Cambodia. So we hadn't even tried to get to it yesterday.
What can I say? Covering about 500 acres, it's enormously massive, complex and beautiful. Just the causeway leading in from the west is huge, and guarded by several of the ubiquitous Nagas. Walking into the complex from the end, we again encounter the large number of doorways in a straight line, again we think there must be a mirror up there somewhere, but there isn't.
As we approach the central, 5-tower, structure, we also again come up against those very steep stairs with high narrow steps, meant I think to slow down the traffic and give you time to appreciate the beauty. We managed to make our way to the upper of about 5 levels and take in the magnificence and the views. Only one of the stairways has a handrail, used to go down, and the number of people lined up to use it significantly slowed the descent for those who depended on it.
Another of the superlative features of AW is the series of bas-relief sandstone carvings around the gallery of the first level, 2 per side and maybe 2 metres high and, I don't know, 30 or 40 metres long each. They depict scenes from Hindu epics, including battles and significant events. The level of detail is amazing, far to much to absorb in a small number of trips. Most well known is the "Churning of the Ocean of Milk" from I think Puranic scripture and featuring Vishnu among others. Another intriguing relief is the "Judgement by Yame/Heaven & Hell" which gives some rather graphic detail of what awaits the good and evildoers in the afterlife.
We took at least 2 hours in AW. After that, other temples are anticlimactic. Maggie felt that she had enough temples for a bit, and would rather do some more biking. So I suggested we give this group a rest, and ride the 12 km or so east out to the Roulos group. We started out there in the early afternoon, getting into the heat of the day.
The distance to Roulos looked discouraging to start with, Maggie was about to suggest I go on alone, but I persuaded her to come along. It did seem to be farther than the 12 km, but the scenery was pleasant (rural rice fields and village life) we did eventually get there. We visited a couple of temples on the Roulos group, Phrea Koh (a small mainly ruined temple), and Bakong, the main temple on the group. At that time of day and stage of our itinerary, it didn't seem all that memorable or different to the others, but it has some quite intricately carved doorways and lintels in a good state of preservation.
The ride back to town, maybe an hour or so, wasn't so bad because it was getting cooler now in the late afternoon. Entering the town was an experience, actually riding in and negotiating the madhouse of 17.30 rush hour traffic, jockeying with the crush of trucks, buses, cars, tuk-tuks, motorbikes and bicycles. Surprisingly it's not that hard, it all flows along, isn't that fast, and we never felt threatened or endangered.
Back in the evening to the same restaurant as last night, and a good meal for less than $5 for the two of us. Also we went down to the tourist strip later in the evening for a couple of drinks and people-watching in the Angkor What? bar. Well, I can say I drank there now.
Our third day of temples was the second day of bicycle riding. We promised ourselves it would be less active than yesterday and that's what we tried to do. Our plan today took us back to the small circuit and as a first stop Ta Phrom.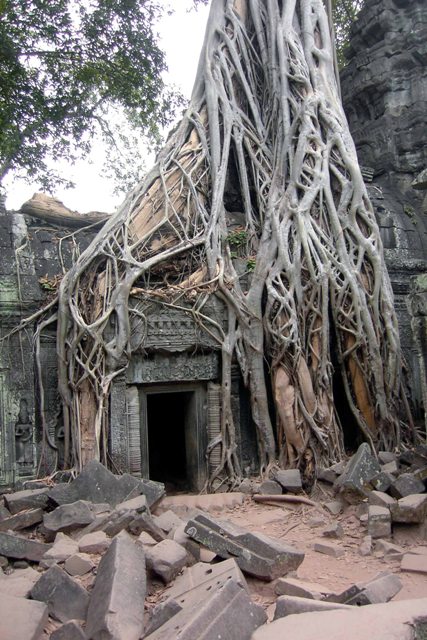 TP, in contrast to most other temples, has been left largely un-restored. As such it has distinctive Indiana Jones or Tomb Raider feel about it. Many of the structures are leaning or have caved in. Others are enveloped in velvety moss. Still others are engulfed, simultaneously split apart and held together, by massive tree roots. This whole "dominated by nature" ambiance of the temple gives it a magical, almost surreal quality. It was one of my favourite temples.
Next was Ta Kheo, an unfinished temple, with all the major structures in place but little statuary or carvings. It was good to just climb up to the top, on steep steps as usual, and sit up there contemplating how they would have gotten such big granite stones up in place.
A couple of smaller temples, Thau Say Thevoda and Thommanon, farther along the road, were largely in ruined states and undergoing some restoration. Nearby was a small unnamed temple ruin beside the road, notable in that it was a series of arches side-by-side, with a flat structure across the top. The whole of the top structure was enveloped in the roots of a fig tree, and no part of the tree seemed to extend below the arches to the ground. It just seemed intriguing to be able to see daylight below the tree.
From there, it was back via the Elephant Terrace and another walk through the Bayon Temple, but not up the stairs. That pretty well gave us our fill of temples for the foreseeable future.
Back past Angkor Wat, we rode out the entrance road. We had heard that the Land Mine Museum was nearby, run by Aki Ra, a landmine remover, and housing a number of victims of mines. So we went off the main road to find it. A mile or two down dusty tracks took us to it, and it was well worth the effort. It was only a small place, but had good films about mines, exhibits of all the types of mines commonly in use today, and statistics about the numbers and effects of mines. Obviously they are against the use of mines, and are very good at persuading others to that end. I wished the governments of Russia, China, US and others would visit the museum.
By now it was getting late afternoon, so a short ride got us back into town and our guest house. Time to plan for our next leg of the trip. I picked up bus tickets for Phnom Penh for tomorrow morning at 07.00, $ 5 each (a dollar more than usual because of Lunar New Year).
1 Feb was a new month and a new destination: the capital city of Cambodia. Armed with snack supplies of bread and longans (a lychee-type fruit), we were on the bus at 07.30 for the ride to Phnom Penh.
The road was immeasurably better than the one from the border; at least it was mostly sealed. But there was still a lot of weaving back and forth, honking etc. The road is shared with vehicles of all sizes and speeds, and if a truck or something has a flat tire, it just stops and fixes it in the middle of the road.
Into PP about noon, a big but not very clean or tidy city. As we got off the bus, we were attacked by a horde of very aggressive tuk-tuk drivers, all wanting to take us to the guest-house of their choice. We finally relented and allowed one of them to take us to the Happy G.H. next to Boeng Kak Lake. This is a popular travellers' area, owing to the large number of GH's with terraces overlooking the lake. There we got into a small concrete sweat-box with fan and attached bath; not very nice, but it's only for 1 night at this stage.
It was a horrifically hot day today, too hot to sit at home, so we went for a walk around parts of the city. The main tourist drag seems to be along the river front (PP is built at the junctions of the Tonle Sap and Mekong Rivers). There are large numbers of hotels, restaurants, travel offices and bars, all up-market enough for the farangs. But always not far away is the roughness and squalor of a developing-country city. Nothing here is very high-rise; the tallest building seems to be about 6 floors.
In the evening we were intending to work on emails, but a power blackout of an hour or two made that difficult. Also when I finally did get on-line somewhere, the connections were too slow to send much.
Anyway, the restaurants were good on the lake; we had a good big vegetarian thalee meal in a nearby Indian restaurant.
We organised a bus for next day to Kampot for 07.40. When you get a bus ticket from an agent, they normally give you a free tuk-tuk ride to the bus station. Next morning we were on the tuk-tuk at 06.40, and had enough time to grab a noodle soup breakfast from a stall at the bus station before departure.
This bus trip was promised to be 3 hours, but ended up taking 5. No special delays, that's just the way it is. We travelled on paved roads most of the way, then onto dirt roads towards Kep-Sur-Mer on the coast, a faded, mostly ruined, resort area.
Between Kep and Kampot, the bus came to a steel bridge with a big crane on it: uh-oh. Sure enough, the bridge was out. We had to de-bus, take boats across the river, and get onto a different bus (actually a Kampot guest-house-tout vehicle) on the other side. As we were crossing the river we could see that some of the spans of the bridge had collapsed, and there was still a large truck hanging on one of the sloping spans. almost falling into the river. It looked like it would be a looooong time before that bridge would be usable. We later heard (fact or legend?) that the truck(s) was grossly overloaded for the bridge, and also scrap-metal thieves had been taking bolts out of the bridge to sell for scrap.
Anyway, into Kampot and the Long Villa Guest House, seemingly the best of a limited choice of accommodation. Maggie had had it up to here with the heat, so time for some comfort; we got a gloriously refreshing air-conditioned room.
Kampot is known for its French colonial architecture, and as a base from which to explore the nearby Bokor Hills. After wandering around town for a couple of hours, the architecture wears off, and it's rather a boring and unattractive place. One pleasant surprise was a food stall we found in the small local market that had an unidentified bowl of something for lunch (looked like spring rolls, dumplings etc.) that was wonderfully tasty and satisfying. We were subsequently not going to find much other good food in this town.
In the evening we booked a day tour for next day to the Bokor Hills. I had wanted to stay at the hill station for a night or two, to spend at least on night in the cool, but that seemed to be costly and awkward to set up.
About 10 farangs were coming in the tour, as well as the guide and a driver and pick-up truck. We got going about 08.00, across the river and out of town to the entrance to Bokor Hill Park. We stopped there to pay the park entrance fee. Then onto a very rough, rocky, dusty track up and up and up the hill, bouncing in the back of the truck and taking at least two hours to get all the way up. First stop was at a look-out after about half an hour, where we got very hazy morning views of Kampot and surrounding countryside. Then farther up we came to the "Black Palace", a collection of 3 buildings - a palace residence, kitchen/meeting area, and a "holiday ladies" residence - formerly used by royalty and now in ruins. All the resort buildings here, at the hill station farther on, and at Kep-Sur-Mer, had been ruined by the Khmer Rouge regime in the 1970's.
Farther on we stopped at a relatively flat area, and went for a "jungle trek", actually a 40 minute walk along a narrow and indistinct path through some forest. We were meant to see wildlife if lucky, but our group made far too much noise for any chance of that.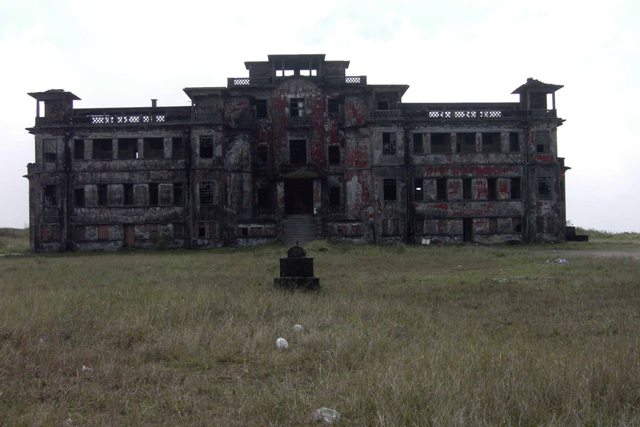 At the very top of the hills were the ruins of a French hill station. It consisted of a broad open area and quite a number of ruined buildings that had been occupied by the Vietnamese when they invaded in the late 70's. Of note were the largely intact shells of the Catholic Church and the Bokor Palace Hotel. The latter was eerily reminiscent of the hotel in the movie "The Shining" . We had marvellous views from the edge of the plains and Gulf of Thailand below.
The guide put on a lunch of generous portions of vegetable curry, rice, bread (we're in a former French colony, so all bread is baguettes) and bananas. Following lunch, we had 40 minutes or so to wander around the hill station, not enough time to see everything and a source of regret we were only up here for the day.
Back down on the flats we drove over to a small river and swimming hole for a wonderfully refreshing 45 minute dive and swim. From near there the tour finished with a boat ride back to town, but I chose to take the truck back so I could catch up on paperwork etc. All in all, it wasn't a bad day for a paid tour.
The following day it's back to Kep-Sur-Mer. I'd been told the night before that the bus left at 08.00. But this morning I find out it was 07.00 and we missed it. No big deal, we had a relaxing morning organising ourselves and doing notes and things on computer. Got bus tickets for 13.00 for Kep.
We had lunch at a street stall near the bus station. I had a beef dish and rice, to go down in history as the toughest meat I had ever eaten, absolutely un-chewable. But the 2 glasses of fresh squeezed cane juice we had to drink were wonderfully refreshing.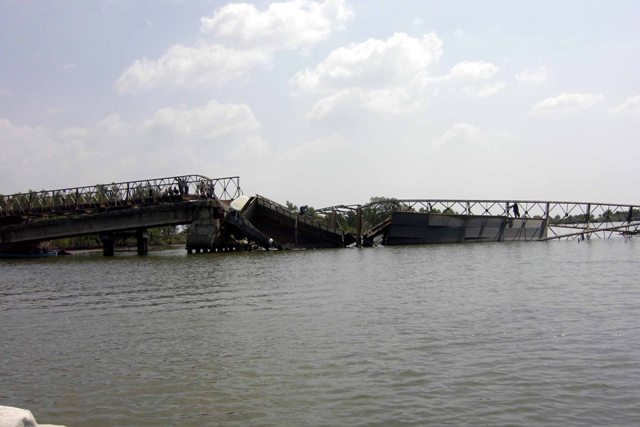 A 1 hour bus trip got us back past the broken bridge and into Kep. We found the Sea View G.H. and took a room there for the night. Kep, in spite of its partly ruined state, is a pleasant enough place. The shoreline is conducive to tranquil walks, and the hammocks in the guest house provided a laid-back platform from which to watch the sunset over the ocean. Swimming isn't that great though, the shore is rough and pebbly here and the water murky.
On 5 Feb we'd arranged to go out to Koh Tonsay (Rabbit Island) off the coast of Kep for a couple of days. Motos (motorcycles) took us the few km to the boat dock; it's a bit difficult to ride pillion on a small motorbike wit a full pack on your back, but we managed. We boarded the open boat with a small side motor at 09.30 taking us across to the island in half an hour.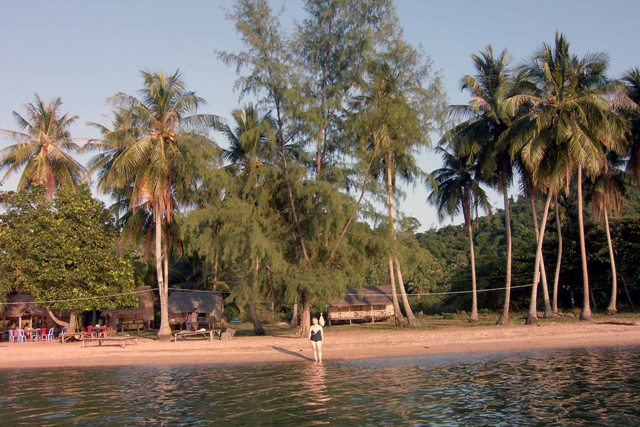 Koh Tonsay is the nearest thing we could find to a "tropical island paradise". It's maybe a km or two across, with a beach about 200 or 300 m long. Nice yellow sand, clear water (no surf), coconut trees lining the shore, and a forested hill backdrop rounded out the picture. Accommodation was limited to bamboo-and-thatch huts with mattresses on the floor. It was attractively basic and primitive, but toilets were Asian-bomb-sight style and wash water was from a barrel. I sensed that for Maggie it was just about at the lower limit of her comfort level. The village setting included the resident people, dogs, cattle, pigs, roosters and ducks.
One of the first things we did was go for a swim, and one of the first things I did on the swim was to step on something sharp in the water. It was quite painful for a while, but I was able to put antiseptic on the wound and dress it and it settled down later in the day and was no longer a problem. It contributed to a do-nothing type of afternoon.
Later in the day, we went for a short walk along and past the beach. A bush path continued farther along, and we resolved to try to explore it next day when we had more time.
Our meals here ranged from simple things like fried rice and noodle soups, to a big fried fish with vegetables and rice.
The sunsets over the sea are magnificent. As part of the "primitive" ambiance, there is only power (generator) for 2 or 3 hours in the evening, and only for lights. But who needs more?
Apart from the inevitable canine opera sometime during the night, and roosters in early morning, we slept well.
On the second day on the island I put on my boots (to protect my foot wound and in case of rocky paths). Maggie and I set out to explore the path we found yesterday. We ended up completely circumscribing the island in about 2.5 hours. The path was lost in places and regained in others, took us across headlands, to other beaches and fishermen's settlements, through bush, along rocky shores where seashells could be collected, and eventually back to our own beach. It was hot and dusty in places, rough scrambles in others, but thoroughly exhilarating and enjoyable throughout.
That day I was starting to get a bit of trots from something, so had no lunch. But one of the other farangs was buying some huge drinking coconuts so I got one too, for about 25 cents. It was so big I had nothing else all afternoon.
We had a really lazy day after the walk, swimming, lying around, reading, doing notes and talking to others. You need some of, but not too much of, this during a hectic trip.
As alluded before, island life is idyllic but can get boring. Not a lot to do there. So on 7 February it was another boat ride back to Kep, and then back to Phnom Penh. Maggie wanted to get back quickly and easily, so we got a taxi for the trip back, about 3 hours.
In PP, we went back to the lakeside guest house area, but this time we tried No 9 GH, with a wooden room over the water rather than concrete ones in the last place. I seemed to be a good choice, as the rooms were considerably cooler and more pleasant to stay in, although a bit noisier.
We used the afternoon to catch up on notes, computer work, emails etc. Maggie has to fly out on Friday, so we need to be prepared. I went to the post office in the afternoon to mail postcards; but no telling how long they'll take to be delivered from here.
In the evening we had another Indian thalee meal at another nearby restaurant, and a beer on the terrace overlooking the lake. A Star Wars movie was playing on video, so rather than trying to sleep through it, I stayed up to watch it.
Cambodia is famous for more than its legendary Angkor ruins. It's other main claim to notoriety is the dark and brutal Khmer Rouge "Killing Fields" period. Unpleasant as it may be, it had to be seen as part of any itinerary for this country.
We hired a moto and driver to take us to the Tuol Sleng Museum in the south part of town. Both of us on the back of a motorbike, though not really comfortable, had its fun aspect to it.
The museum was originally a high school, then in the 70's became a detention and interrogation centre during the Pol Pot regime. It housed "enemies of the state" and was the scene of torture and extraction of confessions. It held people for interrogation before being sent to the Choeung Ek killing fields for extermination. Exhibits included the detention cells, interrogation rooms, shackling and torturing instruments, photos of victims (both before and after killing) and other, more artistic photo exhibits. The whole thing was quite graphic and sobering. We could have gone to Choeung Ek today as well, but this is enough horror for one day.
Later in the morning we walked to the Royal Palace area. Lunch was a noodle soup at a stall, followed by a pomelo (huge grapefruit-type fruit) bought off the street and consumed at river's edge). A cute little boy came up begging when we were having the pomelo, so we gave him some, much to his delight and big smile.
We wanted to go to the Royal Palace but it wasn't open till 14.00, so we looked around at a down-town market, and had a rest and refreshments at an up-market cafe on the riverfront. Back at the palace, I couldn't get in because my shorts were too short. But Maggie went in while I waited outside. Accounts were that it was OK but not great in there, so I didn't miss much.
We looked into the Sorya Shopping Centre, a multi-level slightly western-style down-town shopping centre. Being about 6 floors, one of the tallest buildings in the city, it had good views of the city skyline from the top. A few purchases of jewellery for Maggie's kids, and we headed back to the guest house.
It's interesting to wander through the alleys around the guest house in the evening. It's an atmospheric mix of narrow confined spaces, lights and darkness, pedestrians and small vehicles, hawkers and families going about their activities, and muted music and noise. I loved its character.
Next day we go by moto out to Choeung Ek, the notorious "Killing Fields" south-west of the city. We must be getting used to motos, because even though this was a longer trip than yesterday, it was quite comfortable.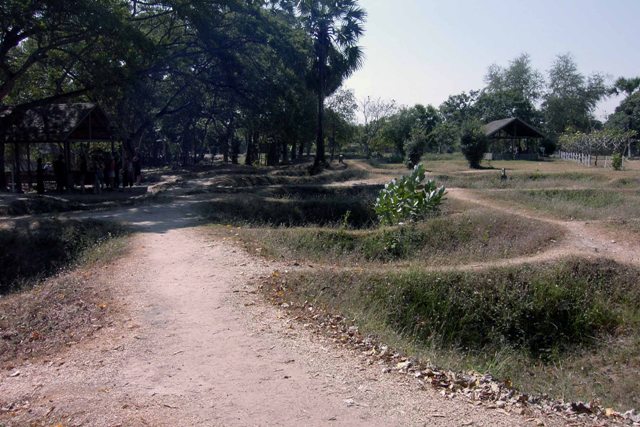 Choeung Ek is a patch of ground an acre or two in size about 13 km from town where, during the Khmer Rouge time, detainees from Tol Slueng were taken for execution. They were usually blindfolded and killed by bludgeoning on the head and dumped in mass graves. Apparently loud music was played from microphones to drown out their moans. There are quite a few pits where the graves were exhumed, with scraps of clothing and bones still scattered around. A central memorial/stupa contains several levels of cabinets containing hundreds of skulls from the graves. Like Tol Slueng, it is all quite heavy and disturbing, and begs the question "Why?"
Later in the day back down-town we found the Malaysian Airlines office. Maggie confirmed her flight for tomorrow and I checked some details about possibly flying to Kuching later (may look at this more when back in Malaysia).
Farther down-town we found a Chinese restaurant for a dinner on Maggie's last evening here. She had a sweet and sour pork, and I had a sizzling beef/pepper dish, both good. Drinks on the terrace of the guest house capped off the evening.
On 10 Feb Maggie has to leave to fly back to Canada and her job. Breakfast done and all packed up and organised, we negotiate a tuk-tuk to the airport. Out there by about 09.15, and I see her into the airport and farewell. I took the same tuk-tuk back to the GH, where I start to catch up on my notes for most of the rest of the day.
It's a bit sad that Maggie is gone, no-one to share my travels with now. Nothing much more that I want to see in Phnom Penh now anyway. So what to do from here? I was thinking to go to Kratie a few hours by boat up the Mekong. But there doesn't seem much to attract me there, nothing to do but look for Irrawady dolphins on the river, and not worth the trip just for that. I may as well hang around PP for another day or two and then head west to Sihanoukville and thence on to the Thai border.
I wrote some messages to people and later went down to find an internet cafe to send them and download other messages. It's getting a bit nervy working with emails this way; we both have been finding worms from the internet cafes on our memory sticks, and luckily have been able to detect them and delete them with my own (out-of-date) virus software. But how long can I keep doing this? The cafes usually have no anti-virus themselves. Tonight, after using a cafe, I again found and eliminated a worm. I may have to restrict the use of my memory stick soon before I land a serious virus. This'll make it more difficult to save messages and communicate with people. I will probably not try email again until I get to Sihanoukville.
I ran into Sonya (one of the German girls we entered Cambodia with) again tonight, with a Norwegian friend of hers. The three of us went for dinner together at an Indian restaurant and compared notes on our travels to date. It's great to run into other people like this and keep the companionship going.
My last day in PP was a do-little day. I took a walk around some back alleys and small streets around the lake to soak up the local lifestyle. The area had lots of little scrap metal, vehicle parts shops and garbage recycling places. One shop, for example contained nothing but a large number of stacked up truck engines.
I came across a section of railway line on the other side of the lake. I don't know if the line was in use much, but the rails were so warped and crooked and uneven that I immediately vowed never to take a train trip in this country.
Back at the guest house I watched a video of a Harry Potter movie, but it was obviously pirated and of such poor quality that I couldn't make out much of either the picture or the sound. It's interesting that most of the movies have English subtitles as well as English sound, and the subtitles are so poorly translated that they bear little resemblance to the dialogue.
By 12 Feb I felt that Phnom Penh had pretty well worn itself out as far as activities go. Let's see what Sihanoukville, a small city on the coast with a number of beaches, has to offer.
The bus, the usual medium quality one with air-conditioning, left pretty well on time at about 08.40. I sat next to a woman who worked here for Care International, and was on her way to Sihanoukville to meet her husband for a holiday. It was interesting to hear about work in these countries and the operation of NGO's. She certainly seemed a busy person, doing homework most of the way on the bus.
A morning rest stop for 20 minutes or so had the usual food hawkers in attendance, memorable because one small girl must have asked me about 10 times to buy her eggs. Sorry I couldn't, as I just had a Chinese steamed bun.
The trip took just over 4 hours, on a fairly good tollway. The scenery was pleasant (some hilly, bush-covered landsacpe), or would have been if the bus windows weren't so dirty.
The city Sihanoukville is somewhat spread out. The bus stopped in the drab and characterless down-town, with the beach areas and most of the guest houses about 4 km away. So it was onto the back of a moto for a dollar or so, and out to Victory Beach where most of the eating and sleeping places are. I got into a small fan room with attached bath in the "Indian Curry Pot" guest house, seems OK but I'll have to see how noisy it is later.
A couple of bowls of rice soup with fish at a street stall satisfied my lunch needs, and I spent the afternoon looking around the neighbourhood and beach. The beach area isn't the nicest, being close to the shipping port, but isn't bad, and had quite a few people, both local and farang. The strip where I was staying is a noisy, crowded couple of streets with lots of restaurants, bars and accommodation, sort of a mini Khao-San (Bangkok). You can't walk down the street without being continually accosted by motorbike drivers looking for business or flogging dope.
Dinner was an Indian thalee in the guest house, not "all you can eat" as advertised but a substantial serving anyway. The 13 or so year old kid that works in the guest house asked me if I had a husband, and described himself as a "sexy-boy". It's sad they have to resort to that to make ends meet.
Phone calls from internet cafes to overseas are about 15c per minute, so I made a few calls to people in Canada. It works reasonably well, except for the usual time delays when phoning from a computer, and except that they don't seem to have very much credit on the computers and I keep getting cut off.
One afternoon I did a longish about 2 hours) exploratory walk along the roads and around the various beaches to Occheuteal Beach, a slightly more up-market beach area. It was a pleasant walk, despite having to fend off all the motorbike touts ("Why walk when you can ride?"). Being so spread out, the city has lots of headlands, bush, fields and open road. The beaches usually are lined with restaurants and lounge chairs/umbrellas. Sometimes it's hard even to find bare beach to sit on. O. beach is prettier than Victoria, with clean sand and a little surf; good for an hour or two of relaxation. It's a long way back home, so I got a motorbike back.
My dinner in the evening was the wonderful fish curry called "mogo fish". In the evening one of the guest houses had an open-air movie, "Memoirs of a Geisha" for a dollar, so, not having seen it before, I gave it a try. Not a bad way to spend an evening.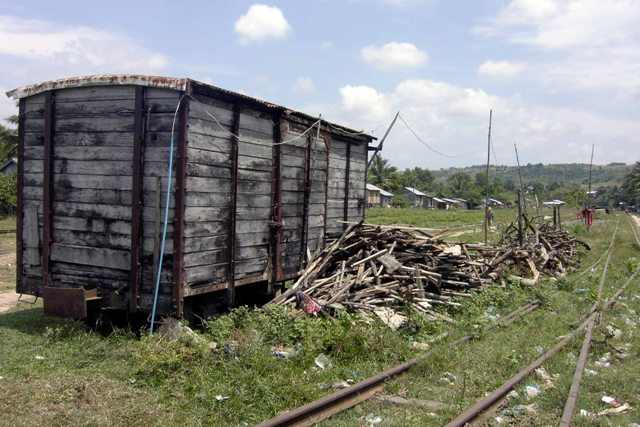 Another day I took a walk around to the port (Cambodia's largest) and railway station. I don't think the railway is working, or very little if at all. The station, tracks and rolling stock look all deserted, derelict and overgrown. Next to the port was a large number of transport trucks, apparently sitting around waiting for work, so that must be the main mode of freight transport.
Many eucalyptus trees forested the hills around the town. They are so common in so many countries that I've decided they must have been Australia's main export.
On the street somewhere I saw a family with a stall and a large tub of some kind of fish paste. They were taking handfuls of the paste, pounding it into thin pancakes and deep frying them. I tried one for about 12c, and found it to be quite good. Wish I could remember the name.
The movie in the beach restaurant that evening was "The Killing Fields", made me wonder if that's their "national movie" now.
I decided to splurge a bit, and booked a day tour to Ream Park. It's a large, partly marine, coastal park about 30 km away from Sihanoukville. The tour would leave from Occheuteal Beach next morning.
I got going at 07.30 to Occheuteal Beach where I had a breakfast of bread, jam and coffee, and met up with the other people for the tour. There were about a dozen of us crammed into a mini-bus at 09.30 for the ride out to the park entrance. The tour would include the breakfast, ride to the park, boat trip along the estuary to a small village, a walk through fields and forest to a beach, relax and swim on the beach, walk back to the village, lunch, boat ride back to the road, and bus back to town. It wasn't anything great or spectacular, but pleasant enough. The estuary was lined for most of its length with mangroves, and populated by several fishermen in boats. For wildlife we saw a number of egrets and eagles, as well as a few flying fish on the water. The beach was deserted except for our group, with good swimming and lounging about. Lunch was barracuda with salad, bread, fruit and coke, pretty well as much as we could eat. The "restaurant" was a bit unique, being the ranger station, a small hut out over the water at the end of the pier.
Back home about 16.00, it had been all-in-all a pleasant day. For dinner, in addition to the usual street-stall fill-me-up, I treated myself to fish-and-chips at a restaurant, not bad but of course not quite like that in England or Australia.
I decided to arrange a boat to Koh Kong for noon next day and try to get into Thailand, to make Bangkok for the weekend. I could take the bus but it apparently takes longer; there are said to be about 5 rivers to cross and only 1 bridge.
It's 16 February, the day I leave Cambodia. I had now only 1700 r of Cambodian money left, so bargained hard with the moto drivers to make that enough to get me to the boat dock. Arrived there about 11.45, and got on the roof with all the other farangs.
A British guy was getting on the boat and I helped hold some of his things while he climbed up. I wasn't sure what he meant when he then said, "nice to see there are a few nice people left in this world". I later found out, when he told his story about just having been robbed of most of his possessions just a day or two ago. So it happens here too does it?
It was a fairly routine trip to Koh Kong, hot but not unbearably so on the roof. The boat wasn't a fast one, but kept up a reasonable speed. From the top we got good views of islands and coastline along the way. After one stop at an island village, we got into Koh Kong about 16.30.
It's always at the border places that prices seem to be the highest. The ride from Koh Kong to the border town a few km away was supposed to be 40 baht ($1) or so, but the pick-up and moto drivers demanded, and got, 100 baht per person. I found it a bit irksome, as on the Thai side, a mini-bus to Trat, over 100 km away, cost only 110 baht.
Anyway, despite a long wait for the crowd at the Cambodian exit, with its bureaucracy and inefficiency, I got into Thailand without further hassle, and was on the mini-bus and in Trat before 19.00.
Cambodia was still a grindingly poor country, desperately trying to rebuild and recover from the horrors of the Khmer Rouge era. The main income appeared to be from tourism, and most of that seemed to go to government people (as distinct from government coffers) and to the wealthy. But there is a lot to see and the people were friendly and hospitable. We found it a rewarding destination and certainly had no regrets coming.
Trat is a smallish town in Thailand, the first one you come to on this route. It hasn't anything distinctive to boast, but is a quiet, pleasant place to stop for the night. So when an amiable looking Thai woman met us at the bus stop and offered me a room in her RD Guest House near the river, I took it up. In a marked contrast to Sihanoukville, the biggest source of noise was frogs and crickets.
I wandered around the central part of town, through the laid-back, relaxed atmosphere, found the night market, bought a couple of food items for the bus next day, and found a stall where I could fill up on a couple of bowls of good meat/vegetable/noodle soup. Also found the bus station where I could check bus times next day.
After a good restful sleep, I was at the bus station at 06.50 for the 07.00 bus to Bangkok. An uneventful trip, punctuated by some heavy rain and consequent slow traffic, got me about 12.30 in to an unidentified bus station in the south of Bankok (it could have been the Southern Station but I wasn't sure and had no idea where we were). Someone said to take bus 511 to get to the city, so away I went. It was hard to make the bus conductor understand where the bus went, and I didn't know where we were until we got into the Banglamphu area. Then the bus went all the way across the river bridge before I knew to get off. So I had to walk back over the bridge and thence to the Thewet area to my destination.
Nearing mid afternoon, I found that all the guest houses were full (maybe the weekend coming ??). Only after some trudging around and searching did I find the Bangkok Youth hostel and managed to get a bed there. Actually it's not a bad place, with lots of farangs staying there and helpful staff.
A friend and colleague, Lou, from Australia happened to be in Bkk at this time for a job. One of my first tasks was to try to contact him by the phone numbers he gave me. But there was only a coin phone here, and I had to find some small change to use. That accomplished, I went through the phone numbers but all failed, either wrong number or busy or no answer or whatever. I sent an email instead. Finally after 18.00 I did get through by phone and was able to find Lou. He and his boss Pearl are busy for the weekend until Monday or Tuesday, so we'll keep in touch and work out a meeting sometime then.
My second day back in Bkk, and how about a couple of quiet days? Breakfast (poached eggs, toast and jam) in the hostel, read the Bangkok Post for the news (lots of trouble in Pakistan etc. over Mohammed cartoons in a Danish paper), duck out for fried rice lunch, and catch up on notes and computer work in the afternoon.
In the evening I was tired of doing nothing all day, so I had a long walk down to Little India and, being a little tired of noodle soups and fried rice, had a reasonably good Indian chickpea curry, rice and chapati meal.
On Sunday I took a slow morning stroll around the Thewet Market to check out the morning scene. The market was a bewildering hive of sights and activity. Stalls were stacked high with all imaginable goods. Just the chillies came in every shape and form, from fresh tiny hot ones to larger mild ones, powdered, pastes, chopped up and pickled in vinegar. Grotesquely shaped roots filled bowls, from the familiar ginger and galangal to those I had never seen. Oranges, pomelos and green mangoes were stacked in meticulously crafted pyramids. The small green Thai eggplants came in more sizes and varieties than I'd ever imagined. Fish and small eels slithered around the pans gasping for water or trying, and occasional succeeding, to escape onto the floor. One shop owner picked fish out of a pan and despatched them by a quick knife cut to the backbone, with a dispassionate efficiency reminiscent of what I imagine would be characteristic of the Khmer Rouge in the Cambodian killing fields. Silver-dollar size turtles swam around their shallow pans, as frogs in their cages silently gazed. De-skulled pigs' faces, ears protruding, smiled blindly up from the butchers' tables. A rat's tail flickered momentarily as its owner scurried amongst the pans on a table. Through it all, buyers and sellers barked instructions and negotiated, as pedestrians and people on motorcycles weaved their way down the narrow aisles. Markets are always fascinating, always something new to see, and this was no exception.
That evening my stomach was hinting to me it was getting a little weary of local food. So I took a walk down to Democracy Square. A McDonalds there offered up a Big Mac meal and a McFlurry. It was good for a change, but didn't really fill me up and I had to snack a bit on getting back home.
I'd arranged to meet Lou on Monday at Siam sky-train station and spend the day together. Onto a #16 bus, struggle through heavy traffic and got there early anyway. But nothing much was open so I couldn't go inside and cool off while waiting. Also, there were 3 parts of the Siam station, so hard to know where to go to meet him. We finally got together and went into Dunkin Donuts for a coffee and some air conditioned day planning. Then we spent the morning looking around and lunch at the very ritzy Paragon Siam Centre.
For the afternoon we took the skytrain a couple of stops west and explored around the Sukhumvit Soi 3 area. I'd heard it has a distinctive middle-east atmosphere. From that aspect, it was a disappointment (not a carpet on sight). Apart from a couple of Egyptian and Lebanese restaurants it looked like any other part of Bangkok. One section had streets badly flooded, maybe from a water main break, making walking difficult. But overall it was a rather lively area, with lots of bars and eating places, travel agents, massage places, clothing stores, etc. We stopped in the "Down Under" bar for a couple of beer and a conversation with and expat Aussie guy. Then to another bar and restaurant for dinner, where I had a good chicken green curry dish.
After finalising plans to meet tomorrow with Dr Pearl (Lou's current boss here in Thailand) for a day together, we separated and I went to find the #16 bus again.
I got on the bus the same place I got off, thinking it would eventually get me back to home in Thewet. It did, but not until after a real cook's tour. It went down past Lumphini Park, to Patpong Rd area ( really bright lights and lots of activity) around some other streets, back around Patpong, and eventually back to Siam where I'd left Lou. From there it took me home by about 22.00. I didn't mind at all, having seen a lot of the city I wouldn't have otherwise.
Next day, Tuesday, we're to meet in Non Thaburi to the north of Bangkok, and drive with Pearl's car to some places we might not be able otherwise to access. I boarded the river ferry, rode upriver right to the end of the line, and got off at the Non Thaburi ferry dock. Pearl and Lou arrived on time there by car and met me at the dock.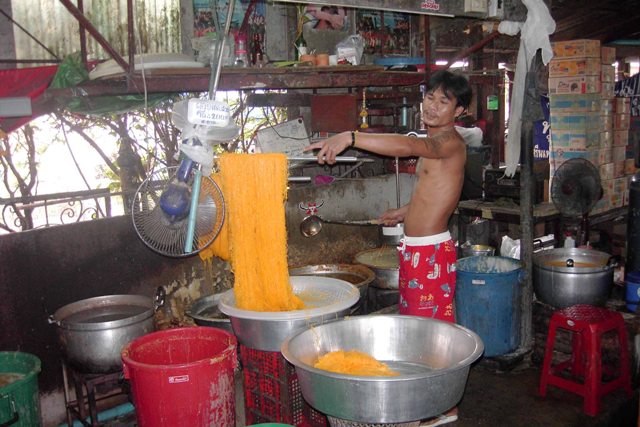 Today we would go to Kok Kreb, an island in the upper Chao Praya River north of Bangkok and Non Thaburi. It is the home to the Nom people, a slightly different ethnic group to the other Thais. They live in and around the island, and aside from agriculture, their most visible economic activities are pottery and sweets making. We spent much of the day exploring the narrow sois (alleys) and pathways, looking at pottery displays, and watching how they made some of the large variety of cakes and sweets. Regarding the latter, Lou's and my food safety experience made us less than impressed with some of the sanitation practices in the workshops. It could make good training material (what not to do) for food safety courses.
Pearl also treated us to a boat trip around the island , so we could get river views from all sides, as well as have access to some of the candy making workshops. Wonderful.
Later we found a quite posh restaurant near the riverfront that Pearl knew about. A very big and elegant Thai meal in sophisticated surroundings made a perfect end to our day. The tab for the 3 of us came to maybe a fifth what it would cost in a good Australian or Canadian establishment.
Back to my ferry before the last one left at 18.40, we said our goodbyes and thanks, and I enjoyed a nice "night cruise" back to Thewet dock and home.
Time for a couple of easy days, not doing much. I mainly did short walks, hung around the hostel, updating the news from the Bangkok Post, catching up on notes and photo processing with my pc, doing some emails, and ducking out to nearby food stalls and restaurants for simple meals.
I heard that there was a trade exhibition of Thai products at the Saman Luang oval, so one afternoon I wandered over there for a look. There was a great variety of things, mainly food-related, but clothing, crafts etc. as well. I wished there was someone with me who could explain what some of the unidentified items were. One thing that impressed me was the considerable quantity and variety of domestic wines available here, both grape and otherwise.
I checked out of the hostel, and on the evening of the 23 February I caught a bus down to the Southern Bus Station. Rom there I was on a 19.00 night bus south to the west coast town Krabi. The bus was A/C, as most are, and I managed to sleep a bit that night.
Into Krabi bus station about 07.00, I caught a pick-up into town. Krabi seemed bigger and more cosmopolitan than what I remember in 1989, but that applies to just about any city I guess. Gerrard (a guy I met on the bus) and I found our way to the riverfront where boats etc. depart from, and grabbed a coffee and rice cake in a small shop. We checked out boats, Gerrard to Koh Lanta and me to Ao Rai Leh. I got on a long-tailed boat with 4 others for Rai Leh.
We bounced across the bay, getting only slightly wet in the process, and into Rai Leh East about 09.00. I trudged up the beach and found Rapala Guest House where I got a bungalow room with attached. This would do for today, but would have a look at nearby Ao Ton Sai later to see if anything cheaper there.
After a short rest and organised myself, I commenced my usual exploratory walk. This whole area, including Rai Lei East and West, Ton Sai, and Phra Nang, has drastically changed since 1989; it's vastly more built-up and congested. What was then open land and hillside is now solid guest-houses, restaurants, shops and bars. Even Ton Sai, which I don't remember any development on, is now populated by large numbers of the above facilities. Virtually the whole of the Phra Nang isthmus is now monopolised by one big resort. The density of farangs seems to be about that of Khao San in Bangkok. Ton Sai, and indeed most of the place, seems to have become a rock-climbers hang-out, with seemingly every cliff and overhang covered in human spiders.
The tourist trade is so powerful that everything is tourist prices, and it's hard to get a "local" meal anywhere. I did find one small restaurant where I could get good cheap noodle & curry dishes, and ate there every day. Meals in guest houses and restaurants are generally more expensive, as is water and the slow internet service. But what am I complaining about; I remember the same discrepancy in 1989.
The beaches and water are still nice, and I enjoyed the swimming at Rai Leh West and at Phra Nang. Also, the climb up the hill near Phra Nang and down to the inland cave lagoon (very steep, rope work in some parts) was still achievable. The lagoon however was shallow and mud-lined, unsuitable for walking in or swimming. I looked for the way up to the peak that I climbed in 1989, but it seemed to be difficult now without equipment, so I didn't take a chance.
I tried to find a cave that I had explored in 1989 and from which I could get good views of Rai Leh, but couldn't find the entrance now. It must have been overgrown and may have been blocked off by the resort.
One point of interest was the walkway along Phra Nang beside the resort. There seems to be a large population of resident monkeys hanging out along the fence, waiting for handouts and photo ops. I wryly considered that if the monkeys could talk, they'd say "One Baht".
Over all, the place was still Ok, but not as impressive (maybe because of deja-vu) as it had been the first time I was here. Good for a few days anyway, and good to do some reading, notes and picture processing.
At 10 pm, I went for a beer at an adjacent bar, where they had tourist entertainment in the form of a "fire show" (a young guy twirling flaming batons and bola balls, OK but not really memorable) and a Thai kick boxing match (this was good and well worth watching).
On the second day I packed up and walked over the hill to Ao Ton Sai where I found very rustic bamboo/thatch bungalows back in the forest. I would stay here for 3 more nights before heading back to Krabi.
The bungalow was remarkably similar to the one we stayed in on Koh Tonsai in Cambodia, with similar levels of comfort. The only difference is that this one is on steeper land and much farther from the beach, so needed more walking to get around, no problem.
These 3 days were taken up in short walks, swimming, reading, watching rock climbers, writing notes and lazing about. There was no power except in the evening, and I couldn't use my PC, so I took the opportunity to do a lot of reading.
There is some coral in the water but it all looks dead or in bad shape, to be expected with the murky water and high traffic levels. Boats, mainly long-tail, are constantly on the move, churning up the water and, with their un-silenced car engine making an annoying level of noise.
Meals were taken either in a basic noodle establishment or in my guest house, which churned out a delicious array of chicken dishes in various coconut/curry sauces.
This place is too settled for wildlife, except for the Phra Nang beach monkeys. But on the path near the guest house, I was once treated to the sight of a very long, thin, green, delicate looking tree snake slowly slithering across the path.
Sometime during my stay, my 1998 model Teva sandals finally collapsed on me; they just weren't going to last until my return to Canada. Well, they certainly had a good run and didn't owe me anything. Down in one of the many shops near the beach I purchased a cheap pair of flip-flops to do me for a month until I get back to Mountain Equipment Co-op.
On 28 Feb I was down to Ton Sai Beach in the morning to hang about for a boat up the coast to the resort village Ao Nang. That seems to be the most appropriate way to get back to Krabi. The boat trip was maybe a quarter hour or so to Ao Nang, where I could catch a pick-up for the several km to Krabi.
I thought of staying in Ao Nang for a night or so to check it out. But I did a walk around for a while before getting on the truck. It's a medium size town on a beach, and is REALLY built up and touristy. Huge numbers of guest houses, hotels and resorts (though admittedly not high-rise), restaurants, fast food, stores, massage, souvenir shops, internet, whatever, crammed the streets for a km or two. It just seemed overwhelming. On to Krabi for me.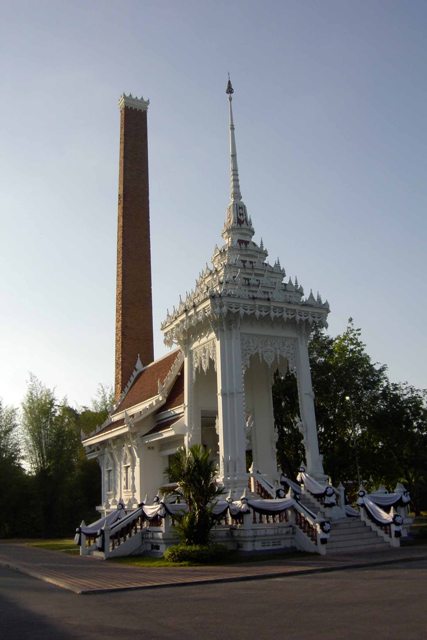 Krabi is just another Thai town, but pleasant enough. There are a lot of guest houses here, and a lot of farangs, more than you'd expect as just a transit point for the beach crowds. But I chose to stay here for 2 or 3 days, mainly to work with my computer. I had always intended that a significant portion of my trip would be devoted to processing and fixing up my scanned slides from previous trips (a very time-consuming job) and composing/editing travel notes from these trips as well. So I got into a nice enough room with desk and chair for 200 baht, and got to work.
In between slide processing and emailing (internet here is back to city prices, and some of the fastest I've encountered in Asia), the town is hot but still pleasant enough to explore. Food stalls have good cheap meals, and the night market is a perpetual food festival. The daytime fresh food market also has lots of meal vendors, but is a bit farther away.
A hill near the town centre has a big wat complex, with temple buildings, monks' residences, school etc. One intriguing structure was a normal looking temple building, but attached to its back was a very tall square chimney-like tower. I couldn't find anyone to explain what it was. "If they'd built wats at Auschwitz.....(???)". Later I was to find out from an expat Aussie that I wasn't that far off; the structure was actually a crematorium, a common fixture at most Wats.
One intriguing aspect of this town is the imaginative traffic light supports at intersections. One intersection has concrete cavemen-looking creatures holding the light boxes (I was later told they were meant to represent farangs holding suitcases); another has big eagles, etc.
If I still am thinking of flying to Sarawak, I should be getting into Malaysia by about now. So on 2 March I organised a bus for next day at 07.00 Sungai Golok, from where I can walk across the border to Malaysia and on to Kota Bahru.
I was down to the guest house doorway at 06.45 to catch the bus. But it was all locked up and no-one was around. The mini-bus showed up shortly after, and all I could do was to smile at the driver and talk through the grate. He tried to call the owner on the phone, who did show up apologising a few minutes later to set me free.
A wait for a while at another bus station, and I was finally on the road about 07.30. I had the front seat of the van, so was rather hot but did get good views of the scenery, karst hills, villages, farmland, rubber and palm plantations.
We arrived in Hat Yai about 11.30, and had to wait an hour or more and change mini-buses there. While waiting I wandered around town and had a noodle soup lunch. Hat Yai is typical busy Thai city with nothing distinctive to set it apart from any other. It is known as a dirty-weekend place for the more conservative Malaysians, but that's not obvious just from looking around.
On south to Sungai Golok, through lots of rubber plantations and rice fields, and a little coastal scenery. We arrived in SG about 5, and the driver was nice enough to drop me right at the border. So it was a quick and easy walk across the bridge into Malaysia, with hassle-free formalities on either side.
I'd been across this border a couple of times before, but always in the other direction. So it took me a little while to work out how the transport works on this side. I finally found a bus #29 that went into Kota Bharu. After setting my watch an hour ahead, I got off the bus about 20.00 on 3 March.
KB seemed a bit bigger than I remember it, and it took me a few minutes to find my bearings. Then I was able to walk around and find the Ideal Travellers Guest House, a fairly old and run-down place, but quiet, comfortable and friendly. First item was to find some food; and a nearby food court had it all. A nice chicken rice claypot, local-style hamburger, fruit drink and a quarter pineapple filled me up.
It seems cooler here than in Thailand, so with the fan running I had a great night's sleep.
We're in Malaysia now, so breakfast is back to those delicious roti canais with coffee. First thing then is to explore the city a bit and try to find a travel agent to arrange a flight to Sarawak. Agents seemed a bit hard to find, but I finally came across a few and eventually worked out that I could get a flight (Air Asia) from Johore Bharu to Kuching return. It would leave at 16.30 on March 9, and return at 08.50 on March 23.
I found and visited the Islamic Museum for an hour or so. It dealt mainly with the history of Islam in the Kelantan area, and while nothing of the size or scale of the one in KL, it was interesting enough. This part of Malaysia considers itself the most "Islamic" in the country, but the religion still isn't all that imposing.
Lunch was Indian vegetarian "banana leaf" in the same restaurant I'd used 6 years ago, still good. For dinner later I had a laksa asam, a bit overpowering with it's strong fish and tamarind flavour, mellowed down later with a McDonalds cheeseburger and apple pie.
Kota Bharu is not as pretty as I remember, a bit more congested and run down, but still a pleasant enough place. But I must get on to Cherating tomorrow, to give me time to get to JB for the plane flight.
I was down at the bus station at 07.30 to catch the (first) 08 .00 bus to Cherating. But this bus was full and the next was 09.00. So that gave me time for another roti canai breakfast and an exploratory tour of the big bi-level Central Market. Downstairs is mainly meat, fish and fresh produce (I had to be really careful not to slip and fall on the very wet and slippery tile floors); upstairs are dry goods and a food court.
On the big air-conditioned bus heading south, our driver seemed to have the nervy habit of talking to himself a lot, which made me wonder about his mental state. But he drove well, and not too fast, so I guess he's OK.
I was dropped off at the Cherating junction about 16.30. Having been there 6 years ago, I knew the lay of the land, and it hadn't changed much in that time. I walked to the beach area and found the Coconut Inn where I had stayed before. I recognised the guy Eli who ran the place. He had his face all bandaged up from, he said, a broken jaw and eye surgery. Last time I saw him he'd been bandaged up from a toothache. Anyway, as I'd been here before, he gave me a good price on a bungalow with attached bath. Pleased that I had power and a chair/desk for my pc, I agreed to stay 3 nights.
There seemed to be far fewer farangs here than last time, no idea why. Some Malaysians are holidaying here, but not a great number. Generally it just seems quieter now, which is a mystery because it's quite a beautiful place and the beach and water seem cleaner than before.
After a short rest and a brief exploration of the street and beach, it was in for a swim in the low surf, then a clean-up and do laundry. Dinner was at the same restaurant I used to frequent, now serving healthy portions of curries, vegetables and rice for reasonable prices. A beer in an outdoor beach pub, chatting with a few Malays dominated by a 3-parts-sloshed young extrovert named Nash, capped off the evening.
Nights are reasonably cool here, and I don't even need the fan. There are a few mosquitoes but with a net they don't bother much. All in all, it's a good place to sleep well.
There's not a lot to do around Cherating; some of the farangs who are staying here for months or years will tell you that. There doesn't have to be, it's just a quiet laid back place to chill out. You get to know the locals and can just spend your time talking to them, just like farmers in a small town in Manitoba. I talked a while to a few of the long-term farangs; one of them had invested MR100000 (about $40000) in the country earning him a 5-year visa.
For my part, I wanted the time to work on my photographic slide processing on my pc, and where better to do it than on the porch of my bungalow. So, apart from a few walks around the beach and river, or into town to find some fruit, or swimming, I got quite a few pictures done.
I'd like to be able to stay here more, but have to get to my plane in JB soon. Got on the bus at 09.20, and rode the 40 km or so into Kuantan. From the bus stop I had to make my way to the long distance bus terminal to get to Mersing (I'd done all this in reverse years ago). Arriving at the terminal about 11.00m, I found that the next bus to Mersing wasn't until 14.30.
So, with time to kill, I stored my pack at the terminal, got a newspaper, had noodle soup lunch, and explored the "Mega Mall" a few blocks away. The mall was a 5-storey A/C affair with loads of small shops, entertainment on the top, and a Parksons department store and Tesco supermarket in the bottom. Good to spend an hour or so in cool comfort.
Onto the bus about 14.40 and into Mersing about 18.00 to the Transnasional terminal, where I was told the 08.30 bus to JB would leave next morning.
I found Omar's Backpackers Hostel as the most convenient place to crash, with dorm beds for 10 RM. A basic fried noodle meal, an exploration of the down-town area (Mersing hasn't changed a lot) and some time on the internet was all I could cram into the evening.
On 9 March I was at the bus place well before the departure time of 08.30. But, as often in these countries, nothing is as it seems. 08.30 came and went, and no bus. Only then was I told there is no 8.30 bus, it's at 11.30. WHAAAT!
A bit frustrated, I walked down-town to see what's there and plan my options. I found I could get to JB by local buses, one to Kota Terrenganu, and another to JB. So I got on one of them at about 09.00, then into KT about 10.30, onto another bus, and into JB downtown (I'd never been there before, a bit like a smallish Singapore). I found another bus to go to the Larkin terminal, where buses from Singapore and other places usually come, and then a fourth bus to go to the airport. I got to the JB airport (a smallish building, all on one level) about 13.30. So that was 3 changes of bus to get from Mersing to JB Airport; what a run-around! But I was impressed with the quick and efficient changes, getting me here in good time.
Sarawak
On the plane, an Air Asia 737, there was no seat allocation so we just sat anywhere; it wasn't near full anyway. Took off at 16.30 and landed in Kuching at 18.00; it had just rained so everything was wet. I shared a taxi down-town with another traveller, and got into the B&B Inn, a bit of street noise but not bad.
It was dark by the time I got to explore down-town, but the rain had stopped and it was rather pleasant out. The city is known to be one of the nicest places in Borneo, and I believe it. It has a really charming atmosphere, from the quietly active small streets, to the picturesque riverfront, to the fruit and fish markets, to the quaint India St Mall, to the green parks, to the historic buildings. It all beckons one to stay a while.
I found a place for an Indian meal, then a chicken burger, then an ice-cream, then bought a kg of oranges (should they call them greens?) to nibble on.
Next day I did a bit more exploring and checked out the tourist office to see what to do in Sarawak. I worked out that, only having 2 weeks, I should leave for the interior maybe tomorrow night. I could look around the back country and then get back to Kuching in plenty of time before I had to fly out.
Loving museums, one of the first things I saw was the Sarawak Museum. The museum is in two parts, an old wing and a new wing. I went to the old one first. It was air conditioned and was so interesting that I spent over 3 hours there and didn't get to the new wing at all. There was an exhibit put together by Shell, all about exploration and extraction of oil. The rest of downstairs was devoted mainly to wildlife, including whale skeletons, shells, mammals, snakes, birds and reptiles. Upstairs was exhibited indigenous peoples and cultures, including longhouse design, hunting, musical instruments, dress, masks, boats, games etc. There was a replica of part of an actual longhouse, complete with rows of human skulls hanging in baskets.
11 March: As I'm leaving Kuching tonight, I spent the morning reading newspapers and web downloads to catch up on news in case there isn't much access "out there". I sorted out my gear to leave half of it, including my pc, in the guest house while I'm away.
In the afternoon, to escape the heat, I went back to the Sarawak Museum to see what I'd missed yesterday. The new wing seemed mainly to be an exhibition place. Downstairs was an exhibition on Islam, its history and contributions to mathematics, science, medicine, art, astronomy and geography. It was informative but mainly geared toward school kids. Upstairs was and exhibit on the archaeology, anthropology and techniques of pottery in Borneo.
One final check of emails before collecting my gear and heading out to find a bus for the 5 km or so to the bus station. I eventually got on a mini-bus heading that way, and got to the station about 18.00. There was a bus leaving for Sibu right at that time, so I paid the 35 RM and was on the road. We travelled through towns, bush and palm plantations, stopping at one place in the evening for a meal. Arrived at the Rejang River after midnight and onto a ferry across the river (a bridge is being built but not ready yet). Then the bus went through Sibu and out to a newish bus station out at the edge of town, arriving there at 00.45.
There was nothing out there but an empty bus terminal and a few closed shops. I asked the bus driver where do I sleep, and he pointed at the rows of seats. After a bit of looking around, I decided it wasn't worth trying to make my way into town to find accommodation, and I just crashed out on the station seats. They were hard plastic and made more for sitting than sleeping, and there was a bit of noise from buses and motorbikes coming and going, but it wasn't bad and I got a few hours sleep.
I was up before 06.00 and took a taxi into town to check out boats upriver. At the boat dock, the next boat to Kapit was at 07.00. That was enough time before departure for a noodle soup and an orange for breakfast.
The boats are called "express boats" and are powered by some sort of Yanmar V16 or something; they are long and narrow and quite fast. I checked out my inside seat, left my pack there, and took my place up on the roof. It was a little windy and cool up there (the boat crew kept asking "aren't you cold?") but OK, and easy to see the views.
When planning to come to Borneo, I had dreams of slashing my way through jungle, wearing jodhpurs and a pith helmet, looking for tin mines or something. Of course I knew those days were long gone, and the reality is more one of power boat trips, bus rides and lots of logging and agriculture.
Once past the construction and industry near town, there was mostly forest and small beaches along the river. Being early morning, we hit fog for much of the way. We had to slow down on entering it; it's just as well we did or we might have t-boned a ferry crossing in front of us just ahead.
The river is mostly picturesque, but farther upstream we encountered considerable evidence of logging, lots of logs along the shore waiting for shipment. The logs seemed mostly to be about 2 ft diameter; maybe the big stuff is long gone.
We pulled up at the small town Kapit about 10.00. This is my first stop in the interior and a base to check things out. I walked around a bit and eventually found the Rejang Hotel, where a nice little A/C room with attached awaited me.
After washing and resting for a while, I went out for lunch. Then, despite the heat, I explored around town and took a walk up along the roads in the hills outside of town. Good views offered themselves from the top, but it was disappointing to see how much of the countryside was and is being cleared for agriculture, settlement, quarrying or whatever.
Dinner that evening was 2 chicken fried rices and a big Tsingtao (Chinese) beer. It's a small bush town, so pretty quiet at night, better for sleeping than for action.
The plan was to get my upriver permit from the government office (necessary to travel beyond Kapit) and get a boat up to the next main town of Belaga. So I had my permit (an easy process) in the morningat 08.20, and was down to the boat dock to see about boats. The best laid plans.....
A local guy, a schoolteacher named Philip, started talking to me, let me know that he organised trips to longhouses on his days off, and why didn't I consider doing a longhouse trip here rather than in Begala? Anyway, he talked me into it, and Begala went to the back burner. He could take me right away, and cost would be 210 RM for transport and an overnight stay, plus I would buy a few groceries. It sounded expensive, but they were charging 400 RM in Kuching for a longhouse trip. So we got the groceries; some chicken, crackers, Milo and chocolate cookies for the kids, and were on our way.
Incidentally, talking about chicken, it's interesting that the wings that I bought are almost the most expensive part of the chicken. Curiously the breasts are considerably cheaper. Another thing, I'm now finding that here, in Thailand and even Cambodia, much of the meat that's consumed, particularly chicken, is intensive battery produced like in the west. Little of it now comes from what you see running around the yards. Sorry, but that ayam kari you're ordering for dinner tonight is unlikely to be the chantikleer that kept you awake last night.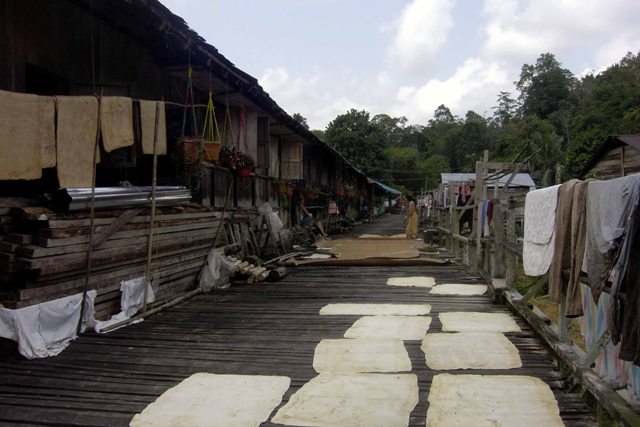 We drove out of town for an hour or so along a partly paved road through mostly jungle. There the road ended, with a large traditional-style longhouse on the other side of a creek.
I guess this is just about as genuine as they come these days. After wading across the creek, we climbed up log ladders to get to the house. The longhouse was entirely wood construction, all above ground, slat floors, an outside platform, inside hallway, and 22 doorways to that number of homes along the length of the hall. Baskets of old human skulls hung from the rafters in the hallway. Philip's in-laws looked the most wealthy, their home had several antique artefacts including gongs, a big brass "legend jar" and a small cannon. None of the older people there spoke English, and the kids only a little. I would be lodging in a home near the end of the building (they all took turns accommodating visitors) with a woman and her two kids.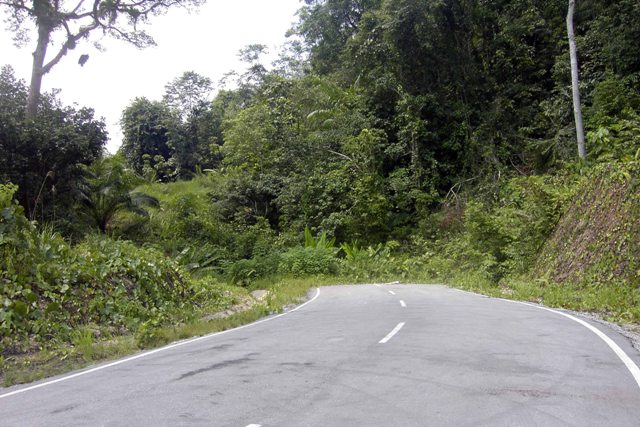 First was a short walk and a brief look at the creek and road we came up on. The road ends there, and I mean ENDS. Just pavement, including centre line, then solid bush less than a metre past the end; no warning signs or anything. It looked like something out of a road runner cartoon.
I had a bit of lunch of rice and chicken wings. Then 4 kids, aged 8 to 10, including the ones I was staying with, latched onto me, and they would be my constant tour guides and companions for the rest of the stay. They hardly spoke English, but that wasn't a problem and they were great fun.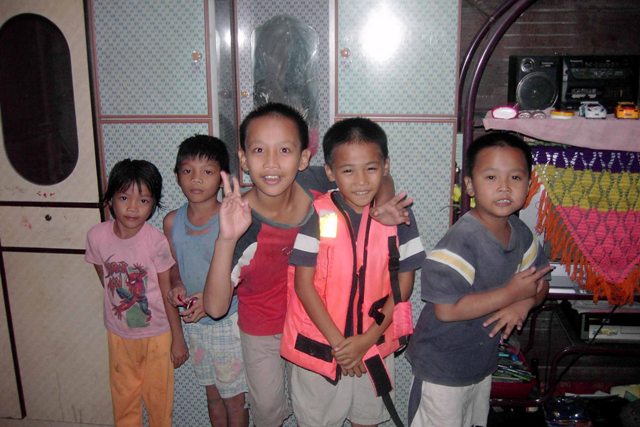 First tour was down to a small creek where we would slowly make our way upstream. The kids were expert fishermen, especially the oldest Adarsh and the youngest Florence, jumping in and lifting rocks and catching crayfish and crabs with deadly efficiency. Osman had a pole and was catching a few fish and crabs also. Huvert though was a bit of a cry-baby and didn't catch anything.
We worked our way up the creek, swimming, fishing, pointing out water creatures and plant types, and just admiring the beauty of the (mostly) pristine jungle. We took most of the afternoon, and probably went farther along than I would have if I was on my own. After reaching a seven-level waterfall, each level a few feet high, we played around in the cascades a while and started back.
Back at the longhouse, I found I was bleeding from the crotch, and my swimsuit had blood on it, It must have been a leech; it took a few hours for the bleeding to stop, but then was OK.
Dinner was chicken and rice and vegetables again. The evening was spent playing with the kids, then when the generator started they talked me into watching DVD's on television ( they're not all that primitive out here), including Power Rangers and some MTV songs. Why not, not much else to do. I regretted a bit not having my pc; I could have shown them some things on it.
About 21.00, the mattress went on the floor with the mosquito net above, the power went off, and I had an early night.
Breakfast was the same as the other meals. What to do today? Well, the kids were still here eager to go, and one more creek, the main one, remained unexplored.
So off we went; trekking, fishing swimming and exploring. This time, rather than crayfish, snails were the main resource, and Ardash and Florence were in there pulling them out at every bend and overhang.
Again the forest was enchantingly beautiful, although there were a few settlements here and there. At the beach area on the way back, we stopped for a while to swim, relax and built sand castles.
Philip showed up after noon to pick me up, and, after saying thanks and goodbye to the kids and the oldies, we left for town about 14.00. It was a great stay there. I'm not a kids person, but they really made the trip that much more enjoyable.
Back at the Rejang Hotel, I cleaned up myself and my clothes, and went for a haircut. Then I found an internet cafe, the only one in town, and checked my email. To my great joy, I found that the contract for sale of my house in Australia has gone through, and the sale is proceeding to completion. What a wonderful March 14 birthday present!
Over to a local fast-food place for a beef/egg burger and fries and drink. Then a few chicken satays in a food court as another diner course. Then to the local restaurant where I normally eat, for a fried rice dish and a Tsingtao beer to celebrate the house sale and my birthday. A quiet walk around a quiet town, in light rain, capped the evening.
Next day I'll still check out whether to go upstream to Belaga. But a quick visit to the docks showed that the river was now too low, and boats were no longer running up there. So I might as well head back down to Sibu, and then maybe make my way to Niah Caves, near the far end of Sarawak.
Onto the express boat again at 09.00 and downriver back to Sibu. This time on the way, I noticed quite a lot of log movement downstream, some on barges and some in booms. My boat reached Sibu about 12.15, where I went shopping for sandals to replace one I lost off the side of the boat. Then onto a mini-bus at 13.30 to the bus station, and onto a bus at 14.00 to Bintulu and Batu Niah. Along this stretch of road there's still quite a lot of bush and hills, but also lots of land being cleared and lots of dry-land rice and the ubiquitous palm oil plantations.
The bus arrived at the junction of Batu Niah at 18.45, but doesn't go the 12 km into town. So I had to ask around and finally got a ride in a car to BN for 10 RM. Batu Niah, near the famous Niah Caves Park complex, is even smaller than Kapit, able to be walked around in a few minutes. A bit of walking and asking led me to the Niah Caves Hotel, where I got an OK room. By now it was nearly 20.00, and everything was shut up except one restaurant where I found a dinner.
16 March, today I go out to Niah Caves and see if I can stay there overnight. So I hoisted my pack and set out walking on the path the 3 or 4 km to the park headquarters. It was a pleasant enough walk, through farmland and forest, and not too hot yet, arriving at 10.00.
After getting a room at the Niah Caves Hotel and paying the park entrance fee I was off to the caves. Leaving the park administration area, I cross the river by boat and head out on a plank-walk the 3 km to the cave complex. Being a park, it's untouched rainforest, really big trees with big buttresses and lots of plant life all over the trees.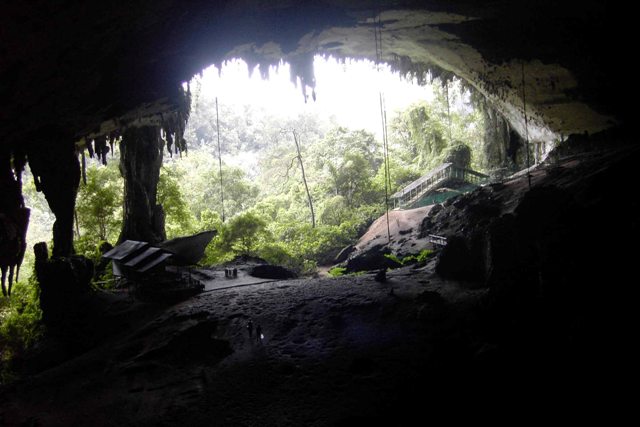 Niah Caves have some of the most massive caverns in the world, something like 70 ft high in places. It's really spectacular to look at. At the entrance to West Mouth, a house built there is miniscule compared to the cavern. The locals harvest swiftlet birds nests, and their flimsy poles hanging down from the cave roof beg the question "how many people get killed doing this?"
I spent a couple of hours or so in the caves, walking along plank-walks from one cavern to another. A light was needed in some sections because of darkness and possible slipperiness from bat droppings. One cave was called Trading Cave, because people used to set up their stalls in it to trade their harvested birds nests and/or guano. Another area, near the West Mouth, was the site of a dig; people have apparently been using the caves for some 40000 years. A separate cave on the other side had some ancient paintings in it.
On the way back I took a side track (also plank-walk) to a longhouse, but, apart from seeing more jungle scenery, wasn't anything special.
Back near the river, there was a small museum showing park and cave archaeology, geology, biology and details of birds nest and guano harvesting. All in all, I was away about 5 hours, a good way to fill in most of the afternoon.
In the evening I found a small restaurant just outside the gate, the only place around to eat, where I could get fried rice and tea for dinner. Later in the evening it was pleasant just to listen to the chirping of the insects in the bush.
The park canteen happened to be open at 08.00 in the morning, so I was able to get a breakfast. Decided, even though it was cloudy, to try another walk today, up the trail to the main mountain of Gunung Subis.
Across the river again, and out along the plank-walk for 3/4 km. Then the trail branches off to the right, and I'm walking on the ground now. Lots of tree routes, and some muddy patches make it a bit slow, but still negotiable. But soon it started raining and I looked for shelter under a rock to wait it out. It rained and rained and rained. I could be here all day. The track was getting too wet anyway to go much farther, so I decided to abandon the walk and head back in the rain. One of my boot soles was de-laminating as well, so just as well I get back.
Just as I was returning to the park HQ, the rain started to ease, but too late to continue the walk. I cleaned up and wrung out as much as I could, packed up, waited out the (returned) rain, and walked back along the path to Batu Niah town, arriving about 14.00, and checked back into the hotel.
The rest of the day was taken up drying my things out, relaxing, wandering around town (not much to see) and reading/doing notes. A local shop had 1/2 litre cartons of ice-cream, so I got one of those for a snack.
Up early on 18 March, and the hotel guy took me to the junction bus station to get the earliest bus possible to go back to Kuching, allegedly a 12 hour trip. There at 06.45, I found the buses don't start until 08.00, and I could have slept in more.
The bus trip to Kuching was fairly predictable and uneventful, through the same countryside and towns I saw on the way up. There was a considerable wait for the ferry at the Rejang River; they'll be glad when the bridge is finished. We stopped for the same meals I've been eating for days; I'm getting a bit sick of mee goreng (fried noodles).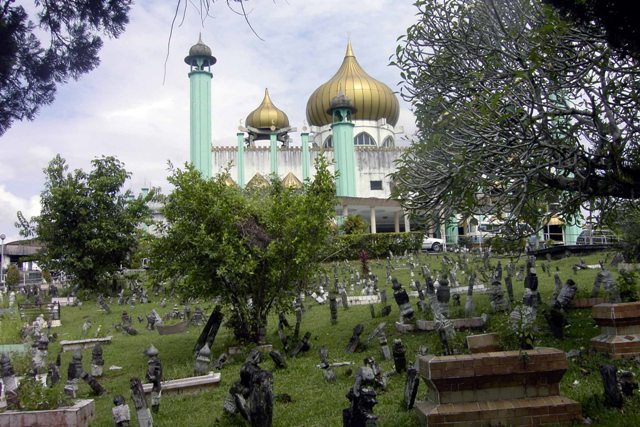 The bus didn't get in to the Kuching station until 21.00, well after dark. No local buses were going into town any more, so I got a taxi back to B&B Inn. Just time for a shower and bit of laundry there, and straight to bed.
I have four full days in Kuching days before flying back to JB. So I'll just see and do some of the things I didn't get done before, maybe shop a bit for gifts, check and send e-mails and take it easy and do notes, pictures etc on computer. I checked out a Pizza Hut to splurge on a large pizza, fries and 7-up, a refreshing change from fried noodles and rice. Other times I went for a Big Mac meal with apple pie, a KFC chicken dinner and 1/2 liter of ice cream from a store; jees' I feel guilty.
Activities in the four days included a walk around Reservoir Park watching joggers and other locals enjoy the ambiance. Then when it opened I went to the Islamic Museum, to look at more Islamic history, arts and sciences, musical instruments, weapons and calligraphy; fascinating as always. I find that for some reason Islam, more than any other religion that I know of, has the best and most interesting religious museums.
I took a boat across the river to find the small white Fort Margherita, built by Charles Brooks in 1879. But I went to the wrong landing dock, couldn't walk to the fort directly because of a construction site, and had to walk a fair distance in a big loop around the streets to the fort. Anyway, despite the heat, it was a pleasant walk and showed me another part of the city and countryside. The fort itself wasn't anything spectacular, just a barracks building with a courtyard and ramparts and lots of gun slits. But it afforded great views over the river to downtown Kuching.
The main mosque in Kuching, the Masjid Negeri, wasn't anything spectacular in itself, but was surrounded by a very densely populated and interesting looking muslim graveyard. The grave markers (one at the head and one at the foot) are at all odd angles, but I think that's the way they're meant to be.
On the waterfront is the little Chinese History Museum, dealing with the local Chinese community. The Chinese since about 1848 have played a significant part in the development of Kuching and Sarawak in general. The museum had Chinese artefacts, photos and stories of prominent individuals and clans.
On 21 March, I'd been noticing a lot of crowds and activity around the little Hong San Chinese temple just down the street, but unsure what it all was. Later I found out that it was preparations and offerings for a birthday celebration of the temple, nearly 100 years old. There were parades, floats, bands, drums, gongs, cymbals, dancing, lions, dragons all around the city streets and especially past the temple. At the temple every float and group paused and performed in front of what must have been the VIP's assembled there. The whole celebration sequence went from about 17.30 to about 23.30. Then to finish of, there was a massive fireworks display right on the street in front of the temple. With the crowds only about 10 metres from the launch tubes, it was really "in your face".
Kuching was pleasant, friendly, easygoing, not too big, lots to see; one of my favourite cities in Asia.
I had to fly back to Johore Bahru on 23 March. So I was up at 06.15 to check out and make my way to the bus stands near the post office. There I found a bus to the airport, arriving there at 07.15. Checked in and sat around working on notes waiting for the 08.50 plane to JB. The flight was routine, except I watched in fascination as we veered around, and very close to, a massive alto-cumulus that towered beside us at one point.
Peninsular Malaysia Again
The plane landed at JB at 10.10. I was straight out of the airport and found the 207 bus to Larkin (JB) bus terminal, arriving there at 11.30. The bus guys there caught me right away and sold me a bus ticket to Kuala Lumpur, leaving about noon.
The road from JB to KL is dual carriageway all the way, big and fairly fast. The countryside seemed to have nearly all the usable land taken up in palm oil plantations, with a few rubber trees here and there.
The bus arrived at the main Puduraya Bus Terminal at 17.00, giving me a short walk from there to my old favorite Pondok Lodge. I almost didn't get in there, only one bed left in a cramped room. But that was OK, one night there and next day I was into an A/C room anyway. I booked for 4 nights, to leave for Canada on 27 March.
I didn't do much exciting these four days. I'm busy enough finishing up notes, doing miscellaneous things on the pc, shopping, doing emails, a bit of looking around the city and markets, finding new and interesting places for eats, and just getting myself ready for the trip back to Canada on 27 March.
This particular trip, encompassing Malaysia, Thailand and Cambodia, may not have been the most exciting one I've ever done. But it was pleasant and enjoyable. I saw places I'd never seen before (particularly Cambodia and Sarawak) and fondly revisited places I'd seen before. All in all a good journey.