Fiji and Samoa, 10 Feb 2014 to 17 Mar 2014
August 2013 to April 2014 is a long time between major overseas trips. What do I do in the meantime? Around about January I saw that I might become bored, so decided to zip over to some of the Pacific Islands for a few weeks. I thought of Fiji (where I'd last been briefly in 1972) and Samoa and/or Tonga. News, and a check on-line, showed that Tonga has just had a bad cyclone, and that there is no direct transport between Samoa and Tonga. So Tonga is not practical at the moment, leaving Fiji and Samoa.
I organized flights on-line, to go to Fiji from 10 to 14 Feb, to Samoa until 1 March, back to Fiji until 17 March, and back to Australia. I booked the Sydney to Fiji return on a different website to my usual, appearing to be cheaper, a big mistake. It was a difficult site to navigate and use, and not obvious that luggage was an optional extra; surprising me at the airport and costing me an extra $160. A lesson learned.
So on 10 Feb, I arose about 04.25, caught the bus and train to Sydney airport, checked in, received my shock about the luggage, and was on my way to Fiji at 09.00.
(Click for Fiji map)
I arrived at Nadi airport 14.10, sunny and about +32 deg, with a bit of cloud in the hills. I waited a bit for the Bamboo Travellers people to meet me. It was a 1/2 hour drive to Bamboo Travellers Backpackers on New Town Beach. It's a nice enough place, with sand beach, brownish ocean water, small pool, restaurant and very friendly and helpful staff.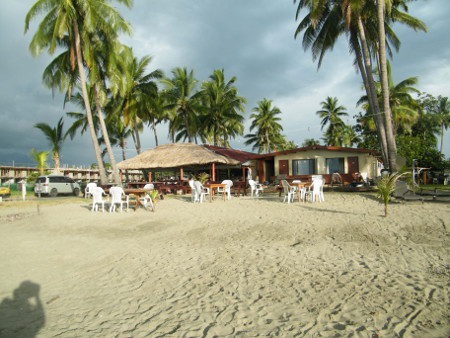 After a short rest I set out walking 1/2 hour or so back thru pleasant streets and countryside to Queens Rd to find a local restaurant to tide me over till dinner. I found one of the ubiquitous Indian/Chinese/Fijian restaurants that served up a tasty chicken curry with, rice, dhal, salad and pappad. Dessert would be a papaya from a fruit stand.
Back home, a pleasant swim in the very warm ocean, then in the pool. It's so idyllic to sit at tables looking at the beach scenery, talking to other travellers over a beer, and chilling out. In the evening I had dinner of "ika vaka lovo", consisting of fish, coconut sauce, mixed veg & cassava; juicy but very good. I'd have this dish repeatedly throughout the trip.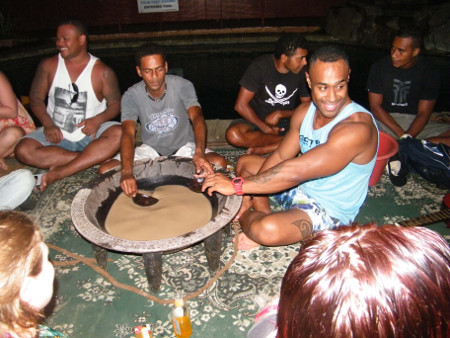 Later I joined the nightly kava party, sitting around talking, listening to guitar music, and drinking about 3 bowls of kava from a large bowl. Kava is the iconic beverage of Fiji. Extracted from a root called waka, it looks like dish water and serves a function somewhere between tea and peace-pipe. It is alleged to be mildly narcotic, but to me it has no significant effect except for a slightly numb furry sensation in the mouth.
Fiji seems clean and peasant, though the heat is oppressive. Everyone on the road says Bula or Hi.
Around Nadi
My first full day in Fiji was to look around Nadi. It took a while to sort out luggage issues with the airline, and then make plans for activities for the next couple of days. It wasn't until after noon that I finally was able to go out and wait about 3/4 hour for the local bus to take me into Nadi. The bus was a noisy claptrap affair with no windows. I couldn't help feeling, "Is this the same bus I was on when I came here in 1972?"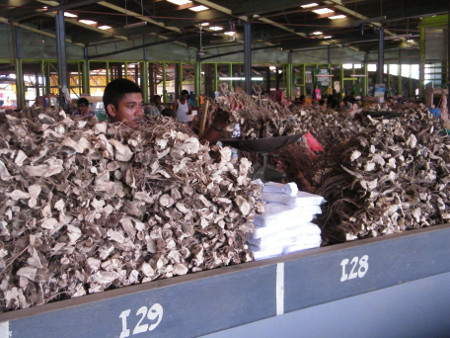 Anyway the bus dropped me at the Nadi bus terminal near the market. Then I had lunch and a good look around the large and busy market, fascinating as always. It was mostly vegetables and fruit. One large section of the market appeared devoted entirely to waka, the root from which kava is made.
Nadi was much more built-up and busy than in '72, but retained some of its atmosphere. Shop-owners all said Bula and tried to get me in to look. At the far end of town was the Hindu Temple, colourful but not worth more than a look from outside.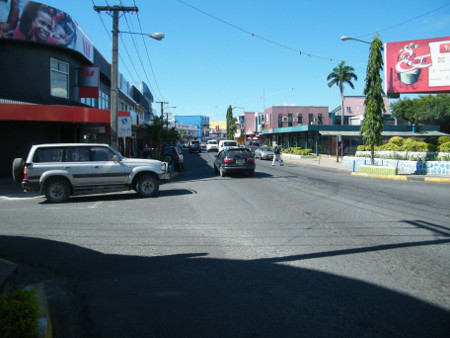 It was too dreadfully hot to spend much time in town, so later I caught the 17.20 bus back to New Town beach. Curiously, part of the bus route was over the sand along a hundred metres or so of beach; waves almost next to the bus.
Back home, after beer and the swimming pool, an Adelaide couple I met recommended that next day I go with their friend/guide Rex on an overnight trip to some villages near Nadi. It was said to be a genuine village experience with socializing, cultural exchange and activities. Against my better judgement, I agreed.
Later that evening several of the staff twirled flaming batons in a Fijian Fire Dance. It was entertaining but not eminently memorable. One or more of the performers was apparently slightly inebriated from beer or kava, and dropped the batons a number of times.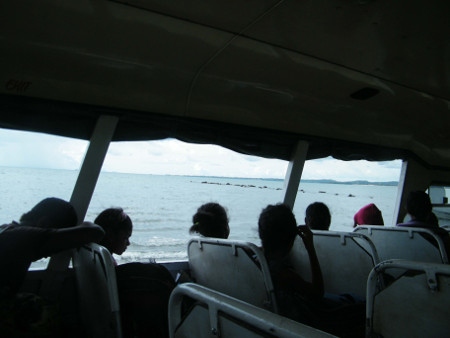 In the morning I rose before 07.00, put my pack in storage, and with my small pack got on the bus at 07.35 to meet Rex in Nadi at 08.00. I was 10 minutes late, but he was 20. So started a regrettable day; I should have gone elsewhere. He took me to the market where we met his "wife". We had some kava and he packed up a bundle of waka as a "sevusevu" gift for the hosts. After purchasing some supplies, we went to the bus place for a bus to Uciwei. But apparently no bus, so about 09.30 or 10.00 we drove in a friend's car about 15 km out there. We passed through a village, turned off a gravel road, waited for another friend to pick us up, and drove a couple more km to the family home where I was to stay.
I met the extended family there (all Indians not Fijians) and sat around chatting a while around the kava bowl. Then we drove a couple more km to another family home higher up a hill, where he presented the sevusevu, sat around chatting a while, and more kava. The place had nice views here of the surrounding grassy hills (very few trees around) and distant seashore. 3 of us took a walk up a couple of nearby hills to look at more views south. It was pleasant walking, slightly cooler than in Nadi.
From the upper home, we returned to the lower one for another sit-around and a lunch of chicken curry, vegetables, dhal, rice and roti. He was to take me to the beach/shore after lunch, but everything fell apart from then on. No beach trip, no other villages, he had some story that I could no longer even stay overnight, and we ended up just going back to Nadi. Instead of a good 24-hour excursion and homestay, the whole trip was barely more than 4 hours. And instead of a Fijian village cultural experience, it was the all-too familiar Indian one. I made a big mistake going with this guy.
So now I have 2 more days around Nadi, but not enough time to get away on another excursion. So next day was a spare day with nothing planned.
After breakfast I set out about 09.30 to do an exploratory walk inland. I walked to Queens Road and found a road inland through cane fields and over creek bridges. It was all very hot and tropical and green, lots of lush vegetation. After an hour, past a cement works and other industry, I found a major intersection, and chicken/rice lunch at a small restaurant near a service station.
I walked to the right along the main road to see where it would take me. After what must have been several km through villages I eventually found myself in Nadi at the Hindu temple. That was really a long way around. Shortly after 13.00 I looked for the bus back home, but it doesn't go until 15.00, so took a taxi back.
To Samoa
(Click for Samoa map)
Friday, 14 Feb, was the day I fly out to Samoa. Plane leaves at 13.55, so at about 11.00 a taxi took me to the airport. The routine flight to Samoa had me at Faleolo Airport around 18.00, with a 2-hour time difference.
As in all airports in the region, new arrivals (as well as those departing) were greeted by a band in the foyer playing romantic island music. It must be the Tourism Authority's way of getting tourists into the atmosphere. Met my taxi driver Solomona and found a Westpac bank machine to cash up.
I had still plenty of daylight left as we set out for the 50-minute drive to Apia. Weather is hot like Fiji, but seems more rain around here. Country looks Fijian, but buildings look older, lots of rusty iron roofs, and the place is not as big-time developed.
I had pre-booked the Samoan Village Homestay, an old house and large yard set in a suburbia village about 20 minute walk from the town (Apia is the national capital but looks and feels like a regional town). Greeted by Falefatu (who had apparently spent time in Sydney) and Betsy, I arranged to spend 3 nights here in Apia before heading afield.
Son Joe and daughter Epi showed me the way downtown, where I found a grocery store and had a couple of greasy pork steamed buns, their equivalent of hamburgers, for dinner. After dark I explored the length of the waterfront from the marina to the commercial district, all quiet and unimposing; people saying hello and dogs skulking away. The whole place has a small-town atmosphere, with lots of rambling old colonial-style buildings.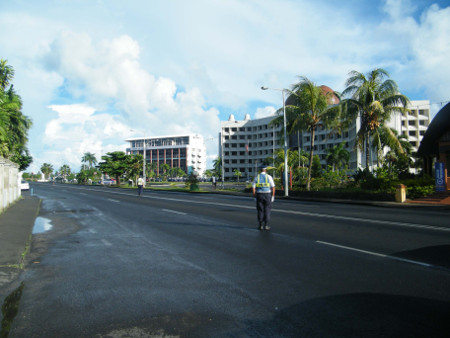 On Saturday I set out about 09.30 for a day of walking and exploration around Apia. I passed the Palolo Deep Marine Reserve, where I would snorkel next day, and across to the wharf/marina, along the waterfront, and over to the tourist office where I picked up a Samoa map and bus and ferry schedules.
From there it was not far to the fish market (small and mundane compared to say Busan in Korea), and the large 2-building flea market containing many clothes and souvenir-type wares and a food court. This is near the main bus station, with lots of colourful school-bus-type vehicles coming and going. Beyond is the continuation of the waterfront, a couple of km or so along a peninsula past the Parliament Buildings. The PB's looked run-down and derelict, but apparently they are still used when in session.
The end of the peninsula is an observatory, but hard to see what there is there to give it that function.
Lunch was greasy deep-fried fish, chicken and chips. I think I'll get sick of Samoan fast food soon, but fortunately most of my meals in Samoa would be resort food.
A few blocks south is the main market and bus depot. The whole site is undergoing construction, no buses, and the market spread out everywhere. Around the site, stalls were mainly selling taro and a few bananas.
From the markets, it's a long walk to and along the cross-island road and out of town to the Robert Louis Stevenson mansion and museum. It seemed interminable up and up and up. I kept asking how much farther, and people said half hour or 15 minutes.
Getting quite tired, I finally arrived about 15.00, and the sign said closed noon on Sat. Anyway I walked up the long approach avenue flanked by beautiful tropical plants, and into the large lawn with the mansion in the centre.
Luckily there were tour groups on the way, so it was still open. I took off my sandals and joined a guided tour. It was all very interesting with spacious rooms, history, photos, furniture and artefacts. RLS arrived in Samoa in 1889 because of health reasons, built the mansion in a year or so, and died in 1894. He apparently wrote 13 books in Samoa, and must have been financially very well off.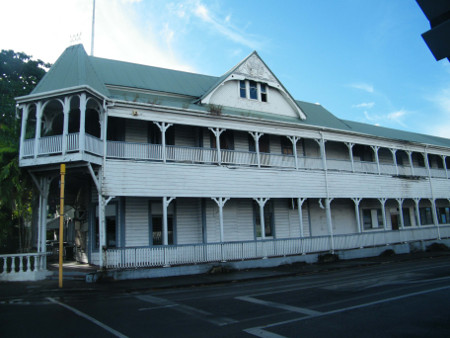 It started to rain. I waited a short time and then set out to the nearby Botanic Gardens. There didn't seem a lot there, mainly the entrance to longer walks including the RLS tomb at the hill top, and some plants with identifying signs.
Rain continued off-and-on, so I retreated into a roadside store, where I found a large beer and a "barbecue" of greasy fried chicken and sausage and plantain to be my early dinner, and waited for the rain to stop.
It was again sunny when I arrived home about 16.30, something like 7 hours walking.
On Sunday in Samoa everything shuts down for church. Falefatu recommended I go with them to the Protestant Church sermon to attend the service (maybe you're put to death if you don't go to church??), have morning tea and meet people. The sermon started about 10 and went maybe an hour or so.
Met lots of nice local people at the tea; all speak English here. Also a small number of ferangis lived here, over on mission work or whatever.
Back home, I got my snorkel gear and went over to the Paolo Deep Marine Reserve. I paid the park fee, left my bag with the attendant, and went out for about 3 hours snorkelling. I swam out some distance to a large circular drop-off just inside the breakers, and snorkelled around most of the circumference and back. Coral is quite degraded in much of the area, but good in other spots, and some really great cliffs and overhangs.
I booked my next destination, two nights in a beach fale (basic open bungalow) on Namua Island to the east. On Monday I found the multi-coloured Namua bus - plywood seats and open windows - and boarded at 09.30. I had to wait until about 11.00 before the bus filled up and left; I guess Samoa time is a lot like Fiji time.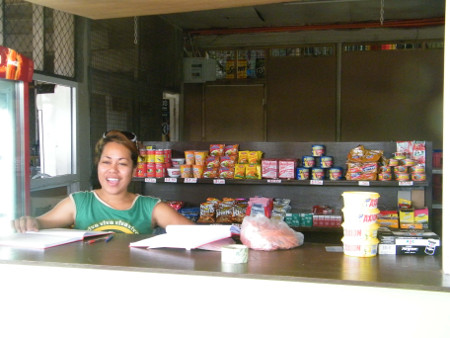 At a gas station/store I tried to get an ice-cream cone from the pleasant young girl in the shop. She took forever to take everything off the freezer, look at the contents, found I couldn't have it because the ice-cream was too hard, and gave me an ice-cream bar instead.
My bus passed east along the coast through villages and tropical country, south into hills and forest, through La Mafa Pass, to the east coast and the village Mutiatele about 12.30 or 13.00.
Namua
Resort owner Yeti picked me up and took me across the km or so to Namua Island. It rained a bit on the boat, and off-and-on the rest of the day. He put me into a fale, a simple raised wooden platform with a thatch roof, roll-down tarp walls, a foam mattress and a mosquito net.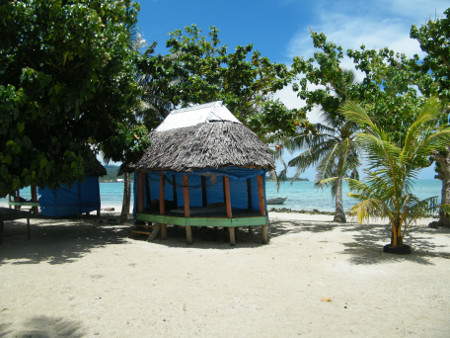 Namua is not large, only a km or so, but quite high and forested. The beach is not much more than 100 m long. Some coral is in the water, and a steep rough path led to the hilltop. It looks like a chill-out place but not a lot else to do besides swimming and snorkelling.
After a delicious large complimentary drinking coconut, I settled into the fale, rested, organized my gear, walked around the resort as far as possible, had a swim and a shower, and caught up on trip notes. There is no electricity here but they provide a small solar light for the evening. I was the only overnight guest here.
About 18.30 my hostess Linda said dinner was ready, and I dined on fried pork, vegetables, taro with coconut sauce and lemon-grass tea. What followed was an intense action-packed evening of watching the sun set and reading until bedtime.
Next morning Linda called me about 09.00 for an enormous breakfast of fried eggs and onion, unlimited crackers and butter, sliced tinned meat, deep fried eggplant fritters, a large papaya and real coffee. I couldn't come close to finishing it all, and took a few crackers and half the papaya for lunch.
First order of day was snorkelling. I went into the water and turned left (south) along the shore. It was mostly sand and soft plants for some distance, then rocks with lots of dead/degraded coral. It was only near the south end of the island, and the breakers, that I saw more coral and small coloured fish. But here the current was so strong that it was very difficult to progress, and I was swept back north. I explored around the area for some time before coming back to the beach.
Coral here seems not in good shape, too many stressors. Later someone blamed a recent tsunami, but that may have been a convenient excuse (??). Back at the beach the boat came with 3 girls to stay the night. They gave me some pointers on where to go and stay over the next few days.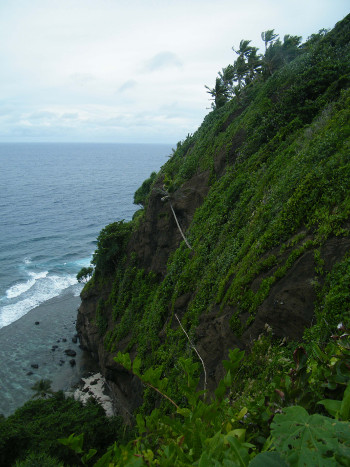 It rained a couple of times during the day, but the four of us did manage to find a relatively dry window in which to undertake the wet and slippery walk/clamber up a faint rocky path to the top of the island. It took maybe a half hour to get up, and we found 2 or 3 lookouts amongst the jungle to see neighbouring islands and reef breakers.
As I said, there's not a lot to do here. I'm reminded of what I think James Michener observed in one of his books. The early western visitors living in the Pacific islands found that, unless they were at war with a neighbouring tribe or something, there wasn't much to keep one occupied. Paradise can be boring.
Lalomanu
After a couple of nights on Namua, it's time to move on to Lalomanu; maybe not quite as pretty but also less restrictive. The boat took us back to the main island about 09.30 or 10.00.
The two Belgian girls were to hitchhike to Apia, and they got a ride right way. The Italian Anna was going back to Taufua Beach Fales at Lalomanu, so I might as well go there too. We soon flagged a ride on the back of a vehicle, drove through Lalomanu village, and were dropped off at Taufua. Taufua Fales is on a long beach on the south side of the island. A short distance out is the breakers, and there is some coral out there. It is flanked by other fale places, but Taufua seems to be the only one doing much business. There were quite a few people here, unlike at Namua.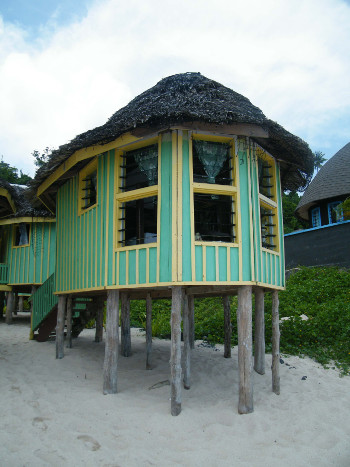 I negotiated for 3 nights here. Paula put me into a nice wooden fale on stilts with double mattress and louver windows and curtains, looking straight over the beach and sea.
I spent the 3 days here swimming, snorkelling, walking along beaches, roads and through the village, chatting to other travellers, processing trip notes and pictures on my pc (there is electricity here), reading and resting. Lalomanu village has a couple of small shops and is the terminal for the Apia bus. Meals were generally communal buffet style consisting of things like fish, chicken, stir-fries, pasta, rice, salads and tea. I had a 24-hour gut complaint at one stage, but that was thankfully the only gastric problem on my whole trip.
One evening, maybe because the place was so well-attended, we were treated to a Samoan dance performance. The locals put on traditional "grass" and skirt dress and performed a series of traditional island dances. Also they did a brief fire dance, similar to that in Fiji but fewer performers, briefer, and probably more skilful.
I did some snorkelling and explored the nearby reef. Inside the breakers is mostly coral desert, but I found some good coral around and outside the breakers, with some spectacular cliffs and drop-offs, and a deep channel connecting inside and outside. However, the current was quite strong going out through the channel, making progress difficult and strenuous.
On my last full day at Taufua, cured of my gut condition, I talked to another traveller Meganne and we agreed to go to the To Sua Ocean Trench, west of here. About 11.00 a big burly taxi driver put us in his taxi and took us west along the south coast road for about 20 minutes, past villages Saleapaga and Vavua, to the To Sua property on the coast. On the way we came upon a woman and 2 kids standing on the road; our driver stopped and scolded the woman for standing there.
To Sua is a small privately-owned park and botanic garden, in the midst of which are two deep sinkholes, one dry with vegetation and one with about 3 or 4 metres of water, maybe 30 metres wide and deep each, and connected by tunnels to each other and to the sea. They are quite spectacular and picturesque. You go down long steps and a ladder to the wet hole, swim or snorkel there off a jetty, and can swim/walk through to the bottom of the dry hole. Also outside you can go down other steps to the scenic rocky lava-flow shore, or just wander around the gardens.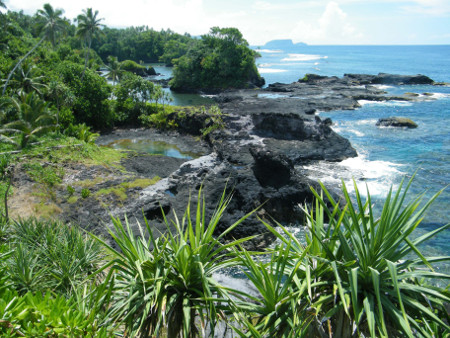 I'm told that the coral damage/deterioration around here is all from a tsunami in 2009. On the drive today we were shown the remains of several buildings in the low land that were destroyed at that time too.
Manase
H&R said they found out about an indigenous music performance in an arts centre tonight at 20.00, and would I like to come? Certainly! About 19.30 we set out for the arts centre. We could walk the entire distance in about 20 minutes along a public path on a disused rail line parallel to Xinsheng Rd, pleasant and relatively quiet.
On Saturday I undertook to travel the whole distance from Lalomanu on Upolu Island to Manase on Savai Island. I was up before 05.30 and out on the road in the dark to walk to the village for the 06.00 bus. Pigs scurried away and dogs barked as I walked. I chatted with a few people who were wandering around or waiting for a ride. The bus for Apia didn't arrive until 06.45, but it was a fast enough trip back to Apia.
I arrived at the Apia bus place about 08.20. Immediately I looked for the bus to take me to the ferry wharf in the west of the island. It seems to require a survey of about half-dozen drivers and others before I get pointed at the correct bus. It was said to leave at 09.00, so I had time for a quick look at the market and to cash up at the Westpac bank machine.
I had little time to spare, as the bus left 5 minutes early. It passed the airport and got to the ferry wharf at 09.45, just in time to go to the washroom, get in line with the others to get a ferry ticket to Salelologa in Savai, and walk on board. The ferry left promptly at 10.00, and arrived on Savai at 11.25.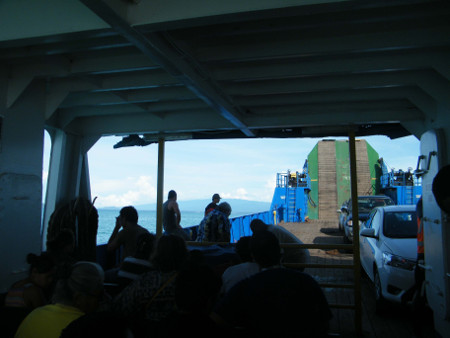 At the Salelologa wharf, I stopped in the waiting room to get a couple of egg sandwiches for lunch, and walked out to look for a bus to Manase on the north side of the island. To my consternation I was told that the bus had already left, immediately full I guess. So what do I do now? Sat down and ate the sandwiches, then asked around, and finally took a taxi 2 or 3 km to the city market place to get a bus from there to Manase. The bus left the market immediately at 13.00, but cruised around a few more minutes soliciting before hitting the road. These buses run full-up, people sitting on one-another or standing, and luggage everywhere. Many of the local Samoan passengers are rather broad in the beam, taking up 1.5 seats each.
Up the east coast of Savai, the bus gradually shed passengers as we progressed. It rained heavily part of the way. We passed through the east-coast village Lano where I may stop later, passed the bare rocky lava field in the NE of the island, and I was let off at the service station in Manase village at about 14.00.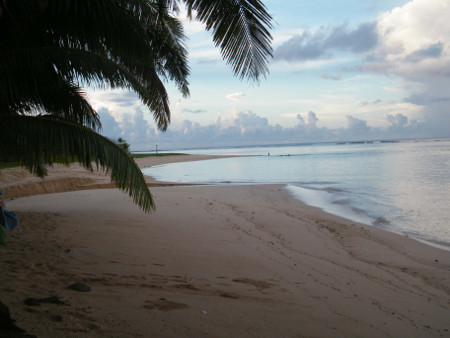 There didn't seem to be a lot of people around in Manase; very few fale guests, quite a contrast to the crowd at Taufua Fales. I looked in at Vacations Fales, but it was deserted except for 1 hire car, and no staff around. I left my bag there and looked at other fale places along the beach, but none had any more action. Back at Vacations, a young girl Ulu was there, and she gave me a large lattice-walled fale, with power, next to the beach for 2 nights. A plus is that the power outlet is close to the outside deck chairs, so I can do pc work sitting outside. A minus is that it a VERY BIG step from the fale level over lava rocks to the beach below; must have been some erosion.
When rain cleared a bit, I went for a walk west farther down the road. I passed other fales and resorts, then a cow-pasture with a few lazy bos-indicus and carpets of bovine-inedible mimosa sensitive plants. Jungle-covered cliffs rose next to the road, draped by immense curtains of vines.
On the shore by the road was parked a car with a Samoan guy in it. Out from shore were a couple of boys sitting on rocks a hundred metres or so away. The guy in the car was intermittently beeping them to get back to the car, but they were completely ignoring him.
Dinner was with the other guests, a couple from NZ/Aust. Generally in these beach places, accommodation comes with 2 meals, a breakfast (toast, jam, maybe eggs or omelette, maybe porridge) and a substantial dinner of chicken or fish with coconut, vegetables and taro or cassava or potato or pasta. One specialty is baked taro leaves filled with a coconut sauce; heaven. Meals are generally very good, and substantial enough that one only needs 2 meals. An interesting breakfast at one place was big bowls of a local "porridge" made of maybe papaya, ground wheat, tapioca and a chocolate flavour; edible but not addictive.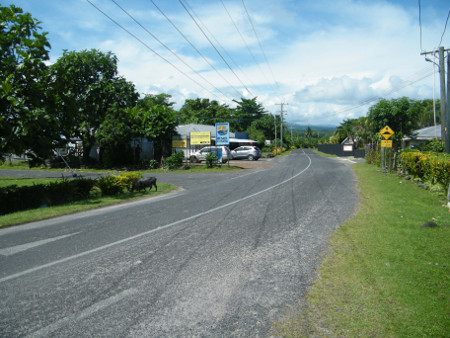 My first full day at Manase was a Sunday. I decided to do a walk in the morning, along the road and through villages the way I'd come. Shops were mainly closed and I could see and hear the sermons and Sunday Schools in progress. Pigs trotted around noses-to-ground. The road was full of people walking home after church, all greeting me as I passed. The main village had a miniscule downtown with auto-repair, tyre shop, grocery store, money transfer and pizza take-away all within a few metres, and all closed today.
I tried snorkelling a couple of times while here. It was sometimes difficult with a surprisingly strong current. I found mainly a flattish plain populated by various branching corals and smaller amounts of other corals. In a few spots were some contour; small depressions maybe a metre or two deep and a few metres wide and covered with coral and a few small black or coloured fish. At low tide there's very little room between the coral and surface.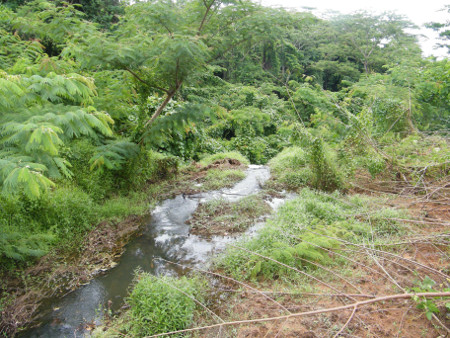 One afternoon I took a walk along the coast road to the village Avao. At an intersection there I followed a side road going along a creek and up into the interior hills. It was quite picturesque past houses and schools, on one side the deep jungle-cloaked creek valley and on the other side banana and coconut fields. At one place was a large shelter/shed full of piles of coconuts, and 4 or 5 men opening and shelling the coconuts on an industrial scale. I greeted and was greeted by people all along. As I passed a school about 13.00, I ran into a horde of kids all leaving school for the day; asking my name repeatedly, laughing, talking, carrying on, and not leaving me alone until the main road.
Lano
On 25 February it was time to move on to my next destination Lano. I was able to get on a bus at 09.15, got to Lano about 10.00 and easily found Joelan Beach Fales. These fales are more basic than Vacations, but the cheapest yet at T50 per night (about 2 Samoan Tale to the Aussie dollar). I got 2 nights here. It seems the most "Samoan" place yet, with a number of smiling portly women running it.
Nice beach here, long way out to the breakers, and hard to tell how much coral. Met Meganne here (from Lalomanu) and chatted a bit. She goes to Manase tomorrow.
Lano is as pretty, and about as exciting (or boring) as most other places in Samoa. Meals were buffet style, all I could eat, and very good. As in other places, I swam, snorkelled, walked, talked to others, read and did notes on my pc.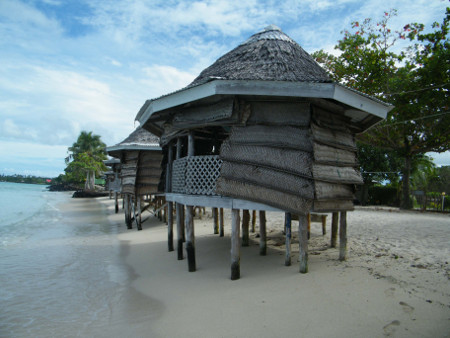 One day I snorkelled from 10.30 till 13.00. First set out at low tide from the beach to the breakers about a km away. The area was characterized by a sand bottom irregularly interspersed with clumps of coral. Coral was mostly branching varieties, and was dead in large patches. Many dead table-tops were overturned on the sand or rocks, but no live ones. Small tropical fish of several varieties inhabited the clumps. Depth was rarely deeper than standing level, but out near the breakers the reef depth decreased. A couple of local guys were out here standing on the reef, maybe fishing. Out here it felt a long way from land and I didn't dare go outside the reef. Spent a couple of hours or so exploring coral clumps and slowly making my way back toward shore. I loitered extensively over clumps, closely studying the fish, counting the varieties and observing their behaviour. I would think I had noted all types, and another species would dart into view. I was even starting to work out the habits of some of the species, one kind darted from clump to clump; others would hang around the edges, still others hid inside the coral when I approached. Fascinating and a real time-waster. Because of the shallow depth, I scratched my legs a few times on coral, to my great regret later.
Back to Apia
27 February, and Lano is pretty much "used up". Also rain was starting to increase and the weather was increasingly wet. Time to start back to Apia.
One ferry was to leave at noon from Saleologa wharf, so I braved the intermittent rain and went out for a bus, nabbing one about 10.15. I asked for the wharf, but funnily it dropped me at some shops several hundred metres before the wharf. I had to walk the rest of the way, but I didn't mind.
Into the wharf about 11.00, I waited around a while, bought the ticket and boarded sometime after 12.00. It was damp in the sheltered area, and I soon found out why. As we left the harbour we encountered heavy seas, wind and squalls. Seas came over the bows and over the cars, and water ran along the floor under our feet to the back. It was almost uncomfortably scary, and other passengers were nervously asking me "Is this normal?"
But we made it, and I got on a bus almost immediately for Apia, arriving around 15.00. It had been raining here too, and more would come later. I got some information from the tourist office, had a not-great haircut at the market, walked out to Vivi Village, found again the Samoa Village Guesthouse, was welcomed back by the family, paid for 2 nights, and settled in.
Next day, my last day in Samoa, it rained off and on all night and day. I couldn't go out at all until evening. After breakfast I spent much of the day working with Falefatu trying to start up a basic website for him. Made about 5 web pages target="_blank"and a style sheet, but it didn't go together all that well. Hope he can improve on it.
During a lucky break in the rain, I ducked over to a fast food place for a dinner of cheeseburger, fries, drink and a double ice-cream.
Falefatu managed to get a booking for the shuttle bus to the airport for about 05.00; the plane leaves at 08.15.
It rained long and heavy at night. The rain eased by about 04.00 on 1 March, Saturday, when I was up to leave, so I could bid Falefatu goodbye and set out on foot. I had to get to the Tanua Hotel, past the marketplace, by 04.30 or 05.00.
Back to Fiji
(Click for Fiji map)
Arrived about 04.40 at the hotel where the airport shuttle was to meet. After a 15 minute wait, the concierge said, rather than wait for the bus, two of us would take a taxi to the airport. So we got to the airport about 05.30. Rain had stopped. Looked around, checked in, waited a bit for money-change and changed my remaining Samoan money to Fijian.
The ride to Nadi was somewhat bumpy but otherwise normal. Apparently Fiji was experiencing some severe weather at the time. Arrived 08.20 (-2 hours) and through processing as usual. It was cloudy but not raining now and not really hot.
Got the ride to Bamboo around 11.00 and checked in for 1 night. Next day I would move on to Suva, and thence on to Taveuni Island to the east of Vauna Levu.
After 2 weeks without internet, I checked my email ASAP. Lots of emails but the only significant thing was tragic news. My brother Larry died on 21 Feb. No comment yet until I get my thoughts together. Internet is very bad here today, but later I emailed friends about Larry. Also briefly Skyped Mag but poor quality and kept dropping out and couldn't talk much.
Sunday I try to go to Suva. About 10.45 I packed up, checked out, left surplus gear with them, and took a taxi (no bus today) into town to get a Suva bus. At the bus place at 11.20, I was on the road about 11.40.
It was about 4 hours to Suva, though it felt like longer. Scenery was pleasant but nothing new. Had time to think about Larry and what I'll miss. I was in Suva about 15.45, entering the city through the wharf area. Suva, at least this part of the city, underwhelmed. Dinghy nightclubs nestled amongst stacks of shipping containers. I guess that makes sense; the containers don't complain about the noise.
We stopped at the main bus plaza. I had to ask several people to locate the bus to Raintree Lodge. I finally found the unmarked bus and rode the 10 km or so up to the lodge. Contrasting to the heat, congestion and squalor of Suva, it's a nice place in a nice setting. Checked in and got my room. The concierge gave me information on the boat to Taveuni on Tue afternoon.
I explored around the lodge grounds, the small under-used pond and lake and surrounding neighbourhood; nothing much around and no other apparent hotel guests. Being severely news-starved at this stage, I watched it on the bar TV, but only caught local news in a hard-to-hear voice.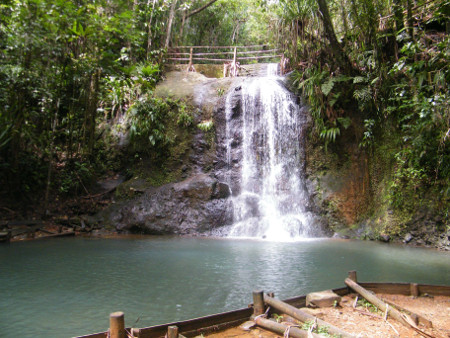 Next morning about 09.00 I set out to explore the nearby Colo-i-Suva Rainforest Park. It was a pleasant 2.5 hour walk, first along an unsealed road for a couple of km, then mostly steep partly-gravelled paths and steps and dirt/rock/tree-root tracks.
It first went to the upper pools, then downstream to the junction of the Waisila Falls Track, then to the lower pools. I returned to the junction, up the falls track and eventually back to the village and Princes Road. It was damp and treacherously slippery in places, with several rocky creek crossings, so great care was required at times. I stopped at some of the pools to swim and wash off the sweat. All-in-all an unspectacular but agreeable little stroll.
Back at the lodge, I got details of the ship to Taveuni Island, it leaves tomorrow from the Goundar terminal at the wharf, Wallu Bay, at 18.00.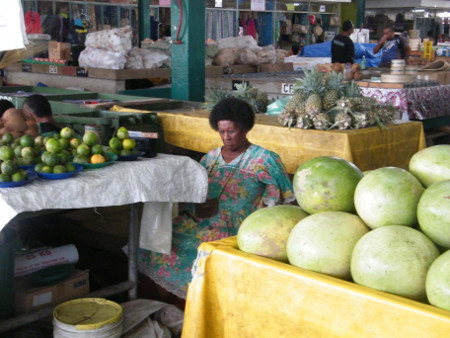 After a rest I took the bus into Suva to have lunch and look around. Got there about 14.00, found an eatery in the flea-market and shopping arcade, and had a chicken curry & rice. Then I got some bananas at the sprawling Municipal Market. Spent a couple of hours doing a walk around the major streets, waterfront, craft markets, major buildings, parks, Thurston Gdns, an up-scale suburb, shopping streets, and back to the bus plaza. Suva is a pretty ordinary city, slummy and chaotic in parts, nice in other parts. There were lots of hawkers, some beggars and some scammers. I encountered yet another (they're everywhere in the world) shoe-shine guy wanting to polish my sandals (well duh!).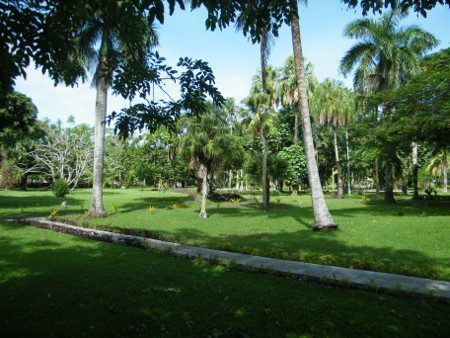 On 4 March later in the day I move on to Taveuni, an island to the east of Vauna Levu. About 15.00 I consolidated my gear and set out to find a bus to Suva. But a young local Indian guy working for - and driving a - Ford picked me up and gave me a lift to near the city. I only had to walk a km or so down the hill into town. I found the Goundar shipping office around 16.00. Bought my ferry ticket to Taveuni and was able to board almost immediately. The vessel was an ex BC Ferry, still sporting posters of British Columbia parks and coastline, slightly out-of-place here in the tropics.
You must take shoes off inside the ferry, but can roam around the seating deck and the deck above (restaurant and table areas) and outside on a couple of levels. One of the seating rooms had a video screen; I watched a couple of movie there later.
Later, still not embarked yet, I stood on the back deck and looked at the wharf and city, watched trucks loading and departure preparations, and chatted to others. There were a few ferangs but mostly locals.
I have about 7 scratches or abrasions on my legs from Lano snorkelling; they have not yet healed and are still weeping or infected. I'm hoping they clear up soon.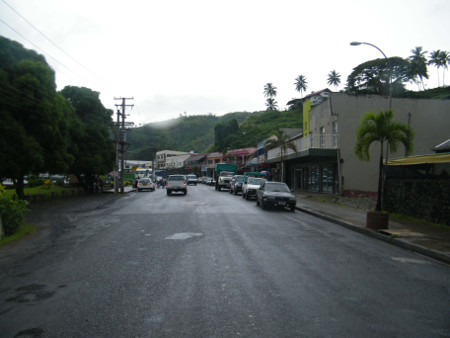 We departed an hour late, around dark, at 19.00. The ferry reached Savusavu on Vauna Levu under light rain sometime after 07.00 in the morning. After trucks unloaded, I was allowed off the boat from 08.00 to 08.45. I walked out and along the road to Savusavu town, about a 10 minute walk away. The town is the usual collection of buildings near the shore; a few accommodation places but little attractions. I stopped at a restaurant and got a take-away chicken curry/roti/chutney to eat on the boat.
Taveuni
We pulled into the ferry dock on the west side of Taveuni Island sometime after 13.00. Not much here except a lane full of taxis and the main road. I wanted to get to Tuvununu Lodge, but the taxi guy said it was closed, and he took me to Maravu Lodge SW of the airport. Apparently Tuvunuvu lodge had closed owing to mosquitoes and rats, and moved to this place, and it's owned by the Bamboo Travellers people. I arranged for 4 nights here.
Maravu used to be a 5-star resort but is now a Backpackers. It turned out to be a really great place; very friendly and helpful staff. I met lots of other travellers, some who were from my ferry. Power is by generator and is generally only available after 16.00, internet is available then, and there's a good swimming pool to cool off. An American Justin was hanging around and sold me and others a dive trip for Friday.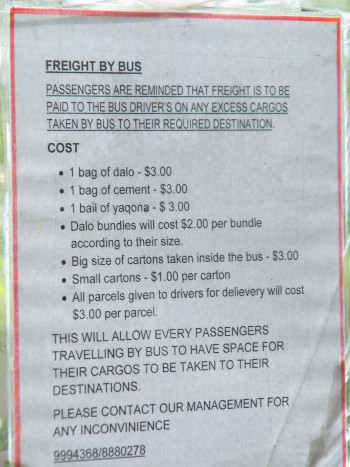 After settling in and checking email, I had a good set dinner of chicken curry with veg and rice, and cake/custard dessert. Later joined a kava party, but most of the newbies were too tired from the boat to attend; mainly Fijian family people were there. The kava seemed weaker than at Bamboo; not even a tongue-numbing effect.
Taveuni is called "The Garden Island", and it is indeed very lush and beautiful. On my first full day I arranged a walk on the east side of the Island. I found a French girl Yolanda to come along and share transport fares. We went out to the road at 09.45 and boarded a bus for Lavena village at 10.30. The road soon became gravel/dirt/rock and we groaned and bounced along the coast for an hour or so, arriving at Lavena about 11.30.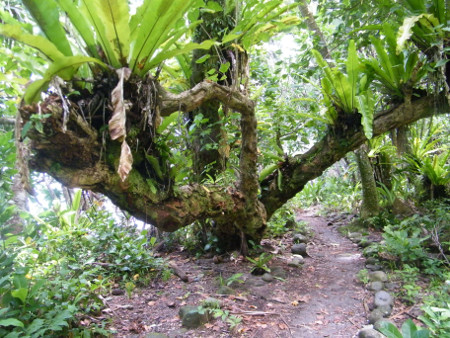 Not a lot there, just the parks office-cum-Lavena Lodge and a tin-roof village. We checked out the facilities, paid the entrance fee for the Lavena Coastal Walk, got the lecture on walk details, and set out walking about noon. It's nominally a 3-hour walk along the shore, across a creek, through a village; coastal scenery, tropical vegetation and small discrete ecosystems.
After an hour to get to the river mouth Yolanda had had enough and returned. I continued to the falls another 15 minutes, had a swim in the pond, and slowly made my way back, arriving at Lavena Lodge at 14.45. It was a pleasant, not-difficult walk, acquainting me with a variety of coastal and forest landscapes and vegetation.
Our taxi (no return buses) came about 15.30. Agi from the lodge was with the taxi, and she obtained a large fish there for our dinner. Dinner that evening was great; steamed fish with coconut sauce and vegetables and cassava. Dessert was muffin cake in caramel sauce. More kava time in the evening, with all in attendance.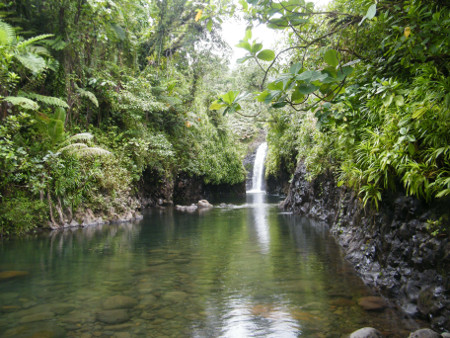 Next day, Friday, was dive day. About 10 of us assembled to dive at the White Wall, on Rainbow Reef between Taveuni and Vauna Levu. We drove to the dive office down the road, went through preliminaries and gearing up and took a boat about 20 minutes out to the reef. Must have been about noon when we got in the water.
This is supposed to be one of the top 10 dive spots in the world. We would dive onto one side of the reef, descend and swim through a large tunnel to the other side of the reef, along a coral cliff (unknown total depth) at a depth of about 25 m, through another smaller tunnel back up to the first side of the reef, along over coral and fish etc. for some time, and eventually back up to the boat.
Time was 36 minutes. It was a spectacularly memorable dive, especially the tunnels and the cliff. But my mask kept filling and I had to continually clear it. So I wasn't able to focus on the event and enjoy it as much as I'd like. Anyway completed the dive OK and we returned to the boat to have lunch and debriefing and go to the next site.
I didn't do the second dive, still annoyed with my mask. When the others went down (at a place called the Corner), I tried snorkelling. But the current was too strong and I had trouble keeping level with the boat. The driver tried pulling me a bit with the rope, but not a lot of fun. So I just chatted with him as he moved to pick up the divers. We finished up about mid-afternoon.
My last day on Taveuni was a day off. Morning saw me snorkelling off the nearby shore. As in other places, most of the reef appears dead rock and coral skeletons. What's killed it all? And will it ever fully regenerate? Later I took a walk up the back road behind the resort through pretty forest, villages, farmhouses, banana/coconut plantations and sea views.
9 March was my ferry trip back to Suva. The resort shuttle bus took us at 08.20 to the ferry. We stopped in the vilage to get the ferry ticket. Then on to the ferry, same vessel as last time, boarding after 09.00 and leaving at 10.00. The ferry stopped at Savusavu for 2 hours, plenty of time to explore downtown and have a curry and rice and dhal lunch.
The ferry docked in Suva around 06.00 next morning, but didn't let us off for a while until vehicles all gone. I found the crowded Nadi bus just as it was leaving at 07.30, and was in Nadi at 11.30.
Coral scratches on my legs from Lano are still infected and weeping; if anything they seem to be getting worse. I also seem to be getting more and more small scratches, especially on my hands now. I dressed them and the legs sores with Povidone, as if that'll do any good. Somewhat discouraging. Will I have to try to change flights and return early to Sydney?
I found a pharmacy in Nadi and asked about antibiotics, but they wanted a prescription. A quick visit to a nearby doctor got me a scrip for Flucloxacillin and he said no need to cut my trip short. I picked up the pills, and started taking them immediately.
Had lunch and bought fruit in Nadi, and was back at Bamboo Travellers around 13.00 for a 1-night stay. I immediately organized to go next for 4 nights to Nacula Island in the Yasawas, reserving ferry transport and a bungalow at the Nacula resort of Nabua Lodge.
Yasawas
11 March, and I'd been told 07.30 for bus pick-up to Yasawa islands. At the office before 07.30, I found the bus had left at 07.15. Some haggling and stress, and eventually a ride was organized for me to the ferry dock at Denaru, arriving there just before 08.30 boat departure. Anyway I boarded OK and was on my way to Nacula Island and Nabua Lodge.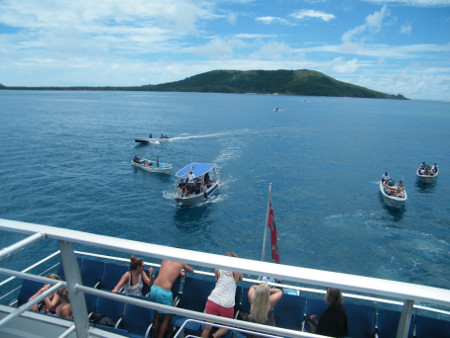 It was a pleasant trip to the Yasawas, mostly sunny or cloudy, not unbearably hot, with a brief strong rain. A few families were aboard, and the kids were all seasick. We passed many beautiful islands, some with small resorts and some without. The boat stopped at several resorts to drop people off on the way, generally meeting small motorboats to shuttle passengers, luggage and goods.
Arriving at the final stop, there were shuttle boats from about 5 resorts all congregating at once, so it took a while to all get off. Several people were coming with me to Nabua Lodge. I checked in to a comfortable thatch-roof bungalow. The resort is on a beautiful but slightly rocky beach; power only at certain times of day, and no internet, but overall nice enough.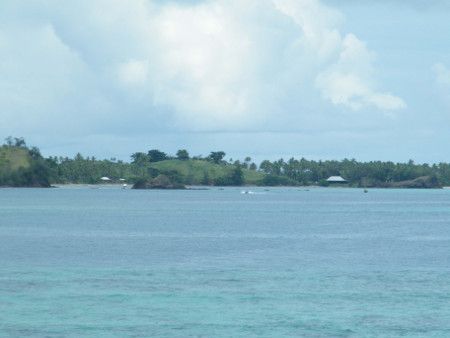 Snorkelling around a rocky island near the beach, I couldn't see much except rocks, sand and sea grass. But at one point I was accosted by a huge school of small grey-green fish, frantically swimming around me and practically bumping into me. Quite an experience!
I could sleep well here. My antibiotics seem to be working, and leg and hand sores were starting to heal.
Next day I signed up for the Sawailau Caves trip with a dozen or so others. It started at 09.15 for a 1/2 hour motorboat trip out to a beach and rocky outcrop near the south end of our (Nacula) island. The sea cave is a large 2-chambered semi-submerged cavern in the outcrop next to the sea. You walk in via stairs and path, to an alcove where you can photograph the first chamber, leave your dry gear, take a dive mask, go down more steps into the water, swim around the chamber or stand on ledges, swim underwater a few metres into the next chamber, swim along that chamber a while, and return into the first chamber. There are ledges to high-dive from, but I didn't need to prove how scared I wasn't. Water was pleasantly cool. It was overall really unique and spectacular, well worth it. We were back out in less than an hour, and home before 11.30.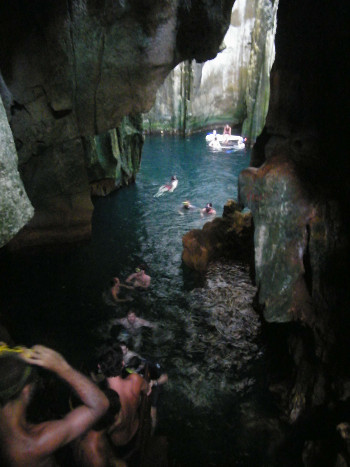 Sometime in the afternoon I put on my sandals and set out behind the property to reconnoiter for possible hiking paths. There was nothing obvious to start with, mainly hills and valleys with long grass and other vegetation. It was not easy going; the ground was rough in places, vegetation damp and the footing wet and slippery. I progressed slowly through valleys and hillsides, and to a small hilltop from where I could see the ridgelines and a far distant hilltop with a communications tower. But no path.
I explored the next ridgeline behind and to the left of where the property was, and finally found a faint path along the ridge that led inland. I followed it inland through grassy hills and past cassava fields, for as far as I needed to see that it went on indefinitely. I'd seen enough to get me started on another day, and rain was threatening, so I followed the path back to the lodge. Rain came down just as I got home.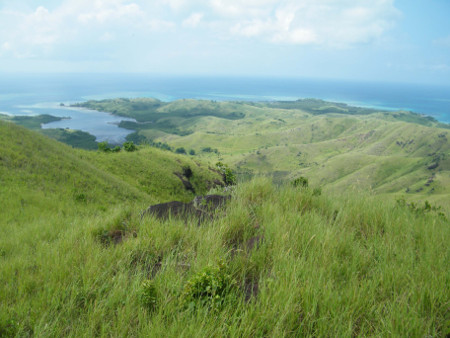 The kava party that night was pleasant but much more low-key than at Bamboo.
On the third day I signed up for the Blue Lagoon snorkel trip and rented a mask and snorkel. Starting about 09.10 for a 20 minute or so journey, about 8 of us set out by boat across the bay to the part of Blue Lagoon (this is allegedly where the Brooke Shields movie of the same name was filmed) where there are coral reefs. A brief heavy squall on the way soaked us, but who cares?
We stopped near a sandy beach where there's a small patch of coral, and spent a little time snorkelling around the reef. But the current and chop were a bit strong for the boatman's liking, so he collected us and moved us around the point into another bay where it was more sheltered.
Dropping us into a mid-water reef, we had some really good snorkelling there, with beautiful coral, lots of fish and steep drop-offs. Even here though there were some dead patches. My rented mask seemed better than my own, leaking and filling up much less. Maybe I'll have to change masks when I get home. We were called in about 10.30, giving us about 1 hour of snorkelling time, and started home. Somewhere midway the motor cut out and he had trouble starting it. It led to a bit of concern and a few cast-away jokes. One of the guys took a pole, attached a yellow lifejacket to the end, and waved it in the air, as if anyone could see us. But the driver got the motor going again anyway and drove us home. I wonder if it was all a set-up to give us a thrill.
Later I donned mask and fins and explored around a rocky bluff with a short sea-cave at the far end of the beach. Around on the next beach is Safe Landing Resort. As I was snorkelling past the boat there, a guy on the shore called out to me. He wanted me to push the boat a few metres in to shore so he could get to it, which I happily did for him. He thanked me, got on, started it, and took off somewhere. I continued to snorkel around, but with little to see except sea grass, I gradually made my way back to my place.
Next day, it's the hike into the hills. I packed up water, camera, spare shoes and shorts. The lodge matron Vannie said to wear long pants and shoes, but in that heat? In swimsuit, shirt and sandals I set off up the path at 08.50. It was mostly sunny, and the path was much less wet than 2 days ago. It was still not all clear going though, lots of grass and vines to rub against sores and trip me. Hot too of course.

The path took me up and down, past where I reached before, and over hills and along ridges to ever-higher hilltops. It was mostly open country, with grass waist-to-head-high, a few lobelia-type plants and even a few casuarina trees. Some ascents and descents were quite steep and almost treacherous. Basalt boulders protruding from hilltops afforded resting and viewing platforms.
I reached a ridge over Blue Lagoon Resort, with a spur path leading down to it. Farther on I came to a promontory overlooking Oarsmans Resort. Views over the resorts, over the rest of the island and out to sea and other islands, were magnificent. Having taken about 1 hour 40 minutes to get this far, I decided to soak in the views here and not go any farther. I would not make it back much before lunchtime. As I admired the vistas a realization snuck up on me. I was today 65 years old.
Slowly started back the way I came. It was hot and sticky, and vegetation irritated my sores, but it wasn't really hard going, and all-in-all a really beautiful walk. I reached home at 12.10.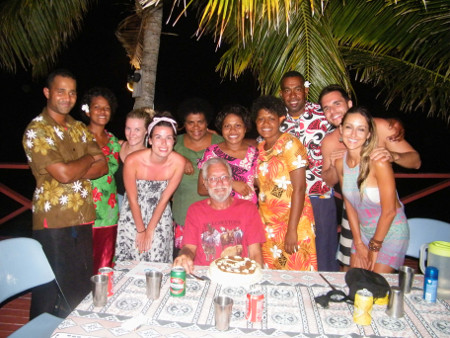 I'd made the mistake of letting it slip to fellow guests Nicki and Keeley that it was my birthday. I didn't expect anything to come of it. We all (about 6 guests) assembled for dinner at 19.00, a very good large Indian-type thallee meal with beef curry, veg curry, dhal, roti, rice, salad and pappad. Two of the hosts serenaded us with guitars. Then all broke into a "Happy Birthday" song for me. They brought a large iced marble birthday cake, which I sliced up for all. Nicki gave me a paper lantern; we all went down to the beach and lit the thing in the bottom and let it go over the ocean. It floated for a few minutes before sinking back to sea. After beer and dancing we had a kava party. Overall, what a fuss! But a great time. We retired about 21.00 from fatigue. That's a feature of these places; however hard you rage, it's still an early night.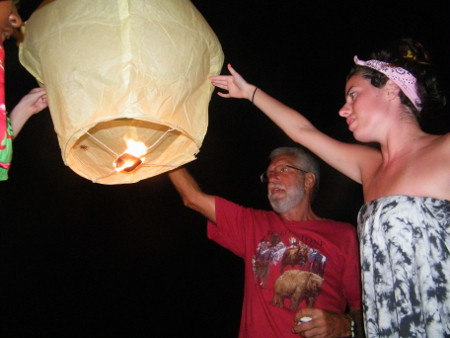 I spent the morning of my last day on Nacala Island reading and relaxing. At lunch, as a few of us were leaving today, our hosts got together with guitars and gave us a good-bye serenade. They are such nice people - the guests as well as the hosts - it's sad to leave. This lodge is a smallish family-run place, and it shows in the service and atmosphere.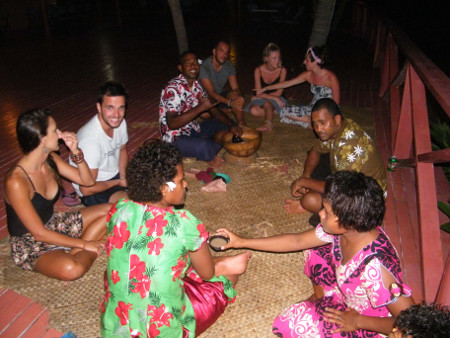 Back to Nadi
Our shuttle boats took us out to the ferry at 14.00 and we were soon on the way back to Denaru. The vessel had erratic wi-fi, and I was just able to briefly Skype-phone Maggie.
Back at Denaru about 18.00, the passengers disembarked, gathered around an empty patch of concrete (the "carousel") and waited for our luggage to come on carts. The shuttle bus took me back to Bamboo where I checked in for my final 2 nights in Fiji.
16 March is a lay-day before the flight home. The Bamboo people were to have one of the special lovo (underground baking) dinners tonight, with fish, chicken, taro, coconut, onion, etc. A demo in the morning showed guests how to peel taro, shred coconut, slice onion and whatever else in preparation, so I hung around for the education. The only thing I might not be able to do myself is to shred the coconut, using the wood/metal "pony".
Later I went with a German girl down to Queens Road for lunch at my usual restaurant, a look in the local supermarket, pick up some snacks and sweets at an Indian shop, and a bit of fruit at the stand. It started to rain heavily, so we eventually shared a taxi back home.
I signed up for the special lovo dinner for 18.00. It was good but not great; the fish wasn't as nice as in the other meals. The best part of these meals is the coconut/onion wrapped up in taro leaves.
And Back to Sydney
And on 17 March I fly out back to Sydney. In the morning I packed up, shampooed my hair for the first time in weeks, caught up on email and trip notes, and organized a taxi with others to the airport.
The plane left on time at 15.00, a good routine flight to Sydney. It arrived early, shortly after 18.30. Passport check, a bit of duty free shopping, train/bus to Ryde by about 20.00, and home-sweet home.
It's great to be cool again.
Samoa (Western not American) is less developed and wealthy-looking than Fiji, with fewer and simpler tourist facilities. It's quieter and more laid-back, but at least as amiable and welcoming. Although beautiful and idyllic, it is not overly exciting, with not a lot to do in some places besides beach and snorkelling activities. That's the mixed blessing of a paradise. Costs in Samoa are in my estimation about 20% cheaper than in Fiji.
Fiji is of course a lot more built-up and touristy than Samoa. They've had such a head start. Even in 1972 there was already a vibrant tourism industry. Resorts at all levels of luxury abound, and it is not as cheap to travel as for example many places in Asia. But it is a ridiculously simple country to stay and get around in. Everyone speaks English and they have the infrastructure and methodology down pat.
Fiji and Samoa were good, but not great. It was all easy, pleasant and relaxing, as well as safe and clean. But 5 weeks is plenty; it would start to be increasingly boring after that. As it was I spent a lot of time reading and lazing around. I have no plans for a return any time soon, I've seen all there is to see there, and less-explored places beckon.