Southwest China, April to June 2012
I'd first heard about Mt Kailash on a China trip in 1987. The name had been spoken in whispers, as the ultimate adventure destination. Ever since, I'd wondered whether I'd ever be able to go there. A couple of possibilities surfaced in recent years, but never to fruition.
Now, based on advice from colleagues, it seemed that I might have my chance. I was to go to Canada this year, and it might just be feasible to head to China in April, make my way to Tibet, journey to the holy mountain, and exit via Nepal and India to Canada. There was no way of knowing beforehand whether I could make it, but I'd give it a try.
Thus I was on an Air China flight at 20.00 on 20 April, Sydney to Beijing and thence to Xining, Qinghai Province. (Click for China map)
Qinghai Province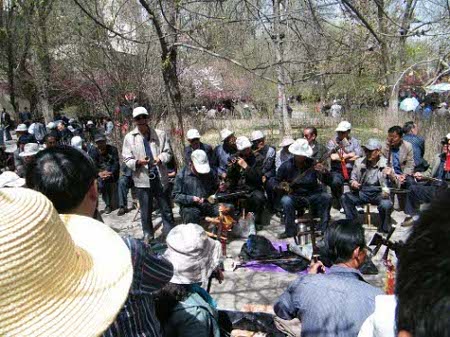 Xining looks like a pretty average Chinese city at first. Coal smoke smell is everywhere, and streets are full of cars, trucks and buses. Not a bicycle to be seen anywhere; what's happened to the country? (Later I did see a couple of bikes, but they're certainly not a normal mode of transport now.) Overall though, it's a pleasant enough place.
On my first day of wandering, I found a Tibetan market area, with stalls offering everything from military surplus apparel to religious icons. Some ground mats displayed animal parts for medicines, and others had gambling dice games on offer. I ate a late lunch at a local restaurant, consisting of 2 bowls of good noodle soup with a bit of meat and vegetables, my first of many noodle meals over the next several weeks. Apart from the ubiquitous noodle soups, I liked the hot-pot dishes, vegetables and/or meat served with rice; filling and satisfying.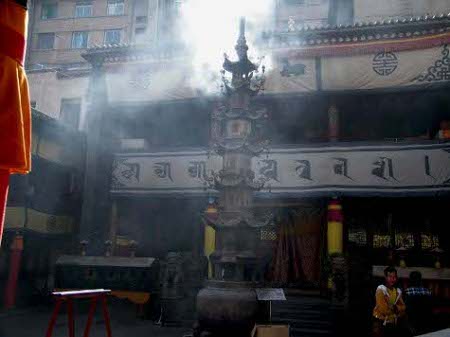 Back nearer my hostel, the night street market was just getting going about 6 or 7 pm, with its usual trinkets, clothing and accessories.
Below are some observations and comments on my next three days in Xining.
Consumerism in China is really taking off, department stores rival any in the west. Interesting that the only bikes I saw here were labelled "Hummer" etc. Where went the old "Flying Pigeon"?
The small Tibetan Jinta Si temple has walls nicely painted in Buddhist themes, and the tallest incense burner I've seen, maybe 2 - 3 stories high.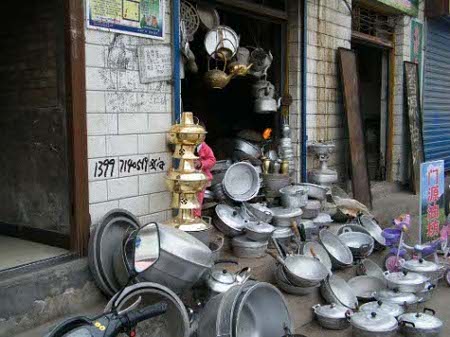 The markets in the Muslim quarter are heavy on chicken and lamb, and men wearing the Islamic caps. Also found the Mosque, good size but unremarkable design, and was able to walk around the large courtyard.
The Tibetan Museum, in the far north-west of the city, is an impressively large modern Tibetan-style building housing displays of Tibetan medicine, folklore, dress, calligraphy, artefacts, and the world's longest mural painting, over 800 m long. The amount of detail in the mural was incredible, and it covered mythology, Buddhism, pre-history and history, flora and fauna from around the world, Dalai Lama paintings, etc. etc. We started off by looking at every detail of the mural, but at that rate it would have taken a week to peruse its entire length.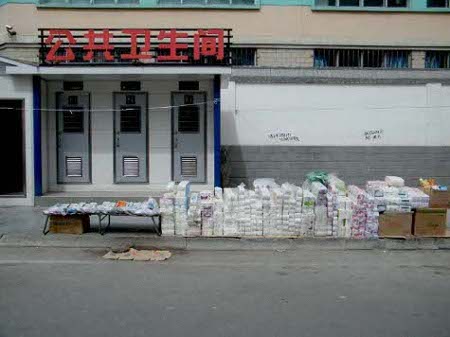 The Ertong Park near the river in the west-centre of town is typical of parks all over China. It was crowded with people walking around the pond and listening to music and dance performances. A couple of good chamber orchestras were playing classical Chinese music and song, wonderful. Another group of older women and men dancers were performing that colourful scarf dance to accompanying music.
I eventually found it was impossibly restrictive and impractical to get to Tibet. That means I cannot, and may never, realize my dream of trekking at Kailash. A crushing disappointment, but must make the best of it. It would ultimately mean that I would spend 7 or 8 weeks travelling around parts of China, and onward directly to Canada from Hong Kong.
As meagre compensation for Tibet, I would endeavour to make my way to the small town Xiahe in Ganzu Province. It's the home of the Labrang Monastery, one of the largest Buddhist monasteries outside of Tibet. Owing to the vagaries of bus schedules, I would be limited to an overnight stay.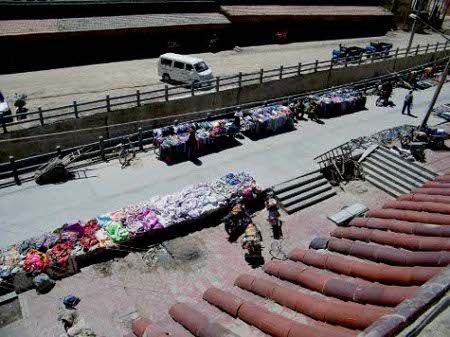 So at 07.15 on 25 April, I was on a bus for the 5.5 hour trip through semi-desert, mountain passes and villages. Yaks and longhorn sheep grazed on the sparse hillsides and women drove small horse caravans along the roads. Everywhere was construction; the Chinese seemed obsessed with tearing things down and building bigger and better. Columns for elevated roadways or railways spanned entire valleys.
I have only one afternoon and evening in Xiahe, just enough time to see but not to absorb or relax. So I quickly checked in to the Labrang Redrock Youth Hostel and lunched at the Nomad Restaurant. I tried a boiled yak-meat dish (sort of a stew with vegetables) and a bowl of tsampa (millet meal) balls; not bad. The restaurant overlooked the vast but flat sprawling Labrang Monastery complex.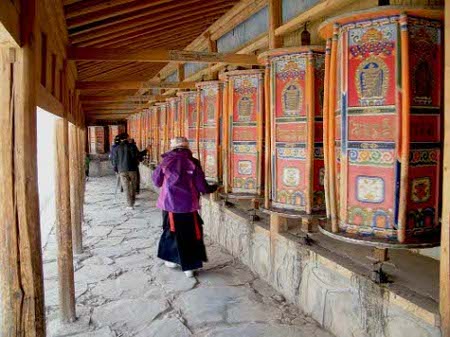 The monastery belongs to the Gelugpa "Yellow Hat" order of Tibetan Buddhism, and contains about 1200 monks and a number of scholastic colleges. A young monk took me around to several of the main buildings including the Institute of medicine, main prayer hall and some of the temples. He spoke very fast from a set script, so it was hard to understand much of what he said, but at least I was able to see inside the buildings which I wouldn't be able to do independently. The tour lasted about 40 minutes and the monk was gone before I could ask if the prominent scar on his cheek was of Chinese influence.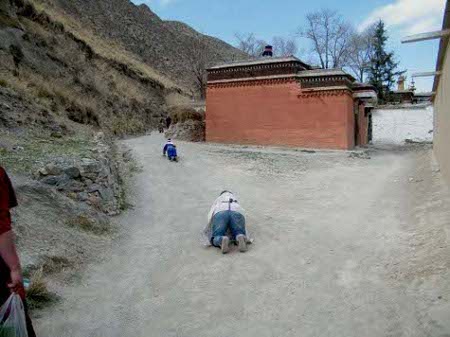 After the tour, I picked up the 3 km kora circuit around the monastery, following the pilgrims and twirling the large number of prayer wheels. The number of wheels seemed to be in the hundreds, and I eventually gave up trying to spin every one of them. Some pilgrims were performing a prostrate kora, armed with knee and hand padding and aprons and face masks, and laying face down with each body length. It seemed to be a lot like work. I estimated that to do the whole kora would take them nominally 12 or 13 hours.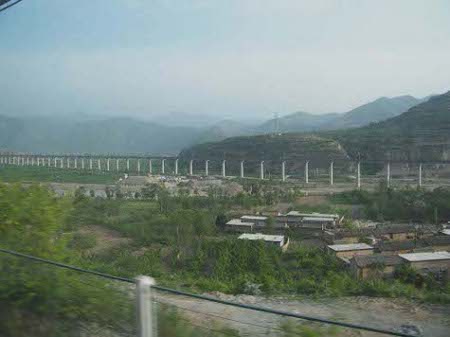 Evening found me dining on momos (Tibetan meat-filled dumplings) in a balcony restaurant and watching Tibetans passing by and closing their shops as darkness fell. At nearly 3000 m altitude, it's a bit cooler here than in Xining.
After Xiahe, I indulged in a couple more relaxing days in Xining before boarding a train for the 25 hour trip to Chengdu.
Sichuan Province
On 29 April at 10.53 I was in Chengdu North Railway Station. I'd come a long way south and was into lush sub-tropical country. I found my way onto the new Metro into the south of the city, where I found the Traffic Hostel. More info on Tibet showed that it was still a no-go for me - others had been known to get there, but they were mainly going only to Lhasa.
I'd be in Chengdu for 3 days before a 4-day side-trip to Leshan and Emei Shan. I explored the city, sampled the mouth-numbing sichuan food and worked on a newsletter for my bicycle group back in Sydney.
Sichuan food is hot and spicy, but not like other hot foods elsewhere. The basic seasonings seem to be a combination of chilis (for hotness) and sichuan peppercorn (to numb the mouth against the hotness). With ginger, garlic and other ingredients, the food therefore is not so much hot as "strong and powerful". The nearest I can describe eating a bowl of soup is like drinking a bottle of barbecue sauce.
It's shorts and t-shirt weather here, nice for walking and not too hot.
The Tibetan quarter was worth a look, shops selling Buddhist paraphernalia and monks and Tibetans in their local dress. It reminded me of Xiahe.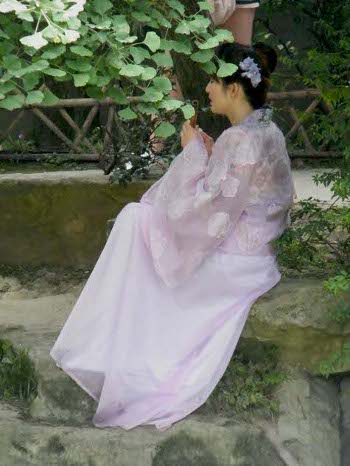 Nearby next to the river was a large seafood restaurant built in the shape of a ship, complete with anchor and portholes; super kitsch.
Also in the Wuhou district, the Jinli Gujie area is an extremely crowded series of streets and alleys full of souvenir shops (for Chinese tourists) tea houses and restaurants. They really like their tea here; lots of tea stores and tea houses.
Back across the river and nearer down-town, I found the large Peoples Park, a typical Chinese park with trees, curved pathways, and at its centre a small lake packed with rented paddle (and some motorised) boats. They didn't seem to be doing a lot of paddling, simply no-where to go. Many local music, dancing and singing performances were going on, some quite captivating.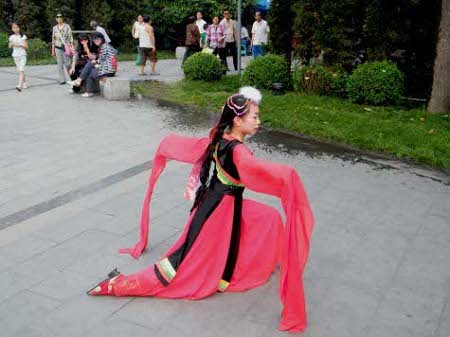 On to the city centre, a large square with dancing fountains and the usual crowds. At the northern end is this city's obligatory giant Mao statue, smiling and blissfully oblivious to the nearby large and capitalistic shopping district of department stores, boutiques, a Carrefour, Starbucks, Maccas, KFC, Pizza Hut, Subway, did-I-forget-anything? He must be glad to be dead!
In the west side of the city is the fairly ordinary Qintai Rd Cultural Park and the surprisingly substantial and fascinating Qinyang "Green Ram" Taoist Temple. The temple has a several traditional buildings and many statues of the deities and VIP's of the religion. There are two bronze ram sculptures, one of which is said to incorporate features from all the zodiac animals.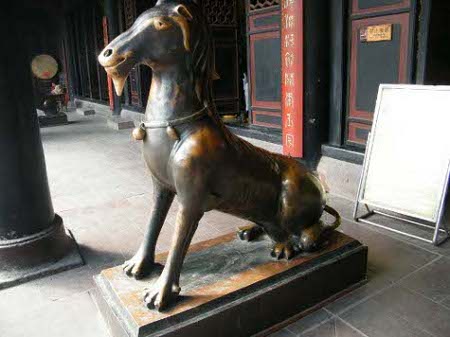 One afternoon I took the metro to Wenshu Temple. The temple, in the mid-north of the city, is a large and well-preserved Tang-dynasty monastery, surrounded by an atmospheric "old" neighbourhood full of artefact and craft shops, restaurants, and tea and snack houses. I spent a couple of hours looking around the narrow alleyways, the monastery labyrinth, and listening to the monks performing their late-afternoon puja.
After the 3 days in Chendu, I found I could visit the Big Buddha in Leshan in half a day and thence move on for some trekking in the Emei Mountains.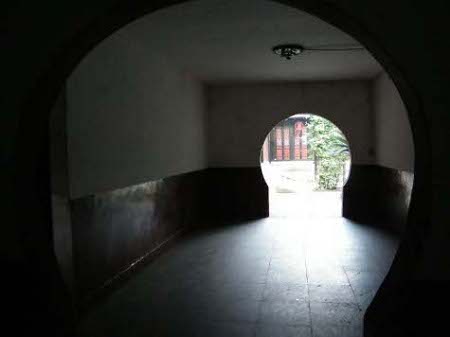 I was surprised how big Leshan is; from the guidebook it looked like a small town, but it seems a huge city. Are there no small places left in China? The bus took us virtually to the gate of the Big Buddha Park. The locals seem to have all the wheels greased now; as soon as we got off, a woman offered to store my pack, advised us that a bus to Emei Shan leaves from here, and showed us where the park entrance is.
The park is somewhat extensive, a lot of forest and up-and down hills. Near the entrance (Oriental Garden) are many grottoes carved in the reddish sandstone rock, with reproduction statues of Buddhas and Bodhisattva from all over China. Also present were several statues and reliefs from Hindu mythology. Quite a beautiful and fascinating place.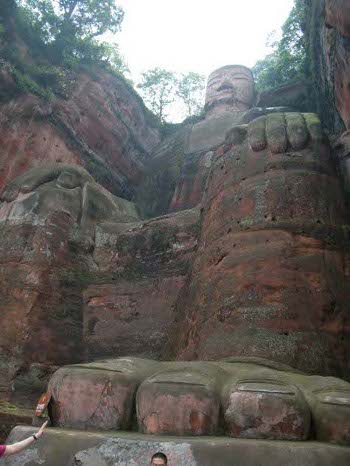 It was many steps up and down - mostly up - to get to the Big Buddha overlooking the river. It's certainly big, 71 metres tall and carved from the cliff rock over the river. From its head we got into the queue for the throngs of people descending the narrow zig-zag steps down the side of the cliff to the bottom of the statue near river level. The descent took quite some time because of the crowds; it reminded me of the lines to see Mao in Tiananmen Square. Anyway, it was well worth it, as we had plenty of time, to see the impressive scale of the Buddha from all angles.
It's a 1-hour or so bus ride to Emei Shan and the Baoguo bus stop near the mountain. Today I'd get organized to start a 2 or 3 day trek into the mountains.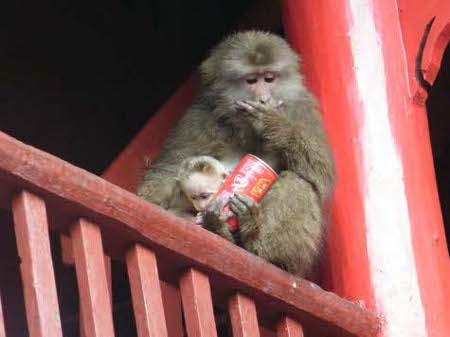 Emei Shan is a green and lush mountain range studded with temples, monasteries, guest houses and small restaurants and tea houses. One could walk for days there, staying in monasteries and eating in the restaurants. Next day, 4 May, I started a 2-day trek.
I took a bus to the Wannian bus stop, from where I could get my parks pass and a cable-car ticket to get up to the Wannian Temple area. I thought taking the cable-car would save me some up-hill, but it probably wasn't much compared to the total altitude gain.
As I started about 09.30 the weather was cloudy and misty, but not quite rain. Immediately the steps started, and did not let up. The altitude gain was to be about a kilometre to my destination, from 1020 m to 2070 m. There was no natural path, but stone steps, mostly up, nearly all the way. As soon as I started I got mixed up with a large crowd of noisy Chinese students, and couldn't shake them most of the way. The walk wasn't difficult but steep and a bit monotonous with all the steps.
I progressed ever up via Xinin Temple, Long-Life Monastery, Chu Palace and Huayan Peak, and many tea houses, shops and little restaurants along the way. Visibility was sporadic with cloud and fog. The temples and monasteries were mutually similar, each with a gold-coloured Buddha and various Bodhisattvas, thangka paintings etc.
Down to Jiuling Hillock and then up more steps, at 14.00 I made Elephant Bathing Pool (a largish rambling/shambling temple complex with lots of guest rooms). Yes there was a pool but currently no elephants. Too cloudy and foggy to bother to continue, so I got a cool but comfortable bed for the night.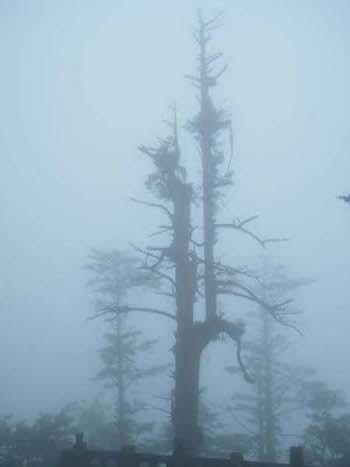 Not a lot to see here, no visibility and no-where to go except around the complex. Mist was slowly turning to drizzle rain. Monkeys loitered and rooted through the garbage.
It drizzled rain at night and early morning; too misty and wet to bother going farther up. As soon as the rain let up slightly, I put my raincoat on and started back down. I made Wannian Temple in about 3 hours. On the way I saw how they got much of the supplies up the mountain: by pack horse.
Rain had virtually stopped and visibility improved. Where to from there? It was recommended I go to Qinying Pavilion farther down. So I continued down another hour or less to the pavilion, a temple-style building set amongst beautiful jungle, gorge, rushing water and a lake. From there it was another couple of km back to a bus place, arriving about 14.00, from where I caught the bus back to town. I'd been walking nearly 6 hours, and even though mostly downhill, it was quite tiring on the muscles. I'd be sore for days.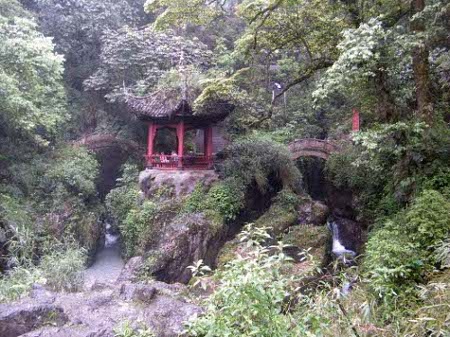 In the evening I watched a video movie in the lounge, set during the Japanese invasion of Nanjing in 1937. It of course set up the Japanese as the villains and the Chinese as the heroic underdogs. Overall here seems to be a lot of tv and movies portraying Chinese struggle against Japanese, and I sense considerable lingering hatred of the Japanese amongst Chinese to this day.
My next destination was Yunnan Province, parts of which I had last visited 25 years ago. I booked a 2nd class sleeper to Kunming for 8 May at 15.32, a 19 hour trip. On the train, I was as usual the only ferang. But the people around me were great, not a molecule of English but they saw my every need and did their best to help me at every step.
Yunnan Province
I arrived in Kunming North train station on 9 May at 10.30 or so, and out into the bright sunny chaotically-crowded street. Found the No. 2 bus a block or two away, and boarded it amongst a cram of other train people, for the ride down-town. Found the Uplands Youth Hostel, near Green Lake Park, and checked in for 3 nights.
Despite being dirty and a bit tired, first priority is lunch. So down to and along Green Lake to an across-the-bridge-noodle restaurant where I ordered the speciality noodles. My lack of English meant that I got the deluxe version, including the oil-covered broth, noodles, chili spice, and a large number of animal and vegetable accompaniments, some of which I couldn't identify and may not have normally gone for. But I put it all in the broth and downed the lot (but you don't eat the broth), quite good actually.
I spent my 3-4 days in Kunming reviewing old haunts and sights from 1987 and comparing changes in the intervening period. I hardly recognized the city now. Gone, except for a small number of run-down buildings near the markets, was the traditional ornate wooden architecture. As often happens in these cities, they tear down all the old stuff, realize too late their mistake, and then maybe try to rebuild a small section somewhere for the tourists.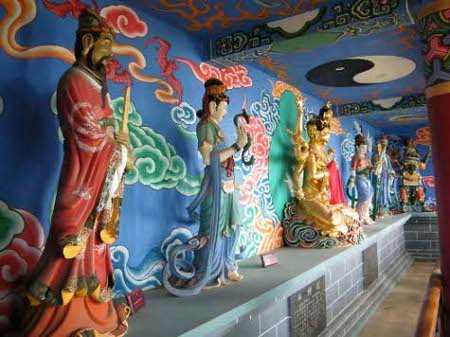 One day I attempted to re-trace the walk at Xi Shan, the Western Hills, that I did in 1987. Got going sometime after 09.00; two buses to get out there. But the second bus didn't go where I thought or was told, so the walk was compromised from the start. Everything had changed drastically since '87, a village now replaced by parks and a cable-car terminal. I had to search for the path, and eventually found a way up. I came up to Sanqing Pavilion and its accompanying/surrounding mainly Taoist temples. Amongst were Duomo Temple (Mother of the stars of the Plough) and Phoenix Rock. Farther up was Dragons Gate, a series of caves carved in the cliffs. What a change! There are now cable-cars to the mountain top and across the lake. The causeway I'd walked and taken a small ferry across was now a road and bridge. Large portions of the lake are now fenced off lily "fields".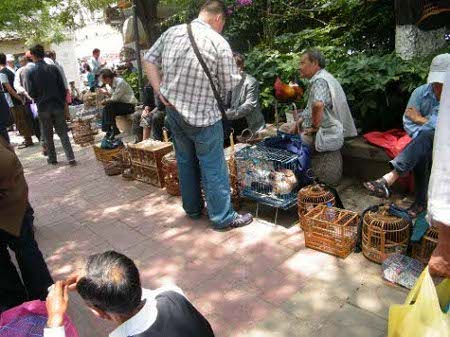 In the afternoon I explored around the busy bird-and-flower (actually much much more than these two commodities) market, the glitzy mainly-pedestrian Zhengyi Lu shopping street and the busy Nanping Je street. The Carrefour shopping complex was a good place to pick up a 6-pack of Harbin beer to consume back in the hostel.
Next day I checked out the Yuantong Zen Buddhist Temple complex, the largest Buddhist temple in Kunming. It was first built over 1200 years ago. Chants of the daily puja emanated from the main hall.
Later in the day I was relaxing with a book in Green Lake Park, enjoying the pleasant background of a nearby performance of Chinese folk music and song. A Chinese guy Joseph came by and started a conversation in English. Nothing better to do, we talked a while. Then he offered to take me somewhere to a tea house for tea. I wasn't sure if I should trust him or not, but decided to take the risk. It ended up a taxi ride to a "tea district" near Beijing Rd in the NE of the city. There he showed me a whole block or two of tea-related shops. We spent an hour or two in a couple of shops drinking tea and making conversation with the people there. One establishment offered a good yellow tea called "Por" or something, and another had a very old (2006 vintage) red tea, much stronger than the yellow, but good as well. The tea process had some degree of ritual to it, but not to the extent of say Japanese ceremonies. Joseph was probably just after a free lunch, but I didn't mind as it was quite a worthwhile and I wasn't ripped off or anything.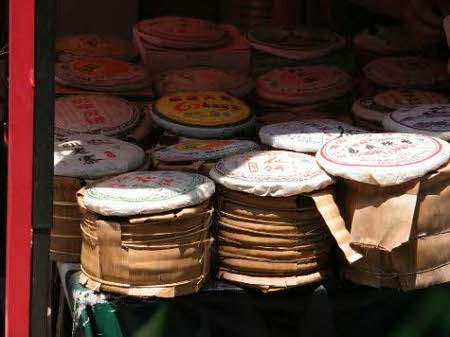 One morning on the street at the nearby market I found people gathered around a guy with a bag of live turtles which he was selling. I watched as he would feel for a turtle in the bag, thump it with his fist, take it out, gut it still alive, and pass it on to the customer.
I'd booked a sleeper bus to Shangri-La for the evening of 12 May at 20.30. These buses are strange contraptions, only in China; 3 rows of beds, 2-tier, about 48 beds total. You can lay down virtually flat and, at least in theory, quite comfortably. It was nice enough but I still didn't sleep a lot, slightly hot.
On 13 May, the bus dropped me at the Shangri-La bus station, in the north of town, about 07.00. It was a bit hard to orient oneself and no-one spoke English. So I just started walking south. None of the street names matched the map, and I had to guess where I was going. I finally found myself in the old town; at least I knew where I was now.
So far, the town looked a pretty average affair, not quite up to the expectations of a James Hilton novel. But it would eventually prove to be a quiet, laid back and generally pleasant destination.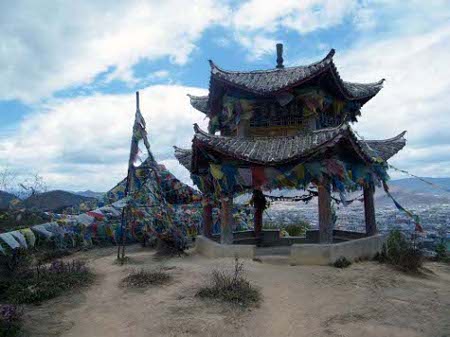 The very Tibetan and somewhat touristy old town is full of souvenir and craft shops and restaurants, but with good heritage-style architecture and that attractive Tibetan atmosphere. West and south of town on a hilltop is the small Baijisi Monastery overlooking the city. Prayer flags draped the hillsides around the temple, beyond which are beautiful views of the city and surrounds. I could feel the altitude, over 3000 m; slightly tiring and short of breath.
Adjoining the main square in town is a small Tibetan provincial museum, good for an hour's exploration. Not a lot distinctive or unusual though; some pottery and Neolithic stone tools, jade carvings, many thangka paintings, and a Tibetan medicine section. The Tibetans seem to be quite proud of their medical heritage, advertising it by extensive displays in their museums.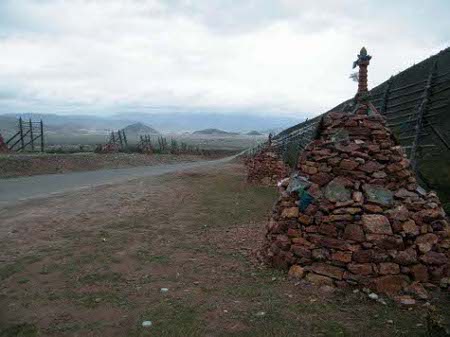 On my first full day I rented a mountain bike to explore the countryside. West of town is an intriguing road climbing gently up a valley. Along the sides of the road are a gauntlet consisting of hundreds of stone chortens and big wooden frames. The frames are similar to what I'd seen in pictures, used by Tibetans for drying meat, but there are far too many of them for the amount of animals in the area (??). Another road took me north up the valley, through extensive green yak/horse pastures and small villages with considerable house construction activity. Got caught in rain and arrived home wet mid afternoon.
Later I still have the bike, so might as well ride north, about 10 km, to find the large Ganden Sumtseling Gompa monastery. I found a fancy building that turned out to be a pavilion and ticket office for the temple. I was advised to get a monastery ticket, leave the bike there, take the tourist bus to the monastery (2 km farther), and return by bus later. It turned out to be a good deal, as I got to the bus about 16.30 or so and had time to go through all major parts of the complex. It's built on a hillside and almost looks the part of a Shangri-La edifice. The many temples and assembly halls, interior statuary, thangkas, paintings and carvings, were similar to what I've seen in other monasteries, but worthwhile nevertheless.
The following day was a lazy one, resting up for an anticipated trek along Tiger Leaping Gorge (TLG) in a couple of days.
I did a short walk up the hill behind the inn. A few Chinese graves protruded from the pine-covered slopes (they like putting their graves on hillsides, good feng shui I understand), dogs barked, and I enjoyed good views over the town and nearby valleys.
It's 16 May and I leave today. Down to the corner about 07.45 for a breakfast of pancake-shaped baba bread and soy milk, then on to a No. 1 bus to get me to the bus station.
I'd decided to go to Baishuitai (BST), a small village with limestone terraces on the scenic (high) road to TLG. I'd stay there 1 night before TLG. The bus left at 09.10; as usual I was the only ferang. It was about a 3.5 hour trip through mountains, up and down passes, forest (already heavily logged) and green valleys and villages. All in all quite rugged and beautiful scenery.
I could tell I was approaching BST from the highly visible patch of limestone terraces on the hillside above town. The bus dropped me off about 12.30 and immediately a woman pounced on me with an offer of a bed. It turned out to be a nice room with bath, TV etc. Lunch? Yes, she knocked up an egg/tomato dish, a vegetable stir-fry (tough stemmy vegetables) and two bowls of rice.
So what's going on in this metropolis? It's certainly the smallest place I've stayed in on this trip, little more than a single street maybe 1/2 km long with a few buildings, surrounded by small fields and mountains/valley. A few Chinese tourists, a bus or two, and several of those little put-put trucks trundled up and down the street. Weather was much warmer than in Shangri-La.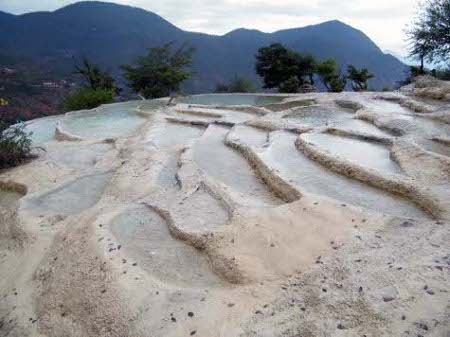 Near where the bus had stopped, there was a ticket office, apparently I got a terrace ticket and started up to see the terraces that were some distance up the hill. The way up was a stone path (thankfully not steps again) and a wooden board-walk made of old railway sleepers.
The blurb on the BST terraces says it's one of the largest sinter-encrusted terraces in the world. "Charming scenes such as Yinzhufanbua (the rolling water bloom), Minjingyintian (a mirror-like lake), Xianrenyitian (a field created by the immortal), Shennuxianling (the presence of the goddess), Yinshuiyoulong (a travelling dragon in the silver-like lake)" etc. I must confess my prosaic mind failed to perceive all these fantastic scenes.
The terraces covered small but pretty area; pink/beige water-covered walls, rimstone pools with blue and green coloured water, and flat areas dry or with thin layers of water. Great! I spent an hour or two exploring the terraces and little paths through surrounding bush and taking in the views over the village, fields and valley below.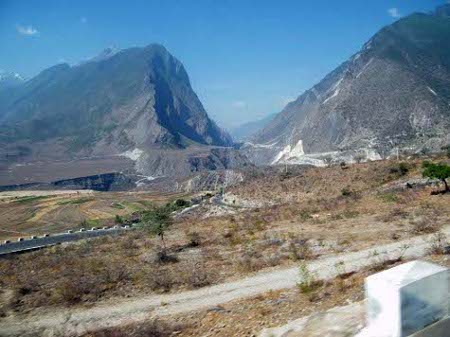 On 17 May I was on the 08.00 bus to TLG. The views are fantastic on this leg of the journey. The jagged mountain peaks, some in snow, and immense valleys, were much more spectacular than the day before. The driver made one or two photo stops, and often left the main road to follow narrow lanes into small villages. It was quite an exhilarating 3 hour ride to Tina's Guest House in the gorge.
About 10.30 or 11.00 we crossed a bridge over a deep chasm and stopped at the large boxy Tina's perched on the edge of the road, between the steep slopes up the mountainside and down to the river below. It really is an impressively deep gorge. Paths led from near here up to the trail and down to the Jinsha River.
I found out from Tina that I could stay here tonight, get my pack shipped over to Qiao Tou (at the finish of the trek) tomorrow, walk with my day-pack the 2 days to Qiaou Tou, pick my pack up, and continue on to Lijiang. So I checked in and talked to others about the walk details and about Lijiang.
The main reason to stay here today, rather than start the trek toward Qiao Tou, is to do the walk down to the river. It is said to be very steep, even perilously so. But give it a try. In the afternoon I walked back across the bridge and down the road to where the descent starts.
You could see the river from the bridge and it didn't look that far down. However, the descent was considerably farther than it looked, and was STEEP. It consisted of many stone steps, some pathways, a couple of ladders and lots of shelter stops with women selling snacks and drinks.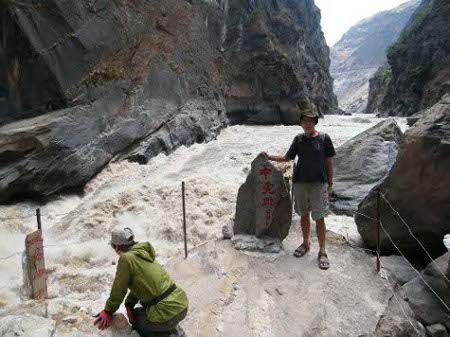 Down near the bottom the roar of the swirling/crashing brown rapids was almost deafening. Sheer cliffs rose all around, Jutting out from the river's edge was Leaping Tiger Rock, where a tiger was said to have jumped across the gorge long ago, giving the gorge its name. Marvelling at the surrounding cliffs, I wondered how a tiger could ever get down here in the first place. The walk back up, same way as down, was work but not as bad as expected. It was a bit cooler and shady now, and more windy.
Next day I start the trek proper toward Qiao Tou. A small breakfast of fried round baba and a banana got me going. I bought my bus ticket to Lijiang, left my big pack here (Tina would put it on the bus at 16.00 tomorrow), and set out walking with my day pack at 08.15.
Weather was partly cloudy and as yet not that hot. I started up a stony path I don't know how many metres up to where the path started to level out, rested and enjoyed the views of the river below, the mountains above and the village where I started. From there it was farther up and then mostly level along the contours, crossing ravines etc. until the village Bandiwan.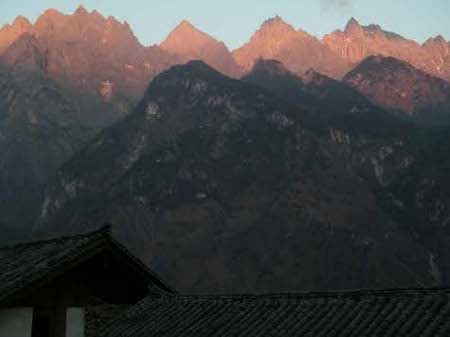 It was only about 10.40 then, so I continued on in increasing heat, stopping frequently to dry off and enjoy views, until arriving at 12.20 in the village Yacha and the Tea Horse Guest House. That was my objective today, so I checked in to a bed and had a noodle soup lunch. A lazy afternoon followed, with a very short walk around, reading, talking to other walkers and enjoying the amazing views and colour changes of the surrounding mountains. At least one other traveller had been here a couple of days already; too pleasant to leave.
I was on the trail next morning about 08.30. The track was level for a short distance, then up to what may have been the highest point of the trek. Great views from a lookout there, including upstream to the river junction near Qiao Tou. It got hotter faster than yesterday so I was resting a lot; no hurry as I don't have to catch the bus until 16.20.
From the top it was down the "28 bends", the biggest descent (ascent depending on direction) of the walk. Heat and dust increased during the day. It was quite some distance farther before I reached Qiao Tou sometime after 13.00.
Jane's GH was as good a place as any to catch the bus. Lunched on noodle soup rested a bit, and later went for a wander to explore the shops and market of the village.
The bus came at 16.30, and WOW!, my pack was on it; hail the well-oiled tourist machine. It was a further 3 hours or so along river valleys, slowly through road construction and over a mountain range before coming to the surprisingly large city (yeah I know; they're all large) Lijiang. Just enough time in the evening to check in to the Panba Youth Hostel clean up, quickly explore along the Wuyi Jie tourist street, and grab a feed.
I'd be here in Lijiang 3 full days before heading on to Dali. Lijiang has a Unesco-designated Old Town of traditional architecture (though the designation is under threat from over-development) that attracts millions of Chinese tourists per year. And it sometimes feels like they're all here at once. Later in the day it becomes a crush just to walk around.
The labyrinth that is the old town is much more extensive than I'd imagined; it'll take some time to get familiar with it. It's super-commercial, thousands of shops and restaurants of all types, catering mainly to the burgeoning Chinese tourist clientele.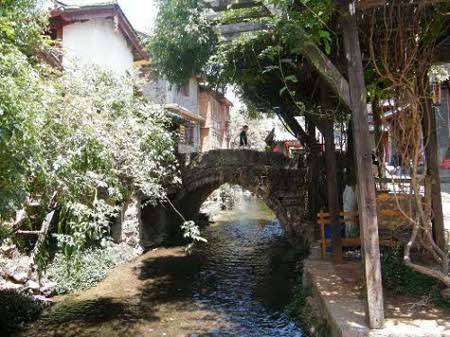 Every day I explored the maze of narrow side streets, lanes, alleys, canals and shops. Sights with varying degrees of interest included Jade River Square, the Square Market, Sellin‌g Flax Square, Old Market Square (markets are my main points of interest in my travels, but even they eventually become jaded), White Dragon Cultural Square (not much of interest there) and Lion Hill (difficult to find the entrance to the hill).
One afternoon I wandered north into the hills next to Black Dragon Pool, trying to find a way into the bush. After much walking along ever higher roads, I finally found an access path leading to stone steps and paths, and proceeded up into the scrub and forest. Chinese graves seemed to fill every available feng-shui space on the hillsides. Over the course of an hour or two I circumnavigated most of the hill park and came down on the other (west) side. Got a glimpse or two of the distant Jade Dragon Snow Mountain, a popular ski destination, but it was partly in cloud and haze. It was oppressively hot but still an interesting and worthwhile trek. The nearby Black Dragon Pool Park turned out to be a fairly ordinary series of ponds and Chinese-style stonework etc.
Back in Old Town, I found the Naxi Music Centre and booked the Naxi classical music performance for 20.00. The music and song were unusual and very good; "ancient" music from the Han, Tong, Song and Yuan dynasties of over 1000 years ago, played by mainly elderly musicians on traditional instruments. This is apparently the only orchestra of its type left and is in danger of dying out. It is kept alive so far through the efforts of a single maestro and his musicians. The only negative was the intrusion of the washing-machine beat emanating from nearby bars.
Talking about Bar Street: What an intense noisy action scene! Dozens of bars competed for customers with loud music, dancers in costume, flashing lights and singers. Not the place for a quiet evening.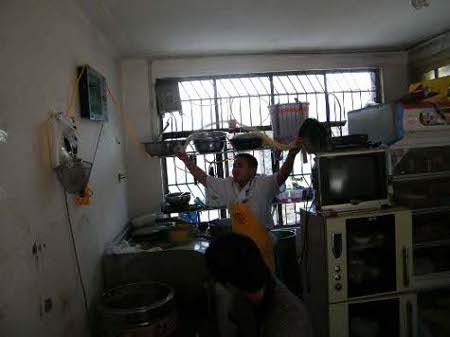 Dining experiences included the family meals in the hostel (similar to those in Shangri-La but some interesting spicy yak meat dishes) and some western food for a change. I found a small local restaurant up on Jing Hong Rd making good hand stretched noodle soup. It was fun to watch the young stocky muscular guy kneading the dough and stretching the noodles with strength and flair.
My bus to Dali was for 23 May at 10.30. Arriving at the bus station an hour or so early, I still had some time to eat, so looked down the street for a noodle place. I got a good rice noodle soup in a small restaurant. For some unknown reason the girls there wouldn't let me pay for it; How nice!
After a nearly 4-hour trip the bus let me off in the North of Dali near the North Gate. I had to walk through the "down-town" district, lots of shops and restaurants, even some pedestrian streets, to the guest house area west of centre. It was partly recognisable from my last trip in 1987, but of course vastly more built-up. The 3-Pagodas, which had been in the marble-quarry countryside years ago, are now surrounded by buildings including an immense pavilion complex.
I found the Lily Pad Guest House. They were nearly full, but it's a nice place and I managed to get a room for the next 5 nights. Despite the 25 years of tourism, Dali would still be a good "chill-out" interlude. Prices seem a bit cheaper than in Lijiang or Shangri-La. I could easily spend a few days here.
When I'd first visited in 1987, there was only one "Foreigner Street" and one hotel for ferangs, and traveller numbers were small. But now there were several streets of restaurants, shops and bars catering to tourists. The old city walls and "gates", one on each compass point, are still here and in good shape, but now surrounded by buildings of all descriptions.
Food was noodle dishes, family meals in the hostels, vegetarian buffets at a nearby Buddhist complex (for the absurdly low price of less than a dollar), western food when I got sick of Chinese fare, and lots of fresh fruit. In the evenings I chatted with other travellers over a beer or the strong-but-nice house fruit liqueur.
It apparently hadn't rained in a while, and there was no water supply at the GH some days. So it was difficult at times to get a cooked meal or a shower.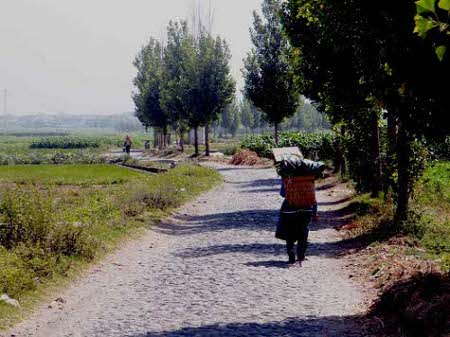 Some of my activities encompassed:
- Walked through town east and continue through small roads and rice fields to the village Caicun and Erhai Lake. It was several km but I had time and enjoyed watching locals working in the rice-fields. At Caicun I continued east and ran into a maze of small alleys and dead ends, backtracking and trying other alleys before I found a route to the lake shore. The shore was pleasant and serene, but somewhat anticlimactic, just some lilies and reeds and a couple of places where people were fishing or washing vegetables.
- One can do walks up in the Cangshan Mtn Park above the town. One morning I got a tuk-tuk a few km to the village Gangtong, where I could get a cable-car up to the level of the walking path. It was probably worth it as it was a long cablecar ride and quite high. Weather was partly cloudy and warm, hazy views over the lowlands and lake. From the cablecar I followed the stone path down to the Qing Bi Creek viewing areas, then up to the level of the main walking track to the north. Once I was up the steps it was mostly level for several km along the hillside and into and out of creek runs. Not a lot to see except trees, the creek valleys and the occasional eastward view. Starting about 11.00, I walked through Seven Dragons Pool (closed), under another cable-car, Lu Yu Creek, to Phoenix Cave (also closed) and by about 14.00 to the second of two stone step paths that would take me back down. The way down past the Warner-Brothers-type "Movie Site", took me back to Renmin Lu about 15.30.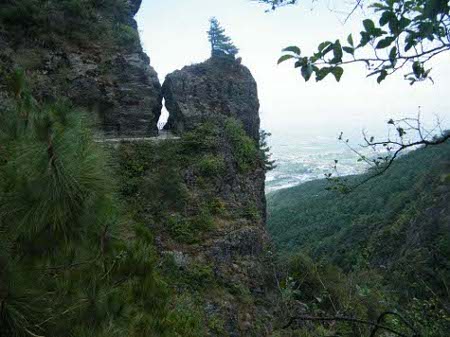 - One day I found a bicycle place and rented a good mountain bike. Rode NE of town to the lake, and then slowly up north along a lakeside road, stopping frequently to enjoy the lake views and mainly agricultural scenery. Quite pretty and a very pleasant ride. I passed through several villages and after a couple of hours or so I found a rough road west back to the main road, and started back south toward town. Back near the 3 Pagodas, I rode cross-country through a tree nursery, a strange sight of severely-trimmed trees of several varieties being nurtured with hypodermic bags of liquid fertiliser. The 3 Pagodas site now had big crowds for the pagodas and for the huge adjacent temple complex.
- The Dali Museum boasts the usual collection of stone and bronze tools and weapons (they must make them with injection moulders for all the museums), pottery funeral urns, clay figurines, and a large collection of stone steles or tablets with Chinese script and calligraphy.
I'd booked a sleeper bus to my next port-of-call Jinghong for 11.30 on 28 May, about a 14 hour trip. I don't normally like arriving somewhere at 1 am, and why a sleeper bus for a mostly day trip? But the agent assured me I'd be able to sleep on the bus after arrival until next morning; so give it a try.
The bus left on time but the road was small (2 narrow lanes) and slow. The 2 drivers were pricks; self absorbed, shouting into their phones and short with passengers. They stopped at a rip-off roadside restaurant for late lunch, no doubt getting their cut of takings.
Into Jinghong about 01.00 on 29 May. As feared, the drivers rudely evicted us from the bus; no sleeping there tonight. So what to do? I was with a young Dutch guy Flores, and we ended up following a woman through the market where she gave us a room in a small hotel. At least it was a place to sleep.
Up about 08.00, through the busy market to the bus station where Flores got a ticket to Laos for mid-morning, to a local eatery for a Y5 noodle soup, and then to find the Manytrees Youth Hostel where I found a bed for the next 3 nights.
Boy it's hot here! More like SE Asia than China. I had to shower and wash my shirt before doing anything else. The Xishuang Banna (XB) part of Yunnan is meant to be sort of a lush tropical paradise populated with ethnic minorities, and a must-see part of China. It was OK, certainly tropical, but oppressively hot and not all that convenient to get out to the minority areas. I wanted to rent a bike for a number of trips, but they discouraged it because of the heat.
I spent most of the first day looking around town, the nearby Mekong River (the farthest upstream I've ever seen it), and the XB Tropical Flowers and Plants Garden, sort of a big botanical garden and "Germplasm Repository". I looked around the garden an hour or two in the early afternoon. It had a number of sections or divisions, e.g. Bougainvillea, rubber trees, special flowers (orchids etc), Buddhist plants, tropical fruits (like a series of orchards) and a lawn area with multi-coloured flower bushes. It was all nice, but a bit draining to walk around the long distances, especially in the heat and with a slightly unsettled stomach.
In the evening I checked out night market but it was only a couple of rows of tables on a street selling souvenirs, crafts and trinkets. A the nearby Banna Cafe I dined on, inter-alia, a chicken curry and rice, but I don't think Chinese really know what curry is.
The hostel people recommended I get around by public transport, and suggested I do a day trip 35 km north to the Sanchahe Nature Reserve and Banna Wild Elephant Valley.
So next morning, after the rain stopped, I wandered over to the No. 2 Bus Station and got a 11.10 bus ticket to the park. The bus took about an hour or so, arriving at the very commercialised (of course) entrance to the "wild elephant park".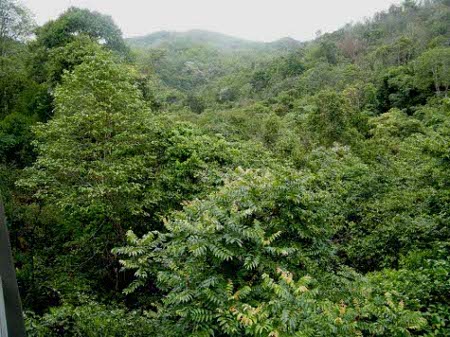 A parks woman tried to explain in zilch English that a "wild" elephant show was on at 13.30 and native dancing at 14.30. At the elephant show I was treated to a rather sad and pathetic display of movements and tricks by a troupe of half a dozen elephants. They carried people on their trunks, sat on their haunches in an odd way, danced by swaying their legs, greeted people in the crowd, etc. Well, I suppose the elephants didn't appear to be physically suffering and they at least have a job.
Should I wait for the ethnic dance or do some walking? Not expecting the dancing to be any more genuine than the elephants, I chose the latter. Proceeding up the valley a bit I found the enclosed and fairly predictable bird park with its macaws, guinea fowl and myriad unidentified species. I saw one enclosure where several cockatoos or whatever were lined up on perches, with Chinese tourists assembling on benches in front of them as if expecting an imminent performance from the birds. I'd rather not know what they were going to do.
Out of the bird park, I found wooden steps up to a long elevated board-walk, which went up the valley about 800 metres. Despite being "developed" it was interesting to look into and over the rainforest.
At the end of the board-walk was a small elephant museum, mainly a display of models of elephants and propaganda of how much good the park is doing for the wild elephants. Farther on was another 1.8 km of stone paths which went up through more forest to the Elephant Viewing Site. It was mainly a group of derelict elevated huts (maybe at one time you could rent them) overlooking clearings where elephants may come. But, as expected, none there today.
The butterfly enclosure near the park entrance must have been a breeding facility, as the most interesting part was the panels from which were hanging large numbers of pupae.
Back in town, dinner was first a small place where I had an appetiser of 10 jaiosi dumplings and a bowl of rice/bean soup. Then in the Dai restaurants area I found a place in an alley that had a great fish-in-sauce dinner, with pickled vegetables, condiments, lots of rice and tea.
The third day was mostly wet, and a good day off to do emails, notes and short exploratory walks around the city. That evening in the Mekong Cafe, I enjoyed the expat ambiance of sitting in the cafe garden with my beer and burger, listening to the chef (a grey-pony-tailed European guy) and a couple of others conversing in French.
On 1 June it's back to Kunming; I'd booked a day bus for 09.10. The trip was about 8.5 hours, firstly through hills and forest and rubber plantations and many tunnels, past the elephant park I'd been to earlier, then more hills and tunnels, farmland, terraces and open valleys. Rained off and on most of the day. The bus went to the Kunming South Bus Station, a long distance from the city, arriving about 05.50.
I spent a couple more days in Kunming before heading on to Yangshou. I tried not to over-extend myself, catching up on on-line and computer chores, going out for good meals of not-very-greasy across-the-bridge-noodles, walks in the Green Lake Park, and a visit to the Yunnan Provincial Museum. The museum had good exhibits of Dian civilization (around the warring states period of 481-221 BC) the usual bronze artefacts and agate, turquoise and jade ornamentation, mostly from an excavation of a hill in Yunnan. Another floor had an exhibit of "intangible" culture of Yunnan, mainly art, dress, customs, lifestyle etc. One floor had a contemporary art painting exhibition, very good art from Chinese and world artists; fascinating, wish I had some of them for my unit.
My train to Guilin, in Guangxi province, left on 3 June at 18.50, for what would turn out to be a pleasant 20 hour trip. I normally try to go 2nd class and get a top bunk, out of the way and good for undisturbed sleep.
Guangxi Province
The train didn't come into Guilin until 15.00 on 4 June. Guilin from my limited perspective now seems like any other busy Chinese city. Even the iconic hills are not much in evidence, but maybe I'm just in the wrong district. No reason to stay here, I bypassed the bus touts at the train station, and walked straight up to the bus station. There I got a ticket to Yangshuo almost immediately, arriving there at 17.00.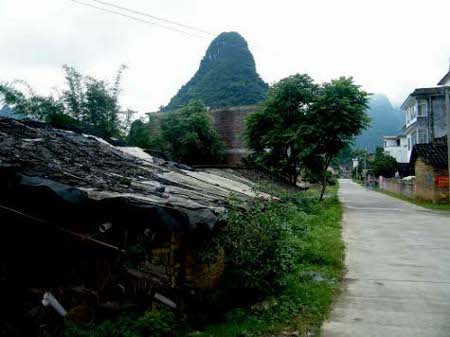 I easily navigated my way along the extremely busy and vibrant Xi Jie, and found the Hostel 11 up a small alley. Checked in and quickly oriented myself. Seems like a not bad place, good rooftop courtyard and not too noisy. Wi-Fi was available bedside.
Over a rooftop beer I met Jacek, a Polish guy, who'd also just arrived. We chatted a while and agreed to try to do things together over the next couple of days.
Yangshuo in 1987 was a small quiet scenic laid back town. Now it's a huge noisy scenic laid-back city. Despite the Lijiang-style crowds, it remains an attractive and pleasant destination. From our rooftop we could get one of the best views over the town and surrounding hills, memorable day or night. Below were hundreds of restaurants, bars, cafes and shops to choose from for dining and shopping needs. Rain off-and-on made us pick and choose our activities, but we survived well enough. I'd be here nearly 6 days.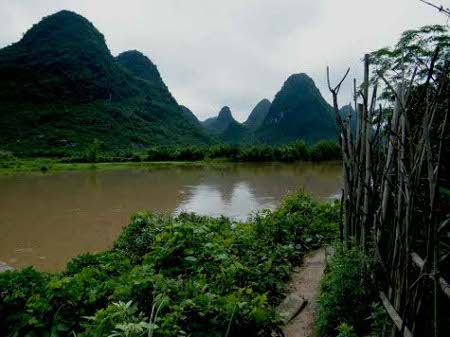 Some of the activities with Jacek, or after he left, included:
- Walk to the local market to look at fish and crayfish in tubs, snails, frogs, and vegetables.
- A bus to Fuli town, several km downstream. The street from Fuli to the Li River is a sort of historical old-town lined with artesan/souvenir shops, some specializing in the local hand-made (?) paper fans. We caught a boat across to the other side to the village, where we found a road to walk the 8 km or so back to Yangshuo. It was a pleasant walk, tranquil and scenic river scenery, karst hills, green foliage, rice fields and gardens. Not as many people around as expected.
- A taxi out to Dragon Bridge, several km upstream on the Yulong River. Its a 600 year old stone arch bridge in a picturesque part of the river valley. After milling around the bridge a short time, we decided to walk downstream along the right side of the river to Chaoyang. The "road" was not very wide, partly concrete, partly narrow dirt or mud, and sort of petered out once or twice. It was a pleasant 2.5 or 3 hour walk though, and passed through scenic karst hills and fields and villages. Quite hot and humid; creeks rushing everywhere, including sometimes along the path. The road stopped at the river at Chaoyang, necessitating a raft crossing, followed by a taxi back to town.
- One evening Jacek and I went out to my usual eating hole to have a "beer fish". It was advertised as Y38 (consider $1 is about 6 to 6.5 Yuan) on the menu but I should have known not to go by that price. They gave us quite a large carp and ended up costing about Y110 with rice. But anyway it was a huge portion with vegetables and very good; a nice beer-ginger-garlic-chili sauce. We struggled to get through it.
- After Jacek left I decided to try cycling, renting a mountain bike from the hostel. It wasn't raining that day. From home I rode out to the main street and then south, direction Moon Hill. I found the road upstream along the right side of the Yulong River. Might as well try to go all the way up to Dragon Bridge where we were yesterday. The road was paved, easy and picturesque all the way up to Chaoyang pier where we'd had to take a boat across. From there upstream the road/path became less distinct and obvious. It went through villages and repeatedly petered out or took off into the hills away from the river. But I eventually found my way, the last part on a main road, to the busy town Baisha. It was some distance farther to the road bridge, upstream from the stone bridge. There I was hoping to go along an outer road to Moon Hill area. But I didn't know how to get there, and neither did another cyclist coming the other way. A number of attempts to find my way along narrow roads ultimately failed, and I ended up going back across Dragon Bridge and to the main road back to Yangshuo.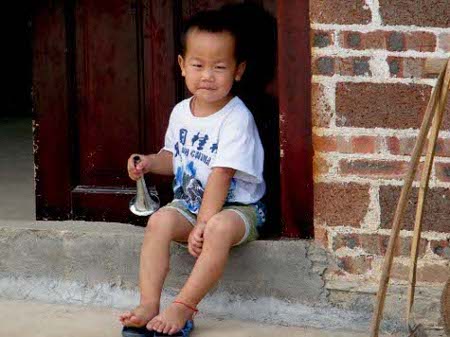 - Another day I'd try the 24 km Yangdi-Xingping walk, said to be the most stunningly scenic section of the Li River. Took a bus from Yangshuo to Yangdi, maybe nearly an hour trip. Rain started coming heavy on the journey. Still heavy in Yangdi as I got off, so had to wait it out an hour or so. Very aggressive hawkers and touts here, so they must be making money somehow. They wouldn't give me a boat ride across the river, implying it's too wet or something (??), and wanted to flog me a boat trip down the river to Xingping. I finally relented and got a Y200 bamboo boat to Xingping. The boat trip was pretty much as expected, some of the way in very light rain, through some of the most spectacular, or at least concentrated, hill scenery in the province. It was well worth it, and I can now say I've done the boat trip along the Li.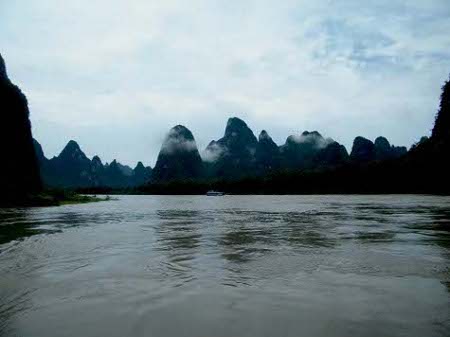 - On my first hang-around-town day I found the busy Yangshuo Park near the bus station. The park is built around two Karst hills, Man Hill and Lady Hill. A noisy amusement park was in full swing and throngs of people congregated in light rain. I managed to find a stone path part way up one hill, and another path all the way up another hill, to a pagoda at the top. I wondered if this was the same pagoda in which I wrote my postcards in 1987.
Interesting that Yangshuo must have the highest concentration of foreign tourists in the country, yet virtually no-one outside the hotels/hostels speaks English.
On a similar topic, here are some delicacies from a local restaurant menu: "wood shall be meat", "pickle fleshy foam", "thousand knives meat" (must be hamburger), "bad cabbage meat froth" and the tongue-strangling "Yangsxhuo flavour characteristics of bone incense escargot". Chinglish at its delectable best!
The evening of 10 June is my last sleeper-bus ride, leaving at 21.00 to arrive at Shenzen and the Hong Kong border at 08.15 next day. It had been quite warm in Yangshuo, and this last night seems to be especially hot, just like Jinghong. Got onto the thankfully air-conditioned bus, threw away the quilt, and settled in for the comfortable and uneventful night ride. Slept well after a while, was almost cold.
Hong Kong and Macau
Morning of 11 June saw us cruising through the heavily built up districts around Guangshou, and finally arriving at the Shenzen train station and the border about 08.15.
Found my way through the border no probs; thankfully getting my HK stamp in my Canuck passport. Got a HK metro ticket to Kowloon and was on the train at 09.30. Through hilly, forested but by no means empty, countryside and suburbs, I arrived at Hung Hom station, changed trains for one more stop at Tsim Sha Tsui East, and found my way out onto Nathan Rd. It's hot here too. Up on the 12th floor of Mirador Mansions, I found the Cosmic GH and got a small (of course!) room with TV and A/C for 3 nights.
I hadn't been to HK in many years, but easily found my way around. Lunch was in one of many halal places in the nearby Chunking Mansions.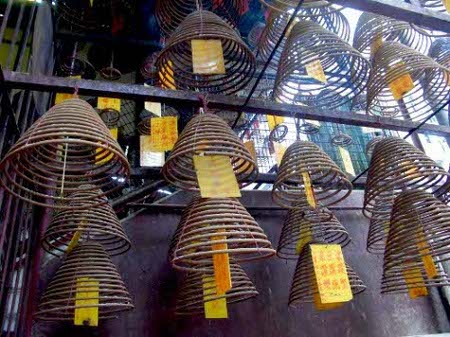 After a rest I went out again to brave the heat. The Star Ferry still goes across to HK Island. On the HK side I spent much of the afternoon wandering around small streets in the Sheung Wan area; through narrow streets and alleys, shops with herbal and animal medicines, markets, ginseng, birds nests, antiques, collectables, carved seals and temples; full of local colour and atmosphere.
Dinner was again in CK Mansions at an Indian restaurant, a not bad but not great chicken curry and rice. In the evening after dark the tourist board performs daily a "Symphony of Lights", modern fusion jazz choreographing light displays from several of the big buildings across the harbour.
Next day, 12 June at 10.00, I meet Eric and Rhonda, friends from Melbourne, at the Metropark Hotel. On the agenda today was a day trip to Macau. Never having been there before, I really looked forward to it. We strolled along Argyle St for several blocks to Mong Kok Stn and boarded the metro to Sheung Wan via Central. At the Macau Ferry terminal a 12.00 hydrofoil would take us on the 1-hour crossing to Macau.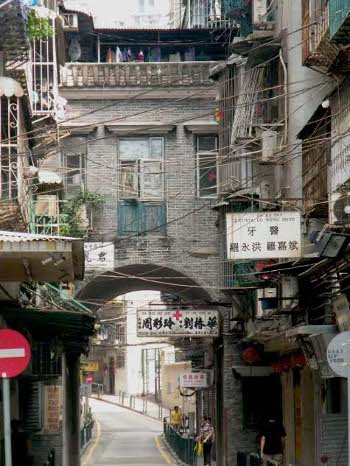 They stamped me out of HK in my passport and thence into Macau. Does that mean I've entered a new country? Don't know; depends maybe how you define it
Coming out of the terminal, the most convenient way to the city was by casino bus to the Winns Resort. After a cursory glance around the ultra-fancy resort hotel, casino, shops and restaurants, we emerged onto the street towards the old city. Garishly kitsch resorts and casinos dominated the cityscape, with Vegas-style names like Sands, Winn, MGM Macau and the ultra-over-the-top gold-coloured Lisboa.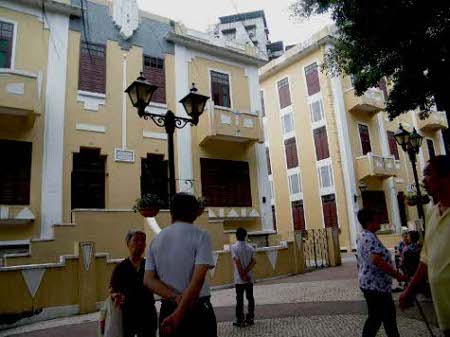 We proceeded on foot along the main drags Infante d Henrique and Almeida Ribeiro and into the main central square (actually a triangle) Largo do Senado. We were now looking for lunch, and found a simple noodle/dumpling/rice place with a quite palatable selection. We found we could pretty well everywhere use HKD for all transactions, so no need to changee mooney.
Macau, apart from the casinos, is generally a quaint atmospheric place, a slice of Europe (Portugal) in Asia. Street signs etc. are in Portuguese and in Chinese, and considerable traditional Portuguese architecture exists in a good state of repair. It reminded me in part of Brazil. Despite the same heat as HK, I kind of like it here.
Up to Ruas dos Lorchas, we turned left and continued along the waterfront street, able to see mainland China across the bay. Down near the end, we found the A-Ma Temple, a beautiful little series of pavilions perched on several levels on a hillside. It pre-dated Macau, and catered to a multitude of Confucianism, Taoism, Buddhism and folk beliefs.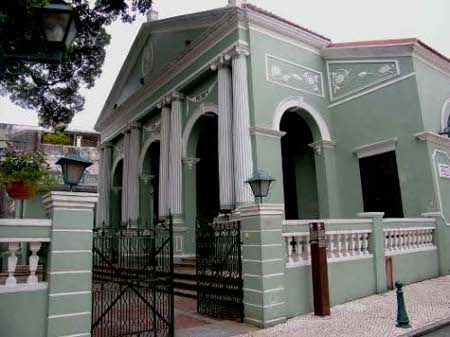 Back down-town was via a series of small back streets Calcada da Barra, Rua Padre Antonio, Rua Central, etc. Here was some real old Portuguese Macau atmosphere, little plazas to sit with the locals, European architecture and a series of old but well preserved Igrejas, Seminarios, Largos and Teatros, all exquisitely painted in tasteful colours.
Rain, heavy traffic and uncertainty about bus routes led to delays leaving Macau, and we didn't arrive back in the Kowloon side of Hong Kong until 20.30. Macau was a wonderful day-trip destination. I'm not into casinos and resorts, but was enthralled with the captivating mixes of historical-and-modern, Portuguese-and-Chinese influences. I could have spent another day or two here if it had been available.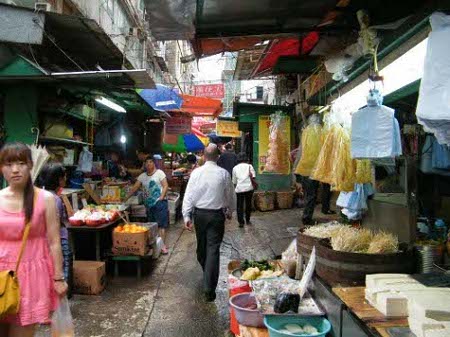 The following day was the last day in Hong Kong for both parties. I met my friends at 11.00 to go across to HK, get a dim-sum brunch, look around the parks and maybe get up the mountain peak. We wandered around back streets with interesting markets and shops, found a good dim-sum restaurant and dined on a delectable selection of tea, wrapped rice, buns, dumplings and vegetables.
Up on the viewing floor of the Bank of China Building, we admired views of HK and Kowloon. We saw that cloud covered the peak, so no top today. The rain started as we entered Hong Kong Park. Anyway we spent some time studying birds from the elevated board-walk of the walk-through aviary. Then over to a park cafe where we drank fruit drinks and waited for the rain to stop. Eventually as the rain eased we dashed for the Admiralty station and caught an MTR back to Tsim Sha Tsui.
As the others had to leave for their flight to Europe, I returned to my room dodging the legions of copy-watch and tailor touts.
And Home to Canada
Next morning, 14 June, was my 11.10 flight to O'hare and Winnipeg. A bus got me to the now-distant airport (that's how long I haven't been here) in good time.
United UA 0896 left pretty much on time and took about 14 - 15 hours, arriving about 3/4 hour late in Chicago. It was well that I allowed a 5-hour connection, as besides being late, there were some hassles and confusion in making the transfer, including almost having to apologise for having 2 passports and unclear directions to the connecting flight check-in. I hate going through passport checks here; feels like Gitmo or something.
UA 5838 was also a bit late, and got me into Winnipeg about 20.15 or 20.30. Routine arrival in the new terminal, and there was my inamorata to meet me. All is as it should be.
Despite the disappointment of the Tibet failure, I did get to spend a good 7 weeks or so in China, my third trip there. Mainly in the south-west, I saw a lot of places I'd never seen before, and re-visited other places I remember from 25 years ago. With the generous time available I didn't have to rush around from place to place, and could take the time to see things and chill out at a relaxed pace. There were a lot of changes from my last two trips, but some things remain the same. I was able to meet several other travellers, including Chinese ones, and make good friends. Hope to keep in touch with some of them. Also good to re-visit Hong Kong after a long hiatus, and get across to a totally new destination in Macau. A good no-regrets trip.