Philippines 1984
I'd been in my quality assurance job in Australia for over four years now, broken by only one trip to New Zealand in 1982. I was ripe for another holiday, this time to my first "exotic" destination since Africa in 1979. Where to? South East Asia was always handy, and the only major country I hadn't yet been to in this area was the Philippines. It didn't promised to be as exciting or spectacular as many other Asian countries, but should be pleasant and interesting.
So, visa and 3 weeks vacation in hand, I was off in late March 1984 for Manila airport.
Manila:
I arrived about 6 pm and navigated customs and immigration as normal. I changed some money, about 14 pesos per US dollar. Being late in the day, I tried phoning hotels for a room, but no luck with them. I ended up taking a taxi into town to find a pensione or guest house for the first night.
On the way, the taxi driver talked about another foreigner that he met recently. The foreigner was fixed up with a virgin, a "clean girl". He must have been hinting I could have one too if I was interested.
Anyway, into the hot, steamy, busy, slightly grubby and chaotic Ermita district of downtown Manila, where he dropped me off at a slightly expensive but unremarkable pensione.
Here I was about 3 hours ahead of Sydney time, so even at 9 or 10 pm wasn't yet tired. So off I went walking and exploring nearby streets. Ermita is somewhat of a tourist area, with lots of bars, touts trying to entice you inside for the girly shows, food stalls and restaurants. Streets were polluted, dimly lit and dirty. Aromas of culinary delights competed with the stench of excrement. The food stalls advertising "Manila's best gotu" mystified me until I later found out that gotu was a type of tripe or stomach dish.
In the evening, people gravitated toward the Luneta, a large and beautiful park and entertainment area to the north of Ermita. An open-air Pink Panther movie was playing at the time.
Feeling a bit lonely on my first evening, I found myself at a small food court, where I had a beer or two with a German guy that was staying in the nearby youth hostel. I was quite pleased to extract from him good info on where to stay, what to eat, where to go and what to see while here.
Next morning I looked for some cheaper accommodation, and found it in the Salakot Guest house. Smaller, hotter, and much noisier than Santos; one night here was enough. The walls of the rooms didn't reach the ceiling and sound traveled through the place. A radio playing music in the next room kept me awake most of the night.
Next day I moved into the youth hostel, still dreadfully hot but otherwise not bad. The dormitory ceiling fans made futile efforts trying to shift and cool the soup-hot air. There was no secure place to store my valuables when I went out, and I didn't feel comfortable carrying them around with me on the not-very-safe streets. But importantly, I met lots of other travellers who could give me the good oil on where to go/what to see for the rest of my trip.
I explored Manila for about 3 days, enough time to familiarise myself with the city, see the major points of interest, plan where I'd go in the country, and get sick of the city enough to want to get out into the countryside.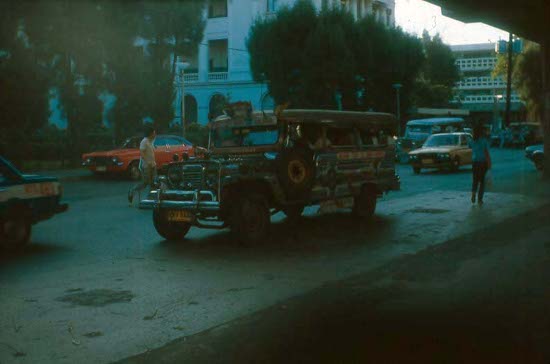 Much of the character of Manila is set by its traffic, noisy, chaotic, and no-holds barred. I don't know how people drive here without more accidents. Besides the usual cars, trucks, buses and bikes, public transport is dominated by the ubiquitous Jeepney, that iconic stretched and elaborately decorated version of the WWII army jeep. The drivers have an uncanny knack for merging into traffic with the wheels only an inch or so from the next vehicle. My theory is that the incessantly used horns somehow magically make an invisible buffer against other vehicles (???).
In the Luneta was a stage where I sat for a free performance of song and music, apparently funded by Imelda Marcos. The one piece I remember was a soprano singing the Welsh ballad "Ash Grove".
The Intramuros district, between the Luneta and the river, was an opulent address in its day. Now a former mansion there is an fascinating museum depicting the lifestyle of the residents in its day.
Right on the river is the old Portugese Fort Santiago, in a delightfully semi-ruined state.
North of the river is the less salubrious side of the city, slums and shanty-towns along the infamous (and appropriately named?) Recto St. When walking toward this district in the early afternoon, a taxi stopped and offered me a ride; he strongly advised that I shouldn't walk here, too dangerous. I didn't see a problem and declined his offer. Later, on Recto St. itself the crowded, busy, dirty, bustling, character-rich street certainly didn't look that hospitable, but I just kept moving, didn't get between people, and didn't enter any alleys. I walked on to Malacanang Palace (closed to the public of course) and back down-town and home.
The commercial and office centre of Makati is a Jeepney ride away in the east of the city. It's one of the more affluent suburbs, with its large western style shopping centre and upmarket stores and restaurants. It was a nice change from the hustle and squalor of much of the rest of the city. Just beyond is the walled enclave of Forbes Park, an island of opulence and home to the wealthy and expats. Nearby is the Philippine-American War Memorial park and cemetery. I relaxed there a while because it was so clean and tranquil, and I even imagined that it felt a bit cooler than the rest of the city.
Just off (or on) the bay shore in the Pasay district are large tracts of reclaimed land, upon which what looks like a new suburb is being built. It was fascinating to look around here; I believe a lot more has been built since that time.
Philippine food I found to be generally uninspiring; warm, bland, and not interestingly spiced. It's edible though, and doesn't make you sick. Food in the guest houses, where they have it, is filling and good. At nights the streets of Manila are dimly illuminated by countless little charcoal fires of the food stalls cooking and selling skewered barbecued meat. A few Shakey Pizza, Dunkin Donuts and Macs dotted the city.
One evening I met up with a former work colleague from my job, who was now working for the same company in Manila. We went for a beer, then out to dinner at a nice restaurant ("An Ang" or Hot Taste) where I had a good goat curry, and later a coffee. He asked me what I've been doing since I arrived. I described my various explorations and activities, including my walk around Recto St. He almost had a seizure and wondered how I could still be alive. He NEVER EVER goes there. Well, just lucky or street smart, I don't know. But I later talked to other travellers and they said they wander around Recto no problems.
Later I moved into a fourth place, the Pilgrim Guest House, where I got a room next to the nightclub. Again it was oppressively hot, and the disco music went until about 1 am, but otherwise OK.
The North
By this time, Manlia gets to be a nice place to see from the back of a Pantranco bus, which was where I was next day. I was heading north to Alaminos and Lucap on the tip of the Lingayen Gulf. This is where to access the Hundred Islands Marine Park.
The buses are hot and rough, but get you there generally no problem. I left Manila behind and shortly passed through Angeles City. Here were what looked to be a city of bars, touting "Coldest beer and hottest girls in town", and obviously catering to the nearby US air base.
At the small-town bus stops along the way, hawkers shouted out "Balut, balut, balut", fetal chicken or duck eggs, to the passengers. I watched a local guy on our bus buy and eat one. I consider myself a reasonably adventurous eater, but nope, I'll never try one of them.
Into Alaminos about 13.15, and a tricycle on to Lucap. The Ocean View Lodge had a nice room for an overnight stay.
I was delighted to discover proliferations of sensitive plants, a type of Mimosa I think, next to the pathways; I'd find them everywhere from here to east Africa and would always know I'm in the tropics when I see them.
There were quite a few farangs here, and next day a group of 9 of us took a small boat out to the islands for a day. The boat price was only 21 pesos per person (price quotes in the Philippines are invariably preceded by the word "only").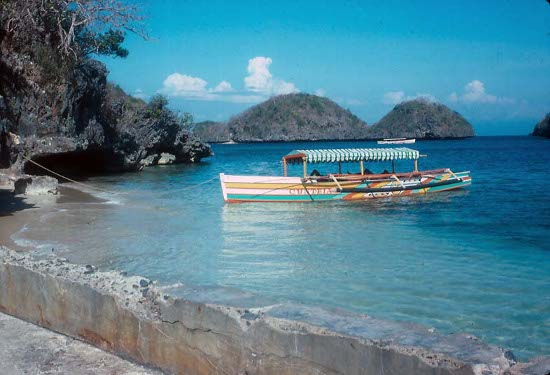 Hundred Islands is a large cluster of very small limestone islands a short distance off the shore. Some have small beaches and the distances are so short that one can swim between them. I had my mask and flippers with me and spent most of the day snorkeling around the abundant coral and exploring between islands. The boat waited for us all day to take us back. On arrival back at the mainland, the boat driver tried to get another 20 pesos off each of us, saying that we had only paid one way this morning (so how else were we to get back?). It was obviously a rip-off but nobody refused to pay anyway.
Back at the lodge, I met and talked to a very interesting French girl who gave me some welcome advice on what to see in this country, and regaled me with fascinating tales of working in Japan as a Geisha.
From Alaminos at 09.00 another bus took me through flat cane and rice land and up into the hills to the east. A spectacular climb up through river valleys and gorges got me at noon to the hill town of Baguio.
Baguio is a pleasantly cool tourist hill town. It is known as the home of Philippine faith healing, surgery by hand without leaving a wound on the skin. I should have known it would be a scam place. Immediately on starting to explore, I was approached by a slimy-looking guy called Antonio. He wanted to make friends with me immediately and show me around. I didn't know what it was all about and wasn't eager to find out. But his family was "having a wedding tomorrow" and I was invited as a guest. I wasn't interested but he was almost impossible to shake. He followed me everywhere. Eventually I went into the tourist office to pick up from information, and managed to shake him when I came back out.
Later, walking toward the main market, another older but equally sleazy worm, also called Antonio, found me. He plied me with the same be-my-friend and family-wedding-tomorrow lines as the first. I went into the market to look around, and he insisted on showing me around the market. I managed to shake him for a few minutes but he caught up to me later. On leaving the market I finally managed to convince him I didn't want to see him, and was on my own again.
My victory was short lived; within minutes Antonio I found me again. I had to sit down with him and explain at great length how I didn't like him and didn't want a friend and wanted to be alone. I asked him what he wanted out of me, and he explained that he just wanted a friend. OK, I took him back to the main intersection, where I spied Antonio II looking up and down the street for more marks.
I said, to Antonio I, "Look at that guy over there, he wants a friend too, go talk to him."
Antonio I looked at him and said "No, I don't like the look of him, you can't trust him."
"Well, you too." I said, and finally managed to take my leave of both of them.
But by this time I was scared. This whole town must be full of scam artists. And what if these guys come after me now for playing them off against each other? I didn't go out at all for the rest of the day and, in the evening, only to a nearby Shakeys Pizza restaurant for a meal.
I wondered what the scam was but wasn't brave enough to find out. Later in my trip I met an American guy who had more nerve than me and did follow it through. He had gone to the home of one of them to meet the 'wedding people". It turned out to be a blackjack card game where the good guys are playing against the bad guys. The mark is sucked into helping the good guys win a "sure bet", to the tune of maybe hundreds of dollars. The American only got out of it by feigning to go back to his hotel to get the money, and then threatening to call the police.
Next morning I was on a bus north (07.00 to 12.45) to the smaller and more remote hill town of Bontoc. The road was rough and winding, but beautifully deep valleys forest, terraces and gorges.
It's difficult to imagine a more diametric contrast between two towns. Baguio is big, built-up, physically drab and unattractive, and as already mentioned, somewhat frightening. Bontoc, situated in a small river valley, is quaint, beautiful, charming and laid back. The whole pace of life seems to be slower, friendlier and more tranquil. I love it here.
I checked into the Happy Home Inn, 20 pesos for a really nice room.
First business after settling in was to visit the Bontoc Museum, good exibits of tribal artifacts and full scale huts. The woman who ran the museum was full of information on local tribes and former head hunting activities.
The rest of the afternoon occupied me by exploring the streets, pathways and river. The women planting rice in a nearby paddy smiled as I approached and allowed me to take their picture. Late in the day kids were taking their water buffalo down to the river for a wash, the pleasure of the daily ritual plainly etched on the animals' faces.
My standard meal in Bontoc is a big plate of fried rice and vegetables with a fried egg on top; simple, tasty and filling.
We don't need an alarm clock here. At dawn we're wakened by the squeals of pigs being slaughtered in the nearby abattoir.
Bontoc, and particularly areas to the north, are home to the Kalinga Apayo people, former head-hunters. Men still wear the traditional costumes including a g-string, and local people can recite stories of their culture and activities. The indigenous way of handling and preparation of the corpse of a deceased person is bizarre by western standards, but still practised by some of the local people. In brief, the corpse is positioned in a chair, left to decompose for several days in front of the house, and the bones are placed in coffins in caves. The town has a particularly good museum of local ethnology, including photographs of former head-hunting activities and exhibits on death rituals.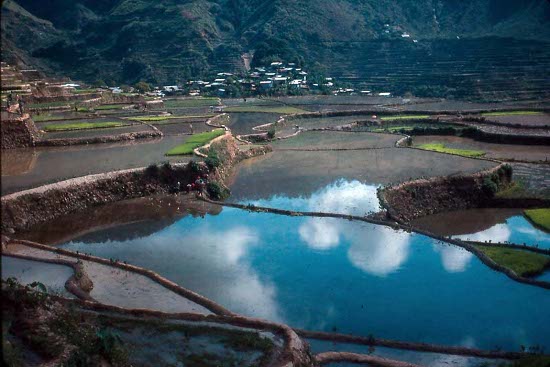 Bontoc is known for its rice terraces, although not as famous or as touristy as those in Banaue. So one morning a group of us were on a jeepney for a few km to the mountain village of Maligcong. The rice terraces were incredible, carved into the slopes of impossibly steep mountains, most terraces only metres wide, and continuing forever up and down the slopes. They were surely the most spectacular rice fields I'd ever seen, and the most memorable sight of the trip. To get to the village and navigate around we have to walk along the edge of terraces, on a path maybe a foot wide, and several feet drop to the next terrace if you slipped. Farmers till the narrow fields with buffalo and simple wooden implements. The village itself is small and rustic, being some distance from a road, with buildings of wood and thatch. The villagers though, have suffered the effects of too much tourism; the kids all want candy and the adults want matches.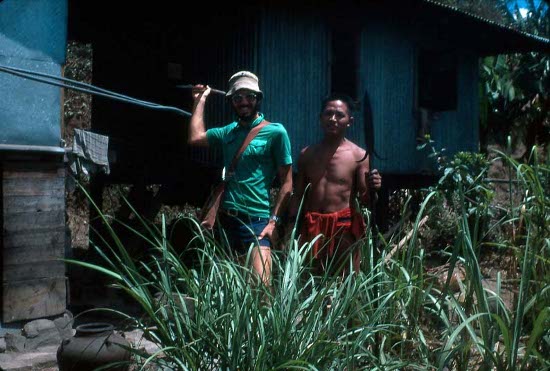 Rather than returning to town by bus, about 3 of us decided to walk up a steep path over the ridge and down to the next village of Guina-Ang, maybe an hour or so walk. Being directly on a road, this village had more tin-roof houses and other evidence of easy transport. But it doesn't have the terraces, and is therefore less frequented by tourists. After exploring around small paths, houses and attached stone pig-pens, we met a local man wearing only a loincloth and armed with a spear. He spoke no English but anyway invited us into his home for a drink of cane wine and whatever conversation we could manage. All this made the side trip well worth while.
We walked back into town by about 15.00. I had time to visit a souvenir shop and look at possible souvenir purchases. The woman was of the Kalinga tribe, and was a wealth of information on tribal history, customs and traditions.
The next side trip from Bontoc was a 1 hour bus ride up a very steep, narrow and dangerous dirt or gravel road up to the mountain village of Sagada.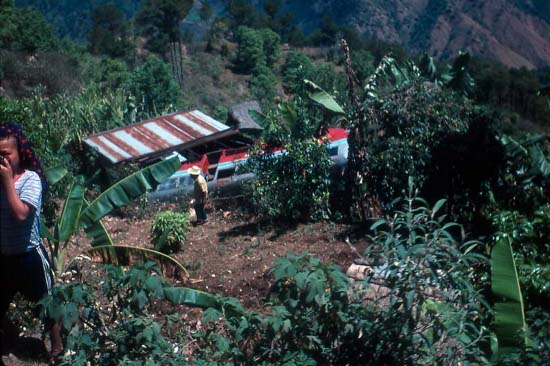 The road was one of those tortuous high-altitude adventures you read about in travel publications, narrow, sharp switchbacks, and terminal drop-offs from the edge. We saw the wreck of at least one vehicle that had left the road and ended up a hundred metres or so below. In one village we passed, we saw one house a few metres below the road, with a bus much like ours on its side on top of, and crushing part of, the house. It must have crashed only a few days ago. 4 days later, on the way back, I saw that the bus had been removed, I've no idea how, and the house was being repaired.
Sagada is on of those idyllic mountain retreats where travelers come to and then dont want to leave. It's wonderfully cool and pleasant with pine trees and caves everywhere. Soon after arrival, wondering what to do or see first, I stupidly asked another westerner what he did today. He replied, "I've been here 3 weeks and I'm supposed to have done something today?" Well, sorry.
I found a room in St Joseph's for 15 pesos. No need to go hungry here; substantial breakfasts are 10 p, and even more generous dinners are 15 to 17 p.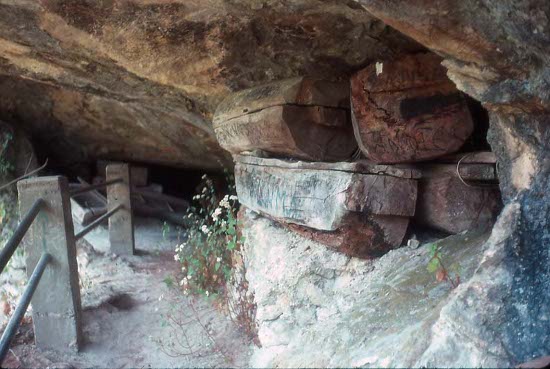 Sagada is famous for its burial caves, caves or rock overhangs in which coffins with bodies are placed in preference to underground burial. You can get local kids to take you on tours of the caves, or simply wander around and find some of them yourself. The caves usually contain several coffins in various stages of disintegration, and usually containing at least a few bones. Some caves had the skulls propped up at the entrances, like macabre sentries, probably placed there by mischievous kids. On one cliff side visible from the road, coffins hung part way down, suspended from the top by wires.
I soaked up the atmosphere for 4 days in Sagada, wandering around looking at caves, relaxing and reading under a pine tree, or chilling out with other travelers.
One easy 1-hour walk took me out past Lake Danum and toward the village of Besao with it's picturesque rice terraces. Another walk had me stumbling through muddy terraces to get to the Bokong Waterfall.
Another day had seven of us going on a caving trip to a newly discovered cave. Mud and many vertical shafts made it slow and dirty to get into. But the main chamber that was our goal had an awesome forest of pristine stalactites and shawls.
I could easily have stayed around Sagada longer if I'd had more time, but I must move on eventually. After 4 days, I caught a bus back to Bontoc. Back in Bontoc I did a bit of souvenir shopping and organized to move on to Banaue next day.
The bus on from Bontoc was again spectacular, with narrow rough roads winding up and down steep river gorges. Only a couple of hours from Bontoc, Banaue was reached by mid-morning.
Banaue, with its world fame and postcard-pumped rice terraces, would have been amazing if I hadn't already been to Bontoc/Maligcong. As it was, I found it just OK and not all that memorable. The Maligcong terraces I thought were more beautiful, Banaue was slightly drab and uninteresting, and it was a bit rainy and dull weather. I was there only there one night before returning to Manila.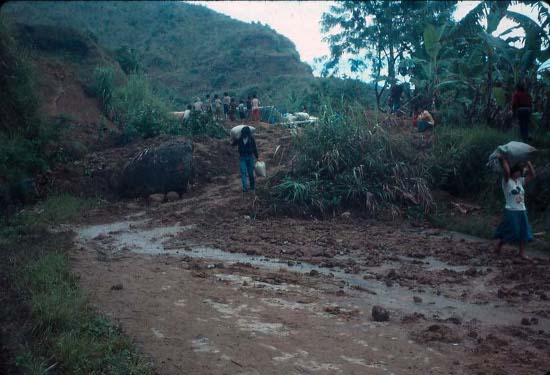 My start from Banaue was slow and confused. A few km up the road from the town there was a mud landslide across the road covering about 50 metres of roadway. The bus obviously couldn't get through. It was such a mess we couldn't even see where the road had been.
All the passengers on the bus had to disembark with our luggage, make our way through the mud to the other side of the slide, and get on a Jeepney for the ride to the next town, Lagaue. Then another jeepney would get us through to Solano, and finally another bus to Manila.
On one of the jeepneys I was lucky enough to get on the roof, seated next to a trussed up pig on its way to market. As we neared town, I had to get inside the vehicle; I guess we weren't legally supposed to be on top (I mean me not the pig).
It was about 18.00, after 10 days travelling in the north, that I made my way back to the youth hostel in Manila. Overall, that was quite an amazing loop.
Back in Manila, I had a couple of days to relax, catch up on postcard writing, attend an open-air concert in the Luneta Park, meet up with work colleagues and tour the company factory in Parqanaque, meet and talk to the chairperson of the Quality Assurance Development Corporation, and organise a flight to Cebu for the second half of my trip.
I moved into the Pilgrim Guest House, where I got a room next to the nightclub. Again it was oppressively hot, and the disco music went until the small hours. I can't seem to find decent accommodation in this city to save myself.
Cebu and Bohol
Having limited time, and finding that internal flights weren't expensive, I booked a return flight to Cebu in the south of the archipelago. The remainder of my time would be devoted to Cebu City, Moalboal Beach and the hills of Bohol Island.
My aircraft took off from Manila about 09.30 for the 1 hour flight to Cebu. Clear weather enroute enabled good views of the Visayas islands, where I might have gone if I had more time.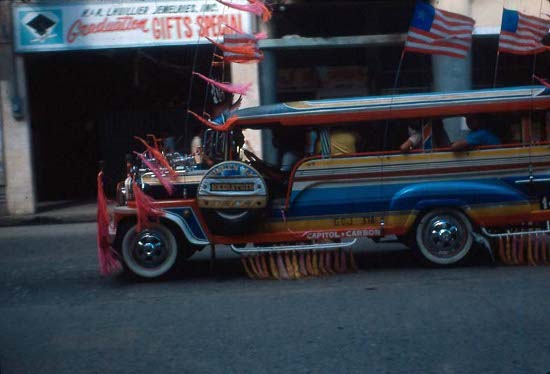 A 5 peso bus from Cebu airport got me into Cebu city and to the bus terminal. Time to look at Cebu later. Today I'd go straight onto a bus (2.5 hours) to the coastal town of Moalboal.
Cebu is certainly distinct from Luzon. It has more of an "island" feel, palm forests, coastal scenery, hills and villages. The temperature seems drier and less oppressively hot than Manila.
I walked the 3 or 4 km from Moalboal to Panagsama Beach, a fairly new tourist district. It catered to divers and travellers who just want to relax.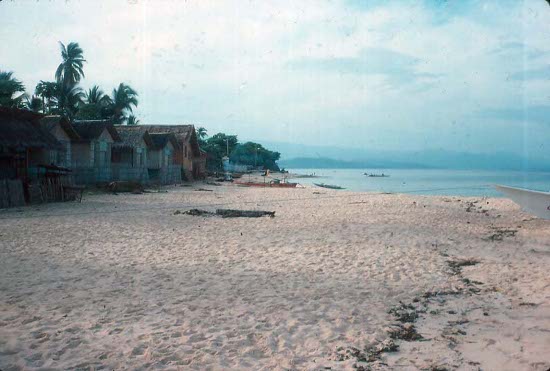 The Moalboal coast isn't hard to take. It's a long, narrow sand beach with a line of wood and thatch huts and several small restaurants and shops. All the huts step directly onto the beach and it's only metres to the waters edge, beyond which is a coral shelf with a cliff-like drop off several metres off shore. You simply walk along the beach, pick a hut almost at random (they're nearly all alike with a single room, bed and bath), settle in and go for a swim. Meals in the restaurants, mainly the one associated with the hut you chose, are cheap and tasty.
My main activity was donning my snorkel, mask and flippers, swimming out to the edge of the coral cliff off the beach, and just touring along the coral as far as I cared to in either direction. The coral and marine life was as good as I'd seen anywhere, always a fascination to me. The coral "cliff" is amazing; you swim out over the coral, off the edge, and you are suddenly suspended over deep ocean; almost freaky.
There were apparently organised scuba trips you could take to other islands but I didn't bother at the time. I was content to relax and chill out for most of the stay.
Evenings were idyllic, sitting in a nice beach restaurant with a stuffed-pepper dish or whatever. I could watch the play of lights over the water as locals walk over the coral in the dark at low tide harvesting seafood.
In the next hut to mine was an older guy who had a couple of 12 year old local boys in tow apparently for his sexual satisfaction. I could hear him once or twice arguing with them about monetary compensation or something. I guess things like that go on but what do you do about it? The guest house owners talked about him with some degree of contempt.
Interesting that the kids refer to us as "Joe", as in "Hey Joe, give me peso." It must be a carry-over from the GI influence.
3 or 4 days here was all I could afford with my limited time. Next, I'd move on to Kawasan Falls, a jungle lodge run by an American and his Philippine wife. It had been recommended by other travellers but had not yet been touristed out.
So a 2 peso tricycle ride from the beach to Moalboal, a bus to the Falls junction, and a 20 minute walk up the creek to Kawasan Falls and the lodge. Kawasan Falls is yet another place where people chill out for days or weeks. Unfortunately I only had a day or two here. Besides swims in the wonderfully cool and clear falls water, one can do walks, or just nothing at all.
My first walk was up above the falls to the hill tops, past cottages, goats, coconut forests and struggling cornfields. The tops rewarded me with stunning views of surrounding hills, the gorge below, and the distant ocean.
Another walk next day took me back to the main road, the village and the seashore, where I sat and read for a while. On the way back to the falls, I was waved over by a few guys in a nearby house. They were drinking a local coconut wine called Tuba. I was offered and accepted a drink. What followed was a very interesting conversation of a good hour or so, touching on politics, wine-making, marriage, employment, farming, land prices and religion. Boy, you learn a lot from these guys.
After only a couple of days at Kawasan, I walked to the road to head back to Cebu City by the bus. It wasn't as easy as usual. Just past Moalboal the bus lost its brakes. We had to transfer to another bus, which subsequently had a flat tire in the hills. Didn't arrive in Cebu City until about 14.30.
I checked into the Town & Country Hotel, a nice place, and checked boat times to go on to Bohol Island, noon daily.
Cebu City is a pleasant enough medium sized city in the mid-south of the Philippines. It is far from the bustle and chaos of Manila, but not far enough south (think Mindanao) to be troubled by separatist insurgency. It's easy to walk around in without getting lost or run over in traffic.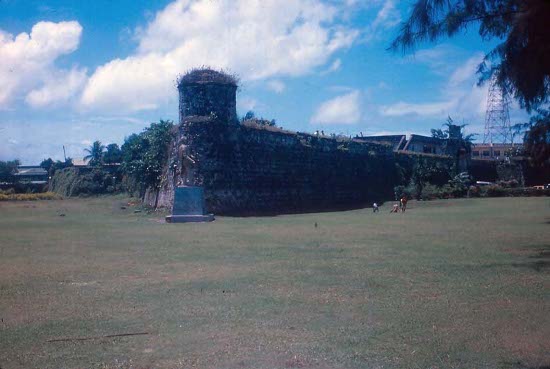 Cebu City's main tourist points of interest are its very pretty and well preserved Portugese Fort San Pedro, good for an hour or two of exploration, and the (original I think) Cross of Magellan housed in a gazebo on a busy street.
The down-town Carbon Market had all the usual stalls with the usual bewildering variety of meats, vegetables, fruit, spices, clothes, food stalls and knick-knacks, a good place to explore for an hour or two.
In my hotel I saw a notice of a meeting of Cebu Toastmasters that same evening. Being active at the time in Campbelltown Toastmasters back home, I decided to see what it's all about here. They were having a workshop and practice session to prepare for an upcoming speaking competition. Blessed with a touch of familiarity in a strange place, I was treated to a very satisfying evening. I was impressed with their friendliness and hospitality toward me, and the level of detail and finesse to which they strived in their speaking.
Next day I was on the ferry for the 4 hour voyage, noon departure, to Bohol. The Cebu wharf is a world unto itself, locked off from street traffic, it's a vast junkyard of all manner of goods - and bads, laying around, stacked and piled everywhere awaiting transfer onto ships or vehicles as appropriate. It's hard to see how it's all organised, but I guess it all gets somewhere eventually.
Port of call was the town of Tagbilaran on the Bohol west coast. From there a local bus would take me up into the "Chocolate Hills" district of Bohol, its main tourist attraction. The bus had to wait until it was full though, not leaving until 17.00. Through rice and coconut fields and villages, and into the hills, we arrived at Chocolate Hills at 18.30. A 1 km walk up a hill in the dark got me to the hotel. I slept well despite the strange noises made by the resident geckos.
The Chocolate Hills are an area of many uniformly sized and shaped hills on a flat plain, all steeply sloped rounded domes, green when the grass is growing and brown (chocolate) when dead. They are said to have been formed by the teardrops of a grieving giant or something, probably a story to lure the tourists, but the actual geological explanation is likely much more mundane.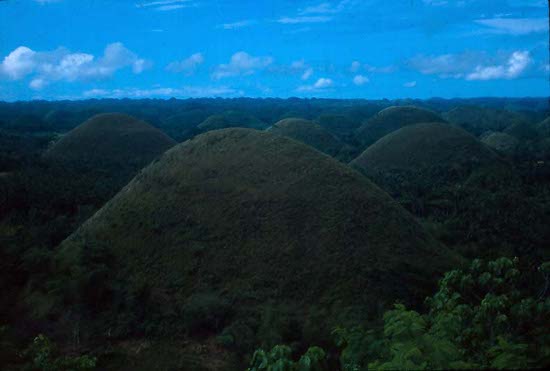 In any case, I has a pleasant couple of days climbing the hills for the exercise and views, exploring the flat farmland between them, having a drink or two of tuba in local shops, and talking to the locals.
On one walk I came across a small girl on the side of the path, probably no more than about age 7. She seemed so sweet and innocent that I hoped I didn't scare her as I passed. She cautiously eyed me as I walked past, then as I went away I heard her timid little voice behind me, "Give me money?" What a way to shatter an image!
I had only a couple of nights in the Chocolate Hills before going back to Cebu.
It was March 30 and I had to be on the plane back to Sydney tomorrow night. An early morning ride with the Barrio mayor got myself and another traveler to the nearby town of Carmen, then a bus (back seat with jarring bumps and squealing pigs) to the coastal town of Tubigon, arriving there at 10.00.
There were two ferries waiting to leave when we got to the wharf. Intending to take the first ferry and get there as quickly as possible, we asked each ferry what time it sailed. They each said they would leave before the other one, looks like Philippine time at work again. So we just had to guess which one we though would leave earliest and board it. Luckily we were correct and only had to wait an hour or so.
We took a lower deck to save money, cost 10 pesos for the 3 hour crossing. It was OK except for the animals and diesel smoke.
Crossing to Cebu, we passed a very small island in the middle of the sea, maybe not more than about 100 metres in diameter and a couple of metres high. It was a fishing village and was entirely covered by houses. A year or two later I heard of a devastating cyclone that ravaged much of this part of the Philippines, and I always wondered how badly this village was hit; it must have been obliterated.
On approaching Cebu wharf, several kids saw us coming and dived into the water near the boat, shouting apparently for us to throw money for them to dive for.
Into my hotel for one more night, then a quick morning look around parts of the city, and a taxi for myself and 2 others to Cebu airport. My flight to Manila left at 12.20.
Back to Manila and Home
I had time for a quick shower and change of clothes at the Pilgrim Guest House. I bought one more souvenir, a barong shirt, and compressed all my souvenirs and lugage into my pack. Another bus got me to Manila airport just on dark for my flight back to Sydney.
While waiting for my 22.15 flight, I struck up a conversation with a Canadian guy who was leaving after 10 days in the country. He couldn't get outfast enough. After only a couple of days he had been so freaked out from culture shock that he even went to the Canadian embassy to plead with them to "Get me out of here!"
The Philippines wasn't as spectacular, exciting or challenging as some of my other trips. But it was pleasant, relaxing and generally easy and good value. I spent less money than I'd allowed for, and even had to convert some back at the airport. I'm glad I went.