New Zealand 1982
Three weeks holiday from work in Sydney, so three weeks trip to New Zealand's South Island. I'd been to both islands of NZ before, in 1975, but now wanted to spend more time in the north of the South Island, hitching around and seeing friends. Plans were to arrive and leave from Christchurch, see some of that city, and travel up the east coast and around to Nelson, thence to the west coast and back via Arthur's Pass.
I left Sydney on 9 May 1982, and landed in Christchurch that afternoon. The Rolleston Youth Hostel had good cheap accommodation, and I had just enough time that day to take in a photography exhibition at the Arts Centre.
On my first full day I hired a bicycle to ride out to the coast at New Brighton. Just as I was heading out on the road, I heard a car beeping behind me. Miraculously, it was an old Kiwi friend Maryanne that I'd known in Sydney in the 1970's. We rejoiced at meeting, caught up on history, she introduced me to her 3 children, and resolved to meet later near the end of my trip.
Onward, I had a good look at the beaches at New Brighhton and South Brighton, before suffering a flat tire, getting it fixed at a shop, and making my way back to the city.
That evening Frank, one of the travellers on the Africa trip in 1979, took me to his place to visit and stay the night. We had a good evening looking at African slides and talking about that trip.
Next morning Frank's wife Honour drove me to the edge of town where I could start hitching about 10.00. These were my young and devil-may-care days when Hitching was the way to go and hang the inconvenience and risks.
I got a ride fairly quickly and was in Cheviot by noon and in Kaikoura by 13.45. This pretty little town boasts rugged coastline and seal colonies.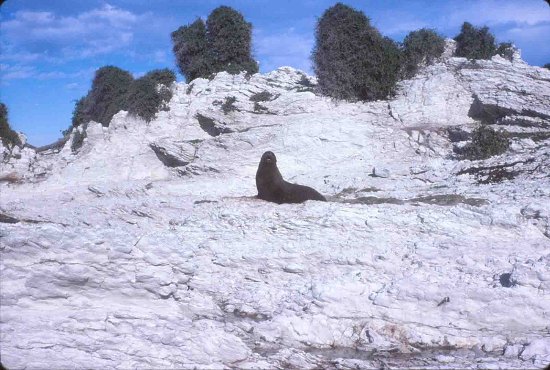 After leaving my gear at the hostel I killed the afternoon by walking over the hills to the shore and around the peninsula. There were a few seals around the rocks, almost tripping over one at one point.
Next day I was to go with another traveller up Mt Fife, but the weather closed in and we decided to just relax around town. Later it fined up so I spent more time on the peninsula watching a farmer mustering his sheep with a motorbike and dog. He chatted with me a bit and asked me not to damage the fences when crossing. Fair enough; I came from a farm and knew how to look after fences.
Down on the rocks were hundreds of seals now, and I spent some time studying them. You can get very close to some of them, others scattered on approach.
On 13 May I moved on hitching to Blenheim and then to Havelock. It was not an easy day, walking and waiting for rides much of the time. A couple of lifts finally got me to Havelock, at the end of one of the long sounds in the north of the island, about 16.00.
There's a delightful simple hostel there that was once a schoolhouse. I bought a flounder from a local fisherman and made it into a good dinner. Don, a local electrician, was showing videos of cruises he does in the sounds, and I agreed to go on a boat trip with him next day. I also called my friend Kemp (trekking in Nepal in 1977) at Hira, near Nelson, and agreed to meet him there next evening.
So on Friday a group of us from the hostel were ready to join Don on the mail boat for the 6 hour boat cruise up the sound. At 10.00 we were leisurely making our way along the sound enjoying water, wooded scenery and camaraderie. We stopped at one point for a 1-hour walk through the forest, and another in a peaceful but unsuccessful attempt at fishing.
Don was an interesting person to talk to, having spent his life in these parts. He was planning to take holidays in Australia soon, and we were not short of stupid suggestions as to where to go there, such as the Blue Mountains or the Barrier Reef. "Hell No", he'd say, it's bright lights and Kings Cross. Who needs more wilderness? Okay, from that perspective, what were we thinking?
Rainy that afternoon as we got back. We had a beer in the pub, I got a bus ticket to Hira and arrived there just after 20.00. Kemp was there to meet me, and after the usual joyous reunion we retired to his house to drink and reminisce.
I'd be with Kemp for about 9 days. He lived in a neat little converted shearing shed and had as transport a 3.0 Rover car, a loved but troublesome Ducati 450 bike, and a horse. Work was in forestry and hobbies were wood-turning and tin-whistles; what a charming lifestyle! We cooked and ate humungus meals together. I showed my slides of Nepal and Africa a number of times to him and friends. Kemp showed me how to do wood turning, but I'd need a lot more practise to be competent in it.
We spent one day contract clearing blackberry and gorse, both feral species, from a private hillside. Another was walking and horse riding around neighbouring farms and cutting firewood in Hira Forest. The third day we looked around Nelson and then out to Hira forest to inspect the forestry work there. Re-planting was in full swing after a bad fire some time ago.
Part of my stay was to be a few days with Kemp at a friend's cottage in Nelson Lakes. We stocked up on groceries and drove in his car for an hour or so up to the village St Arnaud on the edge of the lake.
It's really beautiful up here, a large placid lake, beech forest, steep landslide-scarred hillsides, and wonderful tranquillity. The only problem was intermittent rain.
We settled into the cottage and next day pulled the boat out and set off across the lake. Our target was Angelus Hut and some mountain walking. We were part way across the lake in the motorboat before we discovered we had forgotten the oars on the beach, duh, and lost some time retrieving them.
From the hut, we walked some distance up the valley, Kemp sharing his immense knowledge of forest species taxonomy with me. However miserable weather eventually drove us back to the hut, and next day back to the boat and the cottage. Our return to Hira was via the vast Golden Downs Forest, said to be the largest in the southern hemisphere.
Most of the remainder of my time in Hira was spent trying with limited success to fix problems with Kemp's bike; you have to be dedicated to have a bike like that. We spent time with friends dining, showing slides and socialising. One visitor, Marty from Havelock, was a real bush man; contract forester, meat hunter and all-round interesting guy.
The Falklands crisis was in full swing about this time. "Rule Brittania" ruled the airwaves. Attila the Honey was furiuosly loading her legions aboard the galleons. Soon the mighty armada would be sailing southward bound to rescue that beleaguered outpost of empire from the uppity Latinos.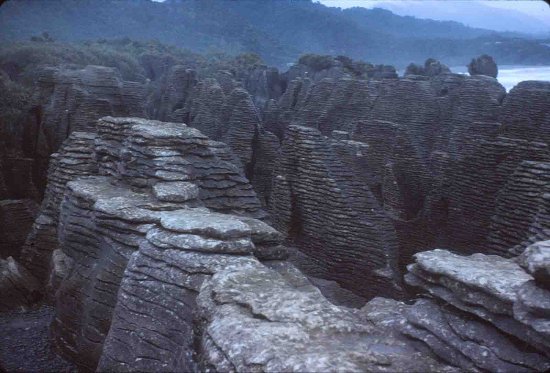 On 24 May I'd been here long enough, and had to move to get onward and back to Christchurch on time. The weather was noticeably cool, with snow on hilltops, as Kemp took me into Nelson. Hitchhiking was not that easy anymore, so I decided to take a bus to Greymouth, on the west coast, via Westport. It rained off and on, and we encountered snow in the passes. I was hoping we would stop at Pancake Rocks, that weird little rock formation on the shore north of Greymouth, and the bus obligingly did give us 20 minutes there. The rock strata there is eroded into little beehive-shaped formations, sort of like pancake stacks. It was sort of the (Australian) Bungle-Bungles in miniature.
In Greymouth a group of us from the hostel took a tour of the small Dominion Brewery and learned about their beer-making process. Later a couple of us walked up to Cobden Cross and to the breakwater and beach, dogged much of the time by the ubiquitous west coast rain.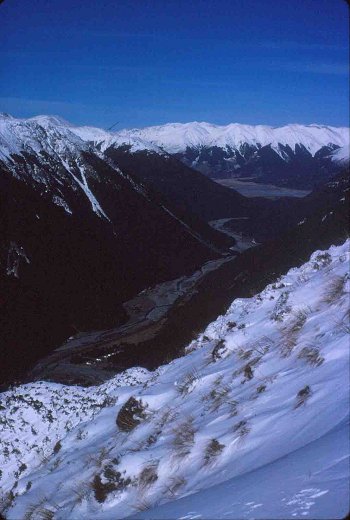 From Greymouth the train took me up for an overnight stay at Arthurs Pass. Here is a steep valley coming up from the west and descending to the east, with steep snow-covered peaks on each side. Arriving in the morning, I took advantage of the time to try a walk up to Avalanche Peak. It started well, climbing through forested water/snow/ice-covered tracks and ascending above the treeline. Up on the ridge the path disappeared; the snow became waist deep and almost impassable. I couldn't reach the peak and had to come back down the same way. Still it was a beautiful and invigorating walk.
The train took me into Christchurch next day. Arriving at 13.00, I had time to hang around the central plaza and watch the antics of the that iconic drawcard the Christchurch Wizard. He was still entertaining but seemed more "mature" and slightly more commercial now than in the 1970's, being subsidised by the city now I believe.
Later in the day Maryanne and her husband picked me up, took me to dinner at their friends' place, and stayed with Maryanne's family overnight. Next day I shopped for souvenirs and duty-free booze, dinner with Maryanne's family, and then over to Frank's place for the last night in NZ.
On the last day, 29 May, Frank took me to his work place, wine and spirit merchants, and showed me their small but magnificent museum of liquor-trade paraphernalia.
To the airport early, I had time to read for a while before the plane took off at 17.15, landing me in Sydney at 18.00 and home after 21.00.
NZ is such a friendly easygoing place to travel in that I have to keep going back there from time to time. What a pleasant easy 3 weeks!