North and Western NSW, September 2020
The best laid plans of cursor-movement-devices and grown males come to nought with the ravages of Covid-19. I had great ideas to adventure it up in Central Asia in April/May this year, and we can guess what happened there. I've been doing time at home almost ever since.
In my fight against cabin fever, I finally decided to test the limits of my travel capability. Interstate and international remain out of bounds. But I found I might just be able to do a road trip around parts of NSW without getting into too much trouble.
In early September I gave myself two weeks or so, packed up my backpacking and camping gear and bicycle into the car and set off to see where and how far I could grey-nomad myself. I would try to get up into the north-central part of the state and thence see how far west I could go in the available time.
On 2 Sept I had everything in order and was on the road, bound for the country town Gulgong about 4.5 hours NW of Sydney. It was a pleasant drive, wonderful to be out on parole after months in the coop. Weather, as it would be for most of the trip, was pleasant and sunny.
The Gulgong Showground provided an acceptable camping spot, where I could pitch my 1978 model A-frame (the biggest and most comfortable tent in my inventory). Gulgong is a historical town, good for an exploratory walk viewing the many 19th century buildings. A local pub in the evening served up good beer and tucker, and wi-fi was available to check my emails and research future destinations. I booked camping in Warrumbungles NP for the next two nights.
Next morning, before leaving, I took in the Gulgong Pioneer Museum, a vast complex with a comprehensive display of 19th and early 20th century artifacts; machinery, blacksmith tools (every museum has blacksmith stuff, because it's all so durable), lots of printing and medical equipment and general exhibits focused on 19th century life. I was there 2.5 hours but could have spent all day.
But before noon I was on the road again to Coonabarabran and Warrumbungles National Park, and by 15:30 was looking for a suitable campsite at Wambelong Camp. It was a basic site with toilets and picnic tables, and not much else. There were no showers but I could go downstream to wash. Other campers were there, but not enough to overcrowd for virus. I set up camp and made a dinner with my cooking gear and provisions, and settled in after dark for a quiet evening reading.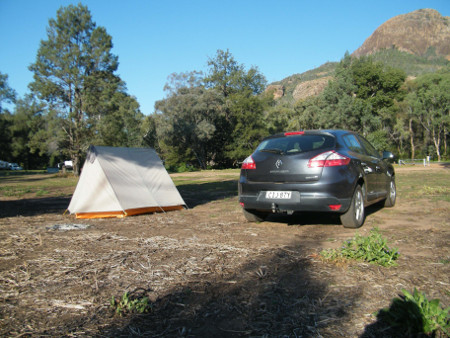 One full day was my allocation at Warrumbungles, so on 4 Sept I drove a couple of km to Pincham Camp where some of the walks start. I would do the Breadknife and Grand High Tops Circuit, a walk I don't think I'd done since the 1970's or 1980's. It was quite a climb, smooth and nearly level at first, then many steps up, and rough rocks in places. But it wasn't all that difficult and views are spectacular. About 5 hours later I was back at the park visitor centre, where I managed to get internet to check emails etc. It rained some in the evening and night, nearly the only rain I had on the whole trip.
Onward next morning to Walgett and the opal fields. The mean and slightly desolate looking Walgett held little attraction. I had no intention of visiting Lightning Ridge, having been there so many times before, but planned to re-visit Grawin and Glengarry for a couple of nights each. Spooked a family of emus, female and 6 chicks, on the way; it must be hatching/rearing season now for them.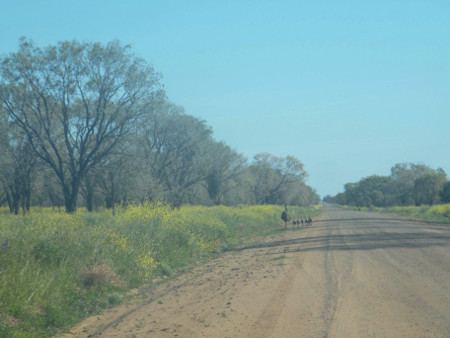 On entering the Grawin Club-in-the-Scrub, I saw a sign at the entrance saying that Sydney was a COVID hot-spot, and I wasn't allowed inside. What the Hell? The girl inside confirmed it; I could camp behind but couldn't use the club. Not interested, I went straight on to the Glengarry Hilton, about 8 km further on.
Glengarry was considerably more welcoming than Grawin. They even said, "Yeah, they're sending them all over here." I decided to spend 3 nights here. I set up my tent near the pub, on extremely hard ground, mainly to dry it out after Warrumbungles rain. It would be quite hard to sleep on, but, seeing that they had backpacker accommodation here, I booked the next two nights in a comfortable bed.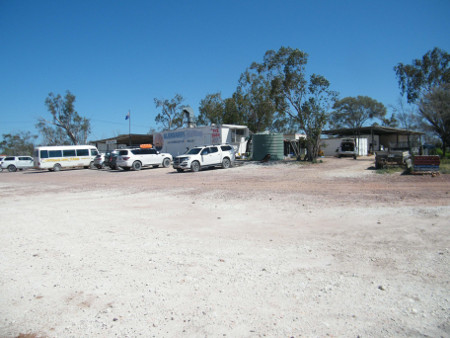 They call it the "Hilton" with some tongue-in-cheek irony; it's a typical opal-fields rough-and-ready complex with a bar, accommodation and a sometimes restaurant. Glengarry is a ramshackle conglomerate of opal mines, junked equipment and dumpy dwellings, not pretty but charming and full of character. The pub is full of locals but I don't know if they're farmers, miners or what. Had a beer in the pub and chatted with locals, made a dinner at my tent, and later another beer with an English/Australian couple for company.
On the first of my two full days in Glengarry, I spent some of the morning in the pub lounge room, where I could find power and wi-fi, check my emails, research onward destinations, make bookings and Skype. Later I got the bike out of the car and set off for some riding around the area. Roads are all unsealed here, sand or rock with some deep ruts and washboard surfaces. It was considerably warmer than Sydney, but not unbearably hot.
Just south of the pub I found a turnoff to a side road that signed a shortcut to Brewarrina ("Follow the fence line.") and set off to see if I could leave the area by that route. I rode about 8 km along and apart from being rough, it looked maybe passable. Back up toward Glengarry I went on to the loop road that went around more mines and rough buildings, past the equally rough-looking Sheepstation Inn, to an interesting-looking War Memorial, and back via the main (?) road and home to the Hilton. It was a good ride, only about 23 km but lots to see.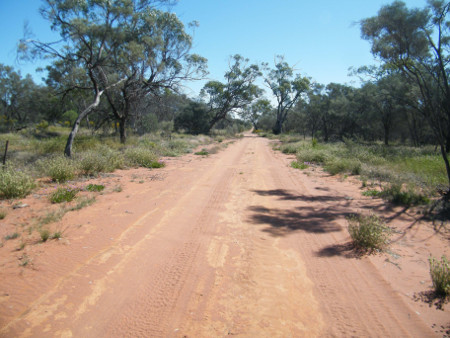 I moved into the backpackers building and enjoyed a comfortable bed and a shower for a change. In the evening I met another travelling couple and enjoyed a beer and chicken schnitzel meal with them. Slept well.
On the second day I spent more time on the computer with emails and destination research. There may be some things to see in Brewarrina next.
On the bike again, I rode back along the road Grawin to see the club again, but not go in. I looked around at as many of the side roads and tracks as I could find there, all rough like yesterday. It was fairly hot with considerable wind. In the evening I found, to my disappointment, that the food place was closed on Monday. I did however manage to have a beer and a good conversation with David the caretaker and made my own dinner later.
Off to Brewarrina on Tuesday. I did some final emails, Skype and research on Wilcannia, and started off after 10:00. I tried the "shortcut" south along the fence line. I quickly got lost though and had to retrace my steps (losing about 25 km), past Sheepstation, Grawin and Cumborah, and nearly back to Walgett. From there I headed straight west along B76 to Brewarrina in the early afternoon. The visitor centre there gave me information on the town, attractions and camping.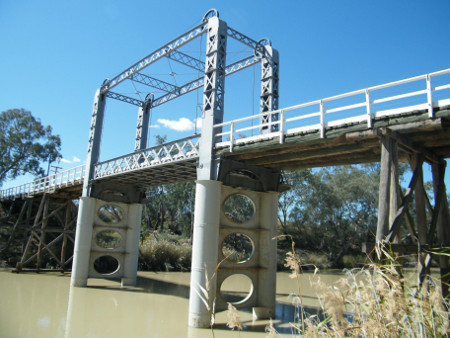 I found the Brewarrina Barwon Bridge (1889), one of only two lift span bridges left in NSW; the other being in Wilcannia. Both are now only pedestrian bridges. The other site in town, also on the Barwon, is Baiames Ngunnhu or Aboriginal fish traps, an elaborate network of rock weirs and pools to catch fish swimming upstream. At over 40,000 years of age, they are thought to be some of the oldest man-made structures on earth, though I'm sure they've undergone continual maintenance in the intervening.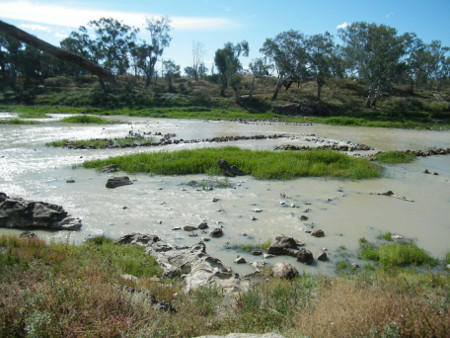 Later I headed out 6 km SE to the Four-Mile camp on the Barwon River, a nice free camp with a few other campers around. Again the ground was hard, but as the weather was so dry I could put up the tent without the fly. A good Asian dinner and beer could be found back in town at the local RSL Club. Are there ANY clubs in regional NSW that are NOT serviced by an Asian restaurant?
Next stop was Bourke, only about an hour from Brewarria, but getting well into west-central NSW. Landscape here is totally flat with trees increasingly exhibiting the mallee habit (several small trunks rather than one main trunk, an adaptation to dry/stressful conditions).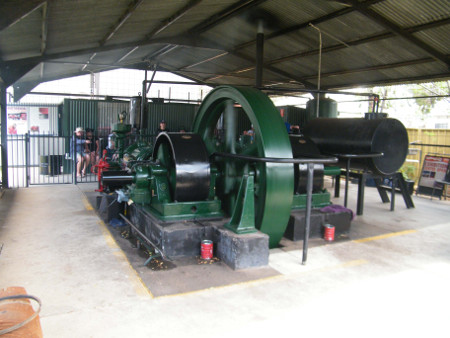 Set up camp for one night in the Mitchell Caravan Park, took the bike out of the car, cycled around to the riverfront at noon to see them start up the large historical 2-cylinder oil-burning Crossley engine. I rode along the Darling River Berm some distance and later other short rides around town and outside, getting quite hot though. Got groceries at a supermarket and made my own dinner in the camp kitchen.
Bourke is OK, but not a great deal to see here. There is a tourist office (outside at a desk because of COVID concerns), and they were helpful, but the museum had restricted entry and I didn't hang around for it.
My next stop was to be two nights in the Coach and Horses Campground, beside the Darling River in Paroo-Darling National Park. There is a fairly direct route from Bourke, via Louth and Tilpa, along an unsealed road. But a combination of advice not to try it in my car, and remembrance of the rough slightly damaging road between Menindee and Wilcannia a few years ago, led me to chicken out, and take the long route on sealed roads via Cobar and Wilcannia. And it was loooong, over 6 hours driving by the time I stopped in Wilcannia for info and advice.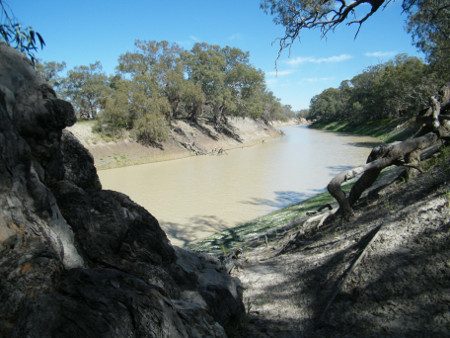 But I got to the C&H about 16:00, a pleasant primitive campground with toilets, sinks, tables, and Barbecues. As with all NP campgrounds, I'd had to book it on-line. A few others were around, mainly in caravans. As I was cooking my dinner at a bench, someone from the nearby caravan came over to warn me that a Brown Snake (one of the more aggressive and dangerous species) was heading in my direction. But by the time I got up to look, it had retired to a log near their caravan, and that's the last we heard of it.
This part of PDNP was the former Wilga sheep station. It is flat except for the riverbank, with some sparse forest, scratchy undergrowth and large open areas. There is not a lot of spectacle to see here, and no walking tracks, but good for aimless wandering. I did a couple of walks up and down the riverbank and out through the open country; pleasant enough and good "outback" atmosphere. In the time there I saw only one car/caravan come through on the unsealed road that I didn't try, and wondered if I'd have had trouble on it.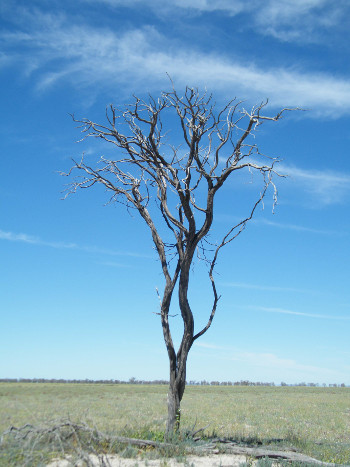 From PDNP I drove into town (Wilcannia) for a night there in the Victory Caravan Park. I had never stopped much in Wilcannia and thought it may be worth a look around.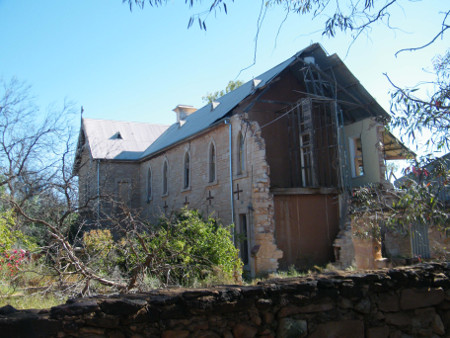 The town has a bit of a reputation for being somewhat undesirable/unsafe, unfounded I thought. It has a lot of history and classic old buildings, and the people were nice enough. I picked up a walking tour map from the tourist office/post office and had a good walk around the historic buildings dating from about 1879 to 1894, including the post office, church, convent, bank, warehouses, Athenaeum and others. The local museum was unfortunately closed, as nearly all museums seem to be out here. The 1896 lift bridge is similar to the one in Brewarrina.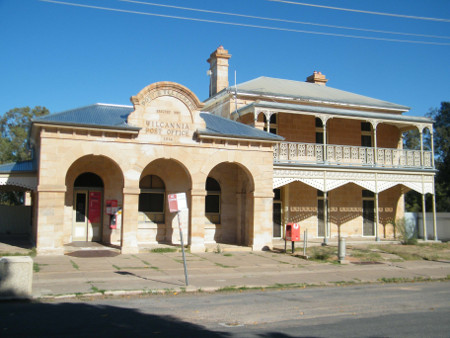 But nowhere in the town could I get internet, neither with wi-fi nor a phone signal. Even the Bowling Club, where I had a beer and a Chinese meal, couldn't provide wi-fi.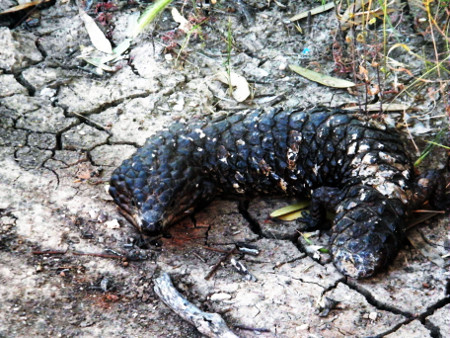 11 days into the trip, and I had intended to go as far west as Broken Hill area, but it was just too far in the time I had. I was already feeling I was doing too much driving. So I was on the Barrier Highway again heading back east. I had booked a couple of nights in Ben Hall's Campground in Weddin Mountains National Park near Grenfell. It would be more than a day's drive there, in the south-central part of the state, so I passed through Cobar and Nyngan and found a caravan park for the night in the small town Trangie. It was a pleasant campground where I could check emails and other computer work, make dinner and chat with other campers. The town centre was tomb-quiet in the evening. It was appreciably cooler here than up north and west.
A straight run through Narromine, Peak Hill, Parkes and Forbes got me into Grenfell just after noon. First stop was the regional hospital where I made contact with an old neighbour, Karen. I may try to see her and family when I get back from Weddin Mtns.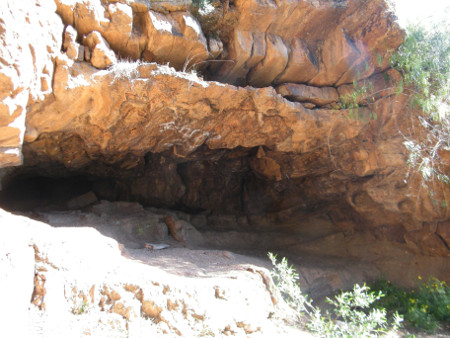 I was at Ben Halls Campground at 13:30, another pleasant campsite in scenic surroundings, with toilets, tables, information signs and a creek. After setting up camp, I did a short walk up to Ben Hall's Cave (one of several the 19th century bushranger may have used) and a longer walk up Bertha's Gully (she was the Aboriginal wife of the owner of the nearby historical Seaton's Farm). The tracks were a bit rough but easy enough, and good views west over the plains.

On the second day in WMNP I set out on the longer walk, about 4 hours return, to Euroga Lookout high up in the eastern section of the park, overlooking Grenfell and parts east. I had been there last with a club sometime in the 1980's and it was vaguely familiar. The walk was ruggedly beautiful, and the views from the lookout spectacular. Later in the afternoon I climbed up to another bluff to the north of the camp, for more great views out west.
Before returning to Grenfell next morning, I took the short walk to the early 20th century (?) Seaton's Farm on the west edge of the park. It was well worth it. The farm is something of a museum now, with substantially restored buildings, machinery and infrastructure. It's quite an amazing place, displaying some of the curious and ingenious farming methods and equipment used to survive in this marginal agricultural environment.
Back in Grenfell, I contacted Karen again and arranged to meet the family later for dinner. At the tourist office I picked up information, and set up camp, for my final night, in the local caravan park.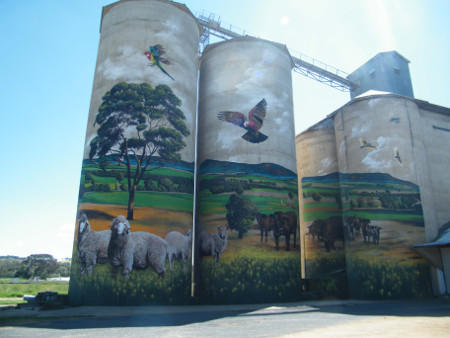 For much of the afternoon I did my walking tour around historical parts of the town. Central Grenfell has two main streets: an older narrow lane, George Street, near the creek and a larger street, Main Street, that was developed because George was too small to turn horse carts around in. I checked out the historic railway station (no longer a railway here), the large and impressive mural paintings, depicting rural scenes, on the sides of the concrete silos, and the main streets. Both George and Main had several historic edifices and architectural wonders. Because author and poet Henry Lawson was born here, lots of his birthplace stuff could be found around town.
About 18:00 I met up with Karen, husband Brett and son Ryrie. We all went out downtown to a good pub meal and drinks, and back to their place for a short visit later in the evening.
17 Sept was my last day on the road. Before heading back to Sydney I stopped at O'Brien's Hill in the east end of Grenfell. This was where the first gold in the district was discovered in I think about the 1860's. It was quite interesting to walk around the old mine workings with some equipment, including stamper battery, power wheel, diggings, tailings piles, and a 700 ft (?) mineshaft. Also nearby is the "Endemic Garden", a botanic garden planted exclusively with species native to the area.
It was about a 5-hour trip back to Sydney, arriving at 2 pm. I'd put 2776 km on the car in 15 days. Psychologically, it had been a slow start to the trip, as I didn't seem to be mentally in the mood for it at the start. But after a few days I had really started to enjoy it. I saw much that I'd seen before over the years, and much that was new to me. It was a good trip, but nice to be back.