Europe, April to June 2016
As predicted in my Tasmania by Bicycle page (see previous page), my next trip would indeed be Canada and Europe, from late February 2016. A lot has happened since the Tassie trip, not least of which was my impending marriage (after a lifetime of being single) to my partner Maggie. This radical departure from norm was the main reason I had to leave Australia in late (Canadian) winter, on 25 Feb.
The subsequent two weeks on arrival in Canada were consumed primarily in preparations for the act of terror which took place on 12 March. The following two weeks, besides being the wind-down from the bonding (bondage?) ceremony, were preparations for our European trip (I had been planning this trip for a long time previously, so hate to call it a honeymoon. In fact, one of the reasons for the marriage was to make her an "immediate family member" to allow her to drive the leased car in Europe.).
I won't bore you with the activities and events of March; this page is all about our trip to UK and Europe from 30 March to 24 June. I had not traveled in Europe since 2007, and felt like I had been neglecting my many friends and relatives there. This trip was intended mainly to re-establish contact with them, as well as meet Maggie's relatives and visit other sites and attractions along the way. Some of the trip would be by public transport, but I had arranged to lease a car for 8 weeks of European travel, a first for me and the source of not a little trepidation.
United Kingdom
So on 30 March my wife (hard to get used to that) and I left home in the dark of a Winnipeg night to catch a 07.30 flight to Toronto, where we stopped for a few hours to visit with my relatives. A 16.35 red-eye humped us the final leg to Heathrow Airport at 06.30 on 31 March. Our objective today was to make our way immediately out to West Dorset to meet friends Sylvia and Malcolm and settle into a B&B near their place.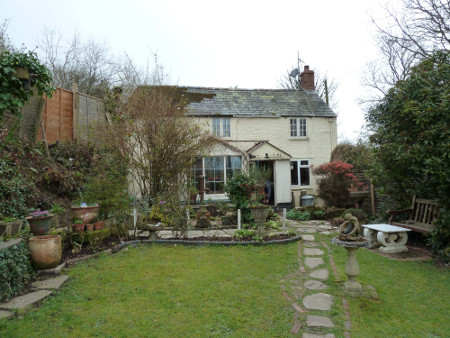 Fine weather and an easy exit from the airport made, despite jet-lag fatigue, for a glorious start to the day. Maggie and I found the Central Bus station at Heathrow, boarded a bus at 08.45 to Woking, and a train at 09.46 for Crewkerne. With one stop in Salisbury to change trains, we were in Crewkerne and meeting Sylvia before noon.
So started a whirlwind but great 4 days in West Dorset. We stayed in a beautifully rustic stone cottage B&B in Ryall, with welcoming and gracious hosts. Sylvia had pretty much the entire time planned out for us. Rain came occasionally but generally we had fine weather.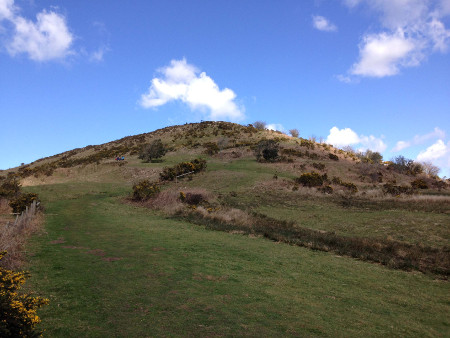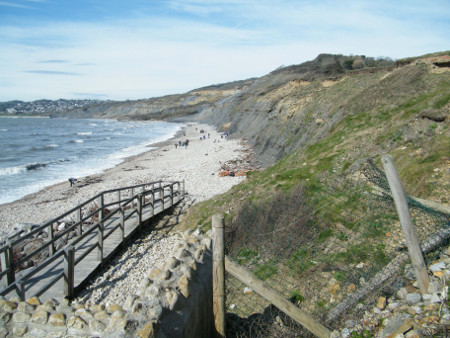 Amongst our activities, we explored the 227m hill Pilsdon Pen, the site of an ancient Saxon hill fort and even older Iron Age roundhouses. One morning Sylvia took us to the Abbotsbury Swannery near Weymouth, a Benedictine monastery in the middle ages, and now a sanctuary for a large population of mute swans.
This was followed by a fossil expedition on the Jurassic Coast at Charmouth, searching the shore with other budding archaeologists for Bellamite and Ammonite fossils.
Another day we spent walking the South West Coast Track but unfortunately sections of the track were closed due to landslides; we walked from Charmouth to Lyme Regis partly on roads and partly in bush. One evening was "An Evening of Opera", a concert by the Piccalilli Opera Company at the half-millenium-old St. Paul's Church in Wooton Fitzpayne. One wet morning we did a very interesting tour of the family foundry business in Bridport, run by Sylvia's relations.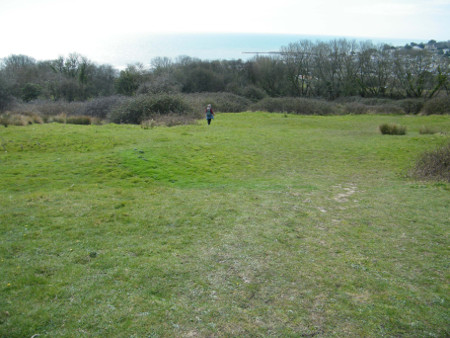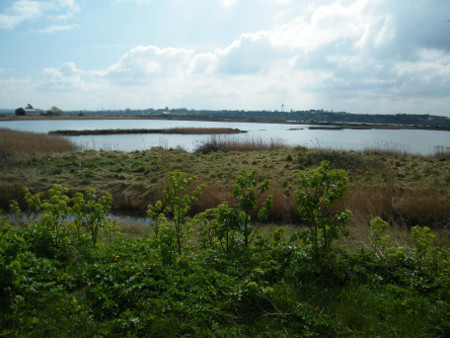 From Dorset, we boarded trains to London Waterloo Station, and thence to Rochester, where we were picked up by cousin Judith and her son Bryan, to spend a few days visiting their family in the village Cliffe near the Thames estuary.
Besides visiting, dining and chatting with Judith and Peter, we visited Chatham with its shopping areas, war memorial and the Napoleon-era Fort Amherst. In Rochester was the Norman era Rochester Castle, which I had visited in 2007 but was well worth another look. In Cliffe itself were interesting walks around the Cliffe Marshes, quarry and bird sanctuary.
France
On 9 April we were off to France. At 10.57 we boarded a train from Strood to St Pancras, and at 13.31 were on a Eurostar train to Paris. It was a pleasant enough trip, comfortable and quiet, but didn't seem as fast as the one with Tom Cruise hanging off the back of it.
From the Gare du Nord, it was an easy 3/4 hour walk to Montmartre and our small but comfortable B&B. Near the Place de Clichy, it would be handy to the sights and night life of Montmartre district and nearby neighbourhoods. We would have 5 days in Paris before picking up our car and start driving around Europe.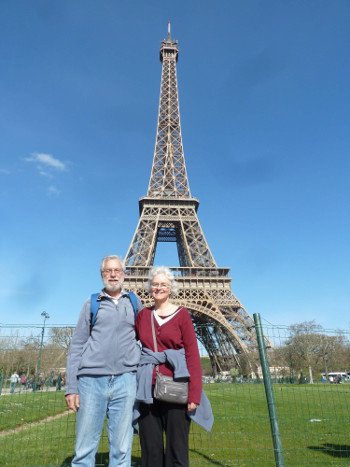 With some fine days and some rain, we managed to squeeze in a good mix of outdoor and indoor activities and sights, mostly very much on the tourist circuit. Most of our transport around the city was shanks-pony; we must not allow ourselves to get out of shape. Some of our targets included Place de la Concorde with its ornate fountains and Egyptian-style obelisk, a promenade along the Seine R, the iconic Tour Eiffel (where we climbed 116m up to the second level for panoramic vistas around the city),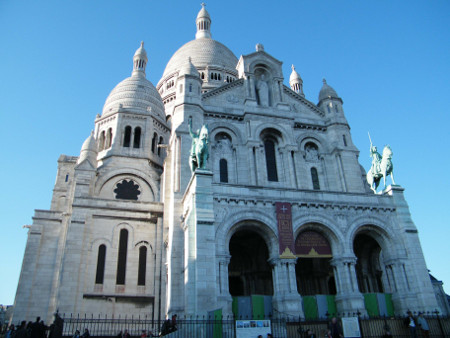 the Arc de Triomphe, Champs Elysees (sitting at a promenade table with our coffee to see and be seen), the Sacre Coeur on Montmartre Hill (more good views),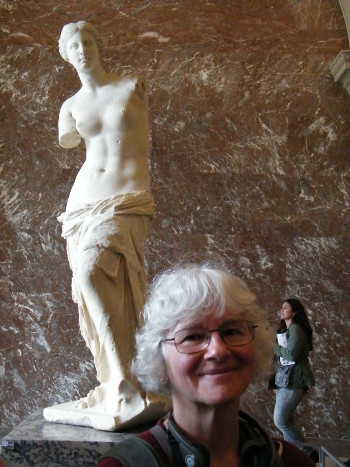 the Louvre (a magnificent museum, Mona Lisa and Venus de Milo and countless other attractions, we could spend days there), the Palais de Justice with its adjacent 1248-vintage Saint Chapelle, and of course the inimitable Cathedrale Notre-Dame de Paris (after viewing the impossibly-high interior chamber, we did another many-step climb up to the cathedral towers for more city views and to greet the numerous chimeras and gargoyles),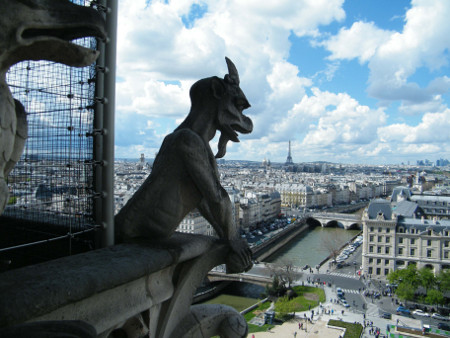 the Musee de l'Erotisme (a fun and light-hearted look at sex and eroticism) and a walk in the pleasant but unspectacular park Bois du Boulogne.
15 April was the day we would pick up our car at St Cloud in the SW of Paris. We made our way by metro but came to the wrong station, causing some delay and confusion before we finally found our car place. The car was a brand new Clio, a silver coloured diesel manual with GPS. It took some time to undergo orientation, program the GPS for our next destination, fill up with fuel, and finally get out on the road by 11.00.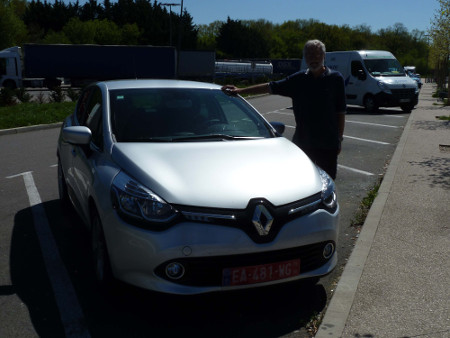 We had a long way to go on our first day driving, aiming to be at our friends' place in the Ardeche in the south of France. Following the "machine" instructions, it took most of an hour to negotiate a tortuous route and get out of Paris. But once on the A6 highway progress improved and driving was not unpleasant, weather fine and scenery boring. France has many toll roads with gates and they can be somewhat confusing to navigate, especially if I wanted to pay cash. Maggie took over part of the driving and, as we were coming into Lyon, the machine directions were confusing, causing a slight wrong turn, and forcing us to get caught in peak-hour traffic in the city centre; more delay. As I'd feared, we couldn't make it to Lablachere before dark, arriving at Christophe and Celine's place near 22.00. It had been a long, and not always easy, day, and I was glad to have survived our first driving day in Europe.
So next morning we woke in a beautiful large house in the rolling countryside, about 3 km from Lablachere and surrounded by vineyards and fields; truly an idyllic setting. Owing to previous commitments, we had only one full day here, with Christophe, Celine and children Bardane and Noria, so make the most of it. After a deliciously healthy breakfast and routine activities, Chris took us all into the Ardeche hills to a wilderness park called Paiolive Forest. Here are a number of walking tracks into the forest and along spectacularly rugged cliff tops; magnificent views from cliff edges down into the river valley below. We chose a 1.5 hour walk, first along the cliff and then into and back through virgin forest, one of the few unspoiled places left in the country. We had a great time, especially the kids, getting too close to cliff edges, enjoying views and paying games.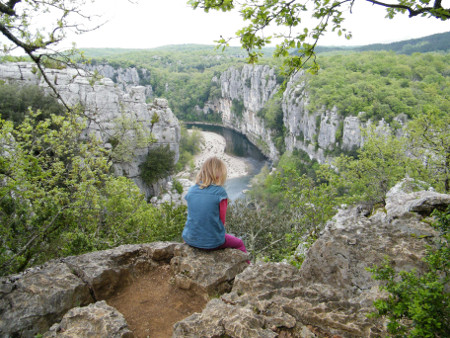 Next day, Sunday, we moved on to another B&B amongst stony fields about a km out of the village Grane in the Drome Valley in Provence. We would be two nights here. In Grane we explored walking routes around the centuries-old narrow streets and alleyways and tunnels, wonderfully intriguing. More exploring took us up past a small grassy amphitheatre to the hilltop above the town. There, in addition to expansive views of surrounding hills and mountain ranges, was a Calvary-type triage of steel crosses on the hilltop and the 14th and 15th century ruins of two stone towers, the Chateau des Poitiers.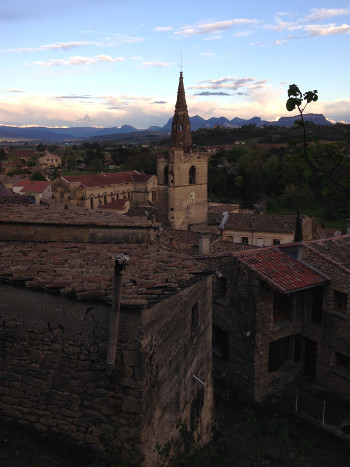 Next day we drove a few km down to the Drome River to park the car for a walk. We walked about 4 km along the river to a section that expanded into little lakes, rocky flats, meadows and forest, and then back the same way to the car, about 2.5 hours. It was a pleasant enough walk but nothing spectacular, very verdant with grass and new leaves, mostly flat, picturesque riparian scenery, and some other walkers and cyclists. Later in the day we drove to another town Crest to explore, have a good restaurant lunch, and stock up on some groceries.
Monday, next stop: Dijon, 337 km and a little over 5 hours drive. Maggie drove the whole distance, giving me a much-needed break. We easily found our B&B and met our congenial host Jade and her pet rabbit Floppy.

The first evening of our 1.5 days in this pleasant city was a pleasent walk around the nearby (to our B&B) Canal du Bourgogue and the placid and pretty Lac Chanoine Kir. The following day we explored the historic city centre. On the side of the Notre Dame Church is a small carved owl that people touch for good luck. It has become a symbol of Dijon, and one of the main attractions of the city is the self-guided "Owl Tour". Our tour took in the Notre Dame church, covered with 3 rows of false gargoyles and crowned by the "Jaquemart" statue and bell. Amongst the many historic and ornate mansions, squares, churches, palaces and towers is the Saint Benigne Cathedral with its dominating towers and polychrome roofs. In the evening we went out to dinner in an elegant restaurant, the Grille Laure.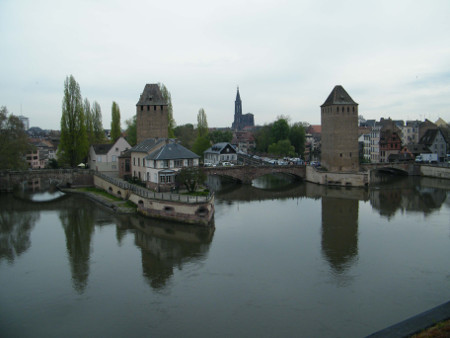 Next stop for two nights was Strasbourg in Alsace near the German border, a 5-hour, 331 km, drive from Dijon. We arrived at our B&B about 17.30 and Maggie stayed home to work on photos while I took a walk in the evening into the city centre.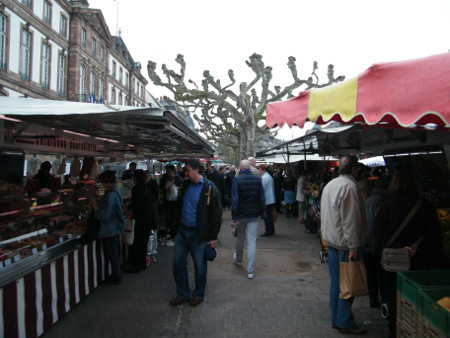 Next day we both explored the city. Strasbourg is a charming place with much beauty and history, somewhat of a Germanic character. Of particular interest were the "covered" bridges over the River Ill and side channels, most of which are no longer covered, but still attractive. Place Broglie had a crowded open-air food market with many interesting and intriguing, but expensive, delicacies. Strasbourg has yet another Cathedral Notre Dame, this one with a large and intricate Astronomical Clock.
Netherlands
It was Saturday 23 April. Our next destination, and the next friends to visit, were in the town Woerden, to the west of Utrecht in the Netherlands. It's a long drive there, out of France, through Germany and into Holland, about 7 hours and close to 600 km. We had however generally a good run, into Germany passing Karlshrue, Koblenz, Cologne, and later Nijmegen and Utrecht in Netherlands.
One of the frustrations of driving in France was that everywhere you went had road tolls, and we were pleased to have now seen the last of them for a while. After some difficulty finding the right address on our machine, we came to Guus and Anke's nice new place in Woerden at 16.20.
I had first met them on the bike in 1998, and it was great to see them again. We were made welcome, settled in, caught up on news and drinks, and went out to a humungus feed at a nearby Yugoslav restaurant.
I had only recently discovered that the GPS in the car had not come with a complete set of maps, and I would need to purchase and install maps of Eastern Europe and Scandinavia. It turned out to be a difficult, expensive and time-consuming exercise, but after several hours of trial and frustration I was able to do it and we were set for the rest of the trip.
The next afternoon our Woerden friends took us on a tour of nearby Kockengen and Breukelen, and the Woerden town centre. One of the main Woerden streets, Rijnstraat, had a series of small fountains along its centre as a nod to its location as the original Rhine River.
I promised Maggie that we would spend a bit of time in Amsterdam. So we left our car and some gear in Woerden, took the train into the city, and checked into a room at the youth hostel near the city centre for two nights.
In Maggie's words: "It's raining, no, now it's snowing, it's not snowing anymore, now it's hailing. Wait, I see the sun, oh darn, it's raining again! And it's so cold!" That pretty much sums up the weather for the full five days we spent in The Netherlands.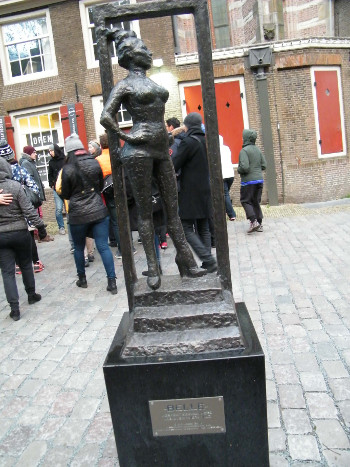 But we did brave the weather, undertake a couple of walking tours and saw many of the sights. One was a 2-hour walking tour "Red Light District Exposed". It was an interesting and informative tour, educating us on the history, geography, demography, etymology, politics, health, etc of mainly the prostitution industry in the local area. Another more general walking tour of about 3 hours took in the Dutch East India Co, Old Church, First Stock Exchange, Royal Palace, Feb 1941 strike, hidden churches, Begijnhof Convent, Anne Frank House, leaning buildings, widest bridge and smallest house, cheese tasting, and much history of Amsterdam. Maggie visited the Van Gogh Museum and I saw the Rembrandt House museum, both worthwhile in their own ways.
27 April was the nationwide, but mainly Amsterdam, Konigsdag festival. As we left the city to return to Woerden, hundreds of street stalls were being set up in anticipation of 6 or 7 figure crowds for the day. Back in Woerden, I took much of the day booking AirBnB accommodations in upcoming Czech Republic and Poland.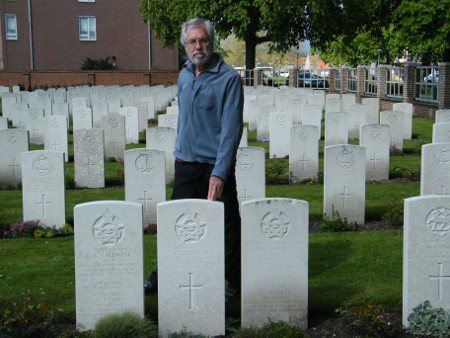 It was sad to leave our great hosts and friends Guus and Anke. But, after 5 days in Netherlands, it was time to move on into Germany and Czech. We packed up the car and were away at 09.30 on 28 April. Today we'd be at a youth hostel in Walldurn, Germany, but I plugged a waypoint into the machine to stop in the town Uden in central Netherlands. Here I visited and paid respects to Uncle Alfred in the War Cemetery.
Germany
Then on into Germany for two nights at the Walldurn Youth Hostel; this was to be a break in the too-long drive from Netherlands to the Czech Republic. It was quite a pleasant stop, allowing us to do a forest walk and explore the historic town centre.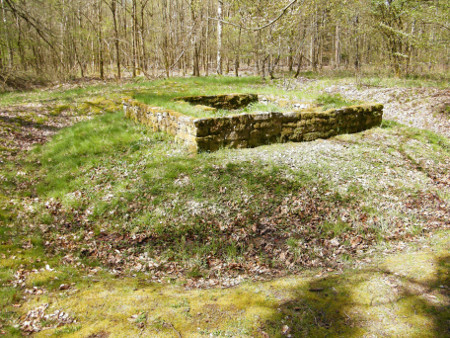 First job was to explore on foot the bush tracks up in the hills above the hostel. The bush was in spring shades of light greens and white (flowers), with leaves only starting on most trees. Walking north from a quarry through wooded country, we found many intersecting bush tracks and roads, some wet and muddy in places from recent rain. To the north we found a straight east-west track, apparently a Roman border patrol road called "Limes". We walked much of its length, coming across evidence, such as watchtower foundations, of ancient Roman presence.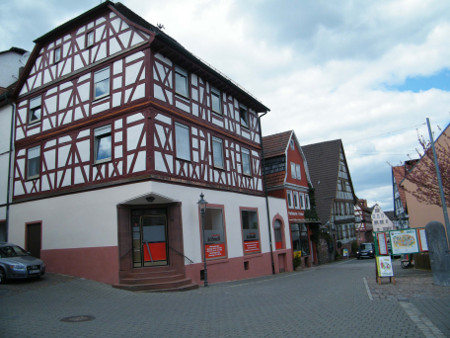 Back into town around noon, we continued into the old city centre and looked at the Basilica (famous for an old pilgrimage miracle of spilled wine turning to blood in the shape of Jesus, or something) and some of the old-style Germanic buildings. Dinner was an Asian buffet at a restaurant in the Bahnhof (railway station), good and filling.
Czech Republic
About a 4-hour drive from Walldurn had us in the spa and resort town Marianske Lazne in the western region of the Czech Republic. An interesting aspect of entering Czech, is that we have to stop and purchase a "drobnomalba" or "vignette", essentially a highway pass that all drivers must get for their cars to drive in the country.
Marianske Lazne is a nice enough town, but looking somewhat run-down in parts. Not a lot of tourists were around, either because it was early in the season, or maybe it no longer does that well. Our BnB was in an off-yellow coloured formerly opulent-looking block of units, looking much the same as most other buildings in the town. All were in varying levels of beauty or decay, with an over-all look of by-gone glory.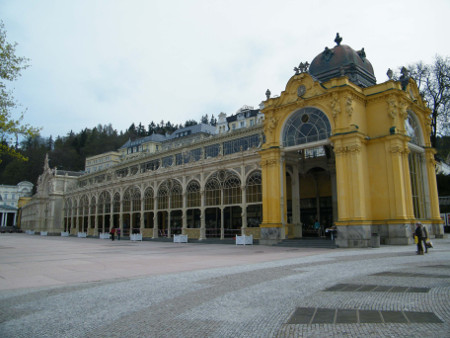 Across the creek and above our street is the "Geologicky Park" a hilly wooded area with protruding boulders. We walked up through the park to the hilltop "lookout" kiosk, but tall trees blocked most views.
In the main tourist part of town we came across the "Singing Fountain", which is choreographed to music several times per day, and with a light show in the evening.
At the Nove Lazne Hotel and Spa we enjoyed 3 hours rest and rejuvenation in the Roman Baths. It was quite good and relaxing; several swimming pools, some with water jets, saunas of varying temperatures from 50 to 90 deg, cold dip pool, steam baths and jacuzzi.
2 May, we were on to Prague. The machine programmed us around to the north via Karlovy Vary, initially up minor roads through hills and forests and a park called Slavkovsky Les. It was beautiful scenery, tall trees and bucolic farmland, but very narrow and winding in places, freaking out Maggie a bit. We had to pass through many small and crowded streets in Prague to get to our B&B. Then we took some time and stress to find a suitable parking space on a nearby street.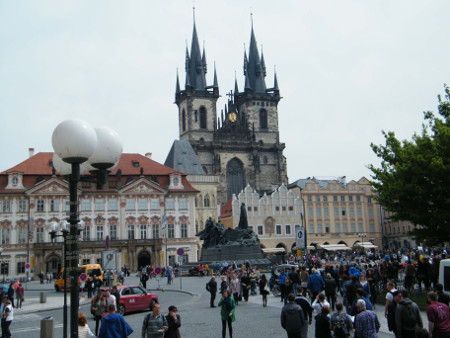 We had 3 full days in Prague, mostly walking around and sightseeing. Negative: it rained some of the time. Positive: our friends Mark and Cecily from Brisbane happened to be here the same time we were, and we were able to meet them and go out for dinner together a couple of times, both at the quirky and atmospheric "Hairy Ghost" restaurant.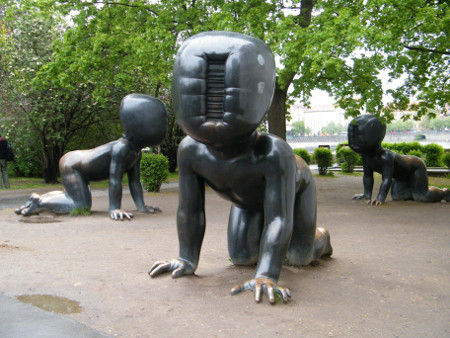 I had been to Prague in 2007 but this was Maggie's first time and we took in most of the tourist sites I had seen before. On the itinerary were Wenceslas Square (actually a long pedestrian street with touristy shops, restaurants and food stalls), Old Town Square (with its Astronomical Clock), the Vitava River and the Charles Bridge infested with hawkers, "art" stands and caricature sketchers, the Lennon Wall, St Nicholas, Prague Castle (from a distance), the Jewish quarter, the "Powder Gate" tower, and the weirdly enchanting rotating Kafka-head statue in Narodna. A good find was coffee and cake at the historic and iconic Louvre Coffee Shop, something of an experience in elegant high-brow surroundings where the likes of Albert Einstein used to tipple.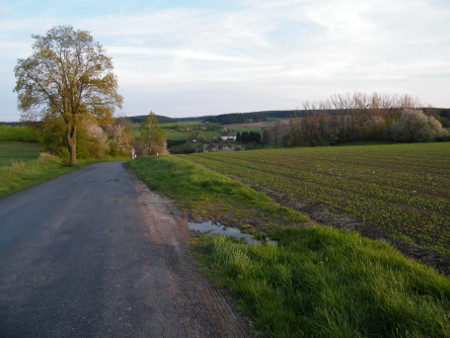 To break our long journey into Poland, we stopped for one night in the country village Vendoli in Eastern Czech. Nothing much there, but a quiet semi-rural setting where we could relax and walk along bucolic country roads. It was here though that one of the limitations of our machine caused some strife. The house numbers in the village were not in any particular order, the machine plunked us in the village centre, and we had great difficulty finding our B&B address. This would happen in a number of towns in Eastern Europe; the digital maps just don't incorporate that much detail here.
Poland
We were now about to enter the one country on this trip that I had not yet been to, so some anticipation on my part. Because it was all new to me, and because there would be so much to see and do here, Poland would be one of my favourite countries on this trip.Anticipating a long drive to our destination Zakopane, we started driving fairly early on the morning of 6 May. It was a good run through the remainder of Czech and into Poland via the city Ciezyn. Poland looked much like Czech, maybe slightly more prosperous. Despite the machine directing us along many minor roads toward Zakopane, progress was faster than the map suggested, putting us in view of the magnificent Tatras Range and into our destination before 15.00. Before moving into our B&B, we walked the 2 km into town to check it out, find the tourist office and do grocery shopping. Zakopane is very busy and touristy, but quite a nice city and situated in beautiful mountain setting.
Because we liked our situation so much here, we stayed 3 full days exploring the city and shops, cooking or eating out, walking in the Tatras Mountains and chilling out.
Our first walk was started with a 2 km steady slope up to locality Kuznice, a group of buildings and steps and the start of a cable-car, that was a gateway to the mountains. From there a cobble road and later path led further up the mountain valley. It was a steady climb, not too steep, through conifer forest and grassy meadows, with enticing views of surrounding peaks and ridges. Much of the higher slopes (above where we went) was snow-covered. At the grassy "polana" and chalet Kalatowki we could stop to rest and enjoy the vistas. Farther on up, we encountered snow on the track, making progress slightly treacherous and me wondering if my bare feet and sandals were good enough (they were).

We made it up to the second polana Kondratowa about 12.30, another grassy plain and chalet and even better views. From here we made our way farther up the valley to just below the snow-covered slope to the high ridge-top which was the border with Slovakia. The climb up to the ridge was slightly beyond our capability with our equipment, but there was a great view back down from our position. Back roughly the same way to Kuznice and then back into town and home after 14.00, we'd done nearly 5 hours walking, a good effort for our first day here.
In the evening we went out for dinner to try the local fare. I was looking to try a zurek (traditional polish soup) and golonka (grilled pork knuckle), and we found a restaurant that looked good, had these dishes, and had a traditional band playing. I got a beer, Maggie had two mulled wines, and we each had a zurek soup (very tasty). Then I ordered a golonka with large baked potato and red cabbage. Maggie just had cabbage and helped me a bit with the pork and potato and my cabbage. What a feed! I shouldn't have had the zurek first. Even with Maggie's help, I ate more meat than in a long time and still had to sneak some pork in my pocket for tomorrow. It was really good though.
On our second day, and second walk, we went to the edge of the mountain park at the ski jumps, and then west on a path along the edge of the park. Up the Bialego R valley with its swift-flowing river, we climbed slowly up through mainly spruce forest. Near the head of the river the path steepened sharply, and went into a series of zig-zags. Very steep and rocky from here, making Maggie nervous and frightened of the treachery and risk of becoming stranded if it rained. From the top of the Bialego Valley we continued west along a traverse path, climbing further on a mainly stone-step track up to a 1303 m pass, the Czerwona Przel. Here the track continued farther west, but, not to be outdone, Maggie insisted on going still higher up a side track, to the 1376m summit of the rugged peak Sarnia Skala. It was a steep rocky scramble to the top, but she made it to the mountain top; what an achievement! We took in wonderful panoramas of the higher peaks and of the city and lowlands below. Back on the traverse track, it descended sharply from the pass to the Koscielska R valley. At the intersection was a small snack bar, at which we thought we deserved a couple of bowls of hearty zurek soup and a coffee. A short side track took us up to a waterfall from which we returned straight down the valley on a rough but easy road back to the park border. Back home about 15.30 after 5.5 hours, we were quite tired but satisfied.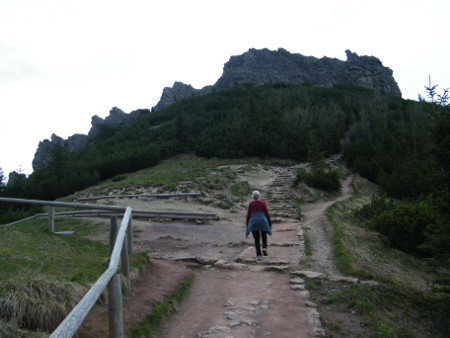 The city centre boasted a plethora of touristy restaurants, fast food, souvenir shops and stalls, but also had a small "traditional" centre, an intriguing church and quirky cemetery, and a funicular railway up to the opposite ridge top where we had good views over the town and Tatras.
From Zakopane it was a short, 2-hour or so, drive on to Krakow. We would be much too early to get into our B&B, so went directly to Wieliczka, in the south-east of Krakow, to have a look at the salt mine. Arriving at 11.30, we paid for parking and for tickets to the mine and the "tourist route" with an English guide.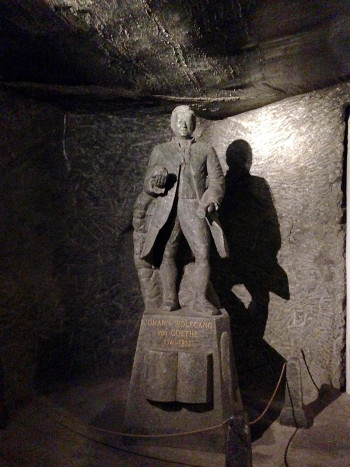 Years ago, I had received one of those "amazing photos" broadcast emails from someone, showing pictures of the interior of a salt mine, likely this one. Much had been made of how awesome the pictures were, and I'd agreed. But those pix couldn't do it justice. If anything the real mine is just so much more spectacular than any image could portray.
Our group started by entering the mine and walking down 378 steps to the first level of the mine. There are 9 levels in the mine, with about 200 km of tunnels. We would be visiting the first three levels, and only about 1 or 2 % of the chambers. We passed through about 2 km of tunnels and saw about 20 chambers. Total descent would be 800 steps and 178 metres down by the time we'd finished. Many of the walls and ceilings were salt, and we could taste the walls. Floors were salt tiles or concrete. Each chamber seemed more spectacular than the last, with the magnificent high-ceiling Cathedral being the pinnacle. In the cathedral were several intricate salt sculptures and reliefs, having taken many years, even generations, to complete. There were many salt sculptures throughout the mine, usually depicting religious figures or royalty, or celebrities like Copernicus. The guided mine tour took 2 hours. Then we were given the option of going on another tour of the underground museum, included in the ticket price, and displaying primarily exhibits of mining technology and equipment, also good. At the finish, we were on the third level, near the bottom of our visit. Luckily we did not have to climb back up; an elevator shot us straight to the top, where we could walk back to the car about 14.20.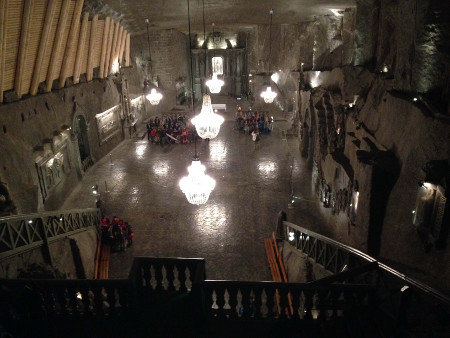 The machine again failed us on the way to our B&B, not recognising the correct address, sending us onto a narrow rocky path, and dropping us in the middle of nowhere. We had to find a board map of the area and finally found the house number a km or so away.
The following day we took a bus into the Krakow city centre for a day of exploring the usual cultural and historic sights. Dominating part of the main square is the 14th century Town Hall Tower, all that is left of the old town hall. Below it is an intriguing large bronze sculpture of a human head on its side. In another quarter of the square is the small and unimposing St Adelbert's Church, where the Saint of that name allegedly preached. Along the centre of the square is the long Renaissance-era Cloth Hall, built on the location of a medieval cloth market, and now housing endless souvenir/craft shops. Beside the square is the tall and imposing 14th century Church of St Mary. To the north of the Square, on the edge of the old town, are the 13th century St Florian's Gate (a remnant of the city walls and moat) and the 15th century Barbican (a round fortress-like structure with 3m walls and 130 gun ports). South from the Square, we came across a number of historic churches. Farther south was Wawel Hill, the site of the beginning of the royal city Krakow. Atop it is a complex of walls and massive buildings including the Royal Wawel castle (the seat of the Polish monarchs) and the Wawel Cathedral of St Waclaw.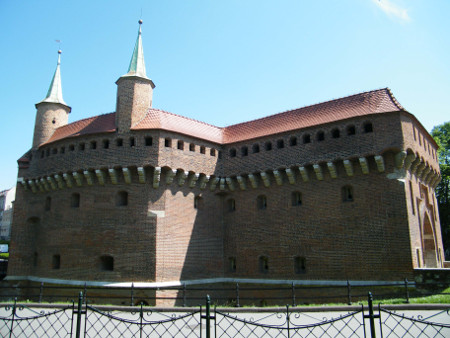 Back home later, we tried to relax on a nearby beach, but we've been noticing a chronic feeling of too much to do and not enough time to do it all. We're enjoying the trip, but still not totally used to the pace.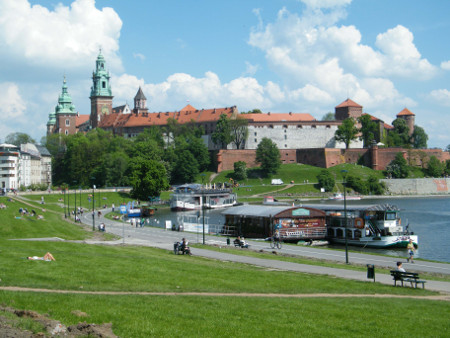 Next day, 12 May, it was on to Warsaw to see and stay with our friend Jacek. In general, but especially on the Krakow-Warsaw stretch, I found it hard to understand the inscrutably odd speed limit changes that no-one seems to pay attention to. They would change to 70kph or 50kph suddenly, for no apparent reason, then back to higher speed just as fast. Vehicles totally ignored them. We did a stretch or two on toll-ways, and some cars, particularly Mercs, Lexuses (Lexi?), Audis and Porsches, howled along them. One Beemer came up behind us out of nowhere as we were overtaking, I sped up to get back in the right lane, and he shot past doing at least 160kph.

It's always good to see old friends, and especially so with Jacek, whom I'd met in China several years ago. Subject to his work schedule, he spent much of the next four days with us, took us out to dinners and showed us around Warsaw and neighbouring localities. Warsaw had been nearly totally destroyed in 1944, and much has been rebuilt as closely as possible to original designs. It is quite a beautiful and well-maintained city. There are a surprisingly large number of palaces, I think more accurately called large mansions, once homes to the nobility and now used by government ministries etc. Part of the centre is divided between an "Old City" and a slightly less old "New City". There are simply far too many sites and structures to describe them all here.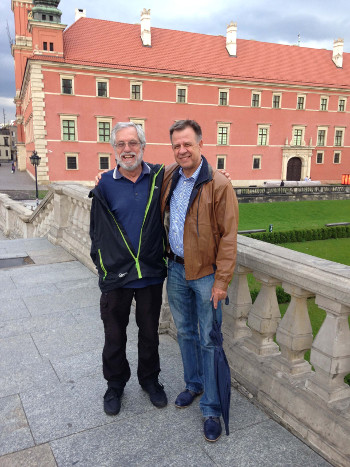 One activity Maggie and I did while Jacek worked was the Museum of the Warsaw Uprising, a sombre dark study of the 1944 Warsaw uprising. The historical event was studied and dissected through photographs, film clips and artefacts. We received far more detail than we had time or absorptive capacity, quite a heavy experience as these types of museums usually are. The whole experience took about 3 hours.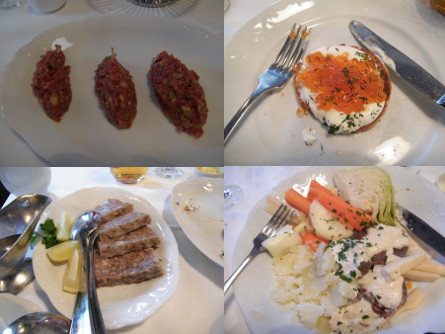 One evening Jacek took us to a totally awesome restaurant, the U Kuchmarzcy Arsenale. We had caviar, steak tartare, and jellied meat entrees, veal dishes and pot-a-feu mains and drinks, all prepared, partly at the table, with great flair and pizzazz. Both Maggie and I were apprehensive about steak tartare, but Jacek insisted, and we were amazed how good it was. It was all a real culinary experience. It must be one of the top restaurants in Warsaw, but I think still far cheaper than in a similar restaurant in Sydney.
A very good day trip with Jacek, about 2 hours drive south-south-east from Warsaw, was to the formerly predominantly Jewish community Kazimierz.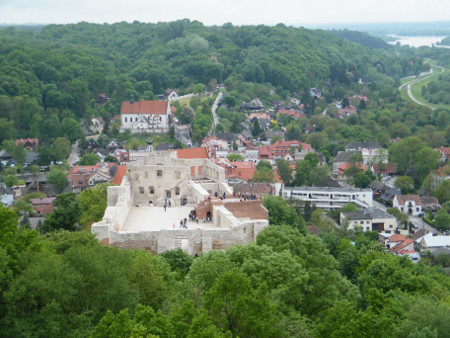 This is a charming little town on the banks of the Vistula, popular with Polish tourists, with a busy central square, ornate old houses and ruins of a castle on the hill above. Bakeries and stalls all had their bread/baguettes baked in an iconic stylised shape of a rooster. The castle was built in the 14th century by King Casimir III the Great. Only a small part, with a plaza, rooms and ramparts remain here, but yielding good views over the town, river and surrounds. A short distance farther up is an even older (~year 1300) round stone tower with steps to the top and more views.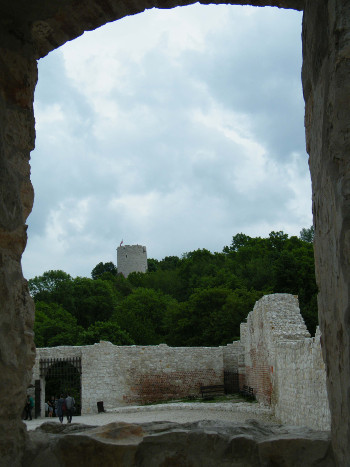 Another day Jacek took us to the north of Warsaw. The small village ZelaZowa Wola is home to Frederic Chopin's childhood home, now a museum and garden. The Chopin House and Gardens were beautifully restored. Being a Sunday, pianists were performing excellent piano recitals during the day; we could hear them all around the garden from strategically placed speakers.
Next stop, in the west of Poland about 360 km from Warsaw, was the historic city Wrocklaw. We had not filled our fuel tank since Czech, but there was not a filling station at all for hundreds of km on that motorway. We made it to Wroclaw and filled up, having gone 1200 km on a single tank of fuel!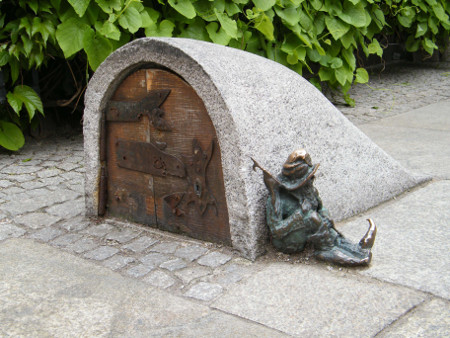 Wroclaw is a nice enough city, but seems a bit more shoddy and run-down in parts that Krakow or Warsaw. It has the usual number of squares and churches and universities, but also a picturesque river-front and a couple of islands in the river with bridges, parks and religious edifices. One claim to fame is that the city centre has scattered all around many minuscule, only a foot or so high, bronze dwarf sculptures in all manner of poses and activities, often related to the nature of the adjacent building or commercial enterprise. For example, next to a bank is a statue of a dwarf using an ATM. Some of the sites we saw or visited in the centre include the Wroclaw Opera Theatre, the cathedral-looking City Hall, the large typically-crowded Market Square, the smaller "Salt Square" (now a flower market), the St Elizabeth Church (frequented by rich merchants), the "Old Shambles" a pleasant gallery area that was once a butchers' district, Wroclaw University, and the very beautiful and ornate Baroque Church of the Blessed Name of Jesus.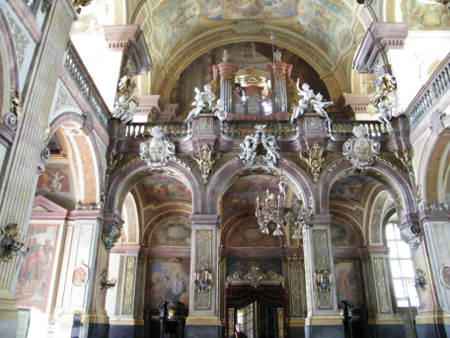 In the Odra River is a number of small islands. Piasek (Sand) Island is a popular promenade spot and contains the St Mary Church and a monument to the communist-era Cardinal Kominek. Ostrow Tumski contains the Church of the Holy Cross started in 1288, and the St John the Baptist Cathedral, started in 1244 and Wroclaw's first Gothic structure.
Germany (again)
On 19 May, from Poland it was an easy and uneventful 587 km drive to Hamburg and the suburb Ellerbeck. Here is Maggie's cousin Dieter Hermann and his wife Helga. Maggie had not seen Dieter since she was 6, and knows few relatives, so it was great to meet a "new" one. We settled in to our salubrious domain in their elegant house and enjoyed their unsurpassed hospitality.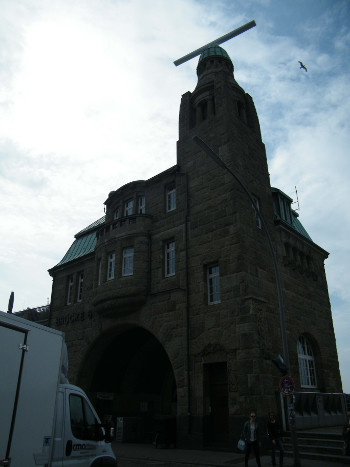 On our full day in Hamburg, Dieter drove us into town to the Elbe River foreshore and we explored along the river front streets, shops and public buildings. Hamburg struck me as largely an ordinary city, could have been anywhere. There is a very large and active shipping port, but much of the area we visited has, like that in many other cities, been gentrified and touristified, with restaurants, plazas and souvenir shops. Of particular interest was a large round building, built in the early 1900's, housing stairways and lifts down to a lower level, from which a tunnel leads under the river to the other side. Downstream of the centre was a suburb with small streets, a very pretty wooded park, and a river front district famed for its "old fishermans' houses" now gentrified and probably high-end status.
Denmark
On 21 May it was a bit frustrating to get out of Germany, first having many hassles trying to fill up with fuel at a very crowded, expensive and user-unfriendly filling station near the Danish border, then stalling in an unexplained kms-long queue at the border. Once in Denmark though, it was an easy run up through Jutland, past Kolding, into Fyn. I had biked here in 1998 and it was interesting to see it all again from a car.
In Odense were my old friends Jens and Vini to meet us and put us up for a couple of days. I had first met Jens in South Africa, and as usual, great to meet them again. Jens is an artist and has a house full of his works; paintings and etchings, some really good creations. Our stay here included a tour of Jens' art studio in the city centre, and a very interesting and educational art exhibition.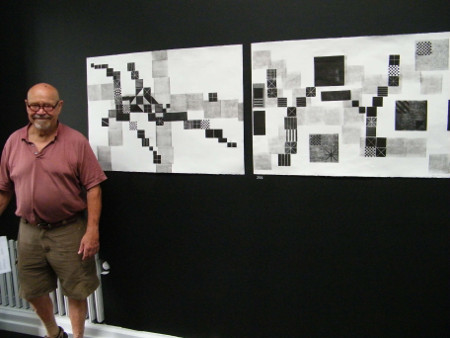 Odense is a quiet relaxed sort of place, pleasant but not very distinctive or exciting. Despite being, I think, Denmark's second largest city, it has something of an easy-going small-town feel about it. The main attractions were the Hans Christian Anderson House museum and HCA's childhood home. Both museums gave us a good insight into this iconic 19th century Danish writer's life, times and works.
Sweden
It's not much more than 4 hours to our next stop, the Vallasens Youth Hostel in Vaxtorp, Sweden, where we had booked for 2 nights. Through Odense and onto the highway, it didn't take long to get past Nyborg and onto the long curved bridge between Fyn and Sealand. I had been on this bridge before, while cycling in 1997, but only on the train at that time. It looked like it may have been a fascinating view, but it was mostly clouded in with minimal visibility. The crossing from Sealand to Sweden was first through a long tunnel and thence over a bridge. Weather had cleared and we had good views. Into Sweden, we passed Malmo and the Lund turn-offs, and on through highways and countryside very similar to Denmark's. Near our destination Vaxtorp it became less pastoral and more wooded.
We arrived at the hostel at 14.00, a quiet relaxing place in a beautiful setting, a good place to unwind. Staying here two nights, we enjoyed peaceful walks in the nearby forests and open countryside.

The first was mainly a loop walk, a few km on small roads and tracks, through mostly flat conifer and birch forest. Nothing really exciting or spectacular, but pleasant and pretty, and the weather was beautiful.
Next day was a slightly longer track of about 4.5 hours, taking us farther out to the south of the hostel, through pine/birch forest, brown newly logged areas, across and along creeks, and over roads and farmland. It was all fairly easy walking and pretty scenery. We hadn't seen any wildlife to speak of up to now, but did spot an eel in the creek under a bridge.
On leaving the hostel and making our way to Norway, it was an easy drive north through Sweden, mostly along motorways. Traffic seemed a bit more relaxed than in previous countries, not so many speeding drivers, a more steady pace, and fewer bottlenecks.
Norway
So on 26 May we passed easily into Norway with no stops, just plenty of warnings about automatic road tolls; don't know what it means or how to react. Would we be in trouble for non-payment? I was later told not to worry about it, as we would be unlikely to be charged. In Oslo we checked in for two nights at the Haraldsheimveien Youth Hostel, giving us one full day here. Our day in Oslo was rather full; there's a lot to see and do there.
Oslo is a pleasant city of about 600,000 people, clean and amiable and easy to get around in. I had been here nearly ten years ago, but had not had much time then to see the city centre. Much of it is walkable. Weather was perfect, fair and not too hot.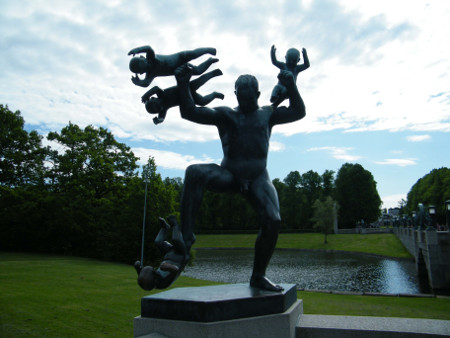 First stop was the Frogner Park, the large park designed by Gustav Vigeland, and displaying hundreds of his sculpture works in granite and bronze, primarily nudes in various poses. I had seen it before, but Maggie had not, and was quite impressed.
Then the Viking Ships Museum, a small but very interesting museum virtually built around three Viking ships and related artefacts. The 3 ships (two restored to good shape and the third little more than a hulk) were burial ships, buried with their deceased nobility in peat, hence well preserved, about 1100 years ago.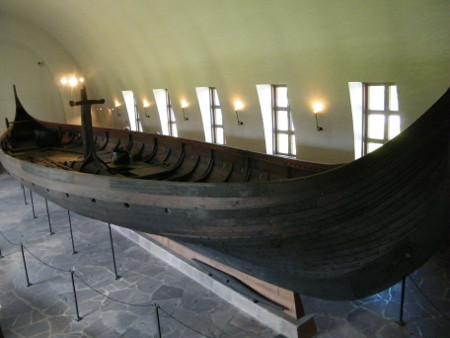 Past the City Hall and through the centre, we found our way to Kristian IV's Gate and the "Magic Ice Bar". It is an indoor bar area, temperature -5 deg, with walls and interior fittings all sculpted of ice, and ice sculptures of various themes done by a prominent artist. We paid Kr160 each (about AUD25) to get in, put on an insulated poncho and gloves, look around the bar and sculptures, and enjoy a complimentary wine cocktail out of an ice glass. It's not as big as we expected, and we didn't feel like hanging around for a long time. But it's one of those things that we can say "Well, we've done it".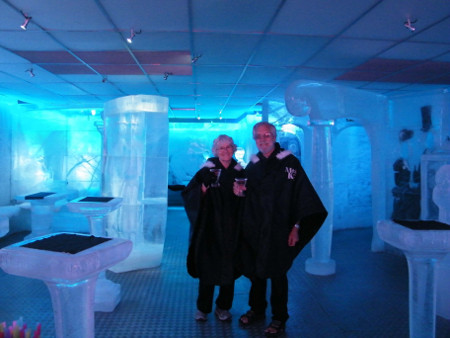 On the waterfront is the newish Opera Theatre, a massive white angular structure, designed to resemble an iceberg or something. We walked up the sloped roof to the top for great views over the hills, harbour and city.

In the evening we visited uncle Kaare and Erik in the Tonsenhagen district. Not having seen each other since 2007, it was good to see them again. Unfortunately aunt Ase was too elderly to be there. But it was a good evening, and great dinner with Kaare and Erik.
After Oslo, it was an easy run up to Rena in Central Norway, where I had also been in 2007, to see cousin Lillian and her family. We had 3 or 4 days here, and a great time with Lillian, Espen and their 3 boys Alfred, Arthur and Anders. Rena is a pretty town surrounded by hills and conifer forest, with a ski-jump visible across the valley from the house. We did walks together around town and surrounding hills and rivers, attended Anders' soccer matches, had great wholesome family meals, and did our own walks and activities when our hosts were at work and school. Maggie and I also took the opportunity to enjoy some welcome rest and relaxation after our heavy schedule.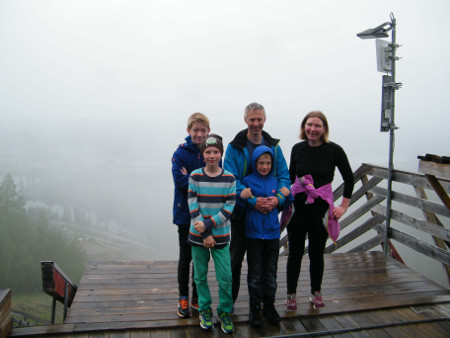 It was 1 June, and we had achieved the farthest extent of our Europe trip; now time to start back. Rather than retrace our steps through Sweden, we had booked a ferry between Langesund (Norway) and Hirtsals (Denmark), and a B&B in Skagen Denmark. We said our "ha det"s and were on our way at 07.45. Back down via Elverum, Hamar, Lake Mjosa and Oslo, we reached the Fjord Line Ferry terminal about 12.50, and waited an hour or two (in the car, not much facilities here) to drive onto the ferry. The ferry departed at 14.45 for a 4.5 hour crossing to Denmark. The ferry trip was OK, but not very exciting, makes me wonder how I'll go on an ocean cruise later in the year.
Denmark, Germany and Netherlands (again)
Off the ferry at Hirtsals at 19.15, we drove along tranquil country roads through flat farmland and bush, and up the east coast to the small dock/tourist town Skagen. After checking in to our B&B for 2 nights, I took a short walk around the town. Skagen is or has been something of an artists' community, and it shows in the atmosphere and artwork.
On our full day in Skagen, our main activity was to head to the foreshore, find the start of the beach at the north end of town, and walk north a few km to the tip of the land. Near the start, back from the beach, is the Vippefyret, a bascule light looking something like a giant catapult, and used in its time as an ad-hoc shipping light. Farther along the beach are the remains of several imposing concrete WWII German bunkers and gun emplacements. Also at one point, dominating the shoreline, is the 46 m 1858-vintage "Grey Lighthouse". Nearby is the locality Grenen, advertised as the farthest north point in Denmark, with a parking lot, facilities and a tourist/gift shop. We could walk a further 1.5 km along the beach, past more bunkers, to the very tip of the peninsula. Here the Skaggerak to the west meets the Kattegat to the east and one can theoretically "put a foot in both seas".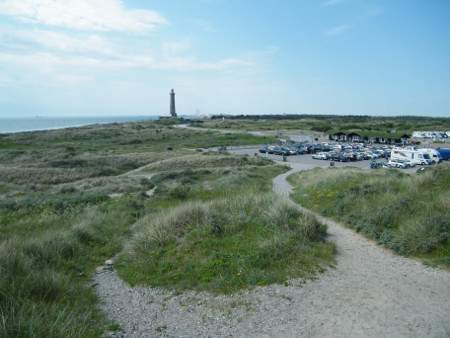 Back in town, near a municipal plant, was a tall white tower with what looked like an enormous brown hand grenade atop. There was no direct access to it and no interpretive sign, but we later discovered that it was a sculpture meant to represent a pineapple (??).
Back in Odense with Jens and Vini, we had another couple of relaxing days resting, making bookings and other arrangements for later parts of our trip, short walks around the neighbourhood, nice dinners, and helping out with gardening.
Back in Hamburg for one night with Dieter and Helga, Maggie was able to meet another, more distant, relative, second cousin Ingrid and her husband Berndt, for a fun evening of drinks, dinner and lively conversation.
From Hamburg we returned to Woerden, Netherlands for two more nights with Guus and Anke. This was largely a catch-up/housekeeping stay, making more onward bookings, getting haircuts by Anke, cleaning the car in preparation for the Paris drop-off, repairing my sandals that were coming apart, and pleasant drinks dinners and socialising.
France (again)
8 June, and the last big drive today. We are to drop the car at St Cloud tomorrow, but do not want to go into Paris yet today. So we had booked a B&B in Reims for today, to put us on the Paris doorstep tomorrow morning. From Woerden we passed Breda, into Belgium, past Antwerp and Brussels, past Mons (where I'd been on the bike in 1998), into France, past Saint Quentin, and into Reims, and into our B&B about 16.45.
As we had the evening free, we took a walk the 2 km or so into the Reims city centre. It seems a fairly routine city, with the usual pizza/kebab restaurants, coffee shops, bars, restaurant-table-plazas, and a few historical buildings and statues. There is a grand ornate cathedral, but it is badly crumbling in parts and is undergoing extensive restorations.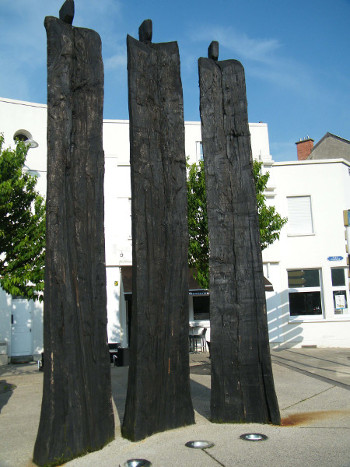 Next day was the last day with the car. We had only a short drive to Paris. It was generally a good run from Reims, slightly hazy weather. I found it curious that we were meant to be in the Champagne district, but I failed to find a single grapevine anywhere. As we got near Paris, the machine sent us off the motorway and onto small roads and streets through slow heavy traffic through the city.
We finally came to the car place at St Cloud at 11.50, slightly late. The car people took the car straight back without any ceremony, delay or surcharges, hardly even an inspection, and it was gone before we new it. That last bit of slow crowded driving had made me sick of driving and glad to finally dump the car. But it was really good to have had the car; we may not have been able to go all those places without it. We were pleased to have driven over 8500 km without any trouble or dents or prangs.
So back on shanks-pony again. Packs on backs, from the Porte de St Cloud Metro station we rode the metro via Miromesnil to Place de Clichy and walked to our pre-booked Plug Inn Hostel near Rue des Abbesses. We checked in and got a nice 4th floor room with attached bath. Only one night here; we would fly out to Dublin at 18.00 on the following day. In the evening I enjoyed leaning out the window to watch the passing parade on our street and nearby Abbesses, quite the gay cafe-society Parisian cliche.
In the morning we found a nearby patisserie for Maggie to have a coffee and try the famous macaroons; good but far too sweet for regular fare. After hanging around the hostel until 14.00, we slowly made our way over to Gare du Nord to catch a train to De Gaulle Airport. The train station must have had some industrial action, as it was chaotic and difficult to find where to go and to get train tickets. Also there were crowds of noisy, mainly Irish, soccer fans arriving for the Paris finals. Anyway we managed to make our way through, get to the airport, check in, and board our Aer Lingus Flight to Dublin just after 18.00.
Ireland
There was Alma to meet us; wonderful; terrific to see her again after about 5 years. She drove us through intermittent rain to her aunt Mora's place "Aisling" in Lucan where I'd been years ago. Mora, at 89, welcomed us, still amazingly in perfect shape and lucidity at her age. She had a nice dinner ready for us of salmon, potatoes and boiled vegetables; perfect. We talked a while to catch up on news before I retired from fatigue.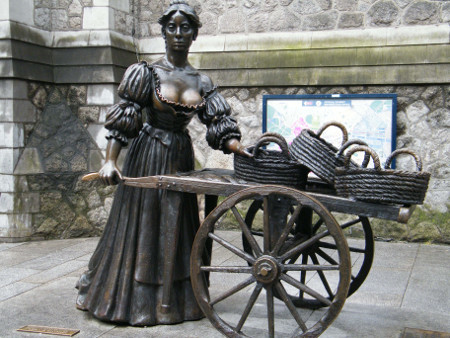 We were coming into a weekend so Alma could spend some time with us. It rained frequently while we were there, but not enough to stop us.
On Saturday morning we took in the National Botanic Gardens. The NBG was a pretty, not huge, park with a large variety of plants from around the world. We walked pleasant paths around most of the circumference of the park, and looked through the extensive glasshouses housing exotic flora. Lunch was at the Cornucopia Vegetarian Restaurant in Temple Bar, followed by a short walking tour around that part of the city.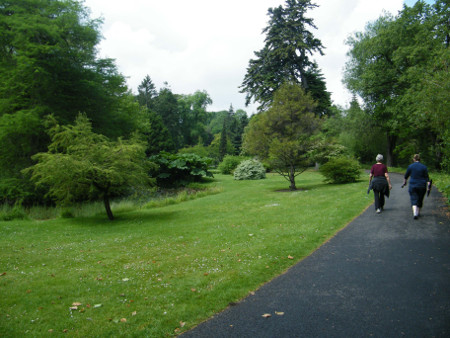 On Sunday we had booked an 11.30 tour of the Guinness Storehouse; well you have to do that in Dublin don't you? It was not like most other "plant tours" in that we don't actually see any of the active production facilities. It's rather part museum, part educational displays of their production process, part interactive draft pulling and tasting, and lots of advertising and promotion. The set route over 5 or 6 levels of the building took about 2 hours. I found it quite worthwhile despite not seeing actual production. We of course learned how to pour the "perfect" pint of stout, enjoy it and get our certificates.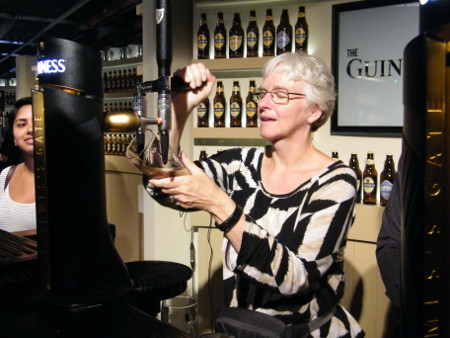 Lunch was at a Mexican restaurant, followed by a walk around up-scale shopping streets and a look at the large stone Dublin Castle.
In the evening the four of us went for a pub night at Courtney's Bar & Lounge in Lucan Village. It was a fabulous evening. We started about 20.00 and had only intended to be there an hour or so, but had such a good time that we didn't get away until about 23.00. Getting tired of the heavy stout, I found a couple of pints of nice Guinness Hop House Lager.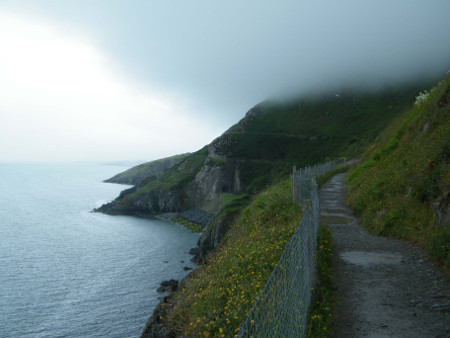 On our last day in Dublin, I decided I'd do the Bray - Greystones coast walk. It was a pleasant mildly scenic train ride down the coast stopping at several stations, and getting to Bray just after 10.00. The Bray to Greystones walk is a 6 km, fairly level walk along the coastline, running a short distance above the shore, and roughly close to the railway line. It is walled where necessary, so not at all precarious. Good views up and down the coast, over the railway lines and tunnels, and over the bay to the Houth Peninsula. It rained lightly a couple of times, and the path had challenging puddles here and there, but not drenching weather. Generally a pleasant 2-hour walk.
United Kingdom (again)
We had booked a 14 June 08.05 Irish Ferry passage from Dublin to Holyhead Wales, and subsequent train tickets to Crewkerne via London. So it would be a pretty full travel day. We were up at 06.00 on the day and Alma drove us through the rough wharf district to the ferry terminal by 07.00.
Departed on time, we found our space in one of the lounges, settled in for the crossing, and used up the last of our Euros for breakfast, coffee and snacks.
Ariving Holyhead at 11.30, we found our luggage, walked from the ferry terminal to the train station, sorted out our tickets, and were on the train at 12.52. It would pass through Chester, Crewe, Milton Keynes and to Euston in London. On the journey I was impressed with the vast tidal flats on the north Wales coast, and with the large number of canals and pleasure houseboats in the interior of England. From Euston we took a tube to Waterloo Station, had a fast food dinner, and boarded our train to Woking, Salisbury and Crewkerne. There was Sylvia to pick us up and drop us directly at our Stone Cottage B&B in Ryall and into the welcoming arms of Rob & Ruth. It was 21.30 and had been a long day of travel, but pleasant, relaxing and not at all stressful. Still, nice to be here.
Wet weather continued off and on for the next 3 days we were here, slightly limiting activities. But we did manage a few pleasant activities and good meals at home or in restaurants, or simply helping out with chores around Sylvia's farm.
The Dorset County Museum provided a well-spent couple of hours, a good informative museum with exhibits and history from neolithic through Roman times to the present day, as well as archaeology etc.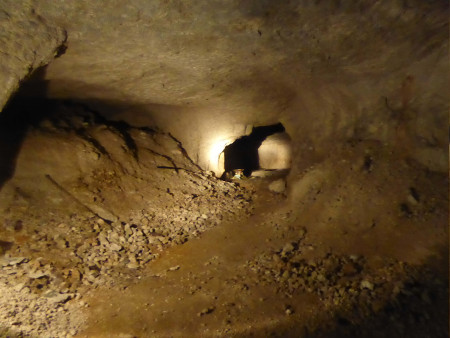 One day we took a trip with another friend Katherine out to the village Beer a half-hour or so drive to the west in Somerset. This is the location of the famous Beer Caves, a labyrinth of cave quarries a mile or so inland from the coast. It contains the highly sought-after Beer Stone, a sandstone/clay/limestone material prized for its creamy colour, easy carving and durability. It had been worked from Roman times to the 20th century, and used in churches and public buildings throughout southern England. The one-hour guided tour took us through the history and working conditions of the quarry, with entertaining facts and storytelling throughout. What a great morning activity! After lunch it was dry enough for lunch at Branscombe and a walk along the coastal path (part of the South West Coast Track) up over the headland, part way to Beer and return. Quite beautiful scenery up and down the coast and out to sea.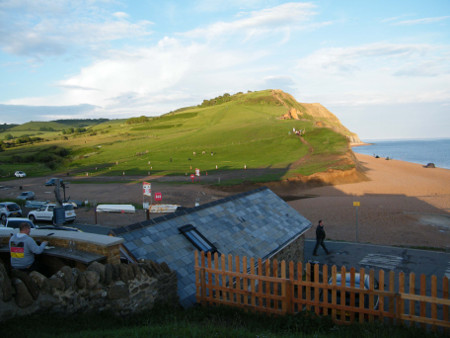 18 June, and we were on the train back to Rochester. At 13.50 cousin Judith and her son Brian met us at Rochester station and drove us back to their place at Cliffe. As we had been here before, we had no major activities, contenting ourselves for the next two days with talking with our hosts, taking short walks around the Cliffe area, and cooking. I made a large batch of perogy dumplings and, using rhubarb donated by Sylvia, rhubarb crumbles and pies. Of local interest was the middle-ages Cliffe church, displaying an interesting building style of layers of squared flint between ragstone blocks.
We were coming very close, maybe thankfully so, to the end of our trip. Our flight back to Canada was on 24 June at 12.05. Maggie had wanted to spend a couple of days in London, so on the morning of 21 June we bade our farewells and gratitudes to Judith, Peter and Brian, and boarded a train from Strood to St Pancras. Thence it was only a short walk past Kings Cross Station to our pre-booked Keystone House Hostel, where we checked in to a small room for 3 nights.
As it wasn't raining today, we took the opportunity to use the afternoon for a trip out to Kew Gardens, in Richmond out in the SW of London. We took the tube to Kew Gardens Station and were in the Gardens at 12.30 (not bad going for time having come all the way from Cliffe this morning).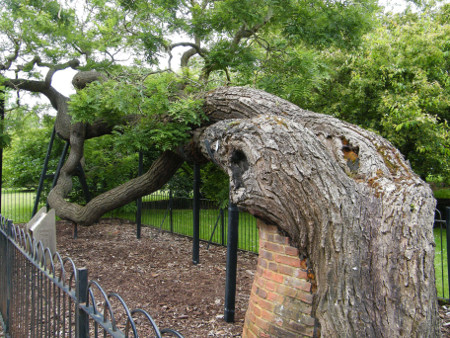 Kew Gardens, perhaps the world's premiere botanic garden, is not cheap, but vast and full of attractions making it a worthwhile afternoon. We spent about 5 hours walking across and around it, viewing a stunning array of plants from all around the world. We could have stayed longer if it wasn't getting close to closing and our legs weren't giving out. There were many highlights. The "beehive" is an artistically unique metal lattice sculpture loosely resembling a beehive and animated by LED lights and a sound-scape synchronised to the activity of a nearby actual hive of bees. A treetop walk took us up many steps to an elevated walkway, interesting but not quite high enough to overlook surrounding tall trees and view the park. The impressively-scaled Palm House is home to a variety of palms and other exotic plants from tropical and sub-tropical regions of the world, including Australia. Many of the plants, especially the food ones, have educational interpretive signs. Other sights in the park included the Japanese Garden and Pagoda, Rose gardens, another glass house with orchids etc, many old or unique trees, and a redwood forest.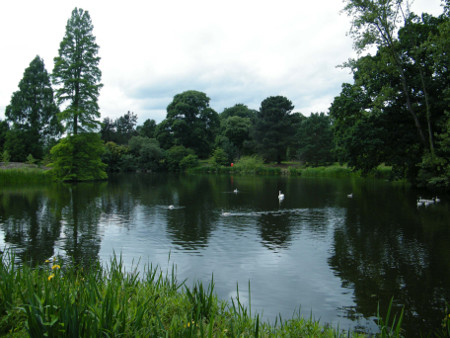 Next day we did a tube and walking tour of parts of London, starting with Leicester Square, through Chinatown, Picadilly Circus, Soho, Trafalgar Square (partly fenced off), St Martin-in-the-Fields (listened to some choir practice), the Embankment, along the Thames north bank, across the Millennium pedestrian bridge to the south side, past the Tate Gallery and much-gentrified districts of Southwark, the restored and thriving up-scale Borough Market under London Bridge, Tower Bridge, and to the Tower Hill tube station for a train to Kings Cross. What a full and eventful 6-hour walk!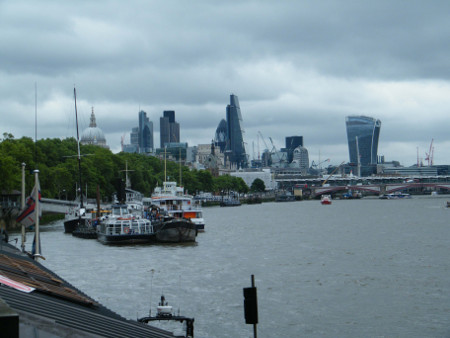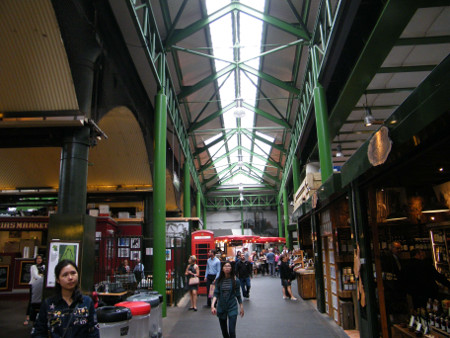 Our final full day was a bit wet, and we didn't really need to be together that much. So Maggie arranged a guided tour of the Tower of London, and I wandered over to spend about 4 hours in the British Museum. The museum is meant to be more educational than entertaining, but there is so much to see, and it is so interesting, that I only left when my legs were starting to protest. One of the more memorable exhibits was the quirky African art section with several Mozambique sculptures made from cut-up firearms.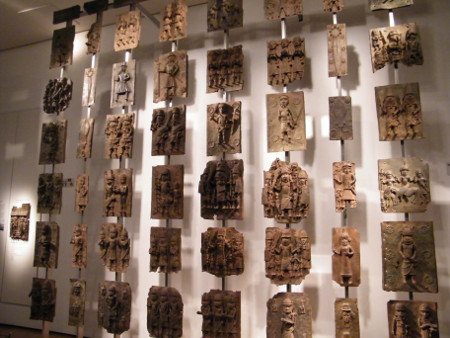 24 June was the day we leave for Winnipeg. The Brexit vote was yesterday, and we woke up today to a shocked and bewildered "OUT" nation, with saturation news coverage of the historical outcome. Hope there's no rioting and the airports are still open. Later at the airport I did see one or two signs around the airport reassuring passengers that, despite Brexit, it was business as usual. Just the presence of those notices must indicate the magnitude of the decision and panic level of the population.
We checked out of the hostel, walked in fair weather to the tube station before 09.00, and boarded the Picadilly line direct to Heathrow. Arriving at Terminal 2 after 10.00, we had time to cash in our Oyster travel cards, check in, do some last minute shopping, and board our 12.05 flight for Toronto and Winnipeg.
Arriving in Winnipeg at 18.00, Emily and Glen were there to meet us, and drive us home to their latest acquisition, "the cutest puppy dog in the world, also known as Olive".
Maggie and I had survived three months together, seen much of the European continent and many friends and relatives, and had a wonderful time. I guess that means the marriage is, at least for the moment, secure. But of course, it's good to be home. I'd be here a couple of weeks before heading briefly to Vancouver, Manila and thence back to Sydney.
My favourite country on this trip? Probably Poland, as I'd never been there before, and there was so much new to see and do there.
Next trip? We've booked an ocean cruise to Pacific islands for late November; shit we must be getting old! After that, nothing definite yet.