Mexico and Central America 2010
Having come from Australia to Canada and USA to spend time with loved ones, family and friends, I took this as a good time to try to get to some countries that I'd never yet seen south of the US border. In the limited time I had - about 6 weeks - I'd try to take in parts of Mexico, Guatamela and Honduras.
At 18.00 on 21 Sept, my valued Denver relatives kindly dropped me at the down-town Denver bus terminal for my 19.00 Autobus Americano bus to Chihuahua. The bus was comfortable enough as it passed through Colorado Springs, Pueblo, Wallsenberg, Trinidad, Raton, Santa Fe, Albuquerque and on to El Paso. A near-full moon allowed views of semi-desert and hills, and the comfort level allowed some sleep.
El Paso in the morning looked more like a prison camp than a city; fences, walls and wire dominated the area around the small Americanos terminal. More Mexican than American, even the bus station announcements were in Spanish only.
Thinking I'd have to go through a customs check, I put all my carry-on things into my pack. The bridge crossing and immigration was reasonably quick. But no inspection took place and I subsequently couldn't access my gear until the destination. However no big deal.
Mexico
(Click for map)
Wow, I'm in a (for me) brand new country.
Through dreary Ciudad Juarez my bus entered the semi-desert and badland-type hills of Mexico's northern Chihuahua State.
Chihuahua
I arrived in the Chihuahua city Autobus Terminal at 15.30, 3 hours late, but no matter. Some questioning revealed that I could catch a town bus outside the terminal to get me into the Centro. The driver pointed out where to get off, and I found my way to Hotel San Juan for 2 nights in a basic but comfortable room with bath and TV.
There's a little rain, but I was pleasantly surprised to find it not as hot as expected.
I found the nearby Restaurant Reforma run by a pleasant matronly woman, and a had a platilla economia, my first Mexican meal. The juice, tortillas, rice, beans, salad and meat were not great but not bad.
It's a bit disconcerting that few people speak english, I know only a few words of Spanish, and I seem to be the only gringo in town. I'd be happier if communication were easier. This slight despondency was short-lived though. Soon, as I learned more of the language and entered places where more english was spoken; all was well.
In the remaining part of the day I explored over to the Ferrocaril (train) station, but it was closed. Back home I had a beer in the bar and did notes before reading and retiring. I was so tired that I slept immediately and well.
Next morning breakfast was the huevos (eggs) ranchero plate and coffee at the Reforma, filling enough until evening. I decided to stay here one day and try to get to Creel in the Copper Canyon area next day. Most of the morning was spent working out the best way to get there. A combination of prices and schedules made the train unattractive. Ultimately I decided to take a bus tomorrow.
Part of my wanders took me along an increasingly desolate street (Terrazas) to a hill on the edge of town. It was a good chance to see Mexican suburban life. Getting quite warm though, and I found a 4 l bottle of water (I'd go through quite a few of these in Mexico and Guatemala) at an Oxxo on the way back.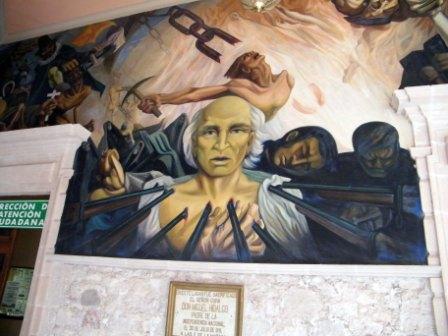 After a brief siesta I looked around the Palacio de Gobierno historical area to check the history of the place. The palace had a remarkable set of huge murals around the central courtyard depicting the history of Mexico and this district. The paintings were heavy on violence and gruesome scenes. A small but interesting museum was dedicated to the martyr Miguel Hidalgo, a priest and leader of the 1810 Mexican war of independence. He is considered the Father of the Nation. Across the corridor was a 3-room display of historical weapons.
Just north of the palace they were setting up for a festival or something, tent stalls displayed clothes, souvenirs and craft things for sale. I might check it out this evening.
Dinner was platilla economa at the Reforma, this time accompanied by beef/vegetable soup. Back at the festival they were still setting up, no telling for how long, so went back home and did internet/email things for 1 hour. Back again at the festival about 20.30 they were finally performing on the grand stage, music and singing performances with lights, vapour smoke, etc. It wasn't anything distinctive so I went home after 20 minutes to clean up and pack for an early start tomorrow.
Up about 05.15, I was out the door into persistent rain at 05.30. I flagged a taxi immediately and set out for the terminale autobus. Arriving there before 06.00, I immediately found a bus for 06.30. I was one of only two passengers on the bus as it left, but it would fill up later on the road. Rain persisted most of the morning as I rode out of the city into daylight, slightly restricting views of farm fields, hills and (Mennonite?) apple orchards. The weather cleared as we ascended into conifer-covered hills and down into Creel sometime before noon.

Creel
Creel is a nice compact town, pleasant and traveller-friendly. It's one of those easy-going destinations that one doesn't mind chilling out in, as long as you don't mind being pestered for tours. I wandered around the town for a while looking for a place to stay. Talked briefly to a party of Germans who were just leaving, confirming that I'd like it here. I was already feeling better after my doubts in Chihuahua. I'd stay here three nights. I finally found the hostal, the Hotel Realpechapula, and got a room with attached bath and free wi-fi. It looked pleasant and the host Mario spoke good english. We worked out I could get a bike for tomorrow and see many of the nearby sights.
Back down-town at the train station a freight train had arrived and stopped. It was interesting to see tramps sleeping on the platforms at the ends of the bulk-haulage cars, just like the old depression days.
Later I walked across town (not far at all) and up the forested hill on the west side. Near the top is a Christ Redeemer statue overlooking town. I admired the view as a few raindrops fell and I chatted with a tourist from Chihuahua who was here with his family.
Dinner was at Veronica's restaurant, a good hamburgesa preceded by the usual complimentary nachos and salsa. The big grocery store on the main street was still open at 19.30, so I got a 4 l bottle of water and a 940 ml Carta Blanca beer. A bit more snacking on grocery items, cleaning up, and enjoying the beer as I write these notes. What a good day!
The following day is bike day. I was able to hire a mediocre mountain bike and go around to some of the main sights within a few km of town. I set the bike seat up as high as possible. It was still not high enough, but the guys said it's as high as they ever use; they obviously don't bike very much. It'll have to do.
My route took me east up a valley and to a gatehouse where I paid a small fee for entrance to the Tarahumara indigenous people's area.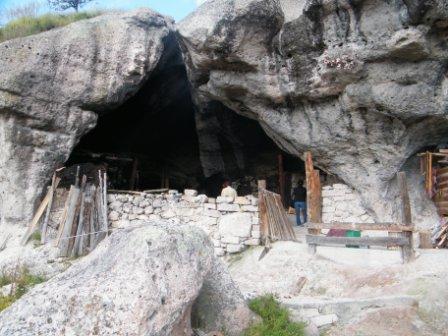 First stop, just up a road from the gate, is a small village partly located in natural caves. They're still living in the caves, as naturally as possible given the encroachment of "modernity".
Slightly farther was the Vales de los Hongos (Mushroom Valley) and Vales de las Ranas (Frog Valley). Yes, I guess the rock formations do vaguely resemble mushrooms and frogs, but the "mushrooms" were nearly obliterated by souvenir stands. Nearby was Mision de San Ignacio, a rustic spaghetti-western-looking historic stone church.
North-east a few km along a minor road, I was feeling the exertion. Was it altitude, upward slope, a difficult bike, I don't know. Striking rock formations (the whole area is full of formations) took my mind off the effort, and soon I came to the Vale de los Monjes (Monks Valley). This area belonging to a different ethnic group, I paid another entrance fee. Here was a small picturesque valley full of tall narrow rock formations, and I spent maybe nearly an hour wandering around through them.
Part way back along the same road, I felt there must be a shortcut south across the hills and pine bush to Lago de Arareko on the other road. I found a small winding track going south through the bush, and after a few km it did end up in the vicinity of the lake. The lake was small with a winding rocky shoreline, pretty in a sense, nothing special but there are probably few lakes of any kind around here.
Back on a main road near the lake, I found the Piedra de Elefante (Elephant Rock) near the road. I don't know how many Elephant Rocks there are around the world, but it isn't hard to make a rock look like an elephant. There was supposed to be a Turtle Rock somewhere too, but couldn't find it; maybe I just don't have enough imagination.
The main road took me several km back to the big roundabout south of town, where the road to Divisadero splits off. In the intersection was a large statue of a Raramuri or Tarahumara dancer performing a traditional Pascol dance.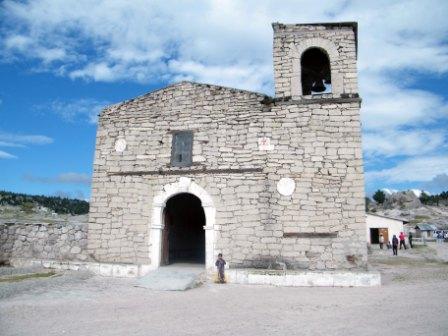 It started to rain lightly as I made my way back into town about mid-afternoon, but not enough to wet me. It was a good trip, maybe about 30 km all up.
Dinner was at a roadside stand where I could find a couple of reasonable roast beef burritos, and more burritos at a local restaurant; wonder if I'll get sick of them soon.
I went to look at the local Artisan's museum, the only museum open in Creel. It covered the history of the area and ethnological aspects of the local people. Not particularly exciting, but passed the time for an hour or so.
On my second full day in Creel, it rained off-and-on all day. I did a walk in the morning up through the north end of town, up a small road over the railway tunnel, and up into the countryside. I only turned back when I came to a farm with noisy dogs. Rain started again just as I was nearly home. The rest of the day was mostly at home reading and relaxing. I appreciate the chance to chill out. It's wet, but at least cool; I'm not looking forward to the heat later.
27 September, and time to catch the copper canyon Train to El Fuerte. The train was to come through at 12.30, and arrive in E.F. about 19.10. I spent the morning getting ready, buying a few groceries and looking around town. Found a bank open so I withdrew more cash and paid my "Derecho para no Immigrante" so I could legally leave the country later. It was cloudy but the worst of the rain was over, cool enough to wear jeans and jacket most of the day.
I was at the train station early to wait for the train. And I waited - and waited. After an hour or so, I found out that the train had derailed just a couple of hundred metres up the track, and there was no idea how long we'd have to wait. I walked up the track to check it out. The train had moved onto a siding, maybe to let another one pass, and the tracks there were not very good. On some of the 7 carriages, the front left wheel of each bogey had left the track and they were stuck. As I watched, the three rear cars were successfully placed back on the track. A locomotive moved them to the front on the other track, leaving the other 4 stranded. Later everyone on the train got into the 3 cars and it came into the station to take on us new passengers. We finally got away about 15.00, 2.5 hours late. Lucky it wasn't full so we all had seats.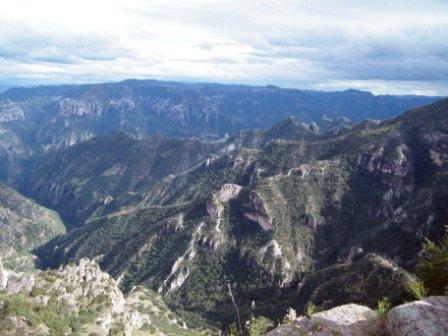 We passed through hilly, rocky country with buttes, valleys and occasional glimpses of the canyons. At Divisadero, we stopped for 15 minutes, allowing us to go to the edge of the Copper Canyon for magnificent views and pictures. I'd thought of going down there for a number of days, such as to Batopilas, and doing some trekking, but it seemed to me to be not easy to arrange, so here I was going along the top with just tantalising glimpses of the canyon.
Back on the train, we passed through more hills, valleys, river channels and small stops. Being late, the latter part of the train trip was in darkness, missing some of the less spectacular scenery. We descended out of the rough country and into E.F. about 21.30.
I'd met up with a Singapore girl in the Creel station; we and an Italian couple shared a taxi into town and to Juarez St where she took us to Hotel El Guerro. They had only 1 non-A/C room left, so she took it and I went into an A/C room. I didn't really need the A/C as it was still cool from rain.
El Fuerte
I decided to Look around El Fuerte for a day before going on to Mexico City. Why rush? Breakfast was a meat soup and tortillas with onion and cilantro in the nearby market.
A French quartet that were just leaving told me about the nearby Piedreglypos (rock inscriptions) across the river, and described how to get to it. So I took off walking in the morning through the historic district, up a street to the north, and along dirt roads to the river. Found the footbridge and, on the other side, the path to the right (north) to where they were supposed to be. But I couldn't get in as the gate to the glyph park was locked and no-one was around. Instead I walked some distance along small roads and tracks through the surrounding hills looking at tropical vegetation and small amount of wildlife. Amongst the lush green jungle plants were large numbers of big organ-pipe cacti. It appeared that bushes and trees were gradually crowding out the cacti. Hawks circled overhead. At one place I spooked what looked like a jack-rabbit about the size of a dog.
It was getting really hot on the walk and so I headed back to town.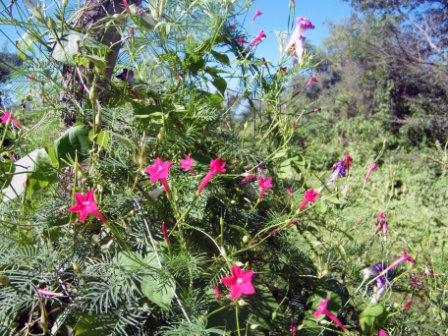 Rest and rinse off in the afternoon, and later out again to look around the historic district, Plaza, old church and the "fort" museum atop the hill. The fort was only about 100 years old, built to replace the one built in the 17 century at an unknown location and long since disappeared. The current structure houses a museum (mostly photographic and documentary exhibits, with a small amount of anthropology) and an old water reservoir.
Dinner was a meat/corn soup with dry tortillas, onion, coriander and lime from a friendly restaurant guy.
Next day, conscious of fleeting time and having a flight to catch in November, I'm going to try to get to Ciudad Mexico now. Breakfast at the friendly restaurant was a good omelette and tortillas. About 09.00 I got on the first bus I could find, getting me in an hour to Los Mochis.
L.M. is a much bigger place than E.F. The bus dropped me about 10 blocks north of the Terminale Autobus. Asking directions a couple of times, I walked the distance and found the terminal no problems about 10.15.
My Spanish is still not that good, but managed to arrange a bus for 11.20 directly (via Mazatlan, Guadalahara, etc) to Mexico; cost: a whopping P1013 (at about 12.5 P to the USD). Bus transport will prove to be the biggest financial outlay in this country.
We passed through villages, farming country and bush. The organ-pipe cactus still protruded out through the other trees and vines, but it looked soon to be smothered.
A Mexican American from Tucson sitting near me struck up a conversation and helped pass the time. He was helpful with information about the country and I took advantage of his hospitality to learn the meanings of some Spanish words.
It's hot outside, somewhere in the mid 30's, and I'm glad the bus has A/C. But it's not very good and still hot in the bus. Not far into the trip, starting out from one of our stops, the A/C failed completely and we all started to sweat profusely. The conductor opened up the skylights to let a breeze through, but it helped little. I was uncomfortably soaked and smelly. One day a train derailment; another day (the hottest of my whole trip) no air conditioning. Why me?
In Mazatlan about 17.15 they took the bus away presumably to fix the A/C. When they brought it back it worked about as well as it did in Los Mochis, but too late; as evening approached it was already starting to cool down anyway.
I had 2 seats to myself, and maybe slept a little at night. In contrast to the daytime it was quite cool, especially as I had shorts on and a jacket. We passed through Guadalahara at 02.30, Queretara about 07.55 and into Mexico City Terminale del Norte at 10.30 on 30 Sept.

Mexico City
It was sunny and pleasant weather as I got off at Terminale del Norte and found my way around the terminal. At the Autobuses Americanos counter I discovered that when leaving Mexico I could go from here directly to Denver if desired, departure daily at noon, 40 hours trip.
At the pasero (mall bus) stand a kind local woman indicated the correct one for Alameda. The bus dropped me near Reforma. But for some strange reason he refused payment of fare (it seemed no-one was paying for the bus). I was on Hidalgo St and I knew which way to go, so it was an easy walk along that and Tacuba to get to the centre. A guy was watching me study my map near the main post office, and he pointed which way to go, then ushered me into the PO to point out the magnificent architecture in the grand old building. He seemed to want me to go in and see the postal museum, but it's a bit awkward with a pack on.
I easily found the Catedral Metropolitano and the Zocalo (the main central square, found in most Mexican cities) and made my way around to the street Moneda. One thing that struck me was the amazing vibrancy of the city. People were everywhere and there was so much going on. The Moneda and nearby street Correto Mayor were crammed with people and activity (I later asked if there was something special on; no, its all everyday stuff).
I found Hostal Moneda at 12.15 and checked it out. It seemed a lovely place, with a pleasant english-speaking girl at the desk and a roof area with awning, tables, bar, meals, stage, computers and views over the cathedral etc. I got a bed and decided to stay 4 nights for the special price of P145 (about $12)/night, buffet dinner and breakfast included.
I could like this city and hostal, seems there is no shortage of things to keep me busy here, and a terrific vibe.
As it was about 13.00 or 14.00, despite being tired, I walked out amongst the crowds of Moneda and Mayor and found a small shop where I could get a good hamburgesa and papas (burger and fries), enough to tide me to 19.00 dinner.
After a rest in the hostal, I took a walk east about 1/2 hour or so along Moneda and Emiliano Zapata etc to find the big TAPO (Terminale Autobuses Pacifico Oriente, I think) bus station. Along Zapata were a lot of shops selling clothing and various other things. Outside one small mens' clothing store, 4 inflatable mannequins, each decked in shirt and pants, were suspended from above in mid-air. The wind was swinging them back and forth, painting an inadvertent but vaguely gruesome gallows scene.
In the TAPO I inquired at various bus counters for connections to my next destination Palenque. AV Sur offered a departure time of 13.05 daily, to arrive 07.15. That may do me when the time comes. Checked currency rate on internet, AUD1 = P12.17.
I asked about potability of town water and got an ambivalent reply. So I thought I'd try it, about 1/2 litre from the tap. It was a gentle warning not to do it again, giving me mild moon-river for a few hours and a cheap lesson. Next morning I got a 4 l bottle of water from the next door 7-11.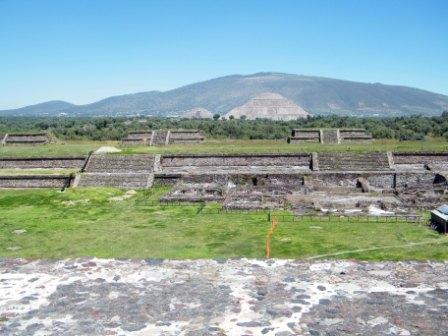 Had the buffet dinner at the rooftop in the evening: bread buns, rice, tuna/vegetable dish and potato/mushroom fry; not great food but edible. Talked a while and had a beer (I had a 1.2 l Corona, I was thirsty) with an English guy Owen and friend Zoe.
Later I walked out around Zocalo to check out activity. There were big crowds around, souvenir stalls, big light displays around the plaza depicting Mayan themes and the 2010 bicentennial, and several groups of people in costume performing Maya dance with drum music. All amazingly lively and exciting. But it's cool in the evening and I need a little more than shorts and t-shirt.
On my first full day I decided to try to go out NE of the city to the Pyramides Teotihuacan site. I packed up maps, camera and water and left some time after 10. To get there I'd board the metro at Zocalo, change at Hidalgo and at La Raza, and to Terminale del Norte. There I got a bus for about 1/2 hour or so out to the pyramide site, arriving around 11.00.
It's quite a vast site, maybe 3 or 4 km one end to the other. It was started a few hundred BC and went to about the 3rd or 4th cent AD. Many stepped angle pyramid structures were scattered about the site, the main ones being the city pyramid, the temple of the moon, and the massive temple of the sun. I climbed all that I could; the steps were mostly quite large and steep, almost as hard to get up and down as those at the Angkor temples in Cambodia. The area is all open and dry, probably unlike the jungle-enshrouded Mayan temples I expect to see later. Large prickly pear cactus dotted the surrounding land.
I saw as much as I could; including an on-site museum containing site artefacts, history of the site and peoples, and a big model of the site; by about 16.00.
Return to the city by bus and metro got me home by about 17.30. The metro was quite crowded now.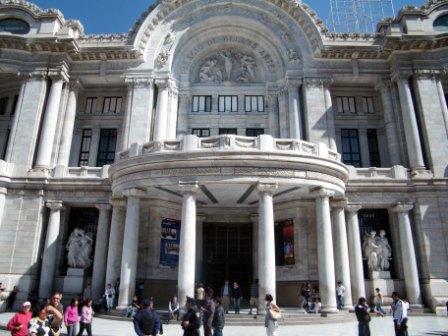 Next day I decided to walk west and south-west to explore. Along Juarez as far as Paseo Reforma there seemed to be large numbers of police around, guarding and blocking off streets. What's going on? In this district was the magnificent Palacio Bella Artes and the small busy park Alameda Central.
On Reforma I slowly walked SW exploring large modern buildings and intersections with statues, sculptures etc. No big stores though, I later found much of the shopping and restaurant scene was in the nearby Zona Rosa.
Finally found the Bosque de Chaultepec, found my way in with difficulty, and started to explore this extensive forest park. Crowds were tight, as much of the park was fenced off, keeping people to the walkways. Concession stalls and hawkers catered to the masses. The eastern section of the park included a Canadian totem pole.
I found my way up the hill to the National History Museum, which I explored for 2 hours. It presented a history of Mexico from pre-colonization to the present, heavy on violence, as was the Palacio de Gobierno murals in Chihuahua.
It was a long but interesting walk back home, mostly along Chaultepec, including the restaurant/shopping/night-life district La Rosa. Back near the Zocalo, throngs of people were filing away, as if some major event was winding down; what were they all coming from? As I neared Zocalo, I saw it was a huge left-wing political rally, accounting for the police activity I had noticed. The plaza was still packed; red signs and fists and Che images abounded. The whole front of the Palacio Gobernetario was fenced off and guarded by hundreds of police, but the crowds caused no evident trouble.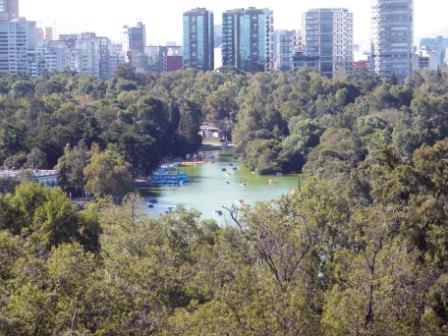 The third day in the city, not a lot on. Might as well take it easy and just explore around the Centro area. I started by walking around the Templo Mayor, the central Aztec excavation site, to get some views of it from the outside. I didn't bother to go in because there appeared not a lot to see inside. Up Calle Brazil I came across an Aztec dance group that was doing a non-tourist performance of dance in a plaza, seemed more interesting and "genuine" than some of those around Zocalo.
In the afternoon I went down Correo Mayor to the street San Pablo, a hive of shops stalls and activity. At the end of SP is the Mercado de la Merced, I believe the biggest market in the Americas. And it was VAST. I spent an hour or two wandering around it. In the front section was mainly miscellaneous goods, in the middle produce, and in the back section meat products. One whole long aisle was dedicated just to people shaving the thorns off prickly-pear cactus leaves and selling the leaves, for what I don't know.
After 4 nights in Mexico City, it's time to try to go south to Palenque. Watching the news at breakfast, I was discouraged by pictures of floods around Veracruz and Tabasco, the places I'd have to go through.
I took a metro ride to the TAPO station and checked with the bus companies. Because of flood detours and delays, it looked like it would take 38 hours to Palenque. The best option now might be to go to Oaxaca at 13.30, a 6 hour trip. I could see Palenque later. Back at the hostal I picked up Jordan, a young guy from Melbourne who wanted to go to Oaxaca as well, and we took the metro back to TAPO about 13.00.
The bus left on time, out through Pueblo and into beautiful farming and hill country. Farther on it passed up through rugged scenic mountains, and eventually down through other towns and villages. We came into Oaxaca, quite a sizeable city, about 19.30, and stopped at the northern bus terminal and later at the SW central district.
Oaxaca
It was somewhat confusing to work out where we were in the dark and find the direction for the Mezkalita Hostel on Xicotencatil 121. We soon worked it out and got into the hostel about 20.00 or 20.30. We took beds for 2 nights, enough time to see the town in my limited time frame. A German girl, Ramona, was also in the dorm. We agreed to go down to the Zocalo area, about 8 blocks east, for something to eat and drink, so set off about 21.00.
At the Zocalo we met up with a Manchester girl and a local guy that Ramona knew. Wandering around the Zocalo plaza, we checked out the up-market restaurants (the place reminded me of St Marks plaza in Venice, except with a Mariachi band instead of chamber orchestras), and settled on a nice one. I had a nice tortilla soup made with tortillas, cheese, avocado and flavourful stock, accompanied by bread.
It was quite cool again tonight and I regretted not putting on jeans and jacket. After dinner, we wandered around and found a bar called "Nudes" and went in for loud music, disco lights and big drinks. They served beer and many kinds of cocktails, all by the 1/2 litre or litre. I had a litre beer and the others had cocktails. We were there partying, a great time, until after midnight, at which time we finally separated and returned to the hostal.
It's cool in the evenings and mornings, usually need to wear jeans and jacket at that time. In the daytime though it's shorts and t-shirt. I'm wearing sandals continually, rarely put shoes on. Surprisingly, and mercifully, I have so far suffered only a couple of really hot days in this country.
In the morning Ramona and I went to the north bus terminal to check bus details. My best option may be to go tomorrow night to San Cristobal de la Casa, OCC line at 19.00 daily.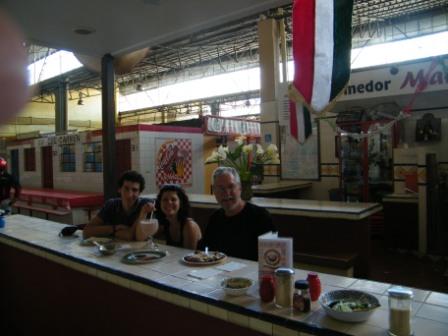 Back at the hostal, Ramona, Jordan and myself took off down-town about 11.30 to look around the central market. The market was interesting as always. Quite ubiquitous were piles of dry-roasted (?) insects in a reddish picante powder coating. Jordan had this obsession for me to try one, so to humour them I tasted a largish grasshopper. Crunchy and slightly spicy but for me not habit-forming.
We had lunch in the market at one of the many food stalls there. This one was run by a very lovely and personable woman, charming us into trying some of her specialities. I had tortillas (3) filled with chicken, covered with a pale red mole sauce, and a drink made from a deep reddish fruit whose name escapes me.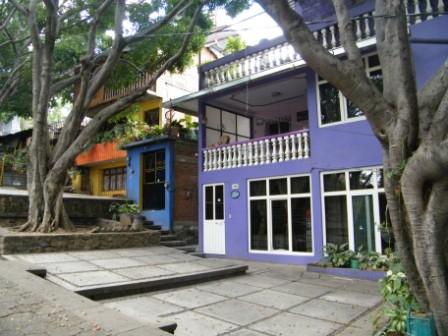 After lunch we walked north through the Zocalo and up Macedonio Alcala. From the Santo Domingo convent area we walked generally westward to where we saw on the map a hill crowned by an amphitheatre and planetarium. We found a broad step promenade up the hill, with cute looking multi-coloured houses along the sides. Up to the amphitheatre, we stopped to look at and wave to some workers high up in the roof-frame, welding and building/repairing it. Farther up a road we came to the planetarium. It was closed but still a good place to relax a while and enjoy the views. Weather was pleasant and hummingbirds flitted around the nearby vegetation.
For dinner Jordan and I looked around the street stalls of La Noria Plaza. They seemed to be all the same, serving various typed of "empanada", basically a large tortilla fried on a plate, filled with whatever and folded in half. We each had one, filled with cheese, mushrooms and "flowers" and topped with a bit of guacamole.
Later about 21.30 we met Ramona and a local, Juan, at the Zocalo and the 4 of us went to another bar with disco music, but not as loud as last night. There we sat on cushions and had a beer and socialised until about 23.30, could have been later but too tired.
On my last day in Oaxaca, I leave tonight for San Cristobal de Casa. After doing internet things and breakfast, I walked to the North bus terminal and got a ticket for 19.00 tonight.
Back in the hostal about 11.00, I checked out of the room and left my pack in the office. At 11.35 Jordan and I walked to the Zocalo to meet Ramona. We looked around there a bit and decided to take in the Musea Cultura de Santo Domingo, located in the big ex-convent in the north of the city. Entrance to the museum was a standard P51, same as all museums and sites in Mexico. It was big though, we were in there for about 2.5 hours, only leaving when Jordan got hungry. On display were exhibits of history from Teotichuan times right up to the present. Outside were courtyards and the Botanical Gardens (lots of cactus and other plants), although the gardens seemed to be closed to the public at the time.
Mid afternoon we looked for a place to eat, settling on a restaurant that had some vegetarian food. I had mushroom soup, bread, rice, chicken/coriander/potato, a cake/slice for dessert and a red fruit drink.
That evening in the bus station, I met Owen from Mexico City. He was waiting for the 21.00 bus, the next one after mine, and was all heavily clothed and suffering with cold and fever. Apparently since last seeing him he'd had a bad health run. We agreed to try to meet up in SCDC next day.
I was on the bus at 19.00 and it left on time. The run south to SCDC was nearly entirely in the dark, and pretty routine. The bus was nearly full so couldn't stretch out much, but got the usual amount of snooze.
I did like Oaxaca; a pleasant place with good atmosphere, relaxed, friendly, easy to meet people, and quite a few things to do and see.
SanCrostobal de Casa
The bus pulled into San Cristobal de Casa about 06.30. Like Oaxaca it was cool in the morning and not hot all day, wonderful.
I was not sure of myself here to start with, having no printed map and uncertain where to go. But it sorted itself out almost immediately. As I was re-arranging my pack contents in the bus station, a young guy came by and opened up the "tourist office" in the station. So I went in and asked for and was given a town map. He asked if I had worked out a place to stay, and as I hadn't, he recommended the Planet Hostel in the NE of the town (the bus place was in the south). He offered a free taxi, but I chose to walk.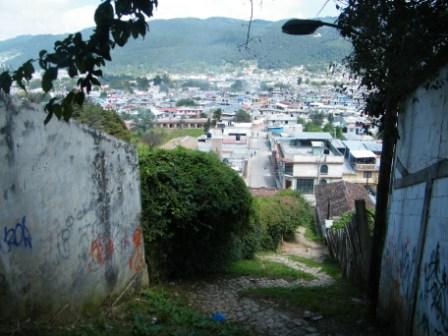 So I set out along the small cobbled streets west to the Zocalo, up a pedestrian street where a few businesses were just starting to open, and along another narrow street to the hostel. The town is soooo easy to find my way around in. It looked like a good place to base oneself and meet people etc. I got into a dorm bed that seemed to have mostly girls in it, one or two having been here for a long time. Rather than leaving day after tomorrow I would have liked to stay here a while. It made me regret more and more how limited my time is, and how I won't achieve all my destinations in the month or so I've got left.
Had some breakfast (bread, butter, jam, banana, papaya and coffee), rested up for an hour or two, then out for a walk. I went farther out NE, past the Na Balom musical museum and along some streets farther out. Then I found a narrow badly-maintained series of steps up a steep hill to the south. Passing over the hill and farther in the same direction, it brought me to the end of Real de Guadalupe (the aforementioned pedestrian mall) and at the base of the steps leading up to the Templo de Guadalupe, a large church at the top of a hill. I walked up to the church to view it and the surrounding city and hills.
Back down to the street and the Zocalo, everything was open now, many shops of all descriptions and restaurants both indigenous and international. Spoiled for choice of food. Progressing west through the Zocalo and Palacio Municipal, I was getting hungry. Found a small restaurant, Dona Ame Tamales, and had a tamale filled with pork and chili paste, good and just enough to take the edge off.
I found in the west a loooooong set of steps up a high hill to another church on top. It took a while to walk up. The view was expansive, the church was nothing special, a plaza behind had an enormous Mexican flag flying overhead, and a tranquil path ran through the bush behind.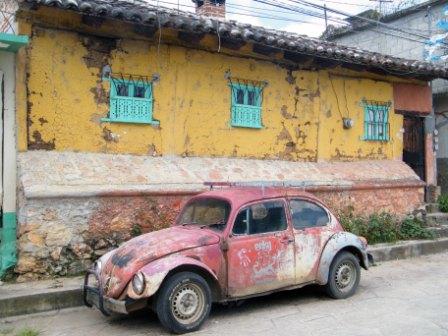 Back down, I made my way to the bus station again. Inquiries showed I could take a bus to the border (3 hours) and get another bus onward in Guatemala.
Back home I rested briefly and decided to try cooking for myself later today. So out again, this time to the Mercado Jose Castillo in the north of the city. There with some searching I found potatoes, carrots, tomatoes, onions, a piece of pork fillet and a stick of margarine. That may be enough for two meals. So later about 17.00 or so, I was able to use the kitchen in the hostal, find some garlic, soy sauce and oregano, and cook up about half the food for a huge tasty meal.
Met Owen during the day; he'd coincidentally come to the same hostel and was still fasting and recovering from his illness. Later in the evening I talked to him and a Dutch couple about Guatemala and about tomorrow's activity options.
A good day; I like this place.
Next morning I arranged with Owen and the Dutch couple to walk to the bus terminal and find a local bus out to las Grutas (caves), about 10 km south of town. We got on the bus around 09.00, out through suburbs, farms and hills, to the caves road.

A short walk from the road got us to a commercial looking forest park area, with lots of local tourists, playgrounds and souvenir/artesan shops. We could walk into the electrically-lit cave about a kilometre along a railed concrete walkway. The cavern was quite large and high, with some pretty formation (stalactites, straws, shawls, a few stalagmites etc.). Not bad for a dollar or so, but it only took not much more than a half hour.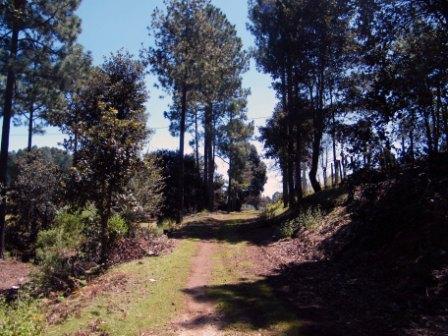 Back in the park, horses were available to hire. I wasn't interested but some of the others wanted to ride back to town. In the end Owen was the only one who rode. The Dutch and I walked beside/behind to be able to enjoy the mostly-forest pathway. We had to walk along the road for a km or so, then through beautiful pine forest for about 6 km until we came to the edge of town. It was a wholly enjoyable walk, and Owen appreciated the horse ride. A town bus took us the rest of the way to the bus station.
Back home to rest awhile, then I went to the store to get among other things a 940 ml beer for tonight. Cooked the rest of the food for dinner, with leftover tortillas from lunch; another great meal. The 4 of us shared our beer for a good evening.
9 Oct was my last morning in Mexico, at least for the present. I was up about 06.30, finished packing, and walked in dawn light to the bus station about 20 minutes away. The bus to the border at Ciudad Cuauhtemoc started at 08.00 for a 3 hour trip through hills, valleys and farms.
Arriving at the border at 11.00, I went to the Mexican passport control. There was no trouble except that they took my "derecho para no immigrante", so I'll have to pay it again when I come back to Mexico. The only transport into Guatemala seemed to be taxi, and I seemed at the time to be the only one going across. I took the taxi the 3 km to La Melissa but I probably could have walked it.
I'd been about 18 days in Mexico, starting off slightly ambivalent but soon turning out to be a fascinating and enjoyable country. It's not as poor or destitute as expected, I felt completely safe at all times, and with no trace of the drug wars and murders that were currently so visible in the foreign media
Guatemala
(Click for map)
The Guatemala immigration was effortless, not even demanding any baksheesh. So here I was in a brand new country yet again, always a wonderful feeling.
La Melissa, a typical border town, looked to be little more than a long string of shops and stalls up each side of a single street. I changed USD 20 into Quetzal 150 with a moneychanger, and asked where to go to get a bus to my next stop Xela (Quetzaltenango). He pointed up the street and I started walking along what seemed an interminable hill climb. On the way I found a bank with an ATM, and withdrew Q2000; that means I needn't have changed the USD20. I think 1 USD is about Q7.5. After the long climb I finally found the bus terminal, and got straight on to a chicken bus (converted American school bus) for Xela. It was about 12.00 as the bus got on the road.
As soon as you get to Guatemala you see the difference in terrain. Guatemala is an order of magnitude more rugged and mountainous, quite spectacular scenery in places. Being poorer than Mexico, everything in the towns and villages is more compact, squashed together, and a slightly grottier. Still attractive and fascinating though.
I had to change buses, to another similar one, in Huehuetenango, 2 hours from La Melissa, and it was another hour until we were on the road again. As usual I was the only foreigner aboard. Countryside was not quite so hilly from here on.

Quetzaltenango (Xela)
My watch said 16.40 (15.40 Guat time), when I pulled into the chaotic Terminale Minerva in the NW of Xela. I'd been nearly 9 hours on the road.
The bus terminal is on the edge of the massive and crowded Mercado Minerva. I had to make my way with my pack about 300 metres through narrow market aisles until I could emerge in the local bus assembly area. There I easily found a local bus to take me into the Parque Centro, about 3 km away.
At least now, unlike in Mexico where I had to depend on handwritten notes and computer maps, I had a guide book to show me around. My Rough Guide showed me where to find the nearby Black Cat Hostal. It had complimentary breakfast and wi-fi and proved a good place to meet other travellers.
I met a German Andreas and an Aussie Vince and struck up a conversation about what to do here and how to move on. I ordered a burrito pollo meal (big but not big enough as I'd eaten little all day). Later in the evening, about 19.00 I wandered around town in the fading light, stopped in the small Ut'z Hua restaurant for a nice soup with tortillas, and then down to the Parque for a look.
The Parque was a typical square with trees, paths, benches and gazebos. But tonight the surrounding streets were all set up festival-style, with countless stalls, food, games, rides and shops; a real "hive of activity" (there must be a better cliche). I saw a stall frying up relennas, a type of donut pastry, and bought a bagful, good to finally quash my hunger.
Back home, Andreas was waiting to hear back from some others about a possible walk up the nearby Volcan Santa Maria tomorrow night, and got me maybe interested in trying it. It would start around midnight, take in the sunrise mountain-top, and back down in the morning. We'll see. Also got info on passage to my next stop San Pedro La Laguna; I may be able to take a single chicken-bus any time during the day from Minerva for a 2.5 hour trip.
Tired and slightly dizzy from the bus rides all day, I got cleaned up and was in bed by 21.30 by my watch, 20.30 local time. Slept well.
Up before the 08.00 breakfast next morning, Sunday, I talked to Andreas a while and had a Guatemalan breakfast (eggs, frijoles, guacamole, cheese, fried plantain and a bit of toast, good but not really big) which is included in the bed price. Then spent an hour or two catching up on trip notes on my laptop. Wi-fi here is good and fast.
I went out later in the morning to explore around parts of the city and get some food/water. The stalls, rides etc. were still set up around the Parque. The commercial centre next door was a warren of shops and market-like stalls.
As I walked east on small streets toward the main road Indepencia, a local guy passed me and started shouting at me, "GRIN-GO-GO! GET OUT!" and similar invectives. I had no idea what he was on about and kept on going; maybe he was a looney or something.
On up the wide Indepencia thoroughfare, it was mainly auto-type places and commercial/light-industrial businesses, not really attractive. I came up to a big rotunda at an intersection with a monument to la Mirimba, I think to women in general.
Back up 7a Calle and 4a Calle, I looked at the large Iglesia San Nicolas, the nearby Parque Benito Juarez, the Paiz Mont-Blanc (the only western-style shopping mall I'd seen here) and the partly shut but still active Mercado La Democracia. Back at the central Parque stalls, I had a pizza lunch and bought bananas and oranges for snacks.
Back at Black Cat, Andreas was having some luck with arranging the possible night walk up Santa Maria. Andreas, Vince and I were to meet an Israeli couple in the Parque at 16.00 to get it organised. The couple eventually showed up, and the 5 of us succeeded in setting up the walk with an agent for Q125 each. The walk, a few miles south of town, was to leave the hostal at midnight and take about 4 hours to get up the 3772 m volcanic mountain. We were to be there for sunrise and come back down to get home about 09.30.
That night we were up and ready at midnight. However the guide, driver etc. didn't come till 00.20 due to some problem.
We got out to the start of the walk and set out with the guide at 00.45. Using torches to see, we made our way ever upward along the mostly rocky path. I was breathing fairly heavily from near the start; an indication of lack of fitness (??).
The walk turned into an interminable nightmare. We climbed on and on seemingly without end. Trying to see the path with a small light, and slipping a fair bit, my legs became unsteady with fatigue and my heart raced. Others were having similar troubles. I wondered if I'd have a heart attack, and seriously questioned my decision to do this climb.
I'd hoped we'd complete the climb in 2 or 3 hours, but by the time we eventually reached the top, it was 05.20, 4hr 35 min, and the sky was lightening. I was almost dead. But the stars were brilliant up here, and on the way we did get wonderful views of the town lights and later were able to look down on the illuminated cloud cover.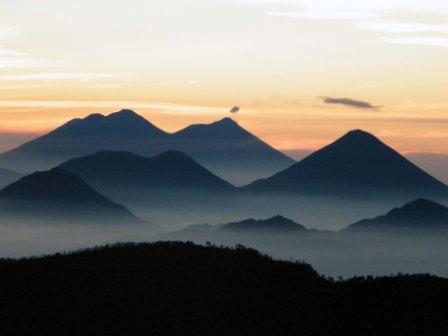 It was cold as charity up there, possibly below freezing. We put on all the clothes we had and shivered as we photographed the dawn views from the peak. The mountain is a near-perfect cone from the angle we saw, and not an active volcanic peak. Off to the side and lower down was the active companion mountain Santiaguito, sending steam off a dry hot peak, and, as predicted by the guide, actively erupting with a plume of smoke and ash for a few moments as we watched.
We were at the top for an hour or more and then started back down the way we came. It was obviously quicker to come down than up, and nowhere near as gruelling, but the footing was slippery in places and I fell a few times. It still took a long time to get down. Near the bottom farmers were getting about on horseback and tending their fields by hand.
We were supposed to be back in the hostal by 09.30 to have breakfast, check out etc. But we didn't get back to our ride until after that time. It was nearly 11.00 by the time we reached the hostal.
I was hoping to get breakfast and a bit of a rest before checking out. Time was tight but I did manage to get bacon and eggs, pack my things, have a 1/2 hour rest and check out by noon. I was tired but fortunately not aching.
Vince and I agreed to go on to San Pedro la Laguna, on Lago de Atitlan, today. We got a town bus to the Minerva station, found a chicken bus that said he was going directly to SPLL, got on about 12.45 and then found out there would be one change of bus after all. I'd find this phenomenon commonly while travelling; bus people saying it's a direct bus, but later having to change buses.
The bus took us out of the city and through towns and very hilly country to the village Santa Clara la Laguna, depositing us on a lonely road. However we soon found another bus to SPLL via San Marcos and San Juan, arriving around 15.45 at the San Pedro plaza.
San Pedro la Laguna
After finding the main drag and searching around, I found the Hostal Jarachik where I could get a bed with free wi-fi.
In the evening I explored the town, lots of guest houses, restaurants, travel agents and bars, and dine on a couple of bean tortillas with salad and salsa.
I'd be in San Pedro 3 full days, one of the longer stops on my journey; it's an easy place to chill out a while.
My first morning followed a nine-hour sleep, totally refreshed and with no trace of that horrific walk the day before. I guess I am reasonably fit.
First was a leisurely stroll around the town to get bearings and see where everything is; many language class places, massage/spas, restaurants, guest houses and little shops. The lake Atitlan looked to be at a relatively high level, some paths, piers, roadways and structures were flooded. Down at Santiago Dock, a boat was just coming in and people disembarked down the narrow walkway with their heavy loads. They had to step on stones to negotiate the flooded foreshore and reach dry land.
At the San Pedro Market in the upper central part of town, massive crowds of mainly women, and police with Armalite and Kalashnikov weapons, milled around. Some sort of political rally was brewing and eventually a female government dignitary arrived amid much fanfare. Speeches, clapping and general hype followed.
The market itself was not large, selling primarily meat and produce. I found a pollo restaurant and enjoyed a good comida economique with nicely-herbed roast chicken, rice, potatoes, vegetables, tortillas and a fruit drink.
Back down at Pana Dock, I checked out some information on activities at a tour agent. They offered a trek to San Pedro Volcan, but it's too similar to the Santa Maria that I just did. Also bicycles and kayaks were available for hire, which I would take advantage of on subsequent days.
The rest of the day I started working on photos, emails and notes, conversing with others in the hostal, snacking and having meals, and evening conversation around the fire in the outdoor restaurant area.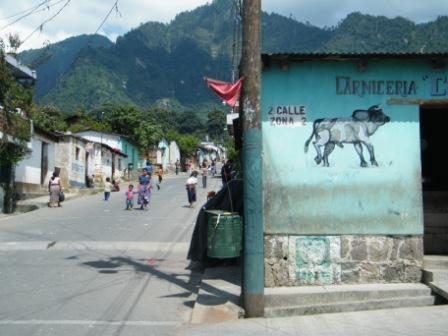 Next day is bike day. At 07.30 I went down to Nick's Inn next to the Pana Dock, where they served a good breakfast of 3 fried eggs, frijoles, nachos, guacamole, plantain, bread and coffee at an outdoor table with a magnificent view over the lake. I could study where I would go on the bike through San Juan and San Marcos across the lake.
About 09.15 I got my mountain bike (seat not high enough as usual) for the day. At 09.15 I set out west along narrow streets and then the hill climb up the road in the direction San Juan.
It wasn't a bad bike ride, some hills and little creeks to cross on the road, lots of tropical bush, and some places to stop and enjoy the views over the lake. I passed through San Juan and on up a hill climb to San Marcos, some distance above the lake, in less than an hour.
SM was a typical village, with steep narrow streets and a market in progress on one of the main streets. There were few ferangs and a host of quaint scenes of local people going about their daily lives.
I found the Carnicerias, butcher shops, interesting. They each had a drawing of a brahma-type bull with a thumping great boner on. "Beef for real men!" I assume was the message.
There wasn't much scope to ride farther in that direction; I think the road just goes up. I went back down the hill and found a small lane that led to the lake level and a dock. The lake was so high that trees were in the water, the shore was up to the cornfields, the dock was submerged, and a floating dock had been installed.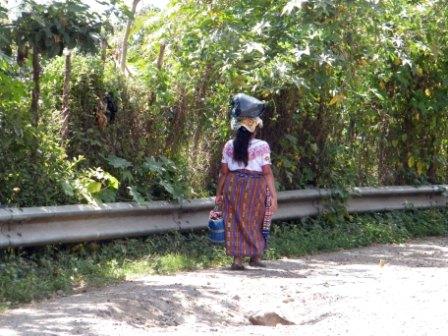 Back in San Pedro, I coasted down narrow streets to the road that led out of town southward. The road took me about 3 or 4 km out, increasingly rough, until the road disappeared altogether, continuing only as a small bush path. I could see no sign of the beach anywhere along here; it must have disappeared under high water.
I turned the bike in about 14.15; that was enough cycling and there was nowhere else to go anyway. The rest of the day I prepared laundry, worked on photos, trip notes and internet, had a meal of very mild chicken green curry and rice, and talked to others.
The third day I changed into kayak gear and arranged a kayak for a couple of hours. Down at the Santiago dock I got a sit-in kayak, paddle and vest, and at 10.00 took off along the shore away from town.
The kayak was not fast but seemed fairly stable. There was considerable chop on the water, even white-caps, not the best conditions. I went part of the way through garbage-and-weed strewn reeds, but even there it was not smooth. Waves splashed into the kayak periodically.
Still it was good to be out with arm exercise. I went along shore for about 40 minutes and started back, stopping once (hard to find a place with no "surf") to empty water out of the kayak. Back near town I continued through reeds and open water around the point of the town, and into sheltered water. It was easy and pleasant along the edge of town to the Pana Dock, and on farther to a small beach where I could again empty water out. At 11.55 I returned to Santiago dock, finishing a good couple of hours on the water.
Dinner was at Nick's Place at Pana Dock. I had a great whole fish with trimmings and a banana smoothie. In the evening I have to pack to leave for Antigua tomorrow.
On 15 Oct I was up around 06.45, finished getting ready, checked out and set off for Pana Dock, and boarded the boat to leave at 08.00 for the 1/2 hour trip to Panajachel. At Pana I found my way up to the bus area.
I'd come this way, rather than the direct shuttle from San Pedro to Antigua, partly to save money and partly to get the boat ride and see Pana. Maybe I should have taken the shuttle, as the trip ended up costing about the same price. But no big difference and I enjoyed the diversion anyway.
It turned out to require 4 chicken-buses to get to Antigua, one from Pana to Solara, one from Solara to Los Encuentros, one from LE to San Luis, and the last from SL to Antigua. The roads had a lot of up-and-down and curves, etc. It climbed a lot to get out of the lake, many hills in between, and down a considerable distance to get to Antigua. The highway, the main InterAmerica, was generally meant to be 4-lane, but it seemed that everywhere there was a road cutting, a landslide had covered two of the lanes. Traffic wasn't that heavy anyway though.
Antigua Guatemala
Arriving at noon, the bus stopped next to the main market in Antigua, to the west of the centre. I found my bearings and walked the few blocks toward the Centro and found the Black Cat (the same chain as in Xela) Hostal about 12.30, and checked in.
First thing I did was go next door (and a couple of other places) to check transport to my next destination Copan Ruinas. There are shuttles, and they seem good value, generally to start at 04.00 for 9 hrs trip. I plan to book one for day after tomorrow.
Walked toward the market to find a cheap lunch, and found a local restaurant with a reasonable pollo ecomomico. The drink, some kind of coconut I think, was marvellous. The market itself was quite large with the usual clothes, produce, meat and miscellaneous items.
Later in the afternoon I looked around the central park and most of the historical sites, mainly earthquake-ruined and partly restored churches and cathedrals.
For dinner I found a bar/restaurant with simple but good fettuccine with garlic and olives, and a tea.
Most of the evening was in the very noisy but groovy bar/restaurant with a beer, doing a volunteer web-page update, Skyping people, and more trip notes.
Not hot here in Antigua, about 20-25 deg.
Next morning I took a walk to the Cerro de la Cruz on a hill in the NE of the city. It took some searching to find the start of the walk, but then it was easy. I'd been told not to go alone because of muggings, so I didn't take camera or money. But I needn't have worried, people were walking, sightseeing and jogging everywhere. At the cross was good views of the city and Volcan Agua to the south.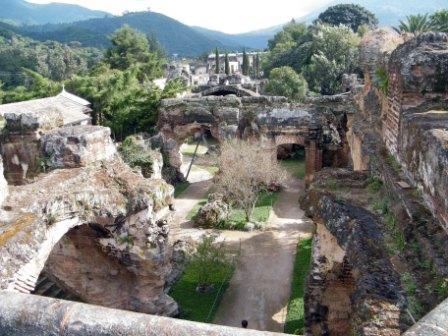 In the afternoon I had a think about which of the city attractions was most worth visiting, and decided on the ruins of San Francisco Cathedral. The complex comprised a museum and ruins site, and the restored part which is a working church. The ruins (from several earthquakes mainly in the 19 cent) are extensive and fascinating; walls, broken arches, partly intact tunnels, rubble and nice grassy areas. I spent a good hour or so clambering around. The museum was not so great, lots of religious artefacts and heavy on Brother Pedro, Central America's first saint.
To bed early to get up and leave tomorrow.
Up at 03.40, I was on the mini-bus at 04.10. It went around the hotels picking up other passengers (7 in all) and set out about 04.30 up the hill and toward Guatemala City. We stopped there at an up-scale hotel and picked up an 8th passenger. It was just getting light as we cleared GC.
Through hills, bush, farms and villages, we arrived at 08.00 in a small village before Rio Hondo and stopped for breakfast.
It's quite mountainous around RH and Chiquimula. At the El Florido border post, it took a little while in a queue to get through border formalities. But all they did was look at our passports and charge Q10 + Q25 baksheesh for the various border officials.
Guatemala is a wonderful country to travel in; easy, friendly, safe, cheap and lots to see and do. I'd loved my week here and would return in a short time on the way back north.
Honduras
(Click for map)
17 October, and we were on our way again into Honduras (Great, another new country) at 10.00. It's only 12 km from the border to the town Copan Ruinas.
I'd be here in Honduras less than a week, taking in the Copan ruins and later diving on the bay island Utila. I'd like to have spent more time here, and seen more, but time was against me.

Copan
I easily found my way to the central park and shopping area and found a bank machine to withdraw cash. Also easy was finding the Iguana Azul hostal on the edge of the small town, checking in for two nights and finding the small central market and food stalls for a good chicken lunch.
Down at the bus area, I found I could maybe get a bus there at 06.00 daily to the large northern city San Pedro Sula, with connection to the north coast at La Ceiba. I think a boat goes from Ceiba to Utila at 16.00, so maybe it can all be done in a day. I may try that on 19 Oct.
The rest of the day was spent exploring the town and surroundings and out for a dinner with a Swiss friend I'd met in the hostel.
Next day is to be devoted mainly to the Copan ruins, a Mayan site that flourished from about AD 426 to 822. It is noted not for its scale - it is actually quite compact in size - but for its many upright stelae statues and abundance of detailed carvings and glyphs. I believe much of the known Maya history has been gleaned from deciphering the information found in this site.
I set out walking the couple of km or so out to the ruins, and starting about 09.30 or so, spent about 4 hours wandering around the site.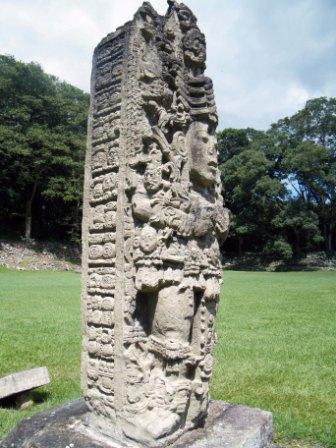 It was good set of ruins to study, small enough that it didn't take a lot of walking. Most of the construction seemed to be from the times of the kings 18 Rabbit, Smoke Jaguar, Smoke Shell and Yax Pasaj. The numerous stelae were largely well preserved and detailed, as were the stone steps of the Hyerogliphic Stairway and other sculptures. Many altars, temples and other structures of varying heights were available for clambering.
It was quite hot in the temple complex. I finished about 13.00 and then did the 1.2 km nature trail, a walk through the nearby jungle with some information on plants and animals and the lifestyles of the ancient Maya. I only realised later that my ticket included the "Sepulchras" at another site a short distance away, but I suppose I've seen almost enough by now anyway.
In the morning I was up and at the bus area by about 05.45, ready for the 06.00 bus for San Pedro Sula. It was a normal bus, not a school bus, so had assigned seats and a bit of leg room.
The road was slow and rough for the first hour or so, stopping everywhere to pick up or let off passengers. Later it was faster and we (myself and a few other ferangs) arrived in SPS about 09.30. I got a ticket onward to La Ceiba and was on the road again at 10.00. SPS is the second-largest city in Honduras, not very distinctive, and it took a while to get through it.
5 of us travellers got to the La Ceiba station about 12.40, and we shared taxis for the 6 km ride to the ferry terminal, getting there at 13.00. The ferry for Utila Island doesn't leave until 16.00 so we had lots of time to sit around or snooze.
The ferry, a mid-size enclosed cat, took about an hour to get to Utila.
Utila Island
Of course as soon as we docked, there were people chasing us for accommodation and diving. As I was interested in updating my scuba certificate, I went with one, Christian from Paradise Dive, to hear his proposal. Also I shopped at a couple of other places before negotiating a deal with him. It would include update instruction and 5 fun dives. I was assigned Abel, a Spaniard, as my update instructor. Later I would agree on an extra cost for a wreck dive to 30m. The total would be USD 173, accommodation included, possibly one of the cheapest places in the world for dive instruction and diving. The place is pretty junky and grotty, especially the communal kitchen, but what do you expect with a place where everyone only wants to dive.
I got a loan of a PADI book to study, got some food, including meat for the bbq, cooked, ate and had a beer before retiring to rest and study.
It was tropical here but still not unbearably hot.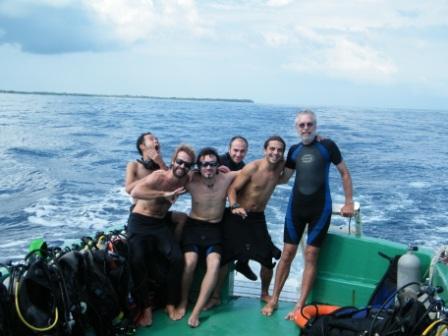 Next day I was ready at 06.45 to begin with Abel. He organised my equipment: fins, mask, regulator, BCD, weights and half wetsuit. Then on the boat on the way out to the dive site, he went through a quiz with me, in which I did OK.
At the site on the south coast, we anchored the boat offshore, geared up and into the water, and Abel and I swam to neck-deep water to go through confined water exercises. This part of the course was brief, verifying things like mask clearing and regulator removal/replacement.
Then we set out underwater at a shallow depth, and gradually went deeper, down to about 65 ft I think. I was moving too fast to start with, using too much air, and was signalled by Abel to slow down and relax. We explored good coral and other marine life, but no really large fish. It was a good introductory dive, easier than I expected.
We came back to the boat at 08.30 when my air went down, I got the pass mark, and we could re-tank for a second "fun" dive. I went with Abel again to look at more sights, this time more of a wall or cliff, beautiful coral and fish at all depths.
Back to the boat about 10.00, I thought I did OK with my re-education, feeling not too nervous but still using a bit more air than ideal. After 30 years without tanks it all came back to me quite easily.
Back home, we cleaned equipment and congratulated one-another. I chose not to do any more dives today, maybe just do 2 each morning the next two days.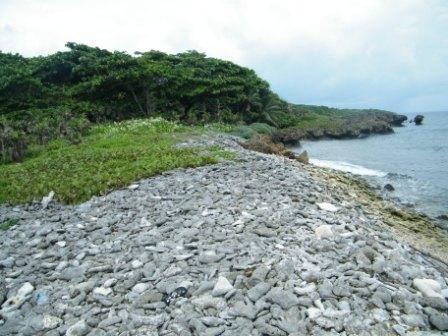 In the afternoon, after a little more book study, I set out for a walk to see how far I could go around the roads in the south of the island. It ended up being quite a long walk. Past the old airstrip, the gravel/coral road continued east along the coast some distance through housing/resort developments and land-sale signs. Then the road separated from the coast, turned to dirt and mud, and set out inland through jungle/forest. How far should I follow it before turning back? I kept to it anyway, and it eventually came out on a paved road near the current airport. So I wouldn't be retracing my steps after all; I just continued along the pavement back the couple of miles or so into town.
Mid afternoon, as soon as I got back, it started raining heavily; good timing. I settled into a hammock for an hour or two to study, did email and Skype, shopped for groceries and cooked myself a meal. Later I regretted cooking because the others were cooking up a big communal creole-type seafood stew which I could have participated in, but nobody had told me. I had a taste of it, really good, much better than my plebian fare. A couple of beer dampened the frustration.
On the second dive day I was ready again at 06.50, Today we were to go to the north side, some distance with our not-very-fast boat, and had to be going not much after 07.00. Weather was again fine.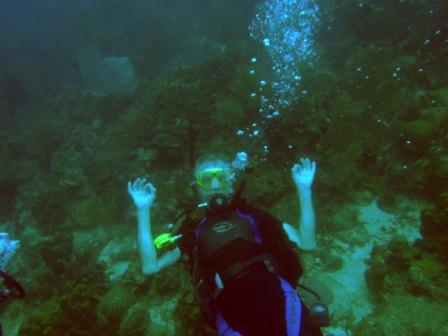 With a full boat we went out around the south side of the island, seeing where I'd walked yesterday, and continued up the north side. We stopped at Nobbin Reef, an area of large coral cliffs and canyons etc.
Into the water, I had Alfonso as a buddy and we were a foursome with Abel as leader. The scenery was spectacular, cliffs descending much deeper than we dared to go. Visibility was great. We went down about 15 m for about 45 minutes. Alfonso had an underwater camera and he took some really great pix of us and the underwater scenery.
The second dive was Radar Reef, closer to home, near the housing developments that I passed on my walk yesterday. Our same group went down from the boat and cruised over the relatively flat bottom in a straight line for some distance. Visibility was not so good and the scenery not so spectacular, but still a good trip. I was getting used to diving now, more relaxed and using even less air than some of the others.
It was raining as we came back up. Rain continued as we returned to the dock about 11.15, cleaned up, put away our gear, and I started on my notes. Christian talked me into doing the deep wreck dive with Abel tomorrow morning.
In the afternoon I was busy with notes and doing the rest of my dive reading, including a chapter on deep diving; just as well, as it rained a lot. Later I was able to get out for a walk to explore beyond the east end of town, but I didn't go very far, as it would soon be dark and rain came again.
The upcoming deep dive feels a bit intimidating. I haven't gone that deep since the 1970's when I didn't know better. Anyway, trust in providence. After breakfast I sorted out my gear and helped load the boat. The wreck of the Hallibourton was not far away and we were out there by about 07.30. There was quite a large group of us diving to the wreck; Christian's group, myself included, was 4 people. He took us through the drill before we started, and we checked gear as usual.
It seems a long way down to 30 metres, seemingly endless descent and equalisations. Down at the sandy bottom (105 ft by my gauge at one stage) it was almost scary knowing how far we were. Chris took us through a few mental ability tests to show that at that depth our mental abilities are noticeably impaired. It's amazing, almost embarrassing, how fast we (I) go through air at that depth; I had to signal half air a lot sooner than if I were at 15 metres.
Anyway, work finished, we started to swim and look around the wreck of the Hallibourton, a small steel freighter or whatever it was. It certainly was fascinating, the whole structure was growth-encrusted and partly rusted away. We could cruise over the open hold, and into a large covered chamber. Even more cool was entering through large hatches into the wheelhouse, seeing some of the fixtures still in place, and observing our air bubbles collecting on the ceiling.
We could only be down there less than 10 minutes, especially with my (our?) air starting to run down. The ascent was necessarily slow to avoid decompression sickness, and we had to stop once or twice to rest at certain stages (standard at any dive was to stop for 3 minutes at 5 metres anyway). At the top I had 500 psi air left, out of 3000 psi to start with, just enough to be comfortable.
It was quite an amazing dive, and I was impressed with all aspects of it and of my achievement. Chris took us through the mental tests again to show how much better we could do them on the surface.
After an hour wait, the second dive, to about 15 metres around coral, sandy bottoms and a small boat wreck, was more ordinary but still worthwhile.
I'd had nearly enough diving by that time. Again conscious of time, I saw when we got to shore that I could leave today on the 14.00 ferry back to La Ceiba and get a head start to get back to Guatemala.
ATM trouble today. I went to a bank machine that I had used before, entered a withdrawal, the machine said please take my cash, the cash port wouldn't open, and I got no money. I went into the bank and they said they wouldn't know until next day if there was an error. I was leaving in 2 hours. I got my withdrawal at another ATM. Back at my computer on-line, my bank recorded two debits at the different times, so there really was an error. Back at the bank they of course couldn't verify the error yet, but said if there was an error they would reimburse my account next day. It wasn't a large amount of money, but to this day I've never received an adjustment.
Back toward Guatemala
The ferry left at 14.00, crossed in rain and swells to LC, and arrived at 15.15. Myself and others shared a taxi to the bus station. We were on a bus to San Pedro Sula at 15.45.
We got to SPS at 19.30. A German traveller and I shared a taxi to the centre to some pretty seedy parts of town; or maybe it's all seedy. We found the Hotel San Juan about 20.15 and got a shared room. We didn't go out at all because of fatigue and not very inviting surroundings. The hotel had an armed guard at the door. Absolutely no incentive to spend any time in this city.
At 07.15 next day we were in another taxi back to the bus place, the German toward El Salvador and myself back to Guatemala. At 07.30 I was on a mini-bus to the Honduras coastal town Puerto Cortes. It's supposed to be an hour trip, but the bus cruised for passengers and didn't clear the city until after 08.00 and got to PC at 08.50 in steady rain.
I knew roughly which way to go to find the bus for the Honduras border town Corinto, but had to wait a while for the rain to ease before walking. From where I waited I could see the nearby waterfront, with its ship bridges, smokestacks, cranes and containers. Found the Corinto bus and started out, still in intermittent rain, at 09.20.
The bus stopped and cruised for fares slowly through every town. But the highway was paved and in much better shape than suggested in the guidebook, so we got to Corinto at 11.30, much faster than the 4 hr book time. I met an Icelandic couple on the bus, and we would go on to Livinstone together. We stopped near the border for a chicken/rice/beans/plantain lunch.
Passport check out of Honduras at noon was quick and easy.
23 October, I'd been in Honduras less than a week, and, had achieved my objectives there to great satisfaction. Honduras is generally a cheap country to travel in, but the activities, seeing Copan ruins and scuba diving, and the ATM discrepancy, made it the most costly of this trip. Still worth it.
Guatemala again
(Click for map)
A mini-bus shuttle took us to a river where the bridge had washed out and collapsed. A boat got us across the river to another bus. This one took us to Entre Rios where we did the also painless Guatemalan passport check and on into Puerto Barrios at 12.45.
Agenda for Guatemala this time was to stay at the Finca Ixobel farmstay near Poptun, Peten, then see the Tikal ruins, and make my way back into southern Mexico.
I'd intended to get buses straight through to Rio Dulce and on to Poptun today. But the Icelanders persuaded me to take a boat with them to Livingstone, where I'd later try for another boat to Rio Dulche. It would be more interesting and attractive than yet another bus ride. So we got off in Puerto Barrios, found an ATM where I withdrew Guatemala cash, found the boat dock, boarded a boat for a fast 1/2 hour or so ride to Livinstone, and arrived at 14.30.
Livinstone
The last boat had gone from Livingstone to RD, the next was 09.30 tomorrow. The morning boat would be a 2 hour "excursion" trip. No matter, I was tired enough of travel today, and Livinstone seemed not a bad place to spend the rest of the day and night. We checked into Hotel Rio Dulce, I rested and later walked around town. Livingstone is a mainly black-Carib town, unlike the rest of Guatemala. It has a relaxed easygoing vibe, a good place to chill out. There are many nice restaurants and shops, not noisy except for the bongo players outside restaurants. With the Icelanders at a waterfront seafood restaurant in the evening, I had a magnificent whole-fish dinner with bread, fries, rice, salad, a beer, tea, and a magic sea view.
My left ear was swollen, a bit sore from my last day of diving. I put drops in it but it seemed to persist. It would take a week or two to clear up.
Next morning, finally I should get to my goal Finca Ixobel.
I was down to the boat office at 09.00 to get my ticket upriver to Rio Dulce. The 09.30 boat was a slow one, meant as a sightseeing excursion along the picturesque river. That was fine with me, not any real hurry as I have all day. It wasn't raining and there were numerous sights along the river, at least for the first (narrow) half. Green lush jungle came down to the river from steep hills and cliffs, almost like going through a narrow gorge. People fished and commuted in small dug-out boats along the water's edge. At one spot a thermal spring entered a small pool next to the river, overflowing into the river itself. Stopping there, we sat with our legs in the thermal water for some time. The water was only hot for the top 6 inches or so, normal river temperature below that level.
At noon we reached Rio Dulce town with its busy crowded streets and restaurant/market/bus activity.
I got a bus ticket for Poptun for 13.15 and stopped at a street restaurant for lunch of hamburger and fries. I had only time for a short exploration of the streets and waterfront; the bus was ready just after 13.00. The bus was over full as we left, and I had to stand all the way for the 2-hour trip, looking out as best I could to avoid missing the Finca Ixobel stop. It rained much of the way but the rain stopped before the driver showed me my stop at 15.00.
Finca Ixobel
It was a 1 km walk to the farm, about 4 km south of Poptun. The place seemed a bit bigger and more fancy than I expected, but still looked peaceful, attractive and relaxing. The German couple that ran it set me up in a room with a New York guy and a Spanish/British couple who were cycling through. Later I had a good talk to the Spanish guy about his bike and the trials/tribulations of cycling.
This place really does seem like a good place to chill out a while. All meals can be ordered on-site, and in the evenings they have a pig-out buffet of really good food. Wi-fi allowed me to check internet/email. The rest of the day I talked to the others and started practising relaxation. Slept well too.
On my first full day at FI, during breakfast, I talked to a Guatemalan guy from Antigua who has a coffee-growing business and museum. He had a lot of info on coffee and how it's grown, and the ins-and-outs of .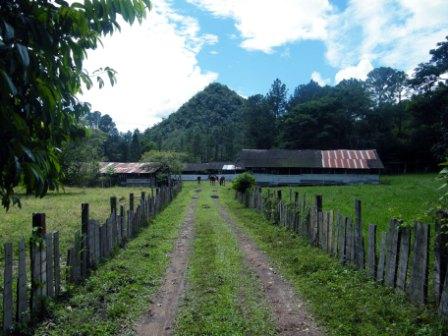 Later I started looking at walks. I could walk south of the farm through paths and fields, and a half-hour or so up nearby Cerro Pyramide for views over the farm, surrounding countryside and Poptun town. I enjoyed the tranquil beauty of the fields and pastures, but the scramble up the hill was steep and very slippery from recent rain. Still it was a pleasant climb and rest at the top. Trees made the views slightly difficult to see, but still good. Back at the bottom, rather than head straight back home, I decided to stop by the small lagoon for a swim. I did get the swim in but the others were there too drinking beer and rum and talking up a storm in Spanish/English. I joined them and ended up spending the whole afternoon with them; great atmosphere.
Next day was a rest-relax-do-not-much day. I changed into swim gear and took a swim in the lagoon. Then I tried some more exploration along small paths out in whatever direction I could find through the bush. A field and jungle trail led me up a gully and into a high pass to the left of the Cerro Pyramide. I ended up in a pretty grassy/bushy valley where the trail ran out and I had to return. Then along the right side of the cerro I found another path up through cornfields to where I could look down on the hills and valleys on the far side. Beautiful but lots of evidence of land degradation from over/poor farming.
27 Oct was time to move on. I thought the simplest method of transport would be to walk out to the road and flag down a passing bus to Santa Elena (Flores). But out on the road around 09.00, warm and getting hotter all the time, there were very few buses and they weren't stopping for passengers. After about an hour I gave up on buses and tried to thumb a ride. The first pick-up truck stopped immediately for me and I had a ride in the back most of the way to SE, windy but exhilarating. A mini-bus then took me into SE.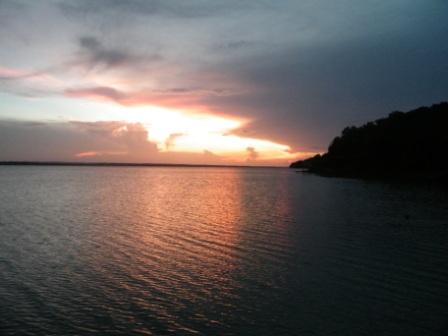 El Remate and Tikal
In the noisy crowded ugly bustling town of Santa Elena, I fought off the coyotes (rip-off hawkers) and got on a hot sweaty bus to El Remate, arriving in this small village on the east shore of Lago de Peten Itza sometime in the early afternoon. ER is a convenient staging point to access the Tikal ruins to the north. I walked along the lake shore road for a km or so until I found Mon Ami guest house, a nice friendly place, though little english spoken. The dorm is interesting, a big open upstairs area with no walls and a thatched roof; loads of character.
I had a salad lunch, not having had any fruit or veg yet today. It's very hot and sweaty here but I wandered back down-town anyway to explore the village and lake shore. Back home I jumped in the water for a refreshing swim off the nearby pier.
I booked a shuttle from here to Palenque (Mexico) for 04.30 on 29/10/10. Also reserved another shuttle for tomorrow to Tikal starting at 05.30 and returning at 14.00.
The bus came in the dark at 05.30 next morning and took myself and another couple for the approx 1/2 hour ride out to the Tikal Park and Maya ruins. Interesting to see the contrast between the degraded farmland outside the park and the pristine-looking jungle inside.
We entered the Tikal site about 06.30. Unlike Copan it's quite a vast site, but with less of Copan's detail and intricacy. It's more on a scale of Mexico's Teotihuacan, but everything was hidden or buried in jungle, so you don't really see a feature until you're on it. It took me the full 7 hours to wander around all the places I wanted to see.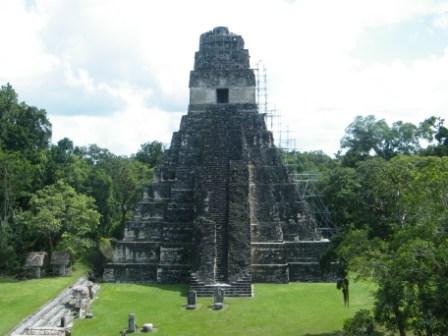 The main features are pyramids or temples, several of them, but much narrower bases, and steeper, than Teotihuacan. Most of the tall temples are accessible by wooden stairs built up the sides. So they're easy to get to (except for the VERY steep Temple 5) and afford restricted but good views of other temples through the trees. Other structures included large complexes of buildings and acropolis, suitable to explore although many of the stone roofs had collapsed. Some features were little more than covered mounds with vegetation. Spider monkeys scrambled like ninjas through the treetops.
I started anti-clockwise with complexes R and Q, then along a road to the north end with Group H. Another road took me back to the far west Temple IV, the highest temple and the first big one I climbed, to enjoy the view over the other temples and over dozens of miles of jungle into the distance. From there I took in other complexes including "Lost World", Great Pyramid, Plaza of Seven Temples, South Acropolis (covered with vegetation), Bat Palace, West Plaza, and into the Great Plaza. The GP is home to the big Temple 1 (Tikal's signature), nearby Temple 2, and the massive and intricate North and Central Acropoli. Then around to and up the steep Temple V (where I got caught in the rain and swarmed by wasps where I tried to shelter), and finally south-east to Group G and on to the Temple of Inscriptions. By that time it was nearly 13.30; time to get back to the bus place and back to El Remate.
On 29 October I was up and ready for the shuttle at 04.20. Dark and no-one around, I waited until 04.50 until the mini-bus showed up. I was the only passenger as we drove the 40 minutes or so in darkness to Santa Elena. There I changed buses to a slightly larger one with maybe 1/2 dozen passengers, and we left SE at dawn, nearly 06.00.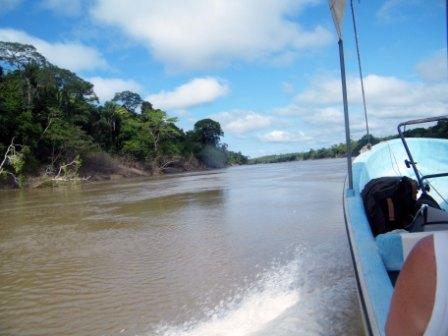 Through rain for the first part of the trip, through mostly degraded farmland and pasture populated with Indicus cattle, we passed San Francisco and La Libertad. Weather turned fine as we reached the border post of Bethel at 09.00.
Passport checks at the Guatemala post attracted an exit fee of Q40 (about $5).
No bridge crosses the Rio Usumacinta, so our bus stops here. We trudge down to the muddy riverbank and onto a motorboat for a 1/2 hour ride upriver to the Mexican border town of La Fronteras. The river was big and wide but swift flowing with many eddies. It didn't feel entirely safe, and we kept the life-vests close at hand. The jungle riverbank was pretty though, and at one stage we saw a crocodile on the bank.

Mexico again
(Click for map)
Through Mexican passport control, we boarded another bus for Palenque. There was a delay, and some irritation, because we were required to pay some sort of "protected area" tourist tax, why this and why not part of the ticket price? Anyway we proceeded onward in fine weather to reach Palenque town after 13.00.

Palenque
There, rather than taking us to our respective hotels, they dropped us at the main bus area. We had to make our own way to our destinations. I wanted to stay out at Panchan on the road near the ruins, so had to wander around until I found where the Ruinas collectivos leave from. I found one after a short wait and 4.5 km later was out at the small complex of hostals/camping/restaurants next to the Ruinas Park entrance. Found and checked into the Jungle Palace, seemed like a nice atmospheric retreat.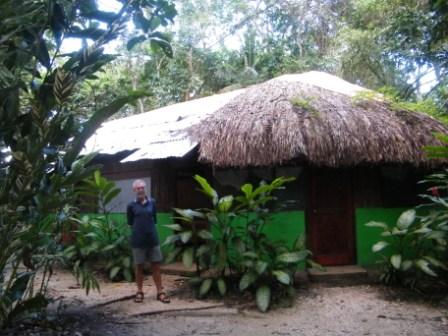 In the early afternoon after settling in and seeing what my plans should be, I decided to take a collectivo back to town to check out bus times etc for Mexico City. There, at the ADO bus terminal, I checked out, and booked, a bus to Mexico TAPO for 31/10/10 at 18.30. That might allow me to be in MC for "Day of the Dead" celebrations on 2 Nov and still get back to USA by next Friday.
I looked around town for some of the afternoon, at shops, restaurants, Zocalo, church and other sights. It seemed a rather typical city, not unpleasant. I found a small restaurant for a meal and stocked up on a few groceries and fruit before returning to the Jungle Palace.
Back at Panchan I heard repeatedly a ferocious roar coming from somewhere near, sounding like King Kong. It turned out to be a howler monkey (should call them roarer monkey?) in the trees near the restaurants. I didn't have my camera and couldn't see it well anyway, but what a sound!
Next day I was set for the Palenque Ruinas. At the gate I found I had to pay another protected area tourist tax before I could go in. Then I found the ruins were not anywhere nearby, having to walk another 2 or 3 km along the road to get there. I would have to buy my ruins ticket at the museum site and go a further hot and sweaty 1.5 km up a long hill to the entrance. If I'd known I may have taken a collectivo.
Entering past the ubiquitous souvenir/craft stalls, I was in the site proper around 09.00. It's an impressive Mayan site, several cleared areas with several large and steep temples, tombs, palace, ball court, altars, residential areas and a small number of sculptures/steles. All were connected by well-defined pathways. Below most of the ruins, before the exit, is a small river with pretty cascades, bridges and viewpoints.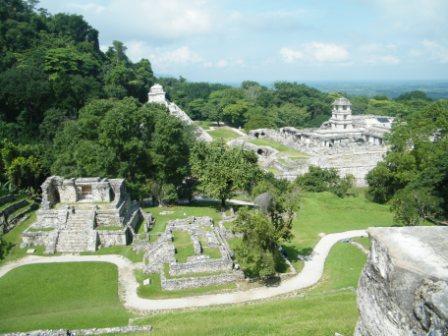 I was on site maybe 4 hours. It was OK but not my favourite ruins so far. It's more compact than Tikal (at least the accessible part), less so than Copan. It was rather more crowded than Tikal, many more guards and security people and guides. The pathways are much more defined and I was less able to wander along isolated trails through jungle. It had more of a "regimented" feel about it.
Because I'd walked up so far to get to the entrance, it was mostly downhill through the ruins and out to the exit. Across the road I went into the museum for an hour or so, a good place to find out some of the background information on the site and on the Mayan civilisation at the time.
The remainder of the afternoon was a good opportunity to get the pictures from my camera onto the pc and process/label them before I forgot what they were.
Rained again at night. It's really damp here in Palenque, very difficult to dry clothes etc.
On my last day at Palenque, I had all day to kill time until my 18.30 bus. It was a good chance to read, rest and enjoy a break from having to be doing or seeing something.
About 16.00 a German friend and I took a collectivo into town to catch the 18.30 bus for Mexico City. The bus was big and modern, no more chicken buses from now on. It left on time for a comfortable and uneventful 13 hour journey, mostly in dark of course, to Mexico TAPO.
Mexico City
1 Nov was apparently the first day of the festivities.
At the TAPO terminal I said adieu to Alex as he set out for Acapulco, and I found my way onto the metro for Zocalo. Walking across the Zocalo, I saw that numerous exhibits and displays for the Day of the Dead were being set up, some quite elaborate and fascinating. I found out that the celebrations would be both today and tomorrow, so must stay for them if possible.
I found my regular haunt the Hostal Moneda about 08.00.
I might as well go by metro out to the Terminale Norte right away to see about the bus to Denver. I will take a bus direct, cheaper than flying and a smaller carbon footprint. I went to the Autobuses Americanos counter and booked a noon bus for 3 Nov Wednesday. It should leave Chihuahua at 13.30 on 4 Nov and El Paso at 18.39 same day, maybe arriving about 07.00 or 08.00 on 5 Nov.
Bus out of the way, I went to the Aztec Bank in the terminal, the only bank there, to try to pay my Mex exit, the ubiquitous fee of P262. The bitch in the bank wouldn't do it and tried to fob me off to a couple of non-existent other places to do it. I gave up on it and took the metro back down-town. There I found a bank that would do my exit fee no trouble.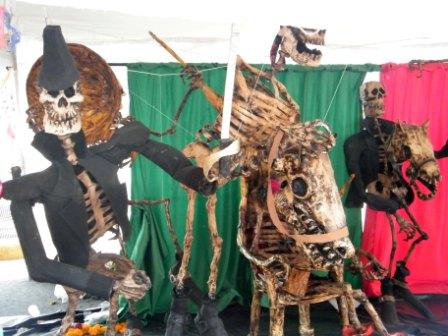 For much of the afternoon I deftly negotiated the massive crowds at the Zocalo to take in the Dia del Muerte exhibits and activities.
Much of the space in the plaza was taken up with tent-covered exhibitions by artists; mainly consisting of death-related themes and replete with skeletons, skulls, sculptures, papier-mache figures, sand pictures, bread shapes and miscellaneous artefacts, each done in the artists own distinctive style. Crowds pushed up against the ropes jostling to photograph each exhibit. Bread apparently has special significance, one whole display and a number of sculptures were devoted to it.
One massive sculpture depicted a gigantic tree-person, possibly the highlight of the displays.
Natives danced, burned incense and performed purification rituals on the willing.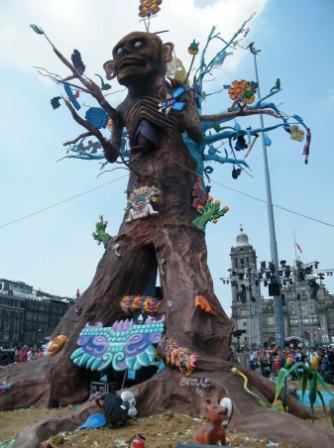 A band was performing ear-splitting goth music on the main stage; later there in the evening an elaborate mythologcal epic would be portrayed in music, dance and theatre.
In the evening the DDM celebrations at the Zocalo had a slightly different feel, everything lit up but no less crowded. Still a blast. The aforementioned epic theatre was particularly impressive.
Next day I decided to take the metro out to the south-west suburb Coyacan to check up on why people say it's good to see.
First stop at Coyoacan was a big shopping centre near the metro station, the most modern one I'd seen since USA, all the big ritzy names represented.
Out along the streets of Coyoacan, numerous coffee shops lent a bohemian atmosphere to the place. I walked to what must be the centre of the district, many shops, cafes, internet and restaurants. Coyacan also had its Zocalo area with some DDM displays and crowds.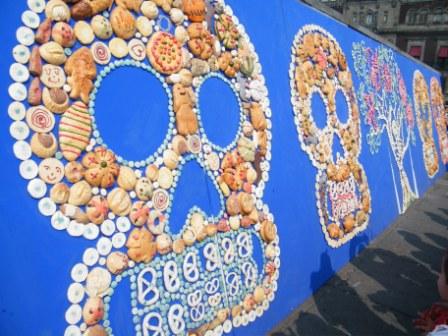 In the evening I went out again to check on the DDM action. The Zocalo scene was similar to last night. Having seen everything there already, I wandered west along the pedestrian street Madero. Crowds here were as dense and intense as at the Zocalo. The main draw seemed to be the large number of characters and performers doing their routines or dressed up in all manner of outlandish and gruesome costumes. Get-ups were mainly monster/macabre themed, but also portraying a large variety of well-known characters, from Darth Vader to Spongebob Squarepants.
3 November was my last day in Mexico. I was on the metro about 10.30 for the by now routine trip out to the Terminale Norte, and on the bus at noon as scheduled. The bus trip north was also routine, slow leaving the city and for the first several hours north. It passed through cities Queretaro, San Luis Potosi and Zacarecas by dark.
By morning we'd gone quite a long distance; must have been fast at night. We'd left the cactus and eucalypt farmland and entered scrubby semi-desert. Surprisingly we were in Chihuahua by about 07.30. Does that mean I have to wait 6 hours for the next bus north? I checked at the bus desk for connections, and they put me on a 10.15 bus to El Paso. That contradicted the expected 13.30 departure time, but I don't mind, only about 3 hours to wait here. On the bus at the stated time and off north again.
We didn't stop at Mexican passport control, so I didn't need to show, and apparently wasted, my P262 exit fee; never mind. There was a traffic queue at the border the length of the bridge, which took a while to get through. But the entry into US was fast enough.
We arrived at the small crowded El Paso Autobuses Americanos bus station about 17.45. The onward bus to Denver was for 18.30. So it made me wonder how, if my bus had left Chihuahua at 13.30 as scheduled, I would have made the connection. The bus went on overnight, my second night, and into Denver on the morning of 4 November. My trusty relatives were there to meet me.
I'd be a few days with them before flying back to Canada and later on to Australia.
So that was my trip to Mexico, Guatemala and Honduras. It was generally easy, fun, exciting and regrettable that I had not more time. Maybe a future trip would bring me back with enough time to see more of these countries and possibly El Salvador, Nicaragua and even farther south.