CHINA 1987
With a month's holiday from work, and no trips except back to Canada since 1984, I had 5 weeks holiday accumulated and was ready for another "interesting" destination. I was starting to get a little tired of being "a slave to my wandering ways". I said to myself "If I can just find a trip that would be rough enough and unpleasant enough to make me sick of travel, maybe I can give it all away and settle down for good".
China at the time was gradually opening up to travellers, but appeared not yet to be a very easy place for backpackers to get around in. It might just fit the bill. A young guy with the China Friendship Association was very congenial and helpful with my trip, advising that I could go there independently, advising the do's, dont's and where's, and even helping me plan out an itinerary.
So, on Saturday 11 April, with a visa and a return plane ticket, I was on a plane in the late morning out of Sydney. There were no direct flights to Hong Kong, so the aircraft arrived in Manila just on dusk for an overnight transit stop. A shuttle bus took us passengers to a Hilton hotel, not my normal standard but hey, it's part of the ticket.
That means I had an evening and a morning until 08.00 to look around Manila. I had been to the Philippines 3 years before, so I looked forward to checking out how the city had changed in that time.
Of course the temperature hadn't changed, still stinking hot, but no matter. I wandered around old haunts on Taft Avenue, Luneta Park and Ermita, finding out that there wasn't really much change since 1984. It was slightly drier and cleaner and not quite so much poverty in evidence. A pickpocket tried to finger me on Taft, but he wasn't very good at his job and I brushed him away easily enough. I found my favourite street stall food court had moved a half block or so, but still good for a cheap tasty meal.
One thing I hadn't done the last time in Manila, was to go into one of the many Ermita bars, with their dancing girls and touts at the doorway. Well, give it a try. I had a beer or two and a drink for a girl, and a little chat. They must have worked out that I wasn't in the market for any more than that and let me go without any further charges. I must have been lucky, having heard later how people can be ripped off in these places.
In the morning I looked around the reclaimed-land district of the city, near my hotel. There was the big cultural centre, and a lot of locals doing morning sports. Trishaws plied the plazas, some loaded up with enormous stereo systems powered by car batteries. They could thunder out disco music but no room for passengers.
From Manila it was only about 2 hours to Hong Kong, arriving there just after noon on 12 April. A city bus shuttled me from the airport into Kowloon. Before finding accommodation, I decided to check out travel into China. The CITS office in Kowloon was not the epitome of knowledgeable service. The guy behind the desk had no clue what they offered; I had to tell him that there was a hover-ferry service to Wuzhou, and show him where to find it in his own folder. Anyway I was able to train him to sell me a hovercraft ticket for Tuesday for 07.20. That gives me 1.5 days to look around HK.
I checked in to one of those cramped cubicles in Chun King Mansions on Nathan Rd; a bit noisy and stuffy with no windows. Good enough; I've had lots worse.
One really has to be there to appreciate how cloistral Kowloon is, everything is on top of one-another. Signs obliterate signs obliterate other signs.
Next morning the Star Ferry took me across to Hong Kong. I spent the day walking around, first to the causeway area, then along small streets past shopping centres and little printing, sewing, medicine and bearing shops and the like. Everything was so small and cramped, little space anywhere. In the afternoon I took in the botanical and zoological gardens before heading back to Kowloon.
I was thinking of staying in the youth hostel atop the hill, or at least going up the hill for a view, but it was in cloud the whole time so not worth it.
In anticipation of an upcoming glut of Chinese meals, I ate western food all day; Mcdonalds for breakfast, spaghetti (actually Chinese noodles) for lunch and pizza in the evening.
On into China: (Click for China map)
I was up about 05.30 on 14 April to get to the train and taxi to Tsai Kok Tsui ferry wharf by 06.20. I was a few minutes late but had to wait a half hour anyway. It did leave on time at 07.20 though.
The ferry was reasonably fast; I guess it has to be because it takes all day to get to Wuzhou in China. It set off past steep hills with high-rise apartments in the territories before setting out across the choppy bay and into one of the mouths of the Pearl River.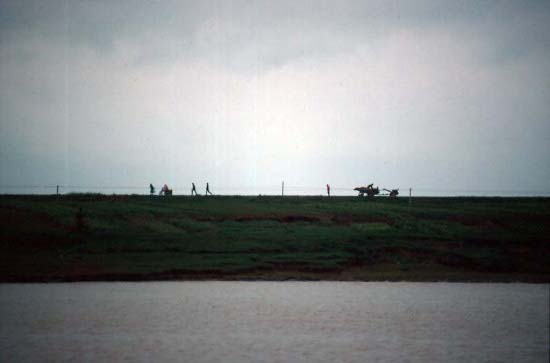 You could see the change as we passed from HK to China, like a time warp back 20 or 50 years. China was distinctly rustic and Spartan. The river life however was enthralling with its fishing boats and nets, barges, people, buffaloes, banana plantations and the occasional two-wheeled tractor.
I met on the boat Mark, Cecily and Mark's parents, all from Queensland. I would end up travelling with them some part of the trip, and they are friends to this day. Lunch was pork, eggs and rice, as we headed ever further up the Pearl. By about 17.20 we were getting slightly sick of the boat as we arrived in the mid-size town of Wuzhou.
Customs and immigration was a breeze, as was the money change. At the time they had the quirky "Foreign Exchange Certificate", into which we farangs converted their currency. It was a bit of a rip-off; the local currency, the Remimbi, was considerably more to the dollar and they were meant to be equivalent to the FEC. Rmb approximately equated to about 4 to the AUD. The FEC was the only currency accepted at the tourist-oriented "Friendship Stores". Anyway I changed some money into FEC, but would generally buy Rmb off the street for much of the trip. It's easy to get Rmb; the standard greeting with the little girls on the street is "Heloooo, changee monee?" They want the FEC to be able to buy foreign goods.
A very friendly and helpful CTS guy met us off the boat and took us to the Beishan Hotel where we got dorm beds. The room was quiet enough with supplied blankets and tea.
No dinner for me except some fruit from a market, as I had a headache. But I did my usual wander-around the town in the evening. The streets were full of vegetable markets, small shops, tractors and countless bicycles. People were not as curious and staring as I expected.
On the boat I had bought a bus ticket to Yangshuo for HK$40, easier than trying to find it here. Also, the CTS guy (for a 5Y phone call) booked a train for me from Guilin to Kunming for the coming Sunday night. I was learning fast that it's wise to organize these things as far ahead as possible to save hassles.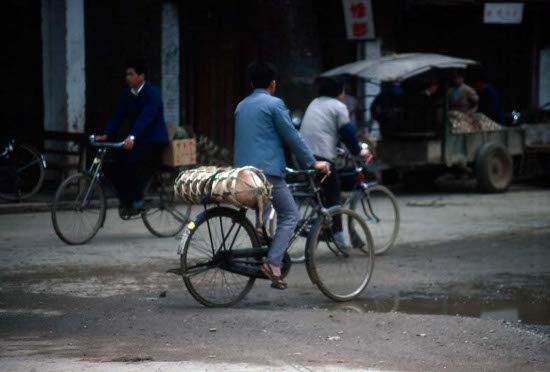 We were onto a Toyota van at 08.30 next morning for the 8 hour trip to Yangshuo. This was my first good look at Chinese countryside with its hills, rice fields, bicycles, 2 wheeled tractors and fat-bellied pigs (some trussed in baskets on the backs of bicycles). As in many Asian countries the bus horn button seems to be hard-wired to the ignition.
Lunch, my first real meal in China, was in a small town where most of the pigs seemed to be coming to market. Of course pork was served everywhere here, with soup, fried vegetables, meat and fried rice. Our meal looked good to start with, but as it cooled on the table the sauces turned white with solid fat. I would learn when ordering to ask them to hold the fat for most meals.
Approaching Yangshuo, the landscape turned to flat ground interspersed with steep limestone hills. The karst landscape from here to Guilin is immortalised in classical painting and is among the prettiest in China.
In the pleasant and picturesque town of Yangshuo, I shared a room in the Xi Jiang Hotel with Clay, a geologist from Guam. Also I booked a rental bike for tomorrow.
Yangshuo has a few of the distinctive limestone hills, topped with pagodas, around the town. I could walk up the steps to a pagoda and sit enjoying the view over the Li Jiang river; what a great place to write my postcards!
The main street down to the boat wharf has a real Kuta Beach atmosphere; lights, souvenir stalls, English-menu restaurants. Not a lot of Marxism in evidence here. Meals here, usually vegetables and rice with or without meat, are typically 2 or 3 Y.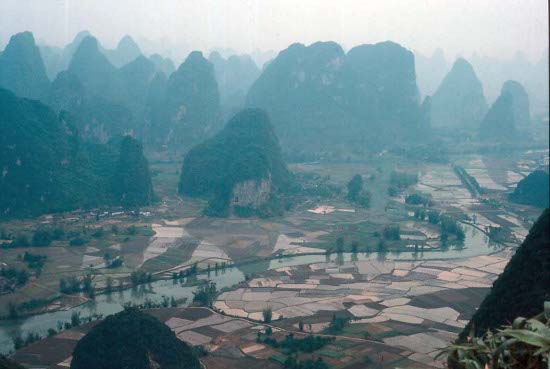 After our oatmeal porridge breakfast, Clay and I took our bikes for the half hour ride out to Moon Hill, a large hill with an arch formation, set in a group of hills among rice fields. We were enthralled by the stunning views of the surrounding countryside, both from the bikes and from the top of the hill. This MUST be the prettiest part of China. Part way up the hill, in the shadow of the arch, a couple of old guys manned stalls with canned drinks and other refreshments. We spent a fair bit of time at the hilltop, taking in the reflections of the surrounding hills in the rice-paddy water.
Back on the bikes, we passed through a small village and on to a smaller arched hill. Here were many Chinese tourists having their picture taken against the background arch. I would see a similar scene several times throughout the country. It was difficult for Chinese to travel outside their country. Many, especially newly-weds, holidayed locally and as they had no cameras, would be commercially photographed in front of any scenic icon they encountered. Every rock, lake or otherwise scenic spot has a photographer stationed in front. Proximal paraphernalia usually included camels (some of the mangiest I've seen), horses and souvenir stands.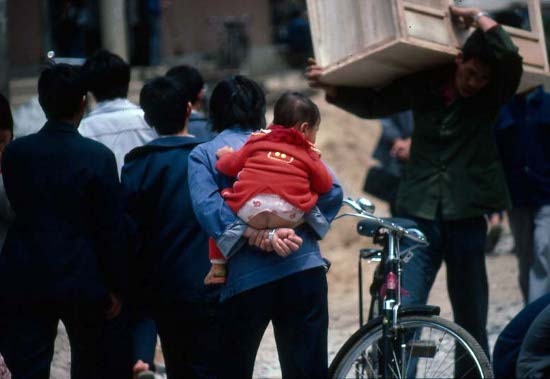 14.00 is approximately the time when the package-tourist boats show up in Yangshuo from the main upstream tourist town of Guilin. The town, especially around the wharf, comes alive with tourists and tourist stalls for the hour or so that they're there. It's capitalism at its most rampant; what a sight.
In the evening a few of us found a local guy on a raft with several cormorants, and paid him 3 Y each to go out on a tour of night-time cormorant fishing. We watched as he placed bands around the cormorant necks (so they don't swallow the fish) and sent them underwater to catch and bring up the fish. Although the fish were quite small, it seemed to be a reasonably effective process.
I have less than 5 weeks in China and can't stay anywhere long, so after a day or two in Yangshuo it's off to Guilin. Clay and I wanted to take a boat to see the riverside scenery. But, contrary to advice, there were no boats leaving at 08.00. We had to take a bus at 10.00 (3 Y each), bumped our way along past roadworks, and arrived in Guilin about 11.30.
Guilin is much bigger and more built-up than Yangshuo, has been a tourist spot for much longer, and was considerably less pleasant and laid-back. Still there are many of the trademark limestone hills topped with pagodas. I walked up several of them during my stay, enjoying good views over the city and again the Li Jiang river.
I had to chase around for an hour or so to find the Souryang Hotel where I could get a bed and find the guy who was to organise my train to Kunming. He didn't yet have my ticket, promptly got to it, and I had it later in the day. He had taken my passport and I was nervous whether or not I could trust him to get it back to me, but all was well in the end. So I was to leave for Kunming in 2 days time at 23.00, hard sleeper. It seems one must purchase all tourist-related things in FEC, not the cheaper Rmb.
Guilin is a real tourist mecca, both for Chinese and farangs. The breadth and depth of souvenir stalls, stone carving shops, restaurants, bike rentals and money-changers easily surpassed Yangshuo.
I went for breakfast with a few others to an interesting-looking restaurant. Cages outside housed pigeons and cats, and the menu included snake, hedgehog, pangolin, and frog porridge. However, not needing to prove how squeamish we weren't, we settled on apple pancakes instead.
I rented a bike and took a ride outside the city to Reed Flute Cave. A cave tour showed us the usual pretty cave formation illuminated by coloured lights but the Cantonese narration was lost on us. The guides had a quirky habit of turning off the tunnel lights too quickly, to the shouts of protests from the people in the rear.
After the cave I tried riding around some of the country roads to explore, but I was turned back by well-meaning locals who thought I had lost my way to the cave. Slightly frustrating, but what can you do?
Back to the "interesting" restaurant for breakfast, where I decided to try the frog porridge. It consisted of a rice soup with ginger, chives and bits of chopped up frog. It wasn't bad, but hard to get around all the small bones.
The day was oppressively hot and muggy, so I spent most of it wandering around easily accessible sights, including the easily climbed Fubo Hill and the pleasant Chinese-style Feng-Shui-compliant 7-Star Park.
Over at the train station in the evening of our departure for Kunming, I met up with Mark and Cecily (from the hover ferry) and a few other travellers, and we sweltered for ¾ hour waiting for the train. We all got hard sleeper berths (actually there is some padding on the berth) in close proximity. As we got going we were able to get some sleep despite the heat.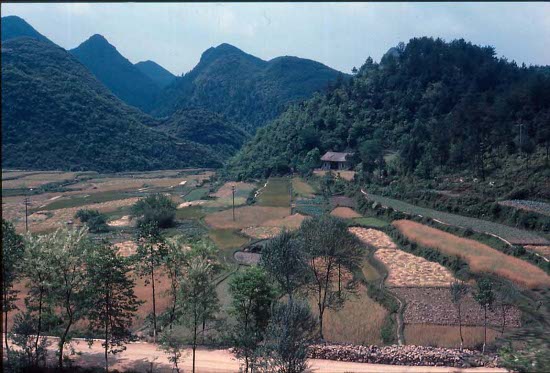 We travelled on the train two nights and one day. Hills gave way to mountains, and rice fields gave way to wheat and millet. I found the rice-planting methods fascinating. Instead of bending over, they would sometimes sit on small stools in the water, working with the small plants, a quaint tea-party image.
The train passed through Guiyang about 18.30, a horribly decrepit and polluted city in possibly one of the poorest regions in China. Apparently the government had tried to boost the place by establishing things like engine factories in Guiyang, but it hasn't helped the visuals much. As we passed west, the area became progressively more arid and treeless. Local Bouyei people could be seen in their distinctive ethnic costumes, tilling fields with hoes, apparently unable even to afford animals.
Train meals came in paper or foam boxes, and evinced varying levels of palatability. Lunch was a duck head and vegetable bits on rice. Dinner was better, ham and egg on rice.
The train service crew apparently has the objective to leave the train at the same time as the passengers, and the train must be clean when they leave. Therefore, we were all roused from sleep with lights, music and nudges about 05.00. We had to keep moving around as they stripped the beds and swept the floors etc. Then we had to wait sitting up or standing until finally arriving in Kunming on 21 April at 08.30.
Despite language difficulties Mark, Cecily and I eventually found the Kunming Hotel where we got a share room and were able to organize bus tickets (17.8 Y each) for a trip to Dali tomorrow. Also I got a hard sleeper train from Kunming to Beijing for 28 Apr, 172 FEC for a 3 day trip. I had wanted to go up to Xian but there wouldn't be time for that. Organising rooms and onward travel is a complex and laborious undertaking in China; we didn't finish until about 14.00. I quickly learned that when you arrive in a city in China, the first thing you do, before eating or sleeping, is to check out onward travel. You just never know how and when you can get it, and must make arrangements before you can plan your stay.
So it wasn't until mid-afternoon that we could turn our attention to more mundane matters like getting something to eat. We found the Yunnan Restaurant and its iconoc dish: "across-the-bridge-noodles". So how did the peasant wife keep the lunch bowl of noodle soup piping hot as she carried it across the bridge to her husband in the fields? She covered the soup with a thick layer of oil to hold the heat in. Or so the story goes. Therefore we now have to take our chopsticks and dip the meat through the oil into the broth to cook it before eating. It's all very greasy but then so is most of the food in China.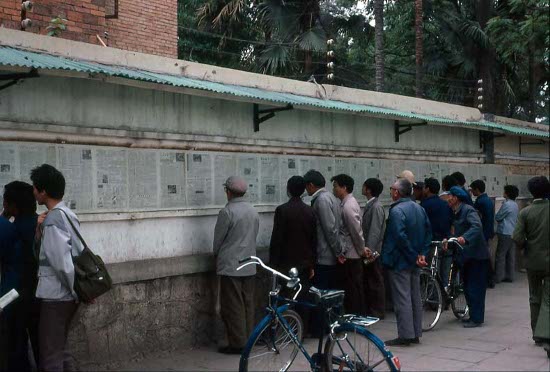 It was only then that I was able to explore Kunming on foot, looking at a department store and the forgettable Green Lake Park. Many buildings were in the distinctive Kunming style, with second floor superstructures fabricated from ornately carved wood. In back alleys old men played board games and younger ones played pool with extremely old billiard balls. Markets displayed lots of hams and Chinese sausage, they were really into smoked meats here.
Here, as in much of China, people spit everywhere and you had to watch your step on the footpaths. As well, spitting isn't even an art form as it used to be in rural Canada or America. They just let it dribble down their chin and wipe it off. C'mon you guys, if you have to spit, at least try to use a bit of class!
Despite the abundance of money-changers, Kunming is a much quieter and easygoing place than Guilin. Car horns were prohibited in the city centre and I could sleep well at night.
I was still dark next morning as we roused ourselves at 06.00 and caught a #5 bus to the Western Bus Terminal for the Dali bus. We sat on the bus there for some time before finding out that they couldn't get it started. So onto another bus and we were westbound about 09.00.
Scenery was picturesque, but the going was long and slow. Roads were narrow with some steep hills, and trucks laden with fuel and steel. This must have been the original WWII Burma Road.
We didn't arrive in Dali until 20.30, almost dark. We quickly found the Dali #2 Hotel (there is no #1 hotel that I know of) and got a shared room. It was OK but the you had to pay for the showers and the toilets weren't very private. Dali has only recently opened up to tourists but there were restaurants with Yangshou-type tourist menus and some traveller infrastructure.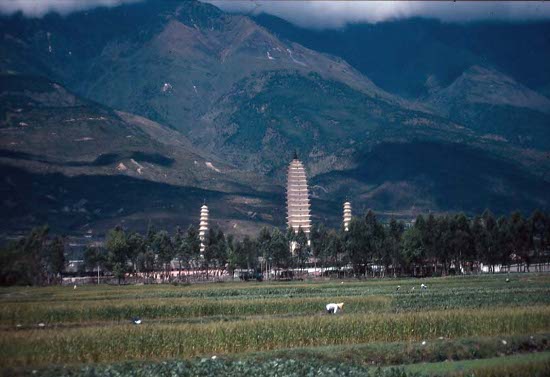 Dali is a pleasant, laid-back town, an ancient capital and now famous for the nearby large white "Three Pagodas" and for the town's ornately carved old city walls and gates. Mountain ranges rise in the west up to the Burmese border. Bicycles can be rented to explore the surrounding countryside, and the whole area has a nostalgic Tibetan or Himalayan ambiance. Travellers have been flocking to Dali recently, as well as to nearby Lijiang to the north, attracted by the chill-out atmosphere. Entrepreneurs and travellers infrastructure quickly follow. Hordes of women in their traditional Bai dress marketing clothing, jewellery, Rb money and the trademark blue tie-dyed fabrics. Pizzas and a "McDaliburger" (actually not bad) were already advertised.
I took a walk out to the Three Pagodas for a close look. They are photogenic from a distance but are somewhat run-down and tacky up close.
Back in town, I came across an old hobo or swagman, a fascinating-looking character dressed in rags, and hanging with bags and knick-knacks. He was quite a romantic looking character; who knows where he came from or where he's going.
Lunch was goat stew and rice in a Moslem restaurant. Islam does have a foothold in these western districts.
On the second day I rented a bike to explore the countryside and hills and villages to the north. The road to Sa Ping was 28 km away at the head of the lake, a long but pleasant ride. Farmers were out harvesting wheat and broad beans. Women spread wheat sheaves or bean bundles out on the paved road for trucks to drive over, a cheap and easy way to thrash the product. Young girls trudged along roads with loads of beanstalks bigger than themselves on their backs. At Sa Ping boatloads of bean bundles were being unloaded onto shore, presumably to be thrashed somewhere nearby. I was chased by tie-dye sellers but soon realised that they wanted 20-30 FEC per piece, not worth it.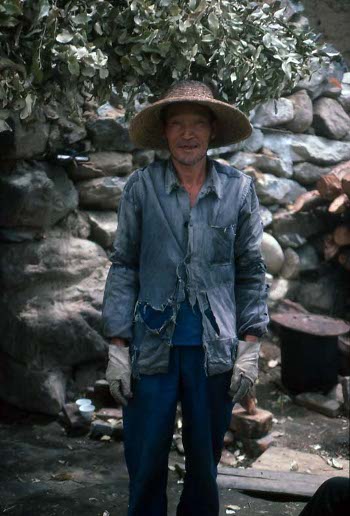 On the way back to Dali I found one of those magic moments that travellers savour so much. Next to the road was a brick kiln. As I stopped for a photo an old guy came out and waved at me. I didn't know whether he was chasing me away or calling me in, so I took a chance and came into his yard. He spoke no English, but we conversed a bit, had some tea, and he gave me a tour of his kiln. I gave him a few postage stamps in return (I knew that many Chinese people collected them). What a beautiful experience!
Back in town I was dead tired and sore from the long ride. I summoned the energy to go to a local tie-dye shop and buy a tablecloth for 18 Y. It was probably a reasonable price, but these women don't bargain an inch. I think the husband was prepared to go down a bit, but the wife soon put him in his place.
Only a couple of days in Dali, and I was up at 06.00 for the 06.30 bus back to Kunming. I couldn't wash because the taps were dry. Anyway, I got to the bus on time but it didn't leave until nearly 08.00. The lunch stop place didn't look very good so I just bought a couple of eggs and some cakes for lunch. Having a slight headache on arrival at Kunming, I allowed myself to take a taxi to the Green Lake Hotel for 7 Y. There I was able to get a bed in a room with 2 Danish girls, have a noodle and dessert meal, and clean up in the decrepit shower. I'd be here about 3 more full days before boarding the train to Beijing.
The first full day was an excursion around Western Hills Park, to the southwest of the city. A #6 bus got me to the suburb of Gaoyao on the outskirts of Kunming. From here I could do a fairly long walk up through Western Hills Park and down to the lake (Dianchi I think) below. There are numerous temples and other sights throughout the hills. I passed through the Huating Temple with its ornate décor and large Buddhas, then past Taihua Temple and the tomb of Nie Er. Farther along the road I reached the top of the hills, with marvellous views over the lake and distant city.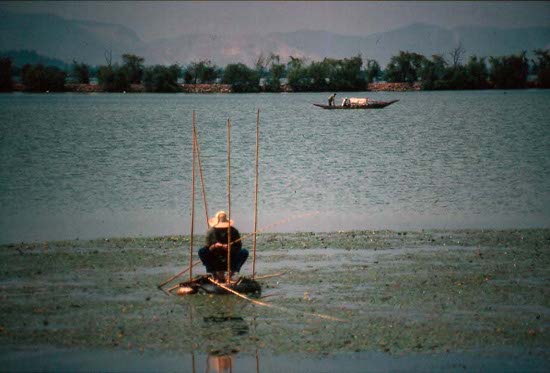 Down the hill through Dragon Gate and the hordes of Chinese visitors, I arrived at Dragon Gate village next to the lake. There was a fish restaurant I had heard about, and I treated myself to a wonderful lunch of sweet and sour fish and a beer. With a few other travellers I walked along the spit dividing the lake, admiring the lone fishermen sitting out on little inner-tube rafts in the lake (are they there all day?), and to the little ferry that took us across the 50 metre channel to a beach near where the buses are. As I watched boats moving up the channel, one was particularly fascinating. It was heaped up high with crushed rock and the gunnels were only a couple of inches above the water. If there'd been a wave the boat would have sunk like, well, crushed rock.
The bus took us back into Kunming near the train station. There I got a bus ticket to the Shilin Stone Forest, east of the city, for tomorrow morning. Also, after dinner, I went to CITS and started to organize a train ticket to Beijing.
A quick noodle breakfast next day and I was on the bus for Shilin. Miraculously, it left just on time at 08.00. Curiously, the bus stopped for a half hour lunch at 11.00, then drove us only another mile or so to the stone forest.
The Shilin Stone Forest is a Chinese landmark. It consists of acres of karst formation, vertically eroded limestone pillars a with stone paths weaving among the rocks. It isn't all that spectacular by world standards but the Chinese love it. Commercial photographers are out in abundance with their horses, camels, costumes for lend, and swords. Souvenir and handicraft vendors briskly trade. Rain in the afternoon dampened the enjoyment, and I took a bus back at 15.00.
My last day in Kunming is a day off while waiting for the 21.15 train. I spent some time at the large complex of the Yuangtong Temple, built in the classical style of temple construction and apparently hundreds of years old. So many people were buying incense that they were burning it in half-barrels. Later I took in the Kunming Zoo. It had a panda enclosure and the usual variety of other animals, but the smell was somewhat off-putting. The camels in the zoo were even mangier than the photography ones.
My final meal was at the across-the-bridge noodle place. It must have been bad because I got raging diarrhoea all night and next day. I slept little that night on the train.
The train wound its way slowly back through Guiyang and up toward Changsha. Numerous mountains and tunnels kept the speed down. I was the only ferang on my part of the train but I eventually found a couple of American girls, one who lived in Beijing, and pumped them for tips about visiting Beijing. I starved myself all day to combat the runs.
I felt better the second day on the train and was able to eat some noodles and bananas and the train meals (I found you can get sick of the train food very fast). The countryside opened up and we made better time, passing through Changsha and Wuhan and across the Yangtze about 17.00. I had a beer with a Swedish girl in the bar, finished my paperbacks, and gave them to the American girls.
We got into Beijing late morning, after 3 nights and two full days, the longest train journey I'd ever done. Off the train, I managed to fight my way out of the station and catch a bus to the south of the city. A short distance through drizzling rain, and I found the Qiao Yuan Hotel and a bed. The hotel was good; clean and quiet and lots of travellers to meet. I'd be here 4 full days and two part days.
The rest of the day was taken up with transport arrangements. I found the Phillipines Airline office to confirm my return flight to Australia at the end of my trip. Then I started to battle for a train ticket to Shanghai. The train station couldn't help me for the day I wanted, and I finally succeeded back at my hotel with a ticket for 7 May, 14.40.
On 2 May, Sunday, my first full day in Beijing, John (the British guy in the same room) and I went to the CITS to check out entertainment and sights around the city. We scored tickets for Chinese acrobatics for Monday night.
Renting a bicycle for 2 Y per day, I rode up to the Lama Temple and looked around yet another set of Buddhas and ornate buildings, pretty and well maintained though. Up north through back hutongs to the Bamboo Garden Hotel, where I had a fried rice lunch in relatively up-scale surroundings. Around the bell tower, and past the outside of the Imperial Palace, a quick rain forced me into the shelter of the Foreign Language Bookstore, where I bought a couple of Chinese books in English. When the sun came out, I rode west to look for the Taoist Temple, but failed to find it.
Back at the hotel late afternoon, John and I went out to the nearby vegetarian restaurant for a meal. We got a good feed there, including a curious fish-shaped vegetable dish and a hopeless Chinese wine (they have a lot to learn about wine making). The meal came to about 12 Y each; Beijing is more expensive than the rest of China.
Back on my trusty black hulk, I rode south from the hotel to see if I could find open country. Not likely; the city seems to go forever. In the west of the city, I took in the Military Museum. It was good for 2 or 3 hours. Exhibits included sections on the Long March, WWII, 1945 to 1949, missile technology from arrows to SAM's, tanks and aircraft, and a proudly displayed crashed American U2 spyplane. Stilted uninspiring poses in photographs contrasted starkly with the glorious and glorified paintings and sculptures. Most of the notes were in Chinese only so I didn't have to spend a lot of time reading things.
A large hill north of the Imperial Palace gave good views over the palace and Behai Lake. The Ming/Qing Observatory in the east of the city wasn't large and didn't take a lot of time.
In the evening three of us went out to the Roast Duck Restaurant, apparently the place for Peking duck. We had to wait for a while but it didn't disappoint. A huge feed of duck with trimmings and beer came to 18 Y and was unforgettable. That was the standard by which I would judge all subsequent Peking duck.
We were almost late for the Chinese Acrobatics performance, having to take a taxi to get there on time. It was great though; one thing the Chinese are good at is acrobatics. One pair of female contortionists was almost painful to watch; how do they do it?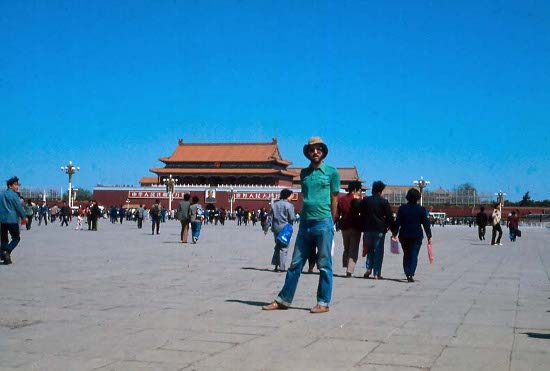 3 of us went down-town one day and looked around Tiananmen Square and the Mao Mausoleum (incredibly long line of people to get in) before spending about 4 hours in the Imperial Palace, commonly known as the Forbidden City. The FC covers quite a large area and contains hundreds of buildings and courtyards. But there isn't a lot of easily observable content. Much of the contents were removed when the palace became inactive, and only a little is making its way back inside, visible behind glass.
John, Nels and I were up at 05.50 one morning to find a train to Badalang and the Great Wall. If we go independently rather than on a tour, we should be able to spend longer at the wall. A trolley got us to the zoo area, and it was a short walk to the Xizhimen Railway Station. We managed to get student-price train tickets for 3.20 Y. With another traveller, Martin, who spoke fluent Chinese, we found where to get on the train. It left about 08.17 for the 2 hour trip up into the mountains and to Badalang.
The town itself looked to be little more than a t-shirt-shop-lined street and the wall. Chinese-priced tickets at 0.5 Y got us onto the wall itself, well-restored in this area and, despite the hordes of Chinese and foreign tourists, an impressive sight.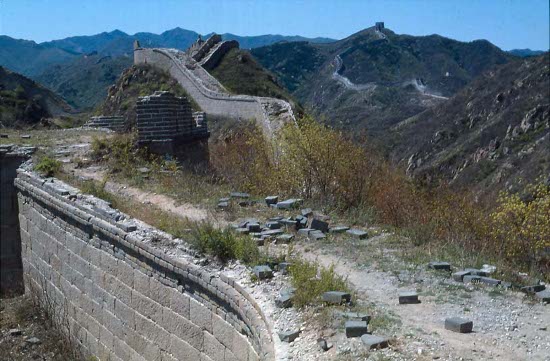 After about 20 minutes of walking along the wall we had left most of the crowd behind and were striking out along an un-restored portion of the wall. I found this part of the wall more pleasant than the tourist part, more picturesque and less crowded. We explored the wall for about 2 hours before finding a shortcut back to the start, having a noodle lunch and buying the obligatory t-shirt.
The four of us took the train back to Beijing about 14.00. For dinner we found a restaurant with the ubiquitous gyoza, or Beijing dumplings. They weren't bad, and I had them often after that. In the evening we explored down-town Beijing by night and got back to our hotel well after 23.00, exhausted but satisfied with a good day.
My last full day in Beijing was an easy day. After a catch-up-on-chores morning and a good curry lunch at the Xinqiao Hotel, I wandered the busy and bustling Dongfeng Markets and bought a few souvenir Chinese fans to take home. Later I relaxed and read on the edge of Behai Lake, and met John for dinner at a Moslem restaurant.
At 19.3 we took in some light comic Beijing Opera at the People's Theatre. The opera reminded me of that I had seen on the streets of Singapore years earlier, but here it was much more opulent and elaborate. It was interesting for an hour or so, but we couldn't understand the dialogue, and left well before it finished.
On the afternoon of 7 May I go to Shanghai. In the morning I decided to try to check out Chairman Mao at Tiananmen Square. The line was still incredibly long, but it moved steadily and I was in the mausoleum within a half hour. The Chairman could only be seen from a distance from a continually moving line, and looked like a wax model to me.
The train left on time at 14.40, travelling the rest of the day and night. I could observe that there were still some steam locomotives plying the tracks, mainly for freight services, but I don't think they were still manufacturing them.
I was in Shanghai on 8 May at 07.30, to spend 3 days here. Others on the train had said to try the Pujiang Hotel, so found it by walking a half hour and searching for the obscure sign. With its cavernous corridors, large Spartan room, dark woodwork panelling and faded glory, the hotel had a real 1920's atmosphere. I couldn't help wondering how many sailors were unwillingly "recruited" from its echoing halls. Dorm beds were an expensive 19 Y breakfast was included, but it is a very crowded city, and it was comfortable.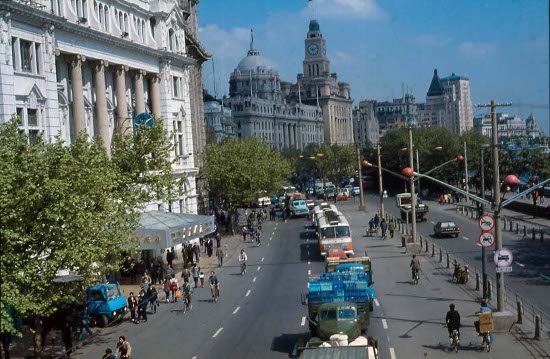 I explored around the Bund area of the city, with its "Hong Kong 50 years ago" architecture and its Huangpu River teeming with boats, ships and long snaking barge trains. Across the river were a couple of large buildings and extensive wharves, probably unrecognisable to what it would be like 20 years later. I tried and failed to book a train to Guangzhou for 11 May. But I did manage to book a Huangpu river cruise later for later today.
At 13.30 I boarded the large twin hulled cruise boat, 1st class in top deck. The clientele appeared to be mainly elderly Americans. We cruised downstream and back for about 3.5 hours, past congested port facilities, cranes, navy ships, processing plants and huge sand plies. Out at the river mouth, in the Yangtze Delta, the cranes and structures of the Baoshan Steelworks construction site dominated the landscape. It was still possible to spy the occasional old-style Chinese junk sailing the river; I doubted they would be around much longer.
Shanghai must be one of the most congested large cities on earth. Streets are narrow and everything is on top of one another. 2-story buildings and narrow lanes, clothes drying on poles between the houses, ear-cleaning street clinics and outside barbers, all added to the busy captivating atmosphere.
Streets in Shanghai, like in other cities, are marked off for different traffic types. It's all planned and orderly in theory. But in practice, the footpaths are used for parking, working and living space. Pedestrians use the bicycle lanes. Bicycles use the vehicle lanes, prompting vehicles to honk incessantly.
There were a plethora of shopping districts and stores, a shoppers paradise. Especially interesting are the traditional medicine markets, like the one on the footpath outside the railway office. Uigir salesmen flogged the weirdest collection of deer skulls, bear paws, bones and macabre artefacts you could hope to see. Think of all those poor animals.
Next morning was mostly occupied trying to get my train ticket to Guangzhou. I finally scored one at the CITS for 10.07 on May 11, hard sleeper for 105.6 FEC.
Eating options in Shanghai appeared to be either street stalls or large restaurants. Lunch today was in the cavernous 3-story Xinghuaolou Restaurant. Pork and vegetable soup, fried noodles and pork and a beer tipped the scale at an amazingly cheap price of 3.6 Y. These restaurants appear to be mainly special occasion venues for the locals; almost all the other diners looked to be large groups like wedding parties. I felt a little guilty having a routine meal in a place that to the Chinese would be an infrequent luxury.
The Yuyuan Chinese Garden, with its traditional buildings, pagodas, rockeries, koi ponds and cramped layout, was pretty but boring. I was already seeing too much of these gardens.
Frenchtown had the usual vast number of stores. However I found the pastry shops good, must be more variety than in France. Have you ever tried to eat lemon meringue pie with chopsticks? The Chinese do; they start with the meringue, eat down, and leave the crust.
Later in the day I explored the vast Jij-Jiang Hotel on the Bund, more uniforms in the lobby than in the PLA. Nanjing Lu is one of the busiest shopping streets. Good souvenirs I found were carved chopsticks and hand-made paper-cut greeting cards.
Up the Wusong River, past barges and boats being loaded/unloaded, is the Jade Buddha Temple. It's a rather ordinary temple except for the very large and ornate carved alabaster (?) Buddha.
On the afternoon of the second day I found my way with some difficulty to the Yuyuan Gardens part of the city, exploring the streets there before returning homeward via the Bund.
I like the Chinese acrobatics, so I went again to a performance this evening. The one in Beijing was strictly acrobatics. In Shanghai it was more of as circus, with some dog and monkey acts. It had some good ring diving and dancing, and an amazing kid who jumped up steps standing on his head.
On 11 May at 10.00 I was on the train to Guangzhou for about a 38 hour trip. My train ticket was a bottom-seat hard sleeper. I usually like a top bunk because it's more out of the way. The bottom one would have been OK on this trip, except that I couldn't get away from a couple of overly-friendly Chinese in the same seats. One woman spoke some English and was good conversation for a while. But they kept plying me with strange foods and drink. My stomach didn't feel that great and I soon got the runs. To refuse though might be an insult. They had a bottle of something called Daqu, maybe a brand-X Mao-Tai, the raw materials of which must have surely been dichloromethane and hydrogen sulfide. After drinking a bit and starting to get sick, I had to get away and wander the corridors. Anyway the scenery from the train was pleasant.
Continuing to suffer the runs and trying to fend off food offers from my cell-mates, I ate only noodles, bread and apples. The weather became progressively hotter as we headed south into the sub-tropics. Rivers and lakes became more common in the countryside.
I arrived in Guangzhou about 20.00 the day after leaving Shanghai. Guangshou must be almost as congested as Shanghai, with lots of shops and street life. I'd spend a full day here, then leave for Hong Kong by ferry on the evening of the second day. A bus took me down-town from the bus station, where found a bed in a thankfully air-conditioned Youth Hostel.
In the morning I rented a bike for a couple of hours, but it's absurdly expensive and not much use because of the street congestion. At the boat wharf I booked a night ferry (a 10 hour journey, 29 Y for 2nd class sleeper) for tomorrow night.
On the train the woman had suggested I try having a meal at the Snake Restaurant in Guangzhou, and even told me what to order. I have to try it at least once in my life. So there I was for lunch. Snakes lounged on tree branches in the window displays. As per her suggestions, I had the snake, cat and chicken soup, the stir-fried snake and ginger, a vegetable dish, rice and tea. At the next table a few Chinese men were also dining. After I ordered, the staff brought a snake from the window to their table. As it wriggled they slit open its belly and removed some of the snake's internal organs. These delicacies were presented to the customers, who dipped them in sauce and down the hatch. The rest of the snake presently disappeared into the kitchen presumably to make my meal. The soup wasn't bad but hard to tell the cat pieces from the chicken pieces (the snake bits are more chewy). The stir-fry was not bad but chewy. All interesting stuff; now I can say I've been there and done that. I wouldn't go again.
The rest of the day was spent exploring the city, relaxing, looking at shops, and partaking of much more mundane foods than what I had for lunch. It's too hot and sweaty here to do much strenuous.
On my last day in China I still had the runs from the train so fasted all day. I looked around down-town with another guy who had newly arrived in the country, and gave him advice on where to go in China. The central market was interesting; lots of cats, snakes, turtles, frogs and hanging entrails in the meat area, and a large medicine area with the usual deer-horn, roots and fungi.
I packed up and in the evening walked over to the Zhoutouzi Wharf where my ferry leaves for Hong Kong. I changed my remaining FEC money back into Hong Kong dollars. I couldn't change my few remaining Rmb; it's the same value in theory as FEC, but not in practice. Other travellers took it off my hands though. The ferry embarked at 22.00.
On 15 May, back in Hong Kong, I'd got over the runs and felt better. First item was to cop out and go for a McDonalds Big Breakfast. My plane didn't leave for Australia until 7 pm, so I had most of the day to look around Tsim Cha Tsui, eat more western food, and shop. I had lots of time so decided to leisurely walk all the way to the airport, hot but interesting sights.
Back to Manila and Sydney, and back to the boring and stressful job.
Did I achieve my original objective in coming on this trip? Did I make myself sick of travel? Not likely. From that perspective it was a dismal failure. There were always hassles and bureaucracy when trying to do things, and much of the country is congested and not very pretty. But I loved it. I just can't stop travelling. I'd be on another major trip in a couple of years, and back to China again in a few more years. Why fight it, just roll.