Europe 1997
I'd been in Manitoba 3 months now, with my Mom, relatives and friends, taking it relatively easy after my big bike trip here from Vancouver. I'd arranged to meet friend Herbert in Germany in October for an extended trip through Africa. Also I wanted to get back on the bike for a look around parts of UK and Europe.
England
In August 1997 I was ready to go. Bike in a box and gear in a pack, I was on the plane. At 10.30 am on 17 August I was in London Heathrow. I manhandled the luggage outside a terminal door, unpacked and assembled the bike, loaded all the gear on it, and persuaded one of the security guards to dispose of my bike box.
All OK by 12.30, I set out to find a place to stay. It was a bit hairy just getting out of Heathrow, having to find my way out through a narrow heavily-trafficked underpass. Then an easy run out to Windsor. The youth hostel there was full, so I continued on a narrow path up the Thames River. At Dorney Reach near Maidenhead I found a noisy (motorway traffic) but otherwise good campground to set up for the day and night. It was a great place to camp; very amiable hosts, handy to Windsor and Maidenhead, and accessible by bike to and from the airport. I'd use this place again from time to time.
I rested from the flight in the afternoon, called friends Sylvia and Malcolm in West Dorset to go there in a few days, got a bite to eat, and slept well that night. Weather was cloudy and muggy in the daytime and foggy in the morning, but thankfully no rain.
In Maidenhead in the morning, I had a little trouble finding a supermarket to get groceries. Then a lot of trouble finding my way out to the main highway west. I would have trouble many times finding my way into, through and out of towns and cities in England; I don't know if the road signs are badly laid out or if it's just me on the bike.
Once I was on the way it was a good run to Reading where I had some lunch. Fog cleared as I rode on south to Basingstoke. Autumn growth of nettles, burdock and blackberry covered the hills, and farmers were ploughing fields after harvest.
The road to Salisbury had more hills and started to tire me out. A flat tire stopped me at one point. I'd bought some new-technology glueless tube patches in Toronto, but they didn't work well and I had to change tubes to keep going.
I was exhausted and hungry as I found and checked into the Salisbury Youth Hostel. Found a supermarket and bought food to cook a huge meal.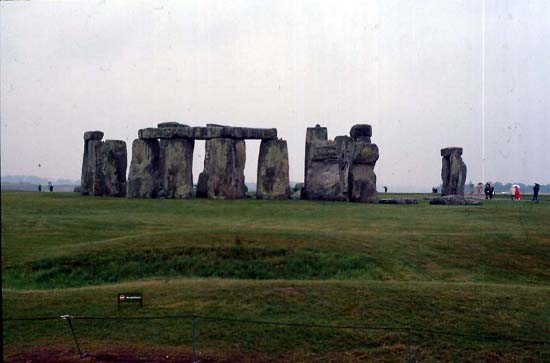 As I walked down-town to look around the Salisbury Cathedral, the main attraction here, it was becoming cloudy with a bit of rain. I packed up to leave by about 10.00, hoping to be at Sylvia's place that day. Others suggested I ride out north of town, "only about 9 km", to look at Stonehenge. I found the rock pile to be pretty much as expected. It would however put me an hour or two behind schedule for my days cycling, which I would later regret.
At noon I was again headed west along A303. Rain and the narrowness of the road made for uncomfortable cycling. It seemed to take forever to get to Yeovil, actually about 4.5 hours. In Yeovil I checked for info from the tourist office, had something to eat, and again had big trouble finding my way out of town onto the correct road. In the meantime I broke my bike chain and took some time to fix it, not clearing the town until 18.00.
I was starting to worry now, not a lot of daylight left. Not expecting ever to ride at night, I hadn't bothered to bring bike lights. On through rolling country to Crewkerne and Marshwood it was getting dark; trees over the road here and there made them like tunnels. I had to ask directions once or twice.
Miraculously, at Marshwood I met Malcolm driving up on his way somewhere. He pointed me right, and I rode in the dark down the long hill into the vale, on to Shave Cross Inn, and the last mile or so to Sylvia and Malcolm's farm at 20.30. Great have arrived safely and to be here and see them.
I was here at Crabbs Bluntshay Farm for 4 days, a pleasant and enjoyable stay. We drove or rode around Bridport, Marshwood, Whitchurch Canonicorum and Charmouth seeing the sights and visiting friends. I got work done on my bike in Bridport, needing a whole new chain, cassette and cluster. Malcolm was working hard on restoration projects around the farm, and I worked with him on the cider shed and cider-making equipment.
There is an active cider-making club in the neighbourhood and one evening we went over to one of the members' place for a cider-pressing work bee. Had a great time there chopping and milling apples and packing them into the nylon mesh in the press. The press had a stack of 9 "biscuits" of apple in nylon, and they were slowly cranking it down a little at a time; it would take until noon next day to get it all pressed. Present were a host of west-country characters, lots of tweed and broad accents; real people, good conversation and good cider.
On 24 May I was on the bike again, direction Bristol. My route took me through Bettiscombe, Crewkerne, Ilchester and Glastonbury. The bike gears didn't seem all that good since the replacement, chattering and not going into some gears well. I bent the new chain on one hill, and had to stop and try to straighten it. I had more trouble finding my way around Glastonbury, damn English signs. Otherwise it was a good riding day and I made Cheddar about 17.15 to set up camp. My next stop was friends Ray and Sally in Chipping Sodbury near Bristol, and I managed to phone them to expect me tomorrow.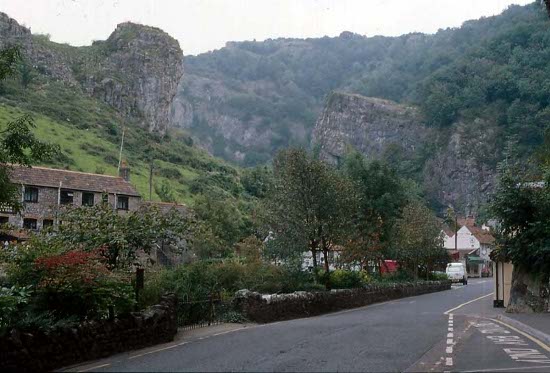 I rode on in the morning through the rugged and interesting Cheddar Gorge. I decided against the gorge walk because of time and bike parking constraints. On through Mendip Hills to A368, a quick look at the bird life on Chew Valley Lake, A39, B3116 to Keysham, getting lost near Kingswood and asking directions, A342 to Yate and finally into Chipping Sodbury. It was a longer day than expected, 66 km in 6 hours, but it was good to finally reach Ray and Sally. I stayed a whole week with them.
They drove me all around Bristol and surrounds and farther afield, showing me the Severn River and Bristol buildings that had survived WWII bombing. We drove into Bath to look at the baths and cathedral. Nearby was Bathampton for lunch and beer at a pub, a look at the canal and long boats, and the church with Captain Phillip memorabilia.
Another day we drove up to and around the Cotswolds. Here was Bourton-on-Water, one of those quaint pretty touristy villages with old stone houses and Cotswold-tile roofs. It had a "Miniature Village", a model based on the village with all buildings to scale and about 2 feet high.
The castle at Berkley and the Jenner (smallpox) museum were closed when we were there, but we did get into the visitor centre at the nuclear power station, heavy on salesmanship of the good side of nuclear power.
One evening we attended a Masonic Harvest Thanksgiving sermon and food auction. Interesting but of course none of the secret ritual.
The Bristol Industrial Museum appealed to my technical inclination, with its carriages, trucks, motorcycles, aircraft engines (mainly Rolls Royce), and port history.
I Bristol I went to the University a couple of times and sneaked some on-line time to receive and send emails. I was just starting to use email, and wasn't able to get on to it very often. But it was already starting to demonstrate its usefulness in keeping in touch with people back home.
I performed maintenance on my bike, greasing bearings, adjusting gears and idlers, straightening the chain and buying a new tire tube to replace the damaged spare. It seemed better now, and should get me through.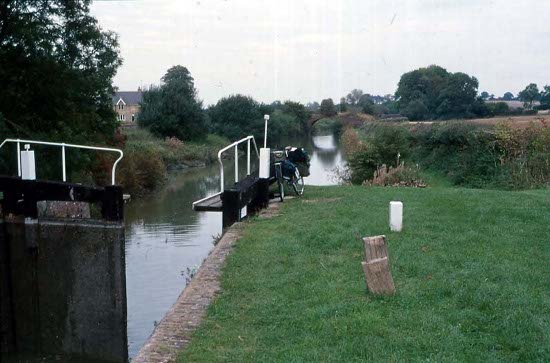 On 3 October it was time to move on. From Chipping Sodbury I made my way east through Chippenham and south-east to Devises. Here I could pick up the canal towpath east, a beautiful relaxing ride past holidaying canal boats and people fishing. The path was slightly rough for the bike though, keeping speed down to 12-15 kph. Also, it was hard to find a campground along the canal, the only ones seem to be beyond Newbury. Getting desperate for time around Hungerford, I eventually had to abandon the canal and take the faster A4 into Newbury. At 18.30 and after a 120 km day I found a campground at Bishops Green for the night.
One more day's riding got me via Basingstoke and Alton to Hindhead. Autumn leaves were falling from trees. The Hindhead Youth Hostel was closed for the season, but there was a small group of young people renting it and I could camp on the grounds for a couple of nights. A lay day here allowed me to do a bit of walking around the hills and valleys of Thursley Common, partly forested with lots of gorse bushes and countryside views. Near the hostel is a large depression called the Devil's Punchbowl, an intriguing desert-looking area in stark contrast to the surrounding green landscape.
It was a good easy run through Goldaming, Shere and Dorking and then back lanes and footpaths to Tanners Hatch Youth Hostel. I loved this hostel, one of the "rustic" hostels, low on modern facilities but high on ambiance and fun. Apparently it was soon to be forced to modernise to conform to EU standards, a negative move in my opinion. It was about an hour walk (quicker by bike) along a forest path to get to Dorking for food shopping and train to London.
I stayed 6 nights camping on the grounds at Tanners Hatch. It was full of interesting people that I had great fun with. We talked, cooked, sang and partied together. It rained a fair bit off and on, getting my tent wet sometimes, but all manageable and I was comfortable enough. I used the hostel as a base for day trips into London to check emails, explore and see friends there.
On the Saturday night, my last at the hostel, a large group of people assembled for music and song. People brought guitars, harmonicas, piano-harp and great singing voices. It was a wonderful evening, performances until well after midnight.
On 12 October I tore myself away from this idyllic setting and cycled on through Leatherhead, Epsom and Croydon to Crystal Palace. Here I met an old friend and stayed a couple of nights talking and going out for walks, dinners and drinks.
As I moved on in the morning toward Canterbury it was definitely autumn, see-your-breath cold. It took a couple of hours to clear greater London, getting lost once around Dartford. Then some hills and built-up areas fatigued me, not arriving in Canterbury Youth Hostel until 17.00. It was good that I was there, as it rained heavily in the evening; nice to be inside. I talked a lot about travel to Australian, New Zealand and Canadian travellers. Later I was able to get out for a look at the Cathedral.
It was still wet next morning but I needed to get going anyway toward Europe. Weather cleared up later anyway. I had a bad start; my tire pump fell off the bike as I rode along, and within seconds a following van had turned it into road pizza.
At 11.00 I'd reached Dover Ferry Terminal. I got a P&O ferry ticket to Calais and changed the rest of my British money to French. On the ferry I could lock up my bike with its gear in the vehicle deck. The ferry left at noon for the 1-hour trip.
France and Belgium
So here I was on 15 October in France.
I could have camped here for the night, but being a new country I treated myself to a relatively expensive (78 FF) stay in the Calais Youth Hostel. It was modern and impersonal, but comfortable. I met a Chilean cyclist Alex passing by who couldn't afford the hostel and was on his way to the campground. Later that night Alex came by to talk. As he was going my way toward Belgium, we agreed to meet in the morning and ride together.
So I found Alex at the campground about 9.30 (still asleep) and we took off at 10.00. We'd ride together only about a day, splitting up for different directions at Diksmuide in Belgium. He was an interesting and enjoyable cycling partner. He wasn't rich and was travelling virtually free, camping free wherever he could, finding food where he could, and living the life of the happy hobo. It was a lesson that you don't need to spend money to have fun.
We rode east along N1 through suburbs and into open country, stopping at a supermarket for groceries (good lunch of baguette, pate, oranges and muesli). I also found a bicycle pump to replace the one I destroyed in England. Cycling seemed nicer than in England, the roads more open and less traffic, and the drivers friendly.
We made the Belgian border after 14.00, where I changed some money unto Belgian franks. There were now some cycling lanes that we could use. In Diksmuide at 18.00, Alex was having gear cassette trouble and we stopped at a bike shop to tighten it. A local guy Wim approached us to talk to us. He too was an acid cyclist and offered to let us camp at his place near town. We all had a great evening, cooking and eating together, having our host's cycling friend over and talking about cycle touring well into the night.
As I was headed in the direction of the Eifel region of Germany, Wim advised that the nicest route would be through the Ardenne region of Belgium. Alex had a toothache, so our hosts lined him up with a dentist for later next day. I left Alex and my hosts and headed along minor roads and through small villages to the town Roselaire. There I drew some money from a bank and bought groceries. More small roads and villages got me to Waregen about 17.00. I found a campground, closed for the season but the genial caretaker let me camp for free and use the facilities. Here, as in general in this part of the continent, I could get BBC World on my Walkman and keep up with news.
Potato harvest was in progress in the fields and I was able to find a few meals of potatoes that had fallen off trucks on the roads, a trick out of Alex's book. I progressed through pretty Oudenaarde and south into French-speaking Walloon. From Ronse and Leuze I came to the small village Ellignies Ste Anne. There was a camping area here behind a pub, where I stayed the night, but the facilities were poor and people not very amiable.
I was in Mons on the morning of 19 October. It was a pleasant little city with winding cobbled streets and a big plaza with church. Camping was good and cheap so I stayed on for the afternoon and night. Weather was beautiful, almost hot, just about the last warm weather I'd get in Europe this year. I rode around town in the afternoon and did a walk up a volcanic hill south of town. I'd installed my new tire pump on the bike, and it was promptly stolen when I left the bike somewhere.
The weather was cooler and damp and misty as I rode on to Dinant; I had to wear my raincoat a bit to keep warm. Fields looked muddy and waterlogged.
Dinant is a picturesque tourist town River Meuse, with a large round domed church, tall cliffs and a citadel. I decided to have a lay day here, especially as it cleared to sun the next day. It was cool though, needed the jacket all day and frosty in the camp at night. I bought and wrote several postcards and stocked up on other necessities. Had trouble finding stove fuel though, not available at all in Belgium. I later had to buy and use petrol from a gas station, not the best as it seemed to be more volatile and dangerous than white gas.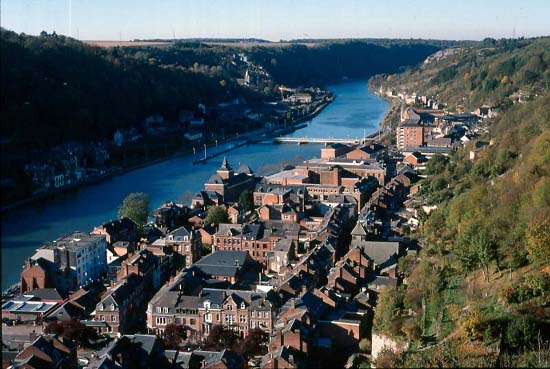 A cablecar takes you up to the Citadel atop the cliffs. I took the commercial guided tour through the fortification, but had a little difficulty keeping up with the French and German narrative. It was a castle in the middle ages, then the French turned it into a fortress. There were informative exhibits of the fighting there during the world wars.
Frost and cold numbed my hands as I packed up, put on pants and coat, and left Dinant for a long climb out of the town. Cycling in the cold is quite enigmatic, parts of my body sweating and parts freezing, the worst of both worlds. I stopped at an Aldi store for groceries and continued via Marche to La Roche. A campground with a shower enticed me in a pleasant bush setting near the river.
I was to meet Herbert at his home in the small village Mullenbach in the German Eifel district. It was only a few days ride from here into Germany and his place. But he was returning from Turkey and was not to be there for at least a week. I was slightly concerned about having to kill a week or so in uncomfortably cool temperatures before I could show up in Mullenbach. In any case I decided to stay here for two nights before continuing on.
La Roche was another pretty tourist town, a bit like Dinant, with a fortification at its centre. It looked to be noted for two things, the Battle of the Ardenne and for wild game (such as boar) meat products. I wandered around town looking at the sights, tried (and failed) to shop for stove fuel and lazed around. It was so cold at night that even the inside of the tent was frosty.
From La Roche was a level ride, then a climb up onto a plateau to Houfallize. Here was less bush and more farm country. I finally managed to buy some petrol for my stove. I found a camping place about 3 km out of Houfallize, shady and cool but OK. My back tire was flat and I had no pump, but I managed to borrow a pump from the camp office and fix the tire. Later in the afternoon I rode into town to look around try (unsuccessfully) to buy Deutchmarks, not much in this town to see or buy.
The camp was particularly boring in the evening so I went for a couple of Belgian beer in the campground pub, nice fire there and good to read my book.
On my last day in Belgium I rode ever closer to the German border, cold enough to need pants and jacket the whole time. I stopped in Gouvy to change some money to deutchmarks, then through small villages Beho, Grufflingen, Oudler and into Reuland at 12.30. I had hoped to camp in Reuland and buy food but it was only a small place, nothing open and no camping. Might as well go on into Germany.
But my directions went all wrong from here. I took a wrong turn and got lost on small roads and strange villages. After about 20 km and 1 hour, I found myself back in Reuland. After finding the correct road, I had had enough by 15.30 and did a bush camp in some pine forest, still in Belgium but near the border. It turned out to be very quiet and peaceful here, only the sound of the nearby brook to keep me company, and not quite as cold as previous nights. I had just enough food on me to last until tomorrow.
Germany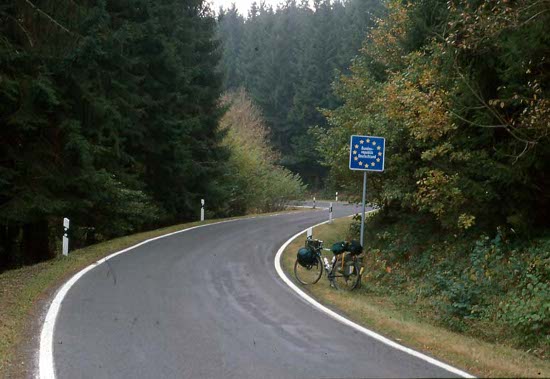 On 26 October I climbed uphill about 2 or 3 km. Only a sign on the road announced that I was passing into Germany. I was wondering how I'd get German money, but at the first little village I found, Uttfeld, I miraculously found a bankmachine with Cirrus capability, wonderful. Through hilly farmland to Lichtenborn, and on to the big busy town Prum at 11.30 German time. A big Sunday market was in progress, where I could get a weisswurst for lunch and some groceries in a shop for later. With time still to spare and feeling too cold to camp, I booked 2 nights in a room with shower in the Prum Youth Hostel, for 25.50 DM per night.
Buildings in Germany seemed more modern and less distinctive than in Belgium, more stucco and less traditioal brick. I alternately explored around the town and hung around the hostel. Nearby was Calvary Hill with carved reliefs of the 12 stages of the crucifiction on the way up and a large cross at the top. Also near was a large crater caused by an explosion of French munitions in 1949.
Continuing on later to Gerolstein, I stopped frequently to rest, read and kill time, but still arrivied shortly after noon. This town is full of rocky outcrops and hills, and is somewhat of a tourist place. It is known for its water, and at a fountain I could fill up my water bottles with great tasting sparkling mineral water. I had also stopped at roadside springs elsewhere for similar water.
I loitered around the town most of the afternoon looking at sights and reading. Late in the day I rode up to the camping place, which appeared to be closed for the season. Anyway I put my tent up under some trees and cooked myself a meal. It was really cold packing up next morning.
The next town, Daun, was hilly but indistinctive, with no camping failities. I loitered in sheltered areas downtown and tried to phone Herbert but he wasn't home yet. Later in the day I rode on to some pine forest where I found level ground to camp near a stream. It's steadily getting colder, frost all day in some spots and in the morning my cooking gear is frozen to the ground. Luckily I have a good sleeping bag and I sleep well despite the cold.
It was 30 October, and I was getting sick of the chill. I might as well push on right to Herbert's place in Mullenbach. In Ulmen I stopped to kill more time and shop for lunch. I reached Mullenbach in the early afternoon and found Herbert's place. The neighbour let me in. Herbert had returned from Turkey but wasn't around at the moment.
Shortly later Herbert and Annie showed up, big welcomes, joyous reunion and great to be here. No more frigid camping.
Herbert and I were planning to backpack in Africa for a few months, but were not sure where to go. I had thought of West Africa, but flight connections didn't seem that good or cheap there and visas might be a hassle. Eventually we worked out a trip from Cairo generally down the east of Africa to Capetown, and fly back to Germany from Johannesburg.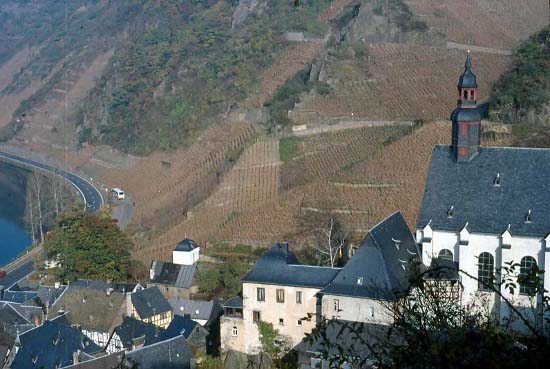 I would be here with Herbert in and around Mullenbach and Dusseldorf for just over a month, preparing for our trip and leaving for Africa on 7 December.
In that 37 or so days I had a wonderfully relaxing time. There were numerous back roads and trails outside the village where I could walk through fields and forest. Near the village in a small valley are the ruins of a slate tile quarry, very interesting to poke around on. When Herbert was away I rode the bike out about 10 km to Kaisersech for food shopping or to mail postcards.
One long walk down a valley took us about 11 km past old mills and rustic architecture to near Cochem on the Mosel River. A drive up the Mosel took us to the village Beilstein with its hill castle, and farther on to the spa town of Bad Betricht. Farther up the Mosel was the city Trier with its cathedral and large Roman ruins.
Herbert and I went into Dusseldorf where we finally worked out our Africa intinerary and bought our flight tickets, to fly to Cairo on 7 December and back from Johannesburg to Dusseldorf on April 2 1998. I bought another bicycle pump, camp stove fuel and camera film. As Herbert did other chores, I wandered around Dusseldorf exploring the streets, parks and shopping of the city. It was interesting to see beef fillet steak in the market for 77 DM per kg, 2 or 3 times what it would cost in Australia.
On a trip to Bonn, we tried to arrange as many African visas as we could. We managed to get Egypt, Sudan and Ethiopia, but Eritreia may be more difficult, may have to try for it in Cairo.
On schedule on 7 December we were at Dusseldorf airport for our flight to Cairo. I'd been to Africa in 1979, but with an organised expedition. This was independent travel and would be completely different. A whole new adventure awaited.