Kakadu Walk, 26 July 2015 to 8 August 2015
As a member of the Coast and Mountain Walkers outdoor group in NSW, I had an opportunity to undertake a 2-week walk in Kakadu National Park in the Australian Northern Territory in late July and early August 2015.
This was one of our trip leader Alan's regular walks in Kakadu, and the first that I was able to join. Alan had supplied detailed instructions and pack list, but I was slightly intimidated by uncertainty. How was I to carry all my gear and two weeks supply of food? As it turned out, I didn't make too many mistakes and survived the walk quite well. I had a 20 kg pack, half of which was food, and ended up having a small amount of food surplus.
Apologies for no map of the walk, but it's simply too difficult to find or make an on-line map of the region in which we walked.
The group comprised our leader and 13 walkers. We had all congregated in Darwin on 25 July and had a great dinner and drinks at The Taps Bar & Bistro. The bar, and Darwin in general, were swarming with GI's and US Navy guys and girls. All the girls seemed to be stuck in to fishbowl-size mojitos. The publicans must have been laughing all their way to their kids' college educations.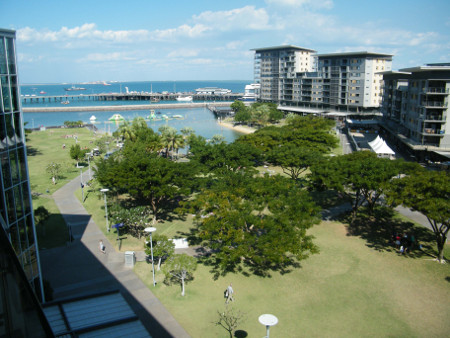 On Sunday 26 July at 08.00 we boarded our pre-arranged bus transport and were on our way for the 4+ hour ride, stopping for morning tea at Pine Creek, and on to Gunlom Campground in Kakadu where we had lunch.
This year the 14-day walk was scheduled somewhat later in the year than on previous trips. Therefore it was quite dry, pools were smaller and falls were mere drips. Temperatures were about as expected, cool at night and hot in the afternoons. Typically we would start walking daily at 07.30, take frequent rest or morning tea stops, and arrive at our destination shortly after noon; quite a pleasant and manageable schedule. Terrain was mostly cane grass (dry and scratchy but generally not difficult), burnt areas (dirty but easy going), or rocky creek beds (somewhat more difficult). Afternoons would be invested in serious swims, socialising, reading, relaxation and billies of tea. Late afternoons and early evenings were dinner and tea times. There were no late evenings, everyone was in bed by 20.00 or so reading or sleeping.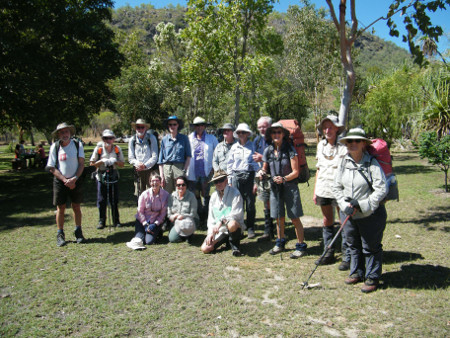 We found copious Aboriginal art throughout the trip. It varied in preservation, some clearly visible and some mostly weathered away. Motifs included hand prints, people and animals/fish, some in skeleton format. It was all fascinating to look at, and I was amazed at the sheer volume of art; nearly every suitable cliff face and overhang was a canvas.
Day 1: After organising our gear and briefly visiting Gunlom Falls (or is it Drip in this dry season?) our party of 14 set off in the early and very hot 34 deg afternoon up the crowded rocky path to the plateau above. At the top were the first of many pools in which we could swim.
Farther upstream through dry and brittle cane grass, about 4 pm we found a weedy barely suitable sand bar on which to camp for our first night. After a hot walk, great to be able to cool off, swim and relax.
Day 2: Sadly, one of our group suffered a knee injury the previous day, and the knee wasn't sound enough to risk remote trekking. She cautiously decided to bail out of the walk and return to Gunlom Camp.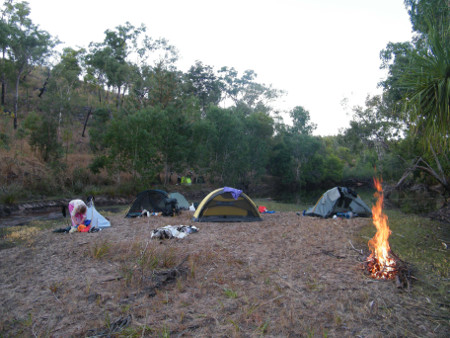 So at 10.15 our now 13-person group set off for the day's walk through cane grass, up Waterfall Creek and on to Toad Hall camp by 16.00. Note that all the "camps" were mere localities in the wilderness and with no infrastructure or facilities. In fact there were no tracks and virtually all walking was cross-country. Temperatures were not as severe as yesterday, and would drop slightly more over the next few days. On the way we found some intriguing-looking cliff faces where we found the first of numerous Aboriginal art sites.
Day 3: We had two major ridges to traverse, the second challenging us to a moderately difficult descent. It's a long way from rescue, so slow-and-cautious at all times. We found more artwork, very good quality this time, on the undersides of rocky overhangs.
Today's camp was at the delightful Buffalo Pool, reached before 13.00.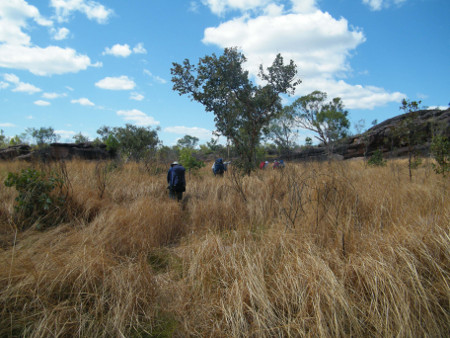 Day 4: Easy going up Barramundie Creek; much of the ground had been burnt off. Considerable pig and buffalo sign around. Over a low saddle and we were down to a tributary of the Koolpin Creek. We were at our destination Palm Jungle at 09.45; way too early to stop here. So after a morning tea, we continued a pleasant walk down the creek to a good campsite at 11.50. Here comes a long and lazy afternoon. I was dismayed to find that the heel of my newish boots was starting to separate; the soles would come apart more on subsequent days. I had to do some fancy stitch-work and hope and pray; fortunately my repairs eventually got me through the trip.
Day 5: Easy and short walk today through cane grass and burnt areas to get to Butterfly Falls. But our leader Alan was feeling slightly crook so we took our time. The falls were dry but the pool below was beautiful for swimming and our first laundry.
Green ants are out in force, jealously guarding their leaf nests. When the first walker brushes past them they get riled up and subsequent walkers cop the fury, ants crawling over the walkers and madly biting. They would be a scourge for most of the trip.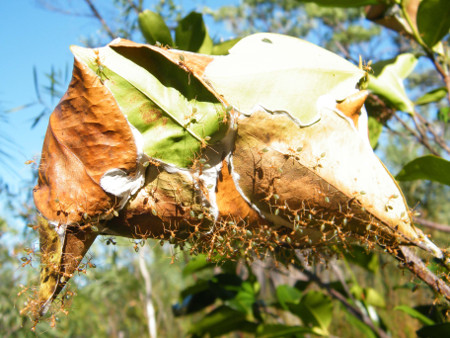 Day 6: A steep rocky climb took us through several green ant nests and to the top of the "falls". Along a rocky and grassy route, past more art sites, and we came to the creek branch up which we could clamber to the Slabs. It was difficult to find the actual camp site; apparently the dry weather had made the large pool disappear. But we did find a good camping area, mostly on rock slabs, with swimming pools in abundance. Clear skies and a full moon around these nights added to the visibility and romance of the evenings, punctuated by lame but amusing werewolf jokes.
Day 7: Alan was still not really well, so we decided not to continue north with our itinerary destinations of Serpent Cave and Cascade Creek, opting instead to return to Butterfly Falls today, and later explore other areas farther south in now-available subsequent days.
Back at the top of Butterfly Falls, one of our group saw a couple of freshwater crocodiles in the pool below, but they had moved away before the rest of us had a chance to see them. On other nights though, we thought we could occasionally see crocodile eyes with our lights.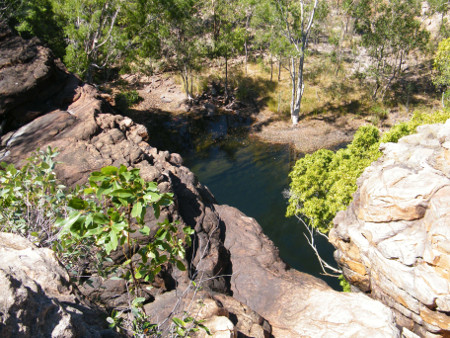 Day 8: Being now ahead of schedule, instead of doing Butterfly Falls to Big Bend on Koolpin in one day, we decided to go north-east along Koolpin Creek and find a camp. About 700 m from the junction he found us a beautiful large leafy/sandy billabong on which we could camp for a couple of nights.
Earlier we had found a dead buffalo in the Koolpin, nothing remaining but a very stiff hide covering the skeleton. Other finds included an imposing-looking pig skull, the skull of a freshwater crocodile and a couple of abandoned birds nests.
Day 9: Today is one of our bonus (in place of Serpent Cave) lay days. A group member volunteered to lead us on an excursion up Koolpin Creek and through surrounding countryside in search of Aboriginal art and interesting rock formations.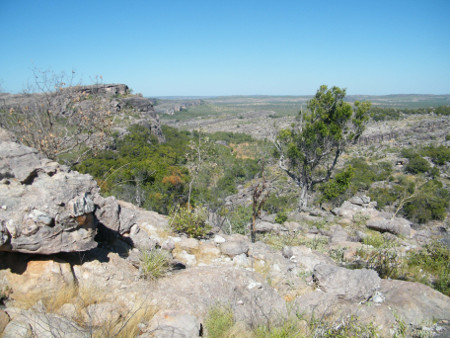 Up the creek through grass and burnt areas, we headed for high ground to study views eastward and plan a route. Down to an unnamed side creek from the south-east (nothing seems to be named around here), we started to look for artwork on the rocky slopes, but this was not a suitable area for it. Back across Koolpin Creek, we continued north to an impressive outcrop that reminded me of Sri-Lanka's Sigiriya Rock. Near the bottom of the rock were extensive and very good examples of rock art.
Using her extensive knowledge of the natural world, Sharon found and educated us on a variety of native fruits and bush tucker.
Back to our campsite by 14.00, we discovered a good-size and beautiful water monitor sunning itself on the sand.
Tonight was Alan's traditional apple-cake-and-custard night. We all combined efforts, resources and equipment to whip up and enjoy this iconic and delicious treat.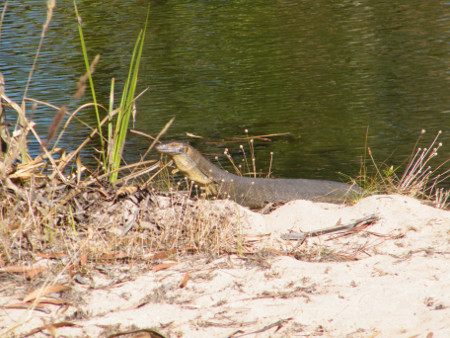 Day 10: Today we followed Koolpin Creek downstream. Good swimming was enjoyed at the magnificent Lost Watch Pool, (where one of the group had lost a watch on a previous trip).
Noon had us at Big Bend on the Koolpin, a vast sandy area on the inside of the bend, unlimited choice of tent sites on the outside, and a Club Med-style swimming beach at the end. We would be here for three nights, undertaking a couple of day trips in the interim.
At this campsite a group member experienced a memorable encounter. After sitting on his mat on the sand for some time, he got up to shift his mat, and discovered a small death adder under his mat, dead apparently from the pressure of his butt. No idea how it had got there or for how long, it caused quite a stir amongst our group.
Day 11: Today is our scheduled day trip to Freezing Gorge. North and west from the campsite we clambered up and down through a rocky pass, up a rocky creek bed to another pass, then west on a rough and rocky descent to Freezing Gorge. We were attacked (yeah I know, they think we're attacking them) by multiple colonies of green ants.
The gorge was something of an effort to get to, but soooo worth it. The first sight was a beautiful large deep pool with sheer walls, begging for swimmers to jump in. Above were other hard-to-access levels with their own pools, and behind a few metres was another long narrow section of pool and gorge walls. We swam, lunched and relaxed for over an hour before heading back and arriving at the campsite before 15.00.
Day 12: On this another bonus lay-day, one of our group led us north again to explore creeks and falls. We failed to find rock art, but did come across a great little creek with water, a rocky ledge and a drip waterfall.
On the way back to our campsite we took a wrong turn part way along and had to side-track down a steep snarly ravine, but still arrived at noon.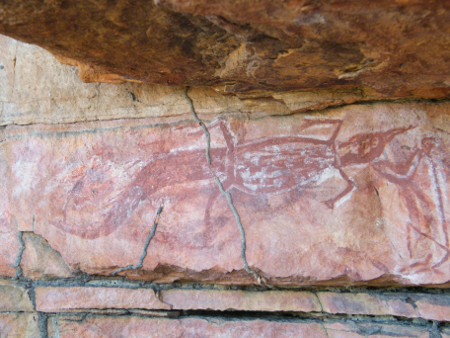 Day 13: Back to the lowlands today. Starting downstream about a km along the Koolpin, we rounded a bend and had to negotiate some rough country above the creek to make progress to lower levels. The plus side was that we found more very good rock art at the higher level where the Koolpin flows south before making a sharp right-angled bend to the west. Farther down we came to some beautiful pools, falls and swimming holes; here was evidence of access by tourists from the car park below, our first sign of "civilisation".
It was a longer than usual day, arriving at our last camp on the Koolpin Creek about 15.00. Here we are back in salt water crocodile country, and the rules are changing. No swimming, no taking water from the river except in convoy, tents must be above the riverbed up in the cane grass, and lots of corny crocodile jokes. Temperature was down to 11 deg at night, but it didn't feel that cold.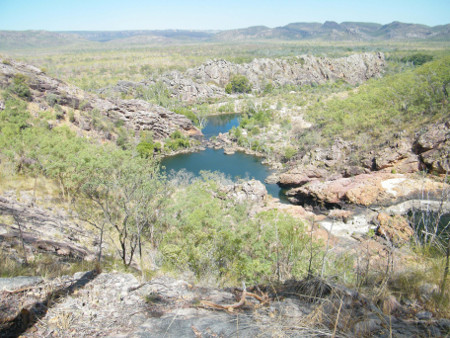 Day 14: This is our last day, and it's only 4 km out to the road. The creek eventually joined the South Alligator River, and we crossed a couple of times to avoid difficult terrain. We were at Flying Fox Crossing by about 10.00, time enough to wash up and do a bit of laundry before the arrival of the bus.
So the 2-week walk was over. Our pick-up bus arrived slightly early at 10.45 and we were on our way back to Darwin. Lunch stop (for a REAL meal) was at the excellent Emerald Springs roadhouse, then back to our accommodation places in Darwin. We met again our fellow walker who had bailed out on the second day (she was doing fine other than the knee injury) and compared notes, drinks and dinner at The Taps. Next day, 9 August, it was taxis to the airport and flights back to Sydney or wherever.
The two week walk would have been an amazing experience under any circumstances. But the participants made it extra-special. It was an exemplary group in all respects. We had a diversity of expertise and personalities, but each of us contributed in his/her own way to make it a successful and special trip. We look forward to next time.