South America 2007 (Part 1)
South America is the last continent that I haven't visited yet, and now is the time. It's winter in Winnipeg and varying between -10 and -35 deg C these days, so a good time to head south.
Maggie and I are heading off together for 4 weeks in Ecuador and Peru. The day after we arrive in Ecuador we are to meet up with travelling companions Herbert and Annie (from Germany and France respectively). I hadn't seen them since Vietnam in 2002. The four of us are to get around Ecuador and Peru as much as we can, then Maggie has to fly back from Cuzco to Canada. Herbert, Annie and I subsequently plan to proceed further on through Peru, into Bolivia, and on through Chile, Argentina, maybe Uruguay, and finally Brazil, before flying out on about April 20.
Accommodation, as usual, is to be hostals, pensiones and whatever other basic but comfortable digs we can come up with. Transport will be buses, trains, boats, taxis, planes or whatever gets us there.
In deference to advancing age and the reality of arriving in Quito in the evening, some time before travelling we elected to reserve a room on-line. Is nothing sacred??? We booked the Hostal Alcala in the new city and arranged for an airport pick-up.
On 20 January 2007 Maggie and I were up at about 03.00 and into the car to get us to Winnipeg airport in time to catch the 05.00 flight. A wonderfully uneventful flight Via Toronto and Miami, had us in Quito just after 21.00.
Ecuador
(Click for map)
Quito is a bigger city than I expected, and it's spread out for a long distance on a north-south axis. As we were descending I could see the city below long before we were to touch down, making me worry "Hey, aren't we going to overshoot the airport?" No worry though, we did land at the correct place. Hector from the hostal was there to meet us with his van, and had us in our room before 22.00 (21.00 Winnipeg time).
First impressions of Quito and Ecuador in general were favourable. The city was markedly cleaner and quieter than I expected. The streets weren't garbage-strewn, lots of greenery lined the boulevards and footpaths, and vehicle horns didn't blare incessantly. Rooms are usually quiet enough. I like the place already.
They put on a nice complimentary breakfast in these places; pancakes, eggs, toast, fruit juice, banana and coffee, enough to keep us going for hours. We ate with John and Sue from Seattle. They'd been here a number of times and pumped us up with a vault of information on how to get along here and what to see and do. They told us there were two things you really have to be careful about here. The first is getting robbed and the second is death by bus ride. We are never, never, never to ride on the Kennedy line.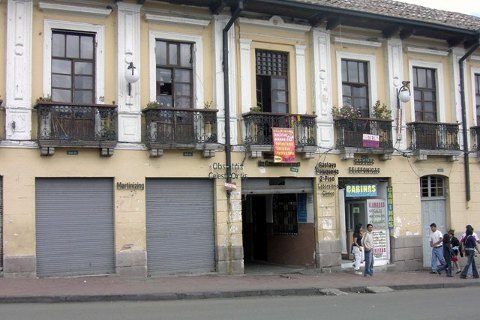 We could have talked to J&S all day, but we have things to do. We set out to look around a bit before Herbert and Annie arrived. We explored nearby streets in the main tourist/commercial district, lots or restaurants, bars, coffee shops and hotels, and then the Parque el Ejido with a substantial souvenir and artefacts market just coming to life.
As we got back, Herbert and Annie had already arrived and were getting established in their room. Wonderful to see them; the last time we were together was in Vietnam 4 years ago. A few quick plans for the next day or two, and we were set to explore in earnest.
Weather was perfect. Partly cloudy, maybe about 20 or 25 deg during the day, down to about 13 at night.
Our wanderings took us back down Amazonas and through the aforementioned park and market. By now, getting close to noon, activity was ramping up; the parks and plazas were full of people doing what people everywhere do on a Sunday. It's a people-watcher's paradise. From the park we wandered toward the old city.
By about 12.30 we could use a rest and our stomachs were calling. A crowded little restaurant looked promising. We sat at a small table and when the waitress came, just pointed to a nice looking meat/rice/bean/salad dish at the next table, said "cuatro", and we were set. When it came it was surprisingly good, especially with the slightly hot house salsa. A wonderful coconut drink was also part of the meal. Still a bit hungry, Herbert and I ordered a chicken soup as well, good except that it turned out to be chicken-foot soup. A typical price for this "comida del dia" is usually around $1.25.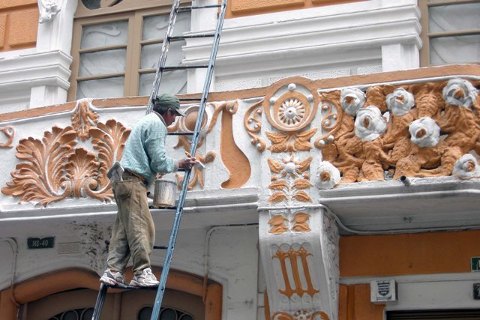 The next couple of hours or so, we wandered the old city taking in all the historical and architectural sights; not for nothing has it become a UNESCO world heritage site. Included in the itinerary were the Plaza del Teatro, the heroic-looking Simon Bolivar statue (one in every city), Plaza de la Indepencia with its Cathedral and a lively cultural singing and dancing performance, Plaza de San Francisco, the narrow cobbled Morales St, and back up to the not-so-old but imposing La Basilica.
By then some among us were feeling the effects of the distance and the hills, and found a little hole-in-the-wall coffee shop, where we grabbed a welcome seat and some refreshments. By that time, about 15.00, we felt we'd walked far enough for the day. A taxi ride got us back to the hostal for a nap and/or start writing notes.
It cooled off rapidly by evening and became a bit damp. So, on with the jeans and out to find a place to eat. There didn't seem to be a lot open on Sunday night, until we found a night-life district around Camala and Reina Victoria. A quick walk around several places, and we ended up at a Mongo's Grill, attracted by the all-you-can-eat for a reasonable price. It wasn't as good as the Mongo's might be back home, but still perfectly acceptable and fun.
Our first excursion outside Quito was a full day trip to the Mitad del Mundo, the equatorial line monument about 23 km north of the city, and to the market town Otavalo.
It was cloudy and lightly raining, so rather than walk around trying to find a bus, we took a taxi. We drove for quite a distance through interminable suburbs; as I already alluded, Quito is one long huge city. But we finally cleared the built-up area and entered green hills at the equator.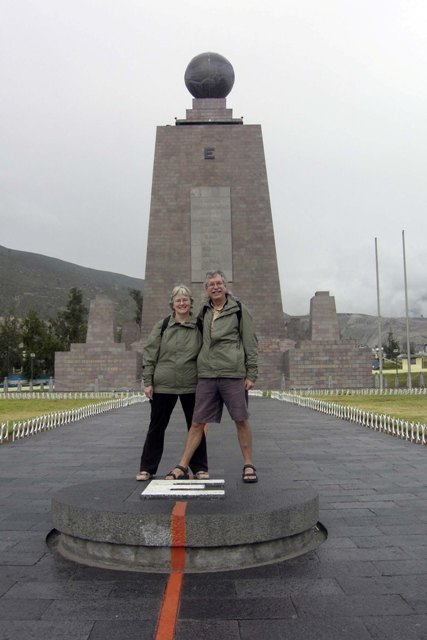 The Mitad is in an enclosed park-like compound and has a large square stone monument base with a metal globe on top. A painted line runs through it and some distance on either side, representing the equator and dividing the monument and park into the northern and southern hemisphere. I guess the thing to do is get your picture taken with a leg on either side of the line. The rest of the park is occupied with souvenir shops, exhibition halls, restaurants and a church. The whole place seemed contrived, touristy and very slightly tacky; questionable whether it's worth the trip or not.
After a bit of looking around and souvenir shopping, the rain stopped and we caught a bus back to Quito. The bus dropped us at the Northern Bus Terminal. While there, we asked about details to catch a bus next day to the market town Otavalo. Even at this stage, we were becoming conscious that we had a lot of territory, and several countries, to cover in 3 months, and didn't want to waste time. As we got the information, we decided to go to Otavalo right then and there; we would save time and be able to go south tomorrow instead.
So at 11.30 we were heading north through rugged hilly country. The clouds and bit of rain made it impossible to see any of the high volcanic peaks, but the terrain was still pretty. It was hard to believe how few trees there were though, the hills were mostly grass and small scrub.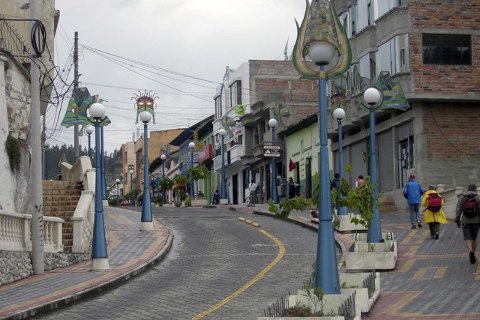 Otavalo is famous for its Saturday market. But there is some level of market activity (both tourist/artisan and general meat/produce/knick-nacks) on any day, even today. The artisan market was disappointingly kitsch and predictable, but the food market was much more lively and interesting, a heady hive of colour and activity.
We found a good looking and busy Pollo restaurant for a late lunch. It provided a delicious main-meal size feast of vegetable/meat soup, chicken, rice, beans, salad and fruit juice.
About 2 hours by bus got us back into Quito by about 18.00, curiously on the south side of the old city. No problems; we bundled onto a trolley bus for 25 cents each and rode back to near our hostal.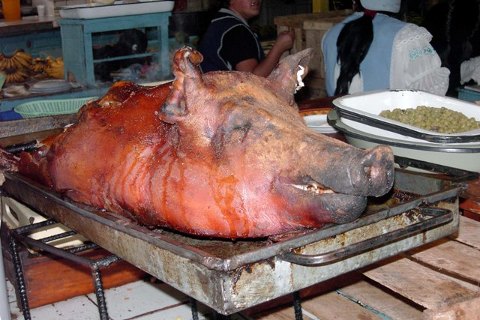 After only two full days in Quito, we were heading south to Latacunga. A taxi ride from the hostal to the Terminal Terrestre in the south of the city got us into the bus station about 09.00. Buses must be quite frequent, as we were heading south by 09.30.
The road there from Quito is called "the Avenue of Volcanoes", with views of several major peaks visible on a good day. But I believe we must be nearing the end of the wet season. It's still at least partly cloudy most of the time and raining occasionally. As such, we didn't see a single volcano in the 2 hour trip to Latacunga.
Without views of the mountains Latacunga didn't seem to have a lot of interest. The bus station appeared slightly unsavoury and dangerous. So we immediately changed buses there to go west on the Quilotoa Circuit. This route takes us across the Cordierra Occidental mountain range, through a few towns, and to a small village next to Quilotoa Crater.
The Cordierra is a scenic drive, winding up for several miles through valleys and farmland, over the crest of the hills, and down the other side. Little grass-roofed huts and a few llamas and alpacas dotted the countryside.
The bus only went to a village 12 km short of the crater, and we ended up getting a small bus the final distance, at considerable expense. But I did get to ride on the roof, which I always enjoy.
We rolled into Quilotoa close to 15.00. It's little more than a cluster of hostals and residences near the gigantic Quilotoa Crater. The crater consisted of a lake with a crater rim about 12 km cicumference, the remnant of an eruption in 1797.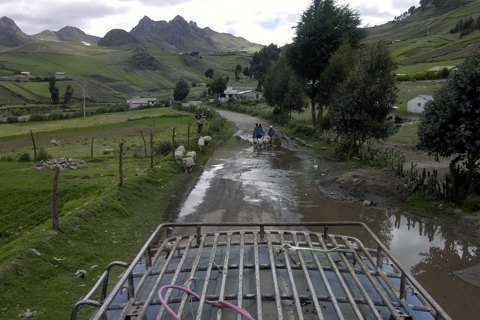 Extensive negotiations in poor Spanish got us beds in the Hostal Cabanas Quilotoa, Beds included breakfast and dinner. The rooms were cold and damp, but there was a small stove and plenty of blankets. We hadn't had lunch yet, so they gave us a bowl of soup, with bread and a hot drink.
A quick walk up to and along the nearby crater rim showed us what the walk around might be like tomorrow if we go.
Quilotoa is a stark, chilly high altitude village, about 3800 to 4000 metres, inhabited by poor but friendly indigenous people. Hardly anybody speaks English, and getting information on bus connections is a challenge. But the warmth of the people and the beauty of the countryside makes it an attractive place.
The common room filled up by dinner time, they built up the fire, and put on a quite acceptable meal of soup (again), meat stew, rice, potatoes and a stewed "Devil's tomato" fruit dessert.
After dinner, several of the kids and teenagers moved the tables aside, got into ethnic costume and put on a performance of indigenous dance (admission by donation).
When we went to bed for the night, because today had been particularly cold, we were absolutely freezing. The dining room wood stove only warms you if you are within 5 inches of it. The blankets kept us almost warm. However during the night I had a bit of a headache and nausea from the altitude and didn't sleep all that well. But the others had it even worse, and Annie was so bad that she and Herbert had to leave next day and move on to Banos at a lower altitude. Maggie and I would stay a couple of nights before catching them.
Jan 24
Annie couldn't finish her breakfast. She and Herbert arranged to catch a bus to Latacunga and Banos at 13.00 today. Maggie and I would stay on the extra day and maybe do the 4 to 6 hour walk around the crater rim.
So, small bags packed with walking accessories, the two of us set out along the rim path. The first km or so was level and easy. Then we encountered the first descent and ascent. As we started down, it started to look a bit like it might be hard for Maggie to get all the way around. She decided (wisely) to turn back as I continued on.
The views from the crater rim, both down to the lake and to the valleys outside the crater, were magnificent, at least until the cloud came in. But it was pretty rough going. The ascents and descents were steep and slightly dangerous, and the altitude exhausted me. I couldn't go more than short distances without resting. It took a full 5 hours.
At one point, as the cloud was coming in, I got off on the wrong track, crossed someone's farm field, got barked at and nipped by irate dogs, and was approached by a young boy. He managed to communicate to me that I was on the wrong track and escorted me back where I should be. I thanked him, gave him a tip (who knows where I would have ended up if not for him) and went on my way.
Maybe the altitude, maybe I was getting sick, that walk really took it out of me. Back in the hostal about 14.00, all I could do was go straight to bed for an hour or so, before showering, back in bed for a bit longer, and a do-nothing-except-trip-notes remainder of the afternoon.
It got even more chilly, and started raining later in the afternoon. Good thing the walk was over, not going outside any more today.
I got diarrhoea that night and didn't sleep much. It didn't help that electrical power and water were both off all night.
25 Jan, and the two of us set out for Banos to meet H&A. I skipped breakfast, just having tea, as I still wasn't feeling well. At about 08.15, Maggie and I managed to get a truck back to Zimbahua. Then the same bus that took us to Quilotoa a couple of days ago took us back to Latacunga. A quick change of bus, and we were on the way south to Ambato. Then another change there and we were in Banos about 13.30.
Banos is a pleasant town in the Eastern Cordierra, famous for its baths (hence the name) and its location about 70 km above the lowland Amazon town of Puyo. It caters to, and is popular with, lots of travellers, boasting large numbers of hostals and restaurants.
We walked the 7 blocks or so from the bus terminal to the Hostal Santa Cruz where H&A were checked in. It's a really nice place, with a good room and attached bath.
H&A found us shortly afterwards having the comido del dia in a nearby restaurant. Annie had fully recovered from the altitude problems now; Puyo is only 1800 m high. They have been here a day now and have checked out the place quite thoroughly. On the agenda was a bike ride tomorrow for Herbert and me down to Puyo (900 m descent). We would meet up with Maggie and Annie who would be arriving in Puyo by bus.
In the evening we all went out for dinner at a nice restaurant where a local group was performing Andean music.
Next day I still wasn't feeling well, but anyway filled up on a breakfast of bread rolls, eggs, fruit juice, fruit and tea. Herbert and I showed up at the bike rental, picked up our mountain bikes and helmets, and set off toward Puyo about 09.00. The bike ride was mostly downhill, but enough uphill to tax me, considering my physical shape. I took some Imodium but it seemed to have no effect. I found it quite tiring.
The road followed the river valley down to Puyo. It was paved except for the diversions around tunnels (Having seen a few Wile E. Coyote cartoons, I wisely chose not to ride trough the tunnels). The countryside gradually changed from open, mostly bare, hillsides to tropical jungle. It was pretty and would have been great if I was feeling better.
We arrived in Puyo about 12.30. It's a somewhat grotty, nondescript town, nothing to see there; the enjoyment had been in the journey. We found the bus station and waited for Maggie and Annie to arrive, which they did after a half hour or so. They'd been shopping and taking in the baths in Banos this morning.
Bikes on the bus, we all rode back up to Banos in the early afternoon. Maggie did more shopping and exploring while I cleaned up, rested and felt sorry for myself in my condition. I think I'll try to starve the rest of the day to see if that helps.
About 18.00 the four of us went down to the baths that the others had tried earlier. For $1.60 each, we can stay as long as we want in the thermal pool and rinse off in cold waterfall water. It feels great, good for slightly sore muscles and maybe even for an unsettled stomach.
An interesting sight around the streets is the barbecues with whole "cuy" or guinea pigs roasting over coals. As they slowly cook, the "chef" scrapes the fur off the skin with a knife. Quite gruesome looking.
Fasting, or the bath waters, or maybe just the passage of time, must have helped because I was starting to feel better the next day.
We checked out of our hostal and were on the bus by about 09.00 back up to Ambato and on to Riobamba. It had been raining again and was cloudy, starting to look like we'll never see any volcanic peaks in this country. We could see the base of giant Chimborazo, Ecuador's highest mountain, but not the peak as we passed. Still, it was a pleasant ride, arriving in Riobamba in the early afternoon.
Riobamba is a lively and pleasant town in the central highlands. It has a good Saturday market; we were lucky enough to be on the right day for it.
But the main reason to be here is for the Devil's Nose rail trip, which leaves on Sunday (tomorrow). So after checking into the Estacion Hotel (an old but refurbished-with-character place) and finding out we have to come to the station at 16.00 to book the train, we set off to explore the city. We found the markets and had a great time looking through them. Lunch was in a market at a food stall run by a couple of cheerfully funny women, a delicious meal of potato cakes, egg, sausage, salad and fruit juice.
Riobamba has a number of historical churches and cathedrals to look at, the first we had a chance to inspect since Quito.
Back at the train station, we managed to arrange the rail trip for tomorrow. The train (now only a tourist train, and actually only one car) no longer runs from Riobamba at the moment. We must catch a bus at 07.00 to Alausi, then ride the railcar from there down to Simbambe and return. Anyway we worked it all out and made our reservations.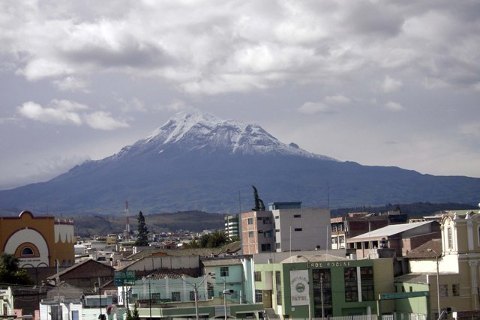 Back at the hotel in the afternoon, we discovered that Chimborazo was suddenly and briefly cloud free. Up on the roof with our cameras, and we were finally able to see a magnificent snow-capped Ecuadoran peak.
Did you think Mount Everest is the highest point on Earth? Wrong! Owing to an idiosyncrasy of latitude and the centripetal force of Earth's rotation, it's Chimborazo. This mountain is 6384.4 km from the centre of the Earth (Everest is only 6,382.3 km from the centre). Everest is of course highest from sea level.
H&A weren't hungry in the evening, so Maggie and I set out to check out the gastronomic options. Right outside the hostal, along the railway street, was a lively, bustling, aromatic line of food stalls, the kind of heady atmosphere that attracts me to these countries. We settled on a busy stall that served a delicious combination of fried chicken, fries, rice and salad, followed by a chocolate covered soft ice-cream.
28 Jan is the day the devil thumbs his nose at us. Below (paragraphs preceded by ") Maggie's notes explain.
"For today we have something special planned. We are going to go on the Devil's Nose train ride. The journey is to begin by catching a bus at the train station in Riobamba to take us approximately 100 km to Alausi where we board a tourist train that will take us on a round trip which includes a steep climb to 3619 meters and then a dramatic fall (Devil's Nose). The train used to start in Riobamba but over the years the tracks have not been maintained and now just the most popular part of the run is kept going for tourists. After the train ride the plan is to continue on to Cuenca, the third largest city in Ecuador.
"Things however did not go as planned. As we waited on the 7am bus to leave for Alausi, we found out there had been a landslide on the tracks and the train would not be going. With hopes of the train ride dashed we decided to carry on to Cuenca. The bus we were already on said that they would go to Alausi and then onto Cuenca so there was no need to get off. What we didn't know when we made that decision is that we would first have to sit on that bus for the next two hours before it would leave. However it did finally leave and it was a six hour ride to Cuenca, so we arrived at 3pm. We had been on the bus for 8 hours!!
"One interesting thing about the bus ride was that we were very high up in the mountains heading down to Alausi which is in a valley and for a time we were actually above the clouds as they were settling into the valley. Quite a spectacular view!! However we then had to drive through these low clouds for quite a ways on the edge of the mountain where there were quite a few crosses placed at the side where motorists had lost their lives. Just a little nerve wracking!!
"Anyways, we did finally make it to Cuenca and have now wandered around for a little while and I have to say that this place is absolutely gorgeous. I like this place the best so far, even more than Banos!! Cuenca has cobblestone streets, flowering plazas, whitewashed buildings with old wooden doors and ironwork balconies, wonderful churches and is just pretty to look at.
"One thing I think I haven't mentioned yet is that there is a lot of security in tourist areas. All the hostals we have been in have required that you are either buzzed through the front door or that you have a key. There are also a lot of police around the tourist areas walking the streets or standing outside restaurants frequented by tourists. Although we have been aware of some people being a little too close to us (or rather our backpacks) I can't say that I generally feel unsafe.
"A few notes about Ecuador - Ecuador is located on the equatorial line in South America. It is bordered on the west by the Pacific Ocean, the north by Columbia, and on the south and east by Peru. Ecuador has three continental regions; the mountain chain of the Andes runs down the middle, to the west of the mountains is the coastal region and to the east is the jungles of the Amazon. The central mountains are of volcanic origin and the area is known as the 'Avenue of Volcanos'. For this trip we are essentially travelling through the centre of the country, along the 'Avenue of Volcanos' from Quito, where we started, to Macara where we will cross into Peru.
"I am enjoying this trip but it is much different than the last one I took with Sanford. This one has more of a feel of a bus trip because we are not staying in any one place for any length of time. We have basically been going to a city or town by bus, walking around the city centre, spending the night and then jumping back on the bus to the next place. This is mainly out of necessity as we have a lot of ground to cover in a short time and a lot to see, but I have to say I miss the other pace. So far there has been not any time to go to a museum (we will finally go to one tomorrow) so I haven't really learned anything about the people nor the history of this country which is one thing I truly enjoy about travelling. The other thing we are encountering is a language problem. More people speak English in Southeast Asia than they do in South America. Thankfully Annie is quite proficient at Spanish so we are getting around all right but with that comes a lack of tours and reading material in English.
"The other thing that is different about this trip is that I had great hopes of losing a few pounds and toning up with all the exercise that I would be getting but relative to the last trip I am not doing as much exercise (more bus riding) and travelling with Annie and Herbert who are both European, their eating habits are quite different to mine and we are adapting more to their way than they to ours. In particular in the afternoon they enjoy a rich cup of coffee with whipping cream along with an equally rich dessert (there are an amazing number of wonderful coffee shop/bakeries in every city and small town here) and then a nice big meal at about 8 in the evening. Oh well, it is good that I still have my gym membership for when I come back to Canada!!"
That's Maggie's notes, thanks for saving me the work.
In Cuenca we got a single huge suite for the four of us in a hostal. We'd be here 2 nights before proceeding to Loja. Great night's sleep here, very quiet and comfortable.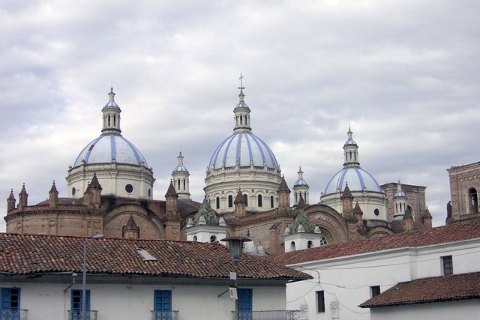 After a lazy sleep-in and a complimentary continental breakfast, we slowly started out on our wanderings and further exploration of Cuenca. But too many interesting looking craft/souvenir/accessories/antiques shops slowed our progress, costing an hour or so of maybe-well-spent time.
Our first target was the Banco Central Pumapungo Canari/Inca excavation site and museum complex, next to the river. It was our first museum visit in the country, and I found it superb. In this museum all the Canari and Inca remains found at this orignal Pumapungo excavation are on display as well as having an ethnographic display describing 22 different ethnic groups. The museum also houses a good collection of religious (Christian) art, cultural and landscape art. The displays were well done but without any English it was difficult to get the full understanding of the people that make up Ecuador. The Pumapungo excavation site was not open to the public while we were there so we could only see it from outside the complex, it appeared to be mainly a series of stone walled terraces and foundations.
I should mention that the weather was suddenly clear, unlike the last few days. We had good views of surrounding hills, but unfortunately Cuenca isn't surrounded by giant peaks like more northern centres.
At midday we wandered down-town, stopping at more shops along the way. I got my debit card checked out and re-charged my cash stash. I'm finding that the trip isn't quite as expensive as anticipated, but I'll need some USD later in subsequent countries for emergencies and street changing. Ecuador uses USD as its own currency so when you put a card into a machine, that's what you get.
I did some more wandering along the small but pretty river, with its grassy banks and lantana flowers. I still can't get over how clean and nice the cities are. Apart from the occasional ramshackle building and urine-smell footpath, Winnipeg could be more grubby or intimidating.
In both Riobamba and Cuenca, entertainers perform at the street corners where cars are stopped for a red light. So far we've seen a juggler, someone twirling flaming batons and a guy with ninja sticks. The fellow with the Ninja sticks was quite funny because he was somewhat overweight and dressed in very baggy clothes and he just looked like he was flogging himself with the sticks. These 'entertainers' do their routine for part of the red light and try and collect some money the rest of the light until it turns green.
Our trip south to Loja on the following day would position us for the border crossing to Peru. A taxi got us to the Terminal Terrestre about 08.30, and we got our bus tickets to Loja, 09.00 start for a 5 hour trip.
The bus this time was a bit more comfortable than usual, with relatively spacious seats and on-board bano. It was a good ride to Loja, through rugged scenic country with several steep climbs and descents over mountain passes. Much of the hillsides were bare grass or scrub as usual, but there was also a lot of eucalypt and pine forest.
In Loja we alighted at the usual terminal terrestre near the edge of town. While in the station, we got our bus tickets to Piura in Peru for 07.00 tomorrow. Rather than wander too far from the bus, we checked into the nearby Hostal Terminal Terrestre.
With the afternoon to spare and stomachs grumbling, we set out to find a suitable pollo restaurant.
It seems a characteristic of these countries that the restaurants are busy and crowded about 14.30 or so, and then within a half hour they are empty and virtually shut down. So we ended up wandering the couple of km or so all the way to the city centre, eventually finding a suitable looking restaurant.
More wandering around down-town; streets are generally narrow and cobbled, giving it a quaint look. We looked for and failed to find a place to change some money into Peruvian sol; will have to change it at the border.
I don't know the La Mancha connection of Loja, but near the centre of town was a modernistic sculpture of Don Quixote with his donkey and companion. Other murals and artworks graced the town, as in many other cities and towns on this continent.
A stop at a faded-elegance style café - high ornate ceilings, peeling wallpaper and antique lampshades - provided a fancy-schmantzy afternoon tea, with fruit/yogurt and crepes/ice-cream desserts.
By now the sole of Maggie's foot was coming out in a large horrid looking blister and peeled skin. Time to limp back home to the hostal by about 19.00, dress the wound and not do much the rest of the evening.
Up about 06.15 on 31 January, we were down to the bus terminal right away to buy some bread, water, chocolate and apples for breakfast. At 07.00, we were off again south.
Like yesterday, the road to Macara and the Peru border was through rugged country with lots of steep climbs, passes and descents. Cloud obscured much of the peaks and valleys, but it was still quite scenic.
We made a big descent into Macara; this is definitely lowland here, and our first taste of hot weather.
All that we'd done and seen since arriving in South America, it was incredible that we'd been in Ecuador only 10 days.
Peru
(Click for map)
It was only a short distance to the Peru border from Macara. We were advised to cross here rather than at Huaquillas, being quieter, more scenic and less hassle. The border crossing did take an hour or two, but was indeed fairly straightforward. We were now in Peru, and on the bus again by 14.00 heading south. Wow, a brand new country; I always feel good getting through borders.
Herbert and Annie changed some USD into Peruvian Sol at a bank on the border; I would get money later at a bank machine farther on. The rate is about 3.14 Sol per USD.
What a difference a border makes! Gone were the forest, hills, climbs and altitude. Here the weather was hot and dry, the roads flat and fast. The vegetation was predominantly thorny scrub and cactus, increasingly desert-like as we progressed.
We arrived in the desert city Piura about 16.00. The consensus was to not stop here but continue on to Chiclayo this evening. Unlike Ecuador with its bus cooperatives and a single "terminal terrestre" in each city, Peru has private bus companies and no single station. So we had to set off on foot to find a bus company that would take us to Chiclayo. We found one a km or so away just before 17.00. There was a bus leaving right away, so we bought tickets and got on just in time for the 3 hour trip.
Again the highway was fast and level. I divided myself between looking at the desert scenery and catching glimpses of the movie "Stealth" on the bus.
It was after 20.00 and dark on arrival in Chiclayo. We'd be on a bus again for Trujillo in the morning so just looked for the nearest hostal to the station. An unnamed "Hostal" was good value, quiet and friendly.
By the time we started looking for some food, it was nearly 21.00, and no-one was really hungry. So we just found a little hamburger restaurant and had chicken burgers and Pepsis, good enough.
Maggie and I wandered around and found a phone place where she could phone home. The streets are quite crowded and lively here at this time of night, lots of activity. It's hot but not unbearably so.
First impressions of Peru: it's not a lot dissimilar to Ecuador, but seems a level or two more grubby and chaotic. The roadsides have a lot of garbage strewn about and some of the streets are run-down and in need of repair.
Buses leave for Trujillo hourly, so no big rush. We were down to the bus station (same company as from Piura), in time to grab a quick breakfast of bread and coffee, and get tickets for Trujillo for 08.00.
Chiclayo to Trujillo scenery was again mainly desert and rocky hills, interspersed with rice, cane fields and villages wherever rivers afforded irrigation.
Into Trujillo nearly noon, we took a taxi to the big Hotel San Martin. There were got double rooms, seems like a nice enough place and good value.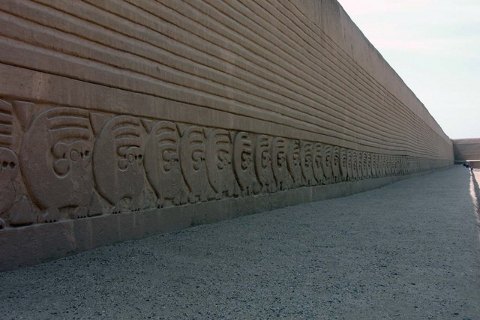 Lunch time now. Out on the street to find the main market and a pasta/meat/cassava/salad feed therein. The rest of the afternoon we looked around the market some more (a pretty typical one), other shops, plazas and cathedrals, part of the old city wall, and back to the room to rest and catch up on notes.
Trujillo is a well laid-out grid city, and not as frantic or chaotic as one might expect. Lots of pharmacies, internet places and clothing stores dotted the streets. People are amiable and not in-your-face.
Maggie's foot seemed to be getting better; a couple of adhesive pads donated by Annie helped a lot.
Nobody was very hungry that evening, so we just found a nearby pollo restaurant for a bit of chicken and a beer before turning in.
Our third day in Peru; this is the day to see Chan Chan. The four of us had a quick breakfast of bread rolls, fruit juice and coffee in the hotel. Then a taxi for a few sols out to the ruins about 5 km out of town.
We could tell we were getting into the Chan Chan ruins area well before the turn-off. The site is VAST. The mounds and remnants of brick walls stretch out for kilometres. The main tourist part of the ruins is shortly off a side road just past the Chan Chan museum. The taxi dropped us at the entrance to the restored part of the ruins. After navigating past the souvenir shops, we spent most of the time in the palace site. It's a large complex with religious plazas, hallways, various rooms and even a lake. Many of the relief designs on the walls still exist or are restored. A fishnet design predominates throughout much of the site. All in all, we found it quite impressive.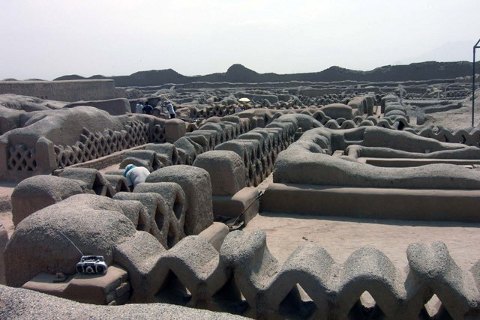 Some of Maggie's notes on Chan Chan: "These ruins are the crumbling imperial city of the Chimu Kingdom and is the largest adobe city in the world. The kingdom was at its height in the 15th century before falling to the Incas and represents America´s largest prehispanic mud brick settlement. The ruins consist of nine great compounds built by Chumi kings. Surrounding the imperial city are 9m high perimeter walls and within these walls we can see the remains of palaces, temples, workshops, streets, houses, gardens, a canal and burial grounds. The city has over the centuries been ravaged by floods, earthquakes and grave robbers but what is left of the adobe walls are some well-preserved moulded decorations showing small figures of fish, birds and various geometric motifs. There are extensive excavations and restoration work being done on this site."
I could have stayed all day and walked throughout the several square km of ruins; but it was said to be possibly dangerous and anyway we didn't have time. We walked back to the main road and to the museum, which was very informative of the history and pre-history of the area, and good detail of the pre-Inca Chan Chan complex.
Rather than try to find the other sites on the ticket, or go back to town, we decided to catch a local bus a few more km out to the coast and the Huanchaco town and beach. This is where they have the famous reed boats, which are stood up vertically to dry in the afternoon. The beach was pretty developed, and almost "ruined" from the amount of tourism and surf culture. There were lots or reed boats, both real and souvenir ones, but we were disappointed to find that they are now filled with styrofoam flotation, with only a reed covering. I guess they are more practical that way.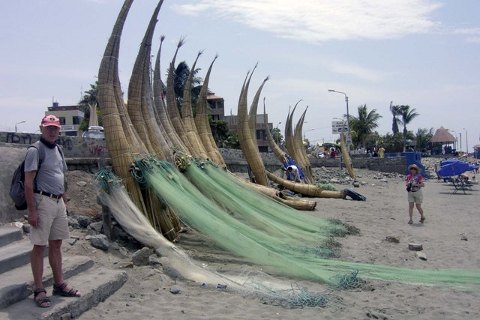 Back in Trujillo in the evening, Maggie and I walked down the street until we saw a small establishment on the corner selling empanadas (filled and baked pastry). We tried a chicken empanada each, and found them so good we had a second one. We bought a little bread and fruit for the bus tonight in a nearby supermarket and had some ice-cream for dessert, great.
About 20.00 it was time to get a taxi to the bus station for the 21.00 bus to Huaraz. This is the first time on this trip that we were to take a night bus, and weren't sure how well it would go with Maggie and Annie.
Maggie's notes on the bus: "I think Sanford made a mistake when he booked us the tickets for the bus. We are travelling on a luxurious bus, the likes I have never seen. It is a double decker bus and each row has only three seats across, two on one side, the middle aisle, and one seat on the other side. The reason for so few seats is that each seat is almost the equivalent of a lazy-boy chair that reclines quite far back and even has a support that comes out from beneath to support the legs. The seats are a rich dark brown leather and each one comes with a bright red blanket. Besides the bus driver there is also an attendant who served a snack and hot tea while we watched a movie. Then the lights were out for the night. The best part of the bus though was the bathroom. It was so clean and roomier than an airplane washroom. What I really liked though about it was that the toilet seat itself was on a spring. It was always up unless you held it down and then sat on it. So that means it was clean, no dribbles from men or women who prefer to squat."
More notes from Maggie on bathrooms (why do women have such a fixation on them?), and related topics: "Speaking of bathrooms, a favourite topic of mine, I liked the ones in Ecuador so much better. They were much cleaner and there was usually an attendant that you payed 10 cents and who would give you a wad of toilet paper. In Peru the bathrooms are free but they are much dirtier and although there are toilet paper holders in virtually every stall I have been in, none of them yet have had any paper. You are not even guaranteed to have a supply when you check into a hostal. So now I always carry a roll with me.
"Still on the subject of bathrooms, today I saw a man with his pants pulled down, squatting at the side of the highway, poopin´!! There is no shortage of gas stations here with facilities so I am at a loss to explain it.
"Another subject that I find disgusting, and that seems to be prevalent in third world countries, is the fact that the streets are used as garbage cans. Sitting in a bus and finished your drink? Throw the straw and cup out the window. Want to clean your purse while the miles go by? Throw the garbage out the window. When we first arrived in Peru and were driving through all that desert area there was just a long string of garbage along the way. The only thing that might justify throwing garbage out of a window would be if it hits the man poopin´at the side of the road!"
We were in Huaraz about 06.00. It's a nice little city nestled in a valley between the Cordierras Negra and Blanca, with good views of mountain peaks, cloud permitting. It's a popular place for travellers with lots of trekking around and tours to places like the Chavin ruins. Being high altitude, we were again cool.
Maggie's notes on Huaraz: "We have now arrived in Hauraz. We had gone from the coast of Peru and are now back in the mountains. Hauraz is at the foot of the Cordillera Blanca from where you can see over 20 snow-capped peaks over 5000 meters, of which the most notable is Huascaran (6,768m), the highest mountain in Peru. Huaraz unlike some of the other places we have visited is different in that most of the buildings are built from concrete. This is because the town was completely rebuilt following a catastrophic earthquake in 1970 which flattened all but one street of buildings and killed half of the city's population."
The Hotel Copa was only a couple of blocks from the bus place, basic rooms with attached bath. The only trouble was that there were no outside windows and the hot water wasn't available. Still, comfortable enough for me.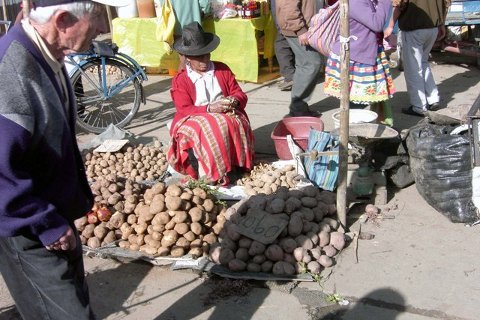 After breakfast we saw what looked like market stalls a little ways away. On checking it out, we found it was one of the biggest and most interesting markets we'd yet seen. We spent quite a while here looking around. Among other things, we saw cuy (guinea pigs) in one section. In the produce section was a bewildering array of potato varieties; well, this IS where potatoes originated.
After a short rest in our rooms to recover from the bus trip, we found a local bus to take us to the thermal baths about 5 km away.
Maggie's notes on the bus: "It is simply amazing the number of people that they can stuff into the bus! Many of the locals are also carrying huge bags of rice, corn, beans, etc. It is just amazing."
The baths had two large pools of lukewarm water, and a smaller one of quite hot water, you can't stay in the hot one more than a few minutes. The water was brown, not from dirt but from iron oxide mineral.
After a couple of hours of relaxation at the baths, we were back in town. Maggie and I took in the local museum for an hour or so. It wasn't bad, mostly archaeological and ethnographic exhibits of Chavin and other local civilisations.
Later in the afternoon, I was in the mood for a good-size walk alone. I walked up (any direction except straight north or south is up) to the eastern edge of town, onto narrow paths past huts and barking dogs, into the nearby hills. The pastures, canals and eucalyptus forest all had a peaceful tranquil atmosphere. Farther up, I found a road that wound up the hill to a large cross overlooking the city. Magnificent views of the city and the partly cloud-covered mountains. By the time I got back around 18.00, I'd walked about 3 hours; really invigorating.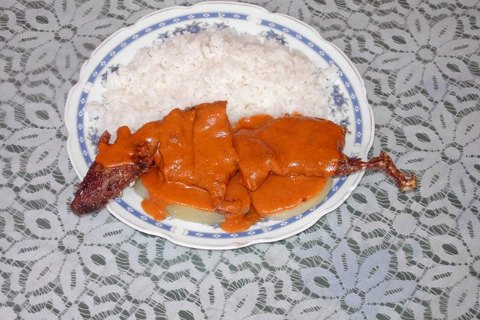 We'd booked a day tour with a group to the ruins of Chavin del Huantar, about 2 or 3 hours from Huaraz by mini-bus. The Chavin ruins are the main reason (besides the mountain views) for coming to Huaraz.
We left Huaraz about 09.30, drove upstream some distance, and then up a valley into the Cordierra Blanca, into ever more rugged and desolate landscape. Through a tunnel at 4500 m (quite cold up there), and down another equally stark and beautiful valley, and we were in Chavin about 13.00. Chavin town is a pretty little village full of locals in traditional dress and with several artesan/souvenir shops and restaurants.
It was lunch time before going to the ruins. In the restaurant, we noticed cuy piquante (spicy guinea pig) on the menu. We'll, it's now or never, so we ordered a half to share. It looked somewhat grotesque; scrawny and covered in a yellow sauce. It was terrible; a bit smelly and overcooked and very little meat. Not much taste. Well, at least we can say we tried it. Herbert, Annie and I shared it; Maggie politely declined and had chicken.
A short walk took us to the ruins. Unlike Chan Chan, these ruins are quite compact, covering only a hectare or two. They are impressive in there own way, nicely laid out in rectangular patterns and with different levels. The stonework is quite intricate and held together well. Much of the complex is underground, tunnels and archways with stone ceilings amazingly still intact. They certainly built well.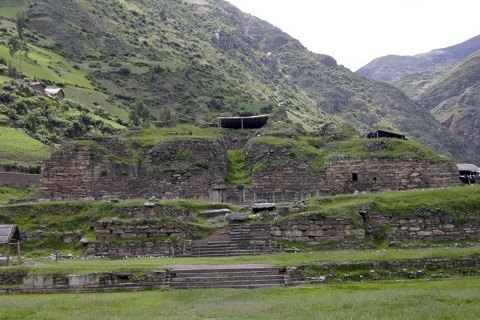 Here's Maggie's notes on Chavin: "We are going on a day trip from Huaraz to Chavin. It is a long 3 - 4 hour drive along a very mountainous twisty road, part of which is unpaved. We are going to see the ruins of Chavin de Huantar, considered to be one of the most important archaeological sites in the country, located to the east of the Cordillera Blanca, about 110km from Huaraz, and at an altitude of 3250m. This fortress-temple was constructed about 800 BC and is the only large structure remaining from the Chavin culture. It is thought to have been a major ceremonial centre. The Chavin were considered to be one of the most influential people to have lived in the Andes prior to the Incas. The site contains a large central square, slightly sunken below ground level, with an intricate system of channels for drainage. A broad staircase leads up from the square to a large pyramid structure called the Castilla. Much of the site comprises of a series of underground chambers and we were able to go into three of them, quite impressive. In the heart of the underground complex is the crowning glory of the Chavin religion: a 5m-high carved rock known as the Lanzon. This dagger-like monolith depicts important deities worshipped by the Chavin culture: the Serpent, the Condor and the Feline (jaguar or puma). It was a great tour, we had a wonderful guide who was a wealth of knowledge, the only problem being that she spoke only Spanish. However, there was a person from France on the tour that took the time to interpret some of what she said to us."
We started back to Huaraz about 16.00, a bit more than 2 hours trip (no photo stops this direction). It had been sunny and warm at Chavin, but rained most of the way back and into the evening. A bit of email work in the evening, then get ready for the bus tomorrow. Herbert had booked a bus to Lima for us for 09.00. We decided to email a hostal, the Flying Dog Backpackers in Miraflores, to book rooms because we might be late getting into Lima.
On 5 Feb, after a usual bread and tea breakfast, we got on the bus for the trip to Lima. It was a day bus of course, so not as luxurious as the one from Trujillo.
South we went up the river valley and over a pass, through green Scottish style hills, before turning right toward the coast. The descent was even steeper and more spectacular than previous ones, with an unbelievable number of curves and switchbacks. As we neared the bottom, the hills became barren and desert-like, typical of the coast.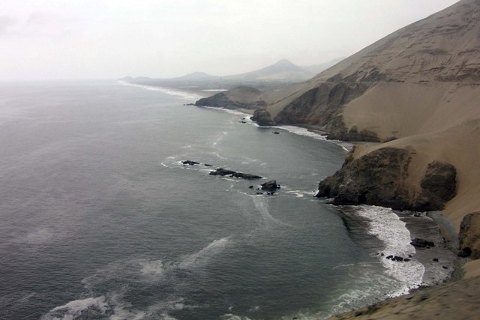 From here to Lima, the road cut through the omnipresent desert interspersed with towns and fields wherever irrigation was possible. Sometimes the road climbed up over coastal hills and sand, with views of beaches and rocky coastline.
We came into Lima late afternoon, a monstrously huge, sprawling and grubby in places, city. The bus stopped at the terminal in the centre. Herbert and Annie had second thoughts about going to Miraflores, opting to stay in the centre instead. Maggie and I chose to still go to Miraflores because we'd made the reservation.
We decided to spend two full days in Lima, and immediately booked a bus to Nazca for 08.30 on 8 Feb. From then, we split up for the day, H&A staying locally and Maggie and I catching a taxi out to the Flying Dog in the cleaner and more upscale suburb of Milaflores. We arrived at the hostal after 18.00. They didn't seem to have the same rooms or prices as on their website, putting us into a nice room in a new building.
Maggie's notes: "Our hostal, Flying Dog Backpackers Hostal, is clean, dry, doesn´t have a musty odour, has hot water, a fan and toilet paper!! It is also $30US a night!! Among hardcore backpackers, of which I consider Sanford to be, this is unacceptable as we are in an upscale part of town, away from the ´real´ people. However there are ´real´people here too and it is nice to see how the other half lives. I consider this a wonderful departure from our usual lodgings (which for the most part I find comfortable as well, I really don´t prefer one over the other, but it is nice for the break). In Mirofloes are lots of outdoor cafes, nice parks and good shopping."
And also some of Maggie's impressions of Lima: "Lima is the capital of Peru and has a population of more than 8 million people. One third of the population of Peru lives in Lima. The city is still growing and has become too big to support itself. The city has a few wealthy and middle class suburbs but the majority of people live in poverty with inadequate housing and a lack of food, and unemployment is rampant."
In the evening we took dirty' clothes to a laundry, wandered the brightly lit and active streets, bought a few food items in a grocery store, and settled on the Café Café restaurant for a relatively swish meal before retiring from a long day.
Next morning, no time for the complimentary breakfast. We must be down-town at 09.00 to meet Herbert and Annie for a day of museums and cathedrals.
So we walked across to Av Larco where the minibuses are, and caught one going down-town along Arequipa. People on the bus are helpful, making sure we get correctly to our destination. We were dropped a few blocks from the Plaza des Armes and walked the rest of the way.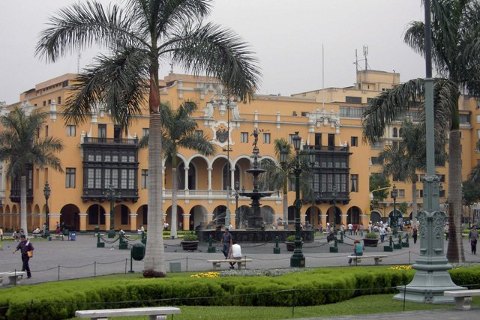 Sitting on the steps of the Cathedral (built 1755), we watched the throngs of people promenading and the pigeons gradually showing up for work. Herbert and Annie met us promptly at 09.00, having yesterday found a nice hostal nearby.
It was a pleasant day, high cloud and not too hot, maybe temperature high 20's. That's a contrast to the -38 deg back in Winnipeg. Also, we found Lima not as grubby, chaotic or dangerous-feeling as we expected. It's not a given that your bag will inevitably be snatched in the bus station or pickpockets will accost you in the street. We kept up a modicum of vigilance and had no problems.
The Basilica Cathedral de Lima was just opening up, so we went straight in to the cathedral and museum of religious art. The Catherdal was of course impressive with massive columns and high nave. To one side is the alleged tomb of the conquistador Francisco Pizzaro, though it's debatable whether or not he's actually there. The museum has the customary array of religious paintings, statues and reliefs.
A quick walk past the Palace de Gobernio, with its heavy military presence on guard, took us to the Puente de Piedra over the Rio Rimac, a muddy swift flowing river racing through the city.
Back in the city, the San Francisco Church was one of the few buildings to escape the 1746 earthquake. As such it had a delightfully well-worn and slightly decayed look about it. An English-speaking guide helped us understand a lot about the church, and led us on a fascinating tour through the multi-level subterranean catacombs.
Farther on, the Museo del Tribunal de la Santa Inquisicion was free, but the guide spoke Spanish and we didn't get as much out of the tour. The exhibits were mainly pictorial and text in Spanish. There was however a short walk through underground passages to add to the interest.
Following a stroll along the length of the busy shopping pedestrian mall of Union St, we set out to find a certain museum outside the city centre. The walk took us into increasingly unsavoury and uncomfortable districts. We opted for a taxi, which was a good thing. The Museo de la Nacion ended up being several km away so we couldn't have walked it.
Arriving at this museum after 14.00, we had lots of time to explore this facility. It's just as well. It was open until 18.00, and we ended up using all that time here. This was a fascinating place, wow! The main part was a circuit tour of exhibits from what must have been every archaeological site in Peru, as well as anthropological and historical artefacts. Also are exhibits of textiles, tools and other anthropological items, mummies, Peruvian produce and a children's section. Topping it all off was an extremely graphic black & white photographic exhibition depicting the Shining Path uprisings of 1980 to 2000.
Maggie made lots of notes on today's museums, more than I could do, so here's her take on them: "Museum 1 - Cathedral de Lima, built in 1755 on the site of the original which was destroyed in the earthquake of 1746. The interior has massive columns and a high nave, splendidly carved stalls, silver-covered altars surrounded by fine woodwork and mosaic-covered walls. Within this complex is also a Museo de Arte Religiosa which displays sacred artefacts, liturgical furnishings and paintings from the 17th and 18th centuries. The Cathedral is exquisite and very grand and opulent. Quite a contrast to the living conditions of the local inhabitants. I always find a sense of awe whenever I walk into these massive cathedrals with all the gold and silver and fine woodwork, but then those feelings are always followed by what a stark difference between the church with its opulence compared to the local people and knowing that the church is only able to maintain what they have on the backbone of the locals.
"Also within the Cathedral de Lima, are the assumed remains of Francisco Pizarro which lies in a small chapel, on the right of the entrance, in a glass coffin, however later research indicated they reside elsewhere. Who is Francisco Pizarro, you ask? He was a Spanish explorer and conqueror who in 1532 landed on the north coast of Peru with 179 conquistadores and captured the Inca leader whom he put to death in 1533. This effectively ended the Inca resistance and their empire collapsed. Pizarro claimed most of South America for Spain and in 1535, Pizarro founded Lima as the capital of the whole region. It was Francisco Pizarro who laid the first stone in the rebuilt Cathedral de Lima. Francisco Pizarro opened doors for Spanish Religion and culture to become dominant in South America. He conquered the largest amount of territory of any military leader and delivered the most riches to his country with the smallest expenditure of men and resources.
"An interesting side-point to this chapel. Seems every holiday I fall at least once. Well it was this chapel of Francisco Pizarro that brought me to the ground. There is a step up into the chapel and I forgot on my way out and fell. Several security people came to my aid and right after I left the area, they put a ramp at that spot!! Thankfully no damage done.
"Museum 2 - San Francisco Church and Monastary. This church has striking yellow steeples rising above a magnificent plaza where vendors sell handicrafts and snacks and visitors feed the multitude of pigeons. Construction of this church began in 1546, in 1656 it was toppled by an earthquake necessitating its reconstruction which was complete in 1672. Despite the early problems the reconstruction was well done as it was one of the few buildings to withstand the 1746 earthquake. Inside the church is a beautiful main cathedral, a monastic library containing centuries-old tomes (??), paintings by important artists, gilded religious carvings, and a peaceful courtyard. Last but not least are the spooky tunnels and caverns of the Catacombs, Lima's first cemetery, found below the church.
"The library houses over 20,000 volumes dating back to the 1400s and are written in many different languages. It is one of the most important libraries in Latin America and one of its most important books is the first dictionary of the Spanish language from 1729.
"There is also a very interesting painting depicting the last supper which is served on a round table with angels behind all the apostles except for Judas who has a devil behind him and there in the centre of the table as part of the feast is a roast guinea pig!
"One of the main reasons to go to see this church is the catacombs under the church and part of the monastery. This was Lima´s first cemetery. The use of such crypts as cemeteries was common in Lima´s churches and the San Francisco catacombs were in use until the mid 1800s. It is estimated that the bones of some 70,000 people lie here. Most bodies were not buried within coffins. Bodies were stacked within holes and the bodies were layered with lime in between. The purpose of the lime was to quickly decompose the body and to reduce the smell. There was also a huge ossuary, or well, which was 10 meters deep and contains thousands of bodies. In all these graves today you see the bones and skulls from those buried. Many of the bones have been artistically arranged by an anthropologist in 1940. Many of the people on the tour were grossed out by this but when I looked at it, I didn't have that same sense. These were people who lived out their full lives and this is now their 'cemetery' or resting place. I found it peaceful, unlike when you see the same set of bones and skulls in Cambodia where you know the people suffered unbelievable cruelty before being killed.
"Museum 3 - Museo del Tribunal de la Santa Inquisicion This building was used for the Spanish Inquisition from 1570 to 1820 and there are now free torture tours in Spanish and English. Unfortunately the English tour was a couple of hours away so we took the tour in Spanish. In the basement is an accurate recreation in situ of the gruesome tortures. Enough said!!"
"Museum 4 - Museo de la Nacion This museum contains Peruvian history with ceramics, textiles and displays of many ruins in Peru. It is arranged so one can follow the development of Peruvian pre-colonial history through to the time of the Incas. Also in the same complex was the Museo Peruano de Ciencia de la Salud, which has a collection of ceramics and mummies, plus an explanation of pre-Columbian lifestyle."
"By now my brain is numb. I can't absorb any more. I want out of museums!!"
Another taxi back down town for dinner, and we wandered Union St again for a restaurant meal.
It was now dark. Maggie and I took our leave of Herbert and Annie, and made our way back to Av Tacna for the mini-bus back to Miraflores. The bus was again easy and convenient, dropping us virtually at our door. All in all, a very busy but good day.
One thing I forgot to mention was the street performers. They're everywhere, probably more in Ecuador than Peru, but always trying to make a buck. They stand at traffic lights doing juggling, twirling bolas or flaming batons or whatever. One desperate looking guy came onto our bus once, and proceeded to stick nails up his nose. A bit gross.
7 Feb is a day to ourselves, for walking around Miraflores, internet, shopping, and just relaxing. Just as well; as we were crossing the street on the way to breakfast Maggie fell on a rough patch of pavement and appeared to strain a leg muscle quite badly. After resting and recuperating a few minutes, we proceeded on to breakfast, then to an internet place for email. As the email work was sedentary, Maggie stayed there for quite a while to rest the leg. It ended up not as bad as it could have been, as she could walk OK albeit slowly.
During the day I took a longish walk down a street to the seashore. The shoreline is a high cliff with parks and luxury high-rise apartments along the tops. Below the cliff is an express-way, then the beach composed of round rocks and pebbles, then surf. I walked along the cliff-top for some distance, and back the other direction along the beach, stopping for a swim along the way to counter the sun and intense heat of the day. There are several beaches along the way, with names like Waikiki and Makaha. Some of them were quite crowded; lots of gorgeous looking "girls from Ipanema".
I made my way back up to the tops at the south end of Miraflores, full of Marriot-type hotels, and back along another street to our neighbourhood. The whole walk took 3 or 4 hours.
Back at the hostal, Maggie had made it back from the internet and was resting OK. Later in the day she was brave enough to get out on her feet and do some shopping and a restaurant meal and a drink. Great, hopefully the leg muscle will get better soon.
We have to pack up tonight to meet Herbert and Annie at the bus by about 08.00 tomorrow.
A taxi got us into the bus station in the centre about 07.45, well ahead of time for the 08.30 bus to Nazca. Herbert and Annie were there already, reacting with a mixture of dismay and encouragement about Maggie's sore leg.
We got on the Flores bus at 08.30 and were on our way out of Lima shortly after. But it didn't seem to be that impressive a bus company. First, they were putting movies on, and our TV monitor had an intermittent picture, so we were annoyed by the sound with nothing to look at. Secondly, we were sitting near the front, and there was a lot of arguing and shouting going on in the drivers compartment. Eventually the bus started going very slowly near the edge of the city, and then stopped altogether. Other passengers were complaining to no immediate avail. We never could figure out what the problem was, must have been personnel-related. Eventually we got going again.
We passed through mostly hilly desert country, with some irrigated fields and villages, and even a little wine country, with mediocre-looking wines on sale in the villages.
Lunch break was at a grubby, urine-soaked bus compound with a restaurant and stalls. No appetite to eat here, lets wait until Nazca. We crossed the Nazca lines area (couldn't see them from the road) and got into Nazca about 16.00.
Nazca is a medium size town apparently devoted to the famous Nazca lines drawn on the nearby desert, and other tourist attractions. It seems the place wouldn't otherwise exist. Immediately off the bus, we were surrounded by touts pushing accommodation and tours.
We checked bus information and found that night buses are the only viable option out of here to Arequipa. We decided to leave at 20.30 tomorrow and got tickets for 70 sol each for the night bus.
Then accommodation; we followed the touts to 2 or 3 hostals, and settled on a nice one with doubles with attached bath and included breakfast. The petite little woman who found us the room transferred us and our luggage to the hostal with her Oldsmobile 98, said to be the biggest car owned by a woman in town.
Finally, we arranged a morning plane flight for 3 (I didn't bother for myself), and an afternoon tour for 4.
It was dark by the time we finished dinner. Before going home, we took a usual promenade through the down-town area. The town has quite a lively and active night life, vegetable markets still open, streets and shops lit up and busy, and the plaza full of people. Good atmosphere.
It's drier and not quite as hot as Lima, so a comfortable nights sleep. We had a TV in the room, with Fox news dominated by the death of Anna-Nicole Smith.
Nazca tour day; first surprise was that we were apparently not getting breakfast today, because of risk of airsickness on the flight. The others had to do without, but I did get a breakfast for myself.
As Herbert, Annie and Maggie took off for the Nazca Lines flight, I set off walking around town to try to rent a bicycle for some riding outside of town. But there was nothing to be had for a reasonable price.
So, who needs a bike? I just started walking across the dry river bed, to the edge of town, and started along paths up into the barren rocky hills. Despite the heat, it was a pleasant walk, I could sit on a hilltop and look at the views over the city, watch the tour planes take off from the airport to fly over the Nazca Lines, study the turkey vultures soaring nearby, and absorb the peaceful solitude.
I was back in to the Hostal by about noon. The other 3 were there, just going out for lunch, so I joined them. They had had a good flight over the lines, although the banks and turns made some of them a bit nauseous. Their flight was one of the longer ones, circling around all of the major pictures in turn and studying them quite closely.
Some of Maggie's notes on Nazca:
"The Nazca lines are gigantic geoglyphs located in the Nazca desert, a high arid plateau. There are many theories, some including aliens, but it is generally believed that they were created by the Nazca culture between 200 and 700 AD. There are hundreds of individual figures, ranging in complexity from simple lines to stylized hummingbirds, spiders, monkeys, and lizards. The Nazca lines cannot be recognized as coherent figures except from the air. Since it is presumed the Nazca people could never have seen their work from this vantage point, there has been much speculation on the builders' abilities and motivations.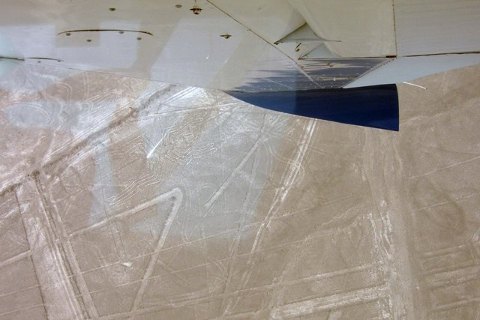 "The Nazca plain is virtually unique for its ability to preserve the markings upon it, due to the combination of the climate (one of the driest on Earth, with only twenty minutes of rainfall per year) and the flat, stony ground which minimizes the effect of the wind at ground level. With no dust or sand to cover the plain, and little rain or wind to erode it, lines drawn here tend to stay drawn. These factors, combined with the existence of a lighter-coloured subsoil beneath the desert crust, provide a vast writing pad that is ideally suited to the artist who wants to leave his mark for eternity.
"Today at 9am we are going for our flight over the Nazca lines. We booked the full package tour which includes round trip transportation between the hostal and the airstrip, a film in English about the lines and then a full 50 minutes in the air with each of us getting a window seat in a small 4 seater plane. The pilot is to circle the images from both sides so all can take a picture. For this full package the tour was $80 US each. Sanford did not want to go on the tour, but he paid for my ticket, so it was just Annie, Herbert and I.
"I have to say I found this tour that I was really looking forward to was anti-climatic. First of all, we didn't get the film, the flight only lasted about 35 minutes and I got incredibly nauseous. It was a good thing I didn't have breakfast! When up in the air, whenever we would come to one of the drawings the pilot would swoop down with one side facing towards the pictures and then head back up and swoop down and around for the other side. I found by the time I focused my camera, took a last look at the lines before I snapped the picture that I missed what I wanted to snap plus I also think trying to take the pictures was contributing significantly to my nausea. So I put down the camera, got the barf bag ready and just started to breathe slowly. That helped considerably and then because I wasn't focussed on getting good pictures I was able to really enjoy and take in the wonder of these massive drawings done centuries ago. I was actually relieved the flight did not last the full time, it took awhile to get over the nauseousness, but on the other hand what we paid for was misrepresented."
Back at the hostal we relaxed for a while before the 15.00 afternoon car tour. This tour was to take us to a demonstration of local mining, a pottery demonstration/shop, and the 1400 year old pre-Inca Chauchilla mummy and cemetery site.
Our driver and guide was an unforgettable type of guy; dark and heavyset, with a rudimentary grasp of English and a wild sense of humour. With his 1970's Dodge Coronet car and its wolf-whistle horn, think "Jim Carrey meets Don Corleone".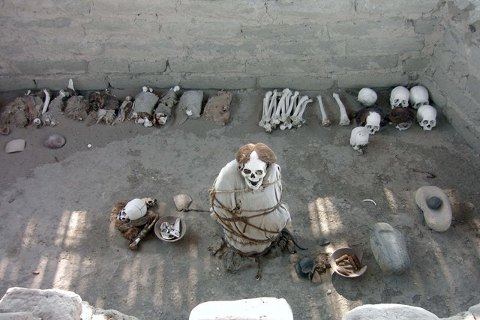 The mining and pottery exhibits and demos were pretty routine and bland. But the mummy site was fascinating. It was about 30 km away from Nazca in the desert, and covered about .5 km by 2 km area. It had maybe a dozen or so open tombs with mummies in them that we could visit. The rest of the 400 or so tombs had apparently been decimated by grave robbers, which our guide emotionally lamented.
The mummies were well preserved in the dry desert conditions, with hair, some flesh, wrappings and textiles still intact.
After the sight of all those dried-out mummies, we were ready for a big meal, in the form of one of those spit-roasted chicken restaurants. They always serve up big portions, 1/4 chicken, fries, salad and a beer; substantial enough for a night on the bus.
Our bus was to leave about 22.45 for Arequipa, so we were packed up and down to the terminal in plenty of time. However, the bus wasn't on time, and we didn't leave till nearly midnight.
It wasn't quite as luxurious as the one that took us to Huaraz, but more than adequate. The seats had leg rests and reclined quite deeply, so we slept well.
Maggie's observations on bus travel: "Interesting facts - So far every time we have gotten on a bus that takes us from one city to another, someone has come around and filmed all the passengers. One time instead of filming, they fingerprinted us. I suppose should we crash and burn that perhaps the film will be alright and they will have a visual of whoever is on the bus. I find the thought disturbing, to say the least. However, I am smiling and waving when they come around so that if my face is flashed on the Canadian news in the event of an accident, I will at least look happy!"
We arrived in Arequipa about 08.30. It seemed a rather bland and ugly looking place as we got off the bus, but then the bus terminal is a long way from the centre and not a good part of town.
While at the terminal we decided to get onward tickets to Cuzco for Feb 11 (next morning) at 08.45. It would be a day bus, maybe nearly 12 hours, but at least we'd see something.
A taxi got us to the centre and into the Hostal Regis, where we got basic but adequate rooms. Nearby we found a Turkish restaurant for breakfast. Having a second home in Turkey, Herbert was in heaven.
Because we slept on the bus, we could sightsee most of the day. It was cooler than in Lima, and quite pleasant, although it rained later in the day.
First stop, via various souvenir, artisan and antique shops, was the Plaza de Armas. It's surrounded on 3 sides by arcaded colonial buildings full of shops and restaurants. On the fourth side is the huge 1612 Cathedral, largely rebuilt after earthquakes, and impressive both inside and out. Nearby is the La Compania church, with its chapel painted up in a curious jungle theme.
A bit later in the day, we took a minibus up to the suburb Yanahuara where there's a bit of a lookout plaza with good views over the rest of the city and countryside. A wedding was in progress in a church there, quite a spectacle.
The rest of the afternoon was taken up in looking at the San Francisco church, shopping and resting. We didn't bother with the famous Convent de Santa Catalina (Arequipa's "city within a city"), not having enough time left to do justice to its 30 sol entrance fee.
Back at the Turkish restaurant in the evening, we indulged in doner kebabs and salads, wonderful.
In the evening it was a little wet. But while Maggie went on the internet and H&A shopped for antiques, I wandered the busy streets, down as far as the Mercado San Camilo, the usual heady hive of life and activity.
Maggie joined H&A for their antique shopping and her notes are below:
"Herbert is a serious collector of antiques and in particular he collects carpet and textile fragments, ceramics, and idols among other things. We went into an antique store and he wondered if the owner had any textile fragments. The owner did and out came a box of small pieces of fabric from the various cultures that had pre-existed in the area. Each piece of fabric was handstitched onto another piece of fabric to limit the handling of the original valuable pieces. Herbert, being a serious collector, knows his stuff and would carefully scrutinise each fragment, ask about the culture and compare the textile fragments of the various cultures that the shop owner had. Serious stuff and the owner could tell Herbert is a serious collector. Herbert, not having found what he wanted asked if there was more. This is when the real precious stuff came out now that the owner knew the level of the client.
"The owner had many pieces of fabric from pre-Inca time. Herbert took his time evaluating the condition, the colour, the quality, and the appeal to himself as a collector. With each piece he liked he would group them with other similar pieces of the same time period. When he was not interested in a piece he gave it back to the owner. Next the similar pieces were looked at together and the best was chosen and the rest given back. Then, Herbert pulled out paper and pen and made a list of the textile fabrics he liked by their civilisation, age, and price. Herbert was down to seven pieces and they were from two time periods. Next, re-evaluate again, same criteria as before; condition, quality, colour. Occasionally he would ask the shop keeper between two pieces which was more valuable and would go with that. Finally down to four pieces, two were definites, two he liked but felt was unsure to buy. He settled for the definite two. One piece was about 18" by 8" and the other was a fringe about a foot long that would have been on the edge of a neckline. For these two pieces he paid $300 US cash. What time period were they - about 1400 years old from the Chauchilla civilisation found around Nazca!! Ring any bells? These would have been remnants stolen by grave robbers pillaging the Nazca graves. The route is grave robbers to black market to shops (sometimes) to private collectors to museums (sometimes). Herbert in his will has left his carpet collection to a museum in Dusseldorf, not sure what is to happen with his other stuff. With his new purchases he will carefully consider if and how to clean them and decide on a way to display them. Apparently he often will consult the museum for advice. It was interesting to witness this purchase of the textile fragments and the journey they go from the graves the day before into Herbert´s hands. Not sure exactly how I feel about the whole thing but interesting none the less."
Our taxi in the morning to the bus station didn't have enough space for all our backpacks, so we had to tie a couple of them onto the roof racks. Anyway he got us there without loss or damage.
Our bus to Cuzco was to leave at 09.45, but we waited around the bus station or on the bus for an hour or so before it finally left. It was comfortable enough, with reclining seats and leg rests, and even a hot spaghetti meal later. But it started off somewhat slowly, and didn't look like getting us to Cuzco in the nominal 10 hours.
From the desert lowlands of Arequipa, we climbed soon into rugged hills and up valleys, through sparse and rocky cactus country, into the Cordierra and onto a high plane. The expanse of Lake Lagunillas broke up the otherwise dry hills and plains.
Mid afternoon had us in the nondescript plains town of Juliaca. I wasn't sure if we were to go straight to Cuzco, or to Puno first. As it was, another hour or more and we were in Puno, on the shore of Lake Titicaca. We hadn't had time on our itinerary to take Maggie there, but at least she had a glimpse of this high altitude lake.
As we drove into Puno, we saw on the streets a lot of people in marching band get-up and others in fancy dance costumes with elaborate masks. They had just finished performing on the streets. It was apparently the finale of a big festival that we just missed.
After a brief stop in Puno, we were again headed back through Juliaca, and on to Cuzco.
It got dark just after Juliaca and on we went, arriving in Cuzco about 23.00m. A taxi took us down-town, to a full hostal, and another took us to the Hostal Regis, where we got mediocre rooms, no chairs and questionable hot water. It was handy though, close to the Plaza des Armes and other sites.
Next day was not great for me at least. My gut had been acting up again, and would be a bother all day.
Anyway, we had the usual hostal breakfast of bread rolls, butter, jam, fruit juice and tea/coffee. A tout ("guide") that met us last night showed up to try to do business with us, but we politely declined his services.
First item was to a tourist office for info on sights around Cuzco. The multi-site museum ticket now cost 70 sol so we all invested in that.
Next was info on Macchu Picchu etc. We found out there was no local train there, or so they said. Anyway Maggie expressed reluctance to undertake its rigours. The other option was a "Backpacker" train to Aguas Caliente for USD 68 each return. Other costs would be a return bus from Aguas Caliente to Machu Piccu for USD 12, and entry fee to the Machu Picchu site for 120 sol. I guess they know that once we've come this far, we won't back out on price. Down at the train station we got our tickets for the train to A.C., for 13 Feb at 06.15, returning at 15.45 on Feb 14.
Cuzco is another high city, about 3400 m. Annie was again feeling the altitude, as she had done at Quilotoa Crater and a bit in Huaraz. We would be in the area a few days, and then would be spending considerable time in Lake Titicaca and the Bolvian Altiplano. The painful conclusion was reached that this would all be too much for her, and she would have to abandon the trip. It was resolved that she would spend the next few days with us, then fly back to Lima with Maggie when she goes, and from there fly back to Europe.
Decision made, we went to a travel agent and booked a seat for Annie on Maggie's fight on 16 Feb.
It was now time to recharge our cash stocks. Herbert changed dollars at a changer. I went to a bank to use an ATM. But my debit card was giving me trouble and I had some difficulty getting cash. Hope this isn't going to be a problem all the way through.
After a break of coffee and cake in a restaurant overlooking Plaza des Armes, we went to the Museo de Arte Monasterio de Santa Catalina, for a look at the usual collection of religious paintings and sculpture (it's all getting slightly repetitive by now).
Then we split up for the afternoon, Herbert going to look out for Annie, and Maggie and I to take in more of the museums etc. on our ticket.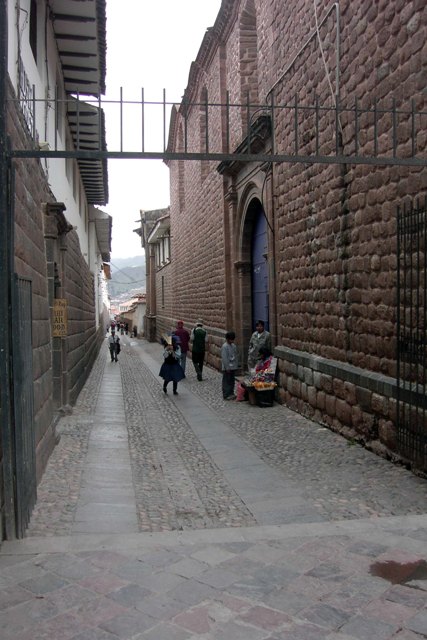 It was a bit difficult to find things with the map we had, but we eventually found the Museo Historico Regional, exhibits of cultural artefacts from various Peruvian civilisations in the same vein as what we'd seen in Lima. We couldn't find the Museo de Arte Populaire, so walked down Avenida Sol to the underground Museo de Sitio del Koricancha, an actual archaeological site with exhibits of relics from the site. This one was interesting for its location and structure, a grassy mid-city site with a hole in the ground and steps going down.
Some of Maggie's notes on Cuzco:
"I love the look of Cusco. It is a little different than the other places we have been. All the buildings here are various shades of brown and there is very little of the pink, green or yellow seen in other cities. The architecture is a mixture of Inca and colonial Spanish, colonial churches, monasteries and convents and numerous pre-Columbian ruins are interspersed with hotels, bars and restaurants that have sprung up to cater to the hundreds of thousands of tourists that come to Cusco as the starting point to see Machu Picchu. Almost every central street has remains of Inca walls, arches and doorways. Many streets are lined with Inca stonework now serving as the foundation for more modern dwellings."
Next morning we're up at 05.15 to walk to the train station for the 06.15 to Aguas Caliente. It was a comfortable enough train, and left on time. Rain was off and on most of the 4 hour trip.
The train had to go over a high pass - 3800 m - to get away from Cuzco, so had to negotiate a series of switchbacks. Then down the other side and downstream through valleys aside increasingly large, muddy and turbulent rivers. The scenery was quite striking, with rapids, deep gorges and near-vertical hills. From high altitude vegetation we went more and more into lush jungle.
At the Aguas Caliente train station, we found a tout who had a sign for one of the hostals in our book, the Quilla. We followed her up the hill to the hostal, and got nice rooms.
A.C. is a zoo of souvenir and artisan shops, restaurants and bars, apparently nothing like what it was years ago. Back down the hill, we got bus tickets and entry tickets to Machu Picchu for tomorrow. Then back up to the top, up a river valley, for a couple of hours in the thermal baths. In the afternoon Maggie did some internet and I walked around and outside town just exploring in intermittent rain.
The town, as mentioned, has what seems like far too many restaurants for the number of tourists. As you walk along, the touts are all over you trying to get you in. I found one and bargained a bit to get a 4 course meal with drinks for 10 sol each, so that's where we went for dinner later. It was quite good, salad, soup, main course, dessert and a drink, as well as a beer thrown in. We had among other things grilled local trout, very good. Then one of those Andean music bands came in and did the usual pan-pipe music gigs for a few minutes (soliciting donations and/or CD sales).
Maggie's impression of AC:
"Aguas Caliente is named after the hot springs located in the town. It is a tourist mecca catering to the some 450,000 tourists who make the trek to Machu Picchu each year. It is a town of souvenir and artesan shops, internet cafes, hostals, and about 300 Pizza restaurants. I love this place. It is breathtakingly beautiful. It reminds me of the rainforest I had seen in Malaysia. We are surrounded by mountains, lush greenery, and a river roaring by."
All were tired so early to bed in order to get up about 05.00 to get the 05.30 bus (the first one of the day) to Machu Picchu next day. It rained some at night, hope it doesn't ruin M.P.
Happy Valentines Day, the day we see the ruins!
Up out of our rooms and down to the bus about 05.15 as planned. The rain had stopped for the moment but everything was wet. Fortunately the rain stayed away, even becoming sunny later, so it was a good day for South America's most famous ruins.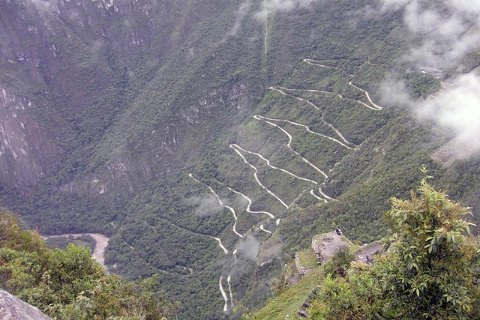 The bus ride took about 20 minutes, down the river some distance, then across and up a steep hillside, about 13 hairpin turns, to the Machu Picchu site. It was just getting light as we arrived, with lots of cloud around.
We entered the site shortly after 06.00. Maggie, partly with Annie, hired a personal guide for USD 30, for reportedly a very good and informative 3 hour tour. Herbert and I went in on our own to explore the site and later do the walk up to Huayna Piccu, the high promontory overlooking the site.
Despite its popularity and consequent crowding and commercialism, Machu Picchu is a truly magnificent Inca site. It is beyond the scope of this report to go into the history and detail of the ruins. But here's Maggie's take:
"It's a cliche to say it, but Machu Picchu is not to be missed. No amount of hype can detract from the sheer magnificance of this awesome sight. The ancient citadel straddles the saddle of a high mountain with steep terraced slopes falling away to the fast flowing Rio Urubamba snaking a hairpin course far below. Towering overhead is the Huayna Picchu mountain and green jungle scenery provides the backdrop for the whole majestic scene.
"For centuries Machu Picchu was burried in jungle until Hiram Bingham stumbled upon it in July 1911. It was then explored by an archeological expedition sent by Yale University. Machu Picchu was a stunning find. The only major Inca site to escape 400 years of looting and destruction, it was remarkably well preserved."
We beat most of the tourists at this hour, able to take lots of unimpeded photos. There are a multitude of subjects to snap, from the superbly crafted brickwork, terracing, buildings, temples, to the grazing llamas. What do you get when you cross a rabbit with a squirrel? A viscacha, and there were lots of them scurrying around.
The walk up to Huayna Picchu took about 50 minutes, starting at 07.20, very steep and wet in places. The views from the top, where I loitered an hour or more, were some of the best in my life; mountain peaks, some snow-covered, all around, steep jungle-covered bluffs closer in, the raging river at the bottom, and of course Machu Picchu in its partly-cloud-covered glory just below.
I made my way back down to the ruins by 10.00 or so, looked around them a while longer, and met the others at the gate later. Everyone was impressed with the site and the day in general.
Back to A.C. Around lunchtime, a lunch in the same restaurant as last night, and a wait for the 15.55 pm train back to Cuzco.
Back in the Hostal del Inca, we had one more day around Cuzco. In the morning we took a taxi (15 sol) into the hills outside Cuzco to see some of the nearby Inca ruins.
First site was Puka Pukara, or Red Fort, possibly an Inca post-house with good stonework and views of the countryside.
Second,and just down the road, was Tambo Machay, a series of water fountains on 3 different levels, possibly the site of a water cult or an Inca resting place.
Back by taxi a bit toward town, we came to the Qenco temple and ampitheatre, a good example of Inca stone carving in situ. It has a hollowed out stone altar, and zig-zag channels carved into the rock to course sacrificial blood or whatever for divination.
Nearby, and lastly, were the walls of the ruined ceremonial centre of Sacsayhuaman. This is quite an extensive and impressive structure. The stonework is beautifully pieced together, some stones up to 130 tons. This is the site of the battle between Pizarro's troops and Manco Inca, the decisive military action of the conquest, and one which Pizarro won.
Coming back from the ruins, we went straight to the Pachutac statue in the south of the city, an unimpressive structure, but inside it did have some descriptions of each of the Inca kings.
Feb 16
This is the sad day when Maggie and Annie leave. Annie had changed flights, and went to the airport early in the morning. I took Maggie in a taxi a bit later, did the farewells about 09.00, and I took a bus and walked back to the hostal. On the way, I stopped for a much needed haircut, costing all of two sol.
I was to meet Herbert at the Museum of Popular Art at 11.00, but a misunderstanding prevented that meeting. We did go to the museum later in the afternoon, mostly pretty kitsch stuff. Lunch was a few sandwiches and drinks in a sandwich shop for 23 sol. Then we explored other streets on foot before returning to the hostal.
Back at the hostal, surprising news. Maggie had been there. Her flight was cancelled and she had to go back into the city to a hotel (at airline expense) until things could be sorted out. So she had another day in the city.
I made my way over to her hotel (quite a fancy one) in the early evening. We went to a nice dinner in the restaurant there and spent a bit of time together before I returned to my hostal. She still didn't know how or when she was going to get back to Canada, and I hope it was all resolved next day. I would later find out that full aircraft and problems with flight changes made it quite a struggle to get back to Winnipeg, taking I think close to 4 days to get home. But, no regrets on her part as far as I could tell.
17 Feb: Nearly a month into our trip, Herbert and I were now on our own. We had arranged for a bus to Puno (20 sol each) leaving at 08.00 for a 7 hour trip. It was quite a beautiful day, sunny or high cloud. So the views were great; distant mountains, some snow capped, graced the horizon. The road south from Cuzco generally followed a narrow valley, gradually widening out to a broad plain as we approached Juliaca.
In Puno about 15.00, A tout offered us a free taxi to his hostal, the Hostal Don Tito. Puno, on the shore of Lake Titicaca, is a bustling, busy and slightly grubby city, main attractions being the lake itself and the islands that can be visited.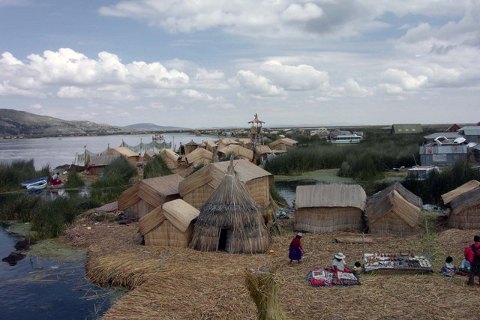 After a filling lunch we set out to find out what to do and how to do it while here. A talk with the hostal people, a trip down to the port and to the bus station and back to the hostal, gave us our itinerary. Tomorrow at 07.30 we would go on an overnight trip to the islands. We negotiated a package of boat, entry to islands, meals and accommodation. We would stop at the famous (and probably touristy) floating reed islands of Uros, go to the island Amantani, explore there, stay overnight, then next day go to island Taquile for a few hours, then return to Puno at about 15.00. Maybe we would visit the Sillustani funeral towers near Puno later that day if time.
Also we booked to take a bus to La Paz, Bolivia on the following day, Feb 20.
Dinner included mate coca tea, nice. They seem to have a number of herb-type teas all called mate and all with intriguing flavours.
Puno had a very lively night street scene, maybe lots of activity because of upcoming Carnivale.
In the morning a mini-bus shuttle picked us up at 07.45 and took us to the boat pier. There a medium size cabin motorboat was ready to take about 20 of us and a guide to the islands. The guide was quite good, explaining everything about the islands and the people, culture and history over the next day and a half, both in Spanish and English.
The boat took us across the bay and into a channel between the reeds. Our first stop, 25 minutes from the start, was the floating reed islands of Uros. They are certainly unique and intriguing, but now appeared to be little more than offshore tourist traps and souvenir stands. They are several small islands, built of reed-root base topped with several layers of reeds, and nestled within or adjacent to the reed beds. Homes, restaurants, a mini-market, school, guest-house etc. are built on the reeds; reed boats ply the waters.
It was all fascinating, but I just couldn't seem to get my mind around the arithmetic of the place. The islands are said to be 3 to 4 metres thick and floating in 8 to 10 metres of water. Does this mean the reeds are 30 feet tall, or are the reed beds themselves floating? The water doesn't seem 30 feet deep; the channels have evidence of dredging to make them navigable. I don't know.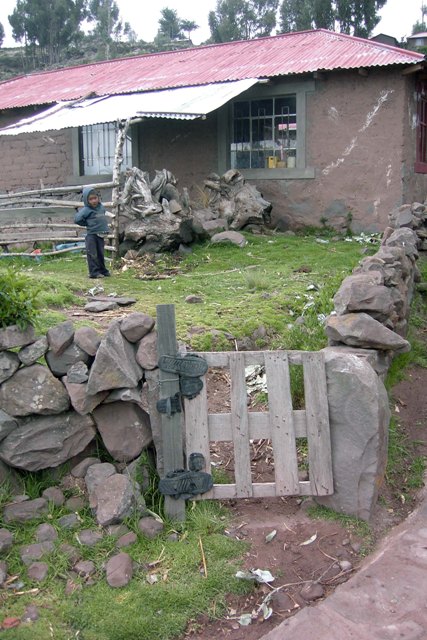 On from Uros we went out of the bay, about 3 hours journey into the main part of Lake Titicaca and to the island of Amanti. This is the largest of the Peruvian islands, and refreshingly undeveloped. We alighted and walked up the steep path to the village a hundred metres or so higher. The lake is about 3800 m altitude, and a simple climb like this leaves us breathless. In the village, we were all assigned a "family" to stay with. Herbert and I went with a young woman called Dahlia, who, like all other villagers, spoke no English. Still she and her family were nice and seemed to know exactly what to do. Herbert and I were put up in a room in the house, and had lunch, dinner and breakfast there. Food wasn't big portions, but was good. A main ingredient of soup was a funny little grain called quinoa, tasteless but apparently very nutritious.
Later in the afternoon we were all to assemble in a sports stadium, another gruelling 100 m climb higher. From there our guide gave a talk on the island and its people and religion and traditions, and invited us for a walk of another 150 m altitude to the top of the highest hill at 3150 m, to see the Pachatata temple, a square walled compound which is still in use semi-annually. Most of us agreed to the trek; exhausting but good as long as we took it slow. The Pachamama temple is on a nearby peak. Pachamama, "Mother World", is the Andes Goddess of fertility, planting and harvesting, and is one of the most revered of their deities. I believe Pachatata is the male deity, but is somewhat less worshipped.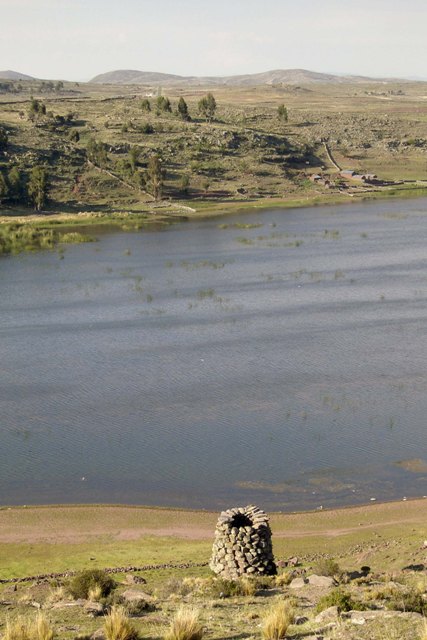 Back down before dark, found our way with the help of the 10-year-old girl back to the house, had our dinner of soup, rice and vegetables, and had an early night in the non-electricity environment. We had our sleeping bags but didn't really need them; not that cold and lots of blankets.
Next day after breakfast we thanked and adiosed our hosts, left a small tip, and headed back down to the boat.
The next island was Taquile, smaller than Amanti but interesting in its own way. We were let off one side of the island and were to walk up the path to the village square and to then down to another boat place on the others side. It was a bit confusing and some of us walked too far and had to come back to the square. There the guide directed us to a restaurant for lunch and a comprehensive spiel on this island and its people.
One aspect of the island is that when you walk along the paths you pass through stone arched gates. These are boundaries between the different sections of the island. Each section is run by a single clan or group of families, and the divisions are quite distinct.
Back on the boat, we were in Puno about 15.00.
Not wanting to waste time, Herbert and I were straight on a taxi 30 km away to the site of the 15th century Inca-period chullpas of Sillustani. These stone funeral towers, meant for nobility, are spread over a large area, are of greatly varying sizes, and make a very worthwhile walk of an hour or so. The setting is also fabulous, on a hill over green hills and lakes.
That night Carnivale celebrations were in full swing, the streets full of people, music and revelry everywhere. Prominent were lots of kids and youths spraying each other and others with special white aerosol foam. We ducked back to our rooms to avoid getting nailed ourselves.
Later I went out to catch up on internet and take in a bit more of the Carnivale revelry, but didn't want a late night. We're off early to Bolivia tomorrow.