Eastern Indonesia, October 2011
Maggie was to come to Australia for the usual holidays in October 2011. We considered, rather than the usual routine flight directly to Sydney, why not meet somewhere else, somewhere "exotic"? I'd been to Java earlier that year, how about trying the same country, i.e. Bali? I had last been there in 1976, and was curious to observe the degree of change in 25 years of absence. We could meet there, spend a week in that veteran travel destination, and then on to Sydney for the remainder of her holiday. I would arrive 3 weeks earlier, to explore parts of the vast and populous land of Indonesia that I'd not seen before.
Not having my original notes immediately at hand, I am writing mainly from memory, hopefully with a minimum of errors and omissions.
So on 3 October 2011 I was on a day flight to Denpasar Airport, arriving about 20.00. Bali is Indonesia's premier tourist destination. As such I was among hundreds of new arrivals, and the processing machine is, as it has to be, well oiled. Straight off the plane, to the bank station to pay for my Visa-on-Arrival, to passport check for my entry stamp, quickly through customs, cash from a money-changer, and out into the heat for a ride to my guest house.
I bypassed the taxi touts, walked out of the airport, and found a group of motorbike guys on the street. One of them, for 30000 Rp (at roughly 8500 to the dollar), gladly took myself and my pack out through small lanes and footpaths, through Bali and Legian, to my pre-booked Senen Beach Inn. I vaguely recalled Jalan Pantai Kuta as we passed along, what was once a quiet sparsely-populated lane in the 70's was now a crowded lit-up gauntlet of tourist shops, bars, restaurants and hotels.
My accommodation was now in Legian, rather than my old haunt of Kuta. Even this district was now built-up and lively. My room was nice enough, but the first thing I noticed was that the attached bathroom had walls but no ceiling; open to the sky. I suppose the logic is that you don't do anything in there that you can't do in roaring rain.
Approaching 21.00, first activity was to buy drinking water in a nearby convenience store, then find a place for a simple meal. Most restaurants were of the tourist variety, and I don't need hamburgers and pizza on my first night. I soon found a quiet local place for a simple feed of chicken, vegetables and rice.
I spent a couple of days in the Legian/Kuta district, looking for old sites and familiarising myself with the many changes. Kuta and Legian beaches were formerly open and plagued by hawkers, but are now largely walled off with open gates, and a ban on unlicensed vendors. The beaches are surprisingly not that crowded, maybe low season.
One "attraction" I of course had not seen before was the memorial to the Bali Bombings of 2002, on Jalan Legian, very near to the small gang (lane) where I had stayed in 1976. It was quite impressive and well-maintained, a tourist attraction in its own right. I had trouble working out whether the nationality names, e.g. Inggrish, were badly spelled or simply the Indonesian language.
Apart from the empty parking lot that was once a bar until the bombings, there is very little open space left. Everything is densely packed. Bars jostle with restaurants, souvenir shops, travel agents, convenience stores, hotels, guest houses and all manner of commercial enterprises for space. There are virtually no more bimos (small pick-up buses or vans) for getting around in. Everything is taxi or motorbike or tour bus. I never did find out how locals now commute, must be company-confidential info.
Time to see more of Kuta/Legian later; now off to somewhere new. On 5 Oct I booked a bus-ferry combination to the next island east, Lombok, and its west-coast town Senggigi. A bus picked me up early in the morning for the cross-island trip to the ferry terminal Padangbai in the south-east of Bali. I did manage to see some open country and rice fields, but how much longer before it's all tar-and-cement?
Padangbai is a pleasant enough little town; I could have stayed here a day or two if I'd had more time. But it was more-or-less straight off the bus (curiously we passengers had to walk it) and over to the terminal to board the large inter-island ferry. The trip across to Lembar port in Lombok took 4 hours. I'd heard a few too many news stories about overcrowded ferries sinking here or in Philippines, but thankfully we didn't become a statistic this day.
Lombok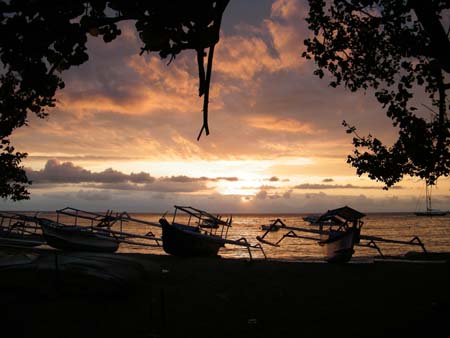 The afternoon of 6 October saw me passing through the port Lembar in the south-west of Lombok Island. I quickly found my onward bus connection, and into the main city Mataram. It seems road rules are not treated seriously; vehicles including my bus would continue to sail through intersections long after the light turned red.
From the routine-looking city Mataram, another bus delivered me before dark on the final leg north to Senggigi. There it wasn't difficult to find a suitable hotel for a couple of nights.
Senggigi is a not-overpowering tourist destination with a central village and numerous resorts spread up and down the coast. It has a pleasant beach parked with colourful outrigger boats and a broad shallow coral reef off the point. I spent an evening and a day here in pleasant walks along the beach and through the villages and forest, and dining on nazi gorengs at beach stalls.
One magical 3-hour walk took me inland along a forest path up into the hills overlooking the coast. From there I could see the outline of the reef where I would snorkel later that day. I was impressed by the water main for the village below, simply a long pipe of bamboo poles joined end-to end. Each segment of each pole had a square hole in the top (to carve out the material between segments to allow flow), so I could look in the top of the pipe and see the water flowing through.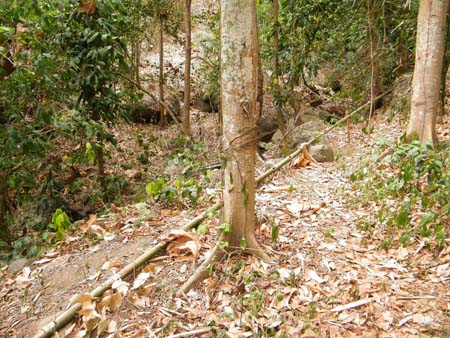 I'd brought my snorkel, mask and flippers, but the snorkelling on the reef wasn't that great. Coral was mostly dead and it must have been low tide as I was constantly scraping my chest on the rocks.
I tried to find a bimo to the boat docks of Bangsal, but as in Bali, they no longer seem to exist, or maybe they aren't meant for ferangs. I did manage a tourist bus to the village, from where I could book a boat to the Gili Islands, walk the kilometre or so to the docks, and board the small boat for the hour-or-so crossing to Gili Trewangan.
GT is the largest, most populated and westernmost of the three Gili islands: Trewangan, Meno and Air. Trewangan has most size, facilities and tourists; Meno is least populated with Crusoe-image resorts; and Air, where I later went, is somewhere between. All islands have multiple guest-houses and restaurants, are ringed with beaches and reefs, and are pleasant get-aways. The only modes of transport are bicycle, horse-cart and foot.
A local guest-house tout found me at the Trewangan boat dock and gave me a quiet-enough room in a guest house about 100 metres back from the shore. A woman near the dock operated a cart with cheap mie goreng (fried noodles) for lunch. Another couple of ladies in an adjacent gang served up good chicken/vegetable/rice meals. These were just a couple of the places where I could find any of a wonderful selection of eats. In the evenings the coastal village strip would come alive with lights, bars, restaurants and music.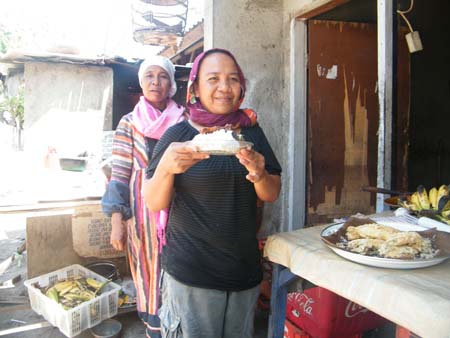 One can walk around the island in about 2.5 hours, one of my first activities. It's hot but pretty and tranquil, and relatively unpopulated outside the village. A choice of swimming beaches kept me cool, and no-schedule allowed me to sit on the sand or rocks to enjoy the peace and ocean views. Another day I'd walk to the hilltop for the views, and through the coconut-grove-and-cow-pasture centre of the island for its rural ambiance. It's tinder-dry; it felt like a single match could turn the whole island into a fire-storm.
The village has several fixed-price dive shops. I'd brought my dive ticket so found a suitable shop and signed up for a couple of dives, one off Gili Trewangan and another off Gili Air. The dives were not great but not bad. We got down to maybe 25 metres or so, and saw a good variety of fish, reef life and coral.
I got a couple of good snorkel excursions as well. I find that snorkelling here is maybe even better than the diving. Most of the sights are within snorkel distance, the coral is in surprisingly not-bad shape, and I can stay out there as long as I want, typically 2-3 hours. I was pleased to see sea turtles on more than one occasion.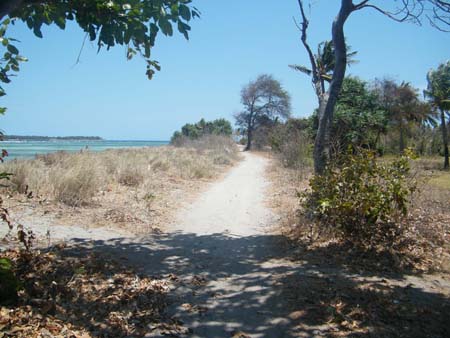 After 3 days on Trewangan, it was over to Air for a similar period of time. This island is slightly smaller than Trewangan, with no central hill. The walk around is of similar length and character, and the restaurant/entertainment strip is slightly smaller and quieter. I found an idylically attractive and pleasant bungalow to stay in.
It had been quite windy one day on Trewangan, and from Air I could see a large yacht, that I had not seen before, caught on the reef south of the island. It must have run aground in the wind, it was there the length of my stay, and I never would know its ultimate fate.
To snorkel here, you just walk into the water, swim out to where the reef starts to drop off, and then cruise for as far as you want in either direction. One day I was snorkelling for 3 hours in the afternoon. Later I went to a nearby bar/restaurant for a beer, a curry dinner and check of email via their wi-fi. I received an email from a friend in Australia, wondering if I was okay after the earthquake that she'd just heard about. What earthquake? I asked around the bar, and someone finally said yes, there'd been a "bump" about 2 pm. I'd been in the water and hadn't even noticed. Wow, if it had been bigger I could have had a free ticket aboard a tsunami!
After the Gili Islands, it was a full day trip on a boat back to Bangsal, bus to Lembar, ferry to Padangbai and finally a bus back to my guest house. My next destination was to be Sulawesi. I had been checking out ferry connections from Bali, but not practical. I had then booked a plane flight to Makassar in Sulawesi, to leave next day.
Sulawesi
The plane took over an hour from Denpasar airport to the Makassar airport about 15 km east of the city. As I was exiting the baggage pick-up, I found a tourist office and asked about transport down-town. They said no buses, only taxis, even escorting me out to the taxi rank to show me. Just as I was getting into the taxi, I saw a city-airport bus nearby. Well, why didn't you tell me about that; no answer. Anyway, on the bus into town and into a hot but otherwise comfortable and friendly guest house for the night.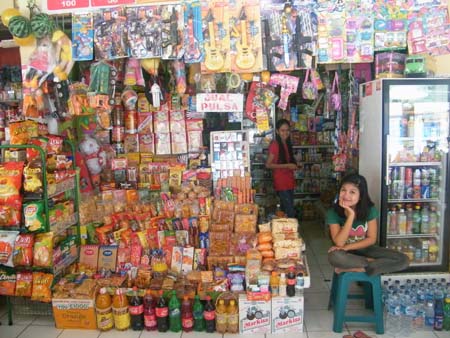 Makassar, or Ujung Pandang as it's sometimes called, is the capital city of Sulawesi. It's large and ordinary, but exudes a subdued welcoming ambiance typical of cities that have not been corrupted by tourism. I kind of like the place. I met a Slovenian guy Mladen who I'd travel with next day to Rantepao in Tana Toraja. We went out to a shopping centre food court for a good cheap feed. Later that night I wandered to the waterfront for a look at the small entertainment district next to the shipyards.
Next morning Mladen and I found a bimo (yes, they still have these small vans away from the tourist places) out to the main bus station. We booked a bus for about 10.00 to Rantepao, something like a 9-hour trip. The bus wasn't very fast, and stopped completely just out of Makassar. Engine trouble forced us to wait a half hour or so for a replacement bus. Up the coast, through the town Parepare for lunch, then up along winding roads and through towns into the scenic-looking hills, we reached Rantepao about 20.00.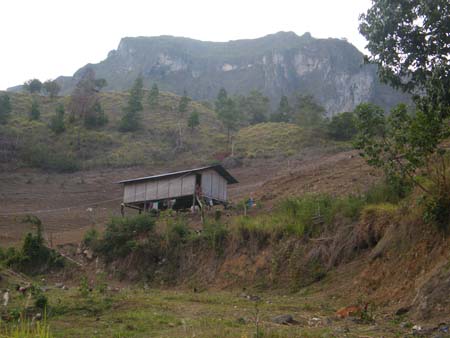 The Tana Toraja district is probably Sulawesi's biggest tourist destination. Accommodation seemed to be almost booked out. Mladen and myself barely managed to get a 3-bed dorm to share for the next few days. We wandered the main street to find a feed, settling on a Halal restaurant (a bit of an oddity in this mainly Christian/Animist province), for a very acceptable chicken/vegetable/rice/tea meal. There seems to be a dearth of good cheap eateries here, so I'd be eating most of my dinners in this establishment.
After the un-relenting heat of Bali, Lombok and Makassar, it's deliciously temperate here in TT, makes for pleasant days and good nights' sleeps.
TT is famous for funerals, cliff and cave burials, and marvellous scenery. With funerals, burial sites and buffalo/pig slaughters, an atmosphere of "Tomate" (death) pervades. That may turn some people off, but to me it's still an attractive and enjoyable place. I'd be here nearly a week exploring markets, visiting burial sites, wandering the countryside, and attending one of the many funerals.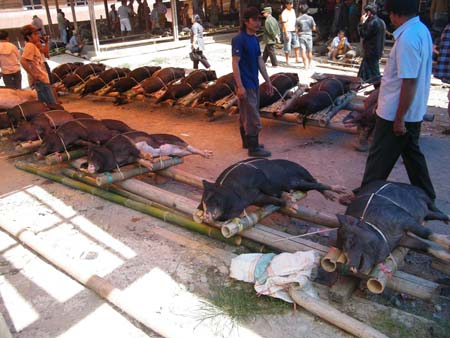 The Bolu Market, a couple of km north of Rantepao, was one of the most vibrant and fascinating that I'd seen in a long time. What an amazing kaleidoscope of exotic fruits and vegetables, dried fish, fighting cocks (performing exhibition matches), trussed up pigs, placid buffalo and plastic junk! I wandered for hours.
I felt sorry for the market pigs. They were tightly lashed to bamboo stretchers, unable to move and likely in pain from bamboo digging into flesh. The act of catching and binding up a pig was accompanied by loud and desperate squeals of pain and terror.
The quiet and placid buffalo were by comparison treated with utmost gentleness. They and the pigs, for sale in the livestock section, all are likely bound for the vibrant funeral trade.
Funerals, particularly for the local dignitaries, are big business and appear to account for much of the economic activity. When an important person and/or his wife in the community dies, the funeral is to be such an elaborate affair that it may take months or a year for the family to raise capital and arrange the ceremony. There seem to be one or two funerals going on at almost any given time. A single event may involve hundreds of guests and the slaughter of 60 to 100 buffalo and many pigs.
Mladen and I attended one funeral in the village Tandung several km outside of Rantepao. Part of the preparation was to stop at a shop and buy a carton of cigarettes as a gift for the "Anak Tomate", the son of the dead. Then a bimo took us out to the turn-off road. We didn't know how far it was to Tandung, so started to walk. It turned out to be more than a km or two, so we eventually gave up walking and caught a wild-and-fun ride on the crowded back of a truck also going to the funeral.
The whole central square of the village had been set up for the 2-3 day funeral. Prominent in the plaza were the two large and elaborately decorated coffins of the deceased man and wife, who had been patiently decomposing and waiting for 8 to 12 months for this day. They had also constructed an elaborate and colourful effigy of the deceased man, sitting in a sedan chair.
As we presented our gifts, we were escorted to an upstairs VIP viewing platform and offered tea and snacks. We watched the proceedings for a while before choosing to come back down and mingle with the action at ground level.
Buffalo skulls or carved buffalo heads adorned traditional houses. Grass and weeds sprouted from the boat-shaped thatch roofs.
Much of the day was taken up with loudspeaker speeches and eulogies, welcoming ceremonies for VIP's, and ritual drums, music and costume dances.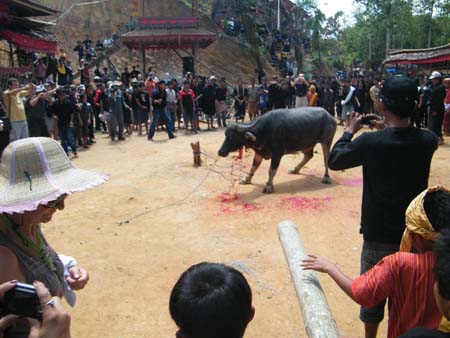 There were a few buffalo around, leashed through the nose as is customary practice. Several pigs were also brought as gifts, painfully(?) trussed to their bamboo frames. I watched as one freed itself from its bonds and limped away under a house. I hoped he would escape, but unlikely.
They slaughtered two buffalo that afternoon, one as we watched. In contrast to the torture of the pigs, the buffalo action appeared quite humane. The alpha woman of the event presented a fairly young guy with a kris dagger. It must have been extremely sharp, as one quick swipe of the weapon half severed the unsuspecting beast's neck. The animal stood for a brief Whiskey-Tango-Foxtrot moment before collapsing and lying for several minutes as it's ears twirled and blood rivered out along the ground. Later men would start to skin and butcher it where it lay. I believe the meat would have been distributed amongst guests, much of it hung to dry on racks. I later learned that on the next day of the funeral (which I didn't attend) they were to kill about 120 (can you believe it?) buffalo.
On other days I took bimo trips and long walks out into the countryside.
One village Lemo was known for its cliff burials, chambers carved directly into rock walls with wooden doors concealing the moribund contents. Nearby were rectangular clefts carved in the cliffs, in which were perched effigies of the chamber occupants.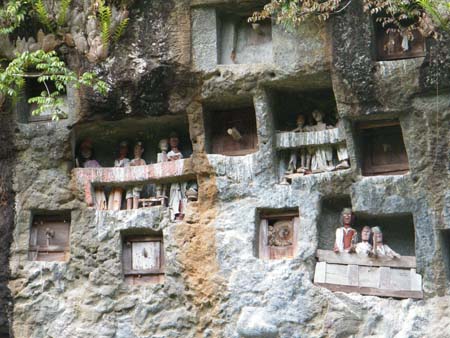 A few km away was Londa with its cave burials. It wasn't obviously well kept; coffins jammed into crevices, skulls perched on ledges, and drink bottles and rubbish amongst piles of bones.
In the traditional village Labu, buffalo horns and hundreds of jawbones decorated the sides of houses. Across the yard from the houses, ornately carved granaries towered above cement pads; these buildings distinguished from the houses by the vermin-resistant log columns replacing ground floors. The nearby cave/cliff burial grounds had coffins perched on wooden stands on the cliffs; as the supports rotted away the coffin would eventually collapse to the ground below, adding to the piles of decayed wood and bones.
Another ride/walk took me north to the village Sangpiakpang with its extensive and pretty, but not quite immaculate, rice terraces. I passed through Lempo with more terraces and traditional horn-decorated houses. Farther were villages Batutumonga and Lokomata with buffalo meat drying on racks, yet more terraces and yet more cliff burial chambers.
As I approached the village Pana I started to look for the road or path that would take me back toward town. A woman indicated a small path leading downhill through bush. I followed it and became hopelessly lost in rice terraces and villages with no obvious exits. It took some time before I was able to get vague directions from rice farmers, make my way on narrow paths and atop walls through the terraces, and finally emerge on a road, from where I could hitch a ride back to Rantepao.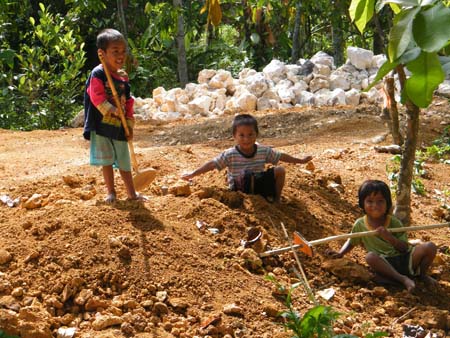 The most distinctive meal I had in Rantepao was a local dish in a good restaurant; a mixture of chicken, rice, vegetables and seasonings all rammed into a bamboo tube and slow roasted over a fire. Wonderful.
I had intended after Rantepao to take a bus back to Makassar. On talking to my hotel people, they offered me a ride in a car that was going to pick up tourists, for the same price as the bus. So I took it, and rode as the sole passenger in a SUV back to the city, more comfortable and scenic than the bus, and virtually door-to-door. on the way we passed the scene of one traffic accident, two trucks had gone off the road down a steep slope, overturned with cargo strewn about the hillside.
I spent an evening and a day in Makassar before returning to Bali. The evening walk a km or two along the waterfront promenade was particularly satisfying; ocean views, large numbers of local people, buskers, vendors, fairground rides and a generally festive atmosphere.
In the morning I set out to discover the city's main, and maybe only, tourist attraction, Fort Rotterdam. The sharply-angled ramparts of this Dutch colonial fort were largely intact; more so than the interior buildings. There was apparently a museum, but not currently open. Of most interest were the throngs of young students who flocked to the fort every weekend for English language practise. I was an obvious target, and found myself commandeered for several discussions and question-answer sessions. Mostly Muslim, they were great kids and soooooo eager to learn.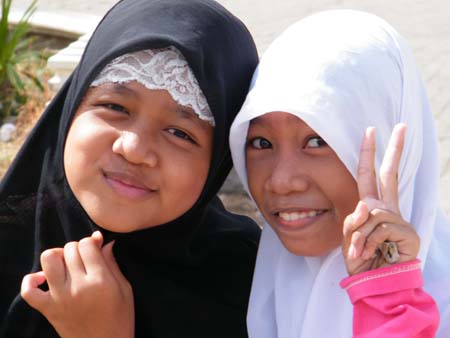 My plane was to leave for Denpasar about 18.00 on the Saturday 23 Oct. At the Makassar airport in time, the wait started. The plane was late, and who knows how much? Apparently it was to come from Irian Jaya and there was some problem there with departure. First it was an hour late, then another hour, then no idea. Some passengers were getting rather noisy and agitated later in the evening. I found solace in a Balinese woman who was equally eager to get there; nice to share the misery. Finally the flight arrived and left with us on board. It didn't get back to Bali till after midnight. I was lucky to get back to my Legian guest house, wake the guy, and get into a room that night.
I had only the next day alone until Maggie would arrive on the evening of 24 Oct. I was at the airport to meet her, and there she was, on time and reliable as ever.
Ubud
So now we are two for the remaining week in Indonesia. We allowed a day or two for Maggie to combat jet lag, acclimatize to the tropics and to a totally new and exotic culture, look at a few of the sights around Kuta and Legian, and de-stress on the sand under a beach umbrella.
But our primary destination this week was to be in the centre of the island at the tourist, cultural and artistic centre Ubud. I had passed through Ubud in 1976, but had not had a good look.
A tourist bus transported (that's a real Balinese expression now; touts on the street asking every tourist, "Transport? Transport?") us past Denpasar, through villages, fields and bush, to the large but laid-back town Ubud. After a bit of searching and advice, we found a beautiful 2'nd storey room in a friendly guest house, surrounded by tropical foliage and views over the neighbourhood. Heaven on Earth, and the perfect base for the next few days. Much of our time was devoted to rest and relaxation, punctuated by various sights and activities as below.
Monkey Forest is a mid-size bush park in the south of the town, its claim to fame being a large population of Balinese macaques. They mostly appear disinterested and do their own thing, but depend on tourists for handouts and can be kleptomaniac and aggressive given the opportunity. We are encouraged to buy overpriced bananas for the monkeys at the park entrance, but they treat such plebian sustenance with disdain. All a bit too touristy, but a good introduction to the impressive flora of tropical jungle.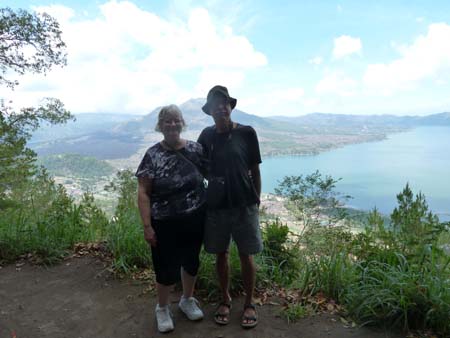 With another couple we arranged a day trip by taxi van to several attractions in Central Bali:
- Goia Gaja, or Elephant Temple, east of Ubud, is a temple complex with fine rock carvings and an elephant sculpture in an underground excavation.
- Tampak Siring, farther north, boasts rock cut tombs, and ponds for ritual bathing by the faithful.
- The nearby Coffee Plantation displays coffee growing and processing, and education on a variety of tropical fruits and spices. They flog the exclusive and expensive Luwak coffee, and have a civet cat in a cage to prove their point. However I'm dubious that all the Luwak coffee on sale there, in stores and at the airport would have passed through the guts of these animals.
- We can enjoy good views of Mt Batur and its large lake from the road above the crater rim. I was there in 1976, even hiking up the mountain, but it hasn't vastly overdeveloped since that time.
- Besakih was another Balinese temple site, large, sprawling and attractive, but without my notes I don't remember a lot about it.
- We pass and stop at some of Bali's most impressive rice terraces, pretty but unspectacular if you've been to those of Phillipines or China.
- Klungkung is an old administrative capital. It has a number of edifices and sculptures from the period, and a good museum on the history of the district and of Bali.
Back in Ubud I checked out suitable walking trails. My first attempt was to the Sayang River in the west of the town. It was a good walk just to get out there and down to the river. But there I found that the walk along the river was now gated, with a woman demanding an extortionate fee for "track maintenance". No thanks. Back toward town I found the Campian Ridge track, an uncrowded easy and pleasant walk along a stone path on a grassy ridge between two wooded valleys. I loved the charming views and tranquillity.
We took in a couple of evening cultural performances. One was traditional Balinese dance, from the Ramayana among other sources. We were impressed with the refinement of the hand, leg, head and eye movements. The other was a performance of Wayang Kulit, the Balinese shadow puppets made from animal skins. Sources were also Hindu legends and the like. But particularly memorable (for good or bad) was a comedy skit using traditional characters but with a decidedly modern tourist bent; taxi touts and "transport? transport?". Unashamedly opportunistic and good for a laugh.
Back in Legian for our last day or so, just enough time to look around tourist alleys and shopping centres. Maggie had to devote 20 minutes to one of those commercial fish massage tanks that are springing up all over Asia. Fingerling tropical fish tingle as they nibble at legs and feet removing dead skin and sores.
And back to Australia
From Bali about end October, we were on the plane together back to my home in Sydney for 3 more weeks of Maggie's holiday.
It was good to see Indonesia again. Australia is so close but over the last 30 years or so I had never sufficiently visited this vast and varied archipelago. I found the people generally efficient, friendly and accommodating. I sensed much less of the chaos, greed and grabbing mentality that had annoyed me in Sumatra in 2003. It was interesting to see the changes in places I'd been to in 1976. I loved discovering and enjoying new places like Lombok and Sulawesi, regretting lack of time to explore more fully. I'll be back some day soon I hope.