Bicycle Trips, Australia 2011
My Canuck friend Ken is coming over to Australia for his (northern) summer school holidays in June 2011. He was originally intending to cycle from Perth to Sydney, and I resolved to join him for this trip. In the meantime we looked at the logistics of the endeavour. We soon convinced each other that, given the nearly 4000 km distance involved, it might be something of a stretch to do it all at once in the available time of less than 2 months. How about doing it in parts, say Adelaide to Sydney this year and maybe the rest later? So that's what we resolved to do.
Ken was to arrive on 17 June from the Emirates. I was recovering from my hernia operation of late March (remember that from my India trip of 2009?) so couldn't do much practice until May. But then I decided to do a shortish bike trip near home to test my gear and get in shape for when Ken comes.

Practice Ride to Gunnedah and Tamworth
(Click for map)
15 May, 51 km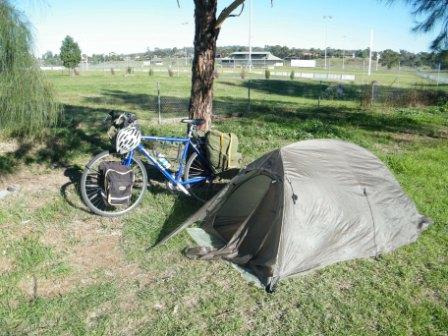 My 12 day test run would be Maitland NSW to Gunnedah, Tamworth and back to Maitland. Equipment was my 21-speed aluminium 700-C bike with rear pannier, front low-rider, 4 pannier bags, day pack and a handlebar bag. Total weight, including my light tent, sleeping bag, Thermarest, Optimus stove, cooking gear, clothes and accessories, was about 39 kg not including some food.
Weather was fine winter sun as I took a train from Sydney to Maitland (to give myself a head start), arriving 12.30. Straight out of the station I was on the New England Highway toward Upper Hunter. Beautiful day to bike. I hadn't done any cycle touring to speak of for years, but found no difficulty negotiating the undulating road to Singleton. It was work, and not all that pleasant for the effort, but that's cycling.
In Singleton at 16.00 and 51 km, I found the caravan park near the edge of town and checked in to set up camp. What a shock! When I went to put up the tent I found my butt was so sore I could barely bend down. Big-time excruciating. Anyway I did manage to set up, and was later able to walk down to the local Services Club for a dinner and a beer. I was OK next day, and once used to it I wasn't greatly sore for the rest of the trip.

16 May, 63 km
Frosty morning, but I'd slept well enough in my good sleeping bag. Leaving about 09.40, I made reasonable time on the long but gently sloped hills to Musswellbrook.
At one point, as I approached the massive Bayswater Power Station with its cooling towers and smokestacks, I came across a large billboard put up by the power authority. It pictured the cooling towers (but no chimneys) with steam emanating from them. The caption was to the effect, "Just pure fresh water!". Well, How stupid I've been; all these years I'd thought coal stations emitted things like CO2, but now I find out it's just water. So what's the controversy about?
At 13.00 the Musswellbrook tourist office helped me with information about onward camping opportunities, including a free spot by the river at Aberdeen. At a rest stop slightly farther on I took a break and chewed the rag with a "grey-nomad" couple in a motor-home who'd seen me on the road earlier.
Speedy progress along the flats after Musswellbrook put me in Aberdeen around 15.00, I found the river and an upstream flat area where I could camp away from road noise. It was beautiful there, quiet and secluded under tall trees next to the water. I was able to wash (cold river water, no problems), cook and eat before dark. With nothing to do in the evening, I walked to the nearby bowling club to sit and read things on my pda computer (a handy thing to bring on the bike; not heavy and I got a lot of use from it).
I had also brought along an mp3 player for music and radio news. But I had stupidly only brought one set of earphones to save space. The earphones broke about this time; no more music the rest of the trip.
Frost again tonight, but no problem except it's chilly in the morning and the tent is damp to pack.
17 May, 55 km
Flat land again after Aberdeen took me through pleasant rural scenery to the low hills near Burning Mountain, a site of an ancient but still burning underground coal seam fire. I'd seen the site before, so kept on and arrived at Murrurindi at 12.30. I could have ridden farther today, but being too lazy to attempt the Great Divide, I put my tent out to dry in a downtown park, had lunch, and later wandered over to a caravan park to make camp for the night.
In the afternoon I found internet access in the tourist office and checked emails. Dinner was steak and a beer in a local pub. Frost coated the tent again at night.

18 May, 54 km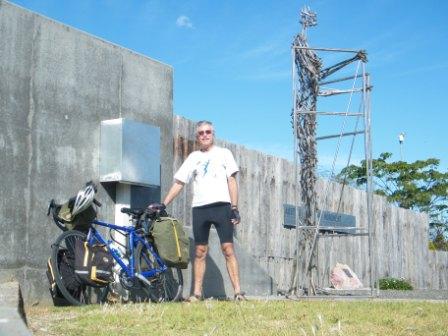 The mountain range divide wasn't as bad as expected; just work. I geared right down and rode up the 3 km in 20 minutes without stopping. The other side was a long fast coast down for several km. The tourist office in the small settlement Willow Tree gave me more information on routes north and camping opportunities. Up the road towards Gunnedah, I stopped at Quirindi for a hamburger lunch and a few groceries. 13.30 had me in the small town Werris Creek, where I could allegedly camp in the football park for free. Arriving at the field I found no-one around and wasn't sure if it was OK or not. Finally finding a guy sitting on a chair outside his house, I asked if it was alright to camp in the field. He gave a no-worries "yeah", and I set up the tent. Increasingly I'd find that the farther away you get from Sydney the more laid-back, accommodating and friendly people become. Werris Creek was a major rail junction in its day, has a significant railway history, and currently boasts a rail memorial park and museum. I spent the rest of the afternoon at the memorial and the very good museum (mainly paraphernalia and photos rather than rolling stock). It's significantly warmer here than in the Hunter Valley, no frost tonight.
19 May, 68.5 km
I had to ride west along a minor road and up over "The Gap" to get back to the main Quirindi-Gunnedah road. But the climb was hardly noticeable and the rest of the way was almost invariably flat. I made good time, often about 22 kph, and was in Gunnedah about 13.30.
I checked in at the caravan park to set up my home, the tourist office for info on what to do here, a quick look around town, and a relaxing late afternoon lie around before cooking dinner. I hadn't worked out how far I wanted to go on this trip; originally thinking of biking as far as Narrrabri. But I decided now to stop here for a day off, then head toward Tamworth and start back toward home. That would give me nearly 2 weeks on the road, enough of a practice run.
It seems to be getting warmer up here, pleasant days and no frost at all.
20 May, a few km around town
On my day off I rode around parts of Gunnedah exploring the sights and reserves. I wound up at the Rural Museum where I spent close to 3 hours exploring the farm tractors and machinery, farm displays and other historical exhibits. Fascinating to see some of the things I remember from my own childhood. Maybe I belong here as an exhibit.
It's been pretty dry around here for a long time now. I picked up a couple of 3-cornered-jack thorns on my bike tires and totally ruined one tube from multiple punctures. Downtown I bought a thorn-resistant tube as a replacement.
21 May, 79 km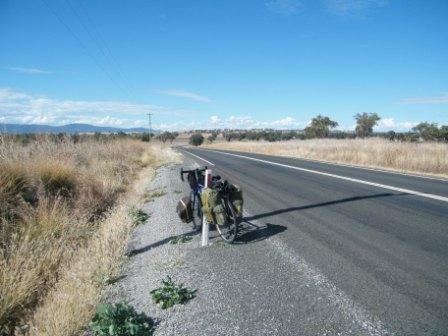 It was a fairly full day to ride across on the Oxley Highway to Tamworth, much of it flat but a few long gentle climbs over undulating countryside. Here was broad-acre farmland, large flat crop fields, cotton stubble and bits of cotton scattered along the roadside. Another thorn, likely from yesterday, punctured the other tire/tube, necessitating a mid-journey repair stop.
In Tamworth about mid afternoon, the country music capital of Australia, I stopped at the tourist office (not a lot to do or see in this town other than the music museum) and went on to the Youth Hostel to indulge in a real bed for a change. At the YH I could get a good shower, cook meals in the kitchen, and use the internet access. The guest population seemed to include many young Koreans staying for an indefinite period. I talked to them and watched them cook up big Korean meals, but politely declined any offers to partake of their food, enough of that taste when I was there earlier in the year.
22 May
Despite the dearth of attractions in the town, I decided on another day off to rest and chill out. Filled the day quite well exploring around town, shopping, emailing, reading and cooking.
23 May, 54 km
It rained overnight and the start in the morning was slightly wet. Luckily I didn't have a soaked tent to contend with.
Today I'm starting back south along the New England Highway. I had considered taking a side trip up to the old gold town Nundle about 50 km away, but I was advised it would be high and cold up there and maybe not an ideal bike road.
So on along the rain-soaked highway, some up-and-down hills, to the small settlement Wallabadah about 13.00. I had heard I could maybe camp along the creek there. Finding a vehicle repair shop, I asked the mechanics if I could camp by the creek, and received their laid-back consent.
Over by the creek I met a couple of old parks workers who advised me not to camp under the gums unless I wanted to be speared by falling branches. So up with the tent under Casuarinas by the waters edge. In the afternoon I wandered around the village exploring, pleasant rural scenery but not a lot to see. I found the only store and bought a few groceries. I told the shopkeeper I was on a bike so couldn't buy much, and he replied that I was a bit mad. Why don't I put a motor on the bike? Well that would defeat the purpose; I'd been past here numerous times in the past with a motor, but had never stopped.
24 May, 77 km
It was wet and drizzly much of the day, and I was riding in rain all morning. The road was up-and down, including the Great Divide which I climbed in half an hour. I was back in Murrurindi, where I'd been a week ago, around lunch time. Being a bit wet and cool, I had no interest in stopping here again; forging straight on 30 km or so to the next town Scone by 15.00.
Today and next day the rain stopped my bike computer from functioning, so I had to take distances off my map. The computer started again only after drying out.
I found one of the caravan parks in Scone. It had stopped raining long enough for me to put up the tent on a saturated patch of ground, rest a while, and go out in the evening for a pub meal.
It again drizzled rain all night, a few drops getting into the tent but not a big problem.
25 May, 74 km
I had to pack the tent up wet, but rain was easing and later in the day I would be able to stop somewhere and dry it out.
I rode straight to Musswellbrook where I had sandwiches and fruit for breakfast. On over the hills and valleys, I came back to Singleton before 15.00, where I camped again in the same caravan park as on the way up.

26 May, 48 km
Today is my last day, just ride back to Maitland and take the train back to Sydney.
My front tire was again flat, so one last tube change before I got going. Later in Sydney I'd buy a thorn-resistant front tire for the bigger bike trip.
It was about 3 hours to Maitland, arriving just after noon. Onto the train, change at Hamilton, disembark at Eastwood, and ride the last 4 km or so home to Ryde.
Total distance ridden: 627 km in 12 days, 2 of which were days off.
It was a good trip considering that I coped with the ride well and nothing major went wrong. I seemed to be conscious of the effort involved, as much as or more than the positive aspects such as scenery or adventure. Maybe that comes with age; maybe I'm getting lazy; maybe I've seen it all before. Apart with the trip coming up with Ken, future bike trips might be more shorter distances and more relaxing between riding days. More "enjoy the destination" than "getting there". We'll see.
Now the Main BikeTrip with Ken: South Australia and NSW, with a small bit of Victoria
22 June, 15 km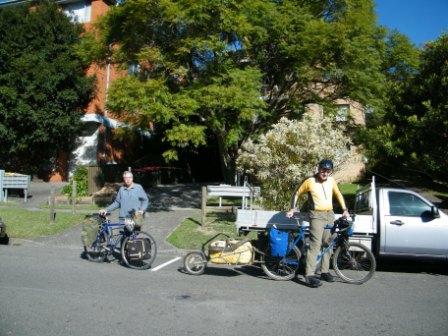 Ken had been here a few days now, in preparation for our bike trip. I had essentially the same bike and gear as for the practice run in May. But now I had two sets of earphones for my MP3, no shortage this trip. Ken had a heavier mountain bike and a single-wheel BOB trailer, considerably more weight and road resistance than I carried.
Ken and I had packed up the bikes at my place in Sydney. We left at 12 noon and rode the 15 km or so into Central Station to catch the 14.55 Indian Pacific for Adelaide. Because of the load and Ken's bike trailer, the ride to Central took about an hour and 40 minutes. Bikes went onto the baggage car of the train fully assembled and with all gear.
The train trip was comfortable enough, with seats that reclined nearly flat. It was dark by Katoomba and light by Broken Hill at 06.10, so we missed the intervening scenery. I slept the usual amount for a train/plane/ferry.
23 June, Start of South Australia(Click for map)

We had an hour or so to wander around Broken Hill, grab a café breakfast, and return to the train by 07.20.
Through semi-desert, scrub and increasingly green agricultural land, we came to Adelaide at 15.00. It was cloudy and looked to have rained here.
Bikes in good shape off the train, we rode up to Waymouth St and into the previously-booked YHA hostel.
Though tired after the train, we still mustered the energy to walk to Chinatown and the supermarket for meat, groceries and beer for dinner. Good dinner of pork, yam, veg, etc. R&R for the rest of the evening.
24 June, about 35 km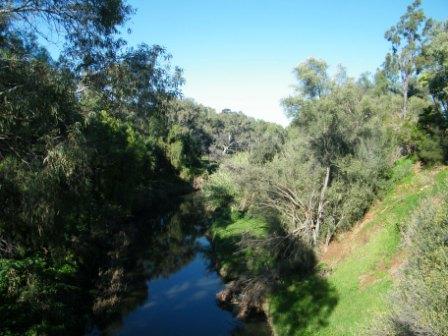 Let's take a day off before hitting the road for the start of our bike trip.
Ken spent the day looking around town, riding around the city and surrounds on public buses. Meanwhile I took my luggage off the bike and set out to explore the bike tracks upstream on the Torrens River.
Starting about 10.30 or so, I rode down to the river and then about 15 km upstream. The day was pleasant and sunny, the river valley picturesque and tranquil. It was a bit hard to keep on the path though; it was not well signposted, crossed the river frequently and sometimes petered out. Returned downtown by about 14.00 after 30 to 40 km riding.
Later I found a camping store and bought 1.5 litres of Shellite stove fuel. It would ultimately turn out to be enough for the whole trip. Then around to Chinatown to look at the Central Markets, a very lively and interesting place.

25 June, 32 km
Today is our first riding day, target Nuriootpa. Rather than try to ride all the way (its over 80 km) we rode to the train station and caught a train to Gawler. That's about 50 km head start.
Just as well; it was about 32 km from Gawler to Nuriootpa and, though not much wind, was some gentle up and down. It felt like more than 32 km and starting at 12.20, it took until 15.00. Ken with the trailer has quite a load to pull.
After setting up camp in the campground in Nuriootpa, me in my tent and Ken in his hammock, we cleaned up and rested a bit. At dark near 18.00 we wandered around the smallish town; not a lot to see, and went into the only pub for a beer and a meal. Ended up there a good couple of hours in conversation with the locals and bar staff, good beer and dinner of steak sandwiches & chips. Ken gave the bartender a couple of small "stick-pin" Canadian flags and just as we were about to leave, he shouted us a beer each. So we "hit the hay" later than expected – only to be kept awake until about 2am by party-goers at the trailer park.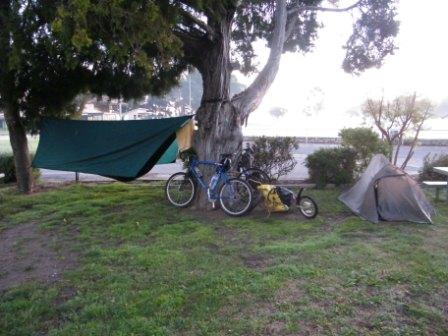 26 June, 15 km

This is another day off, to visit wineries and do some grocery shopping. We rode from Nuriootpa to Tanunda and back, stopping at several wineries sampling wines and a nice meade. Stops included Penfolds, Chatham, Chateau Tanunda and Dorriens. On the way back we bought groceries etc. for a big lemon chicken, rice and veg meal in the camp kitchen.

27 June, 59 km

Heavy dew and condensation, so it took a while to dry out my tent. Once we got on the road it was not bad going; favourable wind, some gentle slopes and later flat land through grape, crops and an alpaca pasture. We passed through Greenock, Kapunda and Hamilton, and stopped at Mirrabel for a schooner and ham/cheese sandwich.
In Saddleworth at 15.00, we found the oval where we could camp (for free) with showers etc. After pitching and cleaning up, we walked around town until near dark looking at historical info signs and agricultural machinery.
28 June, 44 km

No dew, and the tent was dry, so an easy pack-up and on the road in good time.
What a bitch of a day!
Road was usual undulations, but a strong never-give-up head wind made progress a nightmare. We couldn't make much more than 10 or 12 kph even on flats. Ken was eventually plagued by leg cramps, taking salt and walking the bike a lot. He eventually flagged down a farmer for a lift of 10 or 15 km, leaving 12 km left to get to the next town Burra.
Into Burra about 16.00, the first item was a fast food place (the Kook-a-burra cafe) for a fix for Ken. We got fish & chips, then over to the tourist office for info about the town. Having heard about continued headwinds and possible rain, we were in a quandary about whether to stay or move on next day.
We went on to the caravan park and got tent sites. After pitch & clean-up, not wanting to cook, at 18.15 we walked to the Burra pub for a couple of beer and hamburger plates. It was cold outside but seductively pleasant in the pub.

29 June, 33 km riding, total 53 km

Calm, slightly frosty this morning. We knew the wind would likely come up later, but decided to go on anyway. Tents were wet packing up but can't be helped.
Started off well; flat and little wind. But the wind soon picked up as predicted, and going was again a struggle. The flatness was the only grace. We passed by some massive wind farms and lamented that it was a good location for them.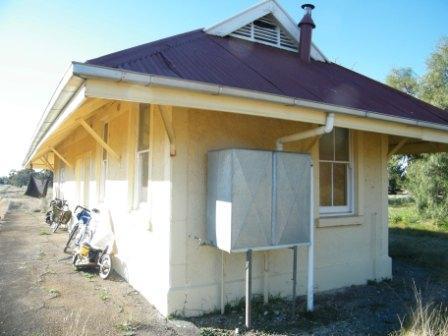 Into the next small town Hallett about 13.10, we stopped to take stock of the situation. Should we push on? There wasn't much here. But a friendly lady at a tea stop in the mini-mart pointed us to an abandoned railway station 2 km back where we could sleep without tents. There wasn't much camping farther on. By then it was after 14.00 and we decided to call it a day.
We found the station and started to settle in, unpacking and drying tents etc. This was a really good place to stay; indoors, tank water, beds, sink, table and chairs, very comfortable. A local hay trucker working nearby came over to say "Hi!" and talked an hour or so. That's what it's like out here, you start a conversation and then can't get away from it. I had a cold shower from tank water, attracting in the process sarcastic comments about my masochism from Ken, who preferred to pay $2 for a towel, soap and a hot shower at the pub.
In the evening after dinner we put lights on bikes and rode into town for a couple of beer and conversation with the publican at the local "Wild Dog Pub". We enjoyed the soothing fireplace with red-gum hardwood feeding the hearth. Out here, the pubs stay open only as long as there's business, so when the two of us left she closed up for the night.

30 June, 46 km

No tents to pack, so we were away by 08.40, stopping in town to dump rubbish and get water. Cloudy and a little rain to start. But the main hassle was again the unrelenting headwind. This is ridiculous.
We struggled through Whyte Tarkowie, and on to Terowie. This was a sizeable town with a lot of historical sights. Unfortunately we didn't have the mood or perceived time to hang around to enjoy it. After talking to a nice information woman and a lunch in a park, we were off again about 14.00 to try to get to Peterborough.
Even turning north onto the road to Peterborough, the wind also turned north, maddening us. Ken flagged down a truck/trailer for another ride the last 12 km into town. Interestingly, before the trailer came along, a woman in a car had stopped to offer him help; it would have been impossible to put all his gear into her car, but people out here try their best anyway.
There we checked out a backpackers place (now closed), and couldn't get away for a while from the owner's conversation. Then to the caravan park about 16.00 for tent sites.
Later walked downtown to Junction Hotel for a couple of beer and schnitzels with chips and salad.
We were worried about potential wind and weather difficulties for the next few days. Not a lot of fun at the moment. It's warmer here than previous days though.

01 July, 9 km riding, total 284 km

Up after 07.00, breakfast of oatmeal, pack up, and to the library to do internet. Managed inter-alia to get on email and get and reply to Maggie's messages. Then to a store for groceries for the road.
We got going at 10.30. Sunny but wind still strong from our left front, a struggle for the fourth day.
After only about 9 km, Ken flagged down a guy "Trickey Trevor" with a SUV and an empty trailer. Bikes on the trailer, and we suddenly had a free ride all the way to Broken Hill.
Wow; it turned out to be a very good day. We saved about 4-5 days cycling. It was heaven sitting in a car, bikes in the back, watching the scenery roll past, thumbing our noses at the wind.
We were in NSW and BH before 15.00. Trev let us off near the Tourist Lodge (former YHA), where we got beds, probably to stay 2 nights.
To a supermarket for a few more groceries, and back to the hotel to cook up a good feed of kangaroo & veg stew and potatoes. Caught the news on TV. Had a shower, rest and later a short night walk around the downtown area.
A good day for Canada's birthday.
02 July, 17 km in town
Today is a day off. It's Saturday morning, so a good time to call Maggie if I can find Skype somewhere. Ken could also make a call or two if possible. So we ended up spending all of 3 hours or so running around everywhere trying to find suitable internet access, including the hostel itself, a video place, the Musicians Club, tourist office and library. No capability and nobody knew anything; we failed everywhere.
After lunch we took the bikes about 5 km SW to the airport to have a look at the Royal Flying Doctor Service. There's a visitor centre and small museum, and for the $7 admission we also got a tour of the control centre and view of the hanger containing a number of King-Airs. All-around an interesting couple of hours.
Later (following Trickey Trev's advice from Friday) we rode north to Bushie White's Mining Museum and Art Gallery. He had good exhibits and video on the history of mining in BH, as well as many "paintings" and mine models made of ore glued to substrates. Again a worthwhile visit.
Back downtown we got a bit more groceries for dinner, went to the cop-shop to find any restrictions on going to Menindee (none), and back home to cook stir-fry and rice. I'm not in a happy mood lately, no known reason. Hope it improves.
Watched news and "Annie Hall"; on tv in evening.
03 July
We were to go to Menindee, but started raining about 08.00. Being uncertain how long the rain would persist, we decided not to leave today. After breakfast we did a bit of email things at the library – where internet access is "no charge" for us two senior citizens, laundry and checking weather forecasts and prospects to eat out tonight. Rain stopped later in the morning, then cloudy.
In the afternoon I had a walk to a down-town art gallery/shop and looked at paintings, minerals and mining videos. I explored by foot the NW of town and later up the mine hill to get a view. Near the top of the hill was a good view of the town as well as some of the mine workings.
04 July, 113 km
No evidence of USA Independence day here.
Sunny and strongish NW wind today. Perfect for setting out for Menindee. We packed up and were on the way by 08.45.
What a wonderful day and wind direction for biking. We weren't sure how far we'd get and were surprised at our progress. Leaving BH, there are gentle hills for about 15 km before flat country. Even that stretch was passed in less than an hour. Then straight and flat through beautifully desolate country, a strong wind pushed at our backs. We roared through the miles, obvious we'd make Menindee today. We must have been averaging 20 kmh. One stop for lunch and move our clocks ahead 1/2 hour; then another stop at Menindee Lake lookout (13 km before town). We were amazed at the vast windblown body of grey water, couldn't believe the lake could be so full.
We reached Menindee about 16.00, got info from a petrol station, to the Post Office, and to a caravan park on the (full) Darling River by about 17.00.
The caravan park wasn't the most ritzy we'd encountered, but the lady was friendly, it had all we needed, and cost only $10 for the two of us. We booked for 2 nights, resolving to spend a day here and look at sights.
Quickly setting up tents and showering, we found the shelter with lighting, and cooked up a delectable dinner of pasta, carrots, cheese, butter and milk powder all in the same pot, wonderful.
Still no time to rest, after dark we walked 10 minutes or so back into town to the "Burke & Wills" Hotel (where the ill-fated explorers had allegedly stayed) for a beer to toast our great biking day. Today gave me confidence that we could still make this a good bike trip. What a change from the horrendous wind-battles of a few days before!
05 July, 13 km in town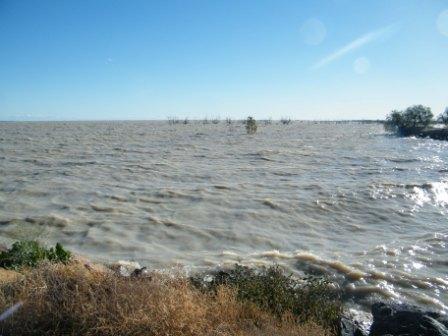 For our day off, we planned to go into Menindee to see what the tourist office had to offer for sights, tours etc. We found that all "activities" were in other locations in the region; as we didn't feel like riding our bikes all around, we were limited to what's in town. And there wasn't much, mainly a "heritage trail" of historical information signs. Much of the day was spent riding from sign to sign reading up on the history of the town and its buildings, interesting enough to pass the time. We passed by the offices of the lakes management authority and had a pleasant conversation with Craig and others about water storage practices and about the road south to Pooncarie. He suggested one or two stations we could call in at on the way south. Also he would be driving south on Friday if we needed a lift for any reason (i.e. wind).
In the afternoon we discovered there was free internet access in a government/community centre, so spent a couple of hours catching up on emails and internet news.
It had been fairly windy today, as usual, so some concern about its direction tomorrow.
06 July, 80 km
Porridge breakfast, pack up, to the grocery store to get a couple of items, and we were off by 09.30, on the way south toward Pooncarie.
We were again blessed, the wind generally about 45 deg behind us making going easy. We ran out of pavement after 6 km, followed by generally hard-packed dirt with a few sand stretches. The dirt parts were sometimes bumpy and the sand required careful steering, but we made good progress anyway. It was overall an enjoyable and invigorating cycle day.
At 15.00 or 15.30 we came to a station Craig had recommended, but nobody was home so we pushed on farther. At the Darling/Wentworth border we struck a few km of pavement again.
At 16.30 I'd gone 77.3 km and stopped to wait for Ken. He didn't show. I finally had to go back 3 km and found he'd blown a tire, totally destroyed. That means here's where we camp.
There was no water except what we'd brought with us (a 4l bag plus bottles), so enough to drink/cook but no washing. Set up camp in a flat sandy area and cooked in the dark a meal of lentils, rice and carrots. Nothing to do in the evening so I read articles on my pda. Actually it's quite pleasant out here.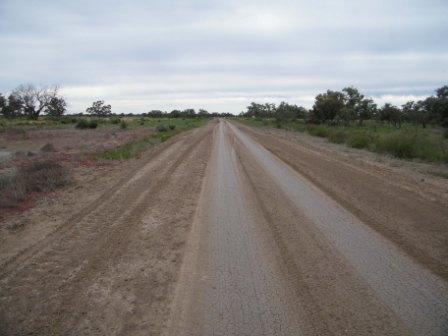 07 July, 52 km
We had breakfast, pulled camp and replaced Ken's tire and tube. On the road again about 10.00. Today wasn't as easy as yesterday, wind was more against us. The road was mostly sand and gravel, a bit bumpy and washboard in places, slowing our pace. A road crew was busy at one section repairing flood damage. I stopped there to say g'day to a truck driver, who said I could go through and "We all know you guys". It's a satisfying feeling to know they're looking out for us.
Into Pooncarie about mid-afternoon, quite a few residences, but only the hotel and a craft shop (?) open. I went into the pub for info, talked to the helpful and accommodating bar girl and booked camping back near the river. Met a Sydney Dutch guy (Hans) in the pub, who was camped there too and whom we'd meet again later.
Met Ken and we went to the campground, set up next to the river, showered, and cooked a meal of pasta, sausage, carrots, cheese, butter and milk powder. There were lots of other campers there, all friendly and inviting with fires going. It's really a "gemutlich" place.
In the evening we walked to the pub for a couple of beer and chips/gravy, and buy a loaf of bread ($5). Attendees at the pub included Hans and a couple of older local neighbours, one a shearer living in a shed.
Eventually the two locals got into altercation and a bit of a fistfight, just about the only action around here. The "topic of discussion" was something as mundane as one of the guys taking a few mandarins off the other's tree without asking.
Back at camp I had a schnapps with Hans before retiring.
08 July, 71 km riding, total 117 km
It took a while to get going this morning; porridge breakfast, wet tent from condensation, and Ken having to replace a bicycle tube again. We left about 10.00.
Progress was not bad in the morning, only slight wind and flat paved road. But toward afternoon the head wind picked up and slowed us. No sign of Craig (from Menindee) and his ride.
We aimed to try for about 70 km before stopping, to give us a bush camp and a good run into Wentworth next day. Shortly before 70 km, about 16.00, we were somewhat over halfway to Wentworth. Ken managed to flag down a truck, some of the road crew from yesterday. They could put our bikes on the back and give us a ride nearly all the way to Wentworth. Great, that got us into town and put us a day ahead. We rode the last 8 km into Wentworth about 17.00 or 17.30 and found the campground next to the Darling river.
09 July, 42 km
Slow getting going again today; tent was a bit wet from rain and condensation. Then Ken had another flat tire so we spent some time patching up all his perforated tubes. Also we rode a couple of km downstream in the morning to look at the junction of the Murray and Darling Rivers, an impressive enough site with working lock etc.
Then it was lunch time, so we didn't get away until about 12.30. We rode across the Murray into Victoria, lots of grape fields as it's a wine region. It was only about 33 km to Mildura, with wind sometimes behind, and we reached Mildura about 15.00.
There are a lot of Backpacker hostels in Mildura, full of young migrant fruit workers. We got into one of them, Astra backpackers, rather than a campground, lured by a real bed and possibly Skype.
Shopping for groceries by 17.00, a shower, a beer, cook and eat a meal of pasta with chicken in a sauce and carrots, and ready to relax by about 19.30. The TV news was celebrating the birth of the South Sudan nation.
I got on internet later and did emails etc, but Skype doesn't work.
Slept not bad, but I usually seem to sleep at least as well in my tent.

10 July, 80 km
Target today is Euston, about 80 km east. We got going at 08.40. Weather was partly cloudy with light wind tending in our general direction.
Progress was generally good, flat mallee country with wind about 45 deg behind us. We rode around 20 kph much of the way, stopping only for lunch about 13.00.
Into Euston at 14.20, small town, easily found the caravan park and set up camp.
In the later afternoon, after shower and laundry, I took a walk about 1 km along a track along the Murray River; nice scenery but I was too tired to go far.
It rained in the early night, but didn't cause any problems and wind dried things off by morning.
11 July, 80 km
Same distance as yesterday got us to Balranald. We got started at 09.00 and made good initial progress. Countryside was still flat, again mallee gradually changing to crop land. Wind shifted to the south and even slightly in our faces, slowing progress a bit. Anyway we pressed on and were in Balranald at 15.00.
The rest of the afternoon was taken up by setting up at the caravan park, internet and email at the library, a few groceries at a store, and tv news back home at the camp. A family from Blacktown, who'd seen us in Menindee and other places, talked to us a while.
For dinner we went to the local casino club, active with roulette and a several-table poker tournament.

12 July, 132 km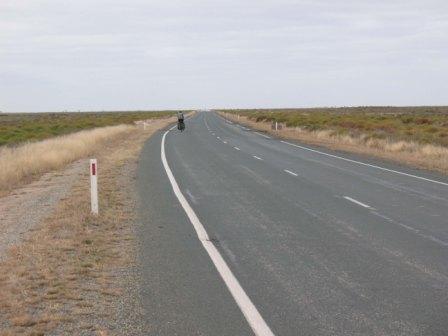 It's 131 km to Hay, with nothing in between. So we planned to go maybe halfway and bush camp. Ken dutifully packed considerable water on his bike.
Getting away about 09.30, it was cloudy with little wind. Shortly after crossing the Murrimbidgee bridge, we came across a partly blocked road near a service station. A B-double had come apart at its 5th-wheel in a turn and one of the uprights had gouged itself into the pavement, immobilizing the truck.
As we went on through bush and mallee and increasingly flat featureless landscape, we made good time, overall about 19 kph for me. Cycling was easy and pleasant. We came to the Hay Plain, a vast expanse of scrub and later some cropland, soooo desolate.
The wind picked up behind us, pushing us along. Ken was encouraged to speculate that we could possibly make Hay today. I wasn't so sure, limited by the hours of daylight. Ken's speculation though gradually evolved into passionate determination, forging us ever onward. Even the lunch stop was brief, and we were hardly off the bikes all day. Many trucks were on the road but they're courteous and easy to travel with.
As afternoon progressed, it became apparent that we would not make Hay before dark, but we had lights anyway if needed. At 10 km before Hay about 17.15 I stopped to wait for Ken, but soon realized I was losing the light, and decided to go on into town. It did get dark before I got there, arriving at the city lights about 18.15. Ken soon caught me there, congratulations all around for making this distance all in one day.
We ventured into town to get bearings and decided to get a meal before finding a campground. A take-away place offered sit-down facilities and pizzas, so we got a king-size pizza and a couple of beer each from next door, a good well-earned feed.
We found a caravan park about 20.00, set up camp, showered, and too tired to do much else. Wow!

13 July, 83 km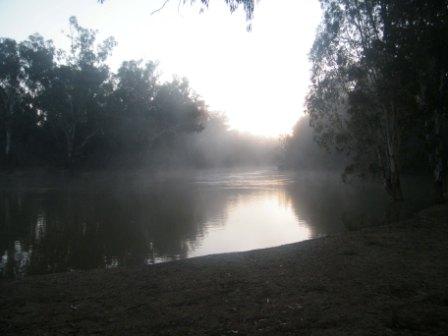 Nerrandera is 172 km from Hay, way too much for one day. So we intend to go about 1/2 way and try to bush camp.
It was cloudy but our gear was remarkably dry when we got up; no dew or condensation. But someone said it was supposed to rain today. Winds should be the same as yesterday. As it turned out, rain never came and the winds were indeed behind us.
We got going at 09.20 and made good progress through flat bush, scrub and fields. The road was again mostly straight, full of friendly trucks, campers and cars.
Lunch was at 13.00 at the 55 km point, and we decided to start looking for a camp around 15.00. At km 82 I found a (Murrumbidgee) river access near a rest area. We weren't quite half way, but decided to go with it. We set up camp by the river far enough from the road to be away from traffic. The riverside was quite dirty from floods. I put my tent up in the grass meadow to avoid the dirt, even though I'd get a bit of truck noise from 100 m away. Relax for a while before cooking around 17.00.
To bed early, no action around here and too cold.
14 July, 92 km
Frost made the tent stiff in the morning, and fog in low areas. But I'd slept not bad anyway. Packing up the tent wet, we went over to the rest area table to make breakfast. It was so cold that the stove took a long time to boil tea. We were away about 09.30.
It was sunny today so warmed up presently. The wind started out neutral, but gradually swung around to 45 deg headwind, not strong but just enough to make progress a chore. I struggled to maintain 15kph. Having to make Nerrandrea today, it was a hard-work day.
We stopped at a service station at Darlington Point for lunch. While stopped there I lay my tent out to dry while I ate. Interestingly, as I unpacked my tent I found that the frost hadn't entirely thawed even now.
Landscape evolved from flat open plain to more trees and a few gentle slopes near our destination. After a struggle against the wind, I reached a caravan park on the outskirts of Nerrandera about 16.45, about 90 km. Ken caught up after dark.
It gets cold fast here. Too tired to cook, we rode 2 km into town, found a subway, got a couple of foot-longs, bought bread, milk and Tim Tams at an adjacent store, and back to the tent about 20.00.
Forecast for next day is headwinds again, maybe worse than today. Not happy news considering we have 96 km to Wagga Wagga.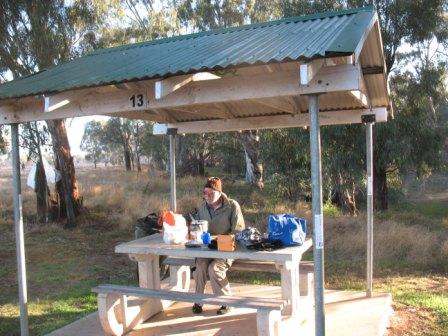 15 July, 94 km
Slept well and wasn't unusually cold, but when I got up the tent was again stiff and heavy frost was everywhere. We had a muesli breakfast in the camp kitchen, listening to tv with Julia and Tony in heated debate about carbon tax.
I packed up the tent still frosty and we got going about 09.00. It started fine, sunny and not much wind. Later a headwind slowed progress somewhat, notwithstanding the moderating effect of trees beside the road. It was flat most of the way, making 1/3 of the way by 12 or 13.00, and 2/3 by 15.00 (where I hung out my gear to dry). I averaged about 15 kmh. Nearer Wagga we came into hills. I made the first petrol station near Wagga Wagga by 17.15 and waited until 18.00 for Ken. As he approached I could see his tiny light coming down the hill in the distance.
Ken made a phone call to friends John and Catherine on the outskirts of Wagga, and we met them down-town. They put our bikes on their vehicles and drove us a long tortuous route (we'd never have found it on our own) out to their house.
Nice warm house, fire, no more biking today, shower, a beer, good BBQ dinner; heaven.
16 July
This is our day off, and how sweet it is!
Sleep in to 07.30, bacon and egg breakfast, chat a while, do laundry, go on computer for email catch-up, and John and Catherine took us for a tour around the lake, hill and other sights of Wagga. Arriving downtown, I tried and failed to find Skype, we went to a pub for a roast lunch, looked around the city centre, and went to a supermarket to get food for the bike trip.
J & C went out for the evening as we made some dinner, watched television news and relaxed for the evening. Pure bliss.
17 July, 44 km riding, 182 km total
Another marvelous and filling bacon and egg breakfast, gratitude and fond farewells to our gracious hosts, and we started off on our bikes about 09.00.
It was about 10 km on streets before we got onto the Sturt Highway, a further 76 km to get to Gundagai. Weather was cloudy but not raining, wind was against us but light, and there were some long gentle hills to negotiate.
We went past the air base where I stopped to look at the aircraft on display. I rode farther on to a rest stop at the 44 km mark and waited for Ken for lunch. He didn't take long to catch up, bike etc on the back of a SUV/trailer. He'd had another blown tire some distance back, and had been forced to score a lift. I put my bike on the back as well.
The couple were going to take us to Gundagai, but weren't sure if we could buy tires there. So we decided to go straight through to Yass, putting us well ahead of schedule; Yippee! Some rain came through on the way; nice to be in a car.
We got to Yass at 14.15 and they dropped us off at the caravan park. First thing was to walk to a hardware store to look for a tire, nothing available until tomorrow (Monday) downtown.
Back at camp we pitched tent and cooked a big early dinner of lentils, rice etc.
In the evening I had a pleasant walk for a look around downtown.
18 July, 37 km
Breakfast and down to the sports store by 09.00 for a tire. Ken found one and we went slowly back to the camp to put it together and try the tubes. One tube couldn't be patched, but the other worked.
More rain came as we were working. We were ready by 11.00 or so; probably time only for Gunning today. We set out to clouds and threatening rain, but it mercifully held off as we pulled into Gunning sometime mid afternoon. A check in the service station, and we found we could camp for free in a council site next to the creek; toilets and cold showers if needed (I didn't).
Dinner was wood-fired pizza and a beer at the local pub, followed by the usual early night. Rain again held off until morning.

19 July, 49 km
Packed up the condensation-soaked tents and on the road about 09.00. Rain started soon after we got going, and persisted for virtually the whole ride. It was cold and soooo MISERABLE; hands and feet painful and numb, could see my breath as I rode. Quite a few long gentle hills. My bike computer temporarily quit from moisture. Today was the most uncomfortable day of the whole trip.
We got to Goulburn mid-afternoon, still wet but the rain had eased. We stopped at the big sheep, and later at the tourist office for info on where to stay; we had little interest in camping in this weather. We were directed to the Coolivin Hotel near the railway, run by a very nice and helpful woman, and got a room, a place to store bikes, and a complete kitchen with some food supplied. Very comfortable.
We made our dinner of sausages, rice and vegetables; great to relax with no worries about weather.
20 July, 64 km
Breakfast was bacon, eggs and toast, raw materials supplied by the hotel. Ken was sick of biking in rain and, though it was not raining at the moment, he wanted to bail out and take the train to Sydney. But a check in the station showed that it would be very complicated to take the bikes and trailer from here.
So on the bikes again to chance the weather and try for Bundanoon.
We started out after 09.00 on the highway to Marulan, more gentle hills but no rain. Stopped in Marulan rest stop for a meat pie lunch. After the turnoff to the very pretty Highlands Way, we struck more short steep hills but still a pleasant ride through Wingello etc. Gentle rain started again as we rode.
I reached Bundanoon around 15.00 and parked under shelter to wait for Ken. An increasingly frustrating 2-hour wait ensued; where the Hell is he?
Finally about 17.00 I gave up and started toward the Youth hostel. I met Ken coming the other way; he'd missed me downtown and had been waiting at the hostel.
All sorted out at the hostel, I showered and we cooked up some of the remains of the bike food and some meat for dinner. Relaxing evening reading. Rain stopped but came again at night.
21 July, 15 km
This is the last day of the trip. Ken found out we might be able to take a train from here to Sydney at 07.50 rather than ride to Moss Vale and train from there.
So up at 06.00, to the station in plenty of time, and got the bikes on the train.
It was raining shortly after boarding, getting worse as we approached Sydney, reinforcing his decision not to ride any more. We reached Central about 10.00, managed to transfer to the West Ryde train, make West Ryde by 11.00 and ride the last couple of km home in steady rain.
The trip was hard work and uncomfortable at times, but we got to some pretty unique places and met some real people. Good interesting trip but ALSO good to be home.
Total distance cycled: approx. 1435 km.
Next trip? Tickets already booked for 4 weeks in Indonesia in October. Watch this space!