Pakistan and China, 1995
On my Asia overland trip in 1990, I had ended up in Pakistan intending to make my way through the Karakorams into and across China. The border with China was closed at that time, and I was forced to fly directly on to Canada. However the concept of a back door to China continued to fascinate me and I resolved to give it another try sometime later.
In June 1995 I again had the chance. I had a job in Australia but also 4 weeks holiday due to me. The border between Pakistan and China was again open. Could I get through in that time? A very friendly and helpful young guy at a Chinese friendship association, I think associated with the consulate or tourist bureau, helped me plan. We worked out that I could fly to Pakistan, travel up the Karakoram Highway, across the Kunjerab Pass, across Western China via Kashgar, Urumqui and eastward to Xian, where I could fly back home via Hong Kong. I could leave on 10 June and be back in Sydney on 9 July. It's not a lot of time to cover such a vast distance, but I could make it.
Visas and air tickets in hand, I departed Sydney mid-afternoon on 10 June 1995. The only remarkable aspect of the Qantas flight to Singapore was the movie The Brady Bunch, possibly the most inane and revolting film I had ever seen.
In Singapore Changi Airport I had about a 3 hour wait for the Pakistan International Airlines (my old friend InsAllah Airlines) flight to Lahore and Islamabad. The check in took considerable time. From the way the check-in was conducted, I must be close to Pakistan in spirit if not in geography. There was a bit of a queue in front of the counter, but dwarfed by the large number of people crowded in a mass around the counter window. They were all endlessly discussing ticketing complications or whatever, just like in any disorganised ticket office in Pakistan.
Pakistan
(Click for map)
My flight to Lahore was relatively uncrowded, allowing a stretch out across seats and a bit of a sleep. Coming into Lahore, the Captain appeared to have been a former F-16 pilot, subjecting the A300 to some rather tight turns and then at the last moment rejecting the landing for another pass.
Anyway we did survive the landing, and were onward and into the grubby and run-down Islamabad airport at 07.15.
I made the mistake of trying to change some money before picking up my luggage. I went through some hassles at the bank as they were unable to change travellers cheques. Having missed my bag on the carousel, it took a while for the staff to find it for me. From there I was able to exit the airport without going through customs. A 282 Rs taxi ride (about 21.5 Rs to the dollar) got me into Islamabad and to Dean's (my Manitoba neighbour whom I'd met in Kenya in 1979) and Annette's place. They were home to meet me and I could stay with them for a day or so. Dean was working for the Canadian High Commission there.
Dean and Annette had recently returned from a trip up the Karakoram Highway and to Kashgar, Urumqui, where I was to go, and through some of the 'stan countries in the region, an awesome trip and gave me confidence of getting through China myself.
As the two were both working, and I wasn't tired, I went out to explore around Islamabad and Rawalpindi. At the busy, seedy and colourful Aarappa Markets in Islamabad I picked up a Shalwar Qameez outfit for 375 Rs. Another minibus took me through crowded dusty and hot streets to the Saddar Market area of Rawalpindi. Near the GPO was a restaurant with a large shamiana awning over the front for shade. There was my first Pakistani meal of the trip, a good mutton korma with nan bread, yoghurt, salad and Pepsi.
I explored around the old haunts of Pindi that I remembered from 1990, all familiar but little cleaner or improved since then. The tourist office gave me information about buses to Gilgit, including one at 16.00 next day. Heat and thirst drove me back home by 16.30. We all went over to the Canadian Club for a swim and a beer, relax and chat. Later a pork chop dinner (in Pakistan?) at home and to bed by 20.00.
Next morning I was up early fighting jet-lag and organising my gear and paperwork. After a big breakfast of oatmeal porridge and toast, I borrowed Dean's bike to explore the countryside before the day became too hot. I changed a travellers cheque at a bank but they took off about 20% commission. A half hour ride outside the city gave me a look at bush, scrub and rocky hills, but the heat drove me back home.
After lunch I farewelled my gracious hosts and took buses to the districts Aarappa, Faizabad and the main bus station at Pirwadhai. The bus leaves at 17.00 not 16.00, so I had a while to wait, getting my ticket to Gilgit, drinking Pepsi, chatting to a jewellery salesman and reading.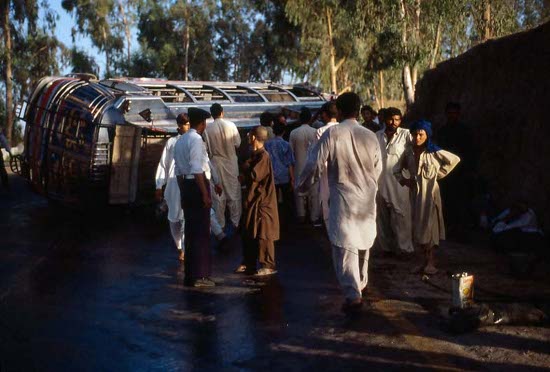 My bus left at 17.00 but hit a half-hour traffic jam on the edge of Rawalpindi. Later, just over an hour out of town, we came across another bus that had taken a curve too fast and was on its side in the road. As we momentarily stopped there, a motorbike came past and also wiped out on the diesel fuel slick. That seems to be how a lot of people drive here, but fortunately our own driver appeared reasonably responsible.
Our own bus navigated past the accident and we proceeded up through Taxila, Abbotobad and thence up the Indus River. We stopped in a town for a dhal/nan dinner, and I wandered along the street looking at gun shops and the beds outside the shops where the owners would later sleep in the heat.
I couldn't really sleep on the bus, but a full moon gave me good views of the Indus Gorge most of the night. We punctured a tire on a bridge spike, taking about ¾ hour to repair. In the morning the gorge widened out and I was treated to good views of the 26600 foot Nagar Parbat, the last mountain if the Himalayan Range.
We were in Gilgit about 09.00. I immediately asked about onward travel to the border town Sust, but it's too late today and I have to get a ticket for tomorrow. So I have a day to kill here in Gilgit. I checked into the Gold Peak Inn, the same hotel and same room I used in 1990. I met a German traveller there who had been in Asia for nearly a year. I found that he had come across to Gilgit over the Shandur Pass, the same way I had come in 1990. But it doesn't seem as easy now; transport and food were hard to come by, and he was forced to walk for several days to cross the pass. I must have been lucky when I did it.
It's still warm weather here, but the air was cleaner and less hazy than in Islamabad. I talked to people and rested in my bed for part of the day, although there were Muslims around and I couldn't really take off my clothes. Gilgit is a quiet and peaceful town, good valley views from the edge of town and tranquil scenes of women tending goats and kids playing in streets and ditches.
Next morning I had breakfast of egg, paratha and chai, and was down at the bus station by 07.30. The bus left at 08.00 for a 5-hour trip up the Karakoram Highway to Sust. Scenery was great; green irrigated villages, stark rocky slopes, rushing grey river, massive snowy peaks including imposing Rakaposhi. I would have liked to stop at the isolated village Passu and wander off into the mountains there, but time did not allow.
Sust, the last village before the Kunjerab Pass and China, is higher up, more stark and less inviting than Pasu. We stop here overnight before taking another bus on into China. The bus onward was a massive 740 Rs, so expensive that I had to change more money to pay for it.
In the afternoon I walked over the rickety suspension bridge and up a barren hillside to get a view up and down the valley. I talked to some Punjabis who were on the bus with me, and had come up to Sust to buy cheap Chinese consumer goods in the many shops here.
Had a mediocre potato curry and rice dinner, watched the Punjabis negotiate their purchases in the shops, and went to bed in one of the dormitories attached to our hotel. I found myself bunking amongst a number of wild-looking local men; not a word of English but they weren't as dangerous as they looked.
On my last morning in Pakistan, 15 June, 4 days after arrival, I was waiting with a large group of foreigners for the bus to Tashkurgan, Xinjiang, China. Our group included Swiss, South Africans, French, Korean, Germans and Malaysians. We negotiated extensive passport and immigration rituals, and were on the road by 09.00
Up and up we went through a dry, rocky and ever-narrowing valley. The 16000 foot Kunjerab Pass (translated as the Valley of Blood) was, like many passes, not singularly spectacular, rather a bleak broad saddle. It wasn't cold, no jackets required, but I'm sure it would have been deathly at night. We stopped only a few minutes for pictures.
China
(Click for map)
We were in China on 15 Jun. The road continued down through a much broader valley than that on the Pakistan side. Here are the Pamirs, less high and pointy than the Karakoram range. A few people, horses, donkeys and Bactrian camels populated the grasslands.
I had been in Eastern China in 1977, and there everywhere you looked you saw something or someone. What a contrast to this part of the country! I couldn't have believed there would be such vast open spaces here. Amazing!
We stopped at the first settlement in China, Pirali, for a quick passport check by bored-looking but amiable Chinese soldiers. Then we were in the larger town Tashkurgan about 15.00 for proper customs and immigration.
A Tajik woman on the bus into town sold us 77 yuan bus tickets onward to Kashgar, and I had to change some USD cash, at 8.1 yuan to the dollar, to get the ticket. The city bus then dropped us at the rambling Pamir Guest House for 15 Yuan dorm beds.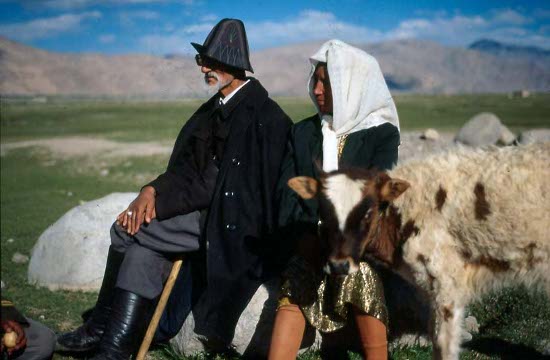 Tashkurgan, the first major town in China, is reasonably high altitude and cool, about 20 deg C. We walked outside of town to look at the broad grassy river valley where the local Tajiks were lounging around and collecting water. It was all a very quiet, peaceful and tranquil scene.
Dinner, out first Chinese meal, was in the improbably named Coal and Oil Restaurant. The meal though, consisting of stir-fried meat, vegetables and eggplant with rice, chow mein and beer, was good and filling.
My gut was starting to give me trouble, probably from Pakistan, so I had to retire early. Not a good night.
Next morning our Kashgar bus met us at the hotel and took us to the bus station. There we all got into an argument with the bus people. Our packs were to be put on top of the bus, but we were not allowed to put them up ourselves; the locals had to do it for a fee. We had to pay anyway so no winners there. I later learned that we weren't the first to have these altercations.
The road was rough in places, with frequent washouts and maintenance works, slowing our progress. We travelled through a broad valley and up into the Pamir Plateau, lakes and the mighty Mustaga and Kungur Massifs to our right. We stopped once in the middle of nowhere to pick up a small mountaineering party that must have been on one of the peaks.
Down from the plateau we entered the desert, oases, irrigation, treed areas and mud-brick dwellings.
Clothing morphed from Tajik style to Uigur.
I felt sick all day and failed to enjoy the scenery. At one stop, wearing my shalwar-qameez, I had to go to the toilet. The long tail of my qameez shirt hung down and got dirty, and had no water to clean it. Oh, brilliant!
We arrived in Kashgar about 16.00, first impressions were of a bustling, crowded, smelly and polluted city. Others and myself got beds in the Chiniwah Hotel; I could finally clean myself and my clothes.
Next day my guts were still up and down and I couldn't eat much or even look around a lot. I did explore parts of the city with other travellers and went out for small meals. The runs continued for a couple more days but slowed me down less and less.
A derelict-looking American guy came around in the evening wanting to offload some US dolars for yuan. I wondered why he didn't change his money in the bank like we were doing, but he said the banks were closed and he needed the money now. I reluctantly gave him some yuan for $20, wondering if his money was queer or not. A day or two later he met me again, trying to change more dollars. The banks were open so, questioning his motives, I politely declined. I never found out if his money was good or not, but did manage to offload that $20 in an Ethiopian bank a few years later.
18 June, Sunday, was market day in Kashgar, allegedly the biggest bazaar in wherever. I teamed up with an American guy and we walked to the east side of town to the Bazaar. It was huge, busy and colourful. We spent a good couple of hours amongst the donkey carts, men with Uigur hats, women in colourful costumes, cute kids with peaked caps, cheap trinkets, Uigur knives, brightly coloured toys, consumer goods, bagels, steamed buns, noodle soups, meat, vegetables, wild animal parts, cattle, horses and sheep. The cattle and horse section was especially interesting, potential buyers trying out horses at a furious gallop in a confined space.
I checked out buses to Turpan, and was told there are no direst buses. I must go via the Xinjiang capital Urumqui. The only bus was a lie-down sleeper bus for 322 yuan. I booked it for 2 days later at 06.00. Later, in Turpan, I found I might have been ripped off, because a couple of other guys showed up there having found a much cheaper direct bus.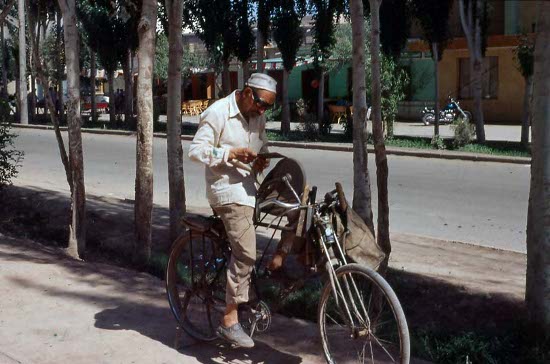 More exploring around the big Mao statue (I believe that he has more presence in the remote places than he does in the big cities) and the Id Kah Mosque, before finding some postcards and writing them up in a Chinese restaurant. I find that here, as in many Asian cities, the back alleys with their playing children are more interesting than the main streets.
On my third day in Kashgar, I wandered farther afield, out to the east of the city. The bazaar was more deserted now, many cattle heads and other parts lying around, leftovers from a massive butchery operation yesterday.
Walking was pleasant outside the city, trucks, tractors and donkey carts on the road and wheat fields being harvested. Poplar plantations would have been used as a source of wood. I came across, and socialised with, a group of kids in a shack working a lathe manufacturing round roof joists.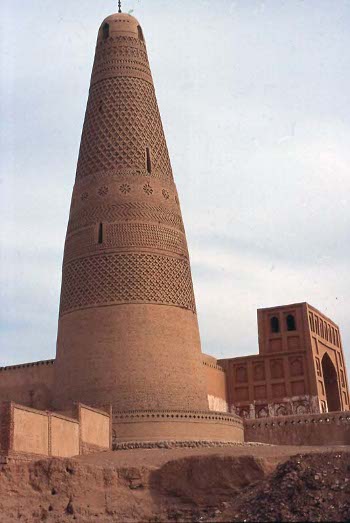 About an hour from the city was Aloakh Khoja Mosque, the subject of many local postcards. It was dominated by the tall semi-cone-shaped Samarkand-style Emin Minaret. I was struck by its ornate finish, not done by paint or tiles but by intricate and inventive brickwork patterns. The surrounding Muslim cemetery was more decayed, with many tombs caved in, bones visible inside.
Back in town I patronised John's Cafe for some western food (mediocre anyway) as a break from local fare.
Four days after arriving in Kashgar, I was out at 05.00 and walking 25 minutes to get to the bus station. Some of the other travellers (becoming my ad-hoc group) showed up at 06.00, but the bus wasn't ready until well after 07.00. I hadn't seen a bus like that before in my travels, a 24-berth (2-tier, 3 abreast) sleeper, It was somewhat decrepit and underpowered, but I had a top front centre berth and was able to sleep comfortably that night.
From Kashgar we started north and gradually east through flat dry country. The highway was undergoing construction in many places, and was rough in others, so never great speed. For most of the two days we seemed to be skirting between mountains and desert, the Tien Shan to the north and the vastness of the Tarim Basin to the south. Wide river beds and oases allowed areas of irrigation for crops and poplar plantations. We stopped at dusty villages for meals or anywhere on the road for toilet stops. My gut was still not great, but I ate as much as I could of the yoghurt or the 3-to-7-yuan handmade noodle soups with meat and fat and vegetables. I noted that out in the Muslim west here the soup meat was mainly mutton; farther east it would become pork.
Through towns Aksu and Korla, we progressed up into sun-baked hills and slightly greener country, to the city Urumqi by 21.00, 35 hours from Kashgar.
I didn't stay long in Urumqui, not a lot to see or do here in my limited time. Checked into the Xinjiang Hotel with the South Africans and we had a good meal of pork, fish, vegetable, rice and beer. My gut was improving now.
Next morning I took a walk around to the Endao Qiao Market to check out buses to Turpan. Buses leave there regularly and I would take one later at 12.30. Breakfast was that ubiquitous Chinese fried bread and thin wheat porridge, cheap at 1 yuan. I met the South Africa couple, in a despondent mood because she had just had her purse stolen minutes ago; one must be careful even here.
I bought a couple of souvenir Tajik hats in the market and boarded the bus for Turpan just after noon. The whole of China is under the same time zone, so noon here is actually well before solar zenith. My bus drove south over the hills I came in on, then south-east down and down into Turpan about 16.30.
A taxi took me to the Oasis Hotel, a characterless place where I stayed one night. The only memory I have of this hotel was the sight of two or three young hotel guys standing "at parade" in front of the hotel with sullen looks on their faces. They must have been guilty of some infraction or other, and were forced to undergo ritual school-kid-style humiliation.
Turpan is an intriguing sort of place. Well below sea level it's hot and dry, but wonderfully pleasant and laid-back. Many of the footpaths and guest-house restaurants were canopied by grape trellises, lending some ambiance and at least psychological cooling. Tours of nearby historical sites are available. I didn't want to leave in a hurry, and ended up staying about 4 days.
My first job was to explore towards the Turpan Guest House, where I would move into next day. Enjoying a very refreshing beer under the grapes there, I met the two Swiss from Kashgar. They had saved a day by coming directly here, bypassing Urumqi on local buses. We had a tofu/veg/rice dinner together, briefly explored the down-town street stalls and bought postcards.
On my second day I wandered more down-town and to the Turpan Market. The market, like all markets, fascinated me with its covered section, dusty open areas and livestock. I wanted to get a good picture of the donkey-cart parking lot, and climbed unto a metre-high wall to get the view. Beside the wall was an open-air toilet full of fresh shit, so I had to get the picture quickly before fainting from the smell.
Back at the guest house in the afternoon, it was too hot to do a lot except talk to the Swiss, drink beer and write postcards. Dinner at a down-town street stall was good, you can get those Beijing dumplings (gyoza or something like that) way out here. Later in the evening the guest house put on a touristy but good performance of Uigur dance.
In the cool of the morning I walked out to the Emir Minaret. I negotiated rustic suburban and semi-rural streets of mud-brick houses, donkey carts and kids all trying to say hello or bye-bye. Through a grape field, I climbed a wall to get close to the minaret. A bit later, on the way out, I found a ticket office selling admission; I guess I'd come in the wrong way.
That afternoon, in a food stall down-town, I got into a talking-joking-laughing session with some locals. That's always dangerous, as inevitably out comes that horrid Mao-Tai type drink, about 60% alcohol and smelling of paint stripper. I wasn't allowed to leave until I'd downed a shot or two.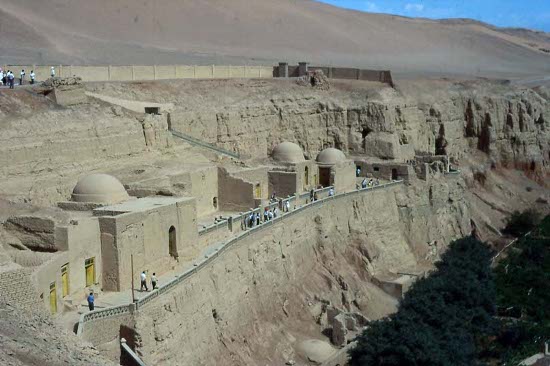 On the last full day in Turpan I took the bus tour of the sights around the area. It was due to leave at 09.00 but immediately ran into problems. There was some conflict between the young guide and the older driver, maybe the young guy didn't show enough respect or deference. The driver refused to allow the guide to come on the bus. Eventually we had to leave without the guide, depending on a Taiwanese tour member to translate the driver's commentary into English.
Our tour bus drove through the Flaming Mountains , a long escarpment some distance from the road, with erosion gullies on its red/orange face that are meant to look like flames in the shimmering heat.
First stop was the Bezeklik Thousand Buddha Caves, one of the Silk Road stops at which caravan people would worship and pray for continued success of their journey. The caves consist of rooms cut into the rock hillside, but the frescoes aren't in great shape, and little remains of the Buddhist statuary.
Next was the Astana Tombs, simply some earth mounds, a couple open to the underground.
The Goachang Ruins were by contrast, large and impressive. I believe this city was built in 1st cent BC and burned in the 14th cent. It now consists of city walls and an extensive area of crumbling buildings, mounds, doorways, rooms, foundations etc. It was the most impressive sight I saw that day. The site was so murderously hot and dry that I couldn't help think that's what must have driven them away. But then they wouldn't have thrived for hundreds of years would they?
Back at the hotel about 14.00, a couple of us had lunch together and shared a beautifully crisp and tasty Hami melon. After 16.00, when the second half of the tour was to go, the driver came with news that the bus "She no go". It was getting windy and dusty, and the option was to continue the tour on a truck. I declined, lots to do anyway and didn't think there was much more to see anyway.
I used the time to do a bit of shopping and book a bus ticket for tomorrow to the next place Hami, have dinner and write notes.
On 26 June I walked to the bus and encountered the 4 Malaysians I had met earlier leaving Pakistan. We were all going the same way, and they would be good travelling companions for the next few days. We cleared Turpan at 09.00 and entered flat repetitive desert, hills to the left and a blank to the right. The road was better than in the far west, and we made good time, achieving our night stop of Hami by 18.00. It was difficult to find a room here; many hotels seem not to take foreigners. I finally found a very nice room in a hotel for 80 yuan, my most expensive this trip.
A mini-bus would take us to the next city Dunhuang, leaving about 07.20. These small buses are usually faster than the full-size ones, promising a quick trip today. That anticipation evaporated almost immediately; there was something wrong with the motor and we couldn't make any speed on the highway and could barely make it up even gentle slopes. Eventually it quit altogether somewhere in the desert about 09.30. We waited about 5 hours in the featureless expanse while the crew tore the motor apart, replacing the head gasket etc. Weather was cloud and strong wind, even a bit cool. Eventually we re-started and could make better time.
We stopped again about 16.00 for late lunch, noodle soup with pork, my first meal of the day. Through the town Liuyuan about 19.00 and through a sandstorm, we finally reached Dunhuang at 21.30. That was a long enough day for me.
A hotel tout took us to a hotel that was allegedly only 1 day old. It was OK though, TV in the room (what can I do with Chinese programming?) and tea supplied. I had a good dinner with the Malaysians; Sichuan chicken, rice and beer. I liked going to restaurants with them, they were of Chinese extraction and knew exactly what to order. It was after midnight by the time I got to bed. That didn't matter though, as I'd be here for 3 nights.
Dunhuang was a major point of interchange between ancient China and Central Asia during the Han and Tang dynasties, near the junction of the Northern and Southern Silk Roads. At the nearby Mogao Caves, the "Caves of a Thousand Buddhas", Buddhist monks and pilgrims painted murals. Silk Road caravans prayed for safe passage entering, or to give thanks for survival leaving, the wild and dangerous roads to the west.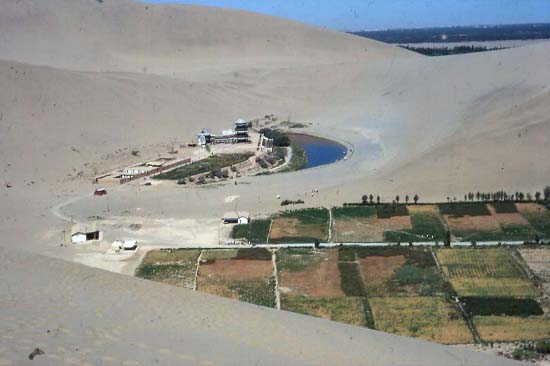 The hotel or cafe next door had bicycles for hire, wow! I got one in the morning to look around town and then ride south about 7 km to the Mingsha Sand Dunes, a popular tourist attraction. I parked the bike, paid the admission fee, ignored the tourist camel rides, and walked up the dunes. They cover quite a large area, too extensive and steep to walk completely over. From the top are memorable views of the rest of the dune field, surrounding desert, the city to the north, and the little Crescent Lake (a dirty pond with a couple of boats) nestled between dunes. I spent a couple of hours on the sand until the heat and fear of thirst drove me back to town.
In the afternoon, the Dunhuang Museum exhibited 7000 year old Hami relics, Mugao, ancient Dunhuang and great wall artefacts, and a Mig-17 fighter. Most of the signs were In Chinese so hard to understand.
Next day I tried to set up a train reservation from Jiayuguan to Xian, but unable to do that in this city.
A bus provided transport out to the Mogao Caves, a half-hour ride, by 09.00. The caves were carved into the side of a mile-long hill, several hundred caves in all with about 40 open to the public. I had to wait for a guide after buying an entrance ticket, but being the only ferang, was blessed with my own personal english-speaking guide. He took me through about 25 caves in an hour or two, representative of a variety of styles and dynasties. Frescoes and murals were in remarkably good shape, but the original statues had been destroyed long ago and replaced in the Qing Dynasty. Themes were similar, mostly Buddhas flanked by disciples and warriors, lotus themes with 1000 Buddhas, and Nirvana scenes with the 4 Heavenly Kings.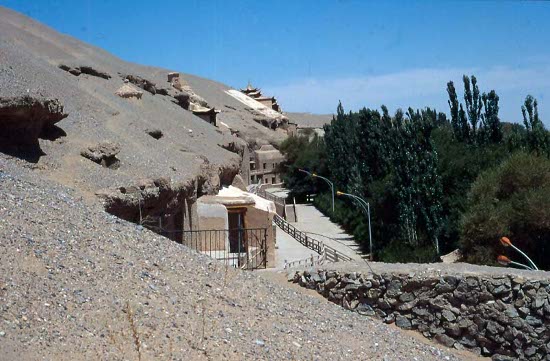 I took a break for lunch, a walk round the river valley, relax and read in the tree shade. It's considerably cooler here in the valley and the caves than out in the desert.
About 14.30 I explored more caves, including those containing a couple of large multi-storey sitting Buddhas and a reclining Buddha.
Back in town about 16.30, I later copped out for a hamburger and fries meal as a break from local food. The Malaysians and I got bus tickets to Jiayuguan for tomorrow morning. It's great being with these guys, they can often get tickets for the much cheaper local price.
So on 30 June we left at 08.30 for Jiayuguan. We endured the usual scenery of flat dry desert, low hills, scrub and dusty villages. Despite stopping frequently for passengers, our bus made good time, not stopping for lunch and only for toilet when people complained. We made Jiayuguan by 16.30, a wide-street place with lots of construction. This city is known as the location of the western end of the Great Wall, which we resolved to see while here.
As we walked down the street to find a hotel, it found us. A hotel still under construction lured us in with offers of beds in uncompleted rooms. I slept in one room and showered in another. The Malays and I had an enormous meal and beer in a nearby restaurant. Later in the evening I wandered the streets, finding a busy intersection with live music, festival dancing, market and food stalls and big crowds; great atmosphere.
We'd only be here on day before getting an 18.00 bus on to Lanzhou. We assembled at 07.30 and haggled with taxi and mini-bus drivers for a tour of the sights, eventually settling on a mini to two sights.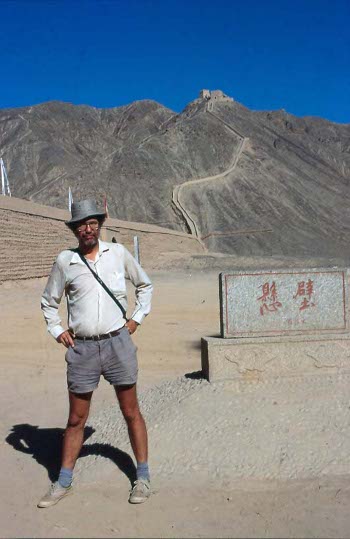 Out on rough and curvy roads, our first stop was allegedly the very end of the Great Wall, a restored section of wall and a couple of towers. It was a good hike up to the last tower on a hilltop, the very end of the wall. From there was the mountains and desert stretched to infinity. One is tempted to think that invaders could just go around the hill and bypass the wall, but I guess that would be the dilemma wherever you ended the wall.
Next stop was the Great Wall Fort, located along the wall some distance from the end, the gateway from civilisation to the world beyond. The fort had lots of ramparts and some intricate woodwork on the gateways, otherwise it only captured our attention for ½ hour.
I forgot to mention that as I was travelling through some of these wild and remote areas, we occasionally came across the ruins of signal towers, possibly from Silk Road or Great Wall times. They conjured up romantic images of fires at their tops, blowing in the winds, and soldiers urgently galloping through the night in response to the threat. But I suppose the reality would have been much more prosaic; garrisons stationed out here, neglected by higher command, would have had a life of hardship and privation, without even much action to break the monotony.
We checked out of our hotel, had a nice restaurant lunch, tried without luck to get train tickets to Lanzhou, and finally booked a sleeper bus (similar to that I had Kashgar to Urumqi) for 18.00 that evening. Berths were near the back of the bus, the catapult effect making it hard to get a good sleep.
At 08.00 we were in the large city Lanzhou. I'd spend about 2.5 days here. I would have liked to get out to Xiahe and the Yellow-Hat Labrang Monastery, but sadly was running out of time.
It was difficult to get and keep accommodation in this crowded city. The Lanzhou Hotel only gave us rooms after much persistence, and then only for one night. I had to haggle a lot next day to get a bed for subsequent nights.
At a slightly upmarket Chinese restaurant for lunch we were only was given small servings, and they ran out of rice (can you believe that in China). Later I went to a ticket agent and started what was to be a lengthy and difficult process to get a train ticket to Xian for 2 days hence.
During the day birdcages are everywhere, all the birds singing like mad; they must breed them to sing. Down at the bank of the Yellow River I watched a few men entering the river to swim across. It looked like quite a feat, a long way to the other side and they get swept considerable distance downstream as they crossed. It's pleasantly cool in Lanzhou, and I enjoyed the evening looking around the vegetable and meat markets, food/drink stalls and throngs of people.
Next day the Malaysians were all checking out for various destinations; sad because I really enjoyed their company and help. They were able to help me get another bed for 2 more nights in the hotel though, so I wasn't out on the street.
In the morning I walked past the train station, down small market streets, to the hills on the edge of the city. Up a very steep path, I could get a good view over the city, very spread-out and industrial-looking. There was so much smoke and haze that I couldn't even see as far as the Yellow River a few km away.
In the afternoon I took a mini-bus to the west of the city and walked around a while to find the Ganzu Museum. It wasn't a bad museum for a couple of hours. On display were pottery, bronze tools, utensils, figurines, silks, calligraphy, coins, statues, Ganzu industry and agriculture, mammoth and other prehistoric bones, a foot high set of bronze horses and chariot, and their star exhibit the well-know bronze "flying horse".
Back down-town I could pick up my train ticket, hard sleeper for 14.12 tomorrow. I was maybe lucky to get it: peak period, black market and hard to obtain.
On my last morning in Lanzhou, I had breakfast with an American room-mate, wandered around the streets people watching, and observed a group of older people in a plaza practising ballroom dancing to ghetto-blaster music. I was on the train on time in the afternoon. It was a little hot at night but slept well anyway.
The train reached Xian at 06.00. It was my last stop in China. Just a couple of days there before flying to Hong Kong.
Xian was an ancient capital, commercial centre and the start of the Silk Road. It was a walled city, and that wall still defines the old part of today's Xian.
Just off the train, we were accosted by taxi drivers and hotel touts. "Stephanie" from Mum's Café accosted us and persuaded us to come with her to the Renmin Hotel next to her café in the NW of the city just outside the wall.
Stephanie seemed to me to epitomise the emerging post-communist entrepreneurial class. She was a pleasant enough person, but with an undercurrent aspect of intelligence, drive, achievement orientation, hard work with a dash of ruthlessness. Her type would make China a great nation and economic powerhouse. I wish her well.
After a clean-up and rest, I scored a rental bike and set out to confirm my plane ticket and explore the city.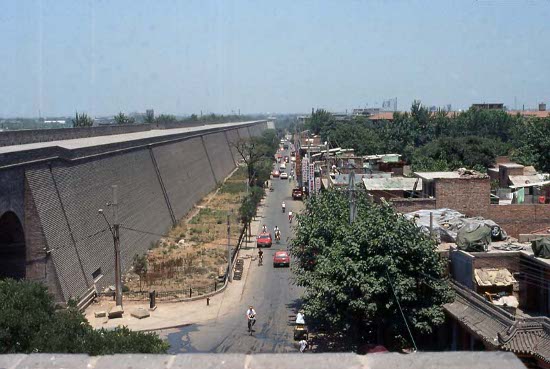 The flight confirmation was to the west of the city, so I thence rode to the West Gate, climbed the tower there for a good view of the walls and city.
A good lunch consisted of bread-noodle-meat-onion soup with garlic and chili.
In the centre of the old city, the historical drum tower is a prominent landmark. Along the adjacent street are numerous art stores. One that I was enticed into was allegedly an old Confucian temple and a setting for the Chinese movie "Raise the Red Lantern".
My excursion then took me to the Bell Tower (another landmark), along a shopping street and to the partially-restored East Gate. A route along the wall and southward took me to the Little Goose Pagoda (Buddhist I think).
Back down-town in a very un-communist-looking department store, I spotted and bought a box of "Emperor Tea" to take home. One of the Chinese I had travelled with had introduced me to this exotic tea/spice/sugar crystal mix that is unavailable elsewhere.
Stephanie, for a small fee, had made me a student card to allow me cheaper access to the Terra Cotta Warriors. Next day several travellers including myself were on an 08.30 mini-bus tour of the warriors and other sites.
First was of course the warriors site, over an hour out of town and maybe hard to find on one's own. There we spent a couple of hours, saw a film on the history of the site and toured 3 excavations. The first is the most excavated and best known, with many terra-cotta figures restored and standing. The second was only just starting excavation, lots of sagging roof beams not yet explored. The third was a fully restored small command post. It was all quite grand and impressive but nothing unexpected.
The second and last item on the tour was 6000-8000 year old Banpo neolithic excavation site and museum. It consisted of a covered site of a Banpo village with house sites, storage pits, moat, graves and trenches. It was unknown and unexpected to me, making it as least as interesting as the warrior site.
On my last evening in China I hung out with other travellers and splurged on beer and a wonderful fish dinner.
On 7 July, I caught taxis to the airport. It was a about 50 km out, starting before 09.00 and arriving at 10.15. Take-off on time, and in Hong Kong around 14.00.
Hong Kong
My flight itinerary included a 1-night stopover and most of the following day in Hong Kong. This gave me some time to look around the city and surrounds, and do a bit of shopping for other people. I had been here before in 1987 but without much time to look around then.
An airport bus and a metro got me to Prince Edward Rd and check-in at the Concourse Hotel. Late afternoon and evening explorations included the congested, vibrant and colourful Nathan Rd and the waterfront district of Kowloon. I found that ants-nest little-India called Chunking Mansions, where I had stayed previously, and had a curry/rice/samosa meal in one of several Indian restaurants there. The sweaty heat made the shower particularly welcome back at the hotel at 22.00.
Then next day I fly out in the evening, so I have the whole day to sightsee and shop. I wanted get out of the down-town area and see what if any other part of Hong King there is. Leaving my luggage at the hotel, I decided to check out the Lantau area.
From the Star Terminal, a delightfully slow and relaxing ferry took me across the bay past busy shipping and small islands, to the quaint picturesque island Peng Chau about 11.00. A world away from frenetic Kowloon, I wandered around the narrow pedestrian streets, little shops, temples, and up to the views from Finger Hill.
A 10-minute sampan ride crosses to Lantau Island. From the terminal it's a short walk up to the quiet Trappist Monastery, and a longer sweaty walk up to the hilltop. The hills are pretty much deforested, but with great views of Mui Wo, Silvermine Bay and surrounding hills and islands. I believe the new airport was being started nearby about this time.
Back down to Mui Wo village for a seafood lunch, and a 15.30 ferry got me back to Kowloon about 16.40. Picked up my gear at the hotel, a bit more shopping, and an airport bus to Kai Tak by 18.10. Off the ground at 20.30 and back in Sydney at 07.00 on 9 July 1995.
This was a great trip, coming into China from the back door and seeing parts of that vast country that not many travellers have the privilege to experience. Memorable and enjoyable. Stay tuned for more.