India 2009
After flying from Australia in July and spending 2 months in USA and Canada, my 2009 trip was meant to take in India and Bangladesh. I planned to meet my German friend Herbert in Kolkata and travel and trek in Sikkim, NE India states, and Bangladesh. I would stop for 3 days in Holland, being on the way and having friends there to see.
Holland
(Click for map)
I left Canada at 18.05, 18 September 2009, for Frankfurt and Amsterdam, arriving at Schiphol about 10.30 next morning. As my Dutch friends were occupied that weekend, I decided to look around on my own for a day or two. I made my way to Haarlem and checked in at the previously booked Stayokay Hostel.
My main activity in the Haarlem area was a walk around Staadtpord Sud and into the Zuid-Kennemerland NP, Bloomendal. This is a park consisting of forest, sand dunes and coastline, situated between villages and the coast. It's one of the few bushland districts I've seen in Holland, pretty countryside and nice for a 4 hour walk. I walked to and around Vogelmeer lake, but it was too far to reach the beach in the time I had. The only "wildlife" I saw were birds and highland cattle.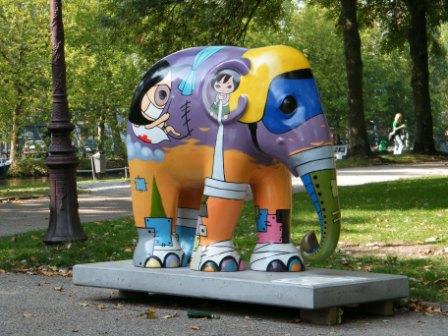 On Sunday I caught a bus and train to Amsterdam Central. Quite busy and crowded outside the station with a marathon or something just getting under way.
Explored around Amsterdam on foot in the afternoon as far as the Concertgebowe. Took in the Ruiksmuseum for a couple of hours, mostly paintings by great masters including of course Rembrandt.
In the evening I went to Bruekelen to meet my friends Guus and Anke. Spent a good evening and day with them before taking off to India. On Monday we drove to the Hague and visited the Madurddam, a miniature (1/25 scale) model of many of the interesting or iconic buildings, sites, installations and attractions in Holland. Fascinating.
India
(Click for map)
Good trip to Delhi, arriving there at 01.20 on 23 September, nearly an hour late.
Incredibly hot in Delhi for this time of year, 30 deg in middle of night. By the time I got my gear and went out it was maybe 02.30. Rather than stay in Delhi overnight, it seems easier just to get a bus to Khanna, Punjab where I could meet my friends that I'd stayed with last year.
Assurances of a direct bus connection to Khanna were unfounded. A lot of running around, asking questions and fighting off rip-offs finally led me to a city bus which would go to the Interstate Bus Terminal in Delhi, arriving there about 04.00. More running around there got me to an ordinary bus for Khanna leaving about 04.45. Al least I was on the move, only not as early as planned.
Through gritty pollution and unrelenting heat, my bus drove into daylight out of Delhi and through the cities Ambala and Rajpura. Stopped in Rajpura for breakfast of dahl, curd, raita and paratha. Through the towns Surhind and Gobidgarh, increasingly familiar surroundings, I arrived in the Khanna bus area about 10.15.
I walked up to the main market area and found Tarlok Singh in his financial management office; he remembered me from last year and welcomed me roundly with bench space, water, tea and snacks. He called my friend Gurmeet and let him know I was on the way. I was at Gill Villa before noon. Great to see Gurmeet, Tinku and Deepinder again.
There appears to be peculiar weather here, unseasonally hot, more like last year in August, and too hot to do anything much. There are more power shortages here now, electricity off normally 10-2.30 and 4 to 7, plus unscheduled outages. I must plan around this. Fans can run on battery power so we can keep a bit cool.
24 to 28 Sept was a pleasant if mostly uneventful holiday at Gill Villa. The unseasonal heat wave precluded strenuous activity, although I did go out for shortish walks around the countryside in the mornings, longer bike rides through picturesque, friendly villages and rice fields, or the occasional wander to the frenetic down-town Khanna. Everywhere I went people waved or greeted me, ignored me, and only occasionally stared. It is almost hard to get used to being in a non-tourist area, where people don't automatically pester and overcharge for things and actually treat me like a human being.
Pushpa our cook prepared simple but tasty meals. Anayender the washer woman kept me in clean clothes, no mean feat in this sweaty heat.
Neighbour and relative Jasweed met us each evening for drinks, and kindly invited me to use his swimming pool whenever I wanted, a godsend to combat the heat. I swam with him several times.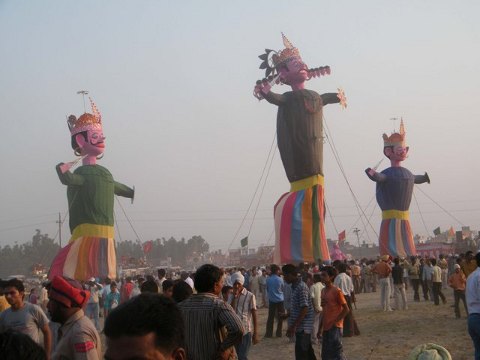 Next destination was to be Kolkata where I'd meet Herbert on 02 October, so I'd better get it booked in good time. I went to the train station not long after arriving to sort out a train ticket. Much to my dismay, it was full-on festival season, there was a waiting list of close to 100 for the train of 29 Sept, and nothing else available either. Even planes are apparently in chaos at the moment. So am I a prisoner in Khanna? Tinku came with me to the station next day and we managed to pre-pay and put me on the waiting list. Then next day we went again, saw that I still hadn't got a berth, and tried to get me on through an "Instant Booking" scheme. Luckily we succeeded. Great, all set now; should be in time to meet Herbert.
On late afternoon of 28 September, Gurmeet took me into town to see the Dasehra (or Dusserha) Festival, the re-enactment of a Ramayana legend. A huge crowd from town and surrounding villages, looking like at least 50000, gathered in an open area to the south of town, with booths, concession stands and general circus-like atmosphere. In the centre were three towering paper effigies of the bad-guys Ravana and 2 of his cohorts. Because of the crowds and parking difficulty, Gurmeet suggested I stay only a quarter hour or so and get a few pictures. So I missed the ritual flaming arrows to set fire to the effigies and detonate the fireworks contained within. But it was a great spectacle in any case.
Later that evening Jasweed and his wife took us all out to the Greenwoods Restaurant north of town for their 35th wedding anniversary. We were treated to Indian cuisine at its best, a wonderful last evening in Khanna.
On the evening of 29 September Gurmeet took me to the bus area in Khanna and found an Ambala bus almost immediately. In Ambala I had no trouble finding the train station and negotiating the usual mobs and madness to find the platform.
My train, the Amritsar-Howrah Mail, was about 40 minutes late. The trip was hot, but otherwise good, and I slept well enough on a mid-berth.
I arrived shortly after 08.00 on 1 Oct and exited the Howrah station in the direction of the river and the ferry terminals. A bit of asking around got me to the ferry for Badu Ghat which would place me in walking distance of Chowingree and my Sudder Street accommodation.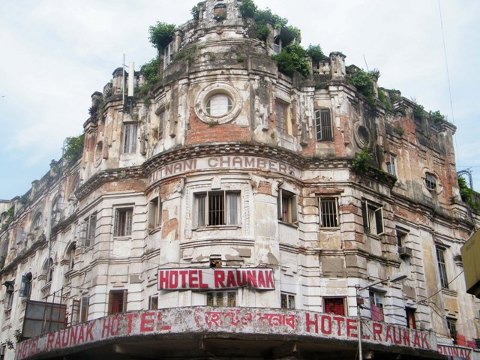 Maybe I caught it at a good time, but Kolkata didn't seem quite as squalid, polluted and chaotic as on other trips. Maybe the rolling clouds and south wind kept the air quality better. Even the Howrah Bridge and the Hooghly River didn't seem so monstrous and putrid as in 1990. I'd never been on a ferry here before, and it gave good views of many of the grand but decaying old buildings of BBD Bagh district.
Street signs are not well marked, but I was familiar enough with the layout to find Sudder St and the Paragon Hotel, where I'd stayed in 1990.
It's near 10.00 and I must see what I can do about a Bangladesh visa; the High Commission on Circus Rd is a fair walk and closes about 11.00 I think. I went nearby to get passport/visa photocopies, and then out to Park St and AJC Bose toward the Bang HC. Cloud turned to rain on Park Rd, causing some delay. I got to to the Bang HC just before 11.00, and found that luckily they accept visa applications until 11.15. I quickly filled out the form and submitted other documentation, and went for a brief "interview" at 11.30. Tomorrow, Friday was said to be a holiday, so I could not pick the passport and visa up until 18.00 Monday, 4 days wait.
Back along AJC Bose in drizzling rain to the FRRO to ask about permits. They said no permit is needed for Sikkim, great. For some NE States, permits are available for groups of 4; Herbert and I will have to work out how to handle that.
My meals were in the small, simple looking but grandly-named Taj Continental Restaurant, typically dahl or chicken, vegetable, rice, roti and tea, all basic but good.
In the evening I wandered around nearby New Market, interesting as always, but the "guides" are annoyingly persistent.
Next day, 2 Oct, was Herbert's arrival date. I took my pc and found Cyberia internet cafe which opened at 08.00. I was in time to catch Maggie (back in Canada) on Skype and we had a good conversation for over 1/2 hour. By the time I got some bananas and got back around 10.00, Herbert had just arrived. We settled in to a room and then spent the rest of the morning and part of the afternoon wandering around various parts of Calcutta, a sort of re-acquaintance with old haunts. Included were the mossy and ghostly-looking British colonial cemetery on Park St, the Park Circus slums, the Prem Dan Mother Theresa refuge and river life at Babu Ghat. I'd volunteer worked nearly 20 years ago at Prem Dan, and it was good to see that it was still functioning. It was considerably hotter, but drier, than yesterday.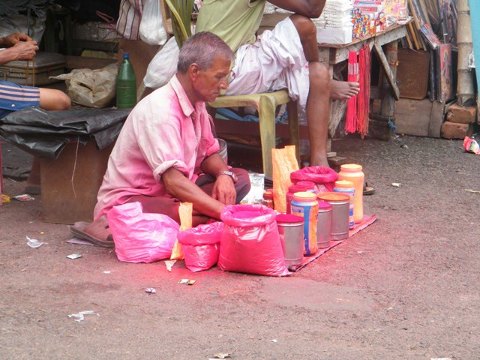 On Herbert's second day, we walked over to the Victoria Memorial, impressive as ever from the outside, but it's fenced off now and we didn't bother to go in. Back around to the metro station, we rode south to Kalighat. Legend has this site as the location where the deity Kali's toes fell when she was torn apart in a battle or something. It's a major place of worship and possibly the start of the city who's name may be a corruption of Her name.
It was a short walk from Kalighat station to the Kali Temple. The whole temple area is extremely busy and congested, full of temple-related shops and a sacrificial area where people were butchering recently sacrificed goats. The temple itself was too crowded to enter, but we saw nearly as much as we wanted to see anyway. The river Ghat itself, only a block or so away, was interesting in itself for the bathing, boating and communal life.
Later, back near home, we wandered down to Badu Ghat on the Hooghly River. We took the ferry to Howrah (the reverse of my trip a couple of days ago) and then slowly walked back across the Howrah Bridge.
The Mullik Ghat and Flower Market, right next to the bridge, was a kaleidoscope of vibrant colours, people and activities. Workers assembled garlands of the various types of flowers. Mud from rotting plant material made the ground soft underfoot. Near the water, kids were dismantling bamboo frames that had been part of the effigies committed to the river during the recent Durga Puja.
Kolkata in general is cleaner than earlier years, but much of the city looks to be in an advanced state of decay. Grand old colonial buildings are literally falling apart, many boarded up and derelict. Even many of those in use have plants growing out of the sides and roofs, looking as if about to be reclaimed by nature.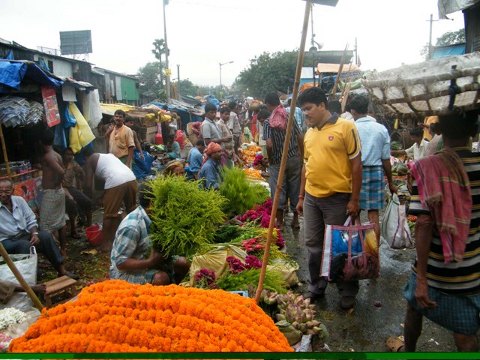 Something is not quite right with my body. Must check it out. Bit of a worry.
With two younger Germans, Peter and Enios, we went to the FRRO office, to check info on permits for Arunachal Pradesh. Found out that for the price, and needing 4 people, it wasn't practical to apply. Also we found that maybe permits are required for Sikkim after all. Then we walked on to the Mercy Hospital on Park St for a check-up, and confirmed a suspicion that I had an inguinal hernia on the left side. Must have strained myself handling my gear or something. That means that my trip to India is almost finished, and Sikkim and Bangladesh are out. I'd have to leave Herbert to continue on his own, while I go back early to Australia to get it fixed. Too risky to go to Sikkim etc in that condition. It's a bit of a bummer, but these things happen.
At 18.00 I went to the Bangladesh consulate and picked up my passport. It was stamped with a visa that expires in one month, so if I was to continue to Sikkim and NE States, I probably couldn't have used it anyway.
I decided to risk going around West Bengal and to Darjeeling, to salvage at least a bit of the trip. But it would be madness to go to Sikkim I think. Later that night, I confirmed flight changes to leave Dhaka 19 Oct, and arrive Sydney about 25 Oct, still allowing me to spend 3 days in Kuala Lumpur, Malaysia. This would also allow me to go to Bishnupur, Malda and Darjeeling with Herbert, come back to Calcutta, and fly to Dhaka on 18 Oct for my flight connection.
On 6 Oct Herbert, myself, Emily (Canada) and the 2 Germans got on a bus about 09.10 for the 5 hour trip to Bishnupur. It took an hour or 2 to clear Calcutta, but we traversed pleasant paddy gields and busy, goat-filled villages from then on. We stopped for lunch of pakoras and a bit of puffed rice. I'd see this puffed rice frequently from now on, it must be a Bengali staple.
Interestingly we passed through the Joypur forest on the way, a completely different environment to what I'd seen to date in India. There are deer here, as evidenced by a dead one on the road.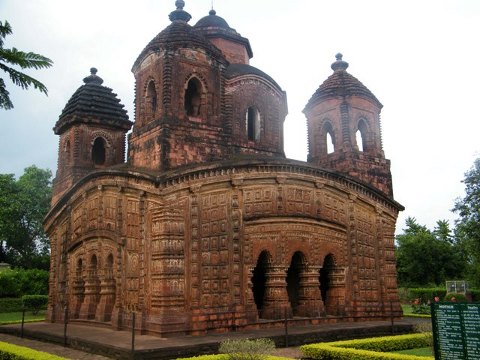 In Bishnupur at 14.30, we found accommodation easily enough. Bishnupur (a corruption of the name Vishnupur ?) is famous for its 16th to 19th century terracotta Hindu temples, in Bengali, Islamic and Orissa styles. A tuk-tuk guy could take us around to look at the 5 main temples here, an activity that took us from about 15.30 to 17.30, a good tour but exhausting. Temples included the multi-arched Ras Mancha, the intricately detailed Shyamrai and the simple but elegant Jor Bangla.
Dinner later was in the Laxshmi Hotel, good dahls (lentil stews) plus rice and nan breads. A young Indian girl, apparently a nursing student home for a few days, started talking to us. She was quite pleasant, friendly and outgoing. However it was a bit disconcerting because she seemed uncomfortably persistent, trying to get all manner of personal detail out of each of us, and even asking some of us to go home with her, which we politely declined. Scam? We'll never know.
Next morning we found that Peter, one of the young Germans, had a bad attack of "moon river", had been on the toilet most of the night, and was in no shape to travel. They both elected to stay behind here. That left Herbert, Emily and me to move on. Breakfast was a couple of pakoras and the ubiquitous Bengali puffed rice. The bus to the next destination, Malda, was at 08.30 for a nominal 6 hour trip. It started off OK, with nice scenery and partly sunny skies. Progress was somewhat slow though because of heavy traffic, narrow roads and village stops.
Later in the day it started raining, and looked like we wouldn't get to Malda before dark. Rain got worse as we finally arrived in Malda after 18.30, 10 hours travel. Things got more hellish from then on. We went from hotel to hotel in the rain, trying to find something suitable, some full, some very expensive etc. Our clothes, bodies and packs got progressively wetter, as we walked or riskshawed from place to place. What a nightmare! I hadn't seen rain like this for years, and had never had to get around in it before like this.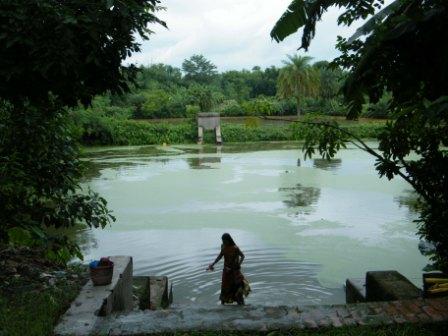 We finally found the Kalinga Hotel and got rooms. Much of our gear was soaked, including parts of my sleeping bag and boots. Passports etc. were wet in parts, and everything had to be hung up and spread out in every available place. A total mess. At least my electronic things all worked.
After cleaning up and putting on damp clean clothes, we went up to the hotel restaurant and had a late dinner of tomato soup, dahls, rice and chapati. Back to a damp smelly room to sleep. Rain continued during the night and drying of gear was minimal.
In the morning the rain had stopped and the sky was cloudy. We arranged a taxi for a day tour to the surrounding sites; Islamic ruins in the nearby towns of Gaur and Pandua. Starting about 09.00, we drove south along about 20 km of horrifically bad roads (one truck overturned on its side) to Gaur.
The village, virtually on the Bangladesh border, contains a number of mosques, gateways and walls and shrines of the 13th to 16th century Muslim Nawabs. Included are the ruins of the Baradwari Mosque, the gateway of Dakhil Darawaza, the Qadam Rasul Mosque with its cast footprint of Mohammad, and the nearby tomb of a warrior Fath Khan (who apparently vomited blood and died there on the spot).
North to Pandua, we had a short look at the Eklakhi (100,000 Rupee) Mausoleum, and the immense grounds of the ruined Adina Masjid, at one time India's largest mosque.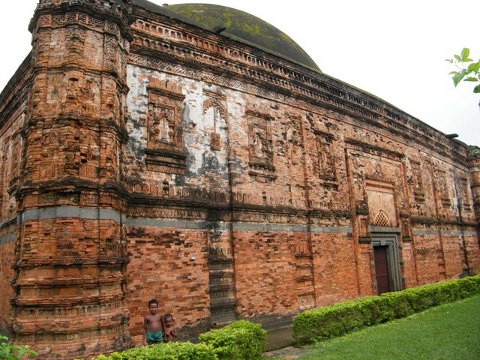 On 9 October we had our semi-wet gear back in our packs and were on a bus to Siliguri at 06.30. We hoped to escape the heat and try to get up as far as Darjeeling today. It would have been a good bus run, nearly on time maybe, but we blew a rear tire on the highway, costing an hour or more and putting us into Siliguri about 14.30.
Siliguri is a typically drab and chaotic transit hub, but surrounded by pretty tea plantations, complete with women with baskets harvesting the leaves. As this is nominally in "Darjeeling District", tea here is considered to be Darjeeling tea.
Still time to get to Darjeeling today? Let's try. We found the share jeep stands and arranged spaces on one of them to leave in 1/2 hour or so. We crammed into the jeep (11 passengers and driver) and got going about 15.15.
The road up to Darjeeling is in pretty bad shape; narrow, washed-out, potholed and choked with traffic. It took over 3 hours to do the 72 km up. Some rain slowed our ascent and we arrived in Darjeeling in slightly damp darkness. We had to find our way, asking locals for directions, up steep streets and stairs, towards our chosen hotel, suffering a general power black-out on the way. We eventually found Hotel Long Island, where we got into reasonable rooms with hot shower. Then a quick explore back down the street to a Tibetan-style restaurant for vegetable thupka (noodle soup), toast and banana pancake.
Nice to be up here in the cool for a change. It's cloudy but at least we're not sticky with sweat any more. I look forward to a few days here.
Our first full day at 2700 metres was again mostly cloudy, with occasional partial views down the slopes towards the valleys, an enticing tease. Darjeeling is not a really pretty city, everything built on top of one another on steep slopes, with a congested hodgepodge of steep narrow streets and stairs. But its pleasant, friendly, and suitably laid-back and relaxing. People here are largely Tibetan or Nepalese stock, but native to the area. They have a quiet, easygoing demeanour, no hassles. Water is in short supply though, and self-laundry is forbidden. Frequent power blackouts make things like internet awkward at times. Views would be magnificent on a good day.
Herbert managed to negotiate through the hotel guy a 9 day trek to Kanchenjunga area. It would start next day and cost about USD 45 per day. So this is our last day together for this trip. We explored around the town familiarising ourselves again with the layout of the place (it's 19 years since I was last here) and I gave Herbert as much information as I could about his onward destinations in NE States and Bangladesh. I lent my pc to Emily so she could Skype and do other tasks in an internet cafe, and I later sent and received some of my own emails. Herbert and I had a good late lunch of Tibetan momo dumplings at a street stall down-town. In the evening the three of us had dinner in an upmarket restaurant (Glenary's), nice lemon chicken and rice and a beer.
Herbert was off on his trek next morning, Sunday 11 Oct, and I was more or less on my own again. Hope he has a good trek, as it's really cloudy at the moment. Wish I could go with him, but I look forward to a really relaxing time here, easy walks and nothing to aggravate my injury.
After Herbert left, I explored around town a bit and had a lunch with Emily at the Kunga restaurant, pork momos and a lemon lassi. Emily had inter-alia a hot chocolate, a mistake as it almost immediately made her sick. Later in the day she got really bad.
On Monday I went down to the internet to talk to Maggie for nearly an hour, then do emails and news downloads. Later in the morning I set off to the centre to find and explore the Chowk Market area, a vibrant and intriguing market of vegetables, meats, clothes, shoes, knick-knacks, tea, fireworks, incense, spices etc. I could and would spend more time there. Down on Hill Cart Road I started looking for the entrance to the Lloyd Botanical Gardens. I missed it walking along the road, and ended up past the gardens heading out of town. Anyway it was mostly sunny and a pleasant day for a walk. So I might as well just keep on going toward Happy Valley Tea Estate.
I found the entrance to the estate, and took the long winding path downhill through the hillside tea fields to the tea estate buildings. A Dutch group was just ahead of me and I joined them on a tour of the buildings and the tea process. There was not a lot of activity, being end-of-season, but a small amount of processing was going on. The tour was a bit vague and hard to follow, but I'd seen it all a couple of times before and I knew the general process.
Back up through the plantation fields, I paused to observe and photograph the women picking the tea leaves and throwing them over their shoulders into the baskets. Wow, just like the pictures on the tea packets!
Later back in town I got a vegetable chowmein at my usual food stall. They serve it in one of those disposable moulded leaf dishes, simple and green I believe.
Emily was really really sick toward evening; runs, nausea, aches, trouble walking. The hotel guy Narein and I had to get her to medical help. We arranged a taxi to a nearby nursing home. The one nursing home didn't help, we went to another (Mariam private), where a doctor diagnosed and treated her. They kept her there for 2 hours and gave her 3 packs of IV fluids. I had to be with her during the time, only able to duck out to the nearby Hasty Tasty veg restaurant for a quick masala dosa. We got a taxi back to the hotel about 20.30.
On Tuesday Emily seemed better. At breakfast I talked to a Dutch guy Eccio in the hotel. We agreed to try to get up around 04.00 next day and get transport to Tiger Hill for sunrise, then maybe walk back to Darjeeling. I took the shortcut down-town and found where to get the jeeps near the clock tower. Then continued down for an in-depth exploration of the Chowk market, good for a slow hour or so.
I finally found an entrance to the Botanical Gardens and spent a couple of hours wandering around the pathways, greenhouses, gardens, and the tall pine forest. The gardens was peaceful and relaxing, but seemed to suffer a lack of funding as many of the plant exhibits were dead or missing. A Muslim visitor chatted with me for a while. One of his main concerns was with the recent news of a spate of muggings and bashings of Indian students in Melbourne, "Why are they killing us there?" Sorry, can't explain it.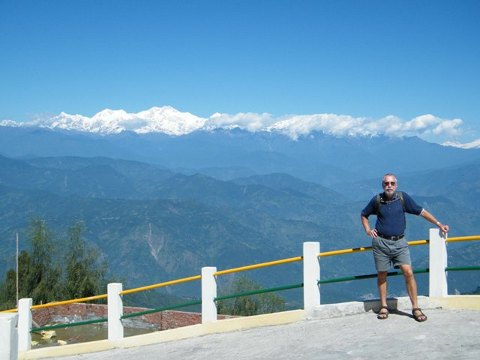 Darjeeling is about elevation 2100 m, not high enough to feel altitude sickness, but exertion can be slightly tiring. It seemed a long climb back up to the main part of town. On the way I met the two Germans we'd left in Bishnupur. Peter had spent 3 or so days in hospital with his illness, and so they only recently made it up to Darjeeling.
My hernia condition is fortunately unchanged, so I should be OK until I return to Australia.
Eccio and I agreed to get up about 03.45 next morning and go down near the clock tower and get the jeep taxi to Tiger Hill to catch the sunrise. So early to bed to get up in time.
I met Eccio as arranged at 03.45 and we walked down to the jeeps under starry skies. Got on a jeep immediately and were on the way with numerous other vehicles. We drove in dark along the crowded road about 11 km up through the village of Ghoom and to Tiger Hill. We arrived at the hill (2590 m) after 04.00 and joined the throngs of people and vehicles milling around the summit.
The sky above was clear but clouds covered the horizon and lower levels. The sunrise, about 05.30, was not singularly spectacular as sunrises go, but clouds over the upper levels of Kanchenjunga eventually cleared and we did get some good views of the peaks. That made it worthwhile.
After the sun was well up we eventually started walking back along the pleasant and tranquil park road toward Ghoom. The rail station here is the high point of the track; it descends from here to Darjeeling.
We stopped at a couple of the more visible monasteries around Ghoom. One was the Sakya Choling Gompa with its steep approach, imposing walls and nice little square Nepalese style chorten. Next was the Samten Choling Gompa with pristine wall paintings and the Garuda bird over the Buddha statue.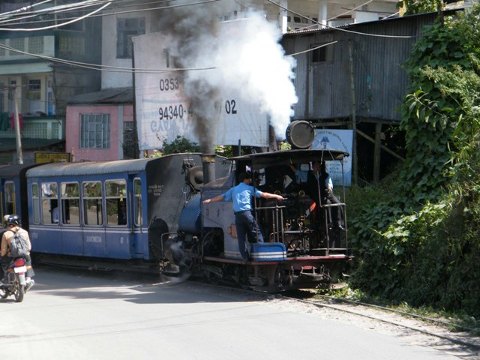 We stopped at the rail loop and the Ghorka war memorial a couple of km below Ghoom, and had breakfast . We waited for and observed a diesel train, then a steam one, come up the hill and around the loop; a good photo op against the backdrop of the Kanchenjunga range. The steam train, a small 0-4-0 with two carriages, struggled and appeared to almost stall as it laboured up the slope; "the little engine that just barely could". I'd been on one of these trains for nearly 12 hours in 1990, and felt no urge for another ride.
We walked further down to another monastery, the large Druk Sangak Choling Gompa, where all the kids were cleaning windows and other housekeeping tasks.
Back in Darjeeling, in the evening I went down to Chowrasta Square for a meal, and found the square alive with people. The Sherpa Association was putting on a cultural performance of dance, music and song for a large crowd. I watched it for an hour or two; it finished at 20.00.
On Thursday 15 Oct I talked to Eccio about the zoo. We agreed to go see it in the morning. It was a pleasant walk, but when we got there we found it was closed on Thursday. So we split up and I walked back to and up Observatory Hill for a look. The hill is dominated by a temple to the deity Mahakala, and is a blaze of prayer flags and colour.
Next evening after dinner I found the square was again alive with Gorkhaland performances; this time an Islamic Association group, headed by a charismatic Amadhinejad look-alike, performing song, music and talk.
Friday was the day to start back to Calcutta. I met Eccio and we decided to give the zoo another try. We did the 1/2 hour walk down there by 09.00. It wasn't a bad zoo, not really large and could be seen in about 1.5 hours. On display were quite a few exotic, threatened or endangered species, some the subject of breeding programs. We saw several red pandas, some Tibetan wolves, snow leopards, clouded leopard, barking deer, Himalayan bear, Indian tiger, and lots of exotic pheasants and herbivores. It looked like they have had no Siberian tigers for some time though.
Also on site was the Himalayan Mountaineering Institute and museum, with exhibits on the mountains, people, history and equipment of Himalayan mountaineering.
Back to the room by 11.15, I cleaned and packed up to be out by noon. I slowly walked down with my gear to Hill Cart Road and almost immediately got into a share jeep for S?iliguri at 13.00. Goodbye Darjeeling; it was really pleasant there and I could have stayed longer if I had the time.
The trip down took over 3 hours. I had time in Siliguri, not wanting to get too early a bus. So I wandered up and down the main street for an hour or so exploring and looking for the best choice in buses. I finally settled on a bus company that gave me a ticket for 18.30 on a non-A/C but otherwise nice enough bus. It had cloth reclining seats so would be reasonably comfortable.
After putting my pack on the bus I killed time with some further exploration of side streets and markets, nothing unusual but all part of the ever-magnetic Indian experience.
The bus left almost on time for Kolkata. They played a couple of Indian movies on the video, brainless grunt-thumps full of tough talk, car crashes, guns and shooting. I was concerned about arriving in Kolkata too early, in the middle of the night, but I needn't have worried. I don't know the standard travel time; people say anything from 8 to 13 hours. But this one didn't get into the Esplanade until 09.30 on 17 October; 15 hours on the road.
On arrival I organised my pack, walked to Sudder St, and checked in to a room at the Paragon Hotel. A quick check with Mr Ghosh of US Travels indicated my flight tickets were ready. I leave tomorrow at 17.00.
I encountered lots of evidence around of the Diwali festival. Buildings were lit up with lights everywhere last evening, and fireworks going off here and there. In Calcutta I have the impression that they celebrate Diwali as a Kali Puja, lots of Kali effigies set up and stalls selling festival paraphinelia.
Muhammad the rickshaw puller is still here, and still trying to get me to buy his bell or go somewhere with him; unfortunately I have no interest. He says he's leaving soon to go home to Bihar; poor guy, Bihar is one of the most depressed states in India.
In the evening I wandered around nearby streets and the market area looking for Diwali activities. The night was filled with lights, noise, fireworks (police trying but failing to keep the noise level down) and people shopping and milling around. At the big Kali Puja display at the market, people were draping the effigies with flower garlands, but little other formal activity. Apparently they have activities tomorrow at Babu Ghat, maybe putting all these effigies in the river. I'll be gone by then so won't know.
18 Oct is the day I leave India. After breakfast I did internet things, had a last wander around the neighbourhood, cleaned up and checked out of the room by 11.00. The taxi got me out to the airport not much after 13.30; over 3 hours to wait before the flight.
The flights from Kolkata to Dhaka, Singapore and Kuala Lumpur were reasonably routine, if somewhat disorganised. In Kolkata they gave me a boarding pass, but couldn't manage the boarding passes and luggage transfer through to KL. Then in Dhaka they managed to arrange the passes and transfer, but with some difficulty, as if it were a very irregular process.
I was almost tempted to try to use my visa to leave Dhaka airport and look around outside for an hour or so, to say I've been in Bangladesh, but it appeared like that might be a bit too irregular for the authorities, and I didn't think I could see much of interest out there in that time-frame anyway. So on to Singapore and then KL by next morning.
Malaysia
I retrieved some Malaysian Ringitt from a bank machine, got an express train to KL Central, a metro to Masjid Jamek and walked up to my old haunt of Pondok Lodge about 10.00 on 19 Oct. The lodge hasn't changed much, except that it seems now to have become more of a residence for expat Pakistanis.
Washed up, did laundry, went out to the nearby food court for a couple of roti canais (paratha-type bread served with dahl), and relaxed a while. Met a Kiwi, Susan, who I was to spent time with looking around together for the next couple of days.
We had a good 3 or 4 days here looking around, shopping and eating. I ate more than in India because the food here is better and more variety, and I may have starved myself a bit in India. Breakfast was the routine set one in the lodge, lunch was usually one or two roti canai in the nearby food court, and dinner was a couple of dishes (curry or chicken or noodle soup or whatever) from one of many local food stalls or small restaurants. There are an infinite number of eating places around, from cheap stalls with 1 MR (about 30 cents) rotis, to ritzy western style and hotel restaurants.
We walked up to the Chow Kit market one day, to explore and find some exotic fruit. We got some small beige coloured fruit whose name escapes me but had a soft delicate, slightly tangy taste. Also I found some mangosteens but they were out of season and poor quality. Then found some Indonesian salak ("snake fruit", so-called because the skin looks like snake scales) which have a tart taste reminiscent of a variety of other fruits.
From the market we wandered back to Little India and Chinatown, stopping at a food court for dinner, and exploring the very bright and congested Petaling Markets, still maybe the knock-off centre of the universe.
Another day we took a monorail to Titiwangsa, the last stop in the north of the city. There we caught a bus to the north-west outskirts of the city, to a Karst hill/cliff area. Here is the Batu Cave temple complex, a series of caves and Hindu temples that make for a good hour or two of exploration. There is a long flight of 272 steps to get up to the caves, and it's pleasantly cool in the huge chambers. Some of the temples are inside the caves; others are at the base of the hill.
Part of another day was taken up with exploring Chinese and Hindu temples around Chinatown, the old Georgian train station, and the central market area, all sights I'd seen before, but worth a re-visit.
Susan left for Pangkor Island on the 23 Oct, and I had to finish up my notes and emails (I was lucky to get wi-fi in my dorm room, very convenient), pack up, and check out by 11.00.
In the early afternoon I took a fairly long and very hot walk to the west of the city to the National Memorial and Lake Gardens. I'd seen it all before, and it hasn't changed.
Back at the lodge, I retrieved my pack and walked in very light rain to Masjid Jamek metro station, rode to KL Sentral station, and got the express train to the airport. A routine flight got me back via Singapore to Sydney airport next morning, 24 Oct. Ian, my house sitter, was there to pick me up, and we were back home that morning.
Even truncated as it was because of my hernia, it was a good trip. As I still have no aggravation to the injury at this stage, I suppose I could have stayed longer, but you never know.
Almost as soon as I'm home, I'm already thinking about where to go next year. Why stop now?