India 2008
This was a "tweener" trip, stopping somewhere (in this case India) for a couple of months between Canada and my Australian home. It was, I think, the right time of year to go overland to Ladakh; roads are blocked for much of the rest of the year. In Manitoba I had been in touch with an Indian friend, Prabhdeep Gill, and made a commitment to visit his family in Khanna, Punjab. I'd be slightly over two months in Delhi, Punjab, Himachal Pradesh, Ladahk, Kashmir and Rajasthan.
So, armed with an Indian visa, some cash and air tickets arranged in Canada, I was on a KLM plane from Toronto at 18.05 on 12 August 2008. The best flight is a boring one. I was 7 hrs and 10 minutes to Amsterdam, 4 hours wait there, and 8 hours or so to Delhi, arriving at Gandhi Airport a little after 22.00 local time.
Late evening isn't a great time to land in a foreign city, but must make the best of it. An hour or so saw me through baggage, immigration and customs, and out into the heat of India. Although wet season, it wasn't raining at the moment.
The International Terminal is about 20 km from my target central Delhi district Pahar Ganj, but I found a bus still making the run. I was on the road out of the airport slowly making our way just after 23.00. As we approached Connaught Place, and edged toward my drop-off point near New Delhi Railway Station, I started to recognise landmarks from previous visits. But at about 23.30 the bus unexpectedly left me on the wrong, eastern, side of the station, and I had no idea where I was or what direction to go. After a few minutes exploring and asking people, I crossed the station and found Main Bazaar in Pahar Ganj. It was late but there was still a bit of activity out and some businesses were just closing. Cows and hotel touts loitered the rough streets, the latter considerably more of a nuisance than the former.
About 00.30, I found my way to Major's Den, a guest house on a back street, and hopefully quieter than those on the main drag. Luckily the guy was still at the desk, and he got me into a basic but decent room. So whoopee, here I was, successfully in India and in lodging with minimal hassle. I'd be in Delhi 3 days as I settled into India and arranged onward transport.
After a minimal jet-lagged sleep and a breakfast in Sam's Café on Main Bazaar, I was ready for my first day.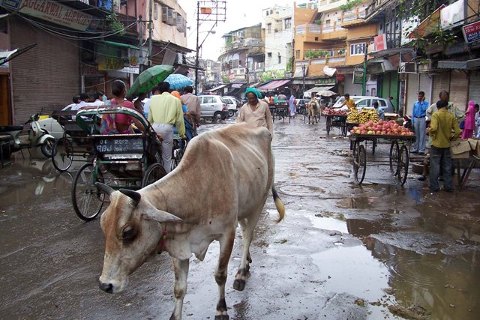 The morning was taken up with a haircut, exploration around the rail station, finding info on trains to Khanna (Gill's place), and looking around Connaught Place and Janpath. Touts are everywhere, trying to steer me toward what ever business or enterprise they support, and making the day generally less pleasurable. I found a number of bank ATM's, but had trouble getting them to accept my card, only succeeding and withdrawing some money on the third ATM, a State Bank one. Hope this doesn't mean I'll have trouble later in other places.
I found that it's difficult to take a train to Khanna; may have to train to Ludhiana and bus back, or find a bus from Delhi. Also found that people are again not recommending Srinagar as a destination, owing to some violence and curfews there. May have to re-assess the situation later.
It rained off and on all day, forcing me to wait out the rain indoors or under awnings several times. Back in Paharganj, I stopped at one of many local restaurants for a good vegetarian thalee meal. Had to wait a while there for torrential rain to stop before heading back to my pad. Later I ducked out to a nearby telephone place to ring Prabhdeep's brother Tinku in Khanna and let him know I'd arrived. He was looking forward to see me, and offered to pick me up in Ludhiana if I came by train.
Dinner was in the nearby vegetarian Madan Restaurant, another thalee meal (they're basic but good), and a beautiful lassi curd drink. I'd be having several of my meals in this restaurant; it's a good place to sit at tables on the street, watch the traffic and talk to people. I sat and chatted with a few travellers who had just returned from Ladakh and other places. Got some good info on travel up there. Unfortunately Srinagar looks to be increasingly troubled, maybe can't go there in the near future. Leh looks OK though.
In the evening I took in the atmosphere of some of the nearby night-market streets. Delhi, and maybe India in general, seems to lave lost little of its cacophonous magic. The streets and markets are a whiz of people, dogs, cows, activity, squalor, sights, sounds and smells. Where (maybe in the LP book) did I hear the expression "an aromatic muddle of flowers, urine, incense, chai, fumes and frying food, all discernible in one whiff"? So many totally contrasting activities complement one another within close proximity. A cow munches on vegetable leaves next to a stall selling coal, as a fume-spouting auto-rickshaw winds its way past. Nearby, workers munch dahl stews from bowls made of dried and pressed leaves. At a butcher stall, a chicken in a cage snoozes in blissful ignorance of it's owner calmly chopping up pieces of its siblings a foot or two away. A stall sells brightly coloured saris and headbands next to another purveying household electrical equipment. A Krisna temple loudly displays its devotion as its adherents clang on bells in an ear-aching rythm. Despite the omnipresent poverty, I don't feel the urge to continually check that my wallet is still in my pocket. I'm reminded of why I repeatedly am drawn back to this fascinating and contradictory land.
I had seen that the foreigners booking office in the train station was possibly wi-fi enabled. So next day I bundled up my laptop to try it out. I got a signal there, but couldn't seem to access anything. After repeated attempts and configurations, I gave up and asked at the help desk what was wrong. She told me that the hotpoint hadn't been working for a few days now. There you go. Welcome to India. I'd later find an internet cafe for my emails.
Next item was to check out the feasibility of bus transport to Khanna. I had to walk over the tracks, through Old Delhi and up to the Interstate Bus Terminal. It's a long haul to get up there, but a kaleidoscope of sights along the way. Old Delhi is a huge area of what must be thousands of shops and stalls selling everything an Indian could conceivably need. Cycle-rickshaws (about half of which must have offered me a lift) slalom their way around potholes and through the incredibly dense traffic with uncanny dexterity.
I finally found my way up to the ISBT near the Kashmiri Gate. Old Delhi must have been walled at one stage, maybe from Mughal times, as 3 or 4 brick or stone "gates" still landmark parts of the district.
The ISBT seems to be showing its age, crumbling and difficult to get around in. Large parts of the floor are flooded from roof leaks. Decaying also are the activities in the station; it took a few shuffles even to find the right counter for buses to my destination. Then it was hard to find out details from the largely limited-English personnel. The only buses to Khanna are local ones. No reservations are needed, but the trip is 6 hours or so, and I'd have to get a rickshaw here to get a bus. So maybe I'll check train details again.
Light rain started on the way back, so I tried to shelter here and there. I went past the Red Fort, but as I'd been there before, I didn't linger. I went into a nearby Jain temple briefly, but the main part of the temple appeared locked, and apart from an attached animal-rescue shelter (all life is sacred to Jainism), I couldn't find much of interest.
I made my way to the train station. I realised I needed my passport on me to get tickets, so had to retrieve it from my room, getting totally drenched on the way. Welcome to monsoon-with-a-vengeance season. Anyway, no big deal. Back at the booking office, I finally worked out that the best bet would be to take a train to Ludhiana on Saturday, 16 August. I booked a ticket to leave Delhi at 06.45 Saturday and arrive Ludhiana 12.00. From there I could take a bus to Khanna if need be.
It was still raining, so I didn't leave the station until 19.00 or so. Most of the Main Bazaar street was blocked off by police today, maybe because of Independence Day tomorrow and consequent security concerns, so I had to go through security checks to get back and forth. At the Madan Restaurant I talked to a guy from Seattle who had overstayed his visa by about 3 years, and was now having difficulty leaving the country.
I called Tinku in Punjab to let him know when I'm coming up to Khanna. He volunteered to pick me up in Ludhiana rather than letting me take the bus to Khanna.
My last day in Delhi happened to be Indian Independence Day.
The most noticeable think about the celebrations is the vast numbers of kites flying from every rooftop in the city. The kites are all disposable paper/bamboo affairs, maybe about 10 Rs each, that everyone buys and puts up in the air one after the other. The sky ends up with flocks of kites bobbing and zipping everywhere. Most seem to be "battle kites", incorporating sections of abrasive cutting strings in their lines. In kite battles a kite attempts to cut the string of any neighbouring kites that it encounters. Defeated kites continually rain down, to be picked up by kids and re-used.
Today I think I'll see how to get out to the Akshar Dham Temple in the south-east of the city. Around 11.00 I found the street near Connaught Place where the 355 bus goes in the temple direction. Easy; on the bus right away, south then east across the Yamuna River, and dropped off at an intersection near the vast temple complex.
Akshar Dham was built around 2005, fulfilling the dreams of visionaries for a comprehensive Hindu centre of worship and celebration near the River Yamuna. It covers a large area with a complex of entrances, visitor centre, exhibition centre, step pool, main temple, lotus leaf garden devoted to the inspirational quotations of famous people, and food courts and souvenir shops. One of the most impressive features is the exterior of the main temple, with its carvings of hundreds of elephants in various configurations and poses. Another is the sculpture garden, with bronze sculptures of noted Indian warriors, women, children and achievers. Much of the temple seemed dedicated to the Child Swami who achieved great prominence in the 18 th century.
Overall impressions of A.D. ? It, certainly big and impressive. But being modern, it lacked the psychological impact of something ancient and historical. Built of either beige and tan stone, there was a noticeable lack of colour, contrasting to my memories of e.g. the intricately painted Shree Meenakshi Temple in Madurai. Parts, such as the stone grounds, were unfinished, and a shipment of stone carvings were waiting to be unloaded from a truck. Ironically, other parts of the complex, such as some of the quotations in the lotus garden, had already faded to illegibility. Quite a few people were here, but not as many as one would expect for a place of this size or aspirations.
One leaves with the impression of under-utilisation, possible financial limitations, and questions about its ultimate viability.
Near the temple, east of the river, are sprawling housing developments, where I loitered a while to observe the kites flown from the rooftops.
Back down-town about 15.00, I found a place for lunch, then more kite watching from the roof of my own hotel. One got tangled in my rooftop fence as I watched, and I untangled it so the guy on the next roof could retrieve it.
I'm busy in the evening preparing to leave for Ludhiana tomorrow.
16 August, I'm up at about 05.20, cleaned up, packed with a couple of bananas for breakfast. On the street at 05.50 and to the train about 06.10. I found the platform for the Shane Punjab train, and plunked my pack down among the throngs of people to wait for the train to arrive. It was crowded, but not as much of a seething mass as I remember Calcutta's Howrah station to be; or maybe I'm just getting used to it.
Rats scurried around nearby, and I had to flick them once or twice to keep them away from my pack. As I walked along the platform, a crow picked at the remains of a dead rat between the rails.
The train was about 20 minutes late, but I found the carriage and my seat without trouble. I found the trip pleasant and comfortable. It was nice to see the North Indian countryside again.
The train sped through the small Khanna station about 11.45, and on to the much bigger city of Ludhiana about 12.20. Inderdeep (Tinku) found me at the station right away. Great to see him of course. He looked a lot like a slightly younger version of Prabhdeep, with the same accent, charm and pleasant personality.
Into his father's Maruti car, onto the chaotic streets, and back toward Khanna. I couldn't help wonder how long it would take me to learn to drive around here if I had to.
We arrived at Gill Villa, on the north side of Khanna about 1/2 km from the train station, about 14.00. It's a bit out of the city, amongst quiet rice fields, and even nicer than I had imagined; a beautiful resort atmosphere. The father Gurmeet, Tinku's wife Deepinder and family friends were there to meet me. The whole ambiance was casual and welcoming. Great to be here.
We spent the rest of the afternoon chatting, having a really good lunch, showing around the house and yard, walks around the fields and roads and generally relaxing. It rained heavily only once. I tried out my pc and it worked well, but internet connection may be difficult here.
The villa is set amongst 7 acres of their fields, mainly in rice at this time of year. The house yard has vegetable gardens, and a few cows for milk are along one side. Water for irrigation and household use comes from bore wells. It is so quiet out here; the only sound is from the train whistles in town, and the pleasant frog oratorio in the evening.
Gurmeet, Jasweed, Ashalum (Panzi) and I had a long pleasant evening sitting in the front courtyard with salad, fruit, whisky and beer, talking and enjoying the full moon, frogs and pleasant weather. At about 22.00 Tinku and the others returned, and we had a wonderful meal, with chicken curry and vegetables, dahl, chapatti and ice cream.
I slept the sleep of the blessed.
The next week or so, 17 to 24 August, was an idyllic holiday of lounging around, pleasant walks and occasional activities.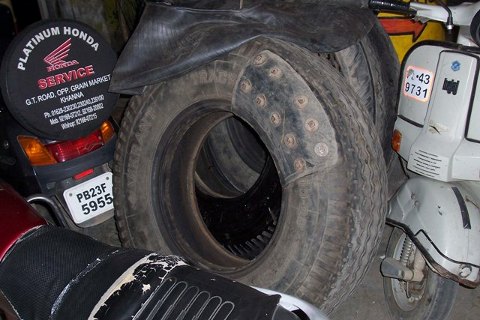 I got into the habit of going for a walk around the countryside for an hour or two each morning before it got too hot. Usually I would go out along country roads and through small villages, a different route each day if possible. Students would be riding bikes or vehicles to school. People commuted or entered fields to work. Cattle or occasionally pigs would lounge and scrounge in yards or beside the road.
During the day, we were spoiled by frequent offerings of chai, lemon drinks and snacks from the gracious and diligent females.
In the evenings we socialised with drinks and snacks. Typically Gurmeet and I would share a couple of 600 ml Kingfisher beers, and Jasweed would join us with a whiskey. Evening meal is around 21.30 or 22.00, followed not long after by bedtime.
In the evenings we often bathed in the cold-water bore-fed tank, very refreshing.
Some of the activities to fill in the days:
Tinku, another visiting friend and I drove to another town near Khanna. Friends there owned a cold storage facility that we wanted to visit. It was a mostly concrete building used to store bagged potatoes on several levels, with wood slat floors between the levels. The cooling was said to be latest-technology ammonia-based. It felt about +8 C inside as the owner showed us through, and a welcome relief from the heat of the day. Expansion was under way in the form of a new addition; a dense forest of vertical eucalypt poles held up second-storey form-work to support a concrete floor pour. All fascinating.
One afternoon Gurmeet took me into town in the car to do some shopping, look around and meet people. Each place we go to, Gurmeet would introduce me to the owner or manager; I must be an impressive guest. First stop was a small shop where he bought some masala. Then to a small post-office/investment broker where he has investments with his friend Tarlok Singh. A quick look around the large and busy market whetted my appetite to spend some more time here sometime. From the town centre we drove out for a look at the grain market, the largest in Asia. It's a big complex of businesses, warehouses and concrete pads handling all manner of grains and fertilisers. A chai break was on offer at the merchant where Gurmeet sells his wheat and rice.
One day Gurmeet and Jasweed had to transact a family land sale in a town to the south of Khanna. They took me along and we drove down to the town, met another family friend Charanjit, and stopped at a couple of large Sikh Gurdwaras or temples. This is apparently the site of a martyrdom of two Sikh boys in 1704, as they were sealed alive in a brick tomb for refusal to convert to Islam. The site is therefore of considerable historical and religious significance to the Sikh community. As I looked around the Gurdwaras, the others went off to transact the business. Tinku later met me at the Gurdwara and we went off to join the others who were still in the land sale process. I could observe how it was all done, as they went into one of the offices to prepare deeds, count money etc., then to another office for photographs of the participants and recording of signatures. After all that, the deal was apparently done, and we walked back to the cars with a large bag of cash. Tinku advised me that it's a pretty inefficient and corrupt process, palms needing to be greased all along. But I was impressed that to whole process seemed to take only one day; in Australia it may take 6 weeks or two months.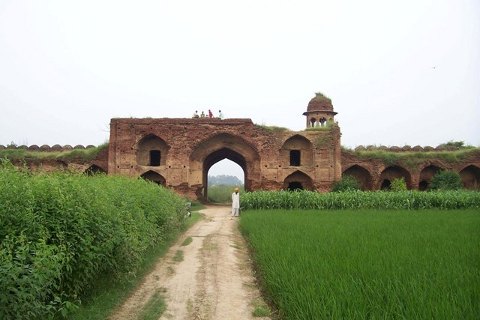 One day Tinku and I drove to Ludhiana, a typical Indian city, big, crowded, hot and chaotic. Over to the west of the city we met Panzi and they showed me the agricultural university where Gurmeet received his training and where Panzi is now working on soil research. The university was built in the early 1960's and was modelled after one in Iowa, USA. What an oasis of beauty and tranquillity among the bustle of the city! There's a good little museum in an old building, housing exhibits of Punjabi household, agricultural, handicraft, fabric and musical artefacts.
On the way back to Khanna, we stopped near a large Gurdwara about 10 Km north of the city. About 500 years ago, a chain of serais (caravan inns) was built by Sher Shah Suri along the Delhi-Lahore road. The ruins of one of these, the Purani Serai, still exists here, and we stopped to see it. The serai is not on any tourist map, and is not signposted. But it remains an impressive ruin, about 100 m square, with the brick gates, walls and rooms largely intact. Paddy and corn fields fill the interior area and a few locals hang around. Some of the rooms are used for storage of animal fodder. The site should really be a tourist attraction, but it's probably too far from other attractions to make the grade; maybe just as well.
One day was spent in Chandigarh, a planned city and the capital of both Punjab and Haryna. I looked over the big Rose Garden for a look, but the roses looked like they'd nearly finished blooming, and all looked a bit dry and neglected. Next stop was the Nek Chand Rock Garden. The garden is a labyrinth of sculptured rocks and recycled waste materials left over from the demolition of villages when Chandigarh was built. Amateur artist Nek Chand created most of the collection in the forest in secret, until it was eventually discovered and turned into a tourist attraction. Local stone, ceramic shards, electrical insulators and broken bangles are just some of the materials used to make up the whimsical walls, waterfalls, and sculptures of people, monkeys, birds and other animals. I was there for over an hour, and only left when I had to go out to meet Tinku.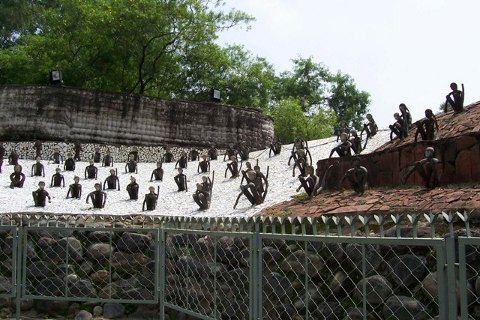 At the Chandigarh ISBT, we checked out buses to Manali for me. They leave throughout the day and evening, take about 14 hrs, and don't need booking.
Curiously, many of the Chandigar city buses are labelled "Chandigarh Transport Undertaking", an irresistible fishing-line to various jokes about road safety.
On Sunday the 4 of us drove to the town Patalia, about an hour drive south. Here live Deepinder's family. Many relatives, including her uncle and family from Germany, have congregated at their home for a reunion. Arriving about 10.30, we were in time for an in-house Sikh service, similar to ones I'd attended with Prabhdeep in Winnipeg. After the service we had a wonderful lunch and socialised until nearly 15.00. It was good to meet everyone, but I didn't really know what to say to people (others had the same problem though).
Still hot as Hades here, I really feel like taking off for parts cooler in the next day or two.
On 25 August I was starting to get the inevitable intestinal problems. Also, the heat was getting worse or just getting to me, and I couldn't stop sweating. It all combined to make me want just to get out, possibly to a cooler place.
I had told my hosts I might leave today, and decided to move on to Manali in Himachal Pradesh. A short car ride and bus ride, and I arrived in Chandigarh ISBT just before 16.00. I was on a bus, allegedly for Manali, at 16.40. It wasn't until we were on the road that the conductor admitted to me that the bus only went to the town Kullu, well before Manali, but too late to change.
The bus drove out through the plains of Punjab, I think through Rupnagar, before turning up into the hills of Himchal Pradesh. I was taking some medicines for the gut, so was able to contain that problem for the moment. But it seemed to take forever to climb out of the heat and stop sweating. Progress seemed slow, the road a continuous line of transport trucks slowly grinding their way in both directions.
I had been advised that Manali should take 14 hours, putting me there about 06.30. But, despite the apparent slow pace, we were in Kullu at 01.30. There was another bus there leaving for Manali right away. That put me into Manali at 02.45, much earlier than I wanted to be, as now I had to hang around until dawn to look for a room. But at least I was in the cool now, probably better than waiting the 3 or 4 hours in the heat of Chandigarh.
Downtown Manali was a typically unattractive Indian town. At 06.15 or so on the first morning I walked to Old Manali, about 2 or 3 km north, to find a room. A pleasant walk up past a forest reserve and over a river got me eventually to the Apple View Guest house. A nice room set amongst apple orchards promised comfort and quiet. Things are looking good; sunny weather and COOL. I was in Manali from 26 August to 31 August, so fabulous to be away from the heat of the plains.
Old Manali s a real traveller's hangout, continuous lines of guest houses, restaurants serving all manner of traveller fare, internet cafes, souvenir shops and "German" bakeries. Surrounding on all sides are rivers and steep wooded hills.
Following are some if the activities and dining over the next few days.
Meals are typically momo (the Tibetan version of chinese gyoza), thupka or thanthuk (Tibetan versions of noodle soup), pizzas, pasta dishes, Israeli dishes, and some Chinese food. Snacks were things like samosas or brown bread sandwiches. The guest house had a standard breakfast of fried eggs, toast and tea, which I had every day. Also an apple; they're free here.
There's a bit of a push here, and more in Leh later, to reduce plastic use. So I'm using my water filter and refilling water bottles for drinking, rather than buy bottled water.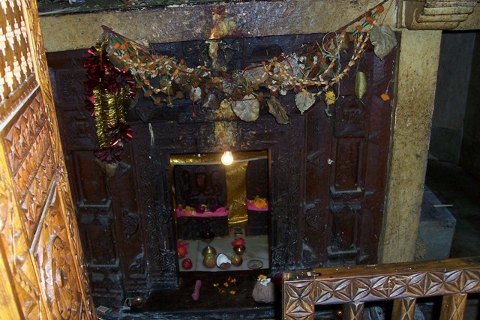 I walked as far as the wood and stone Manu Maharishi Temple, allegedly the site where Manu (the Hindu Noah?) landed his boat. The Sadu in charge said there are 3 Gods represented: Ganesh, Manu and Shiva. But I saw one effigy that looked a lot like the long-tongued Kali.
For the first day or so I still wasn't eating much, trying to save my gut. On the first evening momos in a simple Tibetan restaurant looked a good bet. A table near another traveller looked OK, but I had to then listen to him vigorously coughing from what must have been a particularly harsh joint he was smoking.
The climate here is not cold. One can still get hot from vigorous walking, especially uphill, and it sometimes rains for brief periods. But it's refreshingly better than the plains.
One morning I walked across the bridge and along/up into the forest to the 450 year old wood and stone Dhungri Temple. It honours Hadimba, the wife of the Mahabaratha god Bhima. Inside are altars on and under an enormous stone slab that looks in imminent danger of collapse. Nearby is a sacred cedar tree dedicated to their son Ghatotkach, on which are attached offerings of animal horns, knives and tin effigies. Also nearby is the Manali Museum, with a collection of traditional household utensils, instruments, models of temples and photos of traditional life. It's worth an hour or so.
Down in Manali, I was starting to wonder why so many people were on the street trying to sell me, of all things, saffron. I never did find out. There's a strong Tibetan presence here, and it shows in the atmosphere and types of goods. I found and explored a couple of Tibetan Buddhist monasteries.
Back near the top of town, a small park was decked out for the 3-day Manali Apple festival. Tent stalls were set up by many local businesses displaying and selling all manner of apples and apple-derived foods.
In Old Manali a check with travel agents confirmed that I could leave Manali on Saturday or Monday at 06.00 on a deluxe bus, 2-day trip to Leh, stopping at Sarchu, and finding my own accommodation there. I'll book it later.
I walked up the road past the guest house and upriver for an hour of more. Pleasant scenery consisted of orchards, bush, river valley and views across to the village Vashisht. The road deteriorated to a path and subsequently disappeared, limiting my walk in that direction.
One morning I did a walk up into the hills beyond the Manu Temple. As I ascended the track deteriorated somewhat and got wet in places. It looked less and less like going somewhere. Nice deodar forest though, as well as little farms and good views over the Beas valley.
One day I walked down to Manali, and then down to and across the Beas River bridge. From there I could go upstream along the road that goes to Keylong, Leh etc. A short distance along I could take a footpath up steps to the village Vashisht, about 3 km from Manali. This is a hot spring and travellers (hippy?) Mecca, with cheap accommodation and lots of restaurants, travel agents, cyber-cafes etc. It looked a lot like Old Manali, just more of it. Everything was in a compact area, so it didn't take long to explore it. It might be cheaper to stay here, but not as close to Manali.
Slowly back up to Old Manali, I went to the travel agent and booked the bus to Leh for Monday morning for 1100 Rp. In Manali itself I encountered a group of people transporting a religious effigy up the street to deposit at a local temple. They made a small parade of it, playing drums and the large curved Tibetan horns and attracting a lot of attention. I tried to enquire who the deity was, but no-one could really tell me.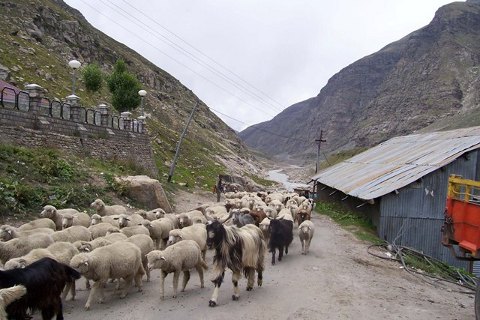 01 September was the day to go to Leh in Ladahk. I was up around 05.10 and down to the bridge by 05.35. A few others started to arrive there. The bus, a mid-size 2x2, didn't arrive till nearly 06.00, and was loaded and off almost immediately. A couple of other stops in Manali and near Vashisht, and we had our group. The bus was only about half full so I had 2 seats to myself.
We proceeded at a fairly slow pace up the Beas Valley and then up into the mountains. The road was slow and washed-out in places. Land slips were evident everywhere, and dozens of trucks were stopped along one section, ostensibly waiting for road repairs. It was a bit difficult to make our way through.
Up eventually through winding switchbacks, we arrived at Rhotang La (3978 m), our first mountain pass. The name apparently means "pile of dead bodies", referring to the number of deaths here.
From the wooded slopes before the pass, we now descended into the grassy-green Lahaul Valley. After a breakfast stop we proceeded up the Bhaga Valleyand passed Keylon with its multitude of guesthouses where many buses stop overnight. As we drove on, the landscape got progressively drier and rockier, but certainly rugged and spectacular.
Up and up again, and we reached the 4950 m Baracha La just after 19.00, barely enough light to appreciate it.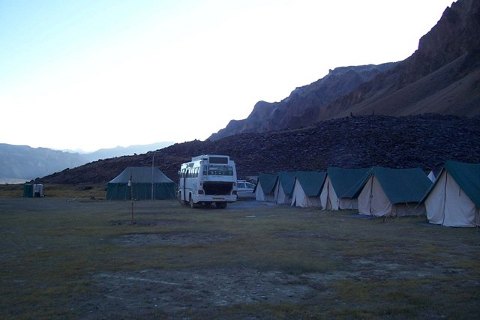 Down again a little, and we arrived at the bleak, bitter and windswept tent city Sarchu (I think about 4400 m) in the dark about 20.00 or so. What a desolate place, dark and cold. Some of our group were feeling the effects of altitude. But the stars were brilliant. I got into a basic tent with cots and quilts. We had a group dinner of rice, dahl, vegetables and chai about 21.00.
I was worried about being cold in bed at night, but a combination of heavy breathing to combat altitude sickness and gulping to combat nausea warmed me up. I didn't sleep a lot, feeling the altitude with headache and nausea much of the night.
I was up around 05.15. I had only tea for breakfast (the rest got only chapati bread anyway) because of my nausea, but I got better as we started off. We left around 06.45.
Up more switchbacks, we ascended to another pass, the 5060 m Lachlung La. These passes are usually anticlimactic, not as spectacular as the climbs, and we didn't even stop at most of them.
Beyond the pass the land is even drier and more desolate, with rocky ridges, eroded buttresses and scree slopes.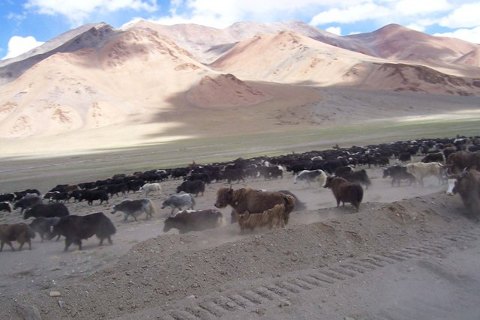 We stopped at the village Pang for lunch, and then along broad flat river valleys for quite a distance, before another long slow switchback-ridden climb to Tanglang La. At 5328 m, it's the second highest road pass in the world (stay tuned for the highest). So we did stop there and got some pictures and a sample of laboured breathing.
Down past snow patches and through more switchbacks, we came down to another river valley, along which it was more or less straight through to the Indus River. As we descended, more and more white chortens (Tibetan stupas) dotted the landscape, evidence of an increasing Tibetan presence.
We stopped at Upshi on the RiverIndus for a break, then downstream along a good road toward Leh. We passed the impressive-looking Thiksey Monastery, encouraging me to come back here later to check it out.
We pulled into the Leh bus stand, in the lower part of the city, by about 19.00 on the second day of the bus trip. We had just enough light to see where we were. 4 of us took a taxi downtown where we could look for accommodation. Myself and an Argentinian (Javier) walked up to the Baba G.H., but it was getting dark and we had some trouble finding it. The Baba had little space left. I got a very basic room, good for tonight only, no power for the laptop.
I walked into town again for dinner, and found the Gesmo Restaurant. Another Argentinian, Maria, was there, so I joined her for a delicious Penne Carbonara and tea.
Had trouble finding my way back to the GH, started off on the wrong street I guess, but eventually got there. Everything seems so dark here at night, reminiscent of Dareeling. I slept not bad, but the mat was hard. An incessant "Om Mani Padme Hum" CD chant from a nearby monastery woke me up early.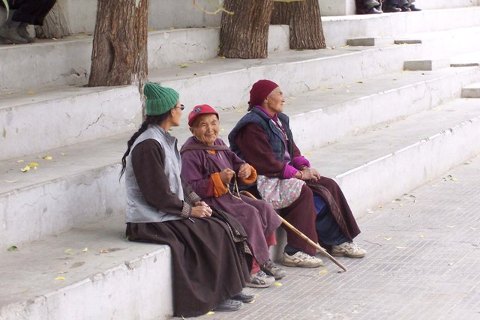 03 September was my first full day in Leh. I was to be in Ladahk just over two weeks. It's certainly very different to Manali, much higher and drier. The only vegetation is irrigated. The air is crisp and clear. I could feel the altitude sometimes.
Javier and I went down-town in the morning for breakfast. Then, as I was looking for a better place to stay, Javier and I decided to go for a walk to find Karzoo and some of the guest houses there. Again we got off on the wrong street (they can be confusing) and spent some time exploring the NW of the city. It was a good walk though.
A bit later, on my own, I went off again and found Karzoo and the Mountain View G.H., where Maria was staying. They had a room across at the Magsoom GH, a sister place. It was a nice big room with mountain views and a share bath. Despite being about a 10-15 minute walk from the centre, it would do me nicely. Back at the Babu, I packed up my gear and did the heavy-breath backpack trudge up to my new place.
I had a queasy gut, and bouts of "moon river" off-and-on during my stay in Leh, but not enough to stop me at any time.
Below are some of my activities over the next few days:
Serendipitously, my arrival coincided with the start of the 3 week Ladahk Festival. I walked up to the polo grounds for my first event. This was a Ladahk folk music and dance exhibition. It was to start at 18.00, but didn't start until 18.15 or so, and the first hour or so was only music from the drum and horn performers. So by the time came for the costume dancing, it was getting dark and difficult to take pictures. Still I got a few. It was a good interesting, but touristy, performance, something a bit like from the Winnipeg Folk Festival, but on a slightly grander scale.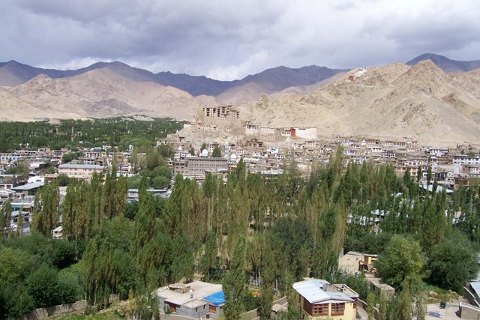 In the south of town, overlooking the bus stand, is a large prayer-flag-covered Stupa on a hilltop, I found the path that led to it and walked up to the Stupa. It had magnificent views over the city, the Indus in the south, and surrounding countryside and mountains.
There was to be a camel caravan/road show in town at 17.00 to 18.00, so I wandered down there to have a look. There were lots of people hanging around Main Bazaar but nothing much official happening. I waited around near the Jama Masjid entrance people watching and waiting for something to happen. Not till after 18.00 did 2 or 3 westerners come riding around briefly on Bactrian camels. Then shortly after, some women and musicians in traditional costumes paraded up the street, stopped now and again, and performed some folk song and dance, ostensibly a courtship or marriage ritual. It all didn't seem much of an item for the festival calendar.
One morning I set off to find the Sankar Gompa somewhere to the north of town. The Gompa is an unassuming complex of buildings, housing ancient murals and statues. A quiet young novice monk took my entry fee, and allowed me to wander the complex of rooms within. Inside are statues and reliefs of among others, Avalokitsevara, the 1000-armed God of compassion.
For most of the morning, as other mornings, SU-27 (I think) aircraft were circling the city; it must be a show of force for nearby Pakistan.
My fourth night in Leh was the first night without a headache. I might as well try the Leh Palace visit and the climb up to the Namgyal Tsemo Gompa above. These are the two main icons of Leh, and a must to visit.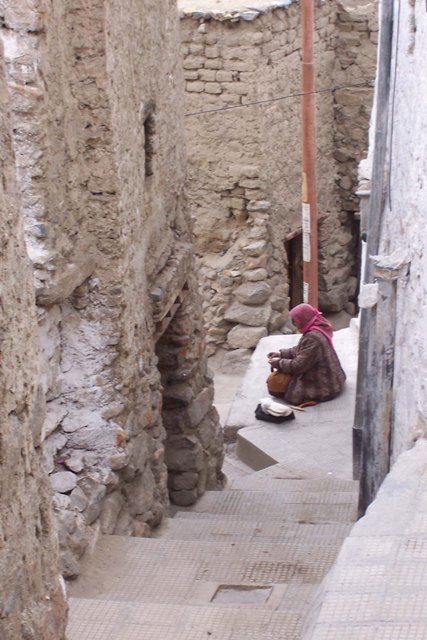 To get to the palace you go up through the old city, a warren of narrow twisting pathways and mud-brick buildings; a time-travel journey in itself.
The 17th century 9-storey Leh Palace is a smaller version of Tibet's Potala, builts by Ladahk kings and precariously perched on a hillside overlooking Leh. It is gradually being restored from a ruin, and is a maze of rooms and connecting passages and stairs. But only one large room has any paintings and exhibits, all the rest are shells, some not restored yet. The windows and roofs offer great views.
The walk up steep paths to the Gompa is slow and tiring, but no real problems. I seem to be acclimatised now. The small gompa has two main rooms open; a monk in an orange robe and matching baseball cap to take the entry fee. One room has a 3-storey high Buddha, and the other contains various artefacts and is said to be 400 years old. Just above are the ruins of a "victory fort" or castle and a prayer-flag covered hilltop. The views up here are even greater than from the palace.
Later that day I decided to do another walk. This time I went north along back paths to the Gomang Stupa, a big 1200 year old Nepalese style stupa with surrounding structures and carvings.
From there, it was another arduous climb up to the Shanti Stupa, a more modern and gleaming Japanese-built Stupa with colourful relief paintings around the sides, and again wonderful views.
On 7 September I met Javier for breakfast at the Gesmo and made more plans for trips together. We might go to Alchi to the west by bus for a day tomorrow, then up to Nubra Valley on the 9th for about 5 days. Later we shopped around a while checking prices for permits to Nubra, generally about 150 Rs per person, and may need 4 people. In the evening we got the applications done by 20.30.
Next day, Alchi day, I got to the bus stand in the south by about 07.00 to meet Javier. We looked for booking tickets to Diskit (Nubra Valley) there but nothing was open yet. Getting on the ordinary bus for Alchi just before 08.00, I decided to rush back to the ticket office to see if I could get tickets for Diskit. The bus people said I had time, but then they decided to try to leave just after I left. Javier had to try to hold the bus for the few minutes until I got back (only when you want to do something are they on time!). But I did get the tickets for tomorrow morning.
The 2.5 hour trip to Alchi had good Indus Valley scenery. Alchi itself was a nondescript village with a few guest houses and restaurants. The monastery was OK, 2 or 3 rooms to look at, but nothing much different to what's in Leh. It seemed hardly worth the trip there and back. I think the attraction of this monastery was that it was one of the oldest ones in Ladahk. The bus dropped us back in Leh just after 17.00.
The following day was to be the trip to Nubra Valley. I did the 25 minute walk down to the bus by 05.45 with all my gear. Met Javier there, and a talkative older guy Willem from Belgium. We waited, and waited, and waited, for the bus to go. But in vain. Eventually, maybe sometime after 08.00, the driver told us it's no-go because of the road being snowed in. Try again tomorrow, same time and bus. Back to my GH to book in again.
In the afternoon, not planning to do any formal treks in the area, I decided on a shorter walk up into the mountains. I went outside town along the hillside north of the palace and Namgyal Gompa, where there are a lot of stupas scattered about. From there I wandered up to the road that passed the east of the city. Where from there? A dry rock-and-scree valley farther to the east looked inviting, and I walked up the valley as far as I felt comfortable going. Despite the lower parts of the valley being used as a garbage dump, it was a pleasant walk and view. No-one was around except a couple of walkers and goatherds. Very peaceful and quiet, with rugged scenery.
Up again at 05.00 next morning for another try at the bus to Diskit. It looked a better day today as I walked down in the coming dawn. Pani wallahs were still plying their barrows in the semi-dark, as cleaners swept streets, a truck or two smoked past, and a few shop roll-a-doors rumbled open.
Down at the bus place, our bus was being loaded up, the driver loitered around, and it all looked good. I met Javier and Willem, we loaded our packs on the roof, and went for a chai at one of the stalls nearby.
At about 08.20, success, we were off on the road north. The road started to climb almost immediately, yielding good views over the valley and mountains and of Leh to the south. First stop was South Pullu, a military post where we did passport checks and marked off our names on the permit paper. Luckily they didn't knock us back for being only 3 people out of a minimum 4.
On and on up the increasingly cold and icy road, with spectacular views. The road had snow on it, but not enough to stop us or make it dangerous.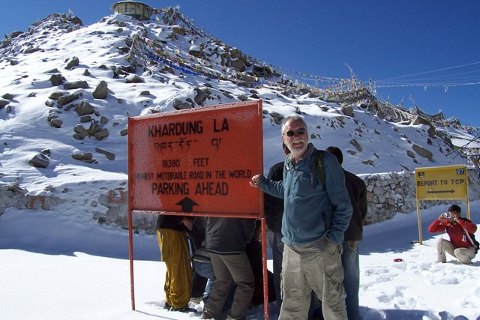 A long climb and many switchbacks got us finally, after about 2.5 to 3 hours, up to Khardung La. It was said to be 5602 m, and the highest road pass in the world. Actually though, the pass has been measured at more like 5359 m, and there are higher roads around. The narrow saddle had a few buildings around, snow everywhere, and allegedly the worlds highest souvenir shop (hats, cups and plates). The sun beat down, blackening my photosensitive glasses and making the whole ambiance more invigorating than cold. We stopped for several minutes to gaze, explore and take pictures.
On down we went, through many more switchbacks and along rivers, to North Pullu for another passport check, then on down to the broad, flat, tree-and-field patched Nubra Valley. On a number of occasions we had to stop to yield to large convoys of army trucks coming the other way.
Into the partly-pretty town of Diskit about 13.00 or so. It was a beautiful warm day here, as we parked our packs by the street and took turns looking around. Nubra valley is considerably lower and warmer than Leh. Javier found the "Sand Dunes" GH, and we all moved into nice rooms with a central garden courtyard.
Late lunch at a nearby restaurant was momos or Tibetan dumplings. Then, in shorts and sandals, I set off to explore. I walked back up the road and climbed up to the large Diskit Gompa which towered over the south of town. I didn't go in to either the new stupa or gompa complex that day, but took some wonderful pictures of the complex and the valley.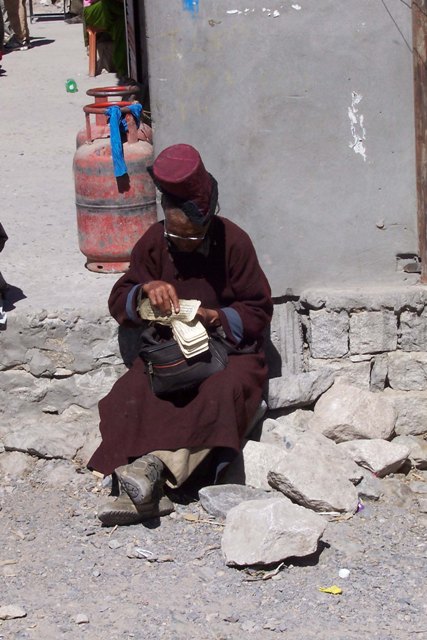 Back down to the GH via a smaller road full of guest houses, students coming home after school, and typical animals and people of small village life.
On our second day in Nubra Valley, the Camel Safari and show, part of the Ladahk Festival, was meant to be on in the sand dunes between Diskit and Hunder (about 7 km up the valley). So we decided to find a bus (supposed to be one at 10.00) to Hunder to check out the festival and the village. We went up to the road promptly on time. In typical Asian style there was no bus, and several different versions of when the next one is due. Tried to hitch, even on army trucks, but no luck. Then suddenly at about 10.20 a bus started to fill with people, and we got on no trouble. The bus let us off about 2 km before Hunder, near a big area adjacent to the dunes, with many tents and Bactrian camels.
The camel safari was much bigger than we expected. There must have been a few dozen camels, with maybe a dozen for riding. Lots of people were in costume for the various performances, a large area was set aside with walls and tents for performing arts, and other tents housed food places. This was great.
Eventually several VIP's arrived to considerable ceremony and retired to the performing area. We followed and tried to find a place to sit on the periphery. But the organisers saw that we were ferangs, considered us VIP's too, and ushered into the VIP area with tables in the shade. Chai and biscuits came for us. What did we do to deserve this?
The events started with long boring speeches of course, then introductions to the festival and its events, both in local language and in English. The first event was a mask dance, with an effigy of a baby as a central theme. Following were a sequence of other traditional dances and songs by performers in traditional costumes. Javier and Willem left to find food while I stayed for the dances. Last on the agenda was an archery competition a short distance away, a bit of a joke as people used crude bows and arrows and tried mostly in vain to hit a target 20 m or so away.
I found J & W in a tent drinking a bottle of the grain wine chang; I tried some, it was OK, better than what I'd had on other trips. Then Willem and I went to another tent where we shared a type of tsampa (millet-meal paste) and spinach dip meal.
Over at the camel place, free rides were on offer, and we availed ourselves in turn. I got on first, in a train with a Swiss couple, and we went up a couple of hundred metres or so to the top of a dune, a photo stop at the top, and back. Good for the price, and more pleasant than that horrid camel trek in Giza 10 years ago.
After a nice (Maggi) noodle soup meal, it was mid afternoon, almost nothing left to see here, and not worth going into Hunder now. We decided to walk back to Diskit through the sand, across a creek, and along small roads. It was a pleasant walk and not too far.
On the third day the camel safari thing is in Diskit. So, ironically, we decide to go to Hunder for a look around. After all, we'd seen the safari already in the dunes.
We put up with another wait like yesterday for a bus to Hunder; nobody really knows when it comes. Still it's a pleasant wait, good weather with people watching and mountain scenery to occupy us. After an hour or more, a bus finally left at 10.40.
Hunder is a pretty little town hidden below the road amongst poplar trees. The bus let us off just before the bridge beyond which we're not allowed to go. Up the valley is army territory and the Sachien Glacier, definitely off limits to farangs. Many small white chortens beckoned beyond, but not for us. We walked down past a small monastery and into "town". But it was hard to find anything, because there seemed to be no real centre. Nothing was open because everyone seemed to be in Diskit at the festival. We found a couple of guest houses and enquired about prices in case we want to move up here, but there was nothing of good value.
Much wandering around took us through pretty streets and past nice houses (probably army brass homes). The whole place gave the impression of a really pleasant village, but nothing to do once we've seen everything. We found one deserted guest house where we rested a while in the yard, then salvaged a few apples from the ground. Much more wandering and asking directions finally got us to a guest house where we might be able to get a lunch. It was closed, but we eventually managed to persuade someone to open up and cook us some food. I had a generous dahl and rice meal.
We decided against coming up here to stay tomorrow, as we'd seen everything now. About mid-afternoon we decided to walk back the 7 km to Hunder along the small low road past yesterday's fairground and past the dunes. There were a few people at the fairground and some of the camels still there.
Back in Diskit, we decided to buy some chicken at a live chicken shop and then some potatoes and vegetables, and cook it in the guest house kitchen. We managed to make a fairly passable stew with more meat and less price than in a restaurant. The chicken was a bit tough, maybe old, but a good meal and we didn't get sick from it. Chai in a nearby restaurant capped off the evening.
Fourth day: something of a beautifully pleasant and lazy day. We sat around all morning in the guest house, reading in the sun and getting a bit of a tan, doing laundry, etc.
About 14.00, we decided to go for a walk up to Diskit Monastery, the large complex of buildings up on the hillside above the south part of Diskit. I'd been near there a couple of days ago, so had no great trouble finding the way up the steep path past multitudes of chortens to the young monk who took our entry fee. From there it was a walk along the road up to the monastery itself.
The monastery is on several levels up the hillside, so when we get to the bottom, it's still quite a climb through the complex to the top. On the way are large numbers of buildings and rooms related to monastery residences and activities, connected by steep steps. We met and chatted (each in our own language) with several Buddhist monks along the way, a nice bunch of people.
2 or 3 rooms were temple-type centres, one dating back to 1420, which the monks opened up for our viewing. They were full of artefacts, effigies and photos of various ages. Some of the effigies were covered, apparently they were protectors and only uncovered on special occasions. From the top, and in fact from all levels, were great views over the surrounding hills, a rushing river, and the valley below.
On 14 September we return to Leh. 6 of us went up to the main road about 07.00 to see what transport is available. There didn't seem to be any share taxis around, but the bus hadn't passed yet from Hunder way. When the bus did arrive, it was pretty full, but fortunately another empty bus also started from here, and we all bundled on it. Not crowded, lots of leg room, and reasonably fast.
The return trip to Leh was essentially the reverse of the trip up, but no passport checks needed, no stopping at Khardung La, and a good pace (except again we waited for army convoys to pass). The road over the pass was now pretty well ice-clear.
We were in Leh before 13.00. We walked down to Il Forno Restaurant for a well earned fungi pizza and a beer. Later I walked up to Magsoom GH and got back in my room.
Another hour on internet that evening got me through to Maggie on Skype, a good visit but the connection was intermittent and hard to receive some of the conversation and video.
In the morning I went to Jet airways to try to change my flight ticket. My friends in Punjab were to have a wedding in Early December, and my current flight was to leave India in November. They had no success changing my flight date; everything was booked. Subsequent tries on later dates similarly failed to get me a flight change, so I was unfortunately to miss the wedding.
While at the bus place to check Srinagar buses, I met a nice Fench girl (about 78 years old if I remember right), who saw that I was going to Srinagar. She'd been there before and was more than willing to share her information and advice. In her mind, it was nonsense to avoid Srinagar due to any perceived "security concerns"; this is the best time to go; and she gave me a houseboat name to stay at.
As the government buses were on strike, I went up to the private buses at the Polo Ground to check them out. At the polo ground, I found that there are daily private buses to Kargil leaving early morning, with bus connections at Kargil onward to Srinagar.
On 16 September I organised to go down to Thiksey Monastery, the one I had passed days ago on the way into Leh, to spend the night. I was down to the bus station around noon, where I searched for and found the Thiksey bus. It didn't wait long before taking off down south through Shey and dropping me at Thiksey.
There's a very large monastery on a hilltop, maybe a bit like the one in Diskit, where people come to stay overnight and attend the 07.00 puja (offering ceremony). There isn't much in Thiksey, just the monastery, an up-market guest house, and residences. I went to check out the GH. It was closed, and very expensive anyway, but the guy said there's another GH and restaurant in the monastery. So a walk up to and through the myraid of steps of the monastery and found the GH. I got a nice room with balcony, great views over the desert and mountains.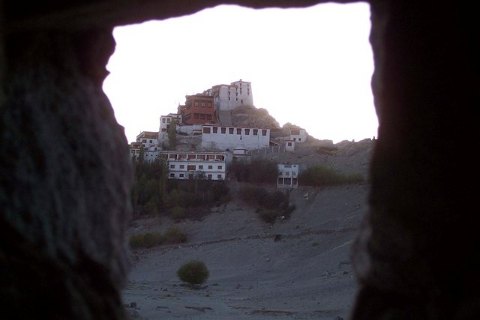 After a bit of a rest, I set out walking to explore the hills and desert. Movements were restricted by the presence of an army base on the Shey side of the range. But I did have an invigorating walk quite some distance up through a stony plain and up to a mountain pass overlooking part of the army base, before returning at sunset.
Had dinner of a large bottle of apple juice, tomato soup and large chow mein. In the evening I just sat on the balcony for a while watching the full moon rise over the mountains and bathe the landscape with light. What a relaxing and worthwhile little side-trip!
Next morning at nearly 07.00 I walked up to the monastery assembly hall where several other farangs had already gathered. We watched as a couple of monks sounded assembly horns from the rooftop above. Then we and monks of all ages entered the hall and took assigned seating.
The service went for over two hours, characterised by chanting from a loose-leaf scripture book, and punctuated regularly by drum and horn accents. Breakfast of tsampa in water and tea was served to the monks during the ceremony. It was all interesting but too long for most ferangs, who left before it finished.
After the service, I wandered the temple buildings admiring the paintings and effigies, similar to those in other temples, and glorious rooftop views.
After my own breakfast and checking out of my room, I walked to the road. I had a short wait and hitched a ride on a jeep back to Leh. I got off near the gates and walked up to the polo ground. There I booked the private bus (250 Rs) for 05.00 next morning to go to Kargil. Then slowly back to check into my room at Magsoom again. Still walk-around-in-shorts weather, which means it must still be hot in the plains.
It's 18 September, and I'd been in Ladahk 16 days. Time to move on to Kashmir. I was up about 04.00 to get ready for the bus. The Indian people that looked after the place were up as well offering me a cup of tea. They're really nice people. After goodbyes I was at the bus about 04.35. A Minnesota guy (Matt) and an English guy (Ian) were also on the bus for Srinagar, as well as other ferangs on their way to the Zanskar Valley.
The road to Kargil was beautiful and spectacular, but probably no more so than that from Manali to Leh. The area around Lamayuru is a moon-scape of beige/sand coloured erosion formations, different to the grey/browns of the rest of the mountains. Several trekkers were starting or stopping treks here.
We arrived at the hilly and spread out, but otherwise nondescript, city Kargil about mid afternoon. One could see here the start of a predominance of Islam over Buddhism.
Almost immediately on arrival, the 3 of us investigated, and booked, tickets for the next bus, leaving at 22.00, for Srinagar. We got seat numbers 40 to 42, significant as we were to find out later.
The rest of the afternoon and evening we hung around the Las Vegas Restaurant with our packs and had a couple of meals there, none of which bore the slightest relationship to the city after which the establishment was named, and tried to snooze. I also did a bit of walking around the city streets, looking at markets and shops, and buying a few bananas.
Nearly 22.00, we went down to check out and board our bus. It turns out that our seats were conspicuous by their absence, they had overbooked the bus and our seat numbers did not exist. After much discussion and haggling, and with the help of police, we finally got to share the small bench over the bus motor, with no backrest. It was going to be a long night.
As it was, I did manage to get myself wedged into a small space where I could put my head down and almost get some sleep. A local guy kindly gave up his side seat for one of our group who had a weak back.
We rolled into Srinagar around 05.30. I could immediately get a taste of the kind of place this is by the numbers of touts madly scrambling to get on the bus even before it stopped moving. I'd never seen such desperation.
Matt and Ian immediately succumbed to the touts and headed off on motorbikes to whatever cheap accommodation they were promised. I never saw them again.
I managed to find out the direction to the centre and the lake, and proceeded to walk the 2 or 3 km there, fighting off touts all the way. Note for the guide books: it certainly doesn't work to be polite but firm as a way of declining their offers.
Down at the lake, my ordeal wasn't over yet. I had a name of a houseboat to go to, and the owner's name and the dock number. But it seemed impossible to get away from the boat touts and shikara (shuttle boat) people to get to my objective. I was taken to "Gate 2" , but there was no number on the gate. The boatman and a tout took me to what they told me was the right place even though the boat name and owner didn't match ("the owner is away temporarily"). I had the feeling that no matter which shikara man I tried, I'd get a similar response.
Anyway after some haggling I got into a "family stay" boat, very rough and rustic, but seemingly adequate for my purpose, at about the price I was advised of by the woman in Leh. I could have tried harder to find the boat that I wanted, but to what success? Anyway a family stay (with the tout and his wife and 3 kids) seemed a safe enough option. I had my own room and a share bath.
Lake Dal, at least the houseboat part of it, was a picturesque labyrinth of channels and houseboats (nearly all from the time of the British) in various stages of decay and restoration, some very simple and rustic, others quite glamorous. Spits of land jut out here and there, with small shops and farms taking up every bit of space. Lots of garbage was strewn about though, and it was a bit disconcerting to see dishes being washed within about 5 metres of the dunny. Weather was warm but not hot, amenable to walking around without sweating. I had to wear long pants all day of course, as the region is overwhelmingly Muslim.
My hosts offered me a breakfast of omelette, chapatis and tea, and I accepted an offer of dinner later as well, for additional price. In the morning I rested and snoozed. In the afternoon I got a lift to shore to look around a bit.
Given the time available that day, and being advised that nothing much was open (Friday), I decided to walk up the nearby Shankaracharya Hill, with its very old (thousand plus year) mandir on top and its enclosed Shiva Linga. I had over 3 hours to explore it, but found that the western footpath was closed, and the east road took a while to get to. At the road entrance I found out why the footpath was closed; there was a heavy military/security presence there and all over the hill. They asked to see my passport, which I didn't have on me, but let me though anyway. The army is everywhere in this city, at every corner and street-side and major building, bridge or anything else of significance, with trucks and razor wire and 47's slung over shoulders. I found that in general though they're pretty easy to get along with, approachable and friendly. They need the tourist trade too.
The walk up the road took well over an hour, including getting lost on a shortcut that a soldier advised me to take. A bag check at the top and I was in to see the temple and the shiv-ling, not sure if worth the walk, but there were some good views on the way up.
I started back down the road, already tired and running a bit late. I flagged down for a lift the first vehicle I saw coming down, one of the ubiquitous little Mahindra SUV's that are used as share taxis etc. I didn't realise until too late that it contained soldiers. But they stopped and picked me up anyway, got into a conversation on the way down, and dropped me at the Boulevard road; nice people.
So I had time to go to a nearby internet cafe (50 Rs/Hr), and check and send emails for half an hour before meeting the shikara for the houseboat.
Dinner was a basic chapati/dahl/rice/vegetable/chai meal, nothing special but edible. It didn't make me sick so I decided to continue meals there rather than risk sickness elsewhere. During Ramadan nothing much else is open for eating anyway.
In the evening I got the kids involved a bit on my laptop pc, trying to show them something about how to operate a computer and its software. They loved it, especially the boy, but of course gravitated towards games more than anything.
Sleep was generally OK, but there are several small mosques nearby, with very loud and competing prayer sessions (maybe Ramadan influenced) blaring out until about 21.30, and starting again about 04.30.
On Saturday, maybe because of a strike, or maybe always this way, virtually nothing was open. Anyway, after breakfast I went ashore and started to explore the boulevard along the lake, another internet cafe, the government bust stand (on strike), the tourist office where I got a map and was advised not to go to the old city for safety reasons. I wandered along the river Bund and the Lal Chowk shopping area (closed), into the Hanuman Mandir near a river for a look at a Hindu temple, and out west a couple of km to the dusty wasteland that is the Batmaloo private bus stand, where my bus had stopped the day before. At the bus place I found someone to advise me that buses go to my next destination Jammu at intervals all day, starting about 08.00, about 10 to 12 hours.
From the bus place I decided to wander up into the old city (to the west of the lake) to check out mosques and shrines. At least these would be open, and if it looked dangerous I could retreat.
People seemed friendly enough as I wandered through the old city, asking my name and where I'm from, and generally not hassling me like they do at the lake. I only once found an indication of trouble, the smouldering remains of burnt tires and broken bricks on one section of street, evidence of rioting maybe the night before.
As I neared the Shah Hamdan Mosque an older Moslem guy offered to take be to it and show me around. But almost immediately he encountered what looked like a younger Hindu guy and got into a fight with him, from which I beat a hasty retreat.
The mosque itself is the oldest in Srinagar, but partially rebuilt. It is distinctively decorated in papier mache reliefs. This mosque, as per Srinagar style, does not have minarets, instead characterised by covered balconies and spires.
Farther up the river is an ancient-looking brown brick edifice, the tomb of the mother of Zain-Ul-Abideen, built by Sultan Sikander.
Farther up, away from the river is the huge Jama Masjid (mosque), with its 4 big spires and gates at the cardinal directions. Distinctive here are the 378 columns supporting the roof, each made from the trunk of a deodar tree.
Starting back toward home, I was "caught" in the old city by the tourist office guy (on his way home on his bike) who had advised me not to come here. But a short conversation convinced him that it was safe enough here today.
The Naqshband Shrine is built in Himachal Pradesh style, with wood and stone layers for earthquake resistance. Also of interest inside were the large number of carved wood ceiling tiles.
Finally, the Sufi shrine Dastgir Saheb had a stand-out green and white exterior, stained glass windows and a wildly painted and papier-mache interior full of calligraphy, palm tree motifs and flower themes. Wow!
On Sunday I decided to give give my host a break and patronise his offer of a 6-hour shikara trip around the lake to see the sights.
So off we went about 09.30. He had chartered a bigger chikara from another boatman, with an awning on it, and took his son along as well. So the 4 of us started out east through the vast city of houseboats with every conceivable name and style and level of elegance. It certainly was a pleasurable and relaxing way to see the lake, notwithstanding the numerous souvenir and flower sellers that ran intercept on our boat and tried to interest me in their wares.
As we exited the bulk of the houseboat suburbs, we passed the small recreational island Nehru Park with its speedboats and other recreational craft, past big but unused houseboat-style "swimming barges", and up the east part of the lake to the small Char Chinar Island with its 4 large liquidamber trees.
Farther up the lake, we passed under a small bridge connecting two sections of a raised dyke that was used as a pathway and for the city water supply pipe. The pipe was leaking badly at the bridge, showering water down onto the lake, but they seemed in no hurry to fix it.
A short distance away was another, older, bridge from Mogul times. It was in the middle of nowhere in the lake, the pathway on either side long since disappeared.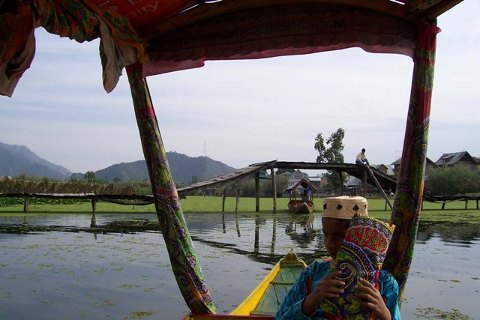 Heading west now along the north side of the lake, we eventually came ashore at the Hazratbal Shrine in the north of the city, a large mosque that is otherwise undistinguished except that it is said to contain a hair of the prophet Mohammad. Rather than go into this mosque, we spent some time looking around the shops and markets in the vicinity.
On our way back south now, we navigated through lotus ponds and water farms, and into the smaller Nagin Lake, with its small share of houseboats. Getting late, we continued south along channels and under bridges through the "wet" part of the old city, with its vintage buildings and light (woodworking, honey, etc.) industry. Back into our home neighbourhood from the north, we were home after 16.00.
I still had time to get to the internet cafe and do some email and Skype Maggie before it closed for Ramadan at 17.30.
I believed, and still believe, that in general one's valuables are at less risk of loss or theft in the room than on one's person when wandering around a strange city. And that they are generally safe in a family home-stay. However, everything has exceptions. I found that my valuables pouch had been rifled, and a fraction of the money had been stolen. Only enough was taken such that it had been hoped I wouldn't notice. Many factors implicated my host as obviously the thief, but I of course had no proof.
Anyway, I had no option but to simply give my notice that I was leaving next morning, as fast as possible, and explaining why. I still had dinner that evening, and slept there, but refused breakfast, paid my bill, and got to shore about 07.30 or 08.00.
So, on 22 September, after only 3 days in Srinagar, I was leaving with something of as sour taste in my mouth. A quick goodbye to my gracious host and I was off to the Batmaloo bus station, arriving there about 08.45. A bus for Jammu was loading, to leave at 09.30, then delayed to 10.00. The trip was meant to be 10-12 hours. I got a ticket, waited around for a long while, and eventually got going at 10.10.
I'd come to realise that, in general, day buses are late and night buses are on time. As usual with a day bus, I could tell almost immediately that the bus would be late. It took a long time to clear the city, merge with traffic on NH1A highway, and clear traffic jams along that road.
We went south through towns and farms, and started to climb up valleys through mostly deforested hills. Steep slow switchbacks up through and over valleys and along narrow roads, got us up out of Kashmir Valley and through a long tunnel to the other side of the mountain. It wasn't a bad trip, but I wasn't in a great mood from having been robbed. The road continued steep, narrow and twisting for most of the trip to Jammu. Locals were herding large flocks of goats and sheep along the road, causing major obstacles and long delays for traffic in both directions.
Meals were usual vegatable/dahl/rice/paratha/chapati/chai fare, not very satisfying but so far not making me sick.
We made the typically grubby Jammu bus station about 23.00. Fortunately the map I'd bought in Kashmir had Jammu on it as well, so I could find my way. I retrieved my gear, fought off the usual touts, found the nearby rough-and-noisy but adequate JDA Hotel, and got into a room with attached bath.
I almost immediately decided that, instead of rushing to find a bus in the morning for Ludiana, I'd stay here a day and look around and find the best means/time of transport to move on. So a quick shower and to bed.
Up about 07.00 or so, I went down to the nearby bus station, asked around, and found the buses for Ludhiana started about 05.00, and maybe 6-8 hours travel.
From the bus, I walked down through the shopping street of Vinaik Bazaar, across the Tawi River Bridge and into the south part of the city. There, about 3 km away was the train station, where I checked train details. Rather than having to get to and from the train station at each end, I decided just to go with the bus. Some of the districts in the south of the city seem to be up-market, relatively nice, where the wealthier must live.
Back in the north of the city, I found Residency Road, a slightly up-scale shopping and hotel street. At KC Hotel was Jet Airways, where I tried for a change of flight date again, still no luck.
At the start of Residency Road is the Hindu Ragunath Temple, a nice but rather undistinguished Mandir with dozens of shrines to Vishnu, and lots of people trying to do things for me in return for donations.
In the evening I looked in the guidebook for clues on where to eat dinner. A fast Food restaurant called Jewel, in Jewel Chowk, offered a change from the increasingly unappetising Indian fare in other places. Why not give myself a break? A tomato soup, hamburger (mutton of course), fries and a chocolate ice-cream sundae, went down very well thank you. Just outside a banana vendor sold me some bananas for tomorrow.
It's warmer here in Jammu than in Srinagar, a bit sweaty during the day, but not unbearable.
At 04.45 on 24 September I wandered around the bus station trying to find the bus to Ludhiana. I was eventually pointed to a bus on the road outside the station. It left just after 05.00, without even anywhere near a full load, unusual for Indian buses, but convenient for me as I could sit near the front with my pack. It did fill up more along the way though.
The trip to Ludhiana was about 7 hours and uneventful, passing through farmland, scrub and repetitively chaotic and grubby towns.
About noon we pulled into the big but relatively nice Ludhiana bus station. I thought of calling the Gills to let them know I'm coming to Khanna, but wasn't sure when I'd arrive there. So I had a couple of samosas for lunch, and found the stand for Khanna. The bus left in good time straight to where I alighted near Khanna's PO and market area. First stop was to the office of Gurmeet's investment friend Tarlok. They knew me and let me phone Gurmeet to tell him I'm here and could walk to his place. I tried to buy a supply of pakora items to take home, but Tarlok's son insisted on paying for it himself.
A 20 minute or so walk got me to Gill Villa mid afternoon. Gurmeet was home and we exchanged greetings and caught up on my trip and intervening events. I must have been tired, as I lay down for a bit to watch BBC news and fell asleep until evening. Then Jasweed was over in the evening and we toasted with whiskey.
It's cooler here than it was before I left a month ago, but not by much.
I stayed four days, 25 to 29 September, with my friends in Khanna. I was only intending to stay a couple of days or so before heading off to Jodhpur and other parts of Rajasthan. But Jasweed next door said he was having a wedding anniversary dinner out on Monday 29 September, and I was to come. So that means I should stay until then.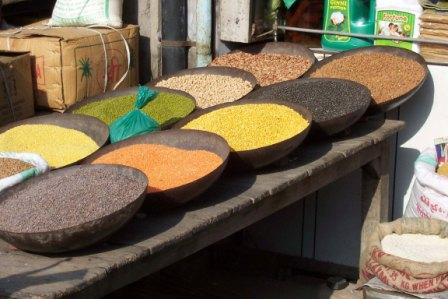 Most of the time in these 5 days was spent doing walks, catching up on various computer tasks, emails on Tinku's computer (slow and difficult), talking to Gurmeet and having drinks with him in the evening, watching BBC news on TV, and relaxing. Tinku had the big boss "Atom Bomb", from the bank where he worked, up for a few days from Mumbai, so he was busy a lot and I didn't see him much. Gurmeet had just bought a new bicycle and I went out on it once or twice. But it seemed almost as hot during the day as it was last month, so a bit too sweaty for riding.
On Friday 26 I went to the train station to see about a ticket to Jodhpur. It leaves from Rajpura station (about 1 hour by bus south of here) at 00.16 on 30 Sept, 2nd class sleeper, direct to Jodhpur arriving 16.00 same day. The anniversary party is about 8-10 pm on 29 Sept. But it should be OK timing.
On Monday I packed up my gear for Rajasthan. We all prepared to go out for Jasweed's anniversary. We drove out by car to the Green Valley Hotel and Restaurant (owned by a relative) north of Khanna for a wonderful Indian dinner in elegant air-conditioned surroundings. I was now ready for the train.
At 21.00 they all took me to the bus stop in the south of Khanna. We said our temporary good-byes and they saw me onto the Rajpura bus.
At Rajpura, it was only about 22.00, so I leisurely walked with my pack the 1.5 km or so along the dark streets between the highway and the train station. As I walked past, shop proprietors were slamming down and locking their roller-doors as they closed up for the night.
At the station I confirmed my departure time and platform, found a bench to wait for my train, and alternated between reading and trying to snooze amongst the 24 hour hubbub of platform activity.
It's the middle of the night on 30 September. The Chandigarh Express was a half hour or so late, but it eventually showed up and I found my carriage and seat without problems. It was still hot, so I pulled down my berth and laid out on the bare bed. All was OK save for a brief interruption by someone (the conductor?) on his own little power trip. He misinterpreted the seating assignments and made me and others in the compartment change our positions; totally useless but why argue! I think I did get some sleep during the night despite the heat.
Daybreak saw us making our way through NW Rajasthan. We passed through mostly dry scrubby rolling semi-desert, with a bit of cotton or rice wherever there was water. Camels accompanied cattle and goats in the pasture, and were used as cart animals and even in the fields for cultivation. We passed through the city Bikaner in the north of the state, where I would return in a few days.
I could tell when we approached Jodhpur by spotting the enormous fort-covered hill in the distance. It was a handy landmark as we entered the city and as I alighted at the main train station at about 17.00.
Ignoring the many rickshaw touts, I walked out along Station street, to a main intersection, and up toward the hill and fort. A few directions from people on the street, and I was soon at the Shivam GH near the clock-tower, in a small but adequate room. It turned out to be just cool enough with fan, and not very noisy in spite of proximity to the street.
This GH had a nice rooftop restaurant, as I guess most GH's have here. It had good views of the nearby clock tower and the rest of the city and surroundings. I briefly talked to a Scandinavian girl, who told me that that very morning there was some Hindu (Durga I think) festival celebration in the fort on the hill. Many were gathered and participating, when a wall or roof collapsed, killing hundreds. What news! But it was hard to get much more information about the tragedy. I subsequently found out it was a male event only, so all the casualties were men and boys. A wall had collapsed on some people, killing a small number, maybe 10 or so, of them. Then the ensuing panic and stampede caused crushing and suffocation of hundreds more.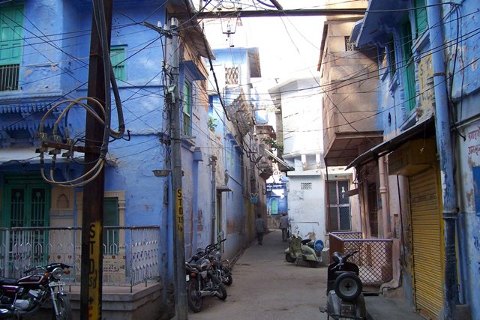 On 01 October, the first day of four in Jodhpur, I set out to explore parts of the city.
First I walked east along typically busy and chaotic Indian city streets to the Umaid Gardens. It's a large park with trees and grass; showing the strain of time, use and heat. Kids played stick games on the pavement and people lounged in the shade. I entered the Sadar Government Museum and spent an hour or so looking at miscellaneous antique sculptures, weapons, tapestries, paintings of former leaders, and stuffed animals and birds that looked to have an entire Vesuvius of dust settled on them.
The nearby tourist office provided a city map for me, and I set off to the south of the city, in quest of Residency Road. Heading south along streets that didn't quite match the map, I soon got disoriented. A guy on a motorbike stoped to help, and offered to take me to Residency Road. It turned out farther than I expected, and am not sure how I would have found it otherwise. The guy though must have been a "member of the brown ring"; he kept asking me to move closer to him on the bike, and tried feeling my leg a bit. Anyway he let me off the Jet Airways Office. A check there showed that there was still no seats available in November, so I might still miss the wedding.
A long hot walk got me back to the area of the main train station. I was running out of water, but a juice shop offered a glass of orange juice which kept me going. Back nearer the centre I found the busy street-side Priya Restaurant where I found a huge (nearly metre diameter ?) masala dosa and coffee.
Next day I went for a morning walk out the Navchokiya part of the old city to the west. It really was an old city, with narrow winding alleys and close-overhead buildings. I now found out why they called Jodhpur the "Blue City"; most of the buildings here are painted in a bright sky-blue colour, allegedly a cool and pretty colour in hot weather (psychological air-conditioning?).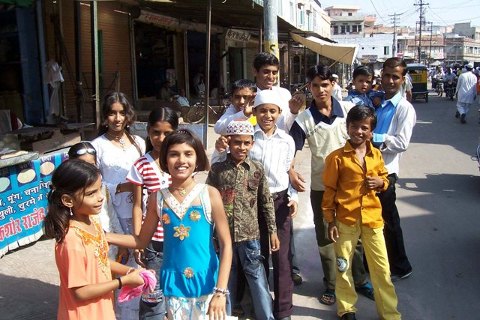 Farther west, near and beyond the city walls, the streets opened out considerably. Islam seemed more dominant here. I talked to a well-dressed group of men and boys; why all the finery? Of course, its Eid al Fitr, the end of Ramadan. Everybody here was gaily dressed in their best attire and in a festive mood. Shops and stalls did a roaring trade in sweets and snacks, fairground activities and rides whirled, and the kids were everywhere. As I paused to take a photo of a boy, suddenly girls and boys were all on me like seagulls, all wanting a picture taken to see on my camera. I took a few but eventually had to fend them off or I would have been there all day.
At around noon it wasn't getting any cooler. Anyway I decided to go up to the Meherangarh Fort on the hill above. It was a long way above the city but I managed the walk up the steep hot paths without difficulty; I guess I'm fit enough. The fort is a huge sprawling complex covering the hill, with ancillary walls extending over lower hills below to the west. It was started in 1549 by Rtao Jodha to rule over Marwar " The Land of Death", and has been added to in successive generations since. Entrance was 250 Rs but included photo privileges and an excellent 33-point audio tour. I was up there I think about 3 hours.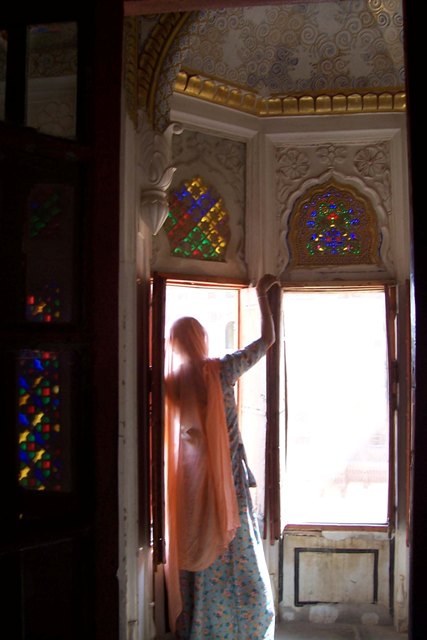 The tour started at the cannonball-pocked second gate, and continued through the fierce-looking iron inner gate, where the sati-handprints of the self-sacrificing widows of Marahaja Man Singh still adorn the walls. From there much of the tour explored the museum with its many exhibits of howdahs, palanquins, weapons, deities, paintings and tapestries. Then I was guided through many of the palace rooms and courtyards, with ornately carved or sculpted ceilings, plinths etc. Of specific interest were the carved marble (or whatever) screens over most of the windows, to hide women from outside but allow them to see out and allow air to circulate.
The ramparts boasted magnificent views over the city and countryside as well as an impressive variety of cannons from all parts of the world. Many cannons had the "Honi Soit Qui Mal y Pense" inscription, giving them I believe a British origin.
It was at least mid afternoon by the time I started back down, uncomfortable but tolerating the heat. I entered the Shri Mishralal Hotel near the clock tower to try their signature makhania lassi and other snacks. It all went down well, the lassi was delicious, almost more of a pudding than a lassi.
Third day in Jodhpur, it's time to figure out how long I'll be here and how to leave. An easy walk to the train booking office near the station satisfied those queries. I promptly booked a seat on the Jaisalmer express for Sunday morning 06.00, to arrive in Jaisalmer about 12.45. That leaves 2 more days here.
After 11.00, despite the heat, I decided to walk back up to the fort area, from where I explored around and ended up at the Jaswant Thada. This is a milky white marble memorial to Maharaja Jaswant Singh II and kin, and is superbly located on the rocky hilltops with good views of the fort and city.
Back in the city, I tried out the beautifully air-conditioned Mid-Town Restaurant near the rail station. A cool and relaxing wait got me a masala dosa, vegetable pizza and tea, all to be enjoyed at an unhurried pace. Back toward home, I got a 650 ml bottle of Kingfisher Strong beer for home. (For interest, Kingfisher comes in two grades, light at 3.5 to 5.5 %, and strong at 5.5 to 8 %).
My last day in Jodhpur was an easy day. In the morning, to amuse myself before it got too hot, I took the long walk out to the south-west of the city where the giant tan-coloured Umaid Bhawan Palace sprawled over a barren hill. The multi-domed palace was impressive, but I didn't go in as it was privately owned and used. I contented myself with taking photos from the gate and chatting with the friendly and enthusiastic gate man.
In the early afternoon I had lunch in the up-scale Kalinga restaurant near the train station. I took my time there in the A/C surroundings, enjoying a relatively expensive but wonderful butter chicken and nan bread.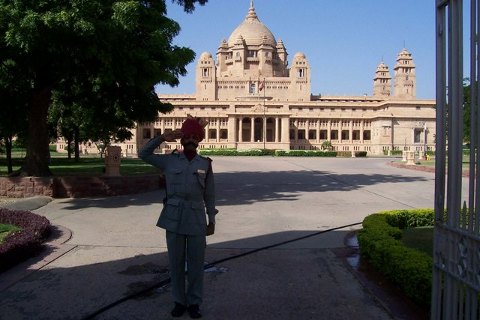 A big event seemed to be getting into swing at the clock tower in the late afternoon. It turned out to be an inter-faith memorial service for the 224+ victims of the recent fort tragedy. Large tarps had been laid out for people to sit on (on which cows subsequently walked across and shat on), and a stage was set up in the front for fire-and-chanting-based rituals and for representatives of various religions to sit at. Behind the stage were posters advertising the event, and pictures of over 100 of the victims. It was curious to observe that most of the victims seemed to be children or teenagers; I guess these would be the most vulnerable if it was indeed a stampede.
On 05 October I was down to the train station in good time before 06.00. It's actually quite an easy and not-unpleasant walk at that time of day, nearly empty streets and no hassles.
But the train to Jaisalmer was about 2 hours late, not leaving until about 08.00. Meanwhile I sat and tried to snooze, and amused myself by casually observing the antics of the large colony of rats that made their homes amongst the rail tracks.
When the train finally arrived and I boarded, despite having a confirmed seat, it appeared that it was first-come-best-dressed for seats. It took some patience and "discussion" by myself and others before we got our proper seats. Many others had standing room only for part of the journey.
It was a fiercely hot day, something in the 40's, as we passed through the scrubby thorny desert. Hair-dryer winds blew through the carriage. Metal parts of the carriage were hot to the touch.
As at Jodhpur, I could tell we were close to Jaisalmer when I spied the imposing hill-fort towering above the plains in the distance.
Outside the Jaisalmer station were the usual tuk-tuk touts, but also a lot of free hotel-pick up signs. I picked one, the Samrat Hotel, and got into their vehicle to try the hotel, which was south-east of the fort. Despite the owner being a bit of a bull-shit artist, I tried one of their rooms with attached bath. It would be OK except for being hopelessly hot, maybe the same as any other room though.
The streets were broad and dusty and not very active; this city is much smaller than Jodhpur. But lots of shop owners were out waiting, and every single one of them wanted to know my name and what country and to show me their wares. It got a bit taxing after a while.
Back at the hotel, a bit more resting before I packed my pc and went to an internet place, where I set up for Skype, contacted Maggie, and had a good 1/2 hour audio/video conversation.
Back home I went to the rooftop restaurant and negotiated a good-size thali (2 big veg's, 4 chapati and rice), and a nice banana custard; a good meal that I would repeat next day.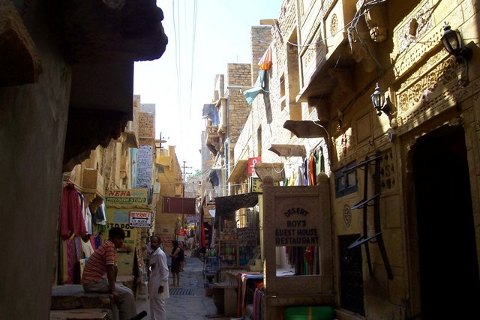 Sleeping was a struggle in the heat, the fan only served to move the air around and not cool it.
Next day seemed a bit cooler, at least in the morning. I had breakfast, then out along the main road to find a bus stand for Khuri maybe for tomorrow. I eventually found it at Hanuman Chowk in the north-east, as well as a guy advertising his mud-hut/restaurant/safari business there.
Back in town, I went in to the fort entrance to explore the fort for the rest of the morning. It's a bit like Jodhpur Fort except that you only need to pay admission to go into the palace part (having seen the Jodhpur one, I didn't bother). The rest of the fort is a warren of alleys and homes, shops, hotels, restaurants and commercial premises. Again everyone wanted to know my name and where I came from. I went into most of the ornately carved and decorated Jain temples, viewing lots of Hindu-type relief sculptures and many small statues of one of the deities. It was all interesting but a bit repetitive. Several locations on the fort wall afforded good views in different directions over the city.
It was getting really hot again as I went back home to recuperate. But still not too hot to take a walk later the short distance out to the small artificial lake Gadi Sagar. This reservoir was once the main water supply for the town, and is now surrounded partly by temples and partly by bare desert wasteland. Near the entrance is an ornate stone gateway, built allegedly by a wealthy philanthropic prostitute. A few paddle-craft waited at a pier for non-existent customers. I took a hot dry but worthwhile walk around the lake past temples and flocks of birds.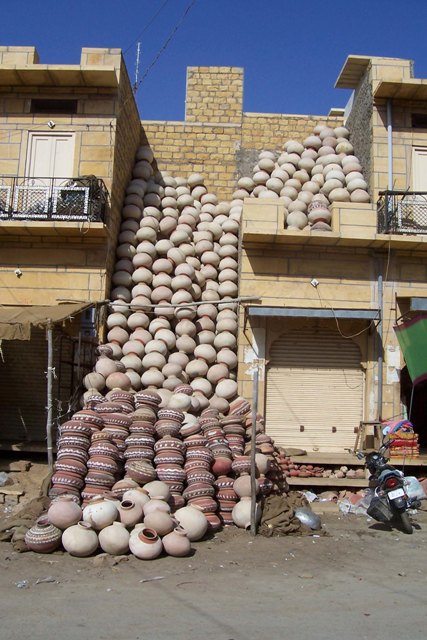 On 7 October I packed up my gear and walked around to the Hanuman Chowk and the bus stand in time for the 11.00 bus to Khuri. This is a small village about 40 km SW of Jaisalmer. People go there to stay in the cheap and rustic mud huts and do camel safaris. A German girl called Alexandra was also on the bus. After a 1.5 to 2 hour ride, we arrived at the village in the thorn-scrub. It appeared to be little more than a large number of mud-hut-and-tent guest houses. Few tourists were around; apparently it's still to hot and will fill up with Indian tourists later in the year.
I looked at the guest-house that the people at the bus place had been pushing on me. But it seemed too cheap and shifty for my liking. I eventually ended up at Badal's, where Alex happened to be staying too. Chai was virtually on tap, and soon a nice thali lunch appeared.
Alex was not staying here tonight; she had already accepted a 1-night camel safari and would be out in the desert in a couple of hours. They asked if I wanted to go too. Remembering the not-pleasant experience with a camel trip 10 years ago I said no thanks. But what about a camel safari without the camel? They struggled with that concept, who'd ever heard of it? But I insisted, I hadn't trekked in India this trip and this might be my only chance. So why not; they gave me a discount for no camel, and I joined the little group (only Alex and the camel driver and 2 camels). I'd walk and I'd get the food, sleeping gear and all the experience except the beast. I think Alex appreciated me coming along so she wouldn't be alone with the driver out there.
I packed a pair of pants, sheet and jacket as well as my camera and water, and put on shoes rather than sandals. So we were loaded up and on our way just after 16.00. It was still hot, but not so bad, as we left the village and started through barren ground and thorn-bush. Alex was given free rein to drive her camel, and she did OK at it, as I happily trudged alongside. Proceeding for about 5 km and 1.75 hours through alternating scrub, grazing land for sheep and goats, and sand dunes, we eventually came to a set of dunes to make camp.
The driver hobbled the camels and turned them loose to graze the scrub. I must have spent 20 minutes trying to get all the prickly burrs out of my shoes and socks without pricking my fingers too much. We were camped on the edge of the sand so, as our host made a fire and started dinner preparation, Alex and I could wander the dunes watching the sun set and trying for that perfect photograph.
The night on the sand under the stars was all it was advertised to be, a wonderful experience. Our host made us a good (but slightly sandy) meal of dahl, rice, potatoes, chapati and sweet black tea. We again wandered the dunes in the moon light and lay on the sand studying the stars. Our beds were mats on the sand and we had blankets if we needed them. The wind blew over us as we slept on our mats. I did use my blanket to some extent but was a bit hot in it; it only dropped to maybe +18 deg C at night.
A few clouds and some dew dampness greeted us in the morning. I'd slept better than in a thermal hotel room though.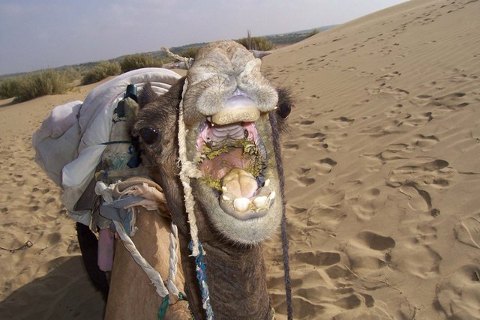 Our host took off to find the camels; he was gone some time following their tracks and calling for them before eventually returning with them. As he made breakfast Alex and I walked the dunes again, studying the myriad of beetle tracks and snake trails in the sand.
Breakfast was good, just leftover rice, potato and dahl from dinner, and more tea. We were packed up and ready to leave by about 09.00.
It wasn't so far back as it was yesterday, as we'd been doing a loop and we were about 2/3 of the way through our trek. So an hour or so through similar countryside to yesterday saw us near the village again. As I hadn't been on a camel yet this trip, the driver let me mount his camel for the last bit before home; OK but I don't regret having walked.
I had planned to maybe stay one more night here. But having seen the dunes, there didn't seem to be a lot else to do around here for another day, and I thought I might get bored. So I started up my laptop and Alex and I exchanged our safari pictures. After a cup of chai, we both went out to the road for the 11.00 bus back to Jaisalmer. The bus was late of course, but we got back to Jaisalmer early afternoon.
Alex left for the train station to find transport to Jodhpur for tomorrow, and I went to get a place to stay. The place I was at yesterday was full, so I ended up at Peacock Guest House in Ghandi Chowk area. It was a similar hot airless room to what I had before. I decided to move on to Bikaner tomorrow, and after lunch went out to check transport to Bikaner. Eventually I lined up a bus for 06.00 tomorrow morning.
There are nightly puppet shows at 6.30 pm in one of the museums, so I decided to try one out. A puppeteer did a half-hour performance of dances with Rajasthani puppets, accompanied by support artists playing music, singing and chanting. I don't know if it was really worth the effort, but it passed the time.
As I tried to sleep at night with the fan roaring away, I wished I was back in the dunes.
09 October, leaving for Bikaner today. I had to wake the guy at the door at 05.15 to let me out. The walk to the bus stand was about 15-20 minutes, and an empty bus (a relatively deluxe one) waited. I had a chai while waiting and got on about 05.40. To my surprise, the bus started at 5.44 am, with only about 3 people on it. It didn't even wait at the main bus stand, and was on the highway well before 06.00. That's the way it is in a lot of these countries, transport is on time or early only often enough that you learn not to be late yourself.
The ride started off cool but of course warmed up eventually. The bus soon filled up with people joining along the route. The country was similar to what I'd seen before, scrub, marginal farmland and dusty villages. We came to the big busy city Bikaner about noon.
I had a little difficulty orienting myself at the bus stop, but a rickshaw driver offered to take me to one hotel. It wasn't what I wanted, so I got my bearings to walk to the old city for other alternatives.
I was in the north of the city. It was a fair hike down past the fort and along Kem Rd and into the old city, but it was early afternoon and I had time, energy and no hassles. Bikaner is certainly lively and bustling, but not so touristy. What a contrast to Jaisalmer; no touts or salesmen continually asking me to stop or where I'm from!
I was looking for Shanti House, a little guest house in the heart of the old city. It took a lot of wandering around and asking, but I finally found the little haveli (traditional-style house). A cute and charming Hindu woman who spoke little English showed me around. Her husband, Gouri, showed up later. I eventually settled on a beautiful little top-floor semi-open room with attached bath and gay floral paintings all over the walls. It was still hot but promised to be cooler at night.
They made meals here, to be eaten outside my room; lunch was a thali and tea, later a dinner of aloo (potato) vegetable, 2 chapati and a big pot of tea. There was just enough time in the evening (they like people to be back before 21.00) to wander into the new city and look for an internet cafe. Bikaner has the usual chaos of rickshaws, street sellers, vegetable markets and cattle, as does any Indian city. I found an internet around Station Rd and went on for 1/2 hour to check messages and send some, and organise with Maggie to Skype on the weekend.
I explored along busy and commercial Station Rd to check for ice-cream, and found a place (named Amber I think) that looked a sizeable vendor. I had a cup of strawberry ice-cream, a mistake. Later at home I could feel it go sour in my stomach and spent the next 24 hours or so with an acute case of moon river. I guess I'm lucky though; I hadn't been sick for weeks, and this was only a brief episode.
It was still very hot at night. That, and the sickness, and loud music from the Dussehra festival (honouring Rama's victory over Ravana), kept me awake much of the night. It was cool for a while in the morning though.
I was too weak and tired to do a lot or eat a lot next day. Most of the morning was spent resting and reading. But I did get out in the morning to find the train station and book my ticket back to Rajpura, Punjab. Unfortunately there was only one train and it was booked out on the Sunday when I wanted to go. I had to get a ticket for 17.00 Monday 13/10/08, arriving (horrors) at 03.18. I'd have to wait until dawn in Rajpura, then bus to Khanna.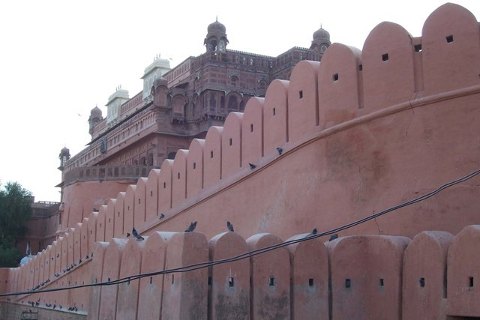 In the afternoon, as it became uncomfortably hot in the room, I slowly set out to see the Junagarh Fort, the main landmark in Bikaner. It's not on a hill, as are those in Jodhpur or Jaisalmer, but with nearly a km long wall is imposing enough. The rounded (not square) battlements give it a distinctive look. Entrance to the fort was with a compulsory guide, who did explain things well in English. The interior has a palace with similarities to the Jodhpur one, but maybe not as grand a scale. To the south but within the walls was a large formal garden, well laid out but looking to suffer from heat and inadequate upkeep. Feeling weak and listless, I could not enjoy it all as much as I would have liked.
Slowly back home, more rest until I finally decided to try eating again. I had another thali meal with black tea and curd. I wasn't that hungry but got it down OK. I seemed to be getting over the sickness. Dinner would be about the same every evening here.
Slept better tonight; this was the last night of the festival and music.
On the following day I must have got over that ice-cream and felt better. I wanted to see the Karni Mata Temple to the south of Bikaner. I walked the 3 km or so north to find the bus stand. This part of the city is mostly open and boring with wide streets and arterial roads. With a few enquiries I eventually found the bus place, and boarded a bus for Deshnok 31 km south.
On the way, I was amused to see two auto-rickshaws travelling close together in offset single file. It turned out that the front ones motor wasn't running. The rear one had the driver with his foot out the front against the back of the front one, pushing it along. I wonder if he was from the Automobile Association??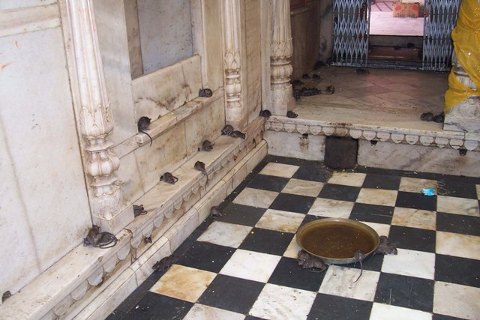 The KM Temple is an offbeat Hindu temple dedicated to rats. Apparently Karni Mata, an avatar of Durga, asked Yama, keeper of souls, to restore to life a son of a grieving storyteller. He refused, so she took his souls away and reincarnated all dead storytellers as rats, and here they are to this day. The temple is overrun with rats, sleeping, lounging around, eating and scampering past us. There's far more food here; milk, cooked rice, grain, etc., than they can ever eat. But somehow they mostly look a bit bedraggled and lethargic and not all that healthy, a contrast to the lively vigorous colony at Jodhpur station. Maybe life is too soft here.
There was nothing else distinctive about the temple or the typically desert town Deshnok, so I got on a bus back to Bikaner by about noon. Instead of going all the way to the bus stand, I got off near the rail line and found my way back into the new city for lunch in street restaurants.
12 October is an "extra" day, so not a lot to do. I set out to explore the old city. Heading west from my haveli, I passed through what seemed to be a metal district, lots of small shops selling all manner of kitchen and cooking utensils and steel cabinets.
In the early afternoon I walked past the fort east into a park-type district. It consisted of several smallish fenced-off areas with grass and trees and shade, and also a lake or two with those pedal-powered recreational craft that nobody ever rents.
Beyond the park was a small tourist complex with a museum with the usual collection of old photos, maharaja paintings, stuffed animals, musical instruments, fancy clothing, weapons and archaeological sculptures.
Back home, I picked up my laptop and went to the internet cafe about 17.45 to call Maggie. The young guy there was beginning to know me, and enjoyed my company and technology discussions. I managed to get on wi-fi and internet and Skype no problems with my pc. Had a good 3/4 hour session with Maggie.
13 October, I leave at 17.00. I packed up my gear, moved out of the room by 09.00, and left my pack.
So what to do? I decided to explore more around the old city. It's larger than I expected, with narrow but long lanes snaking through crowded districts of shops and havelis. An exploration around the outside wall of the fort got me back to the park area. On the north side of the park is a covered area of stalls where many people have set up shop providing typing and document preparation services. The big old buildings nearby must be law courts and other government services.
Back at the guest house, nobody was there in the afternoon. I had a shower, prepared for the train trip, and combined all my gear in the pack. I carried everything over to the internet cafe for one last 1-hour session with my pc, doing updates to software and checking emails and news.
At the train station about 16.30, I found my platform and found the train was pretty well on time, just after 17.00. My ticket had no confirmed seat, but I was soon allocated a middle berth amongst a lively bunch of students on their way to Chandigarh. The students were good to talk to. I asked one or two of them what their future plans were. They aimed to launch their careers in India. I was taken a bit aback, because most of the young Sihks I knew were trying to get to Canada or USA. The students said, "The Sihks want to go away, we Hindus stay here".
The train trip was good; I managed to get a bit of dozing before coming into Rajpura station about 03.45 on 14 October. It was certainly cooler here than in the desert, hazier too.
I rested in the train station for about 2 hours until dawn. The 1.5 km walk got me back to the main road, where I was on a bus to Khanna within minutes. By about 07.30 I was in Khanna; only a 1/2 hour walk and I was "home" at Gill Villa. Great to be here.
I was welcomed by Gurmeet and had a brief chat with Tinku before he had to go off to work. The rest of the day I caught up on newspapers and television news, and rested up from the train trip. We decided that the best plans for me might be to stay here until Friday 17 October. There seemed no need to stop in Delhi. I could take a bus during the day from Chandigarh directly to the Delhi airport.
It was even slightly cooler for the next couple of days in Khanna, such that the haze disappeared and the air was clear. They said it was because there was cold and precipitation in the mountains.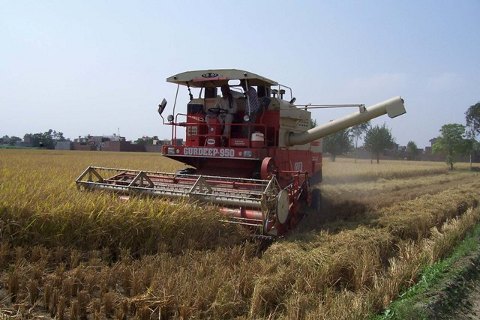 It was harvest time for a couple of the paddy fields, a bit over 2 acres. Having grown up on a farm, I was interested in how they did the harvest. The harvesting contractor brought his combine harvester in and went through the paddy fields within an hour or so, dexterously negotiating the confined spaces and sharp turns. I was a bit surprised to see that, although the grain was ripe and dry, the leaves were still green; it went through the combine OK rather than being "tough". The rice was put in a tractor-pulled trailer, about 72 quintals total (a quintal is 100 kg), equating to 31 quintal/acre, and taken straight to the nearby market for sale. I took some photos of the harvest operation, which pleased the combine owners, and volunteered to make prints for them.
A bit later in the day I went for a walk around Khanna, first stopping at the grain market where much of the paddy (they don't call it rice until it's been husked) was being taken in this busy time of year. The market was buzzing with merchants and sellers, unloading, piling the paddy, cleaning, drying, bagging and all manner of activity. Most was out in the open; there'd better not be any sudden rain.
It stormed and rained heavily that night. I was worried for Gurmeet's paddy, but he assured me that it had been sold yesterday and he was in the clear.
17 October; today I have to leave for Delhi and the airport to return to Australia. So sad goodbyes to all. At 10.30 Gurmeet took me in the car to Samrala for the bus.
The bus to Chandigarh dropped me at the western ISBT about noon. From there it was a short local bus to Sector 17 bus stand, where A/C buses go straight to Delhi and the International Airport. I got on a bus to leave about 13.50. It was a comfortable ride, and fairly fast, to Delhi, where we got onto the congested ring road about dusk. Quite a slow trip through heavy traffic got me to the airport after 20.00.
Now I have about 12 hours before flying. Weather was mercifully pleasant. A nice dinner in a food court, a good sleep in the visitors lounge, and I was ready for the flight.
Flight from Delhi was 07.55 on 18 October, then 19.50 from Singapore, and just after 06.00 on 19 October in Sydney.
India had changed a lot since 1990. It seemed considerably more developed, more modern, lots more motorbikes and cars and phones now. I didn't seem to have as much gut problems as last time, either because it's cleaner or I'm just used to it I don't know. There's still a lot to see and do; you could spend years here and not see everything.
Some things were the same as before though, the squalor, cows, and general sanitation level seemed the same. Food hadn't changed much. People still hassled travellers for their cut of the wealth. It was still hot of course.
Overall it was a good trip and I'm glad I returned to India. At the same time, it's still a heavy destination and 2 months is almost enough for one trip; it's nice to get home.
I'd be back in India again a year later.