Europe 2007
This might not be as exciting or exotic as most of my previous trips, at least not to people other than myself. Although I'm covering a lot of territory mostly by train, it's mainly visits with friends and relatives. I'd be travelling almost exactly 6 weeks.
England
I arrived from Canada at LHR at 06.30 on 19 June. I took a train and underground from the airport to Victoria Station, and a train to Rochester, Kent to see cousins Judy and Peter. In Rochester I met Judy and we went to their home in Cliffe, a nice little village next to the marshes along the Thames estuary.
Weather was warm and mostly sunny, so pleasant that after a visit with Judy and a rest, I took a walk out through the marshes. There were some public paths but also lots of water channels, so finding my way across was confusing. Eventually I found my way to the dike and the Thames, rewarded with views of a refinery and upstream shipping.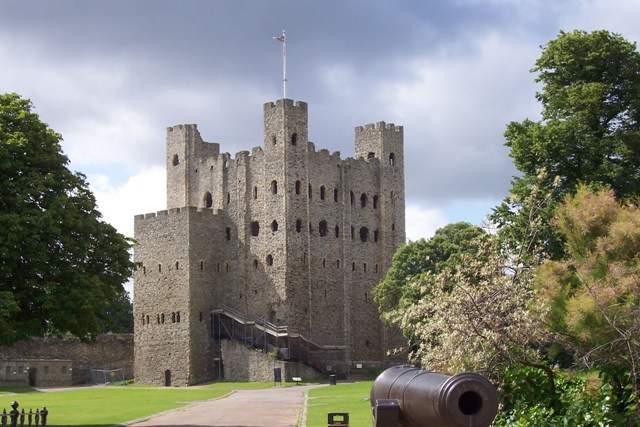 I stayed one more day in the Rochester area before heading off to Europe. First visit was to Rochester Castle. I wandered around the castle grounds a while and familiarised myself with some of the history and architecture of this Norman and post-Norman edifice.
From the castle I spent a good couple of hours at the nearby museum. It had good exhibits of the area from paleolithic times to the Victorian era. Particularly interesting was the section on the castle, with detail on the siege by the king against rebel nobles within. Another good exhibit was the graphic depiction of life aboard the prison hulks in the early 19 century. Dickens (Great Expectations) and Pocahontas also figured prominently in the area.
In the afternoon I walked down to Chatham, about 2-3 km away, to look along the waterfront and the old fort with its subterranean tunnels. I didn't hang around the tunnels much though; didn't see anyone around and didn't know if I was supposed to be in there alone.
When Peter and Judy were back, we went for a drive around local sights and scenery of this quaint and beautiful peninsula, towards Chatham, and around to Gravesend. In Gravesend we got a prodigious amount of Indian takeaway food and brought it home for dinner. I found that Indian food in England is powerful stuff; the vindaloo was almost too hot even for me.
21 June, on to Europe. At 09.15 I got the train from Rochester to Dover, getting to Dover Priory about 11.00. From the station a bus was shuttling people to the ferry port. The next available ferry was SeaFrance at 12.15; a routine but pleasant crossing.
In Calais, I was straight onto a bus to the train station. Here's where I start my Eurailpass. Luckily I managed to find a train promptly at 14.25 to Lille.
In Lille, I had to walk between stations but still got to the next station in time to take a 16.58 train (a fast ICE) to Brussels. In Brussels though I may have missed a connection and had to wait over an hour for the 18.40 train to Amsterdam. On through Antwerp, Rotterdam and other centres, and into Amsterdam at 21.20, not bad time for such a long trip.
Netherlands
From the station it's about a 1.5 km walk to the Amsterdam Stayokay Youth Hostel. It wasn't dark yet, being solstice, but the city was already coming alive with night life. Amsterdam is jam-packed with restaurants, bars, lots of young people, etc.
I found the YH along a canal street. They had my reservation, so I got a bed OK.
Even though tired, I decided to look around the city night scene for an hour or 2 before bed. Again lots of bars, food places, people, lights, hookers and beggars. I wandered around a gay area and the red light district - with its bikini-clad hookers in the windows and the guys hitting on them. Saw enough by midnight and went to bed.
Up a bit late next day, I finished the hostel breakfast by 10.00. I called my friends Guus and Anke in Bruekelen, south of Amsterdam, and left a message that I was coming in an hour or two.
Packed up my gear and slowly walked via the red-light district (still a few in the windows) to the train.
It was a half hour or so to Bruekelen by train. When I got there I was looking at a map to see how to get to their place, and they showed up to meet me. I had first met Guus and Anke when I'd been cycling in Belgium in 1998. It was GREAT to see them after nearly 10 years.
Back at their place, we started catching up on our lives in the past 10 years, and started plans for our 3 days together. The rest of the day was spent looking around Bruekelen, shopping and visiting. It's a quaint, pleasant town with a river, canal and castle.
Later in the day I worked on my train schedule, maybe leaving mid-day on 25 June, to go from Utrecht to Oslo. We tried and failed to book it on-line, and also failed to book it through a travel agent. Will have to go to Utrecht to try to do it in person.
23 June; the big thing today is to drive with Guus to the city Uden to see my Uncle Alfred. First to the Bruekelen shops to get flowers for my uncle. It Rained a bit off and on, but not bad enough to stop us. We left maybe 10.00, out on the main road toward and past Utrecht. Farther south we had to divert by road works and go near Andover, then SW to Uden. After a missed turn or 2, we got to Uden at about 12.15.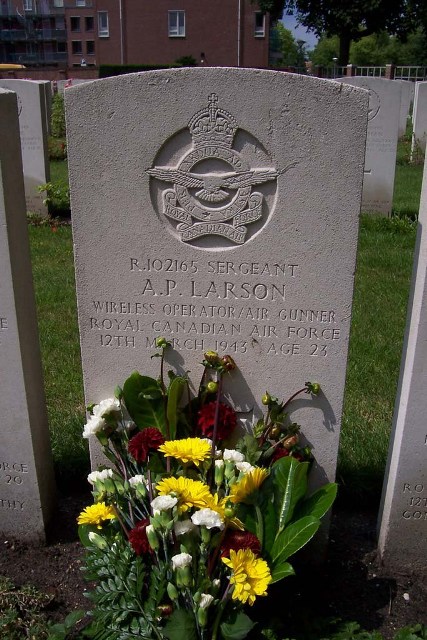 There at the war cemetery Antoon Voorbaker, a volunteer war graves enthusiast, was there to meet us. He took us to Alfred's grave. I was finally here. It was somewhat of an intense moment; I had difficulty speaking. I had always missed Alfred and was now at his resting place.
Herr Voorbaker was a goldmine of information about the crew and fate of BK348, telling me much that I knew and much I didn't know. For example he knew the exact time of take-off and crash on 12 March, 1943. The cause was unknown; the nearby night-fighter squadron had no record of a kill at that time and place. The Wellington had come down on the return journey (no bombs aboard). It crashed right in the nearby town Echteld, destroying a building and killing a verger's wife and young daughter. He was convinced they had found parts of all 5 bodies at the wreck site, so Alfred was not really MIA, as I had formerly believed.
Antoon had prepared some documentary information on Alfred and the events and presented it to me. I also bought a book on war cemeteries. After talking to Antoon and having a coffee and cake at the caretaker's widow's house next door, we didn't get away until about 15.30. A very educational, emotional and well spent afternoon.
We drove back from Uden to Utrecht to the Train station. I booked the train for Monday to Oslo. The schedule is Utrecht at 13.00 on 25/6, leave Duisburg 15.47, Hamburg 19.25, Koebenhavn 02.03 on 26/6, Malmo 05.14, Mjolby 08.12, Hallsberg 10.21 and Oslo S at 14.36.
Next day is a relaxing day. After a leisurely brunch, and taking advantage of a possibly brief sunny spell, we went for a walk through the grounds of the nearby castle. It is now a business university and private property, but locals can walk through without hassle. I think the castle dates back to the 14 century, but the architecture looks newer. The forested grounds are networked with walking paths, canals and ponds, all pleasant and pretty. A rose garden, small hedge maze and remains of a zoo can all be found there.
In the afternoon G&A took me for a drive several km to the district where they used to live. We looked around the charming village and a few other villages nearby. Here was another castle, and many buildings in the surrounding area that still belonged to the castle, as evidenced by the distinctive paint job on the building trim. Also here was the "old Rhine", from before the main canal was built.
Many of the fields contained sheep, the biggest and fattest ones I'd seen; they looked like small plump cattle.
In the evening the 3 of us went out to dinner at a local tavern, Guus's treat. The pub was noisy and frequented by young people, but very good food. It's good we were inside; it rained like mad while we ate.
On 25 June Guus has to work, and I have to move on. Breakfast, sad goodbyes, final emails and other computer chores, packing up and putting a lunch together, and Anke drove me to the local train station.
I took the 11.00 train into Utrecht in plenty of time for the 13.00 train. It wasn't raining (much), so I walked around Utrecht for a while carrying my pack. I looked again (after 1997) around the Dom Cathedral and examined the antique exhibits.
On the train for 13.00 and I was off for Duisburg. I had over an hour in Duisburg, so explored around streets and shops there a while. In Hamburg though I had only a few minutes so no sightseeing.
Scenery all day was the usual farms and small towns, with lots of built-up city and industry in the Ruhr, and many wind farms in the north of the country.
I couldn't figure out which way we were going for a while, until we came to a place called Puttgarden. It was a small north-German port town, and the whole train drove onto a big ferry to cross the sea to Rodby on Zealand in Denmark.
It was sometime after 22.00 when we rode onto Danish soil. More wind farms dotted the landscape. Darkness slowly descended as the train crossed southern Zealand and crawled into Copenhagen right on midnight.
There are trains every hour or so from Copenhagen across the big bridge to Malmo in Sweden. At this time of night they are full of drunk Swedes returning to Sweden from relatively cheap booze-ups in Denmark.
So I was on the noisy train to Sweden about 01.00, over the bridge and into Malmo about 01.40. I had about 3.5 hours before my next train to Mjolby. I did a quick turn-around the block outside the station to explore the night-life (or death), and back inside to stretch out on a bench for a snooze.
It was already light as I got up for the 05.14 X2000 to Mjolby. I had been required to reserve this section, and pay a supplement, so I got a breakfast on this leg.
At Mjolby in Central Sweden, I changed trains again for Hallsberg, arriving there at 09.12. After an hour wait I was on the final train for Oslo; that was 7 changes since Bruekelen.
Scenery up to now had been farmland with some bush; from here on it gave way to boreal forest and lakes.
Norway
The border with Norway wasn't marked, so hard to tell exactly when I entered. But many lakes and trees later, Oslo suburbs started to appear, and before I knew it we were pulling into Oslo S Station at 14.36. The whole trip was about 27 hours.
There had been a fair bit of rain off and on during the trip, but Oslo was dry and partly sunny.
I got my bearings in the station, got money from a bank machine, and found the tourist office to get some transport info. Bought a tram ticket to the Haraldsheim youth hostel in the Grefsen district and found my way to the tram stop near the cathedral. Oslo is a pretty normal city, nice old-style buildings, slightly crowded, pretty, criss-crossed with tram tracks.
Thee tram trundled slowly up the streets to Grefsen and I managed to walk to the youth hostel, a large not-unpleasant place, but not much character.
I phoned my Uncle Kaare and got hold of him. We agreed to meet tonight at 18.30 at the hostel, giving me a little time to clean up, organise my things, rest a bit and have something to eat.
Kaare came on time, great to finally meet him, and he took me home to his place to get-acquainted, make plans, and have a drink and snack. We got talking so much that I didn't get back home and to bed until after 23.00. We arranged to meet next day at 10.00.
I slept reasonably well and had a big Norwegian breakfast in the hostel, including cereals, bread with various meats, cheeses, pate, egg and jams, juice and coffee. This would be enough until dinner.
Also I found I could get online here with my PDA, so checked emails and train schedules. Kaare came at 10.00 and we drove around Oslo on a sightseeing trip. Weather held well, and it was a beautiful day.
First stop was the Holmenkollen Park on a hill above the city. This is what may be one of the biggest ski jumps in the world. It was an impressive sight, the top of the jump towering far above the hill. There's a comprehensive and informative museum inside the complex, covering all aspects of skiing and snow sports. Stairs and an elevator took us to the top of the jump for views of the complex below and the city and hills around.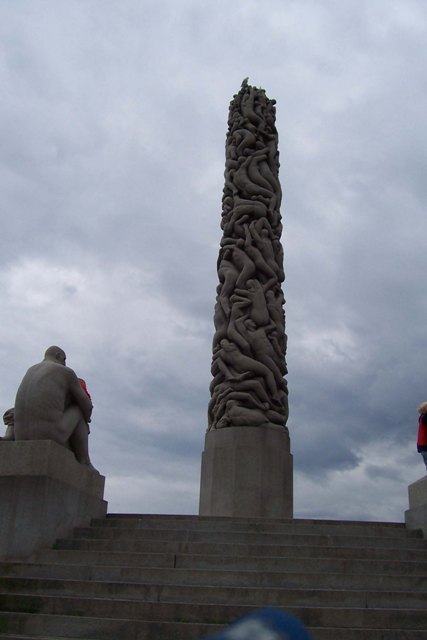 Back on the ground, we drove to another part of the city to the Frogner Park, home to the Vigeland Sculptures. How do I explain this park? It consists of a large and eclectic array of stone sculptures, mainly of the naked human form, throughout the park, in various formats from a huge central monolith to individual sculptures throughout the park. They have been criticised for being too "Germanic", but show a lot of taste, humour and genius nevertheless.
We went on to Kaare's sister Aase and Eric, within walking distance of the hostel. Lunch at their place, then we drove to the west part of the city to see their brother Kaspar in a care home.
That was to be one of the highlights of my trip. I had copies of letters that Kaspar had written to my grandfather Knut in the 1940's. He had escaped Norway in 1940 and gone to Britain, and fought from then until the end of the war. I had desperately wanted to meet him, and now here we were.
Despite a degree of dementia for recent events, his mind was sharp as razors regarding the war. He thrilled us with recollections of raids on the Norwegian coast and of his part in Operation Market Garden. His unit landed on West Kapella, the west of Isle of Walscheren, and took the island by evening (?), taking a gun battery and fighting off a German counter attack.
He even talked about uncle Alfred, noting that he had come to England in 1941 and must have been flying for a couple of years before going down over Holland. Kaspar recalled Alfred crashing or something (not sure of circumstances), and being in hospital for quite a while.
I came back to the hostel and had a rest, clean-up and internet. At 18.30 I walked up to meet Aase and Eric, and we took the 1/2 hour or so walk up to Kaare's place for a great evening of drinks and dinner together. I didn't get home until after 23.00 again.
28 June, I'm off to Rena to meet my distant cousins Lillian and Espen. I had as large a breakfast as I could, maybe I'm eating too much, checked email and internet train times again, and took the tram down-town to the train station. There I got a ticket to Rena and got on the 10.37 train.
The train exited Oslo and passed through the airport before proceeding up past farmland, bush, rivers and the big Mjosa Lake before stopping at Hamar. A change to a regional train, across to Elverum, up the river, and I was in Rena at 12.55.
Lillian and Espen must have known when I would arrive, because Espen was there waiting for me. He drove me the 5 minutes or so to their house above the west side of town, meeting Lillian and their youngest Anders there. I'd only corresponded with them and had never met them before, so it was wonderful to finally see them.
We got me settled in and talked a while until they picked up the kids Alfred and Arthur from kindergarten.
After an early dinner, Espen took me for a drive around the town and out to the nearby army base where he works. I was treated to a good tour of the base, with commentary on the layout and activities here. One area had a display of vintage tanks, and Espen, being a sometime tank commander, gave me some informative lessons on tank history and technology.
In the evening I checked train times and email, decided to go south to Denmark on Sunday 1 July, and wrote to friend Jens (see my notes from South Africa in 1998) in Odense to let him know I planned to be there late Sunday night.
This is probably the highest latitude I've ever been, about 61 deg north, and it hardly seemed to get dark at all. Good sleep at night though, I slept in to 07.30.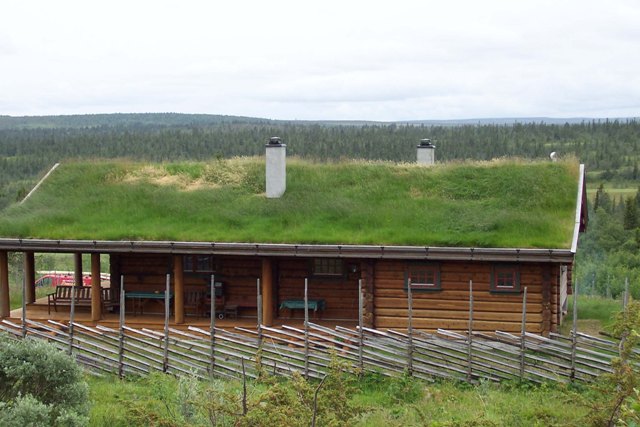 After a Norwegian breakfast and having packed the kids to kindergarten, we took a drive north and west up to Strand Setter, a summer hill pasture where farmers graze cattle in summer, and the Houdsomyene Nature Reserve.
The whole area was picturesque cottages, farm buildings, sod-roofed houses, traditional-style fences, pasture land, sheep and cattle, some trees, and great views of surrounding hills and valleys. The bush here was reminiscent of the shield country in Manitoba.
We had a good walk along the road for an hour or two, and back down to home before noon.
The rest of the day I relaxed, did notes, caught up on TV news, and we showed pictures of family and travels to each other. Espen had been to Afghanistan on a couple of tours, so had some great photos to show from there.
The following day It's still good weather most of the day. In the afternoon we packed the kids up in carriages etc., and did a walking tour around down-town and surrounding Rena.
The big log church where the kids were christened happened to be closed, but it was impressive from the outside. I found the gravestones interesting; many of them were roughly hewn out of the local granite or were just unaltered boulders with lettering, an attractive contrast to the finely polished stone you get back home.
1 July, I'm on to Denmark. Espen took me by car to Hamar, about 60 km away from Rena, in time for the 10.07 to Oslo. The train itinerary was 13.00 from Oslo, 17.27 from Gotenberg (Sweden), 20.42 from Malmo, 21.30 from Copenhagen (Denmark), and into Odense at 23.03.
I had over half an hour in Goteborg, so wandered up the street to a shopping centre and back for a look. What stuck in my mind the most was the large number of young people in Goth or heavy metal (whatever the term is now for that) gear, all dumpy looking black clothes, rings, chains and trousers hanging down exposing underwear.
Denmark
I was in Odense at 23.30. My friend Jens, whom I'd met in Lesotho years ago, was there to meet me and drive me to his place.
Next day the weather wasn't that great, wet off and on most of the day. But it was good to catch up on things with Jens and Vinnie; it was 9 years since I'd last seen them. He'd been back to Africa a number of times, including times in Ghana and Burkina Faso, so I enjoyed hearing about those trips.
We went to down-town Odense and spent part of the day looking around the historical sites including the HC Andersen House and the grand old church. We found a nice tavern for a couple of good Danish beer. Later that evening Jens, Vinnie and I had a nice dinner with wine in a tavern restaurant.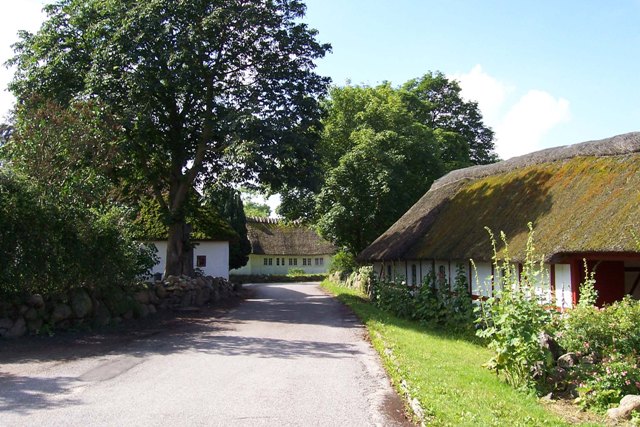 The weather was thankfully much nicer the following day, so Jens and I took a drive up to the north-east corner of the island, about 40 km from Odense. It's a very pretty part of Fyn Island, mostly flat but with lots of small winding roads, villages, bays and lagoons. 2 of the first stops were the small hamlets of Viby and Male, historically authentic picture-postcard settlements with old thatch-roof buildings and a Dutch-style windmill.
Back on the other side of the peninsula, at the summer-cottage settlement of Lango, we dropped in on an artist friend of Jens (Jens too is an architect and painter), for a visit, coffee, and a short walk along the pebble beach near the cottage.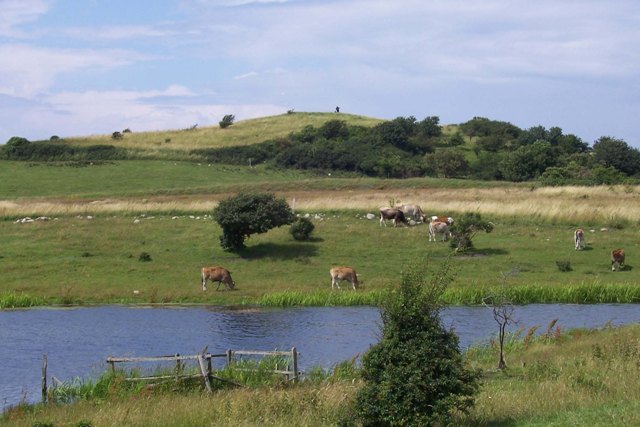 From Lango, it was a short drive up to Fyns Hoved, the head at the very point of the peninsula. Here was an attractive little walk along the shore and up over the hills that form the head of the peninsula. Sheep and cattle grazed on the grassy slopes and sailing craft plied the waters offshore.
It started to rain heavily just as we (almost) got back to the car.
On 4 July I was up before 06.00 for breakfast and a ride to the train station in time for the 07.31 train, and the start of my all-day journey to Lausanne, Switzerland.
The first train was to Frederica, the first city after crossing the bridge between Fyn and Jutland. As I gazed out the window crossing Fyn, I was amazed to spot what looked like a small herd of American bison in a nearby field. Where did they come from? I later worked out that they may have been wisents, or European bison.
The train connection from Hamburg to Basel was 25 minutes late due to strikes or track works or whatever, not leaving until about 14.30. That would put my Basel connections in jeopardy and I wondered if I would get to Lausanne tonight at all. It rained heavily off and on as the train travelled through Hannover, Frankfurt, Karlsruhe, etc.
Arrived in Basel at 21.30, a half hour late, but I got off on the German side by mistake and had to take a later train to Basel SBB. From there though, I was lucky to get straight onto a 22.07 train to Bern, and a connection to Lausanne at 23.07, to arrive finally at 00.18 on 06 July.
Switzerland
So here I am in Lausanne in the middle of the night with nowhere to go. It had been wet here, and was dreary and miserable out. I couldn't find a place to change money or find any information, and buses had stopped running. It was too far and uncertain to try to walk to the youth hostel or camp-ground.
So I might as well just find a bench in the station to stretch out on for a few hours, as I'd done in Malmo. I did get some sleep, but it was horridly chilly.
At 07.00 or so it was now raining miserably. What am I doing in this wretched place?
I was looking at the bus stops trying to figure out bus routes and ticketing, having no small change anyway, and a local guy kindly helped by buying me a ticket. I eventually found the bus that took me to Ouchy near the lakeshore, and then to the youth hostel at Bois de Vaux, coincidentally right near the camp-ground I had used 9 years ago.
In the morning I had a walk around to the camp-ground, the nearby Roman ruins, the lake-shore (boy what a wind and chop on the water!), along the shore toward the Ouchy port, and back along the main streets.
My knees and legs felt strangely tired and sore all day, don't know why. But, despite fatigue, I took a bus down-town again in the afternoon to look around the city centre. It seems to be anchored by the large Saint Francois church on one side and the Cathedrale on another hill, with lots of shops, restaurants and bars in between.
I spent quite some time in the Historical Museum next to the cathedral. It had good exhibits from the ice age to the present in its own intriguing historical building.
Later back at the hostel I got hold of Christoff (an old friend I'd met in Rajastan in 1990), to pick me up at 09.00 tomorrow.
Christoff found the hostel on time next morning. I get tired of saying this so many times, but great to see him. I'd met him in 1998 on my bike trip. But it was exciting to catch up again after several years.
We drove for 20 minutes or so through pleasant undulating farm country and villages to their home in the small village of Mollens. Celine and their 1-year old daughter Bardane were there to meet us.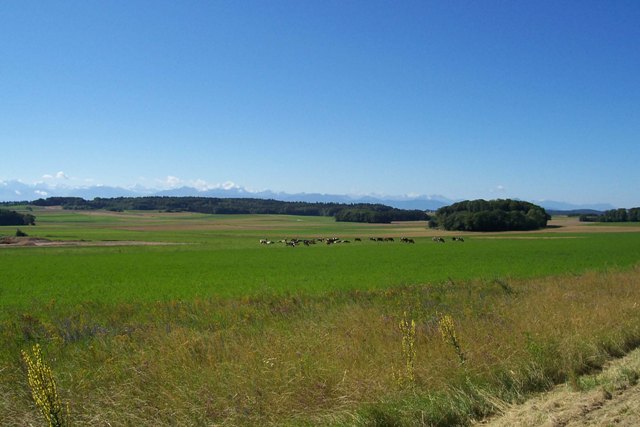 It looked not bad outside; the rain seemed to be holding off for a while. So we decided to try for a drive to see some sights. We went about 20 km along and then up into the hill range behind their place. We climbed a long and winding road through forest up to a chalet at a 1447 metre pass called Col du Marchairuz. It would have been great views except that the rain closed in again on the way; couldn't see anything and couldn't walk.
On our second day together Chris had some grocery shopping to do, and most of his fresh meat and produce is purchased from farms in the area. So off we went to the neighbouring villages of Apples and Reverolle and surrounds for a week's supply of vegetables, fruit, cheese and chicken. The weather was holding out wonderfully today. So in the afternoon we made another try for Col du Marchairuz. Part way up the hill, at a look-out, we got rarely seen views over Lac Leman to the mountains on the other side, including a cloud-free Mt Blanc. Even barely visible was the big water fountain at Genva. Wonderful.
A short distance down the other side of the pass, we could park the car and do about a 1 or 2 hour walk along a side road. The track led through summer pasture with dozens of cows grazing and tinkling their bells and into pine/spruce forest. Weather was perfect.
Back home, Chris brought out his Moroccan tajine casserole dish and whipped up the best (although I've only had 1 or 2 before) lamb tajine I've ever tasted.
Next day the weather closed in again today, rain off and on all day. This was starting to get to be a drag; ever since I got to Europe I've had far more wet days than dry.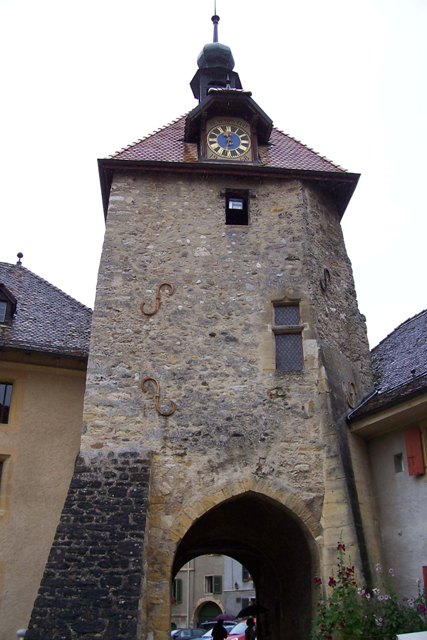 Anyway, we wanted to do something, so we took a drive to the small old valley town of Romaine Motier. It's a Roman-era settlement and basilica that was built at what was thought to be a place with an unusually high concentration of aural energy. So the Basilica was never completely destroyed for rebuilding, just modified and added to throughout the middle ages. It therefore is an architectural marvel with parts from several eras. It's still in use as a church, and as we arrived there a Sunday Mass was still in progress and we had to wait to get in. I couldn't detect any of the energy fields; maybe it only works for non-sceptics.
About noon we drove up to the top of the hill range again, looking for and finding La Breguette, a remote little farmhouse-type restaurant, off on a side road. There in a cowbell-themed dining room we were able to score a great cheese fondue lunch.
After lunch the weather was just clear enough, for just long enough, to do another longish walk along side roads through more summer pasture and forest.
On 9 July it's time for Chris to work, and for me to move on. He took me into Lausanne to catch the 09.45 train to Lensburg, near Zurich to see Christian and Christine whom I'd known in Australia in the 1970's. Some of this route, up past Lac de Neuchatel etc, was part of where I'd come the other direction by bike in 1998.
In Lensburg My friends came in the rain to pick me up from Hagglingen a few km away. Later in the afternoon the rain hadn't let up much, but we felt like getting out for a walk or something anyway. So we got in the car and drove several km to the village of Bremgarten. There, in the rain, we walked across the unique covered, wood arched and covered bridge across the swollen river, around the cobbled streets and small boutique shops, and around the small power station and power museum along the river.
Next day Christine and I decided to go into Zurich for a look around and sort out my later train connections to Prague. We got to Zurich about noon. I reserved a train from Zurich to Prague for 22.40 on 12 July, to arrive in Prague on 13 July afternoon. Also, decided to reserve Prague to Cherbourg via Berlin and Paris for 16 July. The train would leave Prague at 16.34 would get me to Cherbourg at 13.24 on 17 July, a day before the ferry to Ireland.
Chris and I wandered around central Zurich a bit. Then while she shopped, I walked around more of Zurich and looked at the historical buildings, boutique shopping, restaurant districts and the river. I hadn't been here since 1979, and there seemed to be not much change except lots more stores now.
Rain drove me back to the train station where I met Christine and we took a train back home.
On my third day in Hagglingen, it was partly rainy again all day. So I did more email for a while. Then Christine and I decided to do some walking for a couple of hours along the wanderwegs through the forest and fields around Hagglingen. It was pleasant and enjoyable despite intermittent light rain; the sun came out briefly once or twice. Wildlife in the bush was limited to lots of huge slugs and snails, probably from the wet weather. Christine said the snails were the good French eating kind, but a protected species. Sadly, the wheat crops in the fields looked to be damp and rotting, steadily downgrading because too wet to harvest.
Later in the day, after Christian came home from work, the 3 of us took a drive down through nearby villages and over the hills to Seengen. Halwell castle, near the town, looked distinctive in that it was in 2 separate sections, with a moat around and between them.
From the castle we went to the Eichberg Seengen Restaurant, known for its "Alsatians", thin crispy-dough pizzas with cheese and meat toppings. They were OK but not very filling.
Later on the internet, I booked the Exetol YH in Prague so I would have a place to stay while there; it seems to be getting difficult to reserve accommodation now with the start of summer holidays.
The fourth day I got hold of Chris's mountain bike and took off around the countryside for about 5 or 6 hours. The rain held off so it was a good day for it.
First stop was the hilltop Lensburg Castle, arriving just before opening time at 10.00. The castle itself didn't take all that long to see from the outside, just a collection of stone buildings of various ages, but the museum inside took over 2 hours. A large number of rooms on multiple levels had exhibits of life, work and conflict throughout the lifetime of the castle.
From the castle, I tried to go out along the wanderwegs toward Seengen and around and back to home. But the paths weren't clearly marked, so I just rode around through some forest before heading back through side paths etc., a good ride in any case.
In the evening Chris and Chris kindly decided to drive me into Zurich to catch the train to Prague. Sad goodbyes, and I was on the train to leave at 22.40. This was a sleeper coach all the way to Prague, so I was able to crawl up into my top bunk and go more or less straight to bed. It was quite hot up there, but I slept well anyway.
Czech Republic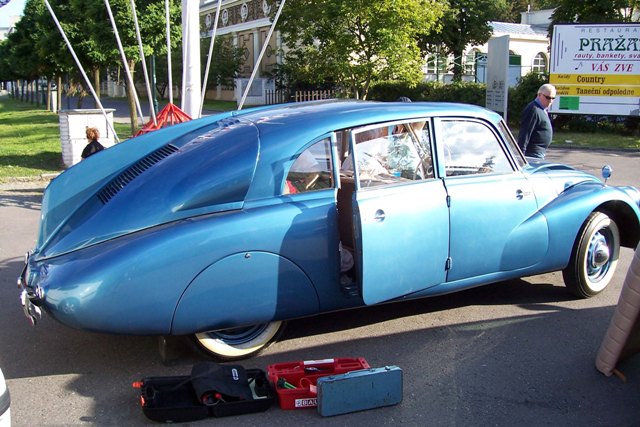 As the train passed through German countryside and into Czech Republic on 13 July, I got my passport stamped by uniformed Iron-Curtain types. On the Czech side, the whole atmosphere of the country seemed to exude a subtle, ill-defined, slightly grim Soviet-style ambiance; hard to put a finger on, but there.
In Prague about 12.40, I found my way through the platforms into the cavernous station, full of ticket agents, money-changers, accommodation agents, and fast-food kiosks. I managed to find a bank machine to change money, then found the tourist office to get directions to the Exotol Youth Hostel by metro. But not having small money, I decided the metro is not worth it, picked up a map, and started walking.
I went OK until crossing the Vltava (Moldau) River, finding that there was an island in the river and two bridges, getting lost a bit on the island, I think spooking a couple having sex in a secluded part of a park, and finding my way to the north side of the river. From there I found the hostel OK, having walked less than an hour.
After a short rest, the afternoon and evening were taken up in exploring this part of the city with its amusement park, exhibit halls and a large wooded park, wonderful to chill out a while.
My first full day in Prague should be an easy, relaxing day, but will see how it goes. I took a tram down-town to near the train Hbf. I walked via the train station to the Advantage YH in south-central to use their wi-fi, checking email and doing some internet chores. By the time all that was done, I'd been there 2 or 3 hours, and the day was getting away.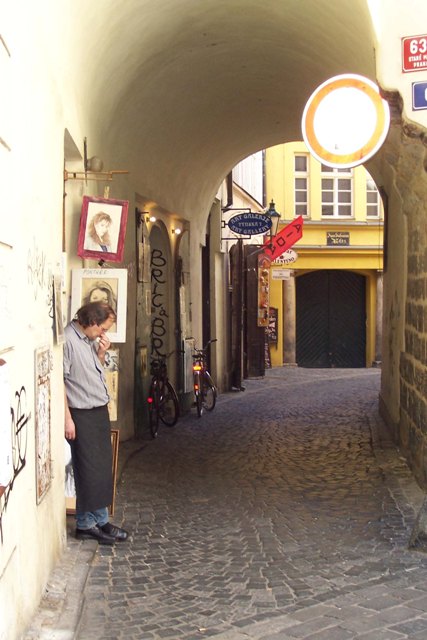 So quickly back up to Wenceslas Square for a look. It's not really a square at all, but a wide boulevard street, teeming with shopping, bars, restaurants, fast food, souvenirs, casinos, people and all touristy paraphernalia.
On to the crowded restaurant streets at the end of W. Sq and surrounding streets, and over to Starometska Namesti, the square with lots of big old edifices such as the old town hall/observatory and the twin-spired Tynem Church. From there, toward the river and the past the crumbling Anezky Klaster, along the river and into the Jewish Quarter. There was the small but distinctive-looking Staronova Synagogue and the dense stone-forest of the Jewish Cemetery. For one reason or another, I couldn't get into most of the sights, just look from the outside.
Back along the river to the ornate statued tower-at-each-end Karluv Most (Charles Bridge); it was crowded end-to-end with people and painting vendors. On the west side of the river near the bridge was the Mikulase Church. It seems that this and every other significant historical building in the city has a classical music performance on in the evening, are they really that musical or is it for the tourists?
It's been the first genuinely hot day of my European trip, quite a change.
The second day in the city was another hot day; it must have been in the mid 30's all day. I did a lot of walking, and had to intake a lot of water to keep going.
I thought today I'd walk along the north side of the river, through a wooded hill park toward the big Prazsky Hrad Cathedral in the west part of town. From the heights of the park, I got good views of the skyline of the city across the river. Past a sculpture of "the Metronome" (a huge pole swinging slowly back and forth by electric power) and past the "Belveder (a big columned building in Greek style with lots of Greek relief sculptures around the façade), I arrived at the back of the cathedral.
The Cathedral, with its vast proportions, gothic design, magnificent flying buttresses, and bell chorus that went a full 15 minutes at noon, kept me there captivated for some time.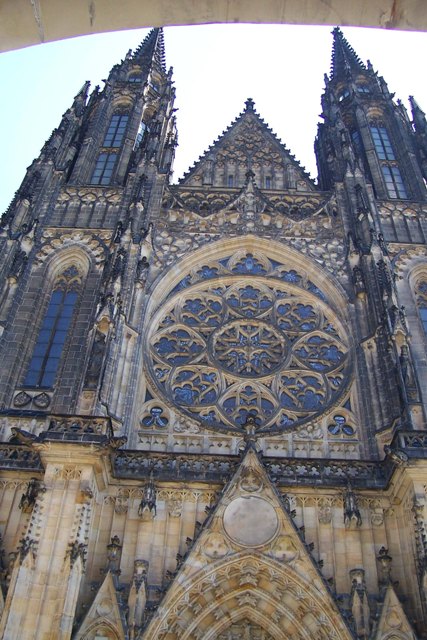 On the west side of the river was the Mala Strana, another hill park, and at one entrance was the Strahovsky Klaster, a small but pretty church. Even in the park it was roasting hot, but still a pleasant walk. Back down the bottom, I was again on the Karluv Bridge and back to the centre of the old city.
I ended up at Wenceslas Square, near the train station, at the big Narodni national Museum. The museum had the usual dry (in both senses) exhibits of paleontology, anthropology, and an extensive zoological section. On special display was an exhibit of mammoths and mammoth hunting civilisation, rather interesting. It was 2 or 3 hours, after 17.00, by the time I got out of the museum.
On the way back home, I stopped at a small pub for a couple of .5 l beers, good to relax and update my trip notes. Beer is cheap in Prague, about 1 AUD for 0.5 l if you know where to look, and a welcome refreshment in this heat.
On Sunday the nearby market by the river had been closed, so Monday 16 July was the chance to walk down and "Czech" it out. It was stocked with the usual clothes, hardware, electronics, watches, knick-knacks, etc. What struck me were the big (maybe 1.5 ft high) fabric male genitals, like big cloth dildos; what are they for?
By afternoon it was blazing heat, mid 30's temperatures. I stopped in the pub near my hostel for a last Czech beer.
Prague was the first destination on my trip where I wasn't meeting anyone, just coming to see the place. I loved it. Despite the tourist focus, and its hordes of vendors, pan-handlers and tourist-oriented businesses, it's a beautiful city. Much of it is world-heritage listed, and must have one of the greatest concentrations of historical edifices in Europe. It was so worth the detour to get here.
I walked to the station by about 16.00 to get the train to Berlin. Here's where things started to unravel. My booking said 16.40, but the schedule said 14.40 for that train. But there was a rumour of a suicide; someone had thrown himself in front of a train and mucked up the timetables. My train was about 145 minutes late. So How do I make the connection? I don't. The conductor told me I wouldn't make the Berlin connection, and to get off at Dresden and go to Karlsruhe instead, from there making my way to Paris.
So into the Dresden Hbf, into the ticket office, and in front of a woman who must have been trained Stazi-style; bonus points for surliness. She did however get me onto a train leaving in 1.5 hours. I had an hour or so to walk around the main shopping plaza in Dresden, but couldn't get as far as the historical district.
France
So anyway with the bed I did have a reasonable sleep on the train, arriving in Karlsruhe about 05.30. There I had to reserve another train to Paris. The train to Paris was fast; I got to Gare de l'Est about 10.40 and found a connection from St Lazare station to Cherbourg at 12.35. I asked directions and walked out of the station to find the metro, ending up at Gare du Nord and thence onto the metro to St Lazare.
Having some time to kill, I walked around some of the streets around St L with my pack on, stopping briefly to admire(?) the small but imposing crypt-like Louis XVI Square.
Later in Cherbourg, I wasn't sure what to do, as the YH was booked out. Far from the heat of Prague, it was cloudy here and starting to rain off-and-on.
I looked at the town map and saw where camping sites were on the outskirts of town, and eventually walked a few km out west of town to find the Salines Camp-ground near the beach of that name. It was a longish walk with my pack on, but it paid off. There was a nice woman in the camp-ground who spoke no English but gave me a tent site. Great, I'm safe, here in Cherbourg a day before the ferry leaves for Ireland. After a rest, I walked into the nearby village and found a grocery store for some dinner supplies. That evening I still had time for a short exploratory walk around the stony beach and headlands, before retiring for a comfortable sleep.
18 July, and my ferry to Rosslare doesn't leave until 18.00, so I have all day to kill. After breakfast I took a walk out west along the shore for a few km. I got to a naval area, and came across an old frigate that seemed to have been driven right up onto the beach. It was inside the harbour and right against the naval gate, so must have been put there on purpose.
I spent time on Salines Beach before walking back to town and to the ferry dock area. I went in near the ferry, but they told me I was in the wrong place and had to go around the other end of the dock. It was an incredibly long walk to get around to the entrance, another half hour or so.
Anyway it went well enough from then on, getting my boarding pass, a bus to the ferry, and finding my seat. The ferry left a bit late; au-revoir to France.
Ireland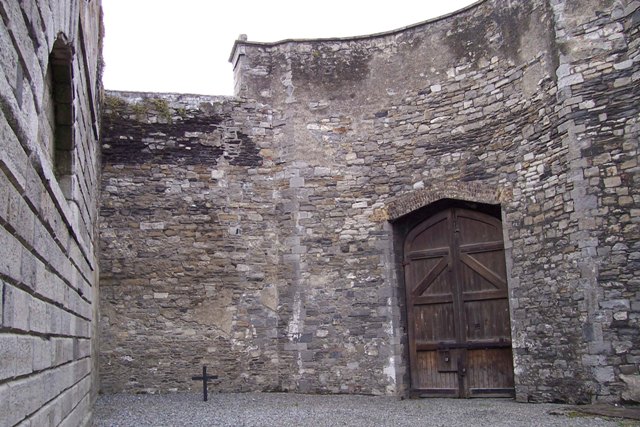 The ferry came to Ireland and into the small Rosslare Harbour and village about 11.40 Irish time on 19 July. The bus from there cost only €16 to Dublin, so I took it at 12.30 rather than wait for the slower train. It was surprisingly bright and sunny, not the Ireland I expected. The grass in some of the fields was even yellow; where's the damp and the emerald?
Arriving in Dublin at a bus station about 15.45, it was only a 10-15 minute walk to the Mountjoy Rd Youth Hostel. I managed to get hold of an old friend Alma (whom I'd met in Laos in 1999) and we met later at the hostel. Great (as usual) to see her after 8 years. We walked down-town to a pub and had a couple of drinks (I had Guinness) and mapped out some activities together for my next 3 days in and around Dublin.
20 July; his must be the real Ireland, rain, rain and rain. I met Alma at 11.30, we had a coffee and started to sightsee. We walked down the shopping area of Henry St, across the pedestrian Ha'Penny Bridge, and around the south-side shopping/bar/trendy Temple Bar district. From there, we looked around Dublin Castle (from 1204) and went into the City Hall to see the very educational museum-style "Story of the Capital" exhibition. Past the Viking/ Medieval Area and the Christ Church Cathedral (1030), we found the Brazen Head Inn, Ireland's oldest pub. That was worth a stop and a Guinness.
We had a peek in the vast, historical and still active Guinness Brewery (1759), intending to go in for the self-guided tour, but there was too large a queue for that time of day. Even the huge souvenir shop was crowded; and I couldn't have imagined the incredible quantity and variety of Guinness paraphernalia, from golf balls to boxer shorts.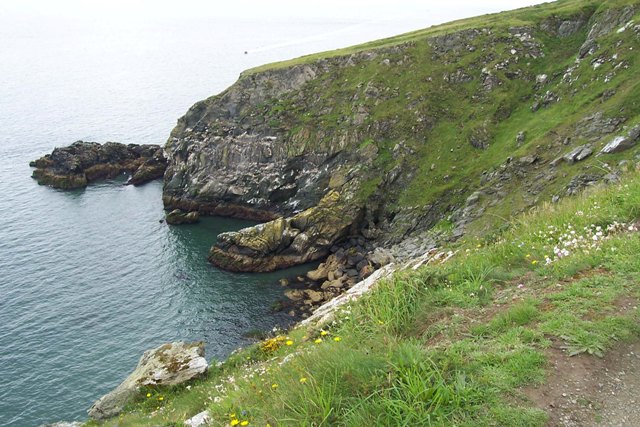 In the evening, at Monty's Nepalese Restaurant, we had a good meal of pakoras, Nepalese curries, rice and chapati.
21 July; it wasn't raining most of the day, so good to get around.
Met Alma at 11.30 as planned. We tried and failed the Guinness Storehouse again, an even bigger queue today. Instead we took a long walk to Kilmainham Prison, well worth it. It had a tour showing the different ages of parts of the prison and some of the history of its time. An attached museum gave good history, especially of the 19th century and of the Troubles.
After more walking around a park, up some streets where the swish houses and embassies etc. are, and along the main canal, we slowly ended up back at the Temple Bar area, where we had a nice Thai dinner, and down-town later for a Saturday night beer. A couple of gay guys sat across from us, and we all had a good conversation and socialising.
Next day I had most of the day to myself. So in the late morning and early afternoon I took a train out to the seaside tourist village Houth on the shore north from Dublin. There I walked out past the Sunday Farmers Market, (lots of cheeses, preserves and meats) past the marina, and up out of the village along the cliff walk around the headland. Nice views of the village, coastline, lighthouse, rocks, cormorants, gulls and kayakers below. It started to rain eventually, So I returned through the village back to the train.
Later in the day I took a bus out to Alma and her aunt's place in Lucan for a pleasant dinner and evening together.
Back to England
23 July, and hopefully I can get to Wales and thence down to West Dorset to meet friends Sylvia and Malcolm. I got to the ferry on time and left Dublin Port at 08.05 for a routine crossing to Wales.
In the small ferry terminal at Holyhead, the train guy wasn't encouraging; Flooding in South England made the whole transport situation difficult. Apparently Gloucester is the epicentre of flood troubles. He suggested I get a train to Birmingham and see how I go from there. Anyway I got on a train at 12.40 and went along the north coast of Wales and on to Birmingham by 16.00 or so. There I checked with the office, and they advised me to try for Bristol and thence to Dorchester.
After a quick change of trains at Bristol, a quick phone call to Sylvia and a train change at Salisbury, and through more rain, I ended up in Crewkerne at about 20.55. Fortunately Malcolm was there to meet me and we had a good drive to their place; the rain held off quite well for the moment.
I quickly got my tent up in their yard before the rain started, met and talked to Sylvia a bit, and had a good rest after a long day.
From 24 July onwards, the remainder of the trip was an idyllic and relaxing few days at Sylvia and Malcolm's. They made me feel welcome as we visited, caught up on news, took in sights and activities in the area, visited friends, ate out and did odd jobs around the farm. The first day was beautiful, such a change from rain most of the way down here. Other days though were a mixed bag of fine weather, clouds, showers and heavy rain. This is one of the wettest summers on record here.
On 29 July I farewelled my gracious hosts and headed toward Heathrow for my 30 July flight back to Canada. After all the rain and cool weather through much of the trip, wouldn't you know it! There wasn't a cloud in the sky as I took off. I consoled myself that the nice weather must be temporary.
Despite the large amount of miserable weather and rain over most of the past 6 weeks, I had a good and very worthwhile trip. It was amazing to see all the friends and relatives that I hadn't seen for years or have met for the first time. Everybody was so wonderful to me; I hope to see them all again before too long and will remember them always.