Tasmania by Bicycle, October/November 2015
I hadn't been back home long from my two week Kakadu walk in July/August, and it would be a while until leaving for Canada in late February 2016. Caught up with activities and fearing boredom at home, I decided to get away for a few weeks. I hadn't done any cycle touring since 2011, so it might be good to get at least a little pedal work in to keep in shape. I hadn't been to Tasmania for a few years, and hadn't biked there since 1996. So let's give it a try.
Being too lazy to over-exert myself, I decided to go for a relatively laid-back ride, confining myself to the main cities and the east, south and centre of the state, spreading it out over 4 weeks. I would hopefully do shortish rides and loiter in interesting places before moving on. Having been to the west a number of times, I had no interest in the long distances and hills out there.
Some preparation was required. I inspected, serviced and tweaked my bike as much as possible. 2 new tires would give me some reliability. I had lost somewhere or discarded my two front pannier bags, so simply went to a discount store, bought a couple of small backpacks, and converted them into pannier bags; wasn't sure they would last the trip, but they ultimately did. To get the bike to Launceston I went to a bike shop, obtained a cardboard bike shipping box, partially disassembled the bike, and put it with bike accessories into the box. It got through the airports just fine like that. I took a backpack as well as the 4 bike bags, mainly to get my gear onto and off the plane. Weights: bike box with bike stuff was a little short of 20 kg, and the pack with all other gear was about the same. Being allowed 1 checked bag only, I had to pay a little extra for the bike box on the plane; no problems.
28 Oct
So in the morning I was ready to go. Friend Kerry kindly took me and luggage to Sydney Domestic Airport to board my 15.15 flight to Launceston. I was in Launceston Airport about 17.00, and on a shuttle bus into town around 18.00. I was impressed how easy it was to get the bike on and off the plane and onto the shuttle bus, all very efficient and trouble-free.
I enjoyed beautiful weather both in Sydney and here. In the friendly and helpful Arthouse Backpackers Hostel, I had time to buy a few groceries at a nearby supermarket, make some dinner, relax, and gloat about how pleasant and low-hassle my trip was thus far.
29 Oct
27 km covered on bike today
Another beautiful day. I unpacked and assembled my bike, and found that the hostel hosts would allow me to store my bike box in a shed and use it again for my return flight; wonderful! I found to my delight that I could pick up from the hostel office a bottle of camp stove fuel to use on my trip, and return it at the end for the next traveller with a stove; what a great system!
I took a test ride for some distance downstream on the West Tamar Highway and returned down-town to explore the city centre. No major problems with the bike, just broke my mirror (maybe from the plane flight) so will have to replace it eventually.
I didn't bring my laptop on the trip, obviously too heavy and fragile for the bike. But I did have my Kindle e-reader with a rudimentary browser and wi-fi capability. It did not work on all websites or emails, but I as able to start using it and keep in sporadic contact with Maggie.
30 Oct
67 km
Today is the real start. All bags on the bike and all ready at 08.30. On my first day I'd start toward the east coast via Lilydale and Scottsdale, and see how far I'd get. It was a good fast run down the eastern side of the Tamar Valley; if it's like this all the way there's no stopping me.
But it wasn't like this. Leaving the valley I started to climb up hills, not steep but long and repetitive. With over 35 kg of weight, I had a lot of work ahead.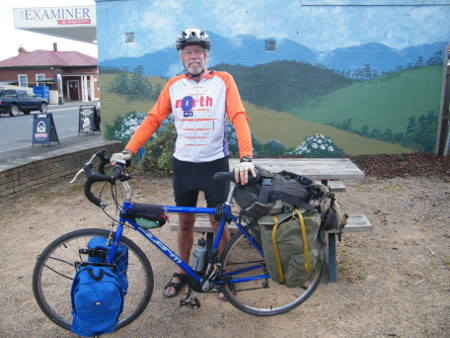 I arrived Lilydale at 10.30 after 26 km with several hills. Then on to Scottsdale I encountered many more hills. It was somewhat difficult to find a place to stop for lunch or rest that didn't stink of road kill.
I was stuffed by the time I reached Scottsdale. What's the matter with me? As I rode into town unsteady on the bike, bathed in sweat and hardly able to talk, a woman across the street yelled out at me "You look EXHAUSTED!"; I couldn't help but agree and obtained directions off her to get to the Visitor Centre. There the staff similarly took pity on me, filled me up with water and pointed me to the free camping site by the duck pond about a km farther on.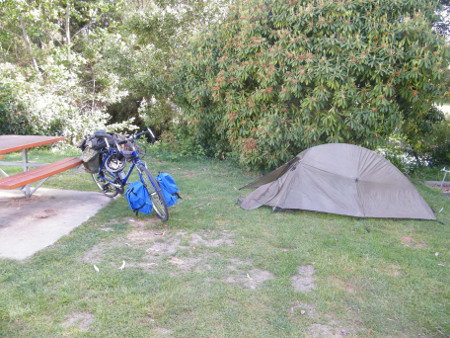 As I set up my tent, showered and attended to dinner, I pondered my situation. I had come a mere (but hilly) 67 km today and was shattered. If that's my level of performance how am I ever going to complete this trip? However I did find the strength to do some short walks around the pond and nearby bush tracks in the evening. I would later find that today was a once-off, I would be in better shape next day onwards, and would complete the trip quite successfully.
31 October
54 km
Darn, forgot my Halloween costume. Anyway, on the road at 08.00, I struggled one sizeable hill out of Scottsdale, then flat into Derby. Went into a shop, bought some biscuits, and talked to the girl about the road ahead. She warned me that it's a gentle climb, flat for a few km, then a long winding climb up to Weldborough. Encouraging (??) The climb was 8 km of winding road through forest, but as I had psyched myself up for it, I survived it OK, and was far less stressed than yesterday. Maybe cooler weather and slight rain helped.
Weldborough, just below Weldborough Pass, was a pleasant stop. I could camp behind the pub for a nominal fee and have a shower and later a beer. I cooked my dinner with my camp stove under a shelter, where I could socialise with a gregarious group of motor-home people who were barbecuing, drinking and having a great time.
It rained in the evening and night, but not enough to bother me.
Back in my student days, I remember studying differential calculus in my mathematics courses. One concept that stuck was that of the "second derivative". Where the second derivative is 0, that is the point on a curve where the slope is still positive, but starts to become less so, i.e. it is becoming less steep. (The first derivative being 0 is the point on the curve where the slope changes from positive to negative, i.e the crest or trough). Grinding up the hills with time to think, and wanting to take my mind off the drudgery, I was very conscious of that second derivative, looking for that point on the road where I'm still climbing but it's starting to become just that little bit more gentle. Maybe if I had been on a bike on hills when I had been studying calculus, I may have done better at maths.
1 November
49 km
Rain stopped now. Tried to dry the tent a bit, and got away at 08.15. There was more climbing on winding road through bush to Weldborough Pass but not bad. In cloud at the pass, I checked the lookout but no view.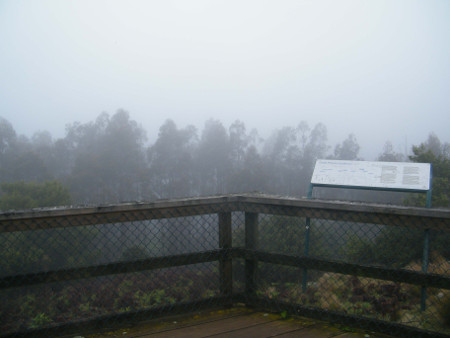 After all that climbing, my reward was a loooooong fast coast down from the pass past Pyengana.
I met a group of cyclists going up to the pass on a training run, and they later overtook and hailed me on their return. I wouldn't be able to anywhere near keep up to them. Some easy distance through rolling countryside, and I was in the coastal town St Helens at 12.45.
There are free camps near the town, but they had no on-site water, so I checked in to the local caravan park and set up camp there. It was good because I could use their camp kitchen to cook, and their TV to catch up on news.
In the afternoon I found a bakery where I could get coffee and a snack and use their computer for internet and email (my Kindle being very limited for that purpose), and contact Maggie etc.
After dinner I took a walk along the foreshore walking path, pleasant and reasonably scenic.
2 November
6 km
After all those hills, I wanted a day off. So I took another night in the caravan park and did easy day activities. Rode around the foreshore track, out the back of town along the marsh, and other short rides outside of town. Wet weather and laziness kept me from going far. In the afternoon I did more computer work and emails in the bakery. Rained at night.
3 November
38 km
On to the slightly inland town St Marys today. Starting at 09.00, I enjoyed cool temperatures, a bit of wind, mostly flat road, and frequent stops to explore beach reserves. At the seaside town Scamander I met a guy Bruce whom I'd met in Launceston. In a coffee shop we chatted and he filled me in on where to stay and what to see in St Marys. Don't miss Ian's little museum!
It was a significant climb up to St Marys Pass, where I had lunch and found a short walking track through pleasant forest to an unspectacular lookout.
In St Marys I set up free camp in the show-ground at 14.30. There was not a lot to do in town, but I looked around the town, bought a little groceries and walked around the golf course and racetrack.
4 November
47 km
I loitered around until 10.00, the time when Ian's museum opened. He's s very likeable guy with a likeable little museum, full of '40's and '50's memorabilia and large numbers of intricate model aircraft, cars and ships. It could just be my favourite museum in Tassie.
At 11.00 I was on the road again, climbing slightly up to Elephant Pass, a long descent back to the coast, stopping here and there to look at beaches, and into Bicheno at 15.00.
I checked in to the Bicheno Backpackers for 2 nights, did laundry, dried my tent and sleeping bag, checked in at the visitor centre, bought groceries, and general settling-in activities. Instead of cooking I walked to the Esplanade and "The Gulch" for a fish-and-chip dinner.
In the evening one of the activities is penguin spotting. At dusk I went to the shore where others were waiting for penguins to show up, but none of us saw any that night.
5 November
0 km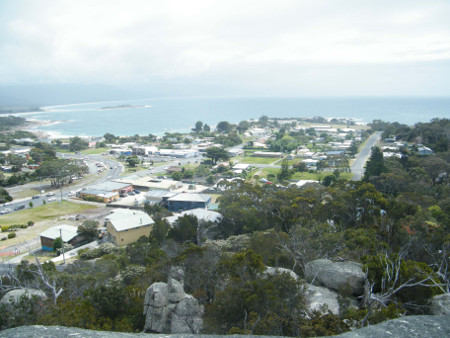 Another lay day today. First activity after breakfast was a walk/climb up to the top of the nearby South Lookout Rock, for good near-360 views over the town, ocean and hills. From the rock it was a short hike down to the shore and the smallish but well-functioning Blowhole.
Continuing along the Foreshore Walk, I passed the Gulch (a narrow isthmus with an offshore rocky island, Peggy's Point, Waubs Bay and on to Redhill Point. All up it was an pleasant 1 to 2 hour walk.
In the afternoon it started to rain, putting an end to my outdoor activities. I read, cooked, ate and watched TV news for the rest of the day and evening. Hope it fines up tomorrow.
6 November
44 km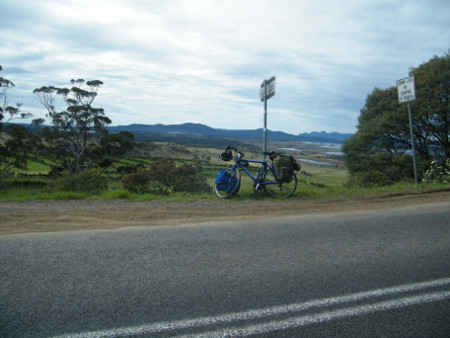 It did fine up, and I was on to Swansea. Mostly flat today, I encountered only one hill with a lookout over a marshy reserve called Moulting Lagoon, with Freycinet Peninsula visible in the distance.
In Swansea before noon, I found a bed at Barkmill Backpackers, a slightly upmarket establishment, very clean and modern. It's adjacent to the Barkmill sawmill museum, but that attraction looked a bit too commercial and I didn't bother with it.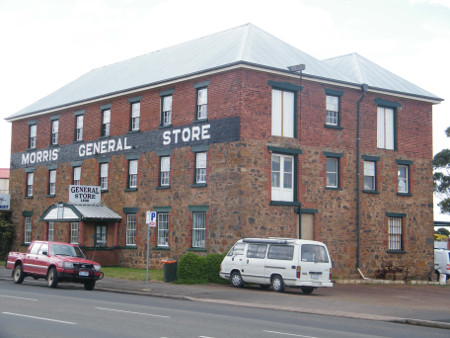 I did go d15nislown in the afternoon to the Visitor Centre and its adjacent small local museum; good exhibits of a war memorial, old one-room school, convict and settlers artefacts, and geology.
Following was the usual short foreshore walk around the headland with more good views of Freycinet. (I didn't go to Freycinet Peninsula, having been there twice before).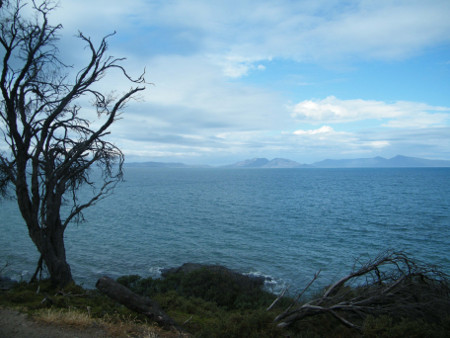 7 November
51 km
This was a surprisingly hard day. It was partly cloudy with a few light showers, and mainly flat terrain.
But the main obstacle was a strong persistent direct headwind. I took until nearly 14.00 to reach the medium size estuary town Triabunna.
Here I could camp in the centre of town behind the pub for a small coin donation, trying to pick the least windy part of the lot. Triabunna was not a very exciting place, but I did find a walking track alongside Spring Bay and up the rivulet, and a few historical buildings around town.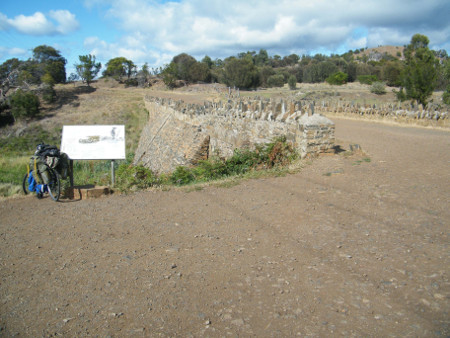 Got my stove going and made some noodles etc, but it wasn't enough and I procured a large hamburger at a nearby fast-food stall. What a cold biting wind while I waited for the burger!
8 November
29 km
Wind mercifully died down today. I had intended to go only about 7 km to Orford, but I was told that there was no longer camping there. I only stopped a short while in Orford, looking at beaches and the foreshore cycling/walking tracks. Then it was onward away from the east coast and up the Prosser River Gorge, meeting and passing many vintage cars and motorcycles on the road (must have been a Sunday Car Rally).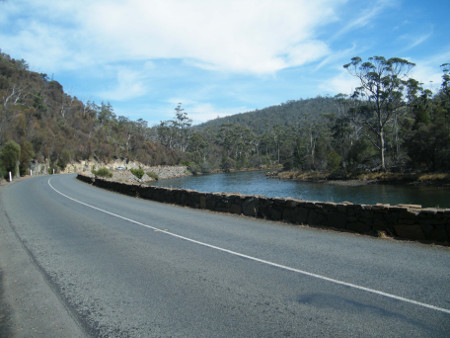 I was in the bucolic hill hamlet Buckland at 11.30. Here I could camp, again behind the pub for a small donation. As usual, I walked around the village and checked out the beautiful historic church with its stained-glass windows and rustic cemetery.
In stark contrast to yesterday it was quite hot in the afternoon. Many of the cars and bikes from the rally were congregating at the pub, making for an interesting show. A French couple on bicycles, the first other cycle tourers I've met on this trip, showed up to camp. Dinner was a seafood basket at the local roadhouse. In the evening I had a beer and talked to the gregarious old Dutch publican.
9 November
63 km
It would be a significant distance to Hobart today, with some significant hill climbs, but it was not as hot as I feared. The first big hill was just a few km out of Buckland, and the second hill after Runnymede, but I coped with both OK. On the way down I met and greeted a female cycle tourer walking her bike up the long hill, the third cyclist I've met this trip.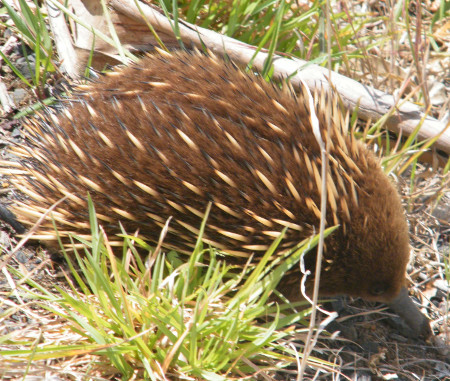 The run into Sorell was a fast level 10 km or so. On over the causeway and Midpoint, past Cambridge and I was nearing Hobart. It was however a drag of a climb over a hill to South Hobart, and then onto the Derwent Bridge. I got into a bit of trouble here, starting onto the bridge on the road before seeing a bike path off to my left. I had ventured about 10 metres too far and had to stop and try to move my bike back past the guardrail and onto the path, pissing off some motorists in the process. Then the bike/walk path over the bridge was almost impossibly narrow, having to dismount and jiggle the heavily-laden bike past other cyclists coming the other way.
But I made it into down-town Hobart in the early afternoon, checked information in the visitor centre, and found the Pickled Frog Backpackers. The backpackers is a large old house, somewhat run-down but full of character and friendly staff. Laundry facilities, TV, nearby supermarket and a good kitchen allowed me to catch up on those relevant activities. With the wi-fi I could log in with my e-reader and communicate with Maggie. Tomorrow I would be able to access their computer and work with internet and my other emails (I found about 70 new messages to work through). Contacted friend Belinda with my phone and arranged to meet in the Salamanca harbour-side district next Saturday. Really hot today, around 30 deg.
10 November
It took me about 1.5 hours in the morning to get through my emails. Then it was time to explore Hobart on foot. Unlike yesterday it wasn't hot, only about 17 deg. Through the shopping district to the docks, I looked around the waterfront (not much change from previous trips) and viewed sculptures at the UofT Arts Centre.
My wanders took me some distance north to the grassy hill of the "Queens Domain" with its rows of Remembrance Trees. Down near the Derwent River I reached the Botanical Gardens, a large and lovely complex of flora from, well, everywhere. They have a French garden, Japanese garden, Community gardens, various "locality" sections, and a cool and fascinating Subarctic Pavilion.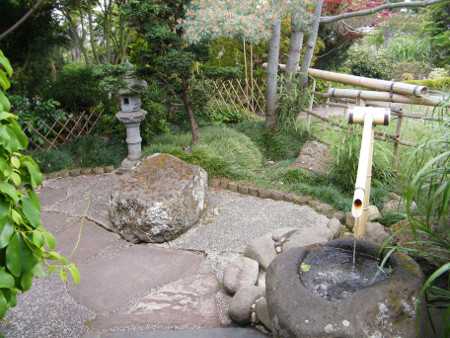 11 November
38 km (hard going)
It's only Wednesday and I have time to kill before seeing Belinda on Saturday. Might as well do a short trip outside Hobart, to Huonville, for a couple of nights. I'm not sure I made the right choice, as a number of problems, mainly hills, a puncture and rain, plagued me.
First, I found 3 massive hills to cross, one at 378 m altitude, making this leg of the trip one of the most difficult to date. Secondly, when coming at speed down one hill, a drill bit penetrated my rear tire, broke in half inside and punctured my tube in 6 places. It took some time to fix/replace, especially as my pump chose this moment to play up and become hard to use. Third, it rained much of the time in Huonville, not very comfortable.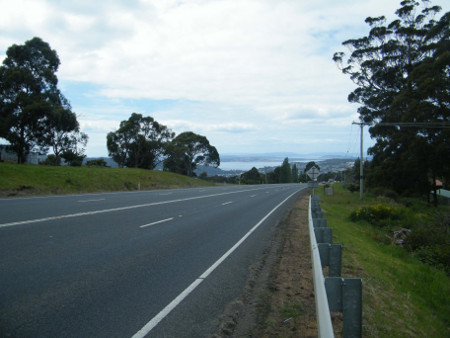 12 November
I reached Huonville at 13.30, after 4 hours hard riding and roadside repairs. The only place to stay was the caravan park. I erected my tent on the grass, had lunch and explored around the park and the Huon riverfront, and used the kitchen for dinner.
I looked around Huonville town, walked the river foreshore paths and had lunch in a takeaway, but there is only an hour or two worth of sights here. It started to rain in the afternoon so I retreated back to camp to relax, read and try to keep the interior of my tent from becoming too wet. They have a pizza oven in the kitchen so I baked a supermarket pizza for dinner.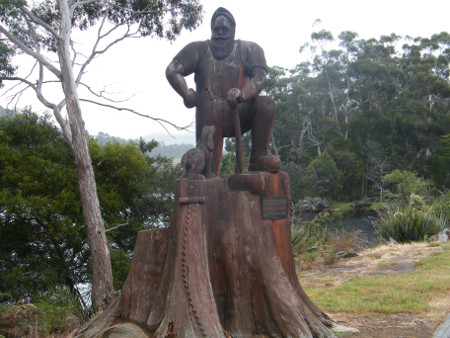 13 November
40 km, again pretty hard
Rain had just stopped, so I tried to dry my tent and sleeping bag as much as possible before starting back to Hobart at 09.15. That first hill out of the Huon Valley was a grind, but manageable for being expected.
Instead of going back over the big hill between Kingston and Hobart, I decided to try the smaller road via Taroona, the Shot Tower and Sandy Bay. This route was easier and more scenic, but also narrower and winding and slightly intimidating in traffic. I stopped for a look at the Joseph Moir's Shot Tower, an imposing brick structure next to the road, but didn't enter.
Back to the Pickled Frog, having a surplus of time and not wanting to return to Launceston too early, I checked in for 4 nights. It was a sunny day now so I could finish drying my camp gear and do some laundry. Grocery shopping resulted in fixings for a chicken curry dinner.
14 November
I was able to meet Belinda for brunch at a coffee shop in Salamanca and catch up on news etc. Then I had a good look around the Salamanca Saturday Markets and listened to bagpipers performing nearby. Another walking tour of the docks of Sullivan's Cove and the trees of St David's Park, and back to the backpackers. I looked to see what news there was on TV; saturation coverage of the Paris terrorist attacks.
15 November
In the morning I saw as much as I had time for of the Tasmanian Museum and Art Gallery. I wished I had more time to examine the Aboriginal displays, flora and fauna, medals, artwork, electrical/technology, 19th century artefacts, Antarctic section and the Ross Bond Store.
But I had only enough time to get back home for some lunch, and then up to North Hobart to the theatre to catch some of the Eco-Fest film festival. I caught a session of several good short films, all different and all with an ecology or conservation theme.
16 November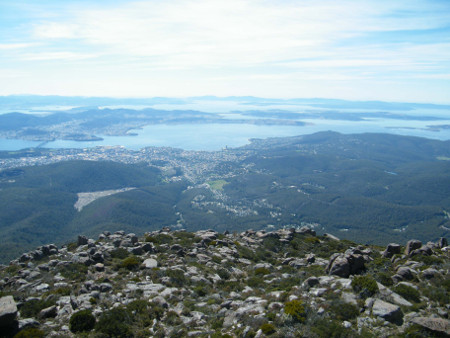 The backpackers offers on some days (today) a free shuttle bus up to the top of Mt Wellington (1271m). Sunny weather and mild temperatures resulted in beautiful panoramic vies from the top, and a pleasant walk along tracks back into the city. I hiked along the Zig Zag, Organ Pipes, Hunters, Myrtle Gully and Cascade tracks, to the track end at the Cascade Brewery. From there it was street walking back into the city, about 10 km and 5 hours all up. A variety of landscape and easy walking made it a joyous excursion.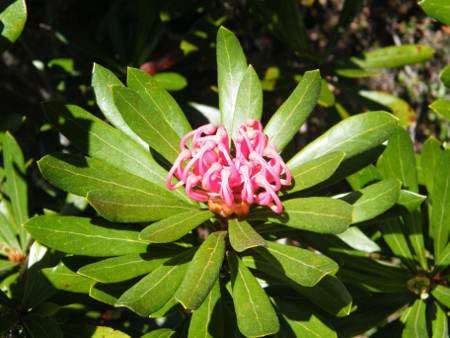 17 November
Now I start slowly back toward Launceston, up the Heritage Highway with its charming villages and 19th century history. I had over a week to get back to Launceston, so no hurry.
It was a good easy run out of Hobart, flat or undulating to Granton and across the very narrow Bridewater steel lift bridge. More easy road and pleasant countryside took me to Dysart, then a long hill up and down to my first stop Kempton at 13.00.
Kempton is one of several historical villages on or near the highway, many convict-era stone buildings and a bridge, all with interpretive signs. This whole Heritage highway is full of 19th century history, described in the brochures as "the voice of the colonial past" and "a region where a string of historical villages are a lasting legacy of convicts, graziers, scoundrels and pioneers". History and relatively easy cycling made the A1 some of the most pleasant and relaxing segments of my trip.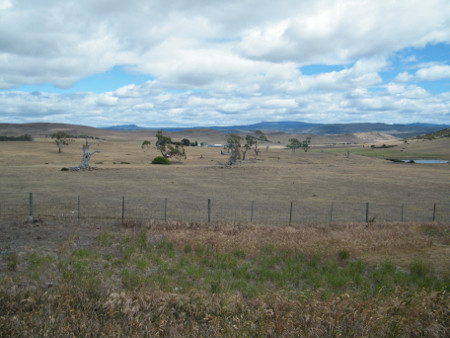 There was a free campground off the street, with tables and a barbecue, but the washrooms were locked and I had to use the public dunny across the street by the town hall. After settling in I spent most of the afternoon walking the streets and studying historical buildings and reading the information. Quite a pleasant place.
18 November
36.5 km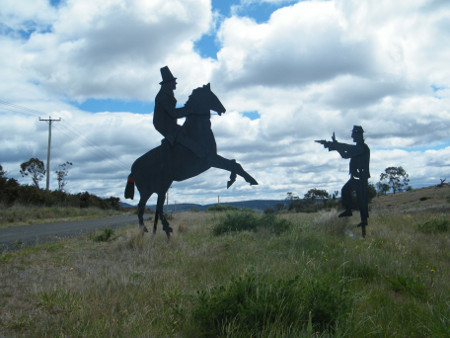 Next town was another historical place Oatlands. And I had another beautiful mostly sunny day. The road was mostly flat, flanked by drought-stricken farm country and escarpments and bluffs, with 2 major hills to cross. Here and there along the road were mounted a number of metal silhouette sculptures depicting themes like colonial-era stagecoaches and bushrangers; neat!
In town about noon, I gravitated toward the large and still-working Callington Mill, surrounded by a park and visitor centre, and behind which I could camp next to the marshy Lake Dulverton. The camp offered tables and toilets, but again no shower.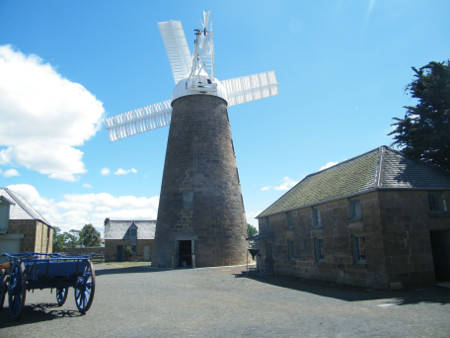 I set up camp, had lunch, and signed up for a 2pm tour of the windmill. It wasn't a large site and took only about 20 minutes, but it was still a working mill, stone-grinding flour and giving a good description of milling history and technique.
Later in the afternoon I as usual wandered around town looking at the plethora of historical sandstone and brick buildings and reading the history. An evening lakeshore walk showed up a menagerie of ducks, geese and especially black swans loitering amongst the water plants.
19 November
36.5 km
A strong headwind reared up today, but somehow it didn't bother me all that much, maybe because the distance was not long and hills not severe. The drought is evident, with agricultural land dry and brown on both sides of the road.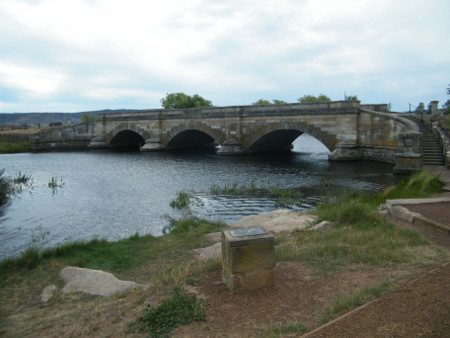 In the small village Ross at 11.20, I found the caravan park and pitched tent in a sheltered spot near the Ross River. Ross is a quaint charming locale, no supermarkets or much other major commercial facilities, but a high density of historical sites and some tourist infrastructure. I found a bakery for a delectable lunch of rissoles, mash, peas, gravy and juice. Another bakery flogged me a large vanilla slice for later dessert.
The Tasmanian Wool Centre had a wool museum, wool retail centre and visitor centre, good for at least a few minutes look at the history and technology of wool. The "Ross Female Factory" is the site of a 19th century women's prison and workhouse; informative history, photos and descriptions of prison life in the era. Up the hill from the factory is the old 1840's era cemetery. The main intersection in Ross has an aptly named historical building on each of the four corners: the pub (Temptation), the town hall (Recreation), the catholic church, (Salvation) and the jail (Damnation). The ornately carved convict-built 1836 Ross Bridge was such a magnificent work that its completion won emancipation for its convict stonemasons. Other attractions around the town included the grande Uniting Church at the top of the hill and an interpretive park commemorating the 42nd parallel of latitude (Ross is the only town in the world near the line).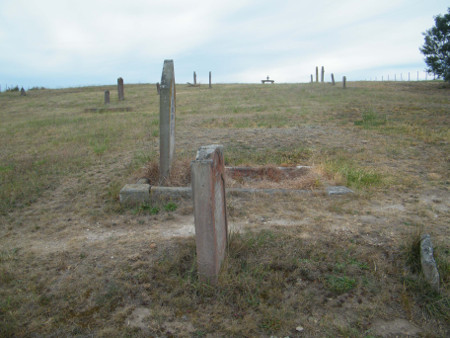 20 November
13.5 km
Only a short distance to go to the next town Campbell Town, so I took it easy and despite the headwind I was there just after 11.00. This is one of the bigger towns on the Heritage Highway, still lots of history but also more regional/commercial, so not as pleasant or intimate as other places. Also I was slightly perturbed that there are no authorised camping facilities here; I had to black-camp in the area where caravans park - no toilet facilities or showers, use the facilities in a down-town park, and hope I didn't get turfed out. Luckily I wasn't bothered by anyone.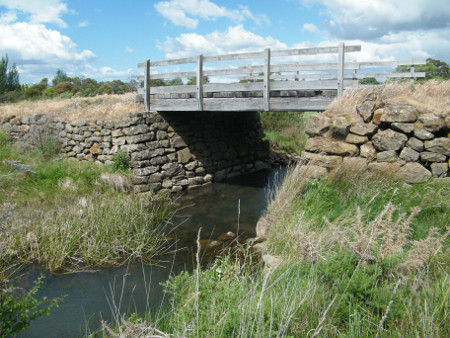 My "camp" was near the 1838 "Red Bridge", built by convicts out of a million bricks and withstanding heavy traffic to this day. Near the bridge is a good collection of large wooden tree-stump sculptures depicting history and characters from the past. Downstream a small distance is the original (1822) stone and wood bridge, I think one of the oldest in Australia. On the footpaths in the centre of town is the "Convict Brick Trail", hundreds of bricks embedded in the concrete, each detailing the name and details of an individual convict. A small not-exciting museum near the centre had an exhibit of "Venus Transfer"; apparently this was one place on earth where the transit of Venus across the sun was observed in 1874 and 2004.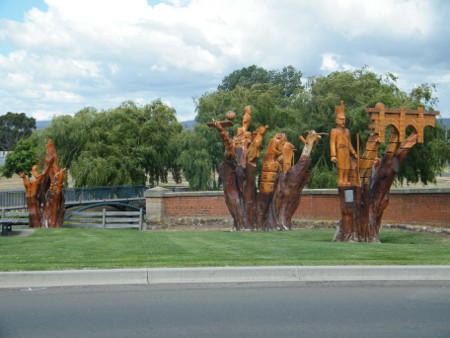 21 November
57 km
One more town to visit before finishing in Launceston. Beautiful day today, and flat easy scenic riding. Up the A1, I turned left onto C521 and proceeded along a quaint secondary road with pastoral landscapes and English-style hedges. I passed the Woolmers and Brickendon World Heritage country estates, and stopped briefly at the Macquarie River for a snack.
I arrived at my last historical town Longford after 13.00, picked up a town map at the visitor centre, and checked in to the caravan park to set up my tent. It's a nice park situated by the river and with good kitchen facilities and TV.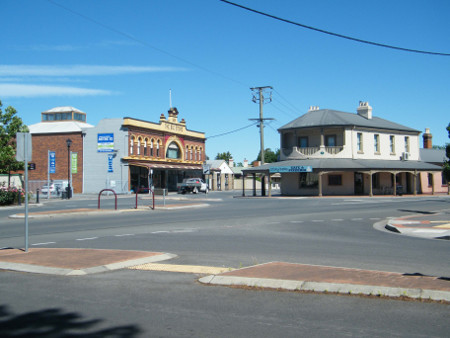 Longford is a pretty town with a large number of historical buildings, easily found with the aid of the map. I spent the afternoon touring around town finding as much history as I could, and in the evening relaxed with a beer in the Queens Arms Hotel. As I was to reach Launceston next day I called the Arthouse Hostel there to reserve accommodation.
22 November
55.4 km
I left Longford at 09.00. There was still some wind, but not to bother. Finding the signs confusing as to the best route to the city, I met a couple of other cyclists and asked them. They said to avoid the main highway and go via the much prettier C531. It was a magic ride. I took my time, soaked in the beautifully scenic countryside, and for the first time on the whole trip wished I could stretch the ride out more.
Anyway I eventually had to get back on to Hwy 1, up a slight hill, and down into Launceston at 11.10. Checked into the Arthouse for 3 nights; that would take me up to flight time. For the rest of the day I caught up on unpacking, cleaning, email, resting, groceries, dinner and TV news and documentaries. I was feeling very slightly sad to be nearing trip end.
23 November
21 km
My bike goes a lot easier with all the gear off. In the morning I rode up the Tamar Highway about 10 km to the Tamar Wetlands Centre. It's a park and bird sanctuary in the estuary, with 4 islands, paths and board-walks. A pleasant ¾ hour walk took me through marshes, much bird life, colonially-planted tress, and history.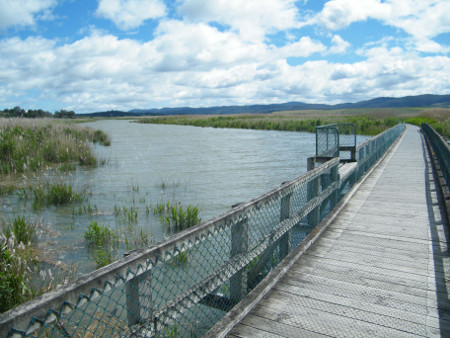 In the afternoon I collapsed my bike and packed it and accessories into the bike box. No more riding for me this trip.
Later I went into town for a look at the Tasmanian Design Centre, and exhibition centre and retail outlet for locally designed sculptures and craft, mainly made from wood; some beautiful stuff there. Nearby is the pretty city park, next to the elegant Albert Hall and housing an enclosure of Japanese snow macaques.
24 November
This is my day off, nothing special planned. Even though I'd been there before, I decided to walk over to and through Cataract Gorge. It's rugged and scenic, but being so close to the city, quite crowded with tourists. Took it easy in the afternoon, and treated myself to a pizza for dinner in the evening.
25 November
Bike box sealed up and backpack packed, I took a 08.00 shuttle bus out to the airport, checked in, flew at 10.15, and was in Sydney at 11.45. Obtained my luggage hassle-free, bundled it onto a train to Central, another train to West Ryde, onto a bus to Top Ryde, and humped my gear back to my home before 14.00. All good.
It was a good trip all around. It was a bit difficult to start; exhausting initially and much more hills than I expected, but I had got into the swing of it before long. There was nothing spectacular, but generally simply pleasant and interesting. I had a little problem with wind and rain, but not much. Total ride distance was just over 800 km, not a lot but then it wasn't intended to be. It had been my first bike tour in years, and I feel good that I can still do it.
Next trip? I suppose that'll be Canada and Europe next year.