Cambodia/Vietnam Cycle trip, Aug 2019
I have belonged to a couple of cycling groups in Sydney for many years, and observed that some of the members occasionally undertake supported bicycle tours to other countries. Having taken many solo bike tours in Australia and overseas, I eventually decided that it wouldn't hurt to try one of these supported tours for a change.
A couple in one of the groups was organizing a trip to Cambodia and Vietnam for August 2019 with an agent called "Grasshopper Adventure Tours", in effect with the option of taking three sequential tours back-to-back. I decided to give this one a try, signing up for all three tours mainly to give me a reasonable time overseas and amortize the air fare.
The actual Grasshopper part of the whole trip would be about 25 days, and I arrived early at the start to give myself a few free days on my own. Because the segment prices were quoted separately, the general standards of the facilities were much higher than I was used to, and the Australian "Rupee" was undergoing a lengthy nosedive, the total cost was much higher than expected. But that's the way it is; get used to it and suffer the luxury.
I had to start booking things early in the year, even before commencing our extended trip through China, Russia and Europe which would take place from end Feb to mid-June. In February I had to start making arrangements with the agent and pay deposits etc. On return in June I would look at visas. The Vietnam visa had to be obtained in Sydney in June/July, and the Cambodian one could be a VOA at Siem Reap airport.
Cambodia
So, after not much more than a month home from the Trans-Siberian and Europe, on 26 July I was again uprooted and on a flight from Sydney via Bangkok to Siem Reap. I had packed not a lot of gear, mainly spare clothes, some of my own cycling gear, my tablet and my old heavy PC (not wanting to risk my brand new PC on an Asia trip).
The flight was fortunately uneventful, dropping me at the small slightly hokey Siem Reap airport at 20:15. Not all went smoothly though. I went straight to the passport control line, waited there a while, and was then rejected because no visa. I had to wait in another line for the VOA, and then again through passport. Outside the terminal I failed to find my pre-arranged pick-up for my Lovely Family Guesthouse. A phone call revealed that they had somehow not got my email re pick-up, and I had to wait a while longer, in the evening heat, for my tuk-tuk to come. Just as well, as while waiting I found Col, Pam (who had organised the trip) and others coming out at that time, and greeted them and caught up with things.
My tuk-tuk took me to the guesthouse where I could check in and settle. My place was not as fancy as those where the tour agent would later be putting us up, but quite adequate for me.
R is of course a lot more built up than in 2006, but retains also much of its slightly grotty but charming atmosphere, the usual hokey local restaurants and shops, a somewhat weed-congested river, sculptures in various states of pristine or decay, and a busy crowded vibrant market. I thought it was touristy then, but it's now much more so.
Cambodia's currency is the US dollar. I'd brought with me some USD that I'd obtained from an ATM in Los Angeles years ago which I used, or tried to use, here. But Cambodia insists on only accepting USD in pristine condition, a standard some of my currency did not meet. So I had a few hassles making transactions, and had to save some of the bills for Vietnam. If you take USD cash to Cambodia, make sure it's flawless.
I had about 3 days in Siem Reap before the start of the formal tour. I visited the Grasshopper office to sort out some details, met and spent time with the others in our group who had also arrived early, and generally did sightseeing in and around the city. We toured the Old Market - a bit too hot and claustrophobic for some, had lunches and dinners at the ferang-dominated Pub Street (the fish amok is good), explored the large but in-distinctive temple complex Wat Prea Prom Rath, and the night market food stalls along the river. One evening we attended a restaurant/performance hall where we would have dinner and see a cultural show. The venue was a huge covered open area with seating for hundreds of people, a performance stage and a vast buffet. The performance started about 19:30 and covered several traditional costume dances of various themes. It was good but typical for-the-tourist standard.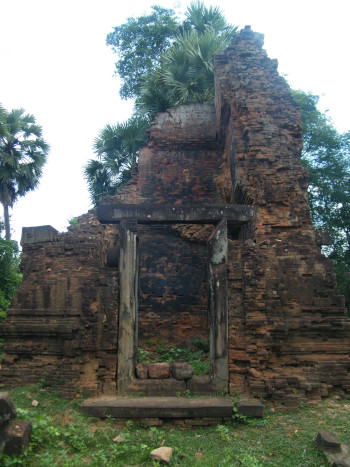 One day on my own I checked out the sprawling Pthsar Leu Market in the east of the city. I spent at least an hour here looking through lanes and aisles. It's your typical big city local market, everything from fish to nick-knacks. One whole section was devoted to used clothing; piles of clothes everywhere and women combing through them for something useful. A few stalls had intriguing delicacies like piles of dead insects.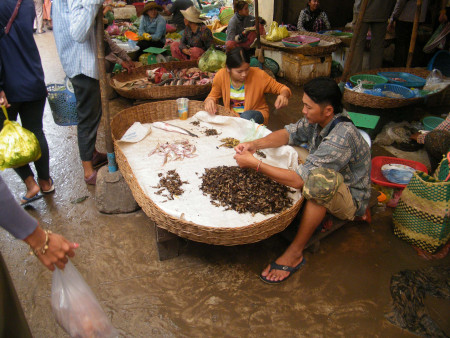 On the way back I found another, slightly smaller, market Phsar Samaki, with much the same inventory and atmosphere. Other sites were the temple complex Wat Bo with a large number of monks in one building having breakfast and morning Puja, and Wat Damnak with statues of a couple of deities or Buddhas flanked by intriguing astro-turf-covered elephants.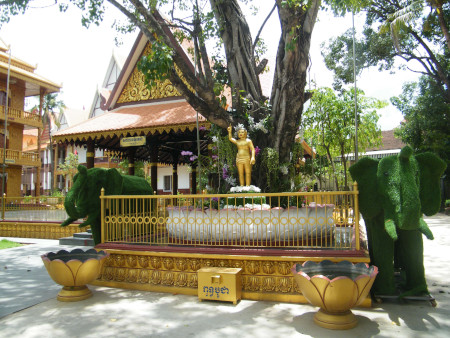 A point of interest was the plethora of "Rolled Ice Cream" stands. It's basically a bit of crushed fruit and milk, smoothed onto a cold steel plate and frozen into a thin layer, then scraped into rolls and topped. They were not bad but not great, more interesting to watch them made than to eat, and I think something of a novelty item.
Another day we hired bicycles and took a ride east towards the Roulos Group, or Prasat Bakong, about 12 km away. The city has expanded a few kms to the east, and traffic was immensely more congested than in 2006. We fought traffic all along the main road, especially around the big market area, until the edge of the city. At the ruins we rode around the outside of the Bakong temple square, looked at some of the walls etc, and left via a dirt road heading straight west. On the way out we came to the small ruin of the Trapeang Kaek Temple, and returned to the main road back to the city. Even though we didn't bother to go into the Roulos temples, we did get some riding along picturesque rural dirt roads and it was an overall worthwhile experience.
On 30 July, the official start of our tour, we all moved into the Jaya House River Park. This sort of place is waaay above my comfort level. They fawn over you all the time, push stuff onto you, have 2 (two) swimming pools, and everything over the top. Not my comfort/ease level at all. But must put up with it. The hotel and Grasshopper staff gave briefings about their respective areas of concern, and Grasshopper checked passports and fitted our bikes to us.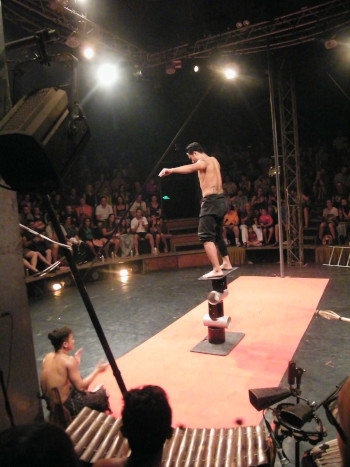 Our first official tour activities were an upscale set dinner, and an acrobatic performance in a small "big-top" by a troupe called Phare Circus. It was quite a spectacle for its size, about 6 or 8 very fit young guys and 2 young girls, a very polished and memorable performance. The place had A/C and we had personal fans but it was still hot in there.
Next day was the first bike ride, sunrise at Angkor Wat and cycling around the Angkor area. As generally on most of the subsequent rides, a bus took us with some of the Grasshopper staff to the start of the ride, and other staff came separately with bikes, accessories, water and some food. The guides would generally provide tickets to venues where applicable. After a very early start in darkness, we went west around the big water-filled (they have to keep water in here to avoid temple foundation damage) Angkor Moat, and pulled up near the west (Main) gate to Angkor Wat. The dawn was mostly overcast and not as spectacular as hoped; just a gradual increase in light. When fully light, we walked across the causeway to the temple complex and spent an hour or so looking around the wat. Maggie and I had seen it all before 13 years ago, but good to see it again. Then, bikes out and prepped, we were on them to start riding. We biked along narrow winding jungle paths, past the moat, and up toward the south gate of Angkor Thom, over the bridge with the "Churning the Ocean of Milk" sculptures on each side, through the stone Bayon gateway, up to the top of the wide wall, and along the wall top around to the west gate, back to the Bayon ruins, and on roads and more trails to the Ta Phrom complex. Here we spent considerable time exploring the ruins with emphasis on the trees that had grown on and into some of the structures. I was able to compare tree growth since 2006.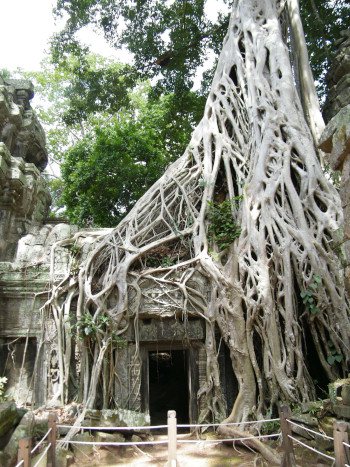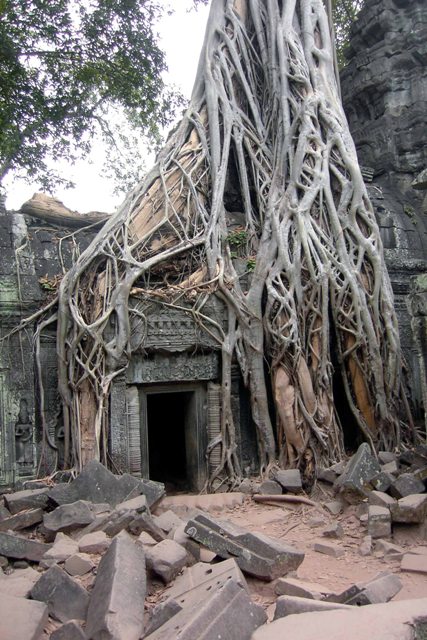 The following day, still in Siem Reap, a morning bike ride took us west and northwest along city streets and later country roads and small tracks. The ride was quite pleasant and scenic past small fields and villages, past the expansive but almost dry West Baray Reservoir, to a place where a local guy from a small development organization gave us a tour and talk about poverty in the region and community development work underway to address the problem.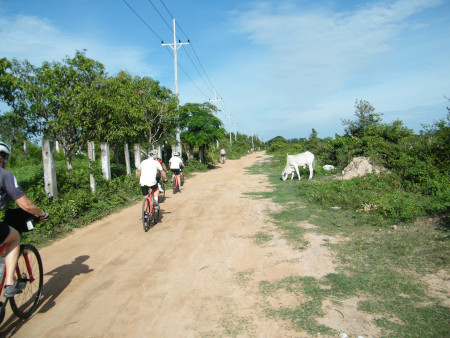 For the next week or more, the group had chartered a boat to take us down the Tonle Sap and Mekong Rivers, into the Delta, and thence on to Saigon, with near-daily bike rides along the way. This afternoon a bus would take us to a place called Oudongk on the Tonle Sap River where our boat was moored. The boat was the R/V Tuom Tiou, a smallish affair, with 10 cabins on 2 levels and a restaurant at the back. Our cabin was, as expected, only a fraction the size of the hotel room, but it is a boat after all. After dinner on the boat, I'm feeling there's too much food on this trip, and despite the cycling I may be putting on weight. In the evening an American guy Kagen from Phnom Penh put on a very interesting talk and slide presentation on the sad state of Mekong and Tonle Sap waterway system. As with many of these topics, it was simultaneously fascinating and depressing; how will the problems ever be resolved?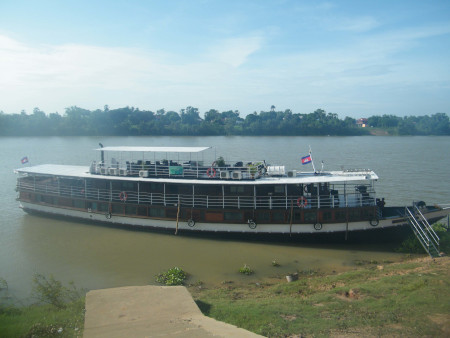 The first bike ride from the boat was about 31 km, starting upstream on the Tonle Sap, riding generally downstream on small mostly paved roads, and being picked up farther downstream. We stopped at Odong Hill, one of the few hills in the area, and therefore sacred, and with a number of temple and monastery structures. We hiked up the hill to the Buddhist complex, quite beautiful with a mixture of old and modern structures, and great views over the extensive plain. Rain and mud in the afternoon prevented us from extending the ride; this would be our last ride in Cambodia.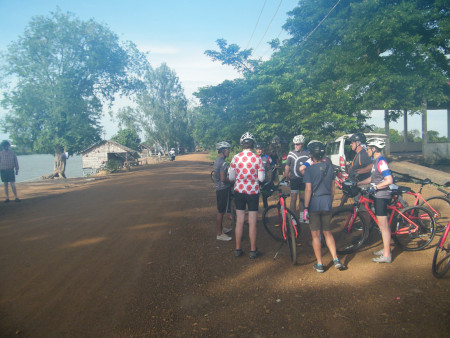 Here, as on many of the rides, were an infinite number of smiling excited small kids, all saying hello and waving. The hardest thing about the ride was trying to wave and say hello back to them, I almost started to get sick of it.
Our last day in Cambodia, 3 Aug, was a day in Phnom Penh, mainly a tuk-tuk tour of the city. Starting near the dock, we toured the Wat Phnom on a small hill, followed by a "French Quarter" with numerous colonial buildings. To the south we stopped at a long narrow park with the Independence Monument at one end, and the Statue of King Father Norodom Sihanouk in the middle. It seems that Sihanouk is quite revered here, mainly for leading the country to Independence from France. Following was a close look at the extensive and ornate grounds and buildings of the Royal Palace, lunch, and the somewhat tourist-oriented Central Market.
In the late afternoon, we were back on the boat, weighed anchor, and set off downstream on the Tonle Sap, past central Phnom Penh. It was only a short distance until we came to the mighty Mekong (actually the city is on the confluence of about 4 rivers). A couple of hours or so downstream we would anchor for the night before heading to the Vietnam border.
Vietnam
Next morning, the only indication of the border was a small building on the Camb side with their flag, and a slightly larger one with their flag on the VN side. A boat came over to us from VN, took our passports back to shore and returned them an hour or so later. So it was Goodbye to Cambodia and Hello to Vietnam. It was considerably more built up on the VN side, many more houses, boats etc along the riverbank. The river was alive with boats dredging sand.
After a couple more hours we came to the junction of the Mekong and the side canal that went west about 15-20 km to Chau Doc, which we reached before 11:00. Beautiful relaxing cruise up the canal, narrow, lots of boats, houseboats, fish farms, life etc. Wow! I didn't do anything except sit on the deck and watch the scenery float by.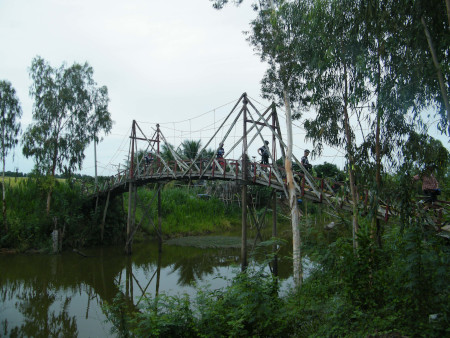 Our first bike ride in Vietnam, 4 Aug, was a relatively short "practice" ride of about 25 km. Surprising how many canals and waterways there are. Most riding was quite narrow, weaving in and out among motorbikes and trucks. The amount of vehicular traffic on the minor roads is considerably more than that in Cambodia, and vehicles use their horns more here too. At one point we stopped to see a small business on the side of a canal cooking up and packing in ice large quantities of small mussels for the Saigon market.
Later we came to a 900 Ha forest bird sanctuary. Our group paid the entrance fees and we went in for a boat ride (sampan and 3-person rowboats) through the sanctuary canals looking at the the large number of birds there. One small concern was that the wash from the boats seemed slowly to be eroding the channel banks.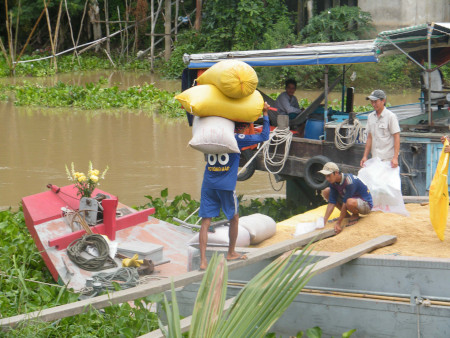 Next day's ride was more substantial in length, 68 km, starting in Chau Doc, along small streets and roads, over bridges, along canals and close to vehicles much as yesterday, with 2 or 3 ferry rides thrown in. In this region there was much activity pulling rice out of fields, drying it on the road or wherever, packing the padi in 25 kg(?) bags, transporting it to waiting canal boats, and emptying the bags into the boats for shipment. At one loading place most carriers were humping one bag at a time, but there were 1 or 2 showoffs, carrying up to 3 bags at once. We are entering monsoon season, and as we approached our lunch stop a heavy rainstorm came up and we got somewhat wet. Next to the lunch place was a coffee place, where our guide Win made special Vietnamese coffee for us, a bit of a "ceremony", very strong drip coffee made in individual glasses, with condensed milk and ice, surprisingly good. In the afternoon we hit another deluge, got wet and didn't really dry out before the end, but it was still a good ride.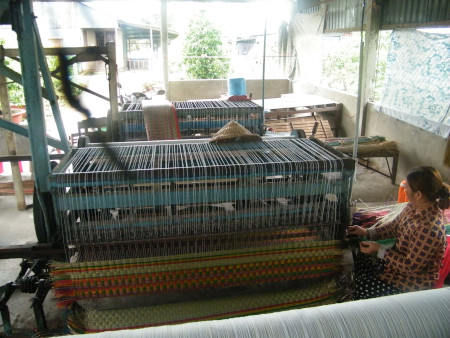 Another 59 km ride next day, this time in the Cai Bei district, again narrow roads and tracks, some rough, many bridges, ferries, traffic, canals, real delta stuff. In Cai Bei market Win showed us the different kinds of rice of the region. Interestingly, broken rice is not low grade; it is actually the "good" part of the rice grain, and has a premium price. Passed through a large flower village and toured a family's traditional home, very elegant and stately. At one point on the ride, a bridge was being constructed over a canal. We had to walk across on a log - intimidating for some - and pass the bikes over the construction zone. Later stopped at a small factory making coloured reed mats. Dinner was at a 180-year-old traditional house, large, ornate, beautiful and well restored.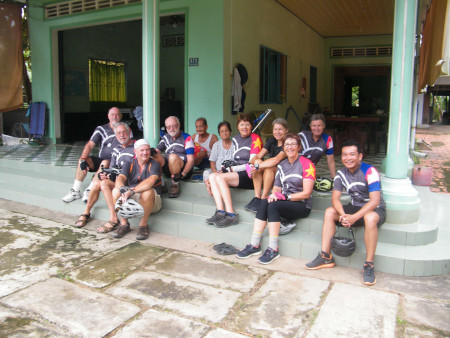 Breakfasts, usually aboard the boat, had the usual western fare such as bacon and eggs, but also offered VN noodle soups, which I tended to favour when available.
The final delta bike trip was about 39 km. We covered several islands (one for general fruit, and one "Durian Island"), several small ferry crossings, small roads and alleys - even hard to pass on them, rough tracks and mud, but all interesting and worthwhile.
In the afternoon we went into the Cho Gao Canal that linked the Mekong and Saigon Rivers. I spent most of the afternoon sitting on the top deck watching the heavy boat traffic and general scenery; awesome. The sand boats, barges and general shipping had to continually juggle and jostle to get past one another. Most of the boats seemed to have living quarters in the back, with laundry hanging, water barrels, stoves and sinks, sometimes herb gardens up top, and wives cooking etc; a real homey scene.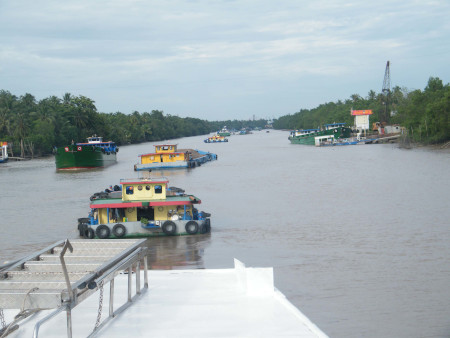 Next morning, 8 Aug, we'd left the canal and were cruising up the big wide Saigon River, and into a dock in the Song Sai Gon about 09:45.
Win would take us on a 3 km tour of the main sights of Ho Chi Minh City. Most of the main sites are close to one another; in one small area were 3 French-built icons from the late 19th cent; the Opera House (used much of the time as a lower-house parliament venue), the Post Office, and the twin-spire Cathedral. Win showed us into an old building, full of character and now home to several small commercial enterprises, that had been saved from demolition. Up the stairs near its top was the "Helicopter Building" where the choppers were famously evacuating people from the rooftop in 1975. Farther on was a large park/greenspace area and the former palace, where the tank crashed through the gate also at that time. I had seen most of this before in 2002, but it was good to see it again, this time with more information and context. Later we came to a well-known intersection, at the centre of which the Buddhist monk had immolated himself in protest against the Diem regime in the early 60's, now marked by a memorial park with sculpture and a shrine. Finally we came to the VC leader's home (Mr Li I think), which is now a museum and restaurant, still in the family. We toured the place, and went down into the tunnels below the house, where they could hide and store materiel etc.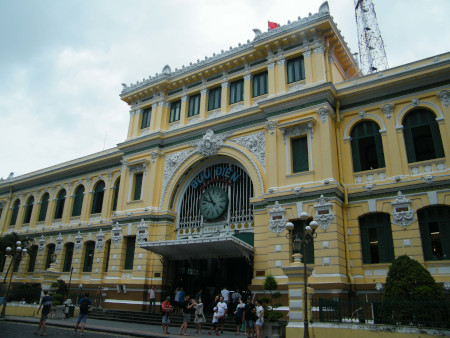 Later we all would meet at the roof bar of the hotel for farewell drinks for some of the Grasshopper staff including Christine, Win and Bao, as well as with Simon, Wes and Sheryl who were finishing the trip also.
In the evening 6 of us went down to the lobby to meet up with guides/drivers for a "Vespa Tour" of Saigon. We spent the next 3 or 4 hours tripping around in intermittent rain on Vespa motorbikes to different parts of the city and different venues. We stared with drinks at a local Vespa-run cafe, then to a big noisy seafood restaurant that served inter alia "jumping chicken" (frog), then a well-known and popular (savoury) pancake restaurant, a hidden cafe with a small group doing intimate music and song, and finally a rock bar with a loud rock band and a big-ass Latino girl singing/dancing. Not really my type of tour but a bit of a hoot to do once.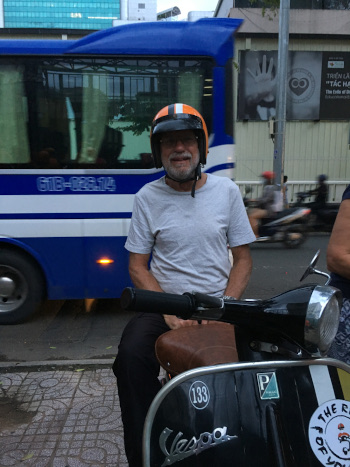 We would be in Saigon only one night, then fly on to Hoi An on 9 Aug. The flight left SAI at 12:15 and had us in Da Nang over an hour later. There a bus picked us up from the airport and drove us out of Da Nang to Hoi An. Vietnam has been so much developed that we could see little or no open country between DN and HA. The rest of today and tomorrow would be "free days", much appreciated after the hectic pace of the trip so far, and time to relax and do some things on my own.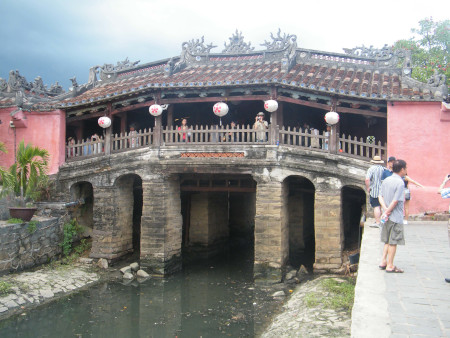 Walking into the centre and the "Ancient City", I easily found the Japanese bridge and adjacent canals and waterways. Across a small channel of the Thu Bon River, about 16:30, a night market was just starting up. Back across the busy bridge in the old town, I got caught there in heavy rain for a while, before going on east to the big but fairly ordinary Central Market. Dinner was in part a dish of "White Rose" wontons, the light frilly delicate wontons that I'd tried years ago, good but not very substantial. After dark the city lit up magically with the lantern festooned Le Loi and the equally lantern-and-boat-lit river channel.
Hoi An, especially the old town, is still a beautiful charming place, but it's incredibly touristy and crowded. There's lot of lights and ornamentation, and a real night life, a lot to see and explore. Near our hotel was a restaurant called Jim's, with a variety of fast-type foods on the menu, including - wait for it - the French Canadian "Poutine".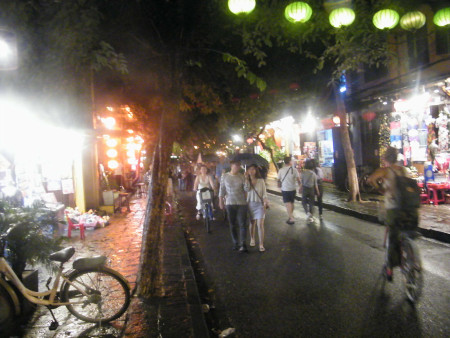 On our second day off, I met the others in our current group: Col, Pam, Chris, Di, to continue exploration of Hoi An. We visited the Japanese bridge and explored the streets to the west of the bridge and got a set of 5 entry tickets to see our choice of 5 sites. With the first ticket we entered the nearby Cam Pho Communal House, a historic mainly-Japanese built traditional house and meeting place. By then it was getting so hot that we had to proceed very slowly, stopping in shade to rest and try to cool. The others surrendered to the heat and went back home while and I carried on exploring. I found the Old House of Quan Thang, a traditional house of arch-beam architecture and many little touches around the interior to admire. The Museum of Folk Culture was another traditional house but bigger and less ornate than the Thang one, with two levels of exhibits of traditional lifestyle/customs/work including silk, fishing, betel nut, pottery, rice growing, weaving, dress and boats.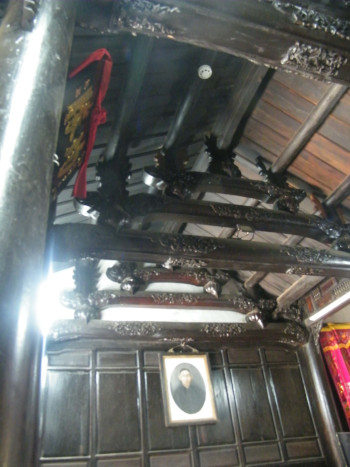 Our tour included one bike ride around the environs of Hoi An, guided by a young outgoing Vietnamese girl Lyna. Our ride, about 20 km, left from the Grasshopper office in the town centre, passed through the old town, across the canal bridge, and thence across a noisy steel bridge over the river to the south. Along narrow winding roads and paths, we came to a family house where Lyna took us through the manufacturing process making a rice paper snack called Banh Dap.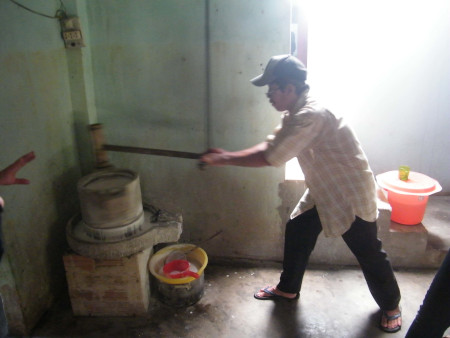 Next stop was a family chapel, hosted by an elderly man who fought in the war, and his wife. Following were a boat-building yard, a mat-making place similar to the one in the delta but less mechanised, and finally rice-wine (actually distilled spirit) processing and distillation. The infusions in the rice wine were fascinating, everything from lizards to inedible forest bananas.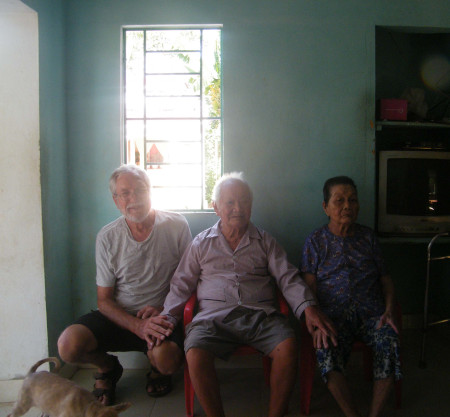 In the afternoon, to use up my site tickets, I found the Tran Family Chapel, another of the grand old buildings with some interesting architecture and altars, artefacts, family mementos etc, but the woman there seemed more interested in trying to sell me souvenirs than talk about the place. Next was the Museum of Sa Huynh Culture, yet another long old house, stretching the whole block, and on two levels, with mildly interesting exhibits from several archaeological digs from various ethnic groups and times, primarily ceramics, funeral urns, some metal tools/weapons, and descriptions of the digs and the groups pertaining.
12 Aug was a routine transfer from Hoi An to Hanoi. Originally we were to take a train, but the agent decided the train was not of a sufficient standard for us, and the group vote was to fly instead. I would have preferred the train, but went with the democracy. A van drove us from Hoi an to the Danang airport and boarded the 10:00 flight. Into Hanoi airport sometime before noon, we took a bus into the city and arrived at the Lapis Hotel maybe after 13:00.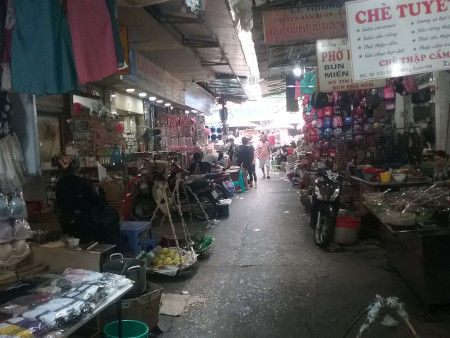 The rooms not being yet ready, we went out for lunch, and on to a nearby coffee shop where we had "egg coffee" - a creamy iced coffee drink - surprisingly good and refreshing. Following was a walking tour for an hour or two through mainly the "Ancient Town" parts of Hanoi and around Ho Hoan Kiem lake. We encountered a maze of narrow alleys, the main market (all the usual market goods), and several streets named after the products that they traditionally dealt with, including a potato street, tinker street, blacksmith, mats, funeral accessories, etc.
Line 25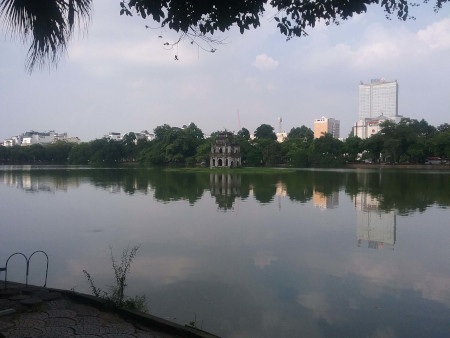 I had been looking forward to Hanoi, hoping it would be cooler than in the south. But it was HOT, at least as much as Hoi An was, and we were all, including our guide An, dripping for most of the walk. We stopped at a wonderfully air-conditioned post office where Wendy could get some postcards, and then a "Kem" shop where we had ice cream cones, before to the hotel where we could finally check in and shower. It started to roar rain around 17:00, what would be a near-daily occurrence.
Rather than dine with the others, I went on my own in the evening, found an alley with a street food stall, little more than a woman with a cart and a couple of tables and small stools and a couple of Chinese guys. They started talking to me, I asked about pho soup, and I had a good compact meal of pork/tofu noodle soup.
The next 5 days would comprise the northern Vietnam portion of the cycle trip. On 13 Aug An took us in the van south out of Hanoi for about a 2-hour drive to the town Ninh Binh, in a spectacular area of flat rice fields and karst hills. About 09:30 we met the bike van and got set up on our bikes. I'd been hoping that the north would be cooler than the south, but it was incredibly hot here; we all sweated profusely and couldn't tolerate standing in the sun.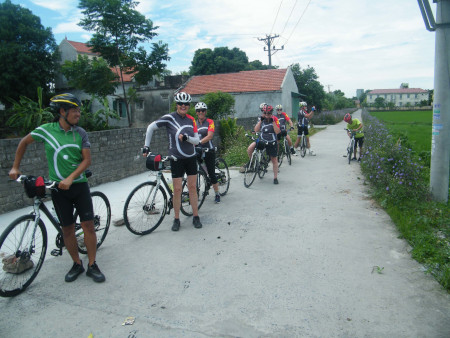 The first ride was only about 28 km, truncated because of the heat. We rode on mostly flat terrain, along narrow roads and tracks through rice farms and villages and alongside beautifully picturesque limestone hills. After about 12 km we came to a historic pagoda site with an archaeological excavation, I think called Hoa Lu, from a brief 48-year kingdom ending in year 1010. After lunch it was so fiercely hot that we truncated the ride about 14:00.
Our accommodation was a resort-style complex called Emeralda, where we got a very large room with very large bath, indoor or outdoor shower, yard, etc, all very posh. We were able to get our laundry hand washed and hang it out to dry outside (the sun and heat are good for something).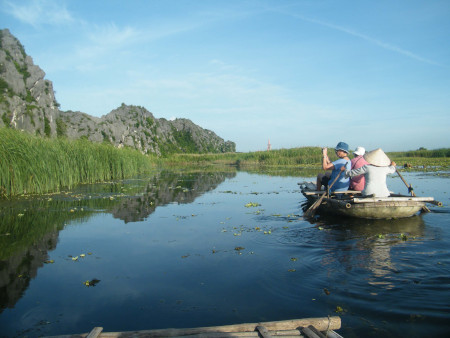 Later in the afternoon we went a few hundred metres to a swampy reedy lake edged with karst hills, where we got sampans to take us across the lake and into the hills estuaries. We were two people to a sampan, and we had quite an idyllic ride. Along a side channel we came to a cave, which we could enter, pass through with our heads down, and out the other side into a lagoon. Back through the cave, we eventually returned to the dock about an hour after the start.
Next day was mainly a morning ride, with some undulations and short - but still strenuous from heat - hills. Lots of rice fields and ever more karst scenery. We finished the ride at Cuc Phuong Nature Reserve, sometime after lunch, 43 km. The accommodation here in the park was relatively simple, but still higher standard than what I would do on my own.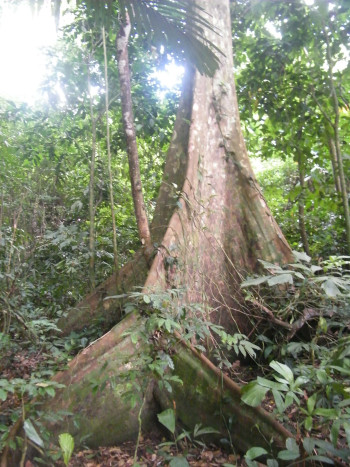 Later in the afternoon we met a park ranger and he took us for a walk around parts of the park for a couple of hours. First it was to a monkey sanctuary, where a large number of primates, mainly several species of critically endangered langurs and a few gibbons were in captivity to be eventually released to the wild. Then over to a turtle sanctuary where a number of turtles were similarly being rehabilitated. Finally we went to the far end of the park and did about a 1.5 hour jungle walk up and down through dense forest, looking at ancient trees and trying to find wildlife. It was so hot and steamy in the jungle that it would be almost better to be cycling.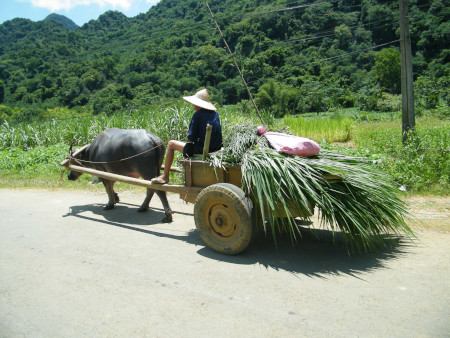 The third day up here, we took the bus for about 2 hours to the ride start, to avoid an overly lengthy ride in the heat. The ride had some hills to get up, and flatter easy scenic stretches through valleys and villages. Parts of the ride I could do on my own, giving a pleasantly different feel to the ride, and more personal interaction with the locals. We stopped for a break and for lunch as usual, and rode for 45 km to the start of a big hill before a Tai village Pu Luong. Owing to the heat, no-one wanted to do that final long hill climb, so we all bussed it up to the fancy Pu Luong Village Retreat, arriving there around 1-2pm. Later in the day, An took us for a 1-hour walk about 2-3 km down to the village and back.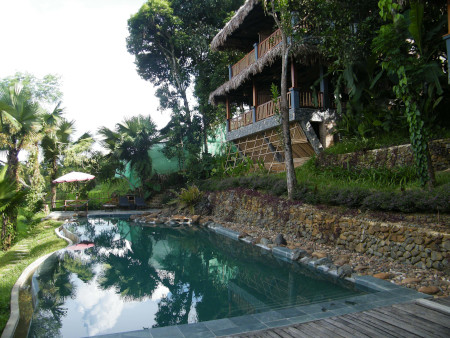 The fourth day would be more hilly than previous days. Thankfully the temperature was not quite as hot. The start of the bike ride was a long gentle hill climb; most of the people chose to skip the climb, and start their ride at the top. Di and Clive and I were the only ones to try it besides An and our mechanic Tang. I started riding at 07:40. It was a long climb but just manageable in the early morning. Picturesque as usual, with lots of local life, cows and ducks. It took about an hour to get 10 km up to the high point of the road, 683m, about 300m gain.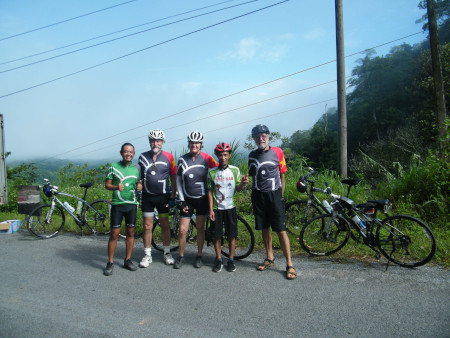 Then it was a long fast coast down about 15 km to the bottom, to 110m altitude; wouldn't have wanted to do that in the other direction. We stopped briefly at a roadside "factory", cutting bamboo into small pieces and making chopsticks from them.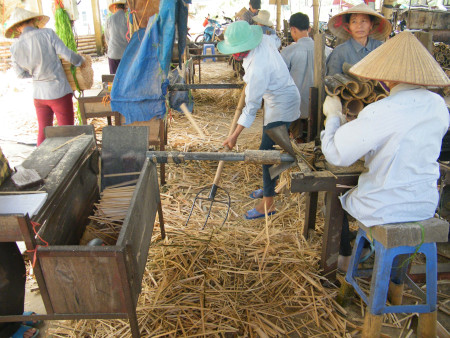 The road gently undulated for another 13 km or so through villages, rice fields, more people and animals, and across narrow concrete paths through flat rice territory. Lunch, and another 10 km or so through more small roads and paths and picturesque rice country got us to our destination, Sol Bungalows in Mai Chau, total 50 km for the day. The ride today accomplished about 1.6 km of total ascent, quite impressive.
The last day of the cycling part of the tour was to be a short cycle day, as we would be taking the bus back to Hanoi in the afternoon. We rode only about 16 km up and around the Mai Chau Valley. Included was a stop for a short time in the small Mai Chau Museum to admire the dusty artefacts of hunting/fishing equipment, pottery, currency, musical instruments and household effects, mainly from the local Tay (Thai?) people who dominate the area. Another short stop was in the local market, where one or two of us bought things.
The bus would take us then back to Hanoi, stopping at a hill pass for an unconventional meal of boiled egg, pork skewers and bamboo-tube sticky rice. They had something that looked like tea which I tried, tasted like boiled corncobs. Back to the Lapis Hotel in Hanoi mid-late afternoon.
Hanoi on a Saturday night was quite lively. In the old town and around the lake thousands of people on closed-off streets promenaded and engaged in various activities, including people competing to make the highest towers out of small wooden blocks.
The cycling now finished, next was an overnight trip to To Ba Tu Long Bay and Ha Long Bay. Rather than run by Grasshopper, the BTL trip was subcontracted to another company, Athena I think. In addition to our own group, several other people came on the same cruise. On 18 Aug we were on a bus and on our way out of Hanoi and east. There was remarkably good wi-fi on the bus. I'd left my laptop in Hanoi and had only my tablet, but was able to check emails and even Skype Maggie on the road. Scenery was flat and relatively boring after the last few days.
We passed through the highly built-up Haiphong Harbour, over bridges and estuaries, and into the VERY highly built-up and garish Ha Long City just after noon. Our boat for the bays was a much bigger and more luxurious affair, about 3 levels, than the Handspan one in 2006, and even than the one we had on the Mekong. We got a large room with attached bath, much like a hotel room.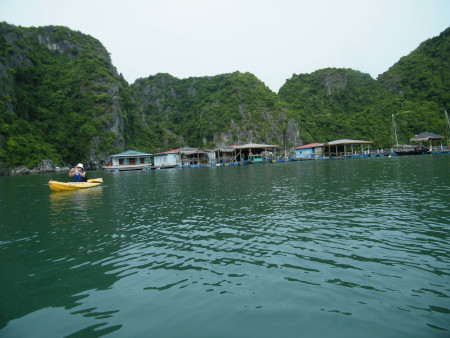 Starting our cruise in the early afternoon, we passed Karst hills protruding from the water, much as I'd seen on '06, beautiful as ever. I sat up in the top deck watching the scenery go by for quite some time despite the heat. I think about 13:30 we anchored off some of the islands and were shuttled onto a pier where we would take sit-on kayaks out around the bay on a set route for about 3 km and 1.5 hours. Generally two to a kayak, we had a pleasant paddle, past island hills, fishermans' homes, fish farms, a large arch, and back to the pier. In the evening, anchored in a bay, I enjoyed looking out from the deck at night at lights and islands, quite a tranquil scene. Several other tour boats were anchored nearby, apparently a "circle the wagons" arrangement to deter pirates.
In the morning they bundled us onto the small boat to take us the few hundred metres to see the Thien Canh Son cave in Ha Long Bay. I think it's the same cave I went to in '02. We ascended many steps up to the cave, a short tour through the cave a hundred metres or so, out the other side, and back the way we came. Then down on the small beach nearby our guide Chien showed us oysters, crabs and other items of interest. Late morning we went back to Ha Long, said our goodbyes to the crew and guide, left the boat, and commenced the 3.5 hour bus ride back to Hanoi, arriving there at the Lapis after 15:00.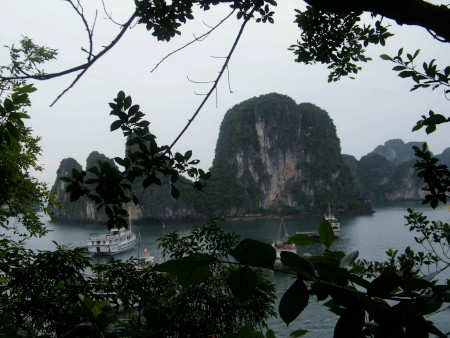 That evening, included in the trip, we were taken down near the lake to the Lotus Water Puppet Theatre. We got front row seats, good view of the performance. It started at 17:15 and went about 50 minutes. Some of the acts were similar to the Thang Long one in 2002, such as dragon dance, agricultural dances and chasing fox from ducks. A few of the performances had live actors as well as the puppets, and it was all colourful and enjoyable.
Pretty much the only remaining part of the trip was the Sapa Extension. On 20 Aug we would say goodbye to those of our group that were leaving: Clive, Di and Chris. That left only Col, Pam, Wendy and myself for Sapa. We had most of the day free, and would board the train for Lao Cai, in the far north, at 21:35.
My free time would be used to explore parts of Hanoi on my own. First I visited the War Remnants Museum, spending an hour or two there until it closed at 11:30. I saw exhibits and photos of military battles and achievements from about a millenium ago up to Dien Bien Phu, and a few contemporary exhibits. All fair-to-middling stuff, heavy on jingoism and propaganda of course, but worth while. Don't know where the stuff is on the American War, and ran out of time before finding it. Outside there is a large display of aircraft and aircraft parts (including 2 Skyraiders, a Mig 23, Russian transport plane), tanks and armoured vehicles. I entered through a security check the Ho Chi Minh Mausoleum area, but the mausoleum itself was closed; I could only walk past. Then up to Tay Ho Lake for a look, before making my way slowly back to the hotel at 16:15.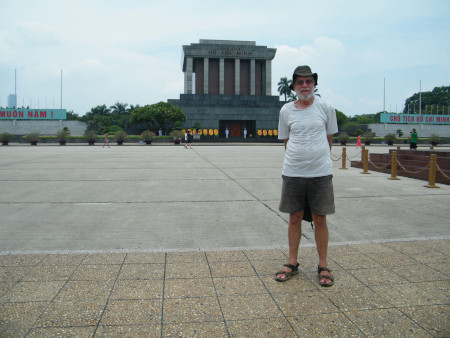 Because at Sapa we would have no base, but would be walking from accommodation to accommodation each day, we had to travel light. I had most of my gear in the backpack, to leave the backpack with the hotel, and take the bare minimum for Sapa in my small ultralight pack.
Col, Pam, Wendy and I had a pick-up about 19:45, were dropped off at Hanoi Train Station, and waited around there until departure. The train was a slow rocky rattly narrow-gauge but pretty normal interior standard. It stopped a lot at many stations, but otherwise OK, and I slept well enough.
The train pulled into Lao Cai, near the Chinese border, on time at 05:30. It was raining, not a good look for the trip up here. Our pick-up, a guy with the usual grey Transit, took us out of the town, up the hills about 32 km in intermittent rain, and into the unrecognisably developed and expanded - since 2002 - tourist city Sapa. We were deposited at the guest-house/tour office. Our guide for the next 3 days was a guy called Leung, of Tay minority group.
Around 08:45 the five of us donned rain gear and started out walking the 2 km or so out of town and down to Cat Cat village. As we started walking one or more local women with souvenirs/handicrafts latched onto us, tried to do business, and walked along with us; it turned out that we would have trinket touts dog us the entire day.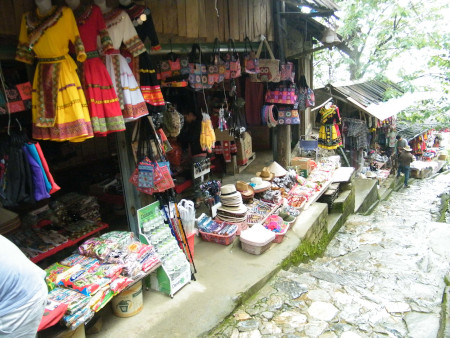 Cat Cat was also unrecognisable. Souvenir and dress (fancy local styles) shops lined the streets and the path all the way down to the waterfall, which itself had a resort/theme park atmosphere to it. I kind of regretted seeing it all like this.
Shortly after we started the rain eased somewhat, and it later turned out to be a fine day; good luck. After the waterfall we walked farther along narrow roads and paths through postcard rice terraces and villages like Y Li Ho (Hmong minority people and century-old rice terraces) and Lao Chai (another Hmong village). The walk was meant to be 14 k , but it felt like more. Col wasn't feeling the strongest, some of the path sections were slippery, Cheong was low-balling the estimated walking time left, and we had to stop to rest a number of times. Still it was a good picturesque walk.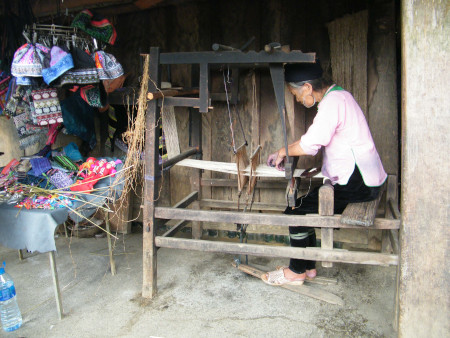 After a final brutal climb up a steep slippery dirt path in a village called Ta Van (Giai minority people), we finally came to a guest house around 16:00. Surrounded by rice fields, it was a beautiful place.
Next morning I was woken up around 06:00 by the resident chanticleer, and we started walking about 08:30. We had intended to walk through the nearby bamboo forest, but it would have been very steep and muddy, so we opted to go across the river and up via the road. We passed down through Ta Van village, some distance up the other side, and along a main road for several km. Passing through Su Pan district we were treated to stunning mountain scenery. Small showers of rain came a few times, forcing us to juggle rain coats, but it turned sunny and hot later. On the negative side, there was lots of garbage around, mainly plastic; the people seem to use nearby hillsides as dumps.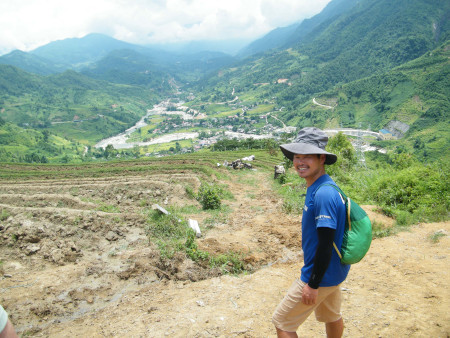 Eventually we approached from above the village Ban Ho (Tay minority). We descended a long way, some on very steep dirt paths, to get into the village. It was Leung's village; and we arrived at their family home-stay and tour place about 13:00 to stay the night. Nice to be able to relax for a while in the afternoon.
On the final day of the Sapa area, we woke to a beautiful morning view of the village, valley, hills and clouds. We had only a short walk today, a scenic 3 km hike through the village and up into the hills above the valley, an altitude gain of about 200m and about an hour to get to a small village of Red Tzao people. A short rest at the end and we coasted back home by about 11:00.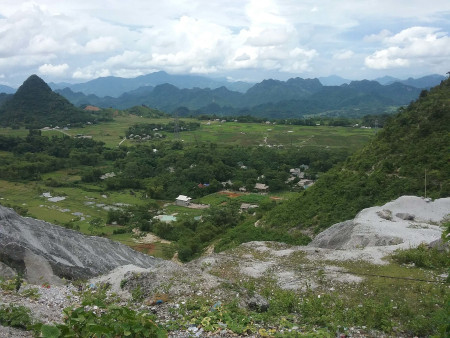 In the afternoon a bus picked us up at 13:00 to take us back to Sapa. The road was pretty horrendous driving up, lots of road works and other means of blocking us. It felt pleasantly cool in Sapa compared to the valleys, even though it was probably still in the high 20's. But I can't believe how much the city has grown and how commercial it now is.
Another bus would pick us up at 17:00 to go down to Lao Cai for the 20:55 train to Hanoi. The trip down was bright and sunny, contrasting to the rain and cloud on the way up. I had a bit of time before the train to explore Lap Cai; a typical "what are we doing here?" border town.
The train arrived back in Hanoi at 04.32 on 24 Aug. A bus and driver were there to meet us, and took us back to the Lapis Hotel by about 05:00. We found that we may not be able to check in until around 14:00, so decided to go out on the town for a while.
We spent the morning exploring the old town, the main market, and walked west to the bottom of Tay Ho for a view of the lake and some of the nearby parks. We would have gone into the Ho Mausoleum, but the north gate was closed, many people were entering from the south to view the now-open mausoleum, and we saw Aussie flags on the street and think Sco-Mo was skulking around somewhere. Slowly back to Ho Hoan Kiem lake, and thence home, where we could now check in around 13:00.
I had a bit of panic attack as I found my BL777 flight tomorrow is late, have to try to change flights, and had trouble contacting the airline. After much hassle, finally got a flight BL775 for 15:45 tomorrow.
On our final day in Hanoi, and in Vietnam, all there is to do is fill in time until about noon, before checking out and making our way to the airport. I took a last walk around parts of the old town and the lake. Throughout the trip we had been amazed how much cargo can be carried by a motorbike; on my last day I saw one carrying about a dozen cases of beer; is there no limit?
The bus came for us at 13:15, we said goodbye to Hanoi, and were at the airport before 14:00. Lots of time for me to check in and wait for the flight. Flights were deliciously routine, about 2.5 hr to Saigon, nearly 6 hour wait, then an 11:45 flight, and about 7.5 hours to SYD.
Home without hassle on 26 Aug, all was well.
This whole trip was an experiment; would I like going with a group and doing an organised tour? As I'd said much of the tour was above my standard. The bike rides were not difficult; the heat was a discomfort, but never a real stopper. I found that despite being called an "adventure tour" it was not so much of an adventure as when I was doing bike tours solo. There's little challenge without trying to figure out how you'll be having your next meal, or where to camp tonight. Not sure I'd do a similar style trip again. But I saw a lot, had good company, and had a great trip anyway.