Western Canada 1997
After return to Sydney from New Zealand, and two-month layover, I was set for more retirement travel. Having proven the concept of bicycle touring, I'd planned for more. I'd been in touch with my German friend Herbert and we wanted to spend several months travelling in Africa later in the year. Here's my plan: Fly with my bike from Australia to Canada's west coast, cycle across to my family home in Portage la Prairie, Manitoba, fly to England, cycle around there and parts of Europe, meet Herbert in Dusseldorf, fly to to Cairo (leave the bike in Germany), travel 4 months through Africa, return to Germany, pick up my bike, continue around other parts of Europe and eventually return to England and back to Canada. I'd be on the road continually for nearly a year, Wow!
On the morning of 14 May I was on a JAL plane from Sydney with my bike and other gear. I had a 2-3 hour wait in Narita to change planes; heavy rain outside made me glad I wasn't trying to bike here.
British Columbia
I was in Vancouver at 13.30 next day. My my aunt Berny picked me up and I stayed with her in the Delta area for 5 days as we visited relatives, looked around Vancouver and surrounding area, and I prepared for my bike trip across western Canada. I had to buy a raincoat, water bottle brackets and stove fuel as well as obtain as much map, road and camping information as I could about the trip. I spent some time studying camping literature and planning a route with distances and suitable stops. Among other things I was wondering whether a bear can run faster than a bicycle (apparently they can but fortunately I wasn't living in interesting enough times to find out).
I assembled my bike and did some test rides around Boundary Bay to near the US border. Later, with the gear on it, it seemed to ride OK, pretty much as in New Zealand. I met up with a couple of travelling companions from my Africa trip in 1979, a good time reminiscing about past adventures. Other excursions were with Berny and her partner around Vancouver, seeing sights and visiting old friends and relatives.
On 20 May I said sad goodbyes to my gracious hosts and, with a couple of prepared meals to start me off, I was on the road by 10.00.
The ride was of course fairly easy going east from Delta, the road flat, wide enough and little enough traffic to make good time. I was in Mission at 14.00, asking in the visitor centre about the Kilby campsite farther on. The girl in the office was surprised how far I'd come that day. At Kilby NP about 16.30, I stopped and pitched camp at the lakeshore. It was a bit wet and windy there, and the trains crossing the nearby rail bridge made some noise at night, but not bad. I had ditched my small old tent that I had used in New Zealand, and decided that I could manage with my 2-person tent on this trip, much more comfortable.
Next day was again mostly flat to start with. I met a German couple on the way to Okanagan, one of the infrequent times I saw other cyclists. At one point I ran over a sharp piece of metal, necessitating a change of both tire and tube.
On up No. 1 Highway, I encountered more climbing, and I had to go through a few tunnels. They were somewhat unnerving, wondering if I'd be overtaken by vehicle traffic in the narrow tunnels. I'd have to stop at the tunnel entrance, wait until I couldn't see any following traffic, and then scream through the tunnel as fast as my legs could push me before any trucks caught up to me. I never did get caught in them.
I got food in Yale for lunch, and climbed more. Rain started, trucks splashing me as they passed, but it cleared up later to good views of the Fraser Valley and surrounding mountains. I made Canyon Camp for the night, a private campground just past Boston Bar, after 17.00.
On the third road day, I made a breakfast of a packet of Wild Oats porridge that someone had given me. I found it amusing and memorable that my father had spent much of his life on the Manitoba farm battling infestations of wild oats, and he probably would have been floored that you could now buy it as yuppie food. Rain delayed my start and then dogged me part of the day wetting and weighing down my gear, and making the ride miserable.
After lunch in Lytton, it was too early to stop in the Skichist and Goldpan campgrounds, so I pressed on to find a camp farther on. Weather cleared as I went up the Thompson River.
At Spences Bridge I passed a Dutch couple on bikes, also on the way to Kamloops. They planned to go up Hwy 5 to Yellowhead; maybe I should go that way too. Plans were originally to go directly up the main highway to Banff from Kamloops, but other cyclists had told me that the Icefields Parkway from Jasper to Banff was the most beautiful cycle run in North America. So it would be worth the diversion to Jasper to come down the Parkway from the north.
About 20 km south of Cache Creek I found a rest area and wanted to stop there. But it was totally dry and I was thirsty, so had to just eat some dinner here and continue to Cache Creek. There in this town of motels, restaurants and fast food about 19.00, I found a campground and made a huge pot of tea to quench my thirst. I'd been covering big distances since starting 3 days ago and my right achilles tendon was starting to get sore.
I got away in good time next morning, and enjoyed a good tailwind to start. But my right ankle, left knee, and a sore butt were all bothering me and killing some of the enjoyment. I'd long left the moist forest and was now passing through semi-desert sagebrush country and ginseng farms. A long 25 minute hill before Kamloops was a trial to get up, but I was thrilled to finally make this city. I had come about 350 km in 4 days and was sore all over. I'd have a lay day here to rest up before continuing up Hwy 5.
I checked into the youth hostel for 2 nights when it opened later in the day. A bike shop was able to examine my slashed tire and advise me that I could just put a boot in it and continue using it. I did as he suggested and put the tire back on the front, as well as performing other routine maintenence. An English couple also going north on bikes gave me some information on camps and shops up there. I rode around town a bit on the day off, but was too sore to go far. I watched a Shriners parade in town in the morning, and in the afternoon looked at the local museum with its exhibits of pioneer artefacts, fur trade, railway, Native, Chinese, geology and wildlife.
I was a bit concerned whether I'd get worse or better as I continued on; it was so far to go and if I was sore after 4 days what would 4 weeks do? But as it turned out my aches eventually went away as I became more fit.
Anyway, on 25 May I thought I won't get anywhere worrying about my aches, and set out north along No 5. Up the North Thompson Valley it was mainly flat farmland, pleasant enough. Farther on, bush and undulations increased. Near a place called Little Fort my right foot tendon was aching enough that I found a place in the bush with flat ground and water to stop and camp. Really slept well there, sleeping in until 07.30.
A few km past Little Fort I had my first mechanical breakdown. My rear pannier broke across a screw hole at the bottom. As I was on the side of the road trying to figure out how to jury-rig it, a local farmer came by and volunteered to take me to his place to work on the bike. Great! There we were able to bolt and wire on a steel bracket, making it probably stronger than before. Down time was about two hours. People are definitely friendlier up here.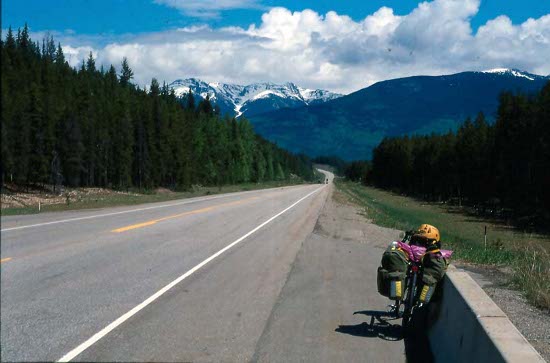 I was in Clearwater around lunchtime. My pannier was surviving OK, and would continue as such the rest of the way to Manitoba. I had lunch and stocked up on groceries, and found out that I shouldn't have much bear problems if I continued to bush camp. On up the river valley, farms and fences lined the road, with mountains and forest all around. I did camp at another bush clearing that night, no problems. The following day, farther up hills and along the ever-smaller Thompson River, I found small road near the highway for another bush camp. I thought it would be wisest to camp near the highway, hoping the traffic would keep bears away.
My biking clothes, that I wash each night, weren't always dry in the morning, so sometimes I would just put them on and dry them out as I rode. It wasn't very comfortable to start with, but they usually would have got sweaty and damp anyway, and they certainly wouldn't dry in the bags.
In another day's ride I was up through Tete Jeune Cache, admiring views of Mt Terry Fox and Robson in cloud. My legs and tendon were getting better, I guess I was getting used to it now. At 15.00 I stopped at Mt Robson Park, about 80 km from Jasper. I wanted to go farther to make sure I would get over Yellowhead Pass and to Jasper next day. But up here you have to camp only where they let you, and the next place was 50 km farther. The ranger told me it wasn't much higher over the pass and I should easily make Jasper tomorrow. I didn't like having to pay $15 just to put up a tent, so she gave me a 50% senior's discount. It was a nice campground though, with gravel sites and hot showers. I noted the difference between New Zealand and Canadian campgrounds, here the sites are laid out for big vehicles and have well defined boundaries; in NZ you just put the tents up anywhere and cram in. I actually preferred the more happy-go-lucky NZ system.
A series of long steady climbs got me up to Red Pass and along the shore of Red Lake. The actual Yellowhead Pass was an anticlimax, shallow and hardly noticeable. Suddenly I was in Alberta, Yahoo!
Alberta
Jasper turned out to be not the most desirable place to hang around; not a lot to do or see here. My pedal crank bearings were getting loose and sloppy, probably needing replacement, so I arranged to get it done here at a bike shop. I rode out to the youth hostel for a bed, but they were full so I came back near town and set up for the night at a somewhat expensive and noisy campground.
On 30 May, having been on the road for 10 days, I was more or less over any sores and injuries I may have had, and eager to get to some serious cycling. By the time I got the bike crank unit replaced, bought 3 days supply of food and packed up, it was 11.30 when I was on the road.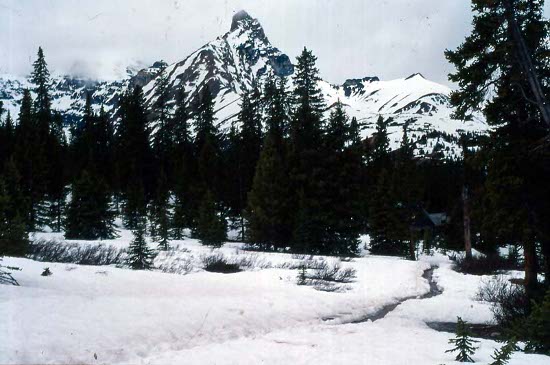 Headed south from Jasper, I was starting the much-recommended IceFields Parkway. I had some hard work and great rewards to look forward to. There was some headwind and steady climbs this first afternoon, but good scenery of Athabasca and Sunwapta River valleys. A few doe elk, several mountain goats and a black bear and cub filled out the menagerie.
After 6.5 hours and 85 km I reached Beauty Creek Youth Hostel, not a bad run considering I'd started so late. The hostel was a pleasant little place, one of those relatively rustic hostels that I like so much. The host was a quiet but lovely woman from Winnipeg; made me feel that much closer to home. Nearby was a river in which I could wash myself and clothes.
Next morning was the big climb, or at least one of them, up the 2055 m Sunwapta Pass. It was a bit intimidating but don't worry about it, just get it done! It was flat for the first few km from Beauty Creek, then the climb started in earnest, a long curvy slope forcing me down to my lowest gear. I stopped frequently to rest and enjoy views, reaching the end of the main climb after 1 hour and 3.7 km. A further flat run and slightly more climbing got me to the Icefields Centre and Athabasca Glacier. I stopped to do a short wander out toward the glacier and watch the big-wheeled tour vehicles crawling over the ice. After more level going and slightly up I crossed Sunwapta Pass.
The climb wasn't any worse than those in New Zealand. In fact I found Western Canada to be generally easier biking than NZ. Even though the Canadian roads are higher, they aren't as steep. NZ is lots of gruelling up-and-down; Canada is more long gentle ascents.
I was in snow up here. I stopped for lunch at Hilda Creek Youth Hostel for lunch and to talk to the people there, having a little difficulty getting the bike through the snow to the hostel. It was a real winter wonderland.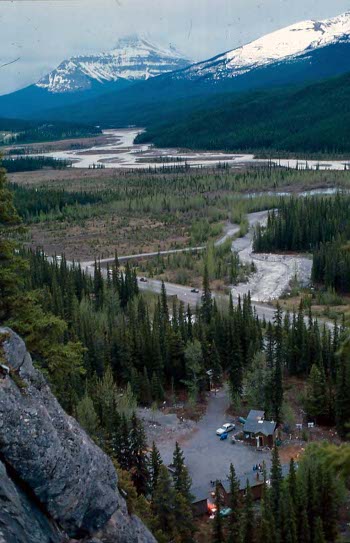 The snow quickly disappeared though as I rode the big drop down from the pass and along the level run into Rampart Creek Hostel. This was another beautiful place to stay the night. A Quebecois guy ran it and there were other cyclists to compare notes with. I had a wash in the melted-ice creek. There was a Jasper-to-Banff relay marathon in progress on the road, and we were able to watch and cheer on the runners. Later I walked up the bluff behind the hostel for good views up, down and across the valley and of the runners below.
The next challenge was the 2068 m Bow Pass. Cloudy and windy weather with a bit of sleet made for a cool ride. The pass was not as steep as Sunwapta, but slightly higher and a much longer ascent. I had lunch well before the top and didn't reach the pass until after 14.00. Heavy snow covered everything near the top. I thought it was a more difficult day than the one before.
For wildlife, I saw a wolf crossing the road at one point. Another place, as I was slowly going up an open stretch of road, I saw several cars stopped up ahead. I wondered what there was there to stop them. As I approached , I saw that everyone was milling around watching a grizzly bear foraging less than 50 metres off to the side, totally oblivious to the crowd watching or passing. I stopped to take a picture but, wondering again about bike speed vs bear speed, didn't hang around long. So, they don't give a damn about traffic; there went my theory about camping next to the highway as a deterrent to bear attacks.
Down from the pass I rode along through snow past the still frozen Bow Lake. I was dead tired as I got to the Mosquito Creek Hostel, far enough for today. It was deserted so I stretched out on the lounge for a while to rest. It was still quite high, with snow around. A guy from Dresden showed up on a bike later, and I talked to him a while and we went for a short walk up to the Mosquito Creek rapids. Later when the warden came I was able to check in for the night.
It was a relatively easy run on my fourth and final day of the Icefields Parkway, some downhill and some level/undulating. I stopped several times to see things, including the Lake Louise Information Centre, Johnson Canyon for a ¾ hour return walk to the lower waterfall, and to read educational information at each rest stop.
I was in Banff before 17.00, checking out accommodation facilities in the Parks Centre. I could do a "wilderness camp" about 7 km out of town up the Spray River. I paid the camp fee, rode out along a gravel road to the campsite, set up my tent and cleaned up. Here they had high poles and crossbeams, up which campers could winch their food etc. to keep it away from bears.
Back in town in the evening I looked around for cheap eats, gorging myself on Chinese and Mexican food and ice cream at Cascade Mall. I'd be in Calgary next day so went to the Banff Youth Hostel to book 3 nights at the Calgary hostel. I didn't get back to my tent until about 22.00.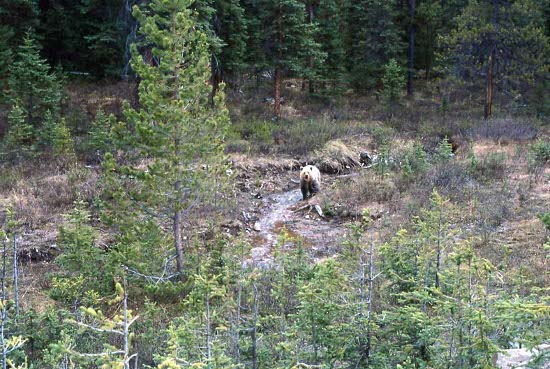 The run from Banff to Calgary was meant to be easy street, downhill and hopefully a tailwind. It must have been one of my hardest cycling days ever. There was some downhill at the start, but up-and-down hills for most of the way. A brutally relentless headwind pushed against me all the way. I was in low gear a lot and could barely maintain 15 kph. I had to stop several times to rest and ease the muscle aches. Sometimes I thought I wouldn't make it to Calgary that day, and I might not have if I hadn't been fit and if I hadn't booked the hostel for tonight.
After what seemed like a century, I arrived at Calgary Olympic Park and picked up a city map. Another hour of riding amongst traffic, and I was down-town and east to the hostel about 19.00. I'd come a very hard 140 km today and was about as tired as I could get.
At least I had a bed waiting. A quick food shopping trip, shower, cooking, and I had a big meal of soup, salad, bread, bacon and eggs. Later, hot and thirsty, I walked out and found the nearest sleazy pub (Louie's), full of skinny-legged down-and-outs, for a $5 jug of beer and a chance to write my trip notes. At least there were no fights while I was there.
I had two full days to R&R in Calgary. I was rather sore and tried not to do a lot of physical activity. I signed up for a free YHA walking tour around the down-town area, taking in City Hall, the main mall, museum, art gallery and to the top of Calgary Tower. Clouds and rain limited the view but it was informative anyway. I explored other parts of town shopping for groceries, eating out, getting a haircut and riding around Princess Island and the riverbank. I did maintenance on the bike and rested as much as I could.
Calgary has a lot to see, many good buildings, parks and shopping. It would take more than a couple of days to look at everything. But it wasn't the nicest city. The east side where I stayed was somewhat scruffy and run-down, lots of bums and rubby-dubs here and downtown; panhandling, fighting and loitering around. Not a good atmosphere, but I suppose no worse than Winnipeg.
On 6 June I had recovered sufficiently and was again away east and south-east along Hwy 1. Wind was thankfully behind me as I made good time through gently undulating or flat country. I was now in the prairies, mostly flat and treeless, grass, clover, lilacs, frogs, meadowlarks (love the sound of those birds, felt like home), kildeer birds and prairie dogs.
The next 8 days or so were prairie days, everything is so vast. I just have to head-down, ass-up and go. The highway is gunbarrel-straight with only grass and horizon to the sides, sometimes rolling hills. I'd fixate on a distant landmark such as a tree, grain elevator or tower, and ride for what seems like hours before finally reaching and passing it, then to look for the next landmark. I'd see a deer, coyote or hawk once in a while. As I progressed eastward the clover was starting to flower, rye was coming into head and the prairie dogs squeaked, reminding me how close to home I was coming. Trucks overtaking me would often give an encouraging beep as they passed, especially on rainy or otherwise miserable days. There were few other cyclists on the highway and I must have impressed the drivers.
At the end of a long day, typically 100 to 130 km, I'd find a campground in a small western town and set up camp and a meal. I'd occasionally find a rest area or other suitable spot to sneak a camp sauvage for the night, but usually there wasn't even much place to stop for a leak.
Saskatchewan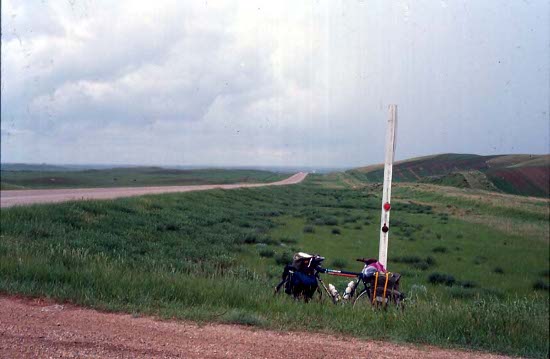 The day from Brooks, Alberta to Medicine Hat was a relatively long run, 156 km by 17.30, but the wind was behind me. As I entered Saskatchewan I had to cross virtually the entire province, 5 days, with a persistent east wind slowing me down; maddeningly frustrating.
My first camp in Saskatchewan was at a roadside campground and restaurant in the small locality Piapot. It was run by a nice Brandon, Manitoba woman (again close to home). She gave me a little water for my camp but advised that there was a severe water shortage here and she had to buy it in. She looked to be struggling to make a go of her business in this remote wayside, so I tried to support her by ordering a big breakfast of steak, eggs, potatoes, toast and coffee. It was worth it, as the rest of the day would be somewhat taxing. The wind turned to a headwind and rain, and I had tire leak problems to contend with.
On through Swift Current, Herbert and toward Moose jaw, headwinds and occasional rain continued. At Moose Jaw I had a cousin Marlene and her husband to visit, so I gave them a call on arrival and rode over to their place. Marlene was one of the few cousins I had never met, so it was quite an event finally seeing them.
They happened to be planning to drive into Regina that very afternoon to see Marlene's parents, my Aunt Olive and Uncle Red. When they asked me if I preferred to cycle there or wanted a lift with them, I was so sick of headwinds that I immediately accepted the lift. That would give me more time with my aunt and uncle anyway. So we put the bike and gear in the back of the truck and did several hours of cycling time in an hour or so.
I hadn't seen Olive and Red for about 25 years, so it was wonderful to see them too. We had a great afternoon and evening, a pleasant visit, good dinner and the best bed in weeks.
More headwinds east from Regina; would it never end. On through Qu'Appelle and Indian Head, I stopped to make dinner at a park bench in Grenfell, then rode several km farther to find a spot to camp. I did find one off a side road next to a swamp. The mosquitoes were so horrendously thick and persistent that I was glad I'd made dinner already, and doubly glad that I had my insect-proof tent.
Manitoba
Just over a week after leaving Calgary, I was in Manitoba and into the Virden campground by 19.00. It felt great to be in my home province. I was tired and running low on stove fuel, but I was nearing Portage la Prairie and home.
On 14 June the wind finally turned behind me. On the road at 09.30, I didn't know how far I'd get that day. But the wind pushed me right along, making Brandon junction by 13.00 for lunch. I sailed through Carberry Hills; hey, I might even make Portage tonight! Why couldn't I have had more of this wind earlier? On through increasingly familiar towns Sydney, Austin and my old home town of Macgregor just after 17.00. Fill up with water and a look around the town, then on east past the Beaver Road (our old farm was down there), Bagot and Rat Creek; only a few km to go. As I rode into Portage I was sending skyward prayers of thanks to my legs and to my faithful bike for delivering me all this way.
At 19.00 Saturday night, as sort of a victory lap before going to Mom's house where I'd be staying, I coasted into brother Danny's place. Danny and Peggy were just setting up for a club party at their place, and were floored when I showed up. They hadn't expected me so soon but I'd been trying to get here tonight, not wanting to miss the party. Where had I come from today? Virden?? That's 195 km! Incredible!
After going home to Mom (another joyous greeting), dropping off my bike and gear and catching up with her. I had to go back to Danny's place where a steak, beer and friends awaited. I was tired but what a party! I couldn't, and didn't want to, go to bed until about 02.00.
I'd ridden I think about 2700 km in 25 days, not a bad effort considering the hills and wind I'd had to contend with.
I'd be in Manitoba for about 3 months before continuing on to England and Europe for further travel.