Korea , Japan and Java; January/February 2011
Friends Herbert and Annie have been with me in Australia from early December 2010, and we had been enjoying ourselves in Sydney, Melbourne and Tasmania. Next item on the itinerary was for the three of us to make our way to Seoul, South Korea, meet Maggie there, and spend about 7 weeks around Korea and Japan. Maggie would have about 3 weeks before returning to Canada and back to the salt mine.

South Korea Part 1
(Click for map)
Herbert and Annie had taken a different flight to mine, so were in Seoul the day before I arrived. On the morning of 8 Jan as I descended through clouds over Korea, I looked out at the ground below. What the Hell? Snow everywhere. What am I flying in to? Will I be warm enough?
On the Incheon tarmac at 08.30, I exited the A330 into a snappy -4 C temperature. Well OK, I guess I'll survive as long as I dress up in enough layers. I was glad I brought gloves and a jacket with hood.
Seoul
Once in the airport, I was soon to discover how friendly and accommodating people are here in Korea. Entering passport check, I was astonished to see how the officials processed us. They took our passports with a huge smile, quickly processed them and handed them back to us with two hands, a BIG smile, and a deep bow. WOW! These can't be government immigration officials. If they are, then every other country in the world could learn from them. It was soooo refreshing.
The tourist office in the arrivals was similarly hospitable and cheerful, giving concise directions on getting into the city. They gave me a free Seoul-only T-money card which I charged up with 40000 Won before leaving the airport so I could use it on the public transport system.
The 6011 bus to down-town Seoul was easy to find right outside the terminal doors, only a 10-minute wait, and an easy W10,000 (that's about $9) swipe of my T-money card. The city was cold, clean and slightly boring and unremarkable. After about an hour travel, I alighted at Anguk Station in the north of the city centre. Snow and ice were everywhere, but the temperature was bearable; just be careful not to slip.
I found our previously-booked Beewon Guest House at 11.05 but found I could not check in until 14.00. What do I do for 3 hours, walk around I guess. I started out by walking south from the guest house toward Cheonggyechon Stream. Interesting small shops and restaurants lined the street and small side streets. Even in the chill cold, many shops had their food and wares outside on stands. I didn't get far before having to duck into shopping centres to momentarily escape the cold.
The Stream itself, promoted on maps as a beautifully presented avenue of parks, sculptures and commerce, had given me high expectations, but the reality disappointed. It was open, drab and featureless, especially in winter. There was a concrete walkway along the bottom, a few sculptures and a waterfall, and some western style restaurants and bars along the adjacent streets, but not much of artistic or architectural interest.
I exited the stream at the western end and proceeded south past the city hall construction site, and across Seoul Plaza in which a skating rink had been set up. Through another shopping complex, I emerged on Sogongro and south-east to the old stone Bank of Korea building with its black onion corner domes. I didn't spend a lot of time in the massive Namdaemun Market, just briefly wandering through the clothing and accessories stalls before exiting toward Myeong-Dong Station and back along Namdaemun-ro to the Stream and home to the guest-house.
I was in the room at 14.00, time to warm up and rest. Later in the day I met Herbert and Annie next door and we caught up on our trip experiences and planned ongoing activities.
I still had to go back out to the airport to meet Maggie arriving at 21.30. I went out in the cold and dark, found the nearby 6011 bus stop and waited for the next bus. The trip out was nearly an hour and, on arrival at Incheon, found that the plane had just arrived early. A wait of a few minutes, and there she was; what a relief that she hadn't missed any connections or anything.
We got her a T-money card and boarded the 22.10 bus back to Anguk Station and to our room before 23.30. All was well.
It's cold outside, and I'd been a bit concerned during the day that we'd be cold in bed at night. Enough blankets? I needn't have worried. The floor has that ubiquitous ondol heating and the room is warm as toast.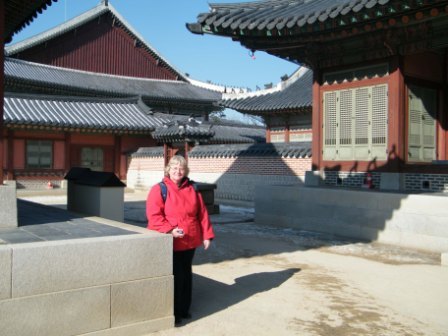 Next morning the four of us, Herbert, Annie, Maggie and myself, decided to walk up to and look around Gyeongbokgung Palace with its associated museums. I believe it's the largest palace complex in Seoul, from the 14th and 15th century Joseon Dynasty. A traditional changing of the guard ceremony, with stylised marches and colourful costumes, was put on for the tourists. Inside the grounds, the layout of the buildings was reminiscent of the Beijing Imperial Palace, with successive buildings one behind the other as we progressed from the south gate along the north-south axis. Ancillary buildings were located along the sides. All was planned along Confucian principles. Roof architecture was brightly painted traditional wood construction, with animal motifs sitting atop the peaks.
The National Folk Museum was fascinating in its own right, exhibiting cultural artefacts from Paleolithic times to the present. Outside were a traditional farmhouse and shops and commercial buildings from the recent past, and nearby a large sculpture garden of stone statues.
The National Palace Museum was by contrast much more "upscale", displaying palace artefacts from various dynasties, and a temporary exhibit from the Vietnamese Nguyen Dynasty.
Late lunch was in a local restaurant; I had a beembap (vegetables and egg on rice) accompanied by the usual cold kimchi-style side dishes. All was good and reasonably filling. But I wouldn't take long to become roundly sick of kimchi and its ilk.
The following day the four of us decided to attempt an ascent to the N Seoul Tower, a look at the river and later the Dongdaemun Market area.
So first a walk to nearby Anguk Station, board the subway to Myeong-dong, and walk up to the tower cable-car. The car took us on a short ride that barely skimmed the treetops. At the tower itself, of note was the large number of padlocks attached to the fence or other structures, each placed to commemorate some visitor or couple. Maggie attached a small one for the two of us. I guess that means we're locked in as long as the lock stays. A quick trip up the tower to the observation deck for the view, and we walked back down to the bottom of the hill. Next stop was Yeouinaru metro station on the south side of the river. There we explored along a somewhat desolate flat open snow-covered park along the riverside.
At Dongdaemun Stn we found a nearby local restaurant for a late lunch of seafood/tofu soup, rice, fish, omelette, etc. We quickly learned that when you order something in a restaurant, you don't just get what you order. You also get typically a separate bowl of soup and at least a half dozen small dishes of various kimchis, seafoods and vegetables. It turns out to be quite a substantial meal. Kimchi is an acquired taste, and I've never liked it, but you have to get used to it or die. I suspect Maggie hasn't long to live.
There wasn't much of interest market-wise around here, so we slowly made our way back home.
After 2 or 3 days in Seoul, we were eager to head south toward the UNESCO listed forest temple complex at Haeinsa. We caught a metro to the Express Bus Terminal around 10.10, and left on the bus at 10.20, passing through the south of the city and out into the outskirts of endless suburban/satellite city apartment complexes. Farther out we finally came into real countryside, villages and farms in snow-covered valleys and wooded hills.
As we made our way south, I was pleased to see progressively less snow, with the promise of nicer weather. There was very little snow around as we entered the Daegu express bus terminal around 13.30. We took a taxi to the Southern bus terminal and got tickets for a 14.40 bus, about an hour to the small village Haeinsa.
We climbed slowly up valleys through agricultural districts with vast expanses of plastic-covered greenhouses, then a steeper climb up to our destination. Residual snow covered the ground, it was cloudy, and a few new flakes were falling.
Haeinsa
What to do now? We had no idea where to stay, and no hotel/guest-house signs were in English. However, no problem; a local woman saw us there and "never let a chance go by". In halting English she introduced herself and offered to put us in her nearby hotel, in two large double rooms with attached bath and heated ondol floors. We immediately decided to stay 2 nights, to give us time for a full day of sightseeing.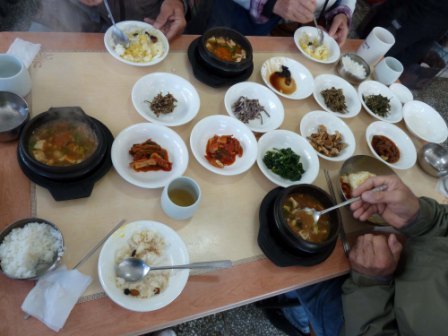 A dinner in a local restaurant, a brief look in a couple of shops and a slow careful 10-minute exploration of steep snow-covered side streets; the day, and we, were done.
We had a whole day to look at the Haeinsa temples. A pleasant sleep-in and we met at 09.00 for breakfast at the nearby restaurant. I had a vegetable dish and the others had an egg and rice. But that was all accompanied by the soups, kimchis and vegetables, maybe a dozen dishes. You can't just have a simple meal in this country. I found, this time anyway, it was just too much vegetables. I'll be glad to see the end of kimchi when I leave.
There'd been light snow overnight, and the ground was treacherous; slow careful walking only, but it was brilliant sun and much of the snow dried off later.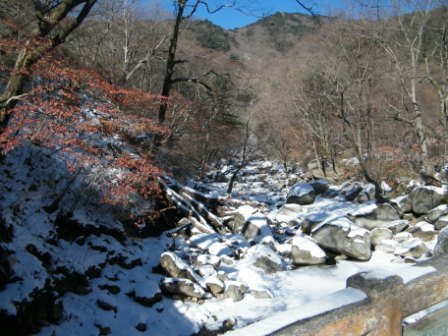 We walked a kilometre or so up a valley to the temple complex entrance and museum. The museum wasn't large, exhibiting some detail of the wood-block scriptures and other Buddhist artefacts.
The main temple complex was another kilometre or so uphill along a pleasant path through pretty forest and snow-covered rocks. Brilliant sun, bare trees and snow on roofs added to the beauty of the scene.
The Gayasan Haeinsa Temple, said to be located here because of the natural beauty of the area, is a 1200 year old UNESCO-listed complex. It is best known as the depository of the Tripitaka Koreana, a collection of 81350 wooden blocks engraved on both sides with Buddhist scripture.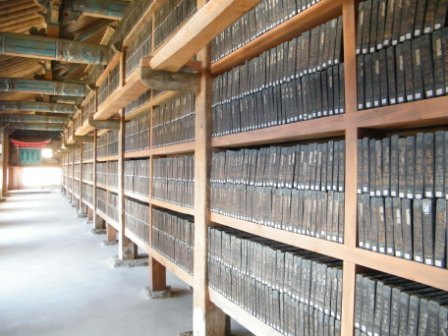 We spent 2 or 3 hours exploring the temples, all beautifully and tastefully built taking advantage of the natural surroundings. The temples had similar brightly painted curved roofs as were those in the Seoul palaces, indicative that they also came from the Joseon period. In the Storage Hall of the Tripitaka Koreana we could see through wooden gate/doors the long "bookcases" containing endless rows of the book-size woodblocks.
With monks in traditional grey robes casually scurrying about their business, the entire scene was one of tranquillity and serenity. Despite the winter chill, the visit was one of the most relaxing and pleasant activities yet on this trip.
Later, about 17.30, we took a brief walking tour of the village before dark and found a restaurant for dinner.
Back in the southern bus station Daegu at 07.50 next morning, our next objective was to head straight on to our next destination Gyeongju. We found that we could get a bus straight from this station at 08.30. An hour and a quarter later we were in the Gyeongju ICBT.
Geyongju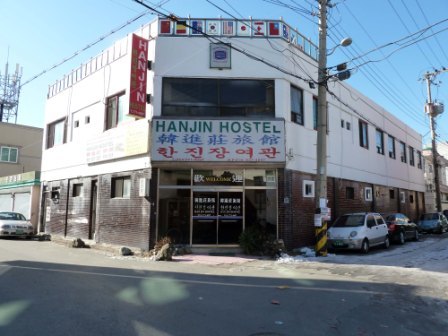 The staff in the tourist office next to the nearby Express Bus Terminal were extremely friendly and helpful. They pointed out the main sights and attractions and showed us how to access them. Also they showed us how to get to the Hanjin Hostel a few minutes away. At this dumpy but convenient guest-house we checked in with the genial 83-year-old host Mr Kwon and got rooms for 2 nights.
Couldn't go any farther without getting a fix at the Paris Cafe; snacks and hot chocolate for breakfast. Then we were able to start out walking to explore some of the sights around town.
Geyongju is another UNESCO site, rich in thousand-year-long history and tradition. Much of the city and surrounds are dotted with Silla temples and huge burial mounds of emperors and other dignitaries from that period.
We started east from our place and soon came to the Tumuli in Noseo dong Nodeo dong group of burial mounds. They are rounded grassy knolls about 30 metres across and a third that height. Each is the burial place of a single emperor or noble, and would have contained a rock-covered wooden coffin at its core. I couldn't see any information on these mounds, so they must not be the most noteworthy.
Across the road to the south is the walled enclosure of the Cheonmachong and Daereungwon Royal Tombs, 23 tombs in a compact area. They include the tombs of King Michu, Cheonmachong and others, all in the grassy-mound format. The latter tomb is excavated and open to the public, with displays of the tomb itself and artefacts from the period.
Further south-east is the Cheomseongdae Astronomical Observatory, a squarish stone column-shaped building used for astronomical observations.
Maggie and I were to meet the others at the Geyongju National Museum, so we decided to proceed in that direction via the Wolsung Forest. This is a large hilly area, partly wooded and partly grassy, that was once the ramparts surrounding the Silla Palace. No trace of the palace remains, but a stone storage building is still there, and the park is pleasant for walks.
The Geyongju National Museum houses the divine Bell of King Seongdeok, exhibits of Silla History and art and Buddha statuary, good for an hour or two of browsing.
We walked back via the lotus ponds of Anapji, brown dead stalks now, but probably beautiful in season.
At the extremely friendly and helpful tourist office, we enlisted the staff's aid to book the ferry from Busan to Fukuoka, Japan for 14.00 on 15 Jan. Cost was W115000 for Maggie and W92000 for an old guy like me. Back home we rested before setting out to find a nearby restaurant for dinner. We had a couple of soybean paste or tofu soups, and the others had barbecued pork strips, all with rice, fresh vegetables, and generous accompaniments. It was probably the best meal we'd had so far in Korea.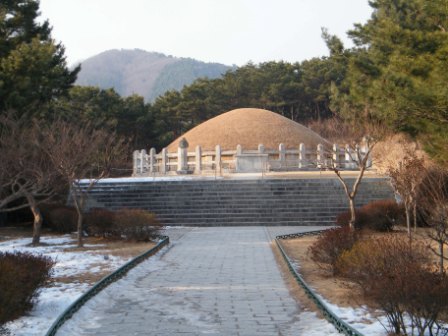 We'd use our second day in Geyongju to go somewhat farther afield and explore the outlying sights of the district. We found a bus to take us several km out to the Bulguksa Temple, out of town toward the sea. It was a pleasant ride through snowy fields and bare forests in sunny weather.
This Silla temple was begun by Prime Minister Kim Dae-seong in AD 751 and incorporated the mastery of Buddhist art from the period. Several levels of temple buildings contain many Buddha and Boddahvista statues. Maggie asked me to mention the shiny brass pig that you rub for good luck.
After the temple, we took a bus farther up the mountain to the Seokgulam Grotto cave temple. It was bitterly cold and windy up there. We walked another 1/2 km or so to get to the grotto. It was little more than a hole in the rock, walled off with glass, enclosing a large granite Buddha. Hardly worth it I thought.
While the girls went to the market to buy oranges, Herbert and I walked west across the bridge over the frozen Hyeongsanggang River and up a kilometre or so to the wooded hill on which sits the Tomb of General Kim Yu Sin. This tomb is another grassy hill, nearly equal in stature to those of the kings. This Silla-era general facilitated the unification of the Three Kingdoms of Korea, so was held in high regard. A stone fence surrounding the tomb contains reliefs of the 12 Chinese Zodiac animal figures.
On Saturday we moved on to Busan to be ready for the ferry crossing to Japan on Sunday. As we were leaving Mr Kwon advised us that Korea, and Seoul in particular, has had the coldest temperature on record, -15 C. No wonder I'm so miserable here.
Busan
From Geyongju we took a bus about 10.00 for the one hour trip to Busan. Our bus came to the Nuo Dong bus terminal on the outskirts of the city. A tourist information office helped us check for rooms at the Blue Backpackers in the centre, and we were in the central Seomyeon Metro Station around noon. A nice attendant Jin at the hostel got us in to good rooms.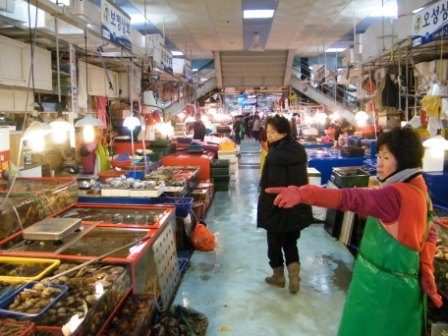 By now it was 13.30, and we decided to go out to see some of the town. H&A went on their own and Maggie and myself went out slightly later. We wandered through the big upmarket Lotto Shopping complex. From Seomyeon Station we got tickets to Jagalchi Station near the harbour. Here was a highly charged atmospheric part of the city; narrow streets and alleys, shops, stalls, pedestrians, motorbikes, cars, bustle, the harbour-front and an ocean of seafood. This was the fish-market area, seafood of all species and forms. An intense scene. The wind didn't seem quite so chilly here either, therefore slightly more pleasant to walk around. Maggie though wasn't rapt in the strong, almost grotesque, seafood sights and smells. Walking east from the main fish market, we came across the dried fish market, somewhat more tranquil and less crowded than the other areas.
Before going home we looked for and found the food alley near Seomyeon Station. This narrow lane had a bewildering array of restaurants and food stalls of all classes and descriptions. We couldn't resist stopping for a light meal of Chinese dumplings, each serving about 8 dumplings with sauce and vegetable. What a refreshing change from the kimchi-laced Korean food! The sights and activity here beckoned us to come back this evening.
In the evening Mag and I bundled up and walked back down to the eating and entertainment district a few blocks away. Despite the chill wind, it was garishly lit, crowded and lively. We looked around the stores, nightclubs, food stalls, restaurants and coffee places, and finally went into a Korean hamburger restaurant (incidentally near a McDonalds) for a couple of hamburgers and fries and coke. It was another welcome change from Korean food for our last night there.
16 January, one week in South Korea, and on to Japan today. At the ferry terminal after 09.00, we went through the ticketing and check-in formalities, immigration etc. in plenty of time for 10.30 departure.
The ferry was a smallish hydrofoil, comfortable for its size. Waves from a strong tailwind made for a rough sea but not enough to cause seasickness.
Japan
(Click for map)
Fukuoka
In Fukuoka Terminal at 13.45, after 3.25 hours at sea, we passed through arrival and immigration in about 1/2 hour or so. A city bus took us from the terminal to Hakata train station. It was a quarter hour or so walk to the previously booked Khaosan International Backpackers Hostel. It was a nice enough place with friendly helpful staff, kitchen, common room, laundry, wi-fi etc.
The four of us walked a few blocks east to a recommended ramen restaurant, where we had a great dinner of noodle dishes with pork and accessories, good food and reasonable prices.
We'd only be in Fukuoka one full day, so we spent the day sightseeing. We headed out to the Fukuoka Castle Ruins by walking west past Canal City, along Kokutai-doro over the rivers past Daimaru and the Tenjin district, and some distance further out to the ruins.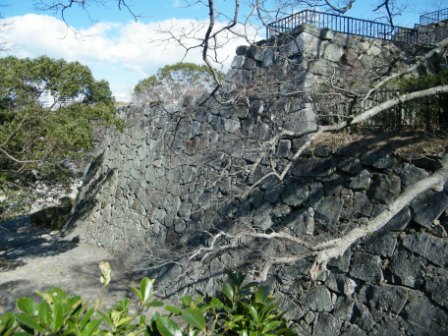 We found our way up into the castle ramparts, no castle but just stone walls with some signs. It's all open with no gates or tickets. The only people around are locals doing exercises and a couple of hobos. The castle had good views of the city and nearby Ohori Park from the upper ramparts, and the bare trees and open spaces were picturesque, but not a lot else to see and we soon headed back down-town.
Maggie and I looked a bit around Daimaru (too ritzy for us) and the interesting shopping concourse of Nakasu, before heading south to the big impressive-looking but unfinished Canal City shopping, eating, and residential complex.
Fukuoka city, although with some interesting parts, (and I generally liked it) isn't a distinctive or exciting city, nothing really unusual or architecturally unique. It reminded me of parts of Winnipeg. People though are polite, cheerful and helpful. You can't stop to look at a map without someone approaching to help. I was ecstatic at the mild temperatures and no snow.
Tomorrow we leave for Hiroshima.
Hiroshima and Miyajima
The train to Hiroshima, a Shinkasen or Bullet Train, left at 10.37, on time of course. As expected, it's sleek, fast and comfortable. We zipped through the countryside of wooded hills, towns and tunnels, with 4 or 5 short stops, before coming to Hiroshima Station after 1 1/4 hours, at 11.47.
Despite some snow on the trip, Hiroshima weather was pleasant, about the same as in Fukuoka.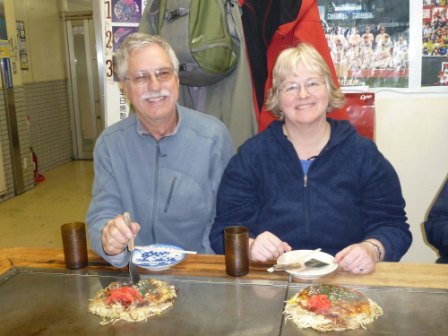 We found the K's Backpackers that we'd booked and were settled in before 13.00. That left the afternoon to do things.
We were in the Matoba-cho district; a km or so to the west is the main shopping, restaurant and entertainment district. Further west from there is the A-Bomb Dome and the Peace Memorial Park. Maggie and I walked along Aioi-dori Ave to the shopping district, long covered concourses with a mix of high-and-low-end shops, everything imaginable. We had to try the Hiroshima-style okonomi-yaki, sort of a pizza or pancake cooked on a griddle with a large amount of ingredients including cabbage, noodles, egg, sprouts, peanut mixture, seaweed, pork and herbs and spices; not great but not bad.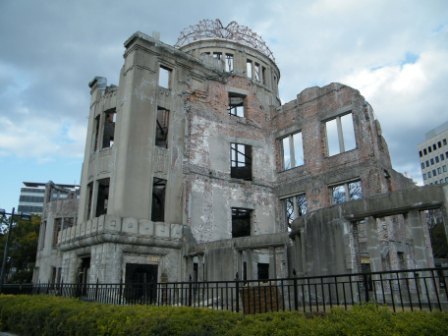 On through more shopping concourses, we emerged near the A-Bomb Dome. The dome is in a small triangular park next to a river channel. I'd seen pictures before, but it was sobering to see it "live" and in context. The blast epicentre was a short distance away and it was hard to imagine how anything could still stand after it. At the site, and in the nearby Peace Park, were exhibits of thousands of origami paper cranes, started years ago by a girl dying of leukaemia.
The Peace Memorial Park is a larger, also triangular area, across the river and at a junction with another river. Memorials and monuments include the Childrens Monument, Flame of Peace, Memorial Mound (built from victims' ashes), Cenotaph, and various memorials for disparate groups of people.
The museum was worth more time than we had available to spend there. It was a wealth of information about the bomb, politics of its use, nukes in general, and the disarmament debate. I don't know how much is accurate and how much is politically biased in any direction, but certainly educational. In general, I felt a bit saddened by the futility of all the pleas, even demands, for nuclear disarmament.
Next day was Miyajima Island, a World Heritage historical island full of temples, Shinto shrines and forest walks. We took the train from Hiroshima to Mijayima Station and then a ferry across to the island, all included in our JR Passes, and arrived on the island about 11.00.
Deer are everywhere, wandering the streets, lounging on boulevards, even staring into shop doorways. They must be almost a nuisance. I wondered if they chase them away at the end of the tourist day??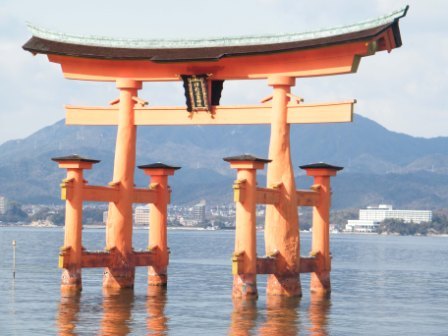 The island is noted for the O-torii Gate of the Itsukushima Shrine, a large (16.6 m high and 60 tonnes) orange wooden gate which sits just offshore from the shrine, and is a principal land (sea?) mark. We walked from the ferry pier, along the shore and around the shrine, past the 5-storey Pagoda, and along the west side of the bay, stopping frequently for photos of sights and of the gate from different angles.
Then we wandered up the creek toward Momijidani Park, where the others turned back and I continued up toward the cable-car entrance and the start of the Mt Misen path. Not going in those directions, I retraced my steps a bit and decided to go back via the Tsutsumigara Nature walk and Tsutsumigara Beach. I gained quite an altitude up to a ridge-top with good views over the bay and even of the sea on the other side of the island to the south. The bush was beautiful, what a wonderful walk. I came down to the deserted Tsutsumigara Beach where a few fishermen were hacking shells off their oyster racks. Then along a road and through a tunnel back to the main town, the ferry pier and back to Hiroshima.
Kyoto
We'd be 4 nights in our next stop Kyoto, a great city with so much to see and do. We'd be staying in the Khaosan hostel in the Kawaramachi district, centrally located and handy to most of the sights and activities.
In the afternoon of the first day, Maggie and I started an easy stroll up into the covered Teramachi shopping concourse and explored west through the also-covered Nishikikoji food market. Mainly seafood, there were also various other foods including meat and vegetables; enough that we could maybe get things to cook a meal sometime. On westward we exited the food market and proceeded north up Karasuma dori. Here were boutique stores and more upmarket restaurants. Late in the day back to the northern end of the shopping concourse, it was all a hive of activity with crowds of people and everything lit up.
In the evening I wandered to the river (a few blocks east) and up the little pedestrian alley called Pontocho-dori. It's an atmospheric little street full of elegant restaurants and bars, intriguing little side alleys and doorways, and something of an "old-Japan" feel.
The next two days are to be temple days. There are sooooo many temples and shrines to see in Kyoto that it would be physically and mentally impossible to see them all. So we identified about 10 of the main ones and went for it.
Appreciation to Maggie for compiling much of the following information on the various castles, temples and shrines.
First was a bus to the Nijo-jo Castle. Built in 1603 as the official residence of the first Tokugawa Shogun Leyasu, the castle has an ostentatious type of construction because it was intended as a demonstration of shogun prestige and to signal the demise of the emperor's power. As a safeguard against treachery, Leyasu had fitted the interior with 'Nightingale' floors and concealed chambers in the walls where bodyguards could keep watch. A nightingale floor sings and squeaks at every step along the wooden planks making it difficult for intruders to move around quietly.
I really liked this castle. It was one of my most favourite places to visit. I loved the Nightingale floors - we went through with a tour group and the floors just sang with all the people walking around. It was also very elegantly decorated. All the rooms had beautifully painted panels, nothing garish. I felt, although very simple, that this castle was just as beautiful as any other that may be filled with gold and lavish furniture.
We walked over to the nearby Kyoto Imperial Palace Park. Really nothing to see in the winter.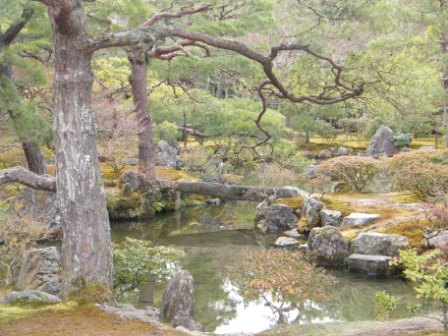 Another bus took us north-east to the Ginkakuji Temple (Zen Temple). It was built in 1482 by Shogun Ashikaya Yoshimasa to be his retreat from the turmoil of civil war. The name of the temple means silver temple but Yoshimasa's ambition to coat it thus was never realised. Once he passed away the residence was converted into a temple.
The temple is small and unimpressive, and in fact we could not enter it. However the grounds were gorgeous and tranquil. You are surrounded by so much beauty in the landscape in every direction you look. Truly amazing! It was meant as a place of tranquillity and contemplation. But there is a fixed pathway through the grounds, people moving through, and no place to sit, making contemplation impossible. Sad but inevitable I suppose.
A third bus back in the direction of home, and it's the Heian Shrine. We knew we were near by the big orange gate over the street where the bus stopped.
At this shrine people can write out their prayers/wishes on pieces of paper and tie them to racks outside the shrine. Actually I noticed these prayer papers in several subsequent shrines; they really seem to go for wishes, charms and talispersons (??). We were not impressed with this shrine. There was really very little to see and no information about the shrine was posted anywhere.
We took a bus to the fourth place, Kiyomizudera Temple. It was built in 798 and reconstructed in 1638, and is affiliated with the Kito Hosso School of Buddhism. The main hall has a huge verandah that juts out over the hillside and is supported by hundreds of pillars. Just below the temple is a waterfall, Otowa-no-taki, where visitors drink sacred waters believed to have therapeutic properties.
I was unimpressed with this temple. Apparently Japanese really believe in good luck charms and fortunes and this temple seemed to cater to whatever suits your wants. Fortunes could be bought, good luck charms for various things such as love, business, travel, etc were available, there was a fountain that if you drank from would bring you health, lots of shrines to pray to specific deities for what you want, paper to write your worries on and then a bucket of water to put the paper in; once paper dissolves the worries would be gone, etc. Herbert likes to use the word 'kitsch' to mean tacky or artificial or touristy, and I felt this was a perfect time to use this word.
Time for just one more temple today, the Sanjusangen-do. The temple was built in 1164 at the request of Emperor Go-Shirakawa, burnt to the ground in 1249, and a faithful copy was constructed in 1266. The structure has remained unchanged since then. (I find it interesting that, even though the reproduction is nearly a thousand years old, they still seem almost apologetic that it's not the original).
The temple's name refers to the 33 spaces between the columns of this long, narrow building. The long hall is dominated by a gigantic seated Kannon flanked on each side by 500 smaller standing Kannon statues, neatly lined up in rows. Kannon is the simplified name of the Buddhist Goddess of Mercy, Juichimen-senjusengen Kanzeon, a deity with 1000 arms.
The 28 statue images, placed in a straight line in front of the 1001 Kannon statues, are guardian deities which protect the Buddhist deity Kannon as well as pious Buddhists who believe in Kannon. They are mainly based on and derived from Hindu deities.
The site of the 1001 statues was amazing. Except for the large seated one in the middle the rest were all the same. I would have to say this is a must-see.
On our second temple day we'd do some sites further afield in the north-west and later try to get to one last shrine in the south-east.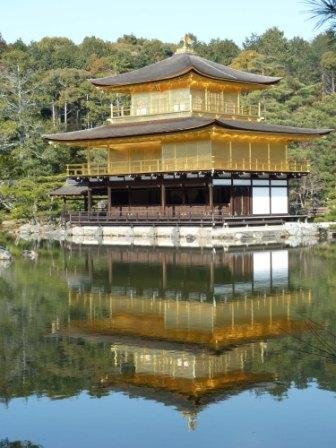 First stop, about 09.30, was the Kinkaku-ji Temple. The proper name for this temple is Rokyonji Temple but is most often referred to as the golden temple. It was originally built in the Kamakura period (1185 - 1332) as an aristocrat's country estate, in 1397 Ashikaga Yoshimitsu took possession . When he passed away, his son made it into a Zen temple at his father's request. The second and third floors of the temple are covered with gold leaf. At times one can see a beautiful reflection of the temple in the kyoko-chi pond (mirror pond). On the roof is the Chinese Phoenix which is supposed to protect the building from fires. There is simply no way of getting around it, it is impressive to see this gleaming temple and its reflection in the water. Well worth the visit. We had a great time here because a student studying English asked us to allow him to guide us through the grounds as part of his schooling, so we got a lot of insider information not available on the signs. Inter-alia, he explained the difference between a temple and a shrine; the former is for the Buddha and the latter is for deceased notables. It was fun.
A couple of bus stops south-west was the Ryogen-in Temple, originally an aristocrat's country villa but converted into a Zen temple in 1450.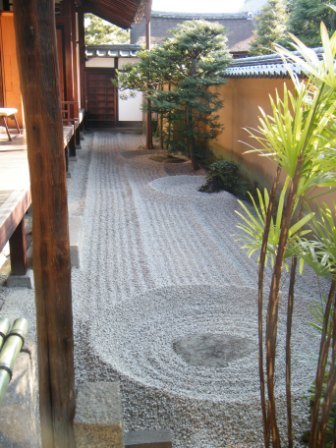 The main attraction was the Rock Garden - said to be created at the end of the Muramachi Period - around 1500 - by a highly respected Zen monk, Tokuho Zenketsu. The rectangular Zen garden is completely different from the gardens of court nobles constructed in the Middle Ages as no trees are to be seen, only 15 rocks and white gravel is used in this garden.
Zen gardens are examples of karesansui or 'dry landscape' style of rock gardens in which nature is compressed and given abstract expression within the confines of a very narrow space.
The walls surrounding this garden were made of clay boiled in oil. As time went by, a distinctive design emerged as the oil selectively seeped out.
This garden is acknowledged to be one of the masterpieces of Japanese Culture.
Lots of beautiful scenery here. The rock garden was impressive but we can't quite see the draw, I actually found the oil laden clay walls much more interesting. I suppose the rock gardens simply require more contemplation time than we had at our disposal.
A somewhat long and complex bus change got us to the main train station and eventually onto another bus to the south-east, where we had access to the Fushimi Inari Shrine. It is dedicated to the gods of rice and sake by the Hata family in the 8th century but as the role of agriculture diminished, deities were enrolled to ensure prosperity in business.
This shrine is famous for its 3000 torii gates. The gates were truly impressive and form a walkway up a mountain, I walked up through the seemingly endless gates as far up the mountains I dared without alienating the others. I don't know how much farther it went up the mountain, but I had to turn back. Like the Kiyomizudera Temple that we saw yesterday this really is a shrine at which to purchase and/or pray for luck. I find this part of it a real distraction to the site.
Near home Maggie and I bought some chicken, onion and carrot, among other things to cook up with noodles at home. It made a good feed, and we appreciated the vegetables which seem to be lacking in Japanese food.
Our last full day in Kyoto is a relative day off, each doing one's own things and catching up on chores.
I set out for a walk east toward the edge of the city. I came to the busy Yasaka Shrine (all in Japanese language so no description of this one) and up into Maruyama Park. I found a path up into the forest and would have liked to walk there, but it was getting too late to go far, and I didn't want to start sweating.
Back in Gion, I checked out Shinbashi-dori, the famous night-life and Geisha area, and said to be possibly the most beautiful street in Asia. At this time of day it didn't live up to that expectation.
Maggie had agreed to go out late in the day for a Japanese Tea Ceremony at a little place in Gion called "En". The walk to the En took 25 minutes through crowds and traffic, and we got there in time for the 17.00 session.
The tea ceremony demonstration (Y 2000 per person) was worth-while. We were the only two guests present. The woman who explained and performed the ceremony was of course professional and poised, delivering an elegant and refined ceremony. Despite having been training and performing about 10 years, she is still not yet at master level. A wonderful experience.
Returning via Shinbashi-Gion after dark, it still wasn't all that lively or distinctive, a diametric difference to say the entertainment streets of Busan.
At 19.00 we found the Ninja Restaurant for dinner. We chose the buffet, feeling a need for a good feed after all the small portions of Japanese food the past few days. The food was good but not great (as usual for a buffet), with a mix of Japanese and western dishes, and heavy on desserts. Even though we couldn't get sake there, we were satisfied.
On 24 January, after 4 days in Kyoto, our next stop is Takayama in the interior of the country; to spend 3 nights there.
Breakfast and check-out of the hostel was completed shortly after 08.00. It's interesting that every hostel we go to, they ask to take our photo before we leave. I don't know if they use them to keep track of their linen, or just keep the pix to show the best ones for advertising.
The first part of the trip, to Nagoya on a Shinkansen, was through cities and suburbs, nearly all built-up industrial, residential and commercial, with small farms and plots of land interspersed. Onward on a more ordinary train toward Takayama, we passed up river valleys, through towns, farms, gardens, hills, tunnels and forests of cedar(?) and bamboo. There was little or no snow on the lowland flats, but increasing as we progressed, becoming quite white and deep as we approached our destination.
Takayama
So, here we were in the interior mountainous town of Takayama, altitude 572 m, in the early afternoon. Snow and slush covered the streets and roofs, with more snow threatening, but it felt pleasant and not uncomfortable; certainly not the biting cold and wind of Korea a week or two ago.
A street market was in progress a couple of blocks away from our hostel, an annual event which we were lucky to be on the right day for. We walked slowly up and down the crowded market looking at the various wares for sale and sampling some of the intriguing foods. We tried some small round sweet cakes made from cake or doughnut pastry, and some larger round fried "dumplings" with beef/vegetable centre and dough covering, both good.
Next day I borrowed a pair of rubber boots and went for a walk around and outside of town. I passed across the Yaganibashi Bridge with its two intriguing gargoyle-type statues, one with very long arms and the other with very long legs.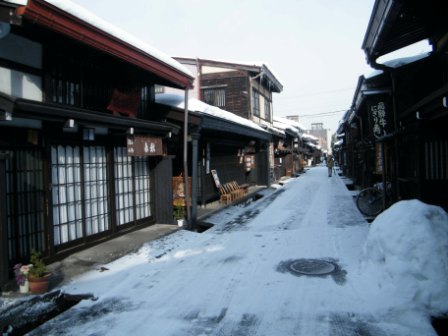 Then on through Shimoninomachi-ojinmachi (I think they give places these sorts of names to test the tourists) Traditional Buildings Preservation Area. Here were many old or old-style wooden houses, something Takayama is noted for.
Next stop was the nearby Sakurayama Hagimangu shrine, one like any other and not particularly distinctive.
I walked up the road from there up a hill and into forest and small buildings, and looped around back to town after 1/2 hour. The snow-covered trees and hillsides were magically beautiful; my only regret being that this walk was much too short.
But back down in town, I looked at my map and found another walk starting nearby. This one passed along a hillside on the edge of town, passing near or through many shrines and cemeteries. Again pleasant and tranquil.
Back nearer home I passed through the Sanmachi Traditional Bldg Area (similar to the previous one) and back home for a short rest.
In the evening the 4 of us went out to a nearby pub for a relatively upmarket meal and drinks. We had several dishes, they are really good but mostly pretty small and you have to have a few things to fill up, and warm sake; good and enjoyable.
Next morning Maggie and I walked through the traditional area to the Festival Floats Hall. It was one of the highlights of the town, with an exhibition of several of the floats used in the semi-annual Takayama Matsuri parades. These floats are hundreds of years old and are incredibly beautiful and ornate. Gilded wood, carvings and metalwork decorate the high (two storey) three-wheeled or four-wheeled floats.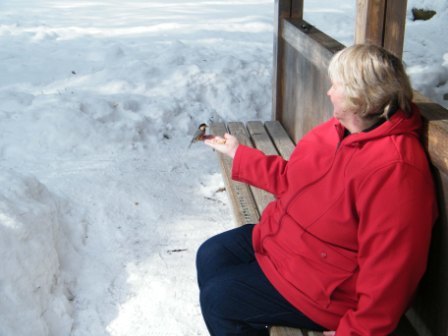 Later we went across town to the Shiroyama Hill Park. A well-trodden snow-packed path led us around the hill for about an hour's walk through peaceful snow-laden cedar forest. At one point a local man was feeding peanuts to the finches, having them literally eating out of his hand. He kindly gave Maggie some peanuts allowing her to feed the birds from her hand; Wow!
On 27 January we're on to Tokyo, the last stop in Japan before Maggie has to fly out back to Canada. The Takayama to Nagoya train was for 09.37, but it was 20 minutes late arriving, snow I think. Hence we didn't get going until 10.00.
But what an amazing train ride! Maggie and I had front seats right behind the train driver, and were able to look straight out the front of the train, photograph and take movies. The scenery was awesome; river, forest, villages, tunnels and snow most of the way.
We arrived in Nagoya about 12.25, too late for our booked connection, and made a new booking for the Shinkansen to Tokyo. This train was also late, by 7 minutes (Whaaaat? A Bullet train late? How can that be?), leaving about 12.40. It was a pleasant, quick and slightly boring ride, except that we got a fine view of Fuji, only the peak in cloud.
Tokyo and Nikko
We pulled into Tokyo Station at 13.00, and made our way to the Asakusa district and the Khaosan Tokyo Annex Hostel. There we checked in to our twin rooms, cramped, but I suppose this is what Tokyo's like.
The rest of the day we went for dinner and explored around the Asakusa district. Pleasant weather here in Tokyo, well above freezing and no snow anywhere.
Back at the hostel I was sucked in to watching a video on TV, a Japanese fantasy-adventure anime with the usual teenage hero and feisty female interest.
On our first full day in Tokyo we see, briefly, as many sights as possible. The 4 of us were out the door at 06.15 to get early to the Tsukiji Fish Market; hopefully it would be better to see in the early morning. Tsukiji is the largest central wholesale market in Japan, and the world's biggest seafood market. Seafood has centre stage. First stop in the market was the Namiyoke-jinja shrine. It has gravestones dedicated to fish, shrimp and eggs and is a place to give thanks for these ingredients of Japanese cuisine.
The fish market itself was less impressive. The wholesale part is nominally closed to the public until 09.00. We did get in to see it around 08.00, as well as exploring other parts of the general market. But, except for the shrine and for the big tuna and shark being cut up, we didn't find the whole place all that impressive. The Busan (Korea) market was far more colourful and vibrant.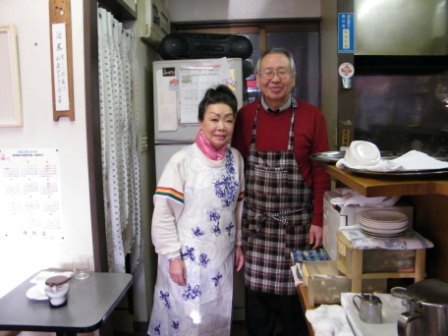 We stopped for coffee at a small coffee shop in the market area run by a sweet and charming elderly couple, a joy to look at; the coffee was good too.
We took the subway straight up to Shinjuku. This is the big-building part of town; shopping, offices, government and big business. Our main objective here was to find and go up the Tokyo Metropolitan Government Main Building No 1. It has an observatory on the 45th floor, open to the public. We could get virtually 360 deg views over all of Tokyo and surroundings. Even visible was Mt Fuji in the slightly hazy distance. Well worth a half-hour or so.
Not much time to see more of Shinjuku; back on the tube, we proceeded to Tokyo Central. Just west of here is the Imperial Palace East Park, the portion of the Edo Castle complex that is open to the public. We could wander this part of the park and get glimpses of the palace compound and of the famous Nijubashi Bridge. Not a lot else to keep us here.
Near the Kudanshita Station is the access to the shrine for the war dead. It's structured as a wide avenue flanked by statues, small shrines and sculptures, and a main shrine at one end. It was good to look at, but not eminently memorable.
Back near home to recuperate later in the afternoon.
Let's do a day trip to Nikko! We travelled 1 hour north of Tokyo on the fast Shinkansen to Utsunimiya, and a further hour or so on a slower regional train north-west to snow-covered Nikko, arriving at 11.30.
Nikko is one of Japan's major attractions. Next to the town is a hillside with a sanctuary complex of shrines from the Edo period (1600 – 1868).
Thanks again to Maggie for researching the notes on the Nikko site.
Nikko is known for several temples but one in particular, Tosho-go, built in the 1600s, was the most interesting, simply spectacular. One of the buildings in this complex was a stable, which is a plain building used to house a sacred white horse. This stable however is adorned with relief carvings of monkeys, including the famous 'See no evil, hear no evil, speak no evil' monkeys, which demonstrates the three principles of Tendai Buddhism. So this is where that expression comes from!!
This temple also has a dazzlingly decorated torii (gate) leading to the main temple. It has intricate, coloured carvings and paintings of flowers, dancing girls, mythical beasts and Chinese sages, and portions are covered with gold leaf. Apparently when it was built, there was a worry that its perfection might arouse envy in the gods, so those responsible for its construction had the final supporting pillar placed upside down as a deliberate error. We tried to find the upside down pillar, but could not.
Inside the main temple hall the ceiling was painted with 100 dragons, each different. A sliding door in the temple was painted with a kirin, a mythical beast that's part giraffe and part dragon. It's said that it will appear when the world is at peace, unfortunately, I doubt that will ever be a concern.
Everywhere you looked in the complex, there was something to see, it was great. We did visit three other temple complexes in the area as well, Rinno-ji, Futarasan-jinja and Taiyuin-byo, but the Tosho-go and its ancillary shrines was for us he most impressive.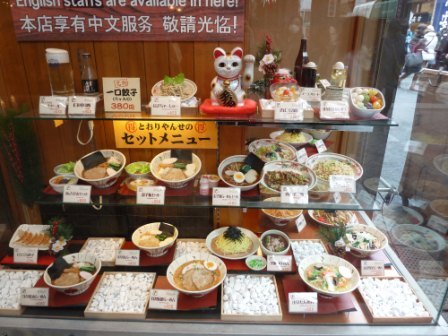 Completing our tour of the temples, we headed back to Tokyo, reaching home by 6pm.
On Maggie's last full day in Japan, we decided to be together as H&A went off to visit museums. So later in the morning we took a stroll to the Asukasa shopping district to look at the temple complex in daylight and make some final purchases for Maggie before she leaves.
Later in the day Maggie and I decided to go down to Ginza for an evening look around, shop a bit and have a dinner. From Ginza Stn we emerged onto the wide, bright & busy Chuo-dori street. This was up-scale shopping at its peak; all the big brands were here. But somehow I pictured Ginza as being more garish and crowded.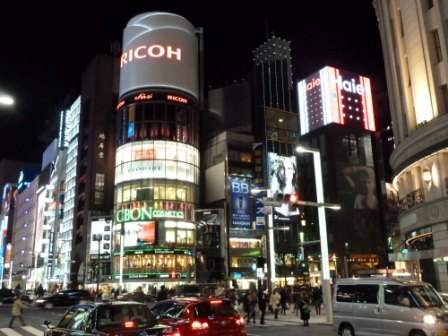 We did some shopping at an up-market Swatch store and a Sony Store and explored the main and side streets. On the main drag, we found an old German-style pub that looked to have decent food and drink. The Ginza Lion, built in 1934, had ornate decor, dominated by ceramic tile walls with mosaic pictures, very elegant looking. Music was something else; imagine "Wooden Heart" played Oom-pa-pa style. We had prawn tempura, a noodle/seafood dish, potato wedges, potato-beef croquettes and a couple of sakes. All good, for a final night with Maggie.
On 31 January Maggie leaves and I had to get her to Narita for her 15.10 flight. Trains took us out through suburbs and countryside to Narita Airport. A sad goodbye and she was off.
Uji and Nara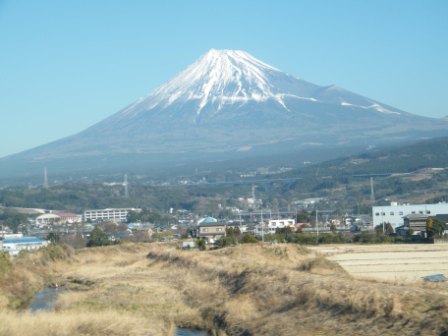 On 1 February Herbert, Annie and I were off to Nara, south of Kyoto. Blessed with a good clear day most of the way, we got a good view of Fuji on the way past. At Kyoto, a quick transfer to the Nara line, and we were heading again south.
On the way, we decided to stop in the town Uji around noon to look at some of its World Heritage sites. Uji is a compact little city. A short walk took us to the Uji Bridge over the river. It was said to be the oldest stone bridge, but looked concrete and not that old. The heritage Ukijami Shrine just up the hill from the river had good design and architecture, but was otherwise unremarkable. A small island in the river had 3 traditional pedestrian bridges linking it to the town, and a stone pagoda in its centre.
Next was the heritage Byodoin Temple, a fairly large temple complex centred by a large temple, built in 1052 or 1053. It's called a "Pure Land" temple and garden; the ornate Buddhist Temple Bell and a pair of Phoenix Birds are centrepieces. Also prominently displayed are 52 11th century statues of worshipping Bodhisattvas standing on clouds. The main temple itself is a rambling wooden structure with a very well-worn paint job. It's the temple featured on the 10 yen coin. All in all, it was a fascinating and worthwhile visit.
After a street-stall lunch we were on the train again to the bigger city Nara and two nights in the Seishonen-kaikan Youth Hostel.
A young Japanese guy, quiet and shy, came into the dorm later. He went out to dinner and shopping, and later, when I was in bed, he timidly asked me for advice. He'd been looking at a hat down-town which he liked, was expensive, and he didn't have the money for it. He asked me if he should buy it. Well, not if you haven't the money; Duh.
We have a whole day to walk and look around the sights of Nara. No hurry, so I headed out on my own about 10.30. Weather was beautiful, maybe +10 C and mostly sunny.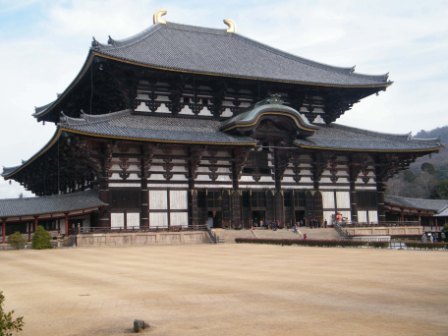 Starting east from the youth hostel, I came to Tegaimon Gate, a Shinto-style gate at the north-west of the main temple/shrine park, then up a small street past one of the ponds, to the complex of the massive Todaiji Temple. This temple, built in 752 and rebuilt in 1709 at 2/3 its original size, is still said to be the world's largest wooden building. It houses the giant Vairocana Buddha.
From there I wanted to find some serious bush. East from the temple were other ponds, shrines and halls, beyond which I found a small path leading up into the hills. Just what I was after. Up through trees and tinder-dry undergrowth (I understand the no-smoking signs everywhere), the path became less and less distinct. I rose above the trees and came to cleared and burned-off hilltops. Beautiful views over the city and surrounds allowed me to sit and contemplate. Farther east were further hilltops, to the 342m Wakukusayama Hill where I could sit again a while, eat a bit of lunch, and gaze over the country to the east. Wonderful and relaxing. A few people strolled around and deer loitered.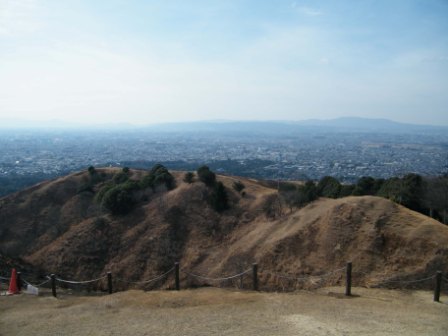 I found a small road back down the hill through the "Primeval Forest" of large trees, and back to the Kasuga Taisha Shrine, famous for its large numbers of bronze and stone lanterns. Farther down were herds of deer and people and a deer preservation enclosure (why do they need an enclosure when there's more deer outside it than in?).
Then on to the Nandaimon Gate, or South Gate, of the Todaiji temple. The entrance to this gate is guarded by two giant deva kings, said to be two of the finest wooden statues in the world. But they are enclosed behind chicken wire, reducing visibility and somewhat detracting from the impact. Really! Chicken wire for such imposing figures?
I walked north past the Tegaimon Gate to try to find and other noted attractions, but there wasn't much to see up there. Slowly back home via other streets and the Hannyaji Temple, I arrived about 16.00 or so. That had been a totally enjoyable 5 or 6 hours walk.
Osaka and Kobe
We left the hostel at 08.30 on 3 February to go to Osaka. We'd be there one night before proceeding on to Beppu on Kyushu Island in the south of Japan. Dropping our gear at the Osaka Fukushima J-Hoppers hostel about 11.00, we took the train to Osakajokoen Stn for a look at Osaka Castle.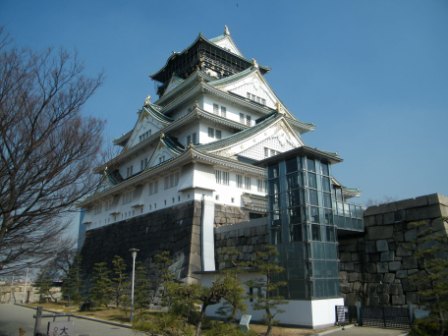 The castle is situated in expansive grounds and parks and is surrounded by a moat. It takes several minutes just to approach the castle through all the parks, bridges, ramps etc. The castle itself was originally built in 7-something; the latest incarnation is from 1932, large and imposing and made this time of concrete (so it doesn't burn so much?).
Leaving the castle at 12.45, we still had time before our room was ready, so got back on the train for a 35 minute ride to the port city Kobe for a look.
We walked from the station to the port. There we stopped at the Fish Cafe for a pleasant lunch in an upmarket waterfront setting. Later we explored around the reclaimed-land Meriken Park on the waterfront, fancy hotels, sculptures, Maritime Museum, tower and boats coming and going. The name of the park is a corruption of the word "American" as it was built near the consulate building of that country.
Back to Osaka and into the room about 17.00, we made a spaghetti dinner and later I took a walk around the Fukushima neighbourhood for a half hour or so. It had lots of bars, restaurants and nightclubs, some with crowds in them, but not as lively as one might imagine.
After only one night in Osaka, it's down to Beppu. Beppu is a touristy seaside and spa town on the east coast of Kyushu. It's known for its thermal springs, boiling muds and spa onsen, attracting a myriad of tourists in all seasons.
Beppu
At Beppu we checked into the Khaosan Hostel, a pretty normal backpackers with the usual helpful and friendly staff and a hot onsen spa. From 14.30 onwards we scouted around town, exploring the ordinary-looking seaside, finding a big old traditional building that housed the local onsen (choice of hot water or hot dry sand), and a small shopping concourse (interestingly called Ginza) and back to the hostel.
As Beppu is known for its thermal areas, we decided to check them out next day. Annie isn't feeling well, but still able to come out with us. We caught a bus up to the Kawanna thermal area, on the edge of the hills but still in the city limits, about 4 km from home.
The thermal areas, at least the Kawanna one we went to, are a collection of small "sites" each fenced off and separated with its own feature. The Kawanna one has a small hot lake, a pond, a boiling mud place, a crocodile farm, a couple of steam vent places and a few more things. Each of them is separate and you can pay Y400 to go into one, or a group ticket to go in all. The whole set-up is tacky and kitsch, something between Rotorua and Niagara Falls. We looked around a few minutes and decided not to go into anything.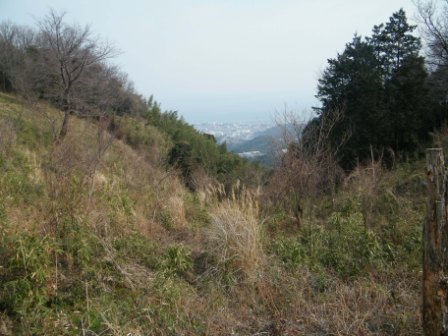 As we started back down the street I decided to split up and look around a bit more. Walking toward the nearby forested hillside, I looked around to see if I could find a path or road up into the bush. I did find a small winding road and followed it up the hill. It went up some distance through forest, onto a faint path, onto another road, and then another path farther up. It just kept on going and going, and turned out to be a beautiful long walk. Up through more forest and meadows, I came to a formal hiking track, with a couple of gazebo sheds and direction signs in Japanese. I continued to the top, getting brief but good views in different directions over the city, sea and surrounds. It was quite hazy but could still see islands and peninsulas in the far distance. I got back to the city edge after a couple of hours or so of hiking. Stopping to shop for groceries, I returned home via the seaside (break-walls, ferry terminal and marinas) by mid-afternoon, tired.
After a short rest, I decided to go back to the onsen to try a sand bath. Arriving there at 15.30. I found they were full, "Wait till 16.30!" No thanks; I have to get back and help with laundry.
Dinner tonight was at Ureshiya Restaurant, not far from the train station. It's a small, crowded, unpretentious, happy place with a variety of good cheap dishes available. I had a Japanese-style beef curry/rice dish and a pork cutlet with salad and tea, good.
Annie wasn't feeling well, so we decided to spend 1 more day here.
Given an extra day here in Beppu, it's sort of a lay day. I took a walk up past the station and a few blocks farther to Beppu Park. It's a large square park with trees, open areas, a creek, ponds and benches to sit on. On up through the massive B-Con Plaza with its concert hall and conference facilities, up farther along a major street, and back to the south and east down through narrow residential streets. I passed the entrance to the Rakuenchi Amusement Park, big and garish but mercifully closed this day.
Later I had another try at the Takegawara Onsen for the sand bath. Got there at 12.40 and they said "Full, wait to 13.15!"
When ready, they gave me a small kimono, I stripped off and put the kimono on in the change/bath room, and entered the big sand room. I lay on my back near other people (maybe 1/2 dozen) in a trench on a bed of warm moist dark sand. A woman shovels sand over all my body except the head, pushing it under the feet, neck etc. It's heavy and hot. I stayed for 10 minutes (probably couldn't stand it much more) until they asked me to get up. Then to the bath room, where I put the garment in a basket, rinsed off the sand under a shower, and stepped into the warm water onsen for as long as I liked. Out, dried off, put clothes on and I was done.
The sand bath was an interesting experience, but nothing to rush back for.
Aso and Kumamoto
We were at the train station at 07.30 on 7 Feb to catch the train to Aso. Aso is a town within the ring of an immense volcanic crater situated between Beppu and Kumamoto. Weather and activity permitting, it's a good site to stop at for a look at the still-smoking volcano and do some walks.
But today wasn't one of those days. We got to Aso town on time, put our gear in lockers, and went to check on a bus and cable-car up to the active area. But there was allegedly too much fog or haze around (although we could see the volcano in the distance) so the buses weren't going up there.
We compromised by exploring around town, a short way up the volcano road, and a 1/2 hour walk on the bush trail that goes toward the volcano. Back on the train and we got to Kumamoto by about 14.00.
In Kumamoto, we found rooms in a youth hostel for one night. I got a Japanese room (mat floors, thin mattress on the floor, no other furniture). The woman who ran the hostel spoke no English but couldn't do enough to please us.
Pretty much the only attraction in Kumamoto is its castle, a bit similar to the Osaka one in design and layout. The grounds are immense, with multiple levels that we have to negotiate to reach the castle proper. The castle itself is about 5 or 6 stories, 3 or 4 of which are museum exhibits of the usual imperial and military artefacts. In a hall next door is a reproduction of residential rooms for nobility, all elegantly and tastefully done.
Nagasaki
In the morning we checked out of the hostel, and caught a 09.10 bus for Nagasaki. This was the first bus trip in Japan, and it's not much different to anywhere else. It's mainly big highways from Kamakura all around to Nagasaki, about 3.5 hours, putting us in Nagasaki near the train station.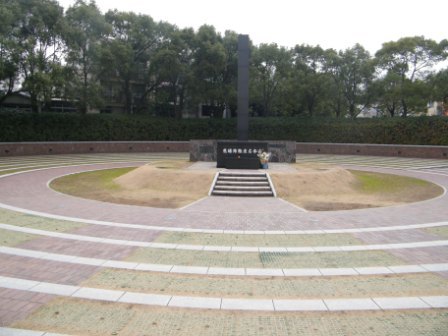 We checked into the Akari Hostel and took a tram up to the other end of the city where the bomb hypocentre was. Now the whole area is a hypocentre memorial park, peace park, museum, remembrance centre, rebuilt cathedral and other features associated with the Nagasaki nuke. We spent maybe an our or two at the various sites. It was all sobering stuff, but Herbert thought there were just too many statues etc.
The Lantern festival is in full swing, brightly coloured lanterns along the canal and streets, and brightly lit fabric sculptures set up everywhere, even in the canal bed. There was a busy program of events listed at various venues for the next several days. Hope I can get to see some of them.
There were a few drops of rain during the day, and as we were heading home after dinner, it really bucketed down, our first rain in Japan, soaking us despite my raincoat.
Later the hostel people were having a mini-party to celebrate their 3rd anniversary. I was able to socialise with the staff and friends and score a piece of home-made sushi. Good atmosphere.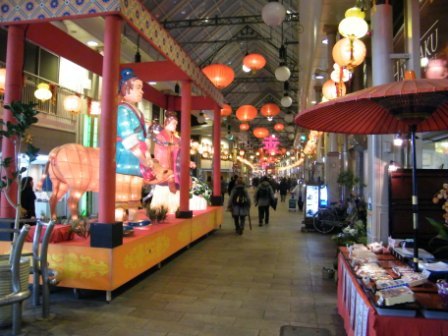 We set off next day for our own separate explorations of the city. I started out wandering through the Naka-dori shopping street and the Kankodori and Hamanomachi Arcades. Then on to the small river/canal and to the historical Dutch factoria block Dejima. It was originally an island and was the site of the only port allowed for foreign exchange during the Japanese isolation period.
It wasn't far to Chinatown, my next stop. It didn't look especially Chinese, but maybe I need to be here longer to see the difference. The site of the Chinese settlement didn't have any of the original buildings and looked pretty much Japanese. In the centre of the district was a plaza with lanterns, sculptures seating and a stage for festival performances.
From Chinatown I walked a few blocks south to the Glover Garden area. Just before the garden is the Oura Catholic Church, built in 1864, the oldest church in Japan, and now a National Treasure. Up on a hillside, overlooking Nagasaki Harbour, is the Glover Garden. The garden is beautifully landscaped and terraced and is the location of the house of 19th century British merchant Thomas Glover, as well as several other historical residences and buildings. It's quite steep but there are escalators to help the ascent. Among the buildings on the site, many of them moved here from elsewhere, are a former dock house (to house sailors), a gate guardhouse, a former western-style restaurant as well as former residences of the Glovers, Walkers, Alts and Ringers (all European merchants and industrialists from the 19 century). The buildings are all elegant and immaculate, but very sparsely furnished; must be a lack of artefacts to put in them. The park offered great views over the city and harbour.
Back at the Chinatown stage I joined the crowds watching exhibits of Chinese (?) acrobatics and dance.
Dinner was at a sushi-train type place, my first sushi meal since coming to Japan. I had 6 sushi plates; not bad but just sushi, and you can seem to be able to eat as many of these things as you like without getting full.
After dinner, I returned to the Chinatown stage, where I caught a performance of a Japanese woman playing the "nikko", a Chinese stringed instrument with the typically oriental sound. She also sang in the high-pitched opera voice. A very good performance, and I wondered how much of an impact she would make to a western audience.
In the morning we walked toward the bus station and found, on a hillside above the station, the "Site of the Martyrdom of the 26 Saints of Japan". It's where in 1597, when Christianity was illegal, 6 missionaries and 20 Japanese Christians were crucified, and later canonised. The site is dominated by a sculpture wall of the saints and a remembrance hall for them. The hall has two tall Barcelona-style pillars, making it unique in Japan.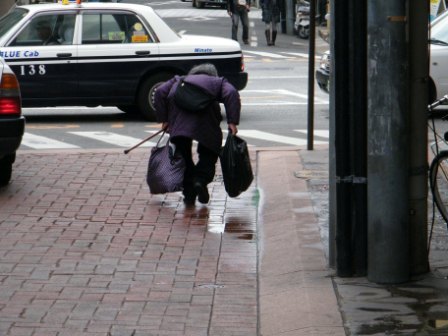 In the afternoon I walked up to temple row, behind the hostel, climbed some steps through a cemetery, got a view over the city, back down to the street and explored along the temples. One temple, Enmeiji I think, had some chanting and gong-ringing in progress. By and large though, the temples were not much I hadn't seen before.
About 18.00, H&A and I set out in light rain for the Shunya Restaurant in the Hamanomachi Arcade. It's a buffet restaurant, Y1000 for all you can eat. It was surprisingly good for a buffet, a great variety of foods, mostly Japanese with some western things, and good quality/taste. Soups, salads, lots of mains things, desserts and coffee made up the menu. I ate as much as I dared considering I didn't want to spend the night groaning. Great.
On 11 February, our last morning in Japan, we boarded a fairly ordinary bus at 09.15. Weather was mostly misty and rainy for the 2.5 hour ride to Fukuoka. It was raining pretty steady as we transferred to a local bus (Y220) for the short ride to Fukuoka International Ferry Terminal. The ferry left at 14.30, slightly rough windy crossing with seas but not raining.
So How was Japan? I liked it.
Being winter, it was cold at times, but not as cold as Korea.
People, even those who spoke no English, were invariably friendly and accommodating. We never failed to communicate with them and get help when needed. As soon as we looked confused or lost, someone was there to inquire and assist.
The country itself was spotlessly clean and orderly. Transport was (nearly always) on time and speedy. Almost all accommodations we stayed at had available laundry, cooking facilities and free wi-fi, heaven compared to Tasmania, where I had been just previously, and had gone over a week without internet.
Travel costs, some source of trepidation before arrival, were not as exorbitant as expected. My budget remained intact. In fact, prices of things such as restaurant meals and backpacker accommodation were not significantly different to those of Sydney.
Circumstances had dictated that we'd been travelling at a faster pace than I would have liked, and I would have preferred to spend more time in the country, especially in the smaller centres. I'd go again, but probably next time in warmer weather.
South Korea Part 2
(Click for map)
Busan
We were in Busan at 17.25 on 11 February. Easy disembark and back into Korea and to the Blue Backpackers where we'd previously stayed. Almost immediately, about 19.00, I went out to a Pizza Hut for a dinner of a large pan pizza, good as a change from Jap/Kor food. It was raining this evening, not all that pleasant but still warmer than when we'd left Busan nearly a month ago.
It was cool in the morning, and we saw traces of snow from last night. We had one full day to look more around Busan before departing for the south-west of South Korea.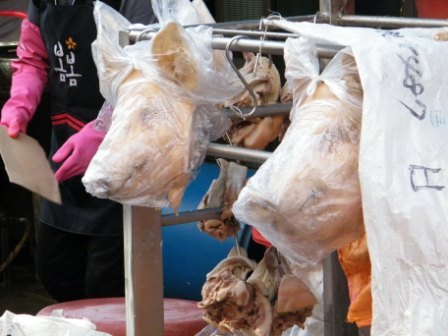 Herbert and Annie and I took a subway to Jagalchi Stn, and then a short walk to the motley and fascinating Gukje Market, which houses all manner of strange and exotic foods as well as clothes, cooking gear, knick-knacks, etc.
WE went for a second look at the lively and interesting Jagalchi Fish Market, on of the highlights of our first traipse through Korea. Upstairs for lunch, we had seafood soup and grilled fish with rice and the usual vegetable accessories. It was good but not filling enough.
After lunch I walked up to the Yongdusan Park, a hill park over the southern part of Busan. There were escalators right up to the top, saving a lot of climbing. At the top, where the Busan Tower is, I could get some good views over the city and harbour. I spent some time looking through a small model-ship museum, everything from the Santa Maria to modern bulk haulers.
Busan has an interesting "Chinatown" district and foreigners shopping area, with many bars, restaurants, and Karaoke establishments. Curiously, there seemed to be a lot of signs here in Hellenic or Cyrillic script.
Dinner was in the chaotic and atmospheric Food Alley. I found a noodle soup place, good hand-made noodles in a benign broth. Still not full, I found again and topped up in the gyoza place that Maggie and I had been to earlier.
Not a good day as we were leaving Busan. In the hostel I was robbed of a considerable amount of cash. Regrettable but couldn't hang around to do anything about it, had to be on the road. Gone, no use crying.
Ssanggyesa and Gurye
We left for the bus terminal and boarded a bus for Ssanggyesa at 10.00. The bus took us through dry brown countryside, hills, valleys and tunnels, depositing us at our destination about 13.30.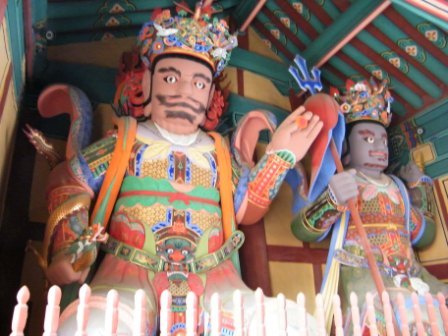 Ssanggyesa is a small village with a world heritage temple site nearby up a hill. We walked to the edge of town and up the hill to the temples. They were mainly I think from the Silla period and mostly rebuilt or restored. Taking a leisurely hour or two to get through, they were ornate and colourful. However they were nothing out of the ordinary or much different to what we'd seen before; I suppose by this time several weeks of temples were taking their toll.
Next stop was Gurye; arriving after 16.00, we planned to stay here tonight to look at the nearby Hwaeomsa temples next morning.
Gurye is a dreary little town, drab and chilly. Where to stay? We carried our gear down the streets looking for a place, but nothing around looked like accommodations. Finally walking and questioning locals led us to a large building with "Motel" on it. It had a woman who spoke no English, but who finally fixed us up rather nice rooms. They had no wi-fi, but there was a pc and I was able to connect the ethernet cable to my pc and get on internet.
At 05.00, we went out in search of a meal. The nearest restaurant looked as good as any. We went in and pointed to a picture of what looked like a chicken/noodle dish, and ordered 3. It came with large amounts of kimchis and asides, and seemed to be composed of bean sprouts, tough vegetables, some strange horrible bony fish and other tough unidentifiable tidbits. The portion was huge, even for 3. We all struggled with it and came nowhere close to finishing it. It was the worst seafood meal I've ever had.
Next day we met at 08.00, left our luggage in the hotel lobby, and walked to the bus station for a bus to the nearby Hwaeomsa temple complex. At the site we walk up a road or path a few hundred metres along a valley to get to the temples. It's chilly out, but the partly frozen stream and winter bush was beautiful.
The temples themselves, originating I think from the Joseon period, look to be mostly rebuilt or restored, very ornate new-paint-looking, and at least one temple building is in an advanced stage of reconstruction. The temples are on several levels and comprise the usual ornate gates guarded by the usual huge ferocious-looking deities, various main and ancillary temple buildings, a big bell, a drum with a big sculpted fish, a large stone lantern (the tallest in Korea?), and big gold Buddha and Bodhisattva statues.
Nonsan and Buyeo
Back in Gurye, we took buses via the transit town Jeonju for Nonsan. Somewhere along the way we missed out on Gwanchoska, but at this stage I didn't regret the deprivation of yet another temple complex. We rode into the evening, stopping in small towns here and there, coming to Nonsan at 19.15. This was to be another temple stop, as well as a base to explore nearby Buyeo. We lugged our gear around to some nearby motels and selected one, the Hades, poor choice of name but quite a good Greek-themed establishment, a love hotel I think. We negotiated 2 nights in very good rooms with big TV, computer, water dispenser, toiletries, cabinet, big bed etc.
There is a temple site around Nonsan, but we chose to miss out on this one also. Too many temples by now. We'd have a full day to spend as a day trip to the town Buyeo, about 1/2 hour by bus to the north-west of Nonsan.
Waiting at the bus station, I felt a need for some fruit, and approached a shop woman to buy a mandarin. But it seemed impossible to communicate how much it cost, and she didn't seem to accept me buying just one orange, so I gave up.
At Buyeo there's a fort site, a major temple site, national museum and some royal burial tombs. We looked at the entrance to the fort site, and the hill on which it's located. The guide book said there's not much to see inside, except for a nice walk, so we chose not to go in.
Next stop on our walking tour (this town is easily walk-able) was the site of Jeongnimsa Temple, more of an archaeological site than a temple. It's about 1500 years old; pretty much the only structure still remaining is a 5-storey stone pagoda. We spent some time in the attached museum (mainly about archaeology and some artefacts from the site) and the site itself, open areas with the stone pagoda (the oldest in Korea ?) and a temple building with a huge but simple carved stone Buddha.
Not far away was the Buyeo National Museum, more artefacts dominated by a "national treasure" ornate gilt-bronze incense burner, said to be the quintessence of Baekje art.
We'd read about the Royal Burial Tombs about 3 km away, and set out to find them. We walked to the edge of town in what seemed the appropriate direction. But they were was nowhere to be seen, so we had to walk back. Still it was a pleasant semi-rural stroll. At one point we saw a deer bolting across rice fields, the only real wildlife we'd seen in this country.
We stopped for lunch at a local restaurant that had pictures of sausage in the window. We ordered 2 portions of sausage, but it turned out to be blood sausage, not my taste. Also a soup came filled with what looked like sliced rectums. The others ate the sausage. I didn't eat much except the vegetables, some of the soup, and rice. What a mistake!
Back at the bus station we boarded a bus back to Nonsan, arriving 15.30. At the Nonsan bus station I worked out with that same shop woman that I could buy 3 mandarins for W1000, finally satisfied.
After the last couple of disasters with local food, I didn't care if I ever saw another Korean meal again. Later I went out to a Lotte western-style fast food restaurant. The double hamburger with fries and Coke (W5300) didn't quite fill me up but were in any case a welcome change.
Next day, our last before returning to Seoul, was to be a heavy day, taking in a couple of towns to look at the sights, and then trying to get into Seoul by evening.
Gongju and Hwaseong
We were up early and caught a bus from Nonsan to the town Gongju, then a local bus to take us several km out to the hills to the nearby Magoksa Temple complex.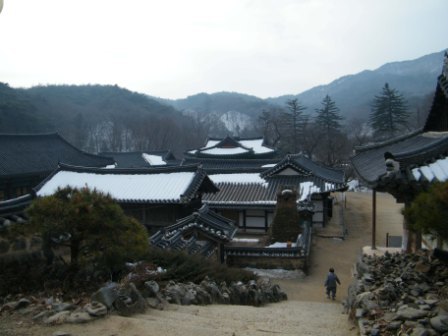 This temple complex, about 1500 years old and mostly rebuilt, is a compact, relatively rustic collection of temple buildings, not fancy or brightly painted but pretty with its surrounding forest and snow. It's still an active temple; several of the buildings had monks chanting and praying to the Buddha statues; and they had an air of peace and tranquillity that I hadn't noticed in other temple complexes. Looking back, it was one of my favorites.
Back in Gongju, it was an hour wait for another bus to take us on to a southern Seoul suburb Suwon, where we were to see the world heritage Hwaseong Fortress. Arriving at Suwon at 14.00, we left our luggage and found a city bus to take us across town to the fort district.
The Hwaseong Fortress was built between 1794 and 1796, during the Joseon Dynasty, so it isn't all that old compared to many of the other sites we've seen in this country. It consists primarily of a stone wall on a hillside and extends through part of the existing town. There are included four large main gates, one being where the bus let us off. We walked up the path to the highest part of the wall, and along the wall, descending at one end near the bus place. Features along the wall included a secret gate, firearms bastions, projections out from the wall as defence from enemy attack, lookouts and a catapult structure at the top. It looks like the wall, gates and above features are the only surviving structures, not many other original buildings.
And back to Seoul
We made it back to Seoul and our trusty hostel Beewon Guest House after 19.00. It was good to be here again. But we'd still been travelling faster than I'd like and we're here early. I have 10 days before flying, so what to do with the time? The three of us discussed what to do from here on, and more or less settled on maybe trying to leave Korea early. Suits me, as I'm getting sick (as if I wasn't already) of the cold weather.
Next morning, 17 February, I'd found out from the receptionist roughly where the Garuda office is, in the Gwanghwamun district about 20 minutes walk west of home. So I set out to try to find it. Luckily, I located it more or less exactly where I thought it would be. With some trepidation and a prayer, I went up to the office to see if I could wrangle a flight change. What luck! I managed to move the flight from Seoul to Jakarta exactly one week forward. That means I only have to stay in Seoul 2 more days, rather than 9. I now fly out on Saturday 19 Feb at 10.05 to arrive in Jakarta mid afternoon. I then have a week in Indonesia before catching my original flight back to Sydney on 26 February.
About noon I ventured out again to see more of Seoul. I walked more or less straight down to Cheonggyechon Stream and along its bottom path. Many others were also walking on their lunch breaks. From the stream I went on to Namdaemun Market, which I hadn't had much of a look at on the previous visit, a good leisurely look this time, everything from fish to insulated pants.
On up north nearer home, I passed along the Insadong shopping street, alive with street stalls and busy crowds.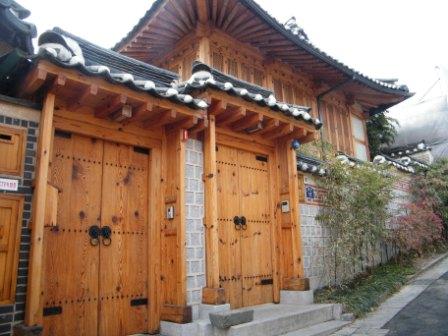 North from Insadong and Anguk Station is the Bukchon traditional buildings district that we'd tried and failed to find previously. I had a pleasant stroll up the steep narrow streets studying and photographing the curved-roof traditional wooden houses and tile roofs.
On my last day in Korea, I think I'll devote it just to the National Museum down near the river. Staring sometime around 10.30 or 11.00, I spent maybe 4 hours at the museum and the outside park.
The museum has 3 main floors. The first had Korean history from Paleolithic to modern times. Everything had descriptions in English. Of course I have to read everything, so most of the museum time was taken up with just the first floor. Anyway it was fascinating and educational. One curious exhibit was a pair of gilt-bronze sandals with 2-inch long spikes (cleats) in the soles, allegedly used by soldiers. Overall the exhibits were good and I was able to some extent piece into context many of the temples, forts, burial mounds, and other sites we'd seen around the country in the past few weeks.
The second and third floors were taken up with calligraphy, painting, donated items, stone sculptures, and Buddhist art. I had to rush through them as I was getting my fill of museum exhibits by that time.
A quick walk around the outdoor park, looking at bare trees, brown grass and a frozen pond gave me what might be my last look at Korean winter landscape.
The 3 of us went out to a nearby Italian restaurant for our last meal together. The spaghetti carbonara was good except that the sauce was too soupy. Would you believe it; it came with kimchi. Will I never see the end of that shit? The draft beer was good, no qualifications.
19 February, the day I leave this freezer. I was about 06.15 and out into the chill pre-dawn (my last cold spell) to catch the 6011 bus to Incheon Airport. I was on the plane to leave at 10.35.
And that was South Korea. Well, not quite; the in-flight Indonesian meal came with kimchi; Aaaargh!!!!!
Overall South Korea:
Mixed at best. It's cheaper than Japan, but not a lot. It was easy enough to get around in, and there's a fair bit to see. However most of the sights, at least those we got to, are world heritage temple sites and fortresses and, while individually impressive, tend to become repetitive and start to induce site-overload.
Accommodation is mixed, good backpackers hostels in the main tourist cities but restricted to motels in the less popular towns. Still, we always found some place to stay wherever we were.
I just couldn't get rapt in most of the local food. It ranged from good to diabolical, and upon entry to a typical restaurant it would be a lottery what one ends up with. It would take me more than a couple of weeks to acquire the taste for the "acquired taste" kimchi.
Even colder than Japan at this time of year, the weather made January/February something less than the ideal time for travel here.
It was worth going to South Korea once but, having seen most of the attractions, I won't be in a hurry to return.

Indonesia/Java
The flight from Seoul to Jakarta was quite routine. The meal was an Indonesian dish, but there was the ubiquitous kimchi as a side. I arrived in Jakarta at 15.25, still 19 February, and easily obtained a one-month entry visa into Indonesia. I could change TC's for my week's spending money, at a rate of about IDR 8000 to 8700 to the AUD. A Damri transit bus got me down-town in maybe 1/2 hour to the central Gambir train station.
After the cold of Korea, I was afraid of the heat hitting me like a wall. But it wasn't so bad, around +30 deg, and I only gradually started to sweat after an hour or so.
What to do now? I had intended to spend a night here and go on to Yogyakarta next day. But the thought of trying to find a place here and then getting up early didn't appeal so much. Might as well see if there's a night train or something. I found a second class (they call it business class) train at 19.15 from Pasar Senen train station.
Near Pasar Senen, I wandered around a just closing market building, relaxed on a stone plaza watching kids play, enjoyed a street-restaurant dinner of two good servings of beef-noodle sutu, and soaked up the atmosphere of Jakarta street life. After the cleanliness and first-world order of South Korea and Japan, I love the spontaneity, chaos and squalor of Indonesia.
On the train I found I had two seats to myself so could lie down and get some sleep. An open window let fresh air in all night and I wasn't overly hot. Rather a pleasant train journey.
Yogyakarta
So here I was in Yogyakarta Tugu Railway station at 04.50 on 20 February. Not bad going for just over 24 hours on the move. I'd made my destination, Whooppee!
I settled with my pack on a bench in the station and snoozed in the cool until about 07.00. Then up, out of the station, and around to Gang 1 where I found one of the two Losmen Lucy establishments, on a side alley away from the noisy streets. A friendly enough woman, Ila, gave me a comfortable fan room with an Asian style attached facilities.
I'd been to Yogyakarta about 35 years ago with Julian (see my Asia 1976 trip page), and couldn't get over how good I felt about being back again.
I liked the Indonesian food so much better than its Korean counterpart, and stuffed myself at the street stalls and small restaurants. For the next few days I'd typically have two servings of whatever was going; that was the minimum to satisfy me. Typical dishes included soto (beef or chicken soup containing rice, vegetables and spices), nazi ayam guluk (rice, fried chicken and some vegetable), mie ayam (noodle soup with chicken), beef rendang, gado-gado (vegetables and potato in a peanut sauce), ayam satay (10 sticks of chicken in a dark peanut sauce), chicken curry and rice, and the ubiquitous and wonderful Nazi Goreng. I'd also buy groceries and fruit at a supermarket or market stall to snack on.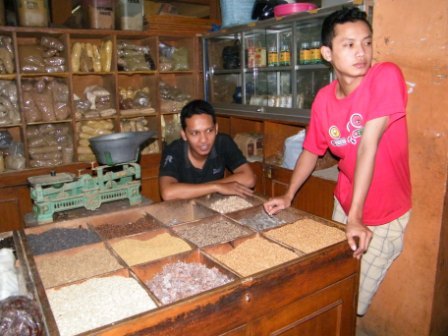 Not at all tired from my train trip, I was out almost immediately for breakfast and to explore. The main drag Malioboro (a corruption of the name of the Duke of Marlborough) is a busy shopping street crammed with stores and stalls, much more built up than it had been in the 70's. Farther down, I wandered into and through the big multi-storey Beringharjo Market. Typical but fascinating as all markets are, it offered everything from meat, produce and spices to hardware and knick-knacks.
Past the Sultans Palace, I had to walk considerably farther than anticipated to find the Water Castle, the ruins of an old castle with an attached large circular stepped and walled cistern. It was interesting enough, and being able to avoid the numerous guides, I could have a good look around without wasting time being lured into batik shops.
More exploration around nearby small streets and a river, and I eventually made my way back east to the vicinity of the Sultan's Palace grounds. I found a Gamelan puppet manufacturing school, talking to the people there and looking at how they made the brightly painted rawhide puppets. They said there are nightly performances of Wayang in the Sondbudoyo Museum; I might think of going to that sometime.
When I'd first (and last) been to Yogyakarta in 1976, Julian and I had gone to see the Hindu Prambeman Temple, but we'd never got around to seeing the bigger, more famous but more distant Buddhist Borobodur Temple. It's not all that straightforward to get to Borobodur, which is one reason we didn't go then. So that's my activity for my second day in Yogya.
I found out I could take a city bus from Malioboro, near my place, to another stop at Ahmad Dalan, change buses and on to Jombor terminal in the north of the city. From Jombor I could take a country bus the 40 km or so to Borobodur.
The city bus system is interestingly unique in my perception. The bus access is considerably above street level, so you can't get on from the street. Each bus stop has a secure platform, for which you pay a standard fee (IDR3000) to access. You get on the bus from the platform, and get off onto the platform as well. If transferring, you go from the bus to the platform and then onto the next bus. All a bit strange but it seems to work.
It took something less than an hour for the city buses to Jombor. Then maybe the same time to get out to Borobodur, through city suburbs, palm trees, rice fields and villages.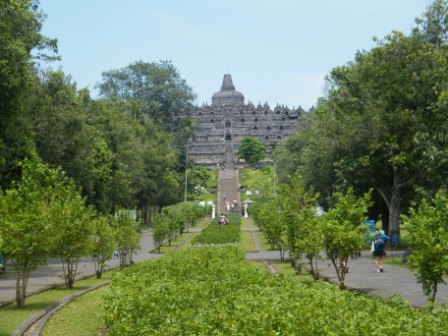 At the bus stop at Borobodur, now accompanied by 3 girls, I set out to find the temple. Becak touts accosted us, saying the temple is about 2.5 km away and too far to walk; yeah right! We found the direction and walked the 1 km or so in a few minutes, getting to the entrance about 10.15.
Borobodur is a massive stupa, or stepped pyramid, on a hill. Built of 2,000,000 andesite rocks, it's the largest Buddhist temple in the world. Of 9th century vintage, it was discovered by Si Stamford Raffles in 1812 in poor condition. It was uncovered shortly after that year and had had since undergone a couple of major renovations, the latest in the 1970's. There are 4 levels of wall terraces with about 1460 reliefs on the walls and balustrades, some in remarkable detail and preservation. Above them are 3 levels of circular terraces with stupas, and one big stupa at the top.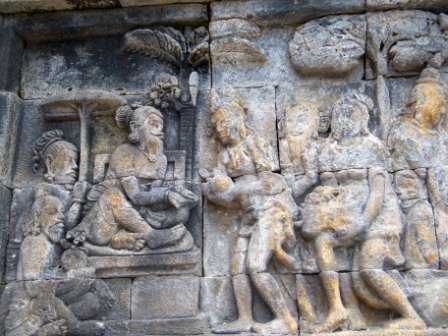 You can't really see the temple from a distance, not high enough and too much trees etc. in the way. The beauty is in the detail. The recommendation is to walk around the terraces in a clockwise direction starting at the bottom and working ones way up, in order to get a conception of the story in the reliefs. So that's how I approached it, walking around the base, up to the first level and around it, up, and so on. Slow and fascinating. Elephant heads guard each corner and lion statues guard gateways. Many Buddha statues in the major hand positions fill alcoves or niches.
The upper terraces had the trademark perforated stupas each containing a barely-visible Buddha. Unfortunately these terraces were closed for maintenance (maybe permanently??) and visitors could not access them.
The upper part afforded good views of the surrounding countryside, park, fields and distant hills.
Down in the park was a small museum housing a full-scale replica of a trading ship that had been built based on temple relief images. Another museum housed some of the artefacts from the temple and photographs with explanations of all the major relief images.
I was in the temple and surrounds about 3.5 hours, time well spent.
Back at the bus place I stopped at one of many restaurants for a couple of bowls of noodle soup. Apparently people here don't usually eat 2 servings at once, and were slightly amused at my appetite.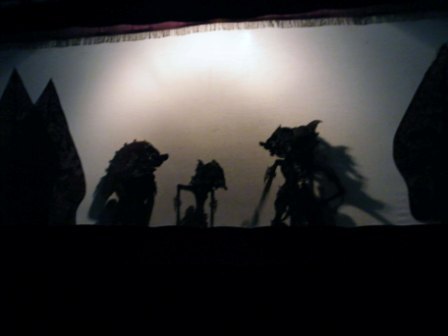 Back in Yogya, and later in the evening, I decided to walk down to the Sonobudoyo Museum to check out the Wayang Kulit (literally "shadow skins") puppet theatre performance. The performance started at 20.00 and went 2 hours. They were performing the last episode (of 8) of the Ramayana. With shadow puppets and gamelan music, it's a visual and auditory experience, almost impossible to describe in words. I thoroughly enjoyed it. One of the idiosyncrasies of Wayang is that the rawhide puppets are brightly painted in great detail, but the viewer only sees the shadow. It doesn't make sense, but that's the tradition.
At Tugu station I organised a train ticket back to Jakarta, for 08.00 on 24 February, to arrive Pasar Senen at 16.00. That leaves me 2 full days left here.
The next couple of days were devoted to exploring Yogyakarta neighbourhoods, chilling out and enjoying life. This is so relaxing; no pressure to get on to the next place or see the next sight. Love it. A good way to pass time was to sit under food-stall awnings chatting over a meal with locals and other travellers. It rained off and on, sometimes heavily, later in the day and evenings.
One morning I went for a walk east along unknown streets, crossing a river being dredged, and came upon a deserted sports stadium. I entered through an open gate and sat on a bench for a rest and to study my map. A woman must have seen me go in, entered and approached me. She spoke no English but seemed to be trying to tell me I shouldn't be here without paying some entrance fee or something. It made no sense but I went on my way anyway.
Later that evening I splurged (it's all relative) for a rendang meal at one of the tourist restaurants. It was good but so small that it's only a snack. I made up my mind that the street carts are the place to get meals.
Someone suggested I go for a look at Kota Gede silver village in the south-east corner of the city. I'm not into silver but it might be a nice excursion. So to Maliboro bus stand to get on a bus out to the edge of town.
The first thing I did when getting out there, was to wander east down small streets to see if I could find the edge of the city and some rural life. A considerable walk did get me out into rice fields and semi-rural countryside, pleasant and picturesque. Farmers were out in the fields harvesting rice, ducks swam in canals and ponds, cattle grazed in small paddocks and the world was (here anyway) at peace.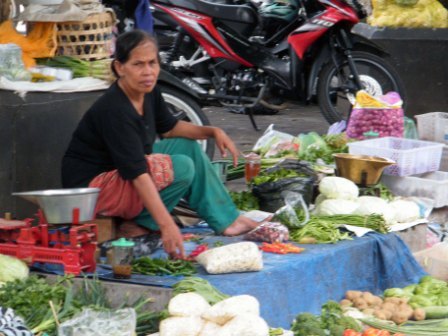 Back at Kota Gede I wandered along the streets looking at silver shops and street life. It was pleasant but not a real tourist attraction. I found and explored the local market, stopping at a stall therein for a soto lunch.
In the early afternoon I boarded the bus to go back to Malioboro. It did go back, but in such a roundabout way, touching most corners of the city including the diametrically opposite Jombor terminal, that it took quite a while to get home. Anyway it was a good cooks tour.
On 24 February, after 4 delightful days in Yogya, I was at the Tugu train station by about 07.45 to catch the 08.00 to Jakarta.
All-in-all it was a hot but pleasant train trip, through rice fields, villages, river crossings, and hills. Besides rice, agricultural products included bananas, cassava, coconut and papaya trees. Many locals worked in fields harvesting rice and burning the straw.
The train itself was a virtual market; hawkers incessantly parading up and down aisles selling food and other wares. I talked to a young guy selling nazi-ayam (I bought one off him) who sat next to me a while. He told me a tuk-tuk from Pasar Senen to Jl Jaksa should be R 10000; it's always good to get an idea of prices of taxis etc. before facing up to them.
Jakarta
At Pasar Senen train station at 16.45, I braved the legion of tuk-tuk drivers and managed to negotiate a R 10000 motorbike ride to Jaksa. Traffic was heavy and a bit slow getting there; would have been worse with a tuk-tuk.
I wandered along Jaksa looking for a place to stay, turned into Gang 1, and easily found Bloem Steen Homestay where I found a basic room for 2 nights.
After a short rest I went out to look around the neighbourhood and find food. It would soon get dark, and things were starting to liven up for the evening. There are lots of restaurants and bars of all standards along Jaksa, Walid Hasym and Sabang, everything from local eateries to the Yum and Starbucks offerings. This must be the night-life centre of Jakarta. I had satay and curry in two different places before I was full.
I had nearly two days to look leisurely around the points of interest in Jakarta.
First item was to find my way from Jaksa to Gambir Station, so I'll know where to get the airport bus next day. It was an easy and obvious 1/4 hour walk.
From the station it's a short hop to the National Monument and its surrounding park. The park itself is big and virtually empty, grossly under-utilised and under-patronised for such a prime bit of real estate. The monument itself, a large square obelisk, has a well maintained garden around it but it also has only a few people around and seems neglected. At the top of the monument is a sculpture of a flame, rather than an actual flame. Immediate thoughts were, "At least the flame won't go out, as 'eternal flames' have a habit of doing from time to time".
From the park I exited on the west side, easily finding the National Museum (might go there tomorrow), and the Monas bus stop that goes up to the northern historical suburb Togo. The bus system is similar to that of Jogja, with its secure platforms and high bus entrances. The platforms in Jakarta are much bigger though.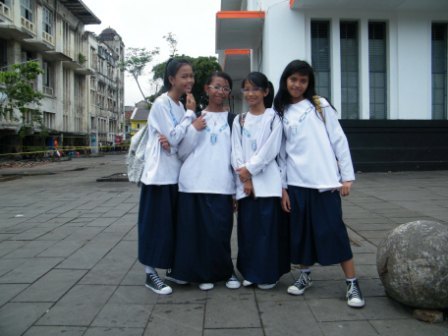 At Togo I found my way out of the bus platform area to the street, stopped for lunch and started to look around. Togo is meant to be the historic Dutch colonial suburb, lots of museums and old buildings. The museums were there (didn't bother to see them) but the old buildings were mostly in various states of ruin and collapse. Not a lot to see. I walked north some distance toward the harbour but only encountered slums, truck lots and garbage dumps, not the most salubrious district of the city.
I returned home via the shopping/restaurant/entertainment district. Here were department stores, boutiques, hotels, and all the big world names in restaurants, coffee and fast foods. Also in this district are a series of small gangs (narrow alleys) to the west of home, mesmerising glimpses of close-up local life.
26 February is my last day in Jakarta, and the last day of my trip. I have to go to the bus about 17.00 and fly about 22.00. Internet and Skype chores first thing in the morning, then I finished packing, checked out of the room and put my pack in the storeroom.
I'll use the National Museum to kill part of the day before the bus goes. I got there about 10.30 and stayed until about 14.00. For most of the time I was there, it was full of school groups, very crowded and noisy.
The museum was heavy on ethnographic displays of Indonesian groups and cultures. Also was some content on history and pre-history, model indigenous houses, ceramics and textiles. One display on Papua portrayed the Koteka penis covers worn by the male indigenous peoples. It all wasn't greatly exciting stuff but there were good descriptions of everything in english and I could learn a lot. Not time wasted.
The last bus to the airport goes about 18.30 but I didn't want to wait that long in case the bus is full or something. About 17.15 a German guy, Stephan, was also leaving for the airport, so the two of us hoisted our packs and took off walking to Gambir Station. It took about 1/4 hour to get there, and we easily found and boarded the airport bus. Traffic was heavy but we got out to the airport in not much more than an hour.
I had a good couple of hours before flight boarding, grabbing something to eat, checking emails and reading. Flight was on time about 22.00, and had me in Sydney at 09.00 next morning (05.00 Indonesia time).
Ian was there to pick me up in my car, and all was normal back home. Good trip but good to be home.
As one can tell from what I've already said, I loved Indonesia. It's more or less a third-world country, but not oppressively so, and the level of poverty, pollution and squalor is not overpowering. People are friendly and helpful; I saw little of the everyone-for-himself greed that I'd noticed in Sumatra several years ago. The food was good and cheap, transport was easy, culture was distinct and robust, and I never ran out of things to see or do. Maybe I'll go back there again soon for another trip.
Next trip? Probably when my Canadian friend Ken comes over in June 2011 with his bike and we take off for some cycling around parts of Australia. Watch this space!