Trip to N Asia and Europe, 28 Feb to 12 June, 2019; Part 2
(continued from North Asia 2019) And now on to Eastern Europe.
Hungary
It's off to Hungary and Eastern Europe now. Rather than stay on trains and worry about the hassles of getting a Belarus visa, we flew from St P, via Moscow, straight to Budapest. After the cold, ice and snow of Russia, Budapest was surprisingly warm and green, very springlike.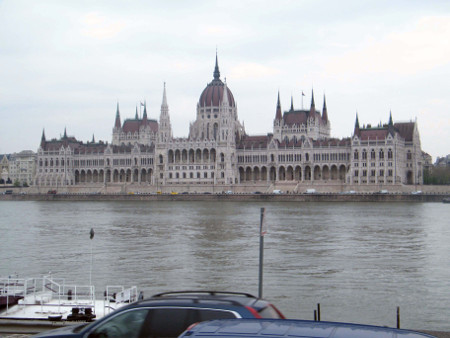 We were 4 full days in Budapest. There's far too much to write about so I'll stick to some highlights.

- The gigantic Parliament Building alongside the Danube is Pest's most visible i-sore (sorry, icon). It's so huge that it takes some time just to get around it.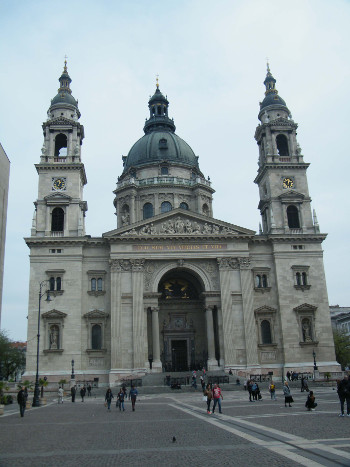 - The neo-Renaissance St Stephens Basilica is the second largest church in Hungary. It houses the usual beautiful mosaics and frescoes, and also the "Holy Right of St. Stephen", allegedly his mummified right hand, though it's barely visible behind the glass.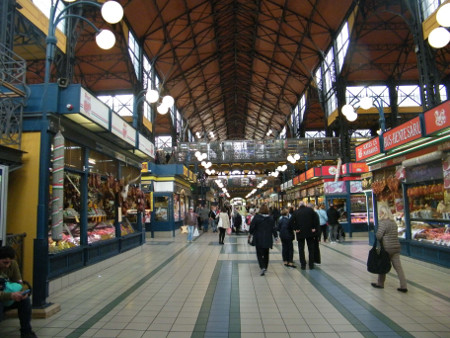 - The Central Market Hall, built in 1897, is a vast and fascinating place, crowded, with multi-levels and aisles, selling all manner of food, clothing, souvenirs and the usual market fare. The heady aroma of cured meats permeate; can't figure out why it doesn't set off the smoke detectors.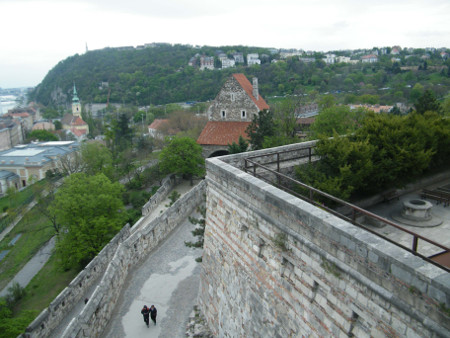 - The Buda Castle district dominates the Buda side of the city. Great views can be had over the river, city and surrounds. We could wander around exploring the castle/Royal Palace, sculptures, museums, castle ruins and the tall beautifully-sculptured pointy-spire Mathias Church. Out front of the church is a sculpture of several saints; all, especially the pin-cushion St Sebastian, looking like they aren't having a good day. Overlooking the river and Pest is the fairytale 7-towered viewing terrace Fisherman's Bastion, built not much more than a century ago.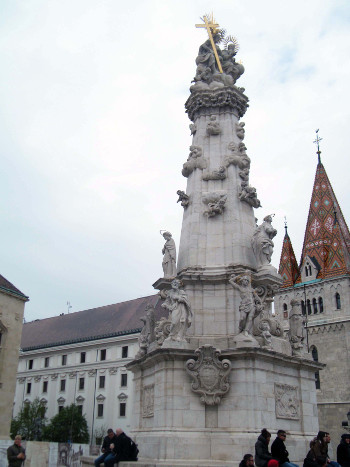 - Margaret Island is a 2.5 km long island (originally 3 islands) in the Danube, a landscape park and recreation area. The attractiveness of green trees and grass make it quite active on a Saturday.

- The "House of Terror" is a gruesome museum housed in a building formerly used by both Fascists and Communists for terror and brutalities in the 20th century. It has a Russian tank, pictures and footage of victors and jailors, and re-constructed prison cells. It was somewhat informative, but maybe lacking a bit in English language. As is usual for these types of exhibits, it painted a grim picture, but neglected to point out how much of this stuff still goes on.
Budapest was an enjoyable worthwhile destination, as are so many other places we have seen and will see. On now to Croatia and Zagreb.
Croatia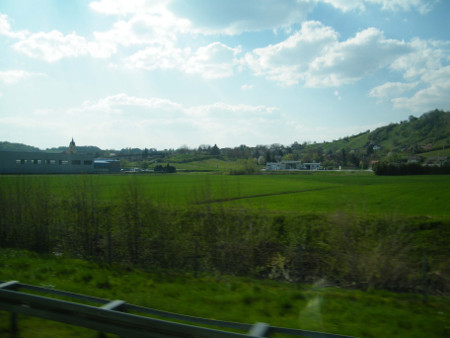 It was a pleasant 4.5 hour bus ride to Zagreb, through flat or rolling country, mostly agricultural fields with some canola and wheat growing, and some forest and villages.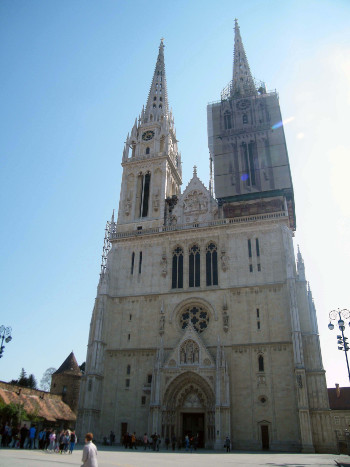 Zagreb seems a pleasant amiable place, clean and architecturally impressive. The interesting part of the city is divided into two closely connected parts, the lower and upper towns, with some slopes and steps between. Having been quite active, almost rushed at times, throughout most of the trip, we tried to resolve to not stretch the pace too much here. But here are some of the more notable sights: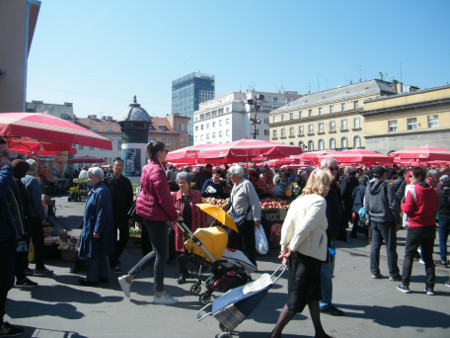 - Bana J Jelacica Plaza is the nominal centre of the city, with crowds of people and market-style stalls. Up from the plaza is the large middle-aged neo-Gothic Cathedral of the Assumption of the Blessed Virgin Mary (must be big with a name like that). Having seen so many cathedrals, its impressive beauty inside and out failed to have maximum effect on us.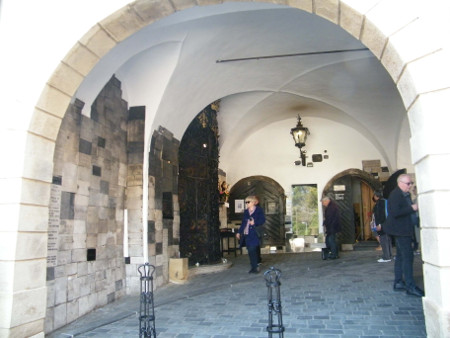 - To the west is the colourful Dolac Farmers Market, full of fruit/veg, meat, deli, fish, flowers, etc.
- The St Mark's Church is noted for its multi-coloured roof tiles depicting regional medieval coats-of-arms.

- The middle-aged Stone Gate contains a chapel/shrine with a painting of the Virgin Mary, and is a place of worship.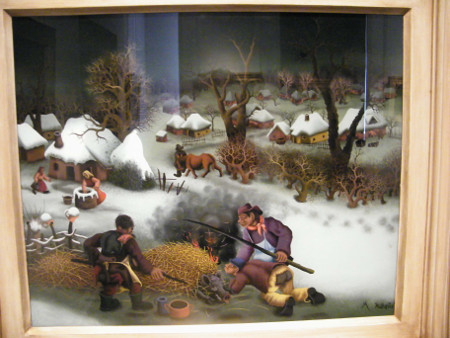 - The 13th century Lotrscac Tower has a spiral staircase and great 360 deg views over all of the city, and a small cannon that still booms out the time each noon.
- The pedestrian street Tkalciceva is lined with numerous inviting plaza restaurants with people-watching tables. We spent some time here to drink, relax and unwind, as well as more than one evening meal.
- The quirky Museum of Broken Relationships has several rooms with many small exhibits, each a memento contributed by some jilted lover or whomever, and a short story of the significance of the item to the ex-relationship. They mostly are variations of the theme: "Well, he/she can go to Hell and I don't want this memory around me anymore". I found the whole museum mildly interesting, and sometimes amusing.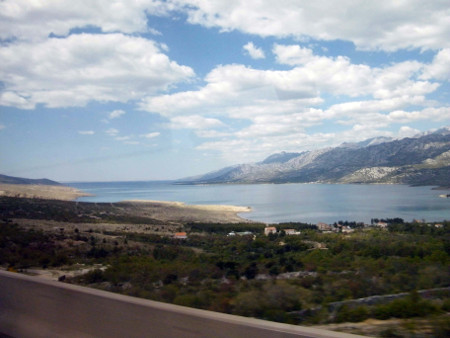 - The Croatian Museum of Naive Art portrays an art genre characterized by "simple" styles by artists who have not undergone rigorous Artistic schooling or training, therefore lacking perspective, nuance, fine detail or that "professional look". But I found the style quite captivating and really liked this museum.
- the Mirogoj Cemetery, to the north of the centre, is a vast complex, over a number of hills and with thousands of graves, crypts and ash walls. It is recommended for its history, its stately tree-lined avenues and the relaxing ambiance.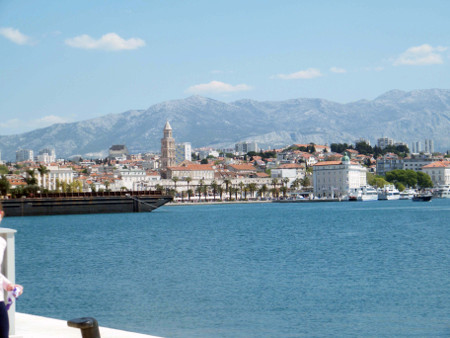 Next up, and still in Croatia, was the coastal city Split. It's one of those historical cities with a walled "Stari Grad" old town and extensive Roman ruins, "Diocletians Palace". It's smaller than Zagreb, and slightly less touristed than the later Dubrovnik. My first foray gave me grand walls and towers, stonework artfully lit-up, narrow stone passageways, many bars and restaurants full of people, a lively waterfront, Good Friday mass underway in the Peristil, and a generally magic ambiance. It is however somewhat touristy and maybe compromised a bit by the clash between plaza bars/restaurants and stone walls and Corinthian columns.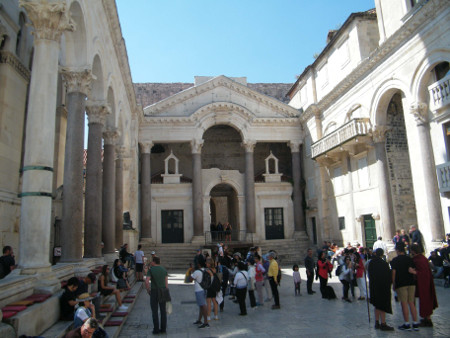 We loved the ambiance of the place, and spent most of our 2-3 days in Split relaxing and exploring Diocletians Palace and surrounds. It was of course mostly built by Emperor Diocletian and is in remarkably well-preserved shape. Some of the sites within the walls include the small Chapel of Amir with its carved altar/sarcophagus, the large Gregorious of Nin statue with its much-rubbed "lucky" shiny toe, the Papalic Palace (now the City Museum), the central lowered courtyard Peristil, the Vestibule above (an open space with a dome roof open to the sky), the market-stall-lined Substructures below, the Temple of Jupiter to the west, and the large octagonal Cathedral of St Dominus to the east.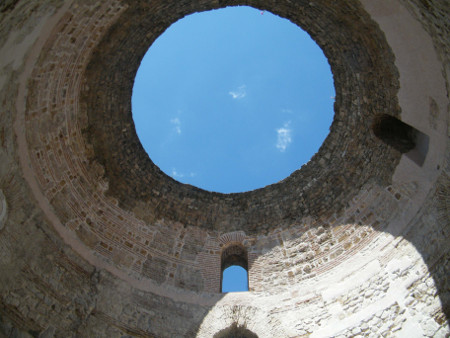 Outside the palace, I took walks around other parts of the city. To the west is the hilly forested Marjan Park with good walking paths and views over the city, Adriatic and the back bay. We explored the foreshores to the west and east of the city, pleasant promenades and the not-so-good "beaches". Just to the east of our place was a hill with a walled citadel with a maritime museum (way up there?) and more good views.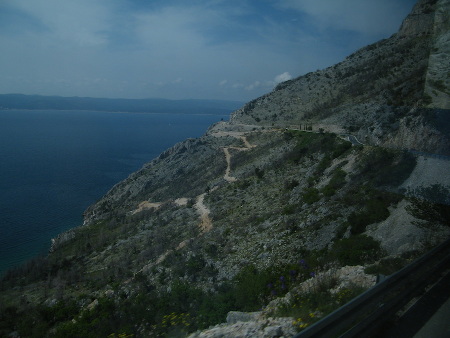 Farther down the coast is the larger and considerably more touristy (and expensive?) city Dubrovnik, where we would spend 4 days.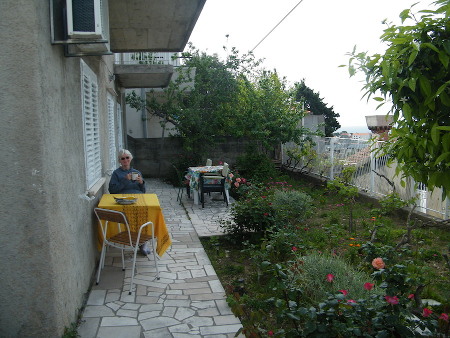 Dubrovnik is world famous, and World Heritage. It too has it's Stari Grad with the walled city, a few hundred metres square, and historic sites, mainly medieval and later rather than Roman I think. It was heavily bombed during the Croatian War of Independence from 1991 to 1995, although almost all of the damage has been repaired. There are vast numbers of tourists and tourist infrastructure, even more than Split. Bars and restaurants are decidedly upmarket, just try to get a simple cup of tea! We stayed in a very nice apartment with terrace views, a couple of km away from the centre and the expense.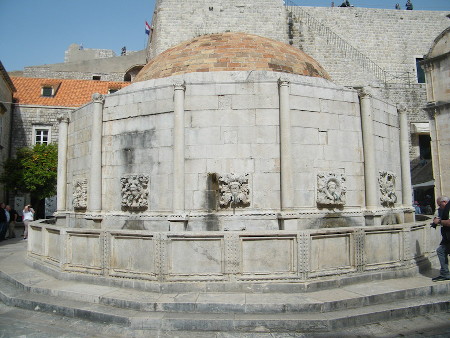 Much of our time was of course spent looking around the Old Town with its walls, fortresses outside the walls, the Placa or main east-west Street, the Big Onofiro Fountain with sculpted faces all around, Orlandos Column, the St Blaise Church, Sponza Palace and Historic Archives with photographic records of the "Homeland War" of the 90's, the Cultural History Museum with an array of historic artwork, furnishings, dress, sedan chairs and 18th and 19th century artefacts, the usual Cathedral, and on and on.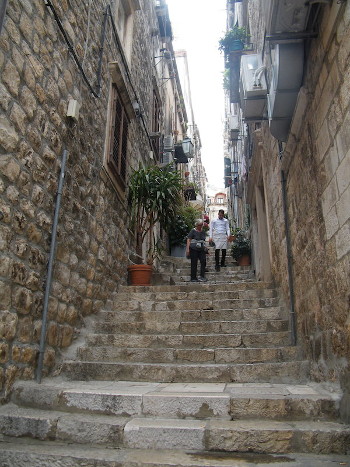 Maggie couldn't be stopped from eyeing the Imperial Fortress in the distance at the top of a hill, nearly 400m up. She actually wanted to climb it; amazing! The path up was not really steep, about a 1 in 10 cattle-class grade and many switchbacks. But it was rough and rocky in places, with a few awkward steps. She handled it all in stride, and we were up from the road in just over an hour.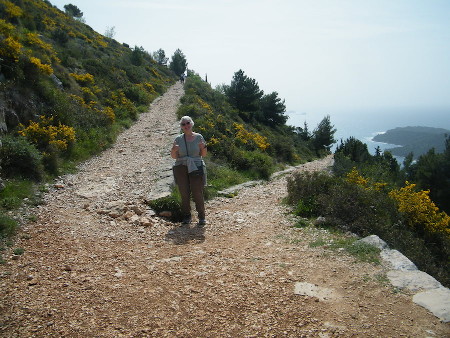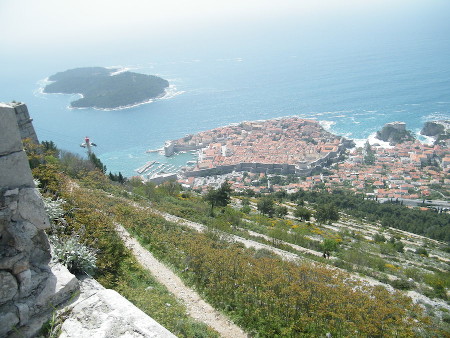 Atop were great views over the city; inside the fort was the Museum of the Homeland War consisting of a number of dank rooms with artefacts, displays, photographic images, written history of the war, and film footage. Here, as in the photographic records, they made much of the horror and injustice of the Serbian/Yugoslav destruction of the city in the war; I would later elsewhere find a bit of hypocrisy in some of this.
Montenegro
Next is Montenegro, a.k.a. Crna Gora, or Black Mountain. I was looking forward to this country as being somewhat less visited than previous destinations, maybe a bit more adventurous and "wild". It would still be easy to get around in and communicate, but the novelty and relatively low tourist numbers were indeed refreshing. As before, each place had its Old Town and forts/walls etc and all were exciting to explore.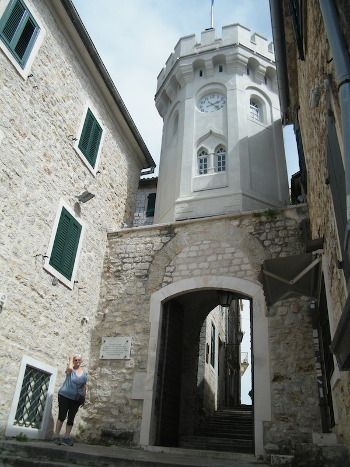 It was only about 2 hours by bus from Dubrovnik to the capital city Herceg Novi. I wasn't much enamoured with the buses and bus people around here. They tend to be a little rough, mediocre service at best, always charge extra for luggage, and little transparency or information about stops, delays or services. But no critical faults and we survived anyway.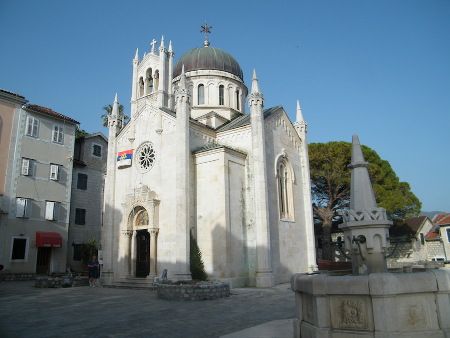 HN is another pleasant historic city. Arriving mid-afternoon on 25 April, we had some trouble finding our accommodation, apartments and guest houses not always being well marked, and even Google Maps not adequate. But once there it was great; nice room, and our host even volunteered to do all our laundry.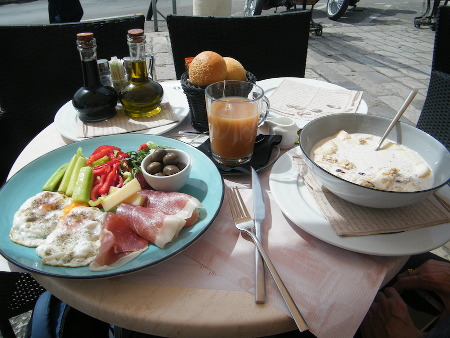 Herceg Novi's Old Town is a somewhat indistinct spread-out affair, with stone walls, forts, churches and towers all interspersed with more modern buildings, and no specific border. There are a couple of stone forts, one "Fortemare" near the waterfront and another the Kanli Kula, or "Bloody Fort" higher up near the main road, and the Clock Tower over the Stone Gate. Lots of plazas and terrace restaurants and nautical-themed souvenir shops, mainly on a slightly upper street and on a waterfront promenade. Religious edifices include the small but pretty Archangel Michael's Church with a mosaic of him above the entrance, the St Jerome's Catholic Church and, outside the city is the charming rustic-looking Savina Monastery Complex.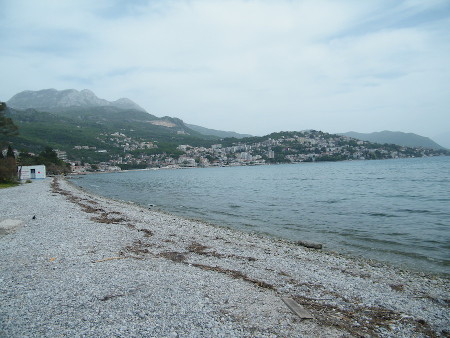 I liked the breakfasts here in one specific restaurant; Maggie had oatmeal with trimmings and I had a very good Zagreb breakfast of bread, eggs, olives, smoked meat, cheese, and fancy salad; wonderful! The Montenegrans can do smoked meat like no other.
Being on a coastline, the city had good promenade walks for several km in either direction. We walked them all, going 3-4 km in either direction from the centre, with beaches, rocks and sea views. Weather, as generally in this part of our trip, was largely warm and sunny.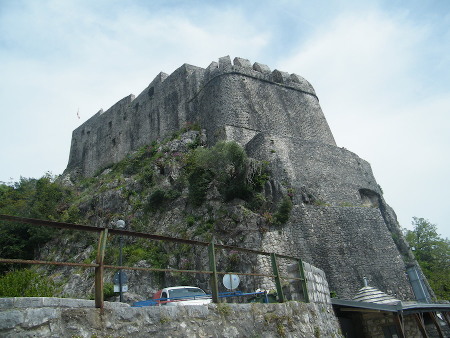 One interesting aspect of the Bloody Fort was a lower square chamber, obviously a dungeon for people awaiting execution, with an impressive array of graphics, lettering and images scratched into the walls by prisoners.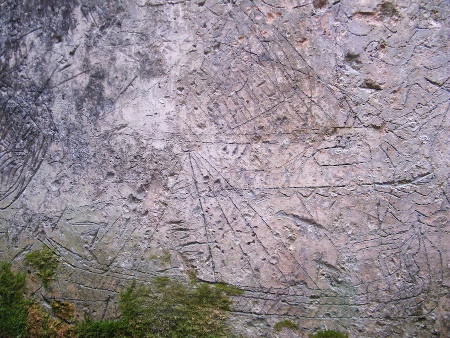 Next leg of the trip was about an hour by bus through striking coastline scenery, and into the postcard town Kotor. This place would be one of my favourites on the whole trip. We would be here 4.5 days, staying with nice hosts in Sandra's Guest House, a magical view over the town and water and far hills, having huge and scrumptious home-cooked meals cooked by Sandra's parents, looking around town, and even going on a tour with our hosts to surrounding attractions.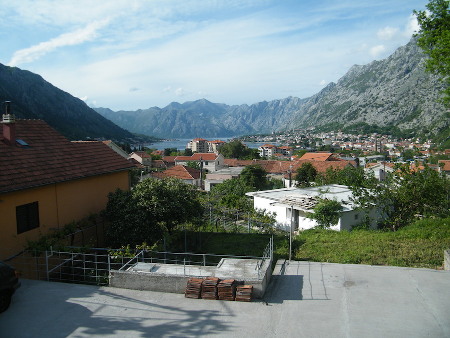 Kotor is mostly a pleasant attractive seaside town, but its core is a compact medina-like Old Town, wedged between steep hills and the sea, and set within fortress-like 9th to 18th century stone walls, with the walls also snaking up the hills in the back. The Old Town is a labyrinth of squares and narrow alleys, populated by churches, restaurants, museums and shops. It's all almost impossibly beautiful.
What did I say about fine weather? Unfortunately rain started for a few days, but it didn't greatly inconvenience us.
Most of the town centre is on a narrow spit of land between the harbour and a steep hill. Paths lead up the hill behind the old town to the Castel Sv. Ivan (St John) at the top.
Despite the rain we decided to do the walk up to the castle. It was not difficult, taking just over an hour, mostly zig-zag steps that were not really slippery in the rain. Near the top were walls and ramparts and access to the ruins of the fort itself. We got good views over the town and harbour (there was a large cruise ship which left when we were there and replaced by another; seems there's always one ship in port).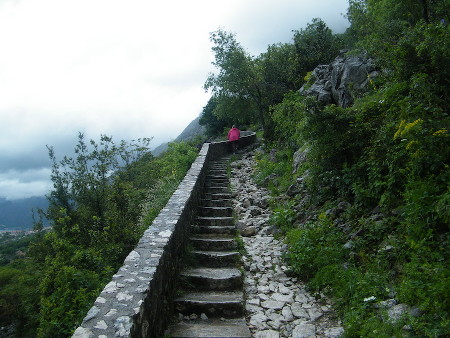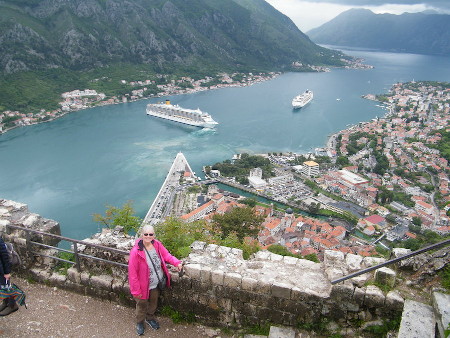 One day Sandra and her brother Tony would take us out in their car on a tour to neighbouring towns and sites. Weather was off and on rain all day. First stop was nearby Perast just up the shore a few km. It was said to be another "Venice", having been owned by that city at some point. It's a small place with a few old churches and other historic buildings and the usual cafes and restaurants. A boat would take us past the natural island St George, and across to Lady of the Rock Island, a 15th century artificial island with a church and a lighthouse. On the island we visited the church and the museum, but the whole place was crammed with tour groups and frustratingly long waits to get in. Once inside, the church was routinely interesting, as was the seafaring-oriented museum with its many paintings of vessels in stormy seas.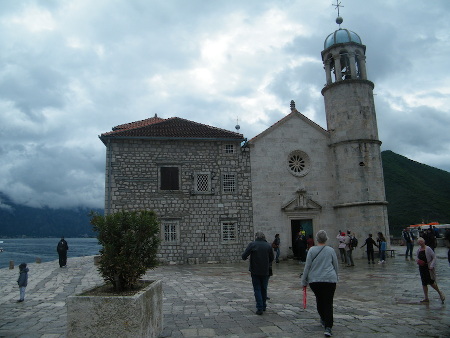 Next stop was just up the road at a town Risan (meaning Roman I think). Its claim is a small Roman excavation site consisting of the foundations and floors of several rooms, some with mosaics, now roofed over as a museum.
It's about an hour by bus to the madly-developing hodge-podge tourist/resort town Budva. It's a funny sort of place; its core being a compact walled Stari Grad, surrounded by tourist beaches, a marina and rampant development. We would be there 3 days, one of which would be a day trip to the old capital city Cetinje.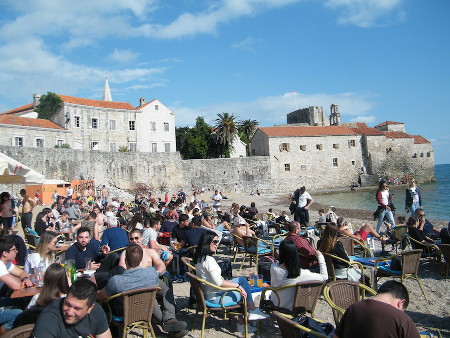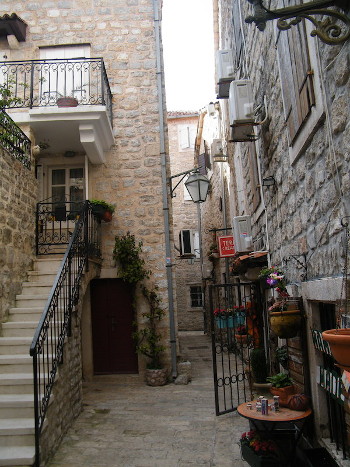 Not far from our place is the party place (at least on a fine day) Slovenska Beach, full of mainly young people. A nearby bar was thumping out washing machine music and kids were eating, drinking and dancing. The old town is "a mini Dubrovnik with marbled streets and Venetian walls rising from the clear waters below" (LP). It has I think more commercial tourist infrastructure than residents. Narrow lanes and plazas invite exploration, and there are a number of closely packed churches including Holy Trinity, St Johns, St Sava and St Marys in Punta, and the nearby Citadel overlooking the town and water. Just outside the walls is the small, crowded and restaurant-infested Stari Grad Beach. Busy as the beaches and bars are, when the rain later comes everyone's gone.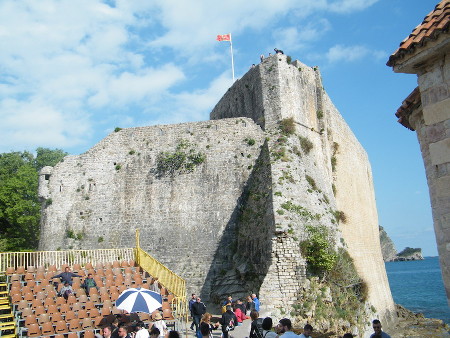 One good walk I did, in inclement weather, was to try to get to Mogren Beach. But the weather had closed the shoreline walkway, and I was forced to go up to the road over the beach. From there I found a path to a promontory, where I came to the ruins of Fort Mogren. I could scramble around old stone walls and gun emplacements, and be amazed by splendid views over Budva and along the coast, all from an impressive height.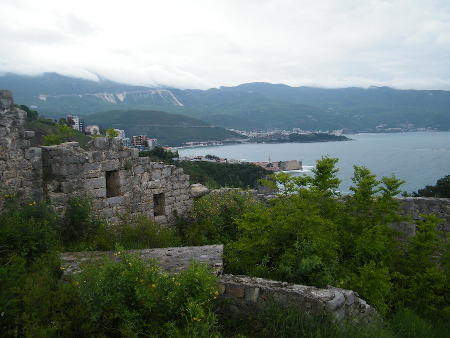 Our day trip to Cetijne was blessed with good weather and, being up in the hills, it's a bit cooler than Budva. It's a smallish town, not touristy, and easily explored on foot. Being a former capital, quite a few historic houses and several museums were spread around. We went in to the History Museum in the National Museum building, to the attractive stone Cetinje Monastery with interesting paintings and murals, and did walks in the pretty town parks.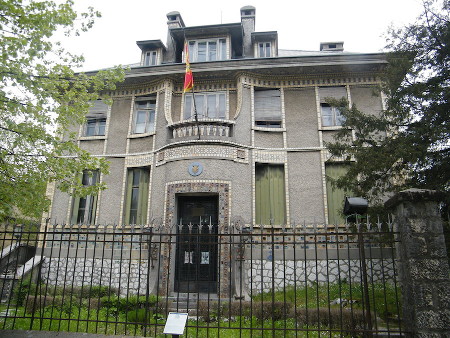 Goodbye to the small, rugged and fascinatingly varied Montenegro, and hello Bosnia-Herzegovina. Rain roared down as we took the bus out of Montenegro and toward BH, but it slowed and stopped as we passed into and over the mountains. We arrived in Mostar early afternoon on 5 May in beautiful partly cloudy weather, ready for a 4-day stay.
Bosnia-Herzegovina
Mostar from the bus station didn't appear to be all that distinctive or attractive; like what are we doing here (??!!). But we hadn't yet seen the Stari Grad, and we subsequently were amazed by how atmospheric and charming it is.

Mostar is situated on the steep banks of the River Neretva, and the old town is a maze of narrow cobbled, sometimes steep, lanes and steps on either side of the river. The west side is mainly I think inhabited by Croatians/Serbs/Christians, and the east is Bosniak (Ottoman-descended Muslim). The two sides are similar in appearance but each has its slightly distinctive charm. Mostar was an epicentre of the horrific fighting around 1992/1993, and the two sides have open wounds to this day. It is a bit of a contradiction, disarmingly attractive, but with a chilling undercurrent of death and destruction.
Much of Mostar was destroyed in the fighting and only some of it has been rebuilt. Both the Stari Most (Old Bridge, the high stone-arch symbol of Mostar spanning the Neretva) and the older smaller stone "Crooked Bridge" had been destroyed as a result of the 1990's fighting, and subsequently rebuilt.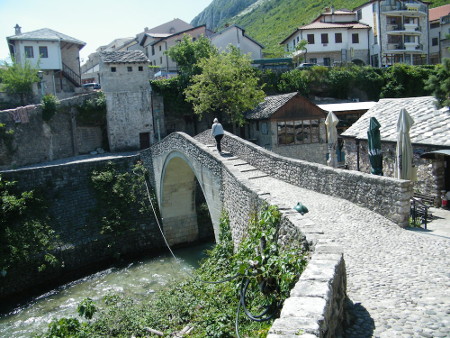 Spanish Square was the scene of heavy fighting around 1992, and several major buildings there have been preserved in ruined states for their memorial value; quite stark and striking. Nearby was a park with a Bruce Lee statue. There are few or no statues in Mostar, the theory being that no-one could agree who should be represented in a statue, so they finally picked someone who was not offensive to anyone.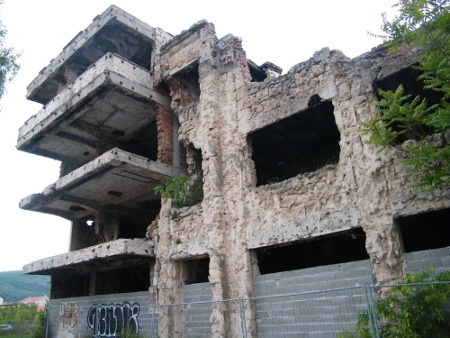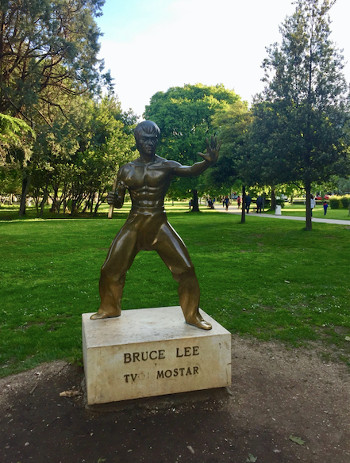 A mosque on the Bosniak side had a fairly large cemetery, one section of which had a large number of nearly identical Muslim graves, virtually all of which had dates around 1992. Quite poignant. I would see more similar later in Sarajevo and other places.
Near the west tower was the Museum of War Photos, a series of images taken by a Kiwi guy in the 1990's wars. It was a good graphic intro to the conflict, and quite educational. Much of the damage was blamed on Croatians and others. It was interesting to compare that the damage here was done by "them" and how unjust and uncaring it was. I remembered that in Dubrovnik the Croatians were blaming these people for the destruction there. Everyone only seems to see the wrongs of the "other".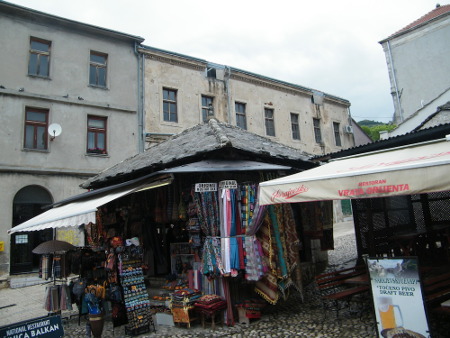 One day was taken up with a tour to sites outside Mostar. It would take us first to Blagaj Tekke, a karst area with a rushing river coming out of a cave, towering cliffs above, and a historic monastery (or something analogous) building near the cave.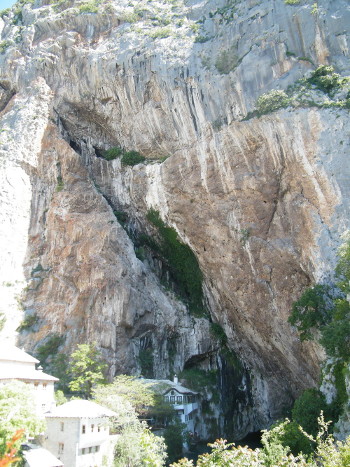 Next was a longish but enjoyable drive to near the Croatia border, passing many interesting small farms with orchards, gardens and vineyards. We came to I think Veljaci village and the Kravica Waterfalls. The falls are about 1/4 hour walk down steps to the river. The falls are medium height but quite wide and spread out into several horizontal sections; faintly reminiscent of a mini Victoria Falls.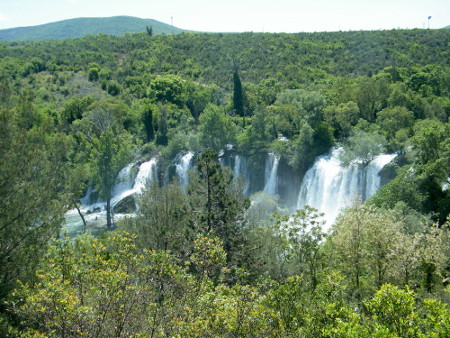 Third destination was an "Ottoman Village", an Old Town in the village Pocitelj. It's a quaint group of rustic stone houses and sheds atop a hillside, with walls, fortifications and towers, all dating from Ottoman times in the 14th and 15th centuries. We were driven up to the top, walked around the village walls and up into the tower for views over the town, river and surrounds, and walked back down.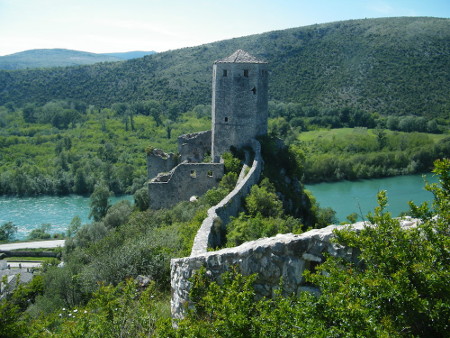 Back in Mostar, our final destination was a short drive up a hillside for views over the city from the east. Our Bosniak guide explained some of the history, politics and geography of the city, all very interesting.
Mostar is a contradiction between beauty and charm on one hand and recent death and destruction on the other. But I think the former wins out.
It was only about 2.5 hours by bus to Sarajevo, our second city in BH. It's an east-meets-west city with Christian and Ottoman influences, and scene of much of the most violent and unrelenting conflict of the civil war. This city is much bigger and spread out than Mostar, but it also has a multitude of historic sites and attractions. Owing to its size, some of our forays around the city were by tram.

- Sarajevo also has its crowded and vibrant Old Town, though a bit more spread out than others, and without any significant stone walls.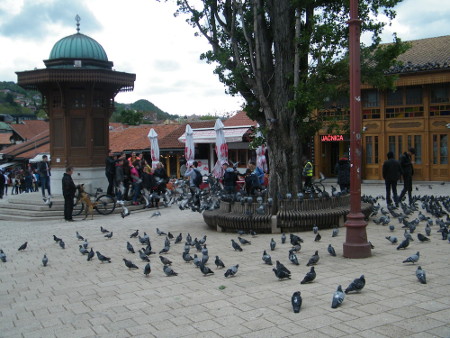 - Pigeon Square has the historic and iconic Ottoman Sebilj Fountain. The multitude of pigeons around and underfoot earned the square's name.
- The large Catholic Cathedral has a couple of "Sarajevo Roses", shell crater sites still in the concrete plaza and left as memorials.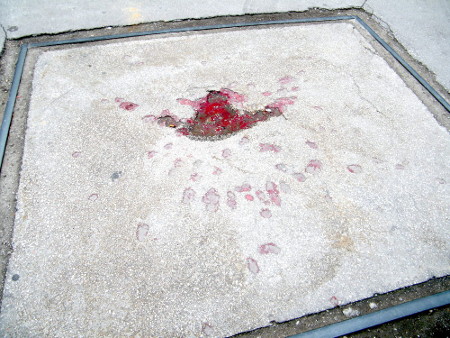 - The Tito cafe, in the west of the city, is an enigmatic place, a coffee shop dedicated to the Marshal, with war machines outside and Tito-related photographs inside; an atmosphere and clientele with a "revolutionary" feel.
- War Childhood Museum is a series of about 50 exhibits of childhood mementos from the 1990's war, and also from Syria, with short stories, mostly simple and poignant. It was reminiscent of Zagreb's Broken Relationships place but without the humour.
- The Galeria of War Memories is next to the Cathedral. Like other museums in places like Dubrovnik, it was heavy on brutal and gruesome photos and film footage and stories of the 1990s war, focusing on primarily Sarajevo and Srebrenica. It was very informative, though pathetic and depressing to know what people do to one another.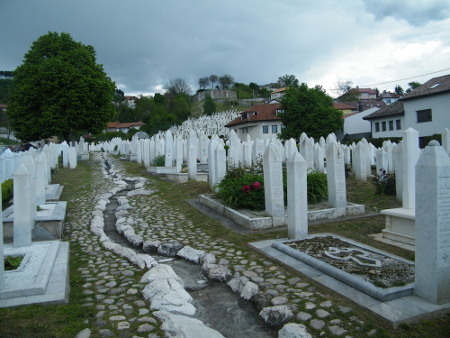 - Up from our place was the Kovaci Cemetery, a large multi-site graveyard for Bosniak soldiers killed during the civil war, and also containing the resting place of the first Bosnia president. This was only one of a number of war cemeteries that we'd seen; it's incredible how many soldiers and others died.
- The Old Town seemed to have a lot of night life; the real action seeming to be in the small alleys, where outdoor restaurants and cafes were packed with mainly young people drinking tea or coffee, eating and hanging out.
12 May was a looong bus ride from Sarajevo in Bosnia-Herzegovina, back through Croatia, and on to Ljubljana in Slovenia. We left Sarajevo at 09:30, passed through northern BH, seeing even more war cemeteries here and there, changed buses in Zagreb, into Slovenia near dark, and into Ljubljana about 20:30.
Slovenia
It took a while to find our guest house, and by the time we sorted ourselves out and went to find eats, restaurants were closing up. We had to resort to a small pub with half-drunk locals, settling on a couple of pizzas, beer and rum/coke.
Ljubljana, the capital and largest city in Slovenia, is a charming, pretty but unspectacular city, neat and with many architectural and artistic touches. It's built on a curve of the Ljubljanica River, with the "new" town on the north and west side, and the "old" town on the east/south with Ljubljana Castle towering above on a hill. We are staying in the southern part of the west side. Much of our 3 days there was dampened by persistent rain, but we did manage to get out and see things.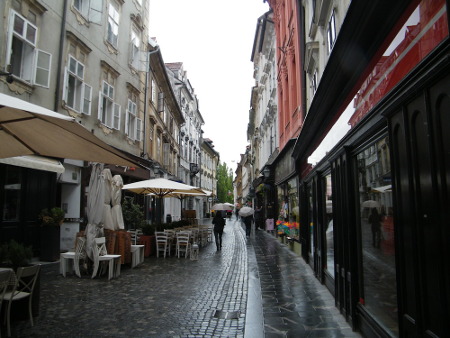 Some sites:
- The famous Triple Bridge (a street bridge with a separate pedestrian bridge on each side).
- The market area, largely an outdoor fruit/veg market and an indoor food market.
- The Dragon Bridge, with a dragon sculpture on each corner. Legend says the dragons wag their tails whenever a virgin crosses the bridge, but there must have been no virgins crossing when we were there.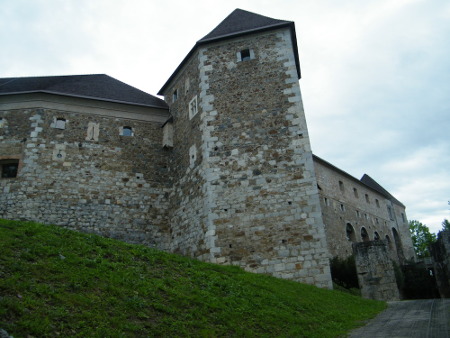 - The Ljubljana grad, or castle, is a mish-mash of ages and styles, with many modern mods to make it tourist-friendly. We spent over three hours there, up and down stairs, on ramparts, towers and viewpoints, in excavated rooms, and in museums. From the tops were great views in every direction, over the city and surrounds and into the heavenly-looking cloud-shrouded mountain peaks to the north.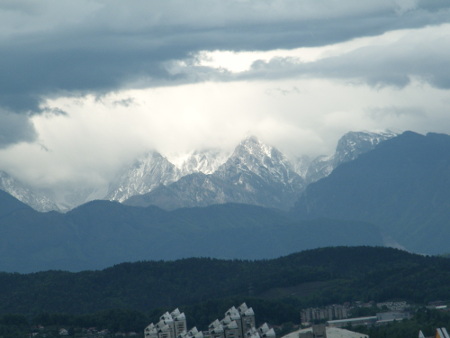 - The large Tivoli Park is in the west of the city. The city side of the park is developed and landscaped with lawns, sculptures and a photo exhibition. The hinterland is hilly forest networked with roads and paths. It was a pleasant park and walk, all very green and lush.
- In the river front Colonnade, we found an interesting restaurant for lunch. They did a very good and substantial meal of meat patties in mushroom sauce with mashed potato and salad, and some unique potato/cottage cheese dumplings with sweet fruit sauce.
Despite the rain we liked Ljubljana; much history, many attractive sites and easy to navigate.
Still in Slovenia, we went on to the smaller city Maribor, about 2 hours away, in the north-east. We'd be there for a few days including a visit to nearby Ptuj.
Maribor is a spread-out city, and the only accommodation we could find was about 3 km from the centre, necessitating some travel to get around town. But we did get a nice room, much larger than in Ljubljana, with en-suite and separate kitchen and dining. The city itself has an old town, but considerably less medieval looking than in previous places.
Some things in the old town were:
- The River Drava has a riverbank walk along each side. It's quite green and pleasant; many people walking, swans in the river, and some interpretive signs.
- The Judgement Tower is a round fortification on the riverbank that had been built and added to over the centuries.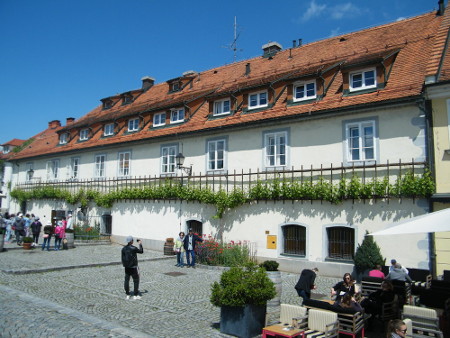 - An icon of Maribor is the "Old Vine", a centuries-old grapevine that is still harvested annually for limited release vintage. Inside the building is a small, free, mildly interesting wine museum.
- Rotovski trg is a city square with the old City Hall, and in the plaza, Europe's grandest, and one of few remaining, Plague Monuments. Slightly up again is Slomskov trg, with a grand Cathedral, garden square, and a statue of the man of that name.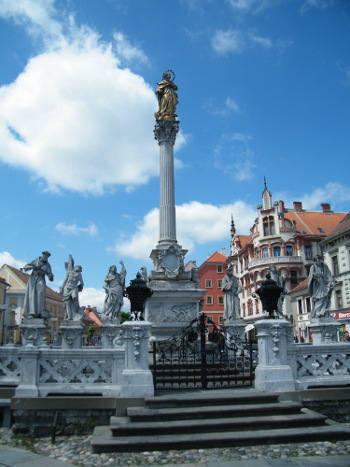 - The Maribor Castle contains the Regional Museum. In the museum we spent an hour or two being conducted through a dozen or so rooms mostly within the castle, viewing an interesting and informative, time consuming, but not overwhelming, series of historical and ethnographic displays.
The whole of Maribor's old town is reasonably compact, easy to navigate, pretty and a surprising amount of sites in a small district. It lacked the narrow souvenir-lined lanes, steps and fortress ruins of many of our previous places, but had its own attraction and charm. Almost everyone spoke English and were quick to help.
One day we would have a trial separation. Maggie would go to the Europark Mall south of the centre for some exploration, shopping and quality time. I would take off for a walk to a forest park in the north above the city. I enjoyed magnificent vistas from the top over the city, river valley and far hills. At the top was a small hilltop chapel, and back down to the north of the city was the beautifully landscaped Mestni Park with a band group playing in a gazebo.
We took a day trip by local bus to the nearby town Ptuj, about 3/4 hour away. Ptuj is a smallish historical town, with origins back maybe to Roman Mithra times, and much medieval, Ottoman and more recent history. We looked around the Old Town, viewing the Mestni trg with its City Hall and Florian's Column, Minoritski trg with the Madonna Plague Column and Minorite Monastery, Slovenski trg with the City Tower, Roman Orpheus Monument and St George Church, and the waterside Drava watchtower.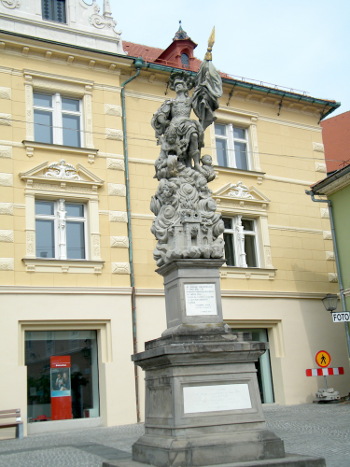 A wonderful surprise was that there was a festival on that day, mainly in the Minorite Monastery, with many stalls pumping local and regional food and delicacies, and a stage with continuous Slovenian music, song and dance performances. What a great event!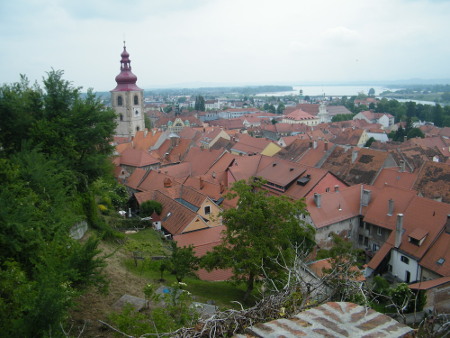 But the main attraction was meant to be the castle and museum, So we climbed up the path to the castle. It was not a really authentic looking or striking edifice, having been built and rebuilt over the ages in several different styles, but it had great views over Ptuj and surrounds and the river/lake. The castle's many rooms were mainly from the Hapsburg and Scottish periods, and exhibited armoury, musical instruments, a unique-looking collection of life size traditional carnival masks and costumes, furniture and decor, reverse glass paintings, and vast numbers of period paintings mostly of amusingly questionable quality.
Austria
And that was Slovenia. From Maribor on 20 May we took a bus for a 3-hour journey to Graz in Austria. At Graz around 12:30, the bus let us off in Webling, a seemingly desolate place near the edge of the city, with no real clue where to go from here. It took some juggling on buses back and forth before we found our Mini Hotel A, a nice enough place in an ethnically mixed suburb.
We liked our our 2-3 day stay in Graz, a compact easy city to get around in, much to see and considerable history. It was one of the few cities around to have escaped heavy WWII damage, and it shows. Having had weeks of Slavic culture, I was also ready for a change to the Germanic. Off-and-on rain pestered us a bit, but we marched on. Some of the more memorable places and points we encountered: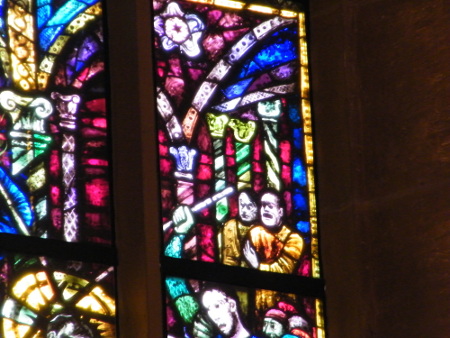 - The Stadtpfarrkirche, on the central street Herrengasse, is good but so are all the churches we'd seen. A quirk is a stained glass window containing images of Hitler and Mussolini watching as Christ is scourged.
- The Landaushof courtyard is a character-laden Renaissance era square surrounded by beautiful period buildings and statuary and a distinctively ornate historical well.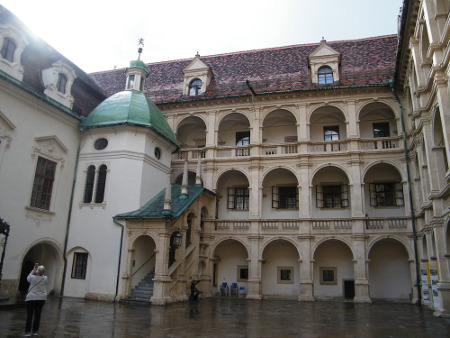 - The triangular open space Hauptplatz is the nominal centre of the city; surrounded by the grand olde Rathaus and shops, and centred by fast-food stalls and statuary. A small Christmas tree sits atop an incredibly tall pole.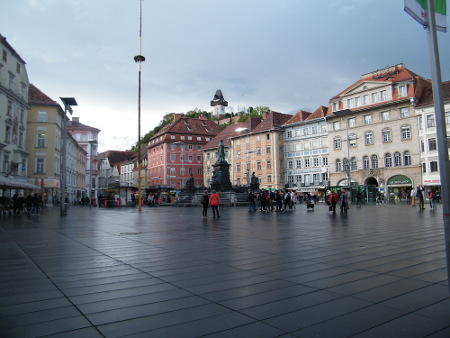 - The Glockenspiel is a carillon clock that peals out bells and moving figures daily at 18:00. It happened to perform on time just as we passed by, great!
- Across the river in maybe an arty district is the grotesquely edgy Kunsthaus function and performance centre, looking weirdly like a giant slug or a surgically extracted body organ.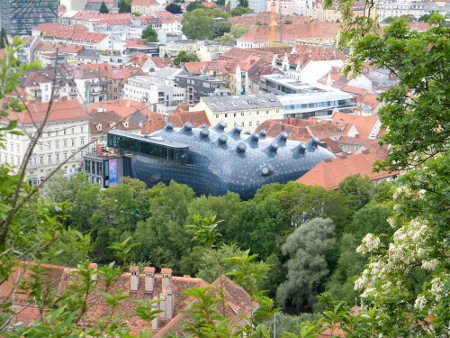 - Towering above the city is the Schlossburg Castle Hill. Predominant is the Urhturm, or clock tower, Graz's traditional landmark overlooking the city. It has been so loved by the inhabitants that they had actually paid Napoleon a large ransom not to destroy it. Atop the hill are many other sites too numerous to detail.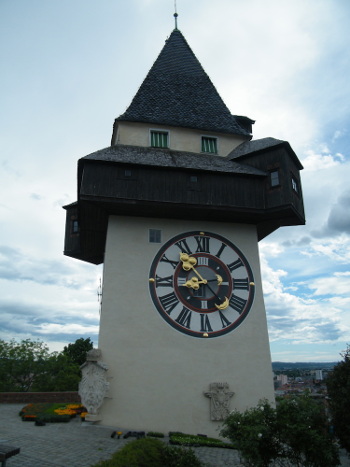 - Below the Hill are entrances to a labyrinth of tunnels. Inside are the start of a commercial fantasy train ride, a big fun-fair type underground slide, and a tunnel with a contemporary light-art display.
- the Murinsel is a small metal-and-glass artificial island; a "floating shell" in the middle of the river, with a cafe and amphitheatre, accessible by bridges from either bank.
- One one side of the Dom cathedral is the Landplagenbild, a centuries old mural painting depicting the three plagues: locusts, Black Death and Turks of 1480.
- In the historic Schauspielhaus is the iconic Double Spiral Staircase, a stone stairwell with two adjacent spiral staircases intersecting at each level; fun.
- Tasty bratwurst and, in our predominantly muslim neighbourhood, good koftas and adanas.
Overall we liked our our 2-3 day stay here, but now on to Vienna. A bus had us in Vienna Westbahnhof in 2.5 hours.
I'd been to Vienna, over 40 years ago, so it wasn't totally new to me. Our main purpose there was to meet our Polish friends Jacek and Eva who would be in town for the weekend.
Now in a much bigger city than Graz, and staying in an apartment across the river in the north of the city, we found everything too far away to walk and we had to get around by U-bahn. After finding our place and settling in, our first afternoon was invested in relaxing, doing laundry and a little grocery shopping for a home-cooked meal.
Vienna is a bit enigmatic in that there is too much to see, and not enough to see. Apart from St Stephens Cathedral and the Schonbrunn, there are many other sites and museums etc, but all relatively minor. I'll list some of the sites and quirks: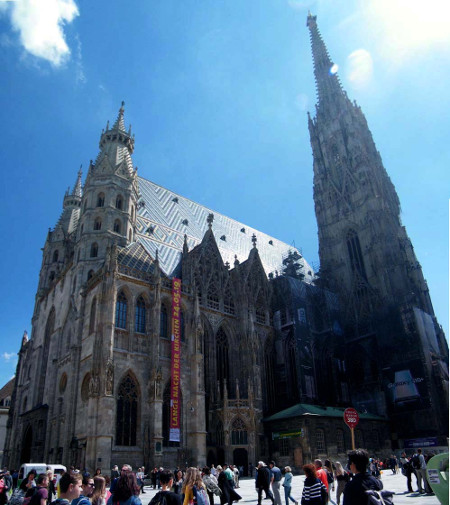 - The busy crowded Stephansplatz with St Stephens Cathedral at its centre. It is of course grand and impressive, both inside and out. But by now we were falling victim to the ABC syndrome ("Another bloody castle", "Another bloody cathedral", "Another bloody church") and failed to fully appreciate it.
- Vienna has its own Pestsaule Memorial, or Plague Pillar; quite an impressive one too.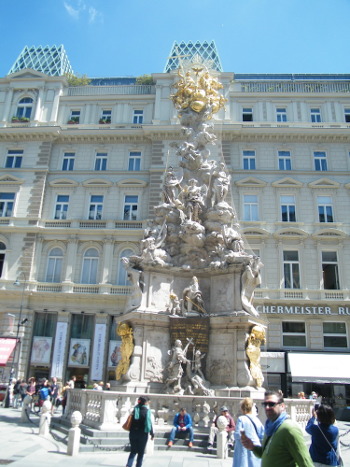 - It also has its iconic clock, the Ankeruhr, with its slow parade of dignitaries across the front of the clock.
- The Danube Canal is definitely not blue.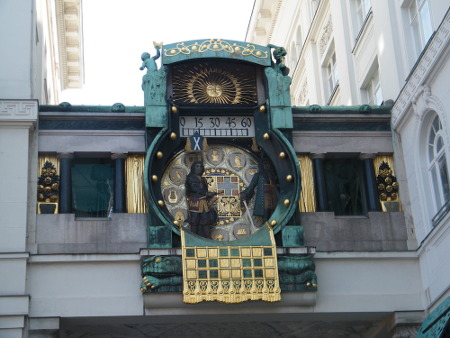 - The fabulously ornate Vitifkirche has stained glass windows depicting classical as well as more modern themes. One example was an image of Jesuits converting American Indians.
- One evening with Jacek and Eva, we took in a performance of Strauss and Mozart. The concert went for 1.5 hours, was performed by 5 instrumentalists and about the same number of soloists and singers/dancers. It was not really big-time, and they played mainly popular classics, but reasonably well done and quite entertaining.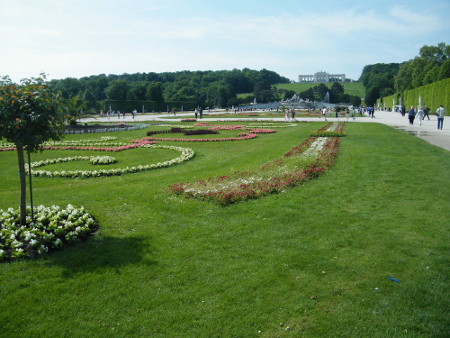 - Our foursome visited the garish and opulent Schonbrunn Palace in the south-west of the city. We walked the impeccably manicured grounds for the best part of an hour, right up to the "Gloria" columned structure on the hilltop at the far end. We did the palace tour aided by audio handset; the Hapsburg interior is as lavish as the grounds, too much to see to go into detail here. It was very crowded though, packed with tour group people and all moving very slowly in a crush.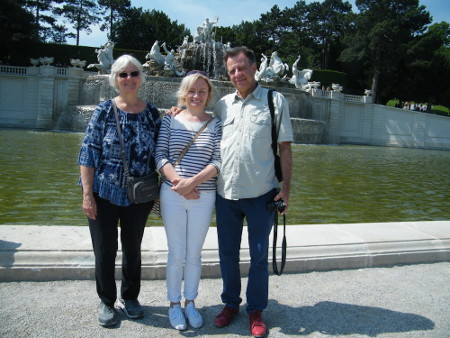 - The Am Hof plaza had a lively beer fest in progress, great to sit at outdoor tables sampling speciality beers and wursts.
- The four of us dined in gracious surroundings in plaza restaurants and street cafes. It is Vienna, so I got stuck into the schnitzels.
J and E had to return to Warsaw on Sunday afternoon. On the Monday 27 May we moved on by train - first class as a treat for Maggie - to Salzburg in the east of Austria. We had never been there before so it would be another all-new place.
We would be in Salzburg two full days. Unfortunately it rained most of the time we were there, and many of the activities took place under wet conditions. As we were about 3.5 km from the city centre, and we couldn't be bothered to figure out buses, we had a few soggy walks. Fortunately there was a Lidl store nearby where we could get groceries for home meals.
But we did get around quite a bit and did absorb most of what the city had to offer: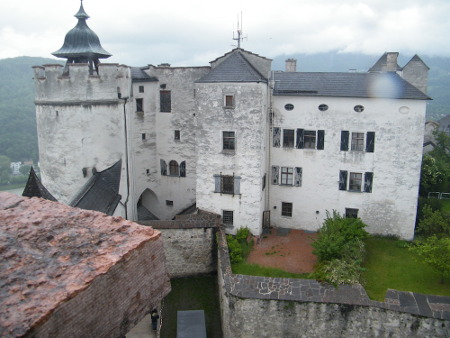 - The biggest and probably most important attraction is the Festung Hohensalzburg, the near-impregnable fortress perched atop the steep bluff above the city. It was about a 20 minute climb up steps and roadway. In/on the fortress were multiple walls, ramparts, viewpoints etc. A long climb up a spiral tower stair took us to a viewing platform with a 360 view over the town, countryside and hills. Inside are a number of small museums of various genres, including torture, marionettes, weapon/armour, medieval toys, etc. Below the fort in a field is a lone house, the executioner's residence; superstition dictated that it is bad luck to live near the executioner, hence the isolation.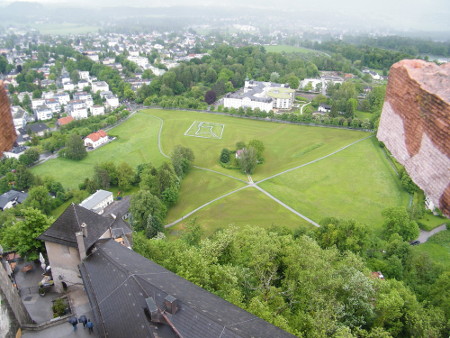 - The magnificent baroque Dom cathedral has a copper dome, twin towers and an ornate interior. The adjacent Domplatz features a square sculpture statue with religious figures; one corner has Michael (?) putting down Satan with a lightning bolt.
- The pretty and unintimidating Erzatbel St Peter is a 1300 year old abbey/monastery re-done in mainly baroque style, and with many ornate and fetching gravestones and crypts.
- Mozartplatz is home to the large Mozart statue, hard to admire in steady rain. Many buildings and other items around the city have the Mozart name.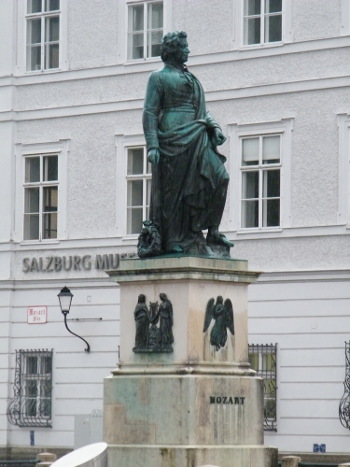 - Across the river is the ornate landscaped Mirabellgarten and the Schloss Mirabel. The garden boasts its signature display, the "Garden of Dwarfs"; a series of a couple dozen metre-high dwarf sculpture statues in various poses and with various accessories. The Mirabel itself has the most ornately sculptured marble staircase I'd ever seen, and the "Marble Hall" is said to be "the world's most beautiful wedding hall". In one of the castle rooms was a "Fair Trade" food exhibition, where we could shelter from the rain and sample some of the delectable delights.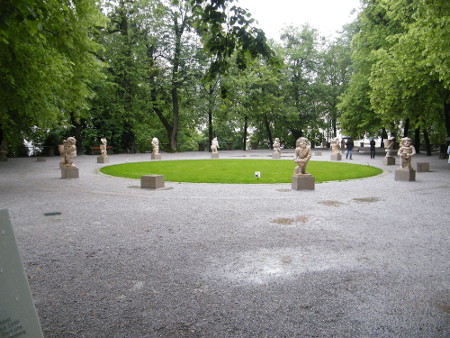 Salzburg was good, but would have been better if drier.
It was a good-size trip to get from Salzburg to Brussels, Belgium. We would leave at 09:00 for an 8.5 hour train trip via Munich and Frankfurt. Most of the trip would be on fast ICE trains. But the first train had an extensive delay, putting us in Munich about 5 minutes before the next train departed, necessitating some fast juggling and a bit of stress to board on time.
Belgium
But we made it and were in Brussels at 17.35 on 30 May, and in our digs there after 18:30. In a slightly seedy neighbourhood, our apartment was somewhat insalubrious and grotty, and internet was difficult, causing initial disappointment. But when the place was cleaned up and we started to appreciate the "community" nature of our surroundings (it's one of those "everyone knows everyone" neighbourhoods) we warmed to it. One positive aspect was that my laptop screen had crashed for some time now, but there was a tv in the room with an HDMI cable, so I could again use the computer.
We had 3 full days in Brussels; we meant to do nominal sightseeing but spend as much time as possible taking it easy and unwinding.
The centre of Brussels had been mostly demolished, maybe from war, and rebuilt. So it does not have so much of a historic old core as other cities we've seen. Nevertheless it does have quite a few interesting and historic sites. We had considered a trip to nearby Bruges as well, but decided against it; we'd seen enough "old towns" by now. Some of the attractions in Brussels were:
- Near the epicentre is the Grand-Place, a large crowded square with the tall-spire Town Hall building on one side. The square is alive with crowds milling about, sightseeing and photographing. Buskers are everywhere. Nearly all commercial premises seem to be souvenir stores, bar/restaurants, chocolate shops and waffle stands. You can hardly move at times.
- One museum was dedicated to the works of the 20th century surrealist painter Rene Margitte. It was quite a good museum to look at, some interesting works and not overwhelming. However I couldn't figure out some of the works, and to me the titles of the works rarely had any relevance to the work itself.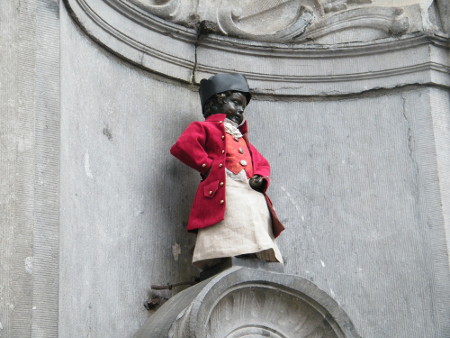 - Almost a symbol of the city is the small historic bronze statue Manneken Pis, an irreverent Brussels icon depicting a small boy urinating. In another part of town is the much more recent counterpoint statue Jeanneke Pis, this one a young girl squatting for the same purpose.
- From a distance we could see the giant shining multi-ball Atomium structure in the north-east of the city, but too far away and no desire to get up close to it.
- And Brussels has its own large ornamental clock with a recessed figure for each hour. On the hour, bells ring and strike the hour, and the figure comes out for a few moments.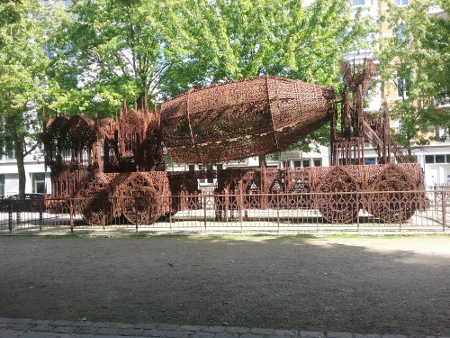 - Other sights? Well, a very tall statue of Michael defeating Satan, a full-size rusty steel filigree sculpture of a cement mixer and the unremarkable split-by-road Botanic Gardens.
- Belgian fries (with Mayo or special sauces) and Belgian waffles (with cream and sweet sauces) are two treats to try, good once but don't overdo them!
UK
We'd been on the road - or tracks - for over three months now, and Maggie had had just about enough of travelling, but we still had a week or two left. On 3 June we had another substantial day to get from Brussels to West Dorset, UK. At Brussels Midi Station we boarded a Eurostar train to St Pancras, leaving 08:56. The Eurostar was fast of course, stopping only at Lille and Calais, and taking around 2 hours. They advertised wi-fi on the train, and I'd been depending on it to do some things, but could not connect for the entire trip; frustrating. In St Pan about 10:00, I went to a nearby hostel and booked accommodation for the last two nights in London before our respective plane flights home. From there we entered the Kings Cross tube, swiped our new Oyster cards, took the Victoria line to Green Square and the Jubilee line to Waterloo, and boarded a train to Crewkerne. In Crewkerne station at 14:45, there was friend Sylvia to pick us up and take us to our B and B in nearby Ryall.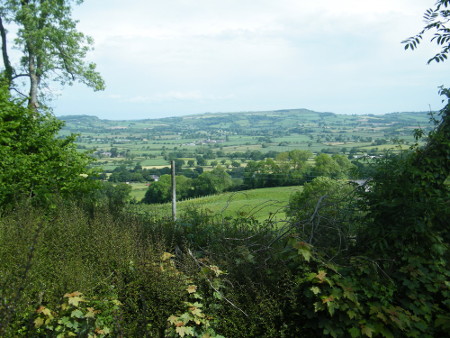 We deliberately allowed ourselves nearly a week in West Dorset, enough time to not be rushed, socialise with Sylvia and Malcolm, see a few sights, do a few activities, a walk or two, help out on the farm a bit, dine out with friends a few times, and generally psych ourselves up for the end of the trip.
We went on a tour of the small heritage Palmers Brewery in Bridport. It introduced us to the traditional brewing plant, equipment, and process. Great; very entertaining and informative, "Better than the Guinness tour". We got a beer and other tasting at the end also.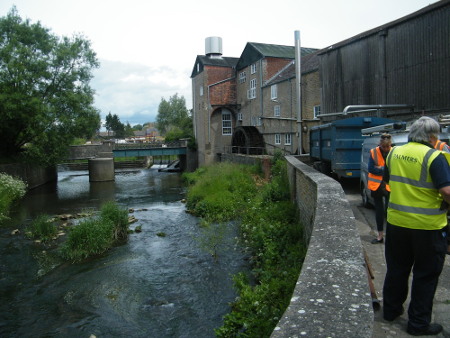 One day Sylvia took us to a dairy farm NW of Whitchurch and showed us a hi-tech robotic dairy milking operation. It was a huge dairy farm, with multiple large buildings, and multiple fully automated milking stations, in which the cows would enter at will and be milked without human intervention. A far cry from milking cows when I was a kid.
Near Beaminster, past Bridport, is the historic Mapleton Mansion and Gardens, in which we did a tour of the mansion and a walk around the gardens. The guided tour took us through several rooms of the mainly Tudor-era building. It was opulently constructed, decorated and furnished, containing dozens of paintings of portraits and sea battles. The landscaped gardens were well maintained, on a number of different levels and quite extensive.
Also near Beaminster was Mangerton, a historic grist mill and museum. The main attraction was an overshot water wheel running from creek water. The museum was two or three levels with a hodge-podge of tools and equipment, everything from lanterns to cream separators. Some interesting things were small seed drills, butter churns and a strange contraption with two rings and tensioning screws: a "horn trainer" for cattle horns.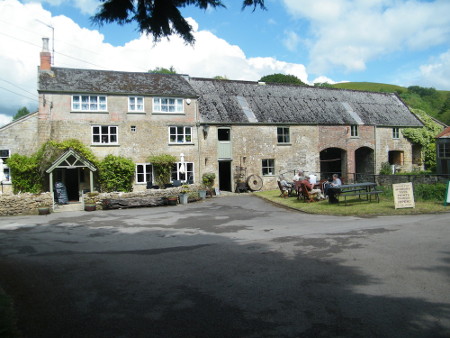 At West Bay, near Bridport, on the weekend we took in a Steam and Stationary Engine Rally. It was just starting to rain as we entered the fair, and Maggie suddenly was having a severe second-thought attack. "It's raining! I don't particularly like ag fairs! Do I have to stand around here for 4 hours in the rain? Why didn't I stay home? How can I get out of here?" Eventually however the rain did stop, and far from turning out as a washout, it became a very pleasant, interesting and worthwhile day. We saw vintage tractors - many I recognised from my youth, the stationary engine displays, a saw mill powered by a vintage tractor and rip-sawing a log into planks, a steam tractor powering a large wooden threshing machine, vintage motorcycles, vintage cars, a small display of bicycles up to 200 years old, vintage commercial vehicles and lorries, an impressive number of Land Rovers of various ages, and of course the stars of the show the steam tractors.
From Dorset we had to return to London on 9 May to be ready to fly out on 12 May. Sylvia took us to Crewkerne Station, sad goodbyes, and we were on a 11:22 train to London Waterloo. We were in our hostel by mid afternoon. It turned out to be the worst accommodation we'd had on the entire trip; very crowded and cramped, slightly grotty, washrooms not functioning well, and a dirty kitchen. But it was only for a couple of nights and we'd then be home.
We looked around parts of London a bit to fill in time, mainly the nearby gentrified Canal District, London Bridge, the Shard Building and Borough Market. Rain again made wandering a bit miserable.
When I was last in London, the famous "Gherkin" building was one of the biggest in it's area. Now it seems one of the smallest.
Interesting: Next to the Canal is an artificial turf seating area with many mainly young people sitting here drinking beer, chilling out and flirting. It seems to be a cheap meeting and pick-up joint, an alternative to bars (??)
So it's 11 June, and the end of the 3.5 month trip :-( We packed up, checked out, went to Kings Cross station and said our parting sorrows. Maggie took the Victoria line to go to Victoria Stn and thence a train to Gatwick and I took the Picadilly line to Heathrow. I was back in Sydney and home in the evening of 12 June.
It was a longish trip, maybe a bit too long for Maggie. But wow, what a lot we've seen and done!
So, where to next? Oh yeah, to Cambodia and Viet Nam starting near end July. Stay tuned.