Spain, Morocco and Portugal, April/May 2017
After our Europe trip in summer 2016, and our 2-week ocean cruise in November (no I don't do reports on candy-ass things like cruises), Maggie and I decided to do a relatively short, relaxed and hopefully low-stress 2-month trip in April/May 2017. Maggie is currently based in Winnipeg, Canada, and I'm in Sydney, so we planned to meet halfway, in Madrid. then we would spend (not necessarily in exact order) 2 weeks in Spain, 4 weeks in Morocco, and 2 weeks in Portugal.
So on 29 March I was on a flight from Sydney to Madrid via Ghangzhou and Amsterdam. There were long lay-over times in each airport, as well as long flights, so I was of course tired much of the latter part of the journey. In Guangzhou they provide free limited-time wi-fi; I was unable to use Skype there, but did manage to send off a couple of emails to Maggie. (Ironically, returning through the same airport 2 months later, I was not even able to send emails this time).
Mag was to arrive MAD from Canada ~1/2 hour before and try to find me at arrival gate. And there she was, reliable as always. An airport express bus and the metro got us in good time to the pre-booked Hostal Madrid.
Spain
We spent 2.5 days in Madrid, looking around parts of city and meeting our Polish friends Jacek and Eva who were here for the weekend. Weather was pleasant and the Sol district where we stayed was reminiscent of an amiable version of Paris' Montmarte.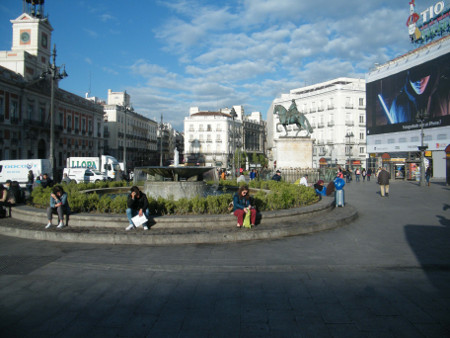 Among the sites and destinations in Madrid were the nearby historic Puerta de Sol with its Carlos II equestrian statue and the Km 0 road survey marker.
To the east of the city is the large Parque de Retiro, a beautiful stretch of grass, trees, ponds, broad promenades, monuments and sculptures. On the edge of the pond is a colonnade with an equestrian statue (everybody seems to have been on a horse in those days and there are dozens of them all over the city) of Alfonso XII. South of the pond is the Velasquez Palace and farther south is the Palacio de Cristal, a beautiful curved-glass building modelled on London's 19th century namesake. Further south is a rose garden and the dynamic Fountain of the Fallen Angel (believed to be the only known public monument to Lucifer).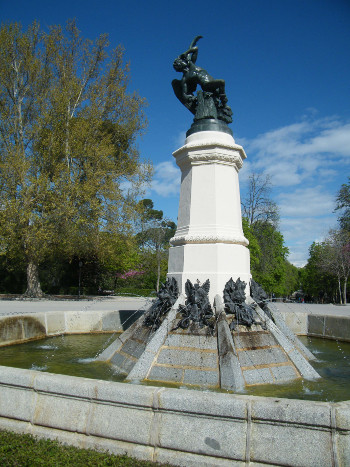 By great good fortune, our Polish friends Jacek and Ewa, were to meet us in Madrid and spend a day or two together. With them we visited the palatial (of course) "Palacio Real de Madrid". The palace interior had a great variety of ornate/opulent chambers, rooms and halls, many with ceiling frescoes done in grand religious motifs in a four sided, skyward-looking format. Paintings, tapestries and reliefs of all themes adorned walls, ranging from emperors to common people.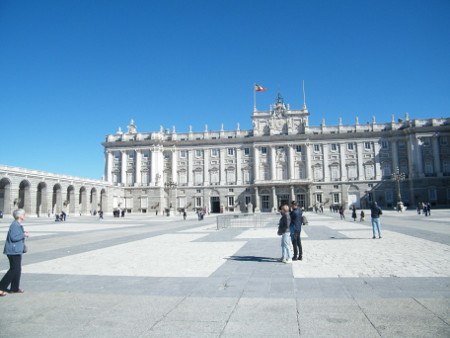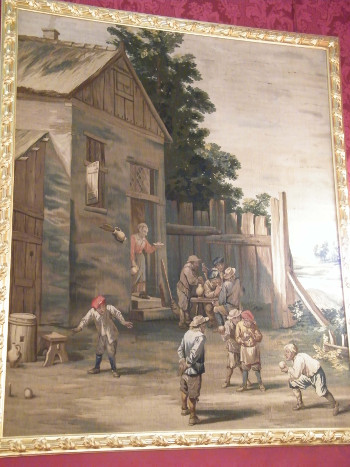 In the afternoon we would find our way to the south of the city to see a railway museum with its small but interesting hobby market.
Spain, at least Madrid, is a bit of a food trip, and we loved exploring markets, restaurants and cafes to try the wonderful paellas, tortilla espanioles, tapas and churros. A down side was that most eateries seemed to be light on fruit and vegetables. Tapas bars are a lively challenge, invariably so crowded and noisy that one must order and eat standing up.
The nearby La Mallorquina Pasticcerie and Restaurant was our usual breakfast venue, with coffee or tea and a pleasant "sandwich mixto con huevo".
One exception to the positive experiences was our first meal at a plaza restaurant with a selection of paellas and other fare, and a slightly swarmy aggressive waiter. The paella meat was tough, the Mosto "wine" was really grape juice, the rice watery, and a very persistent musician played for us and aggressively solicited baksheesh. I learned a lesson I should have known long ago; the more aggressive and persistent the waiter is, the more likely it's poor value.
Morocco
We plan to come back to Madrid near the end, but first we go for nearly a month in Morocco. We would start this country in the relatively laid-back ancient Berber capital Meknes before diving into the more touristy venues Fes and Marrakesh. This was to be a new country for both of us, so really looking forward to it.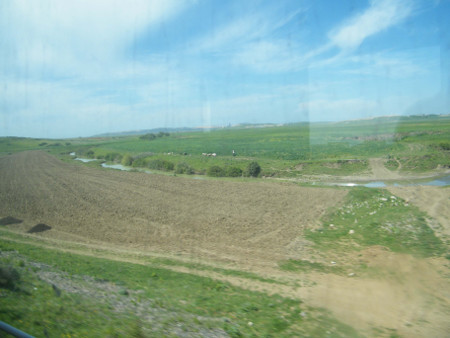 We flew from Madrid to Tangier, arriving around noon on 2 April, earlier than scheduled, positioning us for a quick taxi ride to the Tangier train station in time for the 12.50 train to Meknes. Maggie pushed for 1st class train tickets to Meknes, no problem as they were more comfortable and not much pricier. Views from our carriage evolved through flat coastal terrain, salt flats, beaches, farmers with sheep and donkeys in lush green fields, hills, wheat fields and orange and olive groves.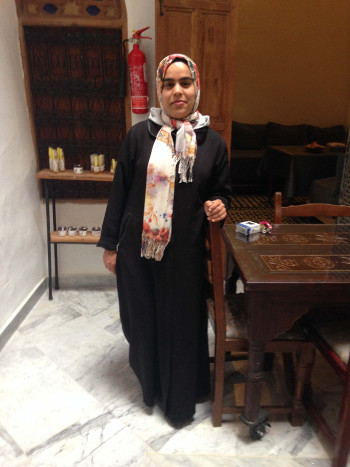 In Meknes station before 17:00, we were able to contact Fatima our host, grab a petit taxi, and meet her at Bab (gate) Berdaine near her B&B. Fatima's accommodation was a marvellously restored riad (Moroccan-style house). An excellent chef, she cooked several meals for us, tagines and accessories from paradise. We stayed for 3 full days here familiarizing ourselves with Moroccan culture and ambiance.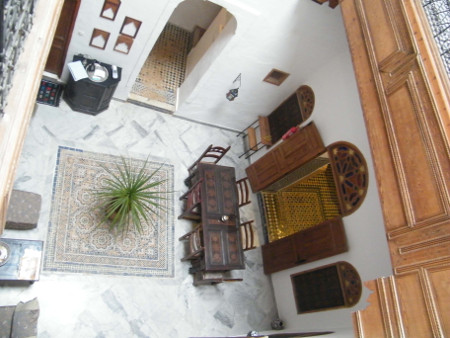 Meknes is an easy and satisfying introduction to Morocco. Though not as much visited as other Moroccan cities, it does boast an atmospheric medina (old city), many historic walls and gates, mosques, a Madrassa and other historic structures. Nearby are the holy city Moulay Idriss and the Roman ruin Volubilis.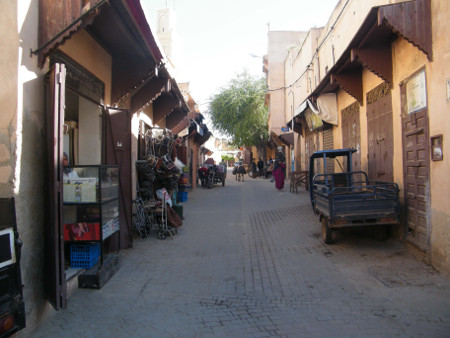 The first full day in Meknes was a bit frustrating. In the "Ville Nouvelle" we tried to buy and use Moroccan sim cards for our phones, but failed to get them to work that day. Also I wanted to get a bottle of wine for Maggie's birthday on 4 April, again without success. Only next day would we get the phones working and find some wine (interestingly grown right near the city in this Muslim country).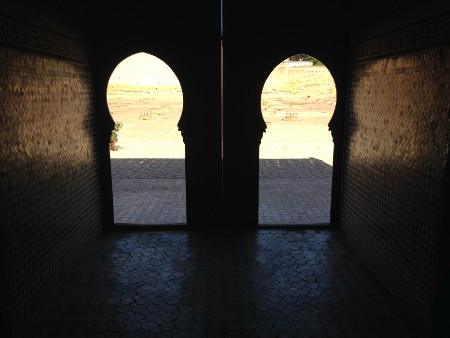 The 18th century "Prison des Chretiens Silo Cara" was where slaves and Christian prisoners were kept. Above ground is a pyramid-roofed antechamber where ambassadors would come to negotiate release of the prisoners. Outside was a stairway leading underground to a vast "dungeon" where the 60000 or so prisoners or slaves were actually kept in apalling conditions. The ambassadors never realized that their subjects were so near below them.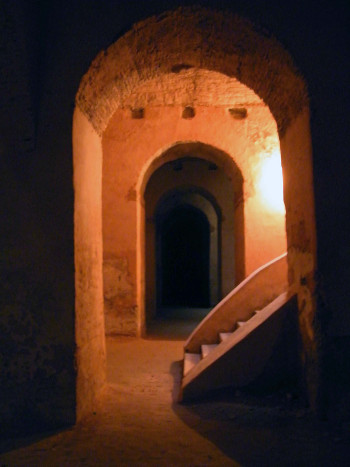 The 17th century "Greniers et Ecuries Moulay Ismail" is a complex of granaries and stables built by the 17th century second Alaouite sultan Moulay Ismail to house and feed his 10000 horses. They are a grand achievement, the voluminous granaries designed to keep a sufficient quantity of grain cool and dry for up to 20 years, and the stables covering a massive area. Massive cedar doors have survived since origin.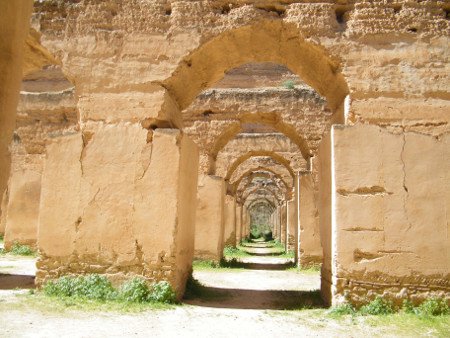 The "Medersa Bouanania" is a circa 1350 vintage madrassa (Islamic school), and is quite a beautiful building, with colourful mosaic tiles, carved/calligraphic doors and stone, a central courtyard with fountain, small student rooms, and a rooftop terrace with views over the medina.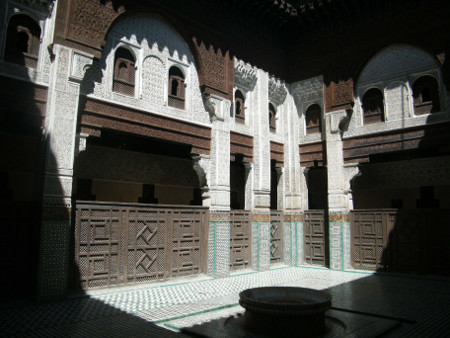 For Maggie's birthday, our host Fatima made up a beautiful chicken/vegetable tajine, couscous with caramelized onions and magic crunchy fried almonds, meatballs, salad, bread, olives and other condiments, and crackers and sweets. Incredible! We couldn't eat it all. The wine was a bit rough but OK; we polished off the whole bottle.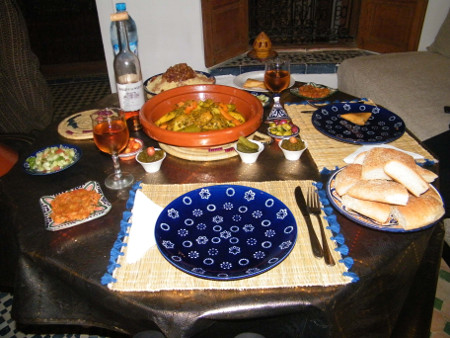 One day was reserved for a day trip about 20 km north to the sacred town Moulay Idriss and the ancient Roman SITE Volubilis. The ruin was the farthest west extent of the Roman Empire, is mostly a ruin with foundations and parts of walls, but some impressive buildings walls and arches still standing, and many well-preserved mosaic floors. We didn't linger in Moulay Idriss, as some sites are not open to us infidels.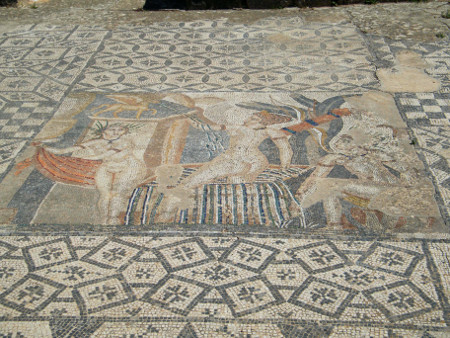 Meknes is a good intro to Morocco, more laid-back and less touristy than Fes or Marrakesh. people are mostly courteous and polite, with relatively little hard-sell. There is enough history to view for at least a couple of days or so. Food is fabulous.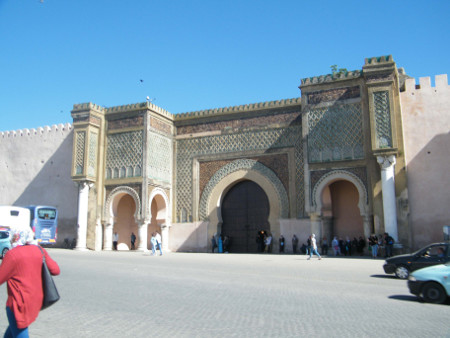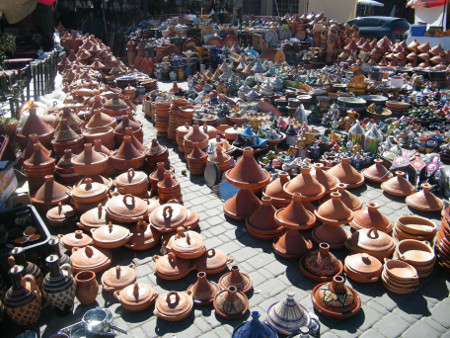 It's only an hour or so by train to our next destination Fes, the large and bustling former Imperial capital. We are in a comfortable place in the south of the city near Bab Djid, but only a few minutes walk to Bab Rsif and one of the medina entrances. Near here and the Place Seffarine (coppersmiths) it goes into the busy claustral medina, with narrow lanes and derbs, shops and stalls of all descriptions, covered by lattice-slat awnings.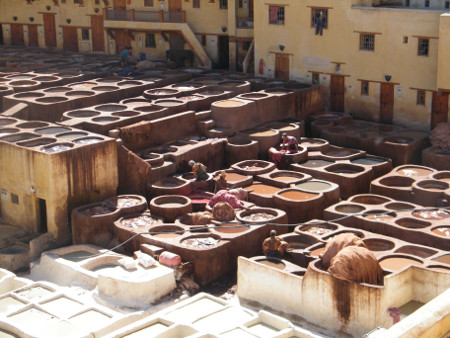 Our first activity on arrival was to go into the medina and allow ourselves to be led to the largest and most iconic of the Fes Tanneries. The tanneries are a large array of multi-coloured tanning/dye pits, with men working on the hide scraping, tanning and dyeing processes. They were a little like the pits I had seen in Kano, Nigeria in the 1970's. It was quite a sight, but not as bad a smell as expected.
The medina itself is quite extensive, taking some time to walk from Bab Rsif in the east to Bab Bou Jeloud in the west, longer if you get lost (easily done) in the many lanes and derbs. Some of the many souks, attractions and districts include the aforementioned Seffarine, Souk des Teintures (dyes), Souk Attarine (spices), Souk Henna, Souk de Cuir (leather), several mosques, a couple of medersas (madrassas), an intriguing "Musee des Artes du Bois", the "Dar Bath Musee des Arts Traditions", and an infinite number of other shops, stalls, resturants and tea houses. There are more hard-sell touts and wannabee guides than in Meknes, but all manageable.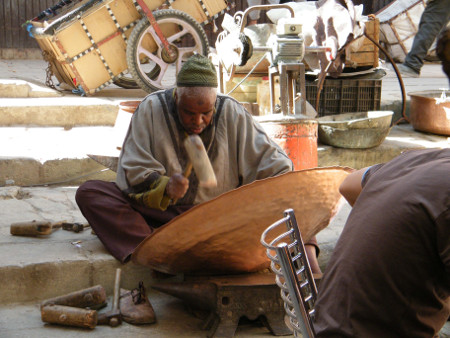 We found a small good reasonably-priced restaurant, Snack Malak, near our place to have most of our meals; usually hariri soup, salad, bread, a tajine and tea.
Maggie signed up and attended a Moroccan cooking class at the iconic Clock Restaurant; she was very satisfied with it and the creations tasted great. Meanwhile, I took a couple of walks just outside the city to explore hillside ruins and a couple of the Borj (citadels) overlooking the city.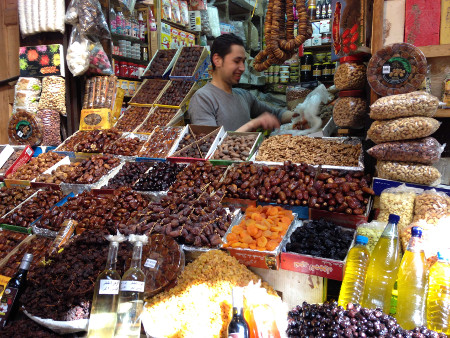 The former citadel Borg Nord is in good shape and now houses the Musee Militaire. It's a fascinating study of the evolution of weapons from swords and javelins through armour, archery, muskets, cannon through to bolt-action rifles and machine guns.
The Medersa Bou Inania is analagous to the madrassa in Meknes, but with its own differences. It has a large courtyard and fabulously ornate woodwork and stonework. However the upper levels are inaccessible.
The Far Batha "Musee de Atres et Traditions" was at the far (west) end of the old city, and turned out to be quite difficult to find. We find that locals are always concerned, whether from altruism or profit-motive, with lost ferangs, and always eager to give directions, but not often useful. The museum in a beautifully ornate 19th century Andalusian palace with an equally beautiful garden. Within are fine collections of ornate pottery, plates, embroidery, astrolabes, Korans and kilims.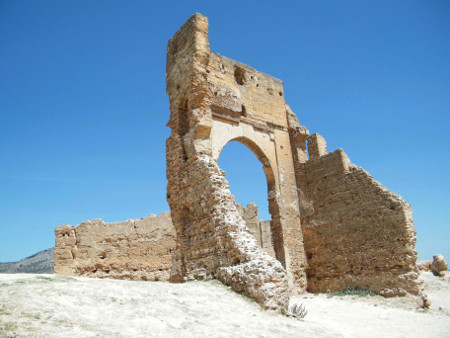 The Glaoui Palace in the south of the city, was the second home of the one-time Pasha of Marrakesh. With an atmosphere of "faded glory", it's in a state of semi-decay, but with still some impressive design, artwork and history. It is allegedly quite large, but the female guide showed us around only the central courtyard, surrounding rooms and the nearby harem courtyard and rooms. The woodwork, stone relief wall decor, and mosaic tiles were still impressive.

After about 5 days in Fes, we endured a night bus to the desert town Merzouga near the Algerian border. The road was paved all the way, and the ride was tolerably comfortable, and we almost slept. Maggie's only complaint was that the bus only rest-stopped twice in the 12 hours.
We had asked our b&b/hostel host Lhou to meet us at the bus stop on arrival, but he was nowhere to be seen. Fortunately Merzouga is not large, and we easily found our way the 200 metres or so to the hostel. Alibi? Another couple arrived at the same time as us and went to the hostel, and Lhou thought they were us.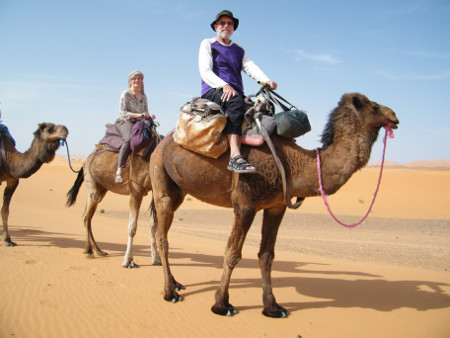 Merzouga is a hot dry dusty, but pretty in its own way, village sprawled out next to a massive stretch of sand dunes. There are lots of rough-looking buildings and auberges around, nothing really up-market or fancy; I guess it's hard to make anything ritzy out here. We spent two nights there, one of which was a night in the desert.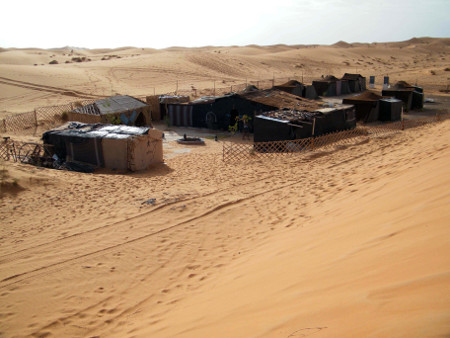 Our desert night was via a camel trek, setting off about 4 pm for a 1-hour Lawrence-ride across sand and kibble to the far (east) side of the dunes. Quite a beautiful trek, massive dunes around. I normally hate camels but tolerated them, and we weren't sore at the end. The main problem was that when a camel walks downhill on a dune, the rider almost falls forward over the beast's head.
Our camp was a surprisingly well set up group of tents and other facilities in a depression between dunes. We had our own tent with a bed, other tents and tables/chairs/couches for dining and common areas, and real live toilets. Staff whipped up a good feast of Moroccan food for dinner and breakfast.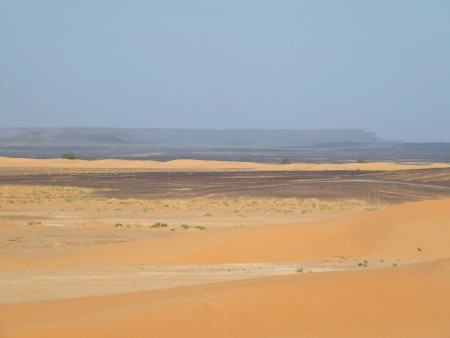 We were right on the edge of the dune field. Far to the east, deep into Algeria, stretched kibble desert and high escarpments, plateaus and hills. Amazing country! Annoyingly, there were also numerous SUV's and quad-bikes roaring around everywhere (Is nothing sacred?).
Most everything worked out well for us here; less so for an American couple with us. They had been reassured they could leave early in the morning to catch transport. But in the morning, no sign of their promised early lift back to town to get their 08.00 bus. They ended up having to come back with us and missed their bus; not in good moods. They later had to take a taxi to wherever.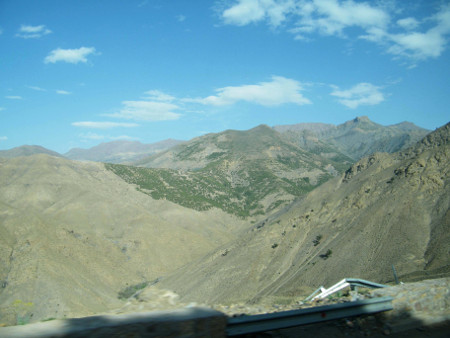 After 2 days in Merzouga, we took a day bus to Marrakesh, traversing flat kibble desert, hilly and rocky country, and subsequently up through the Atlas ranges.
Marrakesh is said to be "the heart and soul of Morocco", maybe not as big as Fez, but with a massive medina surrounded by equally massive city walls. The medina was divided into many dense and frenetic souks, each with its own speciality. There seem to be more tourists here, more crowded conditions, more commercial, touristy and expensive than Meknes or even Fes, and some of the hawkers and touts can be quite aggressive. The burqa-covered henna women are particuarly irritating, vise-gripping your hand and trying to paint henna before you can pull way. If you let them do it, they allegedly try to extort exorbitant fees off you. The call-to-prayer coming from the mosques several times per day is particularly in-your-face, quite loud and coming from all directions at once.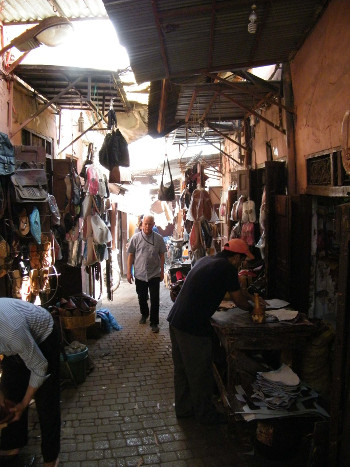 Around the northern extremity, we found the area of the Medersa Ben Youssef, and the Musee de Marrakesh. The museum exhibits Moroccan paintings, pottery, weaponry, embroidery and other artefacts. Of particular interest was the building itself, a former palace with a large ornate courtyard, huge UFO-style chandelier, tiles, wooden doors, and a multi-chambered bath-house.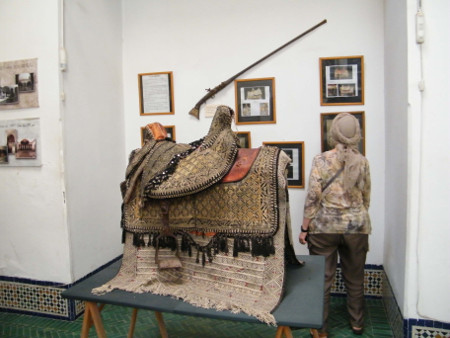 Apart from the frenetic activity of the medina and souks, the city outside the walls is rather pleasant and pretty. We visited the lavishly pretty Majorelle Gardens, partly built and improved by Yves St Laurent, with native and exotic plants from around the world. Also worthwhile was the Saadian Tombs, an approx 500 year old funerary complex built by the Saadians Abdalla al-Ghalib and Almad al-Mansur as a tomb for the father Muhammad Shaykh and extended family members.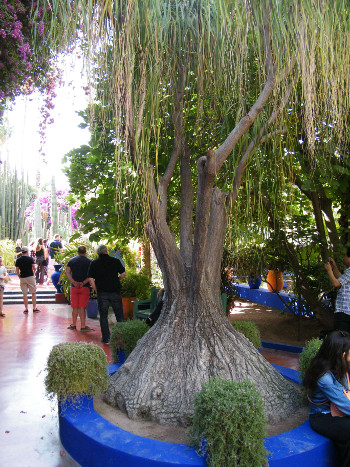 An unconventional experience hit us one day as we exited the medina via the somewhat rough district of Bab Mousouffa. We chanced across a small group of people, including police, beside the street. They seemed to be in intense discussion as though investigating a crime. Then we noticed a few feet away, alone and unattended, a man lying on his back, no shoes, face bashed and bloodied. No-one was near him, totally ignored for the moment, no ambulance or anything. He must have been dead. Something weird about the whole scene, and slightly disturbing.
Before coming to Morocco I had wondered about the difference between Fes and Marrakesh, and which of the two is better to see. Despite the high prices and aggressive touts, Marrakech is a lively and enjoyable scene. However I would prefer Fes as a destination; slightly more pleasant and less touristy, and maybe more points of interest.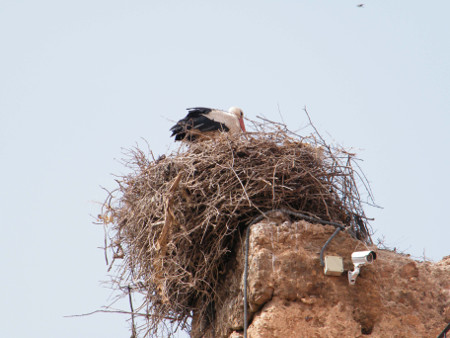 After 4 full days in Marrakech, we moved on for 5 more days in Essaouira on the coast. It's a comfortably small historic city that had been a major shipping port in its heyday and boasts impressive walls and ramparts as a result. It's quite a groovy place, especially the B&B we stayed in, full of hippy/Rastafarian-types and good vibes. We had some really enjoyable times with Pierre and friends jamming with guitars etc.
The medina here is great, in that it's as varied and interesting as ever, but easy to get around in.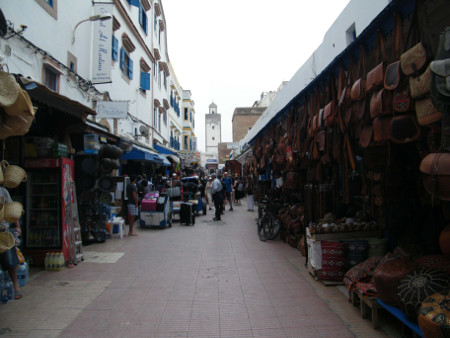 Port Sqala, the historic access point to the city, overlooks the fishing port and surrounding rocky islands. We explored the fortifications with its ramparts and many Spanish and French cannon, and got good views and pix of the bastions, city, surrounding rocky outcrops, and beach.
Nearby is a good swimming beach which we used on one or two occassions. One day we were able to rent bicycles and ride out in the countryside (scrub, sand dunes and eucalyptus trees).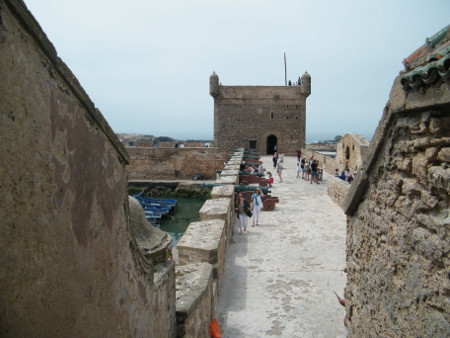 Food was great in Essaouira. The B&B breakfasts were the best so far on the trip. One Friday we met Pierre to go for lunch at the local restaurant Omar's. This was the day they and other places do traditional special couscous meals. We had a lassi-type drink and two chicken/vegetable couscous meals. The couscous was done in a their own unique way, made with stock, raisins, herbs/spices etc.
Another day was at the Italian-themed Dar Baba Restaurant. No terrace, no high-pressure hulk at the door swarming us to go in, just a nice interior room at the top of a stairs, with an Italian woman waiter. We had a large beer, 2 red wines, green salad, meat ravioli and fusili gorgonzola. It was a magic meal in intimate ambiance, totally enjoyable.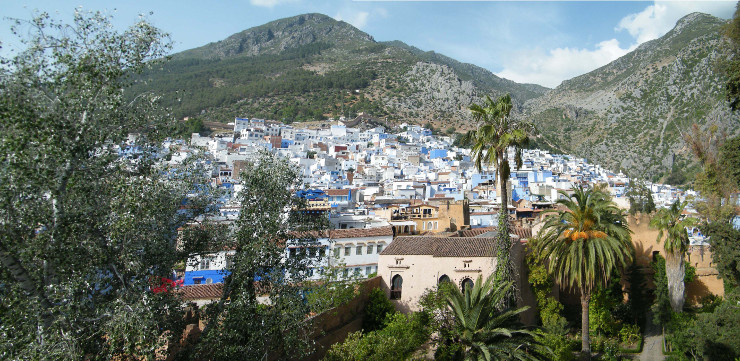 Chefchaouen, "the Blue City", was well worth the 3-day stop. Despite its name, many of the buildings are only partially painted blue, not as completely blue as say Jodhpur. Cool and foggy in the morning, it takes a while to come alive, but the sun and the ambiance kick in later in the day. In the afternoon, the shops and stalls opened up and the plazas became lively and vibrant. The medina is quite steep and hilly, but not large, and easy to find one's way around. One can navigate well just by knowing whether to go uphill or downhill. Vendors are not as aggressive as in larger cities (except for the plaza restaurant touts). It's a laid back and relaxed place, one of my favourite locations in Morocco.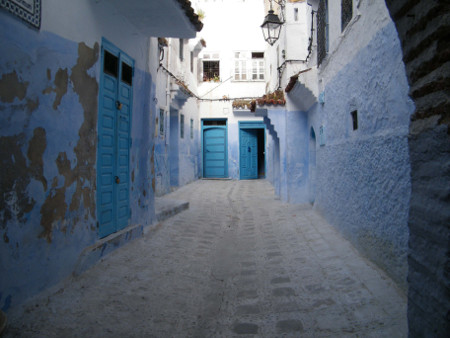 There are interesting walks up into the nearby hills to hilltop mosques and higher into the mountains. One day I went out to explore walks in the hills outside the town. I found my way past a rushing stream, out the north side of town, up small paths to the base of the mountains, found a way up a steep narrow valley between two hilltops, clambering up steep and rocky slopes for some distance higher and higher, not knowing how far to go, just looking around successive corners and passes, "a little bit farther".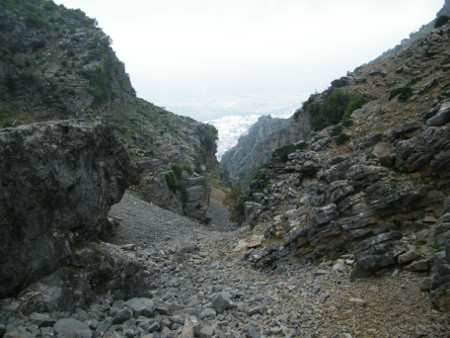 Finally arriving at an increasingly rocky slope, not far below the cloud line, I decided that it was becoming too risky for sandals and there was not a lot else to see, so I turned back down the way I'd come. It was maybe an hour or so walk up there and back. Back on a relatively horizontal path, I continued east to a small mosque on a hilltop that we had earlier seen. From here were great views of the town in its blue grandeur and surrounding countryside. From this mosque, a rougher path continued about 20 minutes farther along and up to another higher hill on which was another larger, more active mosque. It was a pleasant walk with fields in flower, crops ripening and shepherds and goatherds tending their animals. I arrived there just as a call-to-prayer was starting to blare out. A fairly steep path wound back down to a road and back into the town.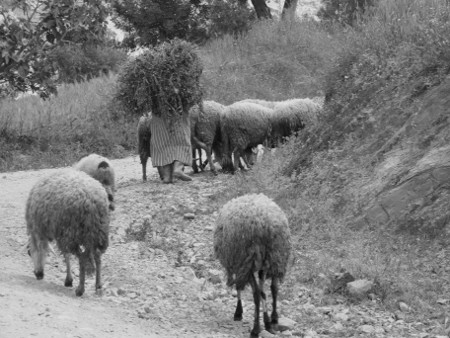 Next day Maggie decided to come on a walk with me to some of the places I'd been the day before. We found our way up a well-used steep but not difficult path up to the small mosque. It was a good walk, better because of all the Pokemon that Maggie was finding. That had been our objective today, but it didn't seem much of a challenge. Maggie, knee not giving a lot of trouble, and always one to take the bullet by the horns (yeah whatever...), couldn't resist continuing on up the more difficult path to the higher mosque. Again, in perfect weather, it was an enjoyable walk.
And yes, Chefchaouen has stalls that grind and pour out remarkably good fresh-squeezed stream-cooled orange juices.
Goodbye Morocco! It was great; could have spent more time there. Favourite place in Morocco? Hard to say, but probably one of the less prominent locations such as Essaouira or Chefchaouen; these places are pleasant, not so many tourists, and much to see and do.
Spain (return)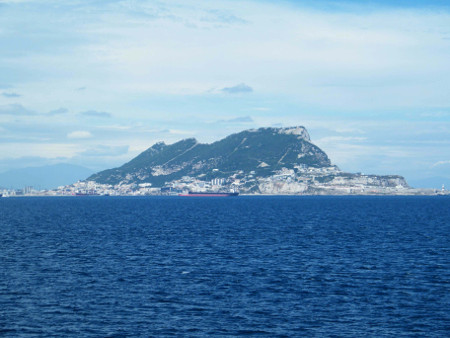 On 28 April, we had to endure the long, uncertain and slightly stressful journey from Chefchaouen to Cordoba, Spain. Up at 05:30, we caught a bus to Tangier, a share taxi to Tanger Med, booked a ferry for noon to Algeciras, Spain, found the ferry is 1.5 hours late, arrived Algeciras at 17.00, missed the Cordoba train we though we'd get, found a bus to Seville, took a taxi from Seville bus station to train station in the rain, a train from Seville to Cordoba, and a taxi in the rain from the train to our Cordoba hotel. Sometimes not sure if we'd get there at all, we arrived at 22:00. How's that for a long day travelling?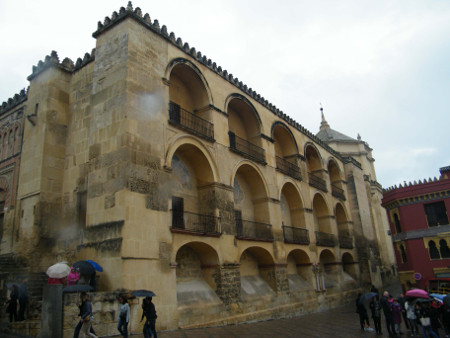 Tired as we were, we couldn't resist going out to a nearby taberna to celebrate with a couple of drinks and a near-midnight snack.
We spent 2 full days in Cordoba. It rained off and on for most of that time, but nevertheless Cordoba is a pleasant and interesting city to spend a bit of time in. The first day was dominated on the first day by Cordoba's greatest attraction, the vast and ornate Islamic/Christian Mesquita Cathedral (compensation for not making it to the fully-booked-forever Granada Alhambra). The cathedral (a mosque before being converted after the Christian takeover) is a massively proportioned edifice taking up a large block amongst the tangle of small streets. It is noted for its impressive array of hundreds of red/white striped columns topped by Roman-inspired double arches, a central cathedral, ceiling paintings and designs, and many naves around the outside with Christian paintings, releifs and tapestries. Outside is an impressive bell tower and orange-grove garden.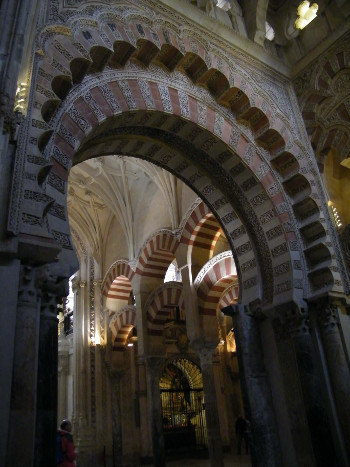 Also worth while is the Musee de Bellas Artes, an interesting fine arts gallery with good paintings and sculpture, mainly classical/religious, but also some good modern art.
An iconic Cordoba dish is stewed bulls tail, good but a bit heavy and not something to eat every day.
It's only a short train ride to Seville, where we spent another 2.5 days.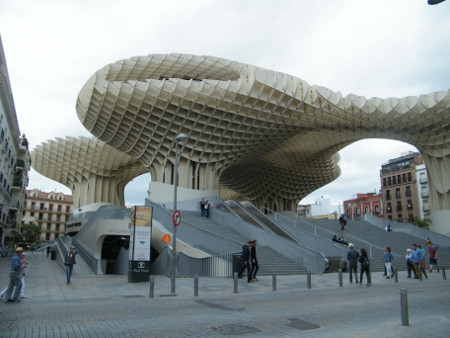 The Seville "Feria de Abril" fair was on at the time and, as this is the Flamenco capital of Spain, women walk around in beautiful flamenco dresses and men in their traditional suits known as "el traje corto". During our stay we attended an authentic Flamenco performance, really good I thought, but not to Maggie's taste.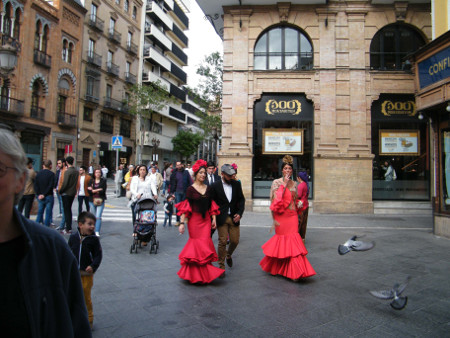 The Plaza de la Encarnacion near the city centre has a giant wooden multi-mushroom sculpture, which people could ascend to the top for views. It was built to re-vitalize a plaza, but it clashes like mad with the traditional buildings surrounding.
One of the main sights in Seville is The Seville Cathedral Giralda. The cathedral was converted in the 13th cent from a 12th cent mosque, and more-or less completed in the 16th cent. It was meant "to be so great that those who saw it completed thought madness seized us". It really is a bit mad, much over-the-top ostentation, the tallest tower of its time and the world's largest Gothic church. It's up-to-here with (mainly Christian) art masterpieces, arches, ornate ceilings, altarpieces, stained glass, the Columbus mausoleum, and Islamic construction and ornamentation.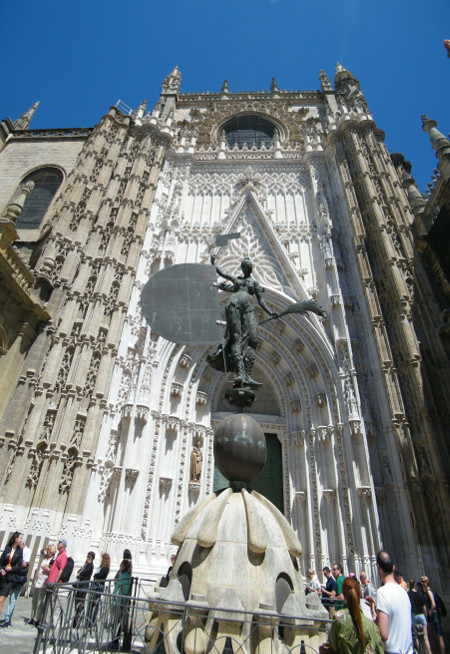 We also visited the Real Alcazar palace and fort, commenced in AD 913 by Abd al Raman III and much added to since then. It is a huge complex of rooms and courtyards and a vast ornate garden, with a combination of Islamic, Gothic, Renaissance and Baroque styles. We spent a good couple of hours here, but are starting to feel a bit of architecture/art overload. Only so much we can absorb at a time.
Portugal
From Seville, another brand new (for us) country: Portugal. A bus took us along the Algarve coast, through farmland and low hills and the towns Tavira and Faro. About 13:30 on 3 May we were deposited in the coastal town Lagos in the south-west of the country.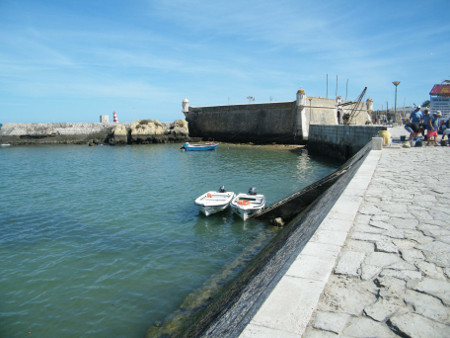 Lagos has a pleasant "holiday" atmosphere, many shops, souvenir stands, restaurants and bars, but little hard-sell. One of the main souvenir standbys seems to be cork-veneer purses and handbags in varying quality levels. Weather was perfect, sunny and low-mid 20's. Not hard to spend a few days here, we had 2.5 days.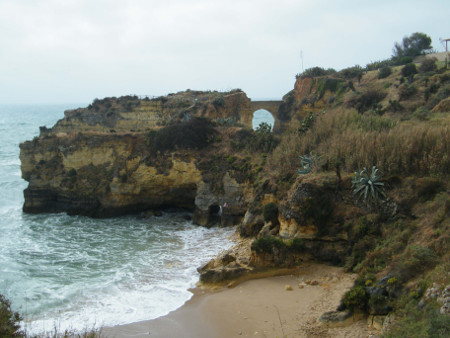 Lagos has a pleasant waterfront, the usual historic churches, historic city walls, a fort over the shore, beaches (good swimming even in spring weather), a harbour breakwater and a small but interesting Municipal Museum.
Also of interest was the Slave Market Museum. Lagos established a slave market for Europe. During the 15th century, slaves were captured and transported from Africa, brought here and sold. The museum is situated in the very building that housed the slave market and deals with the history of the slave trade from the 15th to 19th centuries.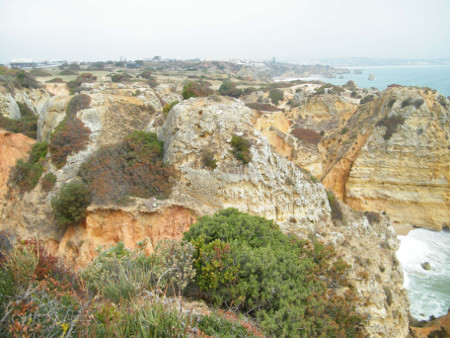 One day I did a walk to explore the shoreline south of the city. The coast here is very rocky with steep paths over and around the headlands, many wave-bashed rocks, arches, grottoes and small beaches. Quite rugged and pretty. I walked to the south point and lighthouse, and then farther around to the west some distance more, before coming back to the road and to town. All up, a pleasant and scenic 3+ hour walk.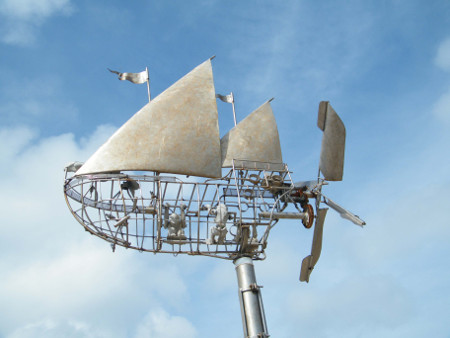 It's about a four-hour bus ride to Lisbon, mainly hilly country and many cork-oak trees with their black cork-stripped trunks.
Lisbon, the capital of Portugal, is of course a large city, and much less "personal" than Lagos. Rather than the usual BnB, we stayed in the Petala Hostel, slightly old and ragged, but comfortable enough. There is a lot to see here in Lisbon, and we easily occupied all of our five nights there.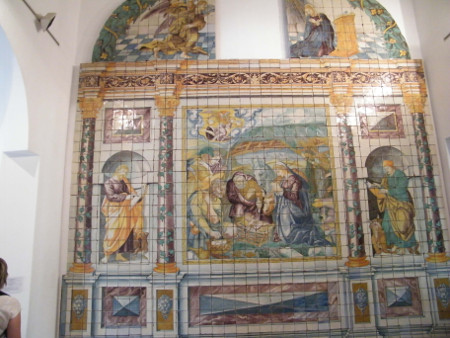 The "Museu Nacional do Azuleijo" is a large museum, with many rooms, dedicated to the display and history of Portugese ceramic art from Islamic times to contemporary. The Azuleijo ceramics were and are used as wall coverings and in place of paintings or tapestries. Subjects are varied from geometric shapes to religious art, to hunting scenes, to modern art. There was so much that we were saturated after a couple of hours.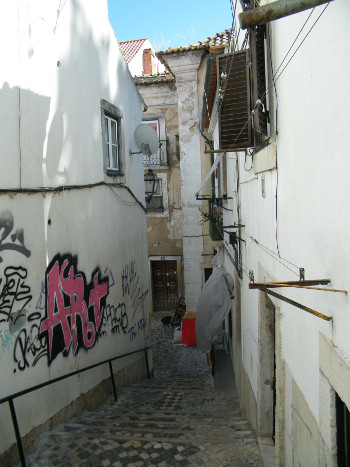 The the Alfama district is a captivating labyrinth of steep streets and lanes and traditional buildings, very picturesque. Nearby are a couple of scenic miraduros (viewpoints) overlooking the city and the nearby hilltop Castelo de Sao Jorge.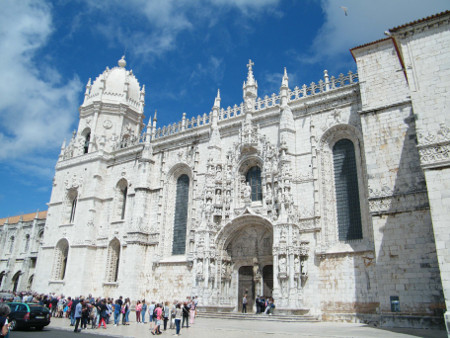 A good day trip in Lisbon is a tram ride to the western suburb Belem. Belem is the site of departure and return for early Portugese seafaring explorations during the period of the discoveries. The tram terminated near the "monstrous?" Mosteiro dos Jeronimos, built in the ornate Manualene style by (who else) Manuel 1, and dedicated to the patron Saint Jeronimo. Its interior is spacious and relatively clean and spartan compared to the facade and to other religious edifices. It contains the tomb of Vasco de Gama, the empty tomb of King Sebastian, a sculpture of Henry the Navigator, and ornate triple arches and gargoyles. At the west end of Belem is the Torre de Belem, also commissioned by Manuel I. It watched over departing sailors. A short distance back east, also on the shore is the massive and more modern (1960) Monument of Discoveries, depicting sculptures of Prince Henry the Navigator and other noted explorers.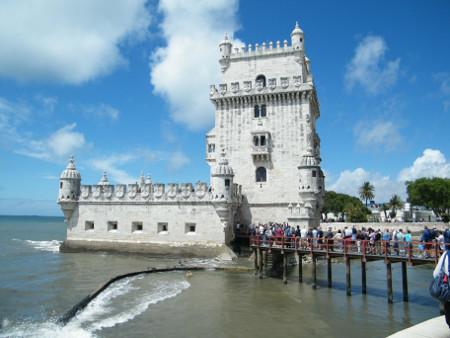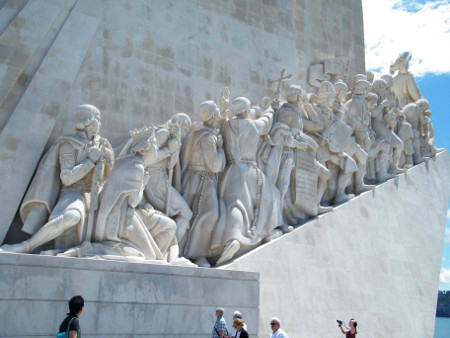 One evening we took in a pricey but good fado restaurant performance in one of the upscale Alfama venues, the Casa de Linhares. The restaurant is in the two remaining rooms of the Linhares residence that was mostly destroyed in an earthquake in 1755. They are dim dungeon-like chambers with brick vaulted ceilings and gloomy but attractive atmosphere. It was quite an up-scale establishment, as evidenced by the elegant decor, gourmet fare, attentive waiters and hefty (but probably no more than Sydney prices) bill. We thoroughly enjoyed it. The food was delicious (we had two kinds of soup, salad, very tender Iberian pork dish, pudding, apple cake and green tea). Wine was a nice rose. Fado musicians consisted of two string players (one of whom sung as well), and four fado singers, one male and 3 female. They usually played for about 15 minutes at a stretch, then retreated to the other room to perform there while the waiters attended to our culinary needs. The talent was very accomplished and professional. Singing and service were at an unhurried pace, but we never felt like we were waiting, and the evening stretched out until well after 23.00.
Near the Rossio train station is the classic 19th century Elevador de Santa Justa, built in a sort of Jules Verne style, that can whip you up about 9 stories to an upper level. We got good but rainy views from the top terrace.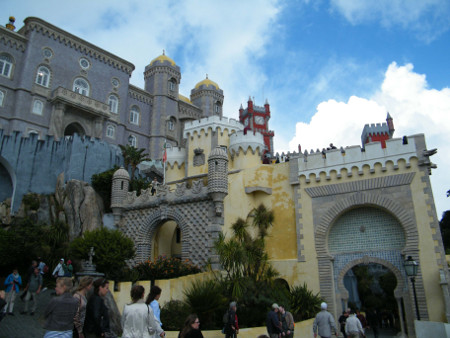 After leaving Lisbon we headed up for two nights in the hill town Sintra, about an hour by train from Lisbon. It's one of these touristy but pleasant places, green and scenic and historic, easy-going and relaxing, and worth much more than the usual day trip.
The Five House BnB Hostel in Sintra was one of the nicer digs on our trip, pretty and in pleasant surroundings, and friendly helpful hosts.

About 3/4 hour steep (650 metres) walk up the massive hill above Sintra is the Palacio de Pena. We entered the palace gardens below the Pena Palace and explored some of their ornate expanse before approaching the palace itself. Pena Palace is mostly a 19th century creation, a conglomerate of garish and opulent "Disneyesque" styles, mind-boggling in its clash of motley architecture and furnishings. It was developed over about a century from the 1820's by Dona Maria II, Don Fernando II and Countess of Edla. Apart from the overwhelming architecture and interiors, we got great views in all directions from the multiple terrace miradors.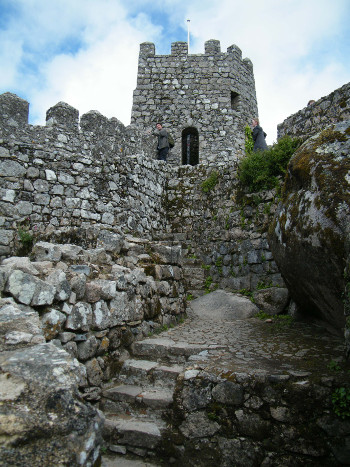 Nearby and below the palace are the imposing ruins of a Moorish Castle, a 10th century fortress ruin. It's principally a largeish complex of walls and ramparts keystoned at one end by a tall donjon and at the other maybe a couple of hundred metres away, a higher lookout tower facing the Pena area. I found it a rough and fascinating fort with a lot of latent history and mystique, and again great views.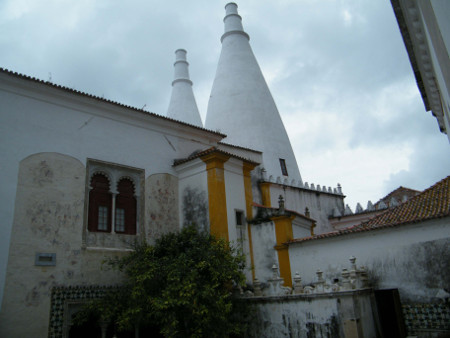 In the Sintra historic town is the The National Palace, visible from afar by its two massive white conical kitchen chimneys. The palace began life as a primitive Moorish fort, extended and improved from 1281 to about the 16th Century. The palace was built multi-level to fit the contours of the land, and is a conglomerate of rooms, patios, courtyards and a compact but multi-level series of gardens. Of particular note are the distinctive and ornate ceiling paintings on many of the rooms, from which said rooms derive their names, e.g. Crown, Mermaid, Magpie, Swan and Galley.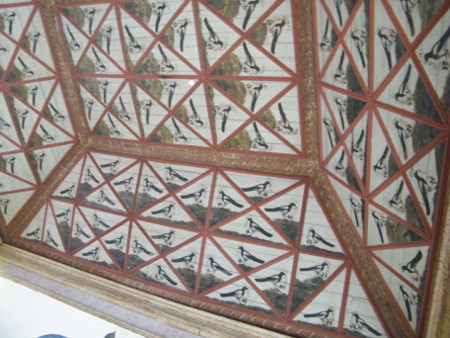 To the east of town is the Quinta da Regaleira, a large and beautiful, but much more modest, building than the National or Pena palaces, and surrounded by a large multi-level garden. We started, while the weather was good, to explore the garden; a maze of roads and steps leading up and down to all parts of the gardens, many portals, fountains, walls, wells, grottoes and trees. Of particular interest were the many grottoes and the tunnels linking some of them. I liked the "Initiatic Well" a 27 metre deep subterranean well down which one could descend via a monumental spiral stairway. In the main mansion are a number of elegant halls and rooms, most of the work here being done from about 1840 to 1936. The finish and decoration/ornamentation were nice, but we were starting to get saturated by now.
Next, we did three nights in the highly-contoured university town Coimbra. We ended up staying some distance up the hill above the main town, and tired ourselves out a bit from repeated climbs down to the city centre and back up.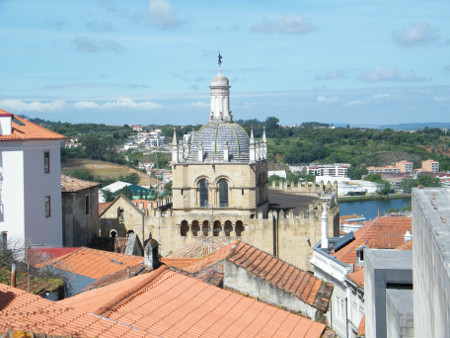 In the Mercado area is a combination elevator/funicular to hoist passengers up the considerably steep and high hill to the university area, saves a heavy walk.
Along the top street near the university is the Machado de Castro National Museum/Roman Cryptoporticus, a surprisingly huge covered/underground Roman ruin, partly a foundation of an amphitheatre or something, with many passages, vaulted arches and rooms; Wow! The other part of the museum was an endless series of rooms exhibiting all ages of sculptures, tiles, releifs, religious motifs, artefacts and paintings. It was great but again a bit too much.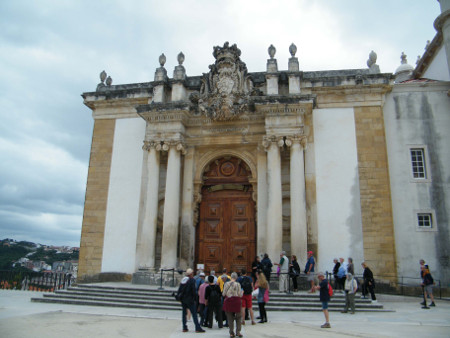 The "Universidade Velho" has both a new "fascist" section in the south, and an older, more aesthetically pleasing "Old University". Through the "Iron Gate" there is a large plaza enclosed on 3 sides (view on other), fronting a library, chapel, tower, great hall and other buildings.
Below the university, down hazardously steep lanes, is the Fado Au Centro, a small performance venue for fado music, where we caught a 6 pm concert. It was quite good, and better value than the costly dinner/concert in Lisbon. Two instrumentalists (Portugese guitar and classical guitar) and two male singers did songs and instrumental pieces for an hour. Coimbra fado is sung only by males, and is themed on serenades to loved ones, graduation celebrations, and on "honour". We thoroughly enjoyed it, including the glass of port at the end.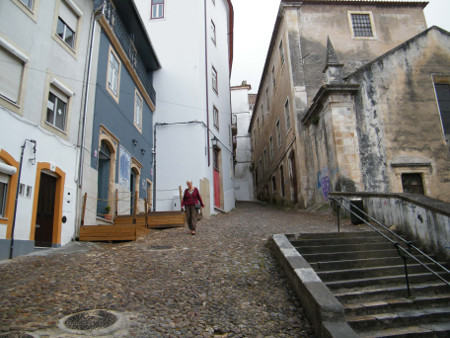 Across the river is the "Portugal dos Pequenitos" a commercial miniature park containing models of buildings, furniture and people. The park is in four sections: 1-small buildings with museum exhibits of artefacts from each of the former Portugese colonies, 2-miniature reproductions of iconic architecture from around Portugal, 3-similar from the Coimbra area, and 4-miniature houses from around Portugal. It was all good, but not great, a little confused looking in parts, and probably built mainly to appeal to children.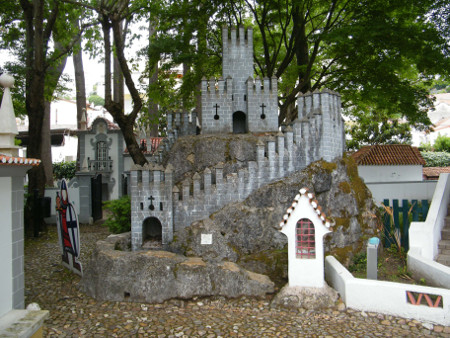 Coimbra was a nice enough place, but maybe less enthralling than some of our previous destinations.
Having heard good things about Porto, we allowed 5 nights there. It's another hilly city, with consequent tiring up-and-down walks, but lots to see and do here and again much history and architecture. We stayed in a very nice BnB, big, newish, bright and attractive; one of the best we've had.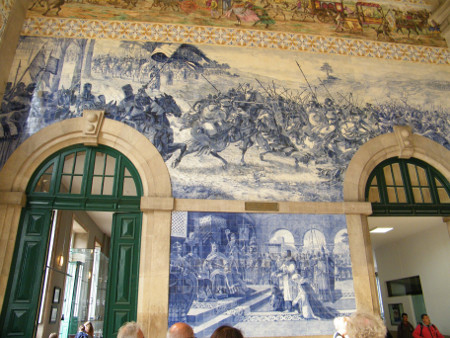 High on the list of sights is the grand and ornate Bento train station, one of the most famous in Portugal, lavishly decorated with elaborate murals in azuelijo tiles; stunning.
The Lello Bookshop is famous for its unique intersecting staircases that inspired JK Rowling's Hogwarts, but much smaller than expected.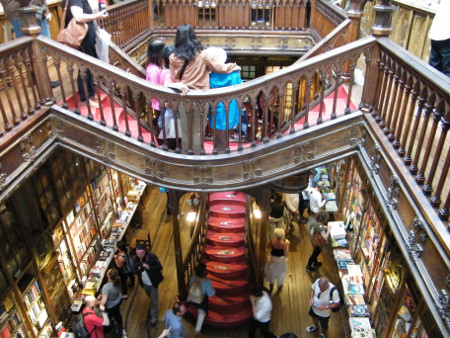 On the south side of the Duoro River are many port merchants, some big names and some small, I think mostly controlled by British interests. We explored the area and picked a smallish winery for tasting. We could get 4 glasses for E10, one each of a white, rose, ruby and tawny, and sit down to enjoy them. They were the basic ports, but all good in each its own way, They also threw in a couple of smaller free tastings. We had intended to visit 2 or 3 wineries, but that would be enough for the afternoon.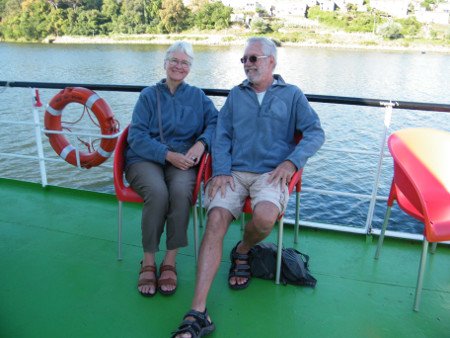 Porto has as usual a large number of historic churches and cathedrals, and we visited several of them, but at this stage we're becoming somewhat "churched out".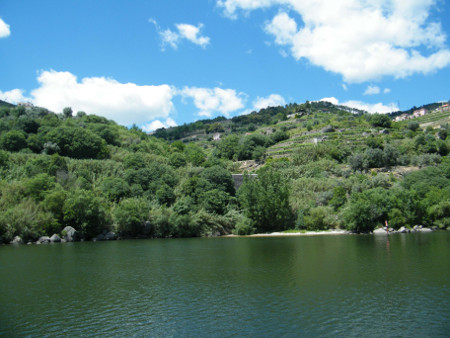 On day we did the Douro River cruise, several hours by boat up the scenic river into wine country, ending at the port (wine) town Regua, and back to Porto by train. Starting at 08:00 or so, we boarded a medium size river boat and commenced with a simple on-board breakfast. I had heard about the river as being full of port wineries all way. But there were surprisingly few vineyards, only starting in earnest near the end of the cruise in Regua. We passed through mainly semi-urban, town and farmland districts for the first while, then eucalypt plantations, then increasingly hills as we entered the vineyards. The boat passed through 2 locks as we went up, one, at 35 metres, being the highest in Europe. We had a big lunch about noon: red wine, orange drink, soup, bread, roast beef, potatoes, real cooked vegetables and cake. The boat finished the cruise in Regua at 15:00. After a brief look around the not-very-exciting town, I left Maggie to read while I took an hour walk outside of town, across one of the river bridges, and out on small country roads looking at vineyards and views. We organized the train and were on the way back at 17:20. The tracks followed much of the river valley back to Porto, covering much of the scenery we saw on the way up. We made Bento station at 19:00. It was quite a pleasant and enjoyable trip.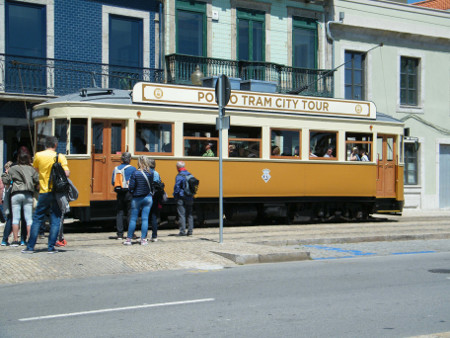 Our last Porto day was a trip by an old tourist tram to the river mouth and beaches to the west of the city. The beach district was not memorable, the best part being the trip itself as the tram clunked and lurched slowly along the riverfront rails.
All through Portugal, we couldn't get enough of the wonderful Portugese tarts. Food in general was good to fair, sometimes greasy and with a frustrating lack of vegetables. Especially intriguing was the Francesinha, a hefty sandwich filled with several different types of meats, smothered with cheese and an egg, in a tomato sauce with fries; it was so big and filling we only tried it once.
We'd been in Portugal about 19 days. I found the country rather agreeable; not all that wealthy and a bit run-down in parts, but amiable people, good atmosphere, and lots to see and do.
Spain (once again)
It's 21 May. As we will fly home from Madrid in about 10 days, we head back into Spain for the third and last time. Before we head to Madrid we are taking in two more cities in Spain, Barcelona and Toledo. Maggie didn't feel like an 18-or-so-hour bus trip from Porto to Barcelona, so we flew that leg, arriving BCN at 16:30.
I had advised that we would try to get to our Barcelona BnB about 18:00; wishful thinking. Distances between everything at Barcelona airport were lengthy and took a lot of walking. It even took a long time to walk and get our luggage. Then more walking, found info on transport, had to find a shuttle bus (a long way) to T2, find the train, take the train to Clot station, transfer (more walking) to a metro to Sant Marti station, and then a short walk to our BnB. By the time we arrived it was 19:10, over 2.5 hours from landing.
Barcelona was one of our "must" destinations, having heard so much about it, and we allocated 4 nights here. It was good but not quite up to the hype. We had booked accommodation late so were in a fairly drab part of the city. The iconic attraction, "La Sagrada Familia" was in one district of the city and all other sites elsewhere. It's mercifully flat, but a lot of walking is involved, even when getting to and between metro lines. Having said that, there is a lot to see and we did generally enjoy it.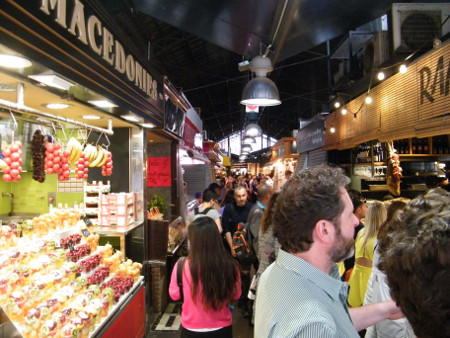 One of our first activities was a walk from Catalunya Plaza along La Rambla street and surrounds to the waterfront. The Pl de Catalunya is in the midst of an ext(p?)ensive name-brand shopping district, full of people and life, a true centre and focus of the city. It boasted multiple fountains, sculptures, statues and an idiosyncratic upside-down-staircase monument. Along and near Las Ramblas are several sights and features, including:
- a Roman necropolis excavation site, populated by several stone graves
- the Baroque/Renaissance-style Betlem (Bethlehem) Church
- the lively La Boqueria Market; everything from tapas to fish, but impossible to get a seat. We got takeaway to eat outside the market
- The Liceu square, with imaginative mosaics, an ornate umbrella-themed Chinese-style building, S Marea del Pi church, and a grand Opera house
- the Gaudi-designed (it looks it) Palau Guell apartment block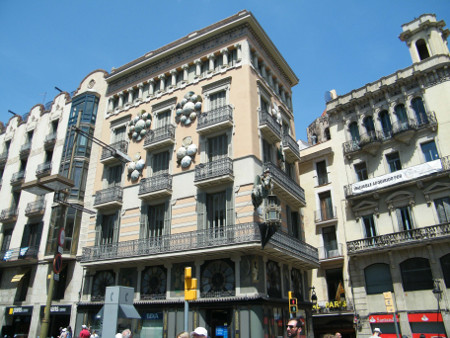 - Barri Xines neighbourhood (formerly a "Chinatown"), with its odd "human statue" performers and rough character
- the 200-foot Columbus Monument, where the guy stopped on his way back home.
That was quite an interesting and enjoyable (and tiring) walk.
Next day we explored the historic Barri Gotic district, not far from the walk we did yesterday and with a high concentration of sites in a small area. On the way there we stopped at the Arc del Triomf, a smaller but still impressive version of the Paris landmark. In Barri Gotic proper, we could knock off sites in quick succession; all good and worthwhile but nothing spectacular, including: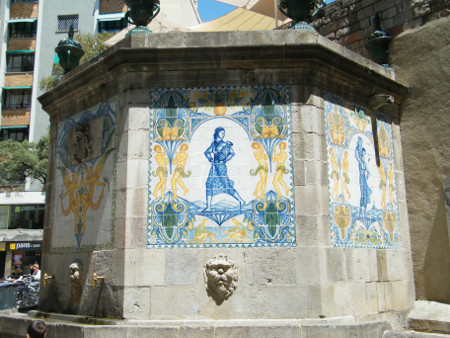 - Placa del Rei, a square surrounded by buildings that housed royalty
- Catedral de Barcelona, a large Neo-Gothic religious institution with an ornate interior and an impressively tall spire
- the Martyr's Statue, commemorating 5 Barcelona patriots who resisted Napoleon and didn't survive his justice.
- the ornate two-level 1920's era Carrer del Bisbe Bridge, connecting two buildings over a narrow lane.
- A Jewish Quarter that doesn't look particularly Jewish.
- Roman Temple of Augustus, the remains of a Roman temple with four large Corinthian columns that have survived and been restored.
- a 17th century fountain with tile frescoes of water-carrying women.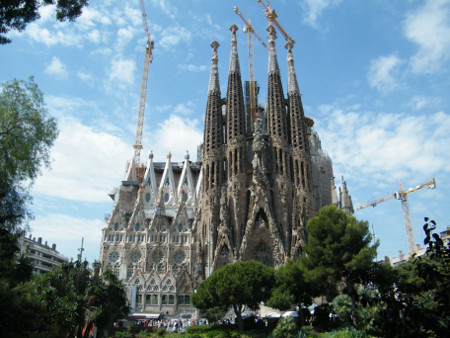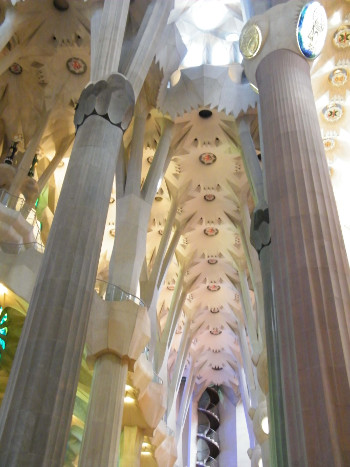 Barcelona's signature is of course La Familia Sagrada. It is still not completed (maybe never will be) but much work has been done to progress it in recent years, all apparently trying to stick to Gaudi's plans, inspiration and style. The exterior is pretty much as expected from pictures. In addition to Gaudi's Nativity Facade, there is now the stark and angular Passion Facade on the opposite side. The Glory Facade, which is intended to be the main entrance, has only a bronze door at present. The interior has been significantly completed and it is HUGE. Particularly striking are the impossibly tall tree-themed columns holding the ceiling arches. The central spire has yet to be built. We spent an hour or so exploring, including the barely-worthwhile elevator trip up to a high level in one of the towers. A museum at the end of the tour showed exhibits of design and construction style, as well as history of construction. Well, I guess we can say we've seen it, and suppose it's worth it.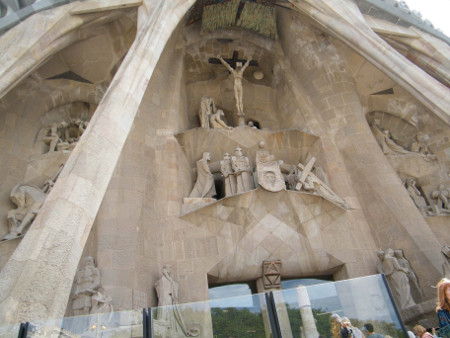 The Guell Park in the west of the city is Gaudi inspired and has many associated themes. It however didn't live up to expectations; we simply spent an hour or two walking the park paths and getting views of the city and surrounds from the miradors, and I walked up a rocky path to a hilltop for great 360 views.
Trains in Spain are European calibre, fast (around 200 kph) and expensive (nearly 200 euro for the two of us from Barcelona to Toledo). But it did get us to Toledo before 09:00 on 25 May. Toledo, to the south of Madrid, is a hilly but pleasant "holiday-atmosphere" town full of narrow lanes with long overhead awnings, shops, restaurants and Madrid day-trippers. It is noted for it's steel (artisan shops with swords and knives and suits of armour) and marzipan (shops with fancy cakes and treats). We had 3 nights there.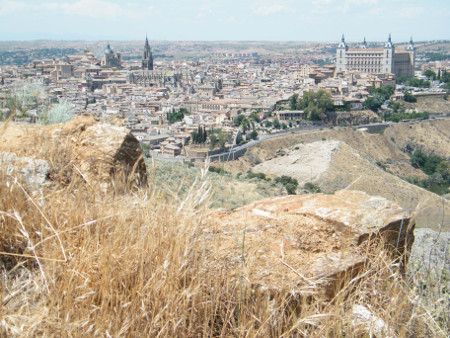 I liked that I could walk out of the town, across the River Tajo and straight into rough dry hill country to explore and see the views. The small bluff Cerro del Bu sat directly above the river, had stratified ruins of ancient installations etc, and the first good views of the city. Farther south was a range of hills with faint paths, grass, scrub and more good 360 deg views, of town and distant countryside. The countryside is extremely dry, and you can smell it on the yellow brittle grass; fire hazard high. The grass has a billion sharp spiky seeds, all itching to attach to something and migrate. Temperature was in the high 30's C, hot and thirsty.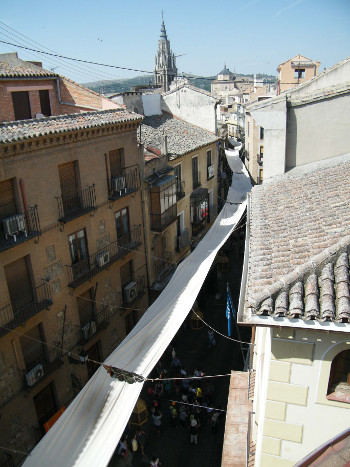 Another pleasant walk we did together was down to the river and around the town downstream, part of the long Camino Tajo trail; tranquil riparian scenery and many sites with old ruins of fortifications, buildings, bridges and sluice gates. At the San Martin Bridge in the west part of town, we climbed back up into the Jewish Quarter, passing Synagogues, the Monastery of San Juan de los Reyes, the Shepherdic and El Reco museums, Church of Santo Tome, The San Clemente Cultural Centre (a very good and free modern art exhibition), and through various lanes and plazas back home.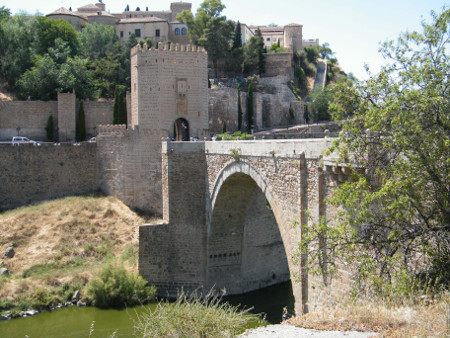 The Alcazar (meaning Army) Museum, located in the huge square former fortress overlooking the river, is said to take 4 hours to see. We both went in but Maggie had enough after only a short time and went on to do other things. I stayed on and saw pretty much the whole museum, an endless display of mainly Spanish military history and exhibits. There was everything from spears to a helicopter, even entire rooms with just toy soldiers. It took forever to see everything; glad to get out of there eventually.
Toledo also has a large and impressive cathedral, but at this stage of our trip we've OD'ed on churches so didn't spend a lot of time in it.
So now we have just 3 nights in Madrid before the end of our trip. A one-hour bus trip had us back in the big city on 28 May. We did not have a lot un-done from our first time here, and mainly relaxed and re-visited sites and places we had seen nearly 2 months ago.
The Museo Nacional el Prado, actually an art gallery, was one of the main things we hadn't yet seen.
The Prado is Spain's premier art gallery, not as big as the Louvre in Paris, but displaying a large number of excellent quality Spanish and other European masterpieces. We had to stand in line for some time, but got in about 11:30. We were there for over 4 hours; finding it extremely worthwhile time spent, and not even feeling tired (me anyway). It was just small enough to experience most everything without being overwhelmed. We were enthralled by works of Velasques, Rubens, Goya, El Greco, El Bosco, Ribera, Boticelli, Raphael, Caravaggio and many others. Highlights included Velsaquez's Las Menitas, Goya's Second of May and Third of May, and a couple of studies (one by Goya and one by Rubens) of the God Saturn dining on his kids.
And that was our trip. On 30 May we were aboard aircraft on our way back to Australia via Paris and China. Owing to idiosyncrasies with ticketing, Maggie and I were on separate flights part of the way, but we met up in Sydney no problems. Thanks to friends Coralie and Alan for meeting us at the airport.
It was overall a good enjoyable trip, and I was favorably impressed with my two new countries Morocco and Portugal. Mainly because we travelled at a relatively relaxed pace and stayed sufficient time in each place to not be stressed, Maggie thought it was one of the best trips we'd done.
No definite plans for next trip yet. I'm still trying to catch up with life at home as I write this.