Asia Overland and Europe 1976-1977 (Part 1)
Living as a migrant in Sydney in the 1970's, many of my friends were also from somewhere else. I would be fascinated by their tales of travelling or working in Asian or African countries. I must try it myself sometime.
I decided to go back to Canada after about 3.5 years in Australia. Must go back home at least once to make sure it was the right choice to leave in the first place. (I would return to Australia in 3 years time, proving that I had indeed made the right choice to go there.) As long as I was between jobs, I might as well take an extended holiday and try the fabled "Asian Overland" trip from Bali to London.
I was putting my notice in at work, and a colleague about my age said "That sounds like a neat thing to do. Wish I could try something like that."
I said, "You can. Just quit like I'm doing, and come along". So he did, and I had a marvellous travelling companion.
Indonesia
(Click for map)
So on November 13, 1976, armed with backpacks and a (prototype?) Lonely Planet guidebook, Julian and I were on a Garuda DC8 from Sydney to Denpasar airport in Bali, Indonesia.
Apart from a few days in Fiji some years earlier, this was my, and our, first taste of an exotic destination. Bali was all we'd come to expect, an exciting cacophony of noise, crowds, activity and congestion. As would be the case for the next several months, we were met on disembarkation by the usual accommodation touts. They took us by motorbike to Kuta Beach, where we got into a basic losmen (small guest house) for a bit less than a dollar each with a small breakfast.
Kuta, even in those pre-Mac days, had large numbers of Western, largely Australian, travellers. Kuta, and to a lesser extent nearby Legian, was exclusively devoted to travellers losmen, local restaurants (thankfully no western fast food yet), bars, souvenir shops, hustlers and hawkers. Our first meal was a fried potato dish for about 250 rp (the rate was about 410 rp to 1$US), and a wonderful (the first of many) fruit/crushed ice drink.
No air conditioning made for a hot sleep, and the roosters and dogs start their opera in the middle of the night. But hey, we're on holiday, so no problems. A secluded beach is an oxymoron in Bali. As soon as one hawker is chased away, another comes. Everything is available from drinks to carvings to massages.
On the second day, we decided to check out Denpasar . The bemo (pick-up truck taxis) touts nab us almost as soon as we leave the losmen, "Denpasar? Denpasar?" They're incredibly cheap, about 10 cents for 10 km. Bird repellent streamers fluttered in the breeze over rice paddies, giving the countryside an atmosphere of a used car lot.
Denpasar was our first, and a somewhat typical, Asian city. We would soon get used to the noise, congestion, open drains and squalor.
One thing we must do in Bali is try a motorbike for getting around. A license is required, procurement of which is long on paperwork and short on testing. I just about had only to prove I could drive it without falling off, and I had my license and a rented bike for a few days.
One of our first trips was with a young local guy to the village of Batuan. Here was a chance to see real cock fights and traditional dance in a relatively un-touristed area. We were the only "ferangs" there that day. The cock fights went on all afternoon, getting through quite a number of wiry roosters in that time. Betting is noisy and frantic. The half life of a fighting cock must be short, as they use small steel knives attached to their feet, and only the winner survives. The skin and head of the vanquished is placed as spoils in the cage with the winner . Later in the day, one of the villagers set up an "ayam goreng" stall, obviously barbecuing the losers for public consumption.
We stayed on in the evening for the traditional dance and gamelan music, in which a group of women and young girls performed a mesmerising rhythmic repertoire.
On the very tip of the southern peninsula of Bali is the Uluwatu temple. It's a moderately large and impressive temple, located in a stunning setting on a headland high above the sea. After putting on the obligatory sari over our shorts, we were allowed in amongst the monkeys to enjoy the magnificent view over the Indian Ocean.
Mt Batur, an active volcano in the centre of the island, was worth an overnight trip. Julian wasn't feeling well so I went alone. It was about a 3-4 hour trip via Ubud up to the small village of Penelokan on the shore of Lake Batur.
Ubud, the artistic capital of Bali, was worth a stop for the little art museum & shop. One thing I noticed about Balinese paintings was that they are so "busy", not a square inch of empty space on the canvas. It's like the island I guess; everywhere you look you see something.
At Penelokan, I met one of what must have been many local youths who guide tourists up Mount Batur. For a reasonable price I could stay at his place and he would guide me up the mountain. We took a 3 hour walk up the volcano in the afternoon. It was very steep and slippery on the dust and loose rock, sort of two steps forward and one back. We could get quite close to the smoking sulphur-smelling crater, making for a good walk and well worth it.
On Bali you have to like people. It's never possible to get away from them. Especially on the beach, as soon as you chase one salesperson away, another is right there. If you stop on the road on your bike to check your map or something, a kid will catch up to you to sell something or try to swap for your t-shirt.
After one week in Bali we were ready to move on. We got on the bus about 5.10 am, not to leave for Java yet, but to drive around for an hour or so in Denpasar picking up people.
Eventually we got going, through beautiful rice paddies, river, gorge and mountain scenery, to the little ferry town of Gilimanuk in the west of Bali. A mile or so across the strait and we were in Java. Java, although the most populated island in Indonesia, seems drier and more sparsely populated than Bali, with corn and cane fields as well as the ubiquitous rice. High mountains poked through cloud here and there.
We reached the dreary industrial city of Surabaya about 3.30 pm. Not much to keep us here so we organised train travel to Jogjakarta for next morning. In the Bamboo Den Losmen we met a French Canadian traveller and went out to dinner together. When we asked him where he was from, he said Quebec (not Canada, Quebec; my first notice that the Parti Quebecois had attained power there and there were rumblings of separatism).
On every trip there are always little, trivial things that stick in my mind. Next morning's memory was watching our train pull into the station. Normally there are one or two engine drivers in the locomotive; here were 5 or 6 guys sitting abreast, probably mostly hitch-hikers.
Third class train travel in Indonesia is somewhat dirty and the seats are hard, but as long as you have a pillow it's OK.
Jogjakarta is, among other things, the Batik capital of Indonesia, and something of a tourist place. Still it has its charm, and a good share of art and culture. It isn't dirty and congested like Denpasar, nor industrialised like Surabaya.
The batik kids showed us the shadow puppet theatre practice. They do it by casting the shadows of the marionettes onto a backlit white sheet. The actual puppets are not seen; only their shadows, but it's interesting that they still go to great pains to paint the puppets in intricate colours.
The ruins in the water village are worth a look, but kids soon find you and shepherd you into their batik shops for the ubiquitous sales spiel. Also good value is the Sultan's Palace museum. It was built on an open-air plan, not many walls, probably ideal for the climate. On display are exhibits portraying a blend of Hindu, Buddhist, Moslem and European influences.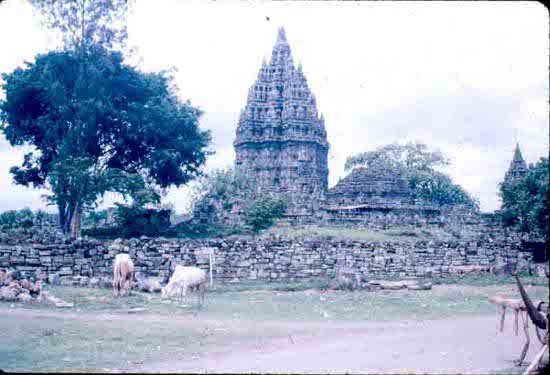 About 20km NE of Jogja is the 1100 year old Prambanan Temple. Up close it looks somewhat decayed, but it's Indonesia's largest Hindu temple, and is impressive from the outside.
Every Indonesian city and town has becaks or tricycle rickshaws. There always seem to be 3 times as many as the market would require, and they spend most of their time waiting around for business. At night their drivers sleep in them; the vehicles appear to be homes as well as businesses. So many people seem to be underemployed running them, yet so many of the rice fields in the countryside look neglected from a labour shortage. Is there a message there?
We organised an air-conditioned day bus to Jakarta, mainly so we could see the Puncak Pass, near Bandung, in daylight during the 15 hour journey. The bus left at 04.45, slow going from sharing the road with large numbers of slow trucks etc. The north coast ocean was dotted with fishing boats (even the oceans are full of people). Our moods deteriorated when we found that the bus was not really air conditioned, and it was late enough that we didn't make Puncak Pass until dark. We didn't get to Jakarta until about 23.00, over 18 hours travel.
We'd planned to spend a couple of days or so in Jakarta before taking a ferry to Padang in Sumatra. But on Saturday morning, on talking to others in the losmen, we found that the weekly ship departed at noon that day, and we had to be on it at 10.00. So we had to rush around to get tickets (about $US 23 each) and some food. We scrambled to get two buses to the harbour, walk a mile or so to the jetty, board the ship about 10.30, and cast off at 11.45.
otos/76as019ship.jpg" width="100%">
The ferry, a 2500 dwt Pelni vessel, was reminiscent of what one imagines refugees are forced onto to escape world trouble spots. What a cattle car! At the time, the government was in the process of relocating masses of people from overcrowded Java to the hinterlands of Sumatra. One village was being flooded for a dam or something, and all of the 480 villagers were put on this ship for the journey. It was so absolutely crammed with people that we couldn't find sleeping space anywhere on deck. And we had to have sleeping space; the journey would be 2 1/2 days. Eventually we yielded to the purser's offer of an oppressively hot cabin for $10. The only toilets were communal, and they were blocked, continually overflowing. Luckily I didn't have Bali Belly at the time, didn't eat very much, and managed to constipate myself for the whole trip. Couldn't easily wash, so we were somewhat whiffy by the end of the trip.
The ship's "chefs" apparently didn't study in Paris. Meals, 3 per day, were boiled rice, a bit of meat or fish, and a few vegetables or bamboo or something. I forced it down 2 or 3 times. The only thing to drink was very weak tea; at least it was boiled and didn't make us sick.
Having said all that, the trip wasn't that bad; we found it quite relaxing, had good conversations with local people and other travellers, and enjoyed just looking at the ocean and Indonesian coastline. It certainly wouldn't be my worst sea voyage; that would come years later in another part of the world.
We arrived at Padang Harbour on the west coast of Sumatra about 4.30 pm on Monday. We had to wait about 2 hours; the crew was presumably haggling with the Padang authorities about whether we could get off the boat then or next morning. We finally got ashore at 6.30 pm.
Julian and I and the other travellers spent about an hour in the harbour haggling with the drivers about fare for the 10 km ride into Padang. A price of 100 rp (about 25c) each was finally settled, but the Land Rover couldn't hold us all. I volunteered to stay behind and hitch-hike. Quickly a young guy with a motorbike picked me up, and eventually would even refuse payment for the ride. On the way to Padang we found the back tire was low and overheating, so we had to stop to fix it. While waiting, I was the centre of attention of a horde of local kids, gawking at me, touching my pack, and trying to talk with me. One of them was making the observation that I must have been a rich person to have come all the way over here. As usual I tried to downplay my wealth, emphasising how cheaply I was living. But his comment was "But you have a Rolex watch, so you must be rich, one point for the "ignorant locals".
I caught up with the rest of the group at Hotel Tiga Tiga in Padang, into dorm beds for about 75c each, noisy from traffic (as are most backpacker lodgings in Asia) but quite OK. Most of the noise in these hotels is from nearby vehicle traffic. The most important part of a vehicle is its horn. They are used at every intersection and at approach to any person or other vehicle. Some are excruciatingly loud, and some are capable of multi-note symphonies. Get used to it or go mad.
The restaurant meals in this part of the country are a change from Bali and Java. Their specialty is the fiery hot Padang food, a large variety of which is served in small dishes on your table. You only take, and pay for, what you want.
Next day, Tuesday after lunch, we got a bus from Padang to Bukittinggi. The spectacular 2 hour trip took us up a narrow road through lush jungle and huge gorges. However rain and the crowded bus precluded meaningful photography.
The first impression of Bukittinggi is that of a dirty mean little town, but that was partly because we got into a grotty little hotel. But next day, when we transferred to the popular and friendly Singalang Hotel, our impressions definitely brightened. It was market day, and despite the huge crowds, we enjoyed the amiable atmosphere and the break from high-pressure salesmanship. Bukittinggi is a charming and picturesque town, especially Panorama Park overlooking a beautiful gorge. The Minangkabau culture, with their distinctive curved-roof buildings, is centred here.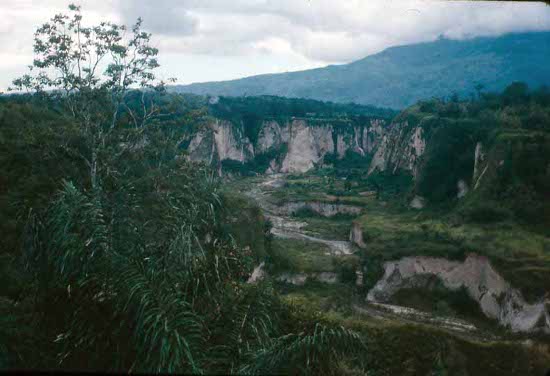 A good day trip from Bukittinggi is a bus to Mindanao Lake and the village of the same name. Fellow Travelers Ingrid (Germany), Dave (Ireland), Julian and I negotiated a long and fabulously picturesque descent down to the lake. At this time it was relatively tourist free, conducive to relaxing walks along the lake shore and views of surrounding high mountains. My most distinctive memory was of a freshly killed water buffalo on the grass, being systematically cut up and distributed on palm leaves to the villagers.
In small places like this, the kids invariably gather around to stare. They apparently think of fair skin and hair as very beautiful, and like touching us for that reason.
Because the last bus back to town was full, we got a ride on the back of a pickup truck, great because of the unrestricted views.
The bus trip from Bukittinggi to Parapat, on Lake Toba, is an unforgettable undertaking. To start with, the school-bus-size bus seats are not really conducive to a comfortable 21 hour trip. You sleep (if you can, we couldn't) where you sit, not an inch of room to adjust your position. But at least it made it up in ornate colour; Indonesian buses are nothing if not motley. Maybe I was wrong when I said the horn is the most important part of the vehicle; maybe it's the paint job.
Our bus started at 11.00. There was a family across the aisle that evidently hadn't travelled very much, women on the seats and kids below them on the floor. Barely had we started when one of the women had motion sickness on one of the kids (nowhere else to chuck). The kids then joined the chorus, putting in their two meals worth. A short time later they were eating, then... second verse-same as the first.
I guess it was somewhat understandable; the road was very narrow and curvy. Still, the jungle and mountain scenery was beautiful.
It was so crowded that one of the small girls was sitting next to the engine cover beside the gear-shift. As the driver goes to shift gears he proceeds to wrap the gear-shift around the girl's neck, producing squeals of protest from her and an "oops" from the driver.
At one point we had to hit the ditch to avoid hitting an oncoming truck. It took about 1/2 hour to get our bus pulled out.
I see what people mean when they say bring your own bridges. Sometime during the night we came to a washed out bridge. The bus had to ford the river empty and we all had to get ferried across in canoes. It cost us (at least the tourists) 50 rp each for the privilege.
Our bus made Parapat about 8 or 9 am. Julian chose to stay in town overnight to rest and catch up next day. Ingrid and I got on the ferry for the 1/2 hour crossing to Tuk Tuk village on Samosir Island. It's not quite that easy though. The ferry wanted to stop at the Parapat market for a few minutes before leaving. We waited in the sun in that open boat, tired but unable to lie down, for three hours before starting for Tuk Tuk.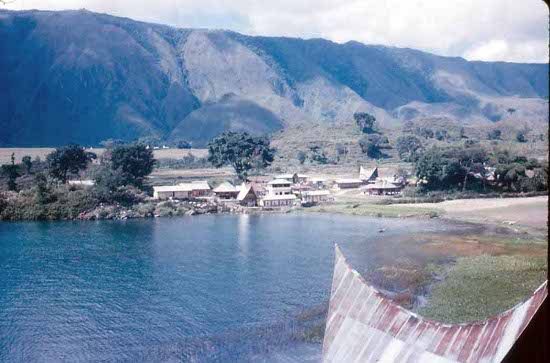 At the time in the 1970's, Samosir Island, Tuk Tuk in particular, was already a popular backpacker destination. A quiet village on the lakeshore, high enough to be cool, and surrounded by rice fields, pasture and hills, lured travellers to lay back and chill out. People would come here and stay for weeks. Several losmen and small restaurants cater to them.
The population is mainly Christian Batak people, with their easygoing lifestyle and curved roof buildings. Demography is mainly kids, their playing, crying and noise the only interruption to the peace. Their kerosene powered bamboo-cannon noise-makers can be heard a kilometre or so away.
Activities on Samosir, if one feels like activities, included long casual walks, to the jungle waterfall in the hills to the west, or to the nearby villages of Ambarita or Tomok.
Food is pretty much like in most travellers places in Indonesia; fried or boiled noodle or rice dishes, fried potatoes, toast, eggs, tea, coffee, fruit drinks, and that ubiquitous backpacker staple - the banana pancake.
Even though it's December, it felt a bit incongruous to be hearing cassette tapes of Jingle Bells and Silent Night in a little equatorial Sumatran village.
After 4 days on Samosir, Julian and I were on the ferry back to Parapat, a long wait there and finally onto a small and crowded mini-bus for the 5.5 hour trip to Medan.
Medan is a large city, the capital of Sumatra. It's grotty, noisy, smelly and dreary. The only recommendation it has is that it's the main departure point for Malaysia, so must be entered however briefly. We stayed overnight and used our onward air ticket (necessary to get into Indonesia at the time) for the short flight to Pinang Island in Malaysia.
It was December 9, nearly a month since arriving in Indonesia. It was a fascinating place to visit, but we were looking forward to a slightly higher standard of living on the Malay peninsula.
Malaysia & Singapore
(Click for map)
The 737 only took an hour or so to arrive on Penang Island. Our group of travellers clambered straight onto a bus for the short and cheap ride into the main city of Georgetown. It is a sizeable city, but fairly compact for the interesting sights and activities. It's charming, interesting and easy to get around in. Founded by the British East India Company in 1786, Georgetown is rich in British, Malay, Chinese, Nyonya (Straits Chinese), Indian and other cultures.
The difference between Malaysia and Indonesia are immediately obvious. Malaysia is noticeably neater, cleaner, more affluent and more developed than Indonesia. Drains are cleaner, vehicle horns are less intrusive, salesmanship is lower-pressure and we can drink the water. It's a bit more expensive here, but not enough to break us.
The travellers hotels in Georgetown, as in most places in Malaysia and Thailand, are mainly Chinese, old run-down buildings with cavernous rooms and double beds, usually hot and noisy. We went into one on the first night, couldn't sleep for noise, and moved to a quieter one next day. We met up again with Dave the Irish guy from Indonesia, and spent much of our week on Penang just wandering around the streets taking in the sights and the wonderful variety of food available. The street theatre is interesting; snake charmers, magicians, and performers going into blood-spattered hypnotic convulsions. However the commentary was in Hindi so we couldn't grasp the significance of what they were doing.
We were able to get our Thai visas in Georgetown, which we would need in about 3 weeks time.
A favourite breakfast stop was a little restaurant run by an old Chinese guy who served real oatmeal porridge with condensed milk. It's funny that when one is so far away for so long in a strange country, these little symbols of "home" and "Mom" have such a powerful attraction.
A good day trip is to take a bus and then the funicular railway up to the top of Pinang Hill overlooking Georgetown, other islands and Mainland Malaysia. It's a long wait to get on the railway, but worth it. The railway itself is amazingly steep, with a grade of 1:1.92, and beautifully scenic all the way up. The top of the hill, besides the view, has a hotel, kiosk, mosque and Hindu temple.
The Penang Museum is worth a look for its artwork, historical rickshaws, silk and fascinating exhibits describing the cultures of Penang.
Another intriguing destination is the Snake Temple near the airport. Once you get past the hordes of souvenir shops and commercialism, the temple itself is an off-beat sanctuary for large numbers of pit vipers, hanging on rafters, shelves and other objects, all apparently stoned from the continually burning incense. You could pay a dollar to have your picture taken with a viper around your neck, but it sounded a little too kitsch for me.
The beaches on Penang aren't great, usually drab and not very clean. The main one is Batu Ferringhi (Foreigner's Rock). There were no hotels there at the time, but travellers did seem to get a fascination for going out to the beach and stay in private homes that are unlicensed to rent rooms. Maybe it was cheap and maybe the illicit "thrill" was attractive, but if you were caught in a raid the authorities may put a "get out and stay out" stamp in your passport. There was a raid the night before, but Julian and I decided to go out there for one night anyway to check it out. We did enjoy a couple of hours on the beach, a walk to a waterfall with a swim in wonderfully clear water, a good dinner with fruit salad and ice cream, some television in the home we were staying in (the first TV since Australia) and a quiet night's sleep.
The next day would see us, after a week in Pinang, on the way south. Julian and I left the beach at 06.45, grabbed a quick porridge breakfast in Georgetown, an equally quick ferry ride to Butterworth on Peninsular Malaysia, and the 09.00 train for Kuala Lumpur.
Our seats were third class, about 5USD each, but reasonably comfortable. Travel was slow, stopping at every village and then some, but the scenery was great with jungle, rubber and palm plantations and mines and quarries here and there. We arrived in KL (as the capital city is colloquially called) about 18.00 in the rain. The main train station is some introduction! Built in 1911 by the British, it's a massive Gothic/Byzantine influenced fantasy of spires, minarets and arches and I think KL's most beautiful and distinctive building. If the train station is the quintessential traditional building in KL, the nearby Masjid Negara (National Mosque) dominates the modernistic aspect of the city.
We only spent a day or two in KL, wanting to get south to Singapore in good time and look up Julian's friend who lives there. We found a noisy Chinese hotel in the crowded & colourful Chinatown area. With its markets, tea shops, temples and chophouses, this is one of the most interesting parts of the city.
We were up early to get the 07.00 train for Singapore, got temporarily lost in the darkness walking to the station, but made the train on time.
We arrived in Singapore about 14.30.
The standard backpacker accommodation in Singapore seems to be small apartments on Bencoolen St, where you can get a mattress on the floor of a crowded room for about 4 or 5 dollars. We plunked our gear at one of these places, and went to find Julian's friend Bill. We found him living with a Malay partner, their baby and his son on the 41st floor of the International Hotel. The hotel is in a league totally different to our customary accommodation, and we didn't object when he invited us to remove our gear from the flop-house and stay with him while in Singapore. He's a very interesting guy, an Australian entrepreneur who came to Singapore with nothing a year ago and built up a successful prefabricated house manufacturing business.
Bill, being a recent migrant, knew the expatriate community well, and the first evening there we were invited to a Burmese couple's 25th wedding anniversary party. After 5 weeks of living like bums, the good food, beer and company were heaven-sent.
We would be about 12 days in Singapore. It was SE Asia's cleanest and most affluent city/state. At the time it was a study in contrast, between traditional and modern. Towering skyscrapers looked down on old style 2 or 3 storey Chinese dwellings, with the former relentlessly encroaching on the latter. In a few years virtually all of the old would be destroyed, and the majority of the population would be living in characterless, allegedly soul-destroying, high-rise apartment blocks. Progress takes precedence over heritage.
As SE Asia's premiere duty-free port, Singapore is dominated by shopping. Duty-free stores are everywhere, and we used some of our time to find hi-fi and camera equipment for Julian. Orchard Road, People's Park, Thieves Market and Change Alley seemed to be some of the main areas.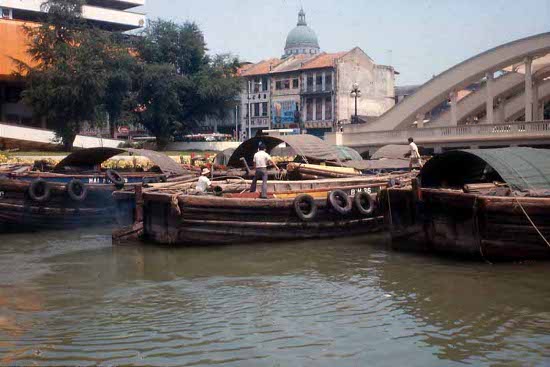 One of my more memorable walks was along the short, black, greasy, warehouse-fringed Singapore River. Most of the river surface is taken up by the heavy, tub-shaped, slab-beamed, wooden bum boats. These boats are the main link between city commerce and the "other city" of container ships in the harbour. The river is bank-to-bank moored boats in some places, and they seem to navigate the river by just charging through, ramming or poling the stationary boats out of the way. A container terminal is in the planning stages, and the days of the bum boat are numbered.
The Jurong area west of the city has the famous Tiger Balm Gardens, built by the Haw Par brothers from the fortune amassed from their miracle balm. It's a grotesque array of brightly coloured plaster statuary and painted scenes depicting Chinese mythology, wildlife (including Australian kangaroos), scenery and religion. Also in the west is the Jurong Bird Park, a spacious aviary with allegedly the world's highest waterfall (??).
Sentosa Island is a beach and tourist resort next to the city. It is accessed by ferry or cable-car. I took the cable-car, and had good views over ships and the harbour, but the queues were long. The beach is small and crowded, but there are an interesting maritime museum and fort there.
One evening Julian and I took a look at Bugis Street, the night-life capital of the city. The main attraction is the opportunity to sit at the outdoor tables, drink beer, and watch the promenade of (probably paid by the bar owners) gorgeous looking transvestites. They say you can tell the guys in drag from the real women because the trannies look better. A sideline to the commerce are the kids who come around to the tables and challenge the patrons to games of noughts and crosses for a bet of 50c a game; they never lose. Sadly, the Bugis scene has since then become a victim of progress and no longer exists.
On Christmas Eve Julian and I went out for dinner in a restaurant, an enjoyable western meal of fillet steak and pork chops, with accompanying Christmas carols.
Food in Singapore is good and safe. There are food courts and markets everywhere. An intriguing dish is chicken porridge, a thin rice porridge made with chicken stock and bits of chicken on top.
On 29 December we were on a bus from Singapore north up the East coast of Malaysia. It was wet season there now, and it rained all the way up to Kuantan. Parts of the highway were flooded, and the driver tended to try to barge through the flooded sections. That would have been OK except that the floor of the bus was somewhat leaky. Water would splash up through the floor at the front of the bus, then flow back along the floor getting our packs, piled at the back, wet.
We got to Kuantan after about 8 hours travel, including about an hour at the Singapore-Malaysia border. Kuantan is an unexciting town at a river mouth, with a couple of main streets full of hotels, stores and restaurants. The pungent smell of dried fish emanates from stores all along the street. Dinner was noodle soup and a very good satay (chicken on skewers with a peanut sauce). We stayed a couple of days in Kuantan, trying to walk and sightsee in the rain. Hard to sleep at night, with trucks passing on the street outside the hotel at all hours.
On New Years Eve we took a bus for the 6 hour trip through forest, rubber and palm plantations and brown-surf beaches, to Kota Bharu, near the Thai border. We arrived about 20.00.
The quickest option for accommodation was the Sikh temple, but it seems we would have had to sleep on tables and there was no place to stash our gear. So we went to a neat new-looking hotel, a quiet pleasant place to ring in the New Year.
We spent 2 nights in KB, a pleasant enough town except that it rained so much. As in Kuantan, we tried to sightsee as much as we could in the rain. There were a couple of busy markets and streets crowded with stalls, becaks (cycle rickshaws) and Mercedes cabs. In the river are several houses anchored to the shore and floating on large bundles of bamboo poles.
We had enough of the rain by then, and headed on to Thailand. A short bus trip got us to the border town of Rantau Panjang, at 11.45 on Jan 2, 1977. From there it was an easy, no hassles walk across the bridge to Sungai Golok, Thailand.
At the time, we found Malaysia and Singapore to be pleasant, but not particularly exciting, places. But now it was a brand new year and, fuelled by an invigorating sense of adventure, we were entering a brand new country.
Thailand
(Click for map)
We were on the train at 1 pm for the 5 hour trip to Hat Yai. As we'd hoped, the skies did clear as we moved north.
Hat Yai has a bit of a reputation as a sin city, being the closest main Thai centre for a bit of hanky-panky by the relatively restrained Malaysians. Julian and I only spent the evening there before heading off to Phuket. We didn't find much to see in Hat Yai and, not being a popular destination for Western tourists, not many people spoke English.
Just as well that we were leaving. As we got up at 05.00 for the 05.45 bus, it was pouring rain again. No incentive to hang around here. The bus started out half empty, but soon filled to the more typically Asian standard of 3-to-a-seat, standing-in-aisles, hanging-out-the-door, cramped but fun.
Thailand wasn't quite as wealthy or "developed" as Malaysia, but more than Indonesia. One starts to make out a pattern; the less developed a country is,
- the more crowded the buses,
- the more tenuous the timetable,
- the faster the drivers,
- the more they use the horns.
Through rubber plantations punctuated by volcanic outcrops, then around via the top of Phuket Island, we were in Phuket town by 14.00. We found a room for 30 baht (the exchange rate was about 20 baht to the dollar), a typical tariff in these places. Not much to notice around this nondescript town, except that the fanciest buildings seem to be the movie theatres.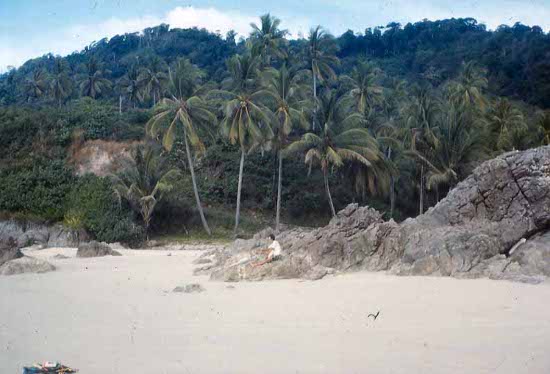 Phuket's main attraction is reputed to be its magnificent beaches. So next morning we were on a crowded 4 baht bus for the 15 km to Patpong Beach. At this time Patpong was little more than a beach and a small village of a few houses, a restaurant and a couple of hotels. Travellers came from far and wide to stay in cheap rooms in the village and chill out on the beach. We regretted not coming out here to stay from the start, We spent most of the day lazing on the beach, swimming in the brochure-clear water, and walking along the long beach and coconut palms. It was fun to watch the trained monkeys, guided by their handlers, climbing up the coconut trees and picking and throwing down the ripe coconuts. I thought at the time, and still think, that it was one of the most beautiful beaches in the world. It had none of the massive development that would come in subsequent years. Hearing what's happened to it since, I have never been back to Patpong Beach, and have no intention to return. I would rather remember it the way it was.
Next day's trip was to Rawai Beach in the south of the island. It wasn't as pretty a beach as Patpong, but quieter and still good for a lazy day. Back in our hotel room, a prostitute on the make knocked on our door, what would become a familiar occurrence in many parts of Thailand.
We wanted to get to Bangkok by the weekend so on the Thursday we were up bright-eyed and refreshed at 03.15 to feel our way down to the bus station for the 04.00, 15 hour bus trip to Bangkok. The early hour was made more bearable by the beauty of the moon, and the fascinating play of lights from the rubber field workers. Still, a trip of this duration is always hard on the nerves, and the dust and cramped conditions had us in grumpy moods by the time we arrived in Bangkok.
Bangkok is BIG, and it took us quite a while to get to the bus place, then a long way by taxi to the centre of the city.
The evening or night is always a bad time to arrive at a place. Accommodation is usually full and it's hard to find a place to stay. We found the only vacant place near the railway station, the Jeeb Seng Hotel, a drab run-down building with cold-stare Chinese attendants. It was away from the worst of the traffic noise, but still noisy enough that we could only really sleep during the traffic curfew hours of midnight to 4 am.
At least the hotel has service. As soon as we got in our room, the attendant asked us if we wanted a drink or a woman. No Thanks. But still, a few minutes later, he showed up at our door with 2 women. We said no, get out of here! Was it a language barrier, or simply don't-take-no-for-an-answer?
Next day we got our first real look/listen of Bangkok. Most of the noise comes from the elaborately lit and decorated trucks and the incredibly loud 3-wheeled, 2-cycle-powered samlor taxis. The city is one of the most congested and polluted we'd encountered so far. We spent about 5 days there.
One of the most fascinating activities was simply to wander along narrow back streets and alleys in the evenings. People are sitting around outside or inside their open doors, some still working at their trade, food is being cooked and eaten, television being watched in the living rooms beside their parked cars (nowhere else to park), kids are playing; a mind-blowing feast of atmosphere.
We got our Burmese and Nepalese visas here. Also we booked plane tickets to Kathmandu via Rangoon and Calcutta ($150 US each), to leave Thailand on January 25. The travel offices could, on request, make you up a fake student card as well. Other chores included checking poste-restante mail and writing postcards.
Bangkok had a number of sights and attractions to take our time while waiting for visas.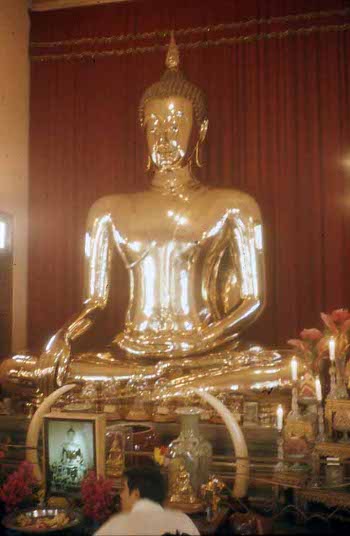 Wat Trimitr is a Buddhist temple, a routine, uninspiring complex of buildings with nothing to recommend it except for an incredible 5-ton solid gold Buddha. It was only discovered a few years ago, when they were trying to move a big plaster Buddha with a crane; it was too heavy, broke the cable, and chipped some plaster off the gold core. It's amazingly beautiful. The security seemed inappropriately lax, it's in a open room with no guards, but then again how would thieves shift the thing anyway.
The Grand Palace wasn't particularly exciting as we couldn't seem to go into most of the buildings. The nearby Wat Phra Keo has the Emerald (actually jade) Buddha, elaborate coverings of inlaid ceramic, and extensive murals reminiscent of those seen in Bali.
Got a kick out of the ubiquitous long-tailed boats that speed up and down the waterways, very Thai. Wat Pho displays the immense Reclining Buddha, nearly filling its containing building. Wat Sraket appears to be a big man-made hill with steps to the top and Buddhist statues near the top. Good views of the city from up there. Lumphini Park, to the east of the centre, must have been the ugliest park in the world. It was full of trucks and excavations, the water dirty, the grass dead, the trees struggling, and streets splitting the park in half.
Thai boxing is a fun way to spend an evening. Most of the contact is by kicking with the foot or hitting with elbows. Audience verbal participation is deafening and generally the level of excitement seems much more than with conventional boxing.
Patpong Road (not to be confused with the beach I liked so much) is the genitals of Bangkok. It's a couple of small streets of bars, nightclubs, restaurants, massage parlours, strip shows etc. As you walk along the street, sleazy people are all over you, "Where you going?", "Good sex show", "See pussy smoke cigarette", "See pussy play ping pong", "Come in go-go-show", "Massage?" We went in for a beer somewhere, and got out before the bar girls could snuggle up too close.
Next day Julian and I found the Northern Bus Terminal and boarded the 09.10 bus for the long trip up to Chiang Mai in the north of Thailand. Our bus was new, modern and air-conditioned, but as usual our seats were hopelessly cramped. Our trip took about 9 hours through mostly flat and unspectacular rice-field countryside. Quite a number of wrecked cars lined the sides of the road, some displayed on pedestals apparently to discourage reckless driving.
In Chiang Mai, a quick bimo (small truck-taxi) trip got us to the popular and pleasant Je T'Aime Guest house. We barely got in, being so full, but managed to get beds with mosquito netting and a good ambient atmosphere. The next day was delightful, investigating hill tribe trips, talking to other travellers, comparing notes and destinations, and generally "laying back". Chiang Mai, and Je T'Aime in particular, are great chill-out places.
The following day we booked a hill-tribe walking tour for the day after, cost about 250 baht each for 3 days.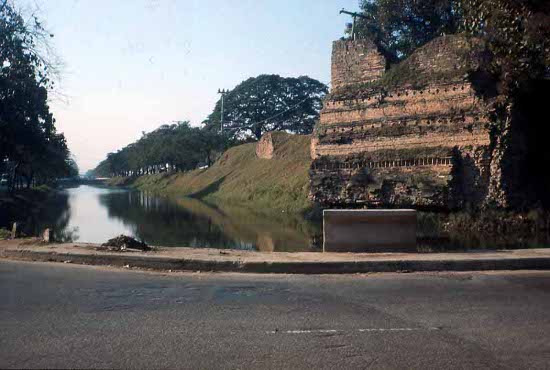 Chiang Mai is one of the old capitals of Thailand, and is blessed with parts of an old city wall, gates and moat, and numerous temples and ruins from the 13th and 14th Century. The ruins of a large 1380 vintage wat, which housed the Emerald Buddha at one time, are especially impressive.
At 7.45 am next day, 5 of us ferangs and a guide were on a truck north for the hill tribe tour. At one stop on the way we were able to see elephants working in logging, a dying industry in the increasingly modern and technological society.
Up at the village Thaton, we grabbed some lunch (the usual noodle soup). Then we were on a small long-tailed boat for a pleasant and picturesque few km down the Mae Kok River. We disembarked at the small Thai village Ban Mai, and started our walk up to the hill tribe villages. Our first village was a lazy, dusty Lahu settlement. Not being growing season, there wasn't much activity; the kids played with wooden tops in the dirt, and the men seemed to be smoking opium. Most villages were similar, maybe about 100 people each, doing only as much as they need to for a subsistence living. It's the Golden Triangle, but they are said to grow only enough opium for "their own consumption". Still they tried to sell us some.
The next village, the Lisu tribe, looked somewhat cleaner and more civilised. We had a big meal of rice, vegetables and meat, and would spend the night here. There were quite a few tour foreigners here. In the evening the villagers put on a performance for us, playing local musical instruments and putting on a tribal dance. It was something of a tourist put-on, but still pleasant.
In the morning we started walking again through beautifully cool and misty fields. Our lunch stop was at a Chinese Kuomintang village. These people came from China to Burma in 1949, then later into Northern Thailand. They are said to be heavily into the drug trade, but are tolerated by the authorities as a buffer against communist cross-border insurgency.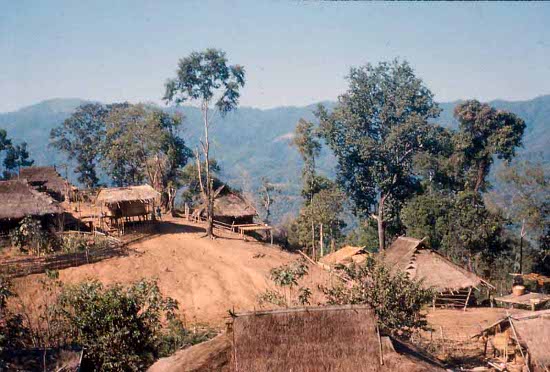 The next destination was a stiff climb up a hill to an Akha village. The Akha are arguably the most interesting tribe in the area. They are the most photogenic with their elaborate costumes and coin-studded head-wear. They have a most distinctive culture; they are said to only wash once per year, and have a free-love philosophy in which young couples live together for a year in small huts on high stilts before coming "down to earth". But they also seem to be on the bottom of the socio-economic scale, doing the most menial jobs in the towns, charging for photos of themselves, and generally exhibiting a greedy, disdainful demeanour. We tried to offer them candies for a photo op, they refused, and later came to beg for the candies. Maybe the frequent tourist trips are what's ruining them.
Later back in the afternoon to the KMT village we had dinner and stayed the night. We were lulled to sleep by the gentle pounding of the nearby water-powered rice crushing mill. In the morning our alarm clock was the frantic squeals of a pig being slaughtered.
A cool, beautiful morning walk took us to Karen village, apparently the most affluent and "civilised" of the tribal groups. Their Catholic church attested to their conversion to Christianity at some stage in the past.
From the Karen village we closed the loop back to the Thai village where we had started the walk. Rather than wait for the boat, a bimo took us back to Thaton and the bus back to Chiang Mai about 16.00.
The next few days were spent just hanging around Chiang Mai and not doing much. It's the type of place where one can relax, enjoy the slow pace and plan future destinations. The evenings are spent listening to the sound of the crickets and to the mating call of the ferang traveller, "Has anyone got any cigarette papers?" Speaking of dope, I noticed that there are becak (cycle-rickshaw) drivers who never seem to drive their becak, only use it as a prop to ask foreigners if they want to buy smack or Buddha Sticks.
Thais, especially in the north, are very patriotic and loyal to their King. When the national anthem plays, everyone is up ramrod straight.
On January 22, we were on the bus back to Bangkok to catch our flight in 3 days. Wow it's hot in Bangkok compared to Chiang Mai! Again most hotels seemed to be full, and we were back in the Jeeb Seng. I suppose it's not that bad.
We were intrigued by the area on the river where the Royal Barge is stored. It's accessible only by water or by an intricate maze of boardwalks through a residential area over a swamp. The barge and associated museum weren't that memorable, but the community living over the water was fascinating.
The weekend market is well worth a look, a vast area with more than its share of weird and offbeat foods and other wares.
We weren't impressed with the Dusit Zoo. The chains tethering the elephants were pitifully short, allowing the elephants to do little more than monotonously sway back and forth. The sight of a hippopotamus having a bowel movement was something to behold, what a spray!
January 25 was our scheduled flight to Burma. We caught a bus to the airport in the early afternoon to be on time, even though the flight wasn't until 19.00. At least the airport was air conditioned. We each bought a carton of cigarettes and bottle of whiskey for $ 9 US, to be sold on the street in Rangoon and give us enough money for the entire week in Burma. The Fokker F-28 had us in Rangoon Airport in an hour or so.
I liked our 23 days in Thailand. It was an interesting country, easy to get around in, not expensive, and with a good variety of cultures, sights and activities to keep us occupied. It certainly wouldn't be my last trip there.
Burma
(Click for map)
Burma in the 1970's was an isolated, insular dictatorship, and mass tourism was not encouraged. Travellers had to get a visa to visit, and were limited to a one week stay. Apart from the usual hawkers and hangers-on who latch on to foreigners for a sale or barter, most Burmese had not a lot of contact with tourists, and were relatively "unspoiled". Society and technology seemed to be stuck in the 1950's or thereabouts. We would meet groups of kids on the streets, and they would smile and flash 1960's style peace gestures at us.
The black market was probably much bigger than the official economy. The Burmese kyat was worth about 6 to the dollar at official rates, and over 20 to the dollar on the black. The 350 kyat I would make for my bottle of Johnny Walker Red and carton of Luckies would be enough for the entire week's stay.
After a slow laboured clearance through customs at Rangoon Airport, all the travellers changed a nominal amount of money (typically $1 each) at the official change bureau, just to look good but really something of a farce. We then got into taxis (wartime Willys Jeeps) for about 15c each and rode into down-town Rangoon. I settled on the well-known YMCA for accommodation, 5 kyat for a space on the floor of the stage with other travellers and a large population of resident mosquitoes. Julian meanwhile treated himself to a nicer room in a hotel.
Next day I offloaded my whiskey and cigarettes, and looked around Rangoon. Like many other former colonies it exuded an air of faded opulence. The wide streets were laid out in an easy to navigate colonial grid pattern, needlessly large for the small volume of traffic. Most of the buildings, British Georgian or Edwardian style, were in various stages of decay. Traffic was mostly jeeps, with smaller numbers of old buses, cycle rickshaws, a few old cars, and very few newer ones.
A basic income of about 5 kyat per day means that hard work is not the norm. The normal work day doesn't start until 09.00. Many people drive trishaws or deal in the black market to make ends meet. It was a sobering thought to know that my budget for the week would be equal to 2 or 3 months pay here.
I couldn't find Julian most of the day, and having only a week here, decided to take the 19.00 train (ticket 31.45 kyat) up to Mandalay tonight with some other travellers. Julian would come up by train the next day.
The train wasn't noted for its luxury, hard seats which eventually had us sleeping on them, or on the floor, or even in the luggage racks, wherever we could stretch out. I did manage to get a few hours sleep, despite being woken up at every station by hawkers just outside the window. One of my most vivid memories is the eerie feeling of being half asleep, and the shouting about food and tea a foot or two from my head.
Scenery was mainly flat rice fields and a few rivers. Near the railway we could see the main road between Rangoon and Mandalay. There wasn't a flying fish to be seen, and I wondered about the logic of the expression.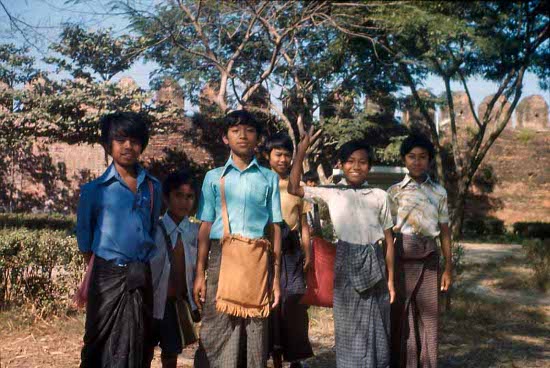 We arrived in Mandalay about 10.00. Another guy and myself got a room with fan and mosquito nets in the Manshwemyo Hotel.
Like Rangoon, the grid street pattern and faded colonial buildings predominated, though Mandalay was somewhat smaller, more provincial, and hot and dusty. Supplementing the jeeps and old buses were horse carts, and old BSA bikes putting past in high gear.
A main landmark in Mandalay is the vast old palace grounds, two miles on a side with a wall and moat. The palace burned in 1945, and inside the walls it is now just normal buildings and streets. Each of the four walls has a gate with a gatehouse and guard. I decided to walk inside the grounds, signalled to the guard that I would like to go in, and he waved me in. I later worked out that he must have thought I would come right back out the same way. But being the wanderer that I am, I studied a statue near the gate, strolled into the centre of the grounds, observed some army boot camp training in a military barracks there, and walked out to the west gate. I must have caught the guard there by surprise, as he arrested me on the spot, took me into the guard house and started questioning me about who I was and where I came from. "Where's my passport?" "In the Hotel". I came from the other gate. Ring the other gate. Yes I came in there. On the phone again: "Hello, General!" Wow, this is looking somewhat scary. After a quarter hour or so, the guard worked out that I wasn't a threat and let me go. That's a lesson not to go through guarded gates and don't go near military installations.
I met Julian at the train in the evening, relieved that he made it up to Mandalay without any problems.
Just north of the city is Mandalay Hill, a large hill studded (like many hills in Central Burma) with Pagodas. From the sculpted two-lion gate at the foot of the hill to the huge Pagoda at the top, is a covered stairway with 1729 steps and many smaller temples along the way. We take our shoes or sandals off at the bottom and, trying not to step in the ubiquitous betel-nut spittle, walk to the top. In the top Pagoda is an impressively large standing Buddha covered in gold leaf, and panoramic views of the city, Irrawaddy River and distant hills.
At the bottom of Mandalay Hill is the Kuthodaw, a large enclosed area with 729 small gazebo-type temples, each enclosing a marble slab containing a portion of the Buddhist scriptures. I would have had a lot of reading there if I'd had a command of the Burmese script.
One day a couple of locals we met were to go out to Sagaing, a temple village about 7 miles away with many temples and resident monks. About 8 of us took a crowded horse cart to the market place, then a bus to the village. We walked and boated to a few of the monasteries in the area. An 83 year old paraplegic monk in one of the monasteries had some command of English, and gave us some basic lessons in Buddhism. I would find out that Buddhist monks in general are a very friendly and courteous people.
The return to Mandalay was great, hanging off the outside of an ancient and very crowded bus. With wind in the hair and good views, it's my kind of travel. I liked the driver's horn, no button; he just touched the wire to the vehicle frame whenever he wanted to honk.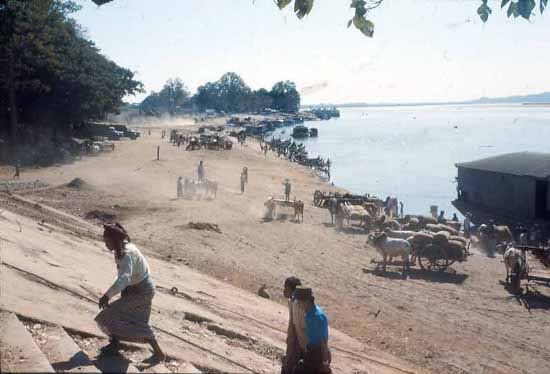 The last day in Mandalay was relatively lazy. Hundreds of women crowded the banks of the Irrawaddy river washing their clothes and laying them out on the stone bank to dry. Slightly upstream the contents of barges were being loaded onto ox carts for the trips up the dusty roads.
The old Chinese man that ran our hotel made interesting conversation. He was apparently a paratrooper and had a few adventures from WWII to recall. He presented me with a couple of notes of allegedly worthless Japanese occupation money, which I accepted with great appreciation. I still have and treasure those notes.
Everyone in Burma, women as well as men, smokes enormous hand-made cigars. Some of them are over an inch in diameter, too big to get a mouth around. Not very elegant looking, but it suits them.
Back to Rangoon on the 7 pm train that night. I remember not sleeping very well on the floor of the carriage.
Back in Rangoon before boarding the plane for India, I took in the impressive majesty of the 2500 year old gold coloured Sule Pagoda, Burma's largest. It's so huge that it's difficult to get an all encompassing view of it among the surrounding buildings, souvenir shops and trees.
On our last evening in Burma, Julian and I had excess kyats to use up; they would be worthless outside the country. So we decided to go on an eating and drinking spree (my only drinking binge on the whole Asia trip). We had a 3 course dinner, including roast beef, at the stately Strand Hotel (elegant looking with its cavernous high-ceiling dining room and whirling rattan fans). Then found a nearby pub and got into copious quantities of the weak Burmese beer. A local Burmese guy was drinking with us and we had a great time. I don't remember if he spoke English or not, but it didn't seem to matter.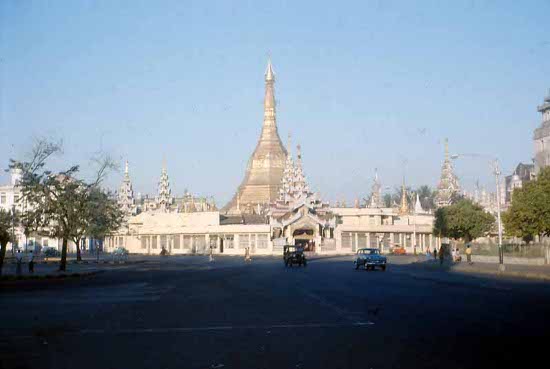 On the way back to our hotel after 9 pm, Julian and I stopped to look at the Shwe Dagon Pagoda near the centre of town. The main pagoda is surrounded by a circumferential hallway complex containing rows of Buddha statues. They looked very classical/traditional, except for the neon light halos on some of them, somewhat incongruous looking.
The fancy meal and/or beer must have been a sin, as I got diarrhoea that night. We were up at 05.30 on February 1 to get the bus to the airport for the 07.45 flight to Calcutta. I still had a few kyats left, but do you think you can find a beggar when you want one?
Burma was "different". Much more undeveloped and unique than places I'd seen before. It was incredibly cheap, and worth it for the untouched lifestyle, friendly unassuming people and rich Buddhist culture.
Calcutta and Nepal
(Click for Nepal and India maps)
Despite the myriad of exciting new sights, sound , smells and activities we'd enjoyed throughout South-East Asia, Julian and I had always known that these countries were really just a prelude, a warm-up. We'd read a lot about our trip and talked a lot to fellow travellers coming in the other direction. The main event would always have been the Indian Subcontinent. With its vast proportions, massive populations, stunning sights and horrific poverty, India and its neighbouring countries would be the real challenge and (possibly) triumph. Everything SE Asia had, India would deal in trumps. It would be heavy, and we knew we'd love it or hate it, or both.
So it was with conflicting senses of enthusiasm and trepidation that we gazed down on the Burmese hills and the mouths of the Ganges from our UBA Fokker.
We would be entering India at the deep end of the pool. If India is the most intense experience in Asia, then Calcutta must certainly be the most intense experience in India.
And we were right into it as of our touch down at Dum Dum Airport. We changed money at the airport, at a rate of 8.60 rupees to the dollar. Our group of travellers from the plane (safety in numbers) worked out where to go, and found we could get a bus to downtown Calcutta for 4 rupees each. The way in to our Sutter St, Chwoingree destination was noisy, crowded, slow moving and squalid. We found our way to the standard travellers' digs, the Salvation Army Hostel, with its 11 rp dorm beds, breakfast included.
The streets are full of beggars and cows, with more of the former suffering disfigurement than the latter, though it's arguable which are the most skeletal. I've never elsewhere seen so many people living on the streets as here. Piles of garbage, some topped with dead animals, are everywhere. The ubiquitous black crow-like birds loiter around eating garbage or waiting for something to die. Man-powered rickshaws are much in use, must be one of the last places in the world for them. They, with cycle rickshaws, Hindustan Ambassador taxis and buses are the mainstays of transit in Calcutta. Horns are of course incessant. A striking contrast is on one hand the large number of people who hassle us, and their incredible persistence, and on the other hand the even larger number of people who don't hassle us and their equally incredible friendliness.
I had the runs, possibly a continuation of the bug from Rangoon, for the whole 4 days in Calcutta, so wasn't in shape to do a lot. We did get over to the Victoria Memorial, a big government-looking building full of paintings and statues, and its surrounding park. A good evening stroll was along the relatively up-scale Park St, apparently the main night spot with its hotels, bars, restaurants and pimps.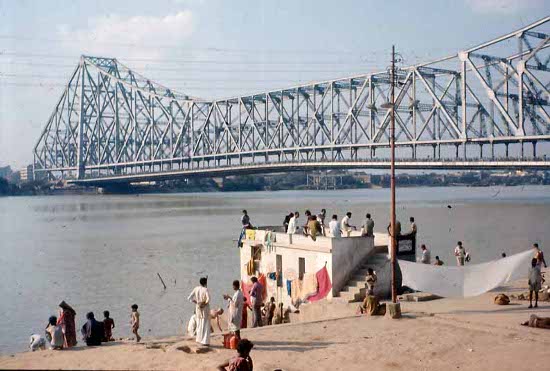 One day we caught a city bus across the monstrously huge, grey Howrah Bridge over the Hooghly River. The bridge is one big slow moving mass of trucks, buses, taxis, carts and people straining their guts out pulling massive loads on rickshaws. On past the ants nest bustle of Howrah train station, and past the hideous Howrah slums, to the Botanic Gardens. We found the gardens to be an oasis of tranquillity amid the surrounding chaos. A highlight was the forest-like Great Banyan Fig, which reputedly was able to shelter a regiment of the British Army at one time.
On February 5, we teamed up with 3 others and crammed into a taxi to the airport for 5 rp each. We liked the driver's little rubber-ball horn which he used incessantly, making an ineffectual sound something between that of a cow and a goose.
Our trusty Burmese F-28 left at 11.45 for the last leg of our flight, into Kathmandu in Nepal. The crew flew with the cabin door open, so we could see through the front to the approaching Himalayas. So many passengers go up out of their seats to look, that I'm amazed they didn't get in trouble for affecting the trim of the aircraft. The steep descent and sharp turns into the Kathmandu Valley were better than any circus ride.
A hotel tout found us at the airport, and took us by taxi to the Valley View Hotel, where we got accommodation for 12.50 Nepalese rupees per night (exchange rate 12.45 rp to the dollar).
Kathmandu is possibly even more dirty and squalid than Calcutta. Garbage again is everywhere. Children defecate on the streets and the dogs immediately eat it. The streets are damp and crowded, and the little river thick with animals and garbage.
However the city was in the 1970's something of a travellers' and hippies' mecca. It's cool at all times, being about a mile above sea level, near freezing at night and 15 to 20 degrees C by day. Dozens of hotels and guest houses cater to travellers, and the restaurants have become proficient (not expert) at catering to western tastes. For someone jaded with too many curries and samosa, the lure of hamburgers, steaks (buffalo), chow mien, spaghetti, chocolate cake and apple pie are irresistible. Signs in the restaurants implore diners "No smoking hash please", a probably futile entreaty.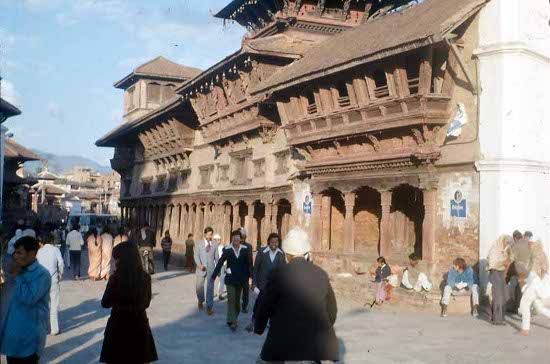 I was fascinated by the "medieval" look of the city. The narrow streets often end up as blind alleys. If you start walking down a street to go somewhere, you may end up in an enclosed courtyard. The central Durbar Square is a donjon of ornate wooden buildings.
We would split up for some time now. One of my most passionate ambitions on coming to Nepal was to undertake a trek into the Himalayas. While I was to organise and carry out my dream, Julian would stay around Kathmandu and engage in less strenuous activity.
Got my trekking permit on Monday. I had my map and would be attempting to walk from Lamosangu to the Everest region, a trip of maybe 3 weeks duration. I'd be going alone, cursed with too much bravado to hire a guide or porter.
I took a long walk out to the hospital at Patan to see about my runs. They sampled me and said come back next day. So the following day I rented a bike to go there, learned it was nothing unusual, and got some pills. By coincidence my diarrhoea cleared up later that day. I rented a down jacket and foam mattress for the trek; it would be cold up there in February.
Day 1 of my trek: Wednesday, February 9, was the big day. I had left some of my luggage in the hotel, and had only the essentials for the trip. I was up early to find breakfast, and onto the bus about 09.00. I was the only foreigner on the bus, and wondered whether it would be a lonely 3 weeks. The bus trip stopped at every village, and finally arrived at Lamosangu, about 4 hours east of Kathmadu. From here the road continued up toward the Nepalese border, but to get to the Everest area the road ends and the walk starts.
In the village I grabbed a quick lunch of curried potato and bread, adjusted my boots, crossed the footbridge, and faced a daunting 3 hour climb up the mountain. I wondered, should I be doing this walk? All of this area is high hills, terraced for agriculture in places, and deep river valleys. It's beautifully spectacular, but trekking involves multiple ups and downs, typically about 3000 feet ascent or descent each. If one isn't fit, you become so quickly or you fail.
My first stop was the little village of Thulo Pakha. There was quite a crowd in the village, and I looked around for someone to speak English. I found a young guy named Robin, dressed in western clothes, and he explained that there was a 3 day festival on in the village. I was welcome to partake of the feasting and even sleep in his bed for the night. Tremendous hospitality. I had two enormous feeds of rice and some kind of meat stew, type of animal better left unknown. After dinner we enjoyed much singing, guitar playing, sitting around the fire and drinking that terrible rice wine called chang. Robin and others chatted up the local girls.
I went to bed about 20.30 but the party went all night.
Day 2: I was off again. I passed some road building sites, one of several Swiss Aid projects, including agricultural stations, in the area. When completed, the road would eventually go to Jiri, a couple of days walk farther on.
Stopped at a village home for a breakfast of dahl baht ( lentils and rice) but it took a while to cook it, so I lost nearly two hours. Another stiff climb to a pass, and I was down to the village of Shera about 13.00, dining on tea and biscuits there. The villagers advised it was about 3 hours more, mostly level, to the next village of Kirantichap, a good destination for the day.
The Indra Hotel in Kirantichap, just someone's home like most other accommodation along the way, was my stop for the night. The tariff for this salubrious establishment was 9 rp for rice dinner, sleep, porridge and eggs breakfast and tea. Also I met Kemp, a New Zealander, and Ken, an English guy. They were also without guides/porters, so we decided to team up. We would be trekking companions for the rest of my walk, so I was no longer alone; looking good.
Day 3: The three of us started off together. I thought I'd done well yesterday, but was sore from the walk, and Kemp, even though he had a 40 lb pack, forged ahead of Ken and me. Yarsa was our next stop, about 13.00. I was over my soreness by now, so we decided to have a bath in the stream, then continue on a couple of hours more up the climb to the village of Chisapani, just below the pass of the same name. This was a good place to eat and sleep. It's about 8 thousand feet up, and quite cool/frosty at night. It would be even colder farther on; February is almost too early to be trekking in the Himalayas but at least the views are clear and we beat the crowds.
This area had terraced fields and beautiful stands of pines. Local people walked the track or worked the fields, crowded even way out here. Kids and old women would come up to us to have festering wounds dressed from our first aid kits. Although we were still in the foothills, snow-capped peaks tempted us with distant views.
Day 4 started with breakfast of chura (dried rice flakes) and an egg. A 15 minute walk got us to the top of the pass, and magnificent views of the distant peaks of Melungtse, Gauri Shankar, Choba Bhamare and Numbur. I still find it amazing how the lower altitudes are obscured by haze, and these giants, without their bases, "hang in the sky" in crystal clarity above the earth. Numbur far to the east was the landmark to watch; we would pass to the south of it in some days, and then it would be on our west as we would follow the Dudh Kosi north.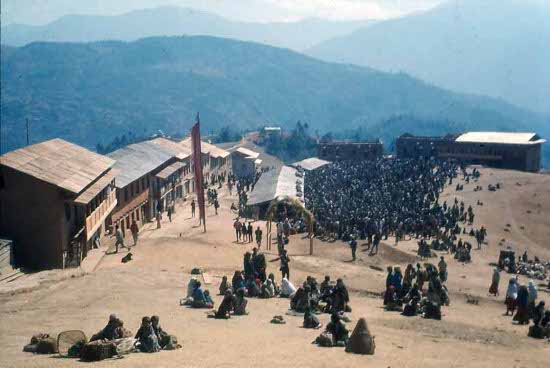 From the pass, it was a quick jaunt down to the Sikri Khola River and then up to the busy market town of Jiri about noon. We had been trying to get to Jiri today because it was market day. Hundreds of people were there, with an abundance of market stalls and activity. We bought huge lemons, bananas and rice biscuits. In the afternoon we visited the nearby Swiss agricultural station, airstrip and hospital.
Next day was to be a rest day in Jiri. However, after lazing around all morning we decided to continue on the 2 hour walk to the Khimti Khola River and the relatively large village Those. I found the native bush, pine forests and river valleys refreshingly uplifting.
Those village had several small stores with supplies of canned goods and biscuits, old and not cheap. Instead we bought some chura and other supplies to nibble on the way.
Day 6: We made our own very good breakfast of rice, milk powder and sugar. On up the valley for an hour, a stop at a tea shop for tea, and on up a 2500 ft climb to a 9000 ft pass with more beautiful views. Shadier parts of the path had beautifully smelling mossy bushes, and small gullies had our first close-up sights of snow. On down to the Likhu Valley and the dry-season browned terraced fields of Chyangma. By about 16.00 we arrived for the night in the flat, rocky, hill-walled village Korem.
Day 7: Another good rice-porridge/powdered milk/sugar/banana breakfast had us on a slow lazy trek up the steep path to the village Sete, about 3000 ft altitude gain. It was to be at least another 3000 feet to the 11580 ft Lamjura Pass, too much for the same day, so we took the afternoon off in Sete. After lunch of chura, tea and boiled eggs, we washed clothes and relaxed in the warm sun. Kemp climbed a nearby ridge (can't keep him still) and reported on the beauty of Juniper and flowering Rhododendrons, something to look forward to on our climb tomorrow.
Dinner was expensive (5 rp) but great, a potato/vegetable stew in a wonderful sauce, on massive mounds of rice. The rice is as always full of rocks, we happily chew until the crunch of a pebble, at which we have to spit out the mouthful. This food would probably be turfed out with derision back home, but out here we're perpetually hungry and everything is a treat. We eat plateful after plateful of rice until they won't give us any more, and go to bed still ravenous. Hunger is indeed the best sauce.
The darkness, cold and fatigue have us in our sleeping bags typically from about 19.00 to 06.00. Unable to sleep so soon, conversation turns to song (Dylan and Joplin were current favourites) or food (favourite dishes from back home or plans concerning the restaurants and menu items we'll indulge in on return to Kathmandu). It's amazing how full our bellies can be, coincident with hunger pangs.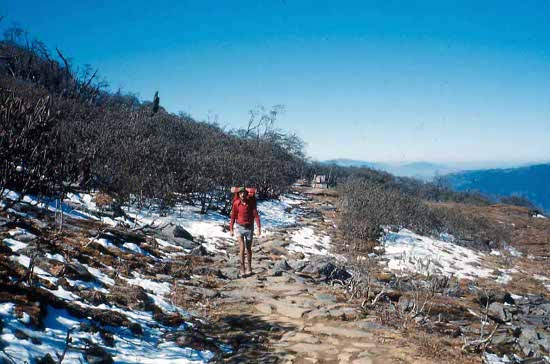 Day 8: Lamjura pass would be the highest we'd been so far. It was intimidating at the start, but we got into it before long. The slope was not as steep as anticipated, the track was well designed, and the beauty of the conifers, native bush, flowers and still-distant Numbur obliterated any pain or fatigue. Snow patched the path under us in places. I marvelled at the hardiness of the Sherpas who's bare footprints in the snow marked their previous passage. The pass itself, open, rocky and windswept, exhilarated us more than ever. This is the first pass where we found an abundance of Buddhist chortens, with scriptures printed on fabric blowing in the breeze. Apparently every time the prayer flags flutter, the prayer is cast to the wind.
What we'd seen up to now was pretty, but we were really getting into the magnificent country now, and the hard work was paying dividends. A quick sail down the pass and we were treated to another (can somebody please help me with some more superlatives?) view of Junbesi, the Beni Khola Valley and Numbur to the north. We stayed in Junbesi overnight, kept awake for some time by the village canine opera.
Day 9: The locals make the flat bread chapatis from here on, a welcome addition to rice as a gut-filler. So, stocked up on these as well as our normal breakfast, we set off up out of the morning mist up to the village Salung, where we saw our first clear views of the Everest region. It looked surprisingly close, we're really making progress. Climbing was slightly more taxing than before, and the combination of wind and sun had me half cold and half sweating. Another 1500 ft altitude and we were at the 10125 ft Taksindu Pass.
At the pass we found one of several cheese factories that dot the region, and each purchased a 24 Rs kilogram of cheese for the trail.
Down then to the village of Taksindu where we had a great lunch of chapati and cheese. We rested in the afternoon and watched a local guy make a strong clear good-tasting alcoholic beverage, called raxi I think, in a makeshift still made of 3 pots stacked vertically.
Day 10: Breakfast was boiled corn, chapati and leftover rice. We walked down through cloud, blooming rhododendrons, mossy forest and brown fields to the large and impressive Dudh Kosi (Milk River). Here marked the end of our long eastward trek, and the start north toward the Everest region. Across the suspension bridge and we started up the east side of the Dudh Kosi. We tackled a gruelling 2000 ft climb, past Jubing to the village Karikhola. Even though it wasn't much past noon we crashed out for the day, a few hours walking is long enough.
Day 11: The first climb was only about 1400 ft, but a near vertical 80 minute man-killer. We were sweating like mad at the village Kharte. Up a bit higher, then down and along to the village Surkya by 14.00. The Dudh Kosi Valley is tremendously large and deep; the mountains rise out of the riverbank straight up to the cloud-obscured heights. We obtained some tsampa (a type of flour made from barley or something) and spent part of the afternoon practising making chapatis. Didn't sleep that well at night, as the place was crowded and noisy and we had to sleep on the floor.
Day 12: Left Surkya in bad moods because of an altercation with the people; they put up the prices for our accommodation overnight.
The walk was pleasant, pretty pine forest and without steep climbs. We had to cross the river on small cantilever or suspension bridges several times, slightly intimidating with tenuous foothold and the rushing river below. Here we were starting to see yaks herded along the trail.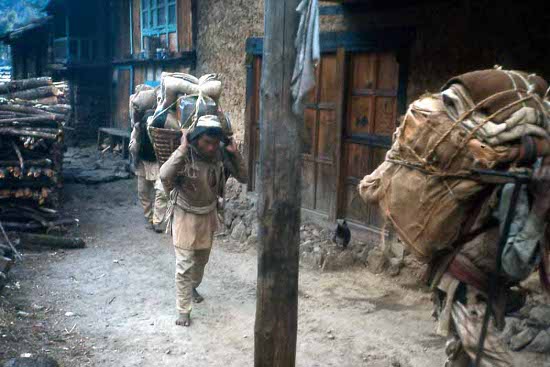 At 14.00 we were in Jorsale, the last relatively low village before the climb up to that big and well known sherpa town Namche Bazaar. As we would be at higher altitudes from now on, I took the opportunity to bathe in the cold-as-charity river and do some laundry. We would go dirty for the next few days. We managed to score a few boiled potatoes with salt, a refreshing change of diet.
Day 13: Up the Dudh Kosi to its junction with the Boti Kosi River, and then up the 2000 ft to Namche. Even going slowly to enjoy the beauty of the panoramic views in all directions, we were in Namche by 09.15. It's a distinctive looking large village, several terraces of buildings arranged in horseshoe shaped rows around a semi-circular amphitheatre valley. The whole area is stark, brown and treeless.
We only stopped here long enough for a look around, check at the police post to confirm our trek, buy some supplies of rice, milk powder and eggs, and get some lunch. Then we were off up again to the airstrip and on to the villages of Khumjung and Kunde. Found the hospital in Kunde and they directed us to a friendly home to spend the night. We were at 12600 ft now, and I was starting to find myself urinating quite often, an inconvenience especially at night.
Day 14: I had originally intended to trek to the Everest Base Camp. But the three of us had already decided that the direction north, farther up the Dudh Kosi in the direction of Cho Oyu, would be more interesting.
After a boiled potato breakfast, we were off over another pass, and down again to the Dudh Kosi near the village Phortse. Here at lunch we met other trekkers, some of the small number we would encounter. They were a Japanese group with guides and porters. They had just come from the Gokyo area, where we were headed. Yes it was beautiful up there and they had a good trip. But the guide, on observing that we had no porters or guides, didn't seem too enthusiastic about us going alone, and advised it could be risky and dangerous. We didn't know what he was talking about, and being young and reckless, ignored the warnings and pressed on. Only later we found out that some of his group had been overcome by altitude sickness and had to be carted back down here on the backs of yaks.
Up through the small village of Gyele (13400 ft) and on to Lhabharma (14172 ft) and Lusa. At these altitudes the walk is exhausting, even though the grade is relatively gentle. We were all urinating like mad and struggling to keep going. However the scenery was spectacular, well above the tree line and surrounded by 360 degrees of immense valleys, small glaciers and snow capped peaks.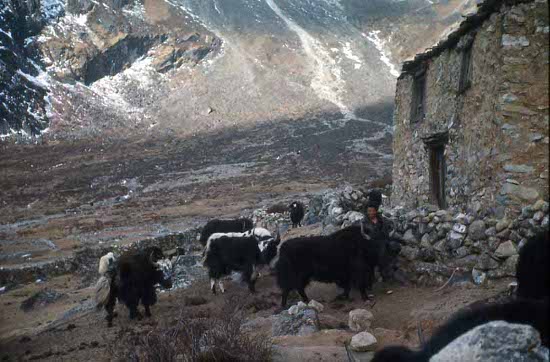 The villages here are summer herdsman settlements, generally deserted at this time of year. However there were a few yak herders in Lusa, and we were able to stay with a short, dark, swarthy gentleman who spoke a few words of English. He made us some of the tea unique to the region, with yak milk and salt. It almost made us vomit, but it's the thought that counts. His chapatis were good though. As we were cooking our own food on the yak-dung fire, he reached into a cloth sack to pull out a handful of putrefying yak meat to cook with his friend. Thankfully he didn't offer us any of this necrotic repast. We couldn't but be amazed at how tough these people were to survive up here on food like that.
I had all my clothes on, including the down jacket, at night in my sleeping bag, and was only just warm enough to sleep.
Day 15: Each step is a chore, even if we aren't ascending. The climbs are torture. As we struggled past the deserted village of Machermo with its stone yak corrals, the river branched and the countryside became even more rocky, scrubby and desolate looking. We continued up the ever more glacial-looking left branch, up a hard but not steep climb, to the first of a number of glacial lakes. The higher we got the more completely frozen the lakes became.
Our final stop was the deserted village of Gokyo on the frozen Dudh Pokhari Lake. We were at 15720 ft, the highest I'd ever been and our limit for this trip. I was totally exhausted, and as soon as we found a suitable stone hut to stay in, I had to lie down and rest for a while. We were able to find enough yak dung and bits of scrub to make a fire and some tea. The fire was adequate for cooking but was hard to keep going. A Japanese trekker and his porter joined us later and we stayed together overnight.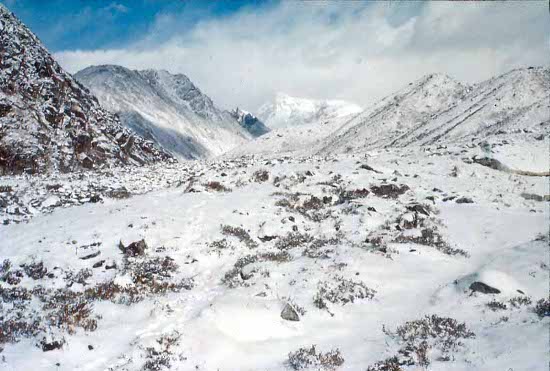 Gokyo must be one of the most starkly beautiful places on earth. Imagine a small collection of stone huts in a broad rocky valley, with the ice-covered lake on one side, and towering rocky, snowy peaks all around. Imagine a few miles to the north the imposing mass of Cho Oyu on the Chinese border. Imagine deathly cold. Imagine a snowfall starting at dusk. It wasn't comfortable, but it felt like the high point of my life.
Sweet rice and tsampa made our dinner; we were eating so much that our supplies were starting to diminish. We had intended to try climbing one of the nearby peaks next day, but our food situation precluded another day up here.
The stone walls of the hut had no mortar, and the wind blew straight through the gaps. Even though I had a foam mattress under me, and all my clothes in the sleeping bag, and we tried to keep the fire going at night, I didn't sleep a wink.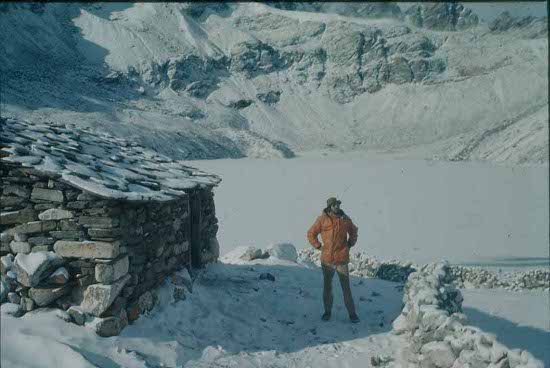 Day 16: In answer to the question of why we were so cold at night, a layer of snow covered the huts, ground, lake and mountains all around. Even if we had enough food, climbing peaks was out of the question. We decided to try to go straight back to Phortse today, and were a bit concerned about one of our group who had only slippery shoes in which to navigate the snow covered trail. Maybe we really were taking a chance coming up here alone.
The skies started to clear about 08.30 as we headed back south and down. Despite having to tread carefully in the slippery conditions, we made good time. It's incredible how, as we descend from the rarefied heights into denser air, our energy levels increase exponentially. Near Machermo we met up with our raggedy-clothed, tough-as-nails friend the herdsman from Lusa; he was advancing up the valley a little each day. At his hut we brewed up a pot of tea and had as thorough a conversation as possible with the language barrier.
Down to the river where we had met the Japanese group a few days ago, had lunch just as a small snowfall caught up to us. Despite our descent-driven energy, on arrival at Phortse we had had enough for the day.
The homes in these areas are generally built on two levels, cattle below and people above. It probably makes sense for heat conservation, but it makes an interesting toilet trip in the night, having to feel my way in total darkness down steps and past fur and horns, stepping in dung, to the outside of the building where I can finally relieve myself.
Day 17: We woke to light snow on the ground and decided to make our way up to the monastery and mountaineers' acclimatisation village Thyanboche, in the direction of the Everest Base Camp. An easy two hours took us around to the Imja Khola River and up to the ridge on which Thyanboche is situated.
Thyanboche is in a singularly photogenic setting. All around are majestic peaks; Kwagde, Ama Dablam, Nuptse, Lohtse and Everest. I was able to get a few pictures before cloud closed in around noon. It was slightly cool from the wind and cloud, but we enjoyed short walks and relaxing. We managed to buy a can of marmalade, probably left over expedition food. I hadn't previously liked marmalade but delighted in it with chapati for lunch.
A number of other travellers showed up throughout the day, all going upwards and outwards, and some staying with us at the inn. Late February is when it starts to get busy. We all talked and compared notes around the stove until about 21.00, when the manager made us go to sleep instead of burning up so much of his firewood. I had to agree with him; deforestation is a real problem.
Day 18: A delicious chapati and marmalade breakfast, and we were starting back down toward Namche Bazar. The track was narrow and precipitous, dropping steeply to the side, and it was with some dexterity that we had to pass yaks loaded with expedition gear on the way up. It was market day in Namche but not as impressive as at Jiri a couple of weeks ago.
We met in the village a group of about 11 trekkers who were on the way up, and talked to them for a while. I remember their cook making up some lunch for them over a fire, a stir fry in an enormous frying pan, and remember thinking I could have almost downed it all in one gluttonous sitting.
Back down to Jorsale about 14.00, and we checked into the same place we stayed on the way up. I was able to have my first wash in the river since leaving here 6 days ago. Lunch was noodle soup and chapati, dinner was rice and trimmings, followed by baked potatoes for a late snack.
The woman is quite friendly with a large family of kids. We noticed that they feed their babies by chewing their food (rice or vegetables) before giving it to them.
Day 19: On down to Lukla sometime after 11.00. Lukla is one of the few villages with enough level ground for an airstrip. We met a Japanese expedition here on the way up to Nuptse.
This was to be the end of my trek. That was enough for me, and I had to fly back to Kathmandu ASAP to catch up to Julian. Kemp and Ken would walk all the way back out to Lamosangu. Plane fare was 350 rp flat rate, but there were no planes today; maybe tomorrow.
I had the whole afternoon to kill, and wondered how I could make use of the time. But I met an American Peace Corps worker also waiting for the plane. He had a few newspapers from home and I could spend the day talking to him and catching up on world news.
The meal of rice and potatoes cost 6 RS and the board bed was 2 rp, the most I'd paid on the trek (not much now that I think of it, about $0.75 US). It wouldn't have been so bad except that it made me sick with gas and diarrhoea.
Day 20: Potato breakfast and to the airstrip to wait for the plane. Nice day but slightly boring. A Pilatus Porter piloted by a French guy showed up about 11.00. It was interesting watching him land. The airstrip is on a slope with the top end abutting the hill, and the other ending at a cliff over the river. He had to come up the river, turn sharply at the end of the strip, come up almost in a stall, and plunk down on the end of the runway. Quite a dexterous manoeuvre. The take-off started from the hill and just dropped off the end of the runway over the river.
We loaded and were off for the 45 minute flight to Kathmandu. We followed generally the river valley south and then west along the way we had walked on the way up. I could see it all from a different angle now. The mountains and gorges looked even steeper and higher from the plane; how did we ever do it on foot?
I arrived back in Kathmandu with residual runs, a ravenous appetite, and a wonderful feeling that I had accomplished the most difficult and satisfying walk of my life. To say I felt good was an understatement.
Dropped off my rented gear and went for a huge meal. Then back to my hotel where I found a message from Julian. He had moved accommodation, met up with Irish Dave whom we'd kicked around with in SE Asia, spent the whole time of my trek in and around Kathmandu, and had not yet left for Pokhara. So we had a joyful reunion and went out for dinner together later. Dave meanwhile had gone on to a Jomosom trek.
As a point of interest, I spent about 33 rp on food from 13.00 to bedtime, a prodigious amount of money at current expense rates. Included were 6 pieces of cake and pie. I never enjoyed eating so much in my life. People would look at me gorging and laugh.
Julian now went ahead to Pokhara. My last day in Kathmandu was spent eating (41 rp on food today) and getting organised to follow Julian next day. I was glad to be moving on; the crowded, noisy, smelly, excrement covered streets started to wear a bit thin on me.
On March 2 I was on the way to Pokhara. I found the bus at 06.30 for about a 6 or 7 hour trip. Stops and delays were frequent, changing a suspect tire for one equally bad, stalling on a bridge and needing a push to get started, and stops at every settlement on the way. The scenery was pleasant but nothing like what I had just trekked in.
Arrived in Pokhara about 14.30, a simple, scruffy looking town, and went past the down-town to the lakeshore where most of the hotels and restaurants are. Met Julian at the Snow Land Hotel. Pokhara wasn't as nice as I'd thought, but OK.
We spent the next 3 days in Pokhara. If we weren't going on an Annapurna trek (and I had had enough trekking for a while) there wasn't a lot to do or see. The town itself had a dusty, cactus-studded spaghetti-western feel about it. Views of the distinctive angled peak of Annapurna were good in the mornings before the cloud came. There seemed to be more people trying to pester us and sell us things than in other parts of Nepal, and more kids begging for money. Food is slightly more limited and expensive than Kathmandu.
I still had the runs, but managed to control it by belting it with those funny brown pills I had picked up in Kathmandu.
On the third day, March 5, there seemed to be something of a Hindu festival. Animal sacrifices bloodied up the temples. Young guys were rampaging around with pocketfuls of red dye, touching it on the foreheads of anyone they met, including foreigners and myself. Later in the evening they were down at the lakeside temple singing and partying.
On March 6, we were on the bus at 07.00 for Bairahwa and the Indian border. We travelled down steep and winding roads through ever decreasing hills until we emerged on the flat land and the border about 14.30.
So we had been in Nepal almost a month. With it's magnificent scenery and hard trekking, it was the highlight of my trip so far.
India
There were about 10 of us ferangs on the bus, and we walked together across the Nepalese border into the Indian town of Lumbini. As in most border towns, there was nothing whatsoever to keep us there, but we had some confusion about where to go from Lumbini. We finally worked out we could get on a local bus for 70 paisa (some absurdly miniscule amount of money) to the nearby town of Nautanwa, then a train in the evening to Gorakhpur. We arrived in Nautanwa about 16.30, with 3.5 hours to wait for the next train, in a town with not much more attraction than Lumbini. I had some roasted chickpeas, dahl and rice to tide me over, still ravenous after my trek.
Wonder of wonders, the train to Gorakphur was on time, such is the unpredictability of India. At 23.00 we were there.
Rather than staying in Gorakphur, our plan was to get to our next stop, the Hindu religious city of Varanasi (Benares). Julian and I checked train times and found the next one was at 06.00. Here was our chance to avail ourselves of the railway retiring rooms that we'd heard about. For 10 rp each we got a nice room with attached bath, clean sheets and pillows, and mosquito nets. Just the thing for a comfortable few hours sleep before the attendant woke us up in time for the morning train.
This train, like the one from Nautanwa, was steam. India at the time was still one of the few places where we could indulge in that olde-tyme feel of the choofing and the smoke. Even here however, they were being gradually replaced by diesels on the main lines.
The countryside to Varanasi is flat wheat and barley fields, boring I thought after the excitement of Nepal.
Varanasi, on the Ganges River is one of the holiest places in India. Many Indians come to perform ritual bathing in one of the many Ghats. Upon death it is considered meritable to be cremated here on the banks of the river. Also the city is a centre for silk, especially embroidered. So Benares is an exciting destination with a lot to see and do.
A becak driver at the station talked us into going to the International Hotel (they get a cut of any successful recommendation) and we got a nice double room with bath for 15 rp. The rest of the day was taken up with checking and answering mail, finding places to eat, and looking at the tourist bureau and a couple of silk shops.
One irresistible temptation is the Indian sweets, some silver-foil covered, available for 30 to 50 paisa, in the stores and restaurants. Really delicious, especially when I'm thin and hungry.
While Julian was shopping for silk brocade, I looked around the river front. I wasn't there long when a kid, probably a silk hustler, offered to show me around the area, which can be somewhat of a maze for the uninitiated. He showed me a couple of temples and the Manikarnika Ghat where they do most of the cremations. Bodies burn 24 hours a day, each taking about 3 hours, and there were about 10 or 12 in various stages at the time. Each cremation takes a considerable amount of wood and can be expensive. Apparently the main concern is to burn to the stage where the head bursts from the pressure, freeing the soul; further cremation is a luxury.
Eventually, and inevitably, my "tour" wound up in a silk shop. I said I wasn't interested in silk but my friend might be. Later the silk guy came around to see Julian and bring him back to the shop. He turned out to be a con man, extorting Julian of money and leaving me with regrets about recommending him, and both of us in bad moods. This hard sell, cheating and extortion are the most unpleasant of all aspects of India. Along with the recurring diarrhoea, it was one of the main reasons I didn't like staying in India for long; we were on into Pakistan within about 2 weeks of arriving.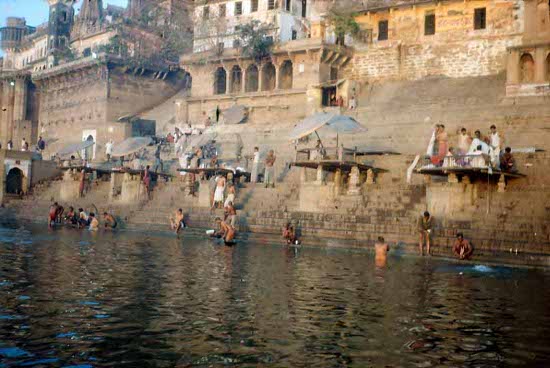 One morning we rented a rowboat and rower for a river cruise. We started at 06.30 on an interesting but not spectacular paddle along the river opposite the main ghats and temples. Large numbers of people were praying and bathing in the Ganges. As they splashed water on their faces and brushed their teeth, I wondered how they could avoid contracting the multitude of intestinal ailments that were plaguing me.
Later that day we went to the tourist bureau to complain about the guy that robbed Julian. We would never be recompensed, but hopefully he might be warned.
Just walking along the streets of Varanasi (or any city in India) brings up surprises, such as coming across someone on an elephant or a camel. The evenings are especially fascinating, with shops open and street hawkers out in force. The river front has an almost eerie blend of peaceful tranquility and noise.
On March 11 we were to leave at 18.30 by train for Agra. We had our tickets and had little to do all day but get our gear ready, re-check the poste restante (got a letter from home) and wait around. March is getting into the hot season in India, precluding excessive physical activity.
The train system is pleasant and easy to follow. When you make a booking they put your name and seat/berth number on the outside of the carriage, so you just have to find your train, carriage, and berth number. After some initial confusion at the station with our carriage not being hooked up yet, we found our berths, on a carriage that had almost all westerners. The carriage was locked up at night, good to prevent theft of our belongings but I wondered what the protocol would be in case of an accident. My berth was an upper lengthwise one, simply a 5.5 by 2 foot board. With my sleeping bag under me, and my sheet on top, I was comfortable enough to sleep most of the night. Somewhere during the night (Lucknow maybe) we had to endure a half hour or so of shunting our carriage at a junction.
08.00 had us in Agra, home of the renowned Taj Mahal, and possibly the most high-pressure, persistent pestering and salesmanship in India. Our first impression of Agra was manifested on the outskirts of the city, large numbers of people having their morning bowel movements on the open embankments near the railway.
Immediately on arriving at the railway station, we are accosted by becak (cycle rickshaw) hustlers. A pair of them latched onto us, and the understanding seems to be that they are "ours" for the duration of our stay whether we like it or not. They took us to the Jaggi Hotel where we could get a cheap room for a couple of days. The becaks took us around the city, to a restaurant and to several silk, marble and gem shops. I suppose the deal is we get the ride for nothing and the shops give them a royalty in the hope we buy something.
The Taj Mahal is allegedly best seen at sunset. Buses seemed unreliable so we walked the 3 km or so down there about 4.30 pm. Nearing the Taj, we have to negotiate a large park through large numbers of souvenir shops.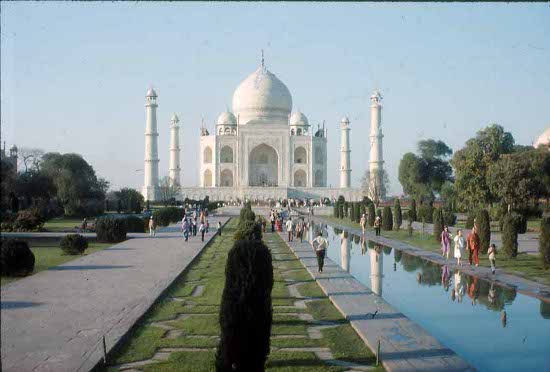 The Taj of course was magnificent, even the gatehouse is impressive in its own right. An incredible amount of effort must have gone into the carved and inlaid marble in the Taj itself.
Next day we took a crowded bus to the huge red sandstone Mughal-built Agra Fort. Inside is the Moti Masjid, the world's largest pure marble Mosque. From the fort we could look up the Yamuna River to the Taj Mahal, which is also near the riverbank. I found it interesting to see a side of the Taj that doesn't normally get photographed.
Near the fort a Janta Party rally was getting under way. Thousands of people were gathering for a political rally in preparation for an election to take place in about 3 days. Enthusiasm, noise and fervour permeated the air. Later we would see trucks and groups of people driving up and down streets, shouting and honking.
We were in Agra only 2 days. That's enough time to see everything, and to get thoroughly sick of the persistent hustling and hawking. Agra must be one of the worst places in India for the "hard sell", the down side of having the most famous tourist attraction in the country.
So on March 14, Julian and I were in the station for the 11.00 train to Delhi. The train made good time until it got near Delhi. But it then pulled into a station around 14.00 and we had to wait for a local train which arrived about 16.00. We filled in the time with a vegetarian meal in the railway station restaurant; the railways are usually a relatively safe and good value dining venue. Into Delhi about 17.00.
After some exploration around Paharganj in a 3 wheeled taxi, we found the Ajanta Guest House, a grotty, crammed place with a resident population of rats. Delhi was shaping up to be quite an expensive city, so we settled for the dorm here for 8 rp each.
In the evening we explored the Connaught Place area, the large circular centre point of New Delhi. After an unremarkable meal in a local restaurant, we tried to relax in the park for a while, impossible with all the hawkers, masseurs and others hassling us.
The only saving grace about our dormitory was the presence of a fan, allowing us to get some sleep in the heat. We had some food (bread etc.) but where to store it? If we used the little cupboard the ants would get it. If we left it out or in our packs the rats would attack. I finally tried to hang it in a bag on a string from the ceiling but the rats came down the string. Just don't keep food.
At least we didn't sleep in. We found that our room was situated over a machine shop. Promptly at 06.45 the morning greeted us with the sound of a metal stamping machine pounding out large iron washers from sheet metal.
I needed US dollars for an Afghan visa. It can be frustratingly hard to get USD in a country like this. Even Amex wouldn't do it when presented with a travellers cheque. After being shunted bank to bank, I had to change a cheque to rupees, then back to dollars, at a profit for the bank with each transaction.
In the evening we took in a performance of Indian classical music and folk dancing. We thought it was slightly expensive, but worth it for the ornate costumes and great performances.
Next day we went on an afternoon tourist bus tour (good value at 6 rp) of Old Delhi. It was really interesting and showed some of the chequered history of the 7 cities of Delhi. Sights included:
- the ruins of Ferozshah Kolta, the 5th city of Delhi, built in about 1354. It contains the Ashoka Pillar, a monolithic column of polished sandstone from the 3rd century BC.
- Mahatma Gandhi's cremation site, in a beautiful parkland setting.
- Ditto for Nehru's cremation site.
- Jama Masjid, India's largest mosque, containing a 400 metre square courtyard.
- The Red Fort, the citadel of the 7th city of Delhi, built when Shah Jahan moved his capital from Agra to Delhi in 1738. Interestingly, the fort has only 3 sides, the fourth was where the river used to flow.
One morning we took another bus tour, this time of New Delhi. Again it was interesting and good value. We saw:
- Jantar Mantar Observatory, a collection of observational structures in a park not far from Connaught Place. On these tours they never fail to stress the accuracy of the huge sundial, with appropriate corrections for the time of year etc.
- India Gate, a 42 m high stone arch built to commemorate WW1 Indian soldiers. - Qutab Minar, a 13th century 75 m high tower, with interior steps to ascend to the top. Also in the vicinity is the 1600 year old Iron Pillar, said to be made of iron 99.972% purity so that it has never rusted.
- Nehru's official residence, now a museum containing inter-alia a collection of photographic exhibitions and his quotes.
- Lakshmi Narayan Temple, built in 1938. This temple, as is most Hindu temples, is adorned with swastikas, that 8000 year old symbol that stood for hope and prosperity until someone gave it a bad name in the 1930's.
Among all this, I wasn't doing very well health wise. I had Delhi Belly among other ailments off and on nearly all the time. In fact I had no real long stretches of good health ever since my trek in Nepal. Was this latest bout anything to do with my birthday splurge in Agra on a store-bought carton of ice-cream? Much of my time was spent resting, too tired and weak to do much. I walloped myself from time to time with the Nepalese brown pills, but they never worked for long. It dampened somewhat my enjoyment of India, and had a bearing on our decision to move on after only about 2 or 3 weeks.
I considered myself pretty tough regarding the places we stayed in, suffering various privations in the name of economy. But our dorm in the Ajanta GH proved to be too much even for me. On about the third night, we were trying to sleep with the rats scurrying around the raters (I mean rafters, no maybe I had it right the first time), and even occasionally across the bed. Then one rat got into my sheet. I sprang out of my sheet, trapped the rat inside it, and banged the sheet like a blackjack against the floor several times. Then I threw the rat, with however many broken bones, out of the sheet into a corner, and tried to go to sleep again. Julian must have been awake and observing all this, and I admire him to this day for not freaking out or making wise-ass comments about it. Anyway, that was enough. The next morning we were out of that room and paying about 10 rp more for a better, rat-free room.
We had considered Kashmir as a destination in India, but my queasy stomach, a saturation of mountains in Nepal, and Julian's eagerness to push on toward Europe, said "Kashmir another time".
So after about 5 days in Delhi we were on the 21.15 night train to Amritsar. We arrived at 06.15, and took a rickshaw to the Vikas Guest house. I was still weak from sickness, so waited to the afternoon and next day to explore the city.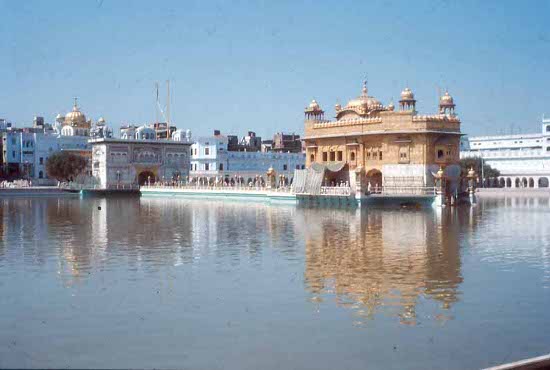 Amritsar is generally a rather colourless unexciting city, but more prosperous and less squalid than most cities in India. There are fewer beggars and hassles than in other cities, which adds to the pleasantness. Of course its main attraction is the fabulous Golden Temple, the capital of the Sihk religion. It is a large gold coloured (obviously) squarish, domed building set in a large square pond, accessible by causeway. Apart from its religious significance, it is quite a beautiful place. I was impressed by the huge mound of piled up food in the temple, continually being added to. It was apparently offerings to the priests and curators of the temple, and maybe to the poor.
After 2 days in Amritsar, we were on a 09.05 train for the Pakistan border and Lahore. It's not a long trip, less than 2 hours travelling time for less than 5 rupees. But we had to wait at the border for 2 or 3 hours to get across and change trains.
We were glad to get out of India after the disease, squalor and hassles. It all becomes a bit too much after a while.