Trip to N Asia and Europe, 28 Feb to 12 June, 2019
I was to go to Canada in 2019 to see my handler and help her with a few things, travelling to various places on the way, but Maggie's things never eventuated, leaving us with the "various places" option. Some time ago I was watching a multi-hour slow-television feature of the Ghan train trip across Central Australia. I thought, "that would be an interesting trip", but I'd done it before years ago by car. So where else could I go similar? How about the Trans Siberian?
Maggie was in Australia around end of 2018, so we started to flesh out details of a comprehensive trip from Hong Kong to Europe. Ultimately we would meet in HK around end February 2109, travel through China, Russia, parts of Eastern Europe, end up in UK in June, and make our ways back to our respective homes, hers in Winnipeg and mine in Sydney.
Owing to the 3.5 month length of the trip, the large number of countries to be traversed, and the idiosyncracies of some of the countries to be visited, an inordinate amount of research and organization would be necessary. In addition to booking the Trans-Siberian Railway from Beijing to Moscow, and thence to St Petersberg, we had to arrange visas for Russia - somewhat more intricate than your routine visa - and China. Also, in order to maximize our experience, we had to do painstaking research into each of the countries that we would visit.
So while Maggie was in Australia we together booked train tickets on the TSR through an on-line travel agent, flights to Hong Kong for late February - Maggie from Canada and myself from Sydney, Russian visas - visa support letters thankfully facilitated through the travel agent, and China visas. Great to have all that out of the way well in advance.
Our trip was to take us through Hong Kong, China, Russia, Hungary, Croatia, Montenegro, Bosnia-Hercegovina, Slovenia, Austria, Belgium and to finish in England.
Hong Kong
So I was on the plane to Hong Kong on 28 February, arriving about 16:45. Maggie was to arrive almost the same time from Canada. As I was walking down the concourse before immigration, I saw her ahead of me, very fortuitous to meet up so soon. We could go together through passport checks and immigration, get our Oyster bus cards, on into Kowloon and Nathan Road, and into our small but adequate room in Mirador Mansions.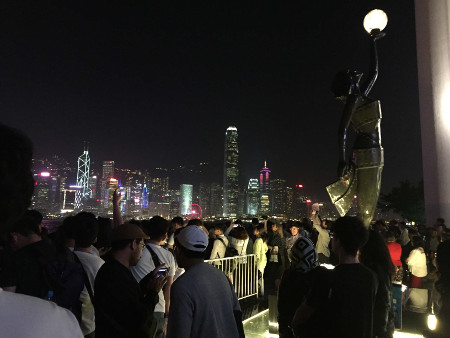 It was after 19:30 by now, just enough time to dump our gear and walk down to the waterfront to catch the "Symphony of Lights" playing from the buildings on HK Island. Good but not as spectacular as Maggie had expected.
The next couple of days were taken up exploring Hong Kong and making arrangements for onward travel. I had been here before, so concentrated on some things I hadn't seen before as well as revisiting old sites. We took in the HK Museum of History, great exhibits but far too much to see in a few hours. We got train tickets for 3 March, from Hung Hom Train Station to Guangzhou, China.
Markets visited included the "Ladies Market", specializing in clothing souvenirs and bric-a-brac, the somewhat less exciting Bowring St Night Market, and the markets around HK Central.
A couple of the more quirky attractions included the Avenue of Stars at the waterfront containing hand prints names and info on Asian media stars, the "Avenue of Comic Book Heroes" statues along the edge of Kowloon Park, and a competition of "Boulder Climbing" - something like a climbing gym but with much bigger and apparently difficult holds.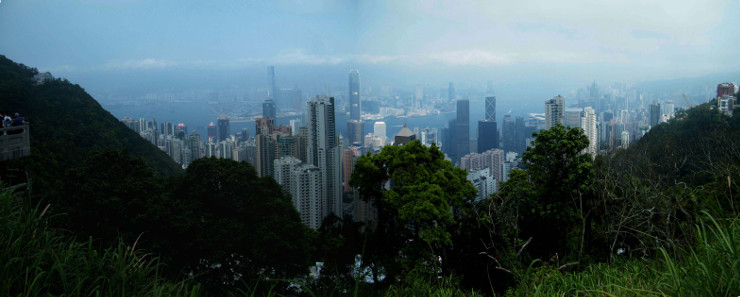 On the second full day the clouds briefly cleared enough that we could make an attempt to summit Victoria Peak. I'd tried to get up there on previous trips, but always cloudy. This time we got there and enjoyed magnificent views over the city and south, hazy but cloud free. Disappointingly there was not a lot else up here to attract; crowded tacky souvenir shops and restaurants, and not many paths to walk.
China
On the Sunday we were on our way to China proper. The non-stop train took about 2 hours, travelling through outer suburbs of Hong Kong, through an indeterminate border to China, and via unimpressive towns and countryside to Guangzhou East Railway Station. There are no formalities at the border, passport checks etc took place at the train station.
It was easy to purchase metro passes, take the metro into Ximenkou, and find our nearby Lazy Gaga accommodation. The room here was much larger then the HK one, pleasing Maggie.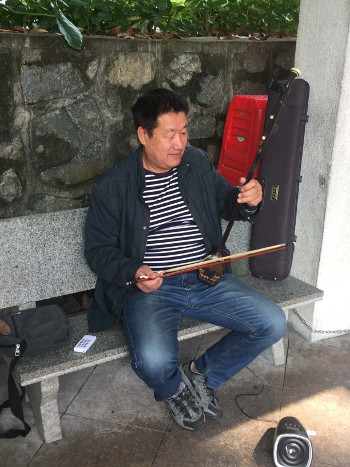 First excursion was to Beijing Rd, largely a pedestrian mall, crowded (but not crushing like HK) lively, vibrant and lots of shops and restaurants. The whole place had an attractive ambiance, such a contrast to the relatively impersonal and characterless HK. We love it here.
On the first morning we made our way to Guangzhou Rail Station to get train tickets to Beijing for 6 March. On the way back we stopped at the "Western Han Museum of the Mausoleum of the Nanyue King". It was a 2-millenium-old archaeological site of a Han dynasty king, exhibiting the tomb discovered on this very site and the collection of artefacts discovered therein. We spent some time there looking at the burial chambers and the somewhat underwhelming displays of carved jade and other items. Particularly grating on Mag, after a night on a too-hard bed, was the exhibit of ceramic pillows from the era.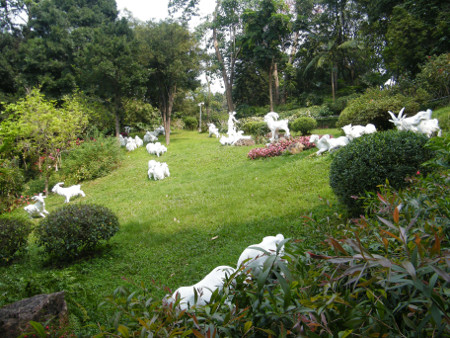 Across the street is the hilly Yuexiu Park, pretty but by that time of day we were too walked-out to see a lot of it.
Shamian Island is worth an hour or two to wander; a historical/cultural colonial relic of quaint streets, parks, bronze street sculptures, and many 19th - 20th century buildings reflecting western and Lingnan influences.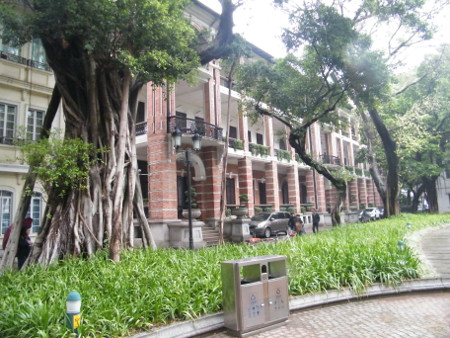 Zhujiang New Town is also worth a look, a forest of skyscrapers, shopping malls, parks, museums, a stack-of-books-like Library, and a view of the iconic Canton Tower across the river.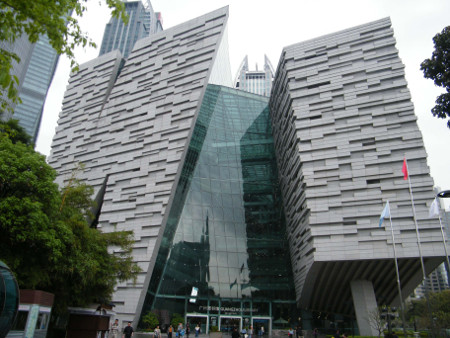 On the morning of leaving Guangzhou we had a look at the Guaio Zhou temple north of our place (not a very exciting place), and the much more interesting Buddhist Temple of the Six Banyan Trees.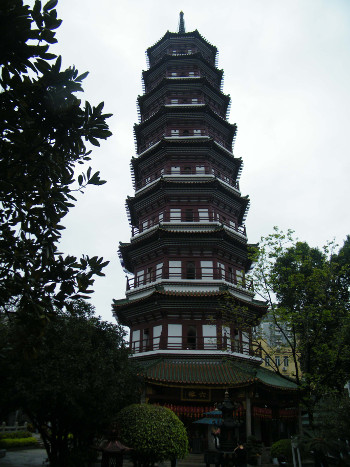 A night train, not one of their really fast modern trains, had us in Beijing West Station by mid-afternoon of 6 March. Most of the rest of the day was taken up with tiring walking and ticketing/accommodation tasks. In the station we had to get onward return train tickets for 9 to 11 March to see my friends in Shenyang. Then through security checks, onto the metro to Qianmem Stn, walk to our accommodation, and check in. One of the quirks of the Trans-Siberian is that we have to pick up paper tickets in Beijing and Ulaan Baatar for various legs of the trip. So we had to rush down to an office in Beijing before 17:30 to pick up the Beijing-UB train tickets, getting there in time but quite exhausted by the time we got home.
We had a couple of days in Beijing before moving on to Shenyang. I had seen much of it before, but it was all new to Maggie. Travel around the city was easy and convenient on the metro. First stop was the large and interesting Yonghegong Lama Temple complex. One highlight therein is a large sand mandala, maybe 1.5m square, very precise and intricate, and looking like finely-woven embroidery.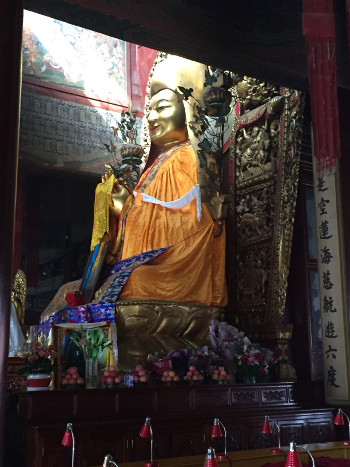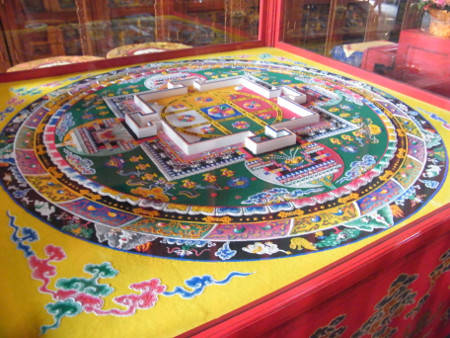 Next was the Imperial Palace Museum, or "Forbidden City". It must be getting increasingly forbidden again; we had to join an incredibly long and slow queue to get through a security check, taking close to 1.5 hours. One thing I hate about Beijing, compared to Guangzhou, is the paranoia; military and police and security everywhere, takes forever to get anywhere or do anything. But the Forbidden city was big and impressive as always.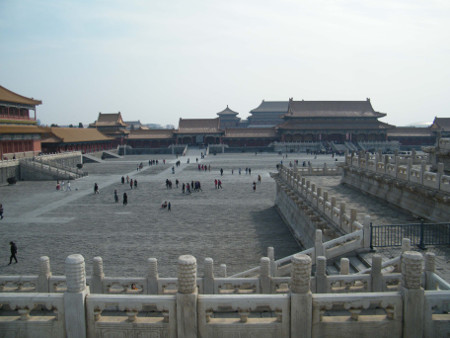 9 March had us on a Hi-speed train to Shenyang, not far from the Korea border. It was relatively swish and comfortable compared to the night train from Guangzhou, at speeds up to about 160 kph. On the way we had our first views of bare trees and frozen lakes, something we would see much of later in the trip.
We were in Shenyang Bei in just over 4 hours. There were our Chinese friends Chen and Ru to meet us. They have a nice car, an even nicer home, and Shenyang is a beautiful modern city; it seems a completely different country and lifestyle from when I was in China in say 1987.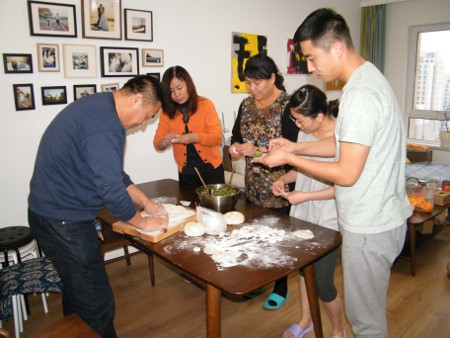 And they are model hosts, cooking great meals for us and taking us sightseeing around the city. One evening Chen's family came over and made a heavenly meal of dumplings (I learned a lot about the culinary art helping with them) and a number of stir-fries and other dishes.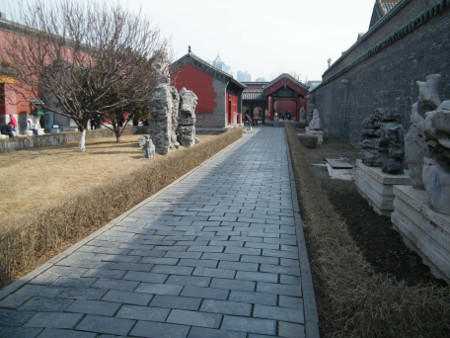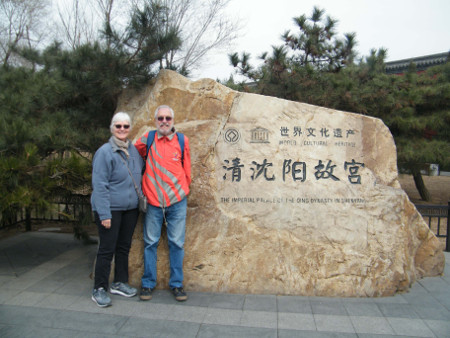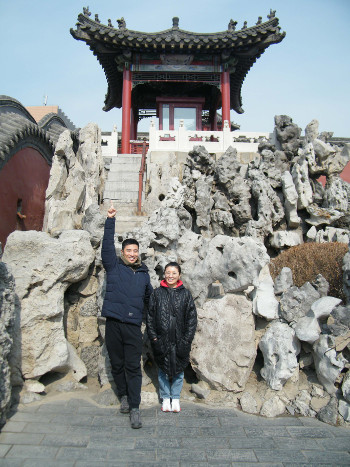 Shenyang has a historical precinct with its own Imperial Palace, apparently a model for the later Beijing one. We spent a good couple of hours there wandering around and studying the buildings, signs and extensive exhibits. I thought that this place is so good that we didn't really need to have gone to the Beijing place.
Back in Beijing on 11 March, we had a day or two before boarding the Trans-Siberian Railway. We had yet to see the Drum and Bell Towers, and maybe do some walks around the houtongs in the area. The Drum and Bell Towers would end up being one of the highlights of Beijing.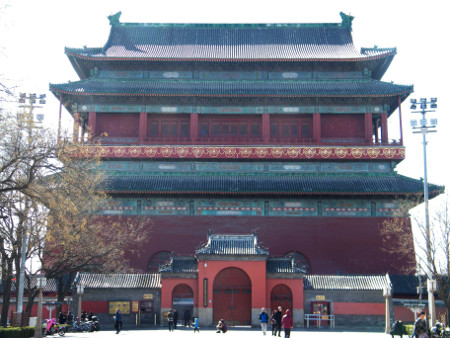 First was the Drum Tower, with much information on the history of timekeeping, seasons etc. The steps up were an adventure in themselves, very narrow, high and steep. At the top was an exhibition of large cowhide drums and a live drum performance by 3 drummers; amazing! The bell tower was no less good, with an equally daunting stairs, a huge bronze bell, explanations of bell casting and related technology, and more good views over the city in all directions.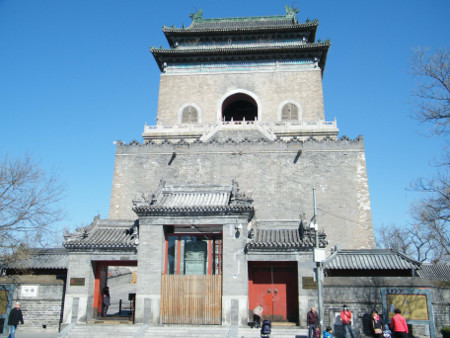 13 March was a milestone, the start of our Trans-Siberian Railway journey. Rather than ride straight through to Moscow, we would break up our journey in Ulaan Baatar, Irkutsk and Novosibirsk, spending 3-4 days in each city.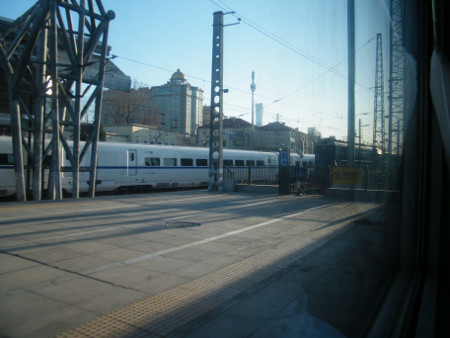 We were up around 05:00 to check out and make our way to Beijing Railway, and board the 07:27 to Ulaan Baatar. What a surprise! It must be low season; our train carriage was almost empty, and we had our compartment, and almost the entire carriage, all to ourselves for most of this leg.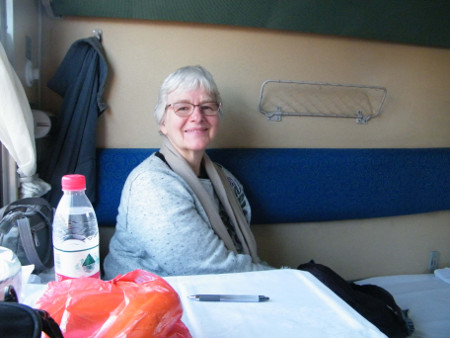 Out of Beijing, we passed through about 60 tunnels with scenic rugged valleys and partly-frozen rivers. Later the country opened up to flat or slightly hilly farmland, then increasingly grassland and desert through Inner Mongolia.
It took a while to get through the border town Erlian at night, mainly doing passport checks and adjusting carriage bogies, with a departure from UUM Zayeed (on the Mongolia side) after about 6.5 hours.
Mongolia
Anyway, we were now in Mongolia; elated to be in a brand new country. I woke to a bleak brown slightly grassy featureless plain, sparsely populated with a few men, horses, Bactrian camels, lone buildings and small settlements, usually with gers (Mongolian yurts) and other buildings. All starkly beautiful and fascinating to watch.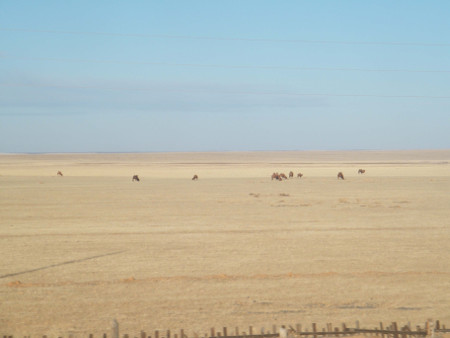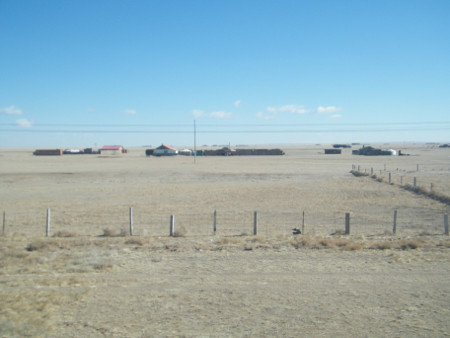 Despite the long time at the border, we did arrive in Ulaan Baatar on time at 14:35 on 14 March. As we came onto the platform there was our driver waving a hotel sign to take us to Zaya Hostel and into our very good room. UB turns out to be a nice enough city, clear air, weather crisp and dry, and less than expected coal smoke smell. First job was to go down town to the place where we could pick up our UB to Irkutsk train tickets. With them in hand, all is well.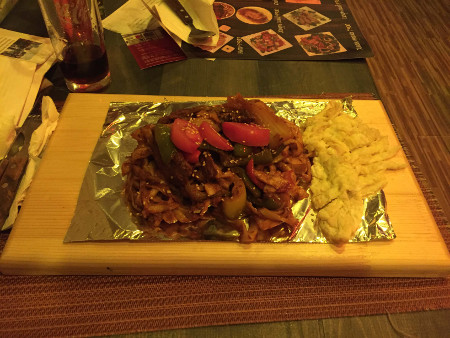 Next morning we start exploring. First was Ganden Monastery not far from our place. In the Buddhist monastery we looked around the temples, especially the interior of the main Megjid Janraysig Temple with its huge 26.5 metre high standing Buddha. At a smaller temple a Puja would start about 09:00. The service was very good and worthwhile, but the chanting was not all that melodious.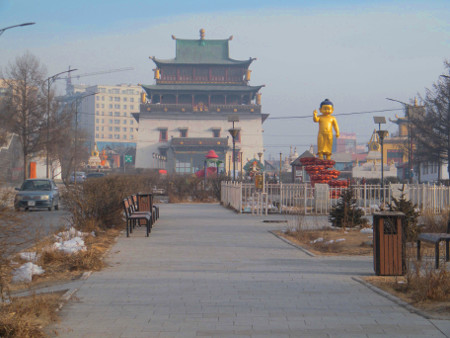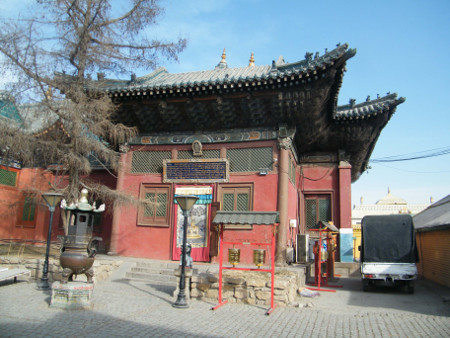 The National Museum was good for a couple of hours looking at exhibits on Mongol lifestyle and culture, heavy on the horses, costumes (inspired the Star Wars movies?) and wartime/communist/democracy periods.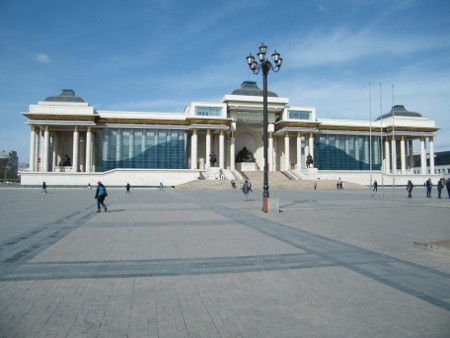 The large Suhkbaatar Square, UB's geographical and spiritual (?) centre, has the Parliament Buildings and statues of Chinngis Khan and Suhkbaatar. But it's not that crowded; lots of empty space and feeling a bit "dead".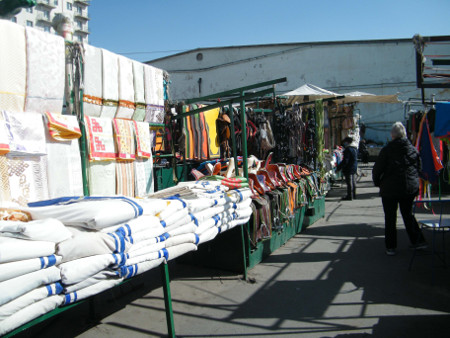 In the southeast of the city is the sprawling Narantuul Black Market, a vast partly covered market. Lots of items to be found no-where else. Of particular interest were saddles and horse accessories, traditional Mongol boots, garish-looking cheap - mainly pine - furniture in bright pastel colours, extensive clothing and manchester items, carpets, and knock-off fashion designs. Lunch there was mutton "buuz" dumplings and a flavourful but tough beef BBQ/rice/potato salad dish.
You can't go to Mongolia and only see the city. We have to get out sometime. So with an American guest from the hostel, we organized an overnight tour outside UB for 17-18 March.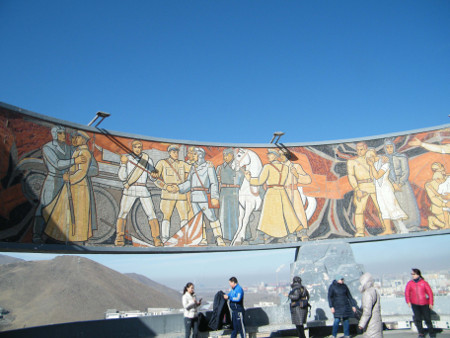 Our driver picked us up and took us out to the south-east of the city to see the hilltop Zaisen Memorial, a rather impressive looking Soviet monument. It represents the Russian and Mongolian heroes who fought together during WWI and WWII, with a large statue of a soldier, a circular diorama of Russian/Mongol heroes, and great views over a smog-laden UB.

Far out in the country to the north-east is the gigantic glistening 40 metre high aluminium statue of Chinngis Khan on horseback on a raised step-platform. It is so big that the ticket office is at the bottom entrance, and a multi-storey infrastructure is inside. There are 3-4 floors, with souvenir shops, restaurants, a museum, a giant leather boot. You can ascend stairs through the horse to a viewing platform over the horse's head. Good views look over the sparse terrain, and a small but good museum below has displays and exhibits of period equipment, dress, customs and the evolution of the ger.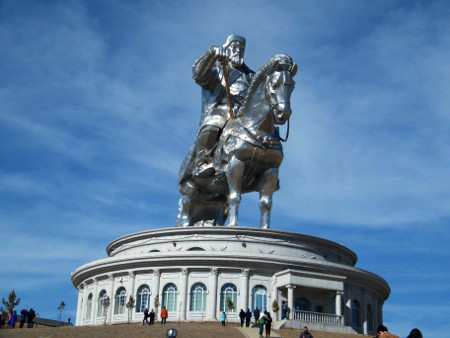 Farther on in the tour is a large rock formation beside the road, called for obvious reasons Turtle Rock. Slightly farther on is the Arayapala Study and Meditation Centre, hugging the hillside near the top. It was a long slog, maybe 1/2 hour walk, to get up steps, passing hundreds of "pearls of wisdom" signs along the way.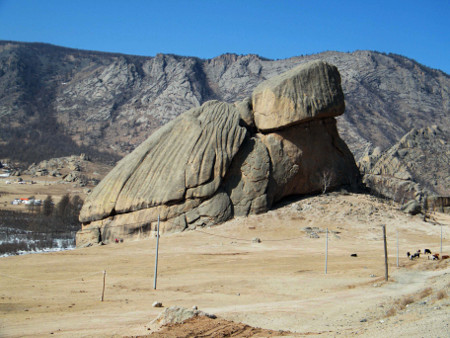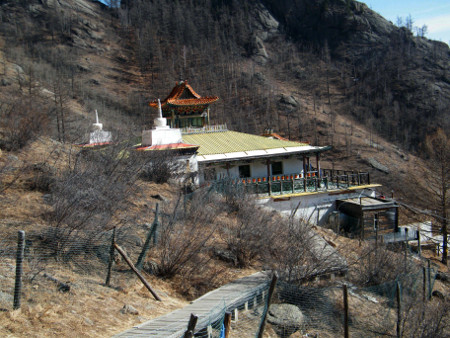 By early afternoon, after some rough unpaved roads, we arrived in a village, and were transferred to another local guy driving an older 4WD vehicle. We set off again, over very rough rocky/sandy unsealed roads, ice-covered rivers and up through impossibly scenic hills and valleys. Eventually we came to a valley with a small remote ger farm, with 3 gers and outbuildings and a bit of machinery, and horses and cattle around. This was to be our home for the night.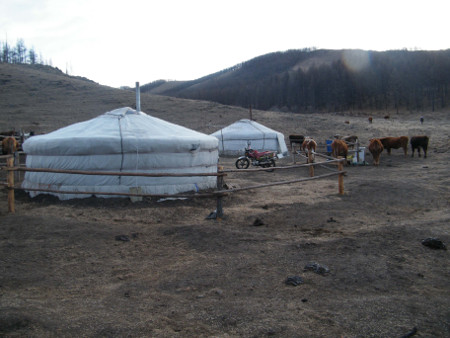 The man and his wife, with no English, greeted us warmly, took us into their ger, and gave us tea latte (with horse milk), sweet buns and a meat stir-fry lunch. Some attempt was made at convivial conversation, and they showed us to a nearby ger where we were to sleep. This edifice had 5 beds, a wood stove and a bit of furniture. The dunny, about 100 metres away across the pasture, was a 3-sided log affair, about 1 metre high, with no roof, and a hole between floor planks.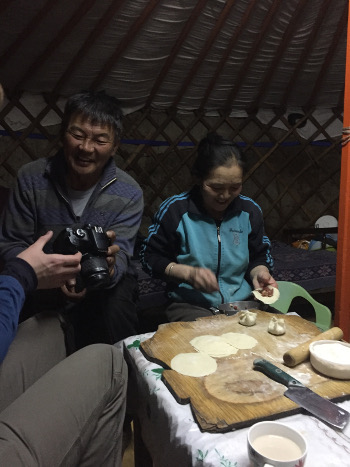 Dinner was a substantial meal of steamed mutton buuz. Evening entertainment was a HBO movie on a solar powered satellite TV (way out here??). Then with a fire in the bedroom ger stove (stoking it throughout the night), we went to bed and slept well.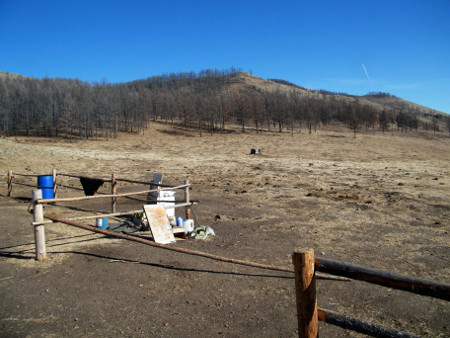 Next day we had an egg/bread/jam/sweet-bun/tea breakfast, a short walk in the morning up a valley, and time to leave. Another long tortuous drive back to UB, and we were to be on the train the following day to Russia.
We really liked Ulan Baatar and Mongolia in general. I'd always thought of it as this wild "end of the earth" type place, and was thrilled to finally make it here. It was much more cosmopolitan and liveable than expected, and easy to communicate and get around in. One regret was that it was too unseasonal to catch any song/dance or cultural performances, so we missed the throat singing.
On 19 March at 15:22 we were on the train to Irkutsk in Siberia. In the ugly industrial suburbs of north UB, a large coal power station belched out smoke and deposited it on the downwind hills, nicely browning the snow thereon. Beyond the hills we entered grassland again, farms, ger settlements, cattle, many horses, but no more camels.
Something about gers: All gers I've seen in this country seem to be permanent, i.e. on foundations and next to other buildings. I wondered if they ever move them any more. However, a Mongolian guy said that some of the gers do go nomadic in the grazing season.
About 21:50 we pulled into the Mongolian border town Sukhbaatar. It took about 4 hours to go through border formalities and finally clear the Russian border town Nayushki. We couldn't leave the train but the the very courteous and efficient Russians processed our passports on-the-spot, and even showed us how we had set up our beds wrong.
Russia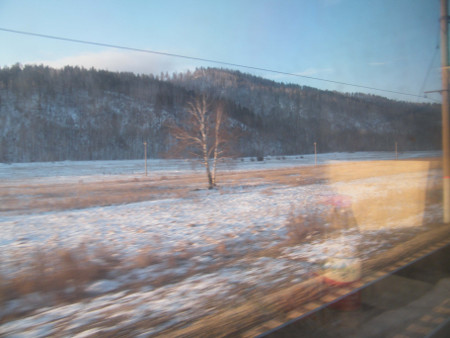 Next morning offered us not brown steppes, but birch, poplar and spruce trees, frozen rivers, forested hills, mountain peaks in the distance, temperatures well below freezing, and snow everywhere that looked like nowhere near melting. Whoopee! We're now in Siberia, Russia; another brand new country for both of us.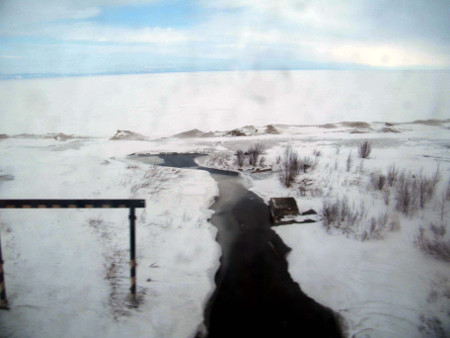 Before long we came to a broad expanse of white ice. We had arrived at Lake Baikal, what a milestone on our trip! The train skirted the south (south-east?) side of the lake for several hours, giving us unparalleled views of the lake. Many rustic villages lined the lake shore, but I couldn't see much source of wealth or employment here, except maybe railway maintenance and a bit of ice-fishing. However, one major source of resource activity I saw through most of Siberia was indicated by the frequent China-bound log-and-timber trains.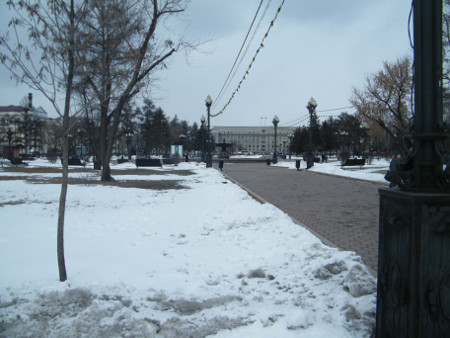 Our train came into the medium size city Irkutsk on time at 14:37. There was some snow around but temperature was above freezing and surprisingly pleasant. We teamed up with a fellow traveller for a taxi across the bridge over the R Argana, into town, and to our accommodation. The Viva Baikaler Hostel seems a good comfortable place, and easily walkable to most places of interest.
Now we could treat ourselves to a change of diet, real Russian food. Our host Viktor suggested a restaurant with a large selection of Russian, regional and other dishes. And so ensued a good feed of Borscht, Georgian soup, two types of perogies with real sour cream (forgot how much I miss that), Greek salad, ice cream and cake. Also, from here on, most places we stayed in had kitchens, so I could shop for groceries and cook our own meals.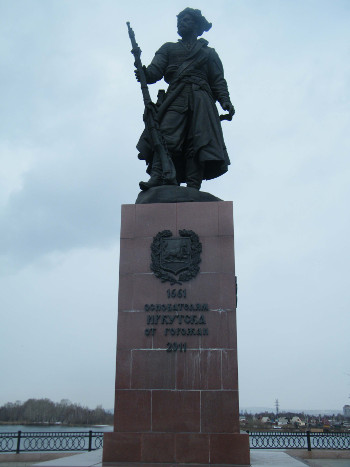 Irkutsk is a nice enough city in Eastern Siberia, not very touristy but easily navigable and many attractive sights. Some of the notables are:
- The bare and snowy but still pretty Khirov Square/Park.
- Originally wood, now brick Polish Church.
- Ship-shaped Spasskaya Church.
- Beautifully-domed Epiphany Cathedral with very beautiful ceiling frescoes. This church, like others, has very little seating inside; apparently here the congregations all stand out of respect.
- Cossack soldier statue "Monument to the Founders of Irkutsk" on the Angara River waterfront.
- The wide and flowing Angara River.
- The iconic "Babr" sculpture, a mythical tiger-like beast, the symbol of Irkutsk.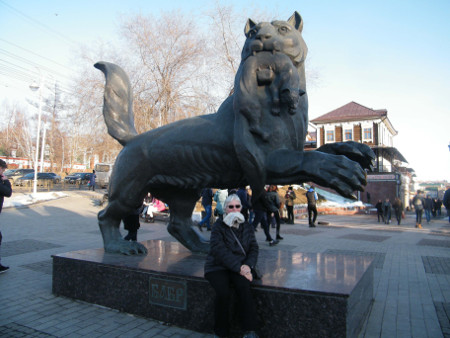 - The Krestovozdvizhenskaya Church, with more onion domes and a more spartan interior and again no seats.
- The Island parks in the the Angara. Thereon is a small bandshell with a familiar shape, labelled Sydneyskaya Opera.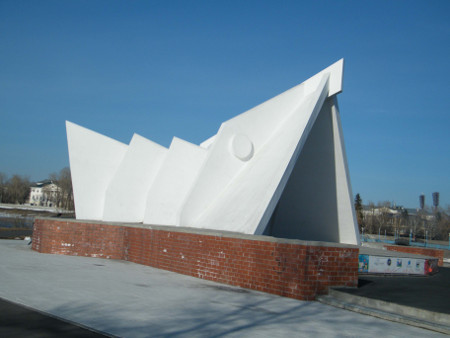 - The historic Argana icebreaker, 100m long and around 1600dwt, now a museum. The main attraction is the engine room with two gigantic boilers and a large 3-cylinder (the 3-stage type with 3 different size cylinders) piston steam engine; the engine must have been 3-4 m high.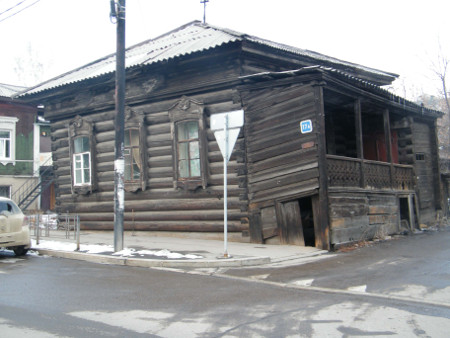 A major feature of Irkutsk is the traditional and fast-vanishing "wooden architecture" houses. In various states of dilapidation and repair, and many bent/sagged into surrealistic angles, these ornate but crumbling buildings are charming and full of character.
There are a number of museums, but we decided to go to only two of them, the Volkonsky and the Trubetskoy Manor House Museums. These houses were built/owned by two of the exiled Decembrists. Many of the participants of the failed December 1825 uprising were exiled here and/or to other remote places, and they established themselves and built up the place. Both houses had very good period displays, photos, paintings and information about the people and life at the time.

A day trip was to Lake Baikal and the lakeside town Listvianka, about a 1-hour drive south. Many people were out on the lake ice, weekend tourists walking, several hovercraft at rest or roaring around the lake, much tourist infrastructure/equipment, powered paragliders and hang gliders, quad bikes, snowmobiles, and a horse or two. I tried the hot local smoked Omul fish; not bad.
Our next leg of the trip was an overnight train to Novosibirsk. On the Russian legs of the trip our tickets were e-registration; when boarding we simply had to show our passports to the platform attendant.
Interesting train food (buy anywhere and take on the train) was the Russian instant potato cup meals, like Asian noodle cups but with instant mashed potato instead; I liked them. Some time after boarding, we got our included meal presented to us in our cabin. Each leg of the TSR supplied one meal, but it was somewhat of a disappointment. Far from the elegant repast we'd seen on my copy of the Rossiya menu, it was decidedly unsophisticated. All in plastic take-away containers, it comprised a small plain serving of macaroni and meat in a little sauce, bread, salami, a cookie-bun, a small bottle of water, and not a molecule of fruit/vegetable.
On this trip leg, scenery was mainly rolling hill country, forested with birch spruce and a little poplar, rivers and creeks, considerable logging activity (many logging villages and log trains heading east China-bound) and cleared land (put to who-knows-what use).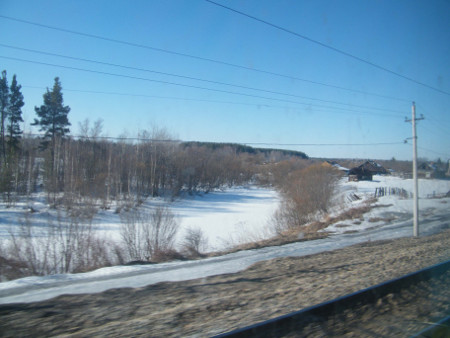 We were into Novosibirsk at 19:39 on 26 March, still light out. It took a metro ride and some searching to find our accommodation, but eventually we found our way.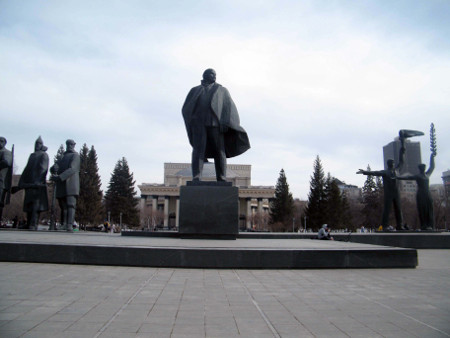 Novisibirsk is a much larger city than Irkutsk, and even less touristy. It is Russia for the Russians. There are some interesting, if quirky, sights, and a good place to experience real local culture. Pl Lenina has an imposing statue of Lenin flanked by a few of his toughs.
The NK Rerich museum is a large 3-floor building housing paintings and artefacts of Nicholas Roerick, a 20th century artist, traveller and student of faith and cultures. I was thoroughly captivated by the style and subjects of his paintings, most of which addressed different faiths, and many with Himalaya themes.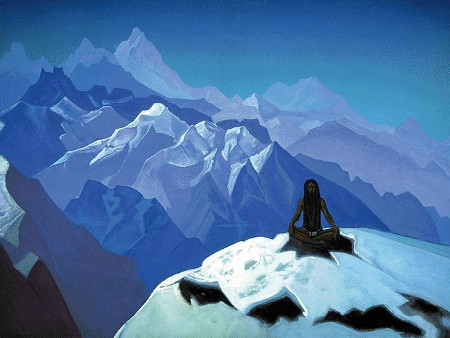 The USSR Museum is a slightly kitsch and hokey, but delightful, museum to spend a couple of hours. A girl who knew no English took us on a tour using her phone with Google Translate or something. The 2-storey house-size establishment had only about 5 or 6 normal rooms of exhibits, mainly covering soviet-era artefacts such as home/household items, of "good Soviet quality". One room had household knick-knacks such as a "working-forever" refrigerator, appliances, toys, perfumes, crockery, cooking utensils and the like. Another was done up as a police office, with accessories and a desk behind which one could sit with a hat or cloak on for a photo. Another room had sports equipment and running shoes, another had millinery and dresses, another dolls, another nested dolls and birch bark sculpture, another stamp collections, and so on. Many of the items came from a period of, and reminded me of, my childhood.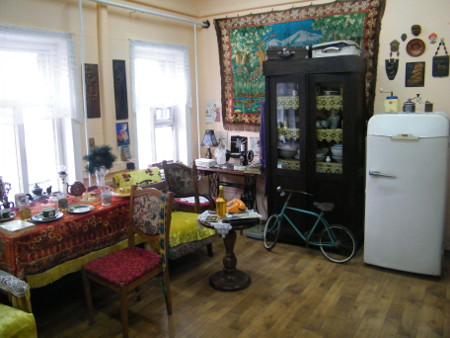 From Novosibirsk, it was on to Moscow. We were into Yaroslav Station on time at 17:00 on 31 March, having just completed the longest stretch of our journey, 3343 km from Novosibirsk to Moscow, in 52 hours. Despite an uncertain start with catering issues it was a good leg, relaxing and beautiful (if repetitive) views, and plenty of time to read, listen to music, do homework etc.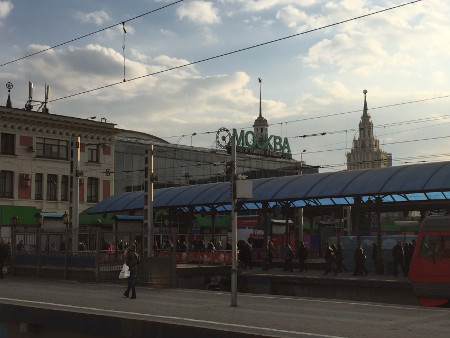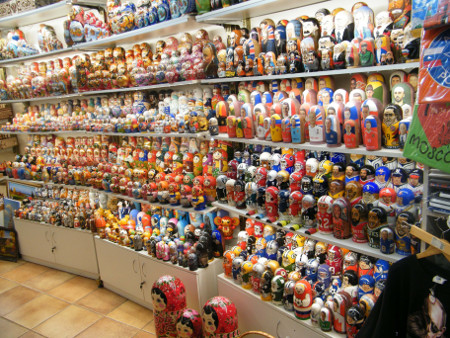 Moscow, especially the centre, must be one of the most impressive cities in the world. It's a wonderland (Disneyland?) of stunningly beautiful giant historic well-maintained buildings, spires and domes. We both loved it.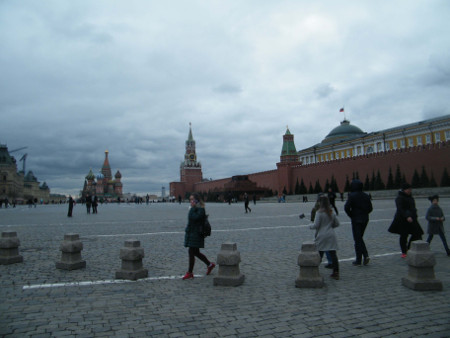 Red Square is the iconic landmark of Moscow. Not so much of a square but a long plaza, it runs along the east side of the Kremlin wall, bookended by the State Museum at one end, and a road and the river at the other, with the dream-scape St Basil's Cathedral in the centre.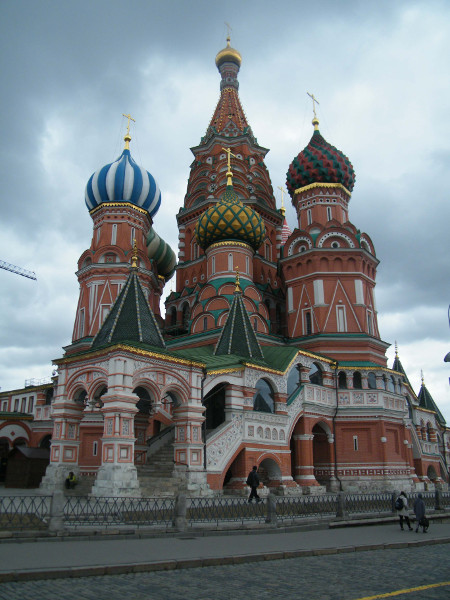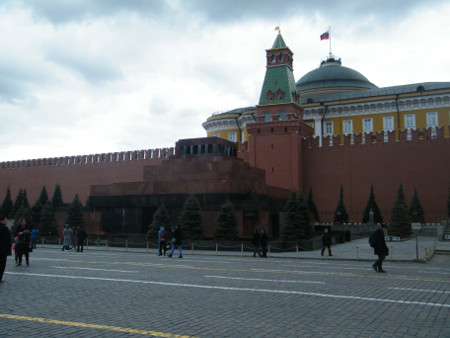 We spent a couple of hours in the Kremlin, braving wind and snow (well, this IS Moscow), and listening to guards whistling people away from where they shouldn't go (much of the Kremlin interior is off limits). A row of Russian cannons (the bore of some seemed curiously off-centre) led up to the giant Tzar's Cannon with its 600mm? cannon balls. Most of the accessible Kremlin seemed to be religious edifices: the Annunciation Cathedral, the Archangel's Cathedral, the Assumption Cathedral, and the smaller Church of Laying our Lady's Holy Robe. They all had paintings and reliefs of icons and religious themes on all wall and ceiling surfaces, not really great art but mind-blowing in quantity and details.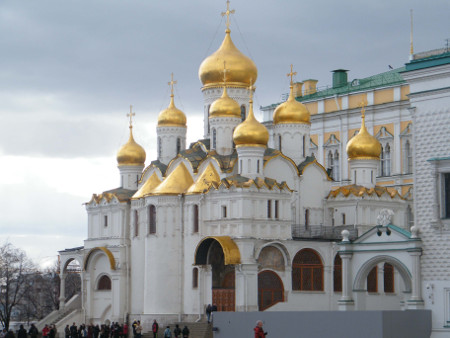 Gorky Park, being early in the year, wasn't as active or vibrant as expected. But nearby was the "Park of Arts", a pleasant surprise. It was covered with hundreds of sculptures and other artworks, and was a delight to wander through and admire the works, although far too many to see everything in detail. Amongst the sculptures was an area of "fallen monuments" displaying themes and prominent people from the USSR era, most of which had been taken down from elsewhere and dumped here. The biggest one was Stalin with a broken nose.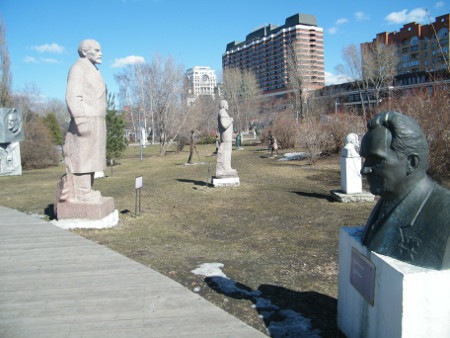 Near Red Square was the ritzy GUM shopping mall. It's a massive place, 3 main parallel hallways and 3 levels, full of fancy name-brand stores. The staff greatly outnumbered customers; bored attendants, sometimes a few per store, stood waiting in vain for someone to come in, reminiscent of spiders waiting for flies to stray into the web.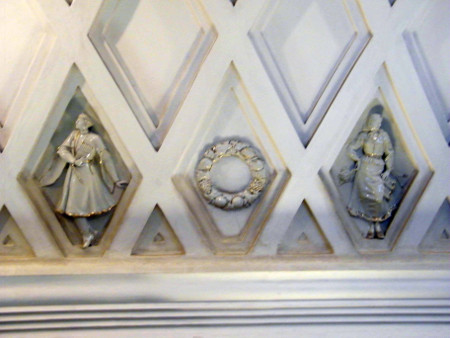 A great activity is to board the metro with our unlimited passes and do a tour of the legendary Moscow metro stations.
- Kiyevskaya is a very deep station, with a seemingly endless escalator (the world's longest) going down to Pellucidar and line 5.
- Park Pobedy Station has large panels in the hall depict victories of 1812 and 1945.
- Komsomolskaya has panels showing volunteers at work building the station.
- Prospekt Mira was named after the nearby botanic gardens, and is featured by many porcelain sculptures depicting planting, nature and harmony scenes.
- Novoslobaskaya station specialises in art-nouveau stained glass panels, some depicting the 6 intellectual professions, and a large mosaic "Peace in the Whole World".
- The Belorusskaya station pays homage to Russia's neighbour, with ceiling panels and a floor pattern depicting aspects of Belarus culture and design.
- The prize-winning art-deco style Mayakovskaya station is in pink Rhodendrite and narrow steel columns, with 24 inspiring aviation/sky mosaics in the ceiling.
- Teatralnaya Station, next to the Bolshoi, has porcelain figures in dress and musical styles from the various regions.
- Ploshchad Revolyutsii station boasts life-size bronze statues of revolution and post-rev themes.
- The white-marble Kievskaya station has Ukrainian-themed frescoed panels.
- and on and on....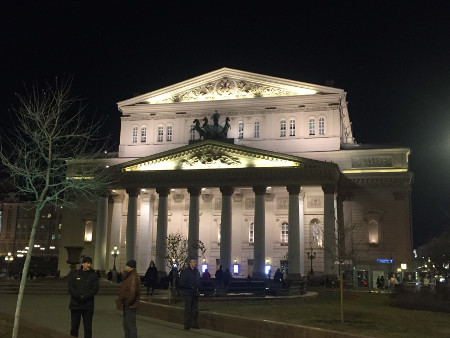 Another highlight of Moscow was the Bolshoi Theatre. We scored a performance of Gaetano Donizetti's Don Pasquale. It was in the "New Stage", not in the original Bolshoi building, but I guess near enough. Singing and acting performances were superb. Overall, we had a great time.
The #760 train to St Petersberg is a whole new world compared to the relatively slow and clunky TSR trains. At speeds typically 200kmh and only 3 short stops en-route, we were in St Petersberg's Moskovsky Station in 4 hours.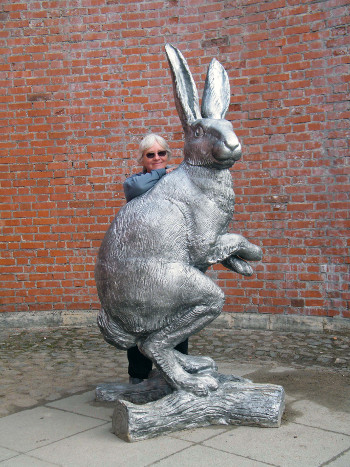 St Petersberg was predictably amazing, the most "European" of Russian cities. There was still ice on the Neva River at this time, and a few hardy locals were taking brief swims. Two of the highlights were the Hermitage and the Peter and Paul Fortress.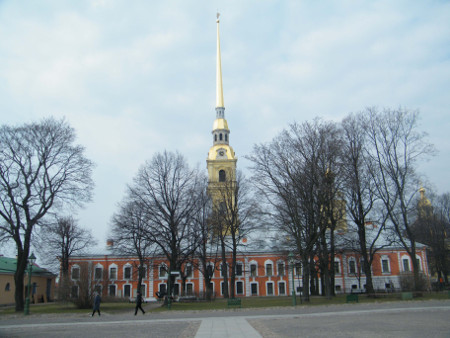 The State Hermitage Museum is housed in the Winter Palace building on the Neva River front. The Hermitage is said to be the world's second largest museum/gallery, maybe behind the Louvre? It was quite overwhelmingly vast. If someone were to look at every exhibit there at a minute each, it is said to take 8 years to see it all. It started with the usual flint arrowheads, and went on to art and civilisation throughout history and the world. Besides the many thousands of artefacts, paintings and sculptures, the building itself and the hundreds of rooms were opulently decorated and beautiful in their own right. We were there for about 3.5 hours, and by that time we were skipping large sections, and virtually walking right past stuff. Just waaaay too much to take in, but great of course.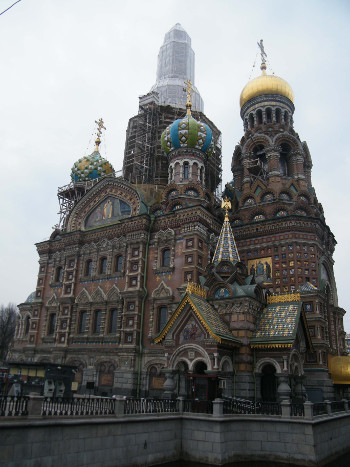 The Political Museum had been recommended by one of the hostel staff as being her favourite. She was right. Not big and intimidating like the Hermitage, it was small enough to see almost everything, some of the information was in English, and I found it very informative and educational. It covered Russian and Soviet history from 19th century to the present. There was little or no flag-waving or obvious propaganda, and it didn't sugar-coat the difficult or repressive periods.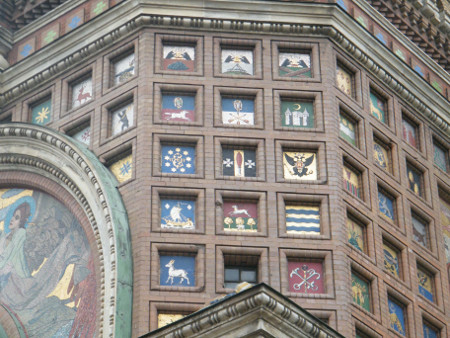 Zayachy Island contains the walled and angular Peter and Paul Fortress. In the fortress itself are a number of museums and other attractions. Dominating the centre was the impressive Peter and Paul Cathedral with its tall spire, a very voluminous and opulent interior, and much gilt and light on paintings and frescoes. There were burial vaults all over the interior; here is where many Czars and family and nobility were "buried" in the 19th century, and even in modern times. The nearby Tubachov Prison has many cells and corridors on two levels, and information on design, conditions and "guests" of this institution. The Museum of Rocketry and Space, despite the obviously Russian/Soviet flag waving and propaganda, was a very interesting set of exhibits and information on the history of rocketry and (mainly Russian) space exploration, from the first 19th century theories and experiments up to the ISS. There were other museums in the fort, but I think I've said enough.
Near home is the Cathedral of the Saviour on the Blood. Grand and opulent on the outside, its main attraction was its magnificent interior; nearly every surface of walls and domes was covered in elaborate mosaics of religious motifs. Wow!
That's just about it for St Petersberg and Russia. I really loved it, and would like to have spent more time here, seen more things and got a better feel for the culture. Now on to Europe, click here to continue.