Eastern Canada and Central America, June to August 2014
I'm in Canada with Maggie, and our planned India trip is off due to unforseen circumstances. So there must be some other way to fill in the allocated time. Maggie still has 4 weeks' vacation to use. I've never been to Eastern Canada and the Maritimes, so if I can talk Maggie into a car trip in that direction.....
We plan to drive to Toronto to see rellies, on to Quebec, New Brunswick, Nova Scotia and Prince Edward Island, and finally back home to Manitoba.
Eastern Canada
(Click for Eastern Canada map)
The Corolla packed up and ready to go, we set off from Winnipeg about 08.00 Sunday morning 15 June, aiming to make Toronto in 2 days. As we proceeded east on the Trans Canada Highway into Ontario, cloud turned to rain and dogged us the entire day.
Still, it was a pleasant enough drive, entering the Canadian Shield geological region in Eastern Manitoba and passing through beautiful rock formations, forest and lake country for the next 1.5 days. Other than brief fuel and rest stops, we only had one stop at the roaring Kakebecka Waterfall, almost getting drenched in the spray.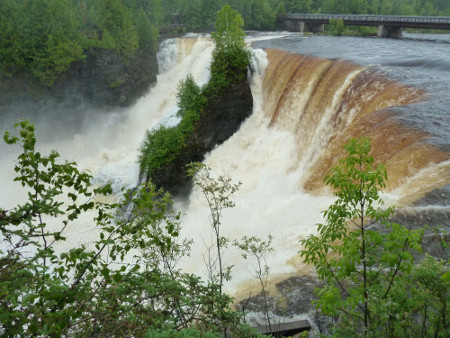 1160 km of hard driving placed us in the nowhere-man town Wawa in Northern Ontario sometime after 23.00 that evening. Wawa is a hub for hunting and fishing expeditions in N.O., and is symbolized by the Canada goose, of which there are a number of sculptures around the town.
It was drier weather next day, even a bit sunny, as we continued on through Sault-Ste-Marie and Sudbury. Roughness of scenery gradually diminished as we drove south from Sudbury towards Parry Sound and towards Toronto. Winding 2-lane gave way to straight dual-carriageway.
We approached Toronto via Hwy 400 just after the evening rush hour, but found the frenetic pace of traffic a bit of a shock after 2 days in the bush. Speeding, weaving and dodging along the 400, 401, 427 and QEW, we finally found our way around 20.30 to my aunt Mickey's place near the Lakeshore in Port Credit. It was the 2065 km mark and we congratulated ourselves on our achievement without any major fights.
Next day was a lay-day, with easy walks around the Port Credit neighbourhood. After breakfast Maggie and I wandered along the lake shore west, past the site of the St Lawrence Starch factory, over the Credit River and along the shore to a well-maintained Rhododendron Park.
The following morning, bidding goodbye to our gracious hosts, we departed about 09.12 on our way east, stopping briefly to visit an aunt in a care home. It was an unexciting but pleasant enough drive east toward Montreal on a mostly sunny day. We bypassed Montreal from the south on Hwy 30, through the town Sorel, onto a small but very pleasant and scenic road #132, and into Trois Riviers about 20.00. We settled in to The Auberge Internationale de Trois Riviers after a successful day, topping off the evening in street-cafe style with a couple of long island ice teas and pints of beer; magic!
On to Quebec City, we found our way into the upper old town, to the narrow Rue Ste Ursule, and into the Auberge Internationale de Quebec . We would be two nights here.
First activity was a look at the Old Town and the Citadel. Walking through one of the massive city wall gates, we emerged onto the street above the city wall and to the rotunda fountain, facing the imposing government legislative building. Curiously, the legislature is prefixed "National", presumably a lingering separatist sentiment.
The Citadel was the raison-d-etre for Quebec, perched on a steep hill overlooking the St Lawrence River and an ideal location to dominate and guard the entrance to Canada. Champlaine founded the city because of the location, and the British built the Citadel as a fortress after they took Canada from the French. It is still a working military installation, home to the 22'nd Battalion.
We took the guided tour of the Citadel grounds, soaking up historical detail and good views of the city and across the river.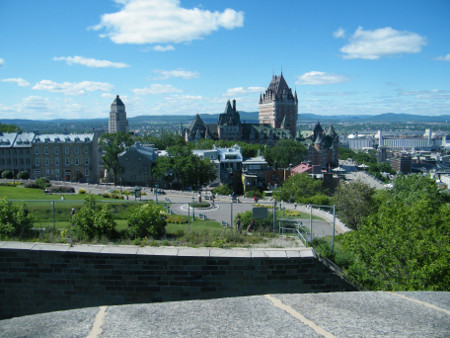 After the tour, we wandered around the entrance to the adjacent Battlefields Park and along the top of the city wall to approximately its northern end, taking in the extensive educational signs explaining the history and engineering of fortifications. From the walls we wandered into the old upper town, along the vibrant Rue St Jean, over and through the magnificent Chateau Frontenac, out onto the 450 m long boardwalk concourse above the cliff face, and to the prominent statue of Samuel de Champlain, founder of the city.
The cafes, bars and restaurants of Rue St Jean light up in the evening. Quebec has a well-deserved reputation for French-style street life atmosphere. Quebec beer is good, but at up to 9 or 10% alcohol, is of weapons-grade potency.
Next day we check out Battlefields Park and the Plains of Abraham. On offer at this time of year was a multimedia presentation - partly informative, partly tongue-in-cheek, and totally entertaining. In the museum was fascinating detail of military history and battlefield tactics, even down to the fabrics and tailoring techniques of soldiers' uniforms. Did you know that the 18th century British uniforms were of better quality materials than those of the French?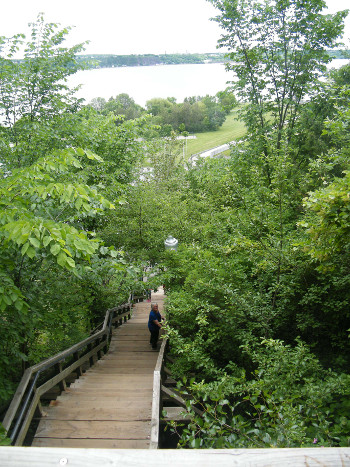 Out in the park, I couldn't stop Maggie from taking on the challenging 400 step staircase down through forest to river level and back up. On the Plains of Abraham we strolled through forest for a km or so, returning along upper pathways. Passing numerous gun emplacements, I am coming to believe that every muzzle-loading cannon ever forged still exists to this day.
Later in the day we set out on a self-guided walk around parts of the upper and lower Old Town. We passed the tree with a cannonball embedded in its roots (??), the house where French General Montcalm died in 1769, the Ursuline convent and nuns' sculpture, Quebec's first skyscraper (1929 vintage), the Quebec Seminary, the Rue de Ramparts where we were yesterday, the Cote de Canoterie road down to the lower level, the antique stores of Rue St Paul, the very narrow Rue Sous-le-Cap (the old red-light district) and finally the vast and amazing Fresque des Quebequois, a 420 sq m mural covering the entire side of a large building and portraying several seasons and historical periods.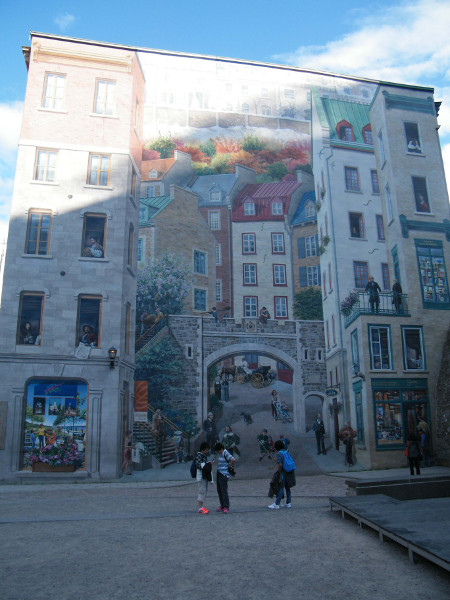 The evening comprised more of the inimitable Quebec cafe-society life on Rue Ste-Jean; the relaxed ecstasy of coffee and people-watching.
I liked Quebec. It has a laid-back but cosmopolitan atmosphere lacking in the strip malls and red-neck bars of the rest of Canada.
By Saturday 21 June we'd done most of what we can in Quebec; now on to the Maritimes.
The highway along the St Lawrence and into the Maritimes is mostly bush and farms, and not very exciting. But I did notice large numbers of orange flowers along the roadside. They looked suspiciously like Orange Hawkweed (Pilosella aurantiaca), that diabolical feral plant we are fighting so hard to eradicate in the Snowy Mountains of Australia. I would see much more of this plant and its yellow cousin on subsequent days; it's really taken over in places.
Northern New Brunswick seems to be mostly francophone, as the road signs etc. remained predominantly French. The land looked a continuation of the Canadian Shield, with boreal forest, rocks and cautionary moose signs. In the town Campbellton we found the Campbellton Lighthouse Hostel near the waterfront. It was originally a lighthouse and although not large, it has character and was a delightful place to stay. We walked around town photographing the steel bridge and the large stainless-steel Salmon sculpture, followed by a drinks and rib dinners at a bar & grill. Today is the solstice, light until well after 22.00, nice to have such a long lazy evening.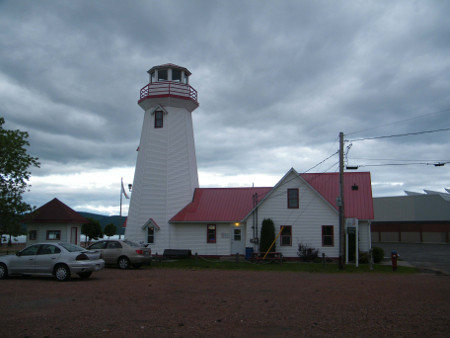 Another attraction of Campbellton is the 281 m Surgarloaf Hill just to the south of town. We might as well give it a go before moving on. In the morning we drove to the base of the hill, parked and started the climb. The way up is through spruce and birch forest. A rough vehicle track took us about 1/3 way, followed by a steep rocky path with some handrails and steel steps. It took us maybe an hour to get up to the top, a magnificent effort by Maggie, and overall a beautiful walk. A viewing platform at the top enabled a 180 deg view of the town and the Patapedia Estuary.
Back in the car by 11.30, we continued east along #11 past Dalhousie and Bathurst, and onward along the shore of Baie des Chaleurs. Much of this stretch of road is through beautiful and green rolling forest, followed by open country with small villages and good views over the bay.
Our target was the Acadian Historic Village near Grande Anse, a period theme park with original or reproduction farmhouses and other buildings from 1773 to 1949. Park staff dressed in period clothing.They talked about and demonstrated the history of the Acadians, the original building inhabitants, life of the times, and products and techniques covering everything from wool and linen processing to cobbling. If you can tolerate manufactured theme parks, this one was quite OK.
South of Grand Anse is the large coastal Kouchibouguac National Park, with extensive bike trails and a number of shorter walking tracks on natural paths, gravel or boardwalk. Our day there was beautiful, mostly sunny and not hot. So we decided to try some of the walking tracks. First, in the north of the park, was the 5.3 km Osprey Trail, a partial loop through dense bush and along shoreline. It was flat easy walking with pretty shore views, but parts of the path were dense foliage and muddy. Mosquitoes were diabolical.
Next was the short 0.6 km Salt Marsh Track, partly on boardwalk. Following was the 1.2 km Kellys Beach Boardwalk, crowded with beach goers but interesting for its coastal estuary, beach and dune scenery.
Finally we tackled the 1.8 km mostly boardwalk Bog Track, one of the more interesting tracks because of the viewing tower on the edge of the bog, and the very good interpretive signs on the formation, structure and ecology of bogs. Allegedly 12% of Canada's land area is bog.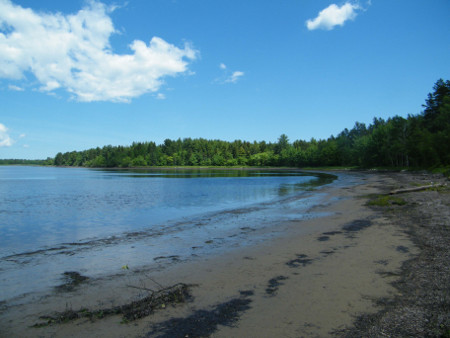 Next stop: Moncton and the C'mon Inn Hostel. The "attraction" in Moncton is Tidal Bore Park, and we had just enough time in the evening to walk to the park for the 20.05 tidal bore. It was, well, a bore (just a view of water flowing upstream).
There was not a lot to see and do in Moncton, so on to Chediac ("The Big Lobster"), Cape Jourimain and the 13 km long winding arched Confederation Bridge crossing to Prince Edward Island. It was an interesting bridge, curved to keep the drivers' attention, and arched in the middle to allow passage of ships.
Prince Edward Island was somewhat of a contrast to New Brunswicks relentless forest; red rocks and soil, rolling patchwork potato fields and small patches of trees.
We stayed three nights in the Charlottetown Backpackers Inn, much of the time unfortunately rain-soaked. Charlottetown, the capital of PEI, is a quaint town/city of a couple of hundred thousand people or so. 2014 is the 150th anniversary of the confederation meeting here, so preparations for the relevant celebrations were evident around the place. Sights around town included the historic St Duncan's Basilica, the 1-block Victoria Row pedestrian mall, the Confederation Centre of the Arts with an inspiring gallery of Canadian paintings and sculpture, City Hall, the churches of the All Souls Lane area, Beaconsfield Mansion and the kitsch Peakes Wharf tourist shopping block. Provincial House offered a 1/2 hour legislature guided tour and a video presentation of the 1864 Charlottetown Conference. The Cows Dairy Plant near the edge of town gave us a 1/2 hour very tourist-oriented tour, describing t-shirt printing, ice-cream making and cheese-making.
At the Princewater Seafood Restaurant and Shop we picked up two 1 lb cooked lobsters to dine on at home. Preparing for our lobster dinner, we asked the hostel guy Nathan if there were any utensils to take apart the lobsters. That was his cue to make a grand entry into the kitchen and put his master-chef talents to use. With great fanfare and aplomb, he proceeded to dismember and open up the lobsters for us, a real show to thunderous applause. I enjoyed the lobster and trimmings feast but unfortunately it wasn't entirely to Maggie's taste and sensitivities.
After Charlottetown, and with clearing weather, we decided to go up to Brackley's Beach area on the north side of the island, only about 20 km away from town.
The BB Hostel is a big grey empty barn-type structure in the middle of pretty, bucolic countryside. We set out for a 20+ km drive over to Cavendish and the Green Gables district. It is quite a picturesque scenic drive down country lanes. Everything around here is Lucy-Maude Montgomery and Anne.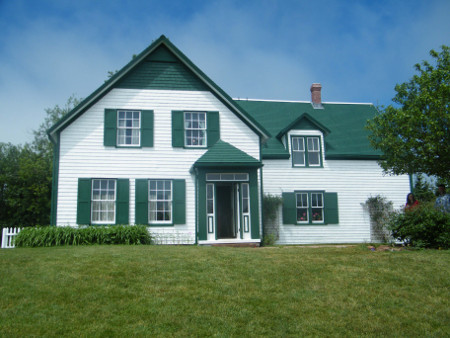 We stopped at the GG house site, which is now a National Park with ancillary buildings and walking tracks. It included a sort of museum barn, the house which does have green gables and is furnished with period furniture and accessories, and short walks through surrounding fields and bush.
After the GG house, we drove along the coast and came to a point of land near French River, across the estuary from the end of the PEI National Park. It was a very pleasant walk around the nameless lighthouse and along the near-deserted beach and sandstone shore. An offshore cloud bank performed a ghostly strip-tease of the sand dunes on the peninsula across the water.

On the way back home we stopped at the Cavendish "Boardwalk", a plank footpath along a super-kitsch strip mall of souvenir shops and take-away food places. Nearer home we came to the "Great Canadian Soap Company" where we watched a propaganda video on soap technology and manufacture and purchased goats-milk soap, said to be less irritating than synthetic soaps.
It was clear next day, and warmer than yesterday, good to rent bikes and take them along the coast and inland. We started cycling about 10.30, first riding directly down the road 3 or 4 km to the PEI NP entrance and the Brackley Beach shore. The road splits with a left turn going a few km along the coast to Robinson Island. With the overgrown dunes on the right side and a bay on the other, it's a pretty diversion.
Back at the T-junction, we continued right on the bike path for several km east, again with dunes and entrances coastward and bush or bays inland. Maggie was pleased with the flatness and ease of the ride. Passing Stanhope, we turned away from the coast, and re-joined the road to the picturesque villages Grand Tracadie, Corran Ban and Mill Cove.
After about 30 km of biking, we found the junction the Confederation Trail, our way back home. The trail actually goes about 270 km, but today we'd use about 10 km of it. It was built in the 19th century as rail line to link the island together, and converted to a bike path after the railway closed. As such, it is now a flat, somewhat winding, gravel-surfaced bike path. It could be a pleasant way to ride the length of the island if one had time.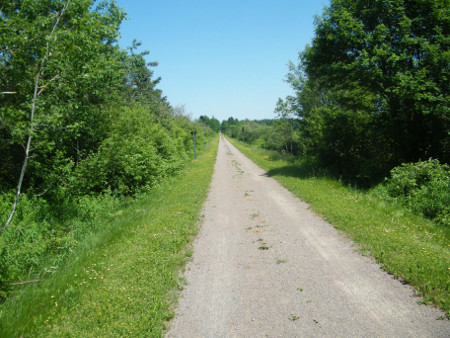 We came to our turn-off to Road 221, hot and tired from our ride, but with still 10 - 15 km left to go. North on 221 we encountered a few long gentle hills past farms, but ever closer to home. Amazingly Maggie soldiered on through all the hills without ever becoming uncontrollably defeated, exhausted or angry. Lucky me!
At about 15.30, after 5 hours and maybe 60 km of cycling, we finally made it home. Satisfaction for a day well ridden outweighed any fatigue.
29 June is a road day; leave PEI and try to get all the way around to Cape Breton. Back the way we came through Charlottetown and the Confederation Bridge, we crossed back to NB. Through New Brunswick and into Nova Scotia, we continued through hills and forest and down to the Canso Causeway and swing bridge across to Cape Breton. The drive past Bras d'Or Lake took us to Nacza and the turn-off to the Cabot Trail.
It took some searching and backtracking to find the Cape Breton HI Hostel in Aberdeen. Finally in the hostel after a long tiring drive, we were welcomed by Anna from Denmark and fixed up with accommodation. The hostel stood on a hillside above the road, with great views over Bras d'Or lakes.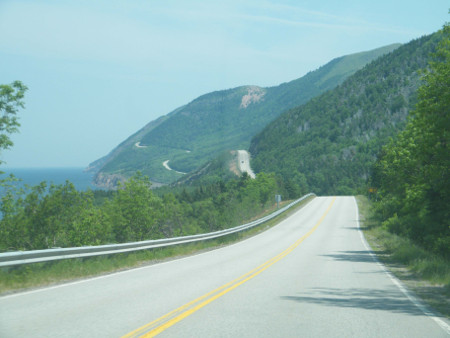 Leaving Cape Breton Hostel and entering the Cabot Trail road, we came on a hitchhiker, Brett whom we'd met at the hostel. He was going up to Cape Breton Highlands NP, so we gave him a lift.
Brett wanted to go up to the Skyline Trail in the park, said to be the premier hiking trail in NS. Maggie and I decided to do it as well. It's a 9.2 km semi-loop, fairly flat, mainly along a ridge line and out to a point over the ocean. It was a beautiful walk, through spruce, birch and larch forest, open savannah and grassland and onto a promontory. We walked the whole trail in about 2.5 hours, and both enjoyed it immensely.
Leaving Brett, Maggie and I continued a few km on to the Bog Trail, a short 0.5 km boardwalk through a sloping fen of sphagnum and pitcher plants. A doe moose and 2 calves foraged near the path.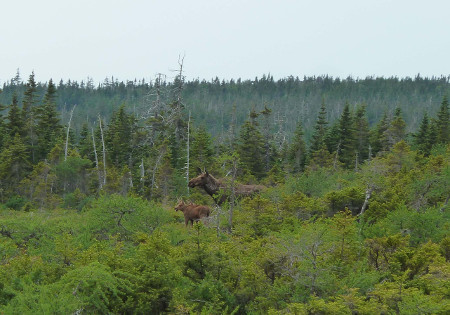 Out of the park and down to Pleasant Bay, we easily found the Cabot Trail HI Hostel in the small village.
1 July was Canada Day, and it turned out to be a busy and fulfilling day. Weather was mostly sunny and eventually quite hot. In the morning we decided to drive a few km along the road into the park to find a couple more short walks.
The McIntosh Brook walk is a 1.7 km mostly flat walk through birch and maple forest, up one side of a creek to a small waterfall, and back along the other side of the creek. It was easy and pleasant, except that some parts were a bit rocky.
The Lone Shieling walk was a short 0.6 km stroll through old - 350+ years - maple birch and elm forest, to a reproduction stone/log Scottish crofters hut.
In the afternoon there were a number of Canada Day activities planned in the village. First was a parade from the crossroads to the harbour at 14.00. We were invited to don some Canada Day gear and join in the parade. Down we went with most of the other hostel people. It turned out that almost the whole village was in the parade, with very few people left as spectators. Great fun anyway. Kids' floats, decorated bikes and a couple of fire trucks rounded out the quorum.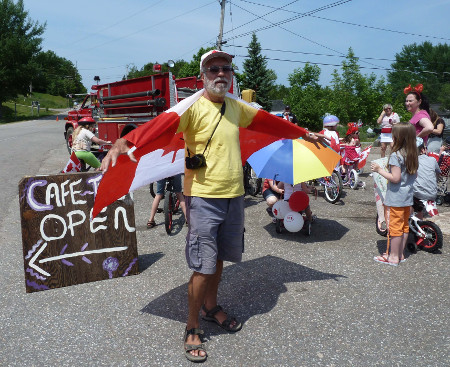 Down at the harbour/playing fields were bike judging, stalls and a barbecue. At 16.00 there was a softball game between the fire department and the local Buddhist temple. Our hostel manager Shane and some other hostellers played with the Buddhists to help out, but they still lost. It was delightfully incongruous to see a ball game being played by shaven-head people in maroon robes.
Back at the hostel late afternoon, Maggie and I got ready to go out for dinner. About 18.30 we walked up the road to the Rusty Anchor seafood restaurant. It was a great night; lobster dip and corn chips, pastry-baked salmon fillet, fish cakes, and a litre of Chablis.
Location-wise, this must be about the 1/2 way point of our trip; time to start back. We had booked the Halifax HI hostel for a couple of nights. Driving along the Cabot Trail circuit from Pleasant Bay, we immediately re-entered the park. From there we had some steep climbs up and down, winding roads that worried Maggie a bit, and through hilly forest, estuaries and coastal roads. We stopped at one point to do the Green Cove walk, a 10-minute rock-hop to a promontory overlooking the sea, watching lobster boats making the rounds of their traps.
Farther along we came to Ingonish Town and Beach and 2 more walks. One was Freshwater Lake, a 1.7 km flat loop along an estuary and back along a dirt road. The other nearby walk was Lake Lookoff, a short climb up steps to a rocky lookout overlooking the coast.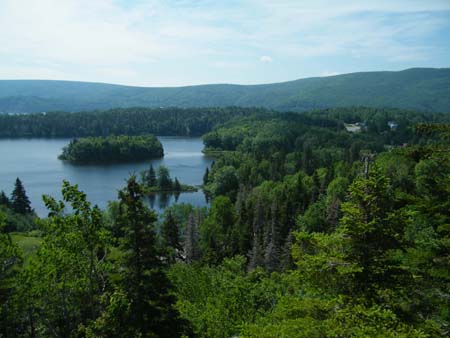 Completing the Cabot Trail, we returned via the Canso Causeway, out of Cape Breton, back via Truro and on to Halifax. We found our way into town and to the Halifax HI Hostel about 17.30.
We had only a short time for me to shower and change. Maggie had been in touch with Patrick from our church, who was in town for Theological study. He was to meet us at 19.00 at the nearby Henry House pub for drinks and/or dinner. We met him on time and had a very pleasant hour or two with beer, conversation and dinner.
We decided to take the drive about 30 km to the iconic tourist draw Peggy's Cove, leaving about 09.20 one morning in cloud, fog and threatening rain. Easy to find; just follow the tour buses.
Peggy's Cove was pretty much as expected, a picturesque rocky granite cove with a church, lighthouse, visitors' centre, restaurant, and many compact steep-roofed brightly painted houses and sheds. Many of the buildings were souvenir and craft shops. We explored the streets and buildings and lighthouses, and climbed out on the granite rocks. Fog only added to the ambiance. Despite the tour buses full of people and their kilted drivers/guides, it was a charming place.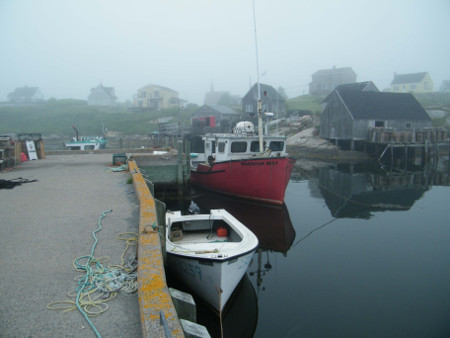 Back along the circuit road #3, past the low-key but poignant memorial to the Swiss Air 111 crash and through several other quaint coastal villages, we eventually returned to Halifax. An exploratory walk of the waterfront area and the Citadel topped off our Halifax itinerary.
Back to the hostel about 16.00, we learned that Hurricane Arthur is apparently coming our way, to arrive in the Maritimes on Saturday. What to do? Try to stay here one more day or cut and run somewhere like towards New Brunswick? Will think about it.
Next day, 4 July, there was still talk of the oncoming storm to hit tomorrow, and events were being cancelled everywhere. We decided to go up to Five Islands on the Fundy coast. I hadn't seen any of Fundy yet, and it might be a bit more sheltered than Halifax.
The Minas Basin area of the Fundy Coast is a pleasant drive; a winding road through farms and villages, a change from the seemingly endless bush in this part of the country. Our target was Mo's Hostel and Restaurant in Five Islands, which we achieved at 12.30.
We wanted to go the few km back into the small Five Islands NP to look at the beach flats and do some hiking. Maggie was antsy about getting there ASAP because of impending high tide at 18.30 and coming stormy weather. We found and started the 4.5 km Red Head Trail about 14.00. Still sunny but not hot, it was a wonderful walk, flat through forest and flowers, lichen-covered spruce and look-offs to the bay and sand flats below. Then the path started gradually down for some distance until we came to the end, a forested promontory with a good view of the beach and nearby islands. The way back, though partly uphill, was easy and quick. The walk was said to be 3 hours but we did it in 1.5, nowhere near being caught in tides or storms.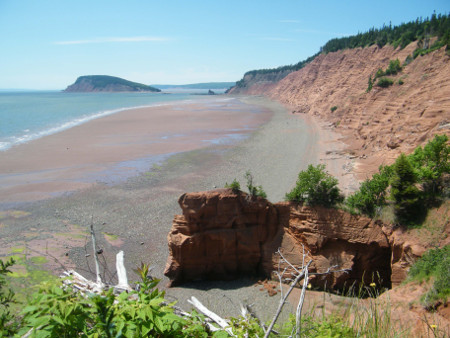 Back in the car, we drove past Mo's and on to the small Lighthouse Park, a restored lighthouse placed near the shore in a grassy park. The lighthouse had a good view of the bay and the Five islands and a short pleasant walk around the edge of the park.
In the evening we took in Mo's bar/restaurant for drinks, live music and dancing. It was fun to experience the olde-tyme atmosphere, country and oldie music and a dance floor taken up by locals and caravan people. Much evening news and talk centred on the impending storm coming up from the south.
The rain started up during the night. We weren't sure where to go or what to do in this inclement weather. It looked like Fredricton would be one of the epicentres of nasty weather. St John would be equally bad. Maybe go right through to Riviere du Loup in Quebec?
We got going around 09.00 in wind and rain. Through Springhill (Anne Murray country) and Amherst and onto Highway 2 toward NB, the rain eased and there was even clear sky. But as we continued past Moncton and toward Fredricton the rain and wind picked up again.
No point trying to stop in Fredricton, too stormy to do anything, and there were reports of power outages and fallen trees. We stopped for fuel and continued soldiering on up the west side of NB through drenched highway and buffeting winds.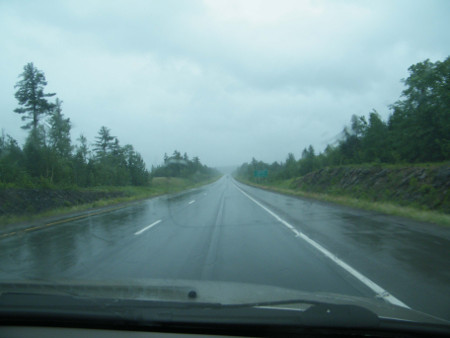 It was about 16.30 or 17.00 when we finally approached the Quebec border. Miraculously the storm seemed to recognize the border, and the rain and wind suddenly stopped.
At 18.15 (17.15 Quebec time) we found our way into Riviere du Loup, and easily found a room in the Auberge Internationale de Riviere du Loup, a typical large old-style wooden house.
Next day is a well-earned day without driving. After breakfast and checking emails etc. we set out to explore the town.
It had been raining at night, but had just stopped, so we decided to walk up the river to le Parc des Chutes, le Parc de la Croix, Waterfall Park and Cross Park respectively. It was about a 20 minute or so up to the level where we could find our way to a road bridge over the river, and along streets and up steps to the Cross. It was a large metal sculpture in a small park with good views over the town and the Riviere du Loup and the St Lawrence.
We had bypassed the waterfall and generating station to get up to the Cross, and had to find our way down to the falls. We did find a small path below the Cross, over the railway tracks and into the large wooded area called le Parc des Chutes. Navigating through a maze of paths we came to the riverbank over the falls, around and down over the footbridge at the top of the dam, and down more steps to another falls viewing area. The dam was overflowing from rain and it was all quite scenic and spectacular.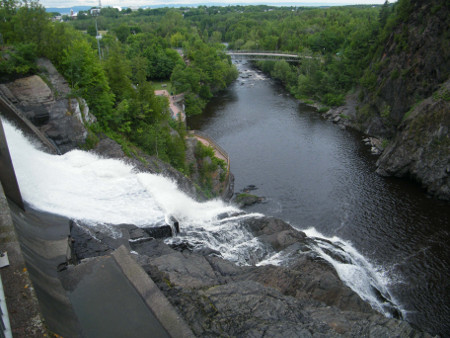 Back over the river again on another footbridge, we were again in the bush park with its multitude of paths. We picked one path, the "red" one, and followed it downstream through forest and an old apple orchard, to the end of the park. On the way I saw whole meadows of yellow Hawkweed (Hieracium caespitosum) and orange hawkweed (Pilosella aurantiaca).
In the afternoon we took another walk about 1 km west along Rue Hotel de Ville to the Musee du Bas-Saint-Laurent, a small museum in the west of town. For its size it was impressive. It had a very good art exhibit called Entre Ciel et Terre, a multimedia/photographic/interactive exhibit of town history and a small exhibit of Acadian musical performers.
Near the museum was le Parc du Campus-et-de-la-Cite, with an interesting exposition Acadiaspora, detailing the forced migrations of the Acadians after the British defeated the French.
Also in the parks, around the museum, and at many places around the town, was a collection of public art, mainly sculptures of various themes and by various artists.
Back home before dinner, no cooking was necessary because we'd dine on the hostel meal at 19.00. The meal, described as "Indian: was 3 courses: a fried eggplant slice with blue cheese, a main of dahl rice naan bread and an apple and cucumber salad (raita?), and finally a sweet spiced semolina/hazelnut dish topped with fruit. It only vaguely resembled Indian but was good nonetheless. I had bought a large 1.1l bottle of Molson Extra Dry 10.5% strong beer to try. I had about 2/3 of it before and during the meal, good tasting but pretty heavy stuff.
On 7 July it was supposed to rain more-or less all day; we might as well be driving as walking around. We would bypass Quebec City and get back to Trois Rivieres to stay the night. It would rain off-and-on, sometimes heavily, pretty much the whole drive. We stuck to the southern shore of the St Lawrence River going west, a more relaxing and picturesque route than staying on the main highway.
We were in Trois Rivieres sometime after noon in drizzling rain. We found the hostel again and checked in. Rain was easing then, so we set straight out to take in a museum or two. We walked the short distance over to the En Prison Museum and joined an English language guided tour of the 1822-1986 prison. It was superbly interesting and educational as the guide took us through the small and dingy cells and other rooms, and graphically described the horrendous life and conditions endured by the "guests" of this establishment.
This took us to about 16.00, still some daylight left. We walked farther along to the Ursuline Convent and Museum. Started in 1639, the convent was not as exciting as the prison, but good to fill in time. We were shown the large and ornate Chapel, with its beautiful frescoes, and explored the routines, prayer practices, books, ceramics, dress, accessories and rituals of the nuns.
Leaving for Ottawa next day, at 09.00 we were onto #40 west. Scenery was less forested now, mainly farms with that typical Quebec narrow-field layout. Bypassing north of Montreal, we approached Gatineau around noon. Soon after we were in Ottawa and found the HI Ottawa Jail Hostel.
The hostel is a converted prison, somehow appropriate after we'd done that prison tour in TR yesterday. The place has most of the construction, doors, stairs and fittings of the old jail, certainly authentic looking and loads of character. We checked in for 2 nights.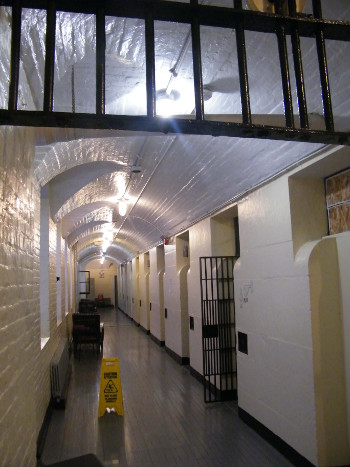 It was early afternoon, so after getting organized we set out to walk and explore the town. We went down to the Rideau Canal, upstream, across the Laurier Bridge, downstream on the west side, past the locks, up the steps to the Parliament Hill, and over to the tourist office to see what to do there. They gave us tickets for a free Parliament tour at 16.30 (it was now about 15.15). They also advised us that in the meantime we could go over to the main building and go up to the Peace Tower.
So into the building, through the security check, and endless queues with crowds before we got into the elevator and up the tower. There was a viewing platform just below the tower clock where we could take in the Ottawa views. Back below was a Memorial Room to commemorate all those who gave lives in Canadian service in various wars etc. Despite the waiting we still got through in time for the 16.30 tour. We were shown the main foyer where the politicians are intercepted upon exit, the House of Commons, the library, a seldom opened room commemorating the French influence on Canada, and the Senate chambers. We finished in the parliament after 17.00.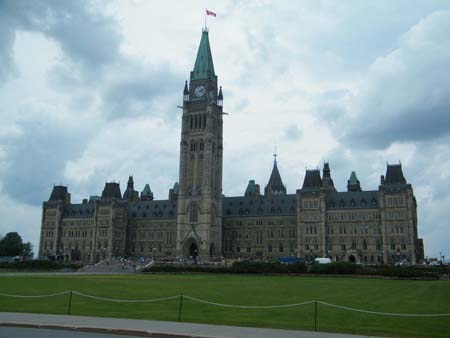 Now we set out back along Rideau Av to Market Square, took in a meal at a middle eastern restaurant, waited for rain to ease, and dashed out to look around the mostly drenched and closed Byward Market Square.
On our full day in Ottawa, we would rent bikes for the day. It took some adjustments and a couple of attempts before we received bikes that actually worked, and they were useless on even the slightest hills, but we got going eventually.
Out along Sussex Dr, across Curtain Falls on the Rideau River, we came on to the Rockliffe Parkway bicycle path. It was a pleasant ride along the riverbank, bush and parkland, finishing at the Rockliffe Canadian Aviation and Space Museum.
The museum included a tour of the garage hanger (housing the semi-display aircraft) as well as the display hanger. We did the garage hanger tour first (very interesting commentary from the guide), followed by the display hanger. We were there for several hours and saw a vast array of different aircraft types, too many to mention. Well worth it.
We rode back along Aviation Parkway to Montreal Rd and Rideau, and back home about 16.00. In the evening was a pizza dinner and an indie movie "The Immigrant".
10 July is the start of the long stretch home; at least 2 days driving. We had the car loaded and were out of the hostel by 08.50. It was a clear day, great for driving. It was a straight run on Hwy 17 up the Ottawa R, through Pembroke, past Algonquin Park, through North Bay, Sudbury and Sault Ste Marie. We intended to get to Wawa for the night. Arriving there about 21.30, it was still light, so let's try to get through to White River, another hour, before stopping. But we found White River had only 2 motels, both full. So on west to Marathon about 23.30 where we finally found a room.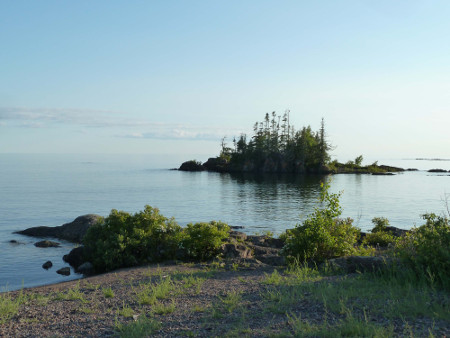 11 July is our last day on the road. We'd come a long way yesterday so it should be a shorter run today. A riding-school-horse dash had us home in Winnipeg at 21.40.
It was a good holiday, all new to me as I'd never been east of Montreal before. It's a pleasant easy trip, lots to see and friendly people everywhere. But good to be home as well.
Central America, July/August 2014
This trip is more-or-less a continuation of the Eastern Canada trip with Maggie, except that she had to go back to work, and I continued from Winnipeg to CA on my own. The plan was to go for 4 weeks to Costa Rica, Nicaragua and El Salvador before returning to Winnipeg. So on Monday 14 July Maggie dropped me at the Winnipeg airport around 18.30.
Costa Rica
(Click for Costa Rica map)
Stopping overnight in Toronto, I was in the San Jose Airport, Costa Rica at 12.05 next day. It was mostly cloudy and 28 deg but mercifully not raining, actually much more pleasant than I'd expected. I bypassed the taxi touts and found a red Tuasa bus to go the 30 km or so into the Centro and the Terminal Tuasa. SJ so far looks a clean but unremarkable city. I easily found my way up Avenida Central to Calle 19, Parque Nacional and my accommodation .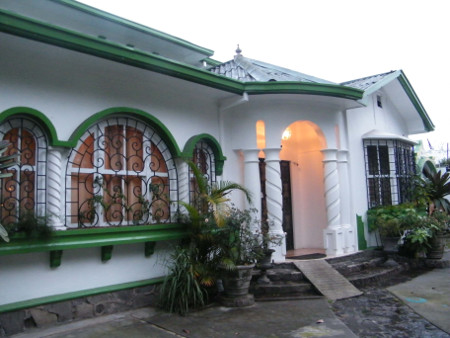 Feeling like something to eat, I went out to find the Mercado Central, off Avenida Centrale between Calle 6 & 8. The market, much like those everywhere, displayed clothes, knick-knacks, souvenirs, meat, fish, vegetables, fruit and all the usual market goods. One food restaurant gave me a good meal of thin steak, beans, rice, sausage, salad and a "natural" drink. Still hungry, I found another place for a plate of beans rice and scrambled egg. This diner was interesting in that it was very small, no room to cook meals. When I ordered, they put my request into a small box elevator and it went up to the next floor; soon my meal came down in the same elevator.
Outside the market, the crowded and vibrant pedestrian Avenida Centrale was a hive of activity; crowds, people yelling out lottery tickets and stores of all descriptions.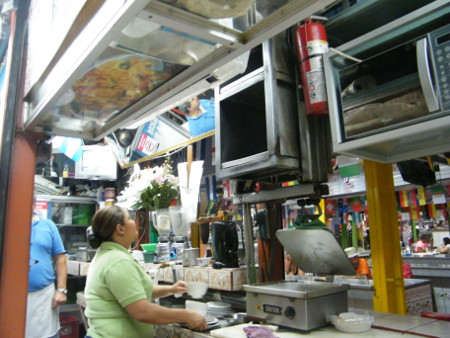 Next day I visited the Museo Nacional, originally a high-walled fort taking up an entire city block. Inside was a large tropical plant/butterfly enclosure, a history exhibition of the museum and fort, palaeontology exhibit of indigenous culture, democracy exhibit, mansion/upper-class lifestyle, and music and dance exhibit. It was all worthwhile but not great.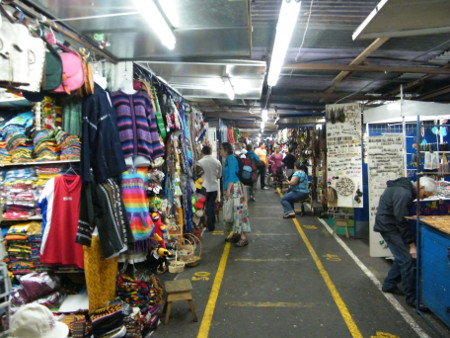 That evening a few of us went nearby to a museum for a couple of free exhibitions of indigenous jade sculptures and pottery/ceramics.
Kirsty at the hostel talked me into a 2-day 1-night tour to Tortuguero National Park. I would see rivers, beaches, jungle, wildlife and sea turtles. Now is meant to be turtle egg-laying season. After the tour I'd be dropped off where I could bus to Puerto Viejo on the coast. There was a 5 kg luggage limit, so I had to take only my small pack.
So next day at 06.25 I joined the tour group. We left the city just as rain started. Up into the cloud forest of Parque Nacional Braulio Carillo in increasing rain. Visibility was near zero, but pretty in a misty sort of way. Through towns Guapiles and Cariari and down a rough 30 km water-holed gravel road, we reached the small village and boat dock La Pavona. A covered boat took us down the Rios Suerte and Tortuguero, first through farmland and then into rain forest. This was real jungle, and our guide was already pointing out birds and monkeys in the forest.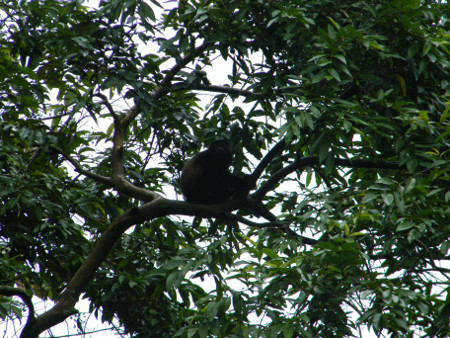 We arrived at Evergreen Lodge near Tortuguero village about 12.15. The lodge is surrounded by forest, with only water access. I was assigned a large resort-standard room, and treated to a huge buffet lunch (similar meals would follow throughout the stay). Our congenial guide was to be a local ex-Nicaraguan guy Kevin.
At 14.20 we met at a wharf for the first tour. We would have to keep changing wharfs each boat-trip because of rain and wharf flooding. The boat took us a km or so into Tortuguero village. The village is a long narrow settlement between the estuary and the turtle beach, a population of 1200, a narrow pedestrian-only main street, residences, shops, restaurants, souvenir places and tourists. 40% of the population is Nicaraguans, nearly all tourism workers. It's an atmospheric laid-back place. Water level was high, flooding much of the land.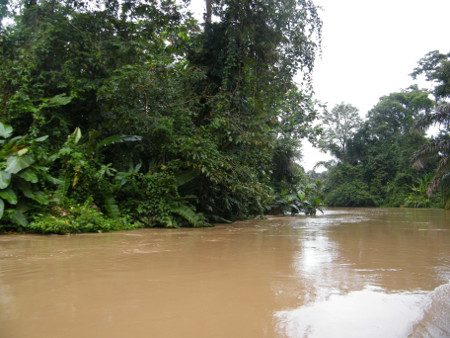 At 19.45 we met for the evening turtle tour. We took the boat along the estuary, walked across to the airstrip, and in darkness listened to our lectures on rules and facts about the turtles. We had to wait a seemingly long time on the airstrip and then on the beach for the rangers to find the turtles and organize various groups to view them for brief periods of time. It was all very highly structured and restrictive, almost not worth all the hassles and waiting. Lightning and thunder threatened rain the whole time, but rain held off till later. Finally they found a green turtle and we waited until it started laying eggs. At about 21.15 our group and other groups got a couple of viewings, a couple of minutes each, of the turtle at work. We were able to see it finish laying and start covering the eggs up. No lights (except the rangers' red lights) or photos were allowed. It was kind of awesome but hard to judge whether the whole tour was worthwhile to see just one turtle for a few minutes. We were back home by 22.15. At night the rain really came down.
On the second tour day at 05.45, we were up for a rain forest boat tour. We took an open boat across the estuary to the Parks office and waited around quite some time while all the groups paid each person's $10 park entry fee. Eventually we were allowed to motor out along the shores of the bays and estuaries to view the jungle, spotting birds and animals. Last night's rain was continuing off-and-on throughout the morning, wet despite our raincoats and ponchos. Kevin pointed out green (young) iguanas, Jesus lizards, a caiman and several species of birds whose names escape me.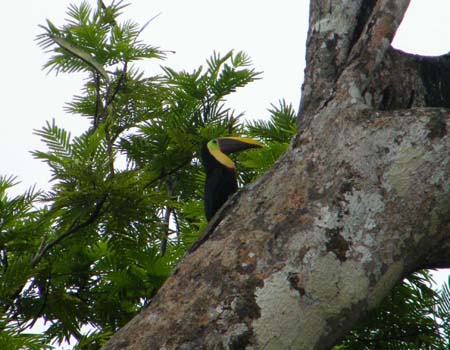 We were to do a jungle walk after breakfast but it was too wet and muddy out there. So out again on another boat tour from 10.00 to 12.15, again looking for birds and animals. Rain was not so bad this time, and we had a covered boat. We saw more green iguanas, spider monkeys, howler monkeys, toucans and other birds. These spotting tours are quite good in that, unlike previous ones I'd been on, we saw considerable wildlife.
After another massive buffet lunch, we were on the boat at 14.15, returning up the rivers as we had come and spotting more wildlife. On the gravel road we saw a two-toed sloth in a small tree near the road, much closer to the ground than I expected for these creatures.
I was not to return to San Jose yet, but to side-track over to Puerto Viejo for a look at the Caribbean Coast. The bus dropped me at Guapiles at 16.50 to make my own connection. The driver had said a Mepe bus should be by around 17.10 to get me to PV.
I waited and waited, no Mepe bus. I asked others (no English) at the stop about buses, and at 17.25 was finally directed onto a local bus bound for the port town Limon. The bus stopped every km or so to pick up or drop passengers, and didn't make Limon until 20.00, well after dark.
I was still hoping to get to PV, 60-odd km farther down the coast, not long after 21.00. I asked in the bus station about a Puerto Viejo bus, and was directed to another, almost deserted, station a block away. I found a security guard and asked when the bus was for PV. Manyana! Whaaaat? Do I have to stay here tonight? I wasn't expecting to be here, and had no idea about the town. It was obviously a port city and a rough-looking place. I was later advised "Don't ever get caught in Limon, especially after dark!" Anyway I started to wander around town looking for options. There was definitely a seedy wharfie atmosphere, but also crowded and lots of activity; people around of all ages and genders. After much wandering and asking directions, I found myself in a dark quiet street near a waterfront park. There was the little Hotel Continental with an amiable young guy in front. He didn't speak English but no problem. He fixed me up with a basic room with attached banos. Cheap, quiet and friendly, so I was set.
I went out again to the centre to look for food/drink. Despite its insalubrious appearance, I found the town to be not unpleasant, a natural vibe and atmosphere. On the main street I came across 3 Caballeros in full fancy dress on glistening horses, slowly making their way down the street with a high-step hard-click dance-prance performance. I later realized that the performance may have been a preparation for the upcoming Tope Horse Festival in Liberia week of 25 July. Spectators including myself were in awe.
I got an 08.30 bus to Pueto Viejo, riding down the coast past the airport, beaches and villages, and arriving at PV at 10.00. The bus dropped me at the door of Rocking J's Backpackers on the far side of town. The hostel is a large weird funky groovy type of place; ceramic mosaics everywhere and accommodation styles for all types including hammocks, tents, dorms and rooms. I had a brief swim near the hostel but the beach was not very good, the surf heavy and the currents unfamilar.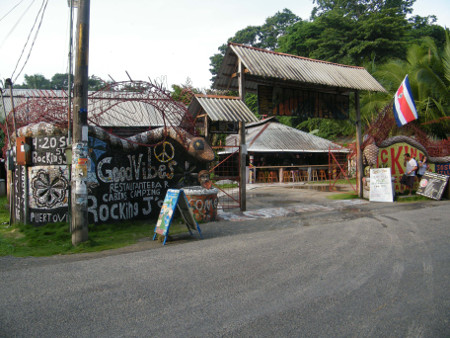 Puerto Viejo itself is a real Caribbean backpacker/tourist/hippie place, reminiscent of Kuta Beach or similar. Ganga smoke permeates the place, and Bob Marley looks to be a local icon. After dark the town comes alive with activity and ganja and Caribbean vibe. Dinner was a couple of cans of beer and a good Caribe fish/rice/beans/salad.
Next day was bike day, I fixed myself up with a mediocre single-speed bike with basket. After 09.00 I set out to ride to Manzanillo about 12 km away, the last village on the coast before Panama.
It was a pleasant ride, mostly flat, on a paved road through forest and past beaches restaurants and resort cabinas. At a couple of places I could hear and see howler monkeys.
There was not much in Manzanillo, just a village. I think a national park walk starts nearby, but it's over a deep creek entrance and I saw no-one trying to cross. I explored muddy side roads through rainforest, seeking shelter a couple of times from rain showers.
Dinner that night was in a small local restaurant; a good Caribbean chicken, rice and beans. The night scene was slightly quiet; maybe this isn't high season. Interestingly, there's an "Outback Jacks" Steakhouse and Bar here, but it's over-the-top dolled up like a motley junkyard, and not well patronized.
On 21 July I was up around 06.30, on the bus at 07.25, and into San Jose about noon. Back at Casa del Parque I found the place was booked out. Costa Rica Backpackers, a much bigger place, did have space though, as well as a swimming pool. I'd stay 2 nights before moving on to La Fortuna.
My 1.5 days would be taken up in market comida del dia meals, home cooking, organizing and repairing my gear, e-mails, notes on computer, processing camera photos, swimming in the pool and exploration of a few sights around San Jose. It was refreshingly cool here compared to the heat of the coast.
Near the hostel was the Judicial Building and an adjacent large plaza. One day a large crowd was gathered. They seemed to be filming some sort of hostage negotiation scene, complete with uniforms, baddies in a plywood building, guns, explosions, abseiling Swat team, yelling and the whole works.
23 July, and I was packed and on the 08.40 bus to La Fortuna. It as a pleasant ride out of SJ past the airport and up through farms and cloud-shrouded hills. One district, Naranja I think, was noted for coffee with many fields of the deep-green plants.
13.00nhad me in La Fortuna a large town a short distance from Arenal Volcano. It's a real tourist place with chock-a-block tour shops, hotels and hostels, bars, restaurants and everything for the traveller.
I easily found the Arenal Backpackers Resort, a nice place; with its swimming pool and pool-bar it's more resort than backpackers. I found a soda (small restaurant) comida del dia of garlic bread, fish, rice, corn chips, beans, plantain and beet salad. Annoying here is the practice of adding a "tax" onto the restaurant bill.
Back at the resort I got the Argentinian guy Milton to help me book a place in Liberia 2 days hence. Liberia is full because of the Tope festival and I just managed to get a bed/room for 2 nights there at Pina Cabinas. Should be good for the horse fest on Friday.
Next morning, despite intermittent rain, I decided to go up to the Catarata de La Fortuna area to do either the walk to the waterfalls or that to Cerro Chato crater. No taxi was easy to hand for the 5-6 km journey so I started out walking, out of the town across 2 creek bridges, and up the road toward Catarata. About halfway there I was picked up by 4 guys in a car for the rest of the way up.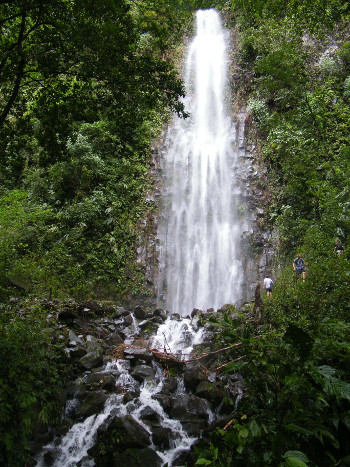 At the park entrances I looked at options. The walk to Cerro Chato was 2-3 hr duration, but it was cloudy just above where I was, so probably a waste of time. I decided to try the Cataract walk, basically a 15 minute descent on damp steps through forest to the waterfalls. The falls were two tremendous torrents, falling a considerable height onto rocks or into a boiling pool. It was rather spectacular in a small-time sort of way. Walking back to town, it was now dry and so pleasant that I didn't even try to thumb a ride.
The bus to Tilaran was for 08.00 next day, passing through hills, forest, cloud and some rain, and around the north and west of the huge reservoir Lake Arenal. The bus route from la Fortuna to Liberia involved a number of connections via towns Tilaran and Canas, with changes of bus at each stop. We had to stop a few minutes at one place because a tree had fallen across the road and they had to cut it to let the bus through.
At the town Tilaran at 10.00, I barely caught the connecting bus to Canas as it was leaving. It's remarkable how fast the countryside changes; a few km back was lush rain forest; now it was dry savannah, acacia type trees and brown grass. I reached Canas at 10.45, caught the bus for Liberia at 11.10, and arrived at the Liberia bus terminal at 12.40.
Liberia is not a large place, and easy to navigate. I walked directly to Pina Cabinas a few blocks away in the north of town. The family spoke no English but with the help of the daughter on the phone, I managed to get into my room without problems.
First was to check out transport to Nicaragua. Eventually I went to Guanacaste Hostel and they booked me to Granada for 08.00 on Sunday 27 July.
Now my time is free to look around and find out about the Tope Festival. There are horses and riders all around the town, milling around, practise dancing or heading toward the Avenida Central parade route. At Central, the street was cordoned off and huge crowds were gathering. Music venues belted out decibels. Horses and riders danced back and forth. Vendors sold snacks and cans of beer.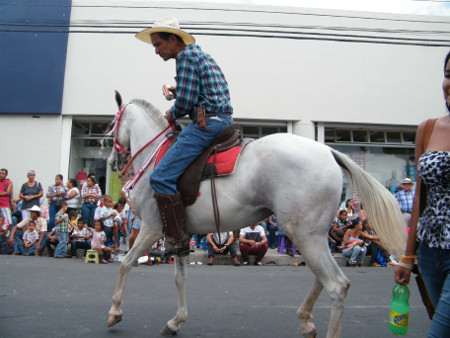 The parade started around 15.00; a few vehicles and floats, but mainly an incredibly large number of riders and dancing horses. People of both sexes and all ages participated, even a woman with a sleeping toddler in the saddle. The parade went for a couple of hours. When the horses stopped near me, I could observe them dripping sweat from their bellies in the heat, like car air-conditioners. It was a madhouse, noisy and chaotic and an incredible vibe, the biggest blast I've had in a while.
After dark there were still crowds, music, singing, dancing, horses and riders. Eventually about 19.30 the police came through to chase the horse people away and re-open the street.
Next day was "the day after", a very quiet and subdued town after the revelry the night before. The central area was almost deserted, only a few people milling around, the last of the stage take-downs, and garbage trucks at work. Horse shit paved the main street, but now not a horse in sight.
There isn't a lot to do today. I did a couple of walks around different parts of town to explore local life and scenery, had a haircut, bought fruit, watched news on CNN, did laundry, and checked e-mails at McDonalds.
27 July, and I'm finished with Costa Rica and on to Nicaragua. On the bus at 08.30, we had a straight run through Sucre to Penas Blancas and the Nicaragua border at 10.00.
It took a while to get through the border; a bit of a zoo. We had to pay an exit tax to get out of CR. The "agent" was a young guy and his mom under an awning on the other side of a wire fence, a tablet and a Bluetooth printer as equipment. Transactions took place through a hole in the fence.
So that was Costa Rica. It wasn't a spectacular destination; few places in Central America are. But it was pleasant, friendly, well-oiled for tourists and easy to travel. It's more expensive than neighbouring countries but not so much as to break the budget. No regrets coming here.
Nicaragua
(Click for Nicaragua map)
We entered Nicaragua, had to pay an entry fee, wait an hour or so for passports to be processed, and finally got away from the border at 11.30. Welcome to Nicaragua; for me, like Costa Rica, a brand new country. Our bus passed along the shore of the vast, cloudy and rainy-looking Lake Nicaragua, through the town Rivas, and into Granada about 13.00.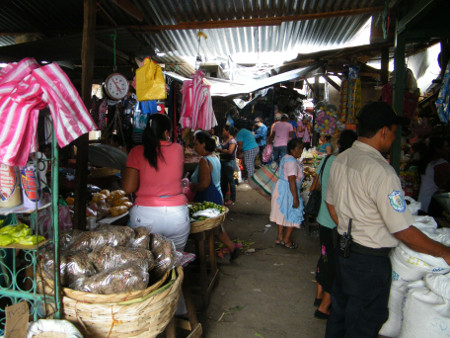 Granada was a strange place at first glance. Nicaragua in general is more rough-looking and dilapidated than CR. The bus stopped in a run-down nondescript part of the city apparently far from the centre; hard even to tell which direction to go. I set off at random, asked 1 or 2 people who were no help, and guessed at the direction to walk. Eventually I found my way down-town and with perseverance and searching found the grubby but otherwise OK Bearded Monkey Hostel. It was immediately apparent that this country would be cheaper than CR; a bed here at Bearded Monkey is a mere US $5. I would later be buying bananas for about 5c each. I found a good hamburger from a street cart, and a bit later a restaurant meal of fried rice, plantains and salad.
Somewhat satiated, I continued into the centre where I found the crowded vibrant Parque Central and a large Cathedral. Farther east was a long pedestrian boulevard full of relatively upscale restaurants and bars, including the obligatory Irish pub. Even farther on was the older elegantly decaying Guadalupe Church.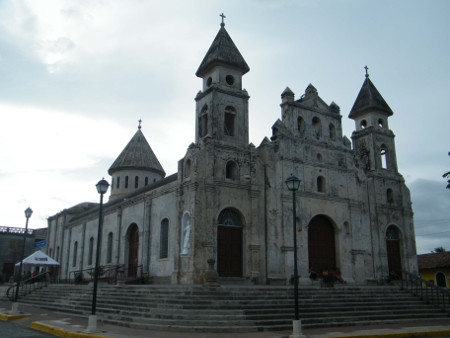 I continued east finding things of interest all the way. A basketball court and a softball diamond both had games in progress. Eventually I came to the shore of Lake Nicaragua, exploring the foreshore park and and shoreline before returning the way I'd come.
Next day I have a go at Volcan Mombacho. It's quite a good day, mostly sunny and not unbearably hot. I packed day-gear including raincoat, had a market breakfast of fried eggs, toast and beans/rice, and at 09.35 found a Rivas bus which would take me to the VM "entrada".
Arriving at the VM junction at 09.50, I started walking upward along the road to the park entrance by 10.15 and paid the entry fee. I continued up the increasingly steep road, paved with cobblestones, through first farms and then jungle/rainforest. Sunny weather mercifully continued, and I paced myself to a gentle steady slog with only a little sweat. First stop was a "mirador" lookout near some coffee shops etc, at 11.40. Good to take pix of the flat countryside by now far below.
Continuing along an increasingly narrow and steep road, by now 4WD grade, I passed more forest and eventually came to the comm tower and parks building that signified the end of the climb, now 12.05. The mountain is 1344 m high, but I don't think the crater is the highest point. Here a path continues around the higher peak (now closed). Another path circles a 1.5 km circuit around Mombacho Crater, with a side path to some fumaroles and another lookout.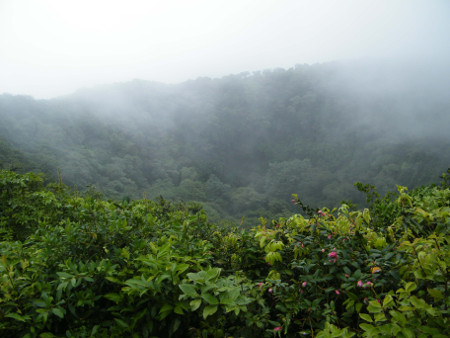 Weather was still good as I went into the park building to look at the mountain model, map and path descriptions. Just within that few minutes it turned cloudy. I rushed out to look at the crater, and take a pic or 2, before the cloud got bad. Then I started the walk around the crater. Paths were muddy and cloud got so thick I could see few views. At 12.20 the rain started, and became fierce as I did the side track to the fumaroles. The fumaroles were very inconspicuous; I only found them by the smell and would not have recognized them by sight.
Wind and rain roared as I fought my way back to and along the main track. Paths turned to rivers, even the steps were flooded, and my raincoat showed its age.
I returned to the parks bldg at 13.05 thoroughly soaked, but no lasting damage. The place was full of people sheltering and waiting for rain to stop. It did finally ease to light rain at 13.30 as I started the long descent. I boarded a bus at 14.50 back to town.
Next morning after breakfast and a little grocery shopping, I boarded the shuttle for my next destination Laguna Apoyo at 10.30. It took us out around the north side of the crater lake, off onto a minor road and down to the lake, stopping at my place the Monkey Hut. It was a beautiful day, and a beautiful setting, the backpackers resort set next to the large crater lake, surrounded by forest and other resorts. A narrow road ran part way around the lake, good for walking. Monkey hut has lake swimming, inner tubes and kayaks for guest use.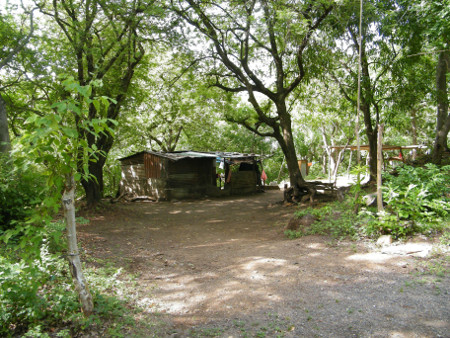 I tried one of the kayaks, but without a seat back, it was painful and almost impossible to use. Later I went for a walk some distance along the road to the left, anti-clockwise around the lake. I explored side trails leading into farmers' mango orchards and at one place saw a (howler?) monkey in a nearby tree. I swam later in the afternoon, chatted with other travellers, and went out again in a kayak for a while (this time with a seat-back, but still incredibly slow and laborious to make headway). Dinner was some tamales I had brought from Granada, very cheap but equally tasteless. In the evening I sat on the balcony overlooking the lake doing notes and reading on my laptop. Although somewhat expensive by Nicaragua standards, it's an idyllic setting most can only dream of.
Next day, after a morning walk, I set off back to Granada. Around 11.00 the bus, an old school bus full of school kids etc, slowly ground and lurched its way up to the "aqiente cito" junction. I caught a Masaya-Granada bus, got off near my street about 12.30, and moved again into the Bearded Monkey.
In the afternoon I wandered down to the park and briefly sat on a bench. A young guy came up to talk to me, and eventually persuaded me to go to the local museum, the "Instituto Nicaraguense de Cultura". It wasn't big, only a half hour or so to look around. It had religious icons and sculptures, a large model of the town, historical photos, ancient indigenous rock sculptures, a few indigenous artefacts, a diorama of indigenous cultural games, and some ceramics and pottery.
In the evening it was time to go out to eat about 18.45. I might as well treat myself, so I made for the main restaurant pedestrian boulevard. It's quite crowded in the dry weather at this time of night, both customers and hawkers. I found a pizza place and ordered a large pepperoni pizza and a beer; both good, and a value at about $12. Incidentally in Nicaragua both the local cordoba and the US dollar are standard currencies.
31 July, and on to the next town Masaya. The bus left Granada about 10.00 for the 1-hour trip. It was hard to get orientation from the Masaya bus stop, and I wandered streets a while before I found the Mi Casa Hostel where I could settle into a room.
Masaya is maybe a bit more rundown than Granada, but not much difference. It has fewer historical buildings and the streets are somewhat "basic". There is some commercial activity but not really vibrant. The large artisan market has many souvenir-type arts and crafts stalls. Some distance to the west, past the central park and Cathedral, is the Masaya Lakeshore. The short plaza/walkway, a hundred or two hundred metres long, is not actually on the lake shore, but on a very steep crater wall, almost a cliff, the lake being some distance below. But it yields good views of the smoking Volcan Masaya across the lake maybe 10 km away.
Little choice for dinner around here; nobody seems to eat out. Finally I found a hamburger and fries at a small restaurant, and then 2 empanadas in a shop.
1 Aug: new month, new volcano. I found a restaurant for a good breakfast of an egg, cheese, rice/beans and a tortilla, packed day gear, and found a very crowded Managua mini-bus to take me to the Volcan Masaya Entrada.
Walking into the park entrance about 08.45, I was stopped by a scowl-faced security guard who motioned me to sit and wait for who-knows-what. The wait turned out to be an hour, apparently for the rangers and ticketing people to get their act together and open up the park. By then there was a queue of people and vehicles, and I couldn't pay my entry fee and get in until after 10.00.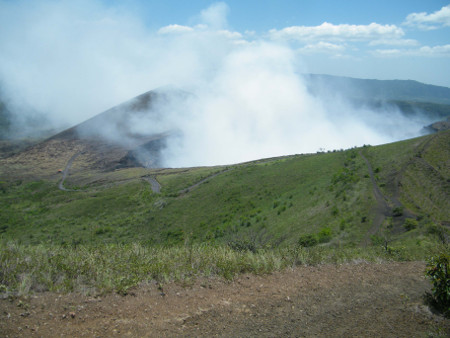 It was meant to be about a 1.5 hour walk, 6 km, up to the volcanoes. It was quite a hot dry day; even the plants on the roadside were withering. I walked up the paved road a km or so, came to a visitors' centre, and spent some time looking around the exhibits on the park, volcanism, natural history and local flora/fauna.
Another few km up the still-paved road, steeper all the time but nowhere near the grade of Mombacho, and I came to the crater area and vehicle parking lot. There are two main craters here, the older vegetation-filled Masaya Crater to the east, and the smoke filled Nindiri Crater to the west.
I first approached the viewing wall of Nindiri, but could see very little in the crater. Acrid smoke filled the crater and drifted occasionally over the wall, stinging the nose. Signs advised to spend only 5 minutes here, and get out if smoky or if any activity. Most of the paths on this side, including he steps up to the Crucifix Mirador, were closed owing to landslide risk. But there were good views north to smaller peaks, the park entrance and beyond.

It was an additional climb up to the Masaya Crater path, but there I could see into the picturesque mostly green crater, and other views to the south and east to Lago Masaya and the town beyond. I did an exhausting scramble up to the highest viewpoint over the crater, then back down to a small dirt track. I wasn't sure where it went, anti-clockwise around the crater some distance outside and below the rim. But it turned out to be a pretty and tranquil passage, through dry bush and flowers, over rough lava pebbles, and eventually right around back to the parking lot.
This had me starting back down the road sometime after 13.00. Almost immediately a Tico (Costa Rican) in a car stopped to offer me a lift. Si, por favour! He ended up taking me all the way back to Masaya, saving a long walk and bus ride.
After a late lunch, I sought out the Municipal Market near the crowded and chaotic bus area. It's vast; what a labyrinth! It had all the usual clothes, shoes, accessories, trinkets, meat, fish, dry-goods and fruit/vegetables.
Later after dark, still thirsty from the walk, I entered the nearby Chinese restaurant with my laptop, and ordered a 1 litre Brahma beer for the outrageously cheap price of c28, just over a dollar.
Next day I was on a crowded mini-bus for the 45 minute ride to the Nicaraguan capital Managua. I was dropped at the big Metro Centro Mall in Managua before 11.00. Found my bearings, walked the few minutes over to Managua Backpackers, and checked in for 2 nights.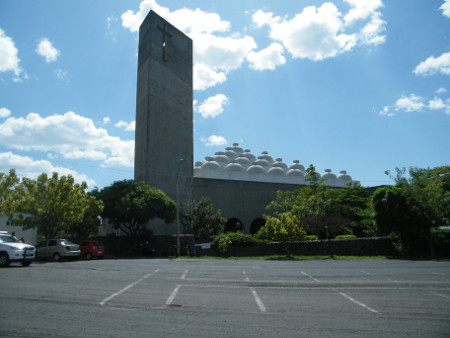 Managua doesn't seem like much of a built-up cosmopolitan city. There's scattered buildings, bush, empty weedy lots, filthy waterways and sidewalks full of holes. Outside of the western-style Metro Centro there seems very little commercial activity, just the usual phone shops and repair shops, and almost no food stores or restaurants. Everything seems very spread out.
I explored north past the Mall to the large new weirdly designed Cathedral. With its 63 breast-shaped cuploas, it resembles some sort of middle-east theme.
Farther on was the landmark water-filled crater Laguna Tiscapa. On its northern edge is the Parque Historico Nacional "Loma de Tiscapa", a $1 entry fee to go to the top of the hill and get good views over the crater and over the north of the city to the lake. At the top are a few artwork sculptures and a large black steel outline statue of the national hero General Augusto Sandino. Just below in a decrepit building (possibly an old prison for insurgents) was a photographic and text exhibition of local history and of Sandino and his movement.

On the way back home I checked out the Metro Centro Mall with its brand-name outlets and boutiques. Found a food court and had a couple of meals: a Nicaraguan dish of cassava and fried pork skins and salad, and a Chinese dish of fried rice and noodles and spring rolls.
Sunday is sort of an extra day, stuck in this big "nothing" city with no real activities. I checked out the location of the buses to my next destination Leon, then walked north past the Tiscapa Laguna and along Av Bolivar to the lake shore.
Av Bolivar had numerous characterless government-type buildings and a large Hugo Chavez (late Bolivian Pres) poster; he must be a kindred spirit. Farther on was "Parque Central; Templo de Musica" with a little Sunday market, several stalls selling craft and food items, and huge speakers belching out loud music. I would hear several other music venues along the way, each trying to be louder than the last; the music overlapping one-another.
Also in the vicinity were a large gazebo with historical relief sculptures on it, an "Eternal Flame" monument with one of the 3 flames extinguished, the "Casa Presidencial" building, the Palacio de la Cultura, and the large crumbling semi-ruin of the Catedral de Santiago.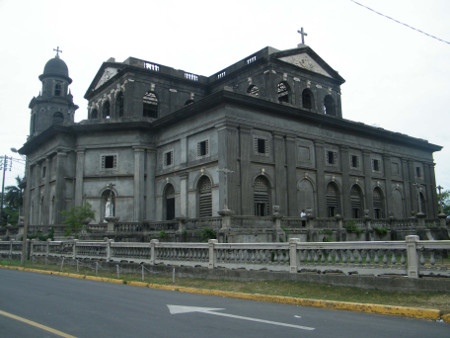 The lake shore seemed a bit of an enigma. I could find almost nowhere to get to the waterfront. For some distance in one direction was a sort of fenced off theme park containing Disneyesque sculptures, thatched-roof kiosks and shelters, a disused 737 aircraft with an exhibit inside, and super-loud music blaring out for blocks away.
In the other direction was a row of shoreline bars and restaurants, each with a heavy or two at the door to control entry, and loud music emanating from each. They all looked virtually deserted.
I eventually found one place only, about 20 metres wide, that was not fenced off, and I could approach the water. Some of the bar signs said "Playa" but there was certainly no beach here; just retaining rocks along the water. Not much of a holiday destination in my mind. Anyway it was a Sunday and there were reasonably sized crowds and families wandering around.
One curious sight struck me as I walked back. A car passed me with the trunk slightly open and two legs hanging out; one was jeans and a shoe of a boy, the other a leg and shoe of a girl. They didn't seem dead or distressed or anything, so I let it pass, but weird. Then again, we may have ridden like that once in a while when we were kids.
Monday had me on a Leon mini-bus about 08.50. Out of Managua was dry scrub land and farms with dirt fields and little or no crops. I think there's a drought on. The bus terminated at a market in the north-east of Leon about 10.30.
I had some trouble getting my orientation and finding accommodation; it took some time to find the Lazybones Hostel where I checked in for a couple of nights.
Leon is quite a busy vibrant place compared to Managua; it's what Managua should be. There are far more architectural gems here, and many historical churches. The Central Cathedral is much grander and in far better shape than the old one in Managua.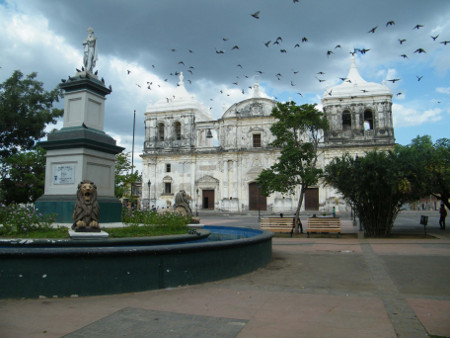 I looked around La Merced Church, Central Park, Cathedral, nearby Central Market, El Calvario Church to the east, north to San Juan Church, back past La Recoleccion Church, west along some streets to Zaragoza Church, and back east along more streets to the centre. One can easily get "churched-out".
The main market, in the NE of town near where the buses stop, is large, busy and exciting, good for a wander and some video. It was really hot here, but the hostel has a very good swimming pool. Despite the heat, Leon is a pleasant interesting place.
At Terra Tours near the hostel, I booked a bus for my next leg of the journey, from Leon to San Salvador for 8 Aug leaving at 03.00, to arrive San Salvador around 13.00. I also made a booking for Aug 8 & 9 at Ximenas Guest House in San Salvador.
One afternoon I took in the Museum of Revolution next to Central Park. In a grand decaying old building with pillars, curved stairways and balconies, were several rooms of mostly photographic exhibits of the revolutionary history of Nicaragua. My guide, an old fighter who was 17 years old with the Sandinistas in 1979, spoke no English but displayed a great flair for visually demonstrating how they fought and killed US Marines.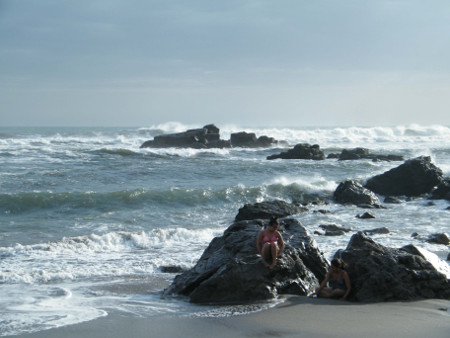 On 6 Aug I decided to bus out for one night stay at Las Penitas Beach, 20 km away from Leon on the Pacific coast. LP is a small tourist beach and fishing village dotted with hostels, small hotels, bars, restaurants and small-time tourist things. It's off-season, so not busy at all. I walked and explored streets, beaches, the estuary and back streets of the local village. The beach is wide, long, brown sand, huge wind-blown surf and local fishermen. In late afternoon it was interesting to watch the outboard night-fishing boats positioning and timing themselves to dash out to the ocean between wave sets.
It's super-hot out here - maybe that's why its low season - and they really need rain.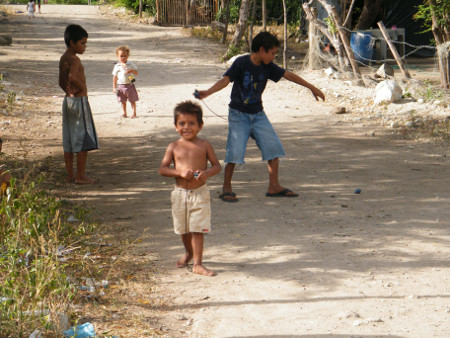 Back in Lazybones in Leon, I had to be packed, ready and up at 02.10 on 8 Aug to catch my bus to El Salvador. The mini-bus arrived at 02.35 and we took off from Leon in darkness. Somewhere in the middle of the night we stopped at a gas station to consolidate passports and pay the $7 border fees to leave Nicaragua and enter Honduras.
I liked Nicaragua. Certainly not as wealthy as Costa Rica, everything was a bit poorer and "rough". That made it much cheaper to travel there. But there was much of interest to see, particularly the historical city Granada, the easily accessible volcanoes, and the charming revolutionary hub Leon.
El Salvador
(Click for EL Salvador map)
At the Honduras border about 04.35, we went through usual formalities and crossed to Honduras about 06.00. A 2 hour drive with scarcely a stop got us through Honduras and into El Salvador. We were on the edge of the capital San Salvador by about 12.30, where I was let off in the middle of nowhere. However I was shown where to get a city bus that should take me to Metro Centro Mall (yes another one, even bigger than in Managua), near the hostel. By a circuitous route, it did eventually arrive, and helpful women on the bus indicated where to get off. I found the nearby Ximenas GH and checked in for 2 nights with the help of a young girl who spoke no English.
Everything about this city seems to exude USA. Nearby on the main road Boulevar de los Heroes is an strip of western-style, mainly American, fast food joints. Just beyond is the large multi-level and again very American Metro Centro Mall. Most of the rest of the city, although more built-up and active than Managua, is unremarkable.
The main city-centre street Calle Delgado is a noisy chaotic congested shopping street; near the centre it becomes a market-style pedestrian plaza. The city's Centro Historico has a number of historical buildings and plazas, including the huge Catedral San Salvador, Plaza Morazan, Theatre, Plaza Civica, Palacio Nacional and Plaza Libertad. People were out in droves on the Saturday.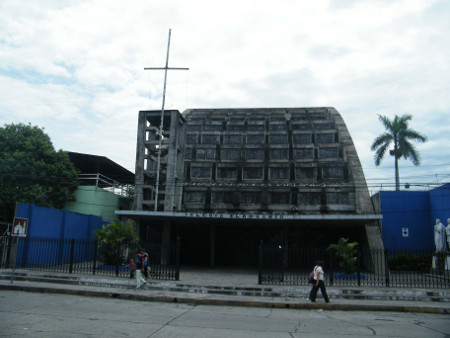 Slightly to the east was a slightly weird looking building, sort of a huge concrete arch. It turned out to be Iglesia El Rosario, a radically off-beat church with stained glass windows all the way up the arch.
Slightly to the south-west is the vast Mercado Central. It looked much like any other market in any other city, but was super-massive; there must have been at least 10 "edificios", and I found it hard to find the boundaries.
On 10 Aug I go out for 2 nights to Ruta de Las Flores, an allegedly scenic area to the north-west of San Salvador. It was a 1.5 hours by bus from the Terminal Occidente to the town Sonsonate. There a local chicken bus took me the rest of the way to the village Salcoatitan and then 2 more km to the town Juayua.
Juayua seems to be the principal town on the Ruta Flores. Around noon Sunday the weekend food fare was in full swing. All around the centre were stalls, food outlets, market and hordes of people; a lively vibrant atmosphere. Being up in the hills, the temperature was refreshingly moderate compared to the heat of the lowlands. I wandered the streets for some time observing the festivities and trying to get my bearings, before finally finding my home at the Casa Mazeta hostel.
About 14.00 I went down for another look around town and at the food fair. Many food stalls were serving their speciality meals for around $5. I settled on a plate with medium steak, tempura prawns, potato-tomato kebab, rice, tortilla, salad and salsas; very good and a bit different to my usual fare.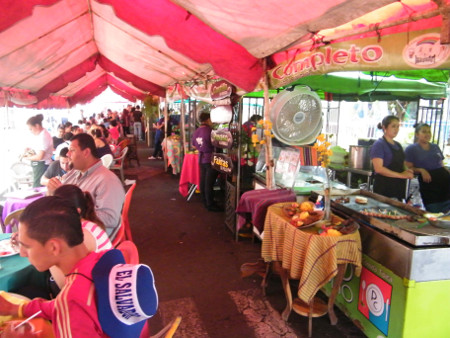 At 16.30 I donned swim gear and took the half-hour walk to the edge of town, along small roads into the bush, down a steep path, and to Los Chorros de Calera. This is sort of a park with a cliff-line and a long series of cascades falling into a series of deep cold pools. Salvadorean people were swimming there and I soon joined them. Very refreshing and invigorating. I talked to one of the young guys who spoke English, and he wanted to keep in touch, so I gave him my website URL. They gave me a ride in their truck all the way back into town; wonderful.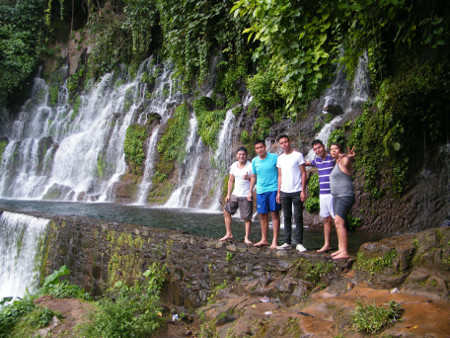 Next day I would try a day trip to the smaller town Ataco. About a half hour by chicken bus from Juayua, it's a coffee-producing hill town with many murals and a walk or two up to lookouts.
From the south side of town a steep path led up to the mirador La Cruz de Cielito Lindo, a large white cross with a good panoramic view of town, coffee fincas (farms) and distant volcanic peaks.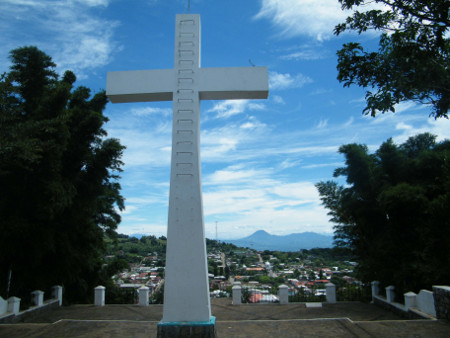 I found the town really pleasant to walk around in; at 1260 m altitude, it's sunny and even slightly cooler than Juayua. The wall murals for which the town is noted displayed impressive artwork.
Nice as it is, Ataco is still only a half-day place. At 13.00 I was on buses back toward home, stopping in the nearby town Salcoatitan for a look around. This place is noted for mosaic murals, a 300 year old Ceiba Tree, and some distinctive food items. I stopped at a food stall and had "yucca frita" (fried cassava with trimmings, good), and a large square of quesadilla. The quesadilla is unlike the northern concept of same; it's a dense sweet cake, about 15 mm thick, with a topping of burnt sugar.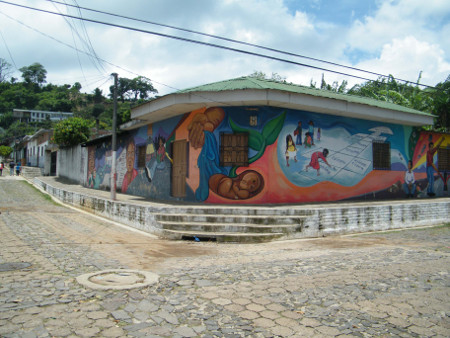 Back in Juayua, dinner was at Esmeraldas Restaurant to try their famous pupusa. It's a large fried tortilla with a chicken filling, accompanied by a large tangy salad; a tasty and filling meal.
A slight fog gave the whole town a ghostly atmosphere at night as I walked around the streets watching people close shop or sit on steps, cars creeping around through a back-lit haze.
The following day had me back at Ximenas in San Salvador, my final day in El Salvador, making preparations to board the plane back to Canada.
So on 13 Aug I was up at 07.00, finished packing, and checked out. It's about a 25 minute walk to the Taxis Alacla terminal where I could board a mini-bus to the airport SE of the city. My departure was at 15.05, so I had time for a last look at down-town San Salvador, board the bus, and wait in the airport.
I was less than a week in El Salvador. It was, well, OK. It may have been more interesting had I been there longer and had time to make more discoveries. Owing to temperate climate, natural beauty and a laid-back attitude, Juayua and La Ruta de las Flores were probably the highlights.
Everything was pretty routine for the trip home; flying to Los Angeles, Toronto and thence to Winnipeg next day. The only hitch seemed to be the Mao's-Mausoleum-length queue to get through Toronto Airport security. A few days in Winnipeg with Maggie, and then I was back in Australia via Vancouver and Beijing. Good trip but good to be back.